While some things may be scary, there's a fascination that's held by many for all things spooky!
Especially when Halloween rolls around, people can't get enough of ghosts, ghouls and all manner of terrifying creatures.
We are here to celebrate some of these beings in this awesome collection of free spooky coloring pages for kids!
If you love all things scary and creepy, then this will be a collection that will provide plenty of incredible coloring thrills for you to print and enjoy.
We tried to create a thrilling variety of different scary scenes, as that will give you the chance to use all of the colors and art mediums that you love!
Every single one of these free spooky printables are free for you to print as many times as you please, and you can also share them with family and friends to join in the fun as well.
While we may be dealing with some creepy creatures in this collection of free spooky coloring sheets, coloring in these pages will be anything but scary!
Remember to share your finished spooktacular creations on our Facebook and Pinterest pages for us to see as well.
15 Brand New Spooky Coloring Pages – Free to Print and Color
We have a terrifying ghost to start this collection of free spooky coloring pages for kids! This is a really classic ghost design, as it has a spooky face on a sheet shape.
This ghost is floating above the ground, and it certainly looks rather menacing!
What creepy colors will you use to color in this spooky specter? It could also be fun to draw a scary background behind this ghost as well! It will be fun to see how you tackle this first spooky printable.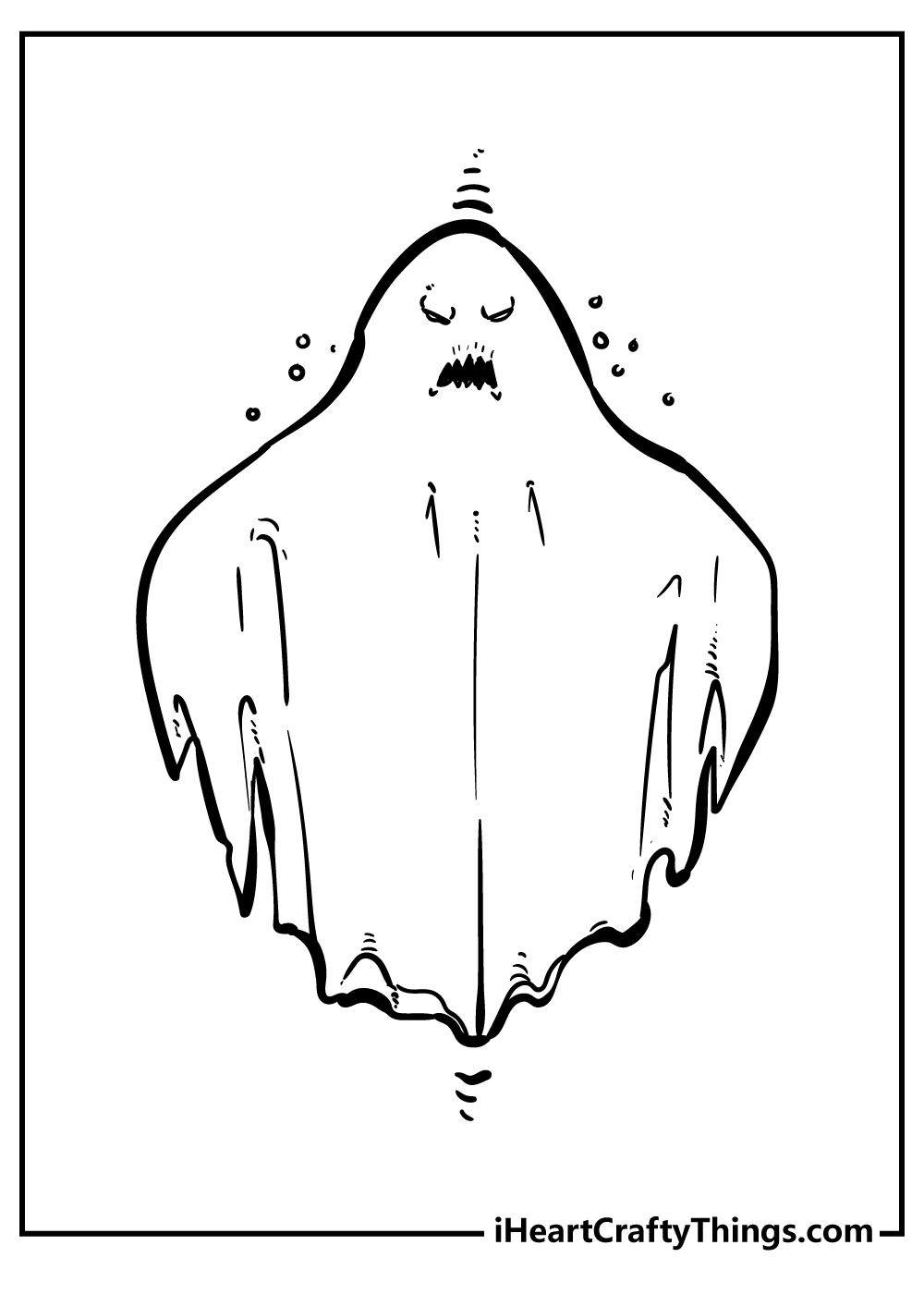 Look at this scary and mischievous looking monster boy. With his big nose, pointy teeth, and wild green hair, he's ready to stir up some trouble.
His big eyes and wide grin give him a playful look, like he's planning his next silly prank.
You can use any colors you like for this image, but we suggest using some bright and vibrant ones to match his lively expression.
You can also add some details to his hair, such as streaks or highlights, to make it more interesting.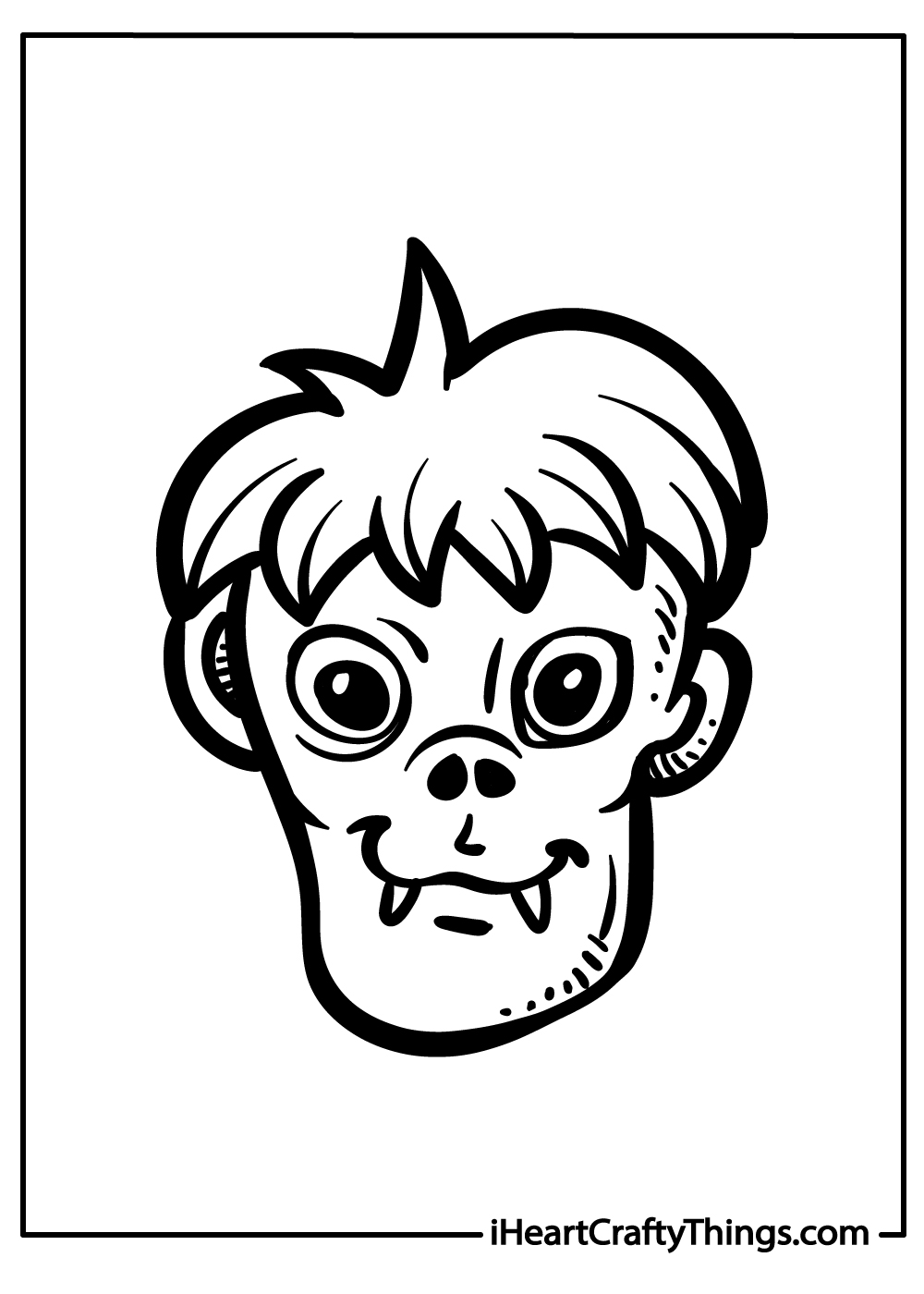 Here's a really cool spooky coloring sheet for you to enjoy! This is a really scary-looking image featuring some skull faces flying through the air.
For this printable, you could add some spooky background details as well.
For a cool detail, you could add some cool flame effects to the background to make it look like they're leaving a trail of fire behind them as they fly through the air.
What other cool details can you think of that would look cool for this image?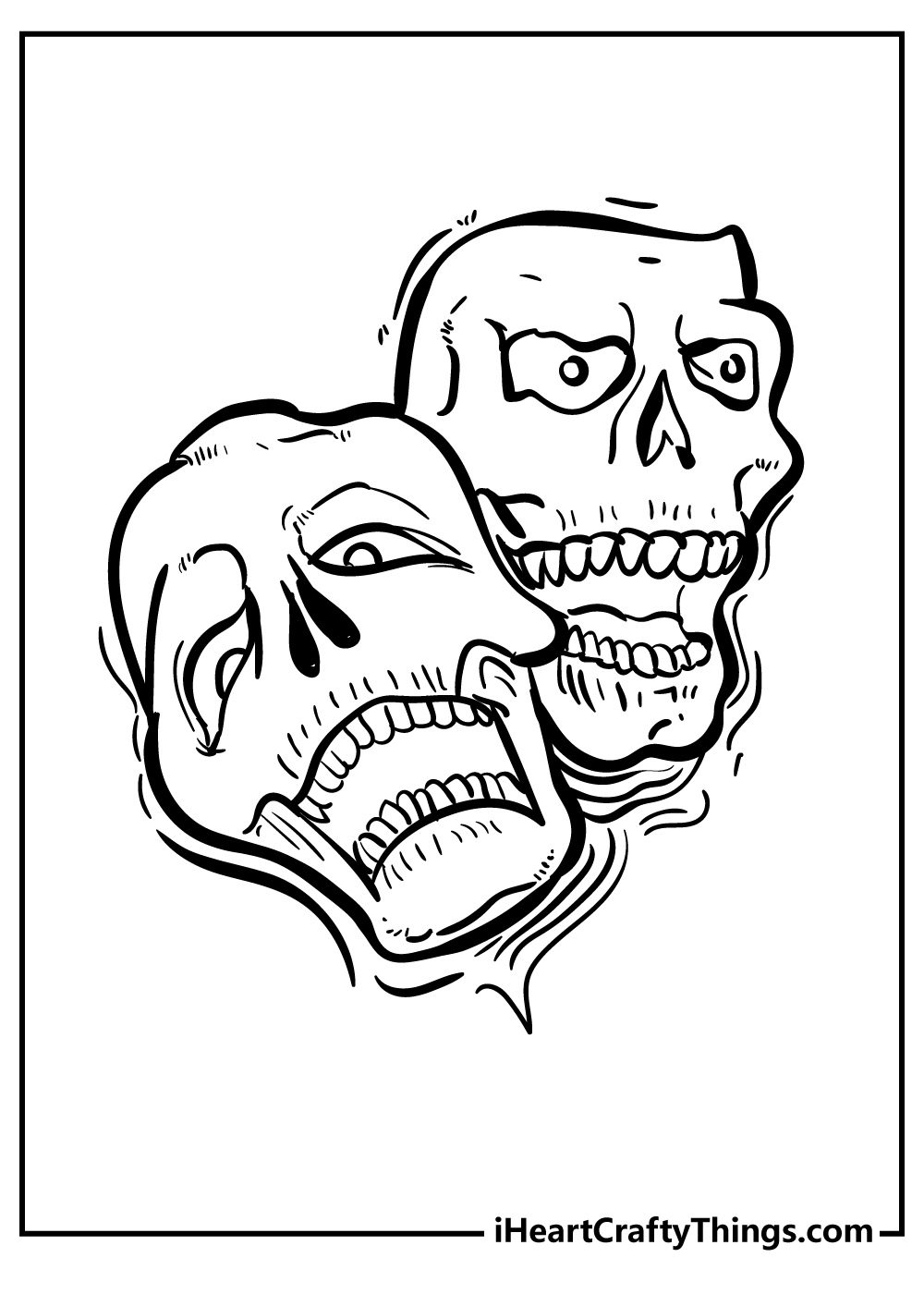 This third spooky printable follows a similar trend to the previous one. We've doubled the scare factor with four scary skull faces instead of two!
This is another image where adding a background would look really cool.
If you go for a flame effect for this one as well, then you could make the flames blue or another color to create an interesting scene.
What colors and effects will you add to this super spooky coloring printable?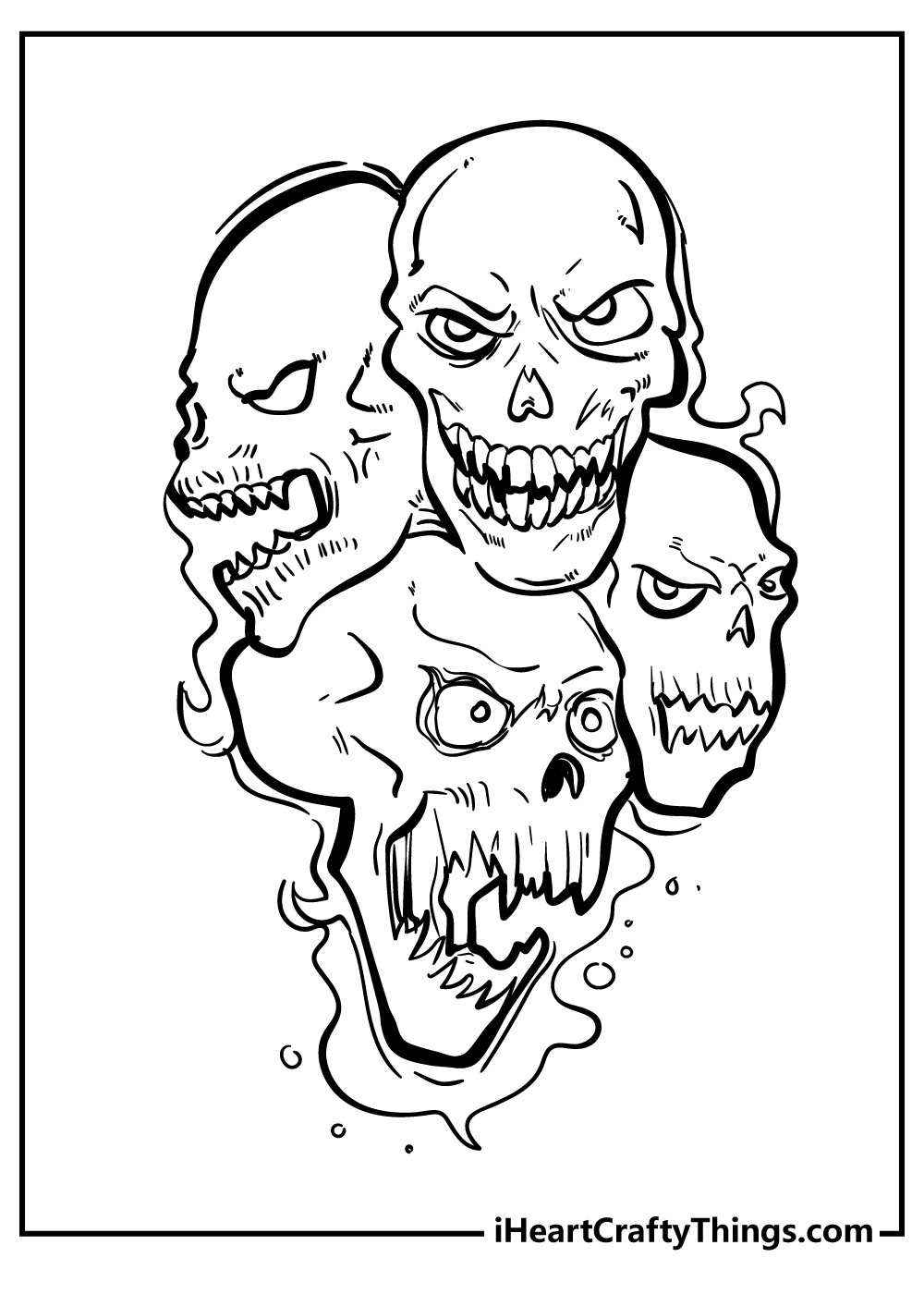 The next spooky coloring page is a hilarious and silly big-nosed character. With his giant schnoz, silly tuft of hair and goofy grin, this funny face is sure to inspire lots of giggles.
How would you color this spooky character? When you're done bringing him to life in color, make sure to share your creation on our Facebook page.
We love seeing the unique ways you add personality to these hilarious characters.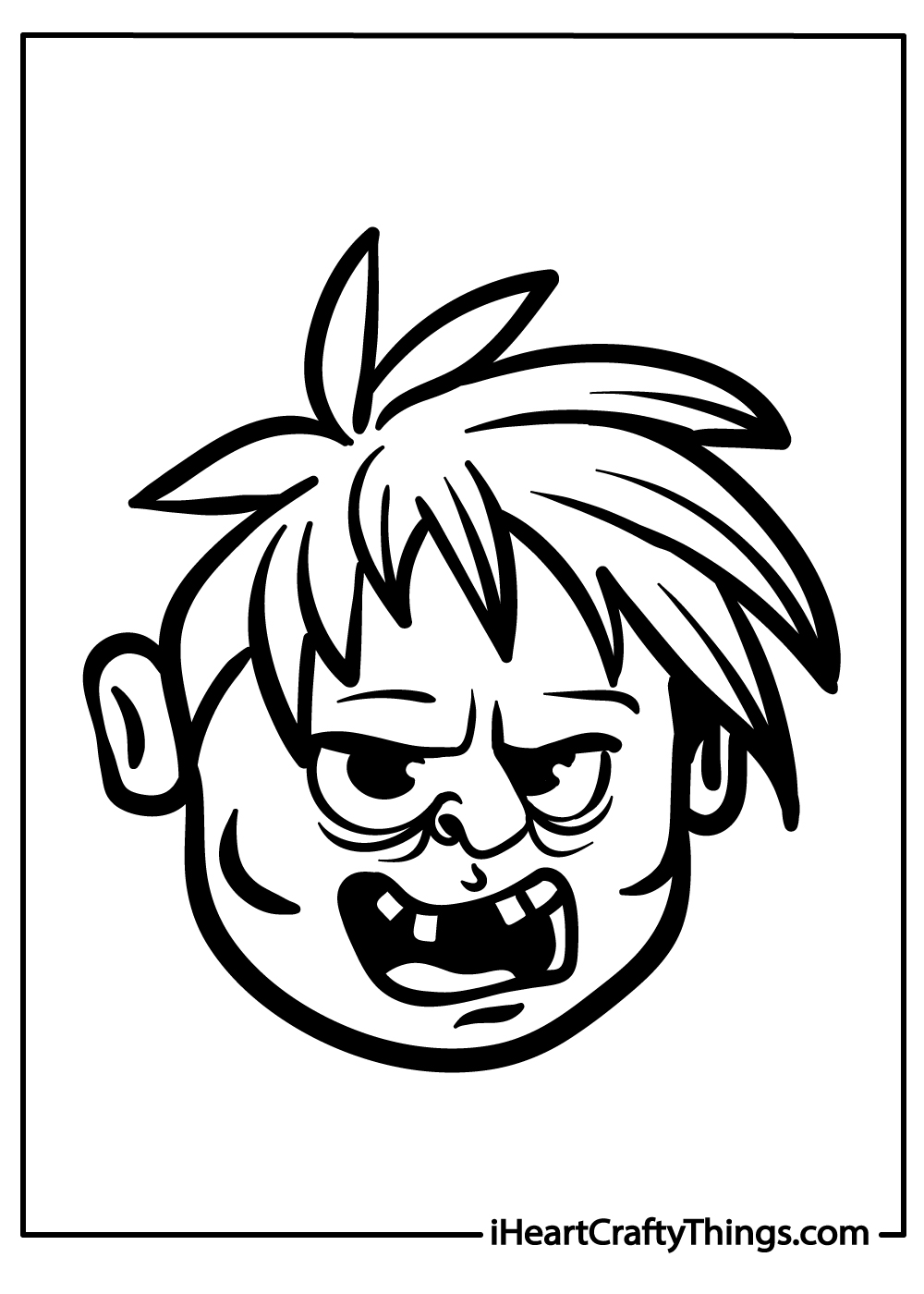 We're joined by another scary ghost in this fourth spooky coloring page. This ghost is floating around trying to find someone to haunt, presumably!
The face is left almost blank for this ghost, and while that looks really cool, you could also add some extra facial details of your own.
On top of that kind of detail, you could also draw some more details and background objects to create an even more dynamic scene. How will you finish this spooky printable?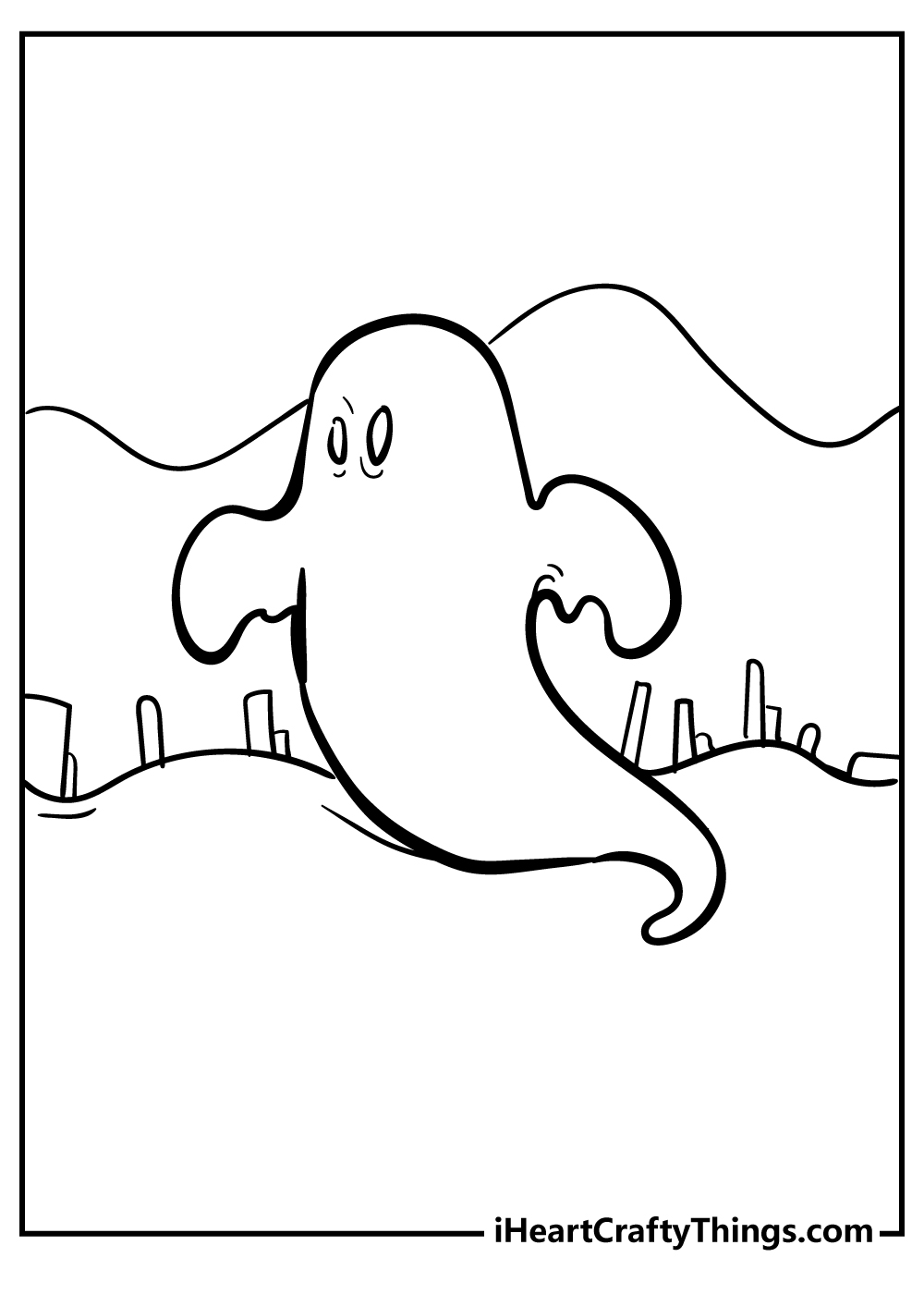 The fifth free spooky coloring sheet we have prepared for you features another scary scene for you to color.
This one features a skeleton and a ghost hanging out over a tombstone, and it makes for a really cool horror setting!
Despite the scary nature of this image, the skeleton and ghost both look kind of cute!
Will you use a more muted color scheme for this image or give it more of a spooky party atmosphere with some bright colors?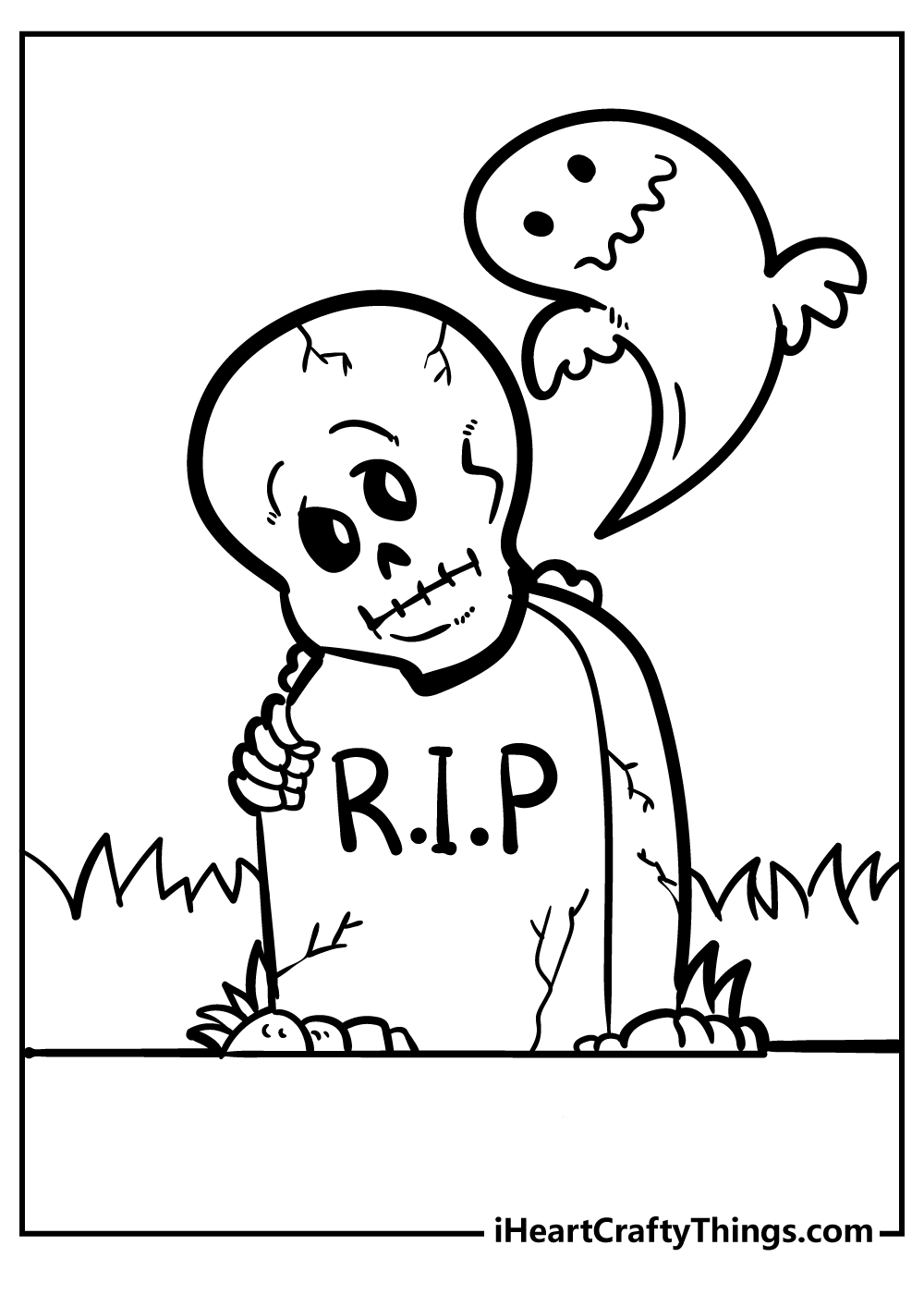 This spooky coloring sheet looks like something straight out of a horror movie.
With his enormous head, massive mouth of sharp teeth and claws for hands, he's walking toward your way to scare you. It also looks like his brain is popping out.
This creepy undead kid is perfect for some creative coloring. You can use dark greens, grays and blacks to color his decaying skin and make it extra eerie.
Splatter some bright, bloody reds around his mouth and hands to show he just ate someone or something.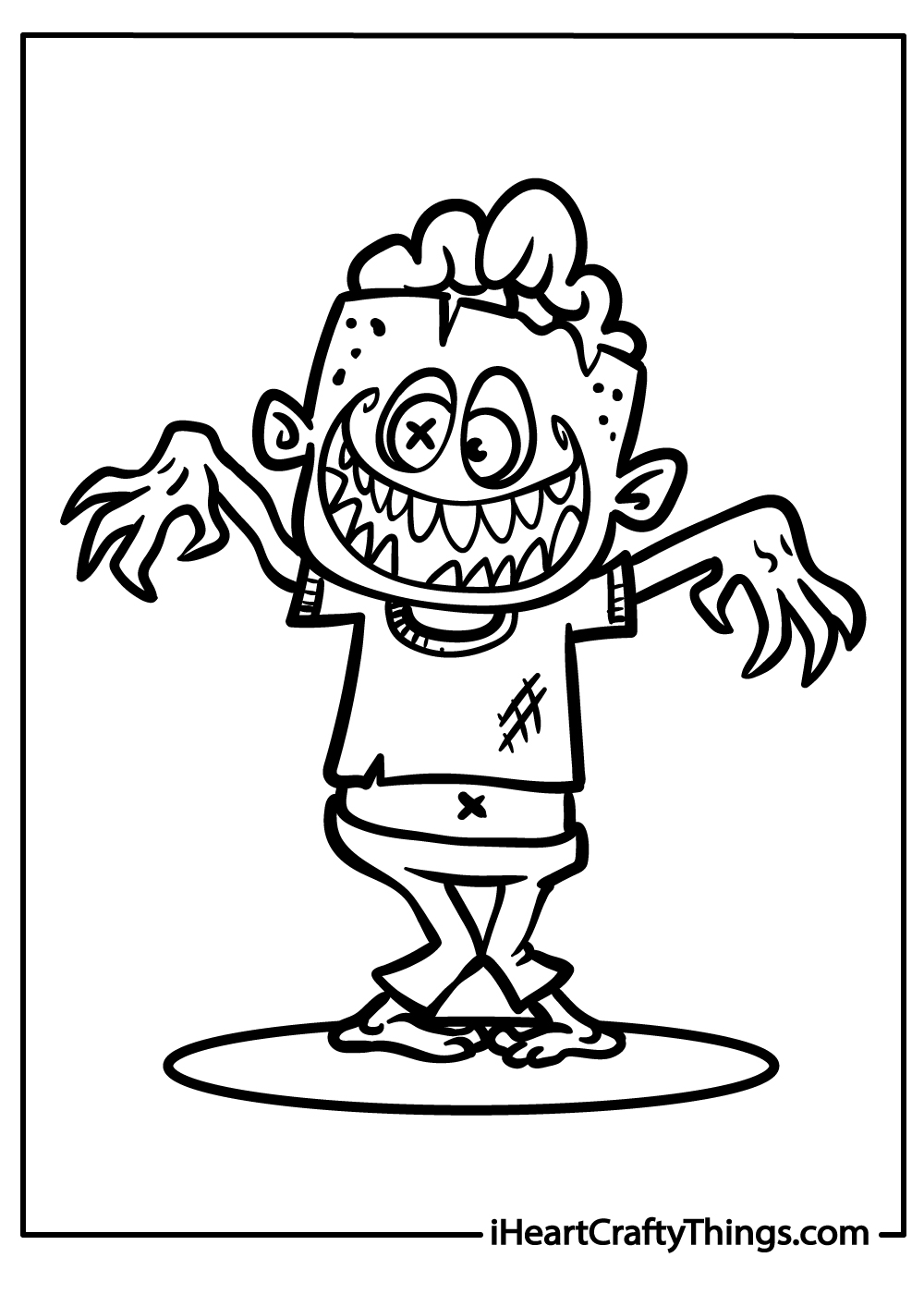 Don't get a fright, but this scary vampire is jumping out to surprise you in this cool spooky coloring printable.
There are many ways that you could color in this creative picture, and we think it would be fun to draw a speech bubble above his head with him saying something.
If you went with this idea, what do you think he would be exclaiming? Adding some text would also allow you to turn this printable into a fun Halloween card for someone!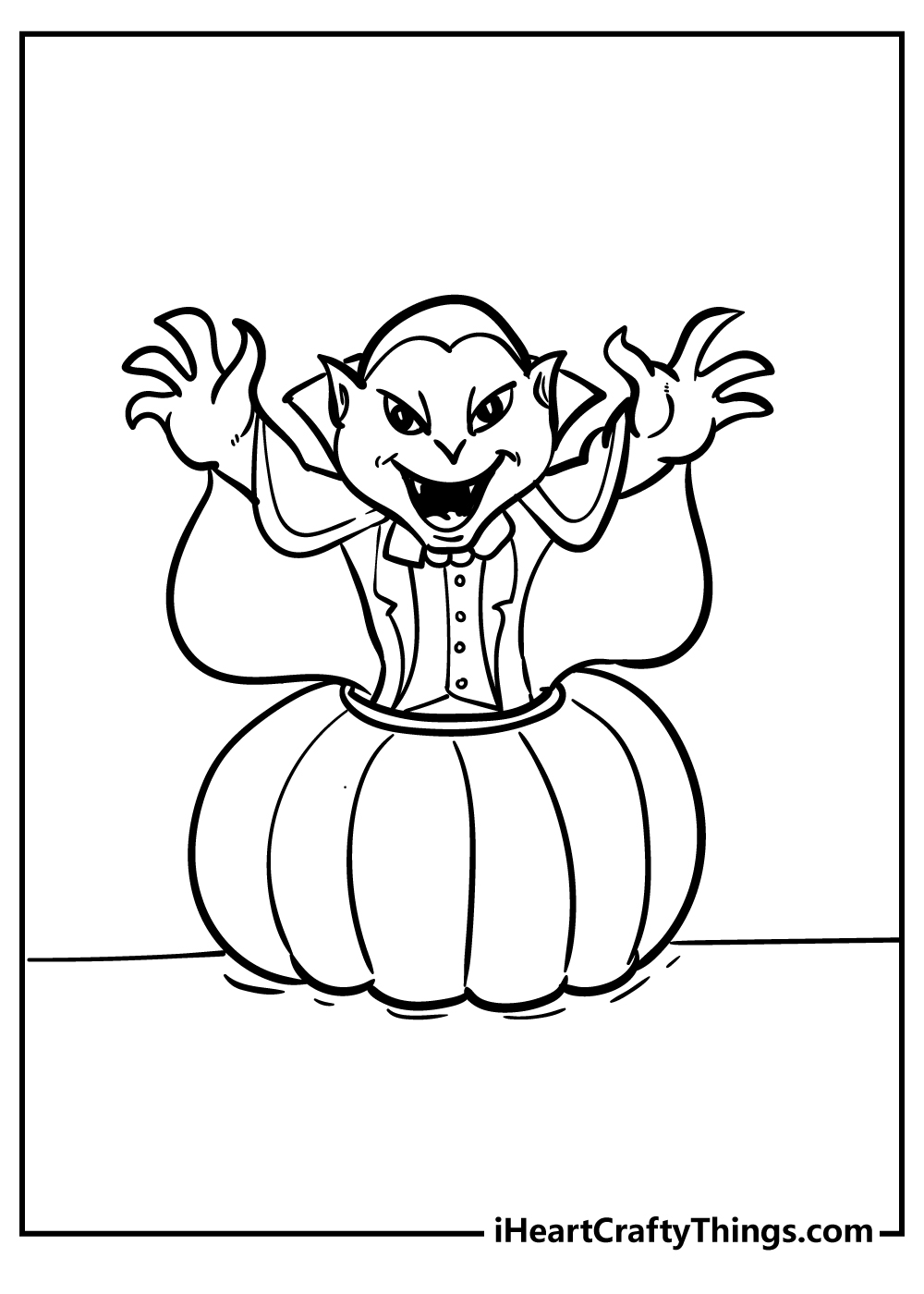 World's collide in this awesome free spooky coloring page for kids! You don't expect to see a snowman around Halloween, but how about a pumpkin man?
This is a really fun image that mixes elements of Christmas and Halloween, so if you love both of these holidays then this should be the perfect printable for you.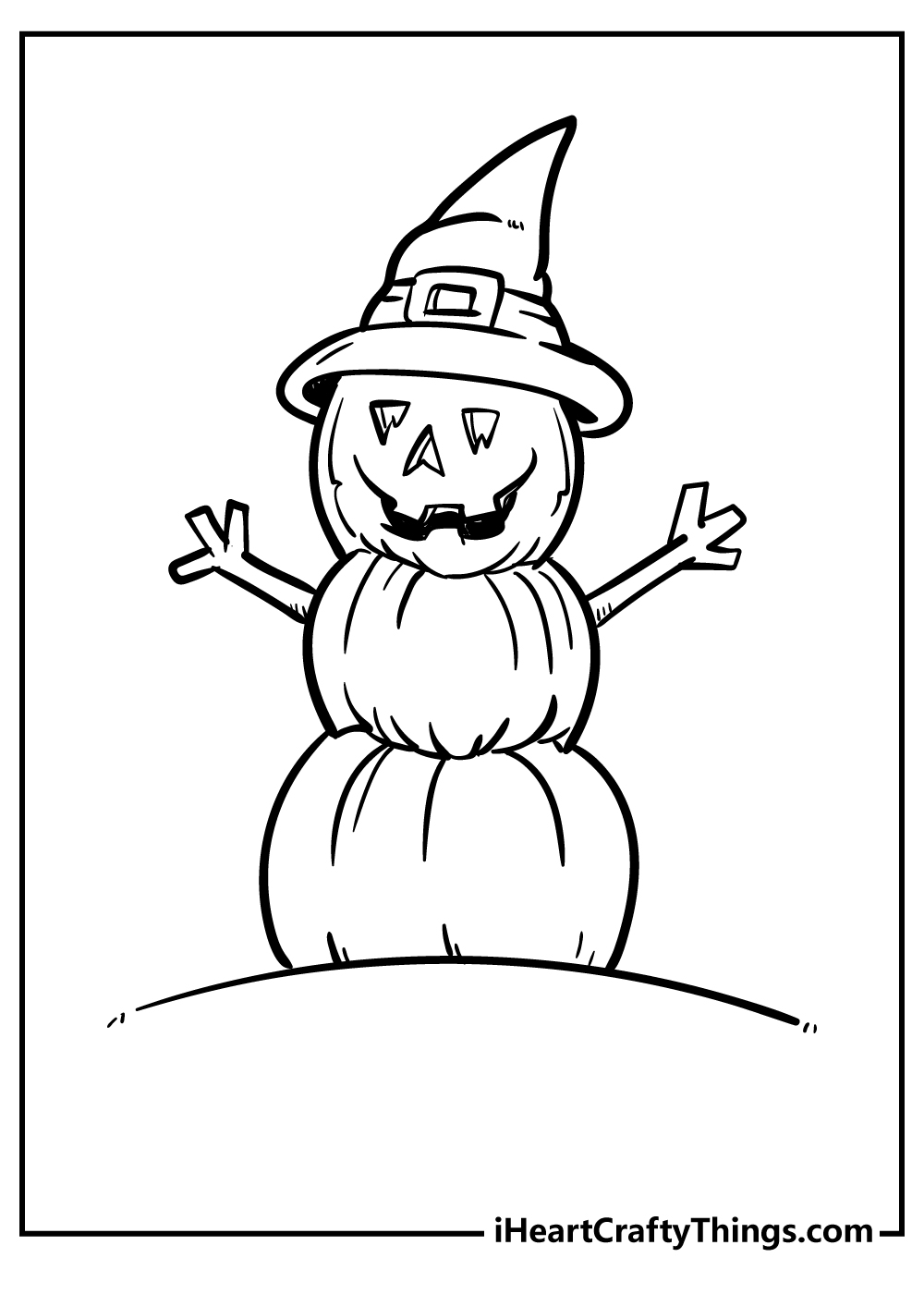 Now here's an interesting picture we have to color in this next spooky coloring sheet! This jack-o-lantern is flying through the air, and it is also surrounded by a fire effect.
For the fire surrounding the pumpkin, you could go more realistic by adding some bright reds, oranges and yellows.
Alternatively, you could also use more stylistic colors such as blue, purple or green to create an unsettling mood. Which approach will you take for this printable?
If it's too hard to decide, then remember that you can print out multiple copies and try out different approaches and styles!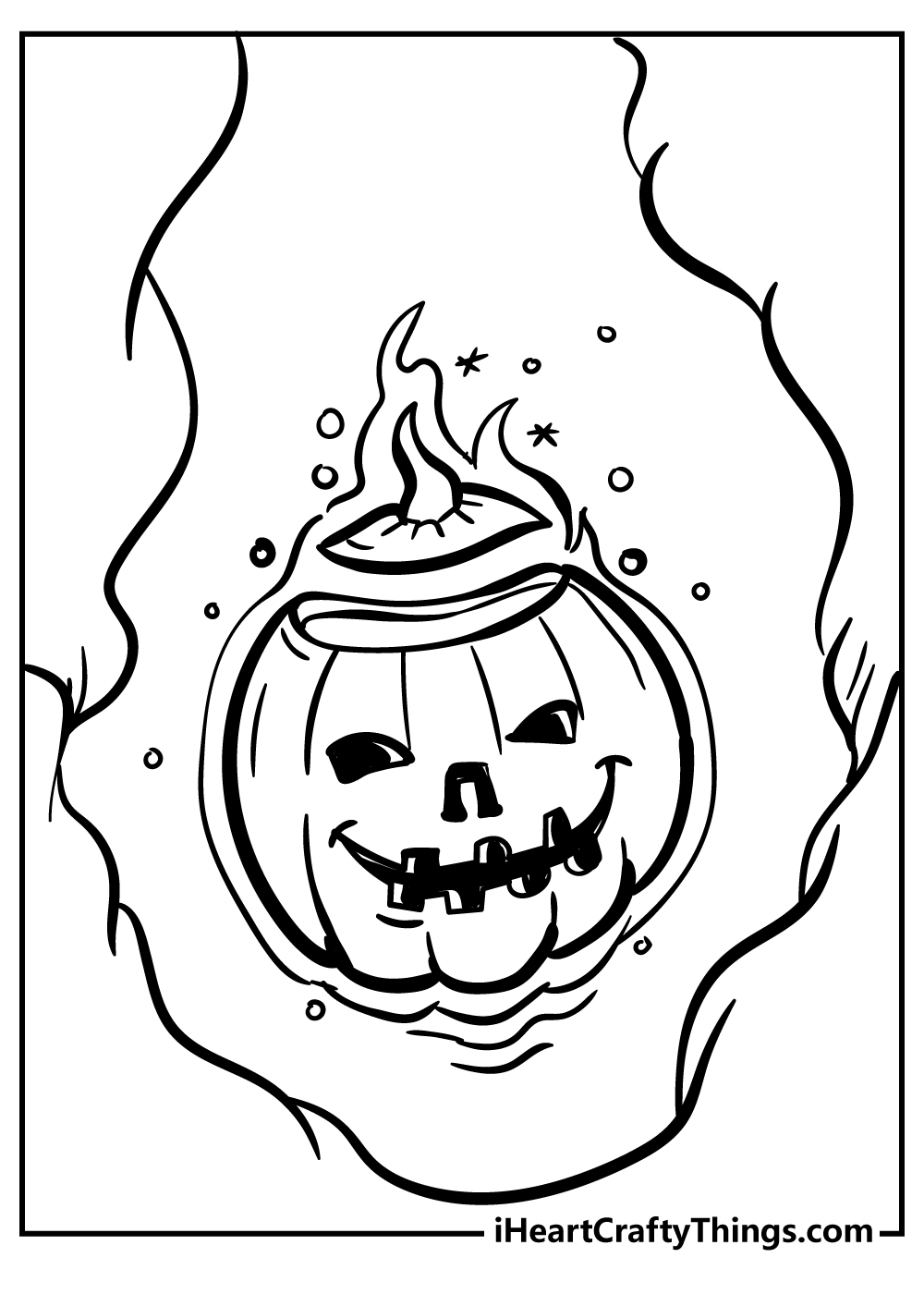 Brace yourself for some thrilling yet chilling coloring fun with this creepy clown! This clown has a crazed look with his massive red nose, enormous furrowed eyebrows, and razor-sharp teeth.
His hair is also curly and sticks out on either side of his head.
What colors would you use for this clown? You can make his crazy curly hair pop using vivid oranges, neon greens and bright purples. Add dramatic shadows and highlights to carve out the deep wrinkles on his face.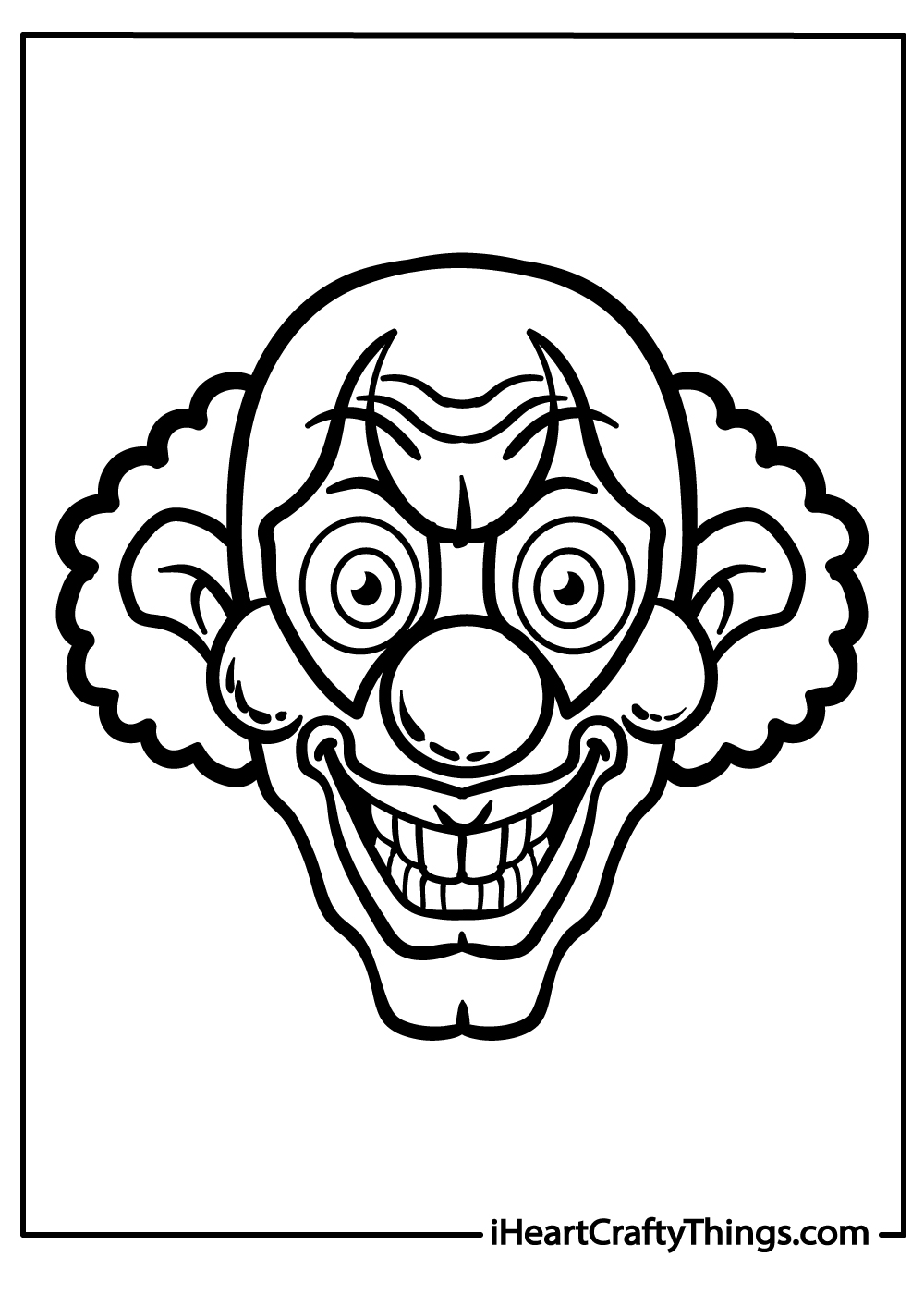 This next free spooky coloring page features another really creative image! Bats and pumpkins are a familiar sight around Halloween, but have you ever seen a pumpkin bat?
You have after seeing this fun printable! These Halloween pumpkin bats are on the move, and while they look a bit scary, they also look really cool.
If you're feeling creative, then you could try to use a different color for each pumpkin to create a really visually interesting image. What colors will you choose?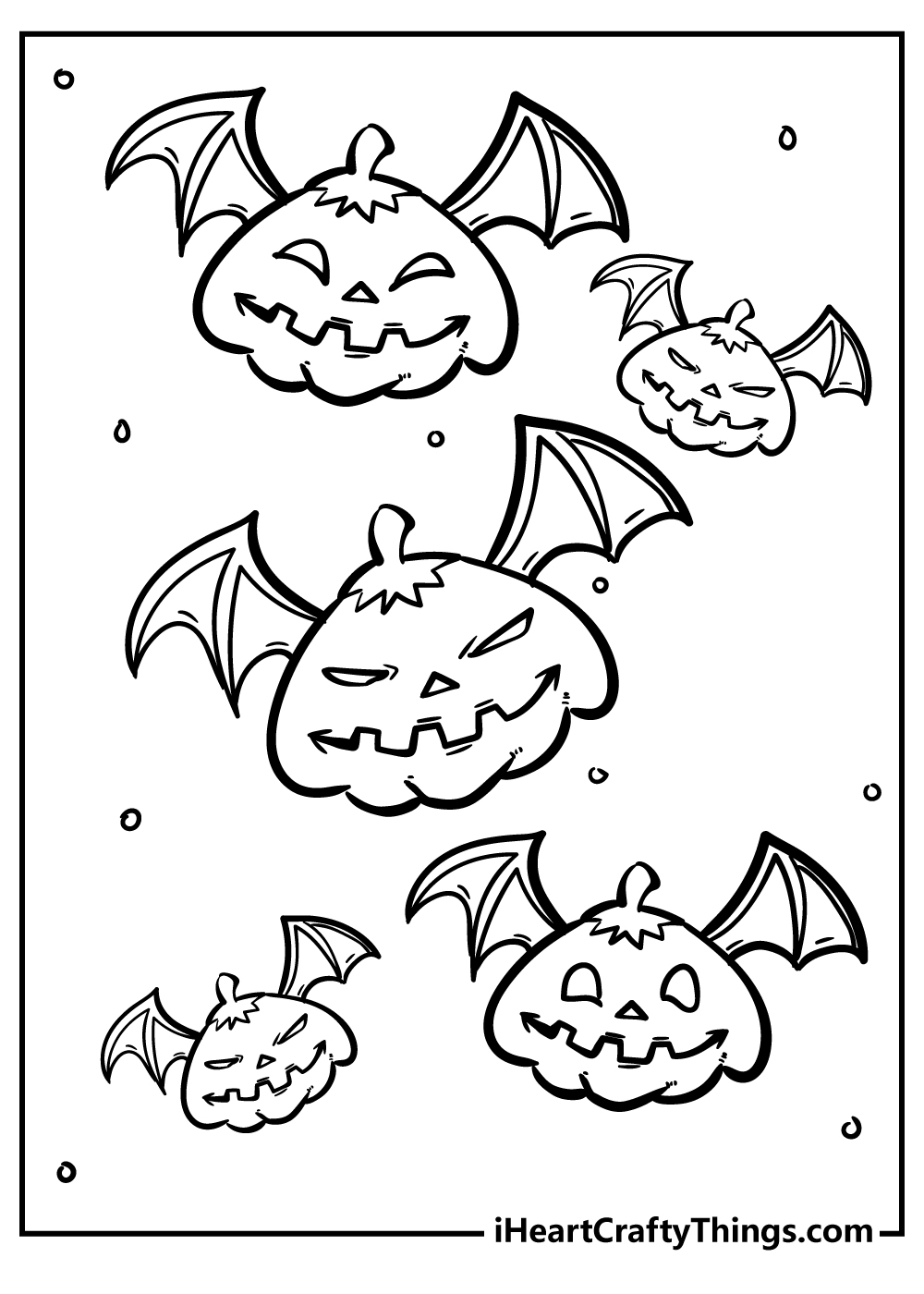 Here's another big-nosed clown displaying his act. He's wearing a clown costume and suit, and has big curly hair. He looks like he's trying to make people laugh in a circus or clown show.
To color this hair-raising clown, use deep reds, blacks and grays on his mouth and eyes for an extra sinister vibe. Give him scars, stitches, or eerie face paint to portray a clown gone mad.
You may also add glowing red and yellow to his eyes to make them pop.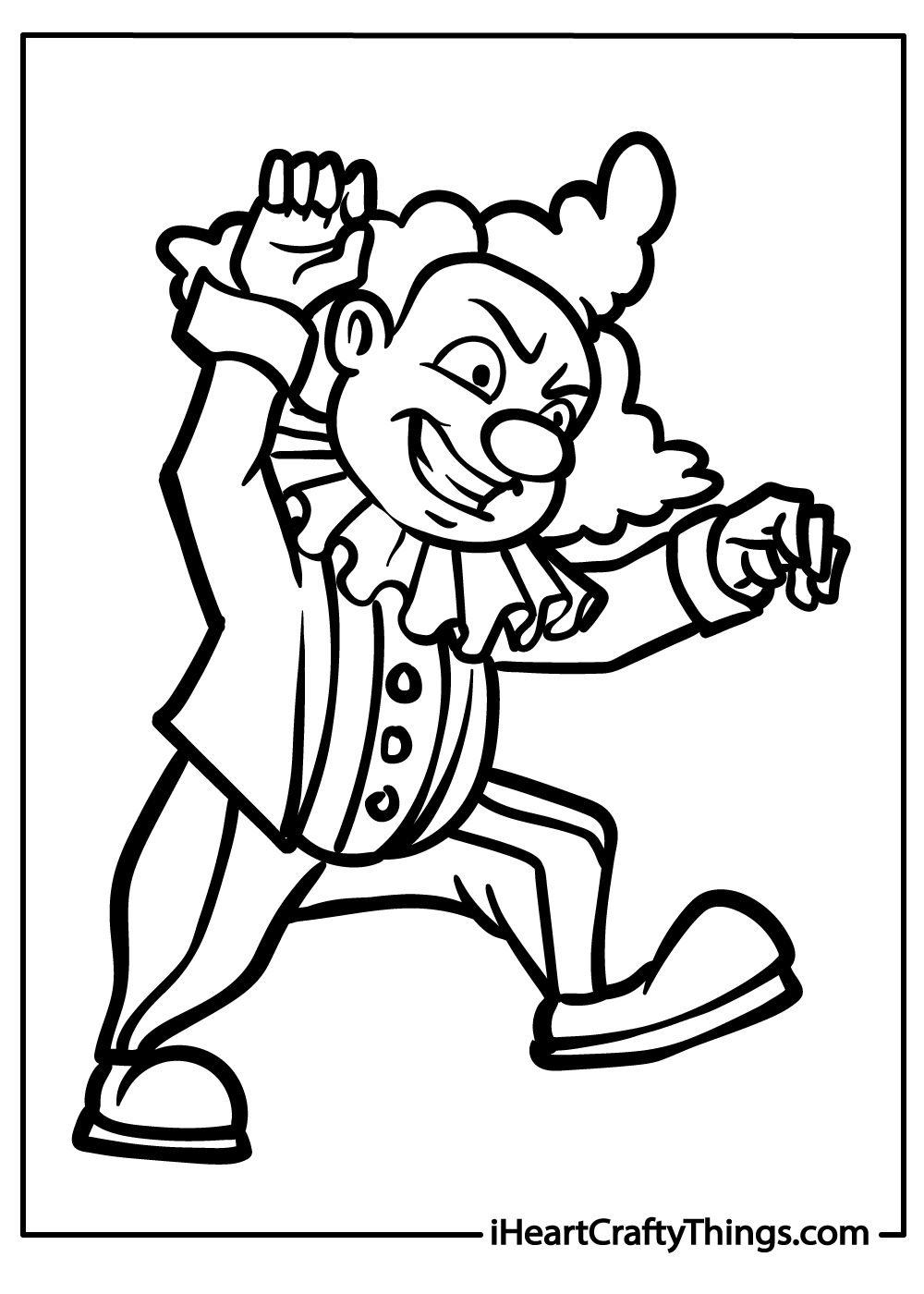 We love the cool design in this final free spooky coloring printable! This skull with a candle would look right at home on the desk of a spooky vampire or maybe a mad scientist.
With that in mind, you could have some fun drawing a desk that has other creepy objects that would go with this creepy skull lamp.
What else do you think would be on the des that this skull is sitting on? We hope you will share your creation on our Facebook and Pinterest pages!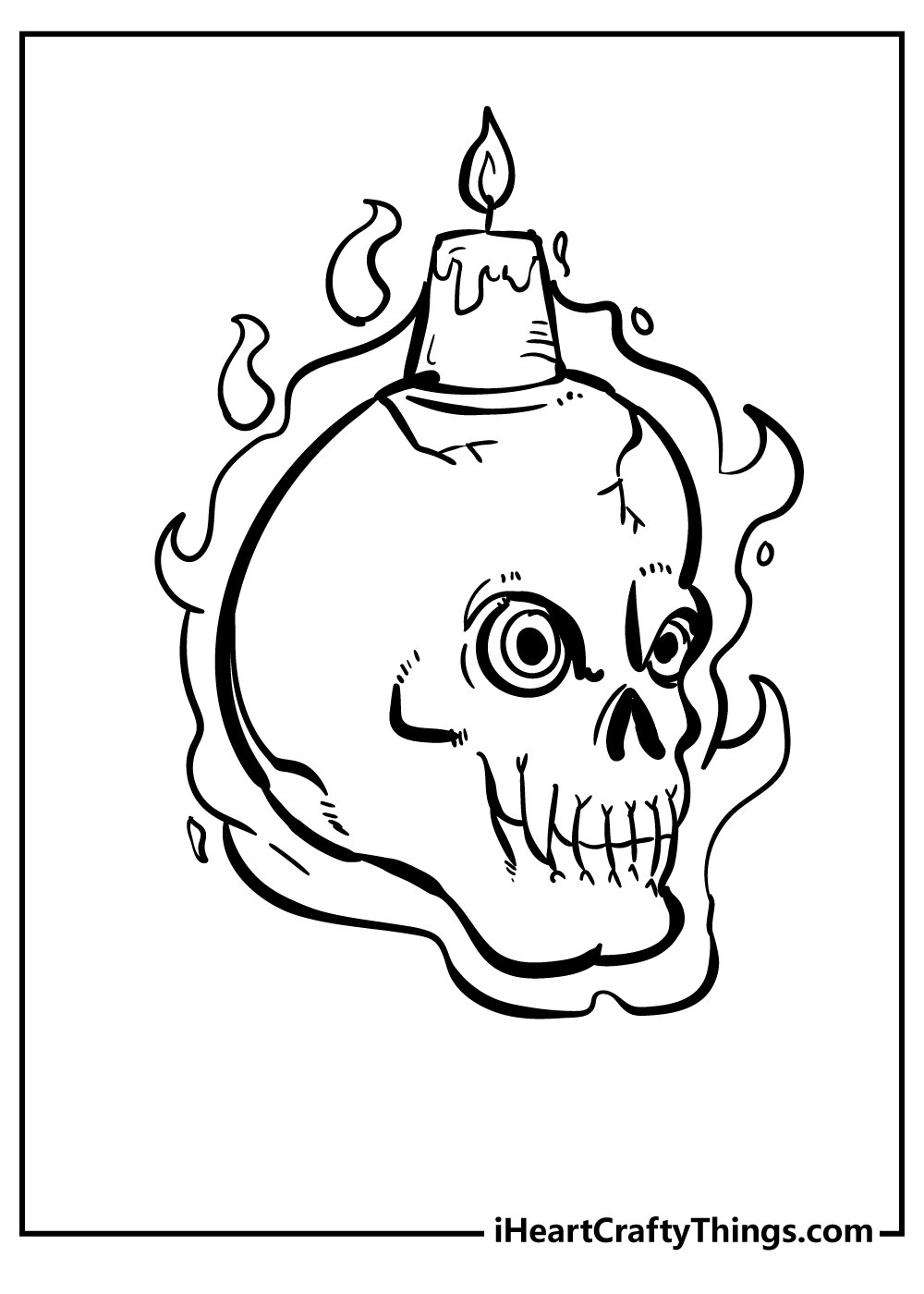 Spooky Coloring Pages – Which will you choose?
Scary things can be a lot of fun, and we hope that you enjoyed this creepy collection of free spooky coloring pages for kids!
You can download and print these printables as many times as you like, and it would be loads of fun to share them with loved ones as well.
When you're done with these scary coloring sheets, you can then find more free printables on our website. We have a massive selection of collections, and we will be bringing out many more soon as well.
With this collection of spooky printables, you can pick your favorites to color or maybe even color all of them!
When you have finished them, you can share your finished favorites on our Facebook and Pinterest pages for us to see. We can't wait to take a look at the scary fun you had with these printables!