Welcome to Skeleton Coloring Pages! Skeletons are not spooky! With all the things skeletons do for the human body, why do they have such a spooky reputation? Maybe they're just like children: they want to have just a little bit of fun.
Children can have plenty of fun now with these adorable skeleton illustrations, as these coloring pages are great for creative and skilled children, as well as beginners.
Hop on the Skeleton Bus, and let's begin our journey into the "spooky" world of happy skeletons!
10 Brand New Skeleton Coloring Pages – Free to Print and Color
Would you just look at this sad and "bonely" skeleton? It seems like he just lost someone loved! Shall we help him recover after the loss he suffered and bring some color into his life?
I heard a big "Yes" out there, so start putting your creativity to work and fill those flowers, the headstone, and the grass with color.
And why not, put color on his bones as well? Put a smile on his face by finishing this beautiful coloring page with the loveliest colors you have.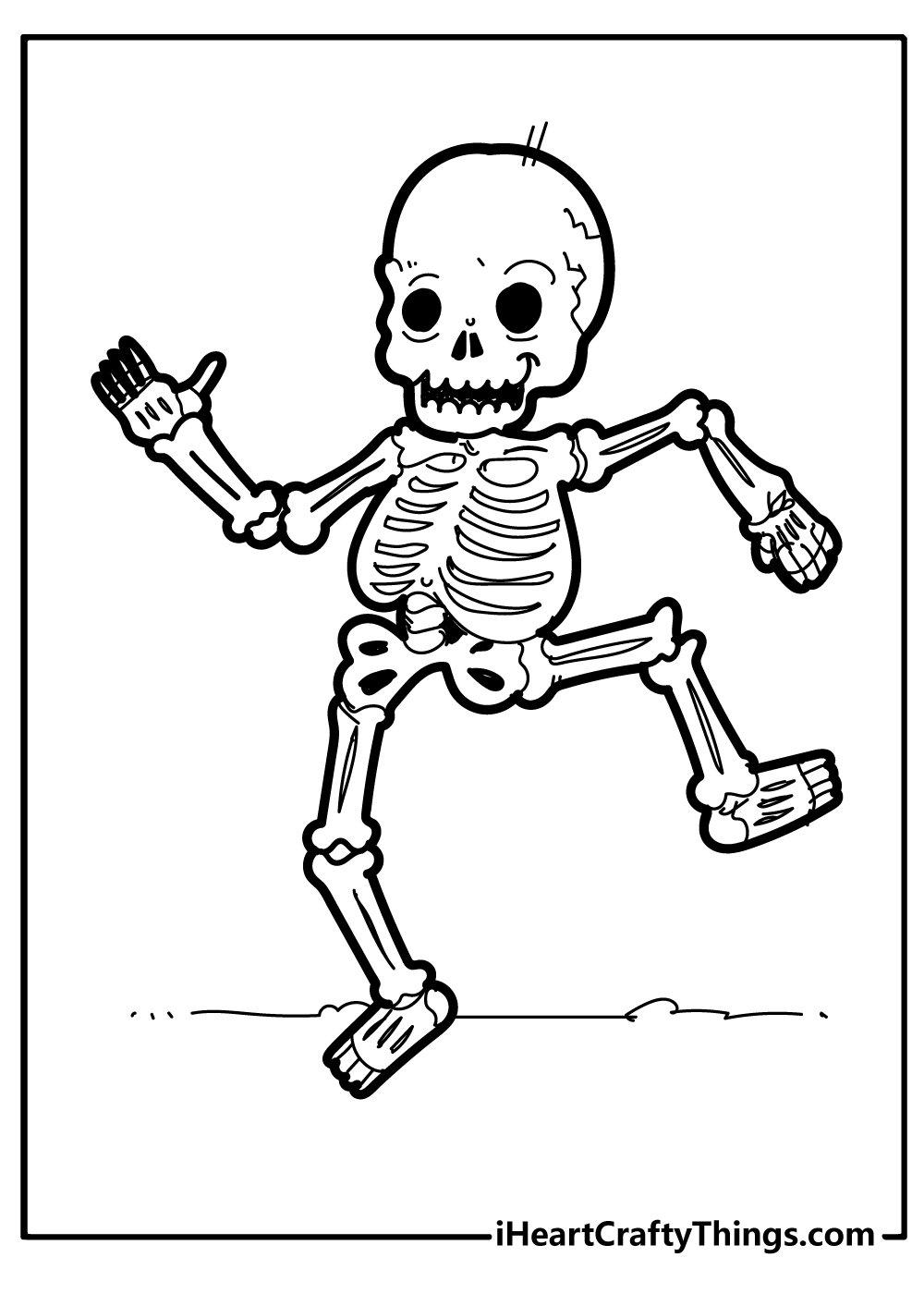 Trick or treat? When Halloween comes around, skeletons seem to pop up everywhere.
Spooky decors, skeleton decorations, witches, and awesome Halloween carved pumpkins; there's no doubt your child is excited for this time of the year.
Our collection of skeleton printable sheets is an excellent way of spending a windy and chilly afternoon with your children and preparing for the big "spooky" night.
Whether your little ones find skeletons hilarious or they're curious about scientific stuff, these skeleton coloring pages are just what they need to learn more about the human body while turning your house into a haunted place.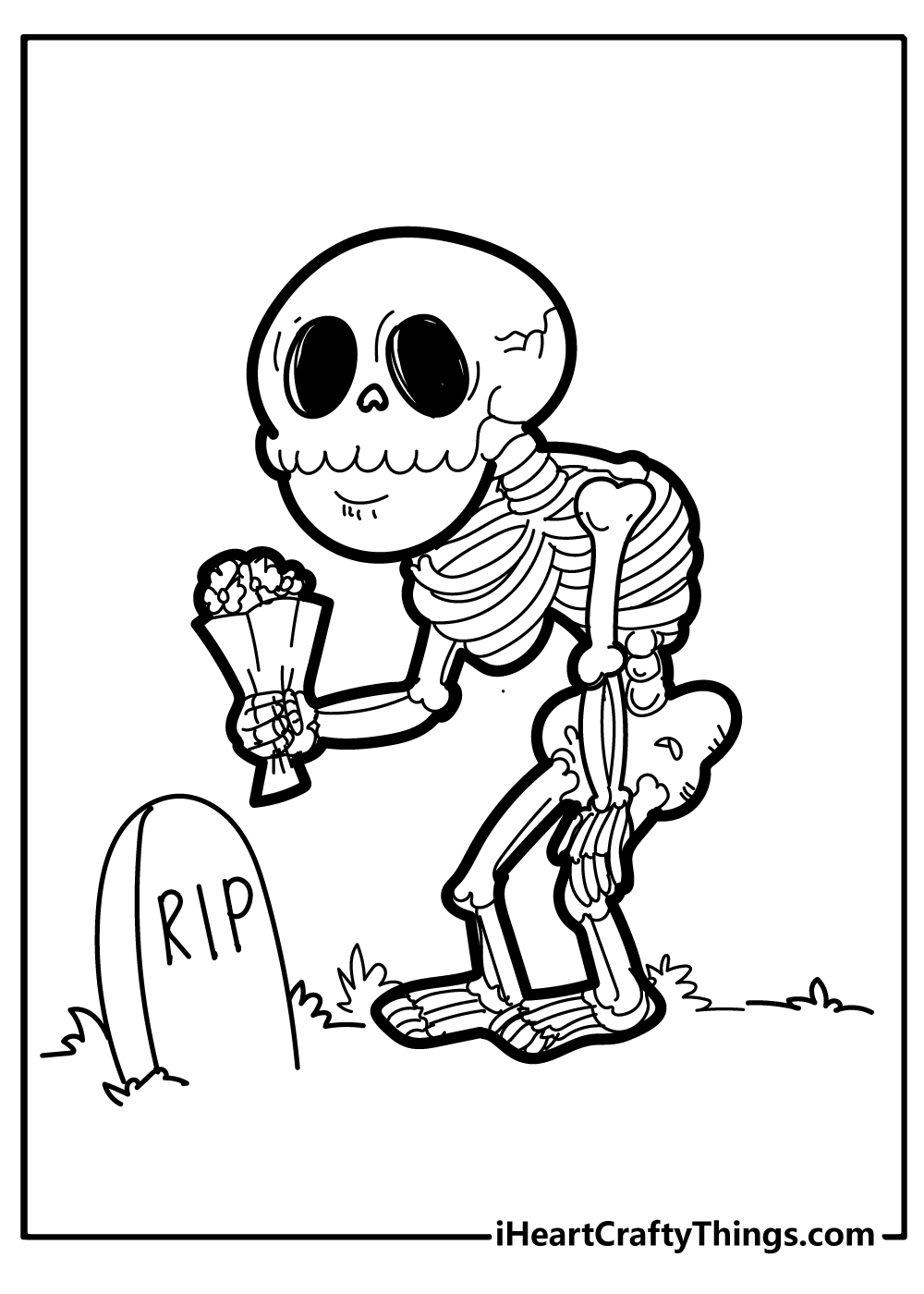 Speaking of children's most beloved holiday of the year, take a look at this "noisy" and merry-maker skeleton in the picture: doesn't it make you want to turn on the music, grab your Skeleton Punk Pink Child Costume, and start dancing like crazy?
Well, that's for sure a great idea for a skeleton party for children this Halloween! But the poor skeleton had no one to go to the party with! Wait!
Why not be his guest and bring some color into his life? Maybe his hair would look great in pink to match your Halloween costume!
Guests will arrive in their gothic clothes, best for a six-year-old's celebration that's guaranteed to become a legend!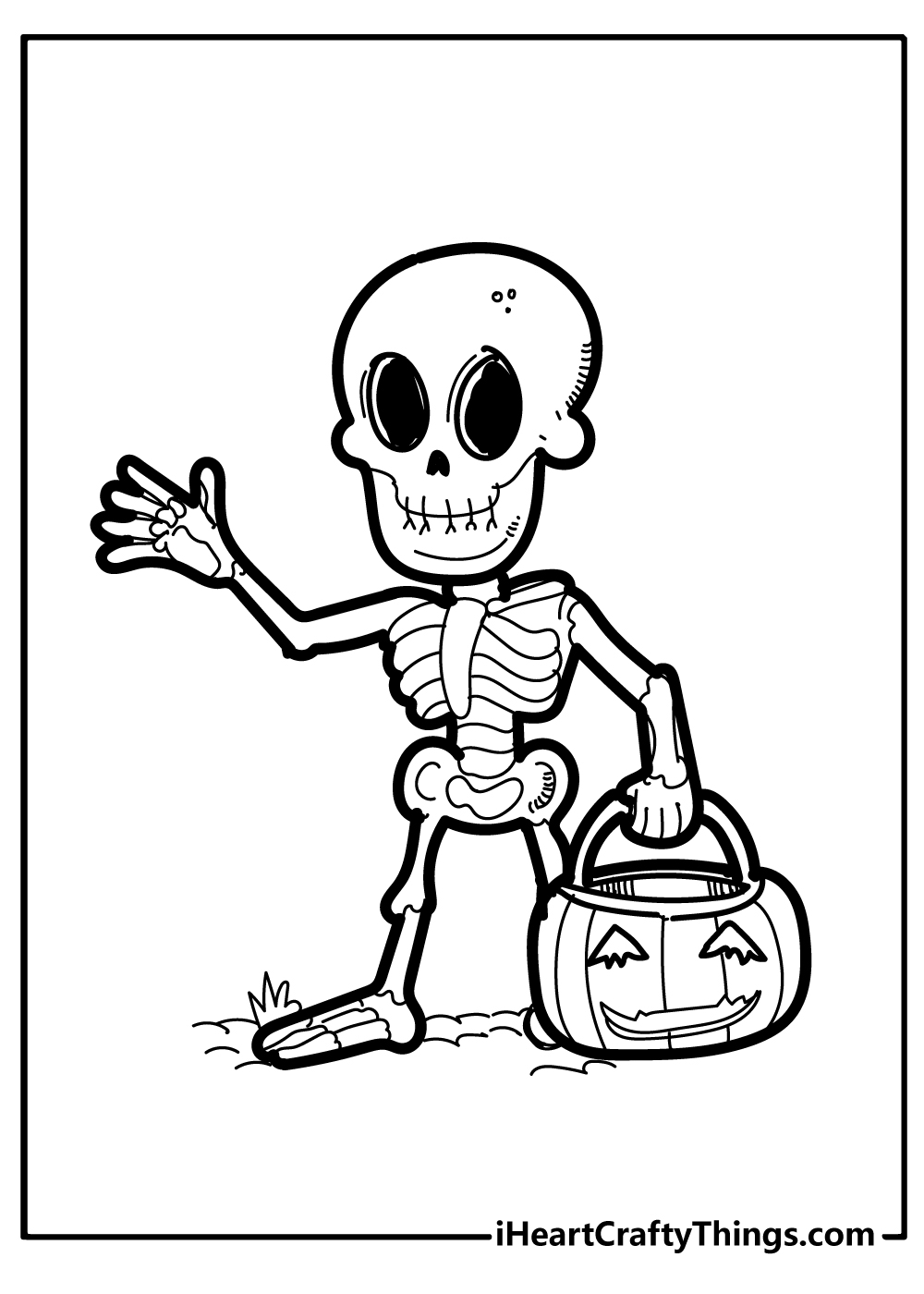 Hello! Or shall we say "Goodbye"? What message do you think this cute little skeleton tries to send us?
Whatever comes to your mind when seeing these adorable skeletons, our skeleton coloring pages are perfect for any age.
Here's a remarkable fact about skeletons to share with your children: did you know that no matter how squishy and fragile babies look, they have about 300 bones at birth?
These bones eventually grow together to form 206 bones. By the time you're 26, the process is complete.
The Spinal Column – 26 bones
The Ribs – 24 bones
Arms and Legs – 120 bones
The Head – 29 bones
The Ears – 6 bones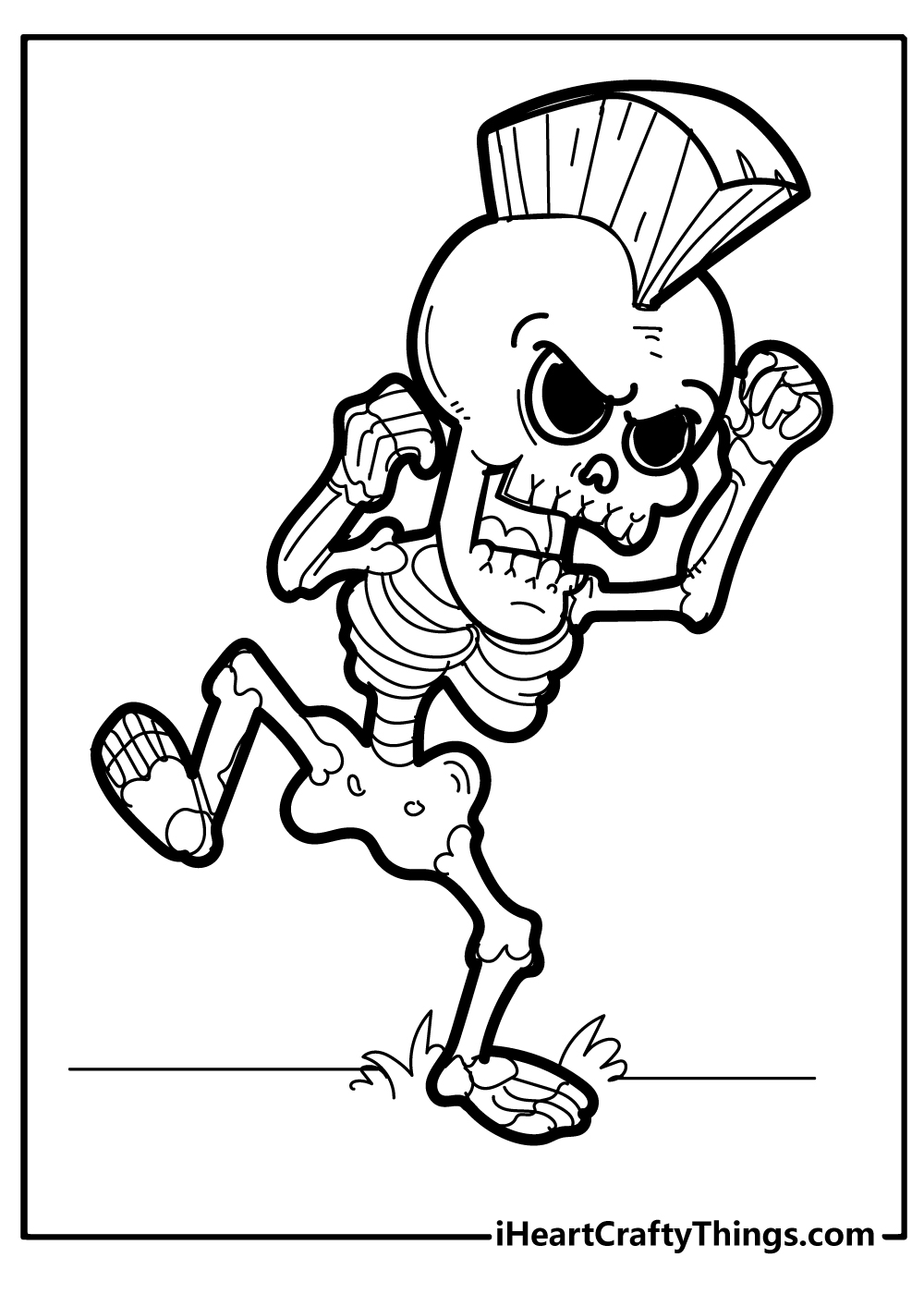 HA, ha, ha! What a funny little skeleton! We'll have a lot of fun coloring it! Isn't it funny how skeletons are most often associated with the dead?
But they're not so scary, after all, right? It might be the cutest Halloween skeleton coloring page you'll see.
Look how he grins at you! All of these extra adorable skeletons are here to make Halloween magical! Feel free to draw this little fellow as you please!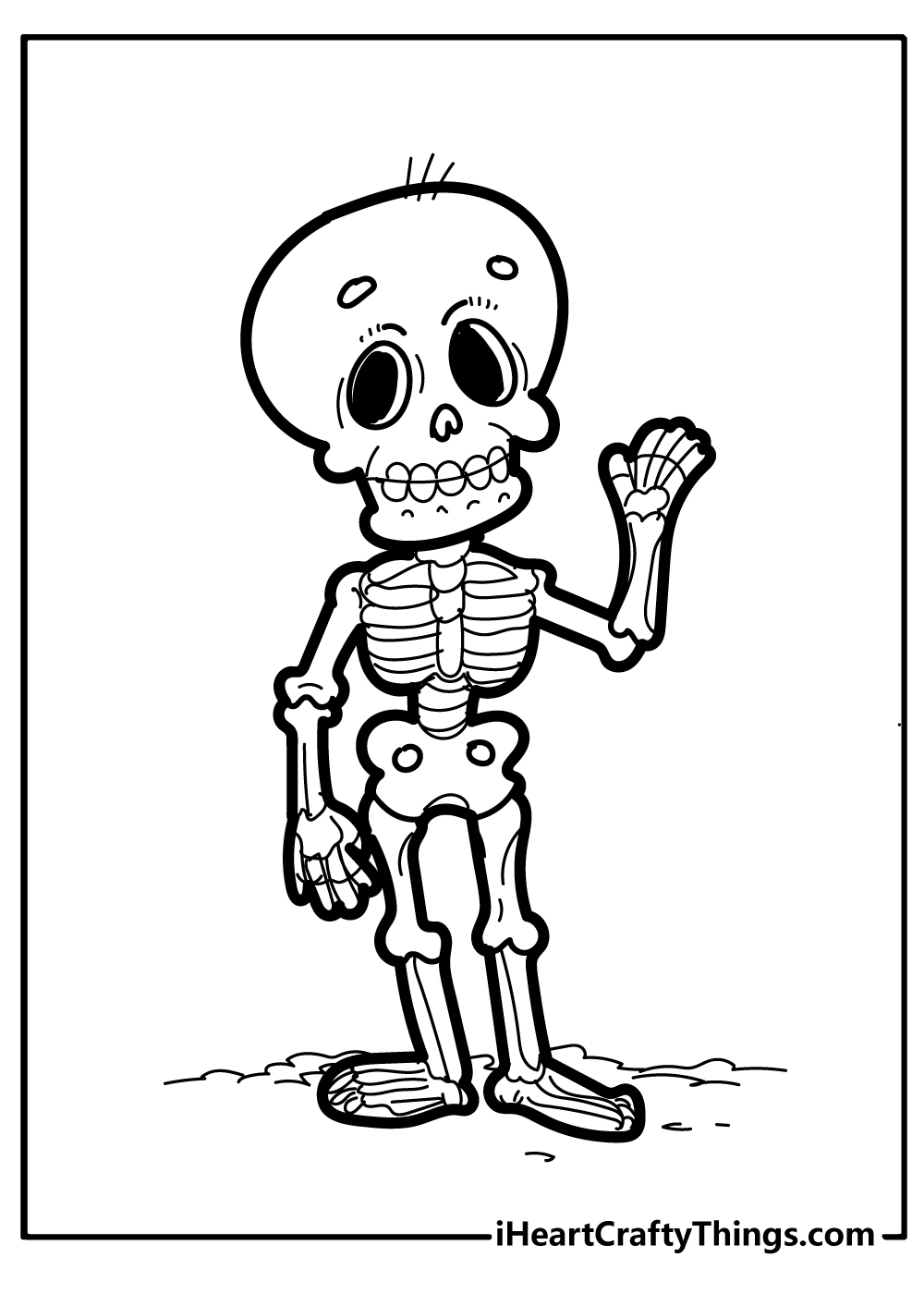 This skeleton is running for his life! He looks like a ghost is nearby! Well, don't get frightened! You're going to save his life, aren't you?
Along with the colors you're going to add to this friendly skeleton coloring page, drawing a bicycle or a motorbike underneath him may increase its speed!
So, break out the crayons for some un-boo-lievable fun skeleton printable sheet! Keep your creativity going with the following creepy-inspired skeleton coloring pages.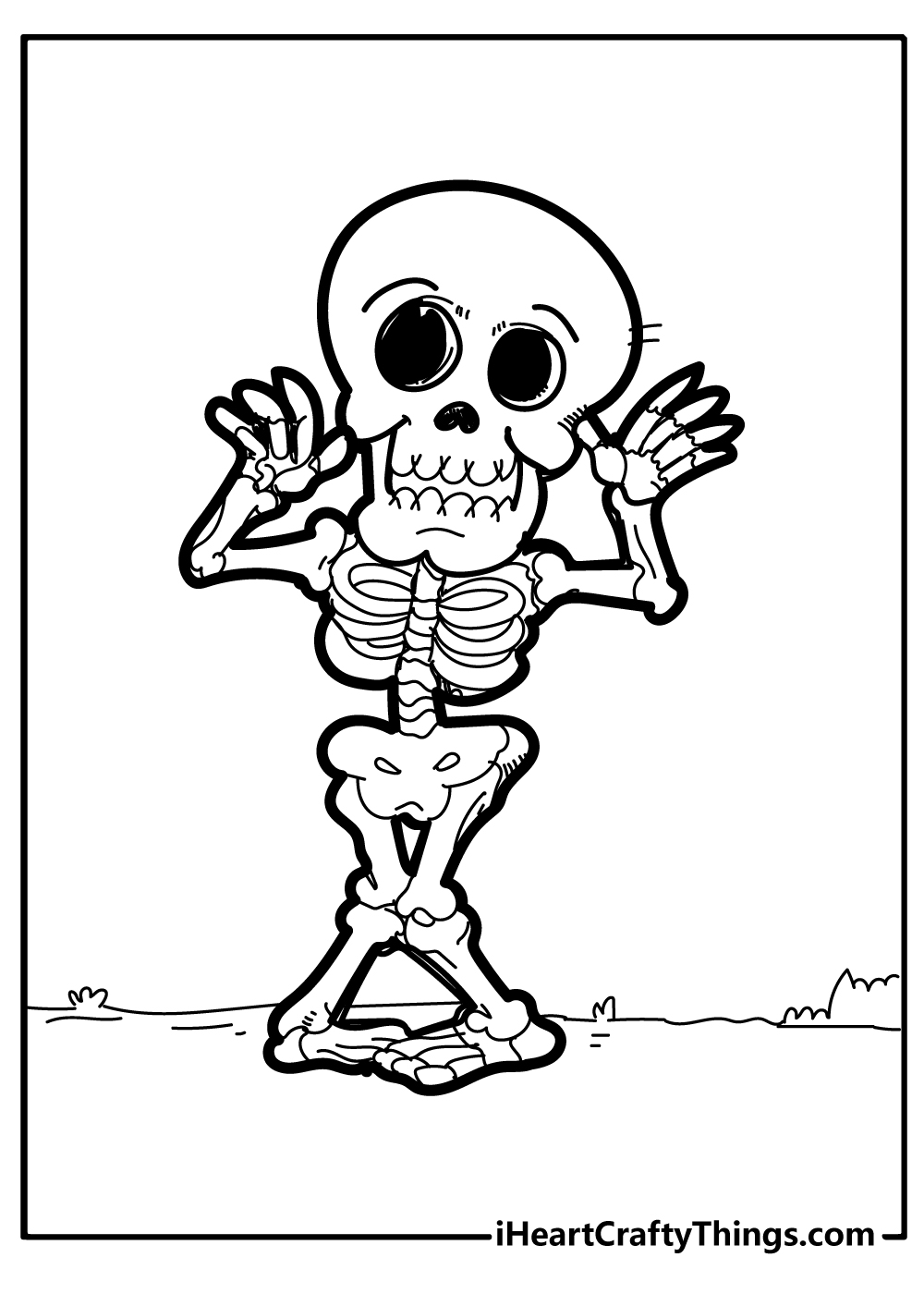 Okay, so regular skeletons are supposed to be scary.
But not this cute little fellow in this picture! It looks like he's smiling at you while pretending to be scary. Instead, he'd be called "The happy skeleton," dancing people to their Halloween party.
So, has this officially put you in the Halloween spirit? Are you in the mood for drawing on these unique skeleton coloring pages?
Thankfully, we've got more skeletons like this one that you can color. Your friends will love it!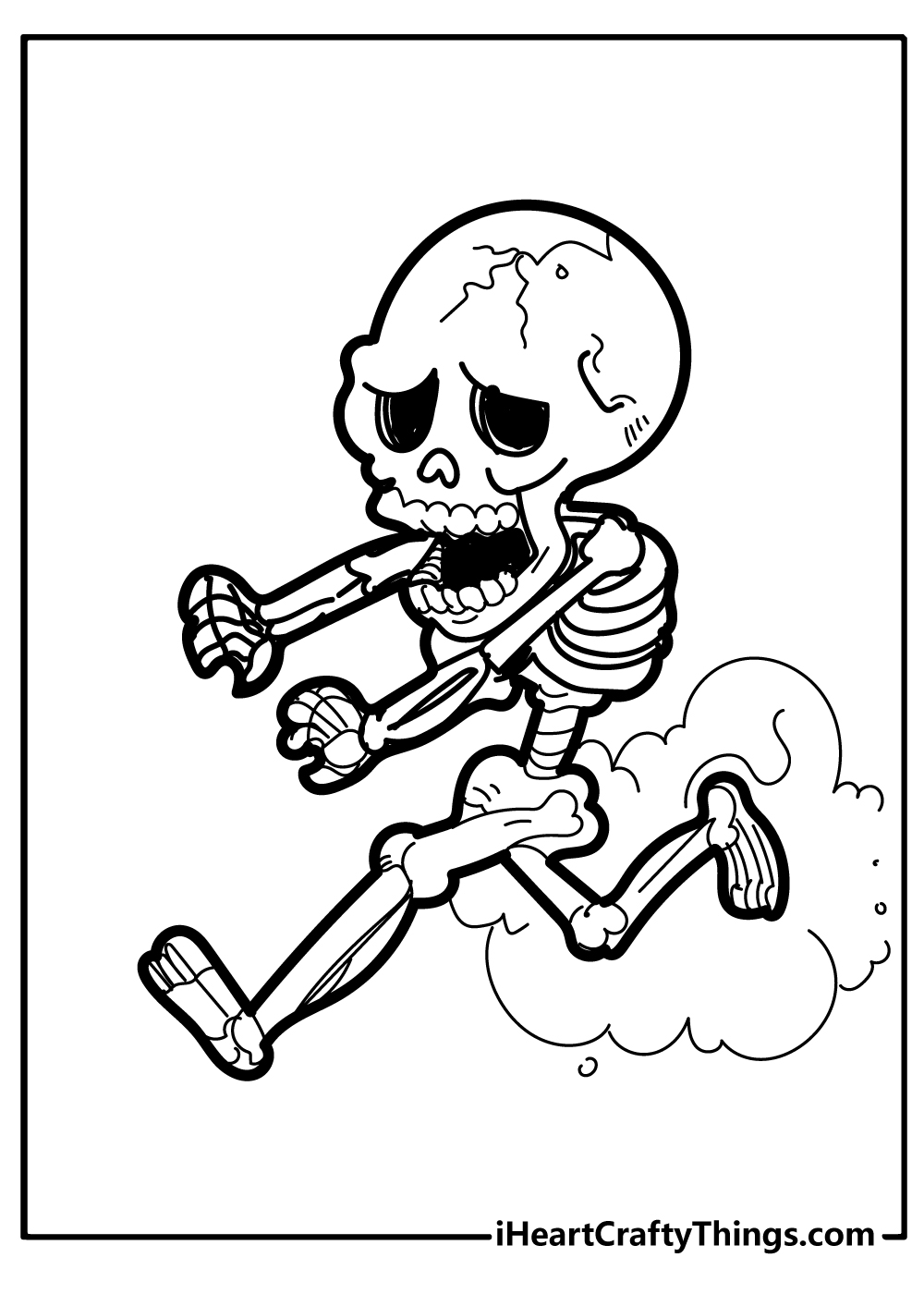 In fairness, skeletons are not creepy! They're technically educational. Any laboratory, science classroom, or science TV show has one skeleton hanging in the corner of a room.
If you put it that way, your little ones can see skeletons multipurpose. They serve as a learning tool or spooky seasonal décor.
With the help of this cute skeleton in the picture, you could show your children each bone of the human body.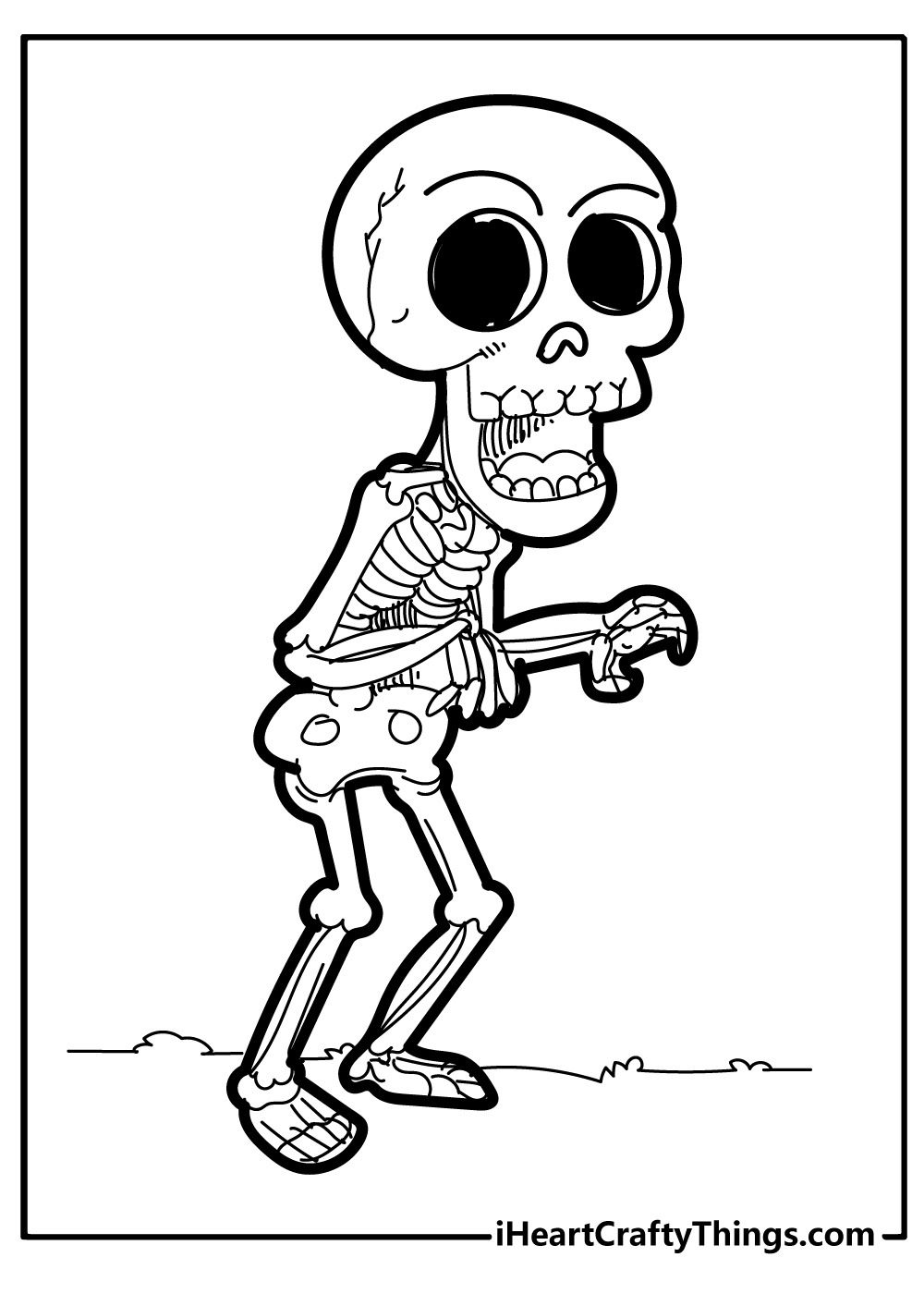 This is the perfect time of the year to tell silly and non-scary skeleton stories with a cool twist for younger children and collect some favorite Halloween books or decorations with bones and skeletons.
This picture illustrates a simple skeleton that's okay with you learning about its bones.
Over 200 bones are growing inside you that create your skeleton! Learn all about what a skeleton can do and how they develop!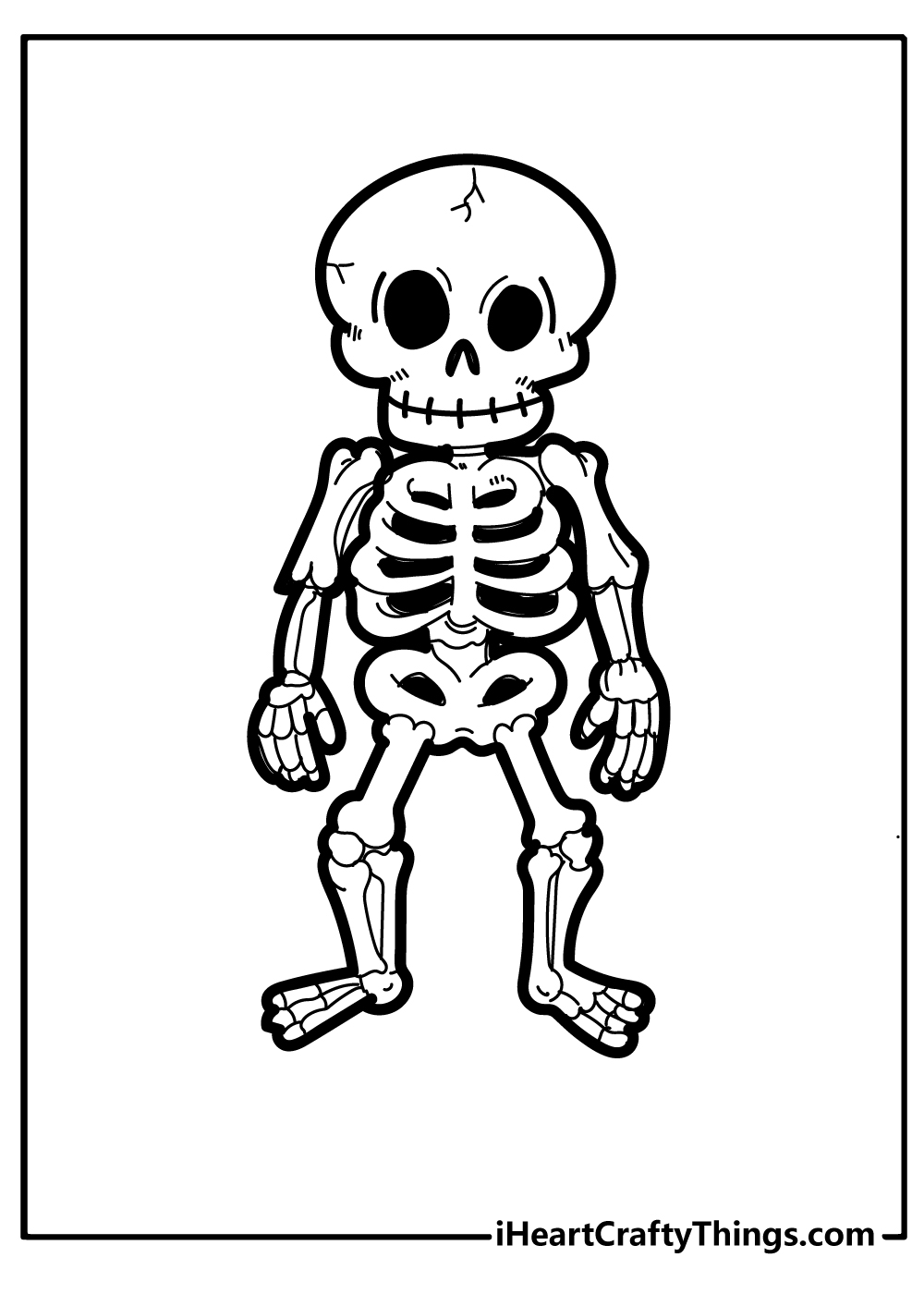 Look at this joyful dancing skeleton! Such a fantastic idea for children to color while singing and dancing along with the Halloween season.
Or any time of the year! It's a cute holiday skeleton printable sheet, a perfect surprise for your little ones.