Bears come in many shapes, sizes and different species in the animal kingdom.
From mighty grizzly bears patrolling misty forests to polar bears wandering the frozen wilds of the North, these majestic and powerful creatures can pull off looking huge and intimidating and yet kind of cute at the same time!
This collection of free bear coloring pages for kids are the perfect way to have hours of fun with a variety of bears that compliment the variety you can see in these animals in real life!
You can also have fun deciding what kinds of environments and terrains these bears are living in with how you color in these bear printables.
Once you've colored in your favorite free bear coloring sheets, please be sure to share them to our Facebook page for us to see!
We can't wait to see how you color in this furry collection.
Here are my RECOMMENDED Art Supplies!
20 Brand New Bear Coloring Pages – Free to Print and Color
Our first free bear coloring page for kids shows a very calm looking bear wandering through the wilderness.
There's a lot of background detail to this relaxed looking bear, so you could keep the colors more pared back and muted to keep the focus on the bear, or you could draw in lots of colorful dots to give the impression of a bunch of colorful flowers behind her.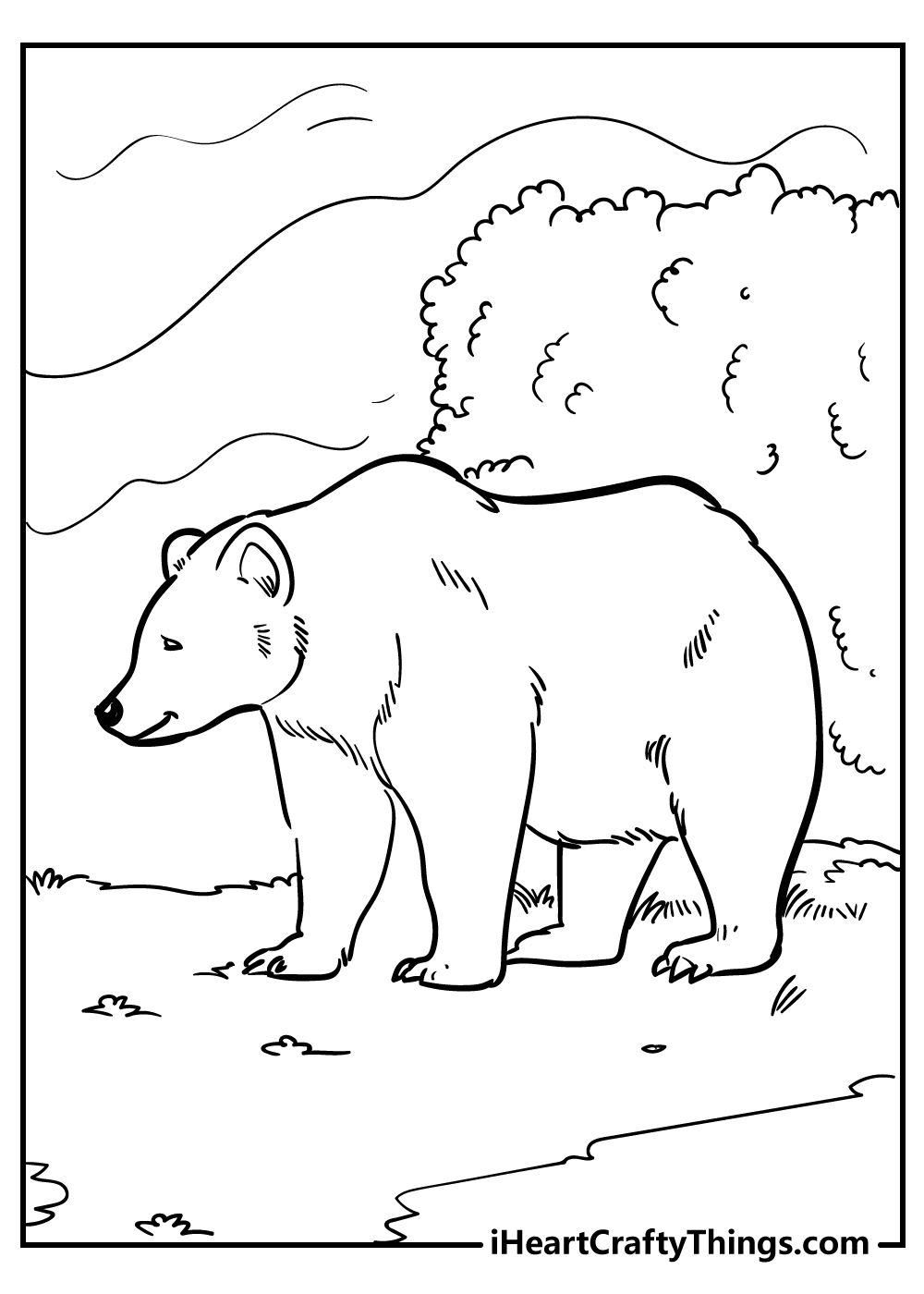 This adorable little bear cub is having a great time fooling around in our second bear coloring sheet! He's trying to reach his toes and rolling around while doing so.
You could use some brighter, more playful colors for this image to compliment the more lighthearted scene of a bear cub messing around to finish off this cute bear printable.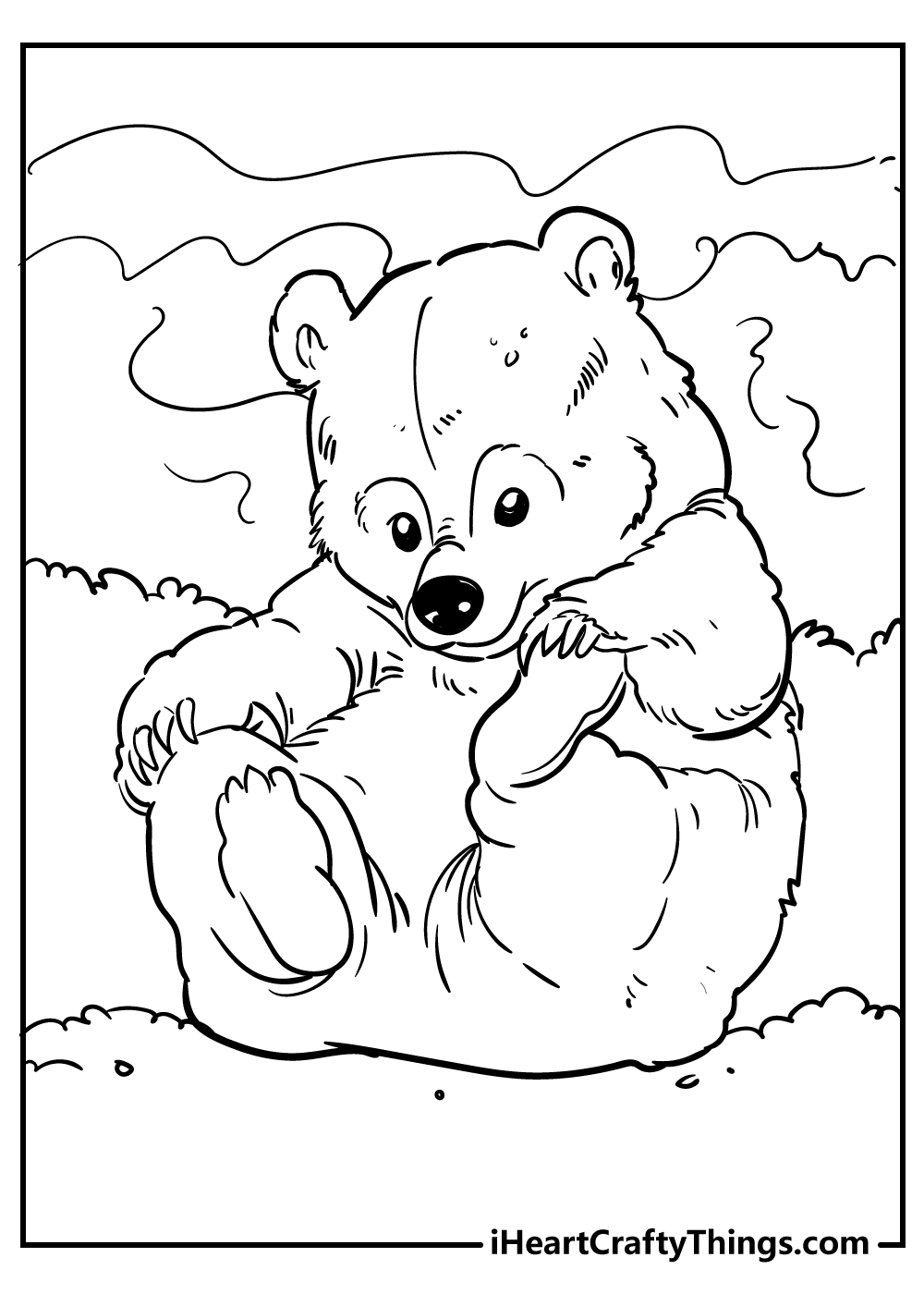 We have a more cartoony looking bear for this fun bear coloring page. He's looking like he's having a pleasant day sitting outside!
You could suggest what time of day it is using just your colors, so you could use yellows for dawn, light blues for midday, beautiful oranges for dusk and dark blues and blacks for a night sky.
What time of day would you like it to be for the cute fellow in this bear coloring printable?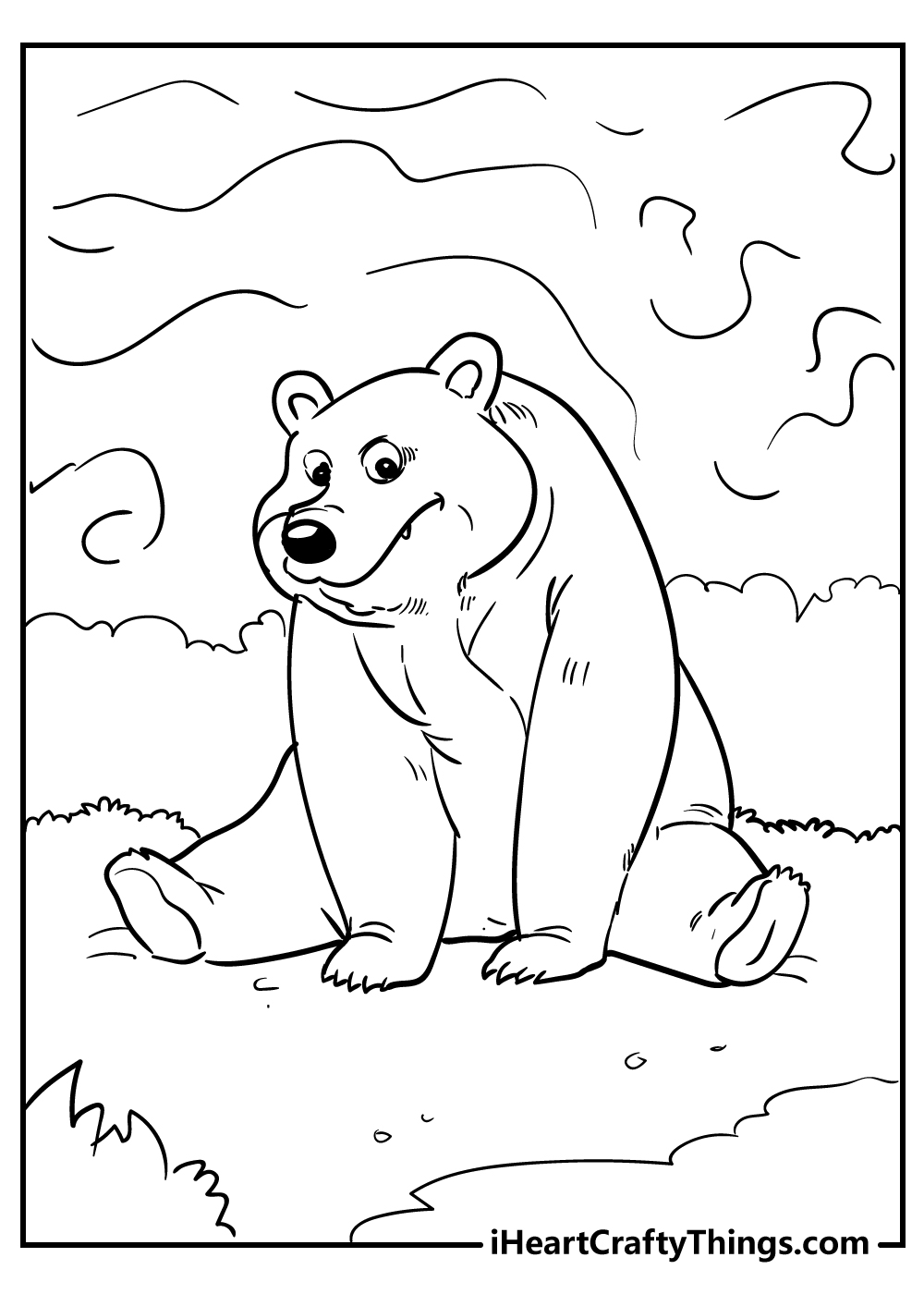 There's a really cute scene going on in another more cartoony bear coloring sheet. This smiling mother bear is hugging her adorable bear cub, and they're both looking very happy.
Bears can come in different color variations, from dark blacks to many shades of browns and pure whites for polar bears. Maybe you could color a pattern onto these bears by keeping their fur brown and giving them white bellies and paws.
What colors will you make this mother and cub bear duo to finish off this cute bear printable?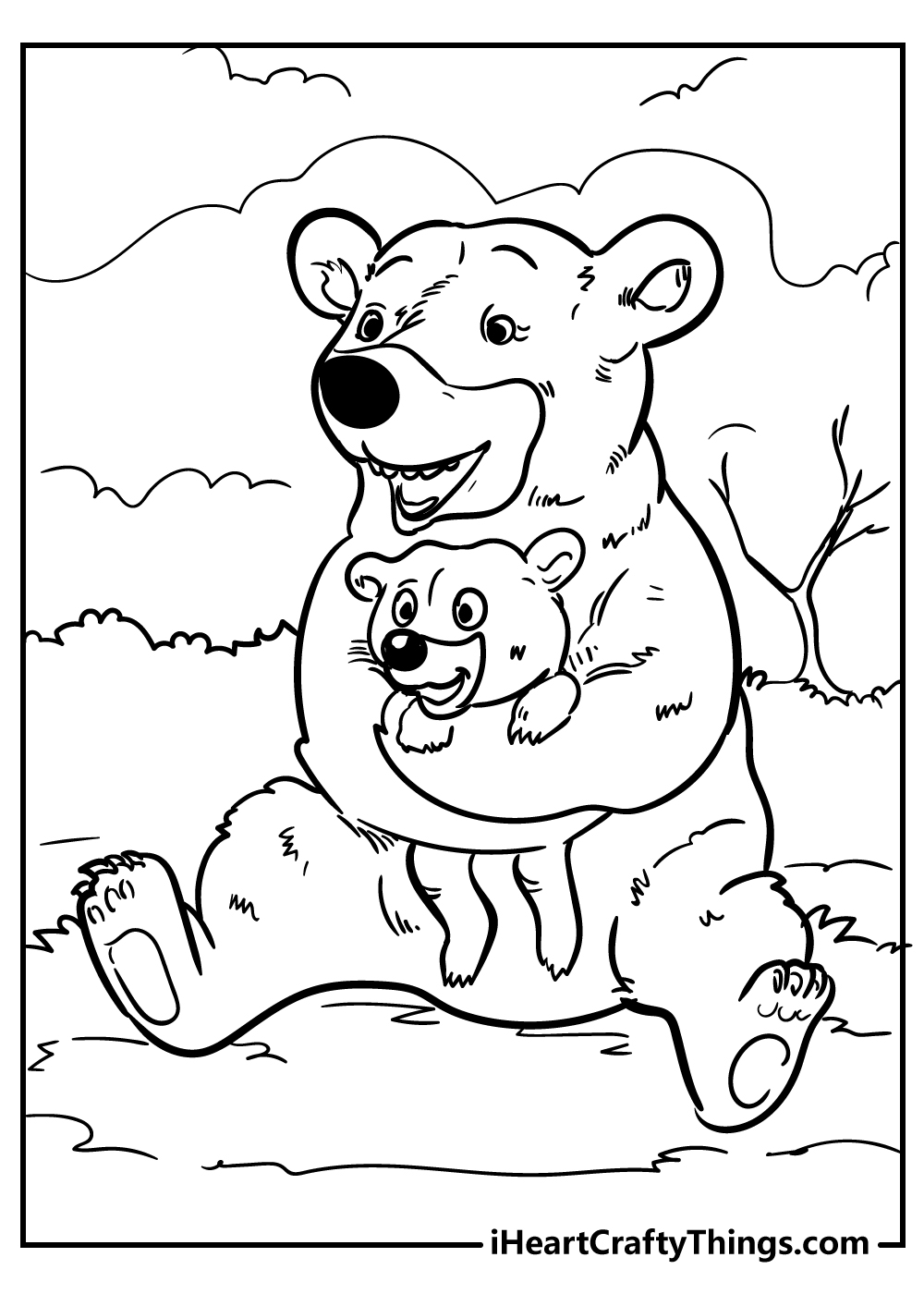 This next free bear coloring sheet shows another bear with quite a happy look on his face. I don't know about you, but to me it looks like this bear just woke up from a good night's sleep!
If you think so too, you could use some lovely bright colors for the sky and background to make it look like a beautiful, clear morning that anyone would be pleased to wake up to.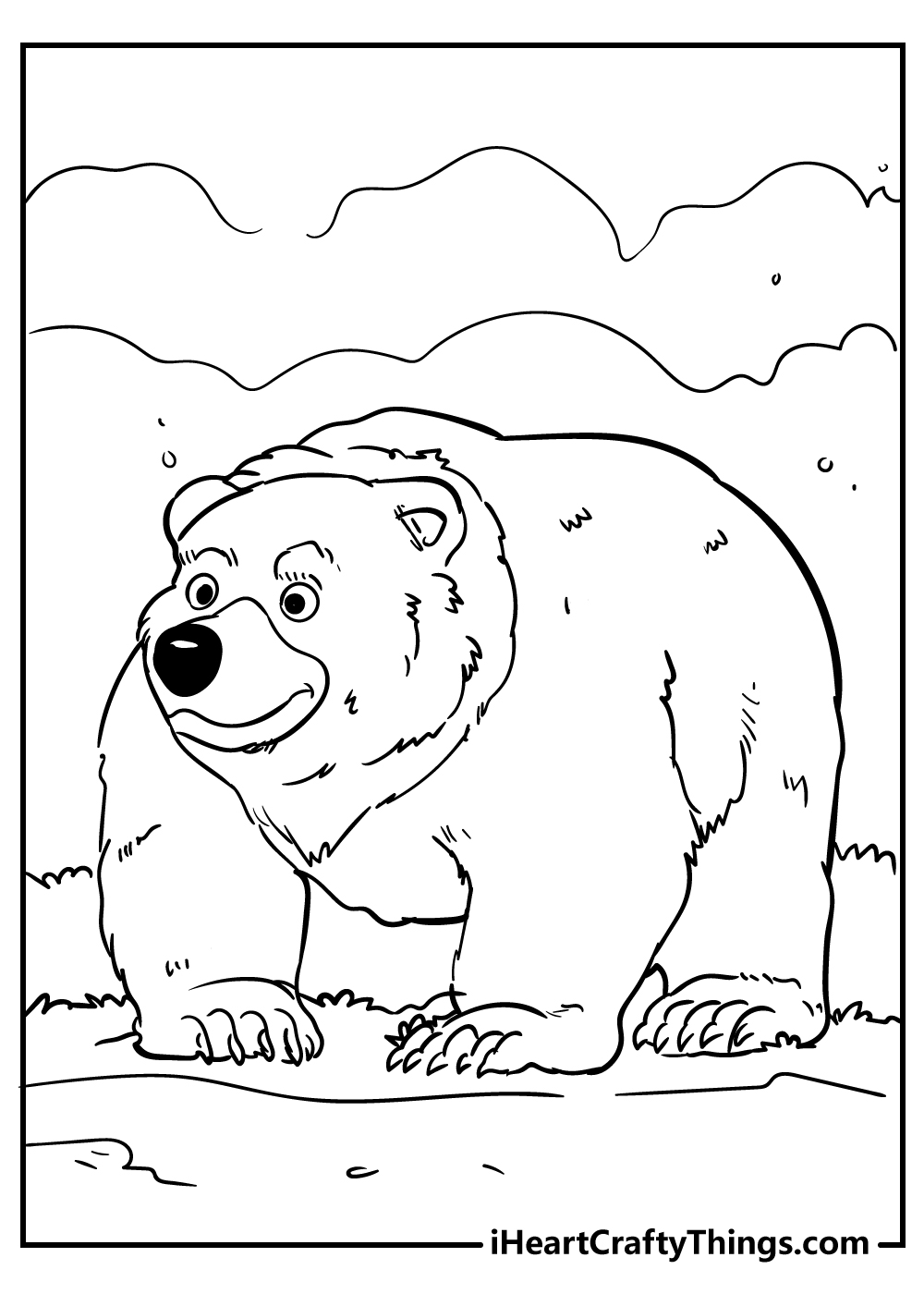 We have an adorable little bear cub smiling and having some fun on a walk with this bear coloring page! This little bear looks about as close to a living teddy bear as you're likely to see in real life.
For this little cub, I would suggest using some lighter browns for its fur to suggest that it's a much younger bear.
You could draw in some extra details for the background such as colorful butterflies, birds, flowers and plants if you're feeling extra creative to show off why this bear is looking so happy to be wandering around outside.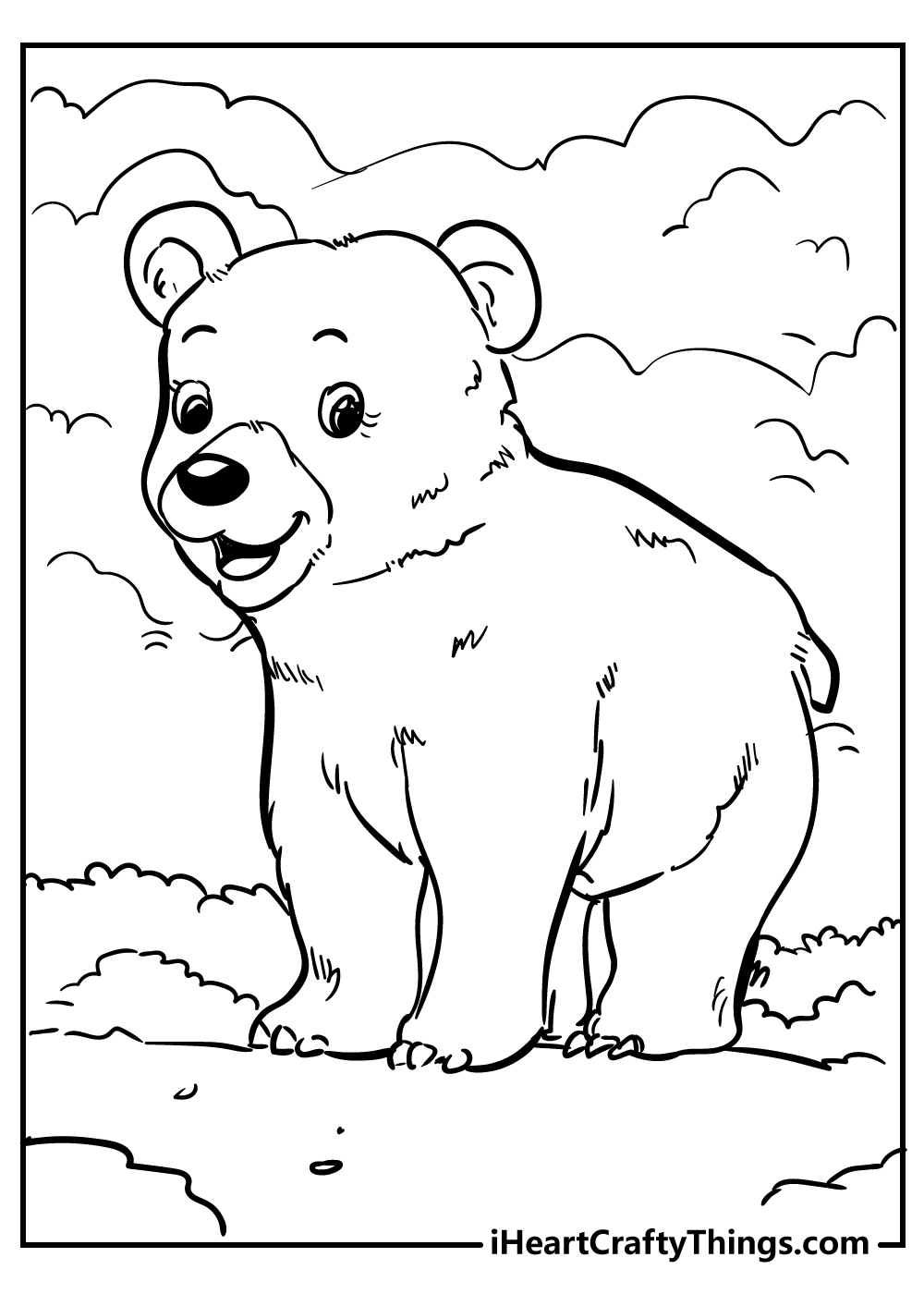 The seventh in our collection of free coloring sheets for kids shows a little cub looking very happy!
This cute bear looks more like a teddy bear than a fierce grizzly as it has a great time having fun in a tree.
For this bear printable, I think it would look great to use lighter colors to compliment this more lighthearted little guy.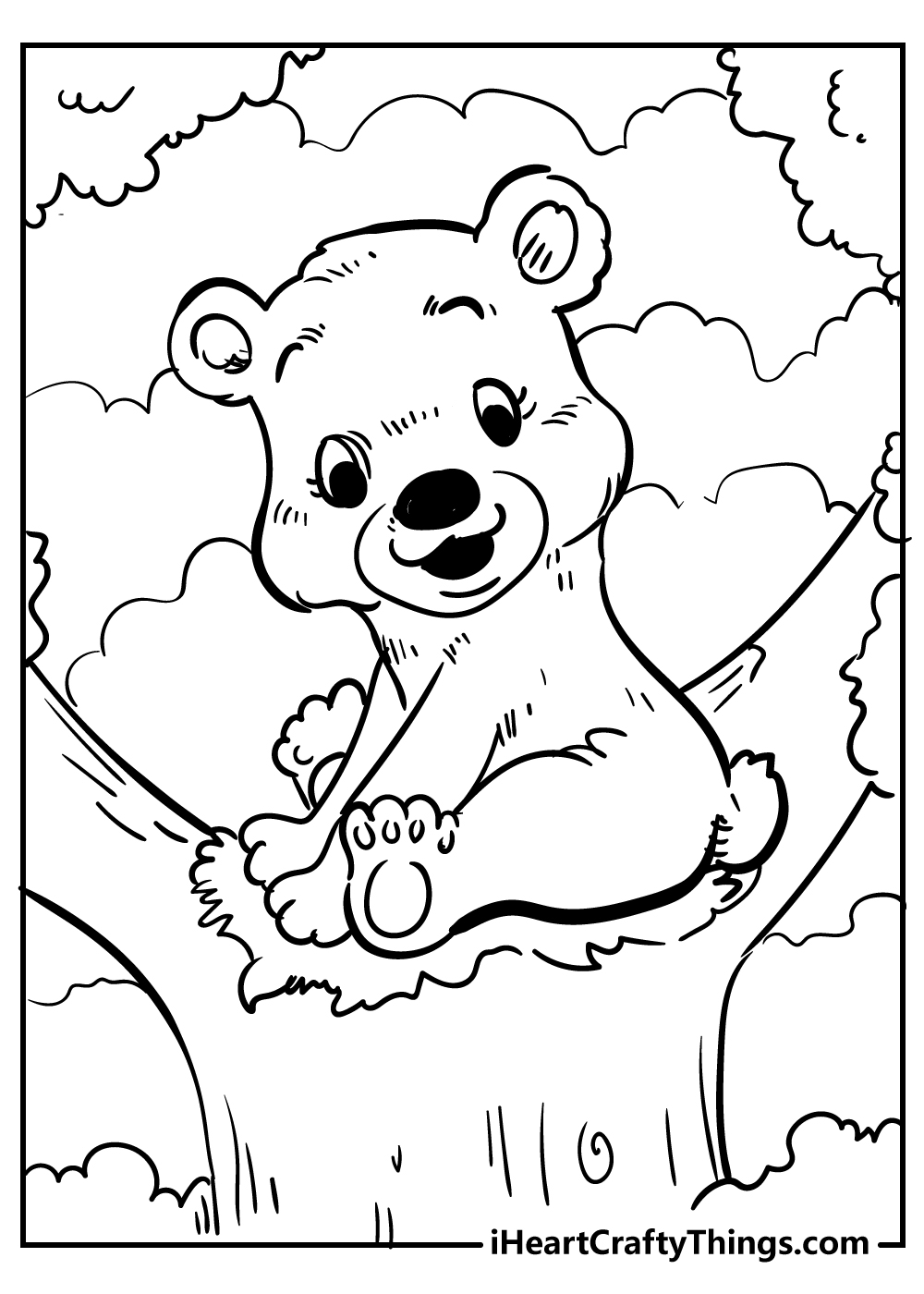 There's a sweet bear family on display for this bear coloring sheet. A mother bear is looking lovingly at her two bear cubs, and they seem to be very happy about it!
For this image, the background is left vague enough that you could have a bunch of different options for how you color it in.
You could use whites and blues for a more snow covered terrain, or use greens and browns for a forest setting.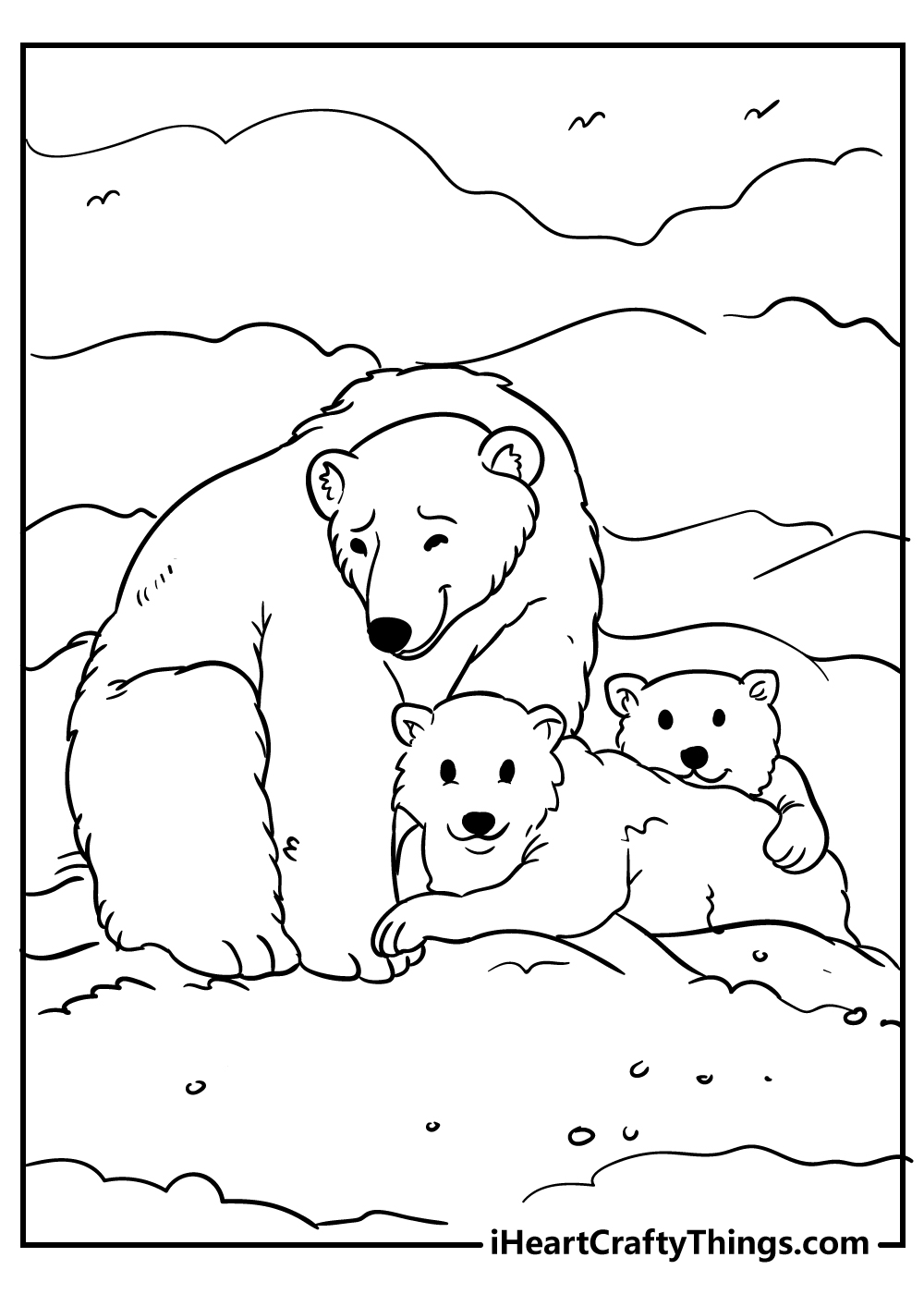 This next bear printable shows a very majestic looking bear gazing out into the great unknown! It looks like it could be a polar bear to me, and that it could be standing on some frosty ice.
You could use a lot of light variations of blues for this background, and if you'll keep the bear white to resemble a polar bear maybe you could add some brown mud details to its feet and belly to show that this bear has been traveling around a lot.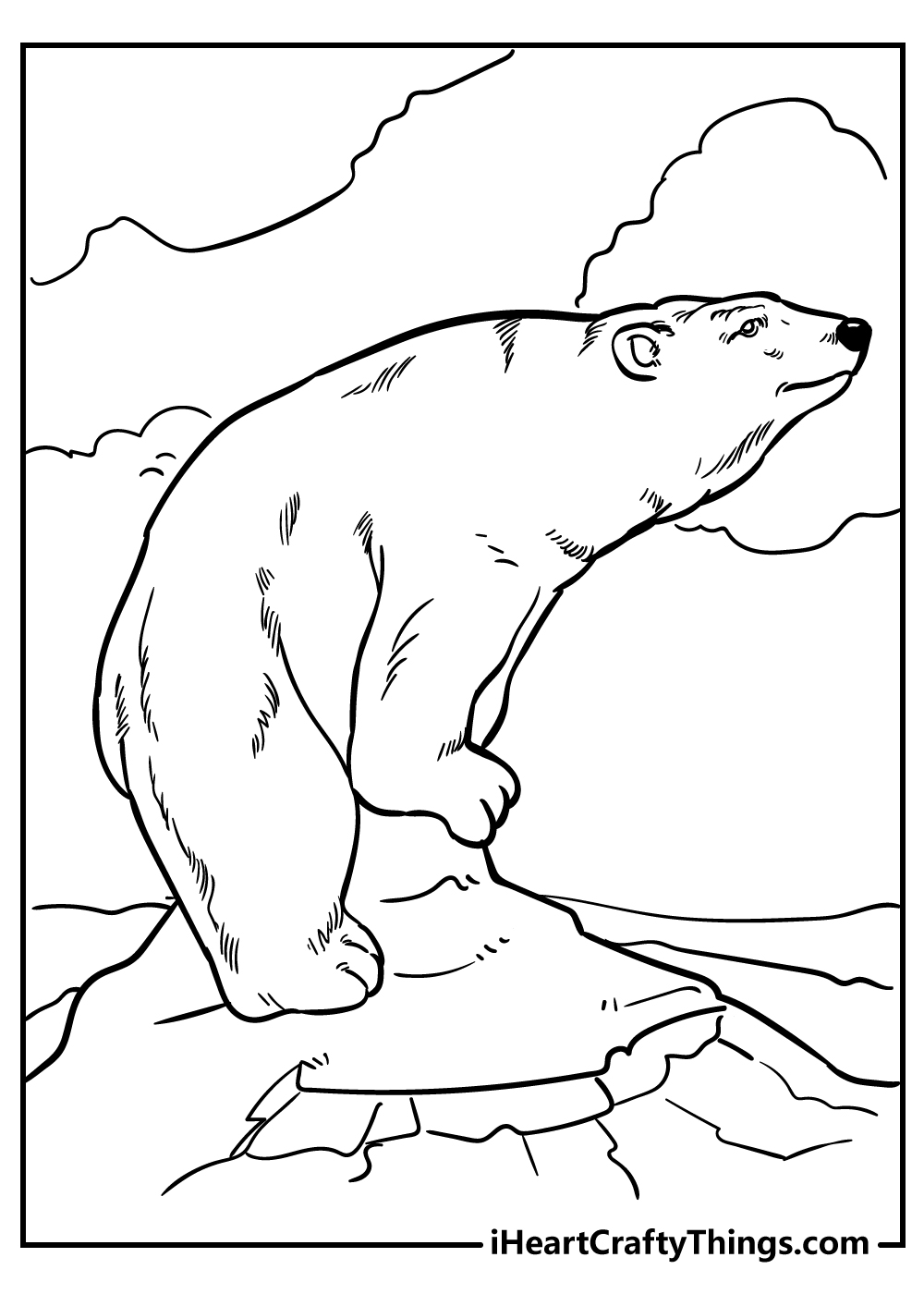 This bear is looking pretty mad, and you don't want to be in the way of an angry bear!
Bears can look pretty cute when they're calm, but as seen in this bear coloring page, they can be quite ferocious when they need to be so it's always important to not get too close to them!
We're safe from this one at least, so it's a great chance to use some more dramatic coloring for the bear and the background.
Maybe you could have an orange sky background for a more intense feeling to this bear printable.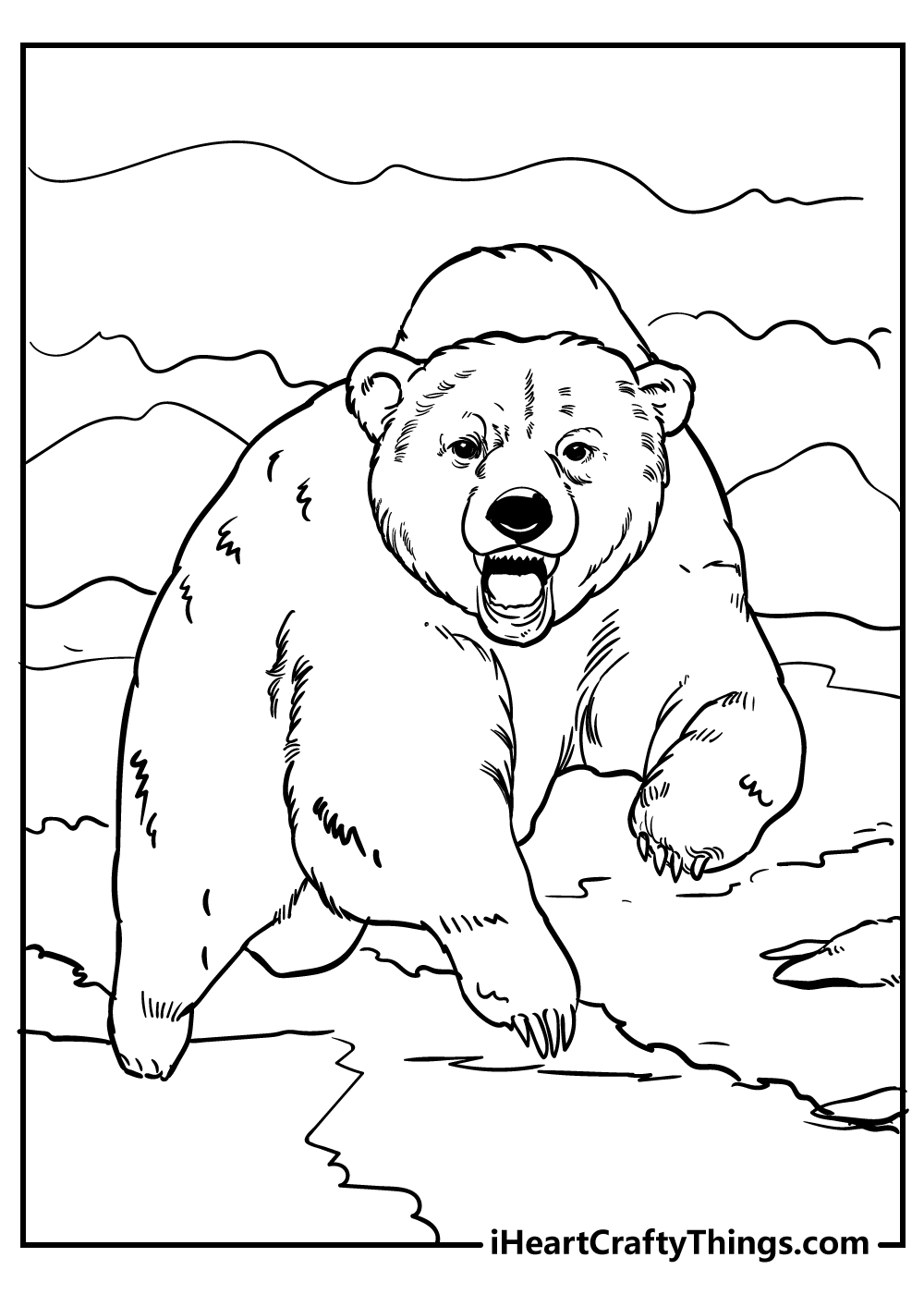 If you thought the previous bear looked mad, then the one in this next bear coloring sheet looks even more angry!
This one is roaring while standing at a full height, and once again I would not like to be the one that made him this angry!
There's a nice forest backdrop to this bear coloring page, so you could use some lovely natural greens and browns with a light blue sky to suggest that this bear could be in the forests of Alaska.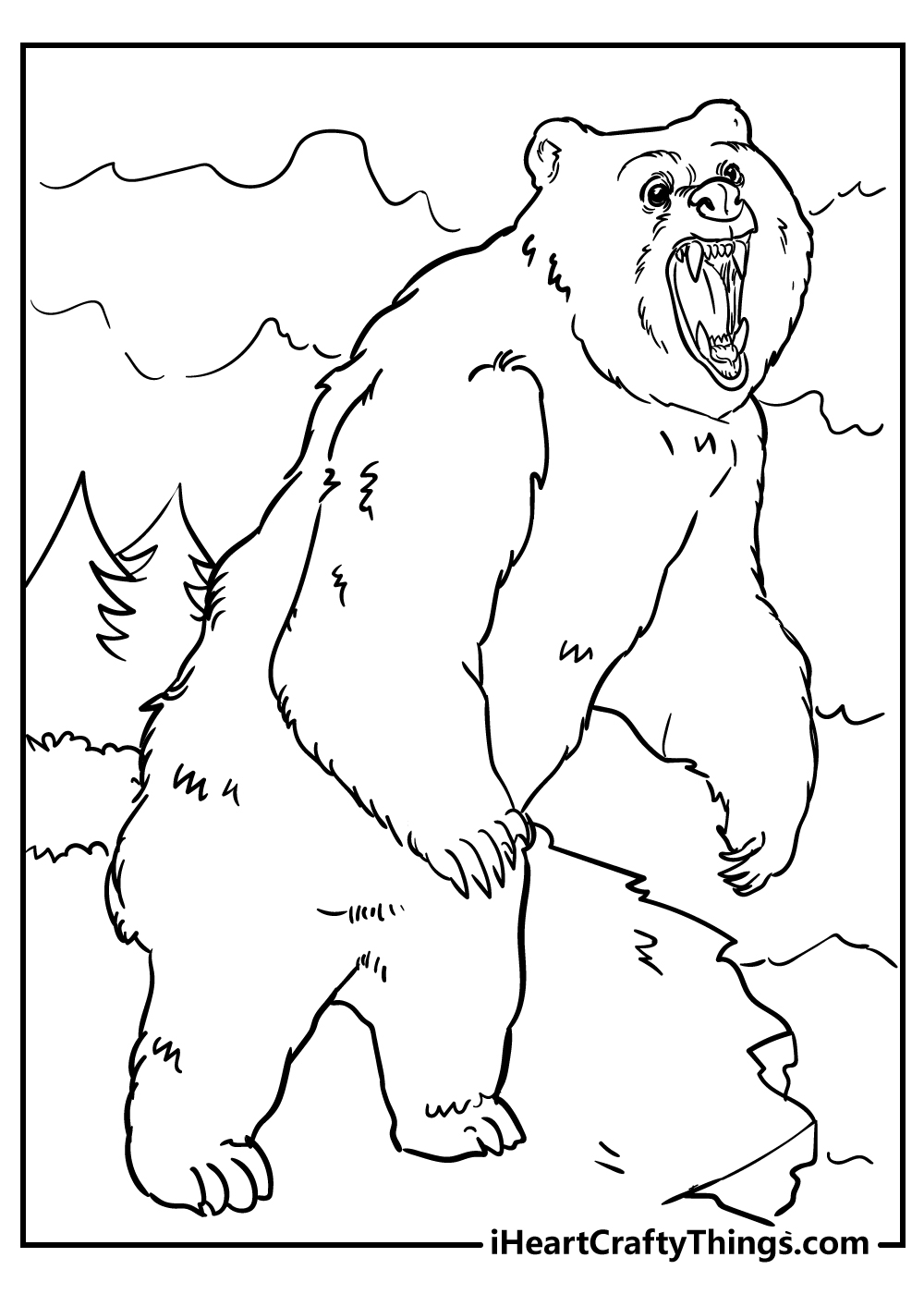 We've had two very angry bears in the last two bear coloring printables, so this next one is balancing things out a bit with a much calmer bear foraging around.
For an added detail, you could draw in some berry bushes that this bear could be snacking on as it seems to be looking around for food.
You could also color in this bear a light brown and use some beautiful dark greens for the plant life in the background to create a beautiful contrast.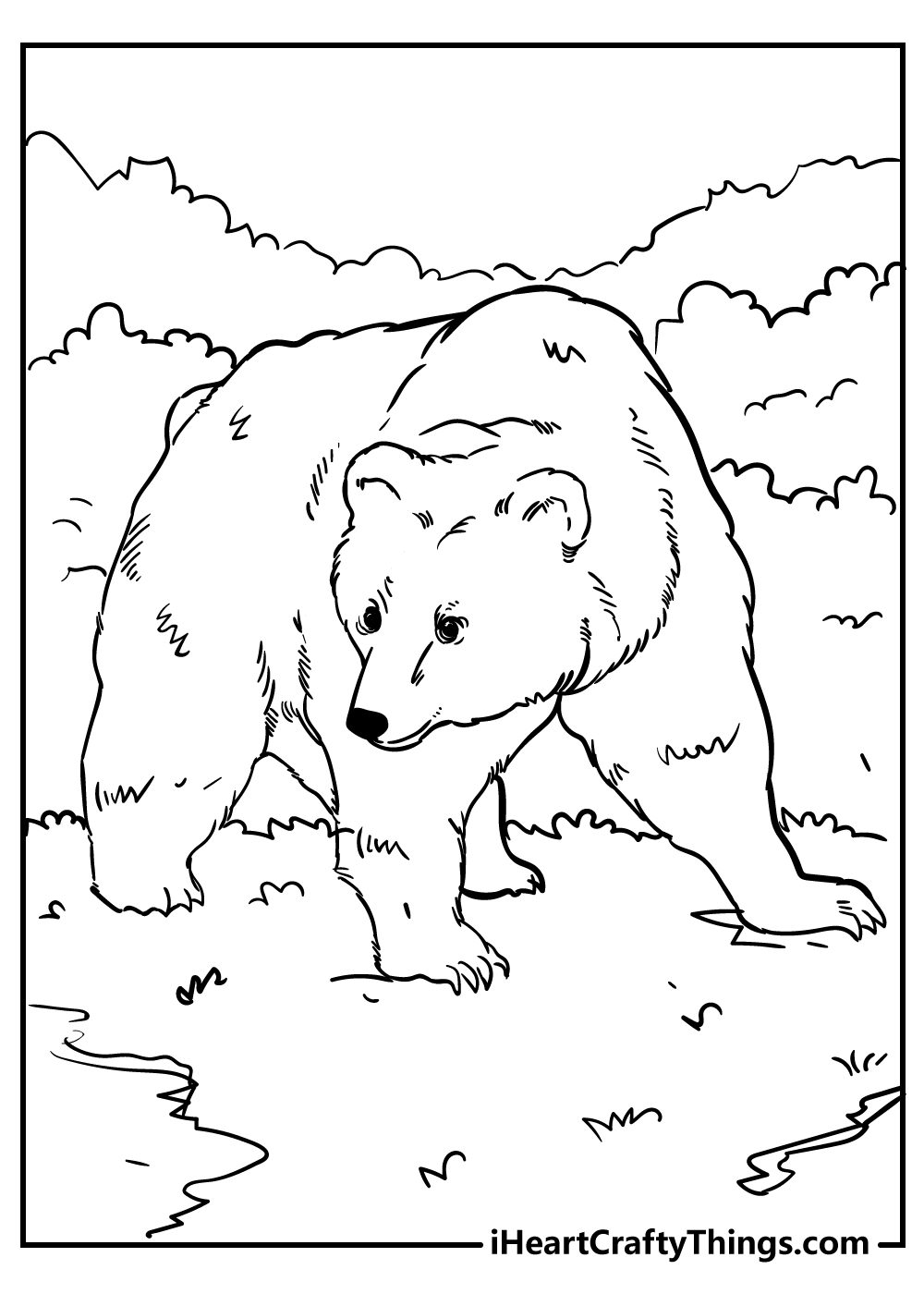 Normally I wouldn't recommend giving a bear a high five in real life, as with their immense strength you might lose an arm doing so, but for this bear coloring sheet a bear is looking like it wants a high five, so it's fun to imagine it at least!
You could try to use some watercolor paints for the bear and the background of this printable for a softer look to reflect the attitude of this friendly guy.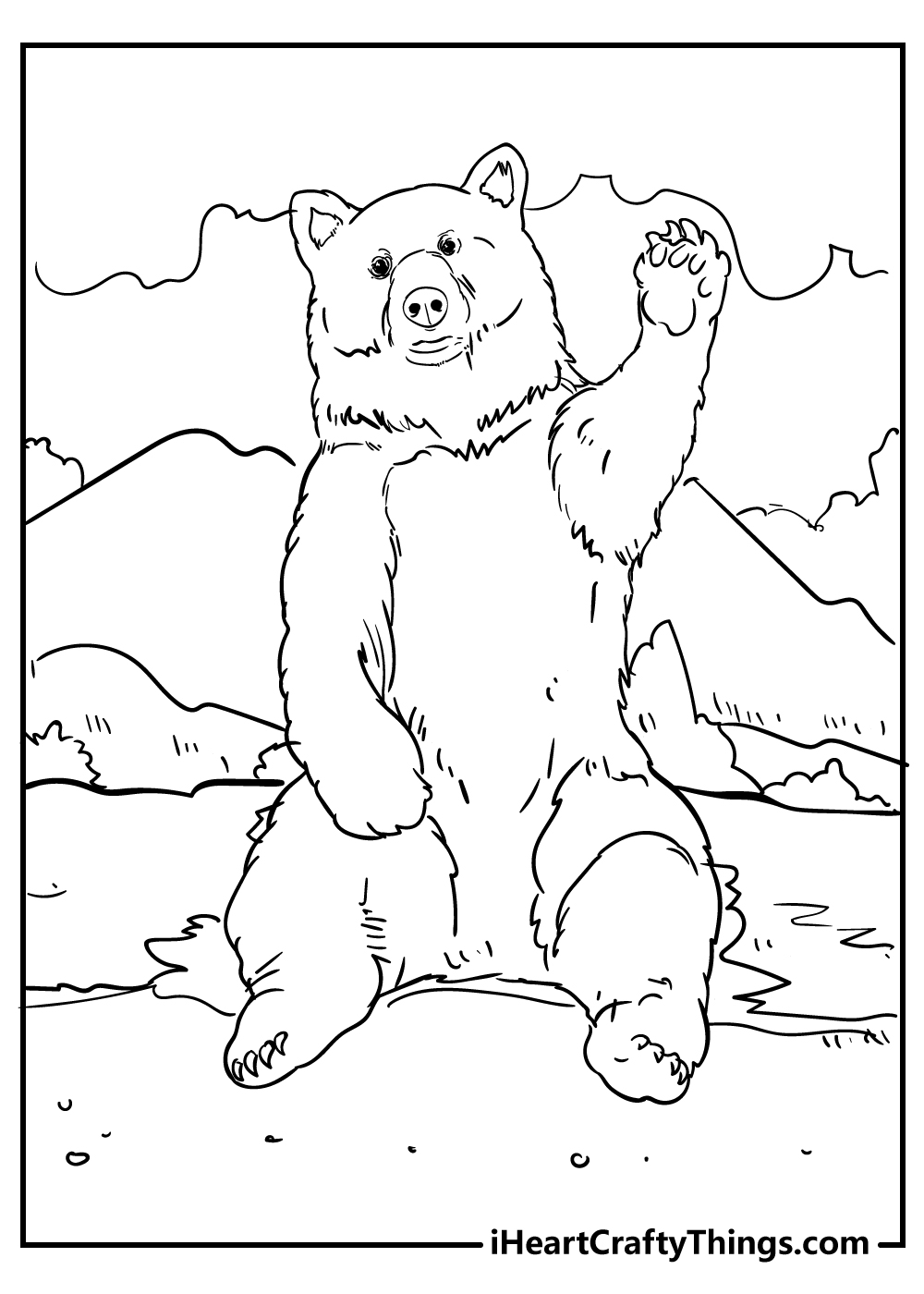 For this next free bear coloring page for kids, it looks like we're dealing with a mighty grizzly bear!
These powerful creatures are a lovely rich dark brown, and I think this bear would look great if you used a few of your favorite brown shades to give his fur some depth.
It looks like a lovely clear day where this bear is exploring, so I would use lighter shades for the background and the sky above to give this bear printable a sense of adventure.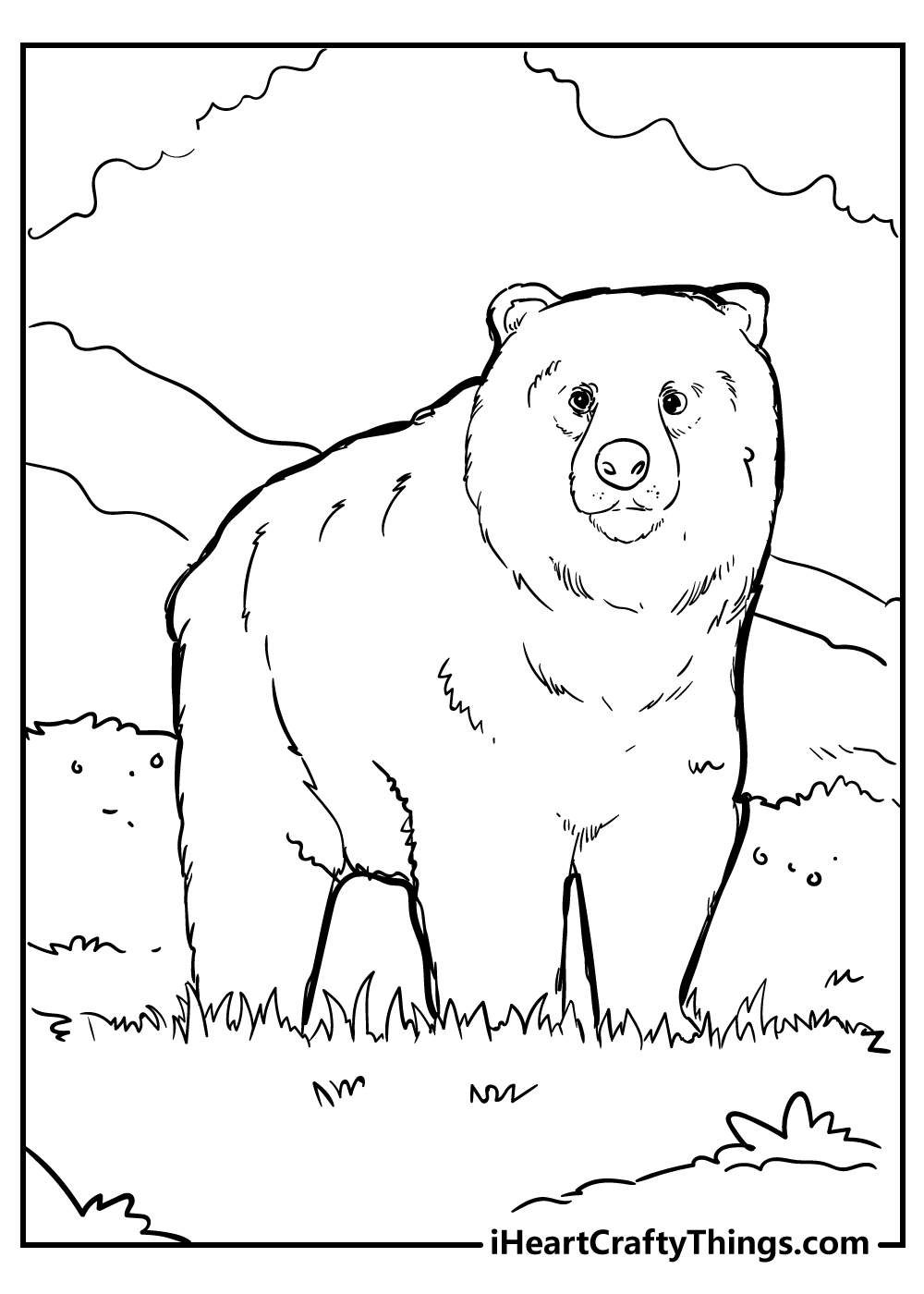 It's a peaceful day relaxing under a tree for this bear coloring sheet. The bear in this image looks like she is having a lovely day outside and seems to be smiling with contentment.
She seems to be hanging out in a beautiful forest, and with all the details in this background I would think that this might be a good opportunity to try out some acrylic paints for a thicker, more colorful look.
What medium will you use for this cute bear coloring page? I'm sure whatever you choose will look amazing!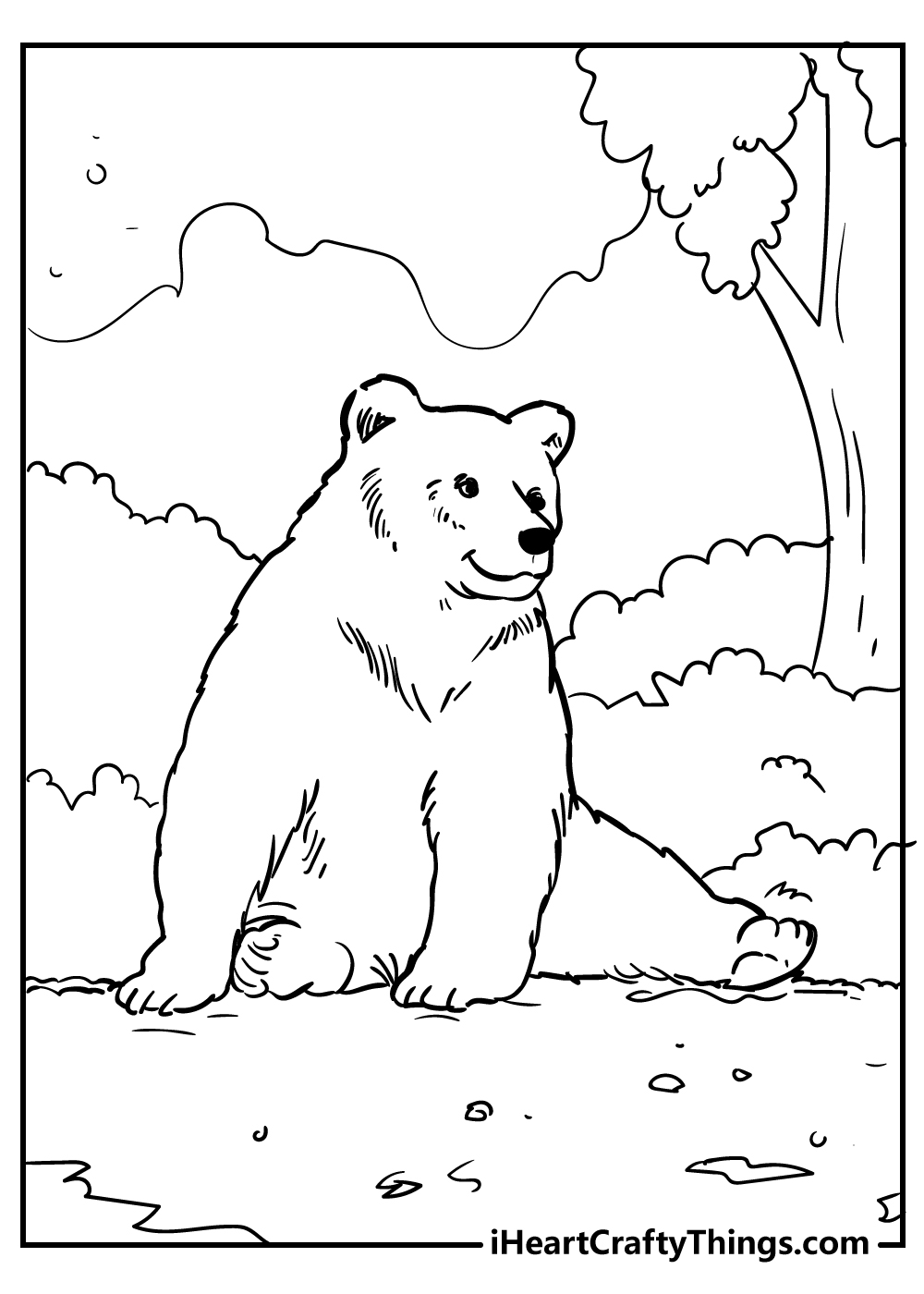 We have a close-up on another very angry bear for this tenth free bear coloring printable! Can you imagine how loud that roar would be? I bet your ears would be ringing after hearing it from this close up.
Maybe you could use some darker shades for the bear in this image to show he means business, and use some darker shades of your favorite greens and blues for the background to further suggest that this is one serious bear!
How will you color in this angry grizzly?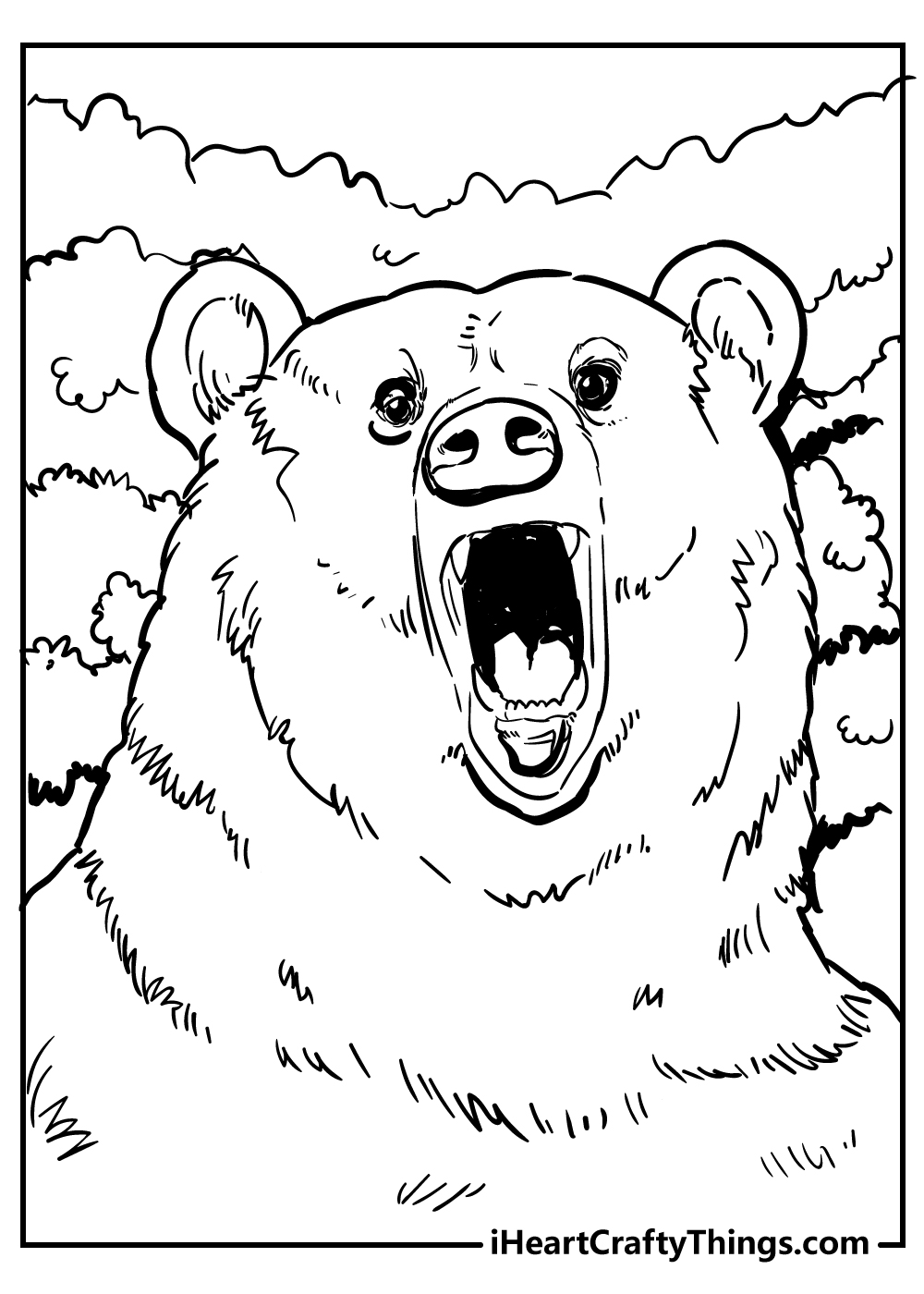 From a roaring, furious bear we move on to a decidedly more lighthearted image for this next free bear coloring page. I don't think you'd be likely to see this if you were in a real forest: a bear riding a unicycle with an umbrella and looking quite content!
The more fantastical nature of this bear printable means you can bring out some colors you've maybe been avoiding for the previous coloring pages like reds and yellows to create a more whimsical image for this fun bear.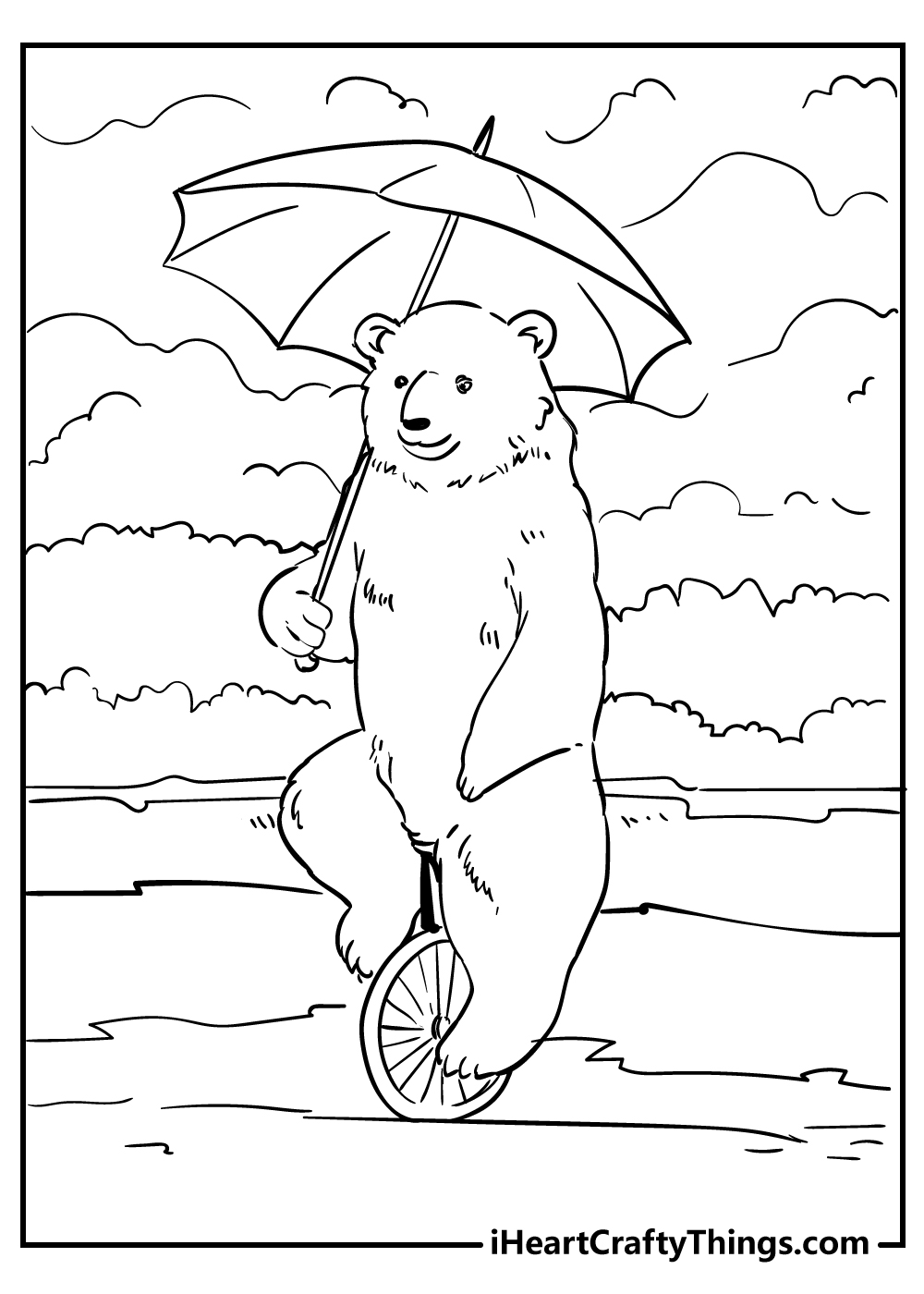 Even though this full grown bear would be a dangerous creature in real life, it's looking quite cute in this bear coloring sheet!
This guy is having a great time playing around and grabbing his feet with his paws!
For this bear printable I would use some brighter browns, greens and blues for this lighthearted image. He's having fun so you should too with your colors!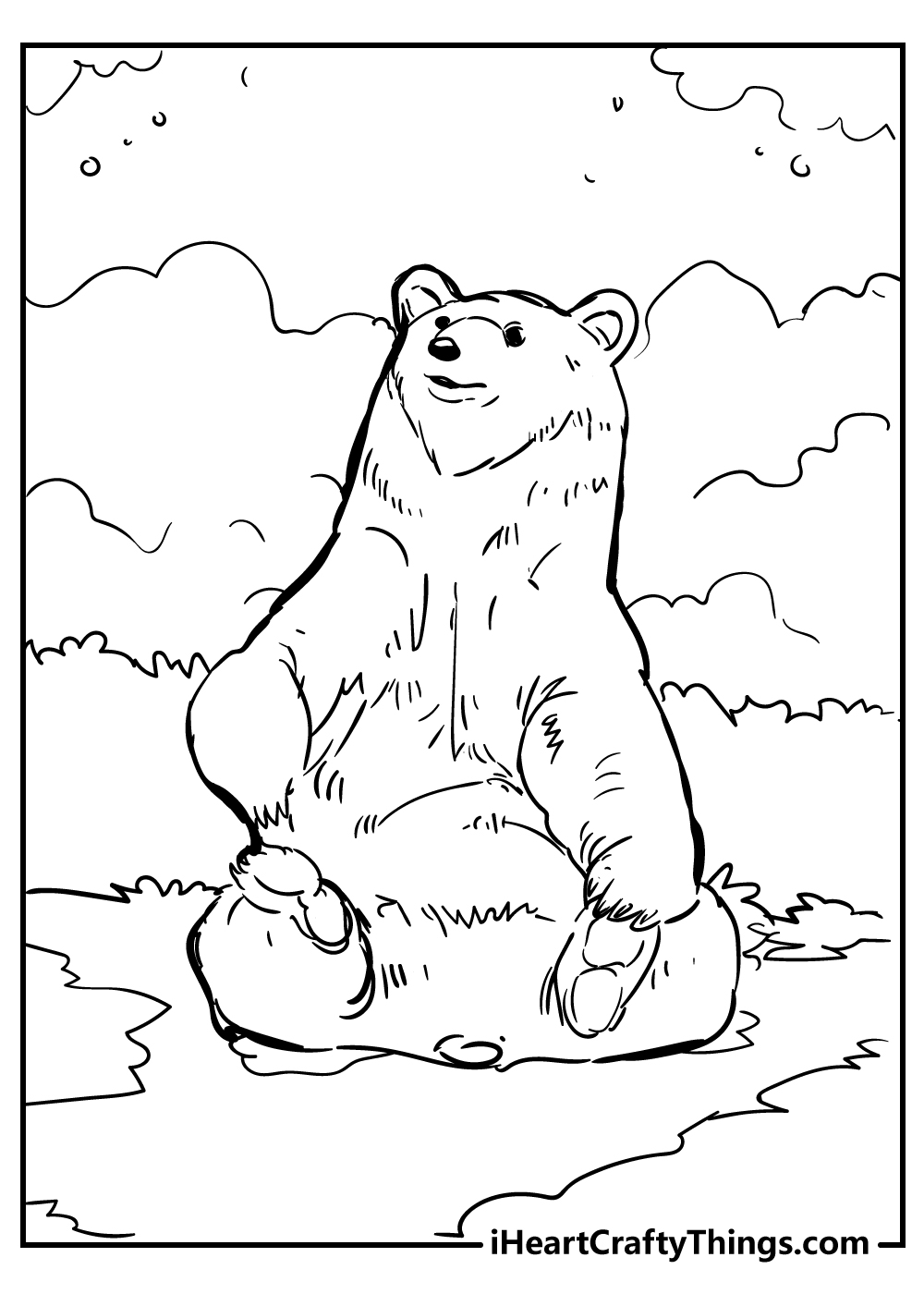 The bear in this bear coloring page is looking a little bit grumpy as he sits slumped down. I think that it could look quite nice to use some greys and darker colors for the sky and the clouds to make it look like a rainy day.
That could explain why this bear could be in a bit of a bad mood!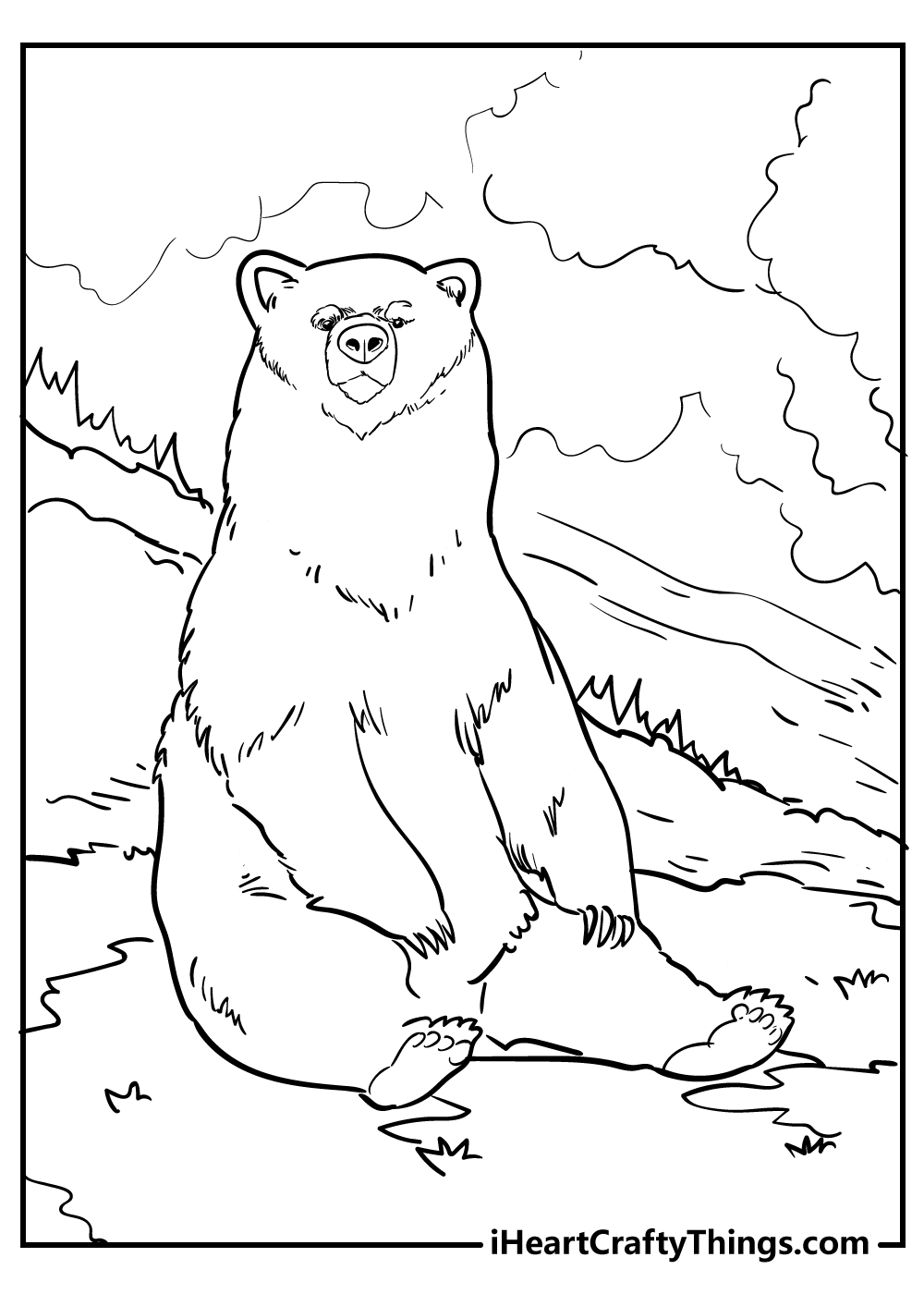 Our final free bear coloring sheet for kids shows a very fluffy looking grizzly wandering through the wilderness.
He has a very thick coat of hair, and that makes me think he lives in a very cold environment.
Maybe you could work in some white, snowy details into the background to show that it's a really cold place where this bear is roaming.
How will you color in this bear and his environment in this last bear printable?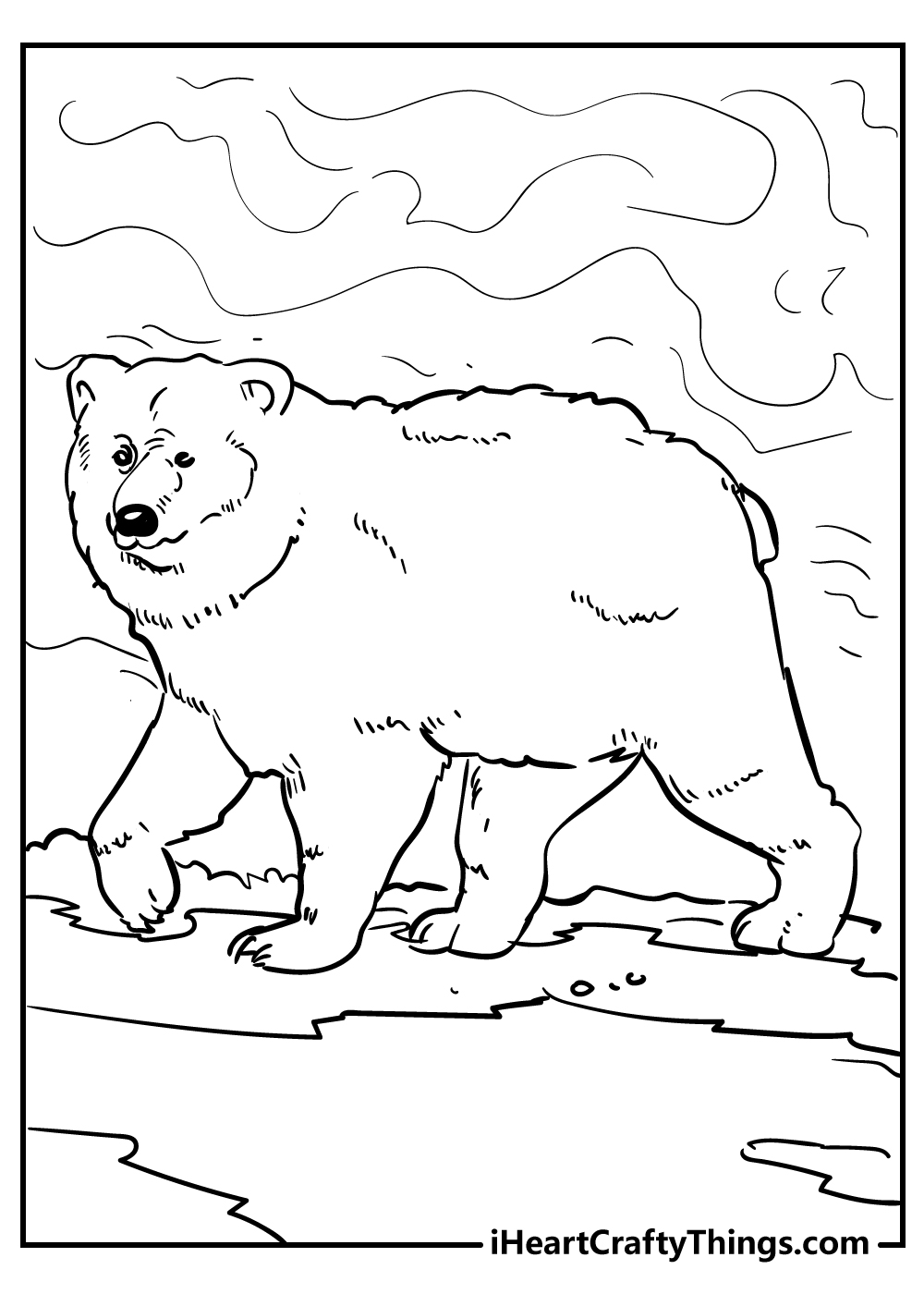 Bear Coloring Pages – Which will you choose?
We really hope you had a lot of coloring fun with this collection of free bear coloring pages for kids!
All of our coloring pages and printable art are completely free for you to print, color and enjoy, so there are hours of free coloring fun waiting for you!
You could even print out multiple copies of your favorite bear printables to share with friends or use to try out different color schemes and different mediums like paints, colored pens and pencils and watercolors.
Please be sure to like and share our Facebook page with your friends, as we constantly have new free coloring pages and printables for you to print and enjoy, so that's the best way to never miss out!
Also, once you've finished coloring in your favorite bear coloring sheets, please share your colorful artworks to our Facebook page for us to admire.
We can't wait to see how you got creative with these free bear coloring pages!