Is there anything more reassuring than cuddling with a teddy bear? The most beloved childhood toy comes in various shapes and sizes, making it a lot of fun when coloring.
You're never too old for teddy bear coloring pages, by the way, so don't think they are just for your children.
Coloring these teddy bear sheets may be a fun way to spend time with your little ones and reminisce about your favorite childhood toy.
If you have children and are searching for methods to keep them entertained, these teddy bear coloring pages might be a fantastic option – especially if you're trying to cut back on screen time!
Browse our collection of free teddy bear coloring sheets that are ready to download, print, and share with the little artists in your house.
10 Brand New Teddy Bear Coloring Pages – Free to Print and Color
It is a simple model of a ragged teddy bear. How cute and fun will this teddy bear printable be to color?
If you're looking for a teddy bear for your child, the possibilities are unlimited. The characters available are Winnie the Pooh, Paddington Bear, Care Bears, Smokey the Bear, Fozzie Bear (The Muppet Show), Rupert, Corduroy, and more.
The original plush animals that inspired Winnie the Pooh are exhibited at the Stephen A. Schwarzman Building of the New York Public Library. Now, Pooh is also residing there!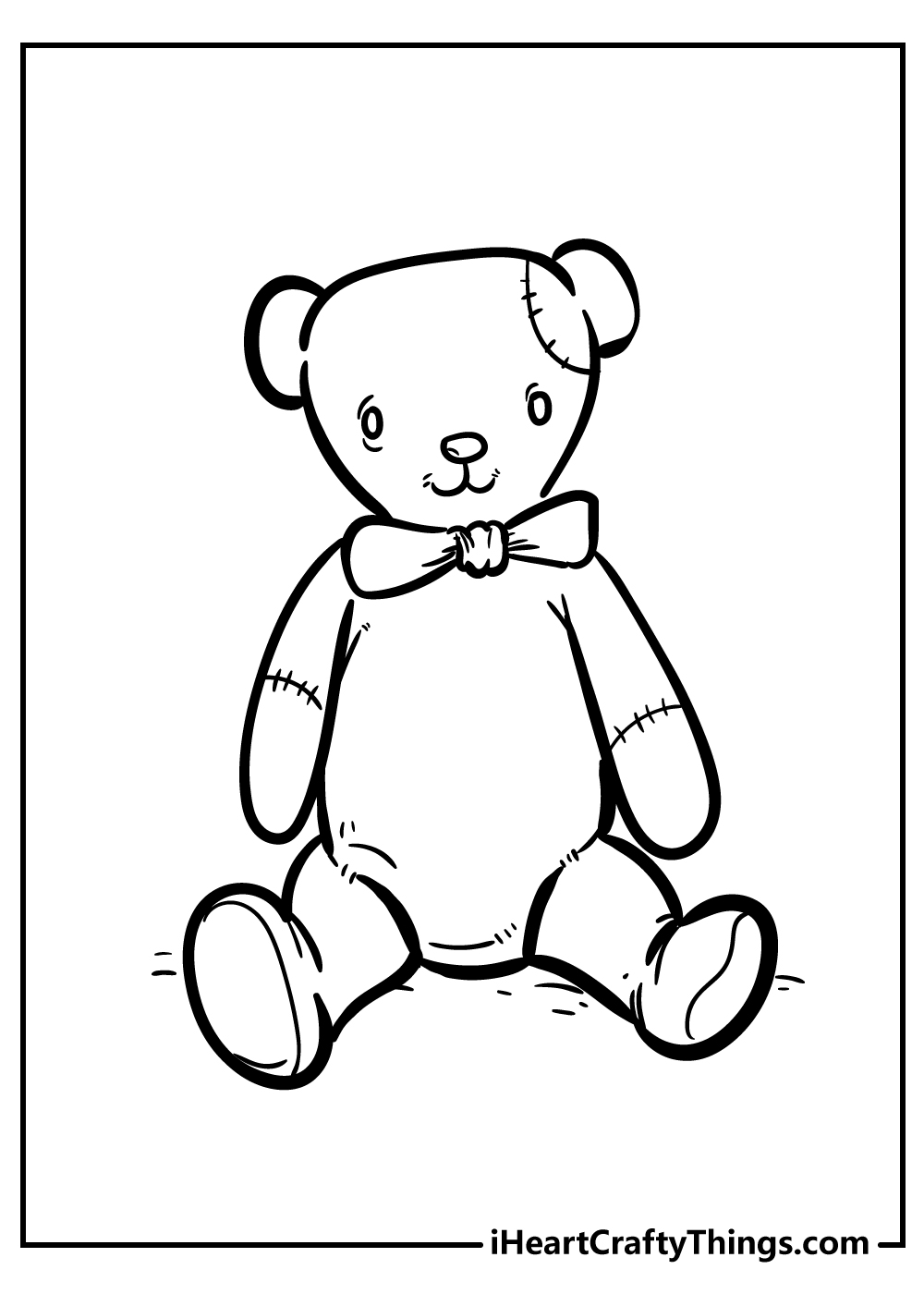 We all had that one teddy bear we could never travel with anyone without (usually called Snuggly), so chances are your child has one as well.
Any one of these printable teddy bear coloring pages can replace the safety bear children usually have.
Have them choose one – it can be this cute patched and buttoned one or any teddy bear from our list – and color it, then you can put it on display until you go on vacation or away from home.
When this happens, the child can take their teddy bear photo to keep them comfortable when they can't find Snuggly.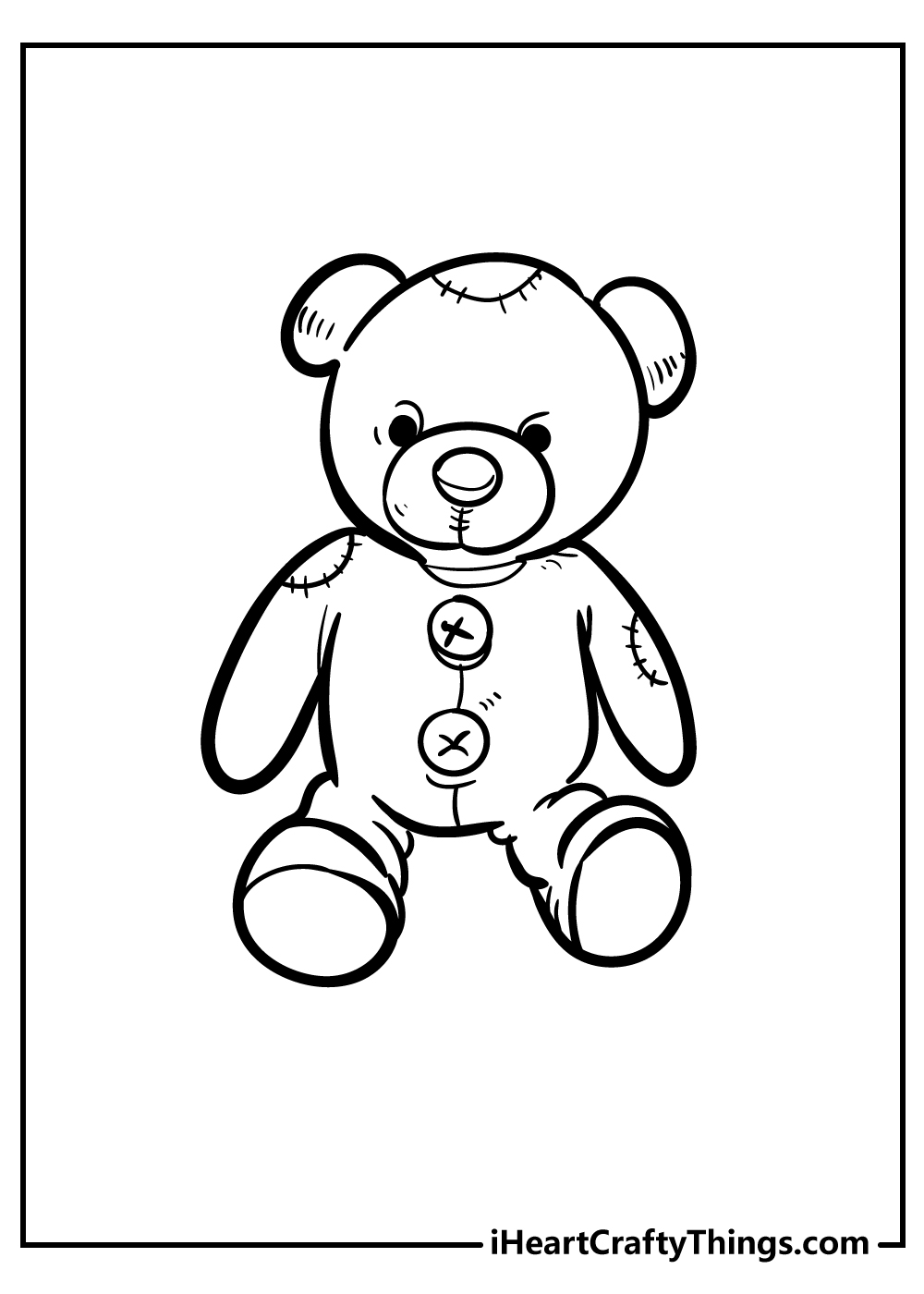 This teddy bear is fully equipped for winter. With his cute hat, boots, and coat, he is ready to face the freeze outside. Want to keep him warm?
Then color him some cozy winter gear and give him away as a gift to a lovely home.
Maybe your children can give this teddy bear printable away as a Christmas gift or as a New Year's card.
All they need to do is write a cute message above or under the bear and find a lovely person to receive it!
It will be a fun, crafty thing to do, and it will show the recipient that your little artist has put in quite some effort for them.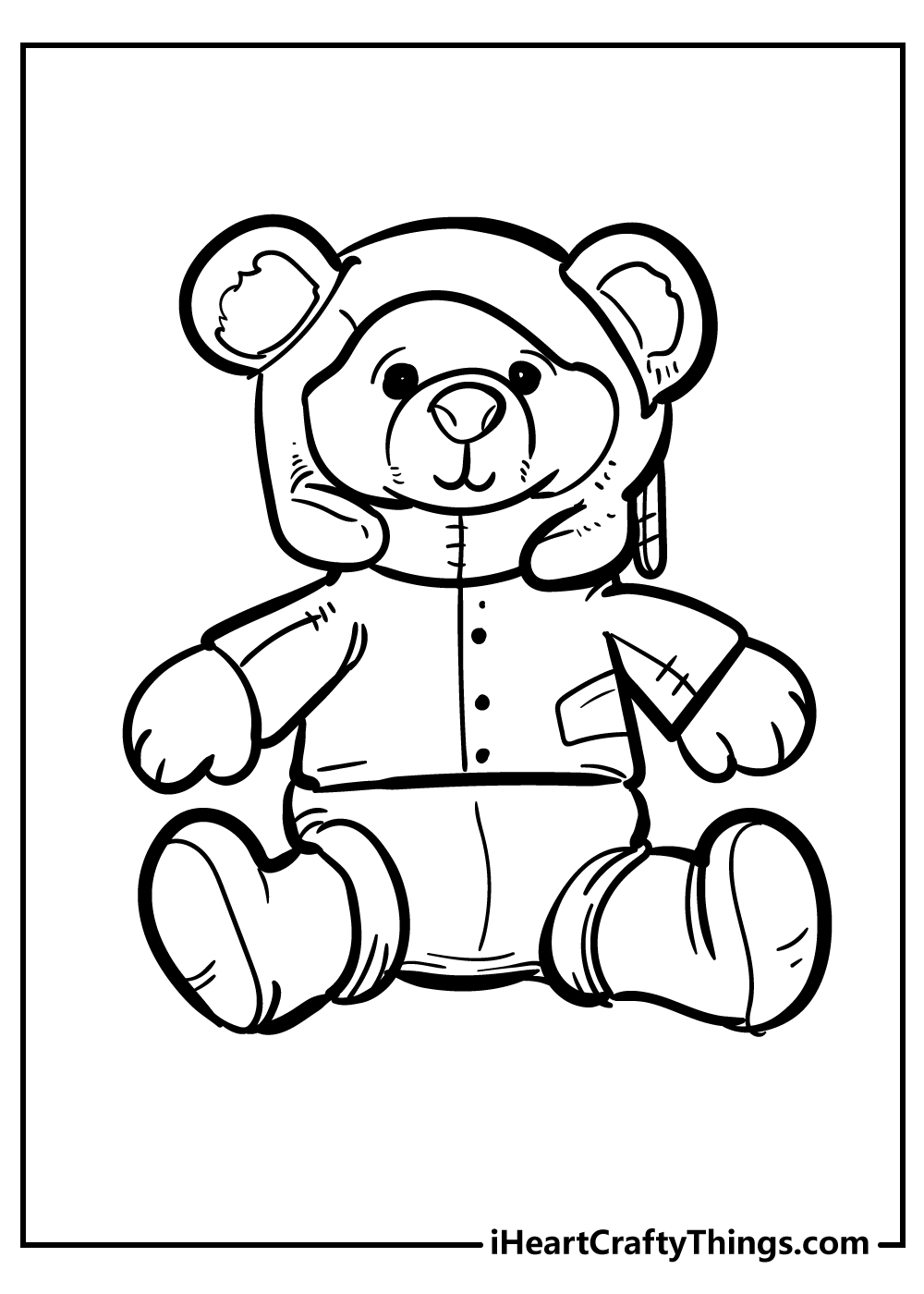 While his appearance is similar to other bears in our teddy bear coloring pages list, this teddy bear's scarf helps him stand out from the crowd.
To cheer up this bear's chilly winter days, give him a sparkling neck warmer. Children can even draw a jacket to keep him extra warm.
Another interesting fact to share with children: contrary to common assumption, koalas are not bears.
Despite their beautiful teddy bear physique and button nose. They, like kangaroos, belong to the marsupial family.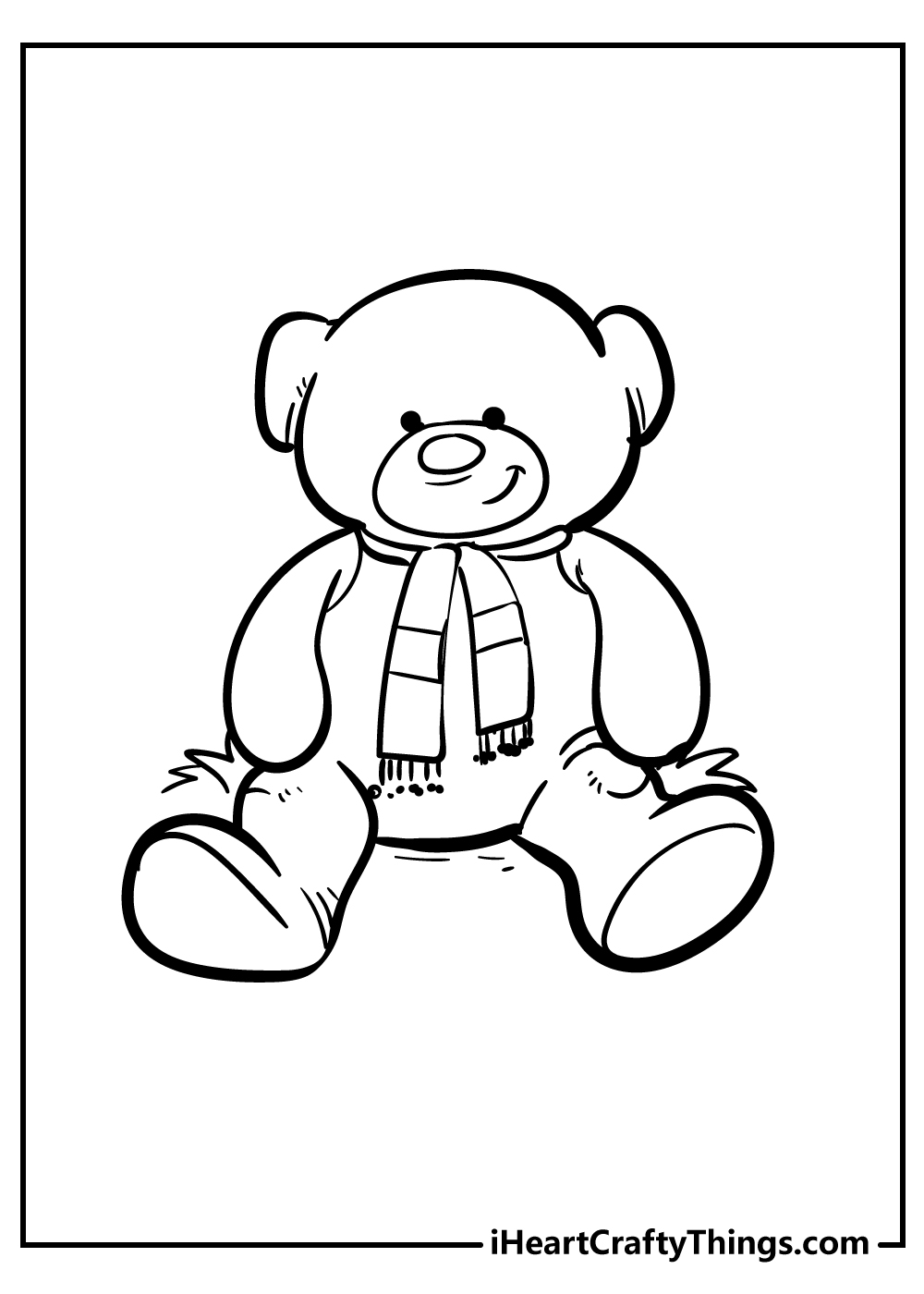 Teddy bears are often our first buddies, and they occupy a special part of our hearts. Coloring them provides a similar sense of comfort as catching up with a friend.
Fun fact to tell your children as they color in this cute teddy bear printable: Grizzly bears scavenge for berries and dig for clams in the sand.
They go fishing as well! Do you know what insect a bear likes to eat? Weirdly enough, moths.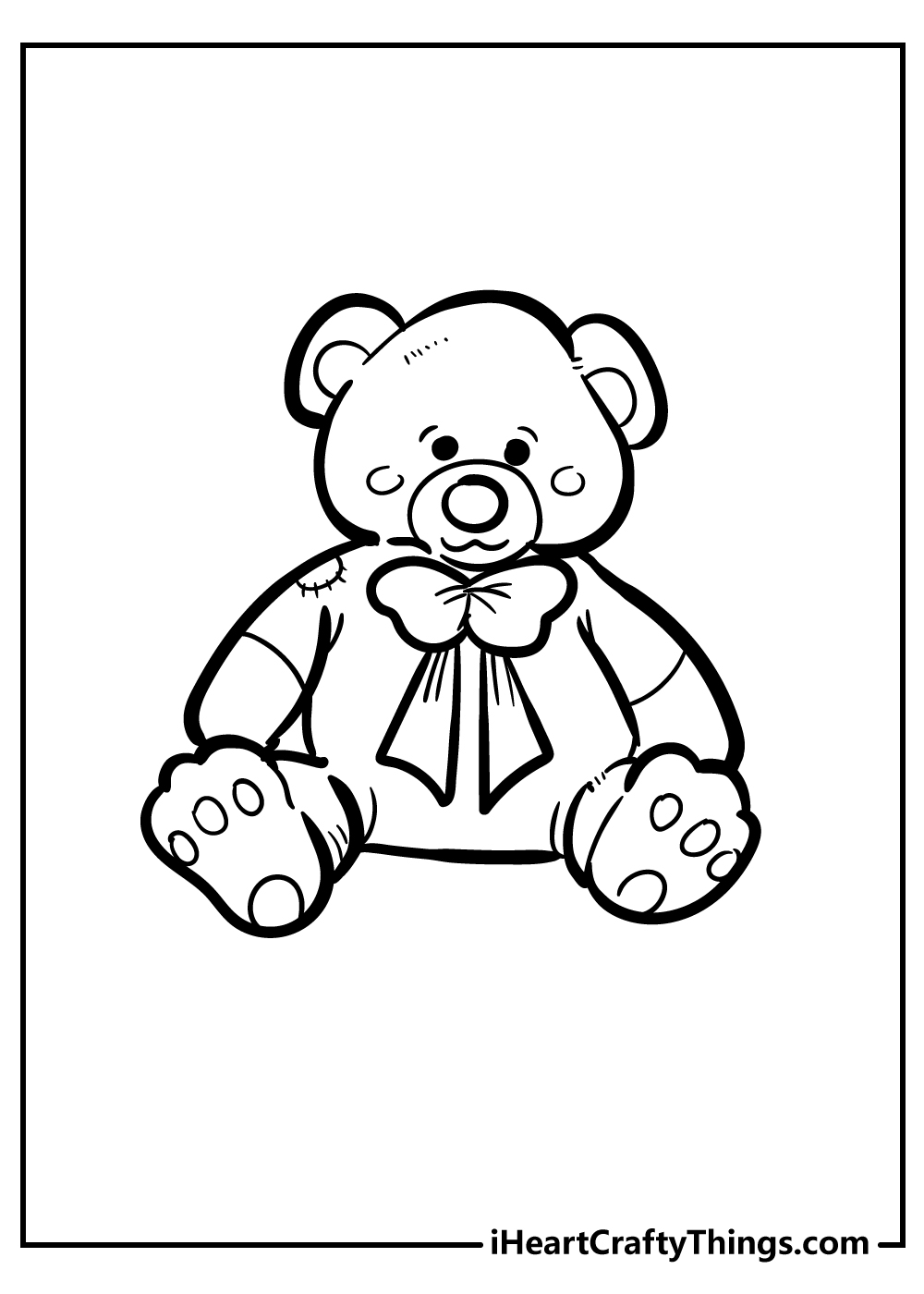 This adorable bear resembles the famous Care Bears, only that his heart is in his hand. It makes it much more enjoyable to draw and will indeed become your child's favorite.
This bear is also a Valentine's Day suitable gift, thanks to the large heart in his hand. Do you have children seeking Valentine's Day presents for a special someone?
They might personalize the bear in this image to create a unique present for someone they love.
They can color this teddy bear printable however they feel like and give it to their kindergarten crush, best friend, a teacher, and even mom or grandma.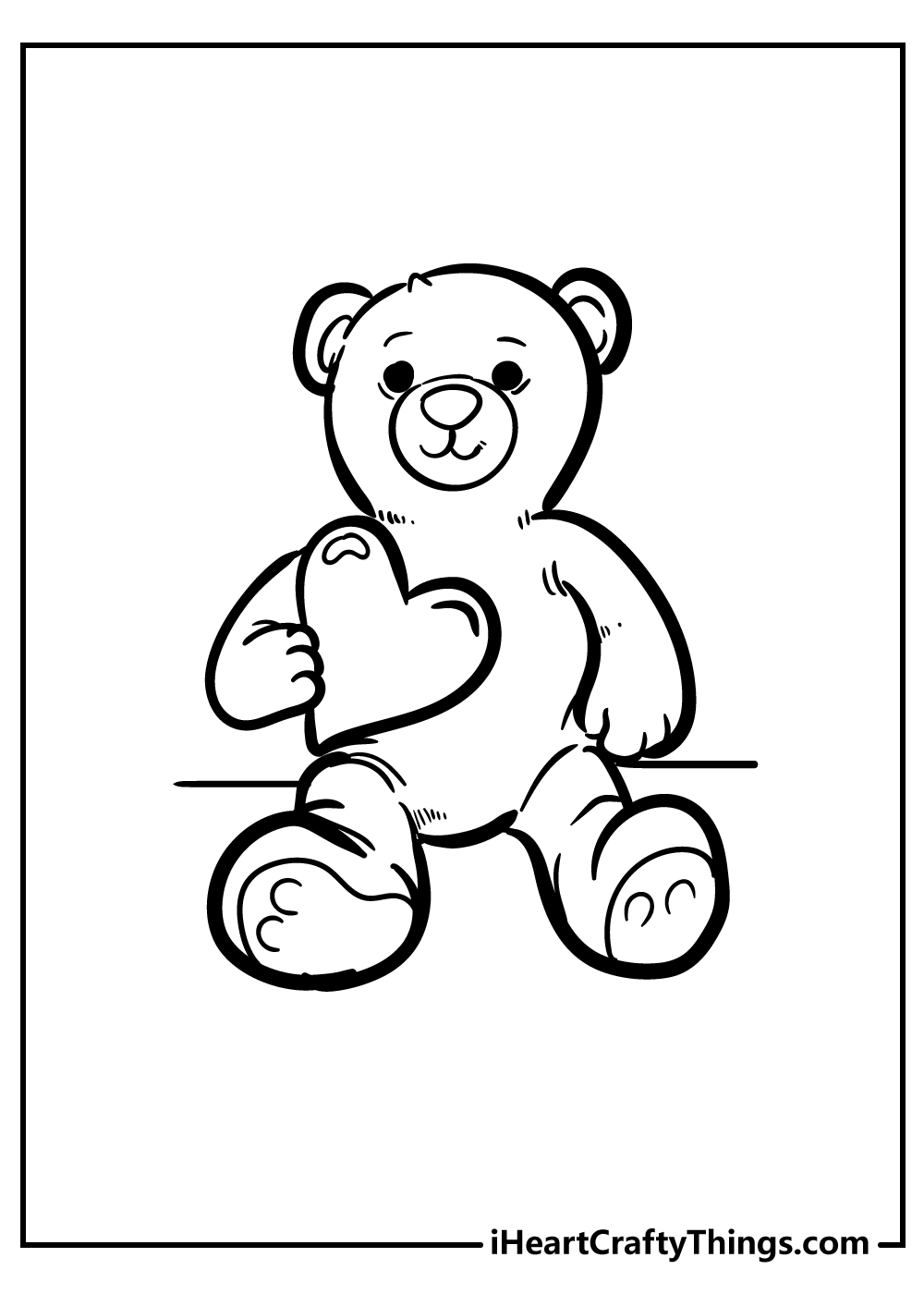 The nicest part about coloring sheets is that children can go as crazy as they want with colors and details.
This coloring page features another teddy bear perfect to be given away as a gift for Valentine's Day, Mother's Day, or a birthday.
It might be purple with orange polka dots teddy bear or black with a blue if that's what your little artist desires.
If children want to give this teddy bear coloring page away as a gift, one fun exercise would be to color the bear and rose in the favorite colors of the person who will receive it.
It will help kids listen and understand information and then reproduce it artistically.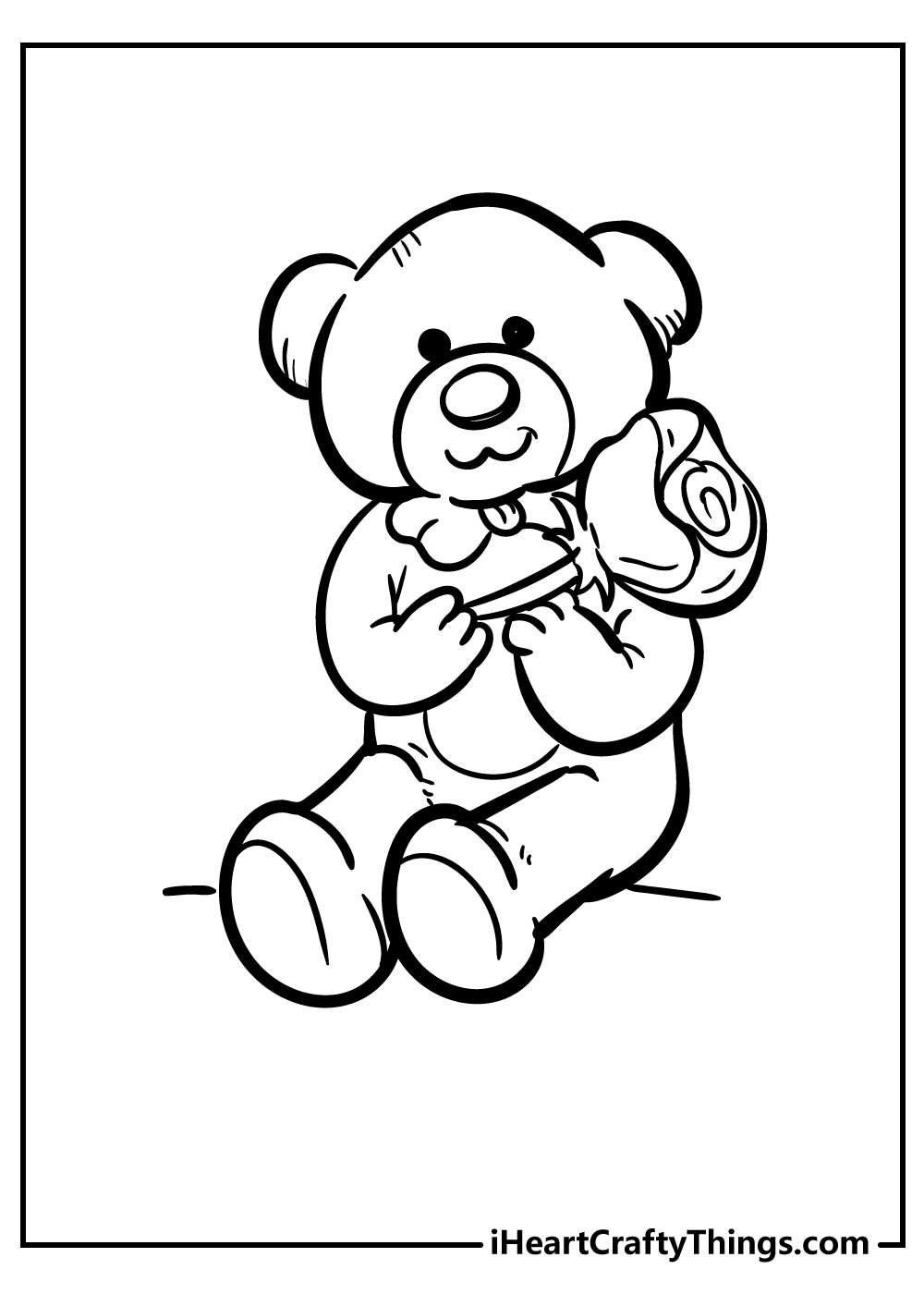 We're all looking for smiles around us, aren't we? And what better place to find a smile than on the face of our beloved children?
You'll be smiling as well after picking this coloring sheet for your little one to fill in.
These teddy bear coloring pages can also be a way to teach children more about bears, as they are pretty fascinating creatures.
Did you know that bears can detect food or predators from a long distance!? They can even see ripeness in fruits to know which one is safe to eat.
These exciting facts will surely make your little one interested in learning more about the world and creatures surrounding us.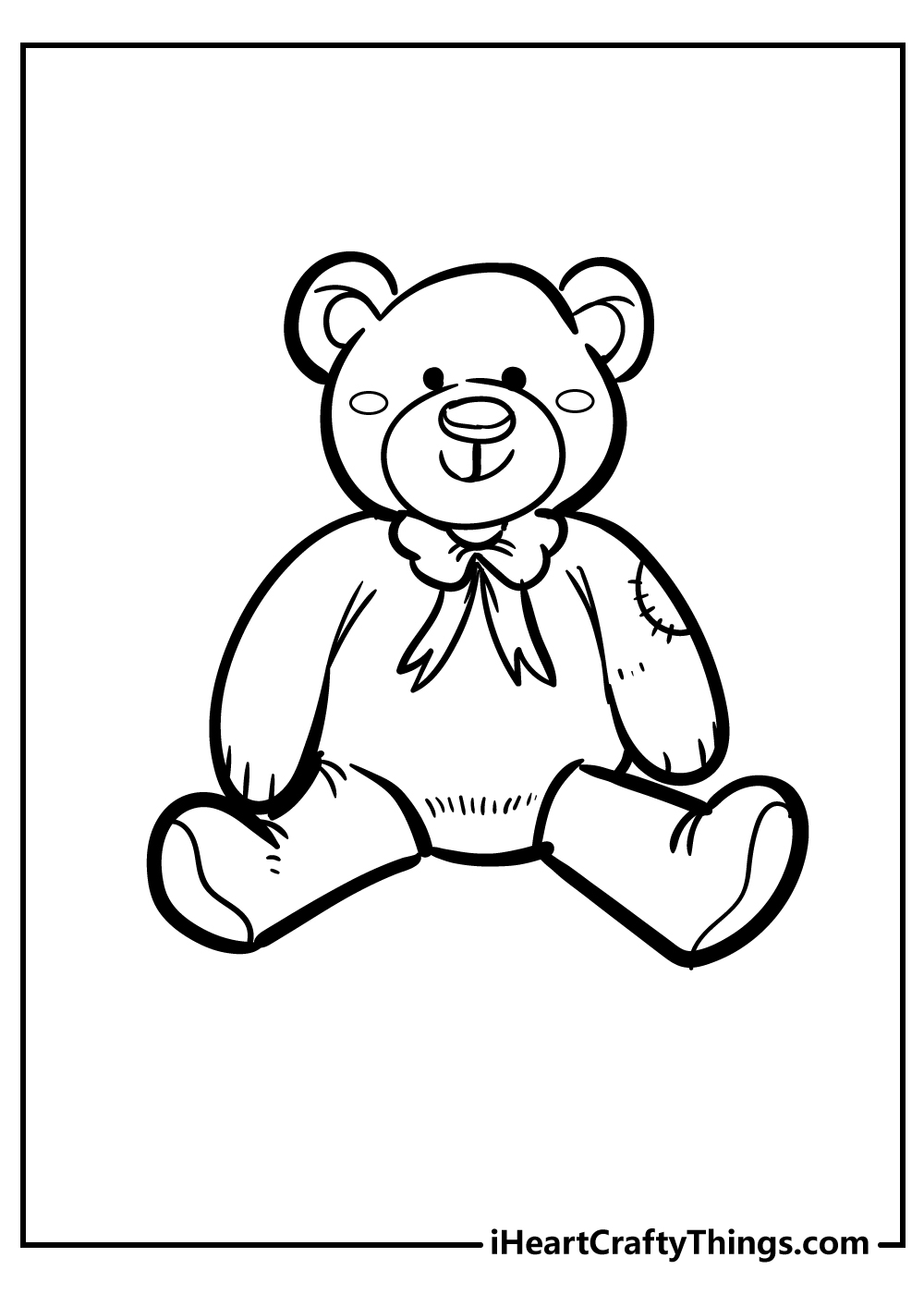 This patched teddy bear also carries a heart, perfect for an anniversary card.
If children want to, they might make this bear ultra-feminine by its body, drying the ribbon pink, red, or in pastel colors.
They may also go against the norm and use darker hues to give this teddy a deeper, more fascinating personality. It's their adventure, after all!
If your child adores teddy bears, they've undoubtedly heard the song "Teddy Bear's Picnic."
Well, here's an interesting fact: the tune was initially known as the "Teddy Bear Two-Step" – quite an adorable name!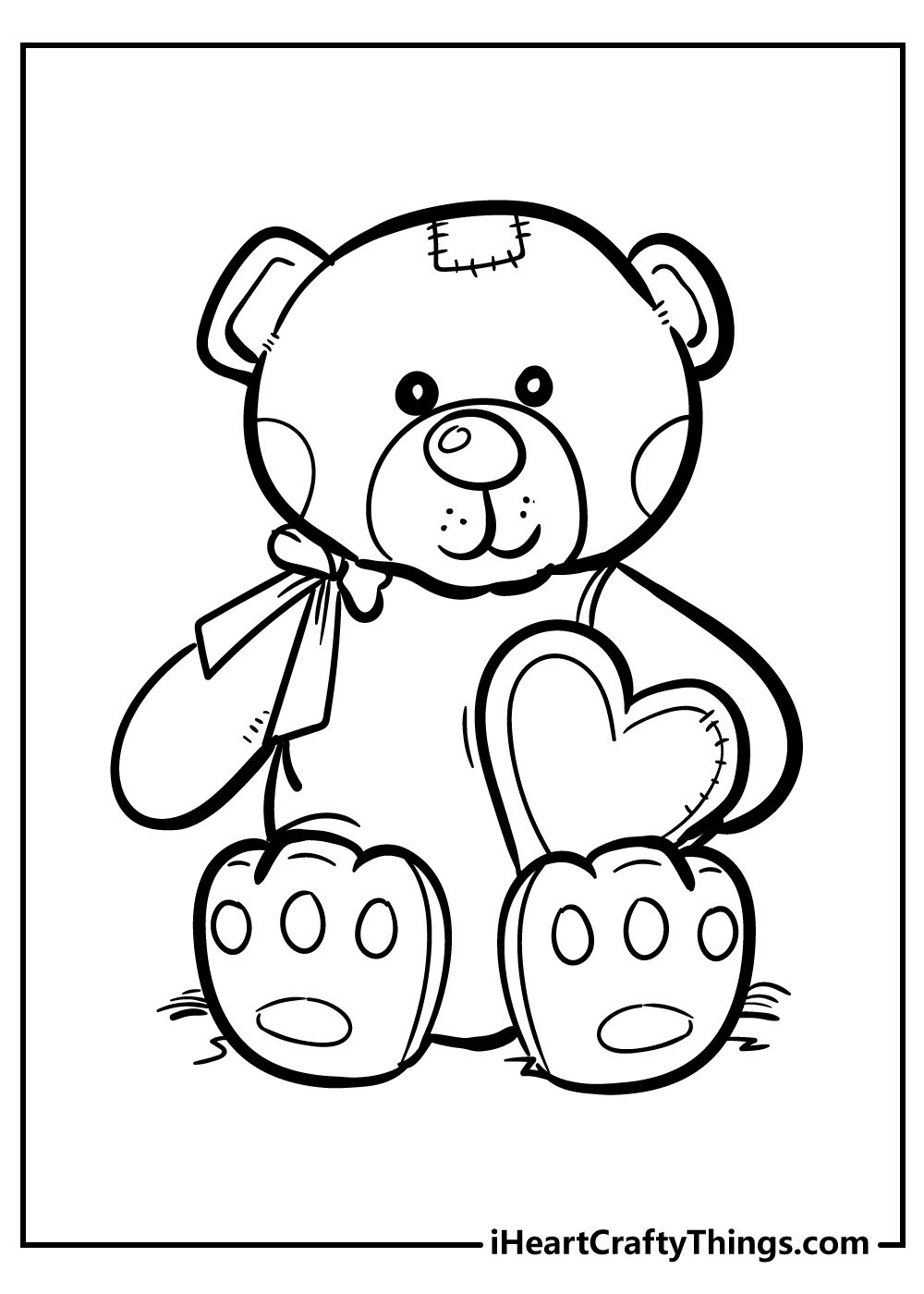 Is there anything more enjoyable to color than a teddy bear in a t-shirt? Maybe, but this teddy bear coloring sheet indeed sits at the top of our list.
And it's not just the fact that this little fellow is a teddy bear in a t-shirt, but look at the witty smile on his face – he is up to something, and he knows it.
It is why this coloring page reminds us a lot about toddlers in general and how you can see it on their faces when they are up to no good.
Your children will surely love to color this one using their favorite shades. Maybe even match the color of the bear's shirt with the color of the blanket underneath?