Polar bears are hypercarnivorous bears native to the Arctic region. They are known for their distinct physical features: stocky build, relatively small head, long neck, rounded ears, and short tail.
The extreme popularity of polar bears have created a huge demand for free polar bears coloring pages. You've asked for it, so we delivered. So without further ado, we present to you: 10 brand-new, original polar bears coloring sheets that you can download, print, and color.
Polar bears may appear like they have a white fur, but their skin is actually black and their fur has no pigment. You can opt to color them exactly how they look like or customize them! Feel free to mix and match colors to your liking! Why not try experimenting with different coloring materials as well?
Have fun and use your imagination to bring these polar bears to life!
Polar Bears Coloring Pages — Free to Print and Color
This polar bears coloring page shows a polar bear family of three. The mother polar bear is wandering around the Arctic Circle with its two children, probably searching for a delicious dinner for all of them.
Snowflakes are falling from the sky, and it seems like these polar bears are enjoying the freezing cold weather.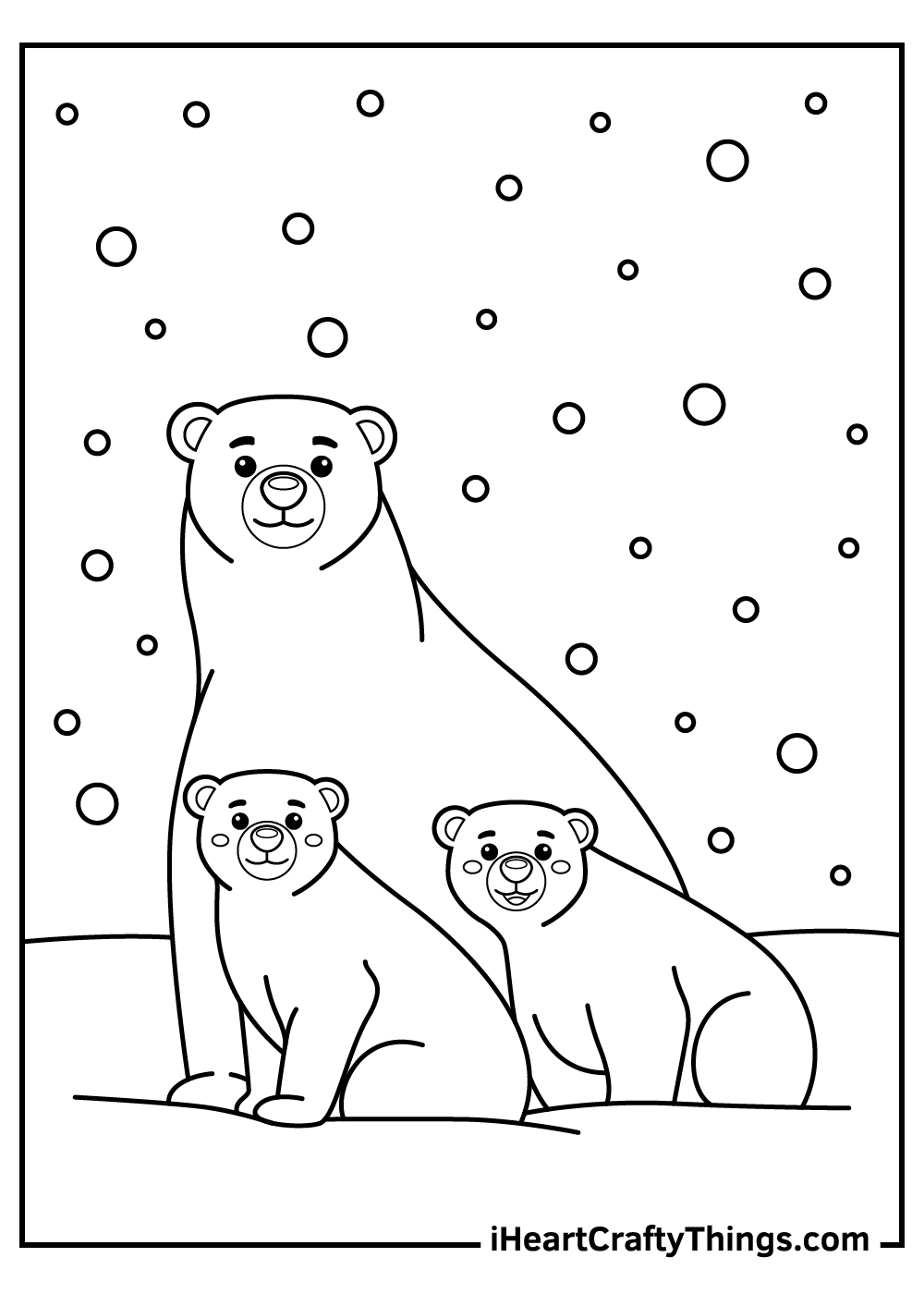 In this polar bears coloring page, there's an adorable polar bear wandering outside on a cloudy day. The polar bear has a broad smile on its face, enjoying its beautiful surroundings.
There's a tall mountain covered with snow on the horizon. What colors will you use to create a lush natural scenery background for this image?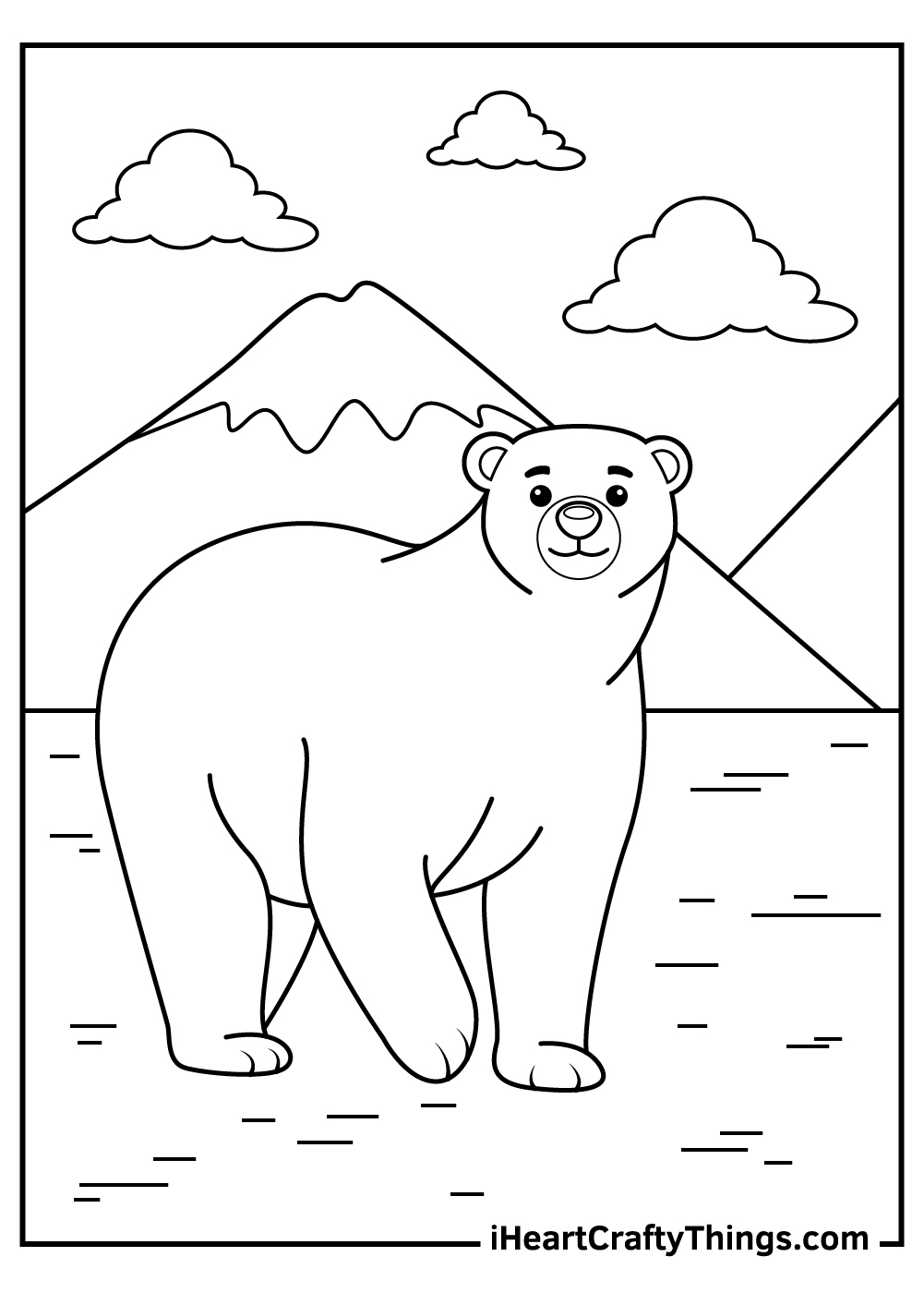 This polar bear is feeling enthusiastic about Christmas, as shown in this polar bears coloring page. The polar bear is surrounded with lots of pine trees. It looks extremely happy with its dazzling eyes and wide smile!
We think the bright, vivid green color of the trees in the background would perfectly complement the light and faint colors of the snow and the polar bear.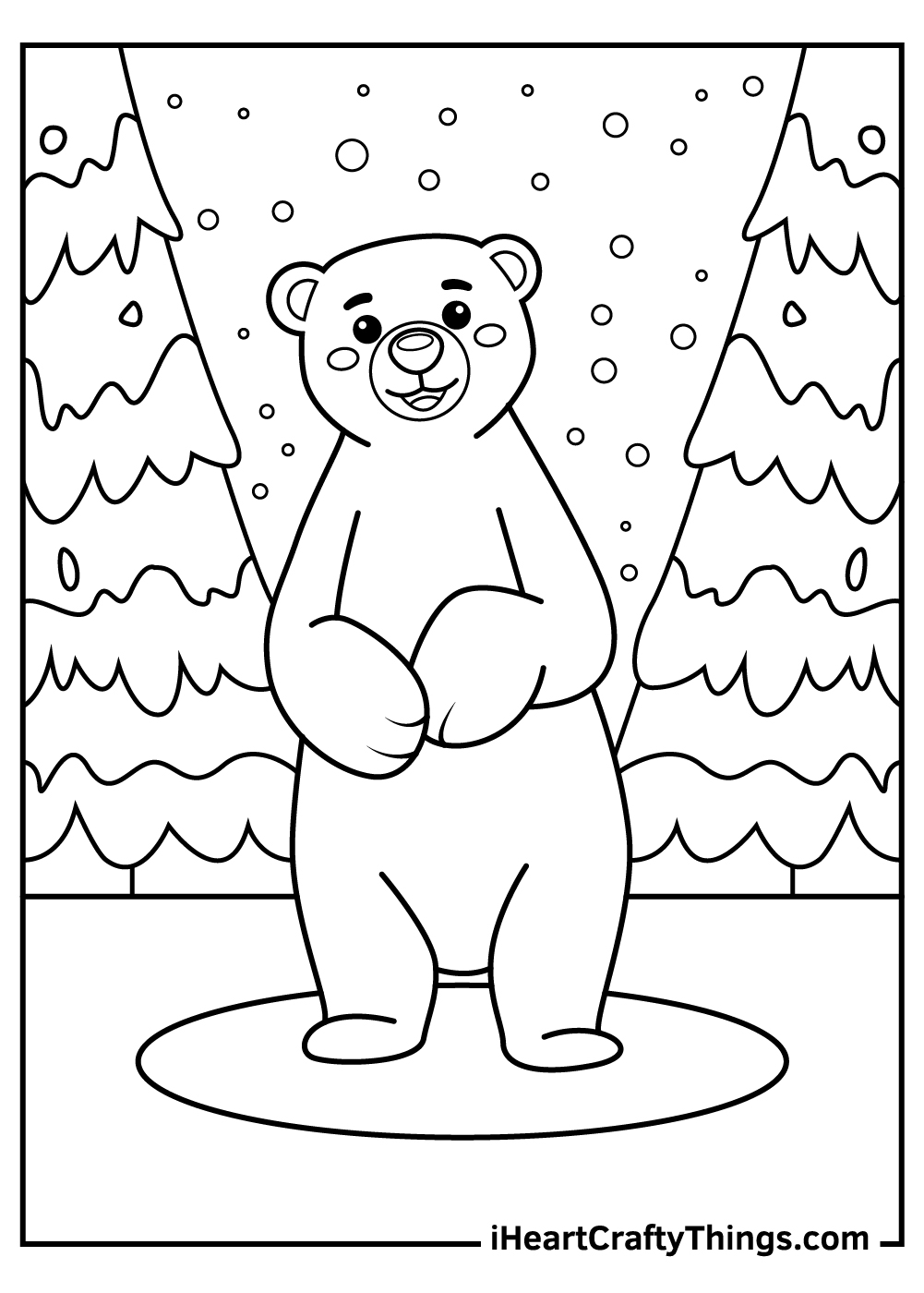 This polar bears coloring page shows a polar bear standing at the top of a floating ice in the middle of the vast Antarctic Ocean.
For some reason, this polar bear looks sad. Perhaps it failed to catch the seal. It is probably imagining what could have been a delicious dinner. Well, better luck next time!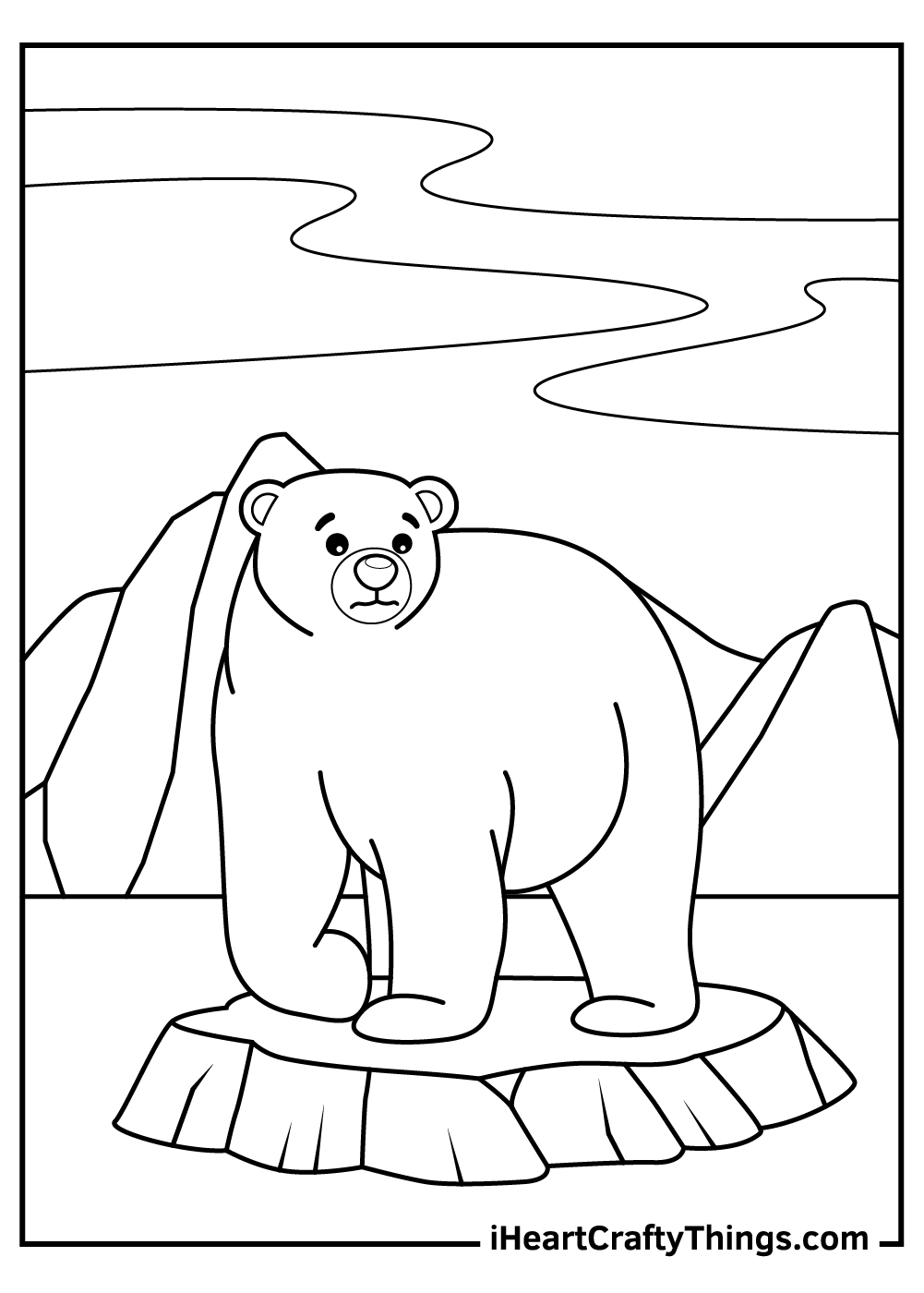 Polar bears are cuddly and fluffy, as shown in this polar bears coloring page. In this image, the polar bear is holding its one paw open. It looks like it is saying hello—so adorable!
Many of us have dreamt of having a pet polar bear because they look so cute and friendly. But sadly, polar bears belong in the Arctic Circle, and that's where they can only live and survive.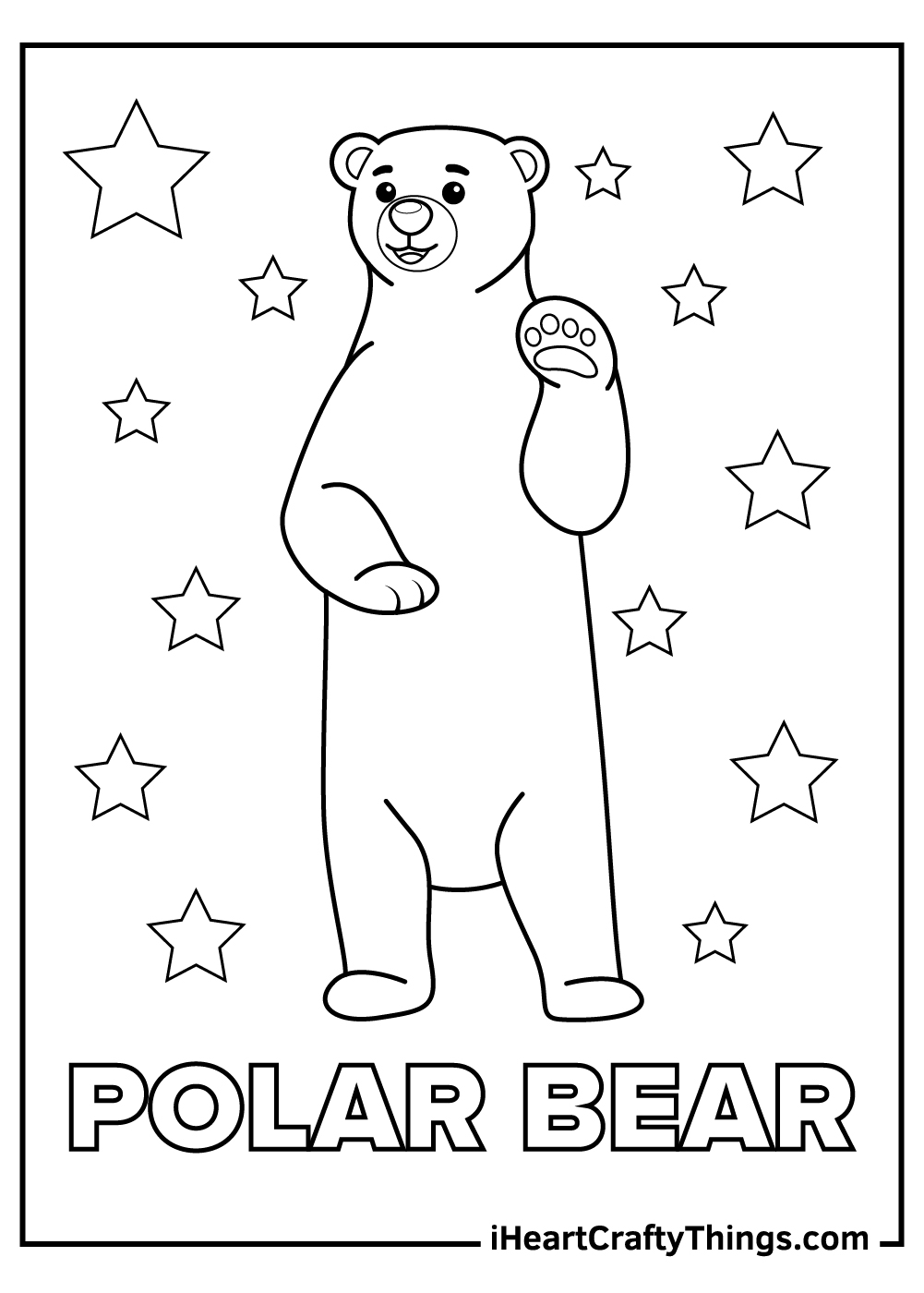 The polar bear in this polar bears coloring page is standing tall and proud with both its fore and hind feet touching the ground. Its huge eyes are fixated in a distance, probably looking at a seal it is planning to catch later.
Did you know that the sole of a polar bear's paw is furred? This enables polar bears to effortlessly walk on ice without slipping.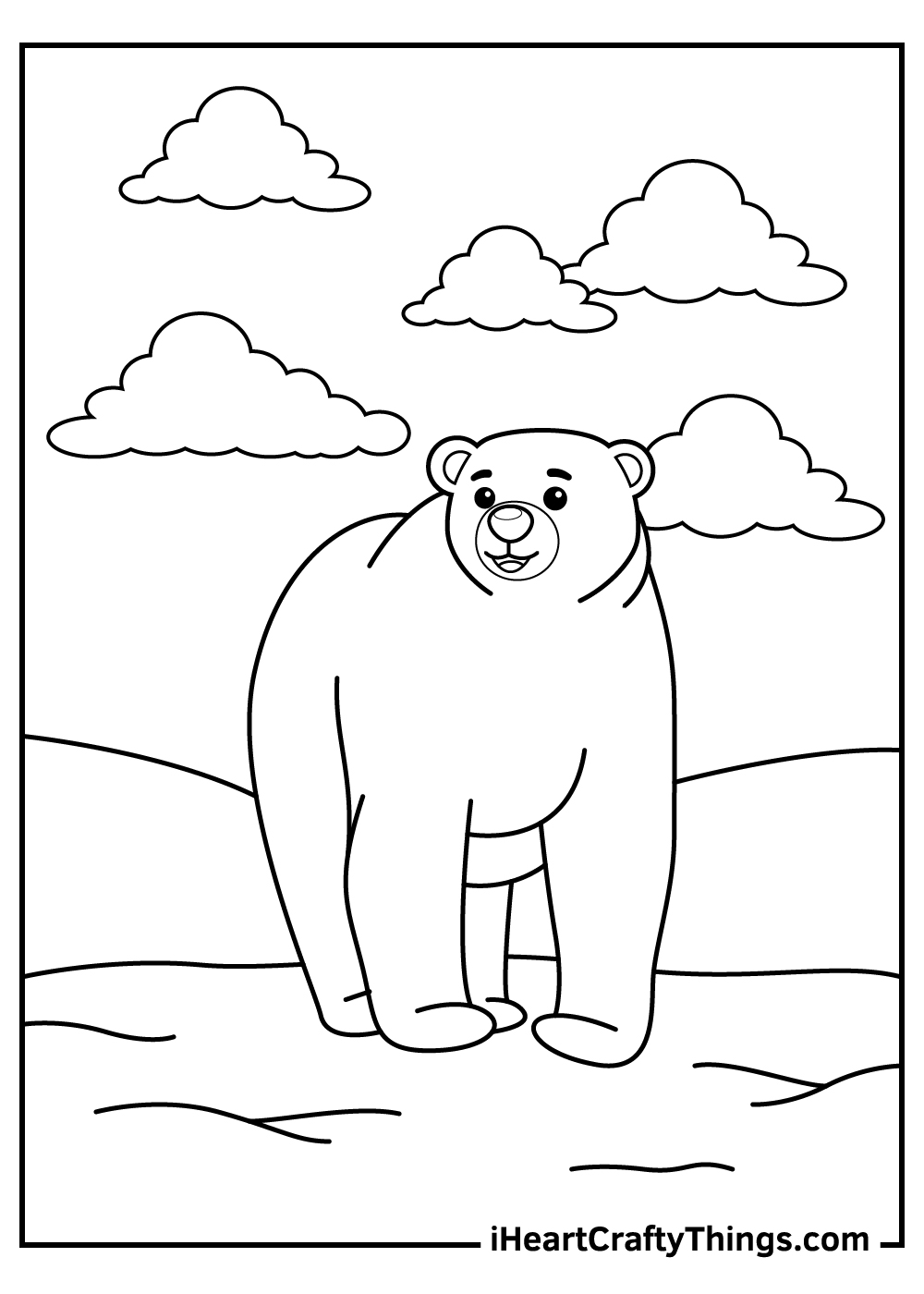 In this polar bears coloring page, there's a cheerful polar bear waving its one hand as a greeting! It has a soft smile on its face and its eyes are gleaming.
This polar bear looks like it's feeling the spirit of Christmas with all the Christmas trees surrounding it!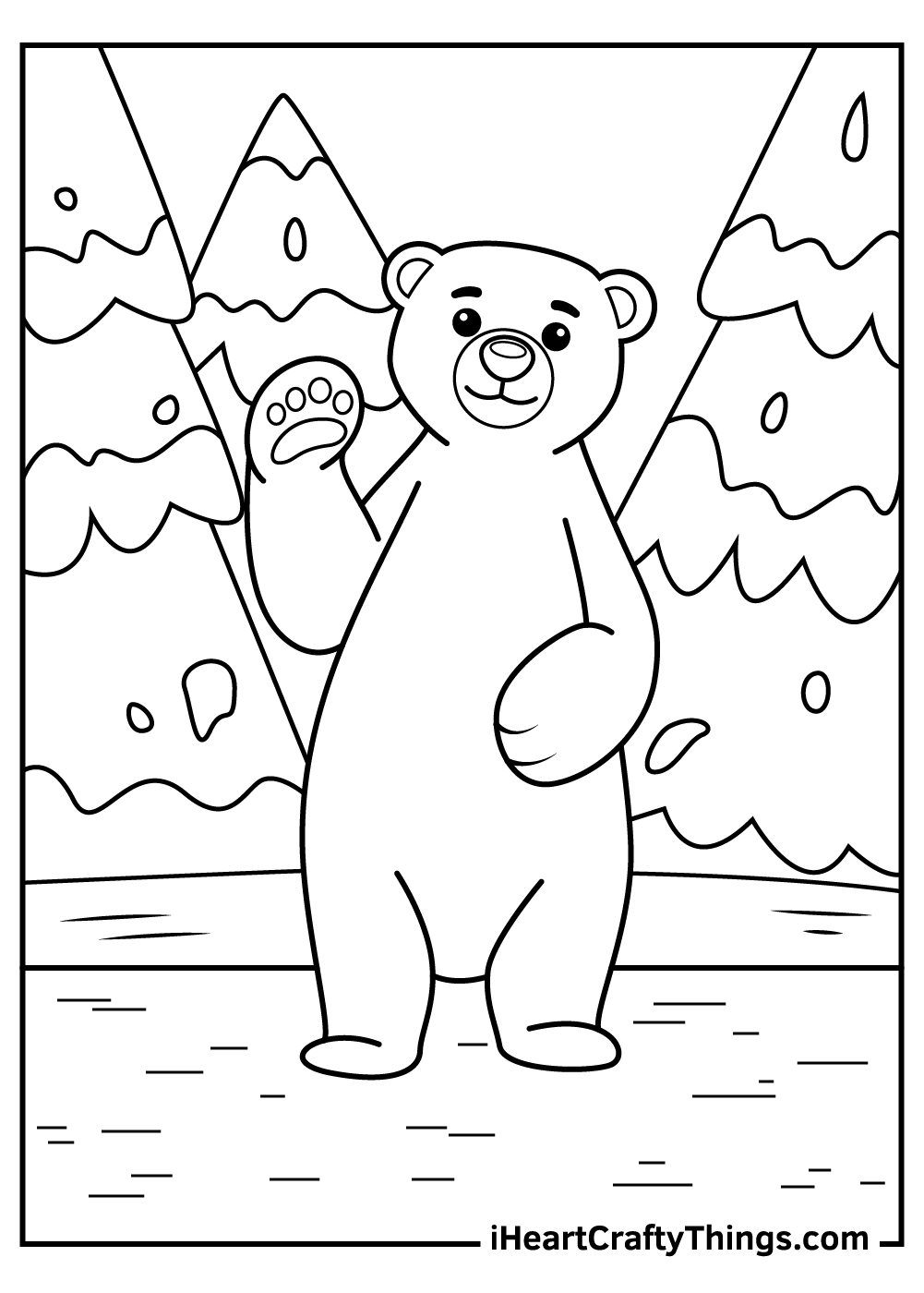 The polar bear, as seen on this polar bears coloring page, is standing above heaps of snow. It seems like this polar bear is in a good mood with its gleaming eyes and delighted smile.
Polar bears originally have white fur, which makes it easier for them to camouflage their surroundings. But, if you'd like to customize this polar bear's color, which color would you use?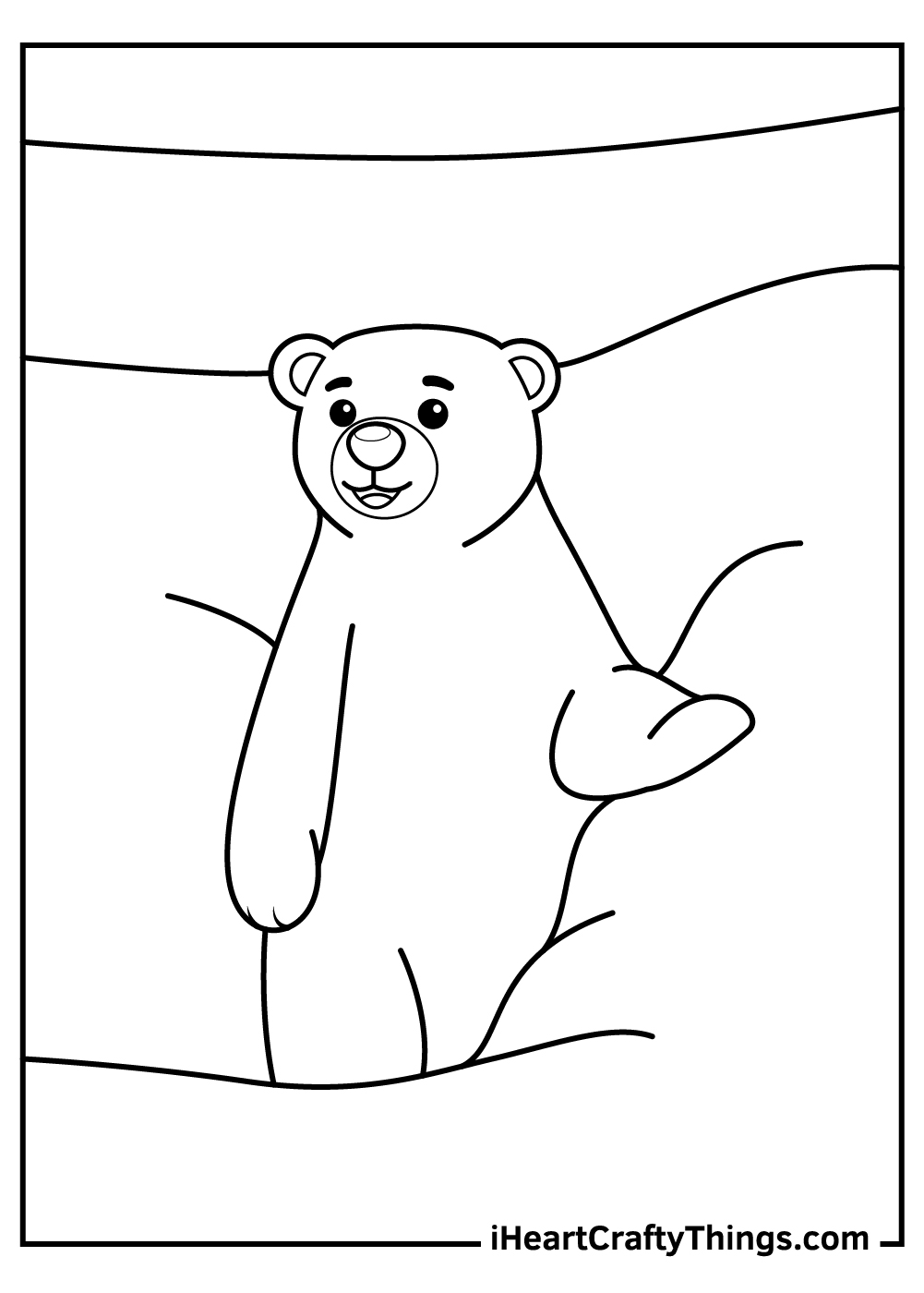 It's a cold winter day on this polar bears coloring page! The polar bear looks cute wearing a scarf to protect itself from the extremely cold temperature. It has a wide smile on its face as it crawls across the glacier.
We recommend using vivid and vibrant colors for the scarf to match the muted white color of the polar bear. Which color combination do you think would look amazing?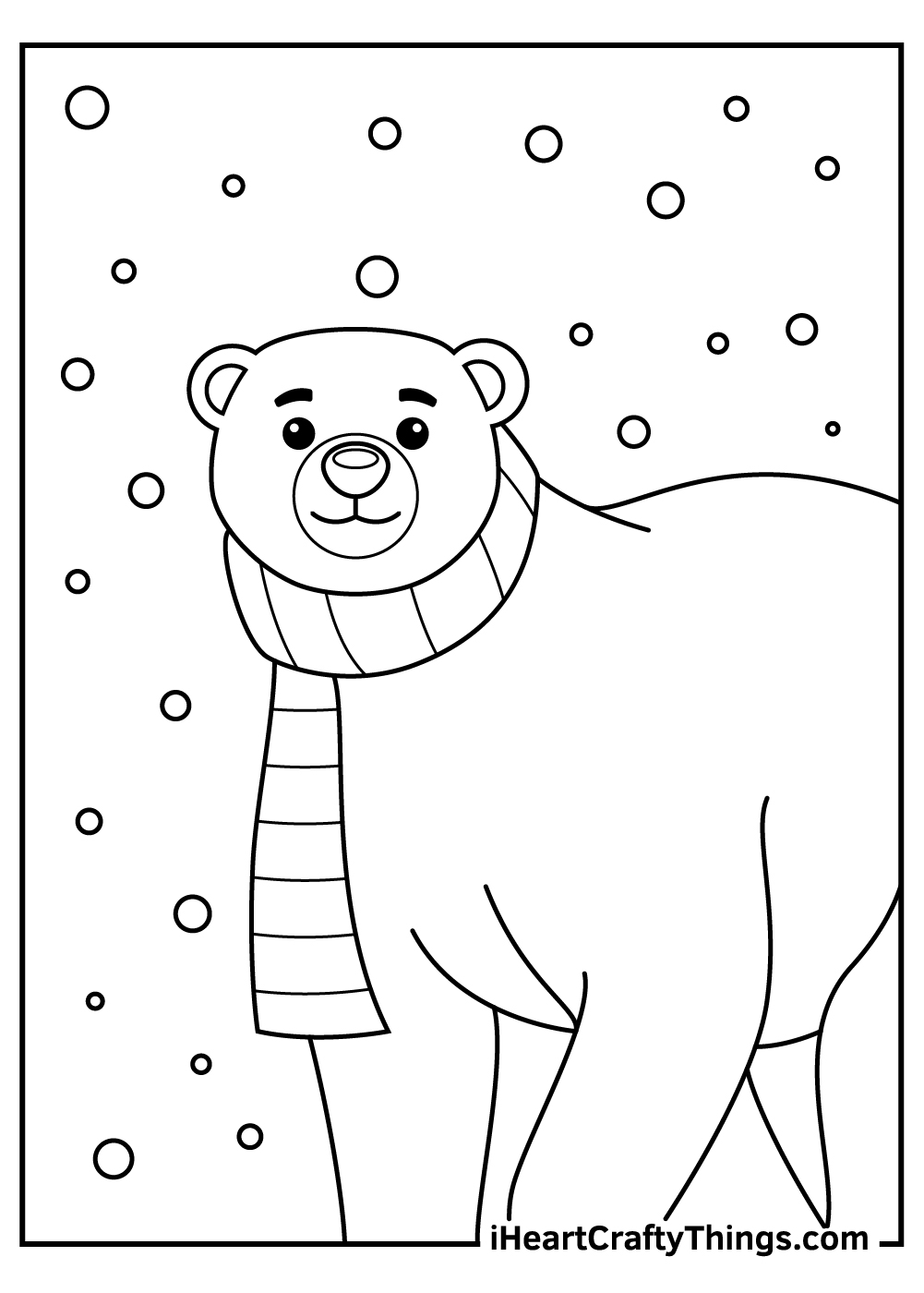 This polar bears coloring page perfectly captures the beauty of a polar bear up close. It is sitting on what appears to be an iceberg in the middle of the ocean.
It has a huge smile on its face as it looks around the surroundings, just hanging out and appreciating the clouds in the sky.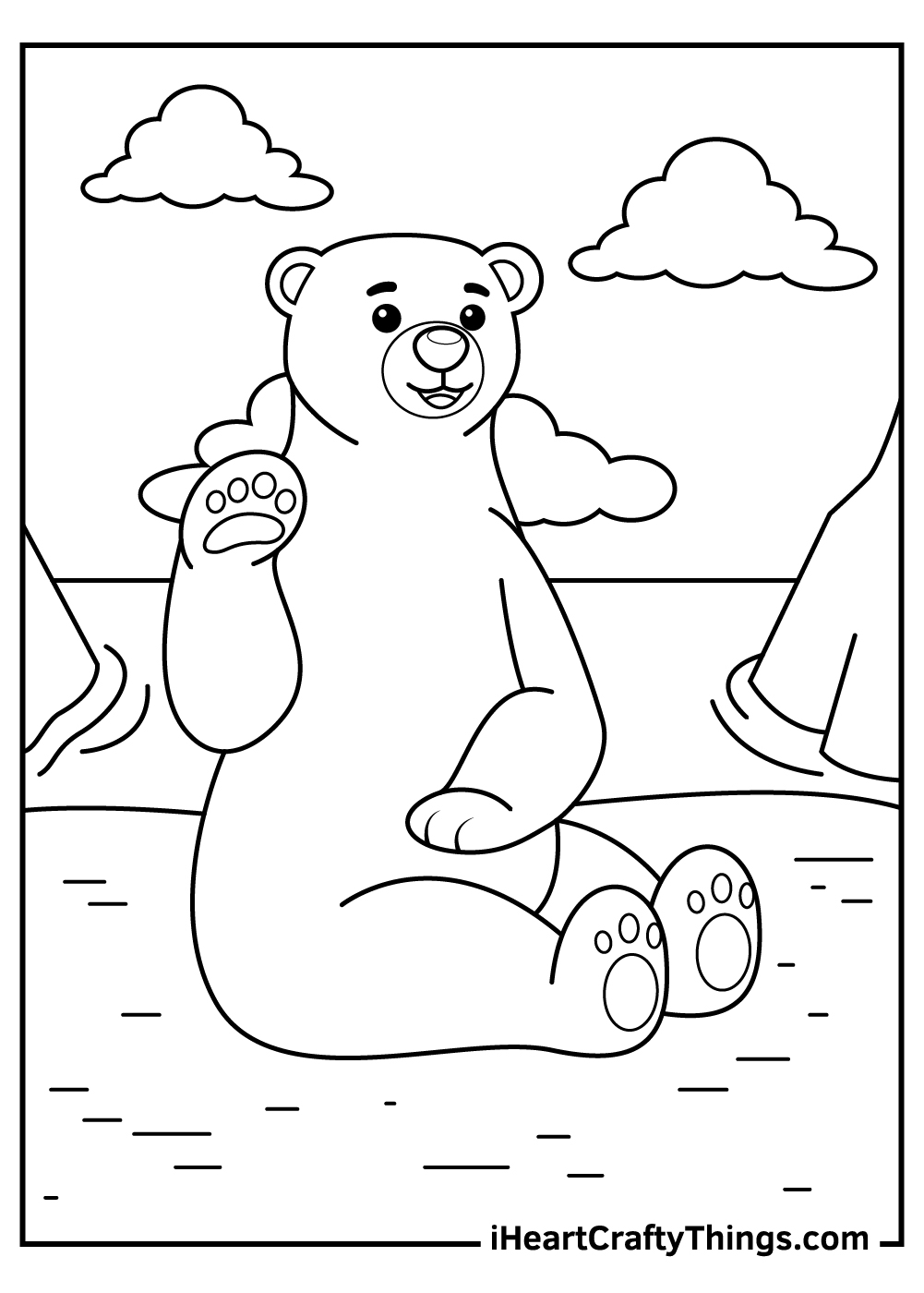 Polar Bears Coloring Pages — Which image will you color?
We hope you enjoy these polar bears coloring pages. It consists of simple and intricate illustrations of adorable polar bears in their natural habitat.
Coloring these polar bears coloring sheets is the perfect activity for kids of all ages who love polar bears or animals in general.
Remember, all of our crafts and coloring printables are 100% free for you to download, print, and color. We are always updating our catalog and uploading new content to our catalog. So, don't forget to keep re-visiting our website to continuously enjoy all-new coloring pages.
Once you've finished coloring your polar bears coloring printables, you must be very proud of yourself for completing a masterpiece—as you should be! Make sure to show off your work of art and share it on our Facebook page. We're sure it looks amazing!
We can't wait to see all of your colorful polar bears artworks!