It's hard not to love seals! These playful creatures are like the dogs of the ocean, and they're a delight to behold.
They are also highly intelligent, and they are known for the tricks that they can learn to perform. We have plenty of seal fun to be had in these free seal coloring pages for kids that we have for you!
With all the poses and scenarios that we have in these seal coloring sheets, you're sure to have plenty of coloring fun to entertain you for a long time!
These pictures would be perfect to get all of your favorite art tools, mediums and colors out as you find cool ways to bring color to each scene.
These printables are all free to print and enjoy as many times as you like. You should feel free to share them with your friends and family to enjoy as well!
This can help to bring even more fun to the creative process.
Get ready to dive into some fun with this wonderful collection of free seal coloring pages for kids!
When you have completed your favorite images, we hope you will show us by sharing them on our Facebook and Pinterest pages.
10 Brand New Seal Coloring Pages – Free to Print and Color
We're kicking off this collection of free seal coloring pages for kids with this really adorable little seal!
This gentle creature is enjoying a calm day outside, and it's up to you to bring this image to life with color.
There are many colors you could use in this picture. When working on this page, you will also notice there is a great deal of empty space.
For some extra fun, you could really finish this off by drawing a cool background for the picture! What kind of setting would you create for this seal?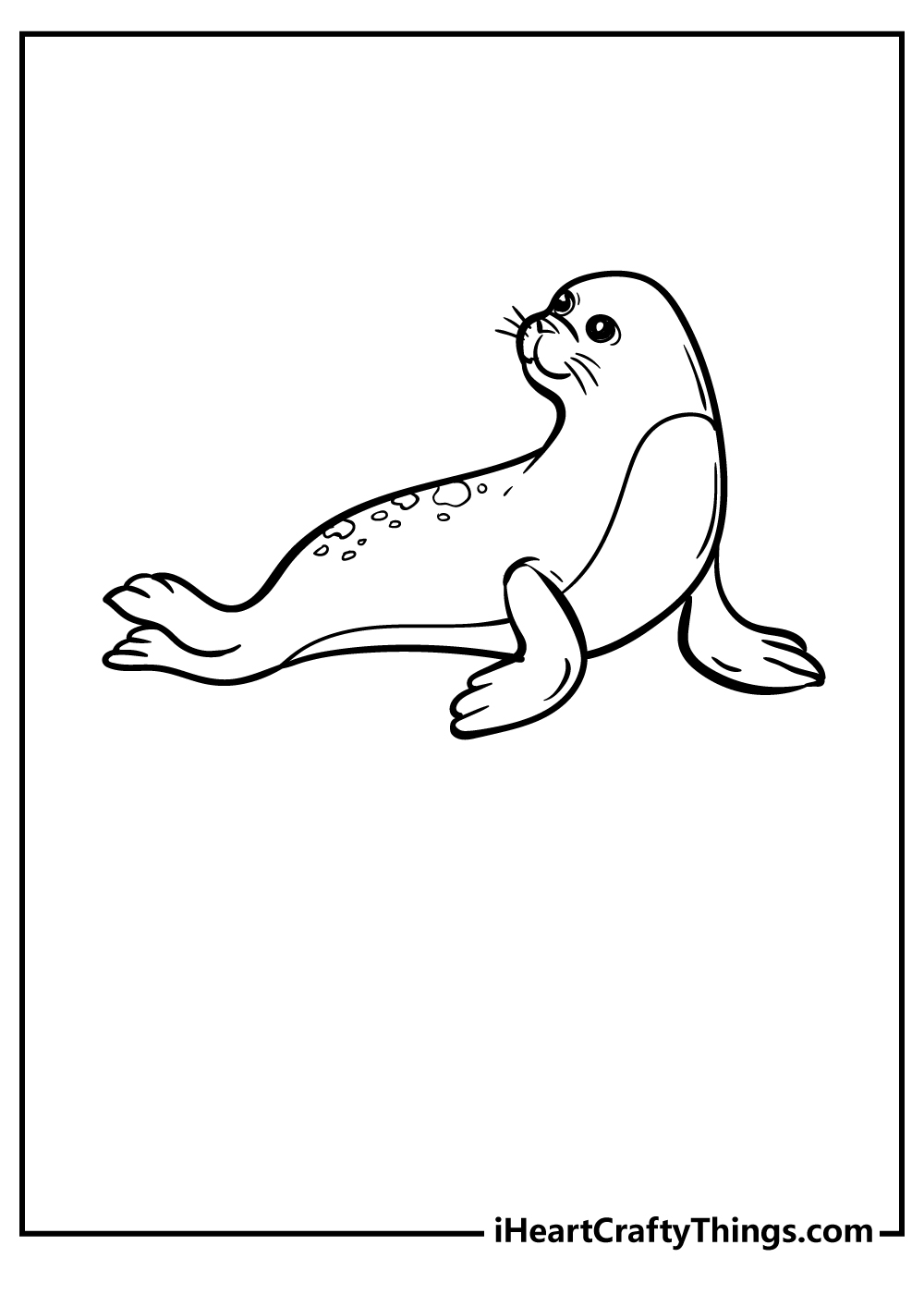 In this next adorable seal coloring sheet, we have a seal that seems to be relaxing underwater. Seals are definitely at home in the water, so it's no surprise to see this one enjoying a swim!
This is another printable where you could draw a background. You could add some fish or other sea creatures along with some rocks and plants for a few background ideas!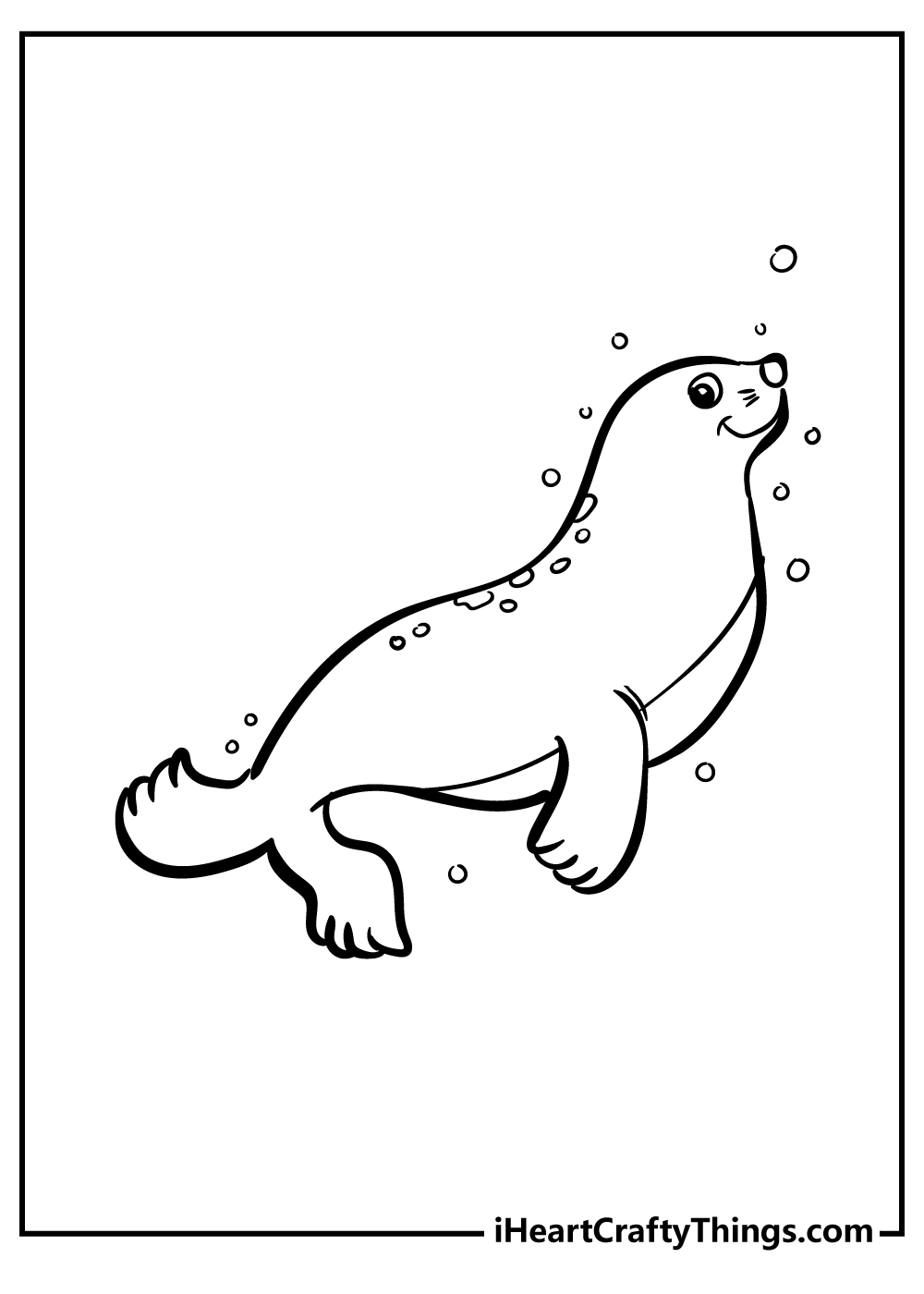 We have another really cute seal for you to bring to life with some colors in this third seal printable!
This one is looking very calm and happy, and you could emphasize that with the colors that you choose.
If we were coloring this seal printable, we would use some mild pinks or maybe some blues with the background. Softer mediums such as colored pencils or watercolor paints would also be great!
These are a few ideas, but what else can you think of to use for this cute little seal?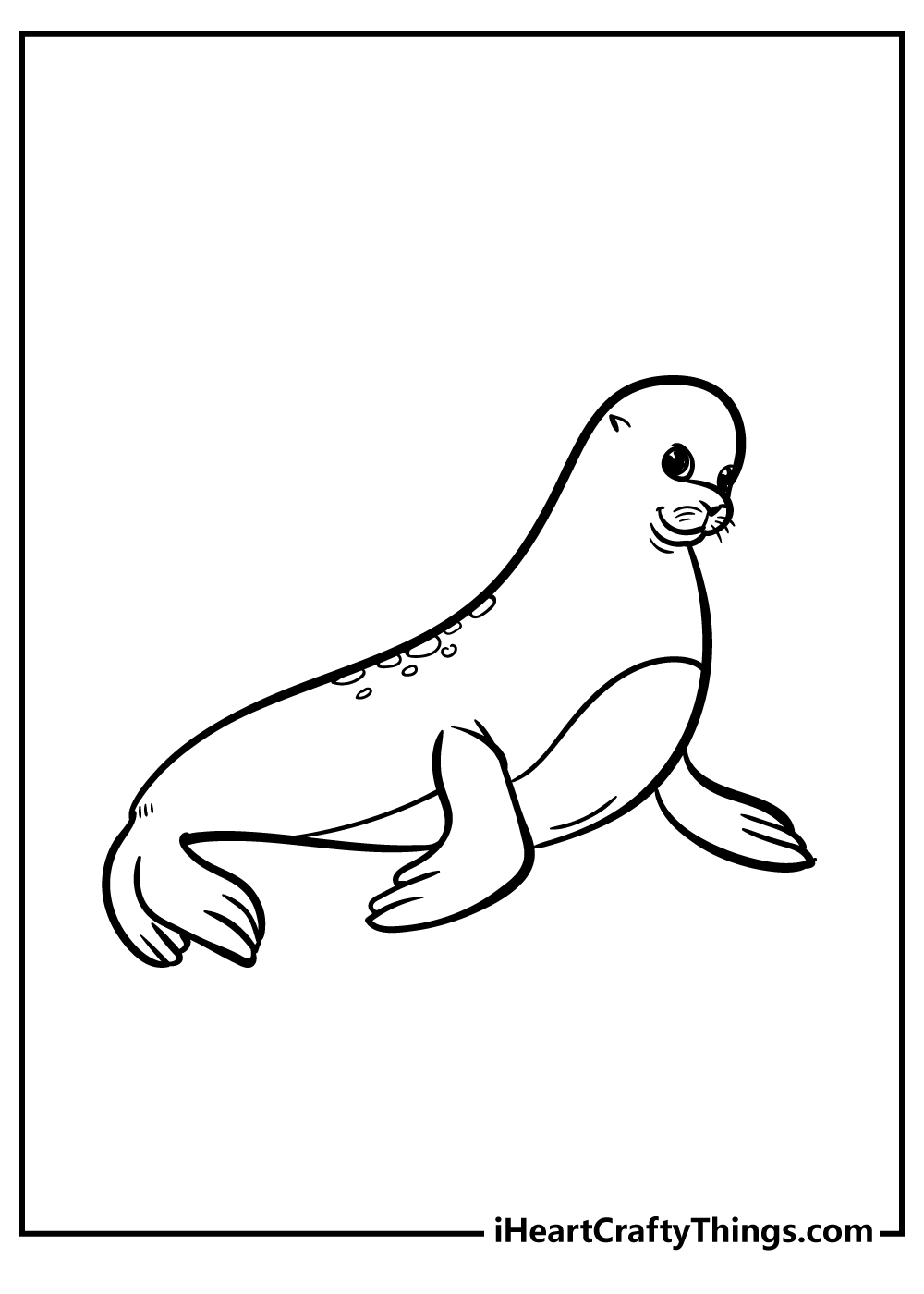 What a sweet little guy we have to color in the fourth free seal coloring page! This one has a look of surprise on its face as it lies on a sheet of ice.
Because of the icy background, we think that a combination of various shades of blues would be perfect for the background.
You could contrast the blue of the ice with some bright oranges and reds for a noon sky for one idea!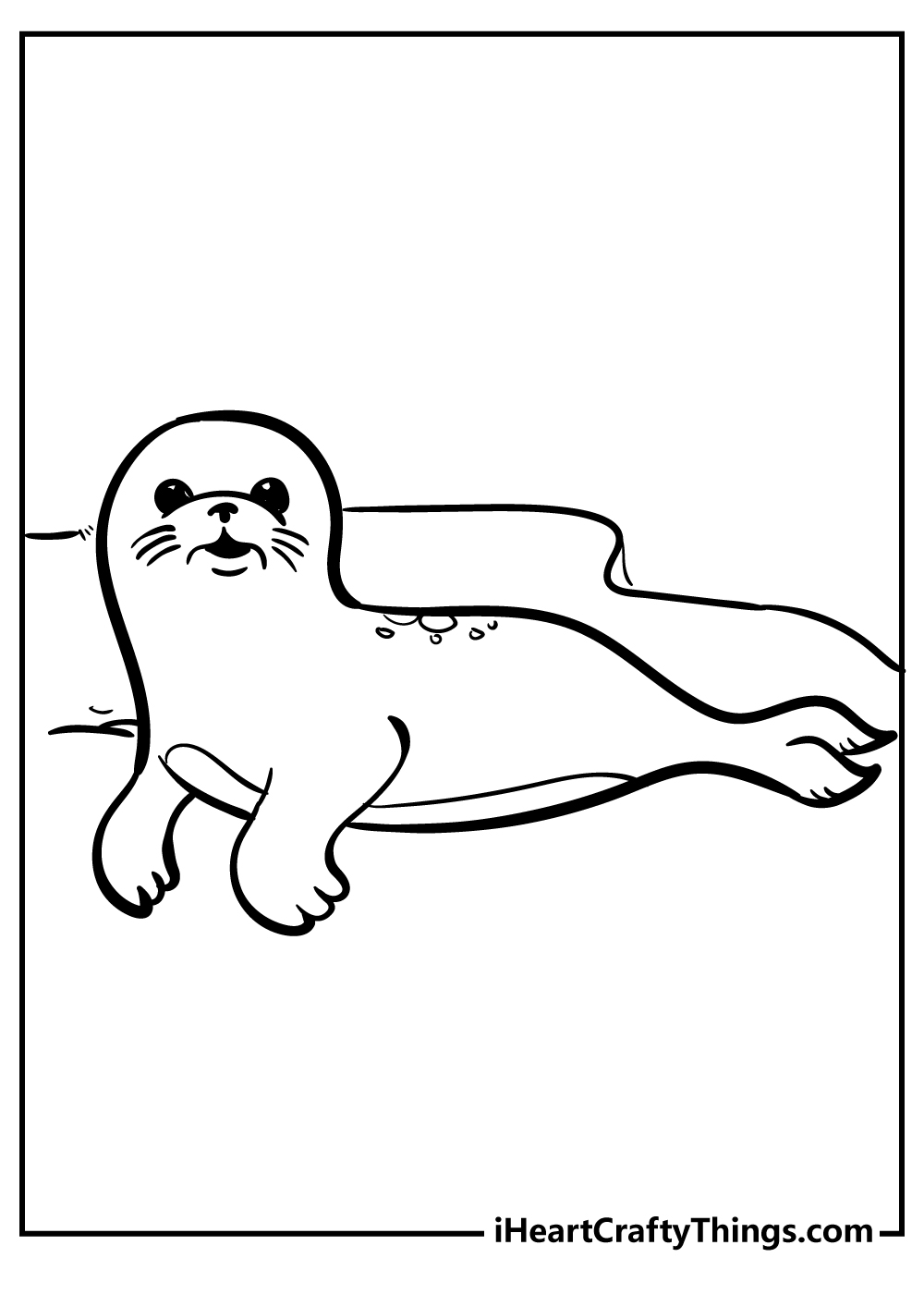 The seal in this fifth free seal coloring sheet for kids shows a seal having a great time with a ball! This is a classic trick for seals to perform, and you get to bring it to life with color.
In this playful image, we would recommend some bright, happy colors to suit the playful mood of the image.
Which of your favorite colors will you use for this printable? Whatever you choose, we hope you will have a lot of fun coloring this image!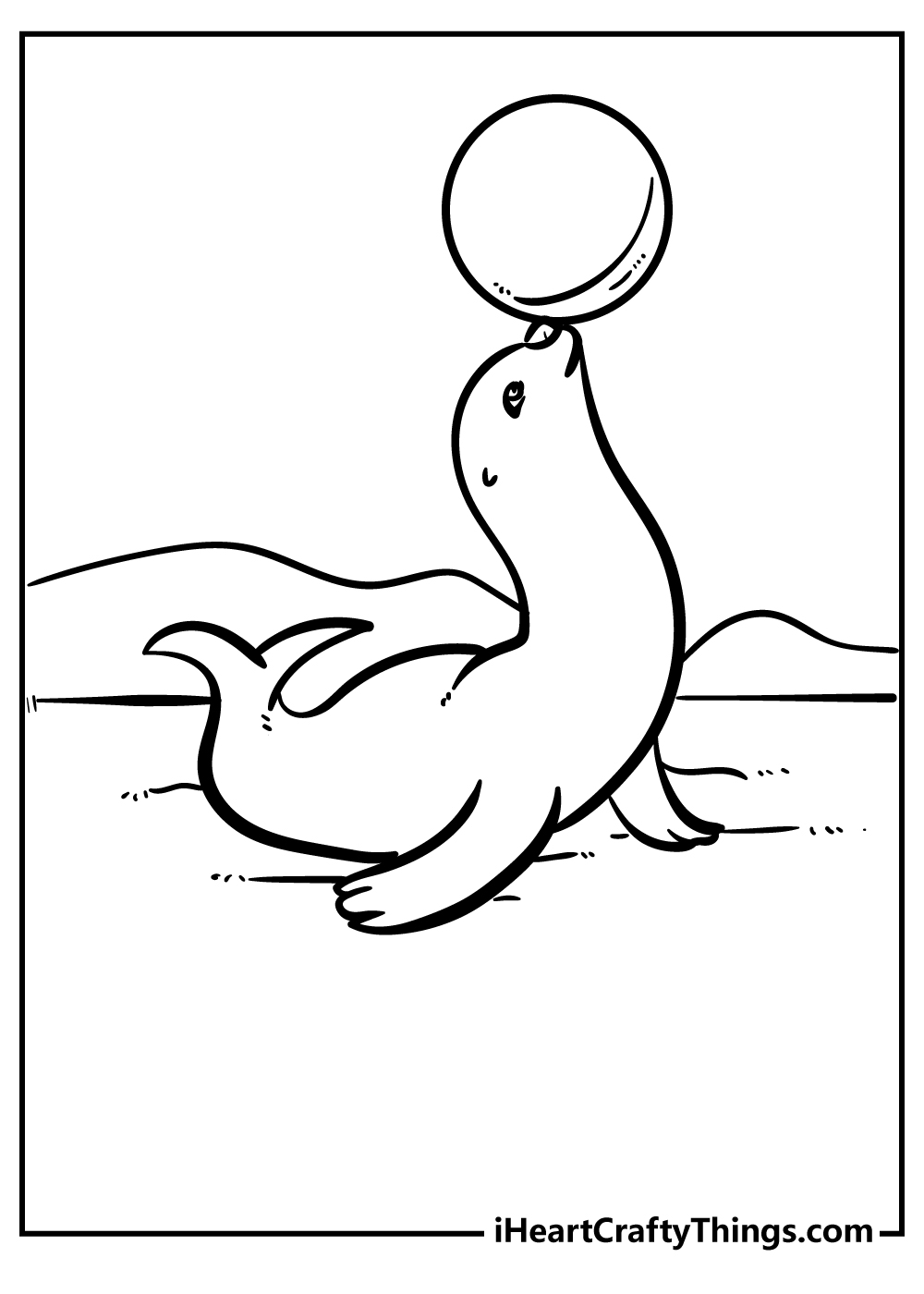 This next seal coloring printable is a fun, quirky image! The seal in this one is drawn in a bit of a different style to the previous ones, and it has a more cartoony look.
For this reason, we think that some fun, less realistic colors would look great for this seal.
Do you agree, or will you use some more realistic colors for this fun seal?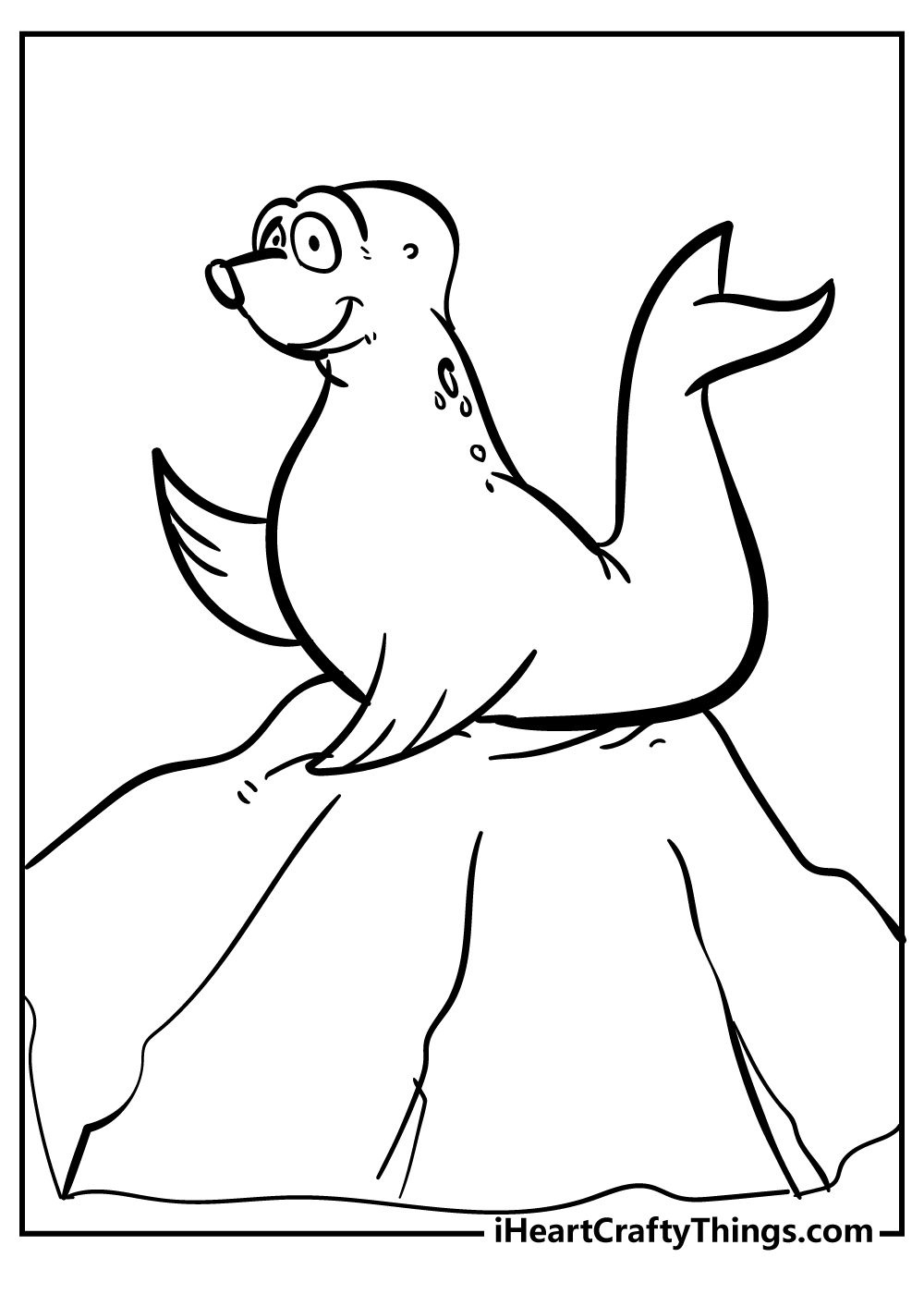 In this seventh free seal coloring page, we have one of the cutest seals yet seen in this collection!
This little one is floating gently in the ocean, and the background is separated into several segments.
It would look amazing if you used different colors for each segment of the ocean to create a dynamic look!
What colors do you think would work well with these segments?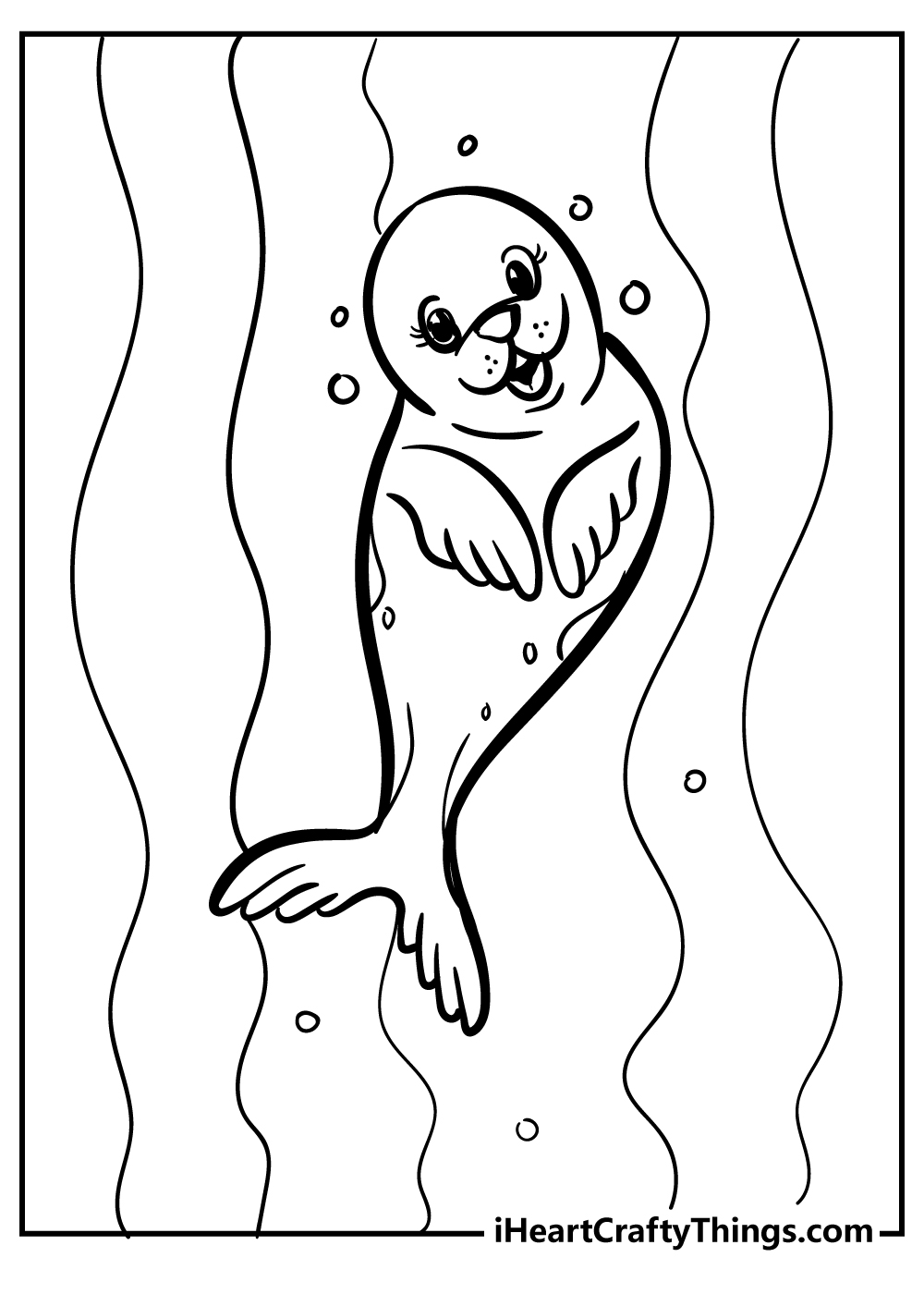 This seal is taking a deep dive in our next free seal coloring sheet.
This one is looking very happy to be floating in the peaceful ocean depths, so we think creating an equally peaceful background is in order.
We would use some rich, dark blues to color this particular background, as that would make it look like this seal is in deeper water.
Will you go for a deep ocean look or use some lighter colors to make it look like this seal is in shallower waters?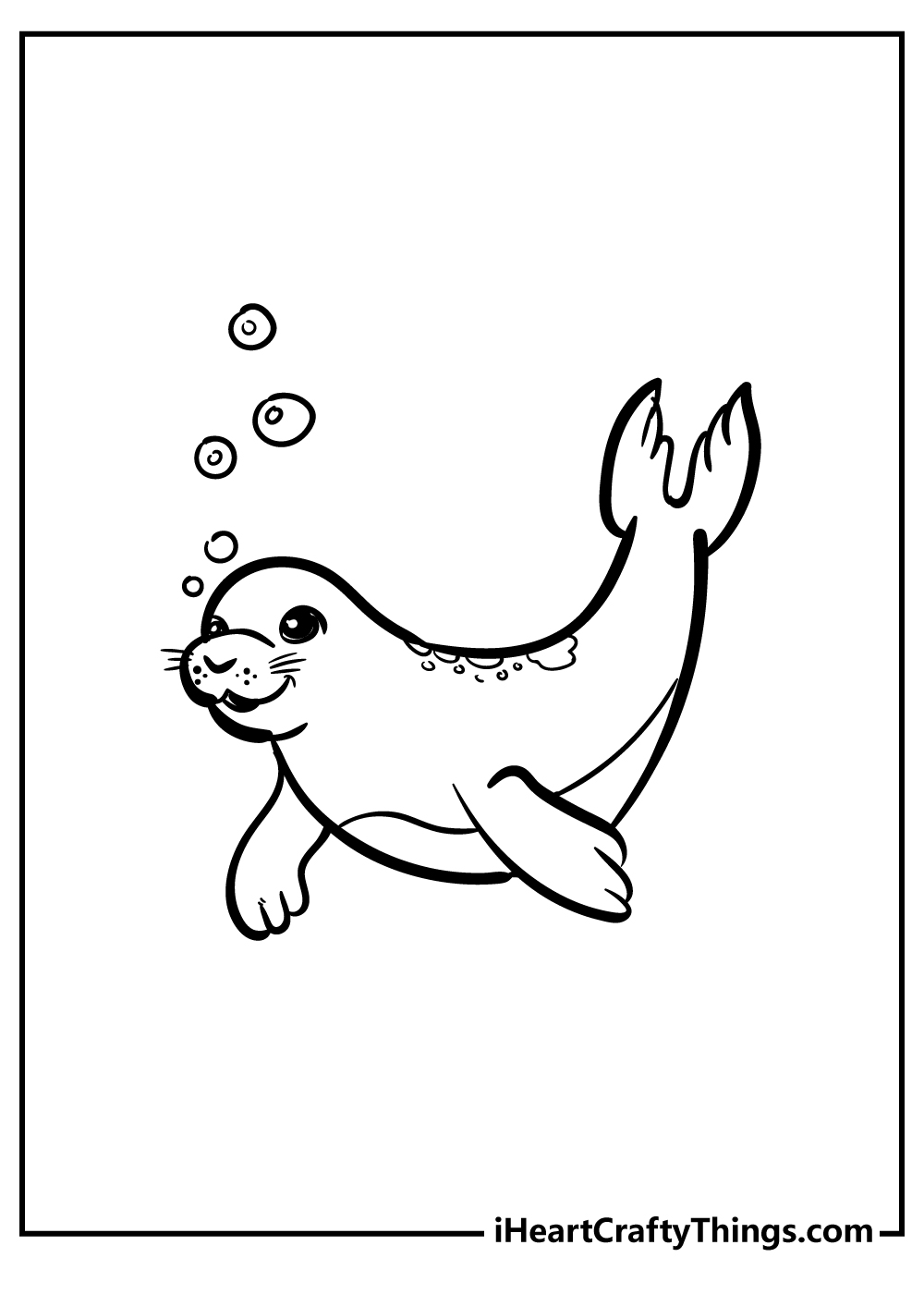 There's a really happy expression on the face of the seal in our second to last free seal coloring page for kids!
This one is also diving deep in the water, and it certainly looks very pleased with that fact. There are some interesting patterns on the back of this seal, and this is common in real-life seals as well.
These patterns also help to give you some more options for different colors to use as well!
What do you think you will use to finish off this adorable little seal before we proceed to the final image in this collection?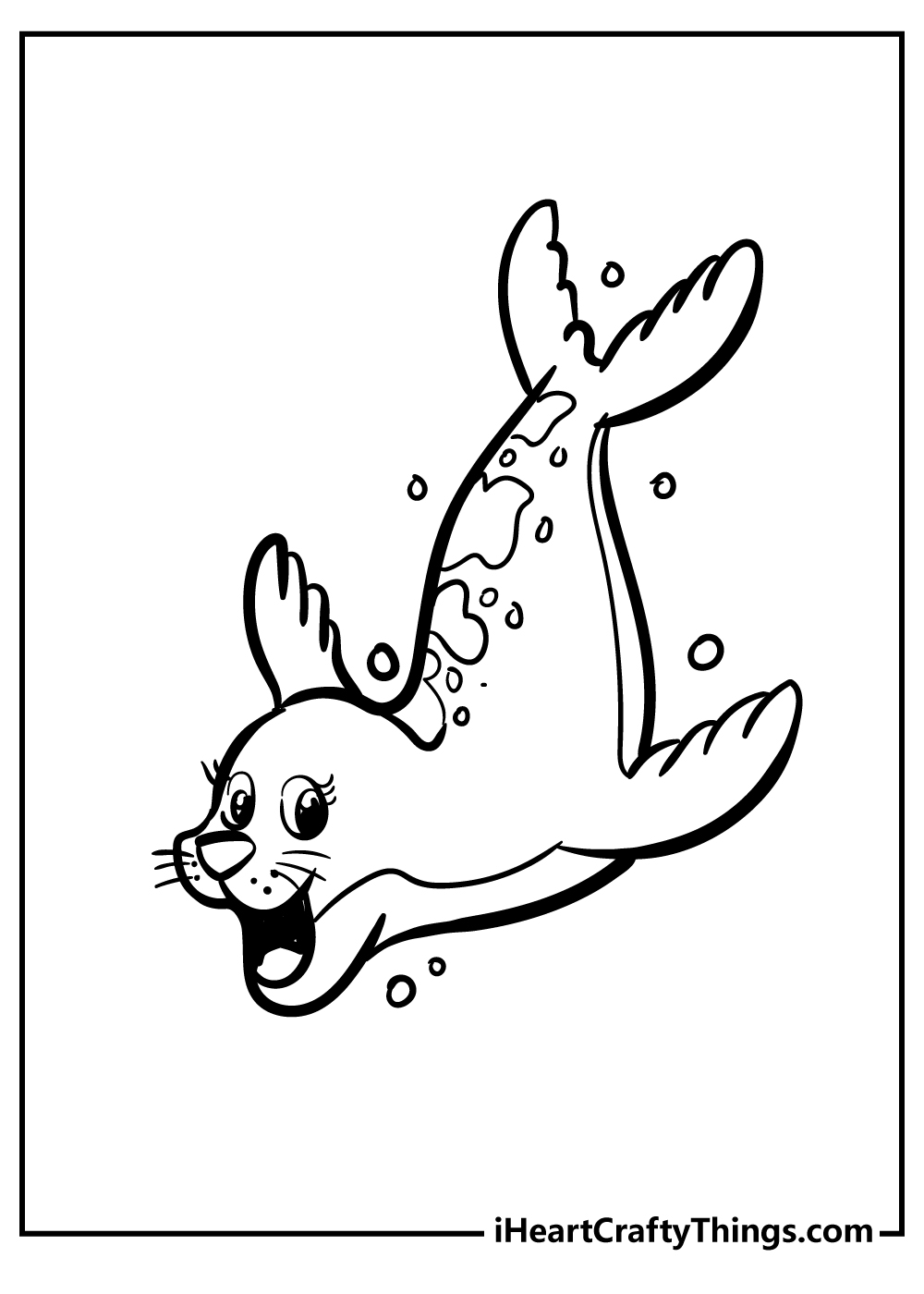 We have another cute seal for this final free seal coloring printable! This one is sitting on dry land, so you could also draw a background for this one.
Maybe you could add some clouds or the sun above it for some weather details!
Remember that it can also be fun to change up the art tools and mediums that you use for these printables. Maybe you can try a new medium that you haven't used before for this adorable seal!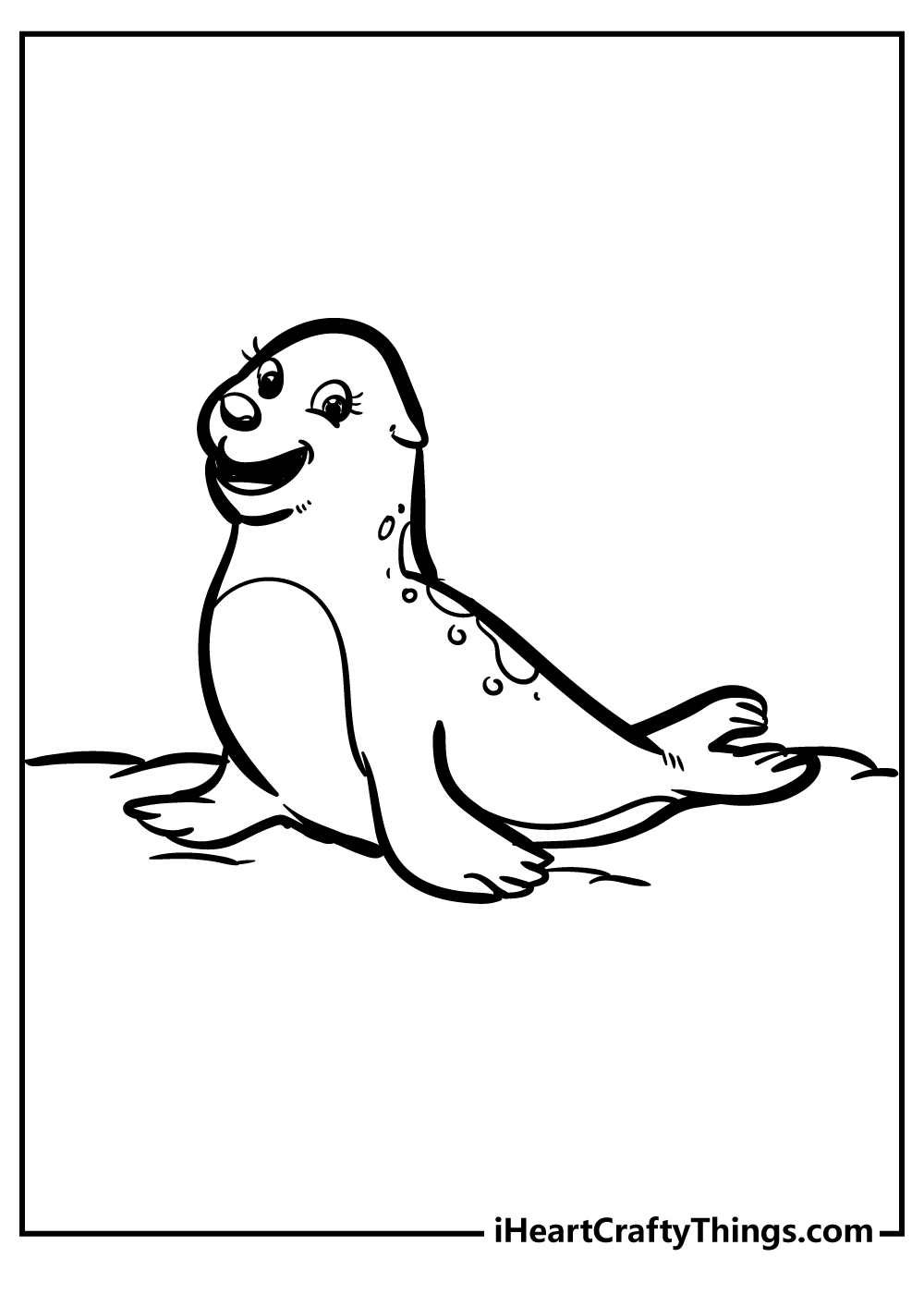 Seal Coloring Pages – Which will you choose?
Everyone loves an adorable seal, and we hope that you enjoyed coloring some cute ones in this collection of free seal coloring pages for kids!
Don't forget that you can print these pages out multiple times, and you can also share them with all of your friends and family.
If you enjoyed this collection of free seal coloring sheets, we have plenty more free coloring pages for you to enjoy on our website.
We plan to bring out new ones for you to enjoy soon, so keep checking in to make sure you never miss out!
When you have finished your favorites from this collection of seal coloring pages, we're sure you'll want to show off your artworks!
You can do just that by sharing your favorite completed pages on our Facebook and Pinterest pages. We can't wait to see your adorable seal creations when they're done!