On this page, you will find 21 all new Sea Turtle coloring pages that are completely free to print and download.
Sea turtles, also known as marine turtles, are air-breathing reptiles that inhabit tropical and subtropical seas all over the world. Sea turtles can live up to 50 years or more in the sea, thanks to their streamlined bodies and large flippers.
The extreme popularity of sea turtles have created a huge demand for free sea turtle coloring pages. You've asked for it, so we delivered.
So without further ado, we present to you: 10 brand-new, original sea turtle coloring sheets that you can enjoy with friends and family.
Depending on the species, sea turtles can either be yellow, olive-green, greenish-brown, reddish-brown, or predominantly black in color. You can opt to color them exactly how they look like or use a customized set of colors!
Feel free to mix and match colors to your liking! Why not try experimenting with different coloring materials as well?
Have fun and use your imagination to bring these sea turtles to life!
REMEMBER: You can get the COMPLETE set of these coloring pages >> HERE
Sea Turtle Coloring Pages – Free to Print and Color
In this sea turtle coloring page, there's a sea turtle swimming and wandering around the vast ocean. This sea turtle is diving so deep it can nearly reach the bottom of the ocean.
Imagine being able to live and survive in the ocean for a long period of time. Life under the sea must be a lot of fun! What colors will you use to make this ocean coral reef colorful?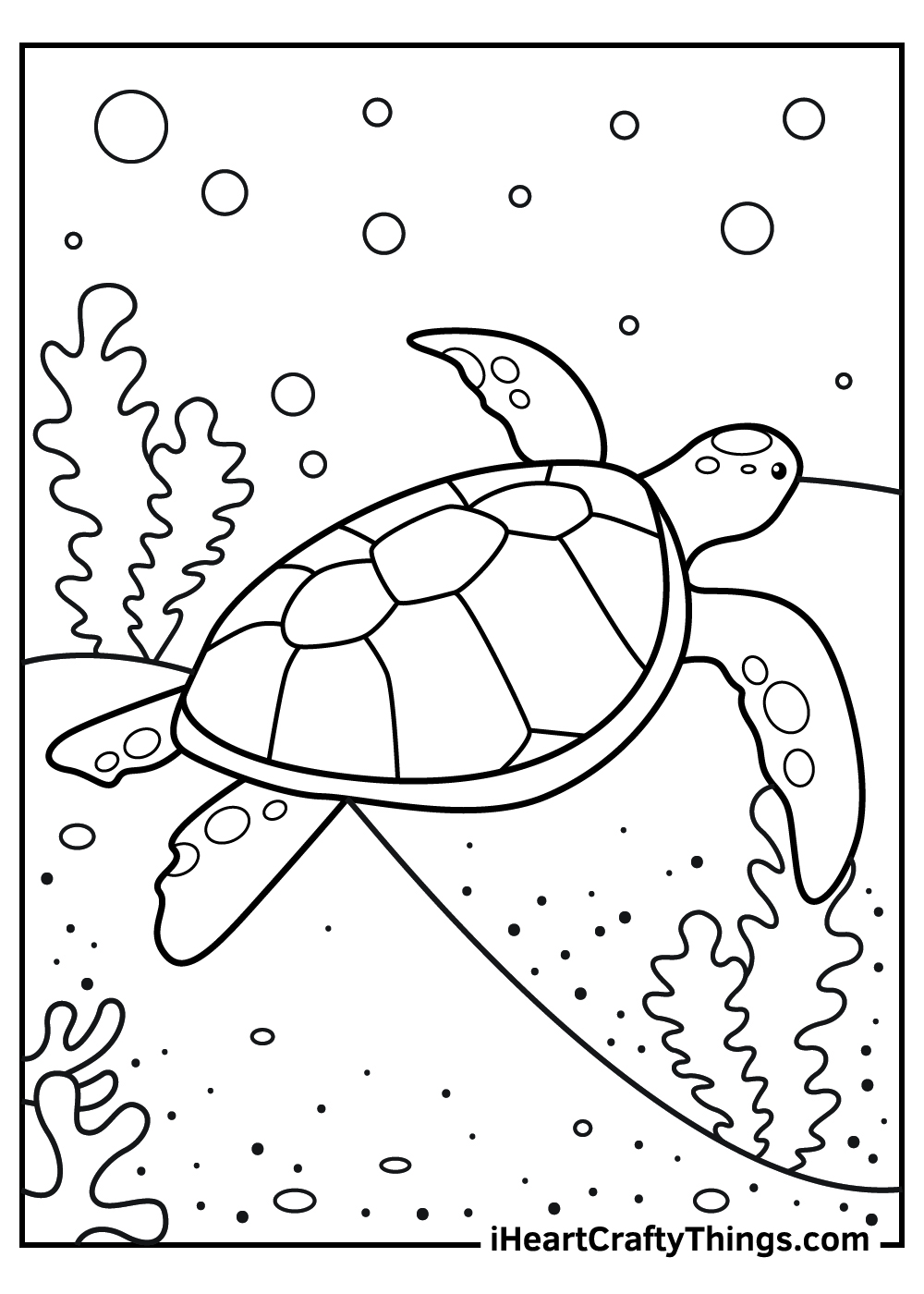 Sea turtles have the ability to spend time on land, as seen on this sea turtle coloring page. However, they are often awkward and vulnerable when they're not underwater.
This sea turtle is crawling on the coast, ready to get back to the ocean. The sea shore looks mesmerizing with those fine pebbles and a tiny starfish nearby.
Don't forget to use a vibrant color for the starfish when coloring this image!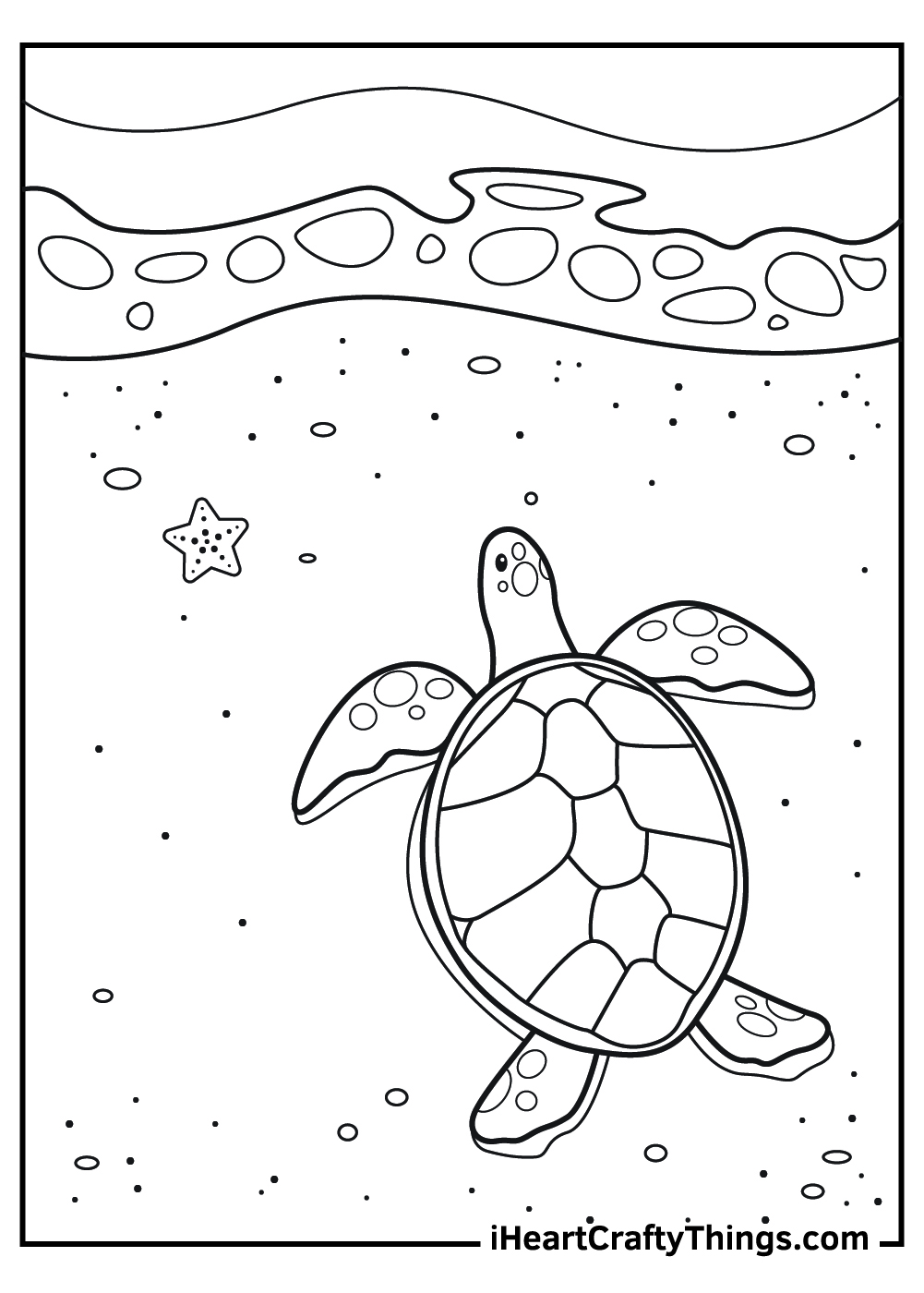 This sea turtle coloring page shows a sea turtle roaming around at the bottom of the sea. It's probably looking for some food.
Although sea turtles eat practically anything from seaweed to shrimps and crabs, its favorite food are jellyfishes.
Sadly, they may also accidentally eat plastic bags whenever they come across it underwater. So, keep in mind to avoid throwing plastic into the ocean to save these adorable sea turtles!
REMEMBER: You can get the COMPLETE set of these coloring pages >> HERE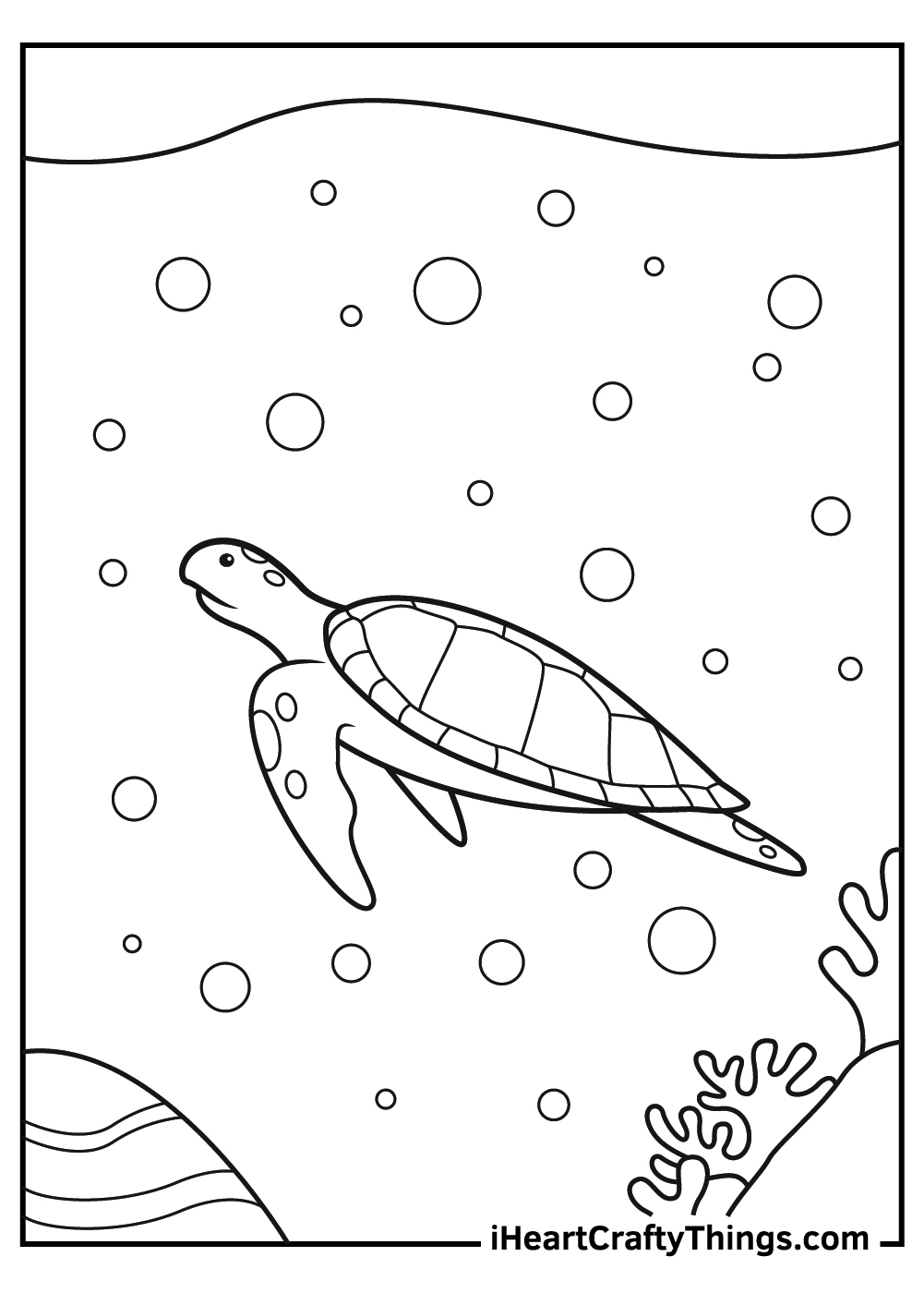 The sun is setting on this sea turtle coloring page! The sea turtle decides to hang out on the shore to appreciate the sunset. It's obviously a mesmerizing scenery you wouldn't want to miss!
What's impressive about sea turtles is that they can breathe in both underwater and above the water. They basically have access to the best of both worlds!
This sea turtle coloring page shows a sea turtle swimming along with a school of fish under the sea. They are probably racing towards the food floating in the water.
Which do you think will reach its destination first: the sea turtle or the fishes?
The fishes have distinct patterns imprinted on their skin. It looks like they are clownfishes! What colors will you use to make these fishes colorful?
REMEMBER: You can get the COMPLETE set of these coloring pages >> HERE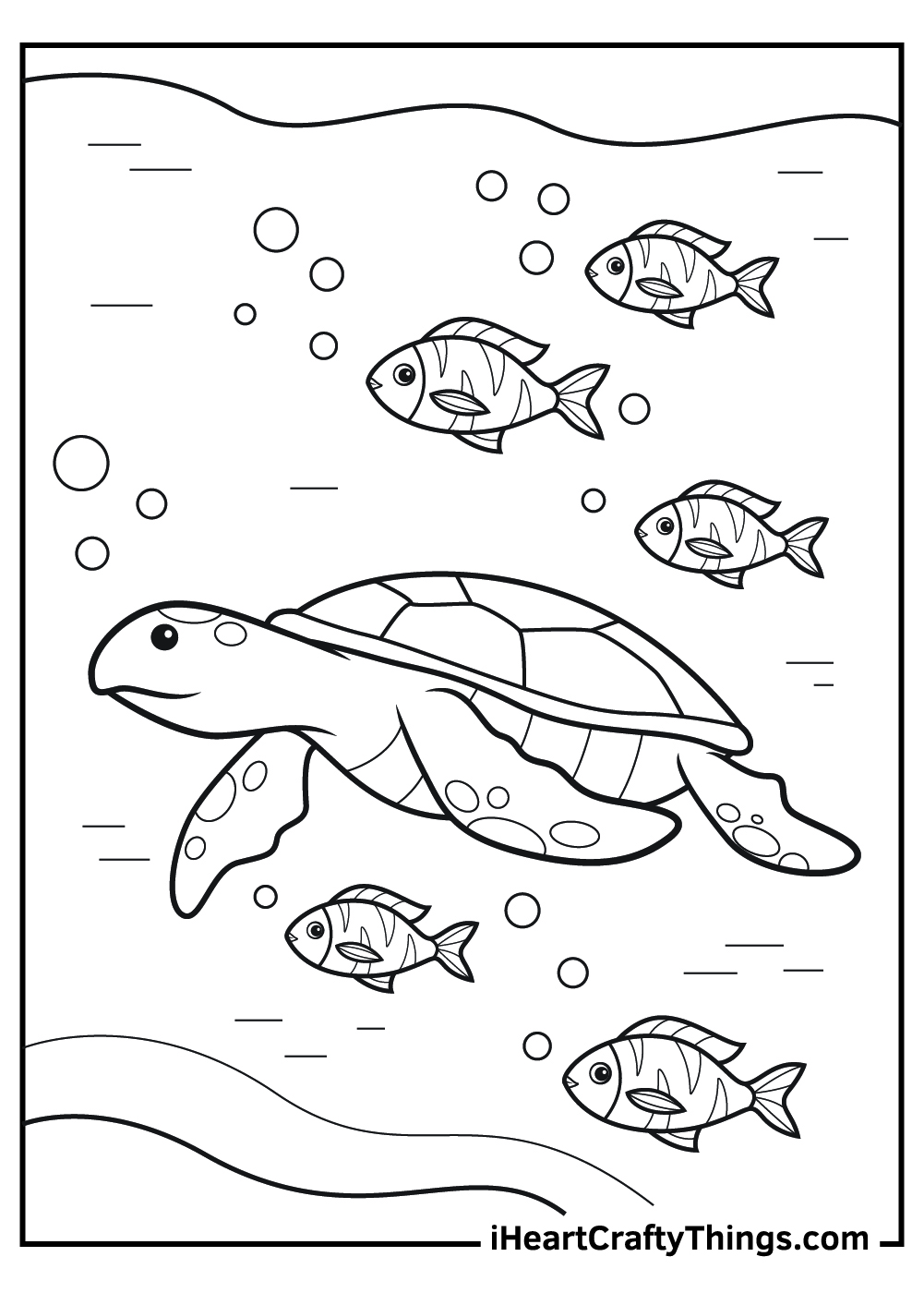 In this sea turtle coloring page, there are two sea turtles diving under the deep blue sea. They are exploring the bottom of the ocean together—so sweet! They must be a couple!
The ocean looks clean and clear with all those algae and seagrass growing beautifully. Don't forget to add vivid blue and green colors to the sea bottom when you color this image!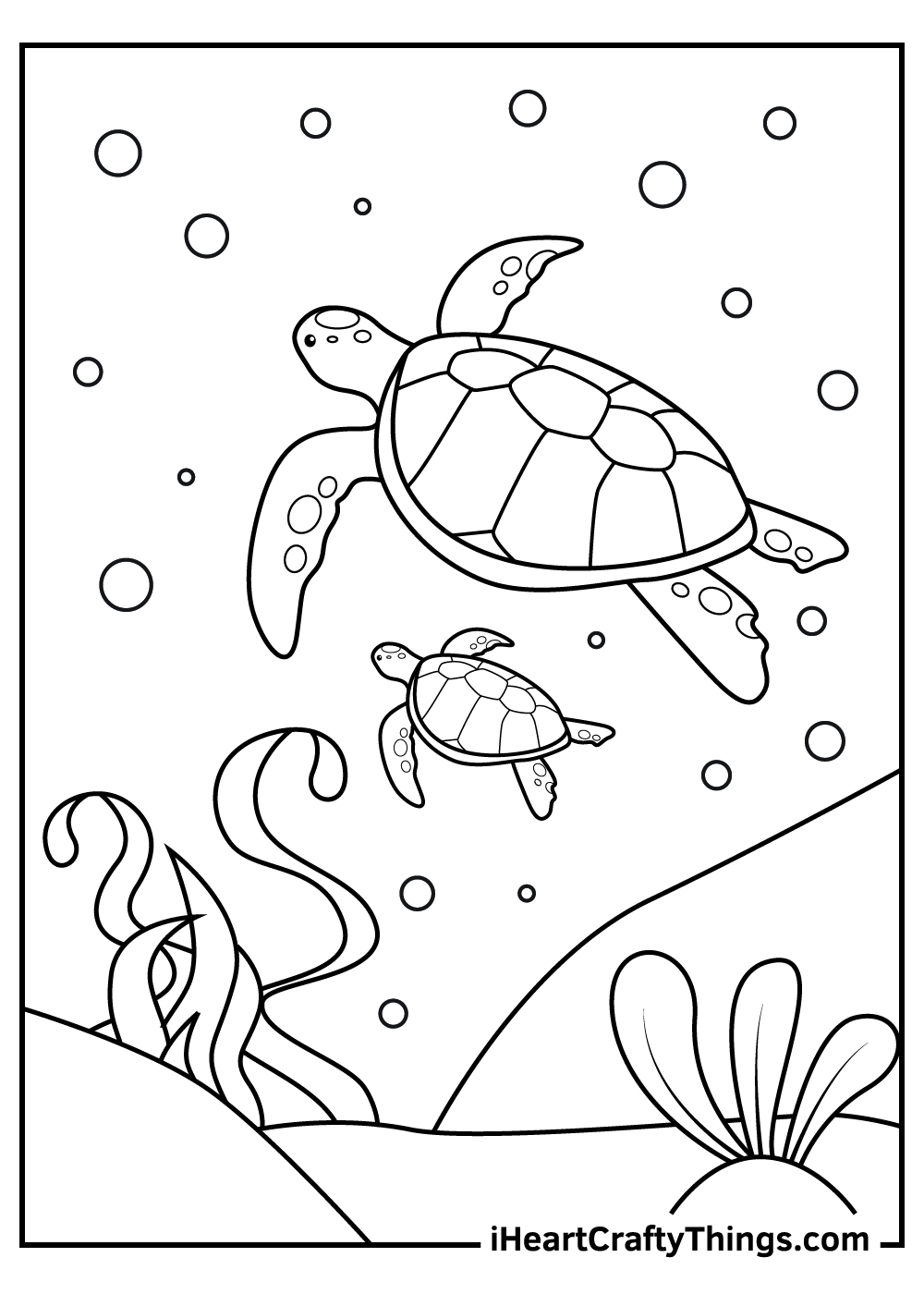 There are lots of sea turtles swimming under the ocean on this sea turtle coloring page. They are venturing underwater together, looking for some food for everyone. Hopefully, they can find something to eat soon!
We imagine this artwork would make a beautiful decoration to be hanged on the wall once it is colored and framed. In which part of your house do you think this would look amazing?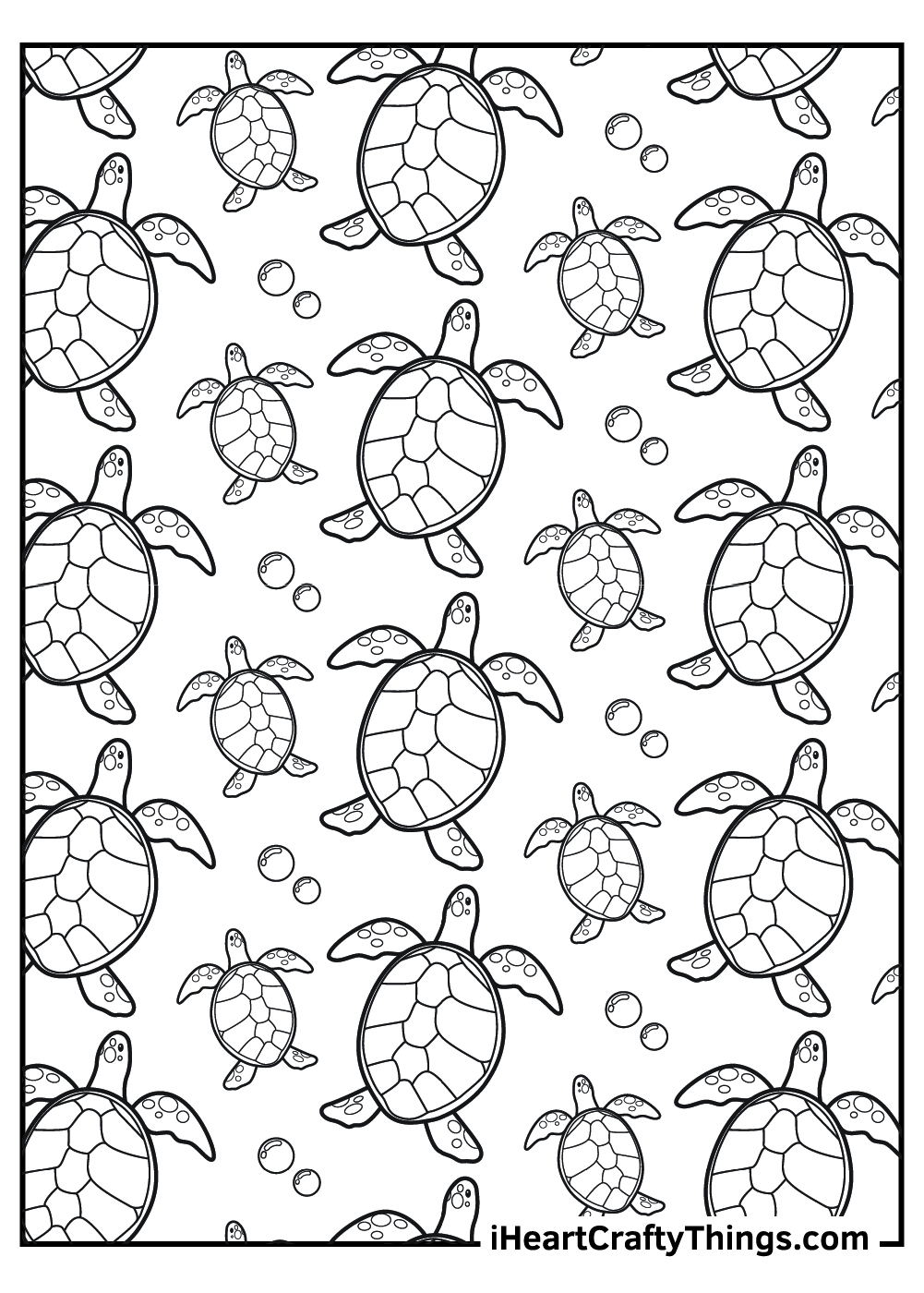 In this sea turtle coloring page, there's a sea turtle simply enjoying its swim in the water. The body of water shown in this image is particularly narrow, so it must be a lake or a pond.
There's also a bunch of starfishes in various sizes laying perfectly still at the edge of the shoreline. What colors will you add to this printable?
REMEMBER: You can get the COMPLETE set of these coloring pages >> HERE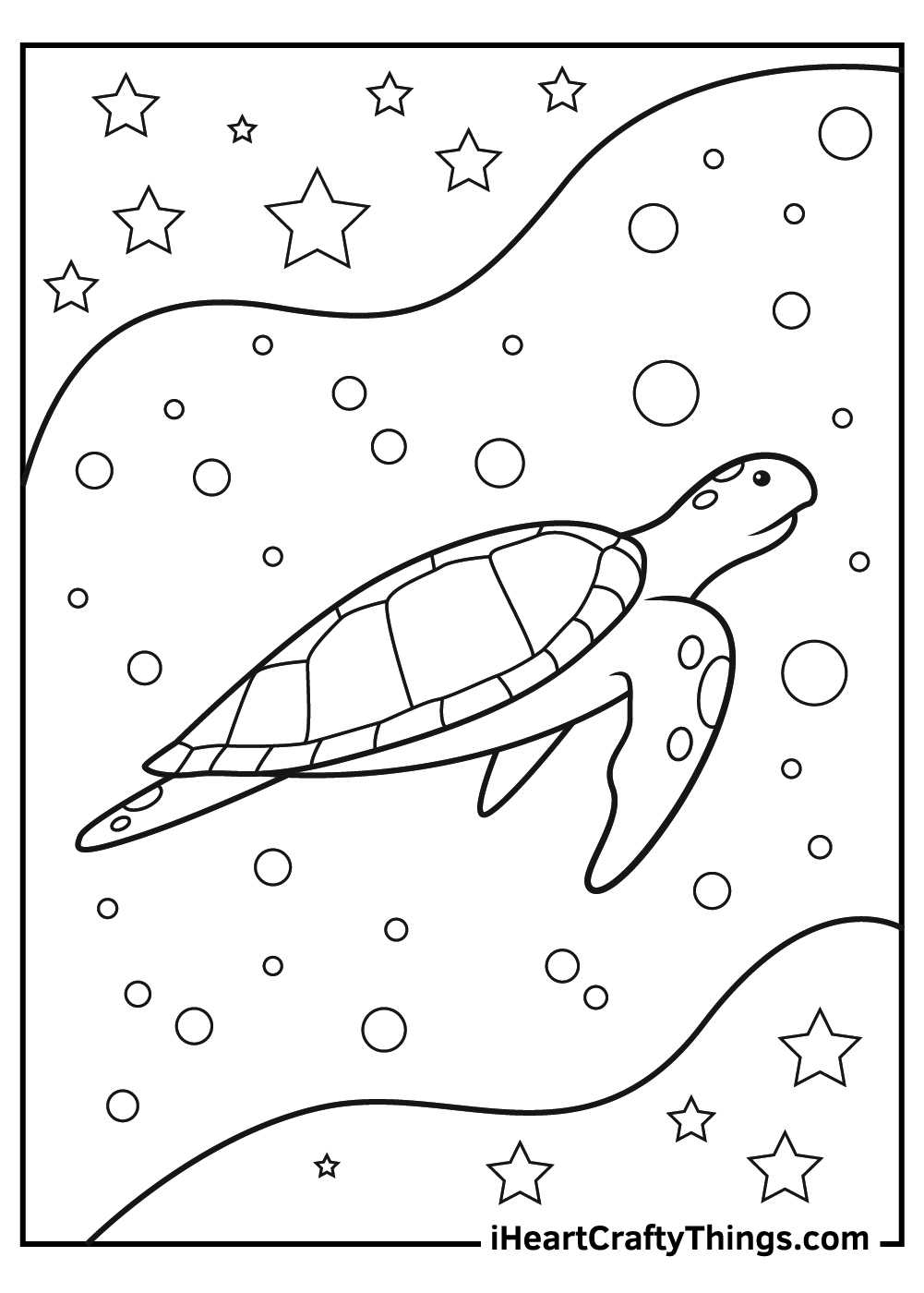 This sea turtle coloring page perfectly captures the features of the sea turtle. It has an enormous, durable shell to protect its body and large flippers adapted to long hours of swimming.
Underneath the sea turtle is the word "turtle" in all capital letters. We recommend using different colors for each letter to make this artwork appear more aesthetic!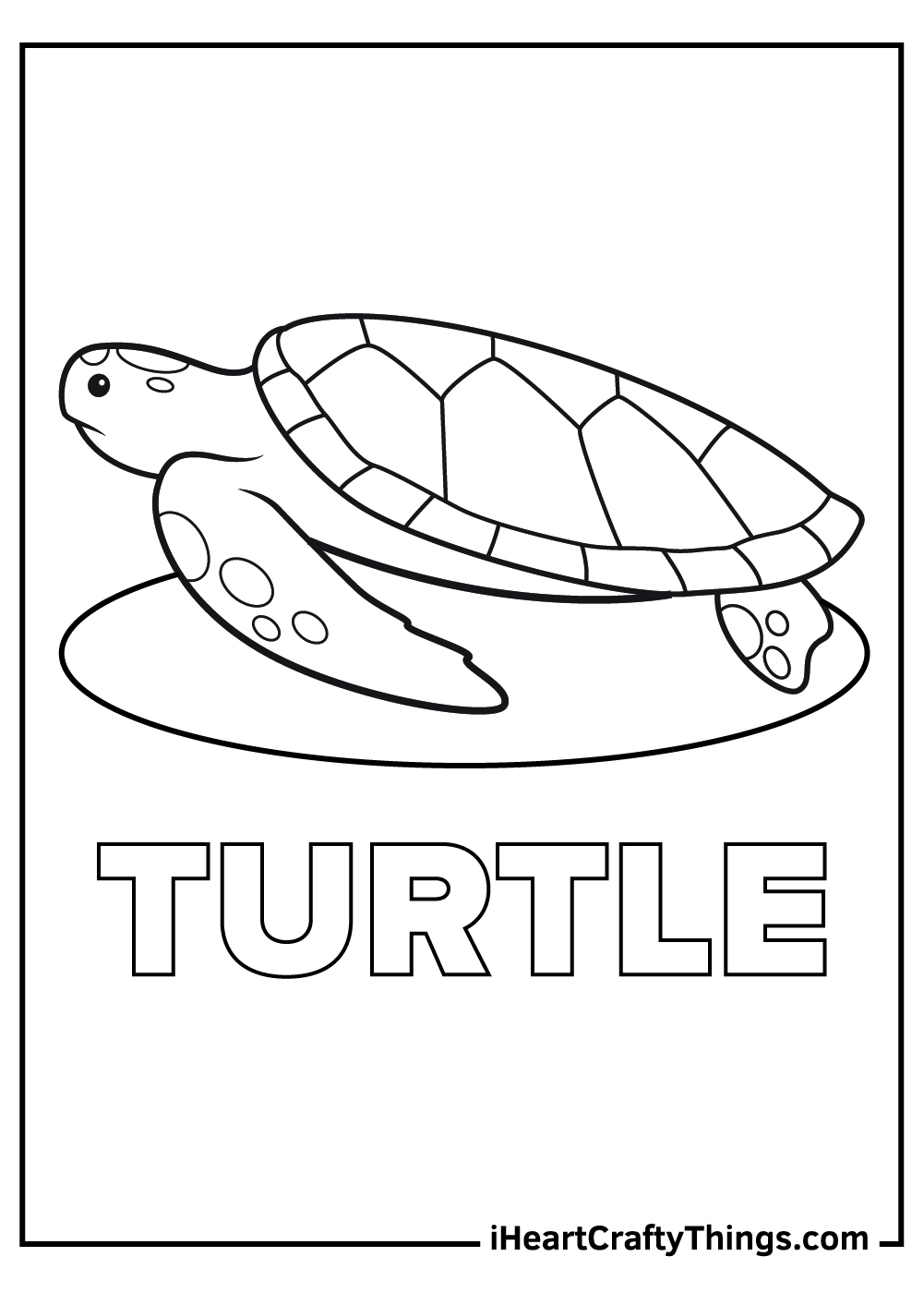 Sea turtles thrive underwater, as shown in this sea turtle coloring page. This sea turtle is swimming under the sea, possibly in search of a delicious dinner.
Did you know that some sea turtles travel 16,000 kilometers or more just to munch on their favorite jellyfish?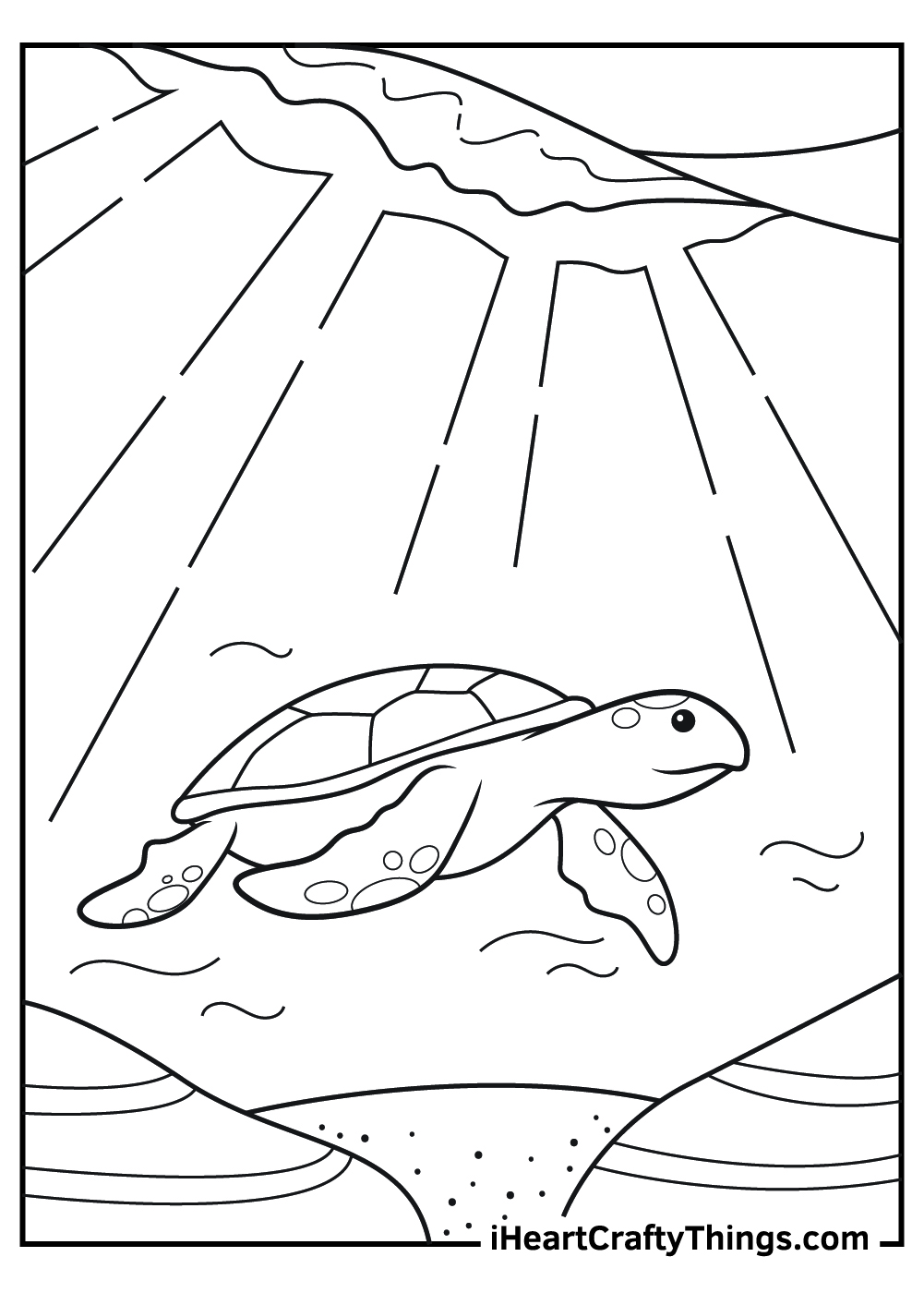 Check Out Some Extra Tips On Making Your Coloring Pages Even Better!
With this collection of sea turtle coloring pages, we saw so many wonderful representations of these amazing creatures. While the focus is on the turtles, there are many other details to behold.
But we're not here to just behold the beautiful artwork, we're here to color it in! We wanted to give you a few more ideas you can use to make your favorite images from the collection even better.
Here's a challenge for you: why not use an art tool you've never used before? If you can't think of any, you can ask family or friends for some suggestions.
For example, you could use some watercolor paints to give the images a nice soft look. Or if you prefer a brighter approach but like the look of paint, then acrylic paints could be good to use.
There are no wrong tools to use when coloring these pages, as anything you use will bring something unique and special to the mix.
You can also mix different mediums together to create a whole new feeling for the images. You could maybe paint them with watercolors and then use colored pens over some of the finer details.
This would help to draw the eye to these details while maintaining that painterly style. Using craft supplies like glitter could also bring some sparkle to the images.
There is a twinkly look beneath the water sometimes, and a light sprinkling of glitter would help to recreate that. This is just one example of something you could use to bring an extra edge to your favorite images.
There are so many other mediums you could use, however! Now it's up to you to see what other colors, mediums and extra details you think would work for your favorite images.
Sea Turtle Coloring Pages – Which image will you color?
We hope you enjoy these sea turtle coloring pages. It consists of simple and intricate illustrations of fascinating sea turtles in their natural habitat. Coloring these sea turtles coloring sheets is the perfect activity for kids of all ages who love sea turtles or sea animals in general.
Remember, all of our crafts and coloring printables are 100% free for you to download, print, and color. We are always updating our catalog and uploading new content to our catalog. So, don't forget to keep re-visiting our website to continuously enjoy all-new coloring pages.
Once you've finished coloring your sea turtle coloring printables, you must be very proud of yourself for completing a masterpiece—as you should be! Make sure to show off your work of art and share it on our Facebook page. We're sure it looks amazing!
We can't wait to see all of your colorful sea turtle artworks!
REMEMBER: You can get the COMPLETE set of these coloring pages >> HERE