On this page, you will find 22 all new Turtle coloring pages that are completely free to print and download.
Life can be full of things to do and it may seem like we're always moving on to the next thing. It's important to take some time to enjoy the calmer, slower side of life sometimes, and you can look to the humble turtle for inspiration in this regard!
These calm creatures are never in a hurry and take life at their own pace, while also managing to be really cute.
These free turtle coloring pages for kids are the perfect way to kick back, relax and enjoy some calming coloring fun.
There's a great variety of different cute turtles for you to color in these pages, and you'll get to use all manner of fun colors and art mediums while filling them in!
Once you've colored in your favorite turtle coloring pages, we hope that you'll share them to our Facebook page for us to admire!
We always love to see your colorful creations and we can't wait to see how you color in these cute turtles.
REMEMBER: You can get the COMPLETE set of these coloring pages >> HERE
Prepare To Color This Collection Of Turtle Coloring Sheets!
We have a wonderful collection of turtle coloring sheets for you to enjoy, but there are a few ways that you can prepare for the coloring journey you're about to take.
Even before you look at any of the images in the guide, you can probably imagine the kinds of colors you would like to use. For us, the thought of turtles in the water makes us think of colder colors.
These would be colors like blue and green, so that is what we would probably aim for. However, you can also think about the art tools and mediums you will use to portray these colors.
If we were sticking to cooler colors, then we would use some watercolor paints or colored pencils. These are mediums that keep the colors nice and mild, so they're good for cooler colors.
This is all just a suggestion that is meant to get you thinking about what you want for your own images. If you did want to use some brighter colors and mediums, then that would be perfect as well!
Maybe take a quick glance at all of the images in the guide before you begin as well. That will give you an idea of what you will be dealing with, and you can start preparing in your mind.
You can also look through all of your art supplies and start picking out what you would like to use. Don't be afraid to use some unusual or unexpected art supplies and techniques!
Now that you have some colors and mediums in mind, we are ready to dive in. Grab your art supplies and let's begin by looking at the first images in this collection.
21 Brand New Turtle Coloring Pages – Free to Print and Color
For this first image in this collection of free turtle coloring sheets for kids, we have a very cute turtle going for a walk on land.
This turtle looks like it's enjoying a pleasant adventure, so I would keep the colors nice and bright if I were coloring this in! What colors will you use to color in this first turtle coloring page?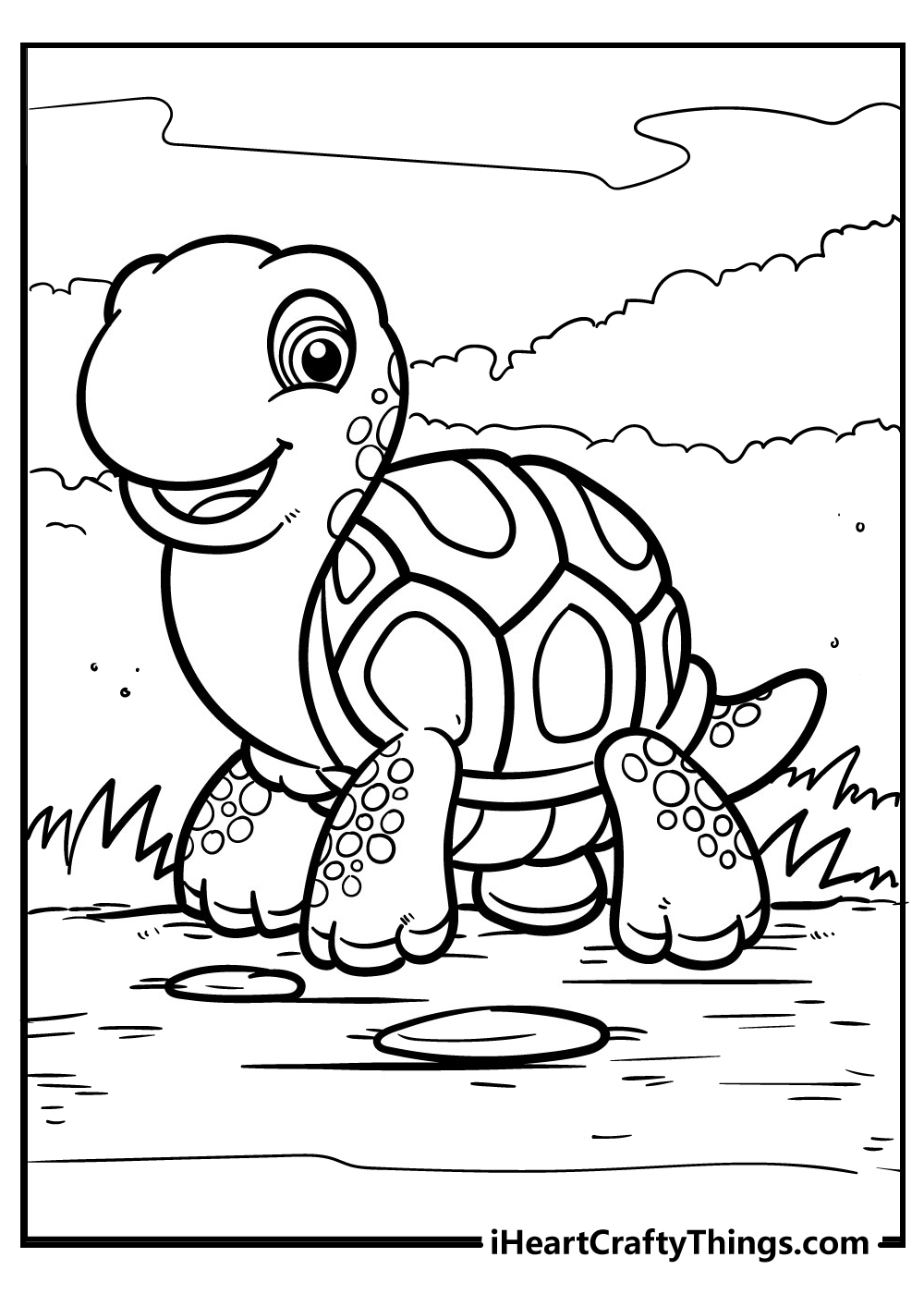 It's time for a lovely day by the beach in this next turtle coloring printable. This cute little one is enjoying a lie down at the beach, and that gives a great opportunity for some wonderful colors.
You could use some yellows for the sands and different blues for the water of the ocean and the sky for some great color variations.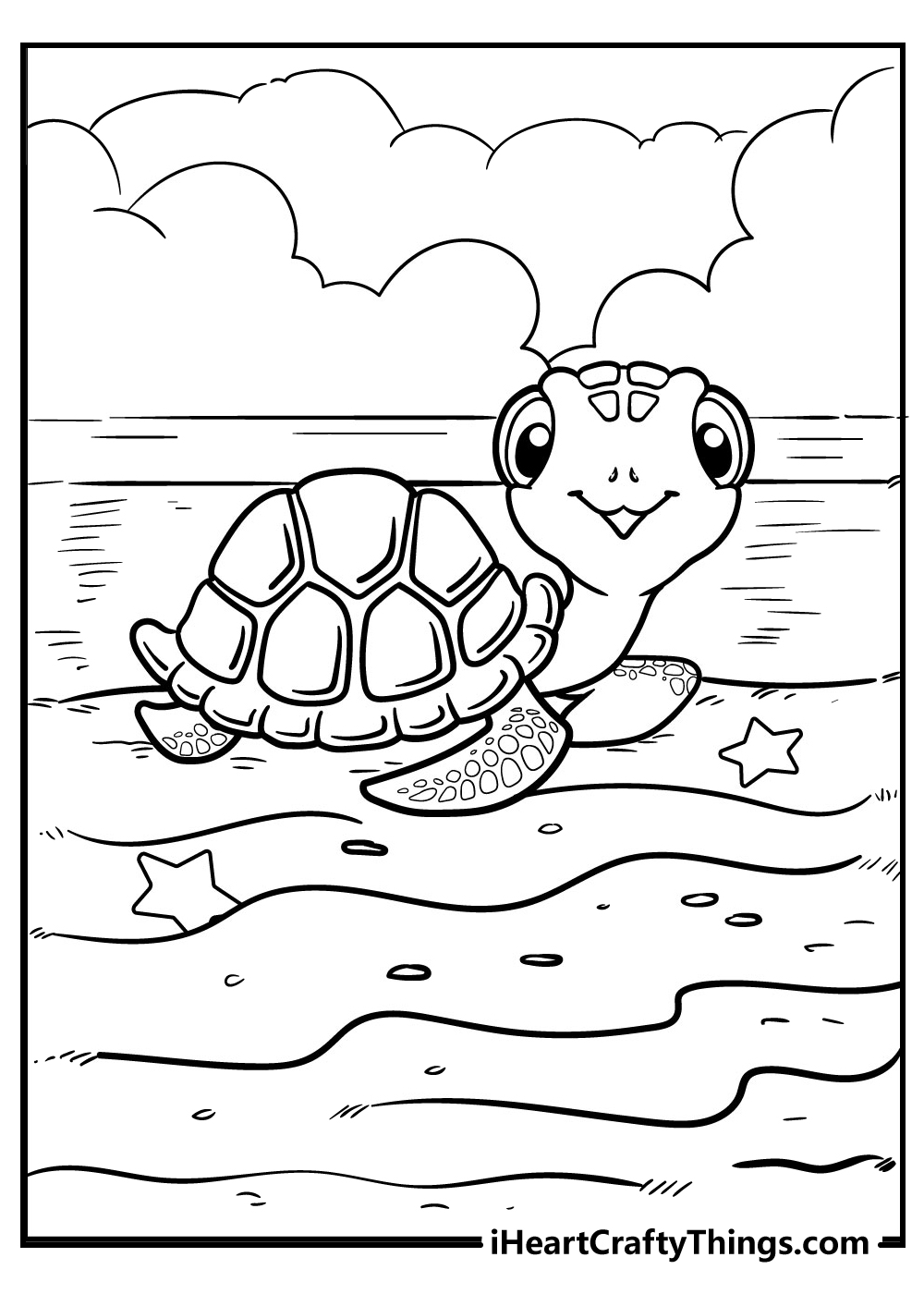 This happy turtle is hanging out at the bottom of the ocean in this creative turtle coloring page.
I think that I would use some nice watercolor paints for this one, as that medium lends itself well to aquatic scenes.
What mediums do you think you'll use for this turtle page? We can't wait to see how you color in this cute page!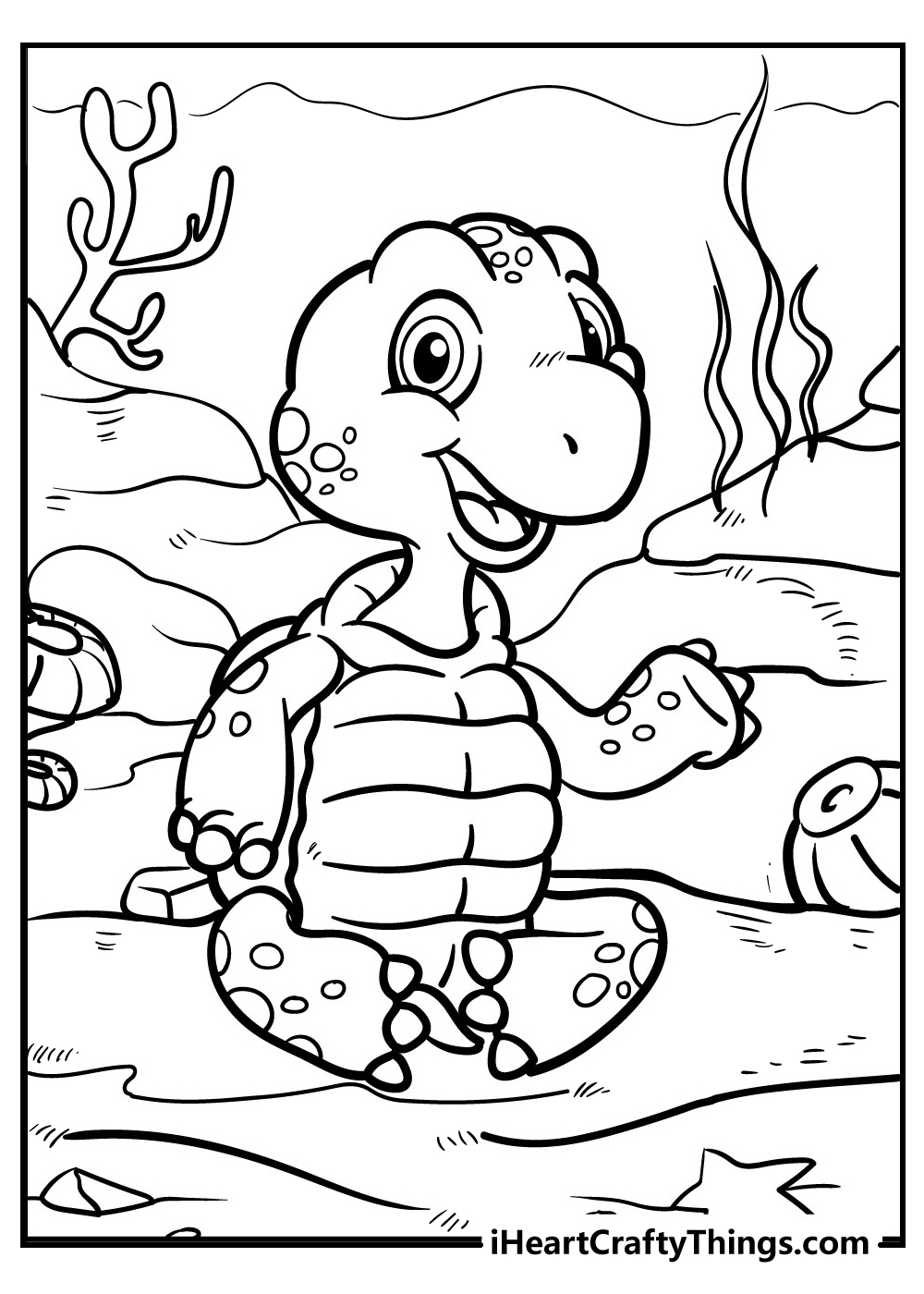 Another turtle is submerged under the ocean for this next turtle coloring sheet. There's some coral in this picture, and coral presents some of the brightest colors to be found under the ocean.
I think that it would look so good to use your favorite bright colors for the coral and fish in the background of this image.
You could also use a few different shades of blue for the various layers of the background to create a dynamic look to that aspect of this page.
REMEMBER: You can get the COMPLETE set of these coloring pages >> HERE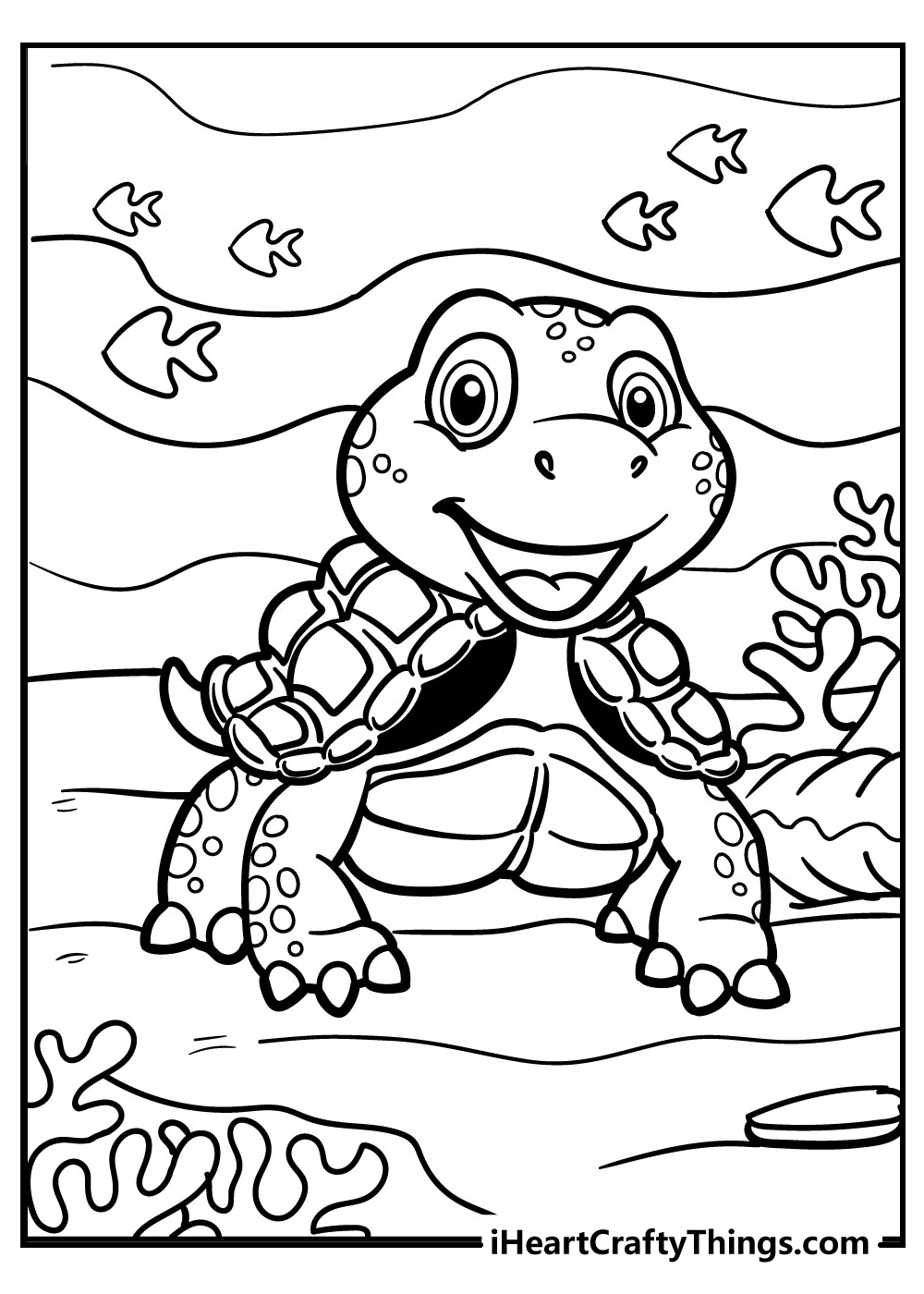 This next turtle printable has another cute turtle cruising under the ocean for you to color in. There are a lot of great smaller details in this image, so you could use some art mediums that are well suited to these kinds of details.
Colored pens, pencils or a small tipped paintbrush can be great for coloring in these more subtle details.
That also adds a lot of color vibrancy to the picture, and you can mix different mediums to further make this picture more interesting to look at.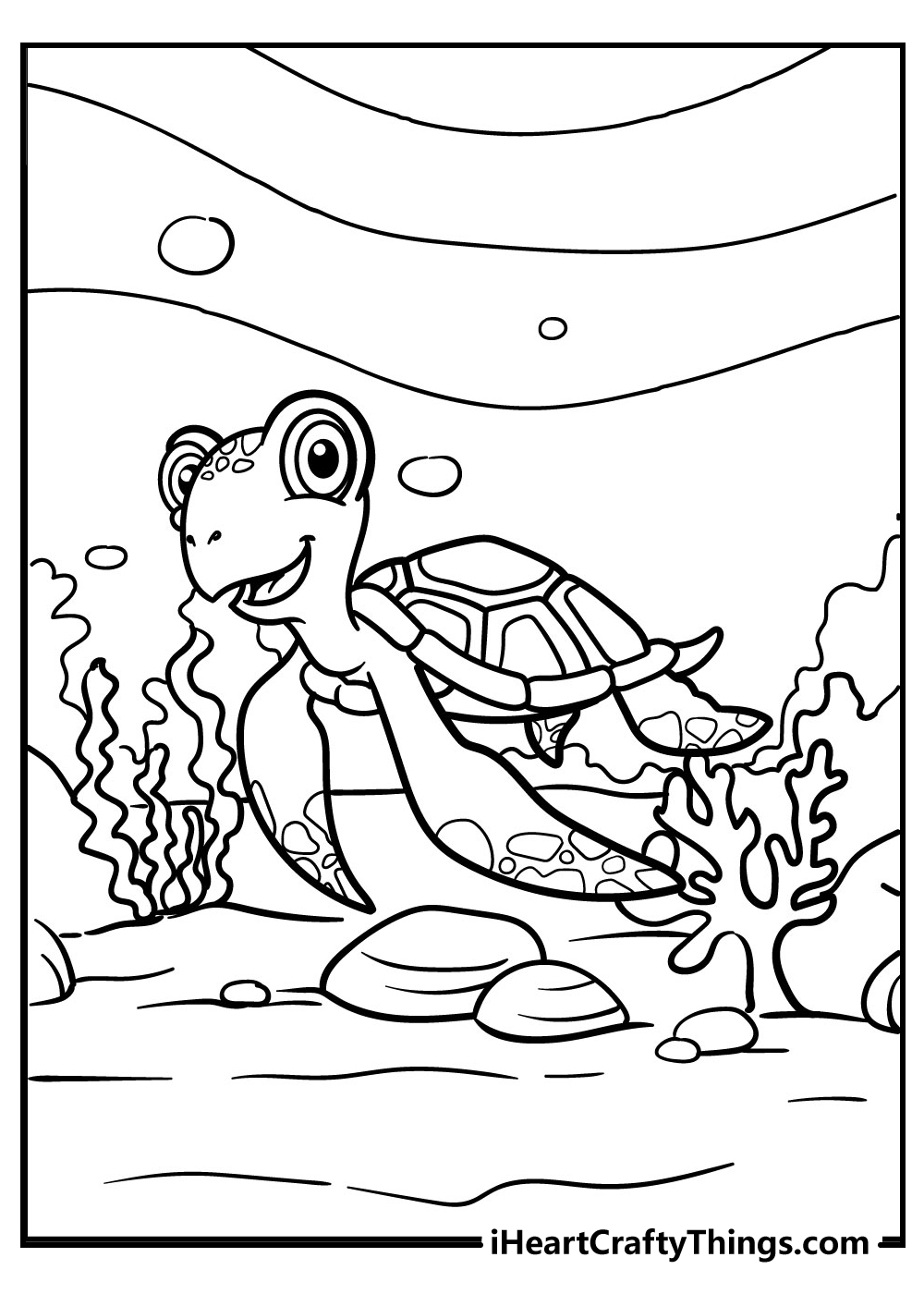 It's time to wave hello to the cute turtle in this turtle coloring page.
This friendly turtle is relaxing and looking very happy, so I think using some nice bright colors to suit the mood of this happy little guy would be perfect.
I would color in the turtle using some nice bright greens, and I would use colored pens for even more vibrancy.
What colors and mediums are you thinking for this happy turtle?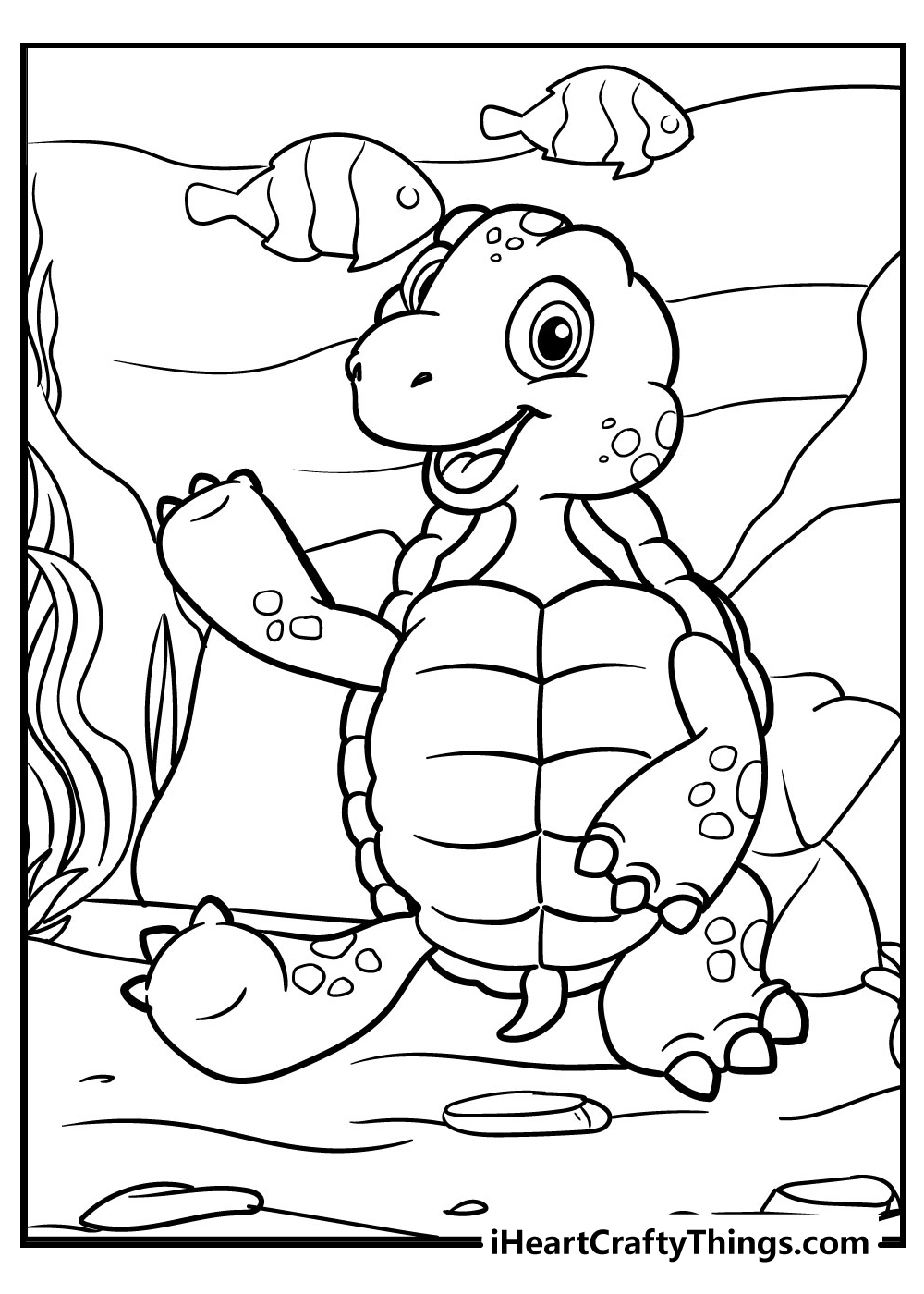 This next image has more wonderful details to appreciate and color in. I think that this turtle coloring sheet would look amazing if you used as many different bright colors as you can for some incredible vibrancy.
I would love to see this finished page once you've colored it in with your favorite bright and beautiful colors! I hope you'll share the finished product to our Facebook page so we can admire your color skills.
REMEMBER: You can get the COMPLETE set of these coloring pages >> HERE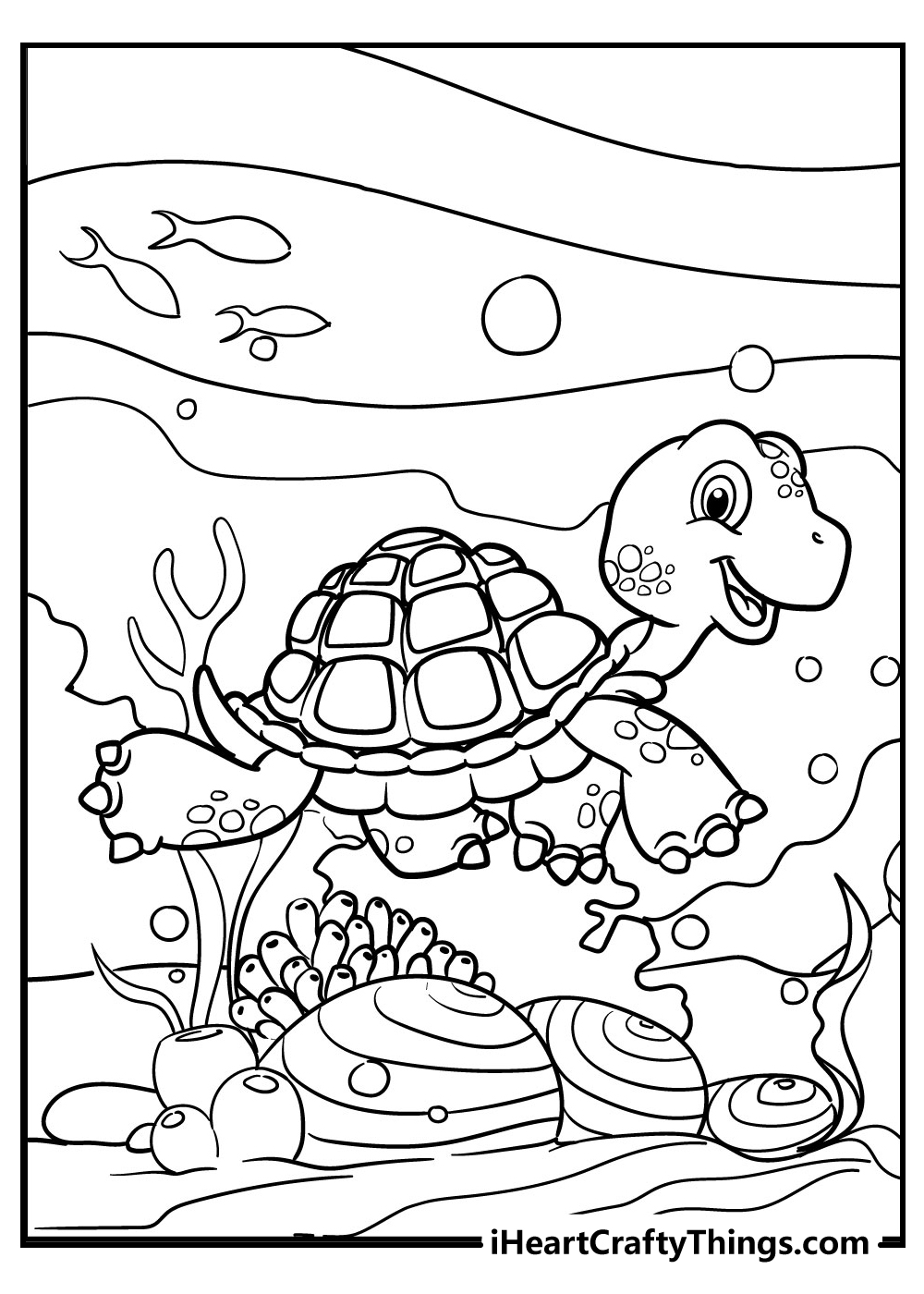 We have a very stylish looking turtle for this next turtle printable. This one is wearing some cool glasses and a bow, so you could color in those aspects using some colors you haven't been able to use much in this collection.
There are also some hearts for a loving feeling to this image, so that means there can be some splashes of beautiful, vibrant red to this image. How will you color in this trendy turtle?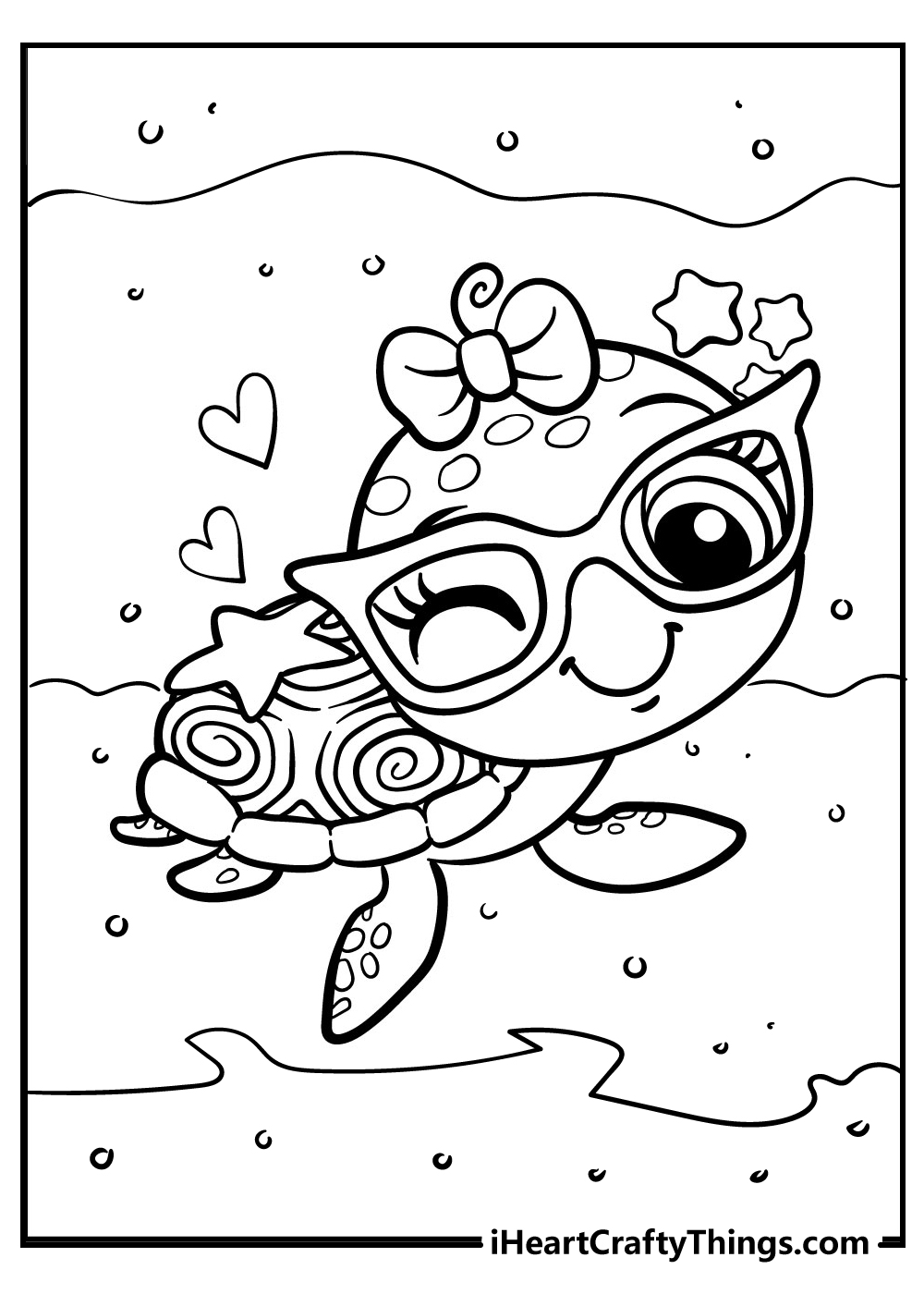 Turtles sure know how to relax and take it easy with the best of them, and this turtle coloring page has one showing us how it's done!
There's a rocky background to this picture, and that means you can work in some darker greys or browns to create some contrast. Keeping the colors of the turtle nice and bright would especially reinforce this pretty contrast!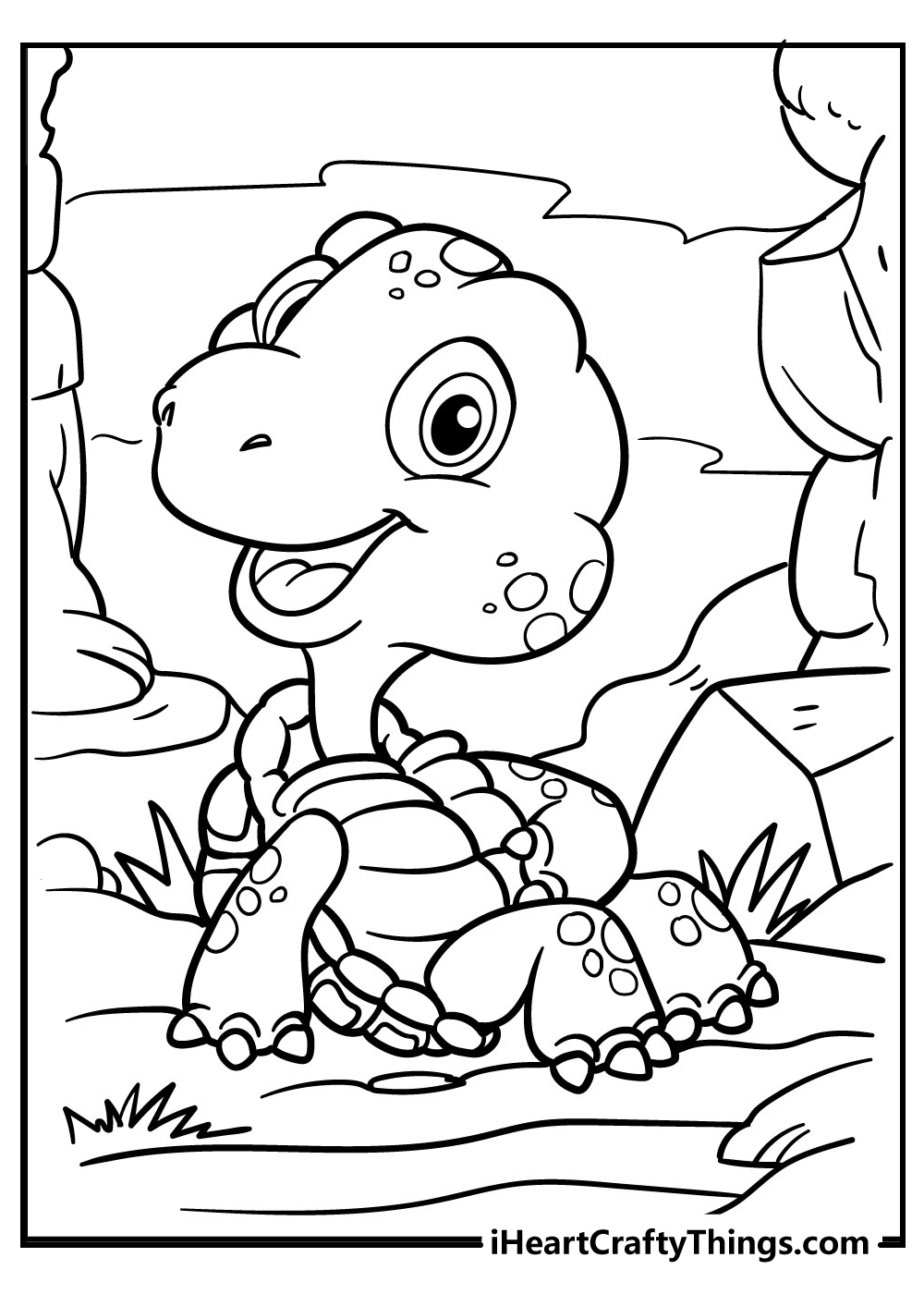 We're heading out for adventure in this turtle coloring sheet. This adventurous little guy is venturing out into the great unknown.
You can convey the time of day in a scene using your colors, and to me this seems like a lovely bright and clear day outside. For that reason, I would use some lighter blues for the skies and vibrant green for the grass.
Will you make this a beautiful day outside or use more muted colors to suggest it's a calm and overcast day outside?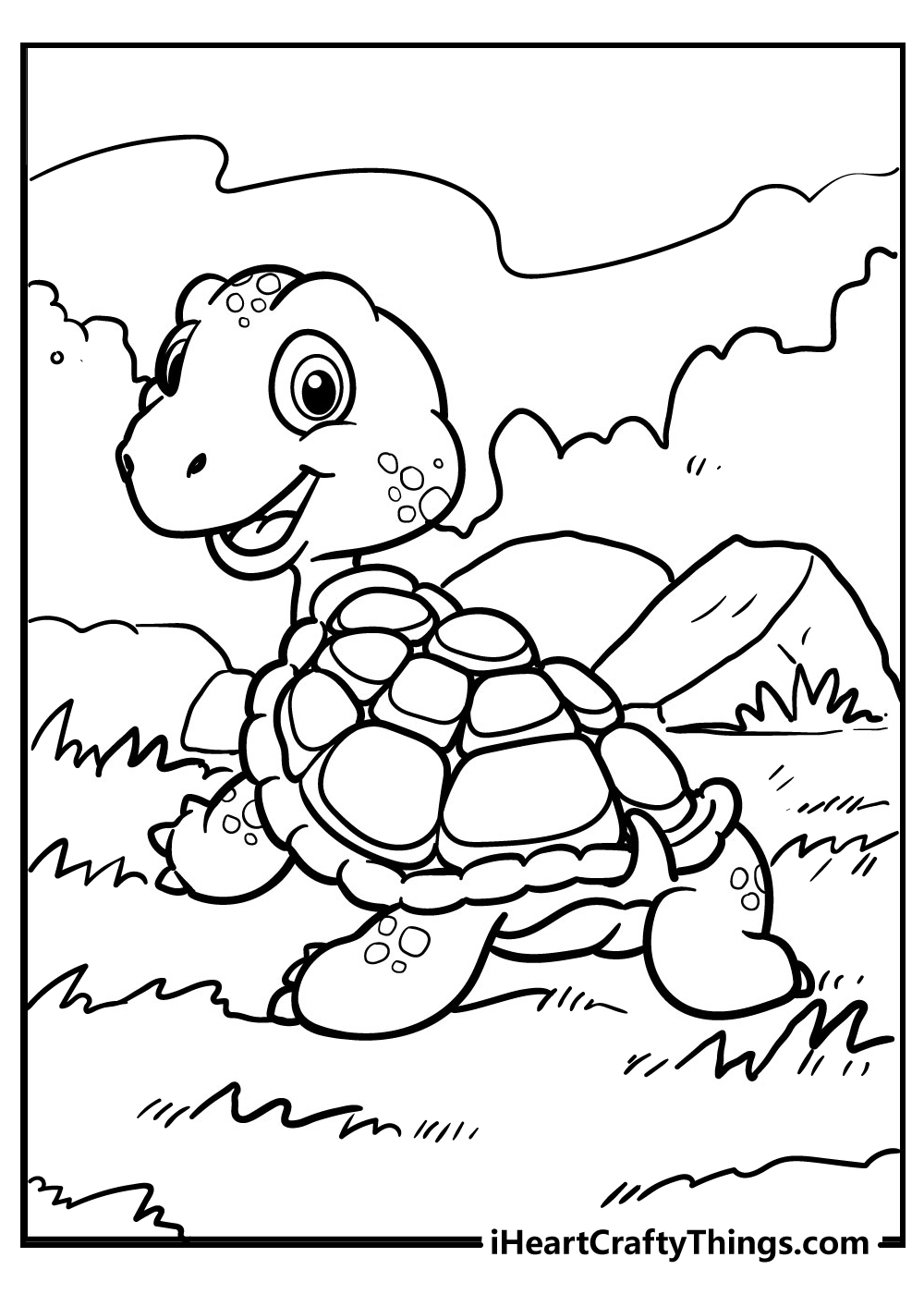 The ocean floor is home to all manner of animals and plant life, many of which we have yet to discover.
The one thing you can count on is an abundance of beautiful and varied colors to marvel at.
This underwater scene has plenty of life in it, and I think that the color variation of the real ocean would be great to replicate in this turtle printable!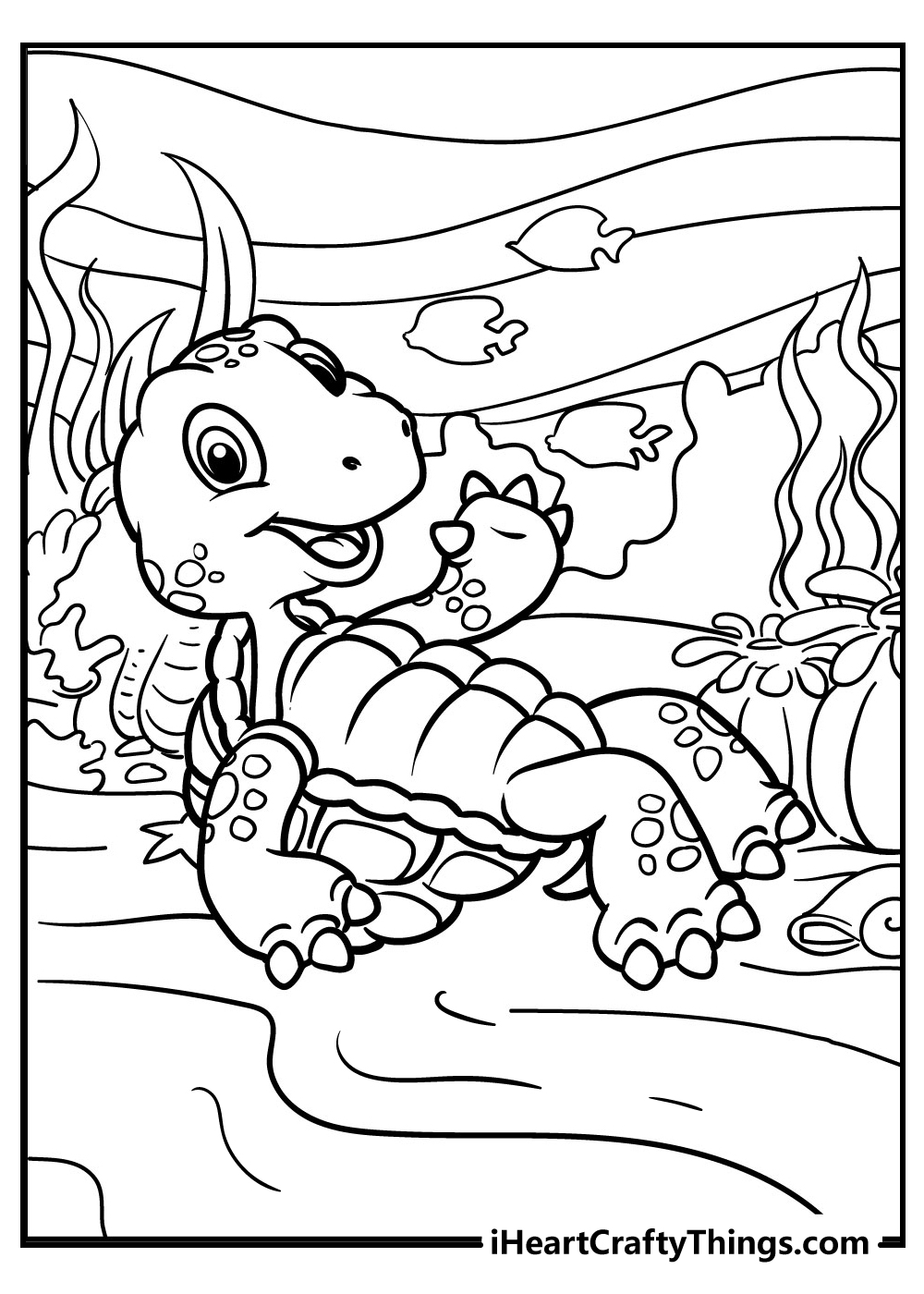 When I first looked at this next turtle coloring page, I immediately thought of a beautiful sunset setting for it.
I would use some dark and rich yellows and oranges for the sky behind this turtle to give it a lovely atmosphere. What time of day will you make it for this chilling turtle?
REMEMBER: You can get the COMPLETE set of these coloring pages >> HERE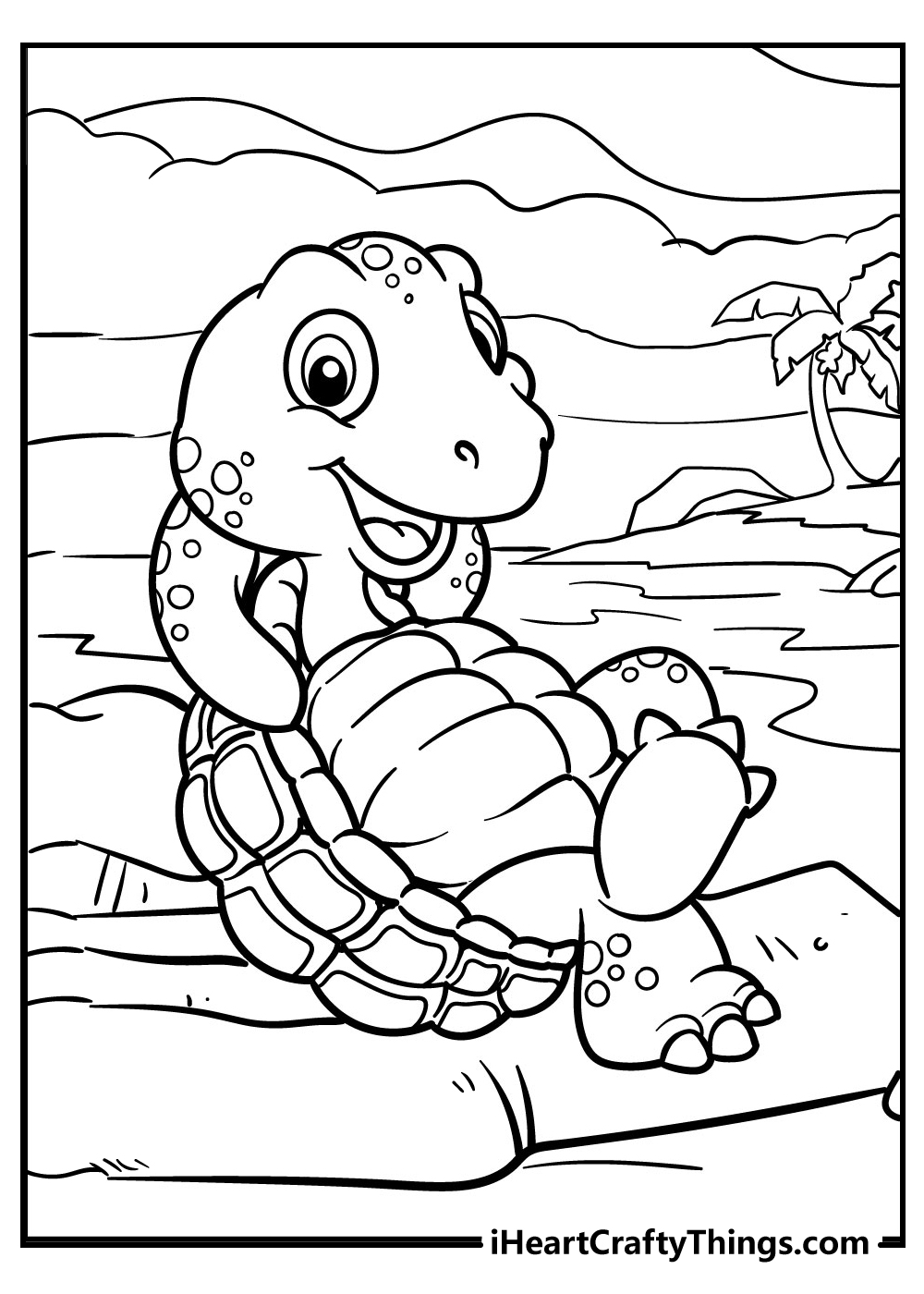 It's a tropical island adventure in this fun turtle coloring sheet! Pictures can look really great with a mixture of light and dark colors, and this one has plenty of opportunities for both.
There are the brighter aspects such as the sand, water and sky, and they're balanced off by darker elements such as rocks and the trunks of palm trees.
I think that it would suit this picture perfectly if you used some lovely acrylic paints to finish it off!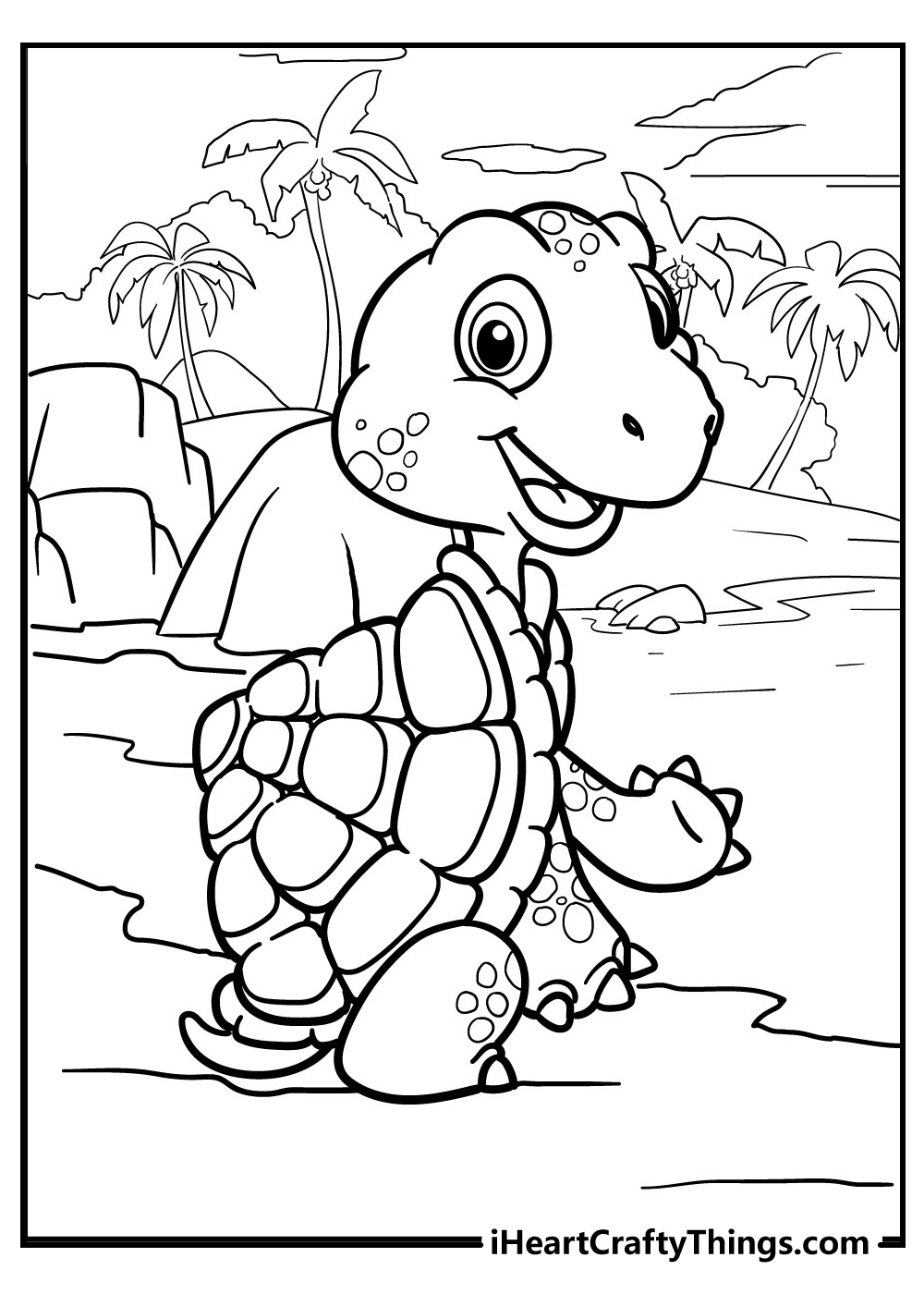 This is something you don't see every day: a turtle going for a jog! I guess that not all turtles like to be slow and lazy all of the time if this turtle printable is anything to go by.
The setting of this one is a bit different from what we've seen before, and that's a great way to work in some new colors we haven't seen much of yet!
I'll look forward to seeing how you color in this lovely day out for this active turtle.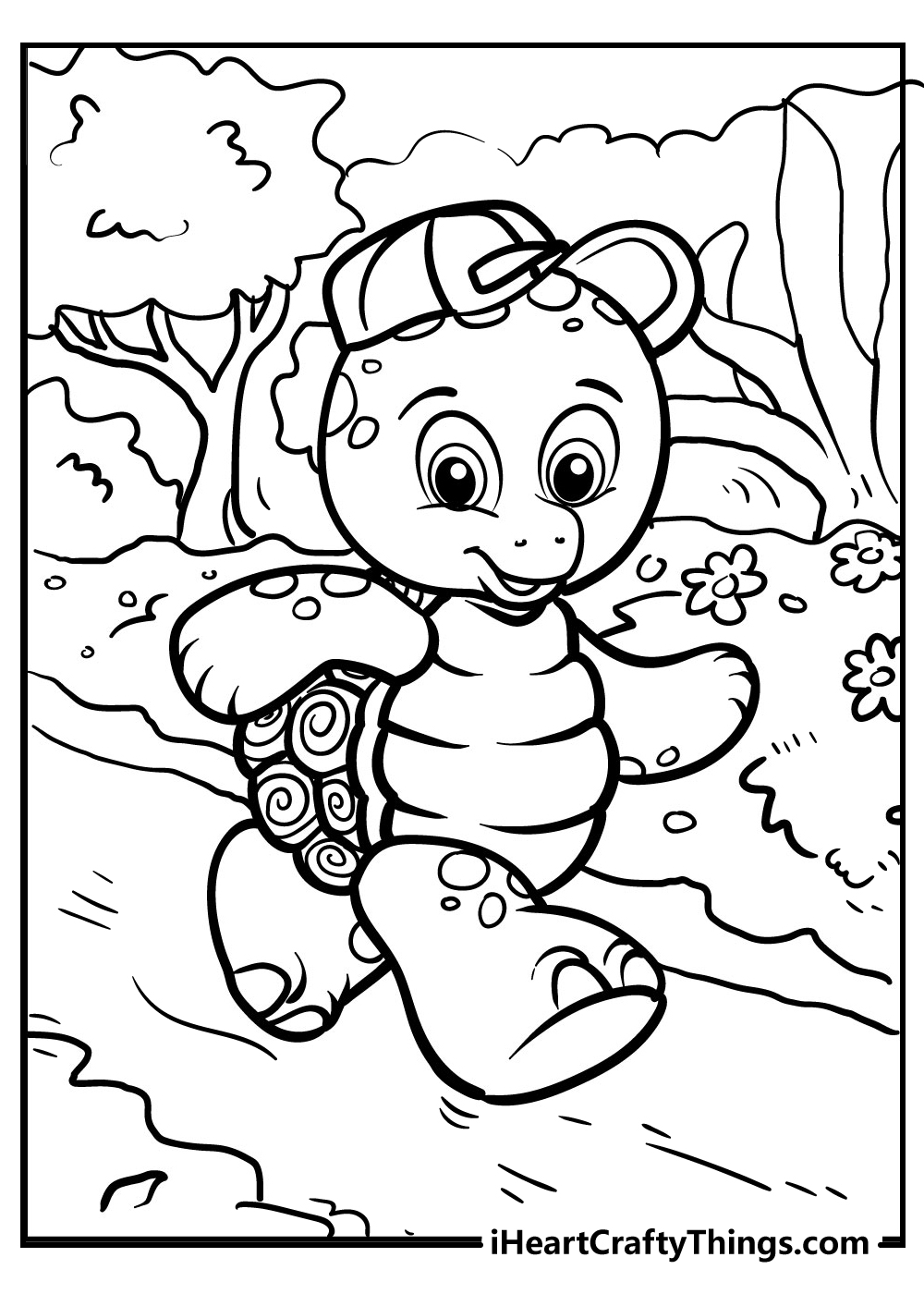 We have an adorable and rather bashful looking turtle in this free turtle coloring page. It's wearing a workout headband, so maybe this one was also going for a jog like the one in the previous page.
This one has another outdoor scene, so I think making it a beautiful clear day out would again be a great choice for this one.
How will you color in this shy little turtle?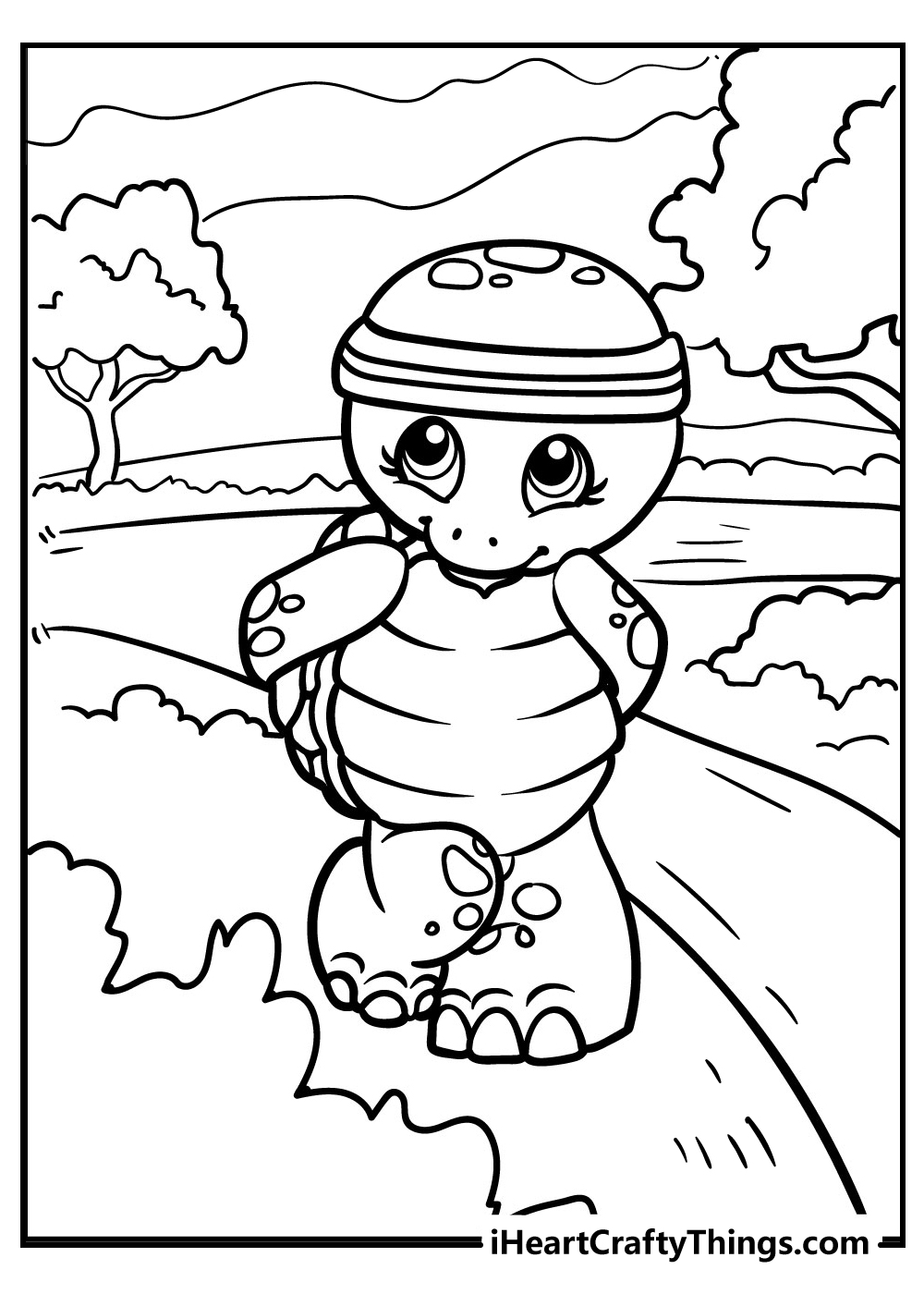 These last few turtles must be from a special island of super active turtles, because we have another jogging one for this turtle coloring sheet!
This happy turtle has a lot of personality and is listening to some tunes while it jogs! Maybe you could use some bright and unusual colors for the sky behind it to represent some funky music visually.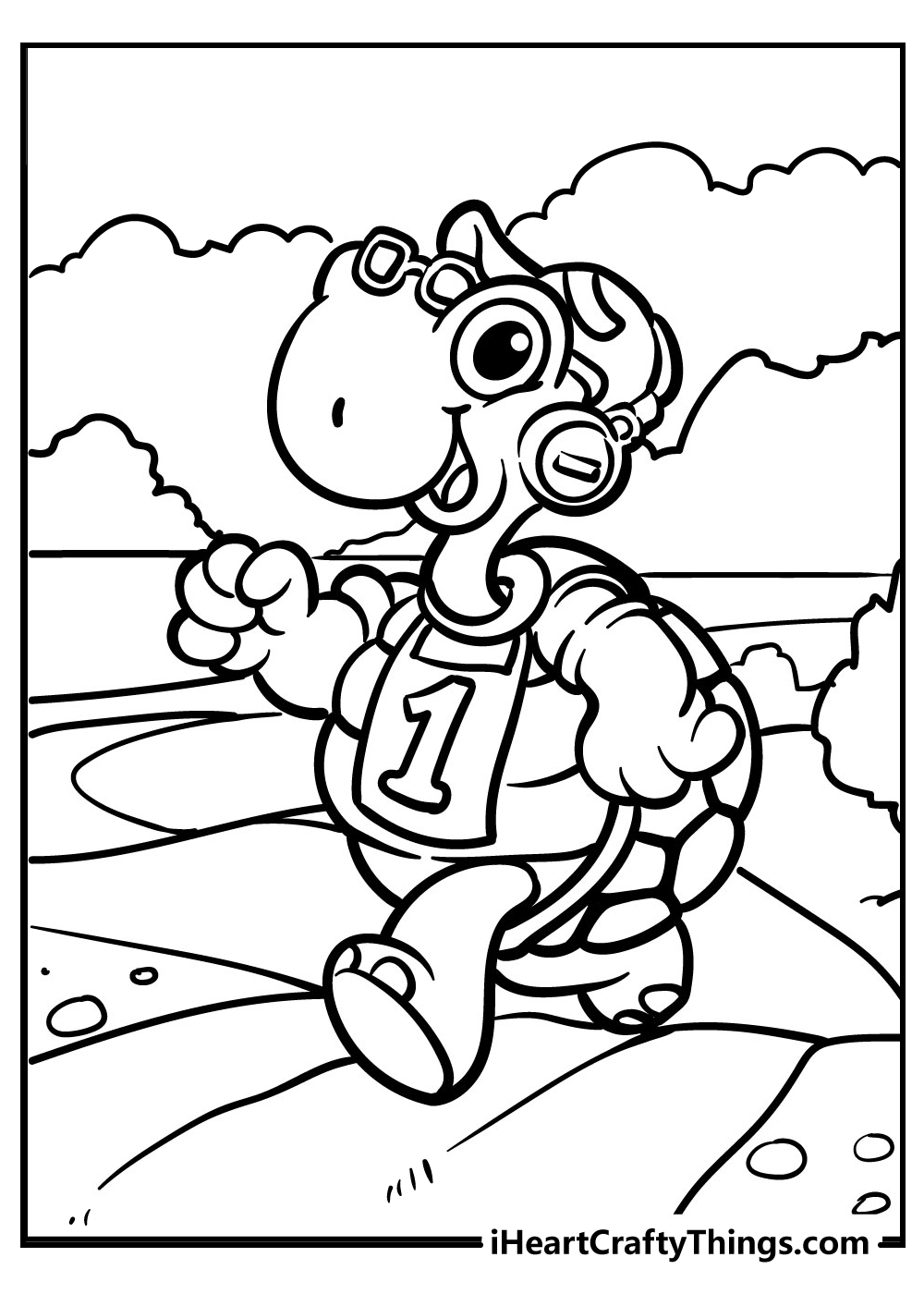 There were some rather active turtles in the last few turtle coloring printables, but we have another more relaxed one for this next picture.
This turtle is looking happy and relaxed on a beautiful island with the ocean in the background.
I think it could look really nice to use something like watercolors for the background. You could then use something like crayons or colored pens for the turtle to have it really stand out from the milder background.
Do you think you'll go for a look like that or use other mediums for a different look?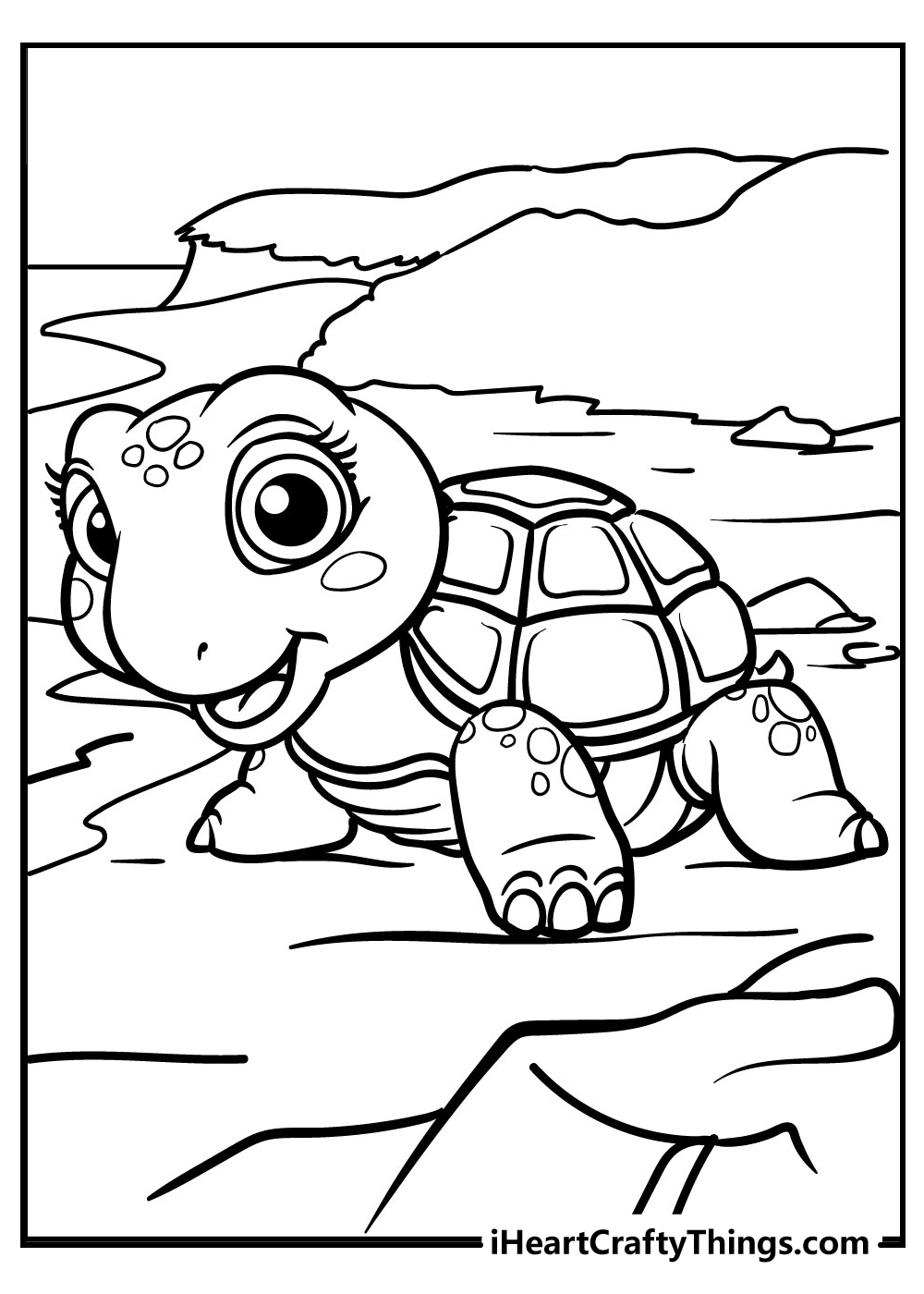 This turtle coloring page has one that almost looks like it thinks that it's a puppy by the way that it's sitting! This cute turtle is looking a bit sleepy and looks ready for a nap as far as I'm concerned.
I think that using less vibrant and more muted colors for this one would help to reinforce a sleepy atmosphere for this relaxed turtle.
Will you make a more chilled vibe for this image or make it more vibrant with your colors?
REMEMBER: You can get the COMPLETE set of these coloring pages >> HERE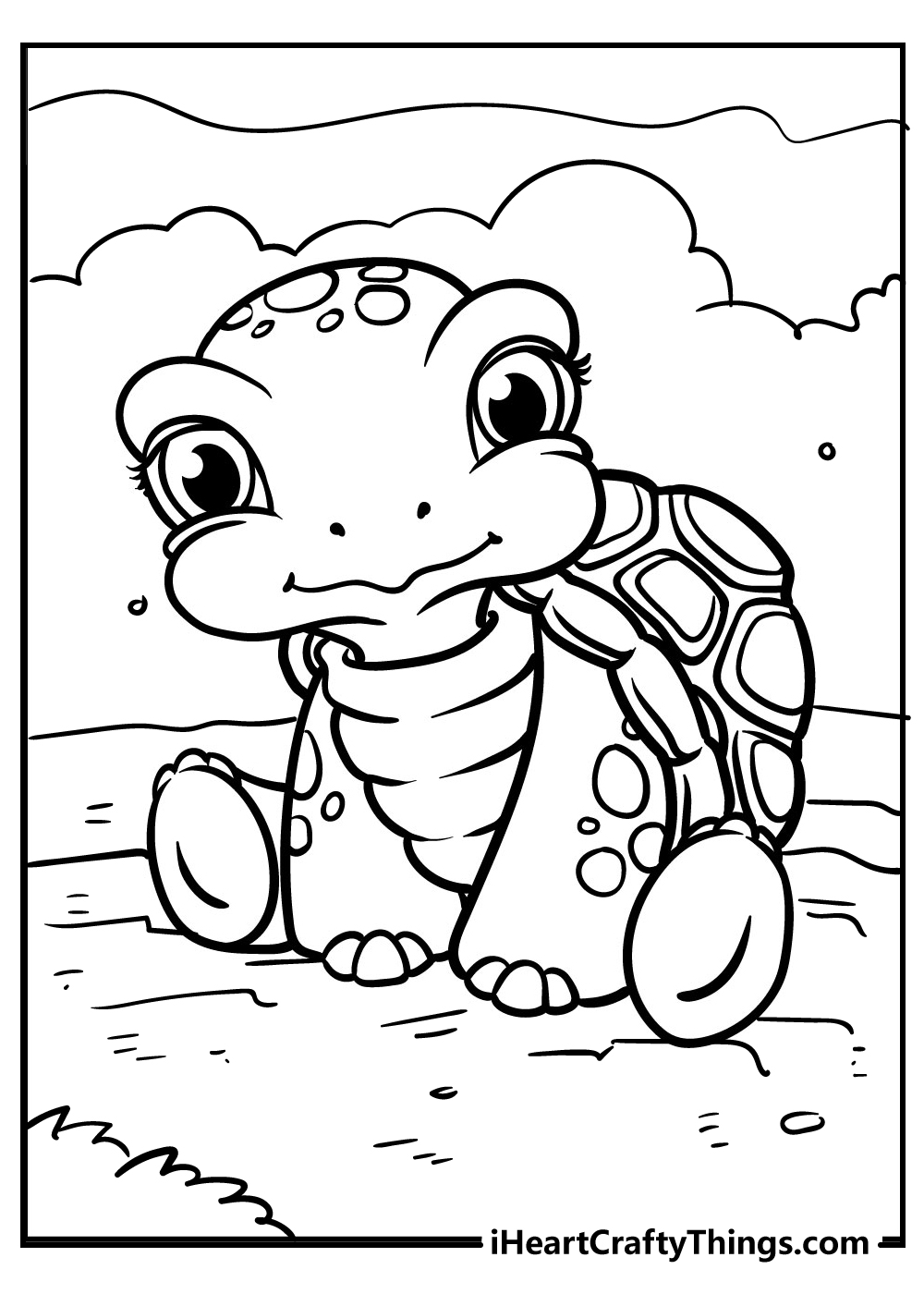 Wave hello to this friendly turtle as you color in this turtle coloring sheet! This cutie is giving a lovely smile and wave, and I think it would definitely look very fitting to use some bright and happy colors for this one.
Bright colors can really create a happy mood in an image, and a happy mood is definitely what I'm feeling for this one.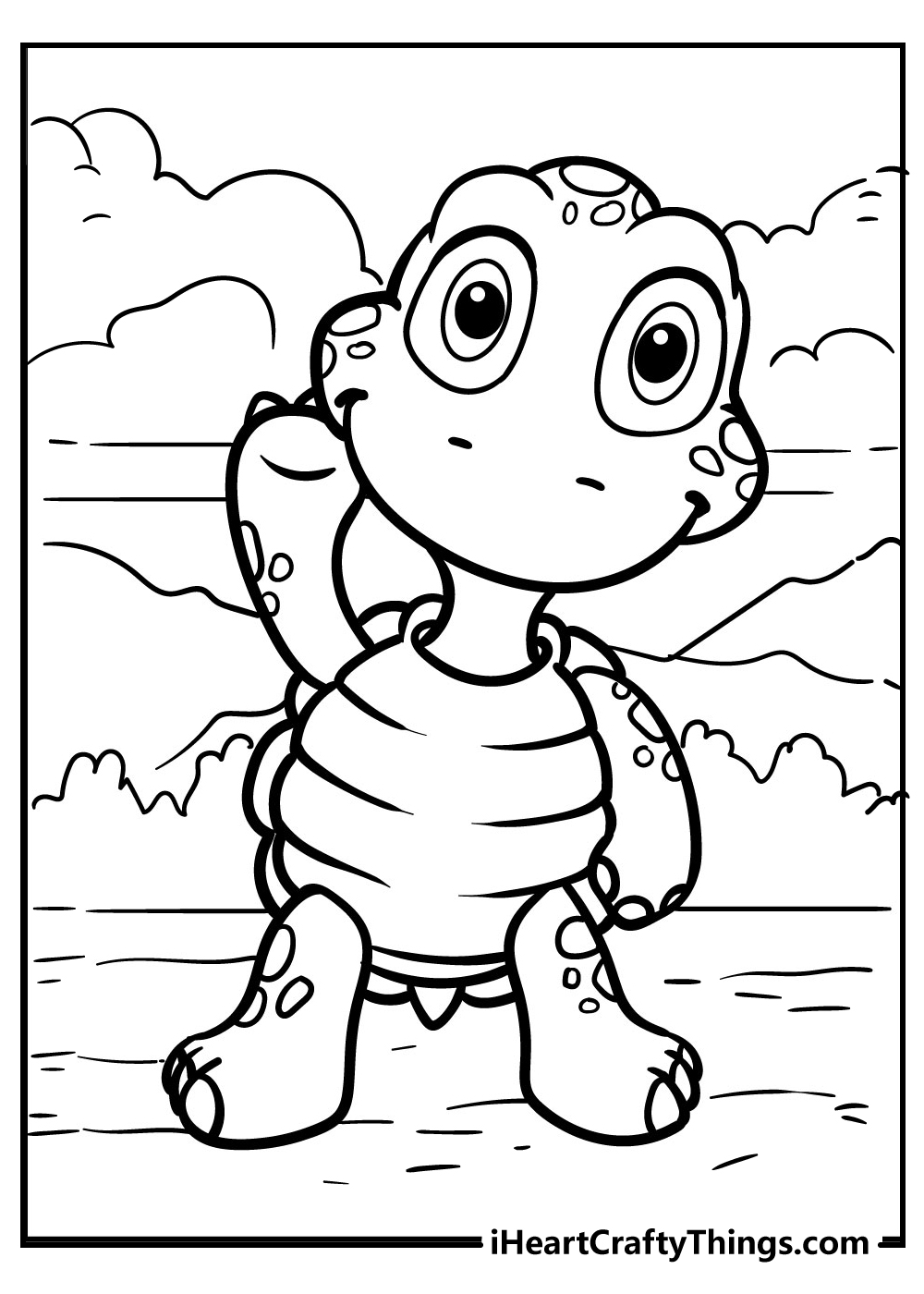 This beautiful tropical island is the setting for this adorable turtle in this cheerful turtle printable. If you have some acrylic paints, I think that they would work well for this one.
If you have some, these paints can create a depth of color you can't always get with other mediums. That makes me think that it would be perfect for this vibrant island scene!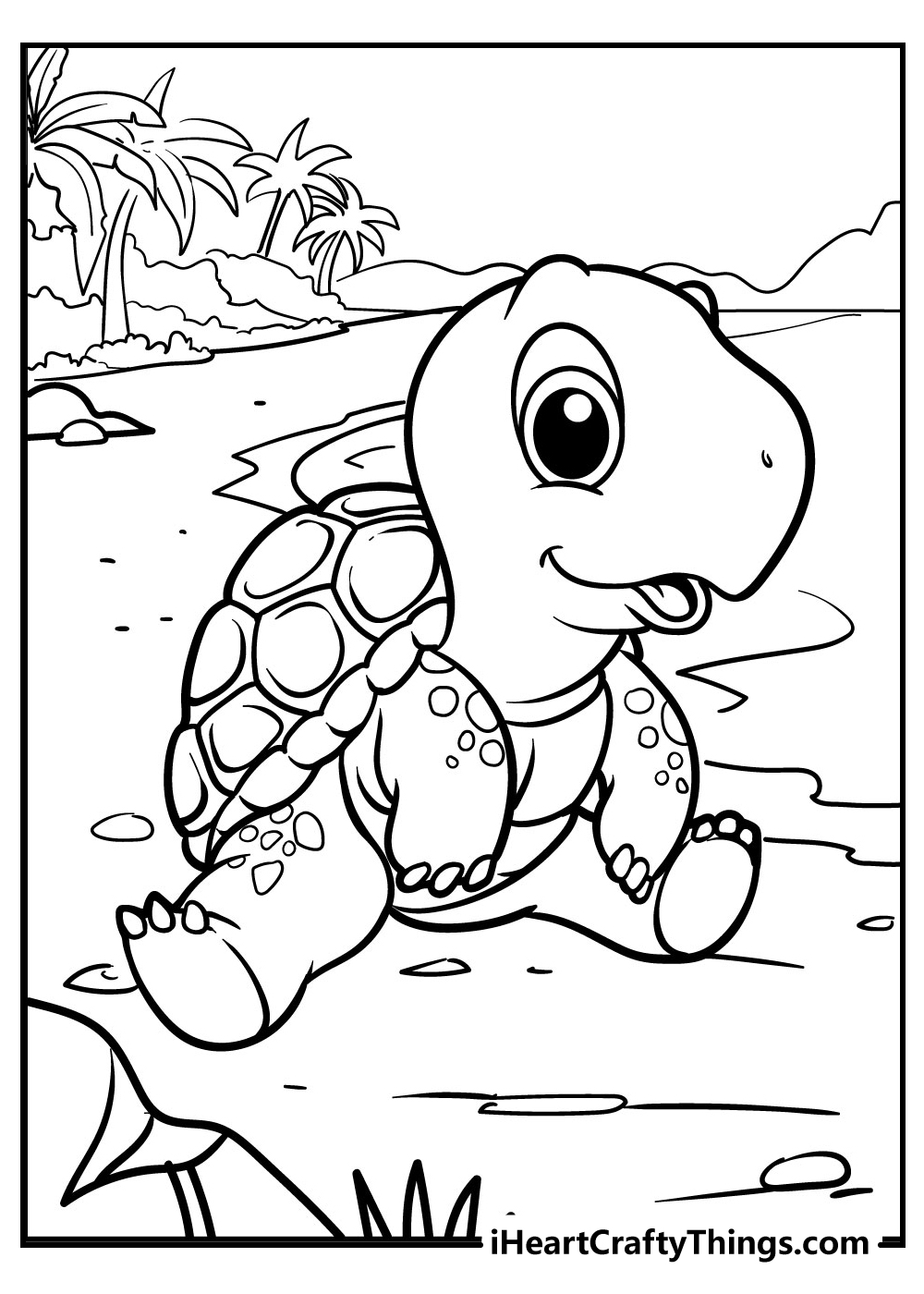 This final free turtle coloring page for kids has a more stylistic take on a turtle for you to color in.
The shell on this turtle makes me think of flower petals, and I think that it would look interesting to make this one more unusual by coloring the shell with flower colors.
If you did go for that approach, what colors would you use for the background? Would you keep the waters a typical blue or use some more out-there colors for that as well?
I can't wait to see how you interpret this final page!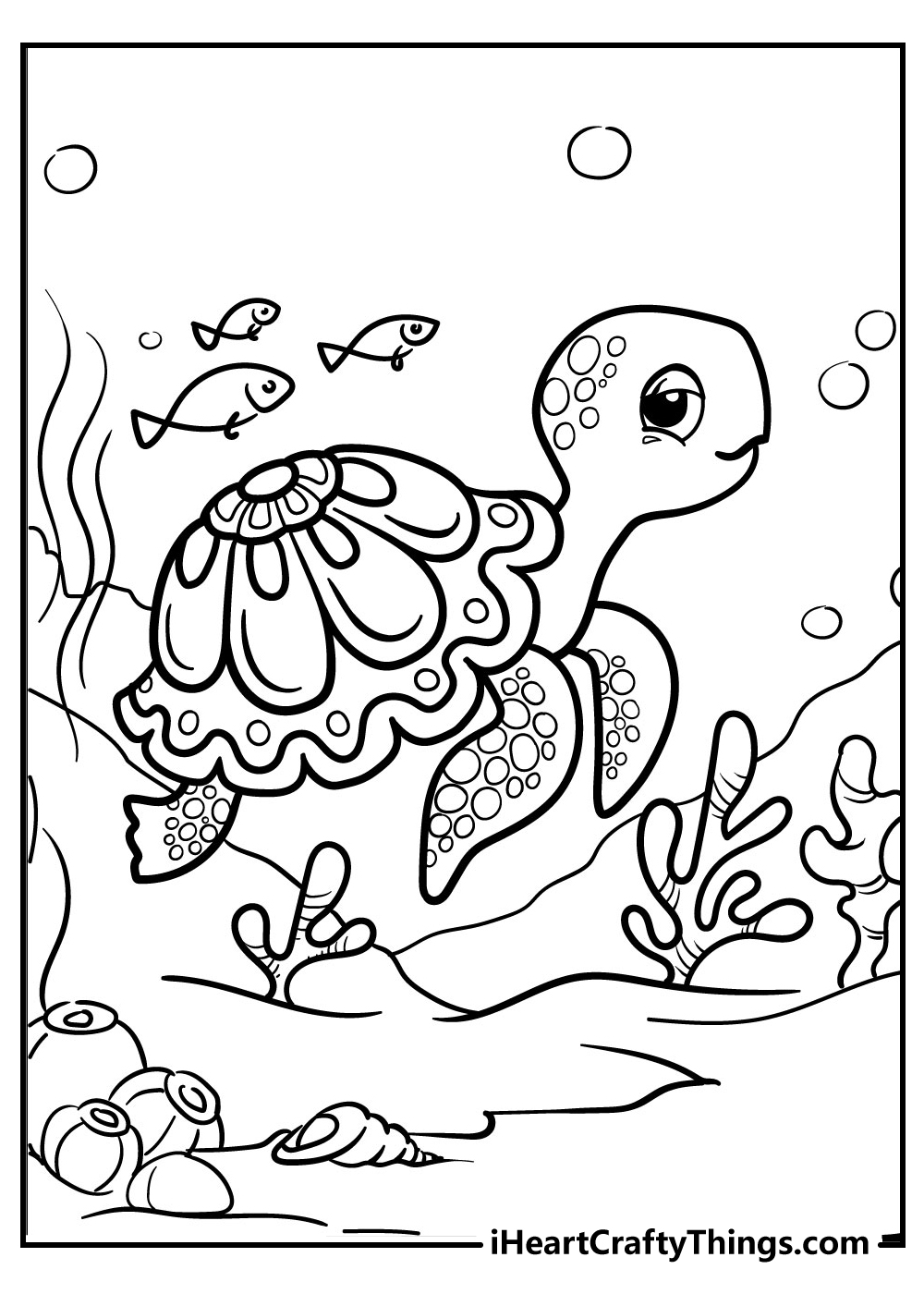 Turtle Coloring Pages – Which will you choose?
We hope that you had a great time coloring in some adorable turtles in this collection of free turtle coloring sheets for kids!
Remember that all of our coloring pages and printable fun are completely free for you to print out and enjoy.
That means that you can feel free to get really creative with your colors to get some incredible variations to the same images.
You can also use some different mediums and have fun experimenting with them and come up with some lovely colorful artworks!
We hope that you'll like and share our Facebook page, as it's the best way to make sure you'll never miss out on any of our awesome new coloring pages and printable goodies!
We would also love it if you would share your favorite completed turtle printables on our Facebook page for us to enjoy!
We always love to see your creative artworks and can't wait to see some adorable and colorful turtles!