Frogs are creatures that come in all kinds of shapes and sizes, with some being big and kind of gross looking and some being smaller and really cute.
No matter what type of frog you may be looking at, one thing that you can count on is that frogs can come in all kinds of bright and beautiful colors.
From ones that are shades of brown to poisonous frogs that are bright reds and yellows, no colors are off limits!
These free frog coloring pages for kids are perfect to have hours of fun using your favorite bright and beautiful colors on some cute frogs!
You could also experiment with other mediums for some extra fun, for example some watercolor paints would create a softer look for some pretty variations.
Once you've colored in your favorite frog coloring sheets, please share them to our Facebook page so we can see your bright and beautiful frog creations!
REMEMBER: You can get the COMPLETE set of these coloring pages >> HERE
20 Brand New Frog Coloring Pages – Free to Print and Color
This super cute frog coloring sheet shows off a tiny little guy perched on a leaf, and it is such a charming image!
The frog is looking very happy, and he seems to be having a great time using a leaf as a chair.
There are some great details on this page, from the spots on the leaf to the markings on the frog, and you can really get creative with the colors you use.
We think this one would look great with lots of bright colors, but it's up to you to decide what you think will be best for this page?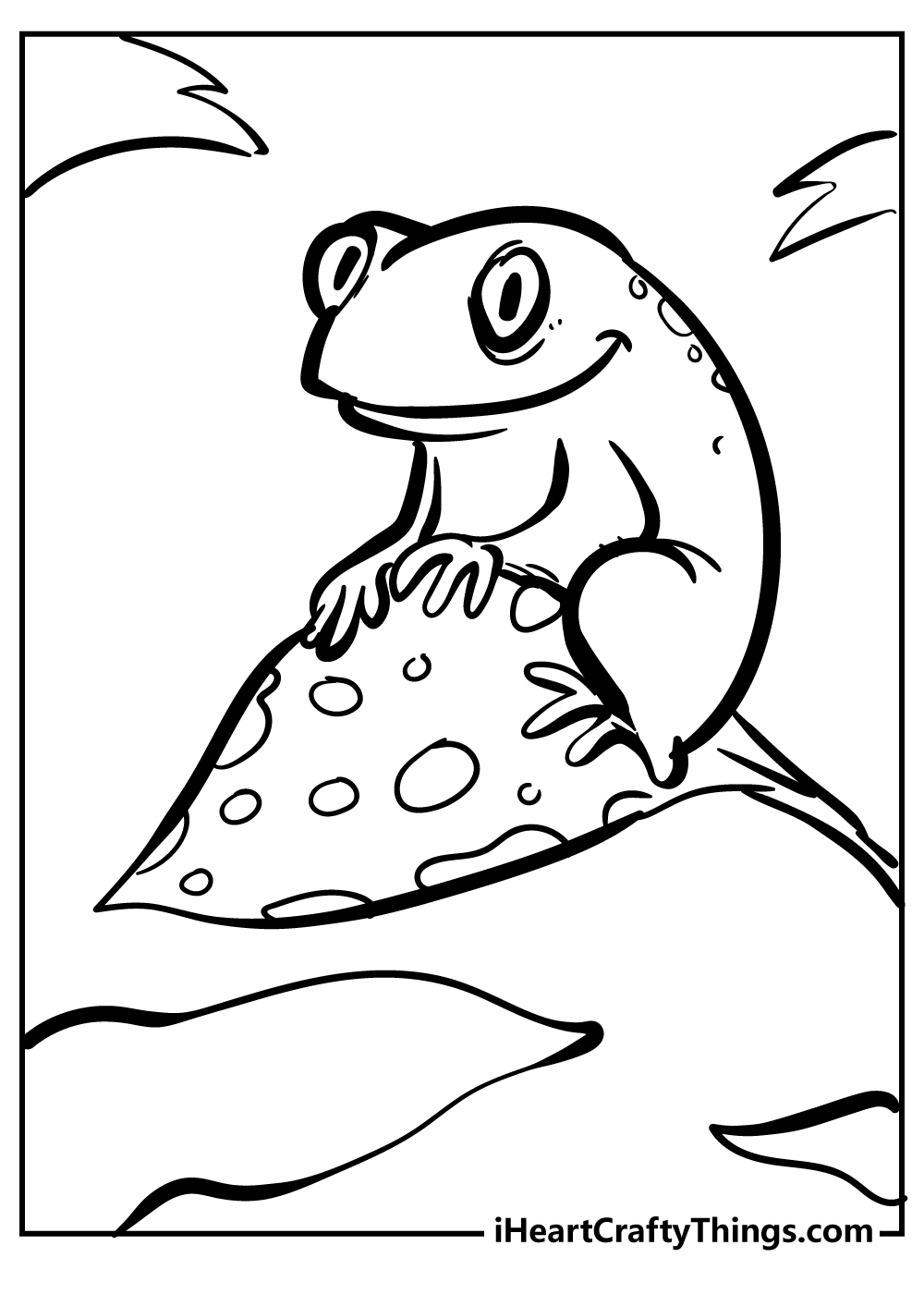 This next page shows a frog enjoying a snack that you would probably not want to share!
It is eyeing some buzzing flies, and that may be a delicacy for a frog but would be quite unappealing to most of us coloring this page.
Despite that, there are some great colors and extra details you could use for this page.
You could even draw something extra like its long tongue coming out or some dotted lines to show which directions the flies have been flying in.
What are some other fun extras you could add to this one?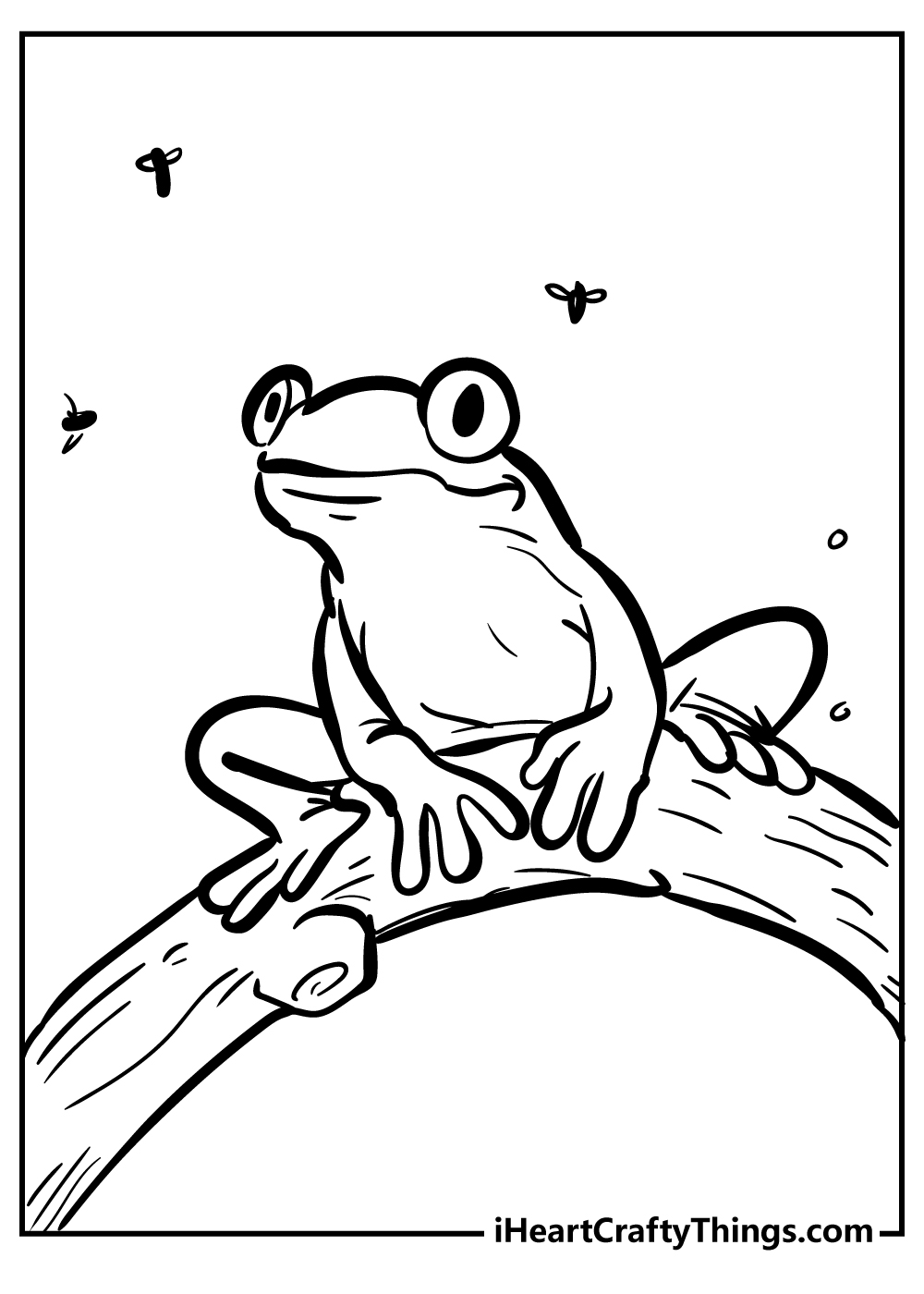 This first page in this collection of free frog coloring pages for kids features a cute and happy looking frog!
When coloring in frogs, the first instinct will often be to use a bright green color for their body, and that can look really pretty!
However, frogs do come in many bright and beautiful colors, so you could use any of your favorites to color in this cute little guy.
Once you've colored in the frog, what colors will you use for the background of this frog coloring printable?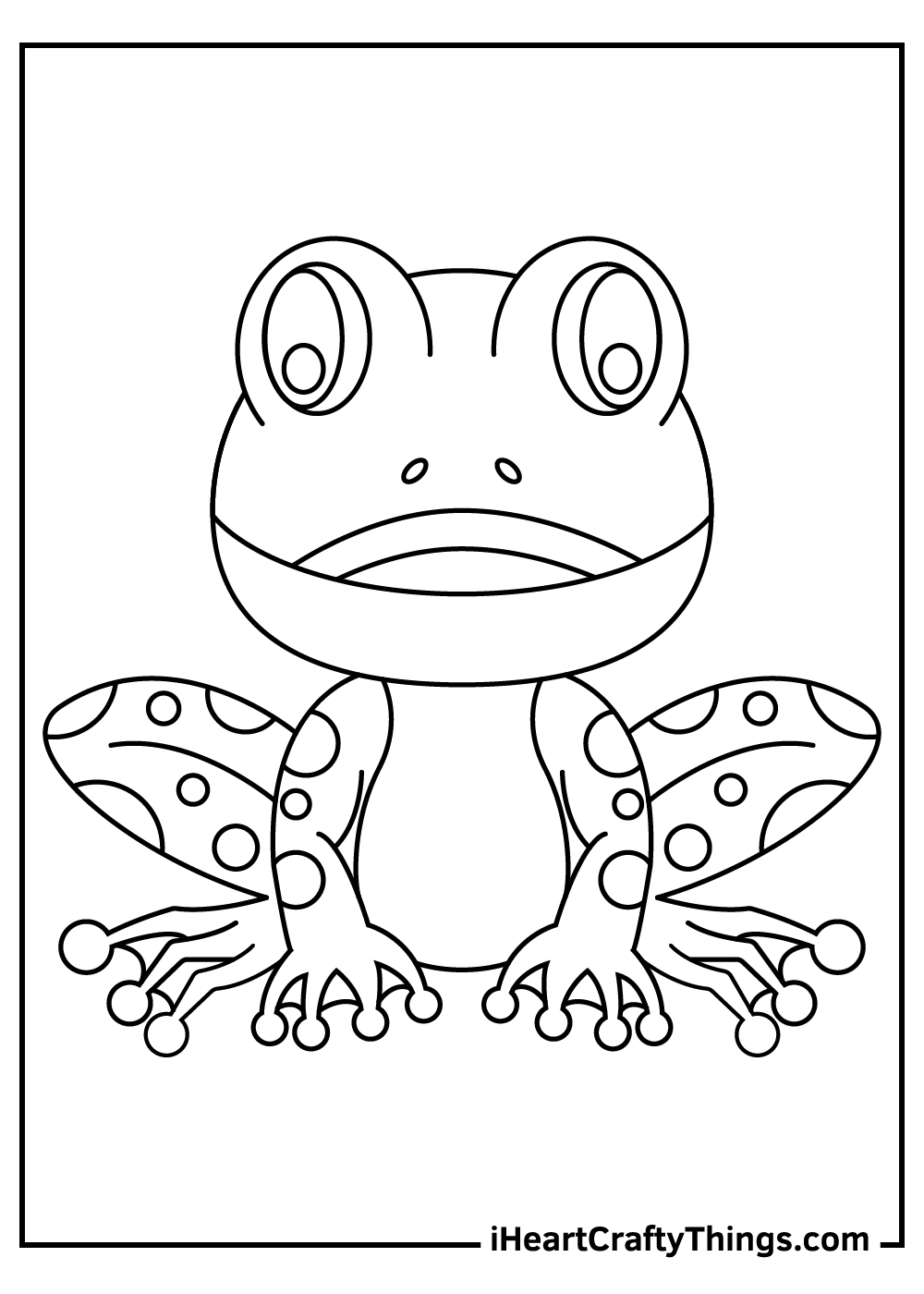 The frog in this second frog coloring sheet is taking it easy on a lilypad and looks like he's having a great day!
The lilypad would look great with a nice green, so maybe you could use a complimentary color to green like red as the main color scheme for this frog. That would create a brilliant color contrast for this picture!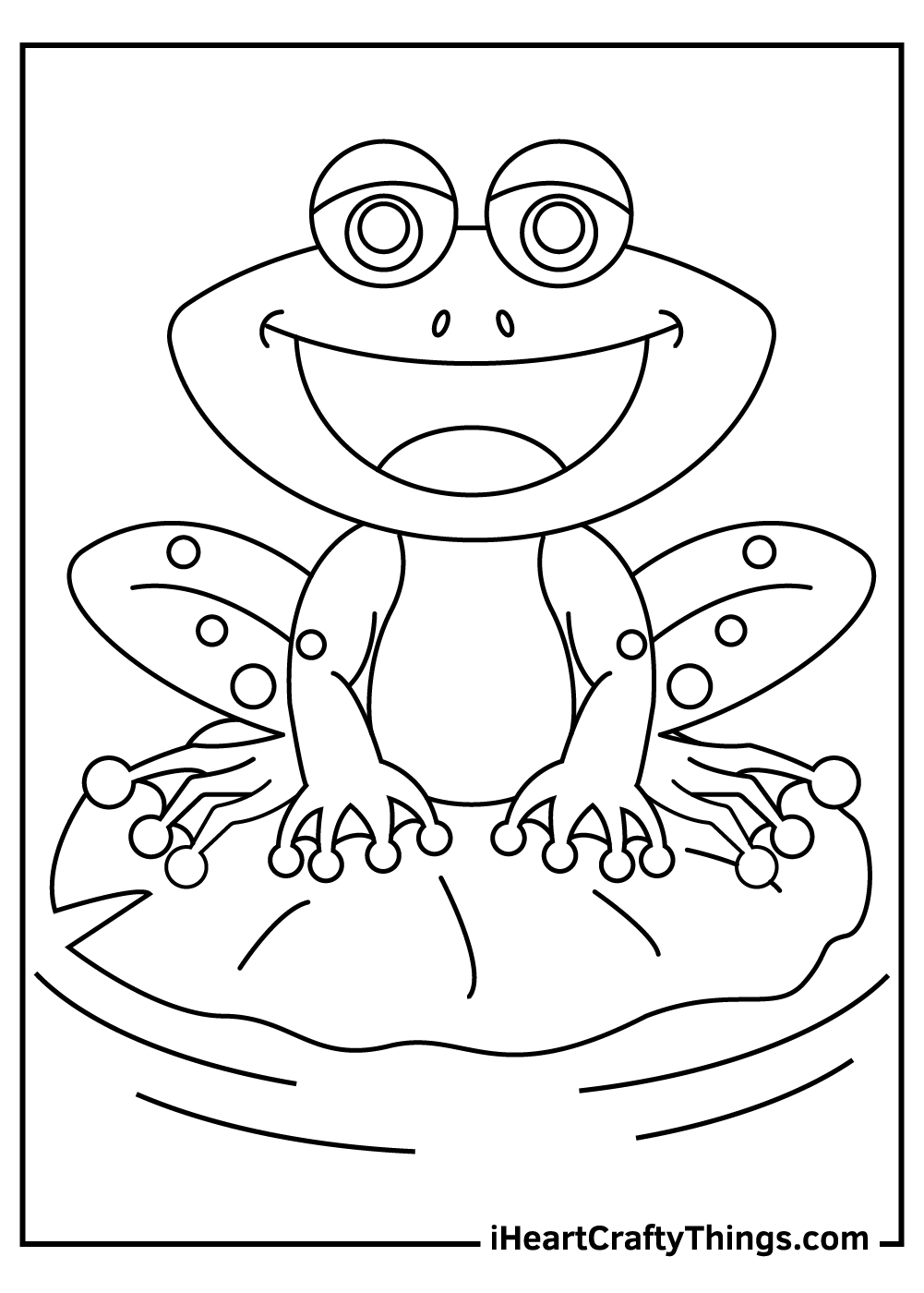 Next up, we have a little frog that is peeking over a rock to say hello! This is a nice outdoor scene featuring a few natural details such as the big rock and plants surrounding it.
The frog itself is also really cute, and it has a great friendly expression on its face.
We think that this one would look great with some subtler colors, and we would do them with some watercolor paints or similar mediums.
That kind of look can be great for outdoor scenes, but there are lots of ways to color this page! What will you choose?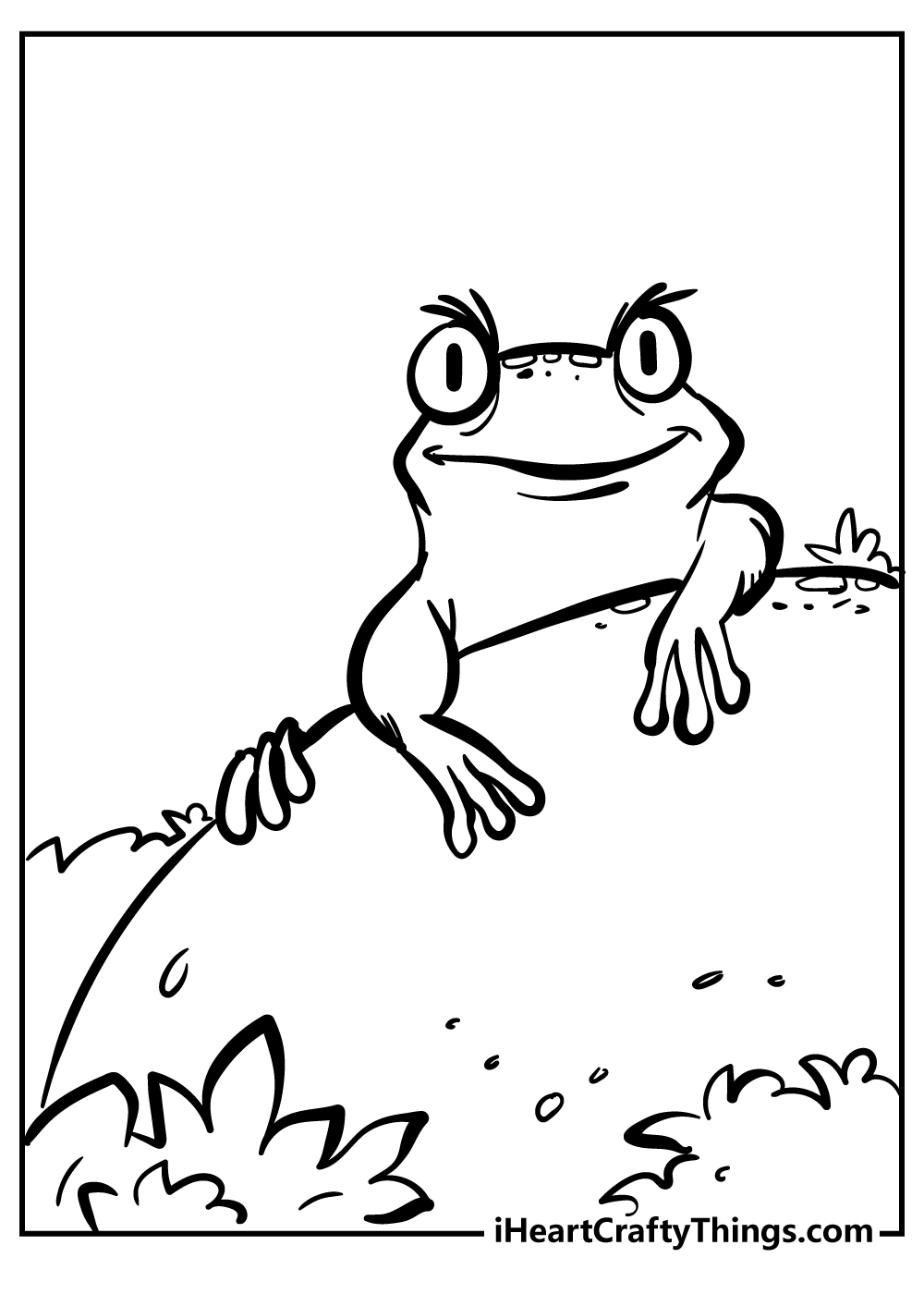 We have a funny little amphibian friend for you on this next page in our collection of free frog coloring pages for kids.
This frog has a really interesting design, and certain features such as its big eyes and face make it stand out.
Frogs can come in so many different colors and patterns, so that means that you could use any colors you like for this funny guy!
Then, you could add some more details to the background to really finish it off and create a great scene for this frog to be a part of.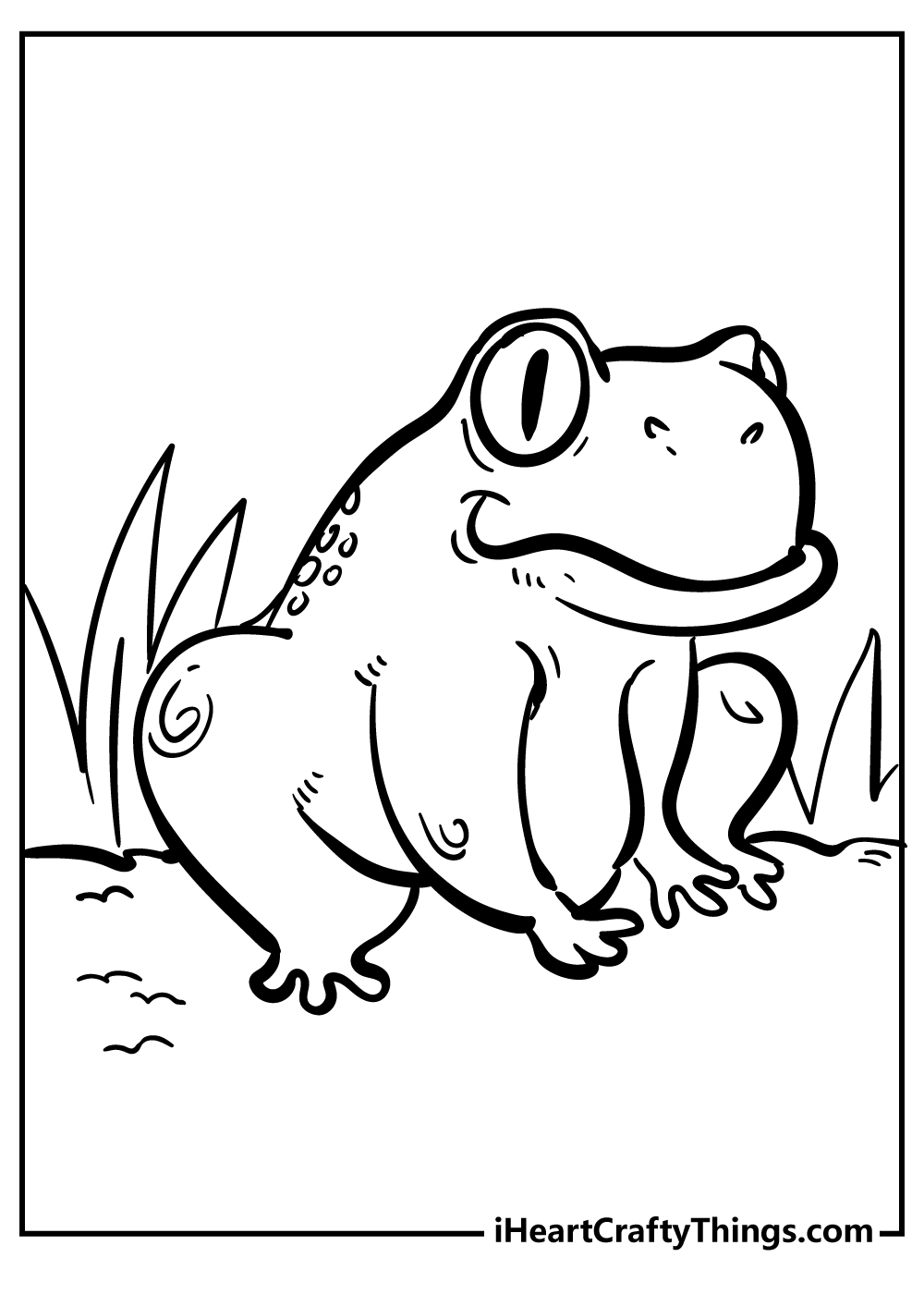 There's a very excited looking frog for this cute frog coloring printable, and the stars that are dotted in the background behind it could look really great with a beautiful bright yellow coloring.
You could always alternate some other favorite colors for the stars as well, but if you do go for yellow then maybe you could balance it off by making the frog have a pink or purple color scheme.
That would help compliment the yellow in the background really nicely.
REMEMBER: You can get the COMPLETE set of these coloring pages >> HERE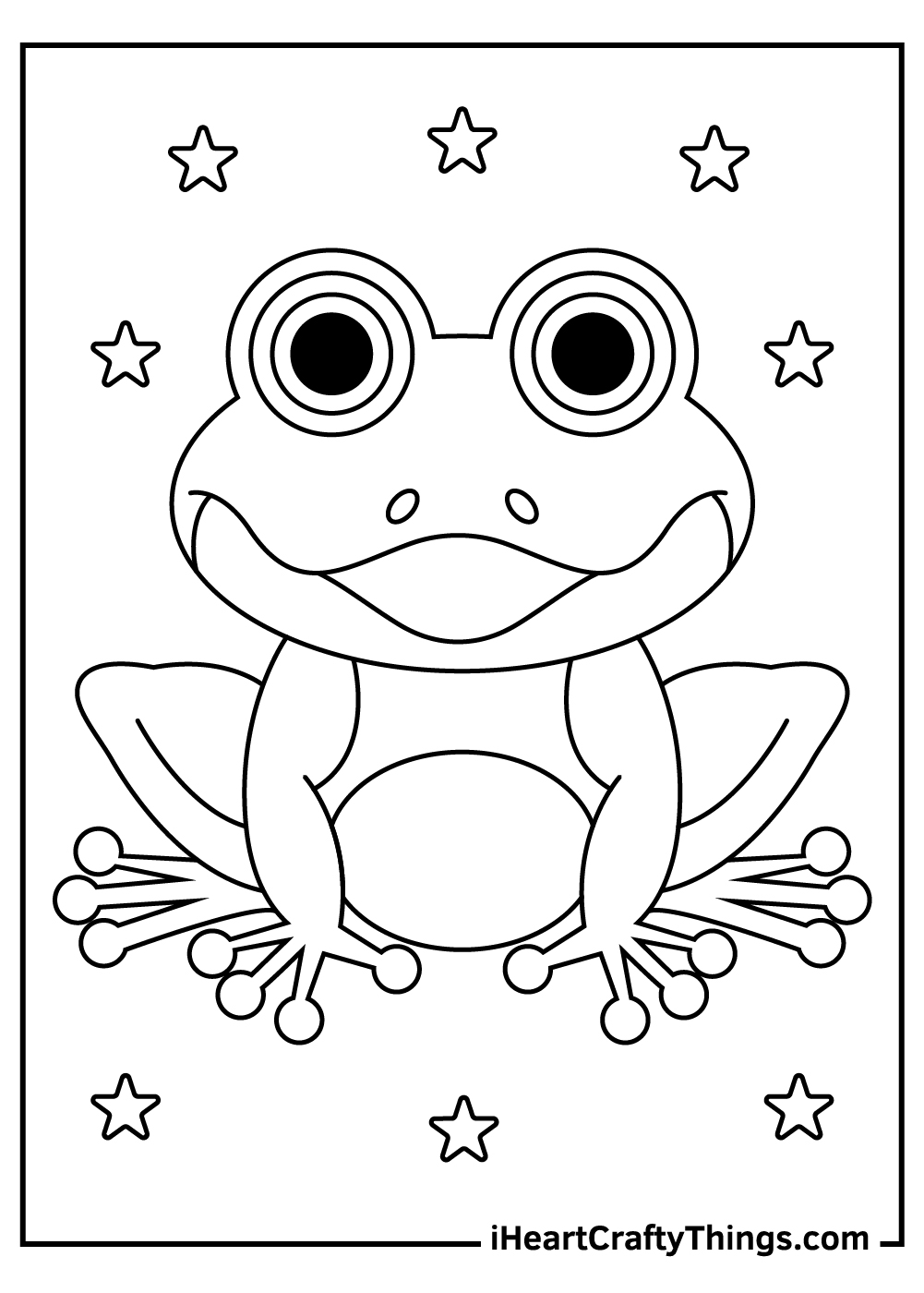 Next up, there is a really creative frog design that looks really fun and wacky! This one has a crazy hairstyle, and it makes for a really imaginative and creative design.
The design is hardly realistic, but that just means that you have more freedom than ever to create an imaginative page.
We think that you should really let your creative side take over and just see what happens as you color this funny frog!
What kinds of crazy colors do you think would look perfect on this wonderfully weird little frog?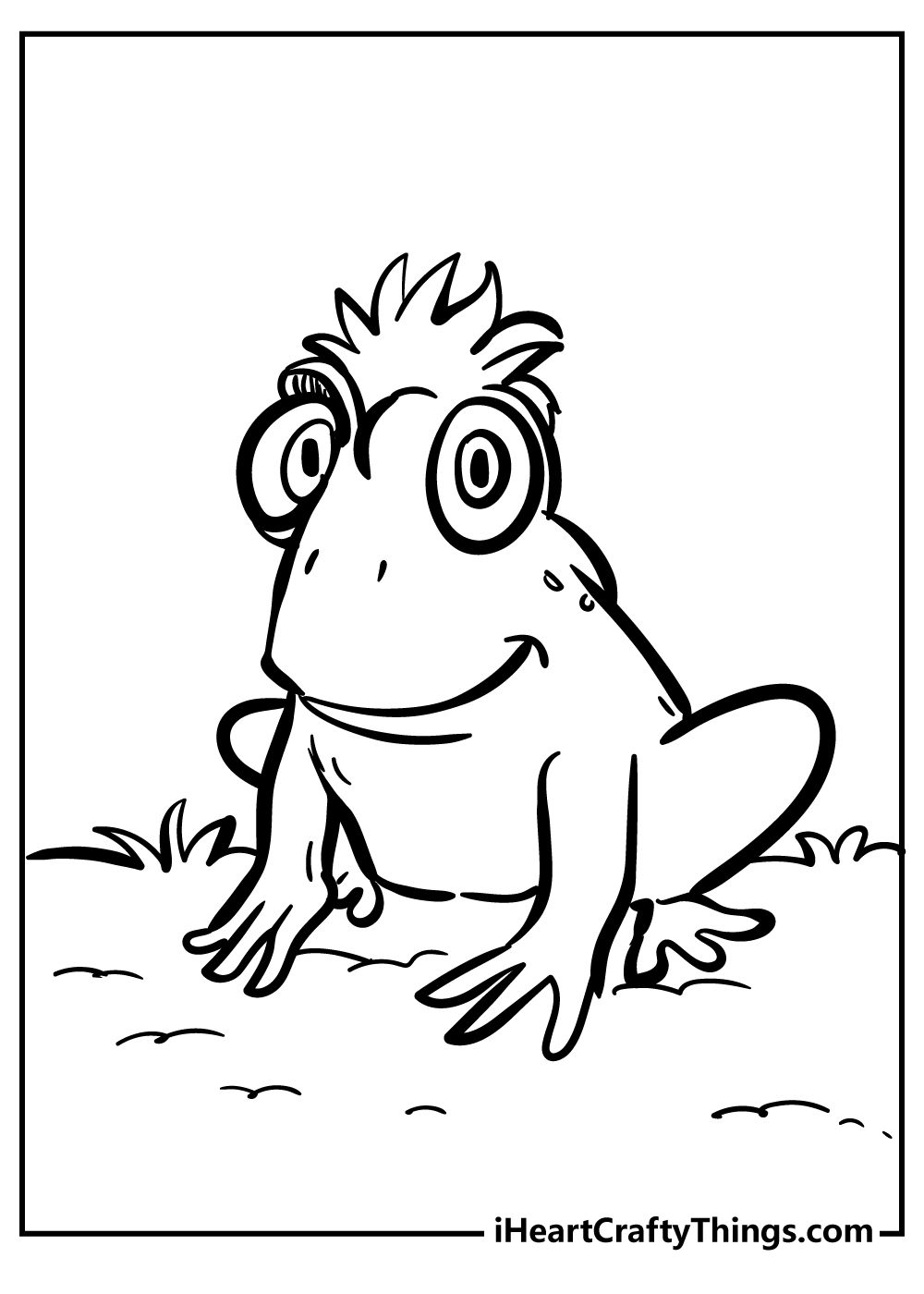 Take off for coloring fun with this next page we have for you! Frogs are famous for their leaping abilities, and that is being shown off in this fun scene that you can now color in.
There is a lot of empty space in the background here, so you could draw all sorts of cool background scenes.
It could be something more grounded such as a lake or a swamp, but you could also get even more creative!
Maybe this frog could have an overactive imagination and be imagining that it is flying through space with stars and planets in the background.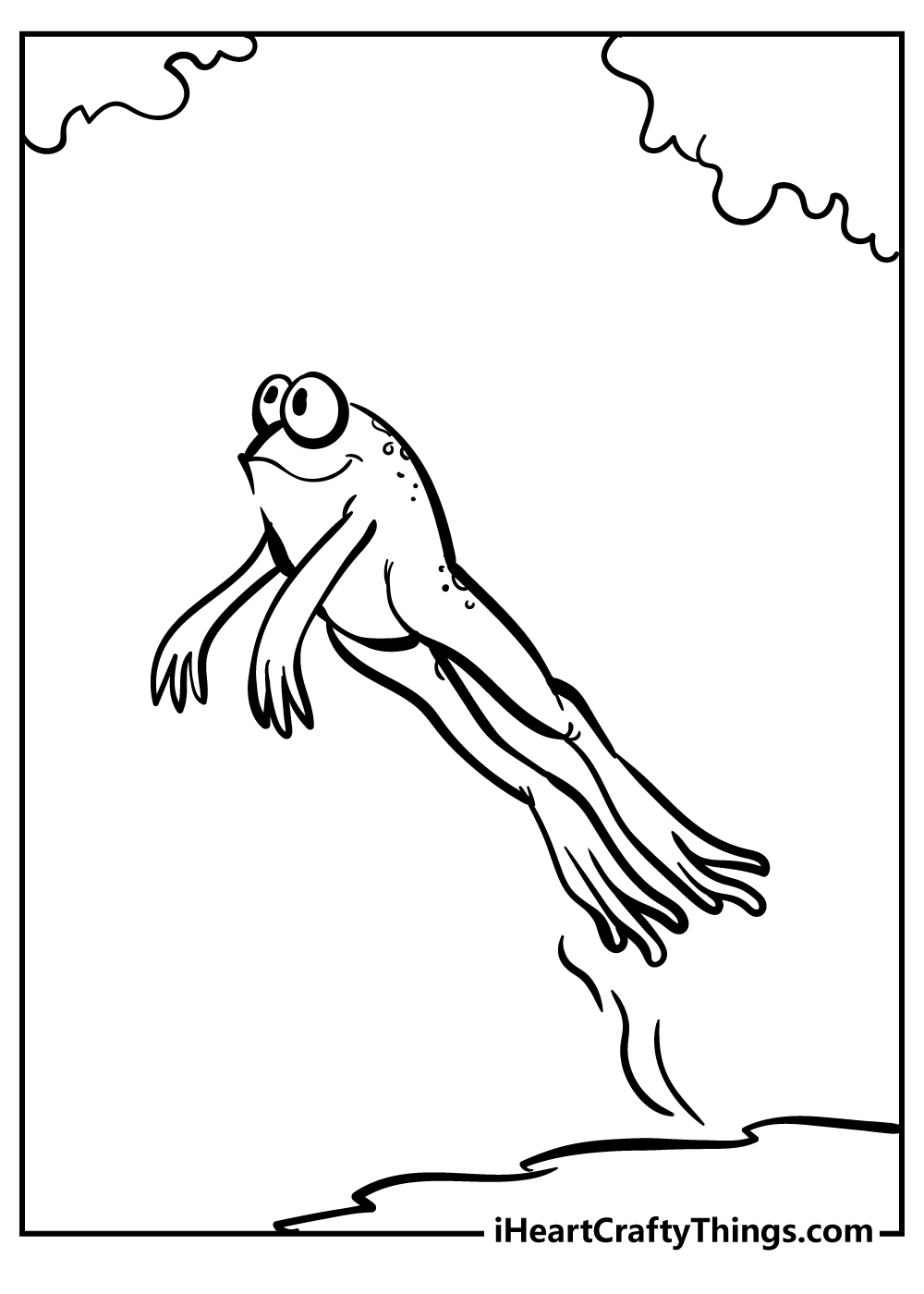 We have a top down view of what looks like a tree frog for this free frog coloring page. Poisonous frogs are often really brightly colored as a protection to warn off animals that may want to eat them.
For that reason, you could make this little frog a beautiful bright red, yellow or any other color you could want to really make it pop with beautiful color.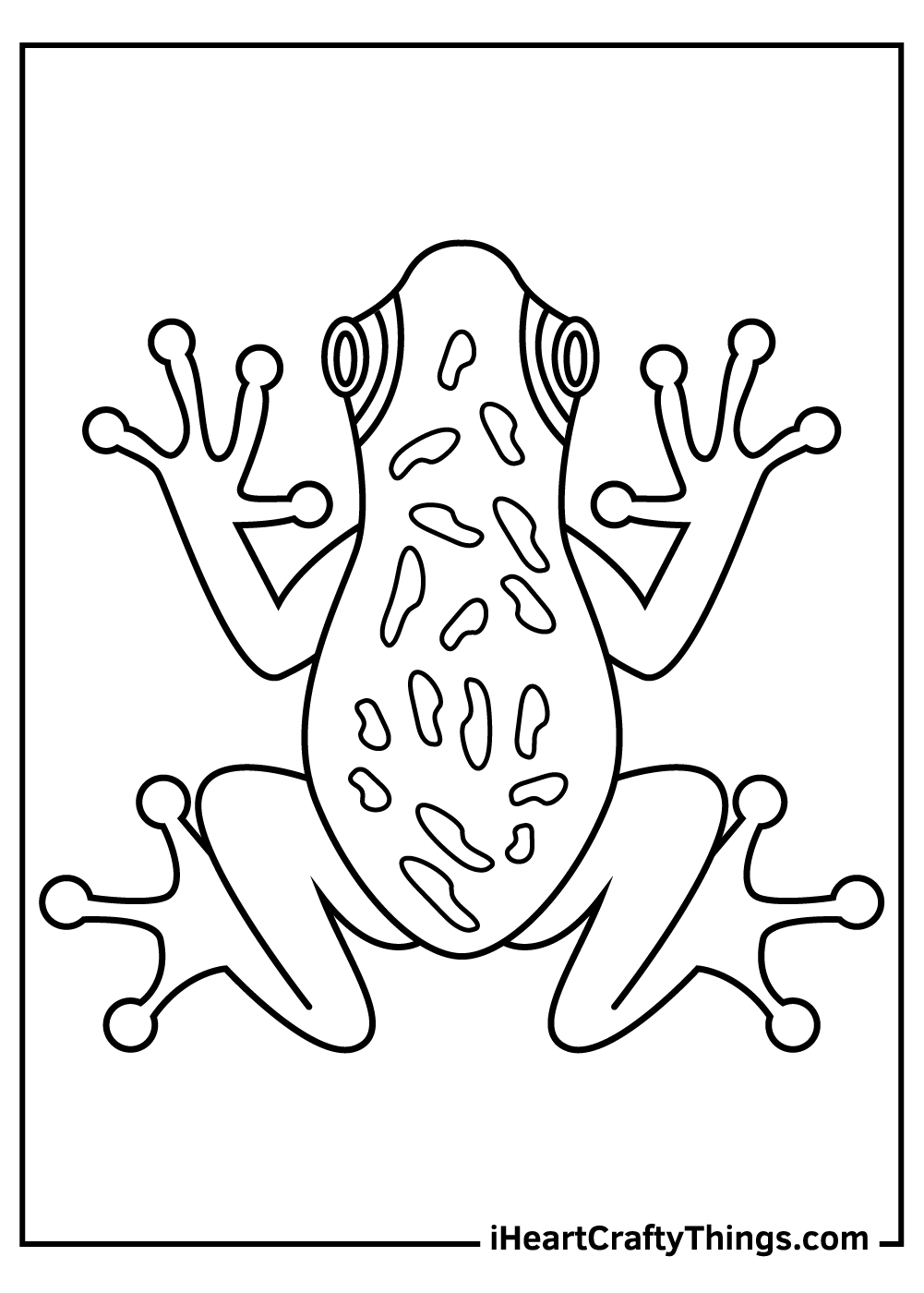 It must be nice to get to chill on a lilypad all day in the pond, and that's what this frog is enjoying for this frog coloring sheet!
You could use some beautiful lighter blues for a lovely clear pond along with some pretty greens for the lily pads and reeds. What color will you use for the frog to finish off this peaceful frog coloring page?
REMEMBER: You can get the COMPLETE set of these coloring pages >> HERE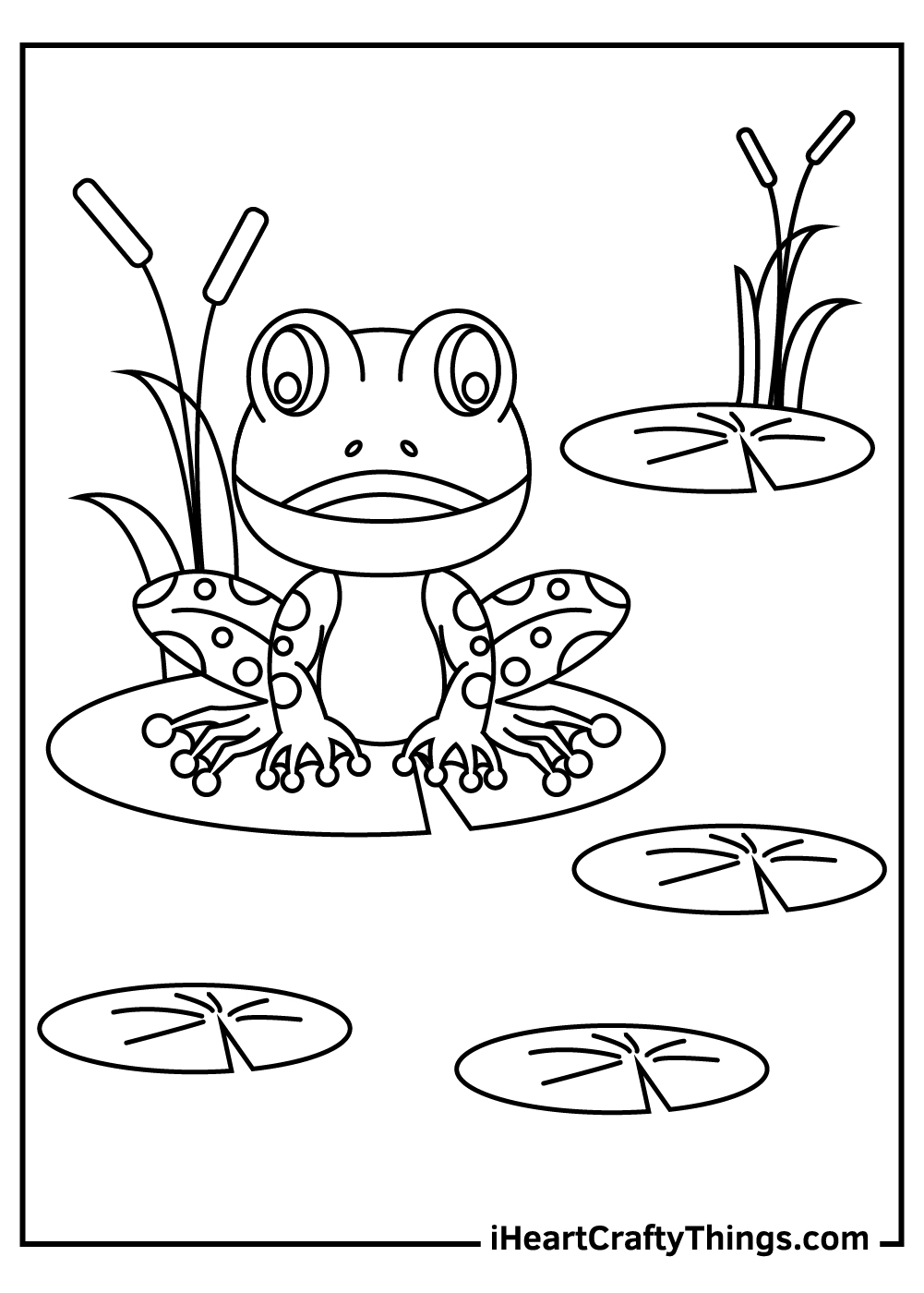 Using watercolor paints can create a beautiful softer look that works especially well for outdoors scenes.
For that reason, if I were to color in this frog coloring printable I would use watercolors for a beautiful look to this outdoors scene of two cute frogs relaxing on a pond.
What medium do you think would suit this picture best?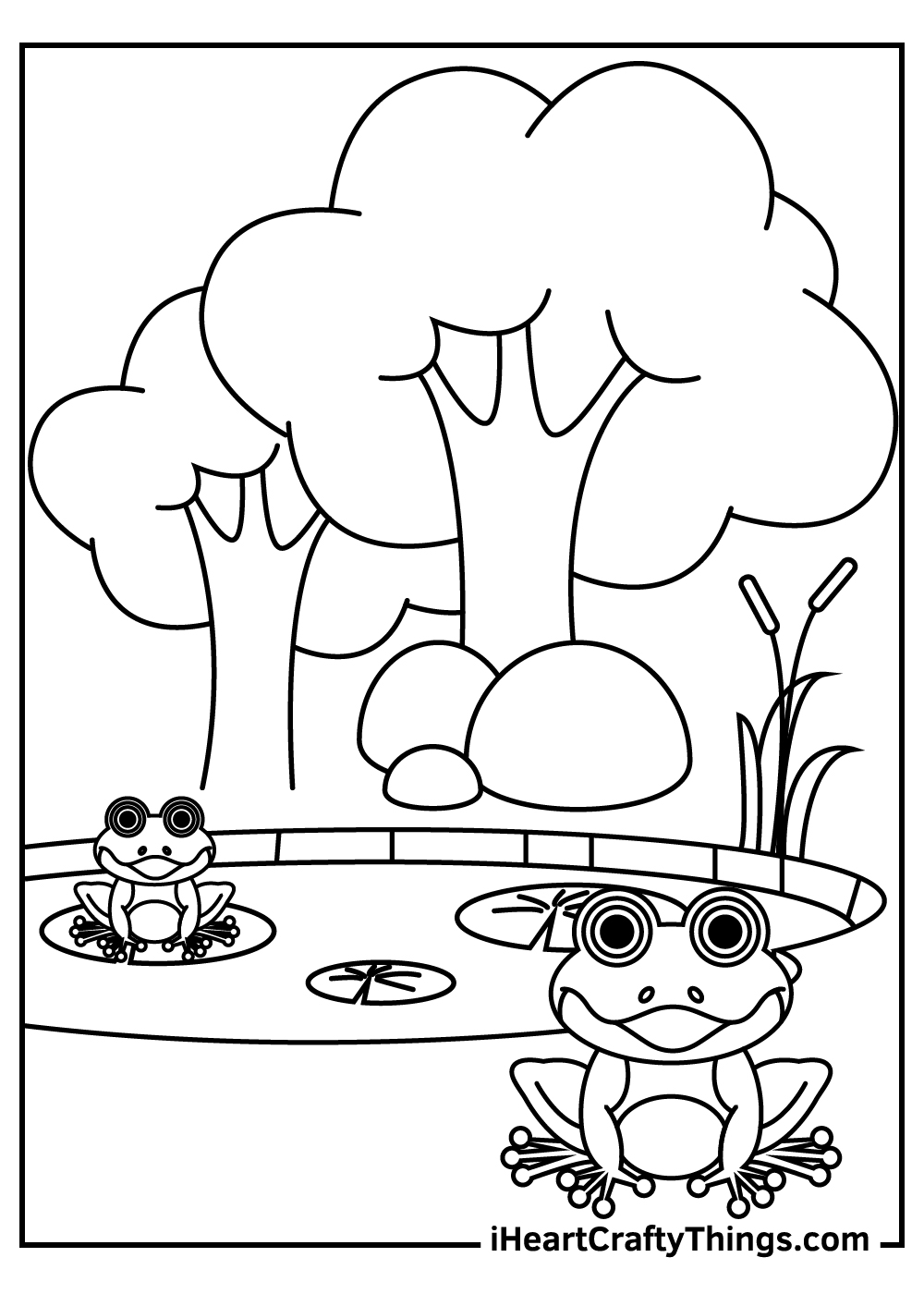 We really love the unusual design for this next frog coloring printable. It is one of the more unusual frogs we have seen so far in this collection, and that's saying something!
Because the design is so weird and wonderful, we think that it would be another one that would look great with some bright and vibrant wacky colors.
We would use some colored pens and markers for this one if we were coloring it, as that would make the colors really pop off the page.
What colors and mediums do you think you will use for this one?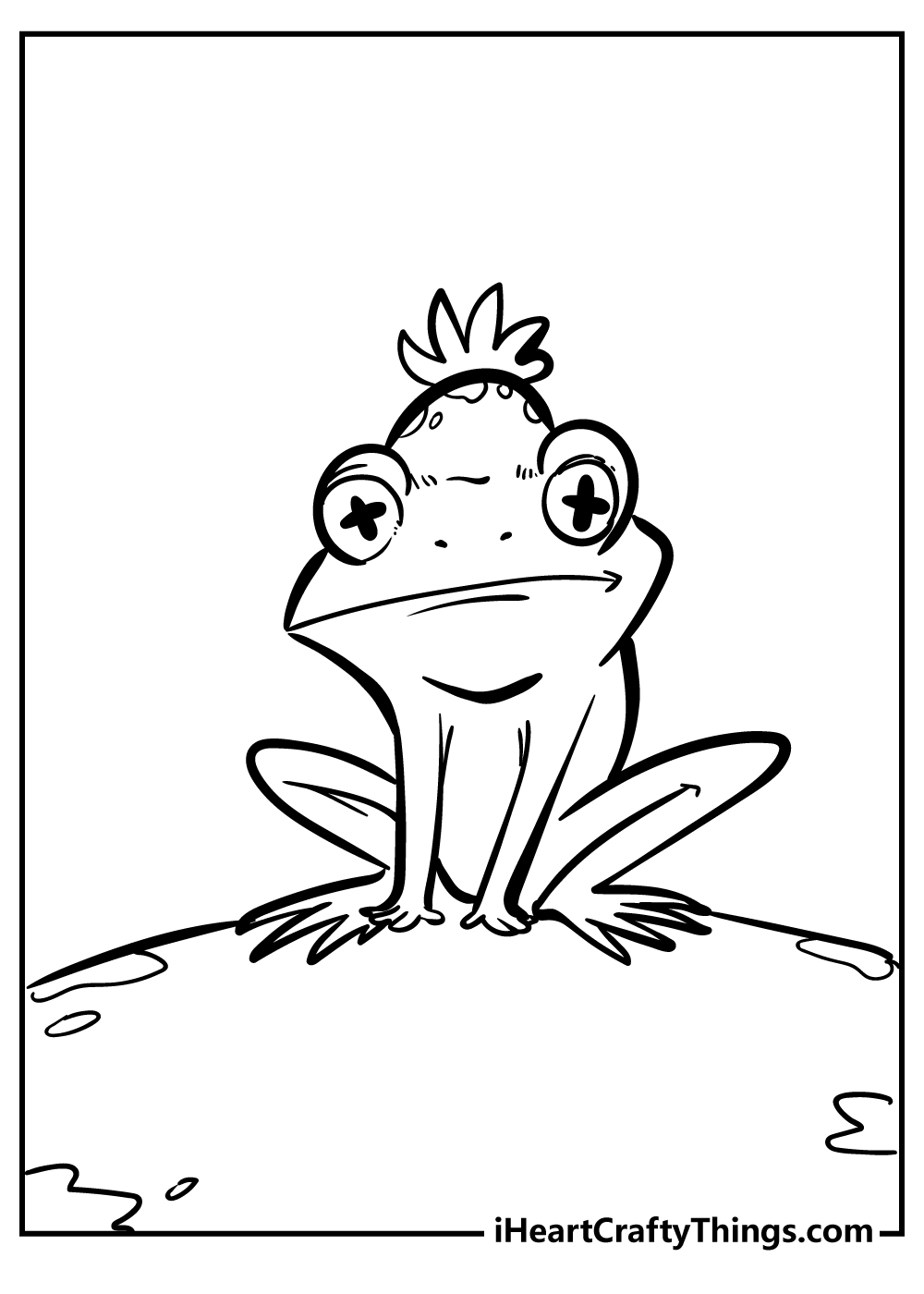 The next frog up for you to color is a jolly-looking guy that looks like it is having a good time!
It is a really fun and expressive design, and there are so many different color schemes that you could try out for this one.
We think it would look great whether you went for bright colors or a more muted approach.
It really just depends on where your creativity leads you, so you should definitely just go for it and see what works for you.
Don't be shy to print out multiple copies so that you can experiment with different looks!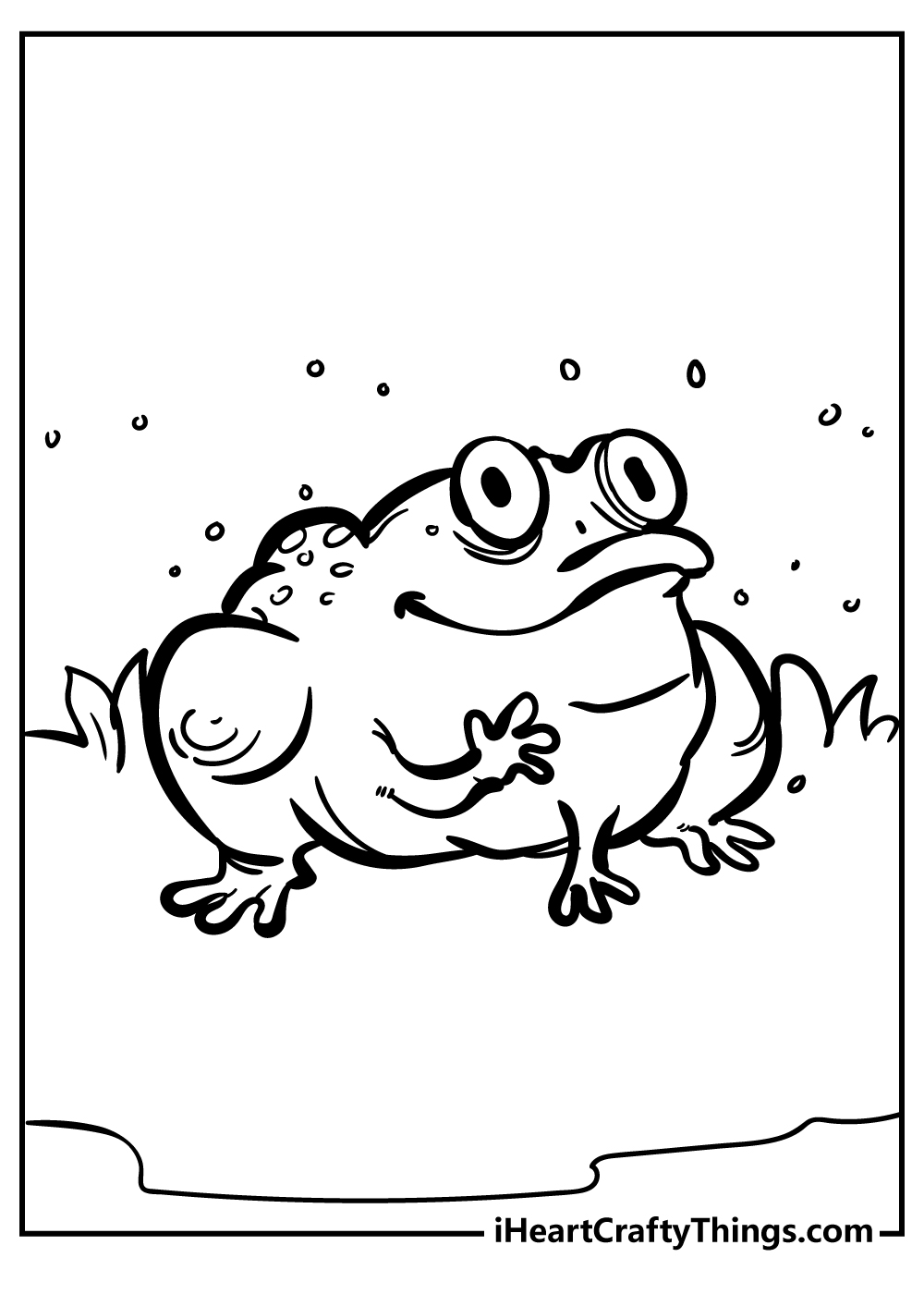 We have another more realistic frog sitting on a lilypad for this frog coloring page!
For this more detailed frog, maybe you could keep the colors slightly more light and muted to show that this is a more realistic depiction.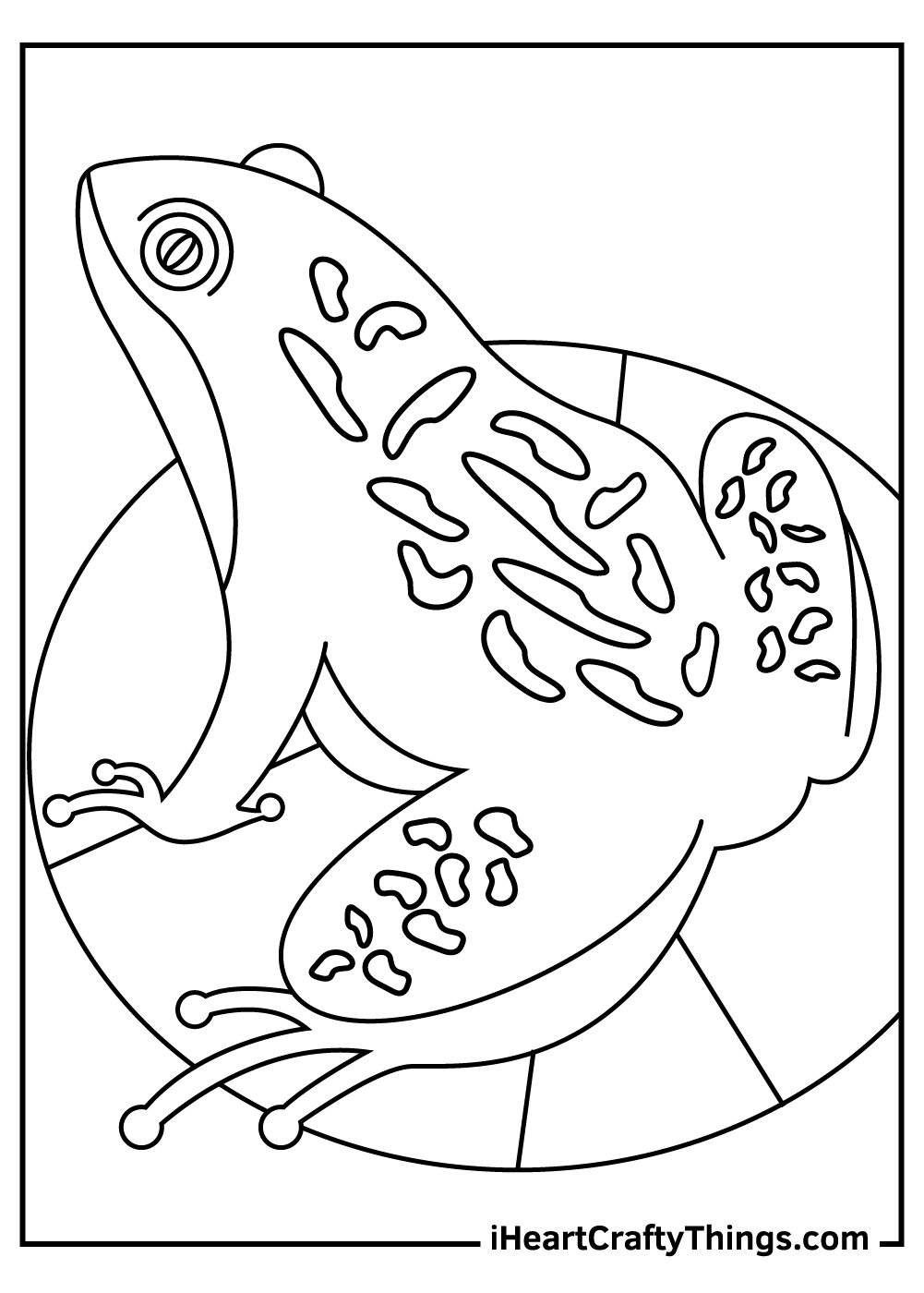 The next free frog coloring sheet that we have shows a really cool and creative image!
This top down view of a frog on a lily pad also has some pretty flower shapes, and that gives me an impression of a brighter Spring or Summer feeling for this one.
I think that some pretty bright colors for the flowers and the background details would look really great, but I bet any colors you use will look beautiful!
REMEMBER: You can get the COMPLETE set of these coloring pages >> HERE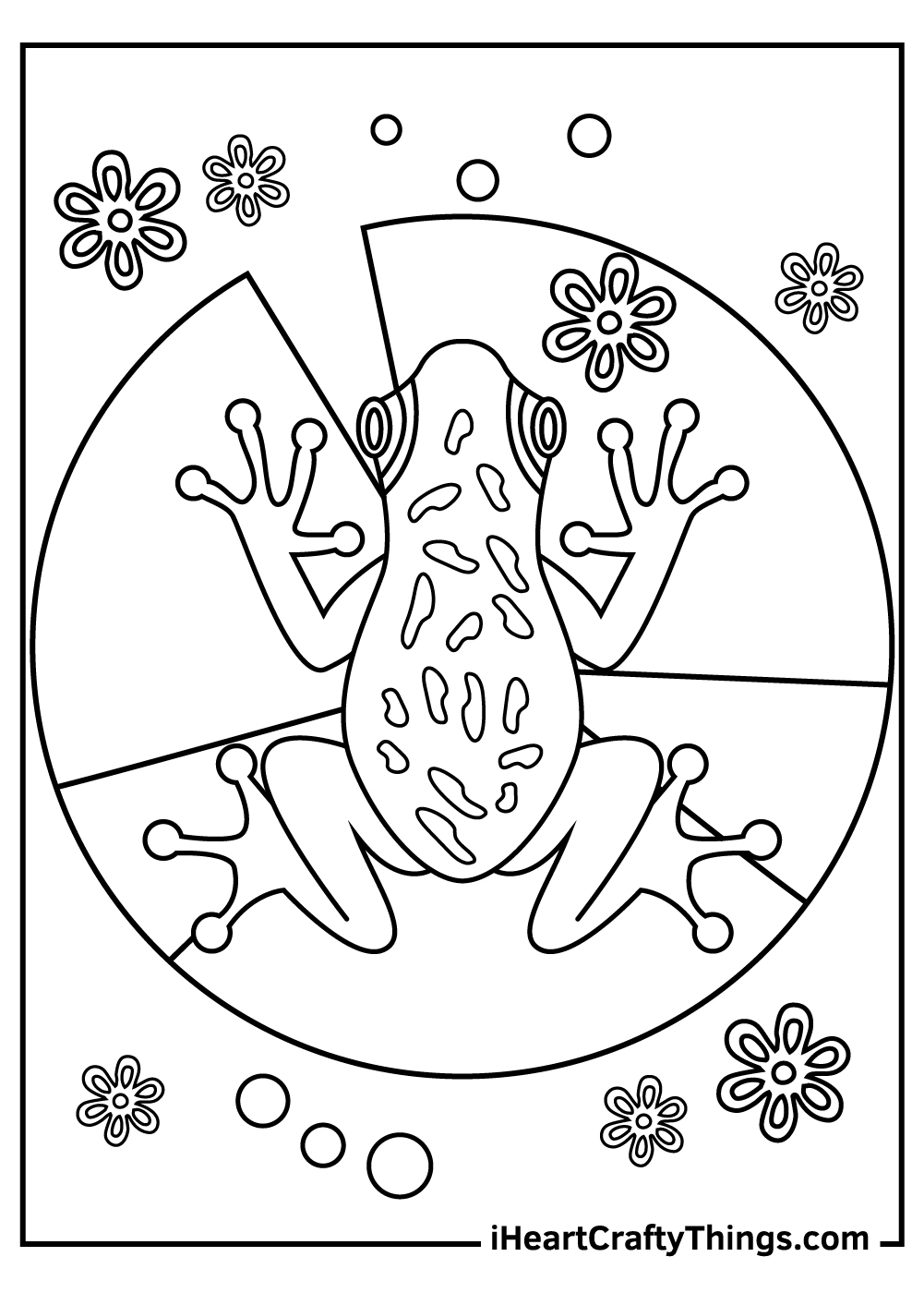 Next, we have a really charming image for you to color! The design of this frog is fun and creative on its own, but it is also holding a big flower.
Coloring the flower will allow you to work in even more beautiful colors, and you could make a really vibrant scene once it's done.
When you have finished coloring this page, it could make a great gift to give to someone that you care about! We're sure this will look incredible when it's finished.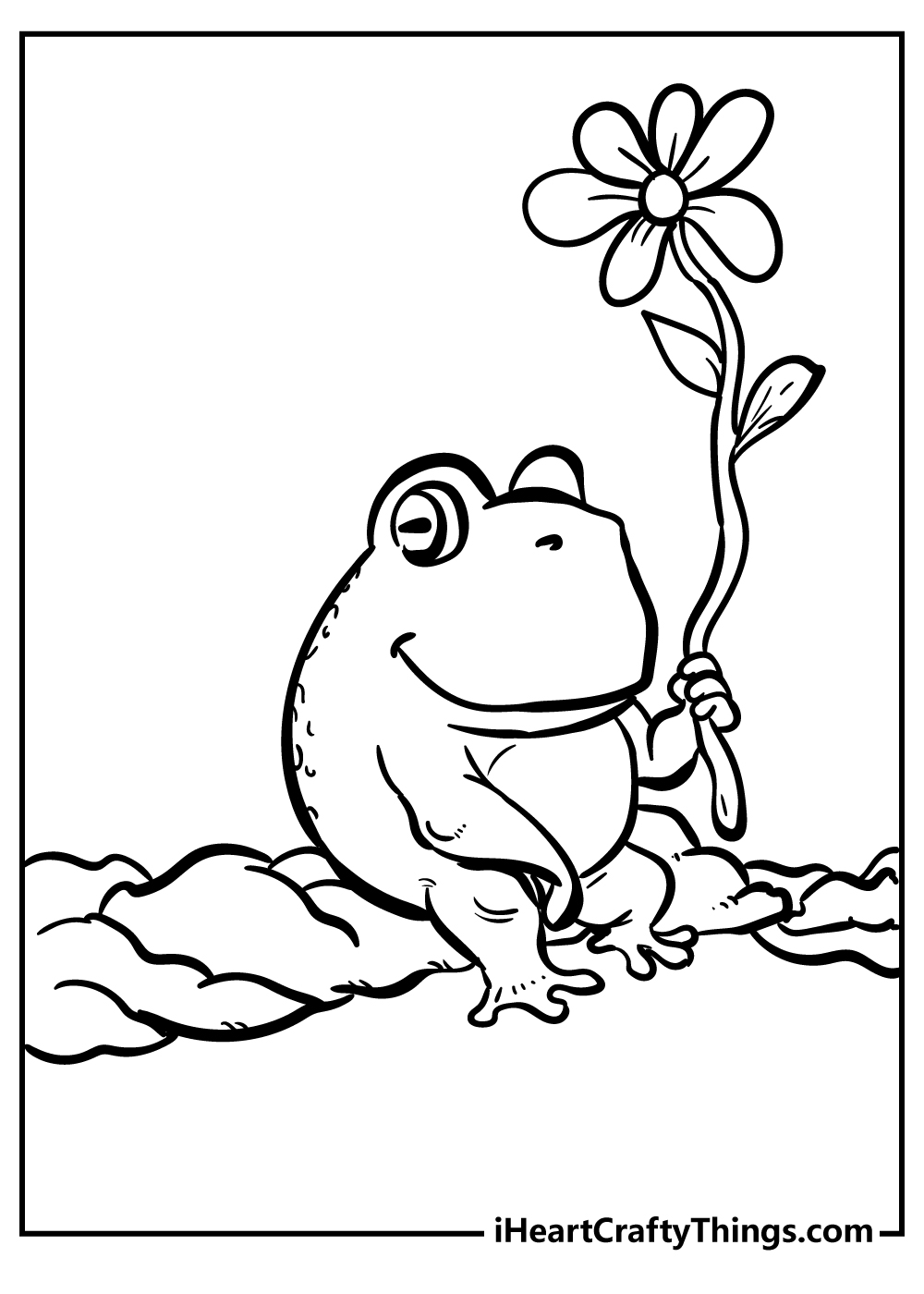 Next up, we have a frog coloring page that features a fun and silly-looking little frog.
Its tongue is hanging out, so that gives you a chance to use some pretty reds or pinks in this picture, and that will provide a nice colorful focal point!
Then, you can color details such as the lilypad it is seated on and then add any extra details you would like to the rest of the background.
This is a page you can really unleash your creativity on, and we're sure you'll have lots of fun with it!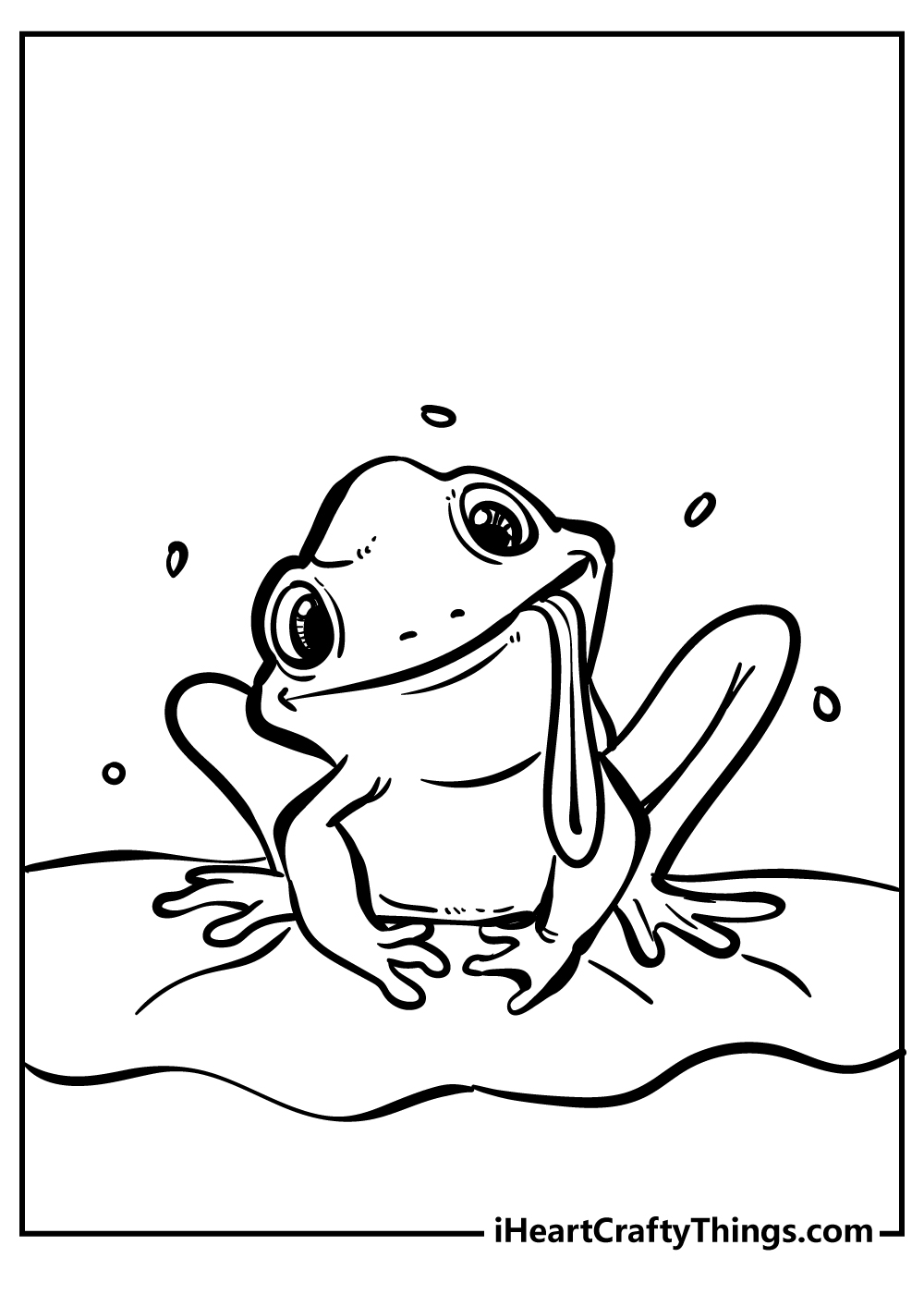 Frogs go through a long process of change from starting out in a tiny egg to growing to a tadpole and finally transforming into the full grown frog.
That process is on display for this interesting frog printable, and shows off the process that a frog goes through in its life. What colors will you use for this educational frog coloring page?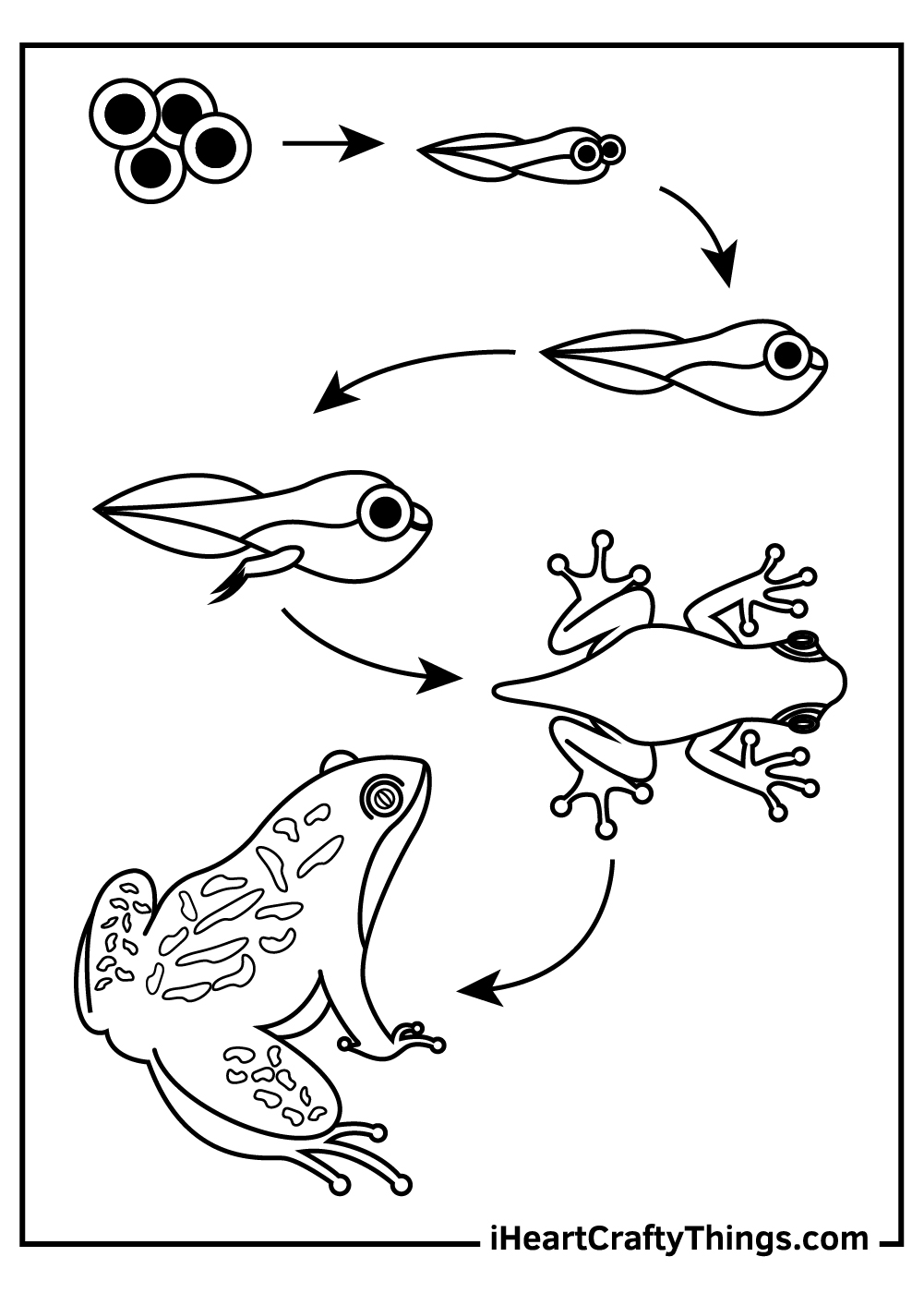 The final image in this collection of free frog coloring sheets for kids has four detailed little frogs and each with their own separate background!
I think that this image would be great if you really went wild with your favorite bright colors and gave each section and frog it's own color scheme for an explosion of bright colors.
This could also be a great chance to use some colored pens and pencils for bright and beautiful detailing.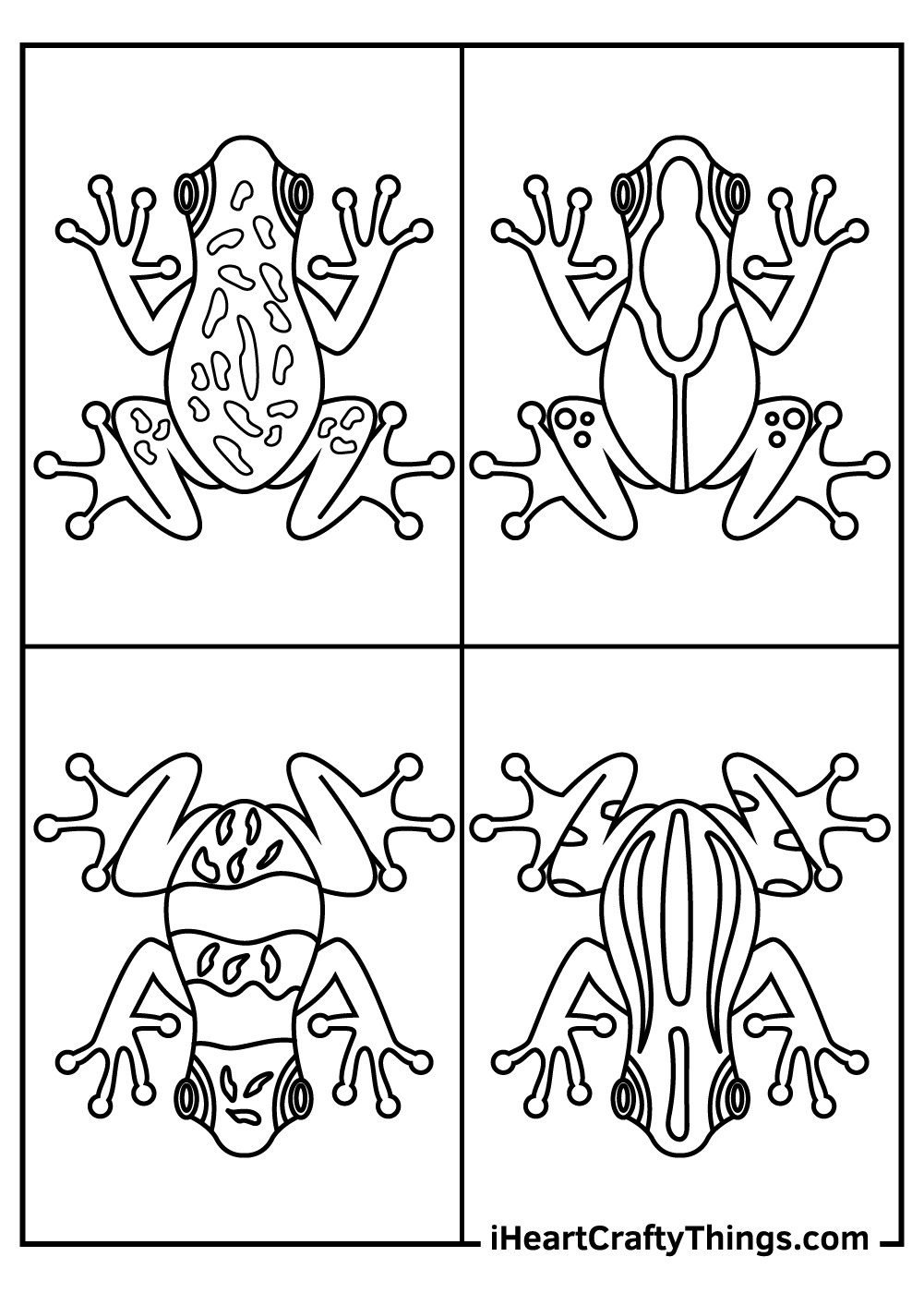 Frog Coloring Pages – Which will you choose?
We hope that you had a fun few hours of coloring with these free frog coloring pages for kids!
All of our coloring pages and printable goodies are totally free for you to print out and enjoy, so please feel free to print out multiples of your favorites for some colorful experimentation with different mediums and color choices!
Please remember to like and share our Facebook page to never miss out on any of our awesome upcoming free coloring pages and printable fun.
Lastly, we'd love it if you'd share some of your finished frog coloring printables to our Facebook page for us to admire. We love to see your colorful creativity!