On this page, you will find 10 all new Dragon coloring pages that are completely free to print and download.
Of all the mythological creatures from all the old tales and legends, dragons are probably the most iconic of them all. They've been in countless stories, books, movies, video games and pretty much any medium you can think of.
Dragons come in many shapes, sizes and colors, and with these free dragon coloring pages for kids, you have a chance to decide for yourself what dragons may have looked like if they had existed.
You could try to use paints, glitter and glitter pens with your other coloring tools to really bring these dragon printables to life.
Once you've printed and colored your favorite dragon coloring sheets, be sure to share your colorful dragons to our Facebook page for us to admire.
We always love to see your creative coloring skills on show and we look forward to seeing some awesome dragons!
REMEMBER: You can get the COMPLETE set of these coloring pages >> HERE
10 Brand New Dragon Coloring Pages – Free to Print and Color
For this first image in our collection of free dragon coloring pages for kids, we have a fierce looking dragon looking down at us.
The more realistic style of this dragon printable makes me think that more muted colors would work well for this one. You could use a nice green to give him a very lizard-like look or use a darker red to give him a more fiery look.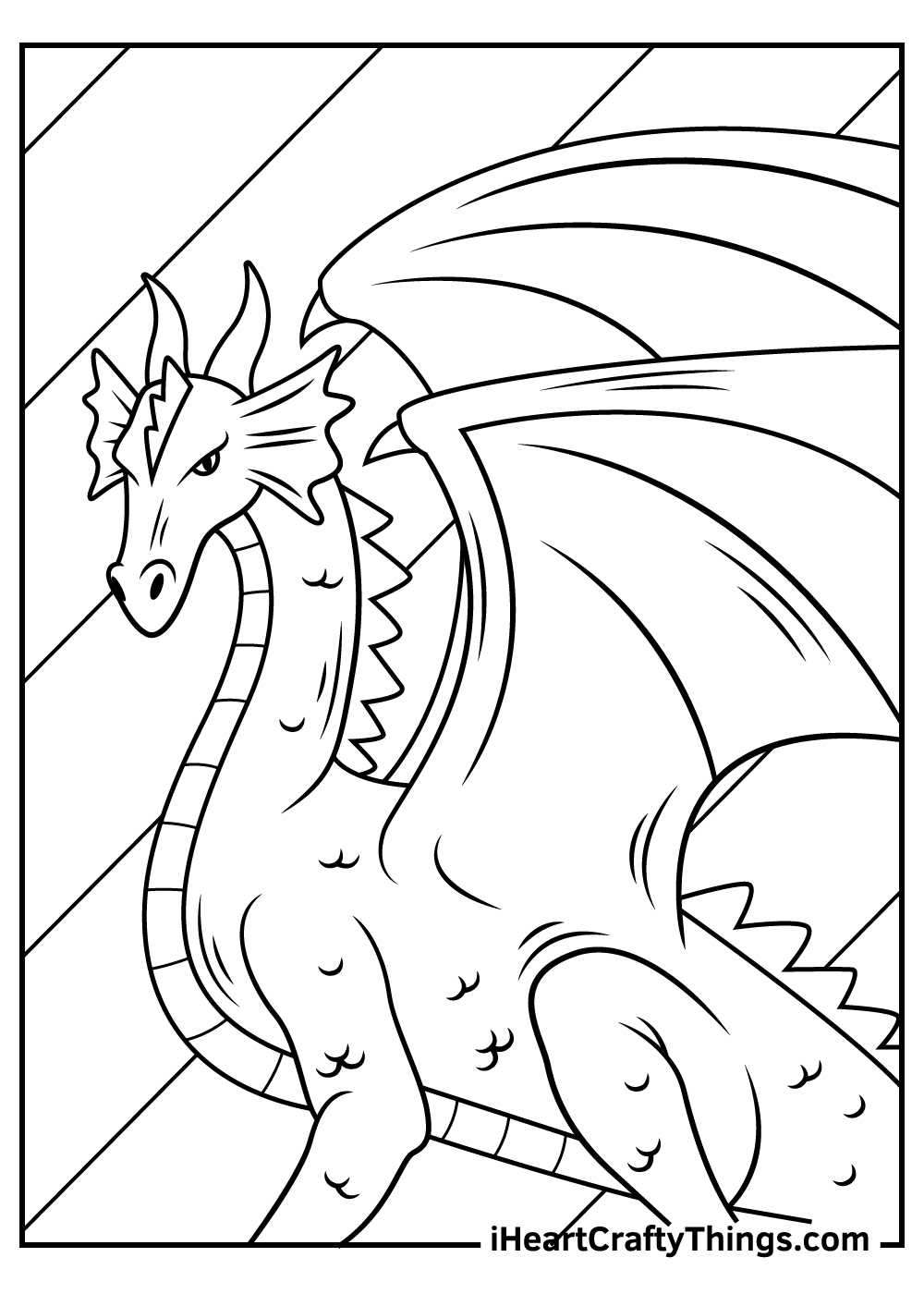 We have a much cuter little guy for this second dragon printable! The first dragon looked a bit angry, but this one is having a great day and looking very happy as he flies through the air.
It seems like a great day outside, so I would suggest keeping the background a nice clear blue, but what colors will you use for the little dragon?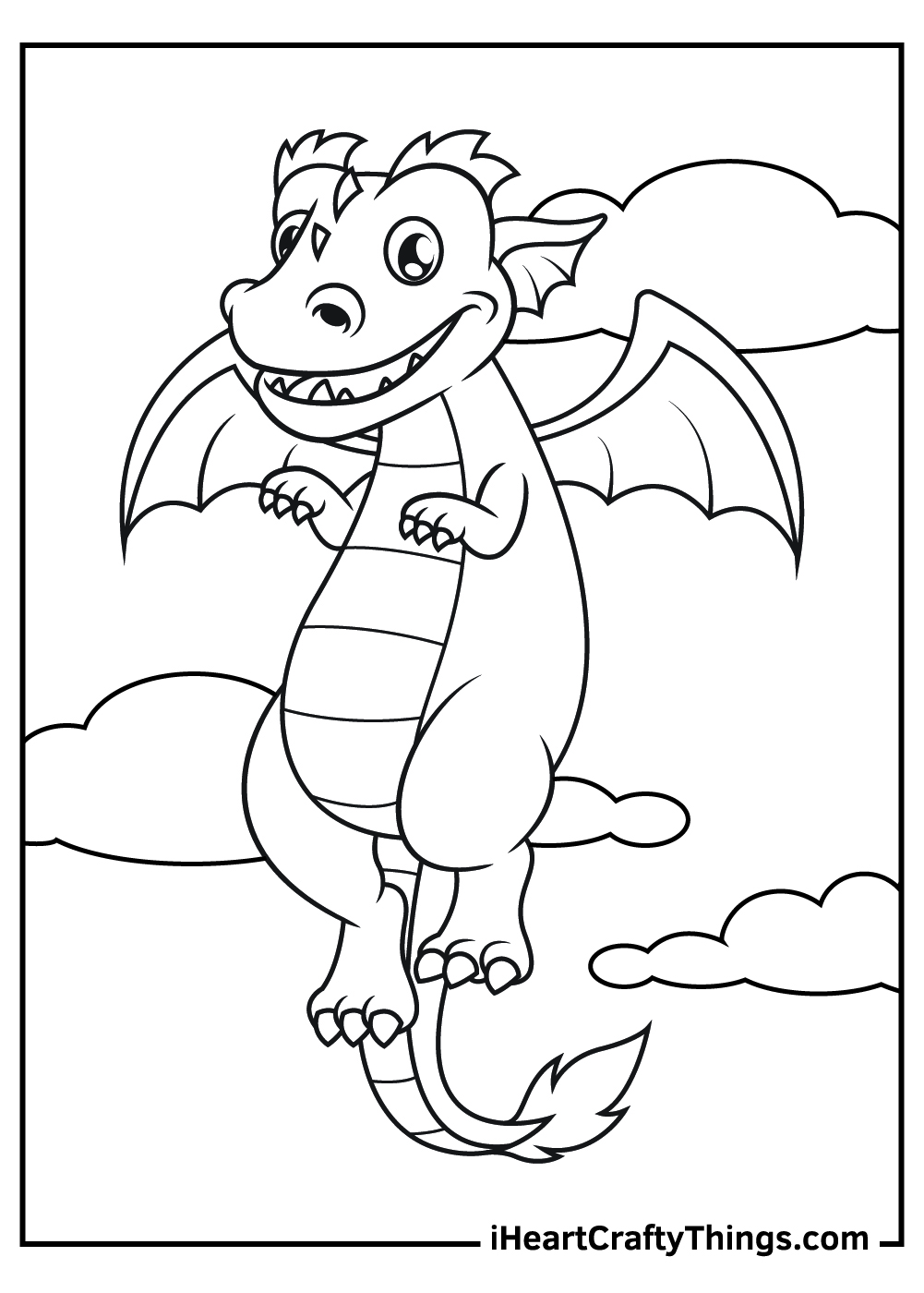 This next dragon coloring sheet shows another more realistic dragon looking quite regal and a lot more relaxed than the first dragon in this collection.
For this one I would also think of colors you may find on lizards and other reptiles like greens and grays, but you could always use more fantastical colors as well. What will you choose for this dragon printable?
REMEMBER: You can get the COMPLETE set of these coloring pages >> HERE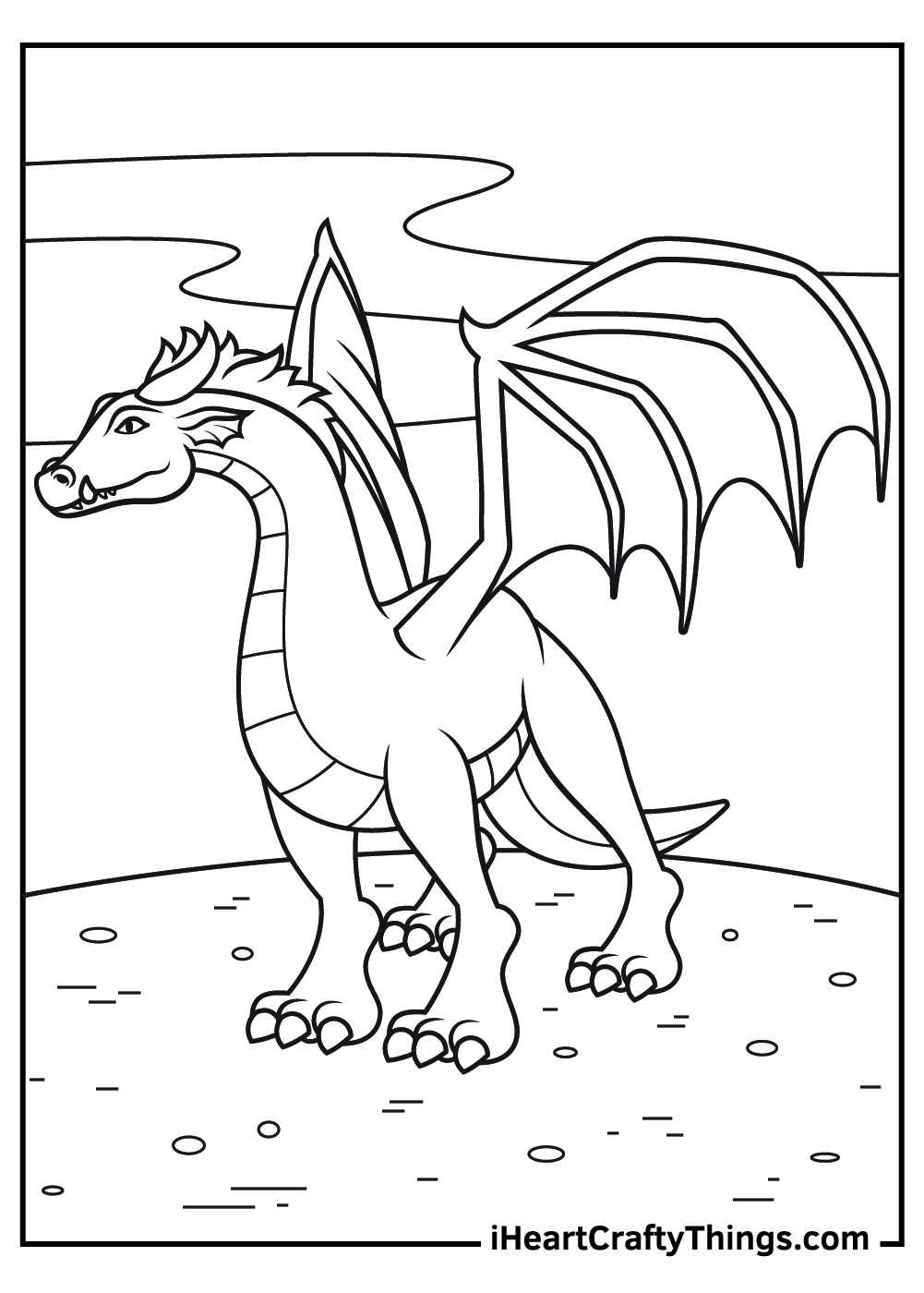 This cute dragon is looking like a star in our next free dragon coloring page. He's surrounded by stars and looking very happy as he flies through the air.
What colors do you think would suit this dragon best? Maybe you could use some of the colors you use on him for the stars around him as well.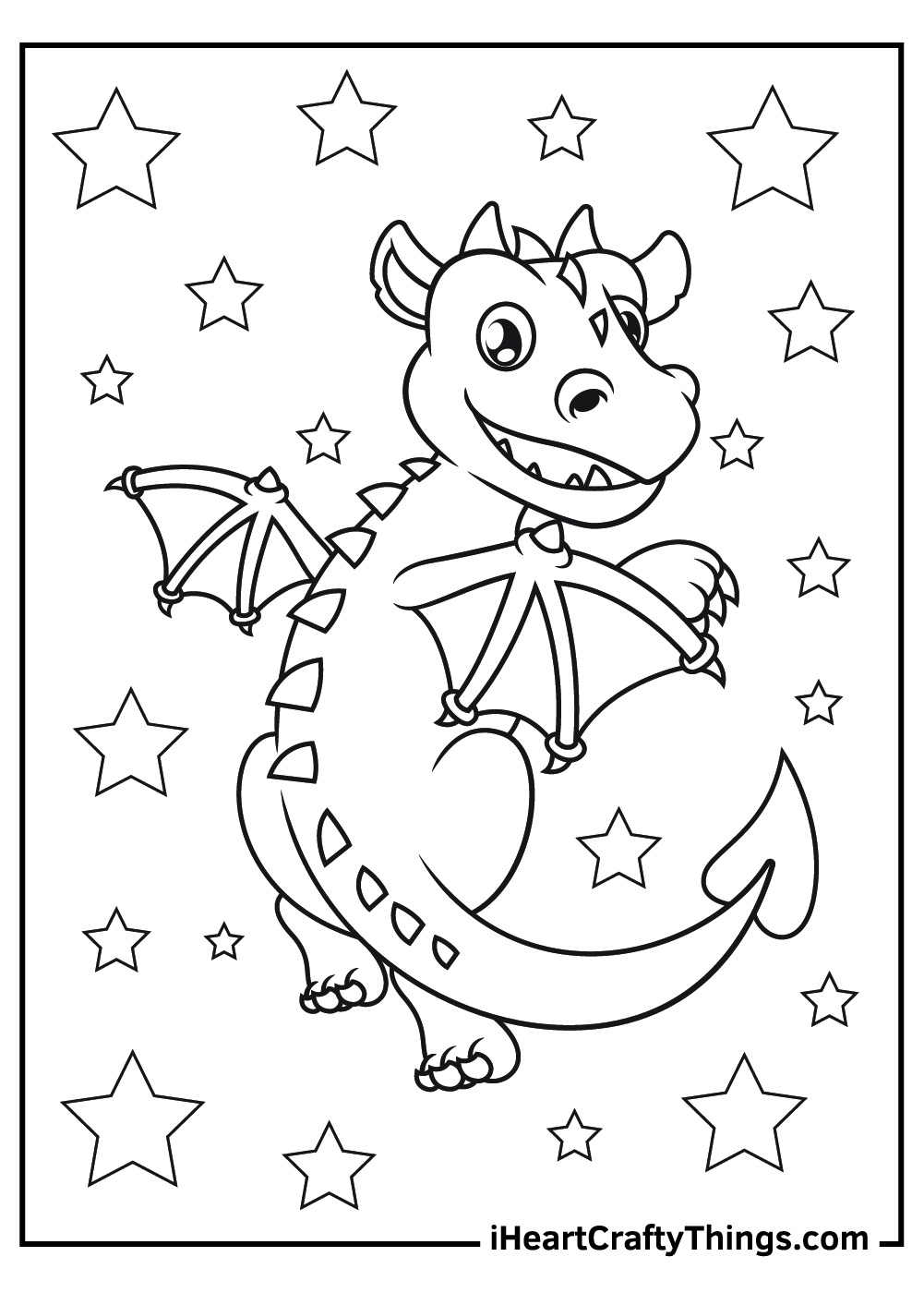 The previous dragon printable had a cute and happy dragon, but for this next one we have a very angry looking one. We have a closeup on this cool looking dragon face, and he looks like he means business!
I would use bright reds and oranges for this dragon coloring page to show that he's a serious, angry dragon.
REMEMBER: You can get the COMPLETE set of these coloring pages >> HERE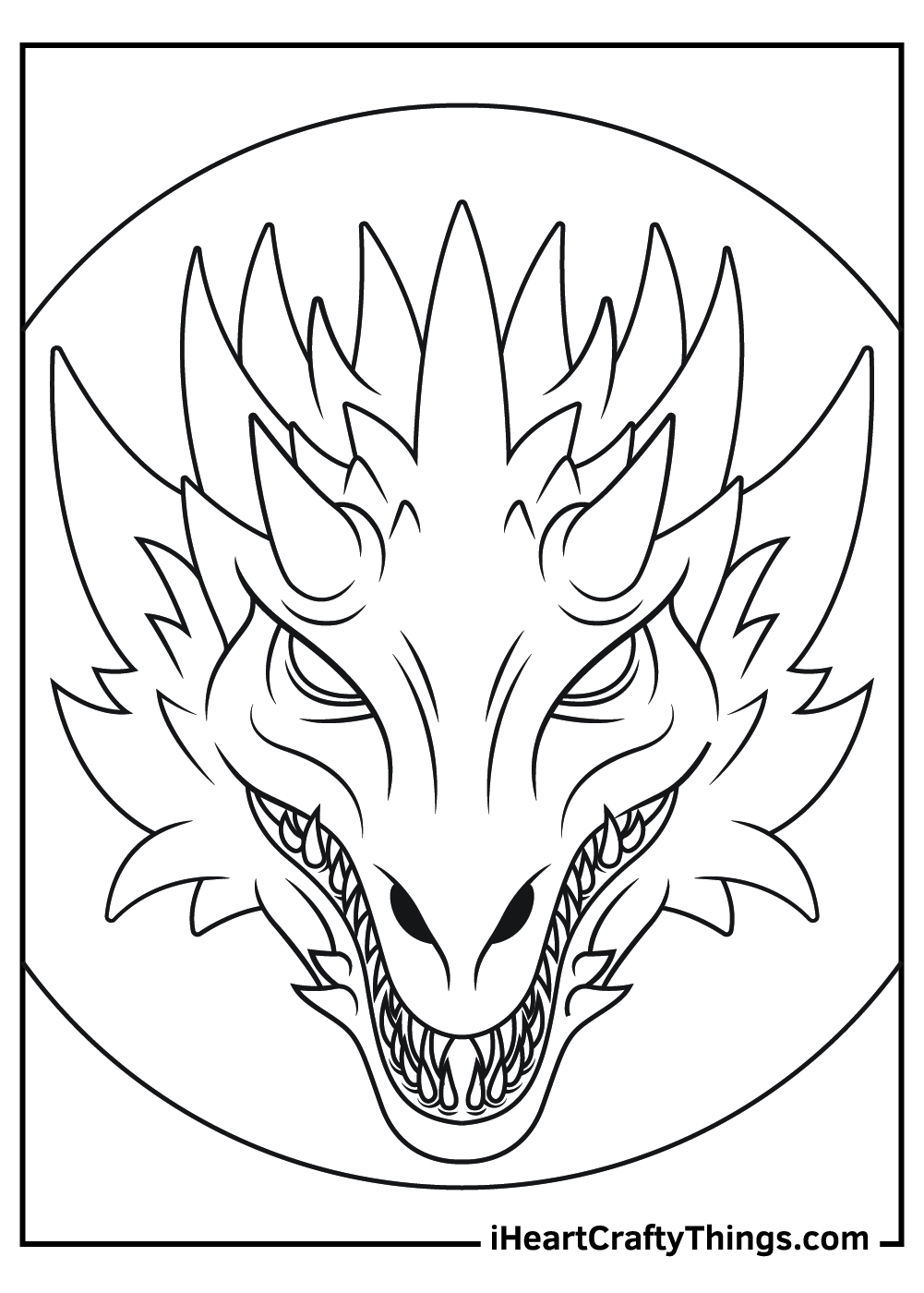 We're back with a much less threatening looking dragon for this next dragon coloring sheet. This one is surrounded by bubbles, so maybe it's a water based dragon that lives in a lake?
For this more aquatic dragon I would use blues and greens to reflect the theme beautifully.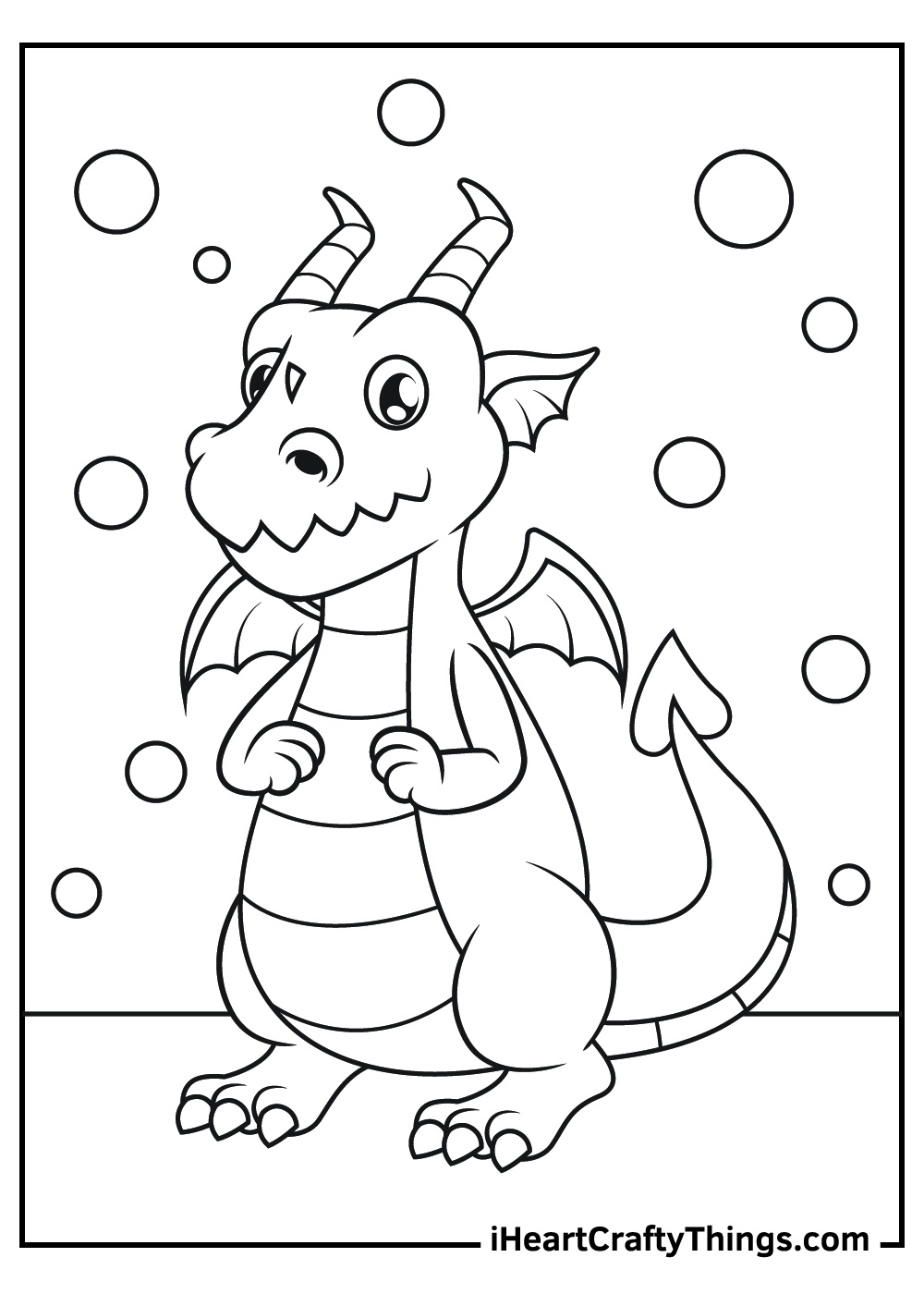 We're getting a mean look from this scary creature. This dragon coloring sheet has another more detailed dragon, and it looks like there may be smoke in the air near it, Maybe he's standing near a volcano, and you could color the smoke in while using an orange for the sky to show that there's fire and lava nearby.
What colors will you use to reflect the kind of terrain this dragon is in?
REMEMBER: You can get the COMPLETE set of these coloring pages >> HERE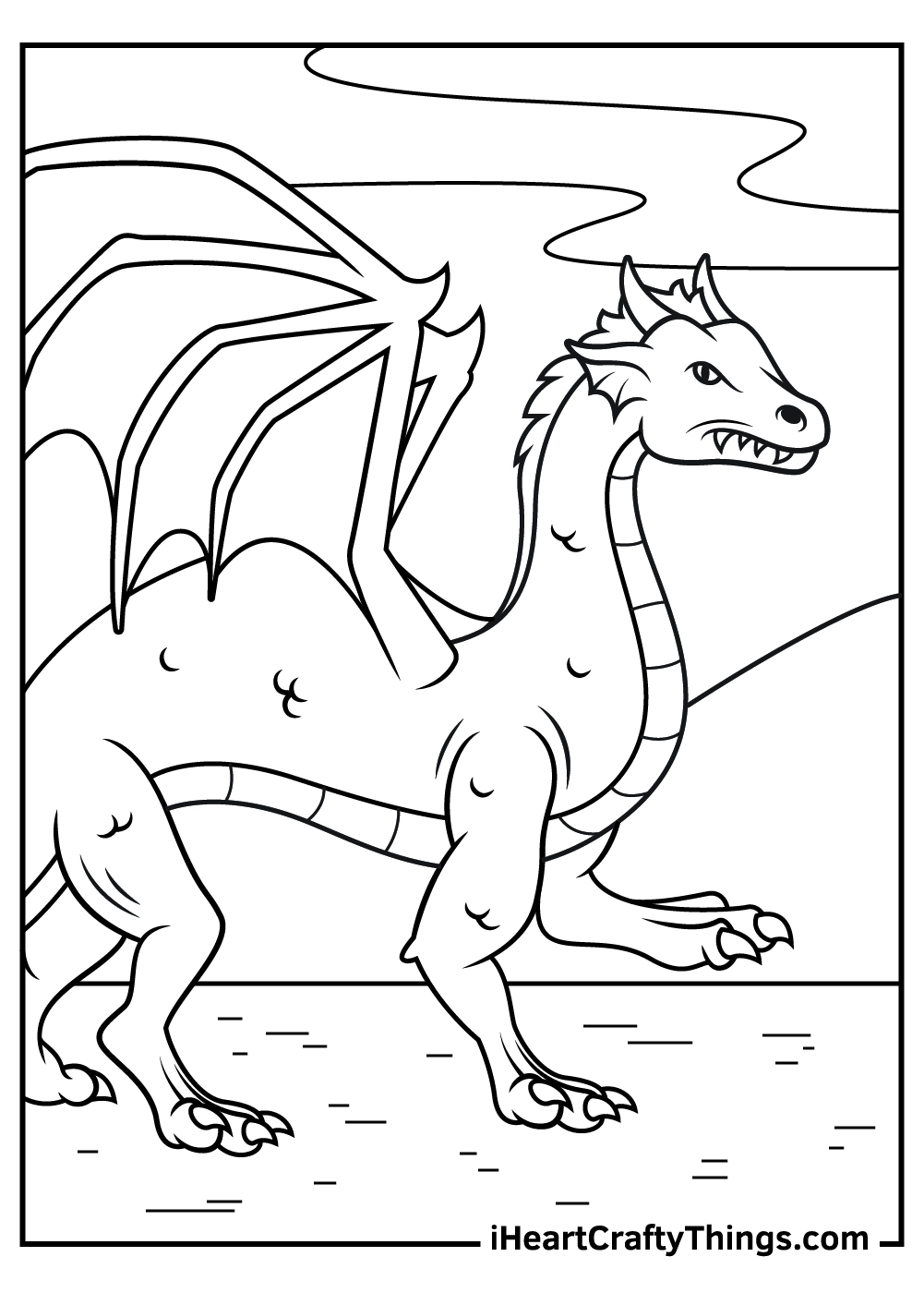 It's time to take it easy for this next free dragon coloring page.
This dragon is laying down and relaxing with a smile on its face, so I would use milder color variations for the background to create a more relaxed atmosphere for this dragon printable.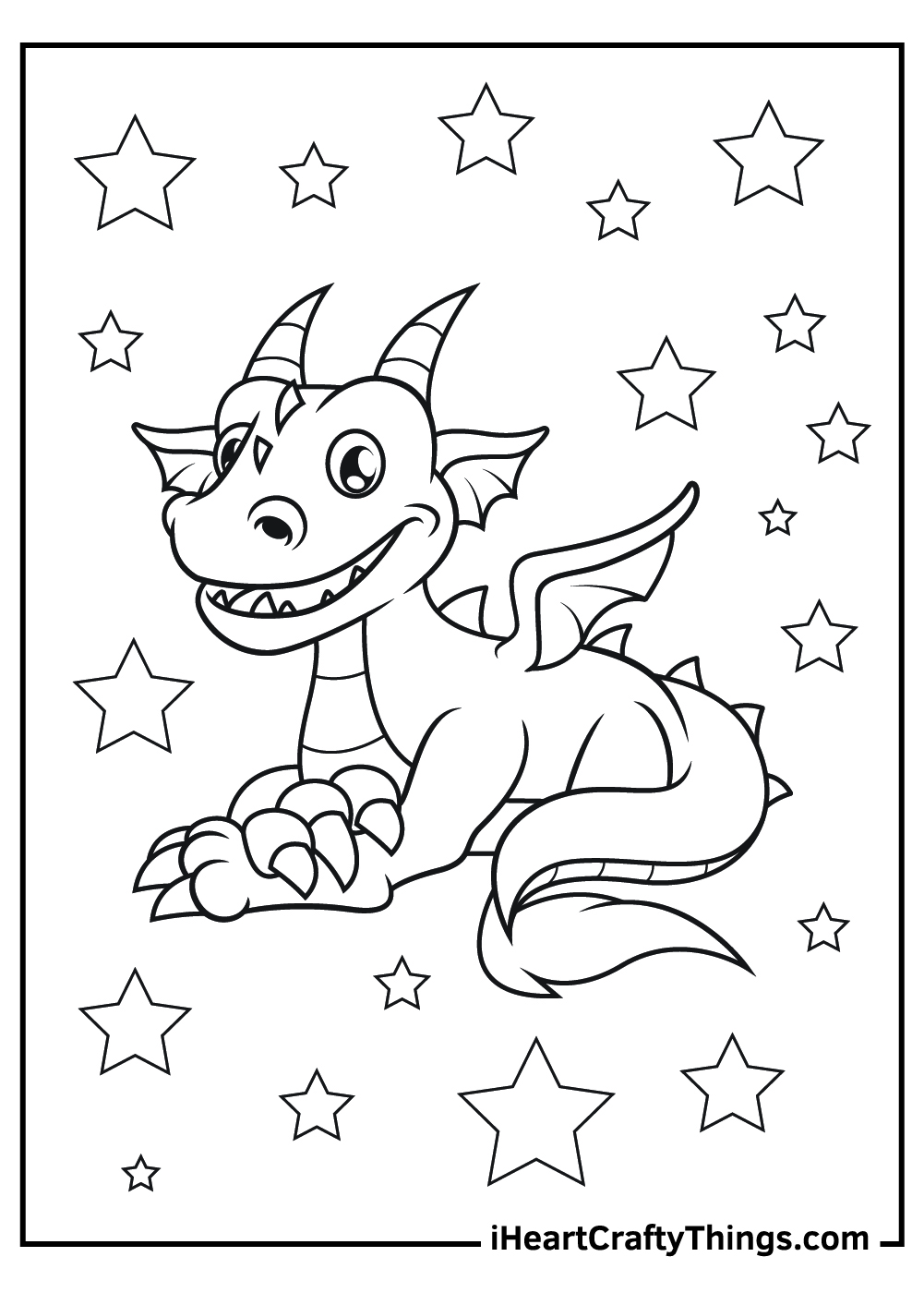 Things are really heating up in this dragon coloring page! This dragon is blowing fire and looking fierce, and you wouldn't want to be around at a moment like this! For this fiery, flaming dragon printable I would use more reds and oranges for this flame breathing monster.
You could try to use some acrylic or watercolor paints for the fire to make it seem even more intense.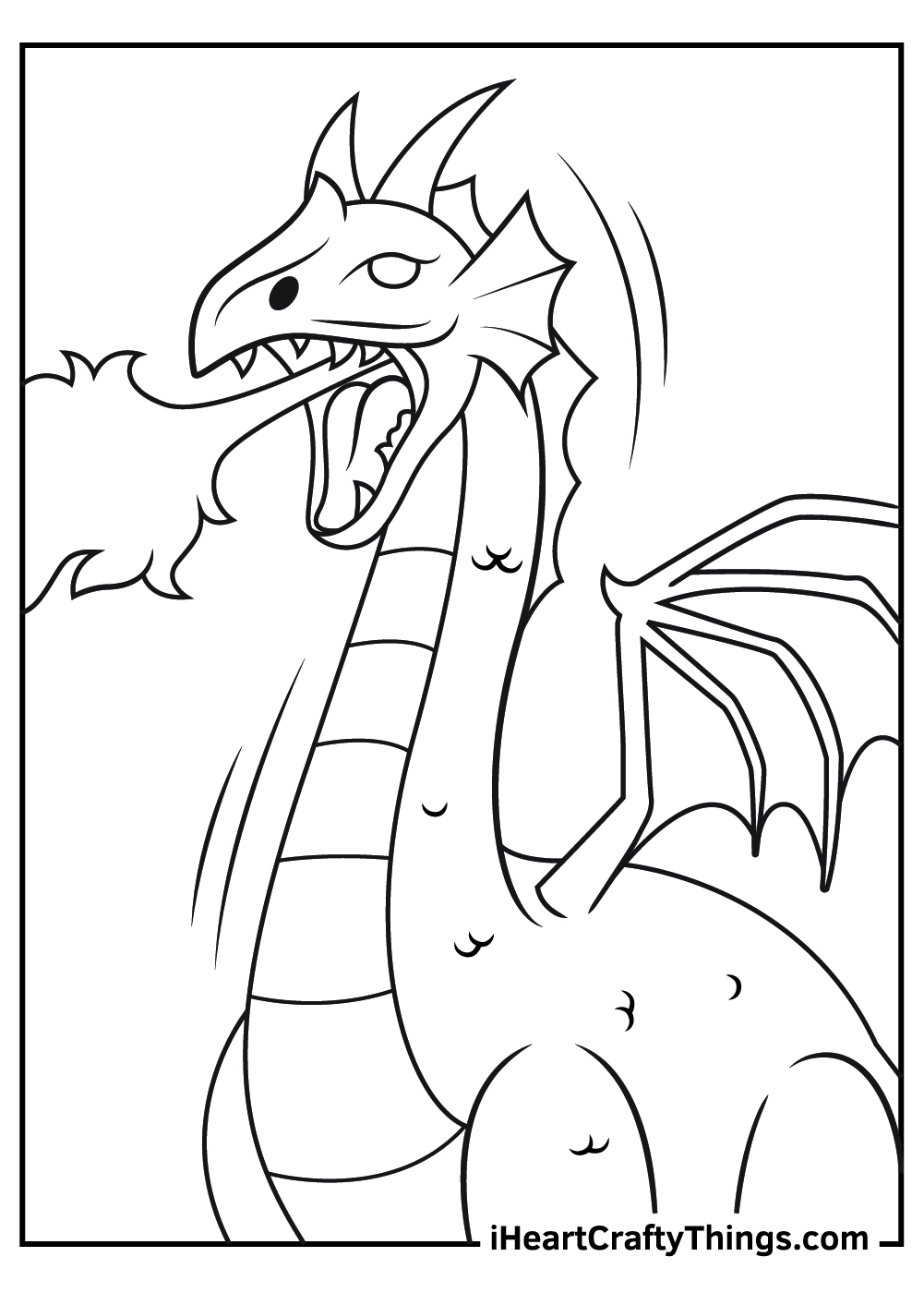 After a more dramatic image, our final dragon coloring page in this collection shows a cuter dragon flying high in the sky. Don't you think it would be fun to ride a dragon high in the air?
What color will you choose for this background?
You could have it be a beautiful blue, clear day or you could use oranges and yellows to make it seem like more of a dawn or dusk set image.
You could always print a few copies of this free dragon printable and try out a few color variations as well!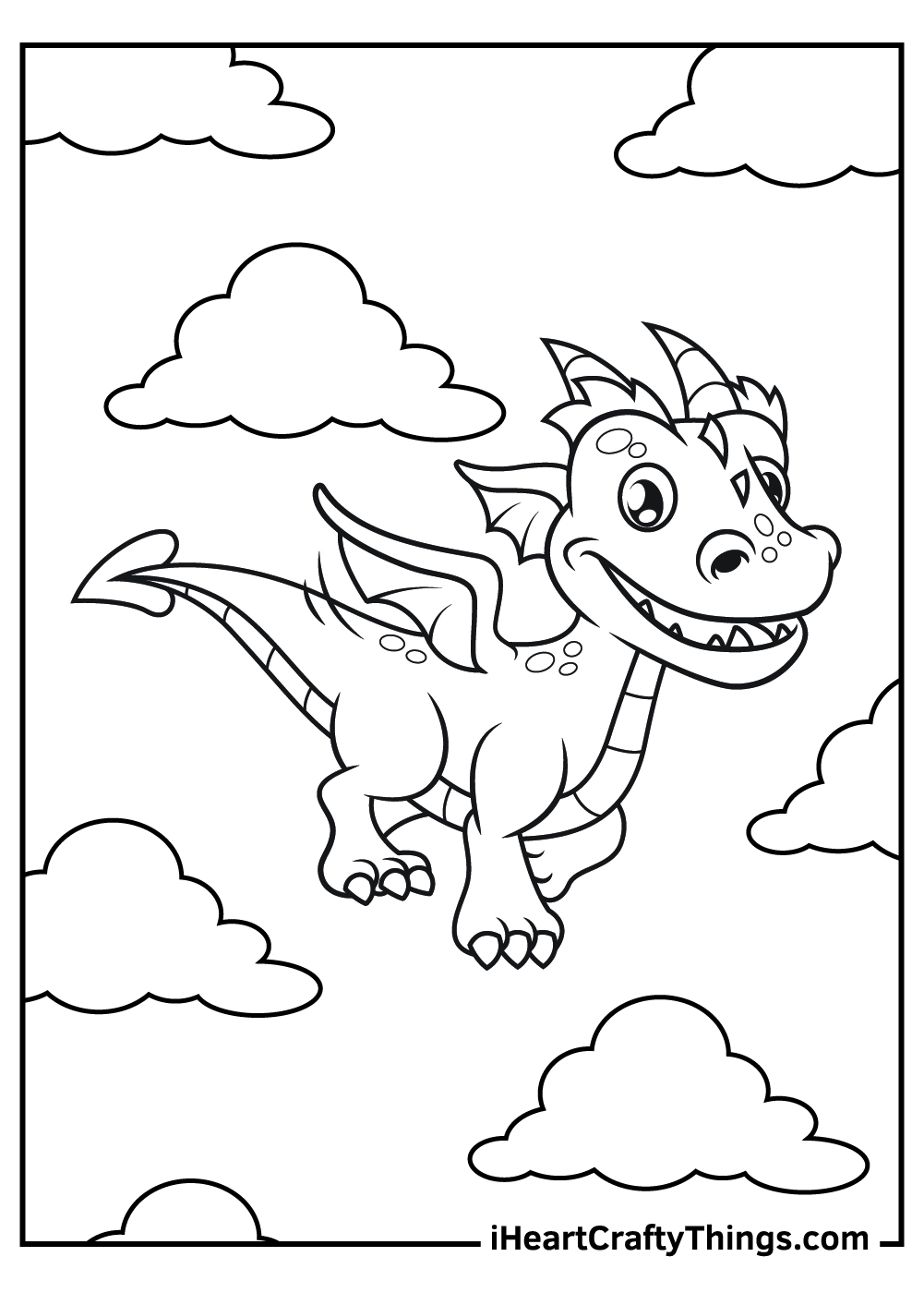 Take These Dragon Coloring Pages Even Further With These Ideas
Before we close off this collection, we wanted to go over a few more ideas for how you can make these pages look even better. There are so many ways to put your own spin on your favorite pages!
These details can be as simple or as complex as you wish, and it's all up to you. Even the simplest details can make your favorite dragon coloring pages even more special.
First, there is plenty of empty space in the background of these images. This opens up lots of possibilities for you to create some fun settings for these pictures.
You could create a cool fantasy setting with castles and giant mountains in the background. Or, maybe you would prefer to show the inside of a dingy dragon cave.
Even if you keep it simpler with that second idea, you could add a pile of gold to create a bit of a story. If you were to add some gold and jewels, then you could also use some art mediums to make it look even cooler.
For example, you could make it look like the gold is sparkling by using some glitter or glitter glue. You could even stick crafts like beads, sequins and stickers that will make some of the jewels look 3D.
As you can see, there are so many simple ways you can make your favorite images look even more awesome! You could also draw other characters such as brave knights or even other dragons to really finish it off.
Now you have some ideas, so you can go with these or try out some unique ones of your own. Whatever you do, we know it will look amazing!
Dragon Coloring Pages – Which will you choose?
We really hope you had hours of fun with these awesome free dragon coloring pages for kids.
Remember that all of our coloring pages and printables are completely free for you to print out, share and enjoy!
It's fun to try out different variations of colors and to experiment with different mediums like paints, pens and different pencils, so why not print out a few copies of your favorite dragon printables and experiment with some different ways of completing them?
Please be sure to like and share our Facebook page, as we constantly have great new free coloring pages and printable goodies for you to enjoy, so it's the best way to never miss out.
Also, please be sure to share your completed dragon coloring pages onto our Facebook page as well. We always love seeing how you all color in these images, and it's great to see such coloring talent on display!
REMEMBER: You can get the COMPLETE set of these coloring pages >> HERE