There are many different monsters and beats that star in horror movies, books, TV shows and stories.
These creepy creations have terrified generations, and there are a few that have remained popular for many years.
Werewolves are one of these classic monsters, and we are here to celebrate these monsters with this collection of free werewolf coloring pages for kids!
In this collection, we have 10 awesome werewolf coloring sheets for you to enjoy.
These images cover a wide array of styles, and you will really be able to express yourself with your favorite colors and art mediums as you work through the collection.
These scary werewolf printables are all free for you to print and enjoy as much as you like! Printing multiple copies is a great way to let yourself experiment with colors.
You can also share the collection with others so that the spooky coloring fun can spread!
You don't need to wait for a full moon to enjoy these werewolf coloring pages!
When you're ready to show off your favorite finished pages, you can share your creations on our Facebook and Pinterest pages for us to see. With all that said, prepare for some coloring fun as we begin!
10 Brand New Werewolf Coloring Pages – Free to Print and Color
We're starting this collection of free werewolf coloring pages with a really scary werewolf! This one is looking quite angry, and the way his hair is drawn makes him look even wilder.
There are some cool details to this drawing, with elements such as eyes and clawed feet really adding to the scariness of this werewolf.
What colors will you use for this first werewolf of the collection? Remember to pick a color for the pants he is wearing as well!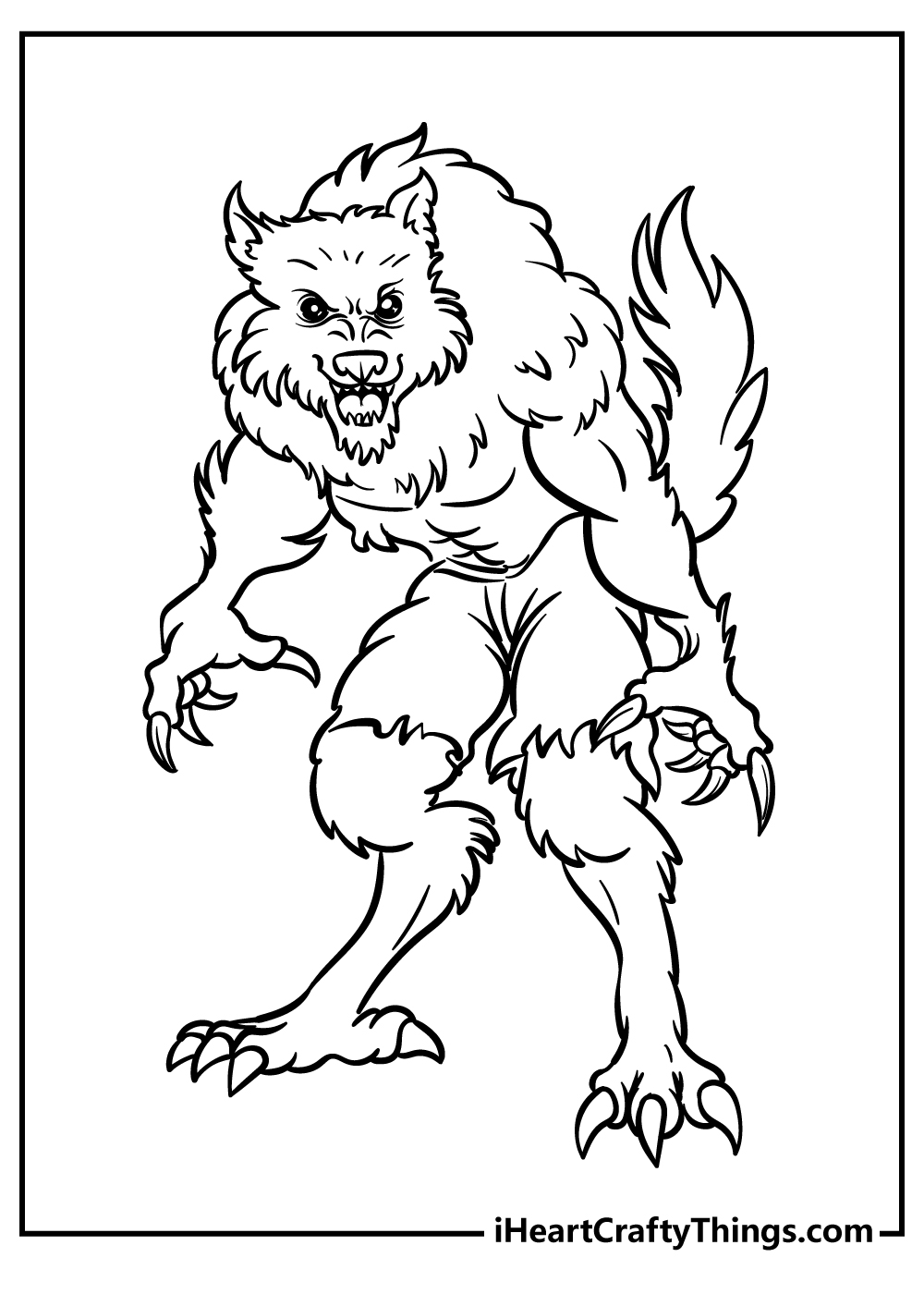 This next werewolf coloring sheet shows a really feral werewolf that looks rather intimidating! There is a really sleek design to this one, and the way its face looks really gives it a ferocious feeling!
We think that some rich, dark colors would really help to highlight the intensity this printable gives off.
Once you have colored the werewolf, what will you do to color the background?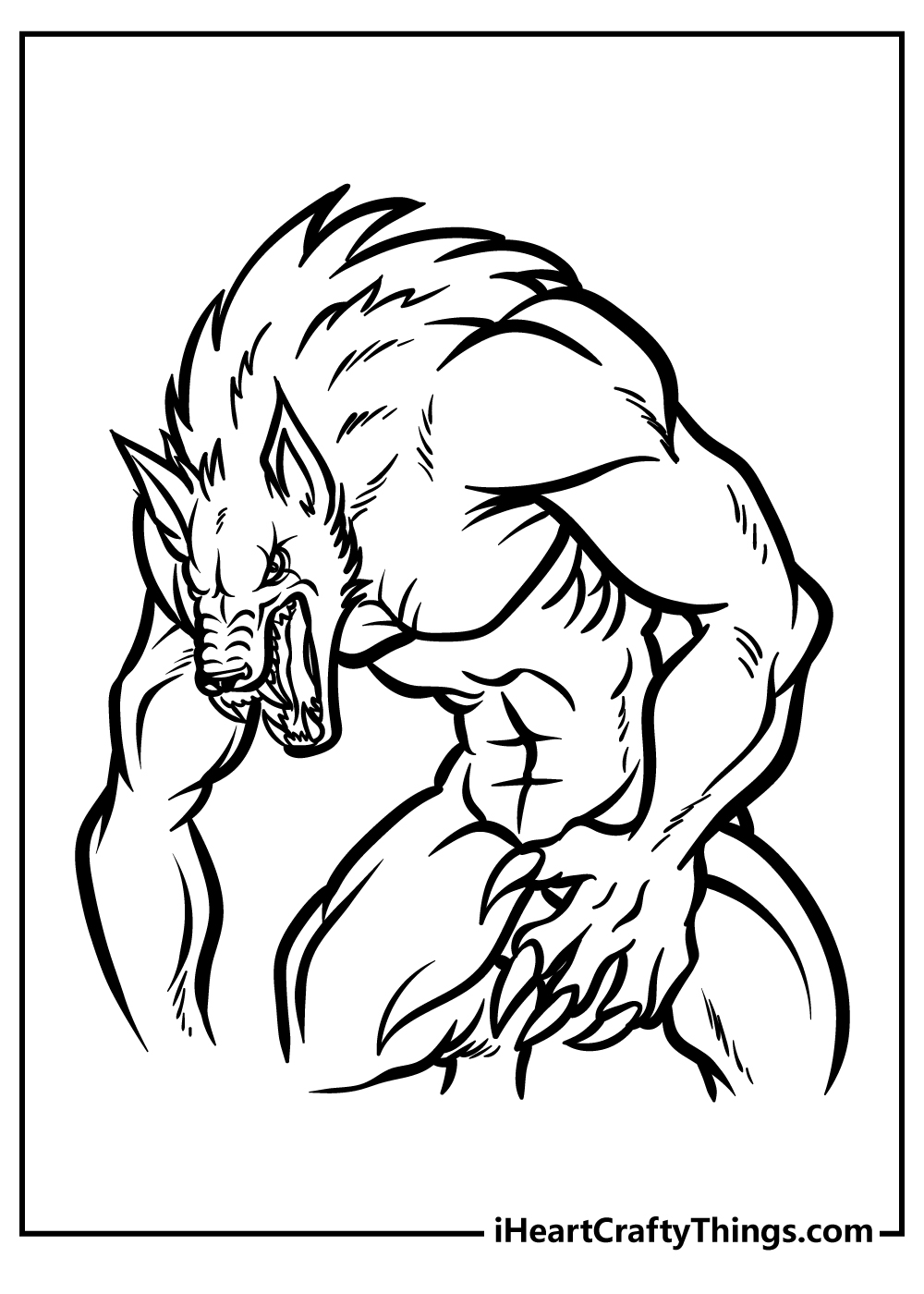 Werewolves are known to transform from human form under the light of the full moon, and this one seems to be in mid-transformation!
This awesome werewolf coloring printable features one  that is still wearing some of the clothing that its human form would have been wearing.
These clothing details give you some extra opportunities to work in some brighter colors and patterns for a bit of contrast against the colors of the fur.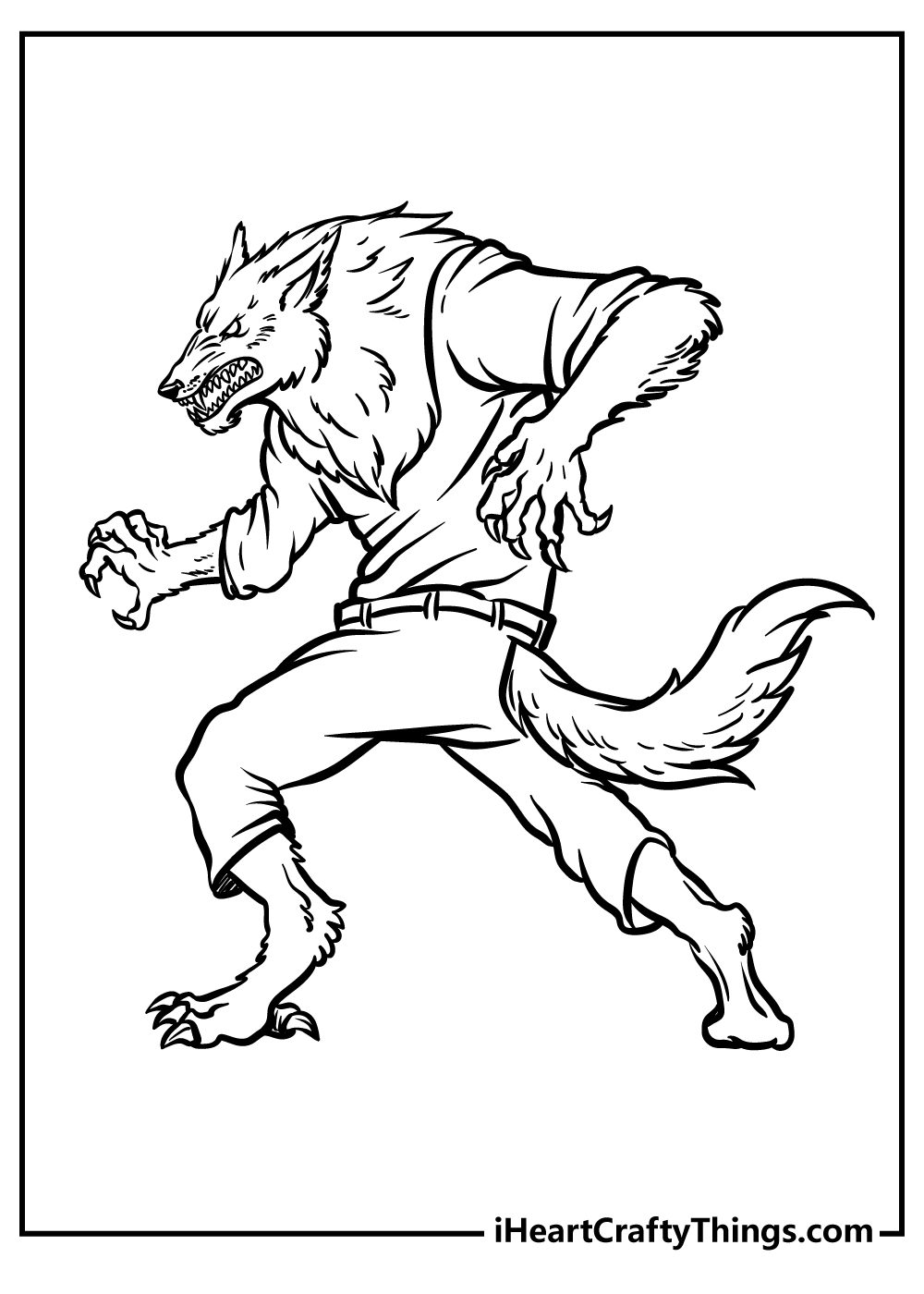 The beast in our fourth werewolf coloring page looks like it means business! This one shows a werewolf that is fully transformed, and it looks like one you wouldn't want to mess with.
When you have chosen the colors you want for this werewolf, you can also draw some extra details into the blank background.
There are tons of cool and creative settings you could place this werewolf into, and the only limit is your imagination! Where do you think this werewolf could be hanging out?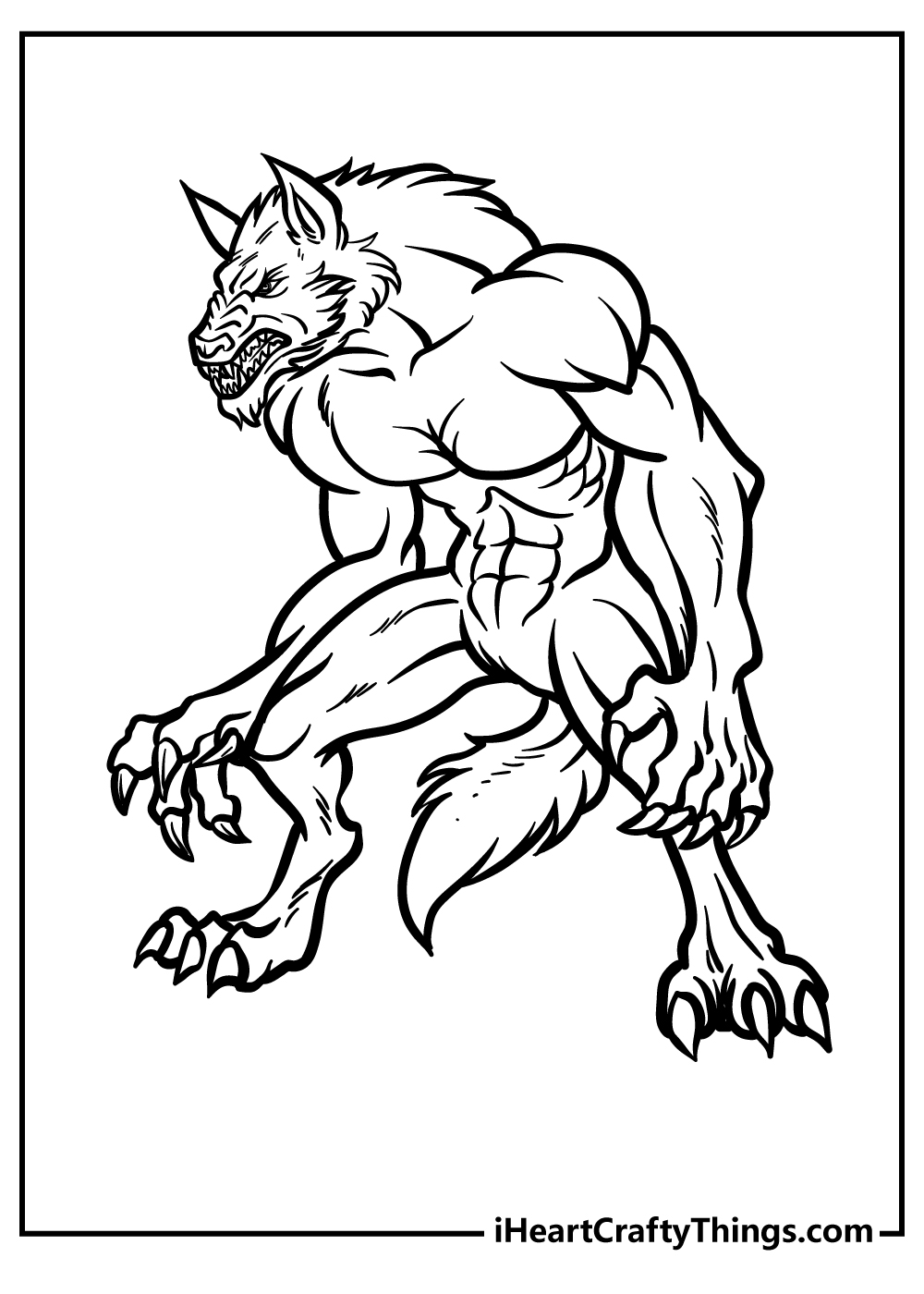 We have a really cool scene for you to color in this next werewolf coloring sheet. This one is howling at the moon, and this is a sound no one would be happy to hear!
Because of the way this werewolf is howling, we think it would be so cool to add the moon behind it.
You could draw the moon using a drawing tool such as a compass if you want it to be perfectly circular.
Drawing it freehand would give it a less perfect look, but that may help to heighten the atmosphere of the scene!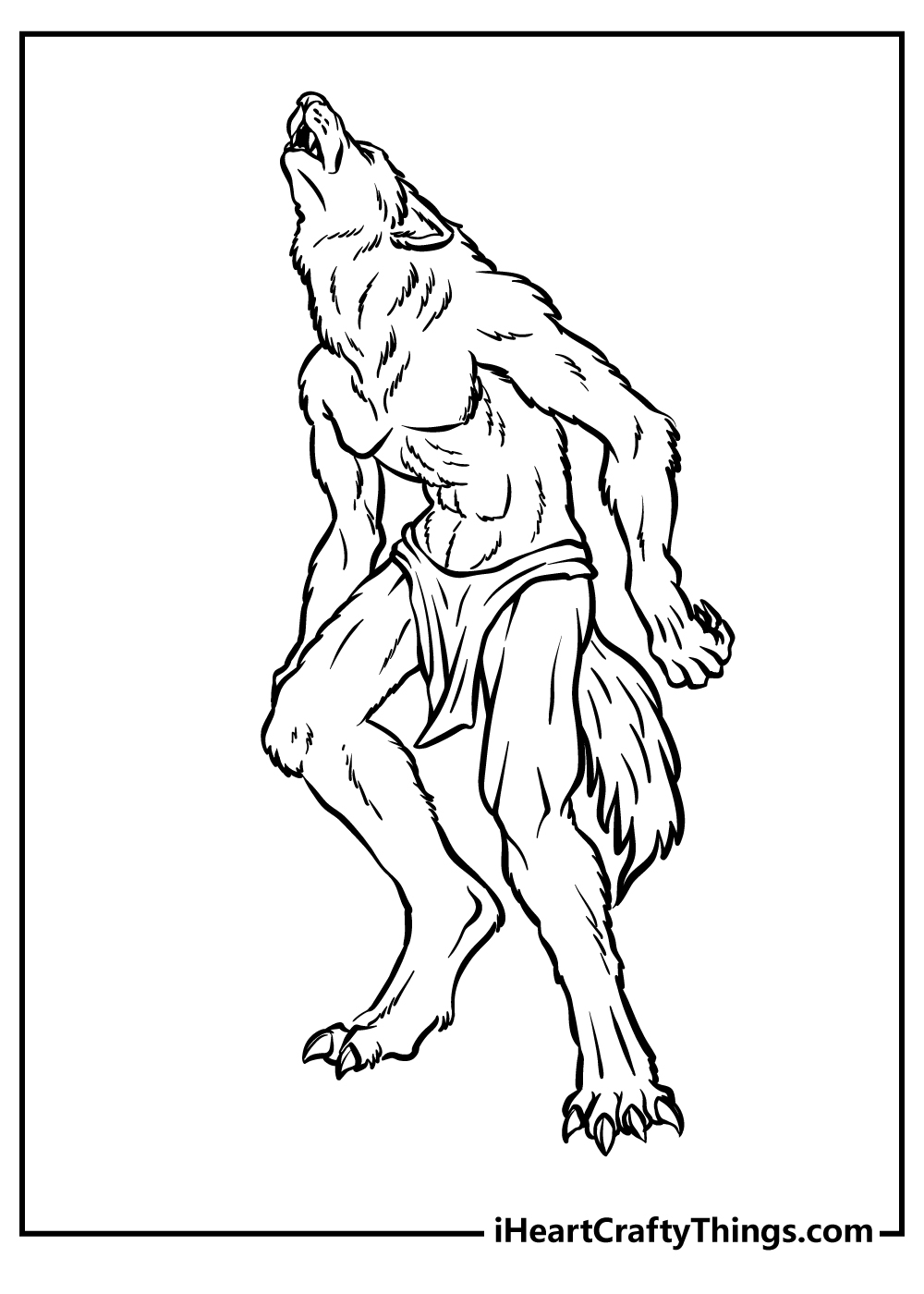 This next werewolf printable features another unique scene. This werewolf looks rather angry, and the way it is posed makes it seem like it is planning its next move.
The outline of the werewolf is very bumpy, and this makes it look much furrier.
If you want to highlight this aspect even further, you could use an art medium with a thin tip such as colored pens or markers.
By using lots of small, thin strokes you can create the illusion of hair texture on this werewolf.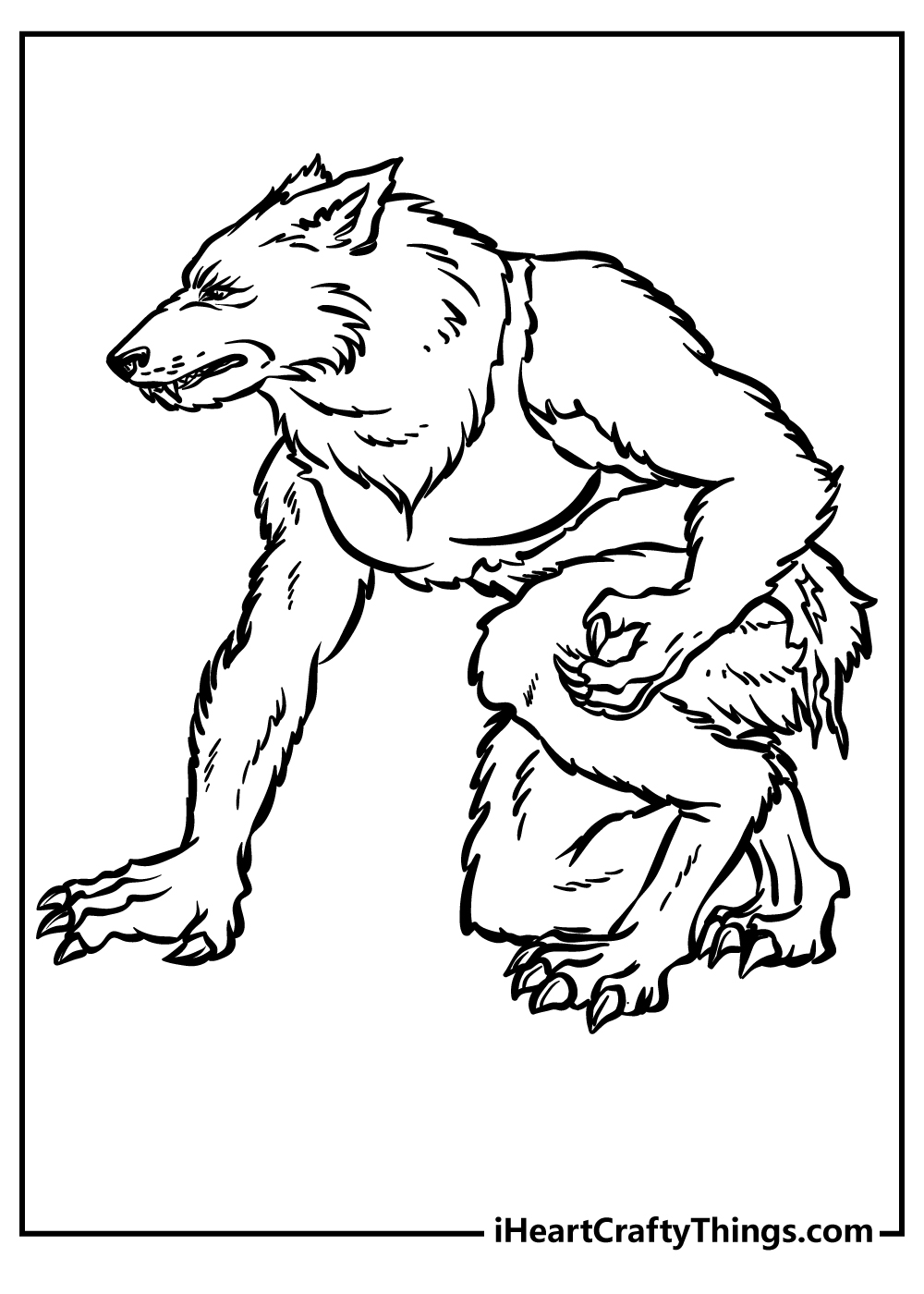 The design of the werewolf in this next werewolf coloring page is simultaneously cool and terrifying! It is tall and gangly, and there is a huge amount of detail included in this design.
This is another picture where we would recommend using some art mediums that allow for greater precision.
More examples would be thin-tipped paintbrushes or colored pencils, but what do you think you will use to finish off this awesome picture?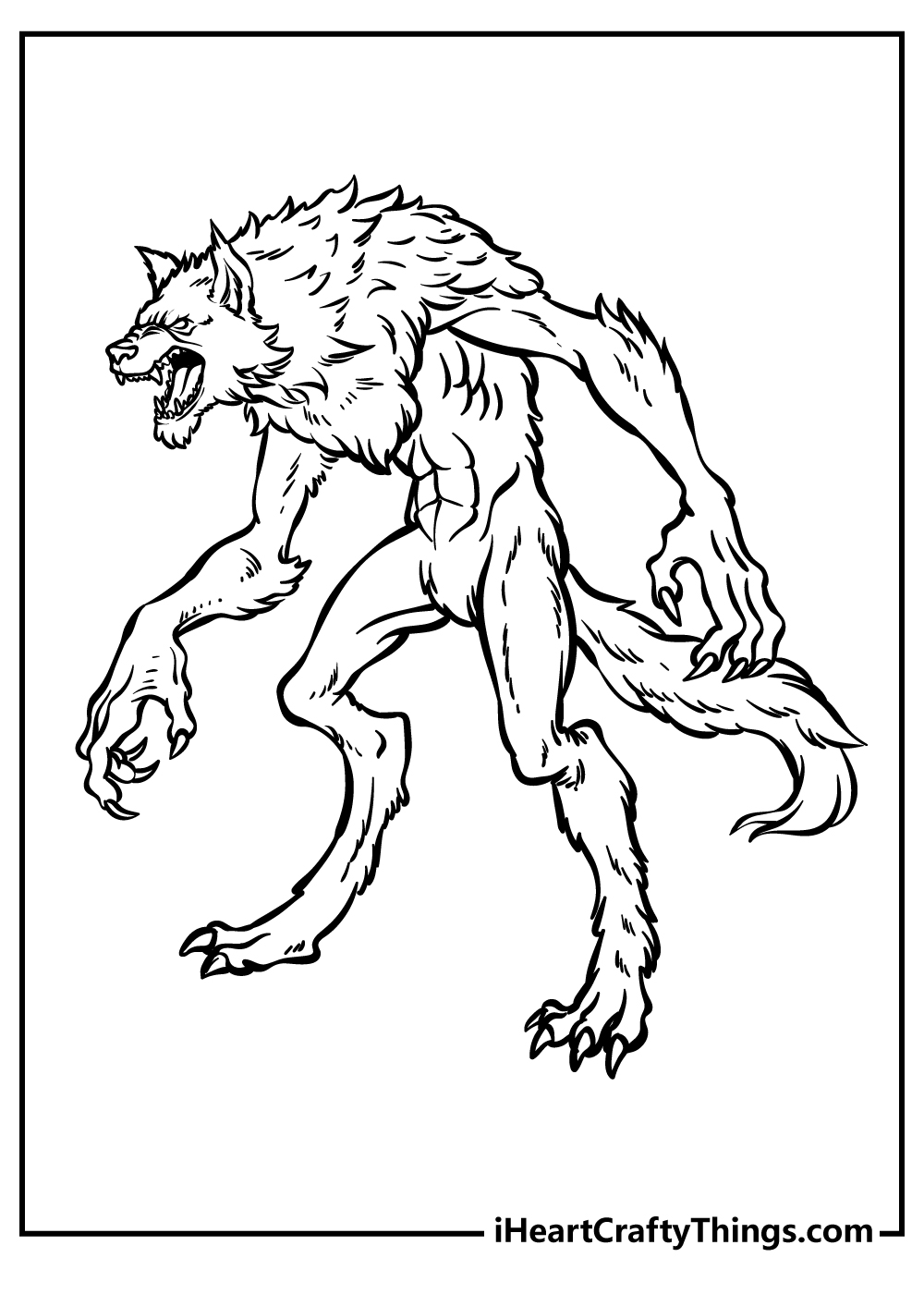 We have another angry beast to color in this next free werewolf coloring sheet!
This guy is looking pretty ticked off, and we think that using some bright, hot colors for the background would help to show that he's feeling angry in this one.
You could use a solid color for the background, or you could draw a background setting to personalize the image even further!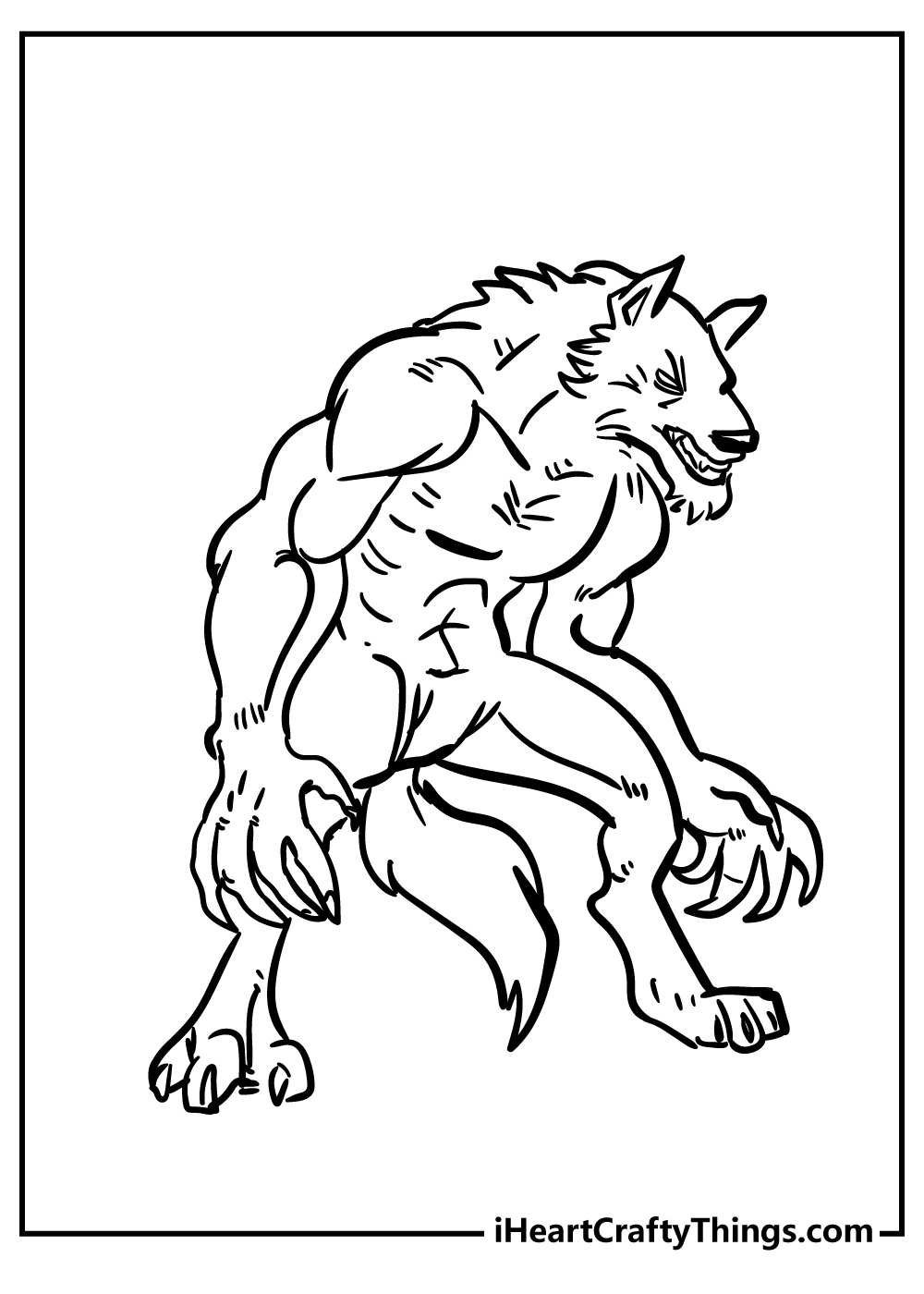 There's something a bit different for you to color in this penultimate werewolf coloring page!
This one features a close-up on the head and face of the werewolf, and this one reminds us a bit of a hunting trophy. That would certainly be an impressive trophy to have on the wall!
You could even draw a mounting board behind the head if you agree that this looks a bit like a trophy. That could make for an intriguing image!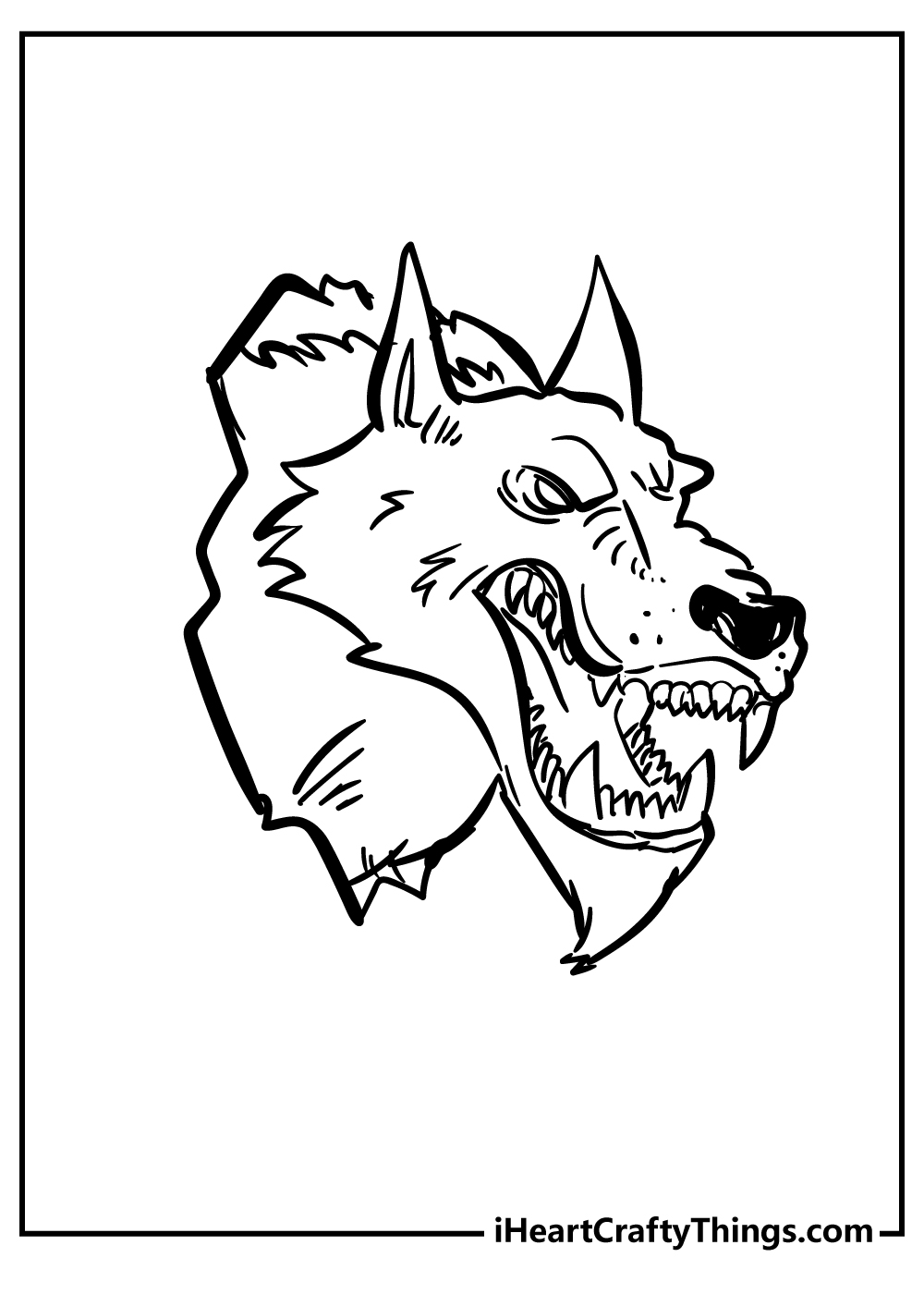 We have one more ferocious werewolf printable for you to color in this collection. This one is looking very angry as well, and it's up to you to see how you can convey that using your colors.
When coloring any of these pages, it could be fun to try out some art tools and mediums that you don't typically use as much.
What fun colors and art mediums will you use to close off this collection?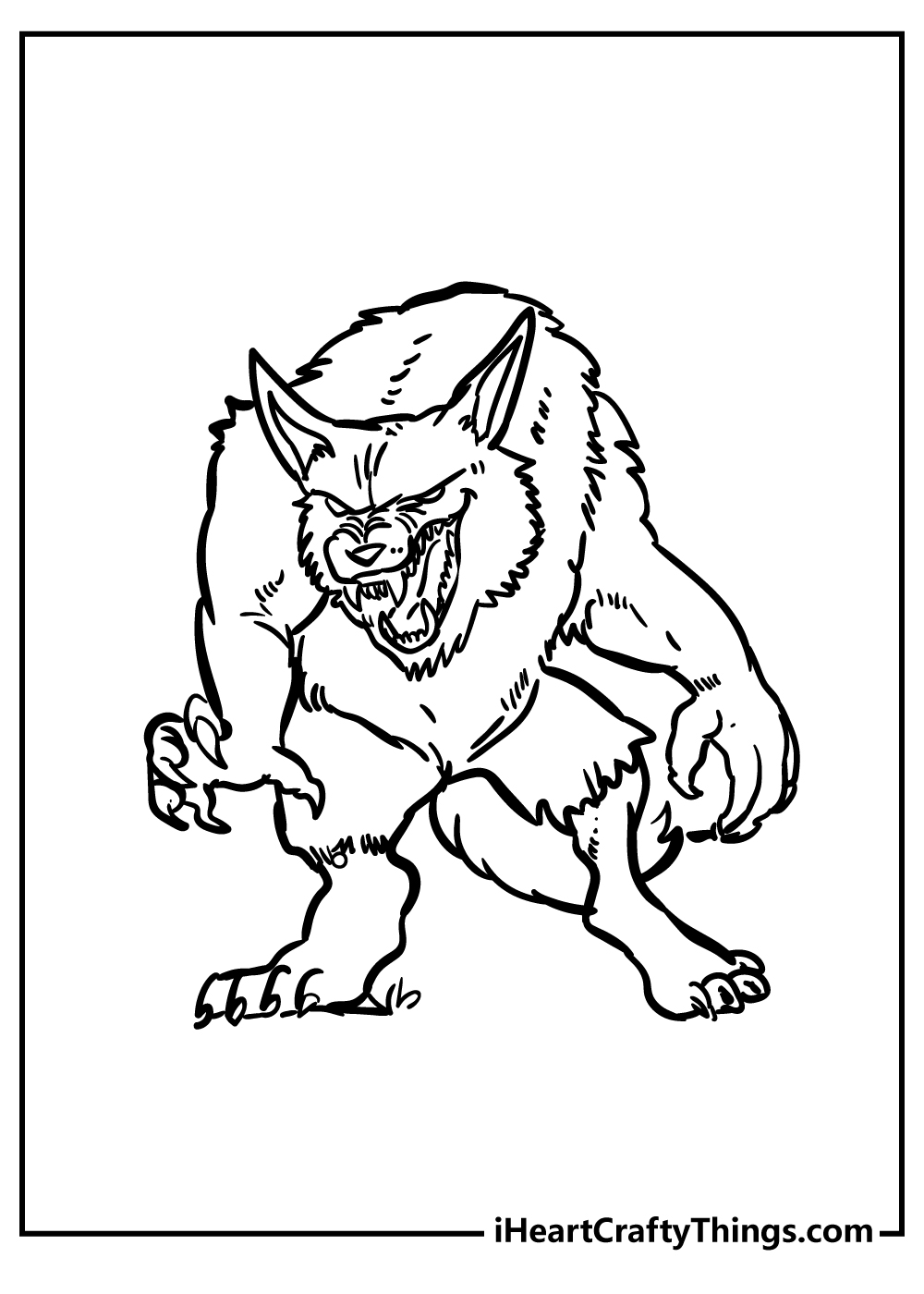 Werewolf Coloring Pages – Which will you choose?
You have reached the end of this super spooky collection of free werewolf coloring pages for kids!
We hope that you had a great time coloring your favorites from this set of awesome pictures. Remember to share these pages with your horror-loving friends and family!
When you are done with these werewolf coloring sheets, you can head to our website to find your next collection of free coloring pages to enjoy.
We have a huge selection to peruse, and we will be uploading more soon for you to have fun with!
Then, once you have colored in these werewolf printables, we hope you will upload the finished product on our Facebook and Pinterest pages for us to enjoy!
We will look forward to seeing the creative ways that you chose to color in these incredible pictures.