There are many incredible beasts and creatures in the various myths and stories from around the world.
There are many to choose from when picking a favorite, and many people love the majestic griffin.
This mythical creature has the head and wings of an eagle with the body of a lion, and it's easy to see why it has captured so many imaginations.
This collection of free griffin coloring pages for kids is here to celebrate this fictional creature!
Fans of the griffin will have a lot to enjoy in this collection! They are portrayed in different styles and poses, so that should really let you experiment with various colors, art tools and mediums.
You will also be able to add your own amazing details and background elements to personalize them even further.
The best part is that every page in this collection is free for you to print, color and enjoy! You can also share the fun with friends and family to see how everyone goes about completing these pages.
Now you're ready to embark on a coloring adventure as you take on these free griffin coloring pages for kids!
When you have chosen your favorite pages to color, we hope you will share your artworks on our Facebook and Pinterest pages for us to see.
10 Brand New Griffin Coloring Pages – Free to Print and Color
The first griffin that we have for you is a rather impressive-looking one! There is a profile shot of a griffin sitting on the ground, and it gives off a really dignified feeling in this picture.
When coloring any of these images, you have a lot of freedom with the colors you choose.
You could color each element of the creature to match the animal its based on, or you could go for some entirely unique color schemes.
It's a fantasy creature, so it's up to you to decide how it looks! What will you choose for this first one?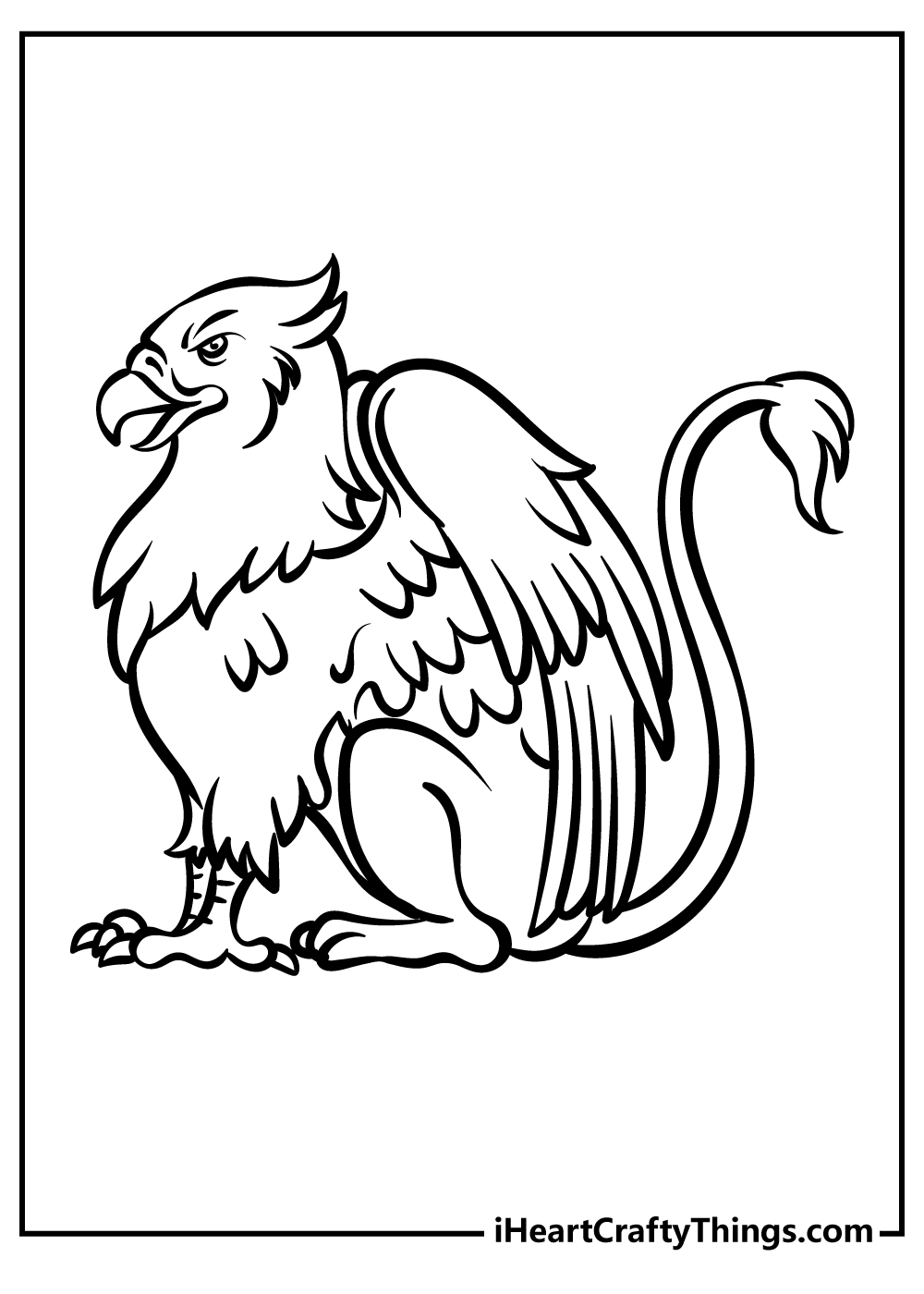 There's a really serious look on the face of the griffin featured on this next free griffin coloring page for kids! It looks really noble in this image, and we would reflect that if we were coloring this one.
Our approach would be to use some darker, intense colors to reflect the intensity of this image.
This is one way to go about it, but how else can you think to color it?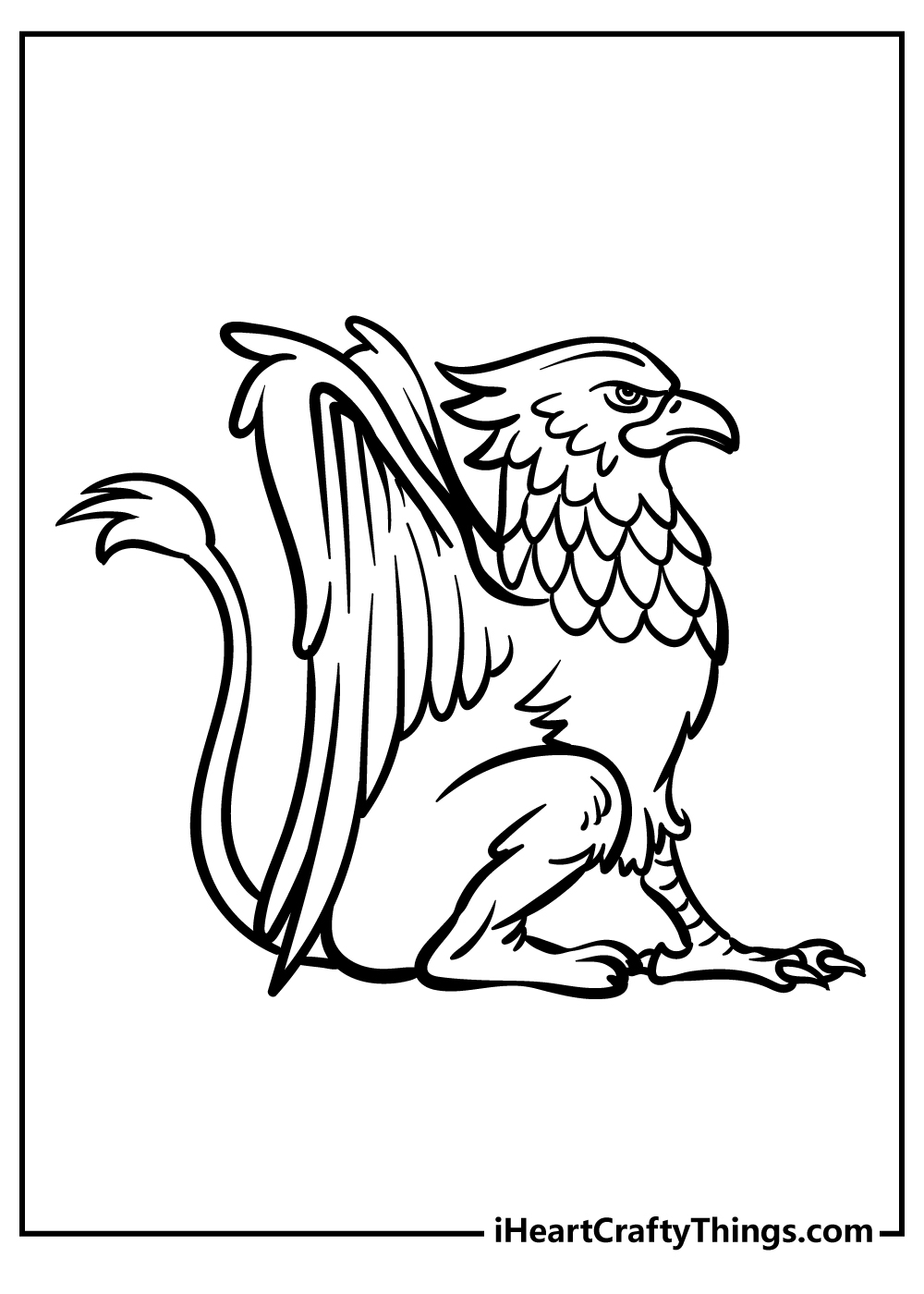 We have a really dramatic pose in this next page. The previous two griffins were sitting down in relaxed poses, but this one is about to take flight.
With how it is posed, you could even say that it looks like it could be in battle with something or someone.
Who do you think could be battling this mighty griffin, and would they be winning or losing?
You could show us what you think by drawing someone or something into this composition!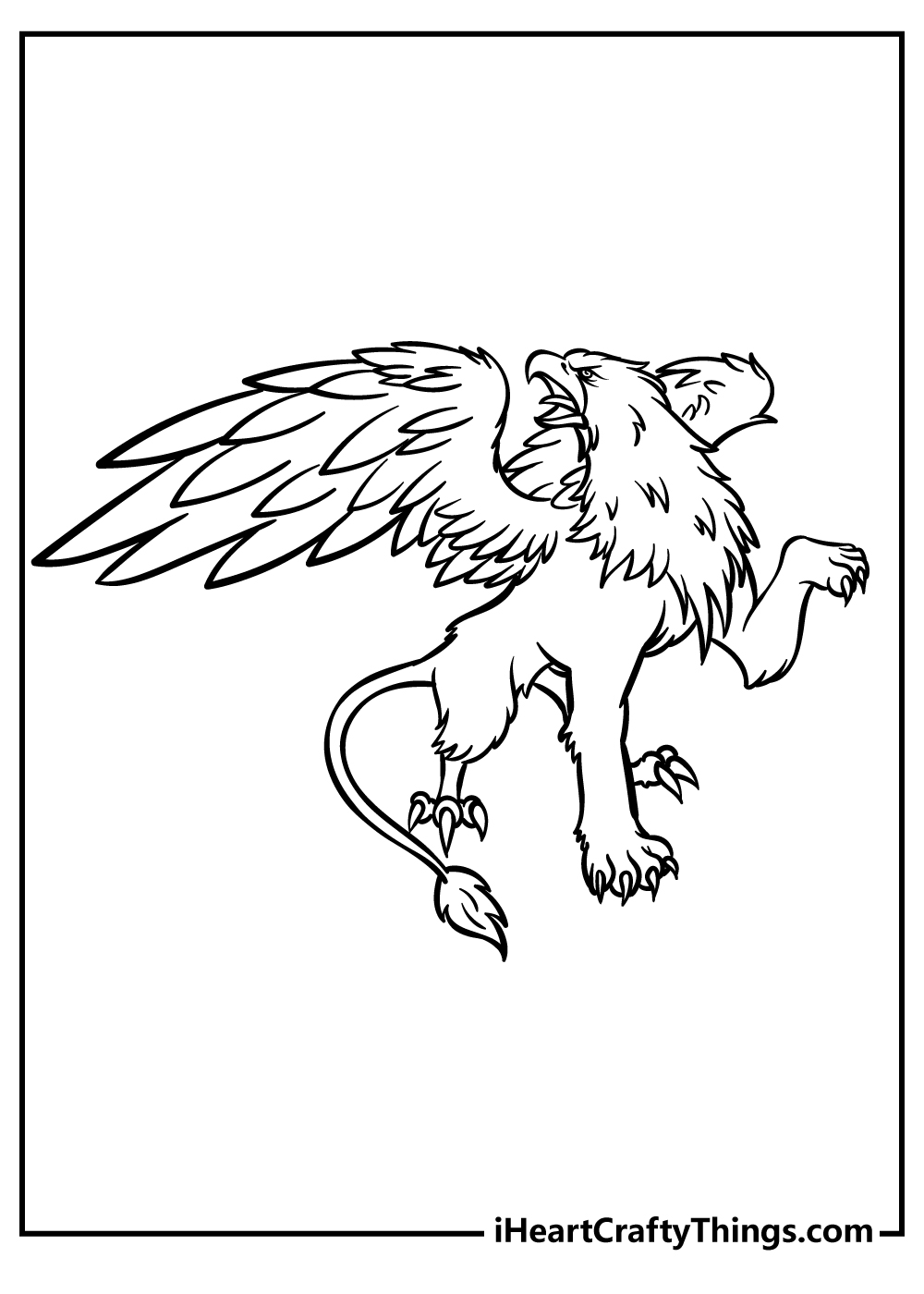 There's a really great design to this next griffin coloring sheet. The eagle influence of the face and front legs is especially apparent with this one.
It is a bit less detailed than some of the other griffins from the collection, and that means that you could add some extra details of your own.
You could draw or maybe even paint some more feathers onto the griffin for one idea!
What else can you think of to add to this scene?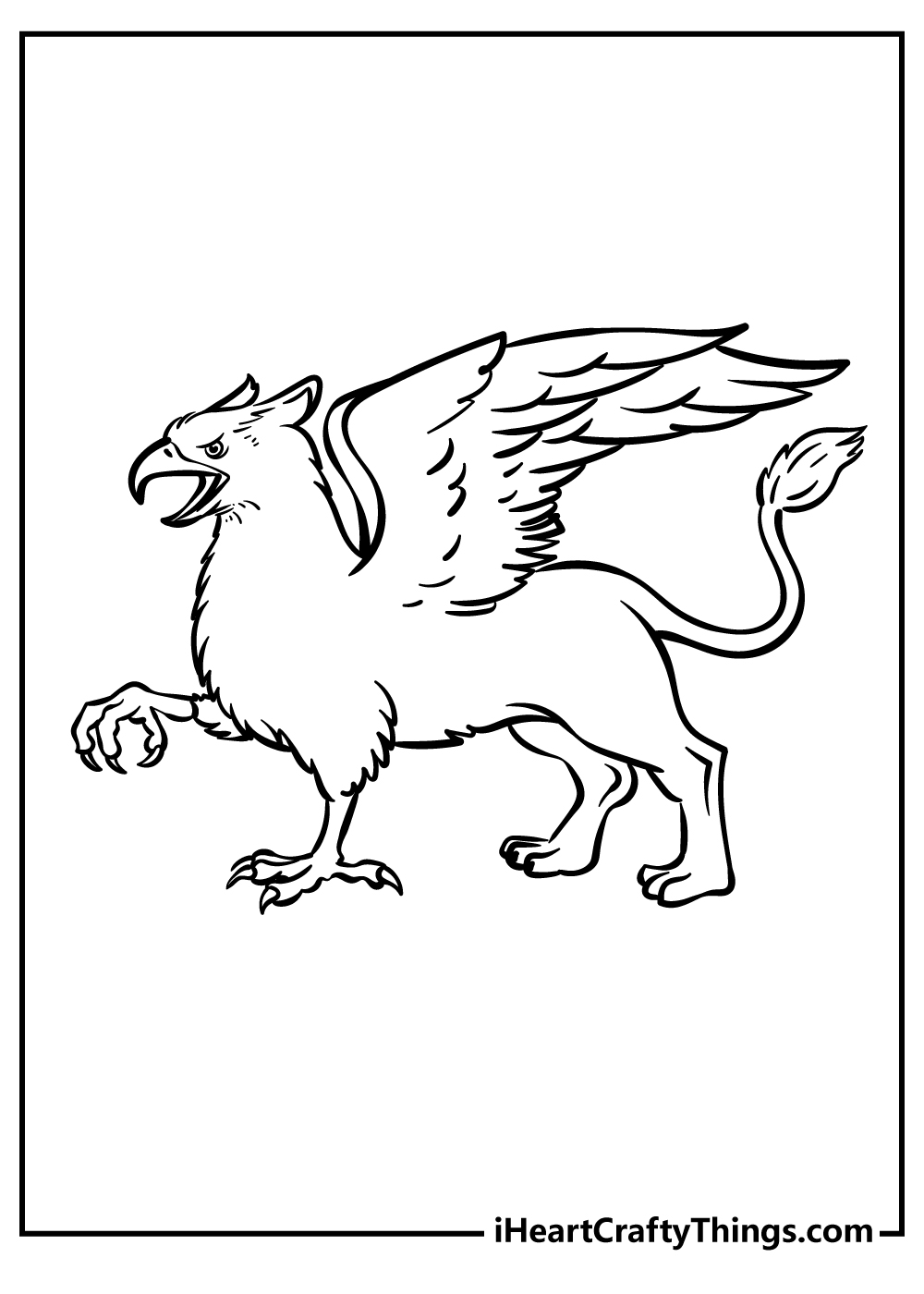 This fifth griffin looks more like a wild animal than any of the ones before it. It looks feral and quite angry, and it looks like one you may find in the wilderness of a fantasy setting.
Because of this, we think this one would be well suited to more muted, realistic colors.
We would also use mediums such as colored pencils or watercolor paints, but what colors and mediums came to mind for you?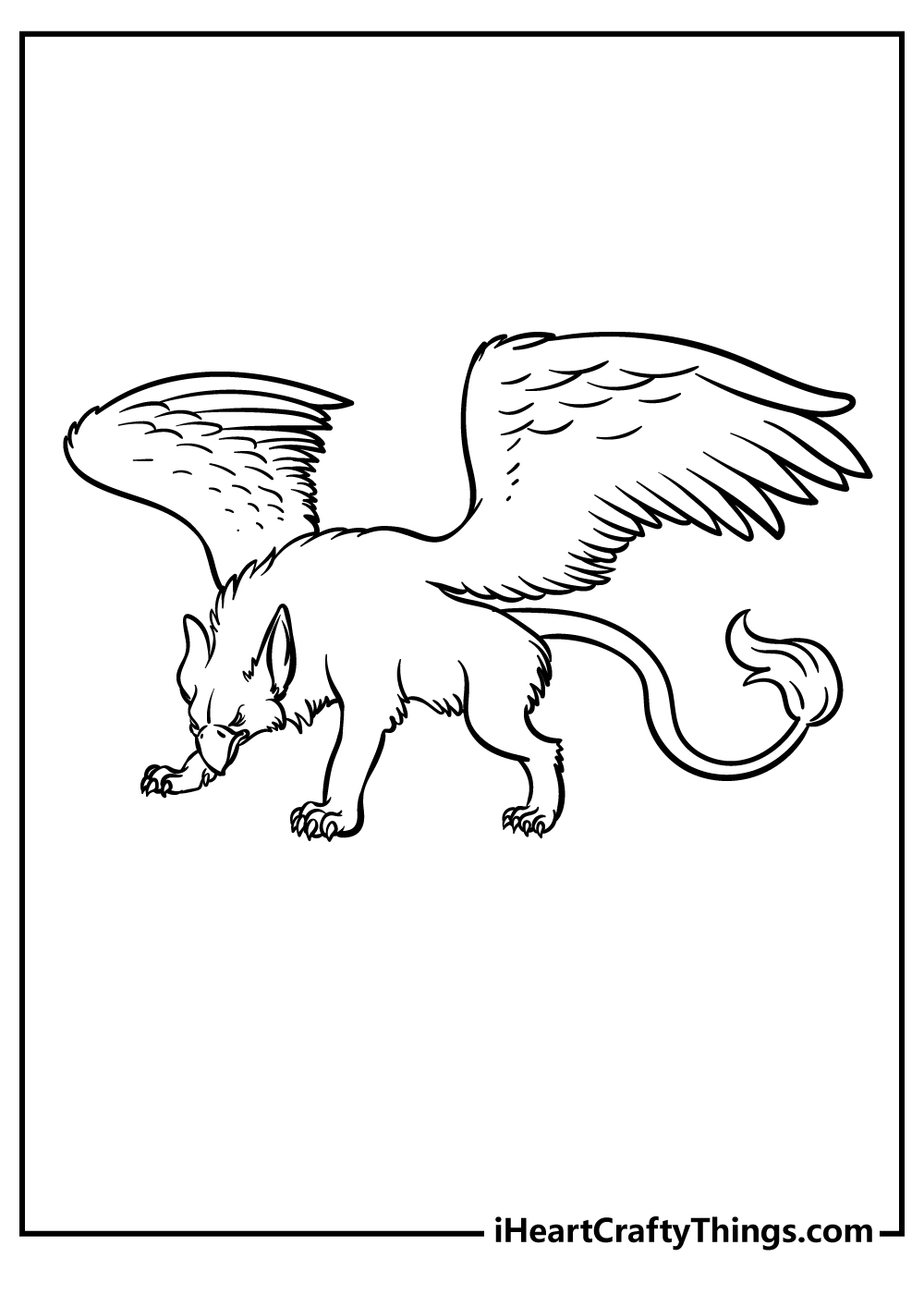 From a rather ferocious griffin, we are shifting gears to an absolutely adorable one! This little cutie looks like it's a baby, and it looks really cute.
We think that this one would look great with milder colors to show off that this one is a little baby.
Some colors we might use would include light pinks and blues, but that's just one suggestion! As always, it's up to you to ultimately decide.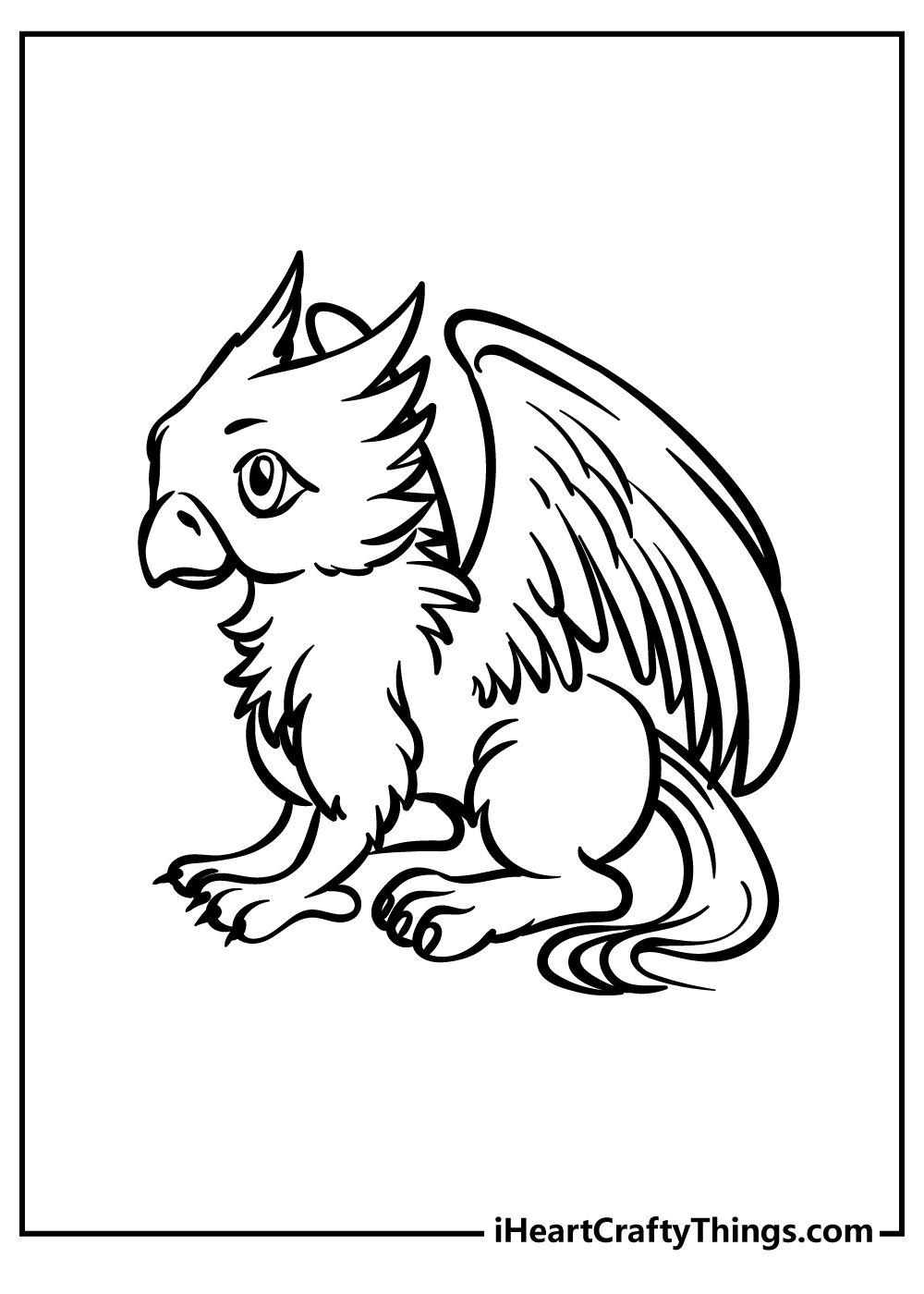 Our seventh griffin coloring printable features another young griffin, but it looks a bit older than the previous one. It's still a really cute portrayal, however!
This page looks like it could lead on from the previous one in sequence, so it would make a great companion piece to that one.
Will you use similar colors to that previous one or will you go for a unique color scheme?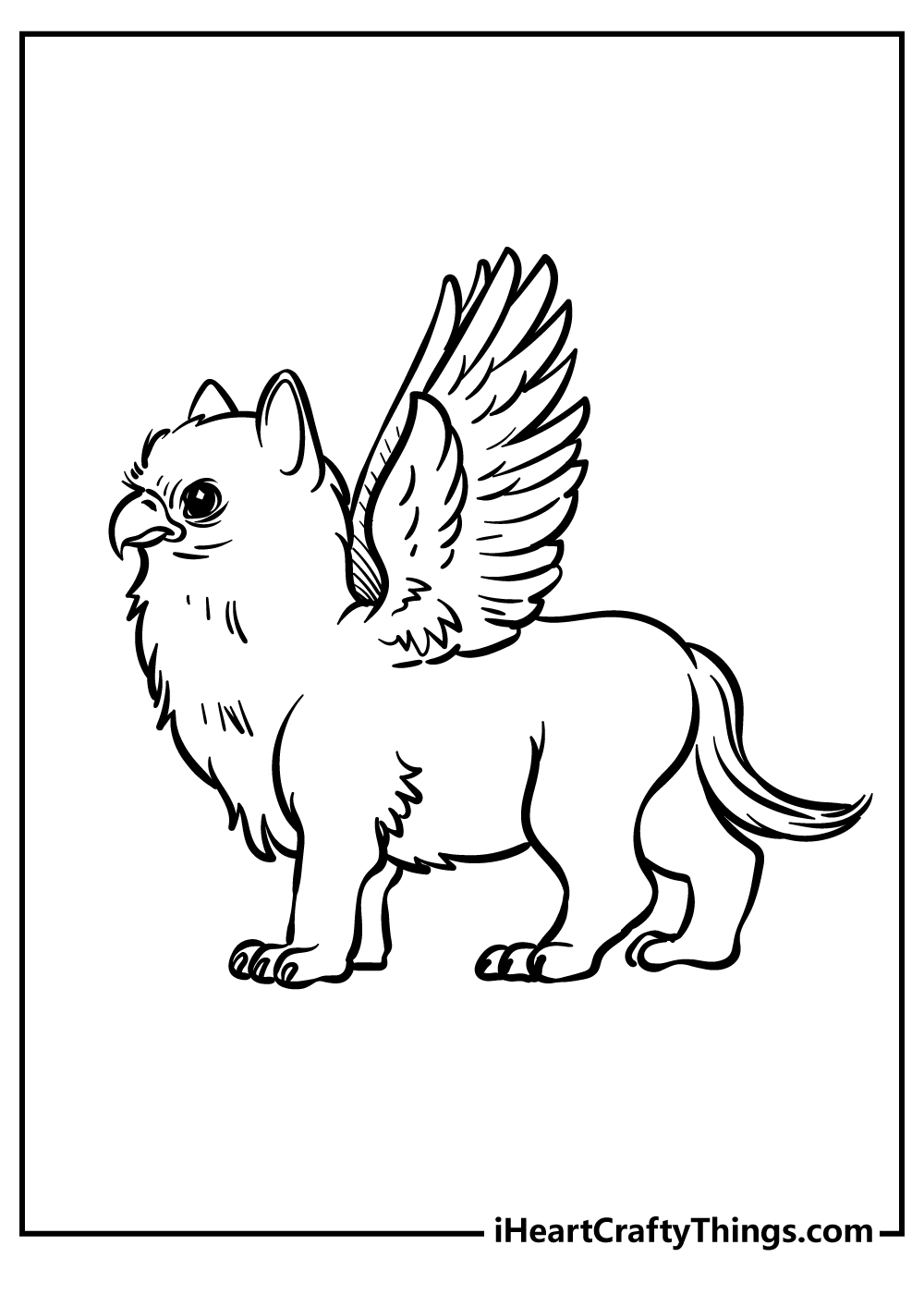 Here's another adorable little griffin for you! This one also looks a bit older than that baby one from a few pages back, but it has a sweet, youthful look to it.
It's looking up lovingly, and it makes you wonder who it may be looking at! One fun idea would be to draw the head of an older griffin above it looking down.
You could even use some of the other pictures in the collection for inspiration if you'd like to do that.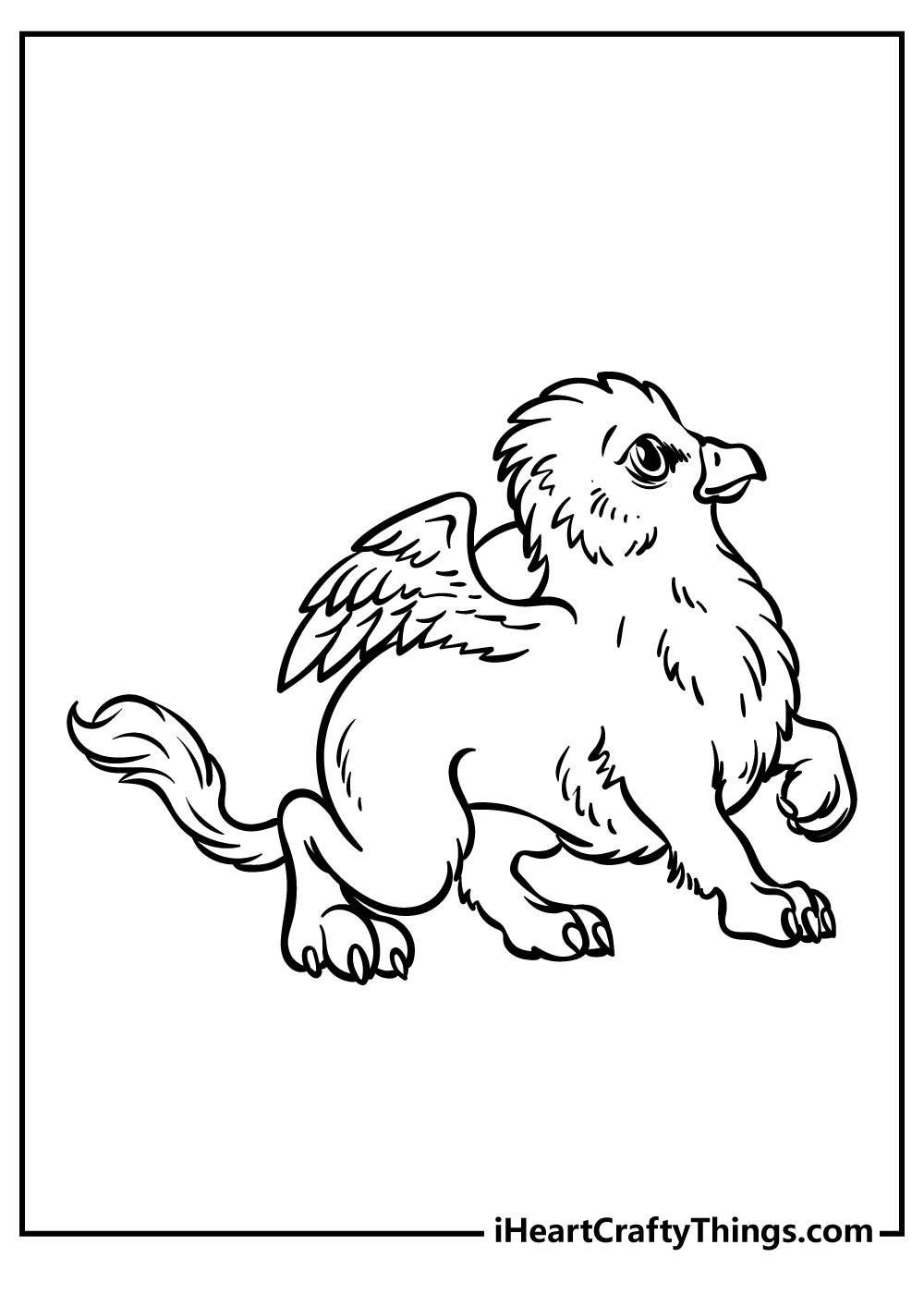 The cuteness continues with another baby in this next griffin coloring page. This is one of the cutest we've had so far, and that's saying something!
There's such a sweet facial expression on this one, and it's hard not to love this page. Now all that remains to decide is how you will portray this sweet griffin with your colors!
How will you finish it off before tackling the final page in the collection?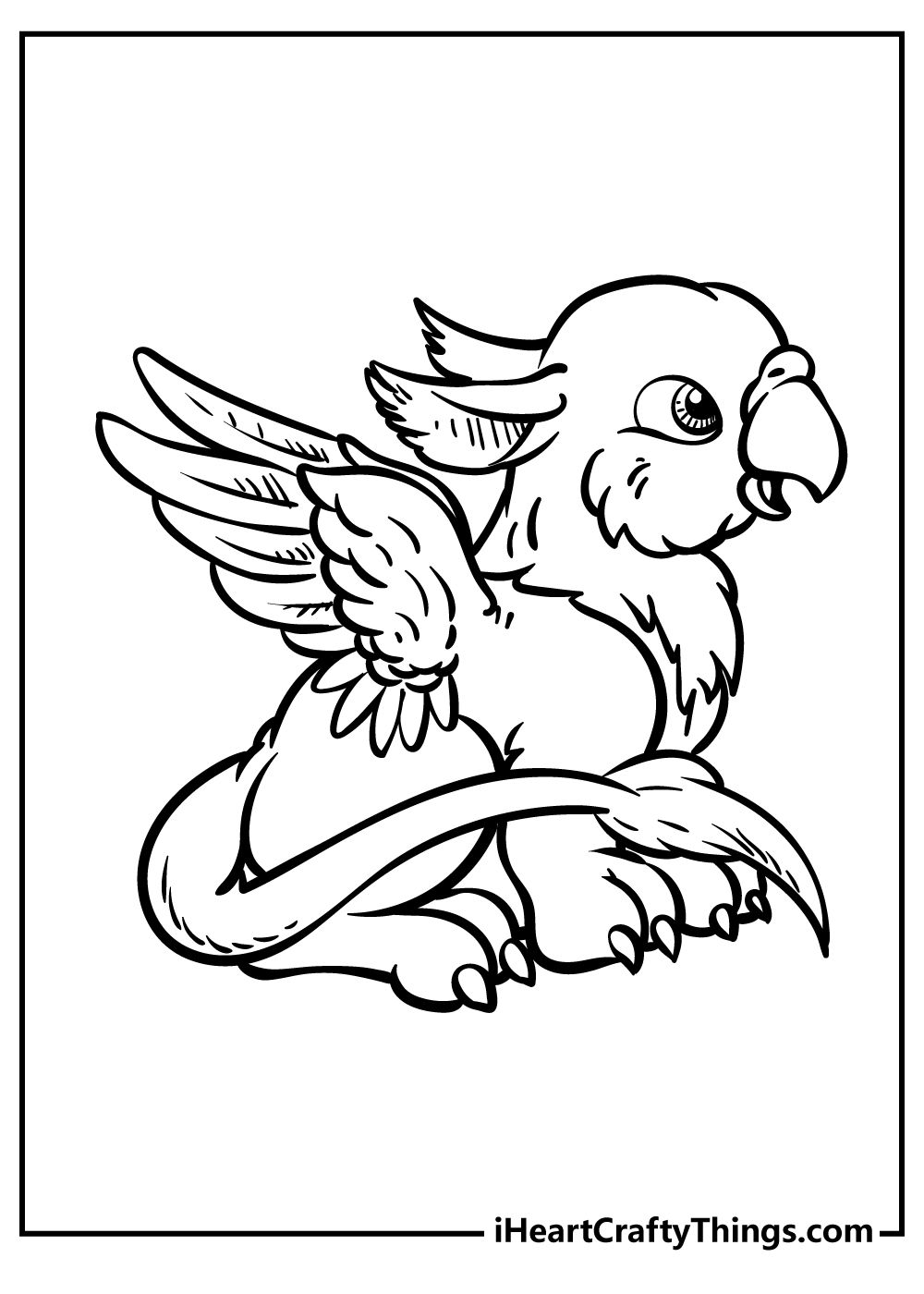 This final griffin that we have for you is another full grown one. While it's a big one, it still has a calm and peaceful facial expression.
This is another one that gives off a feeling of nobility, and we think you could represent this with your color choices.
For this wonderful final griffin, why not use some colors or mediums you haven't tried yet for any of the other pages?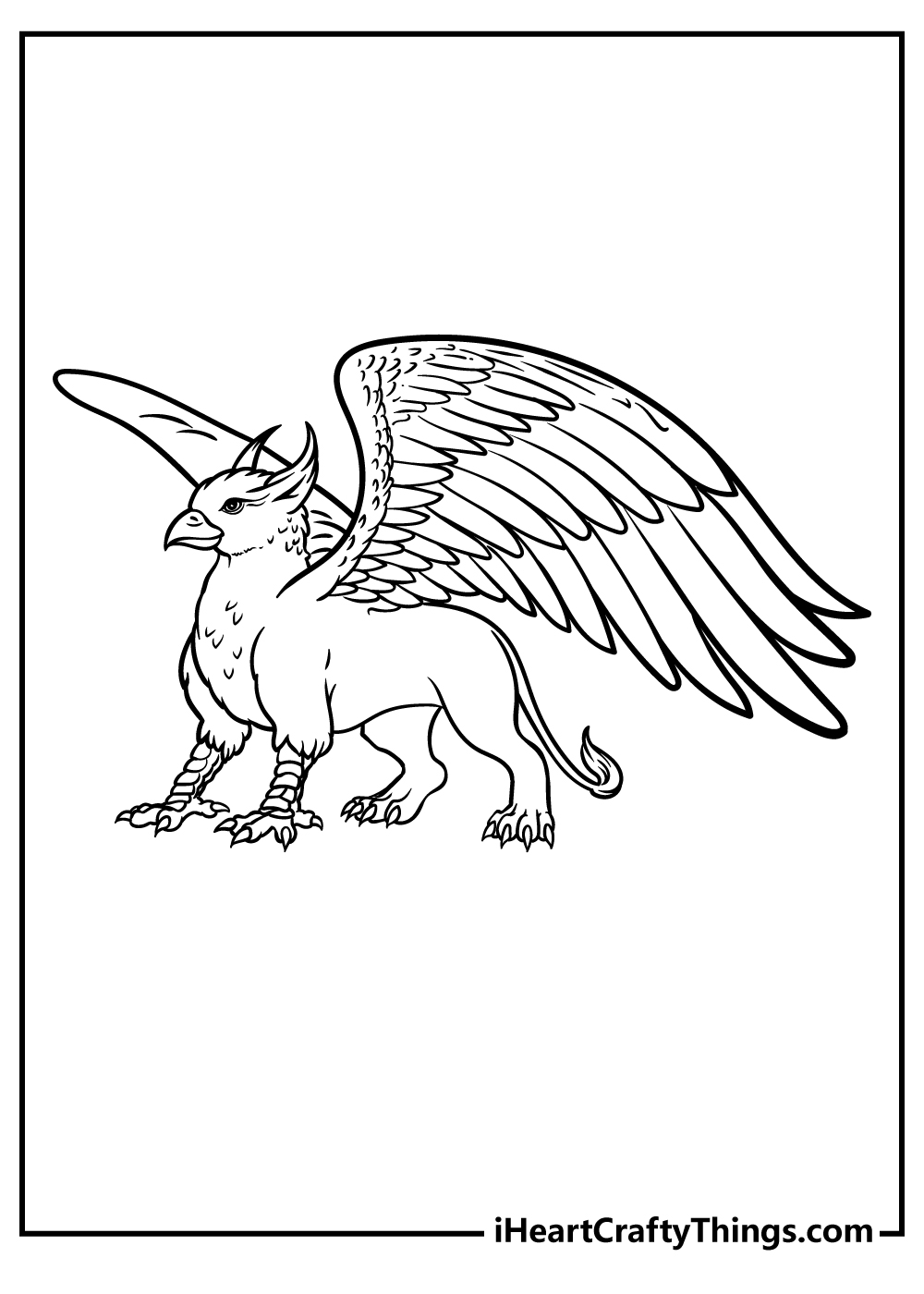 Griffin Coloring Pages – Which will you choose?
We hope that you enjoyed this fantasy journey as you took on this collection of free griffin coloring pages for kids!
In this collection, we aimed to make sure that you would have a lot of amazing variety when it came to poses and styles.
You can really show off how creative you can be with the colors, mediums and extra details that you add.
Then, you'll be able to find your next coloring page adventure to take on when you visit our website. We have tons of free collections to enjoy, and more are coming out soon!
We would be thrilled to see some of your finished griffin coloring pages, so please share some of your finished favorites on our Facebook and Pinterest pages.
We can't wait to see how amazing they look!