Gnomes have been around for centuries. They still are, and we love seeing them popping out here and there. Now we know better why!
Gardeners used these little guys at night when others would be sleeping as they believed that gnomes could keep away bad spirits or bothersome creatures like witches who want nothing more than trouble.
The old world knew a lot about these bearded guys, and we're lucky we can still contemplate their existence through these stunning gnomes coloring sheets.
10 Brand New Gnomes Coloring Pages – Free to Print and Color
Check this tiny guy who's so pleased by the magical powers he proudly possesses. Gnomes are mythological creatures and diminutive spirits in Renaissance magic and alchemy.
For gardeners, gnomes bear a symbol of good luck and are believed to help you grow your yield with their magical powers!
Give his powers a name and color with these magical gnome coloring sheets.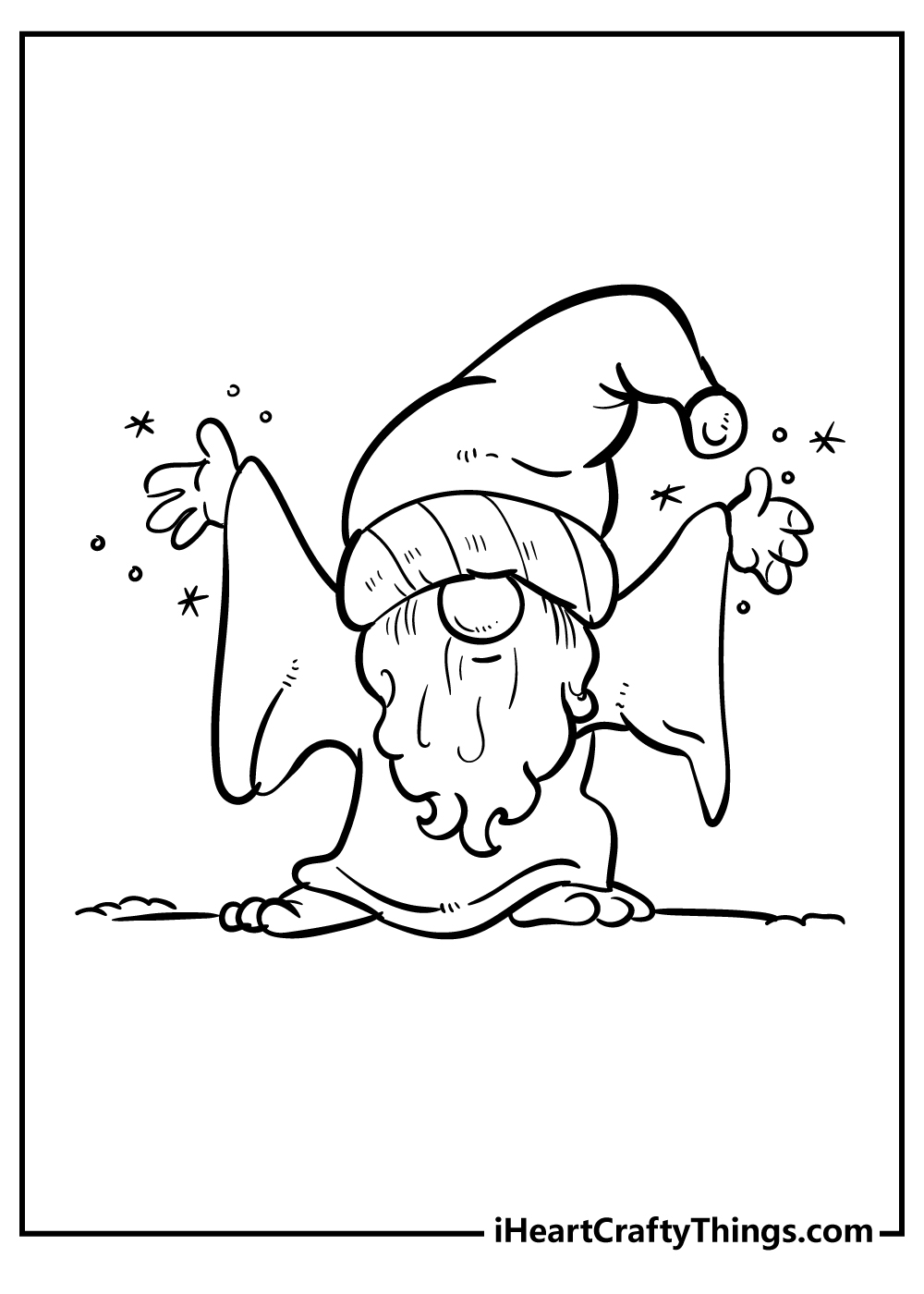 Gnomes are playful by nature. They're also incredibly tiny and love wearing casual bright-colored clothes.
This one, loves balloons which means he embodies the innocent and childish spirit who loves nothing but play.
Mythological bits about gnomes and children point out that these little guys love the sound of children laughing, playing, and having fun.
So, it pays to download these lovely gnomes coloring pages and listen to your little one's delight!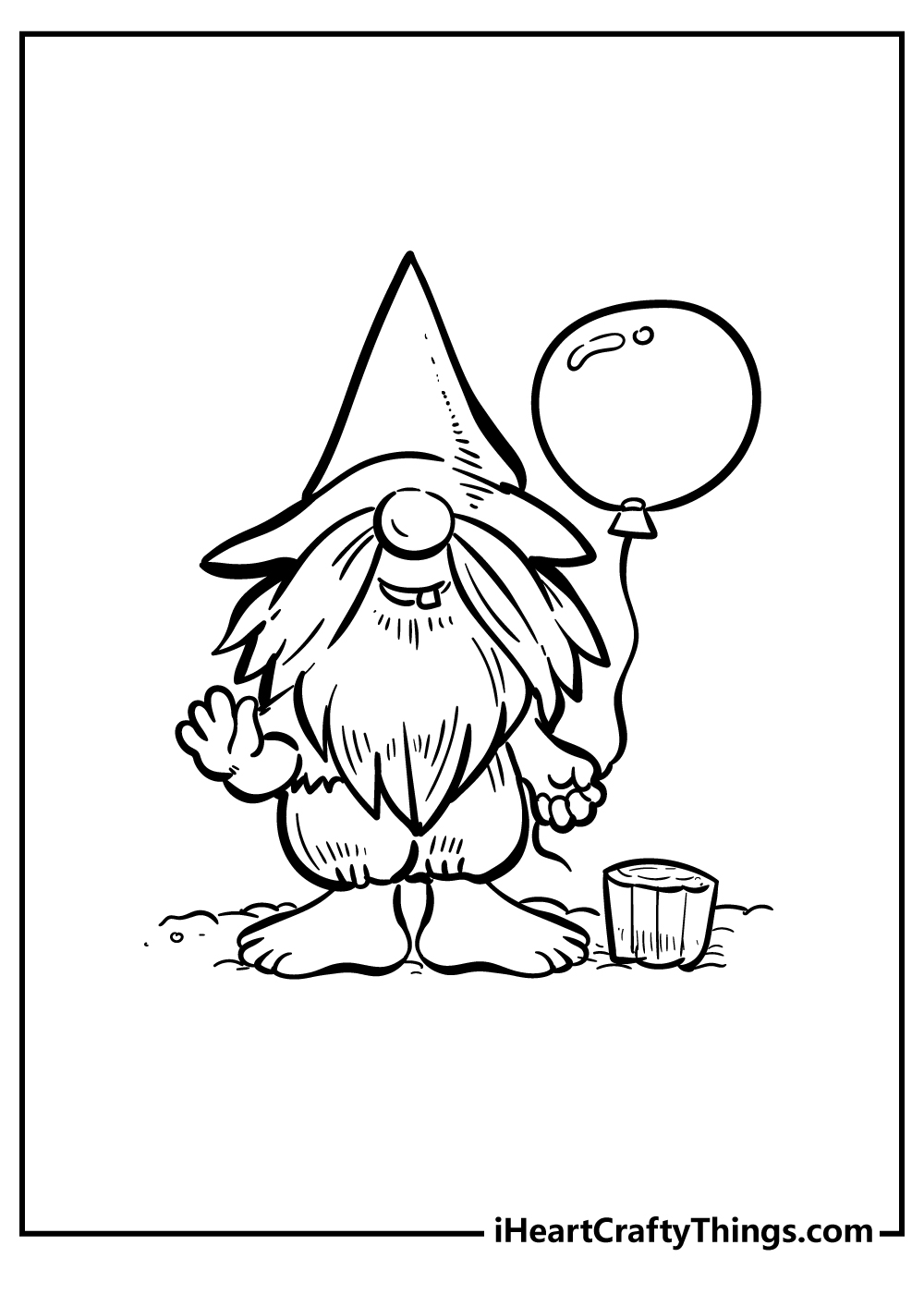 Like many creatures based on oral tradition, every culture that incorporates gnomes sees these tiny guys somewhat differently.
Our gnome here seems to have something to do with winter, judging after his appearance. He wears warm clothes, cozy boots, and a hat, and he's ready to help Santa pack his gifts!
In the more Nordic parts of the world, gnomes have been said to be the helpers of Santa Claus.
Scandinavian people, for instance, depict these bearded guys in the role that elves play in other parts of the Western world. Help gnomes help Santa with these magical coloring sheets.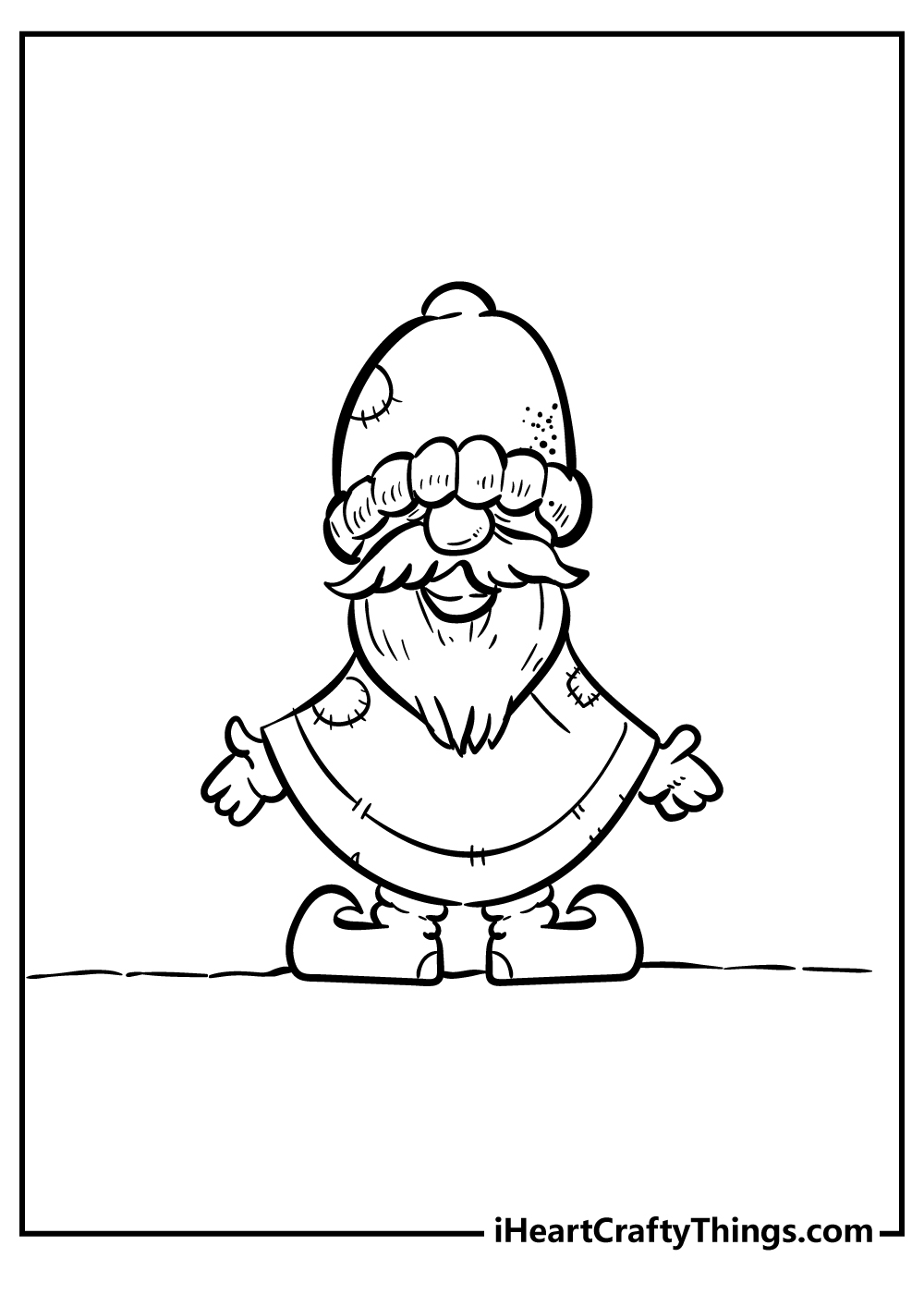 Gnomes are most often busy. They are engineers, sages, scholars, and inventors. Our 4th gnome seems to be an engineer judging after his worn-out union suit.
He enjoys breaking and then building, and doesn't whine about getting his hands dirty. Make sure you add a few items here and there, as he loves to work.
Add earthy colors on his rompers and give him something to craft, twist, and transform with these lovely gnomes coloring sheets.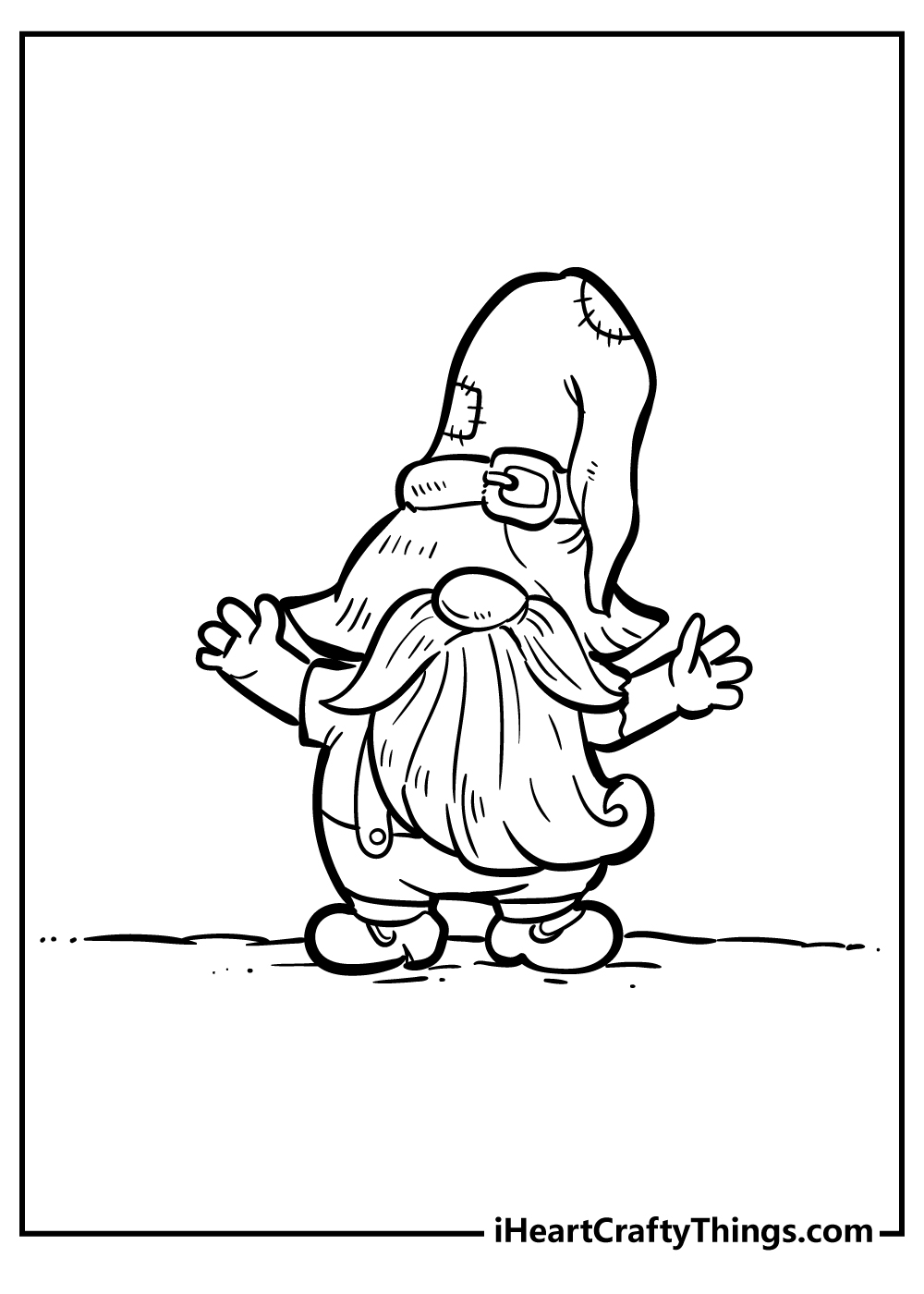 What do gnomes do at night? They wander, they build, they mine and protect. But this one here seems to be in his pajamas which means outside is daytime.
Gnomes love to talk to each other, eat, play, and do mostly anything- except that they do it all at night and sleep during the day. We guess that makes them nocturnal creatures.
One of the reasons gnomes continue their lives at night is because they don't want anyone to see them moving around.
That's pretty practical, considering that if we see them talking and moving, we'd want to put them in some sort of abnormality museum!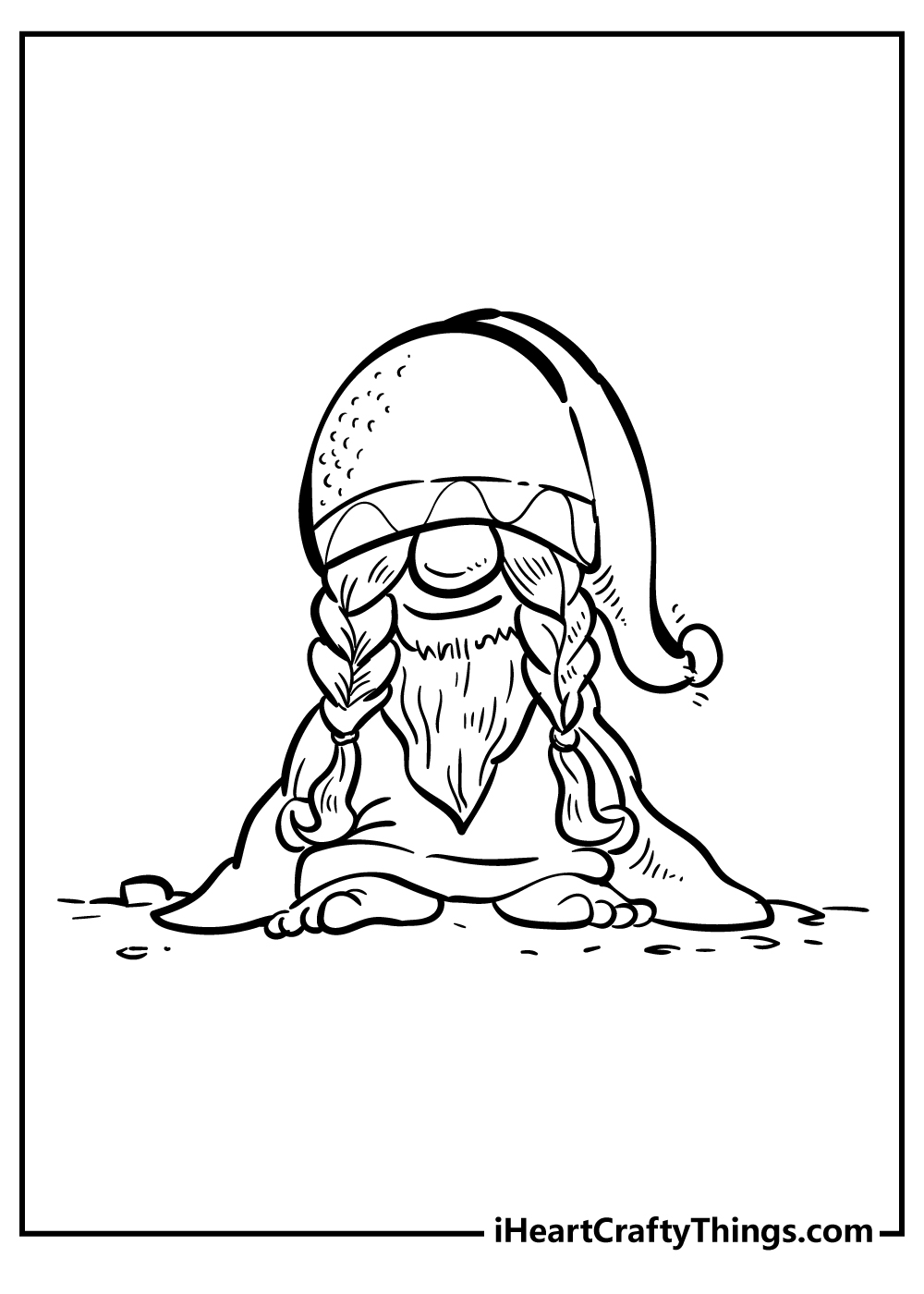 But what do they do at night? Well, It's thought gnomes spend every second toiling over something. They are constructors, engineers, sages, and cleaners.
Our 6th gnome is a cleaner which means he's the one who tidies up after everyone's laborious day.
And to his enormous pleasure, when they have all finished work, and everything is clean and dandy, they sit down and have a feast!
Don't forget to bring some cookies and a glass of milk, too, while laboring on these amazing gnomes coloring pages.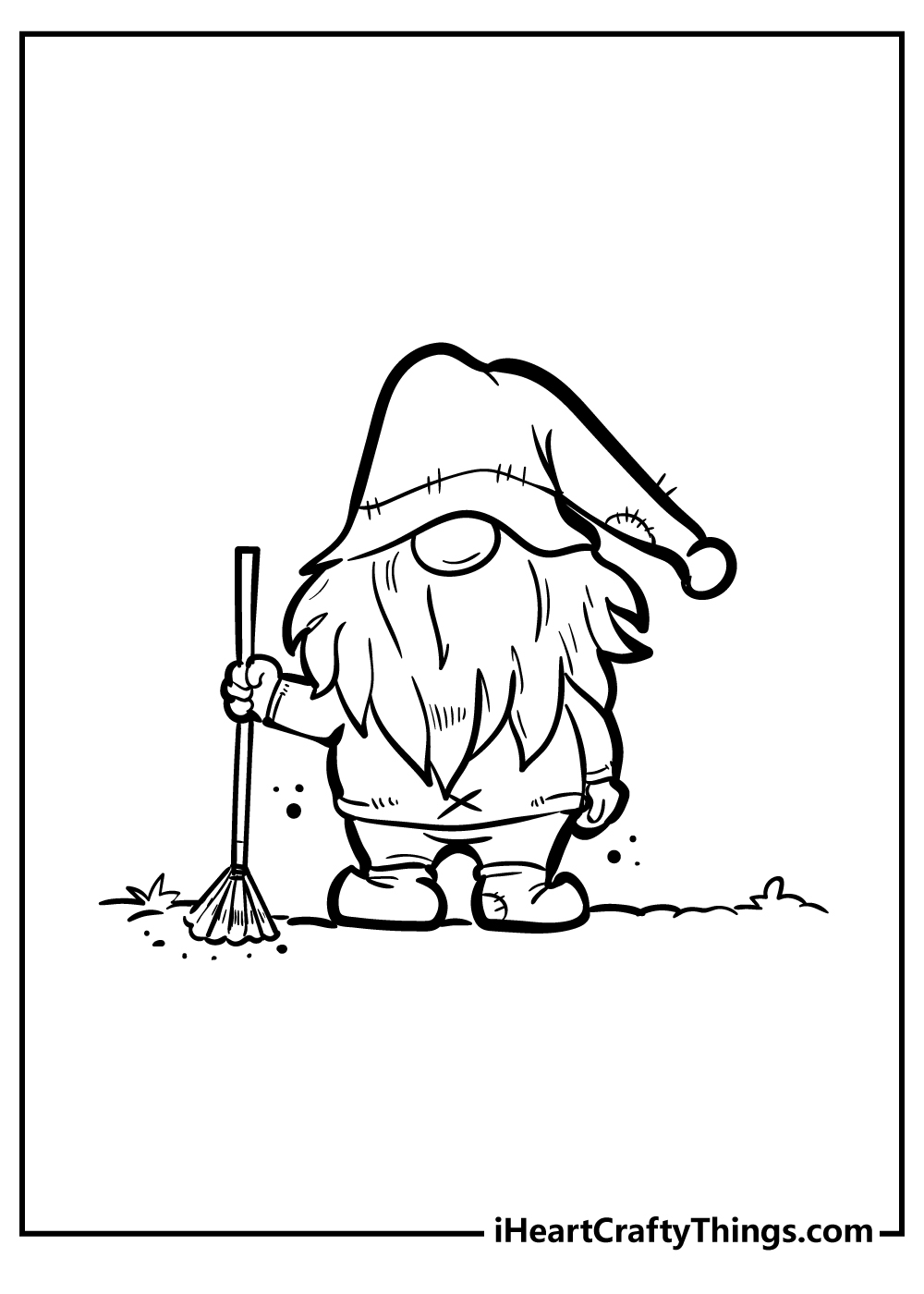 Look at this gnome. He holds a big heart which means he's the caring one! His cheerful face makes anyone, even the grumpiest Skeith, give a smile.
Gnomes love to share, and this one particularly shares love. Add the warmest colors in your arsenal, and make sure you make this beardy guy stand out from the rest of your gnomes coloring sheets.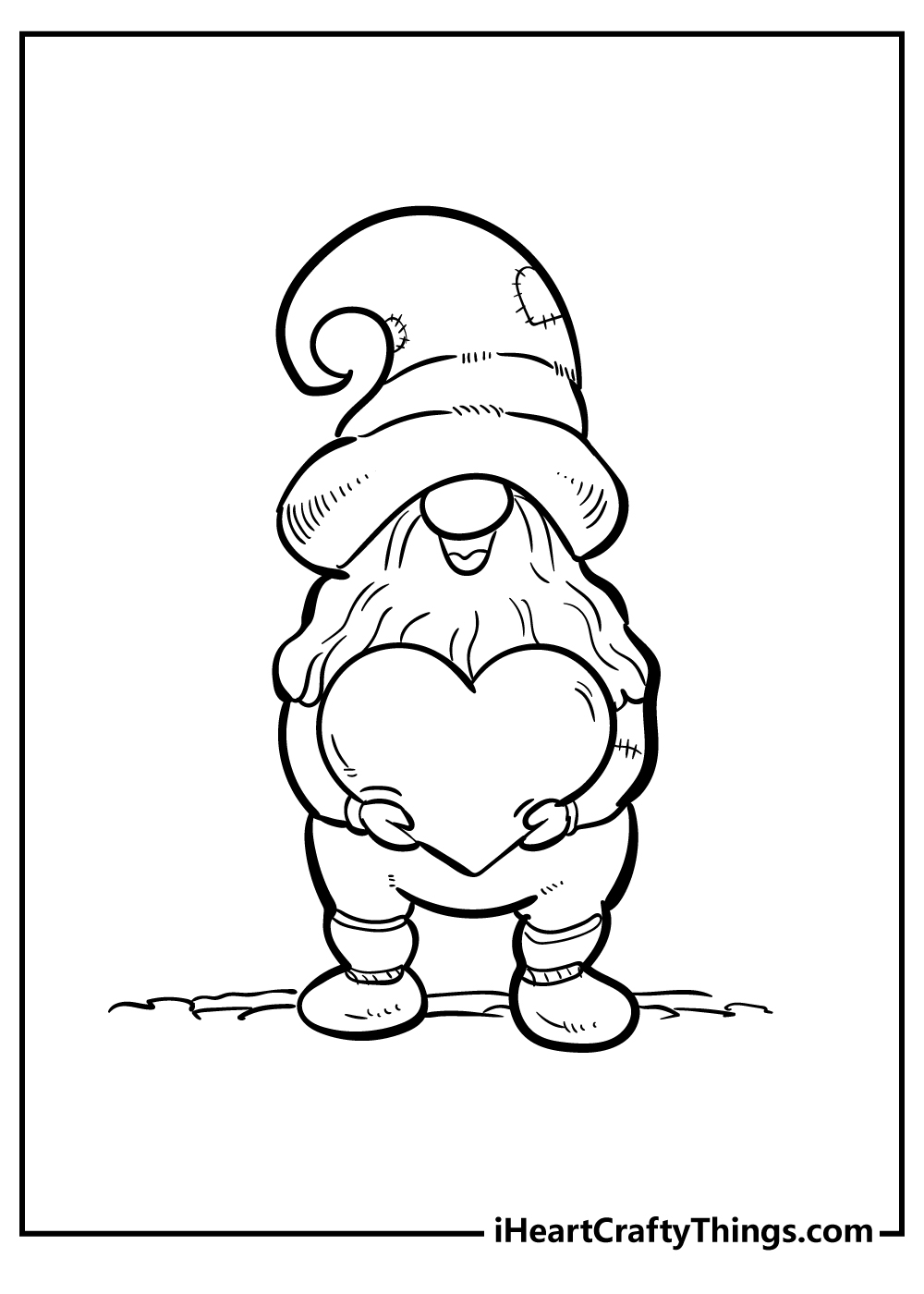 One thing is certain about gnomes: they are fans of bright colors and patterns.
You can see them getting ready for bed in the early morning and wearing long pants and long-sleeved shirts and PJs of bright purple, hot pink, lime green, and sunny yellow color.
Some have polka dots, some have stripes, and some even have swirlies!
Gnomes are fascinating, don't you think? Now that you know what they love wearing the most, add some colors to their world with these gnomes coloring sheets.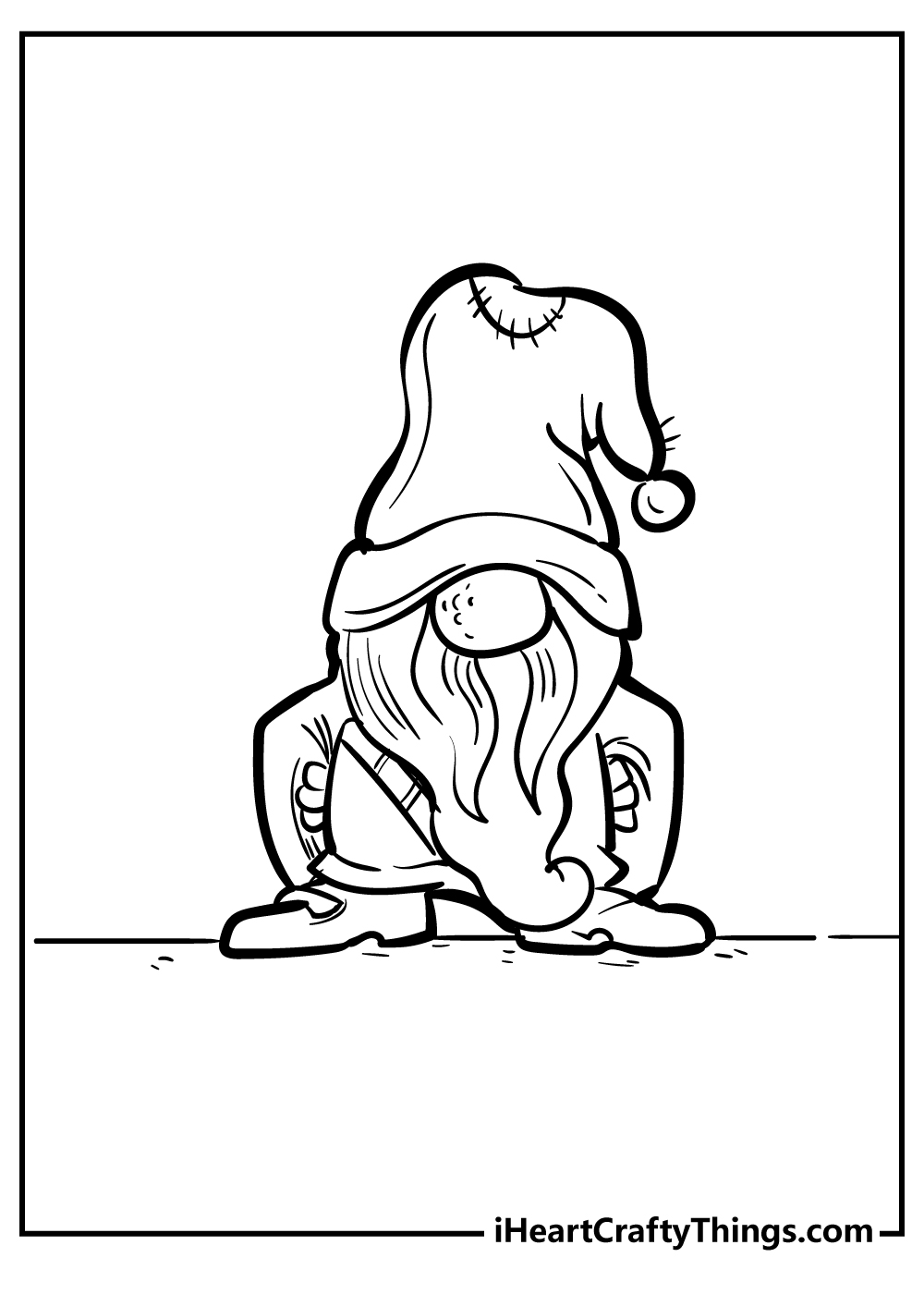 Our last but not least beardy creature loves to jump. He's full of energy and the fastest of all. Aside from crafts and magic, another thing gnomes enjoy is sports.
They might play their own version of soccer but kick around a rounded stone, or even play basketball by throwing a rock into a hole.
Sports not only provides exercise but gives gnomes lots of time together to just have fun.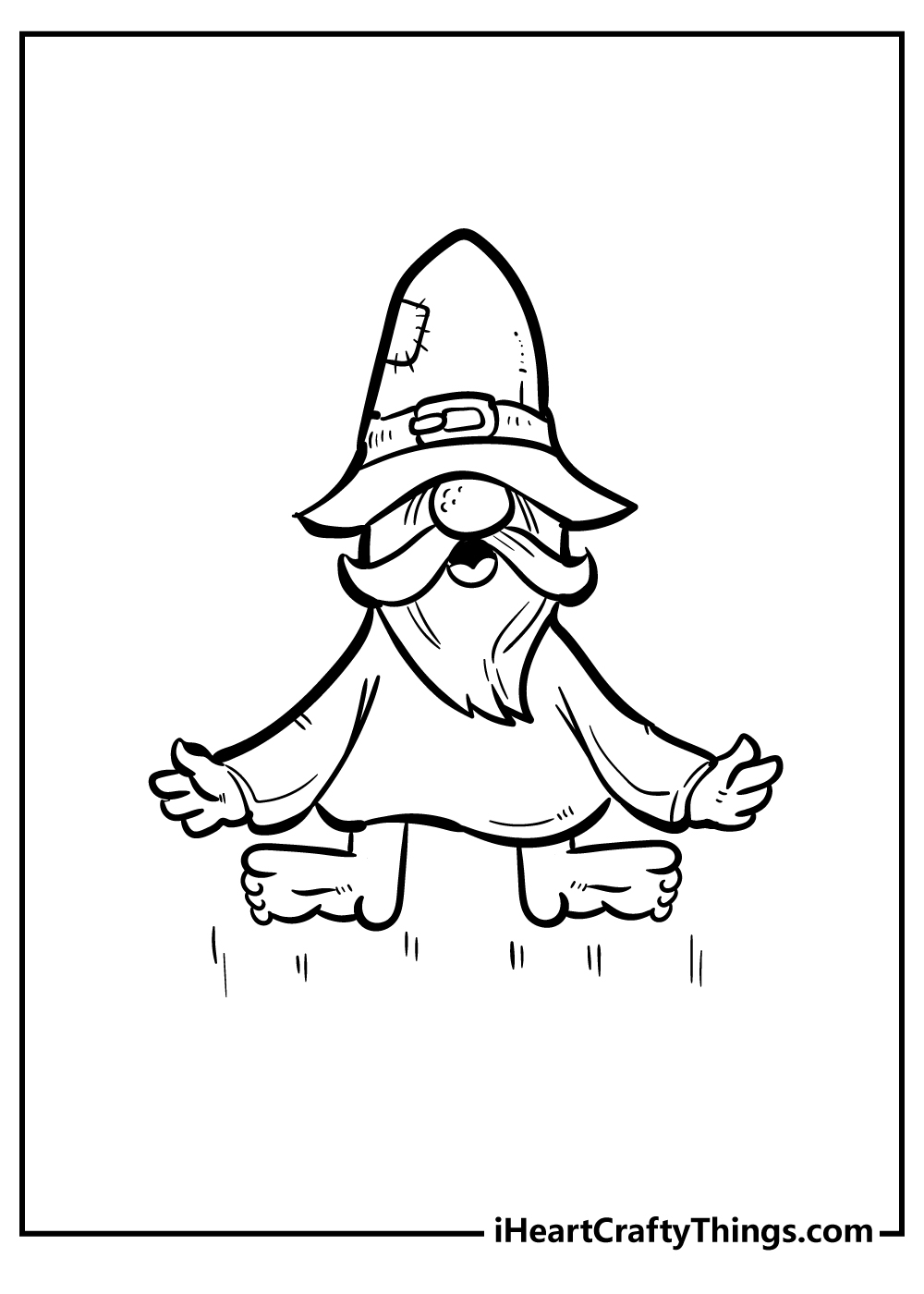 You see, gnomes are just like people. They love to talk to each other, create, eat and play but sometimes we need someone to tell us exactly how things should be done.
Our last gnome is a conscious gnome. He leads and cares for his team and ensures everyone has something to do at night (once again, they're nocturne creatures).
He's the responsible one, the gnome who has everyone lined up in a row as he paces back and forth in front of them with a small twig in his hand like he's the instructor of a military camp.
Of course, he doesn't have a twig, but you can add one on this lovely gnomes coloring sheet.