Mermaids are magical mythical creatures that live their enchanting lives under the sea. Movies like The Little Mermaid have made these creatures all the rage for birthday parties, decorations, toys, and more. They are also a fascinating part of mythology, and tales of mermaid sightings date back for centuries.
Mermaids are one of the most popular mythical creatures around. They are known for their beauty and charm and we simply cannot get enough of these enchanting creatures.
The popularity of mermaids in pop culture has created a big demand in our readers for mermaid coloring pages that you can enjoy for free.
Finally here are all new completely original mermaid coloring pages that you can download and print for free. Enjoy these wonderful magical creatures!
Mermaid Coloring Pages – 30 All-New Printable Sheets
This free mermaid printable shows a mermaid who has come ashore to sit on top of a rock and look around. Her hair is beautifully braided at the top of her head and flows down her back. She looks like she might be ready to start singing.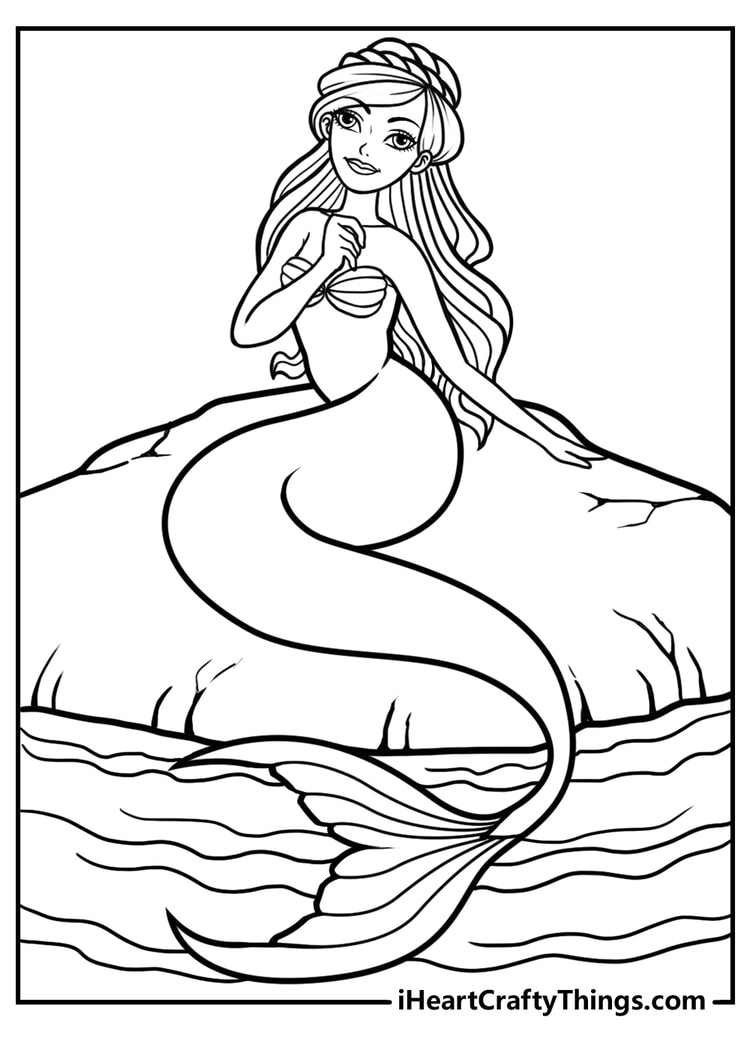 Mermaids make friends with all kinds of marine life. This mermaid coloring page shows a beautiful mermaid sitting near some coral and holding her hand out as a little fish comes swimming up to her. She wears pearl earrings and a big bow in the back of her hair.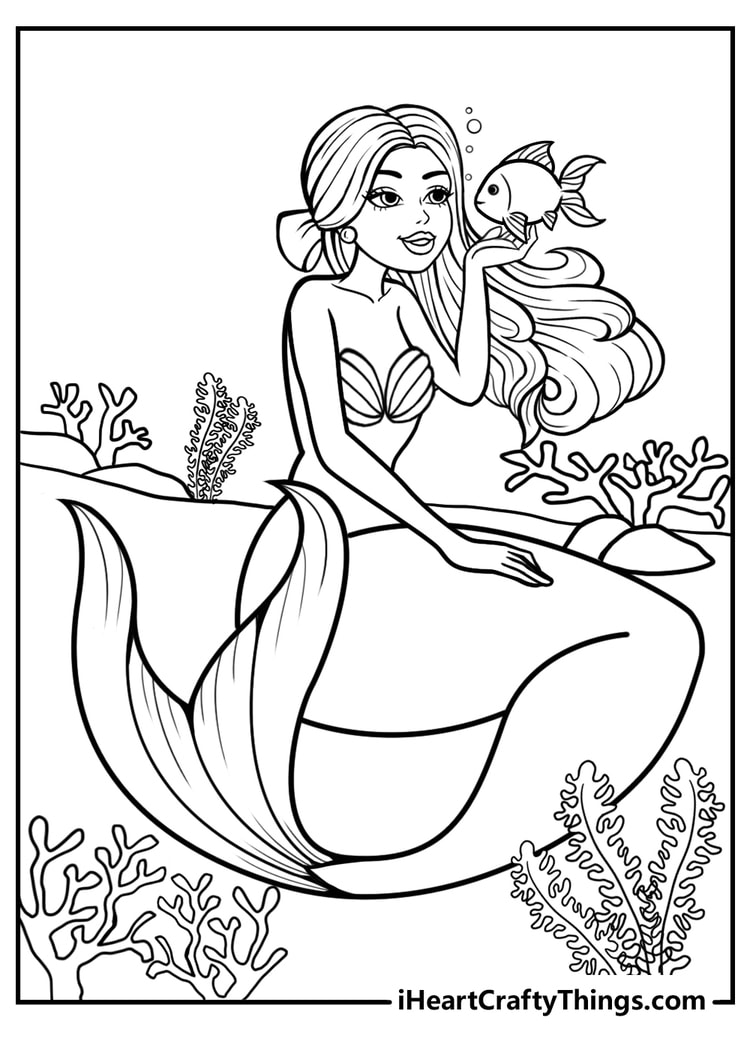 Some mermaids have beautiful and mesmerizing singing voices and are very talented with music. This mermaid holds a flute and looks ready to play a melody. A fish swims by to listen to the tunes she makes.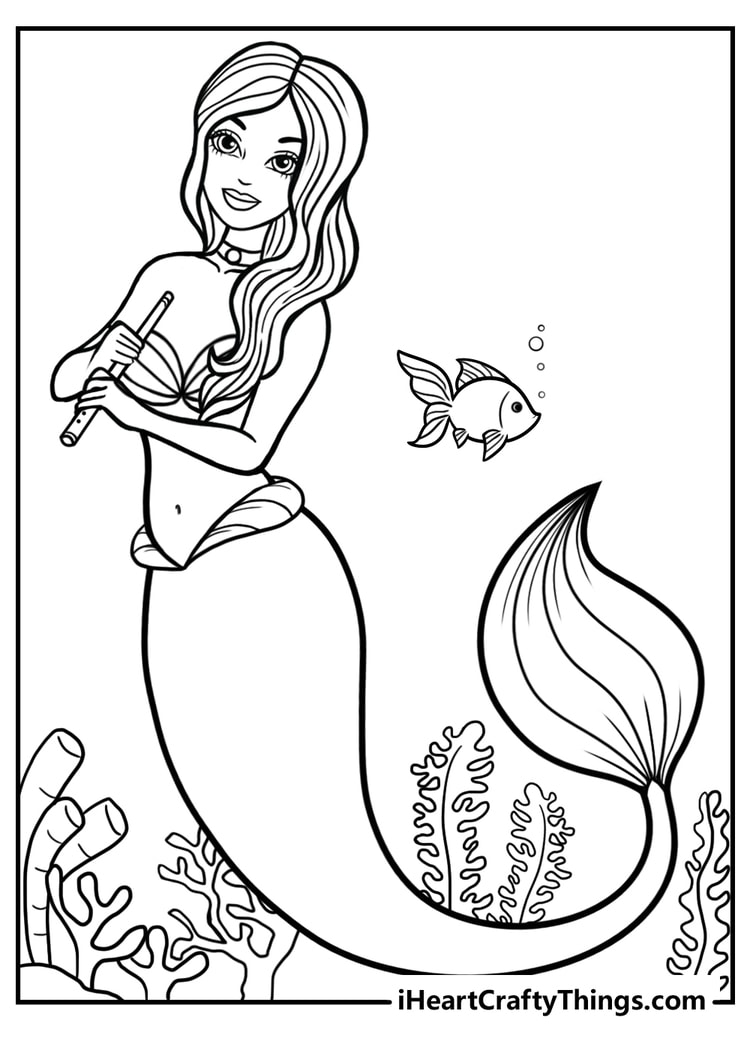 This mermaid coloring page shows a mermaid sitting on a big rock ledge above a coral reef. She has an extra fin on the side of her tail to help her swim through the water, and she seems to be flipping her short hair.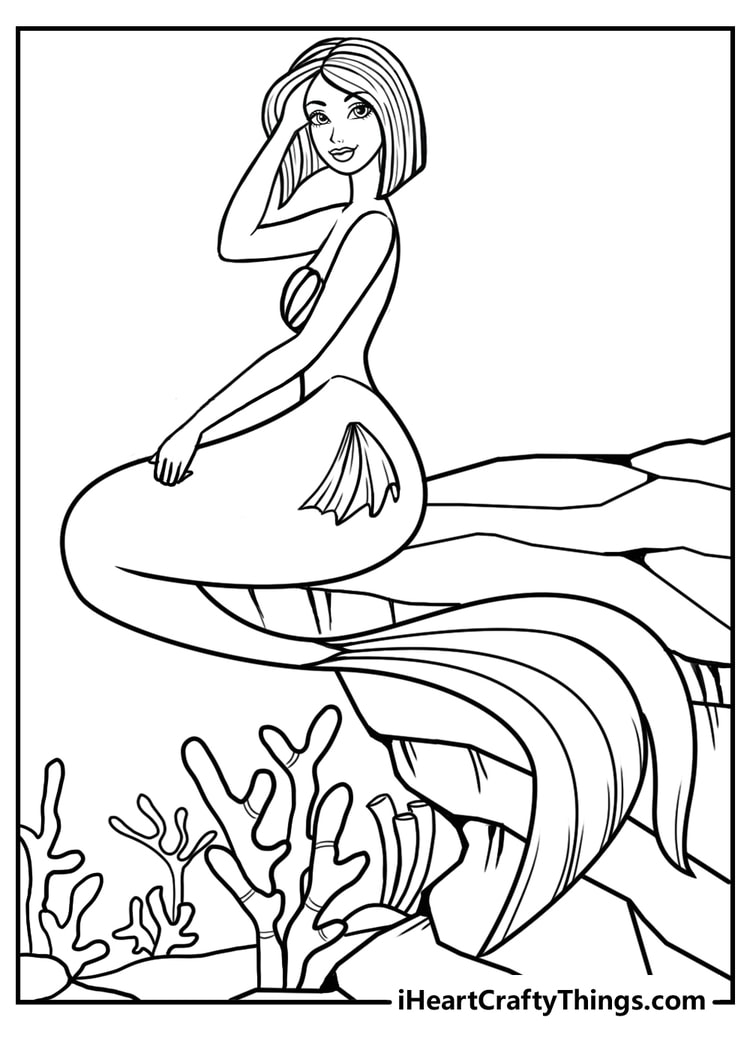 Mermaids are pretty well-known for having beautiful hair, and the mythical creature in this printable sheet is no exception. She floats with her hair curling all around her and seems to be checking on one of her fins.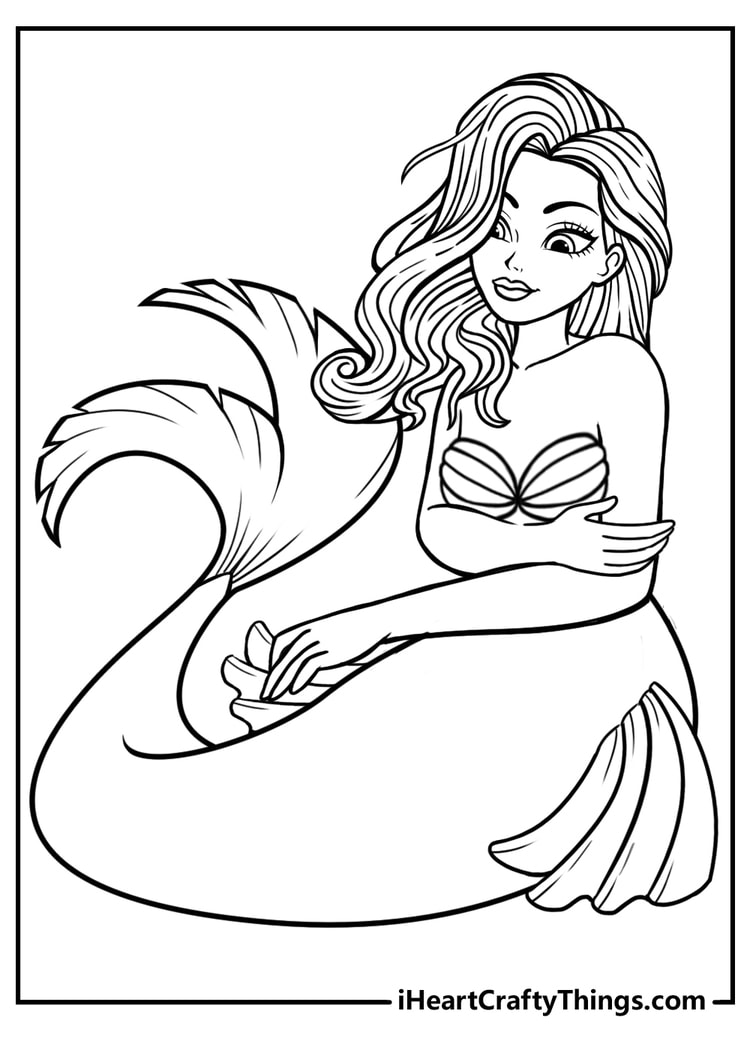 This mermaid has an especially cool tail. It has a pattern with interesting patches all over it. She sits on a big rock and seems to be pondering an interesting thought. We wonder what she is thinking about.
The sweet mermaid in this coloring sheet seems to be posing or even stretching after a nap. She has a unique tail with a striped pattern on the sides and the end of her tail looks a lot like a leaf or a feather.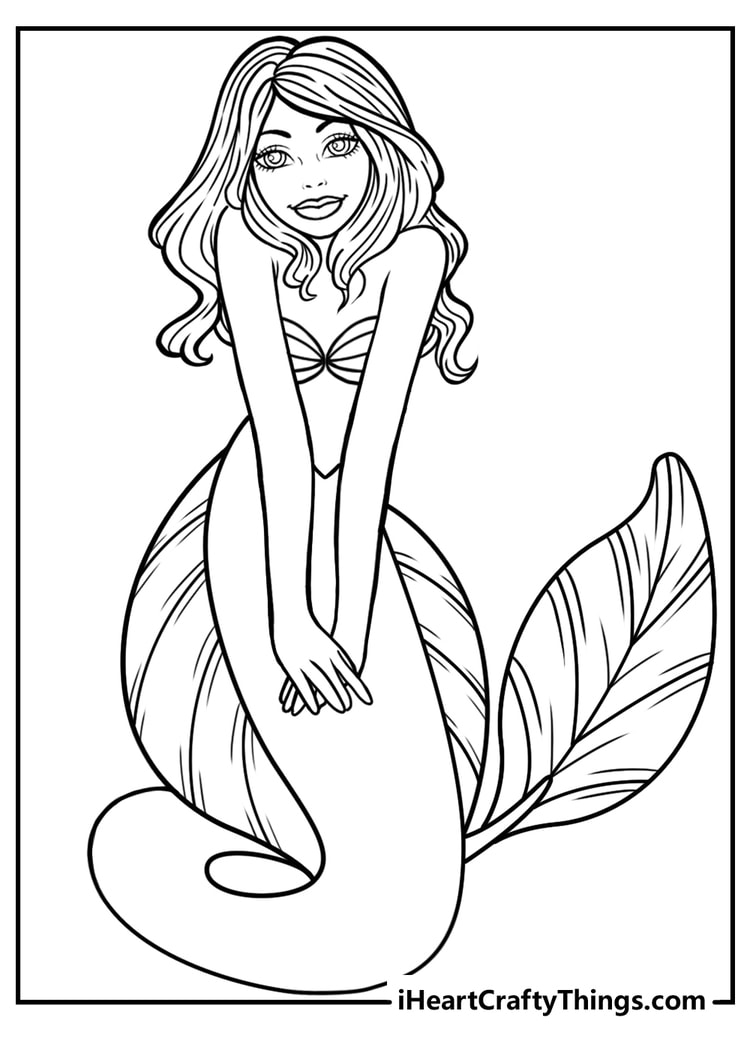 There are so many beautiful and wonderful mermaid coloring pages for you to enjoy. Remember that all of these mermaid coloring pages are completely free to print, so feel free to print as many as you want.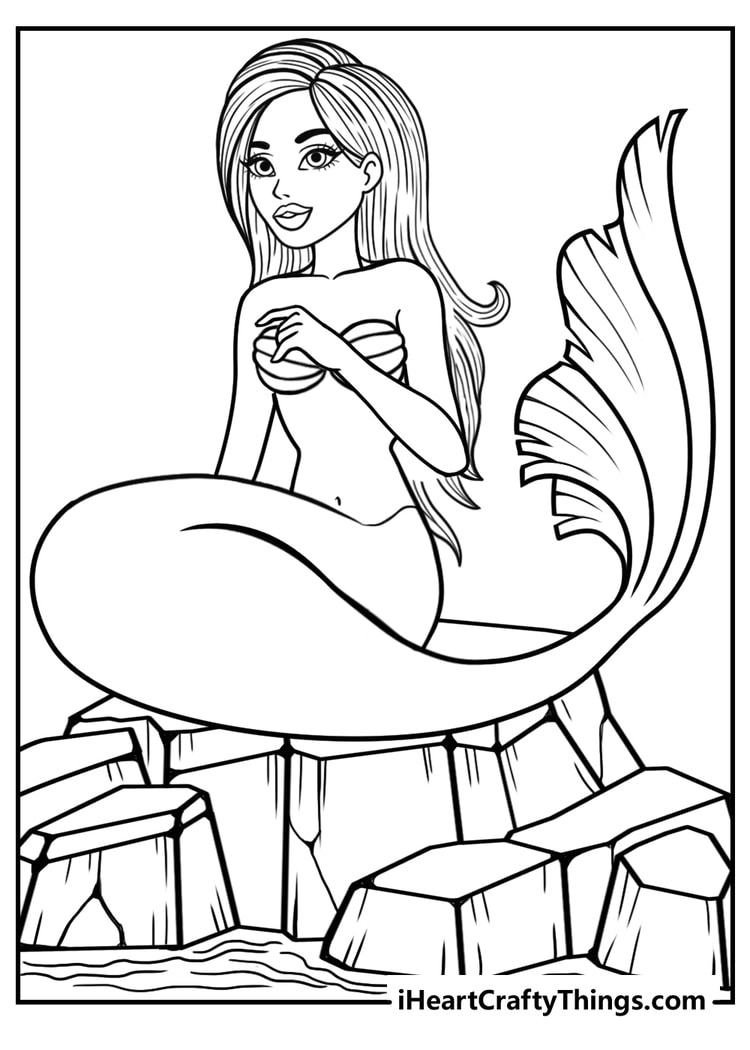 Wouldn't it be awesome to talk with a mermaid? This mermaid coloring page shows the magical creature sitting on a rock and patting the space next to her as if she is inviting you to sit down! What would you ask if you could talk with a mermaid?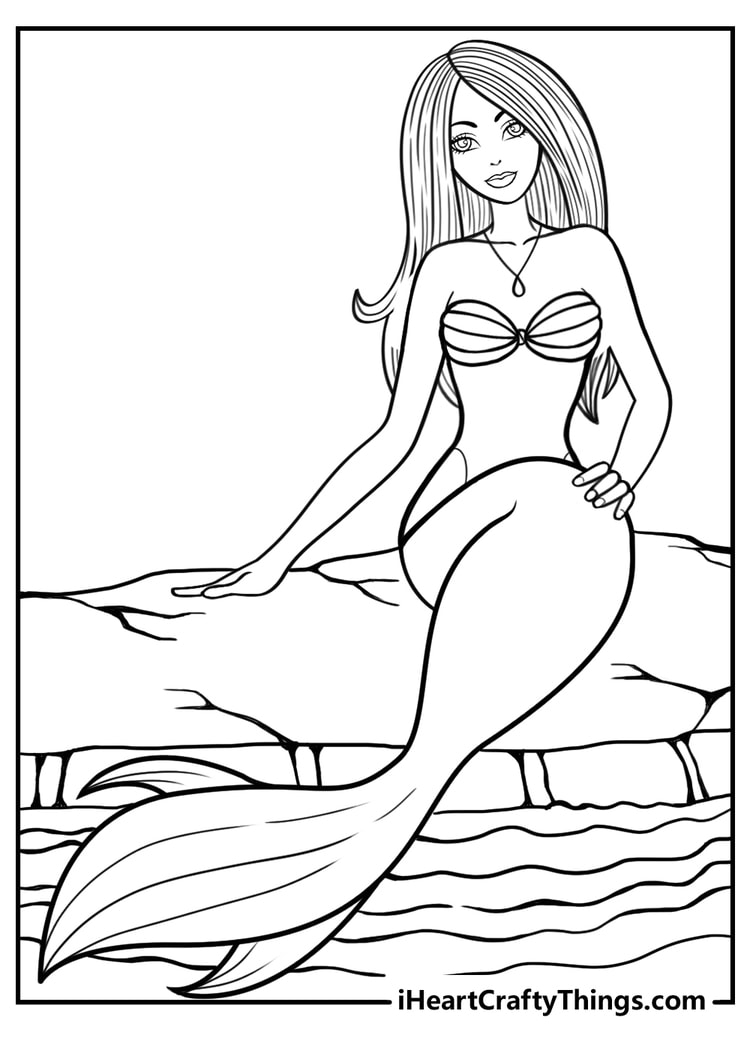 This mermaid seems to be pondering something deeply. She sits on a rock with her head resting on her hand and stares off into the distance. She wears bracelets on one arm and a starfish in her very long hair.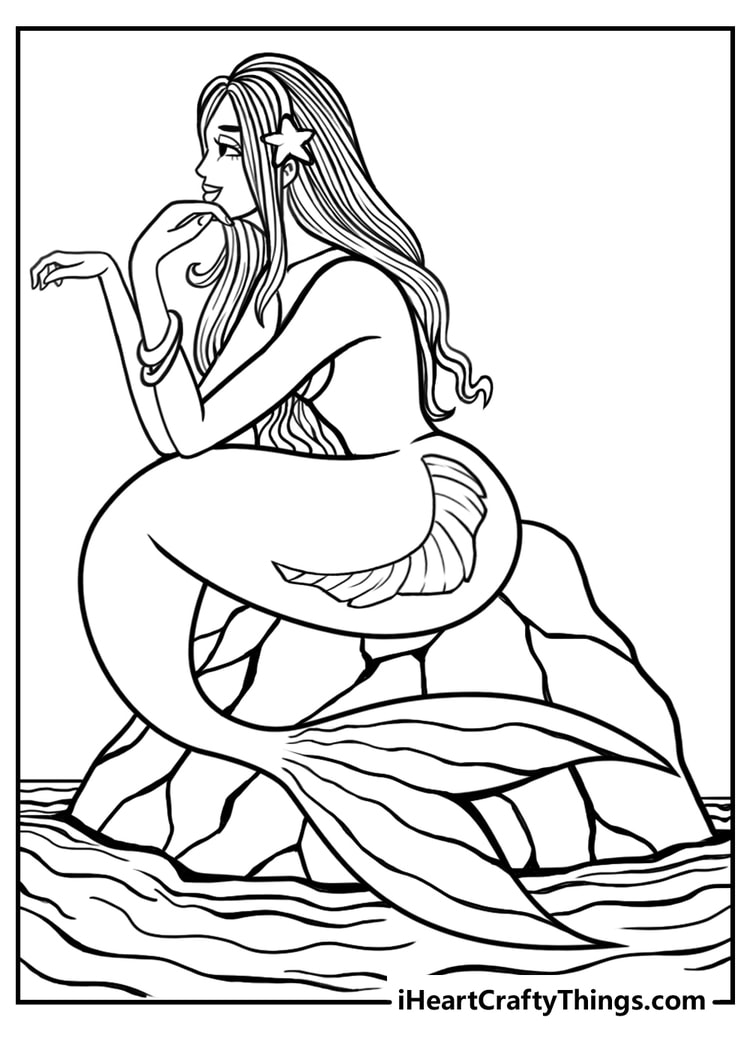 The mermaid in this coloring sheet wears a heart-shaped pendant around her neck. Her hair is cut into bangs and she has a mischievous look on her face. Maybe she is planning to play a trick on someone.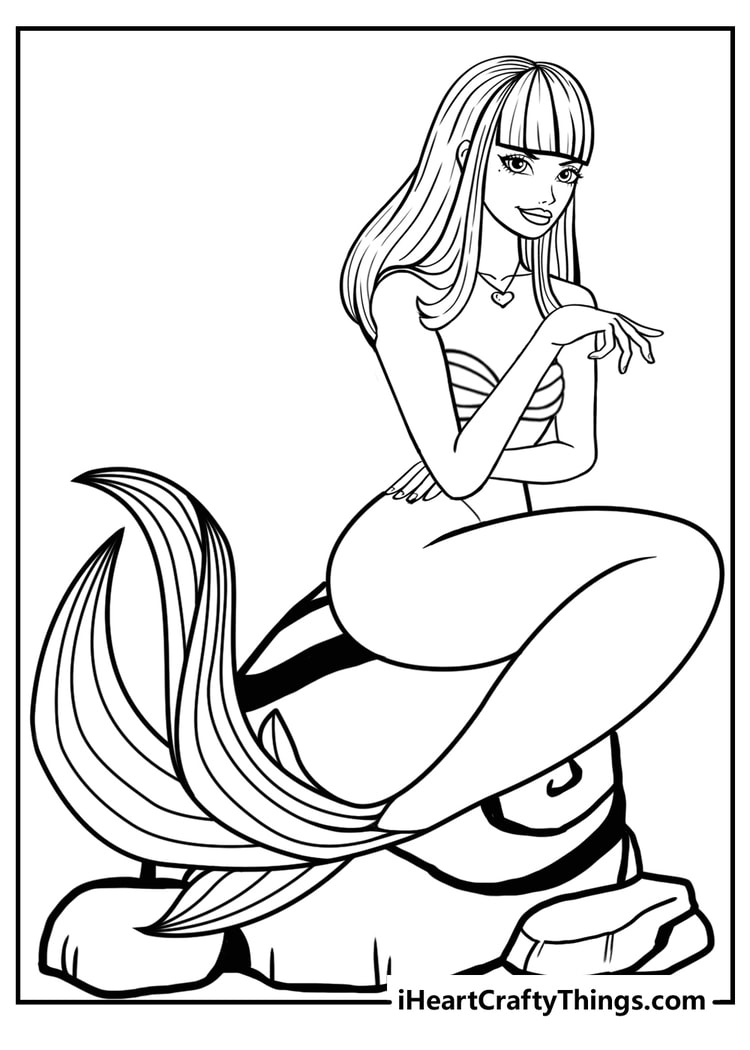 This mermaid reminds us of Ariel from The Little Mermaid! The fish that swims next to her looks a lot like Ariel's best friend Flounder. He seems to be leading her somewhere. What adventures will these two get up to today?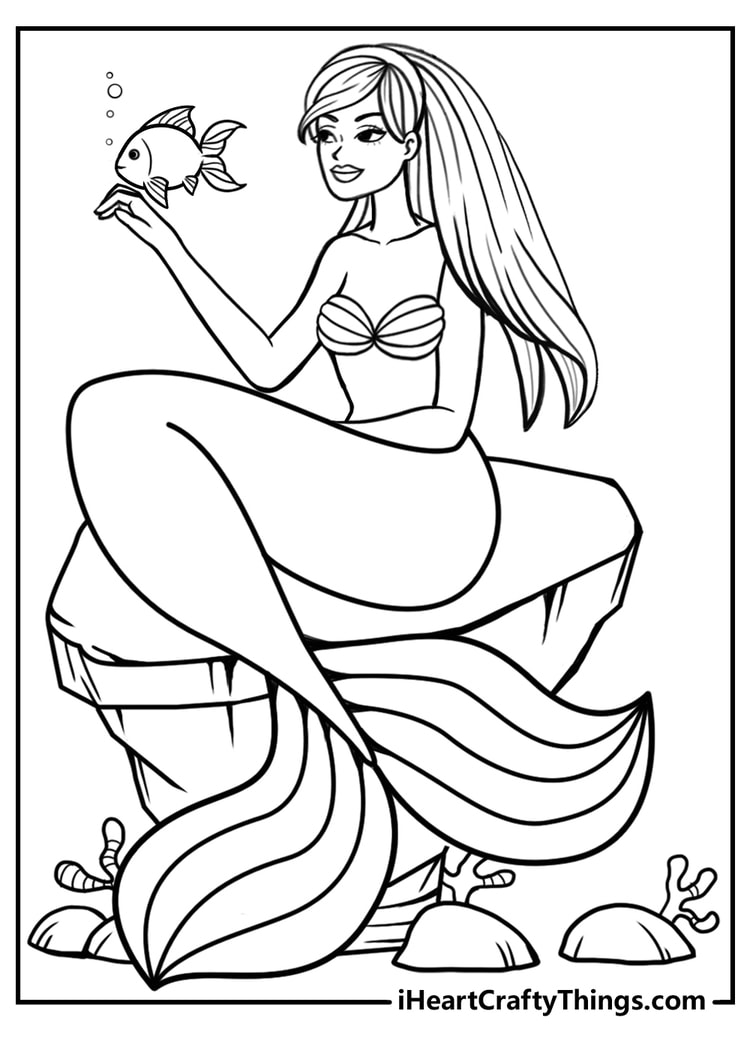 In this mermaid coloring page, two triangular fish swim past a mermaid. Little bubbles come up as they swim near her. Perhaps they are even talking to the mermaid. She seems to be focused intently on one of them.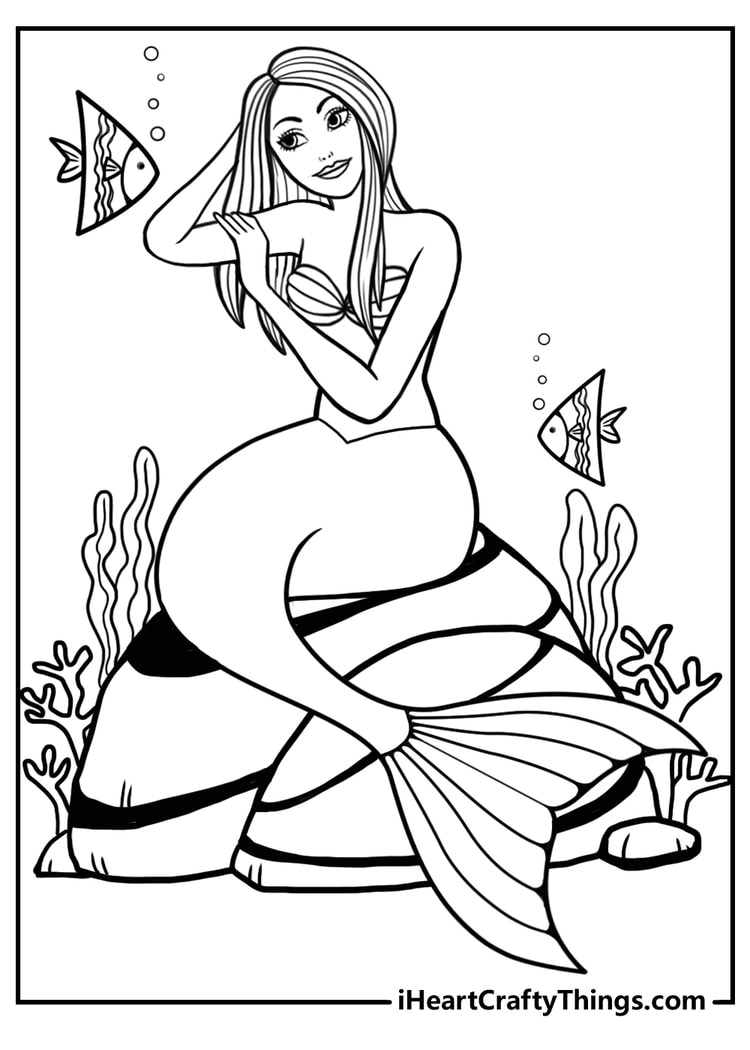 A mermaid's tail is very important to them. They have to be strong to help them swim through the water at all times. This mermaid sits with her tail bent in front of her and rests her head in her hands.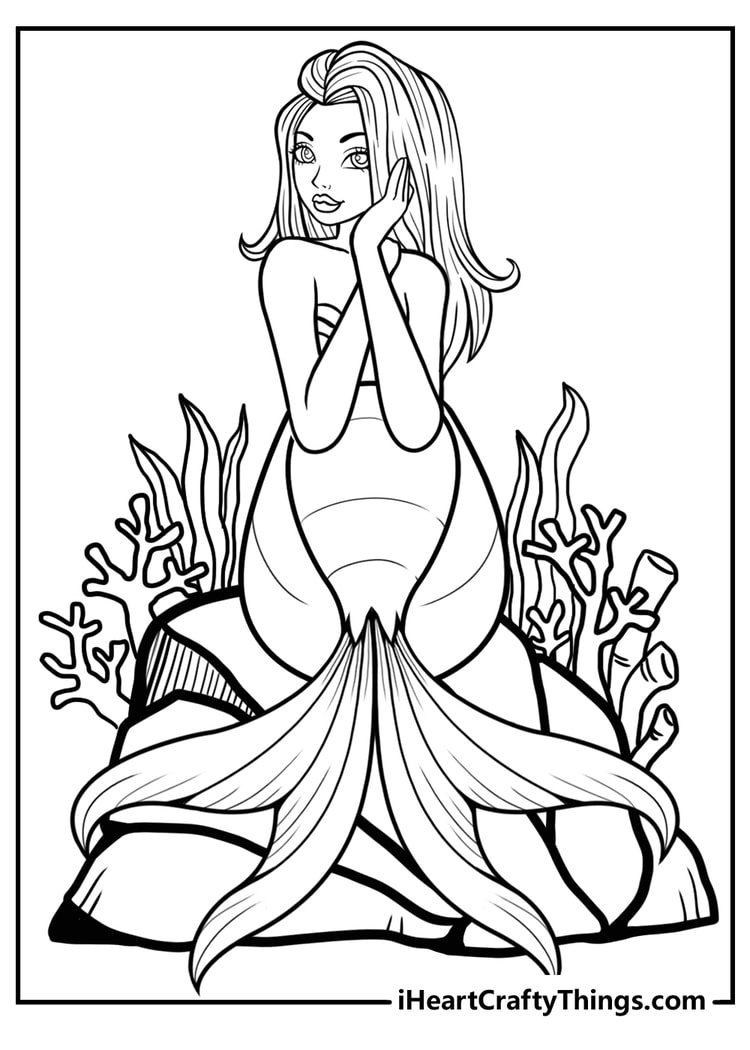 Mermaids know how to accessorize! In fact, it is thought that they invented the gemstone aquamarine and that it is made from their tears. This mermaid wears a headband to keep her hair back, a bracelet on one wrist, and a delicate necklace with little jewels. A little starfish lays not the seafloor next to her.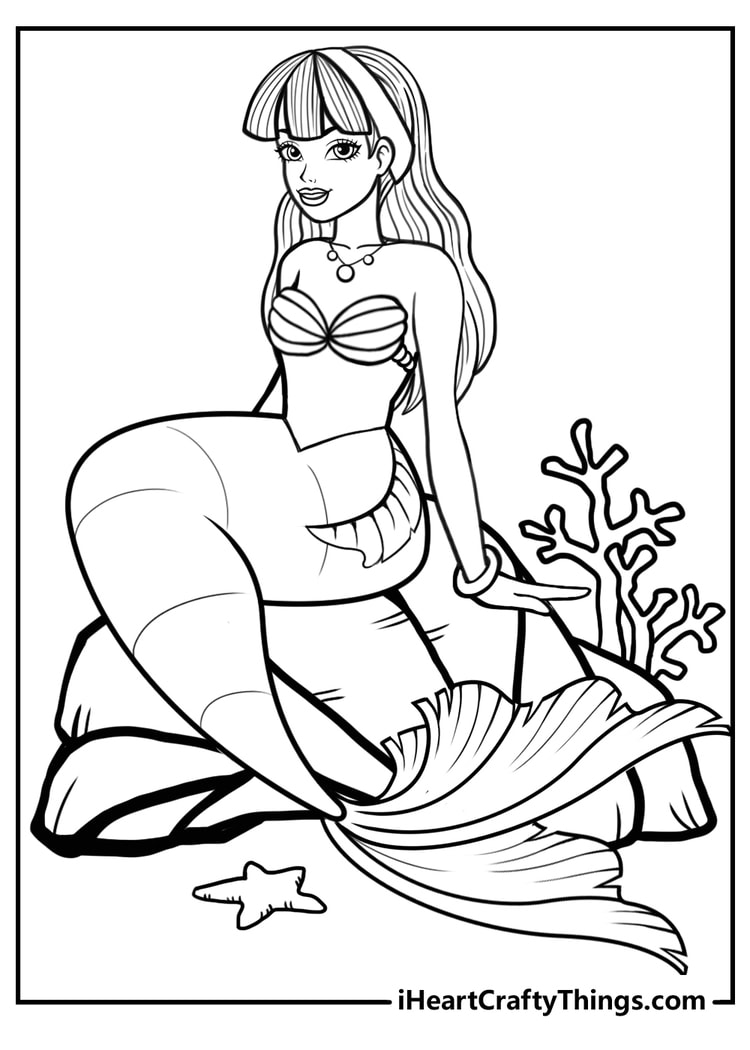 This mermaid has wavy hair that flows around her face and seems to match the wavy bunch of seaweed that dances behind her on the ocean floor. These mermaid coloring pages for kids really are magical.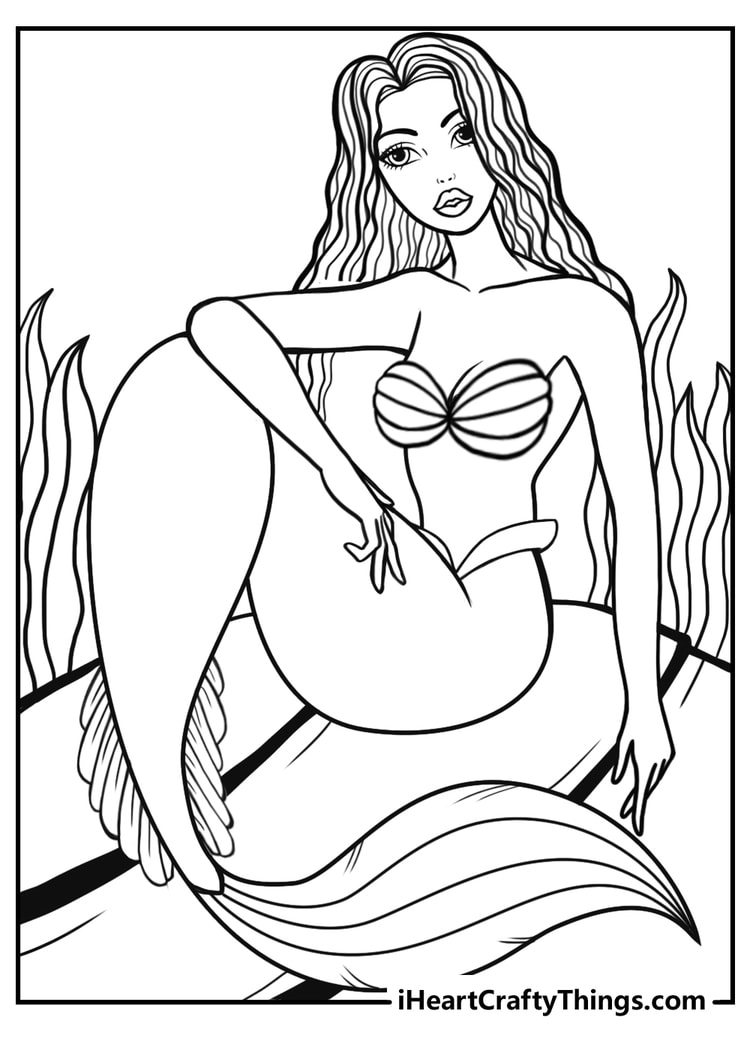 These mermaid coloring pages show that mermaids' tails come in all shapes and sizes. This mermaid has a huge flowy tail with stripes on the end. She wears a small braid in her hair with the ends flipped out. She also has a small necklace around her neck.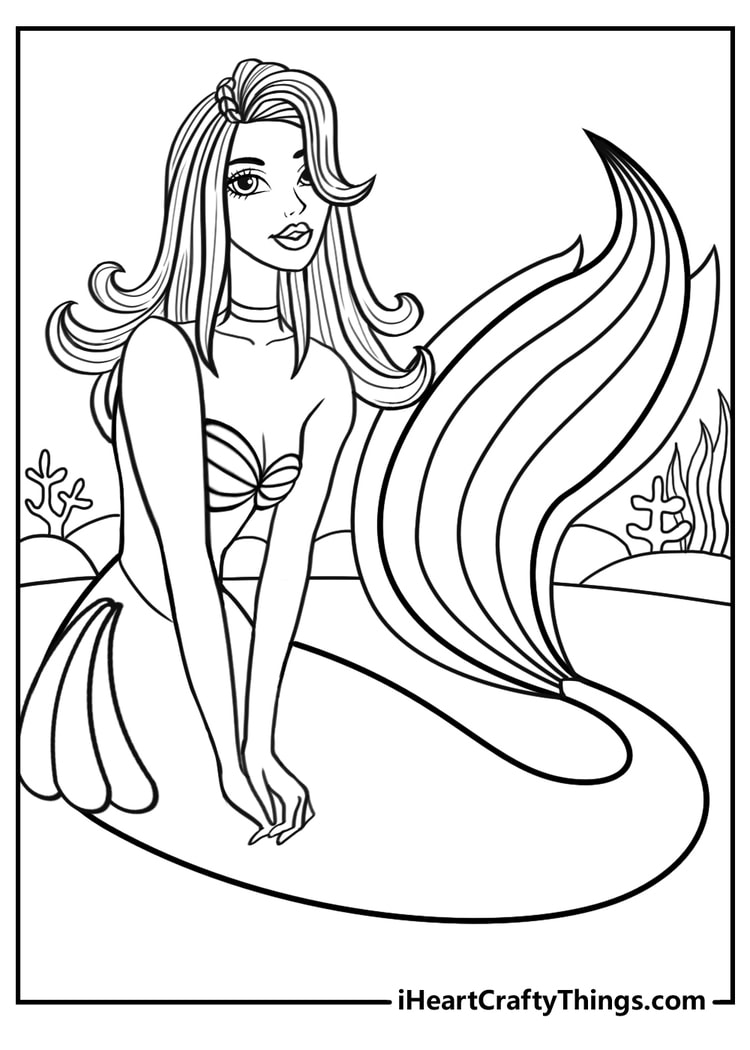 Mermaid kingdoms must have royalty, like in this mermaid coloring page. The mermaid wears a crown to show that she is the princess of her royal kingdom. She also wears a pendant around her neck and has an interesting pattern on her tail. Maybe this pattern runs in the royal family!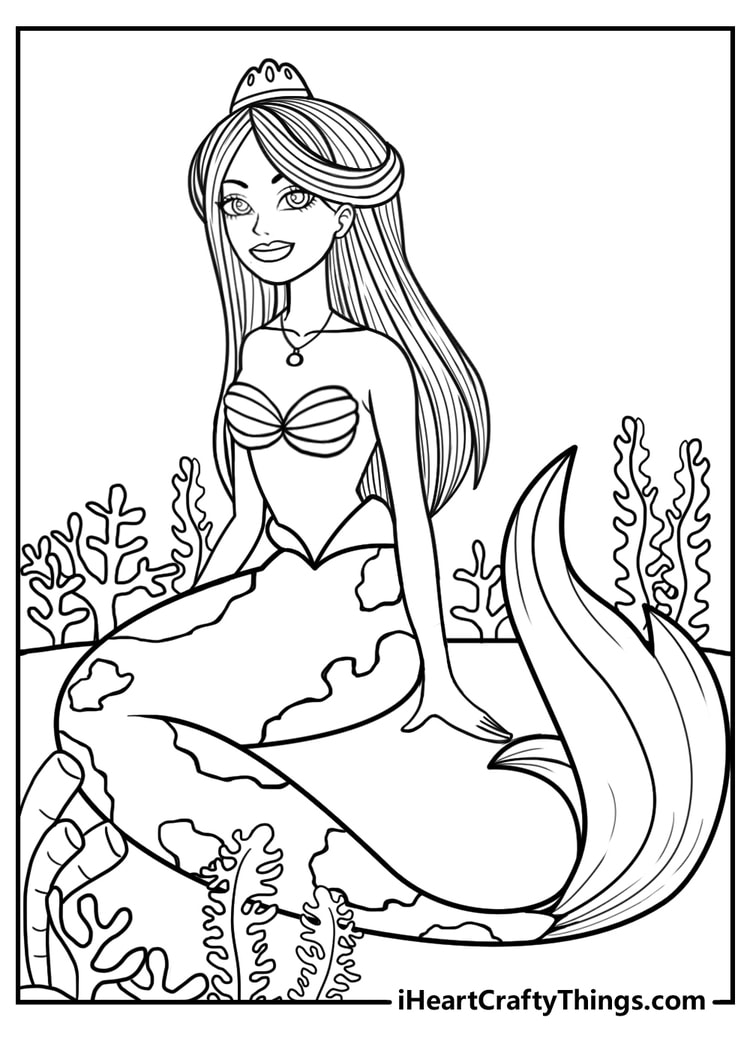 This free mermaid printable shows a mermaid with her hands folded together. We love the little loops that her hair curls into at the ends. She has an extra set of small fins at the bottom of her tail to help her swim.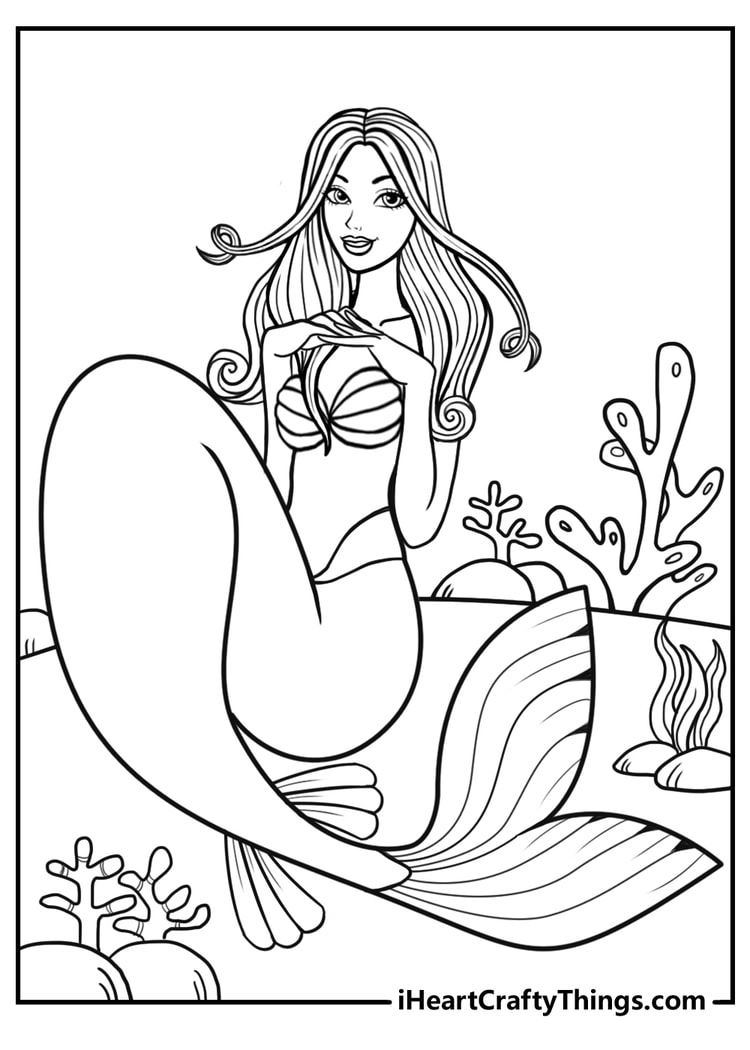 This mermaid has great style! She wears hoop earrings in her ears and brushes her hair back so that you can see them. Perhaps she found the earrings in a treasure chest. Seaweed, coral, and starfish are all around her in this beautiful setting.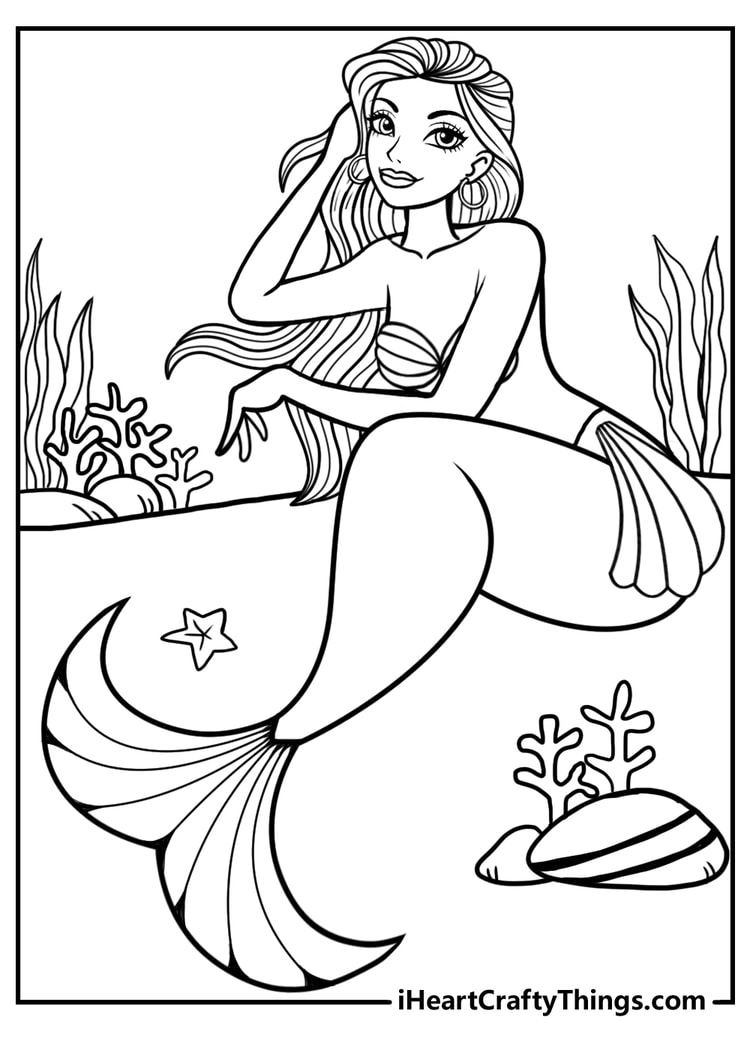 Mermaids are fascinating and mesmerizing creatures. Remember – when you finish your mermaid coloring pages, post your finished pictures onto our Facebook page. Every month we pick the best uploads and the winner gets a special prize!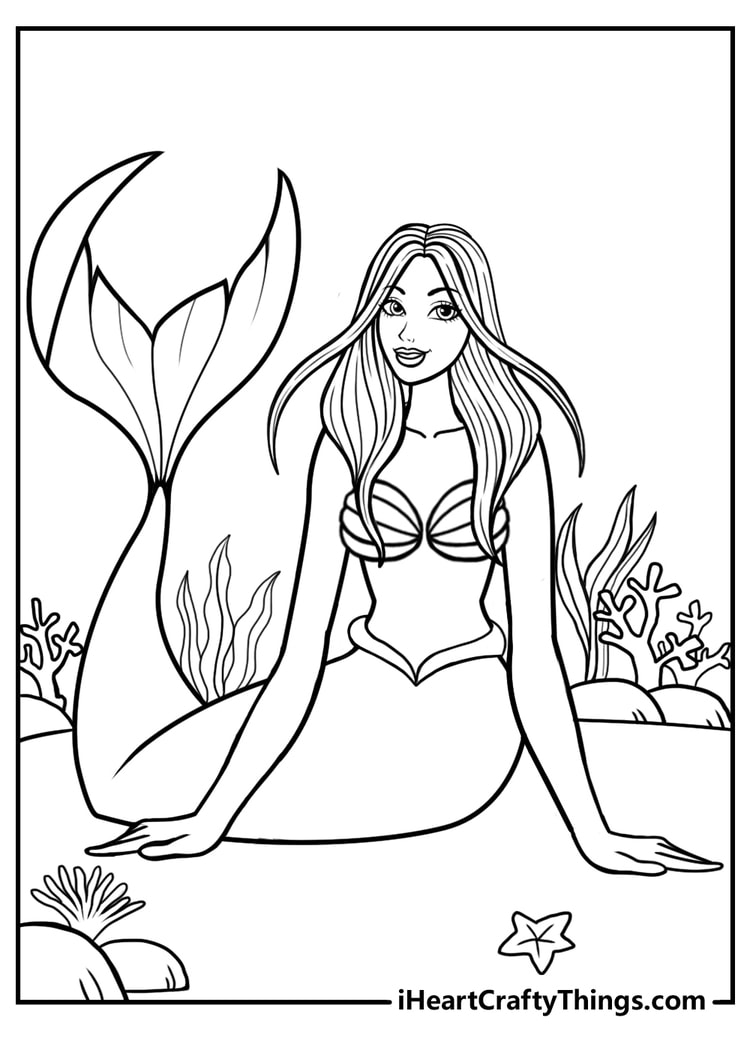 Our artists who create these mermaid coloring pages love to draw these mythical creatures with animals. Here a beautiful mermaid extends her hand so that a bird can flutter on her fingertips. She must have hopped out of the water for a little while.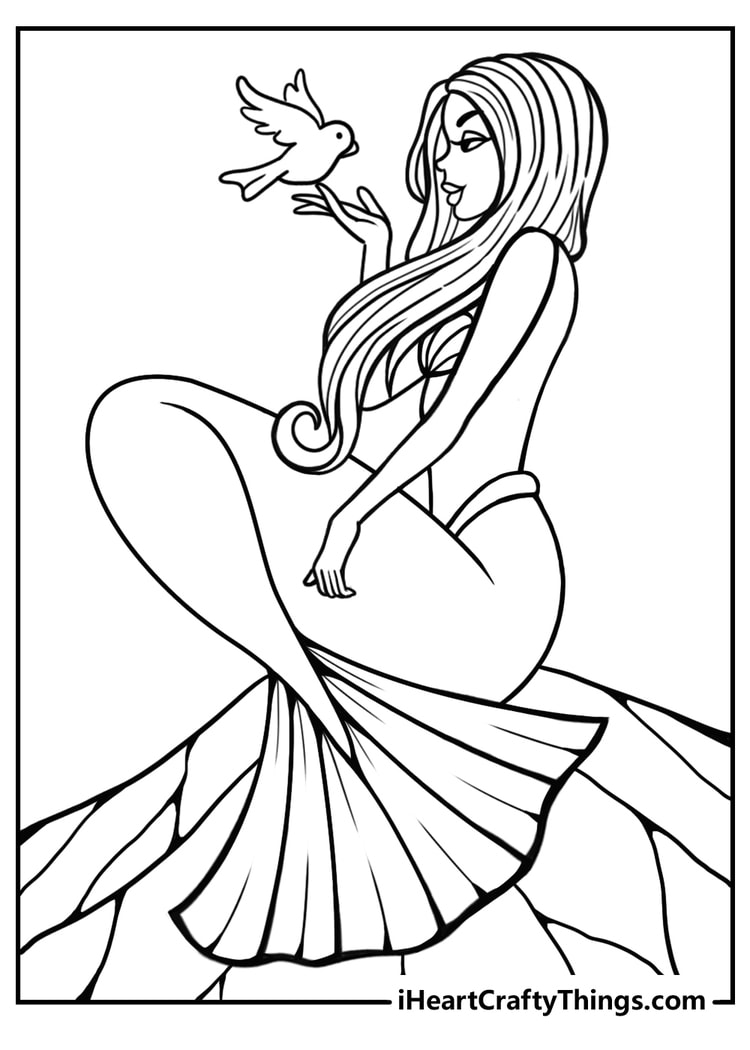 Mermaids love to dance under the sea. In this fun mermaid printable, a mermaid dances with her arms above her head. She swims and weaves among the fish who seem to be enjoying her performance…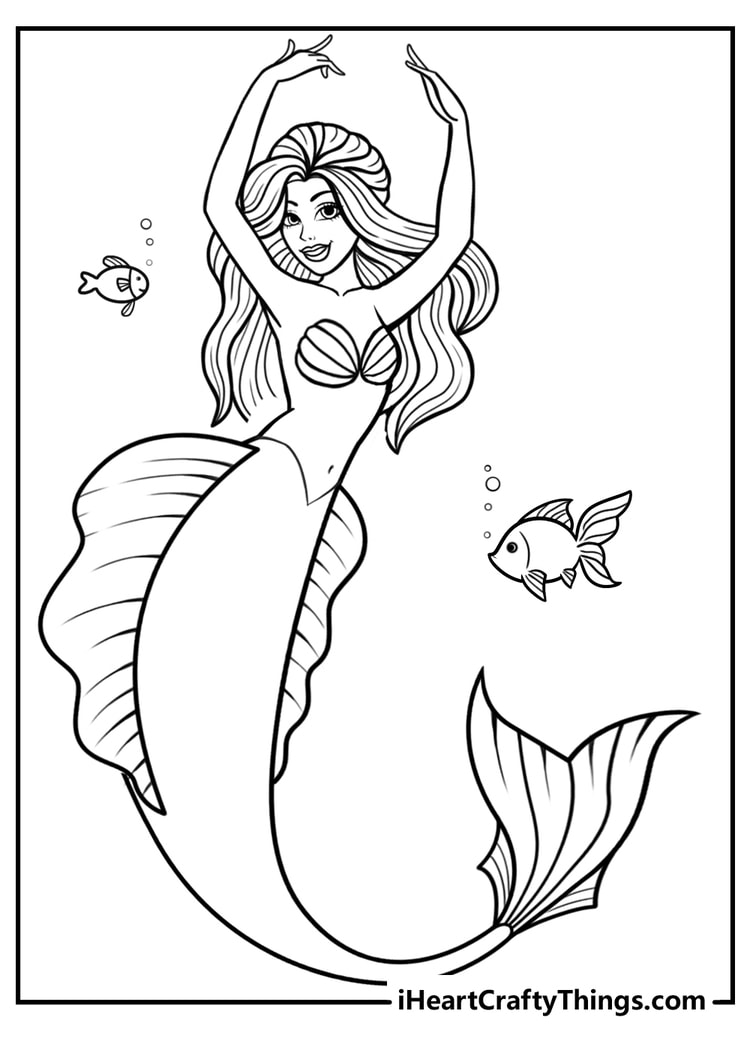 …while this mermaid gracefully extends one arm to a fish coming towards her and swishes her tail to the side. These mermaid coloring pages for kids really show the elegance of these mythical creatures. We especially love the way her hair swirls under the water.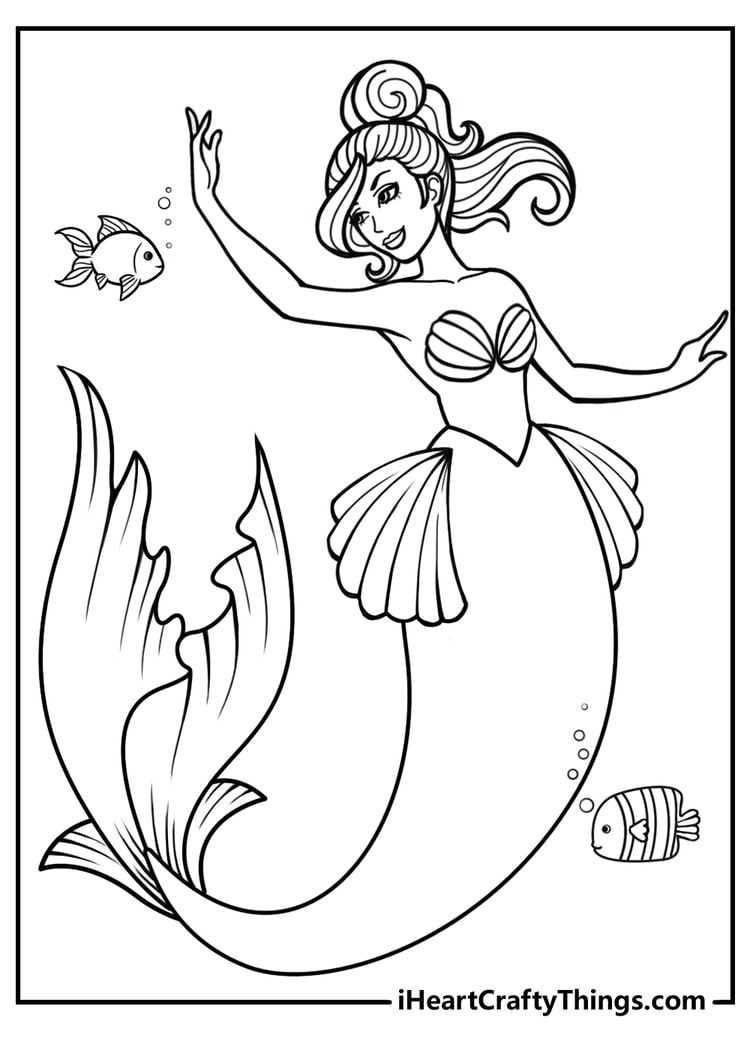 This mermaid seems surprised and delighted to come across a fish friend who makes little bubbles like he is talking to her. She listens intently to what the fish is telling her. What do you think they are talking about?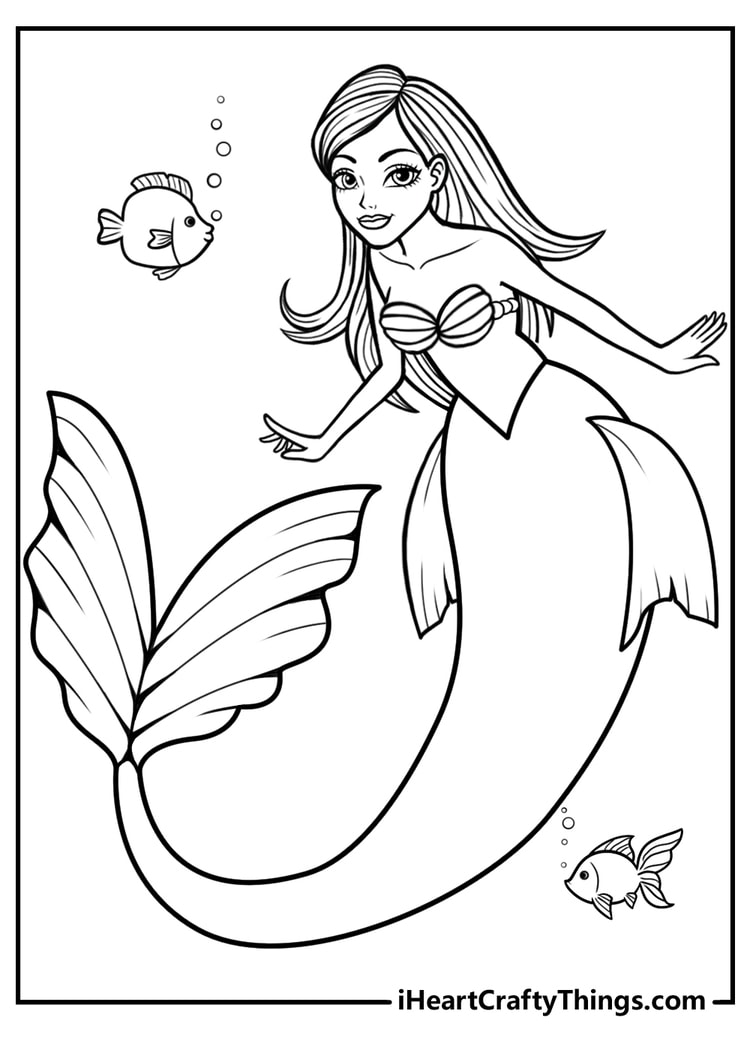 These mermaid coloring pages bring out the creatures' gentler side. Here a mermaid seems to comfort a fish who looks a little sad. She puts her hand on the fish to make him feel better and gives him a kind look.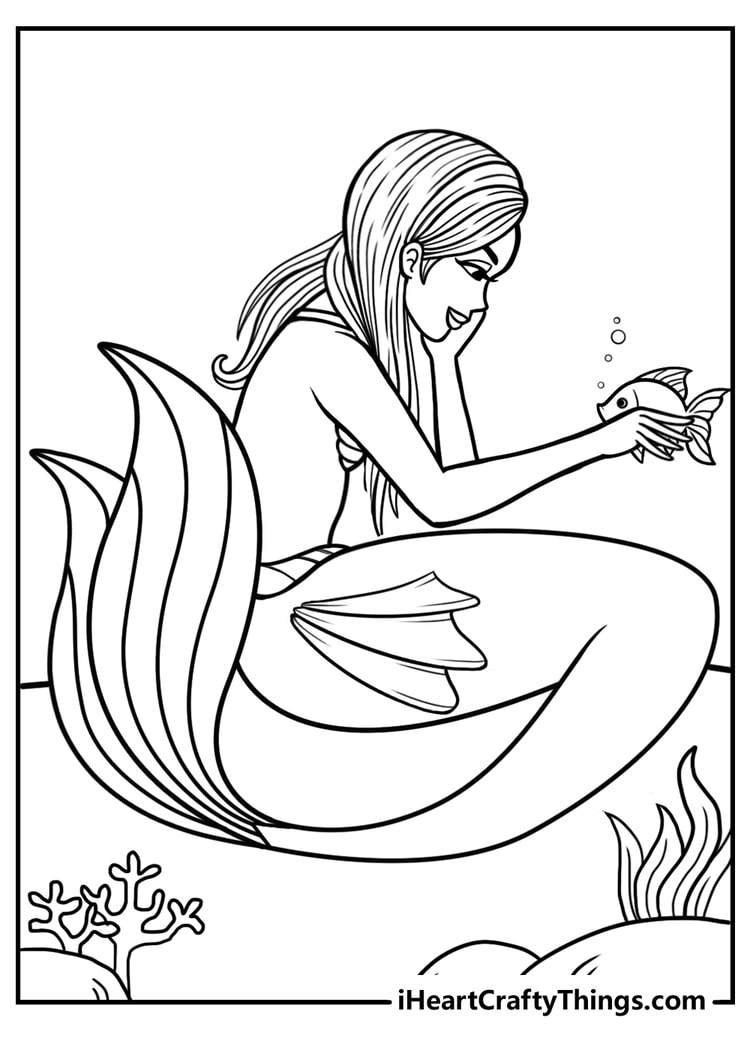 A mermaid's hair is very important to her. Here a mermaid carefully brushes her long hair as she sits on the seafloor. She seems to know better than to brush her hair with a fork like Ariel from The Little Mermaid.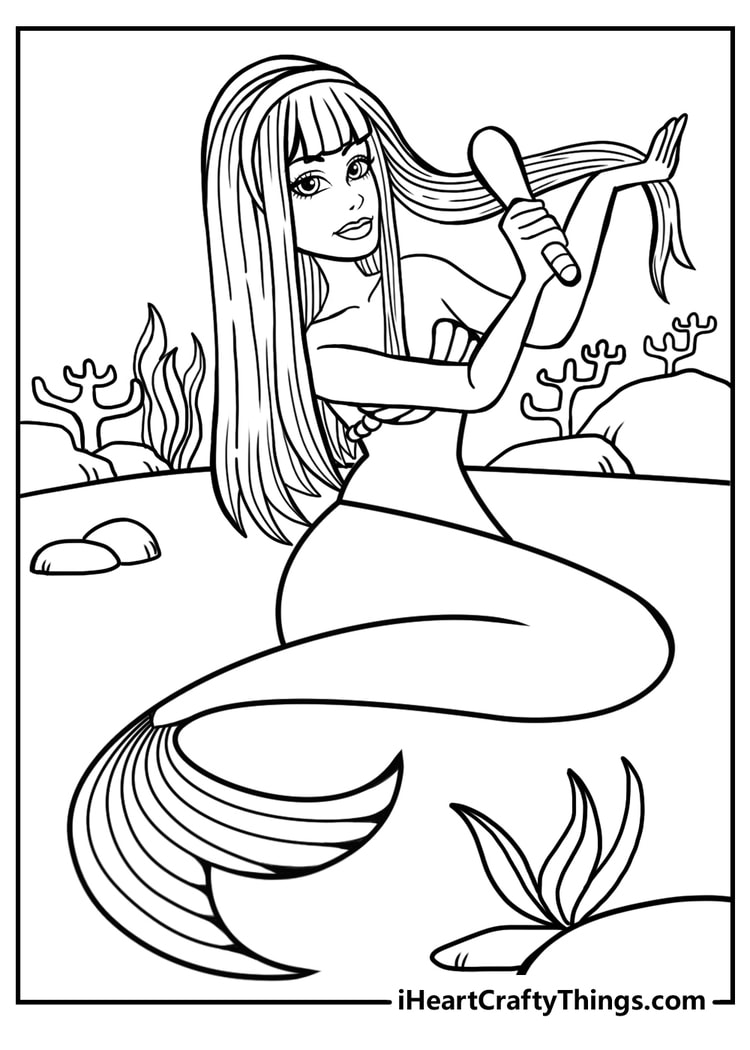 Here is another royal mermaid! She wears a small crown placed in her delicately tied-up hair and greets a fish who floats by her. Perhaps she is taking a break from her duties as a princess to enjoy a relaxing moment.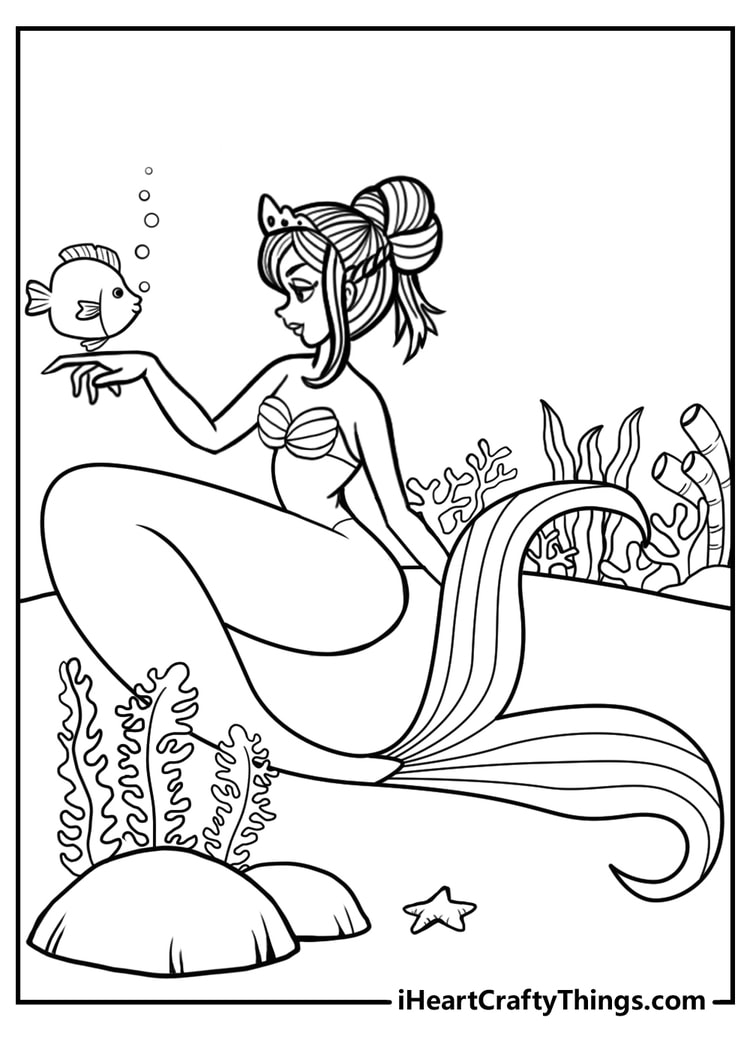 Why do you think this mermaid printable sheet shows a mermaid holding a little fish? Perhaps the poor fish has a hook or some other object stuck in his mouth and the mermaid is trying to free him. Mermaids care for all creatures under the sea.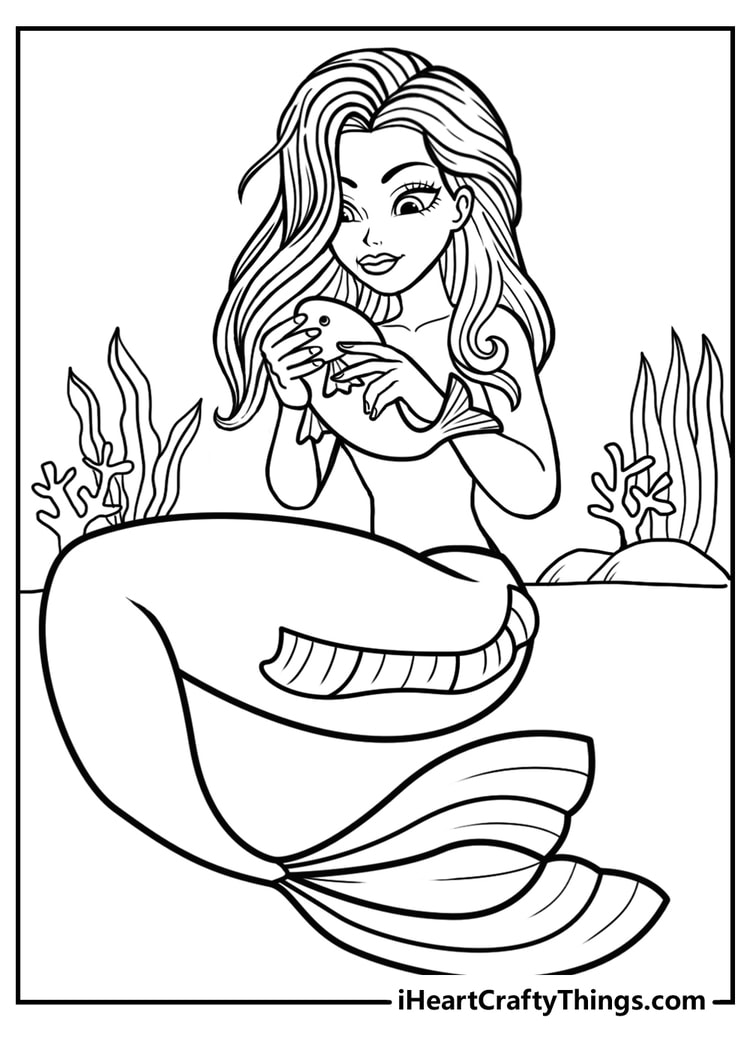 This mermaid coloring page shows a mermaid resting on a rock with her head in her hands. She looks like she is daydreaming about someone, maybe a handsome prince. We love the braids in her hair that remind us a bit of rope on a boat.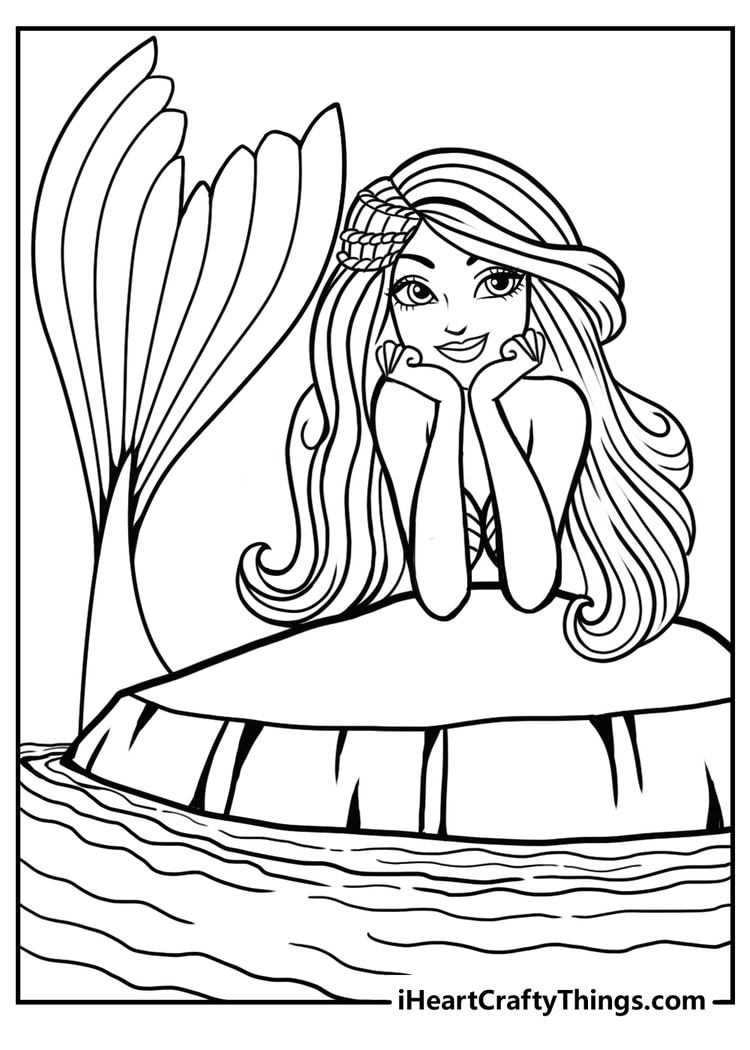 Remember – we are constantly updating our catalog of coloring pages and printable sheets, so don't forget to check back to see which new pages have been uploaded and which fun characters and animals that you can print and color. There are so many fun printables to enjoy.
Mermaids are incredibly popular right now and we hope you have enjoyed coloring these majestic and legendary creatures. Once you have finished your mermaid coloring pages don't forget to post a photo of your finished masterpiece on Facebook. We can't wait to see what you'll come up with next.