It's hard to think of a toy as popular or as iconic as Barbie. The first Barbie fashion doll was originally launched over 60 years ago. Since then Barbie has become so much more than just a fabulous fashion lover. She has become a teacher, doctor, firefighter, astronaut and so much more.
Barbie has also expanded past the range of just toy dolls. She also has her own popular movies, books, and television shows. You can find Barbie's face on everything from lunch boxes to bicycles.
The popularity of Barbie has translated into a huge demand from our readers for Barbie coloring pages that you can print for free.
So at long last, here are 30 beautiful and completely free Barbie coloring pages for you to enjoy. Have fun!
Barbie Coloring Pages – 30 All-New Printable Sheets
Barbie has made plenty of animal friends through the years. In this coloring page, she sits on a bench in front of a beautiful forest of trees wearing a sunhat with a flower tucked into it. Two bunnies have joined her and look curiously up at her.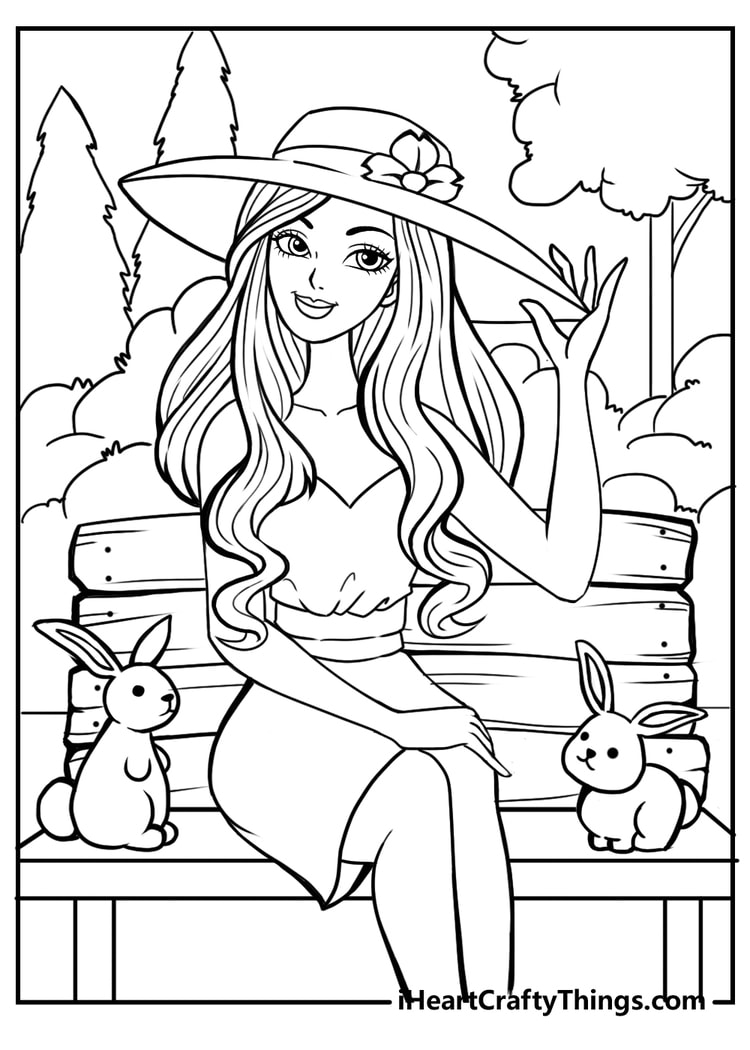 Barbie has had a career as both an artist and an art teacher. In this coloring page, she holds an artist's palette and lifts a paintbrush into the air. She almost seems to be painting the clouds and the birds into the sky.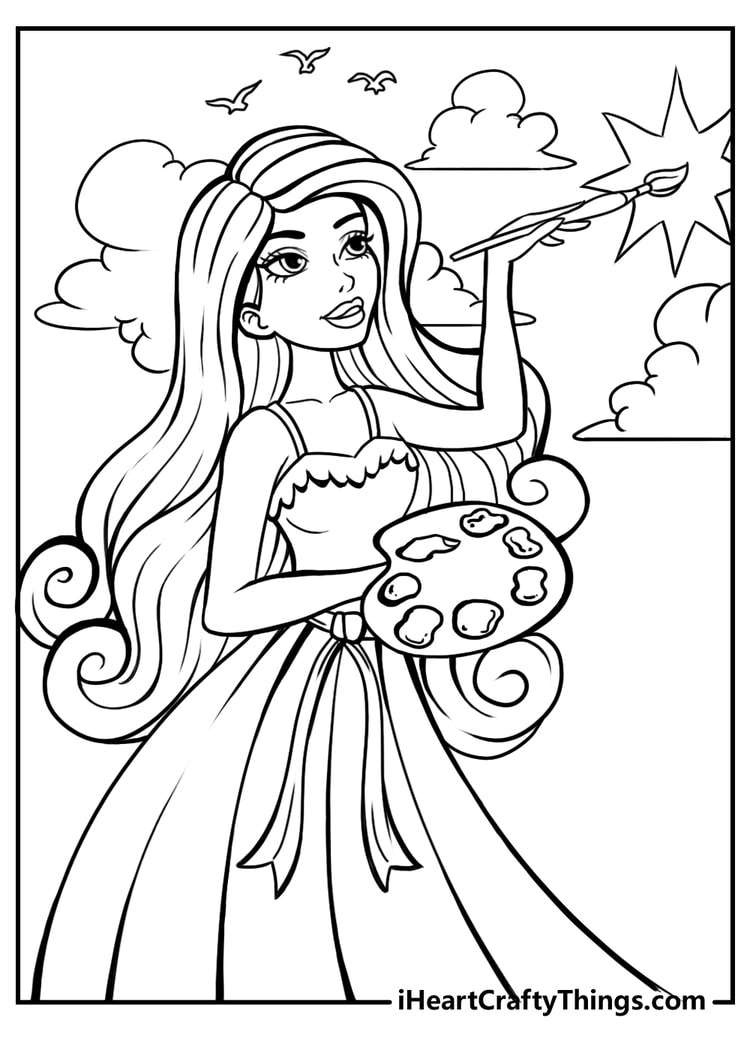 Barbie has made a friend in this coloring page. She leans out her windowsill and a little bird lands in her hand. Barbie's windowsill and even her dress are decorated with beautiful flowers and she wears a bow in the back of her hair.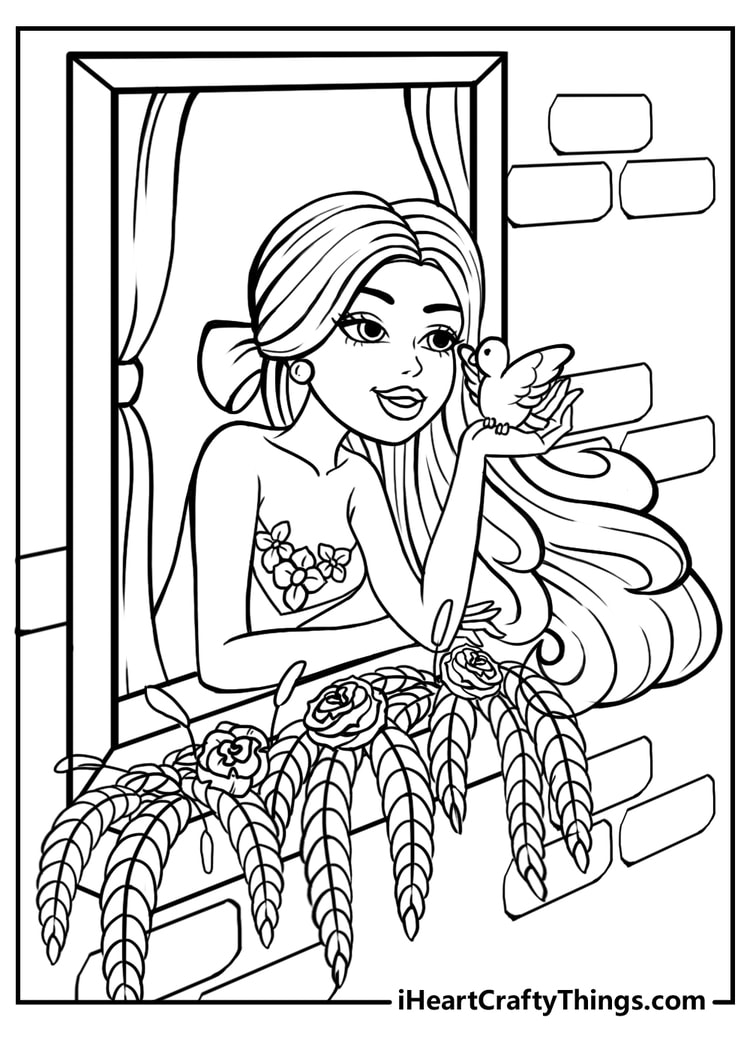 Barbie looks like a princess in this coloring sheet. She dances through the forest in a big ball gown with her hair flowing in the breeze. Another bird friend flutters by her to watch. The two of them seem to be looking at each other.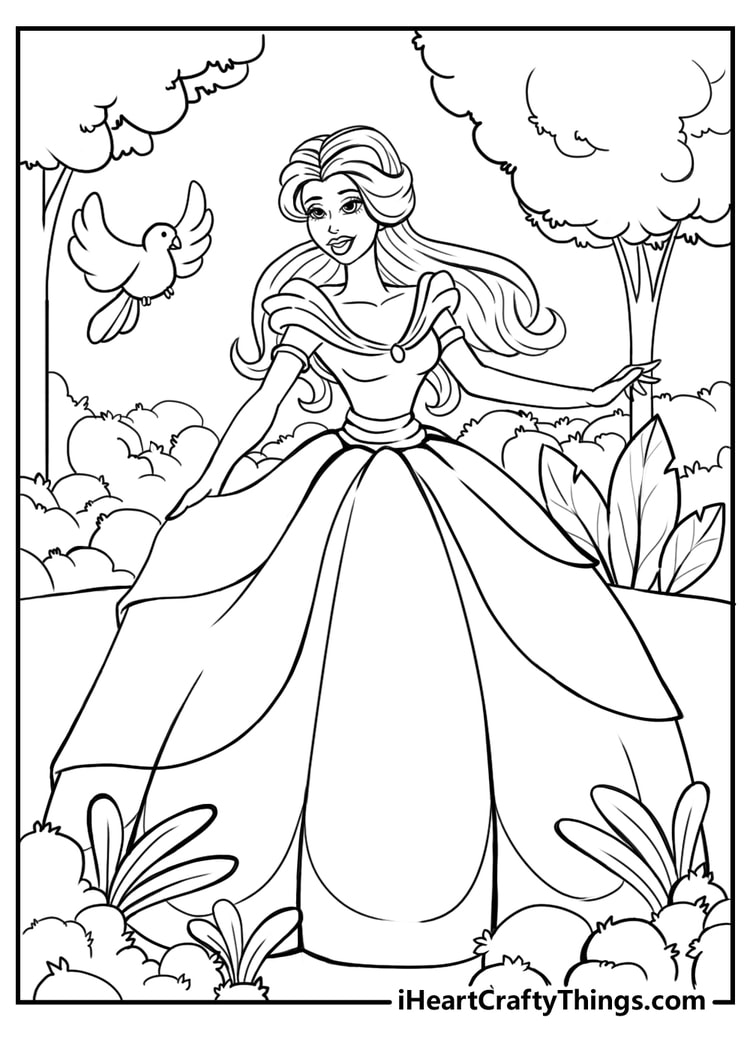 In this coloring page, Barbie goes for a walk in the garden. She wears a big rose in her hair and carries an umbrella to protect herself from the sun. Barbie's dress also has big puffy sleeves.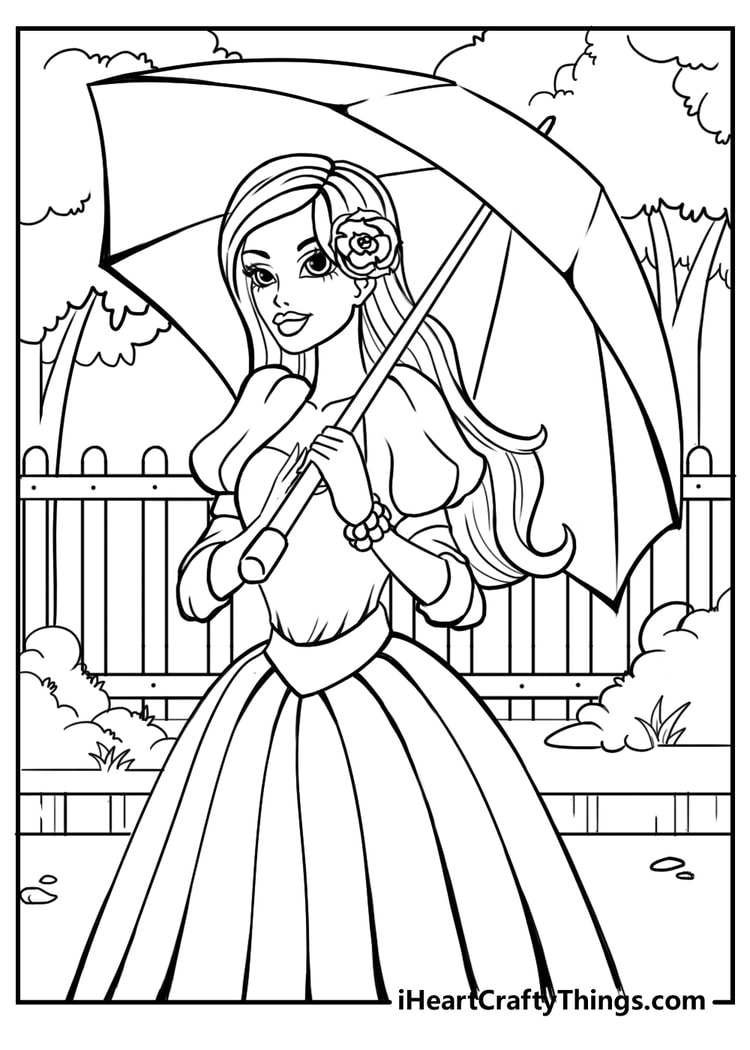 Barbie can even make friends with butterflies. In this printable, three butterflies flutter around her. She holds out her hand and one of these pretty insects lands on her fingertips. She almost looks like she could be talking to it.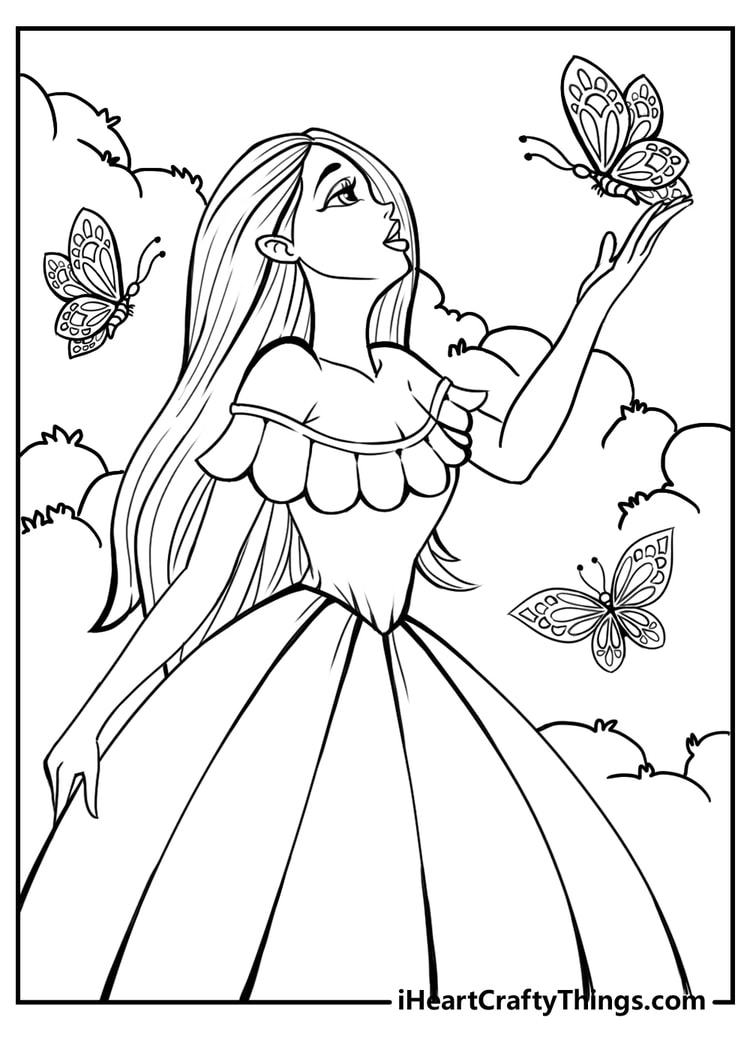 It looks like it must be a very windy day! Barbie's hair and dress are billowing all around her. A bunch of leaves are also floating in the air from all that wind. Barbie doesn't seem to mind the wind though.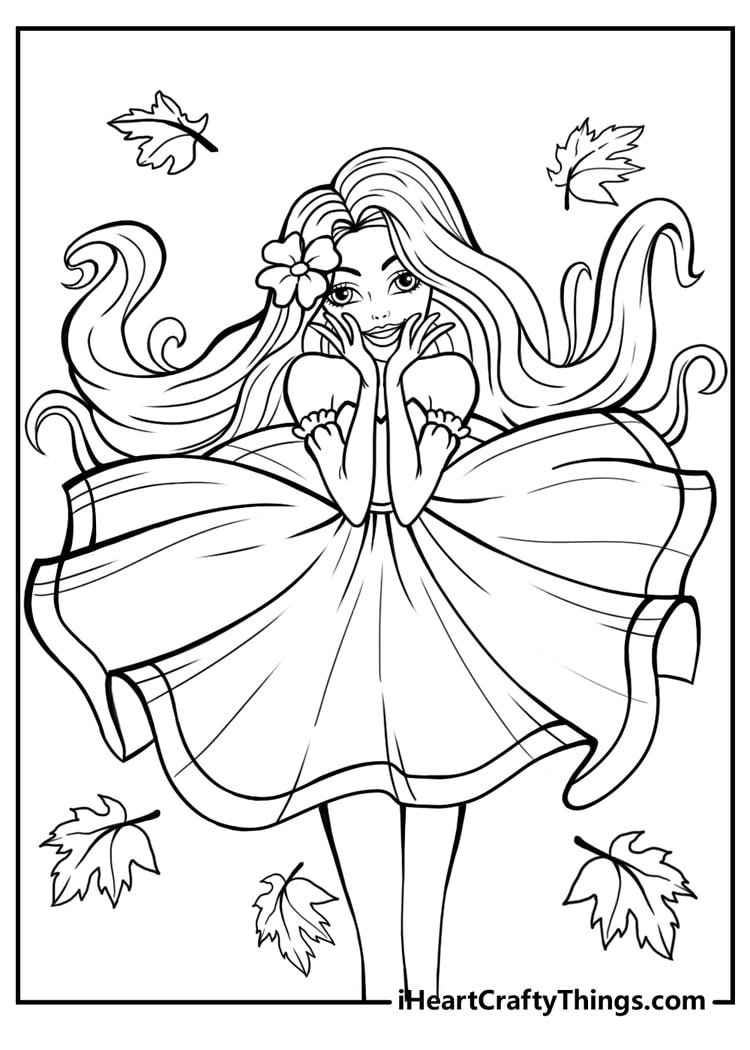 It looks like Barbie has just arrived at a party! She wears a skirt and top with little flowers on it and a pair of sunglasses on her head. Barbie is carrying a bunch of balloons and standing in a room decorated with streamers. We wonder who's birthday it could be.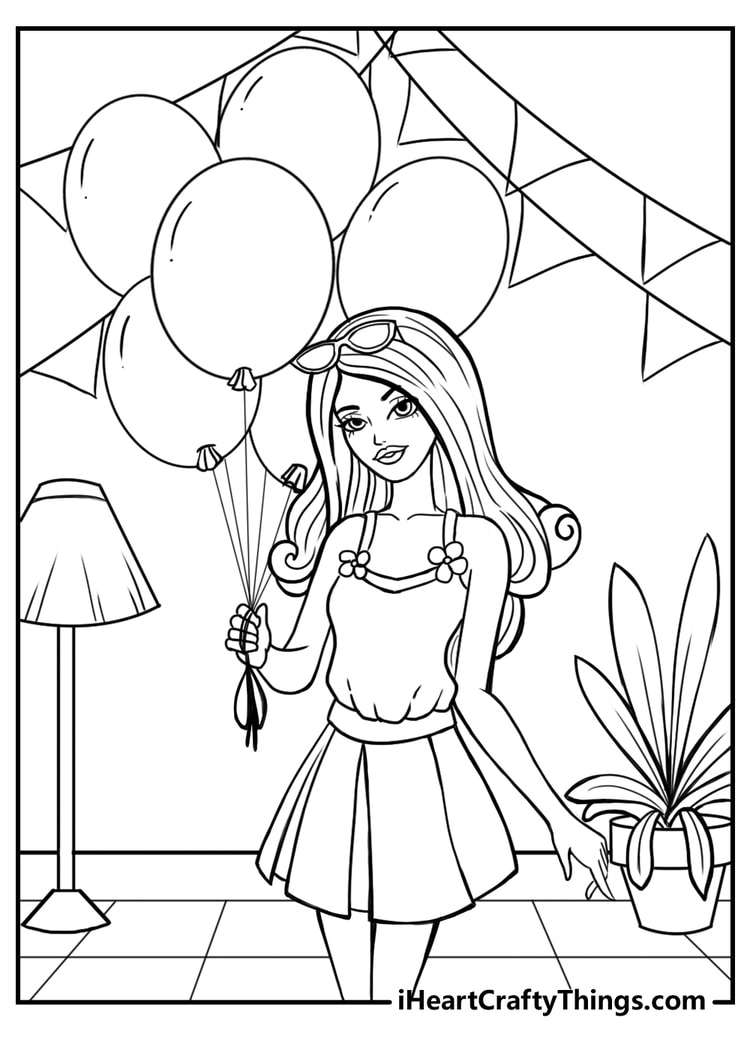 Maybe Barbie is going to another party in this coloring page. She carries another bunch of balloons, but this time she is at the park. Barbie wears a skirt and top with a diamond shape on the front and carries her purse on her other arm.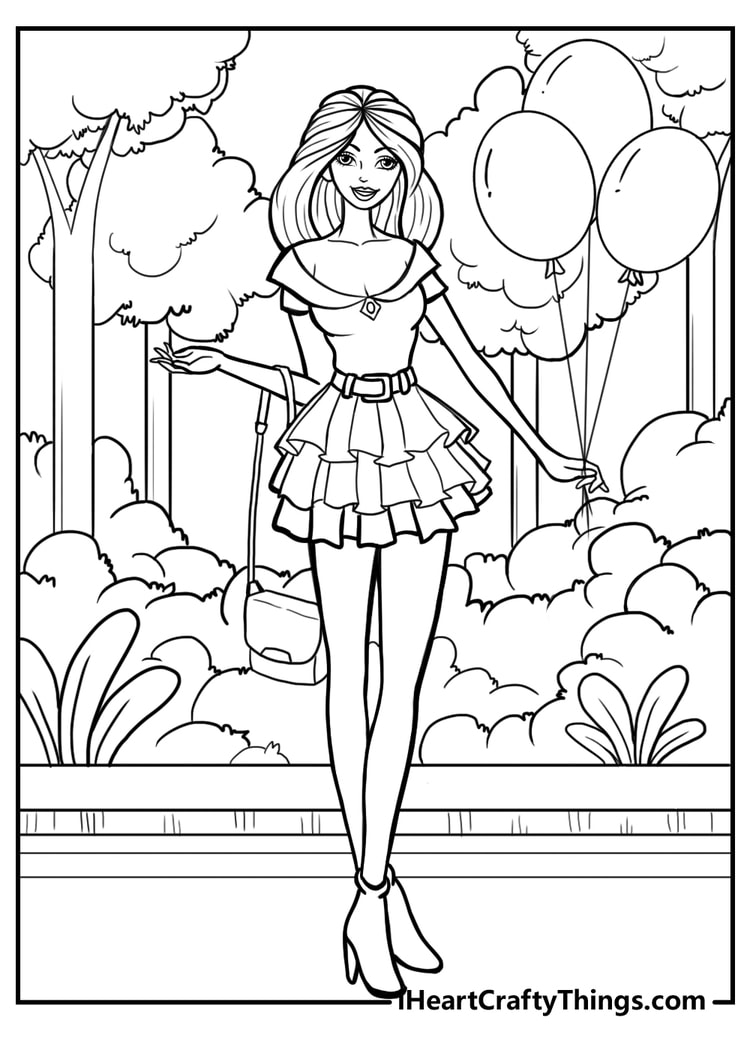 Barbie loves to do all kinds of fun activities. Remember that all these Barbie coloring pages are completely free to print, so feel free to print and color as many as you want!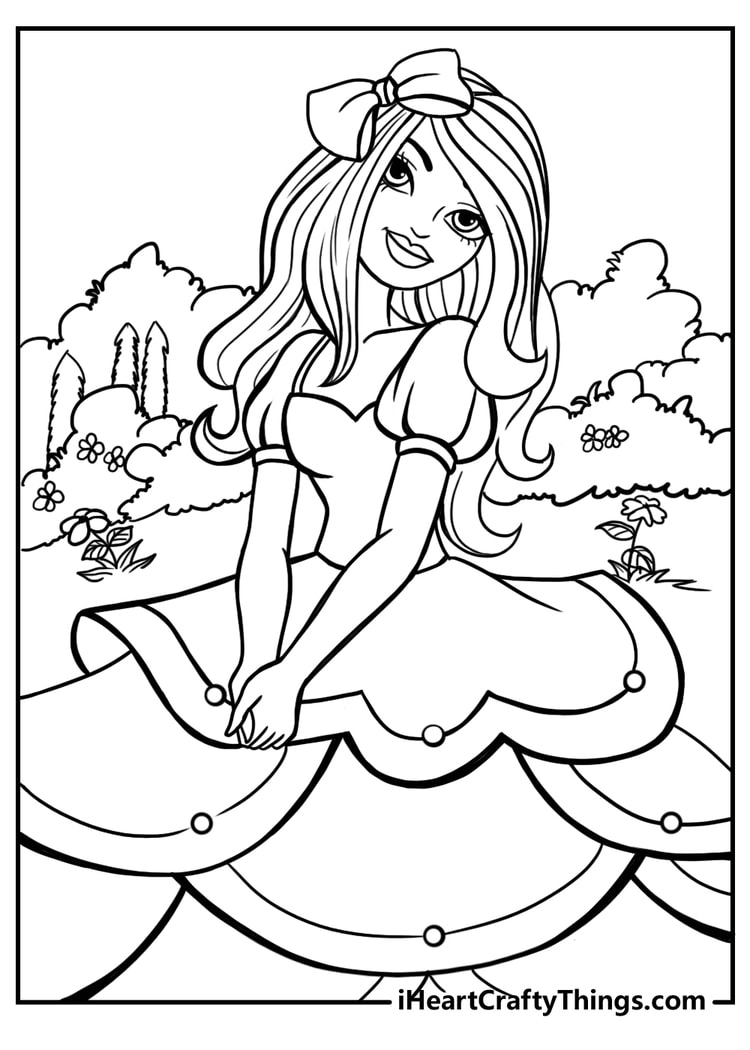 It looks like it's time for Barbie to take check on her plants. She stands outside of her house with an umbrella and kneels by two flower pots. Her flowers seem to be growing very well. They look happy and healthy.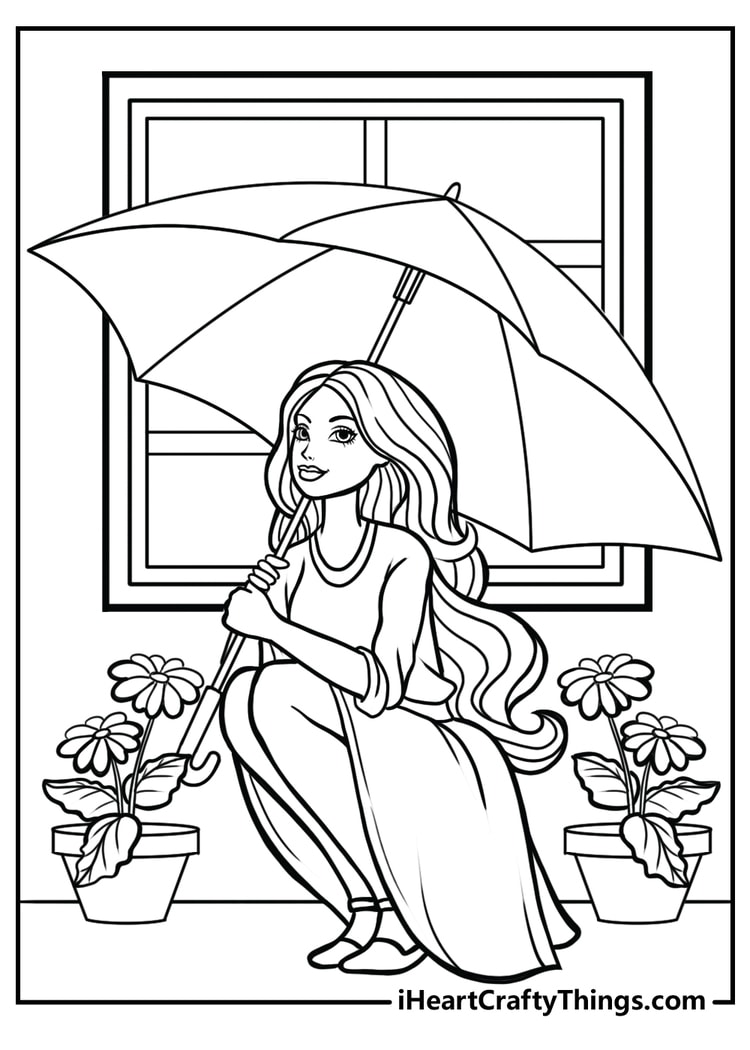 In this printable sheet, Barbie is enjoying an amazing picnic on the beach. She has a picnic basket full of food and we can see loaves of bread poking out of the top.  A little island sits behind her with palm trees growing.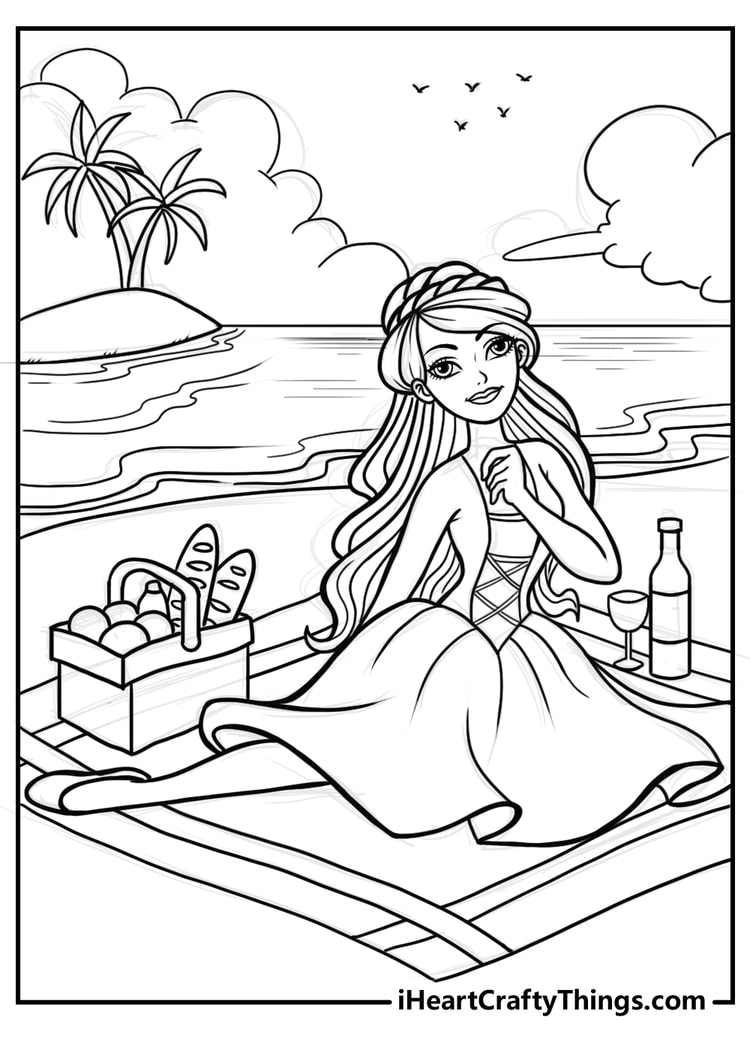 Our coloring page designers really seem to love seeing Barbie with an umbrella. Here she appears to be waiting at a bus stop to catch a ride. Where do you think Barbie is taking the bus to?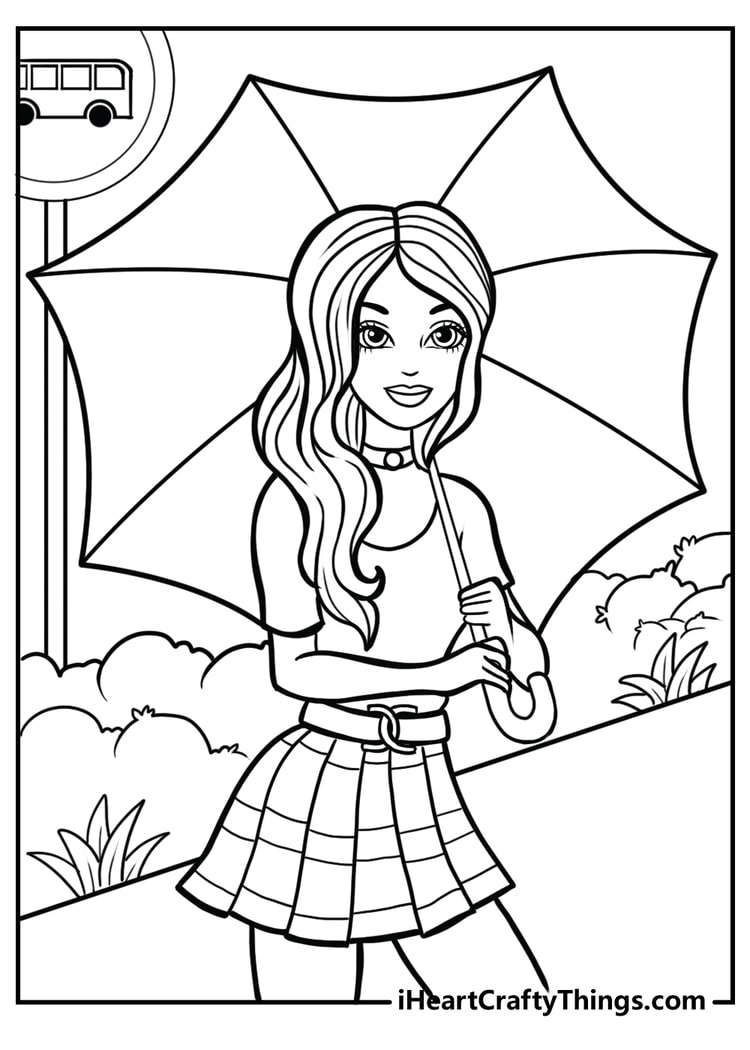 Barbie is taking her dog for a walk. She wears a skirt and striped shirt and her hair is cut shorter in this coloring sheet. Did you know that in Barbie: Life in the Dreamhouse, Barbie's pet dog's name is Taffy?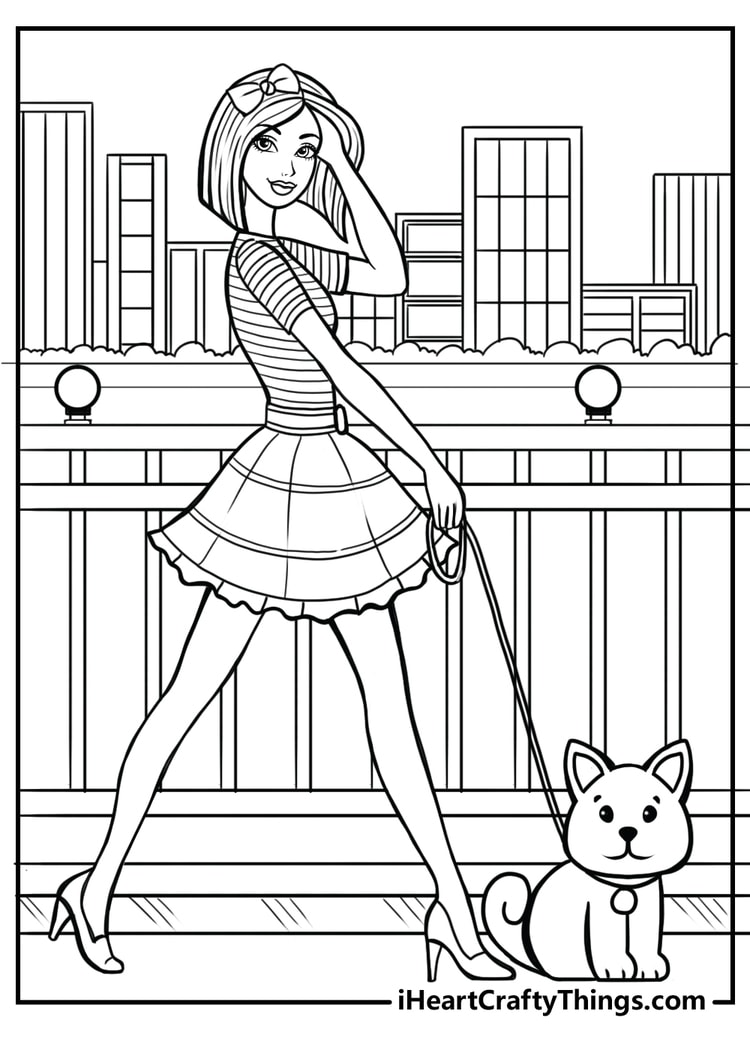 It looks like Barbie also has a pet cat! We love this coloring page of her daydreaming with her head in her hands. Meanwhile, her cat sleeps on the windowsill. We wonder what she could be daydreaming about.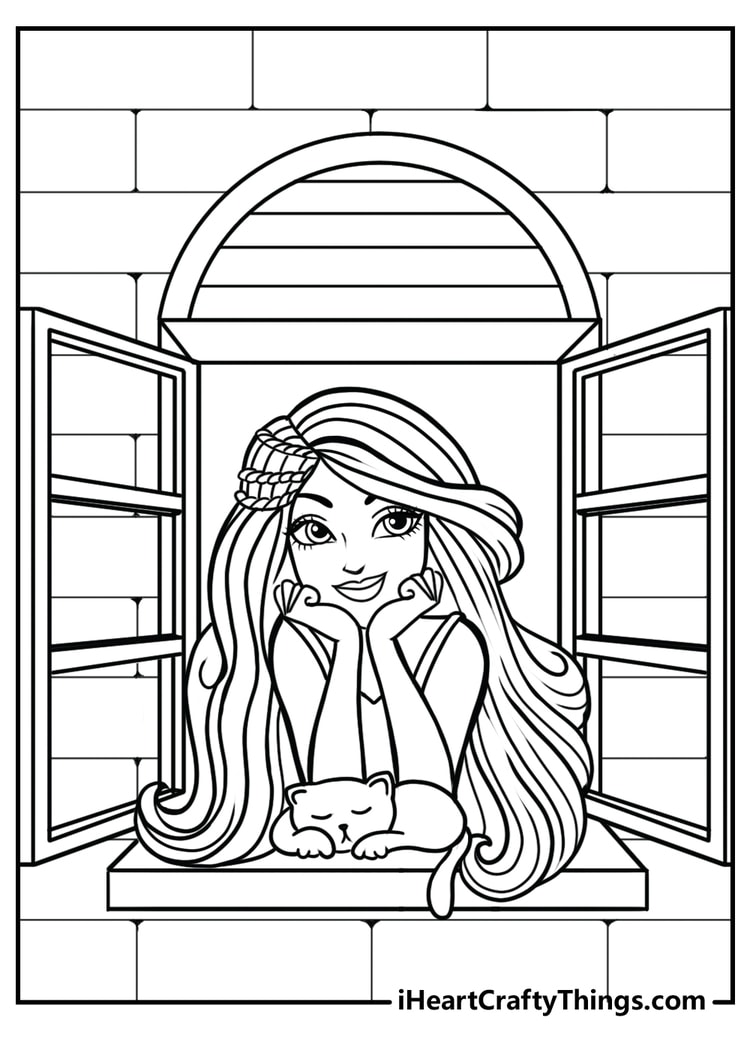 Barbie is waiting at the bus stop again. This time she wears a floppy sun hat with flowers in the band instead of carrying her umbrella. She carries a pair of sunglasses and wears a dress with a wide poofy skirt.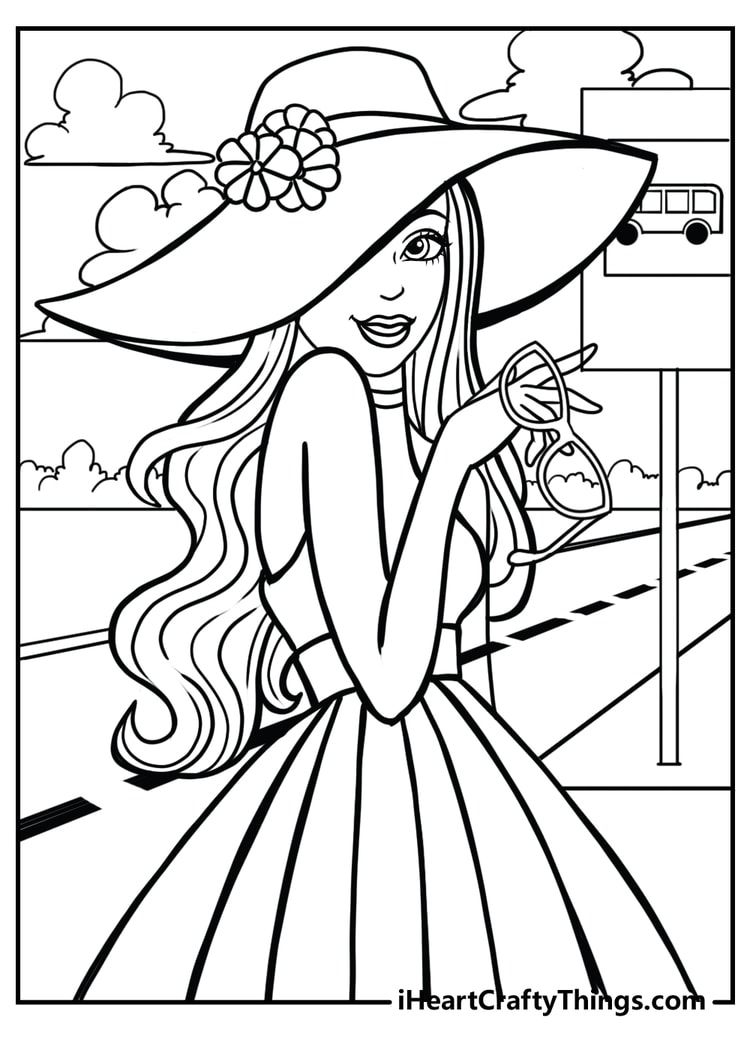 Barbie has so many different outfits to wear. In this coloring sheet, she has accessorized by wearing a bow around her neck and her favorite sun hat. It looks like there are cattail plants growing behind her.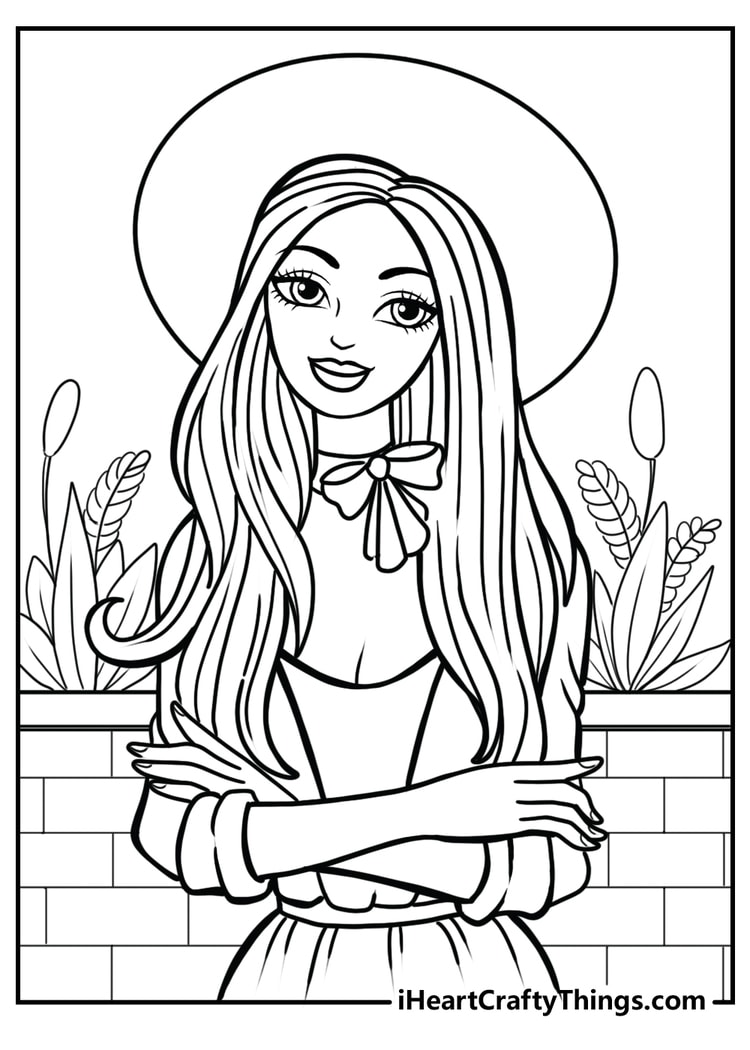 Barbie sits outside a coffee shop under a big umbrella. She enjoys a cup of coffee and has a good book ready to read on her table, but Barbie looks too lost in thought to read right now. What do you think she is thinking about?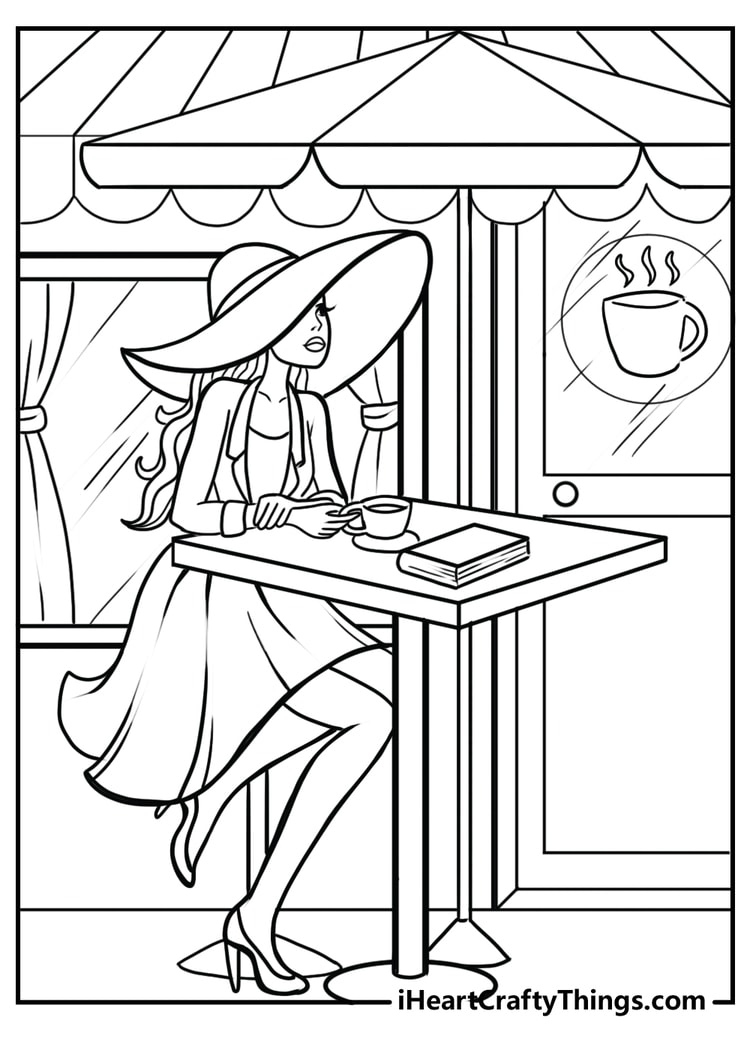 Barbie is relaxing at home in this printable sheet. She has her hair pulled back in a ponytail and she sits in a chair by her window, enjoying a good book and a hot pot of tea. Barbie's pet cat is sleeping soundly underneath her.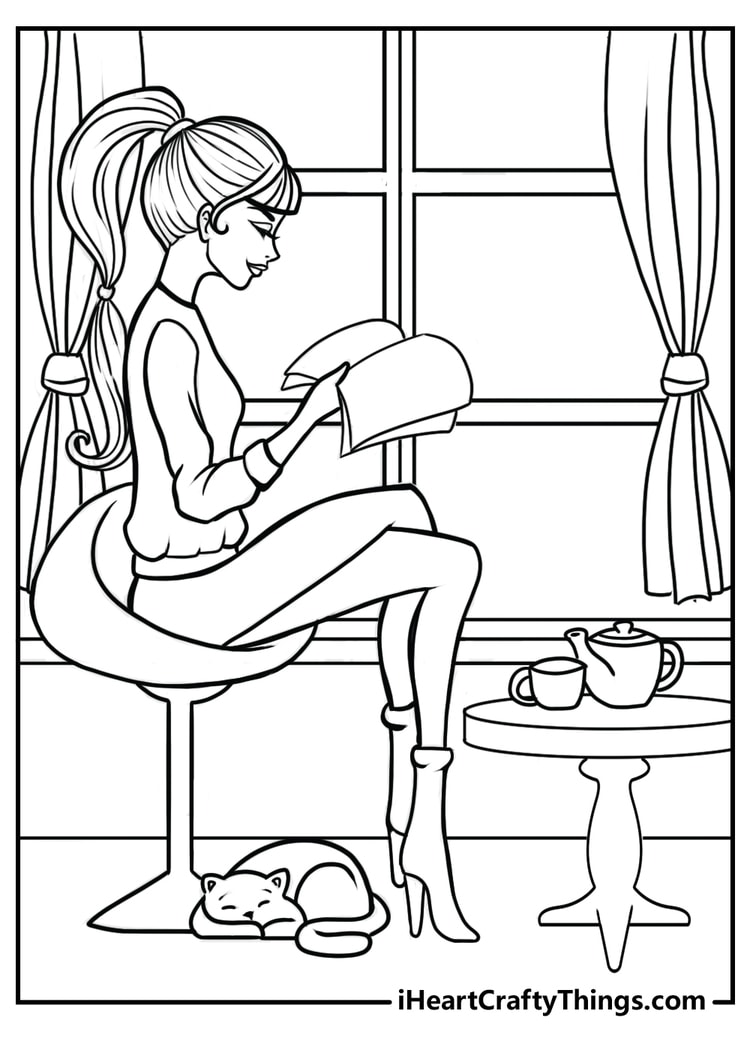 Barbie seems to have stopped at another coffee shop to relax. She sits at a table decorated with flowers with a large plant growing beside it. Barbie wears long boots and a dress with a belt around the middle.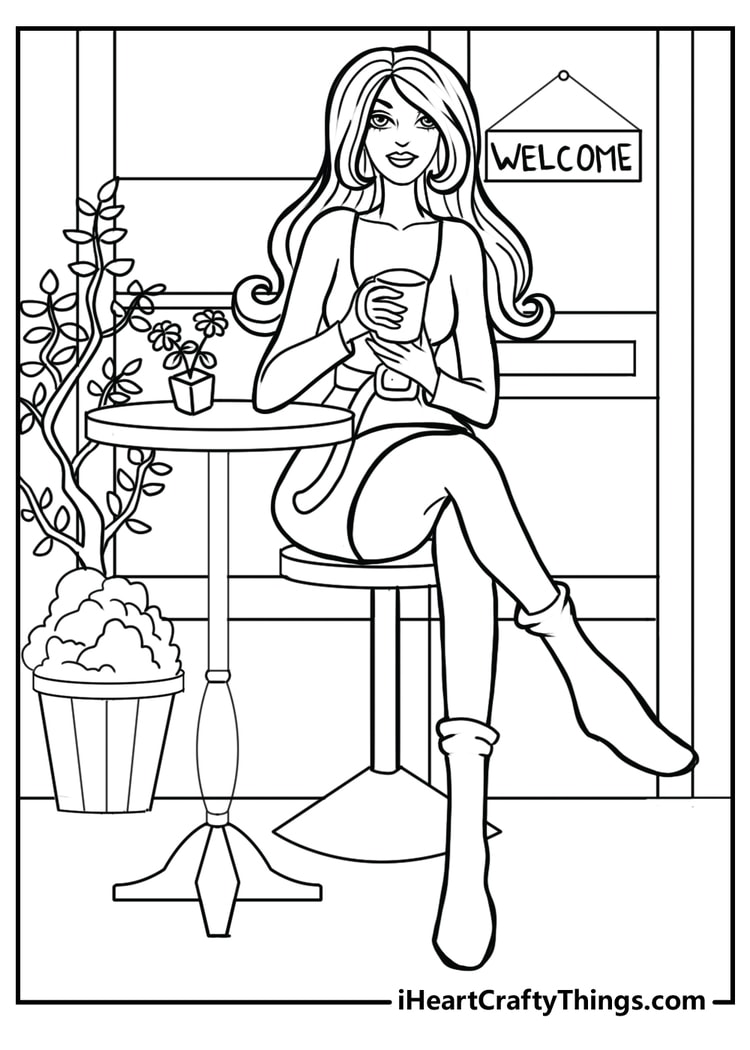 Barbie goes for a stroll through town wearing a flowy sundress with a bow in the front. Her hair is pulled back into a very long ponytail and she hides part of her face behind a fan. Barbie might use the fan to keep herself cool on a hot day.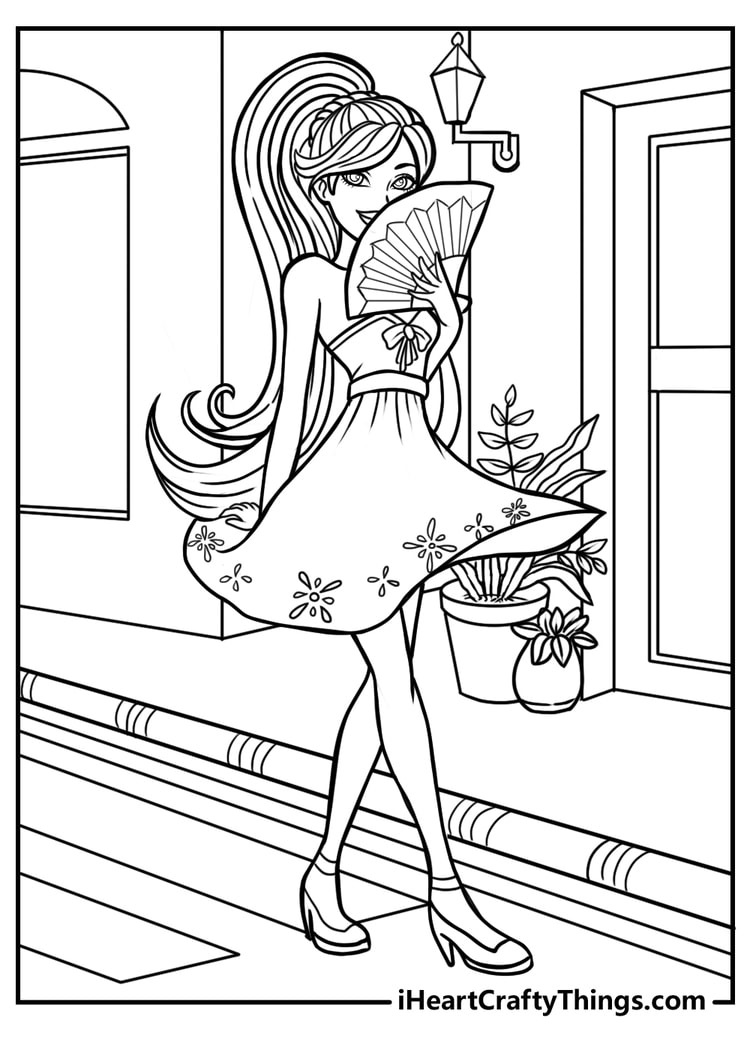 It looks like Barbie has just gone out for a day of shopping. She stops outside a coffee shop for a quick break to relax and read a book. Barbie's purse and shopping bags sit around her feet as she reads.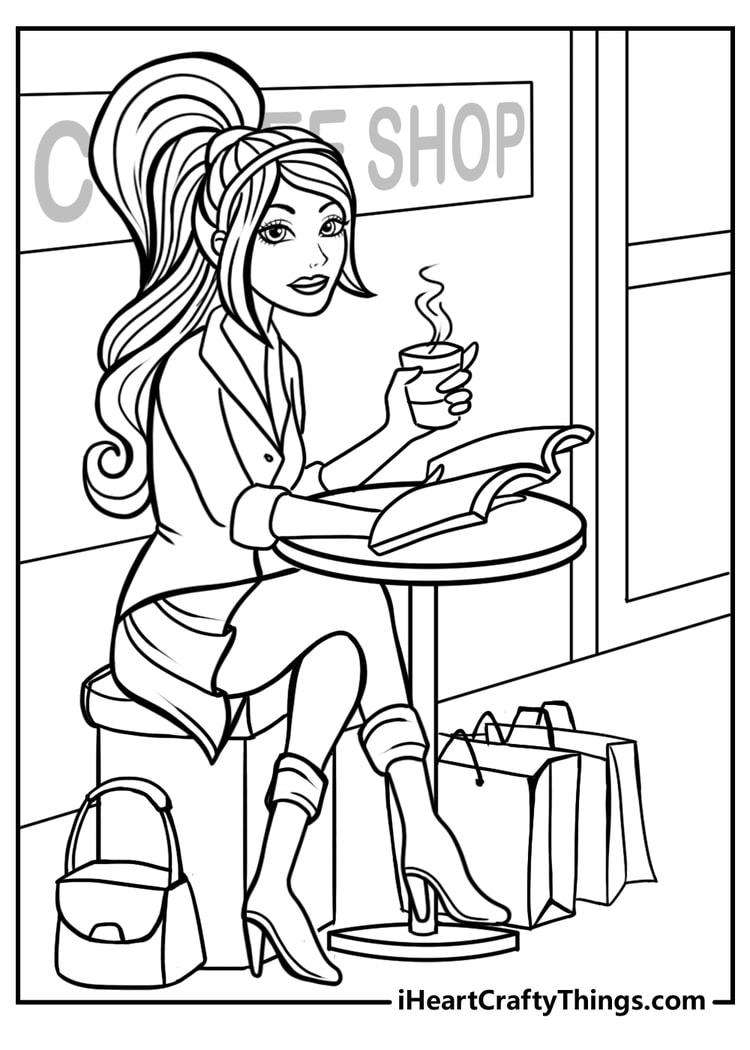 We love seeing Barbie spending time with all her furry friends. In this coloring sheet. She kneels down to pet her cat, who has a bow tied around her neck. The cat's toys and ball of yarn sit beside her. In the background, Barbie has a picture of a sailboat floating near the shore.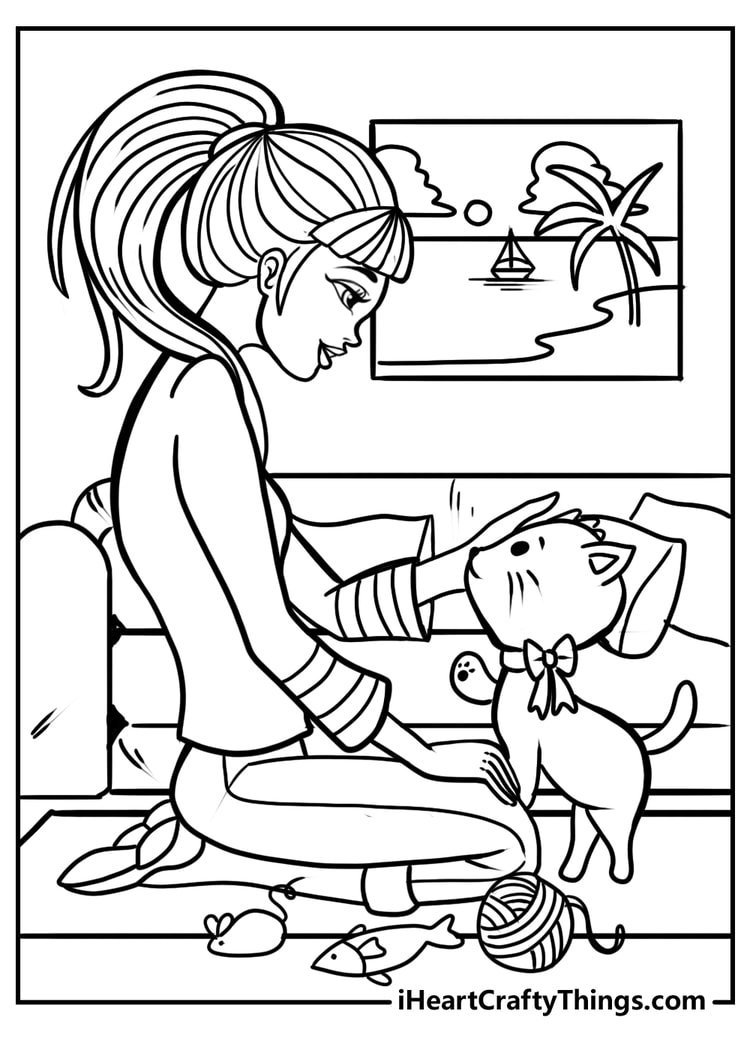 Barbie always seems to have the cutest dresses. In this coloring page, her dress has a big frilly skirt and a bow around the waist. She wears a necklace and bracelets and Barbie is even sporting bangs this time. You can see her pictures and clock hanging in the background.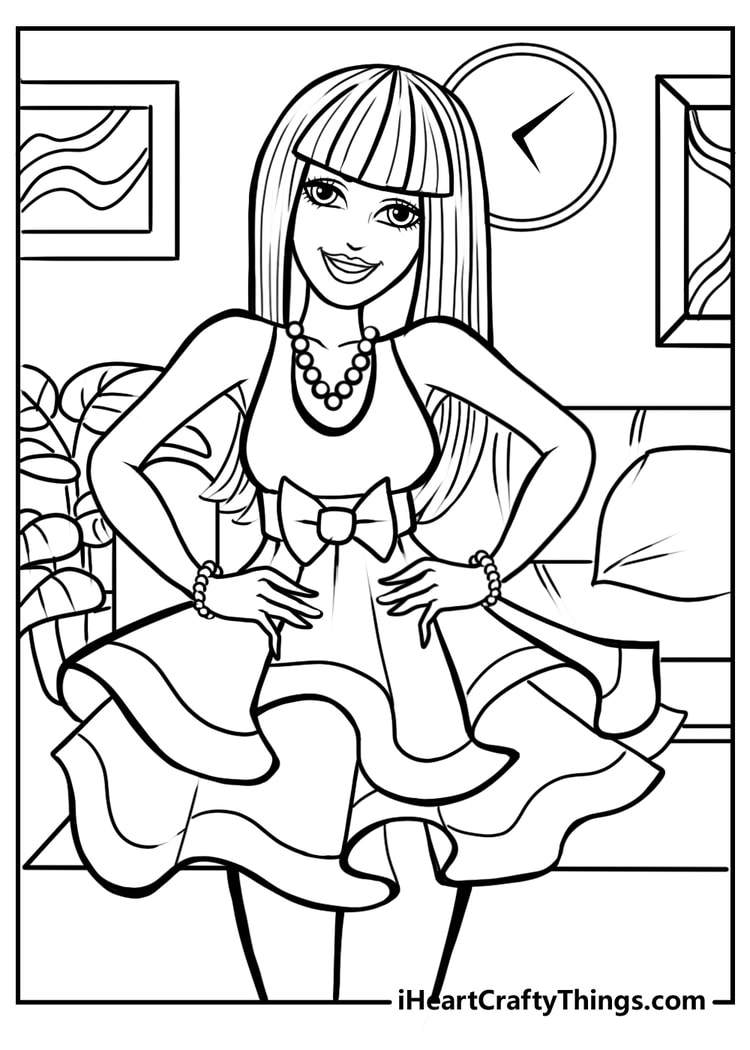 Remember – when you finish coloring your Barbie coloring pages, post your finished pictures onto our Facebook page. Every month we pick the best uploads and the winner gets a special prize!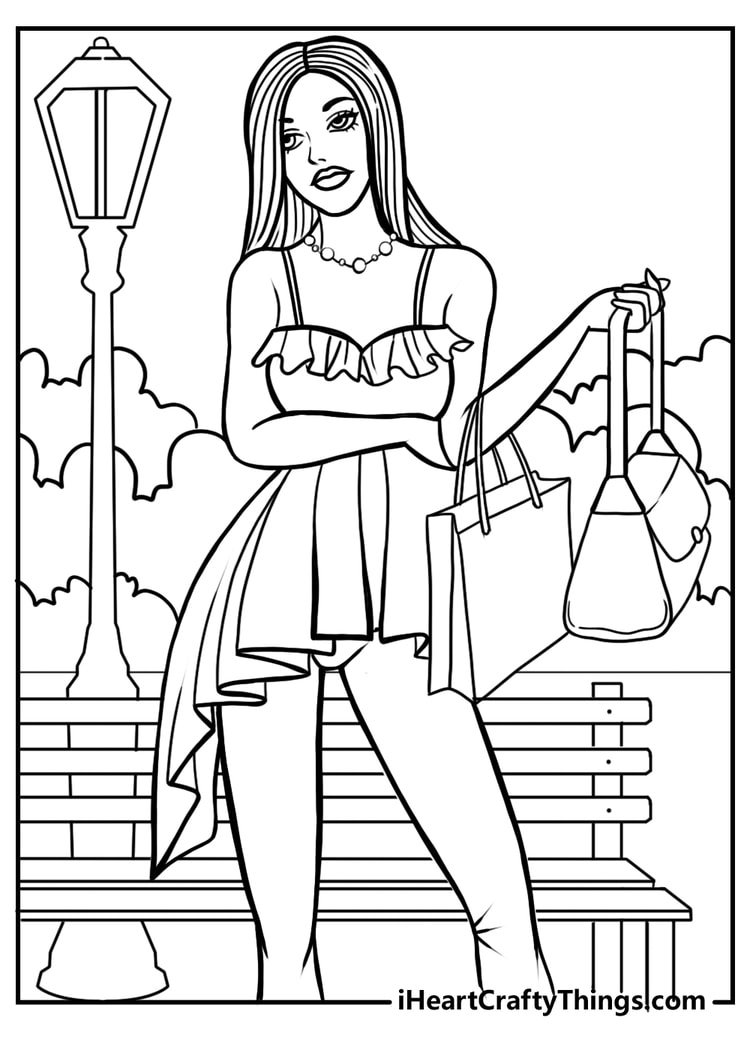 Barbie looks like a princess in this printable. She wears a floor-length gown with a flower on one shoulder and her flowing hair has one braid running through it. Barbie stands in the forest and we like to imagine that she is about to start singing.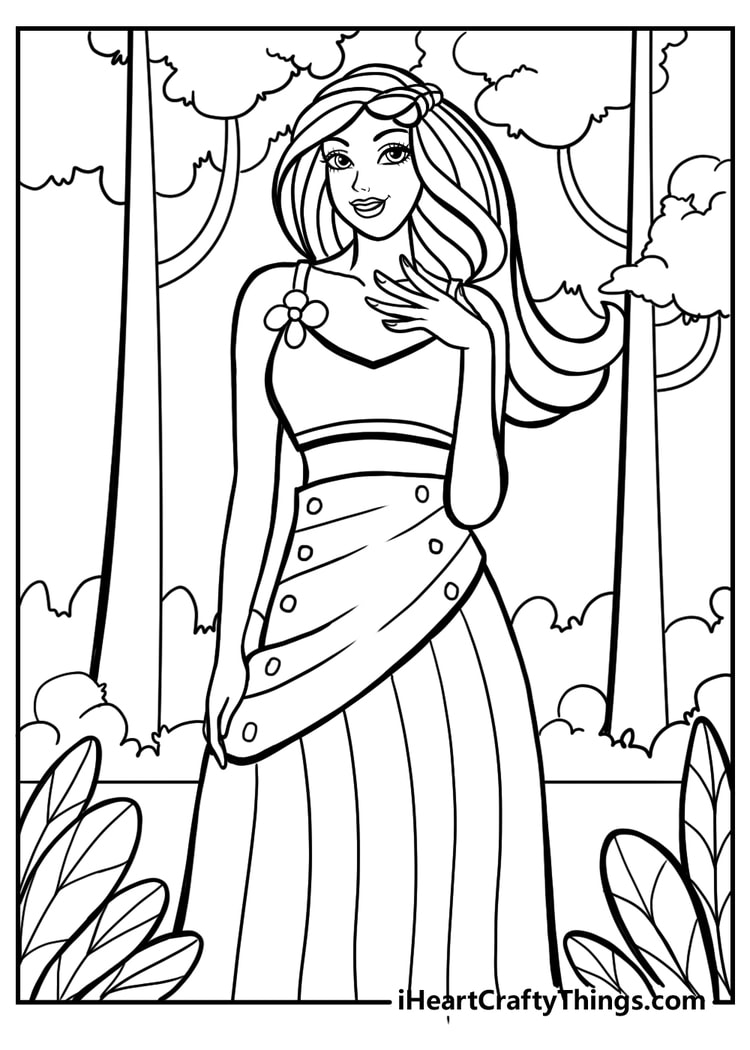 Barbie has a bit of a different outfit on in this coloring page. She wears a hat and button-up jacket with long sleeves and long socks. What do you think Barbie is going to do today?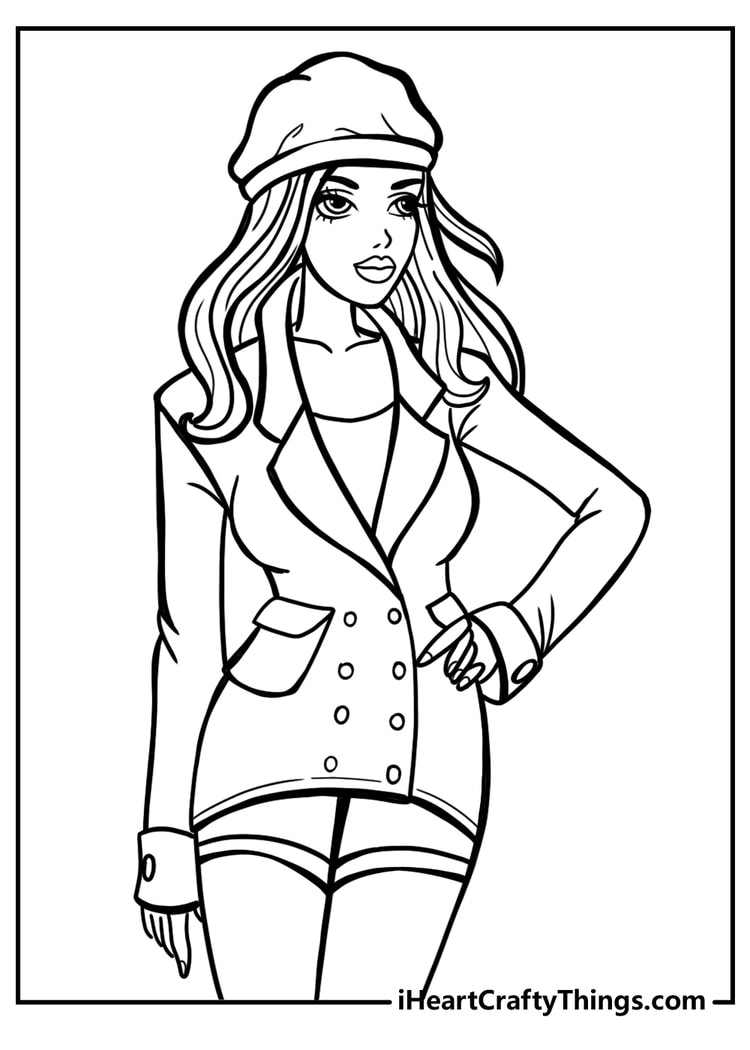 Barbie seems to have gone shopping again. She wears a long gown and a sunhat with a bow in it and carries a shopping bag on one arm and her purse on another. Barbie seems to be in a hurry as she rushes through the city. Where do you think she is off to next?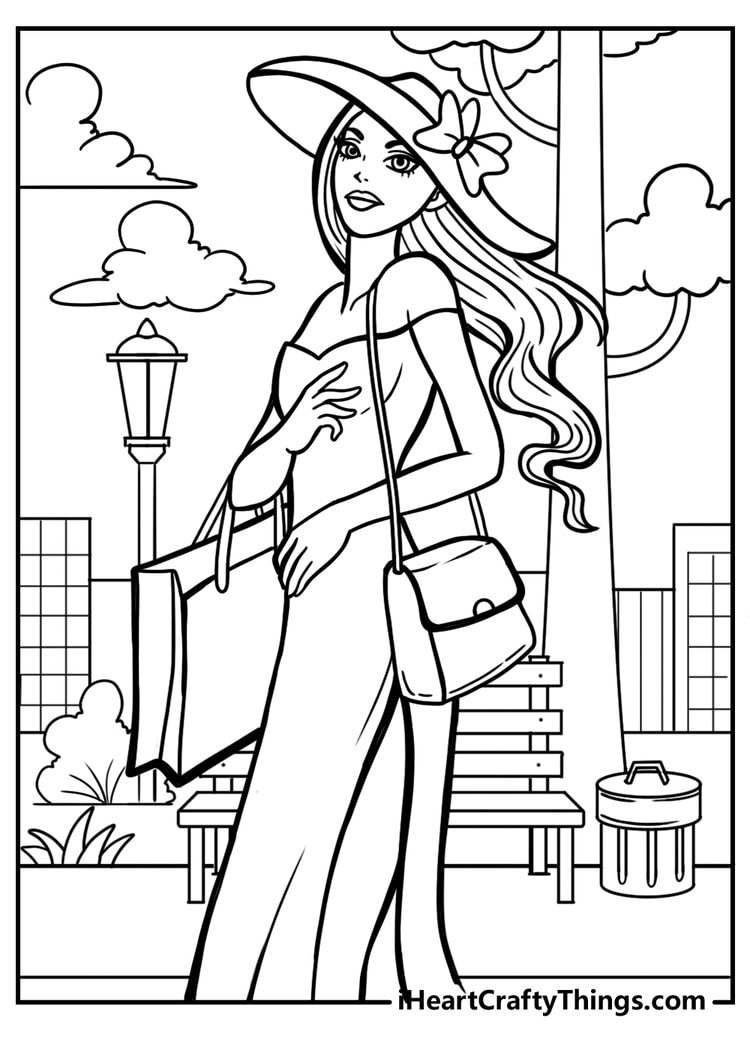 Barbie looks very proud of her gown in this coloring sheet. She stands with her hands on her hips and her hair flowing behind her. Her dress has a big bow on the front and flows in uneven lengths around her knees.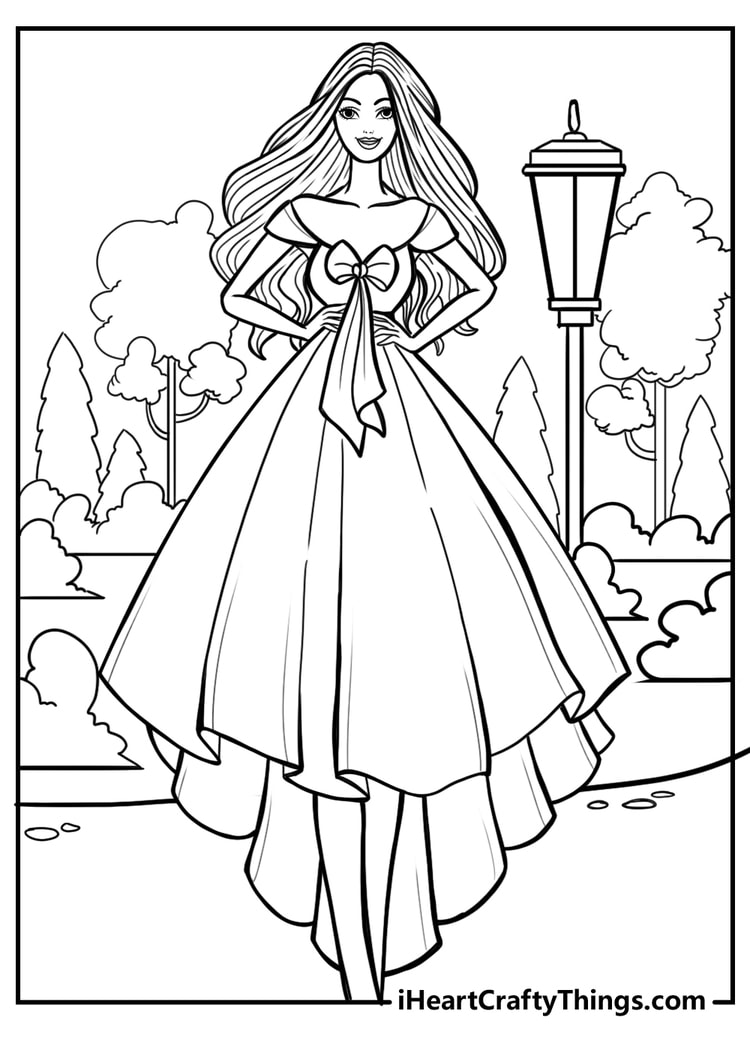 Barbie walks down the stairs in a long flowy gown that goes all the way to the floor. Her dress has a diamond-shaped cut out in the middle and a rose on one hip. Barbie descends past a window overlooking some trees as she hurries on her way.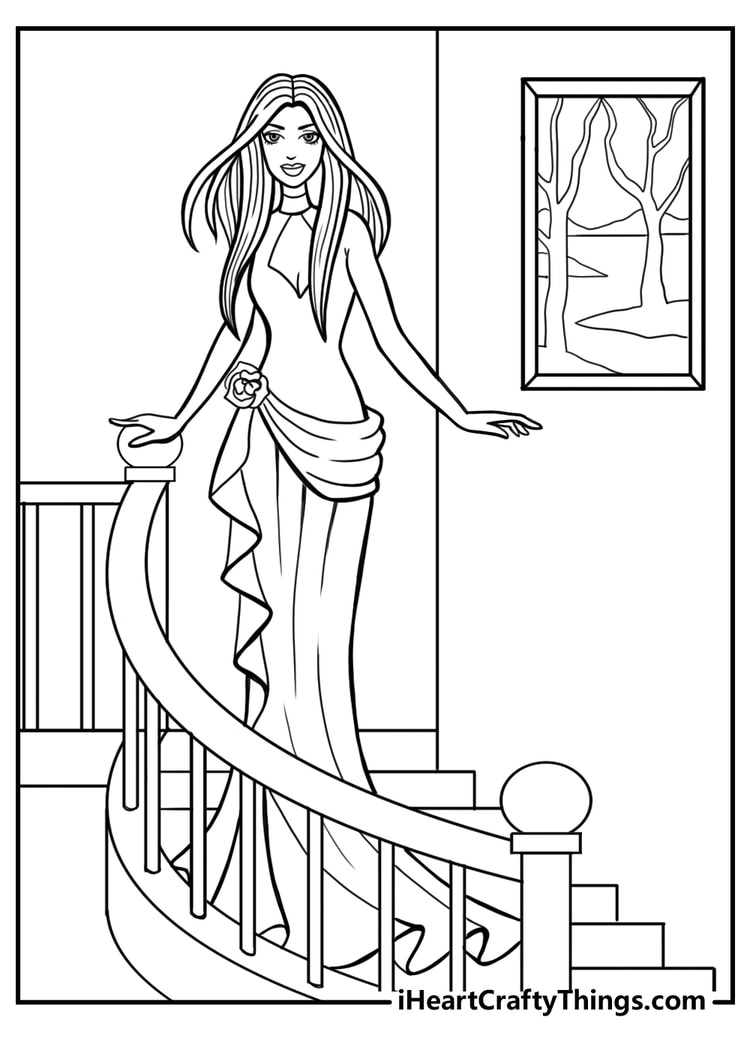 Remember to check back for more fun characters and animals that you can print and color. We are constantly updating our catalog of coloring pages and printable sheets for you to enjoy. There is so much more to come.
We hope you have enjoyed the beautiful world of Barbie. Don't forget to post a photo of your finished Barbie coloring pages on our Facebook page. We can't wait to see all the creative ways you'll bring to life these super fun images.