There are many different types of dolls that you can enjoy that have some unique concepts and fashion choices behind them.
The Monster High series manages to stand out from the crowd with its fashionable characters based on famous monsters and creatures.
This collection of free Monster High coloring pages for kids is here to take a look at some of these spooky and fabulous fashion icons!
Any Monster High fans will definitely want to see all of these 20 free pages we have here!
So get ready to meet some strange and stylish characters as we begin the very first page of this incredible collection.
20 Brand New Monster High Coloring Pages – Free to Print and Color
Draculaura is the first character that we are featuring on this first Monster High coloring sheet.
As her name suggests, she is the daughter of the famous vampire Dracula, and her color scheme usually has plenty of pinks, black and hints of blues.
Will you use these colors for her, or will you give her a makeover?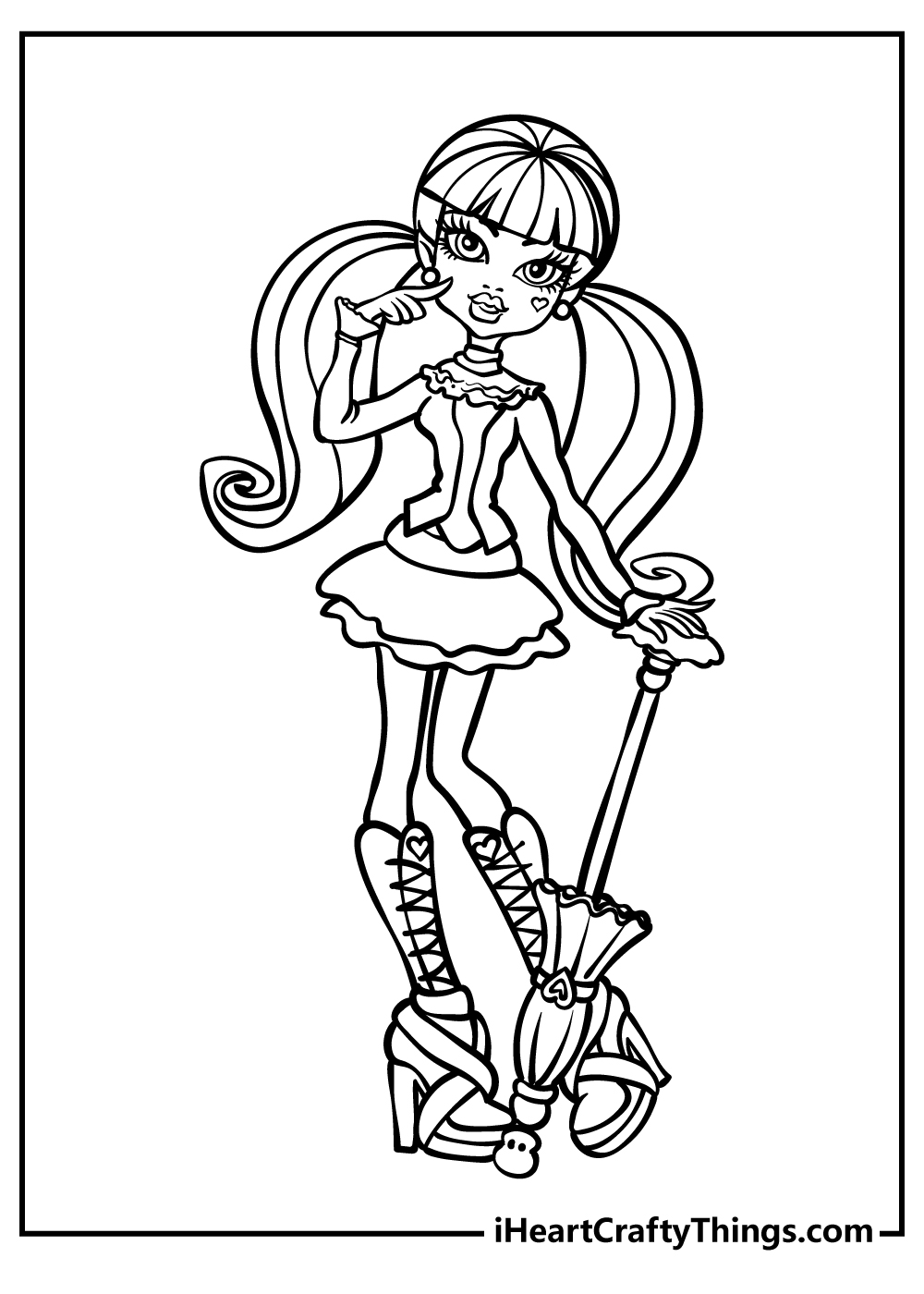 Clawdeen Wolf is our next character, and it's clear from her name and her appearance that she is inspired by werewolves.
She is also wearing an outfit that has lots of details, and there are so many ways that you could color her outfit. What colors come to mind for you when you look at this depiction of Clawdeen?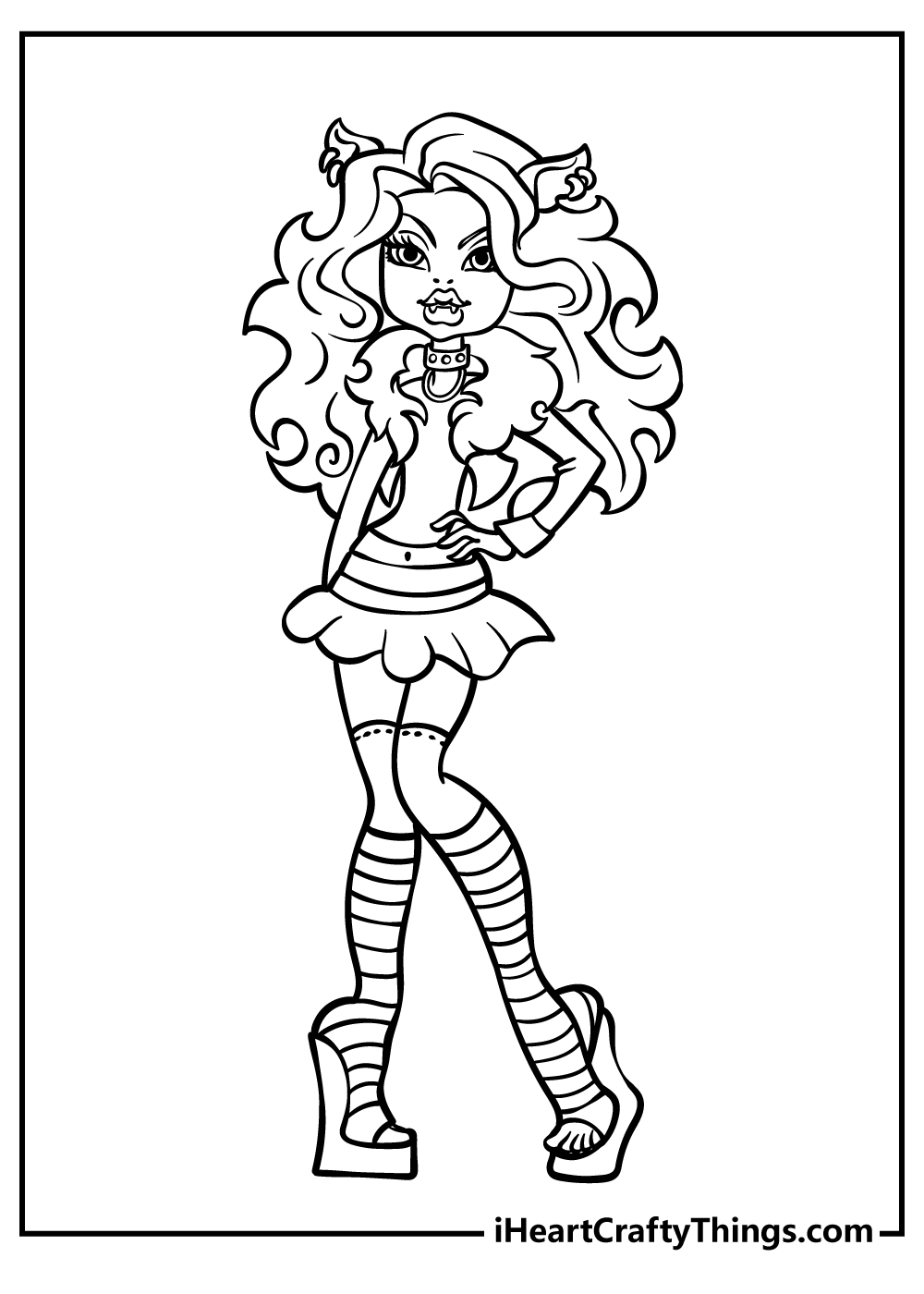 This fun Monster High coloring page features a sweet girl dressed up as her favorite character, Draculaura.
She's wearing a trendy white hoodie with the hood down to show off her curly pigtails, styled just like Draculaura.
A cool necklace with a rectangle pendant adds a nice touch. Her warm smile shows how much she loves Monster High.
What colors will you use for her outfit? Get creative and have a fantastic time coloring this page.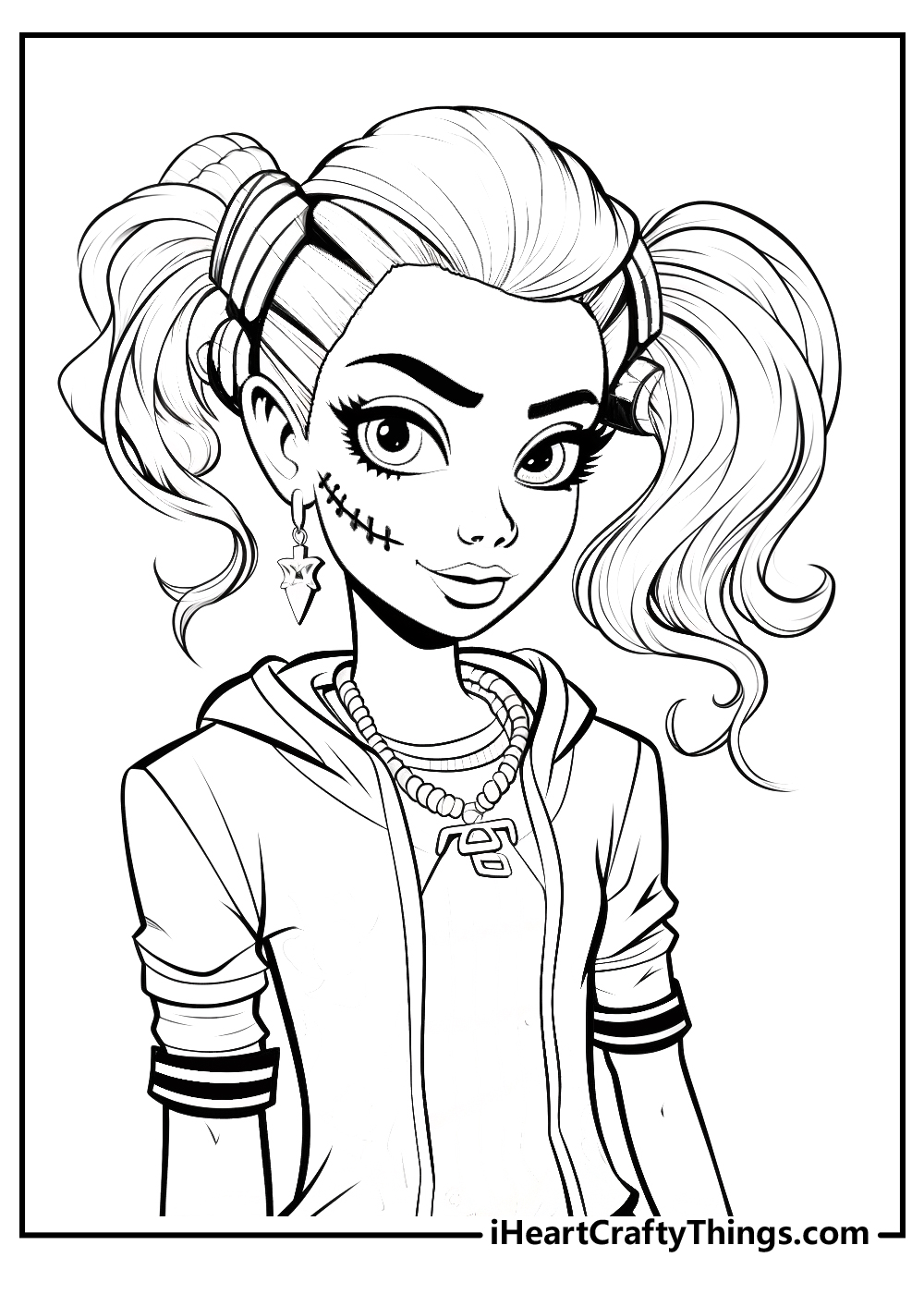 This next character has a really relaxed look to her, and she's ready for you to bring her to life with some colors!
She has also got loads of detail to her outfit and her hair, so you can spend a lot of fun time working to bring some color to all of these details. We look forward to seeing how you color this page!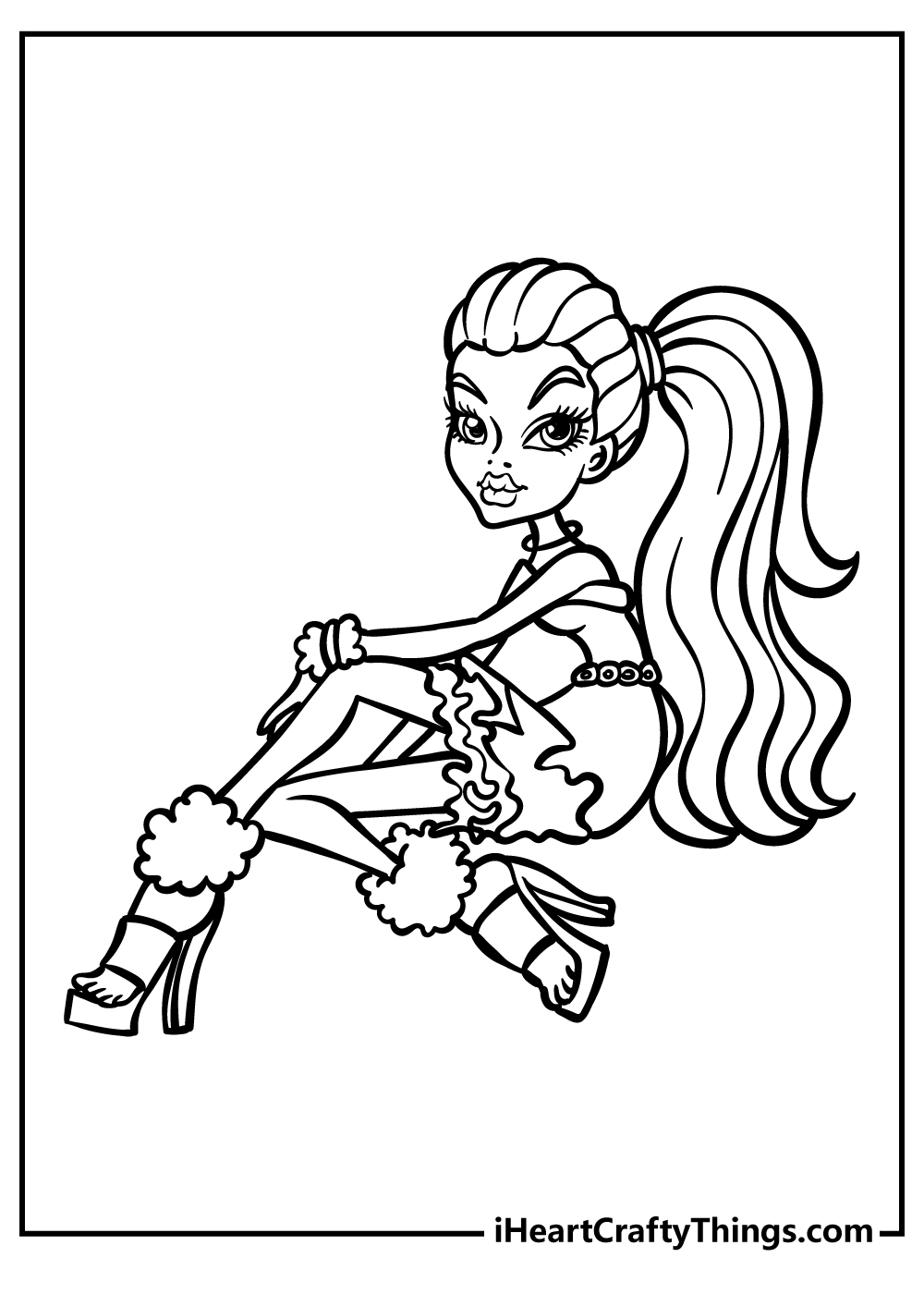 For the next Monster High coloring page we have, there is a character that again has a name that gives away her origins!
Frankie Stein is the daughter of Frankenstein's monster, and there is some great attention to detail here with the metal stitches on her arms and legs.
She is ready to enjoy a tasty cupcake here, so how will you color that treat she's about to eat?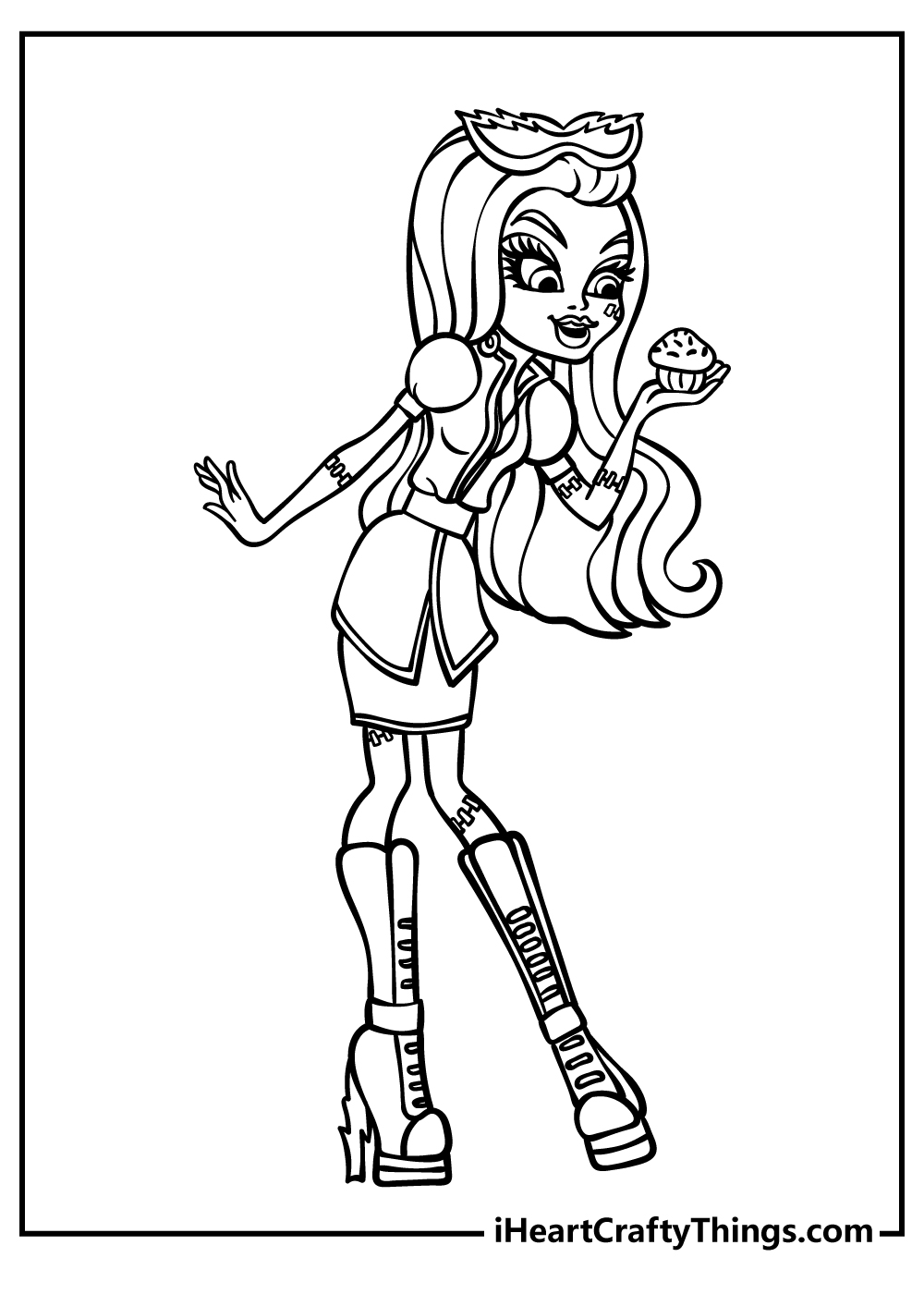 Meet this super cute werecat girl in this Monster High coloring page.
Inspired by Toralei Stripe, she's dressed up in a fabulous dress with a bow on the chest and a matching necklace with a bow pendant.
Her long, curly hair flows down around her shoulders, and her adorable cat ears poke up from the top. Use orange, black, yellow, or blue to color this cool werecat.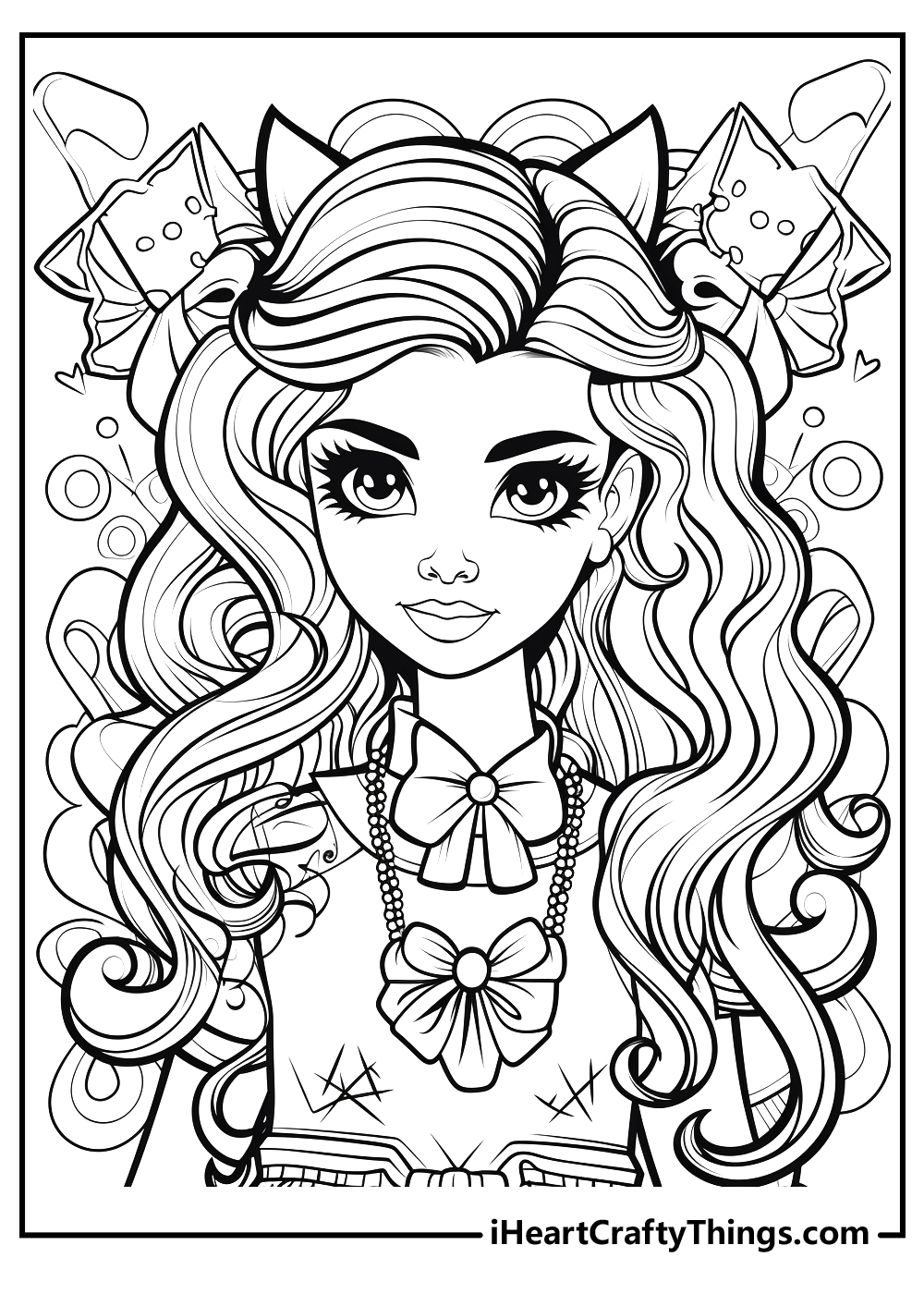 Cleo de Nile is the next character we're featuring, and she is a mummy in the series. Her appearance and name also draws inspiration from the legendary Egyptian queen, Cleopatra.
The detail of the mummy bandages around her leg is a great touch, and it should provide a fun coloring challenge with all those small details!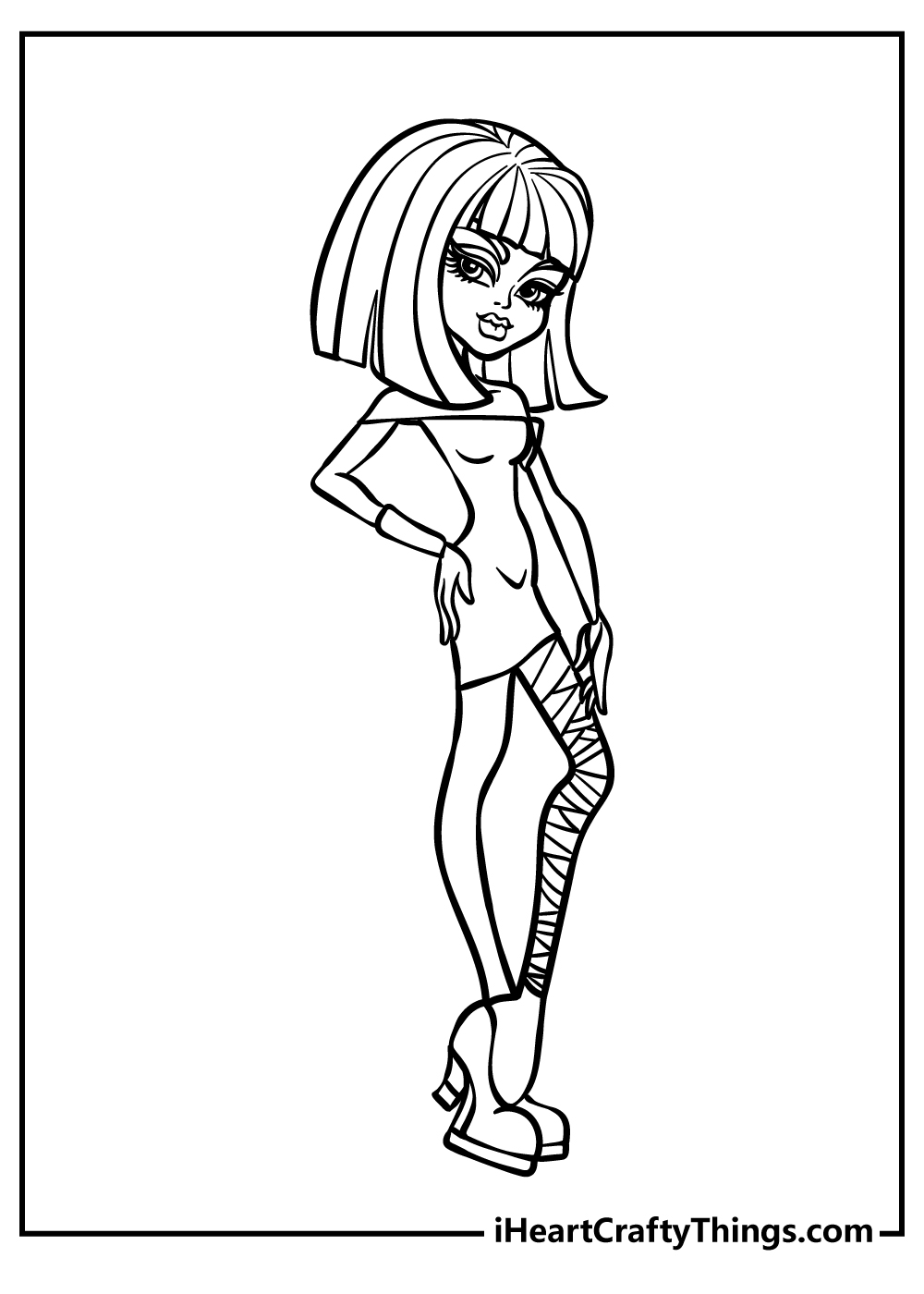 The next character that we have for you to color has a lot of personality and attitude! She is also wearing some intricate accessories in her hair, and these could prove a bit fiddly to color in.
We would recommend using some colored pens for these accessories, as they will make coloring these smaller details much easier.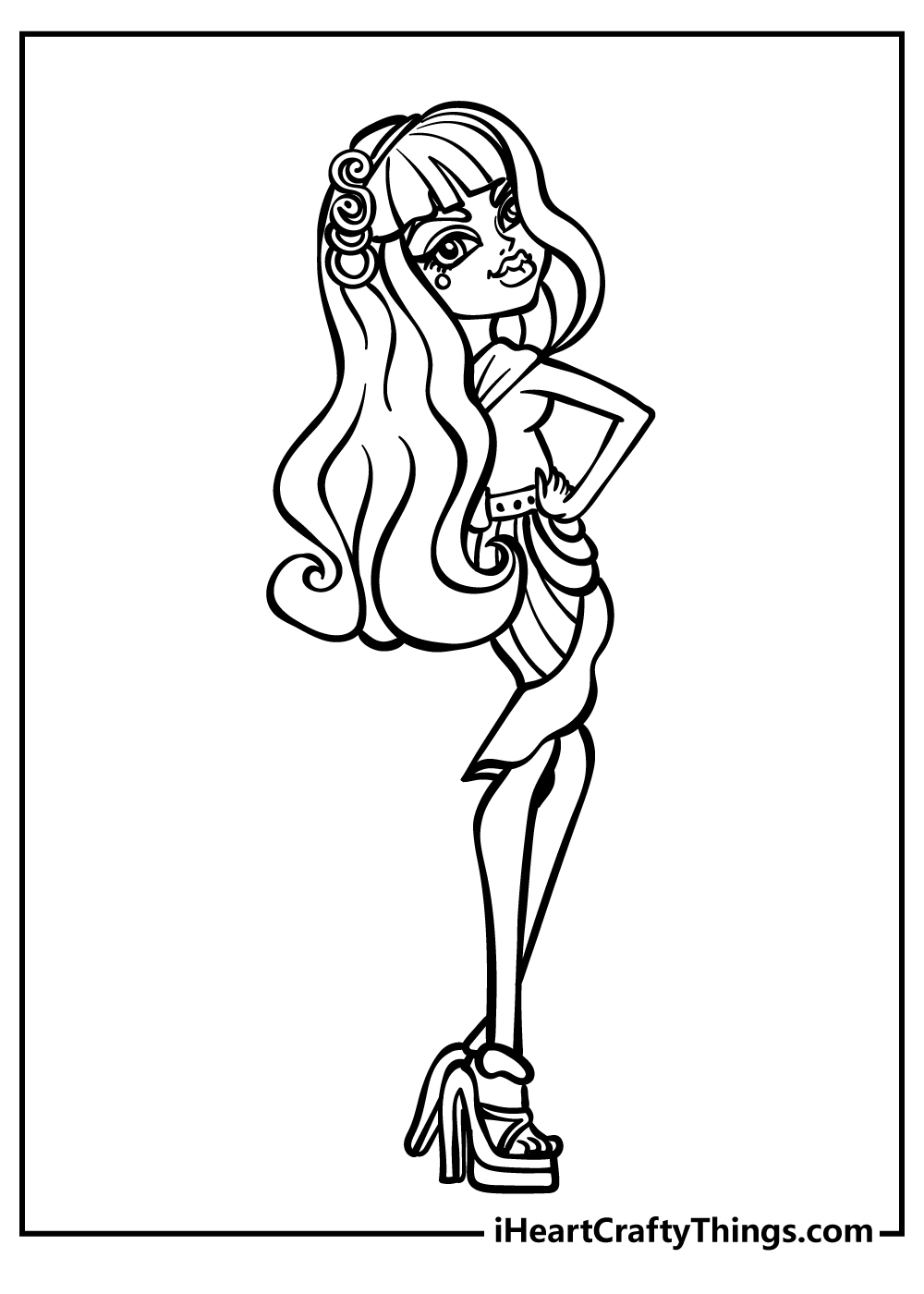 This Monster High page features a bubbly girl dressed as Operetta. She wears a frilly dress with a lovely bow headband in her long, curly hair.
As a fan of Operetta's musical style, how will you color this page? Use red, black, and white like
Operetta or pick your own creative colors for this monster diva. However you choose to color, have fun bringing this fun, musical phantom girl to life.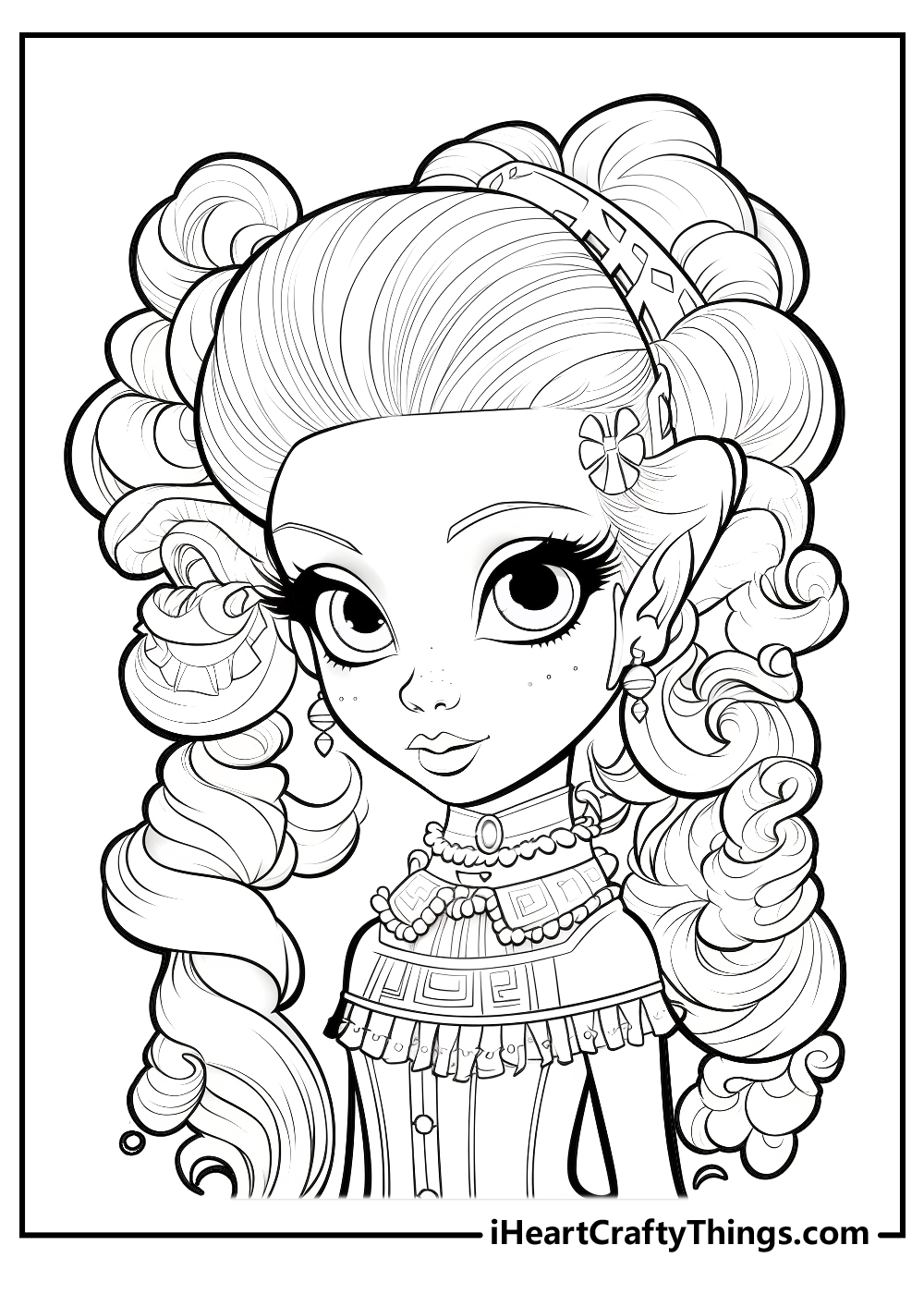 Next, we have the seventh page in this collection of free Monster High coloring pages for kids.
We have our first returning character of the collection with Cleo de Nile, and she is wearing a brand new outfit that you can have fun coloring!
What colors come to mind for you when you look at this picture?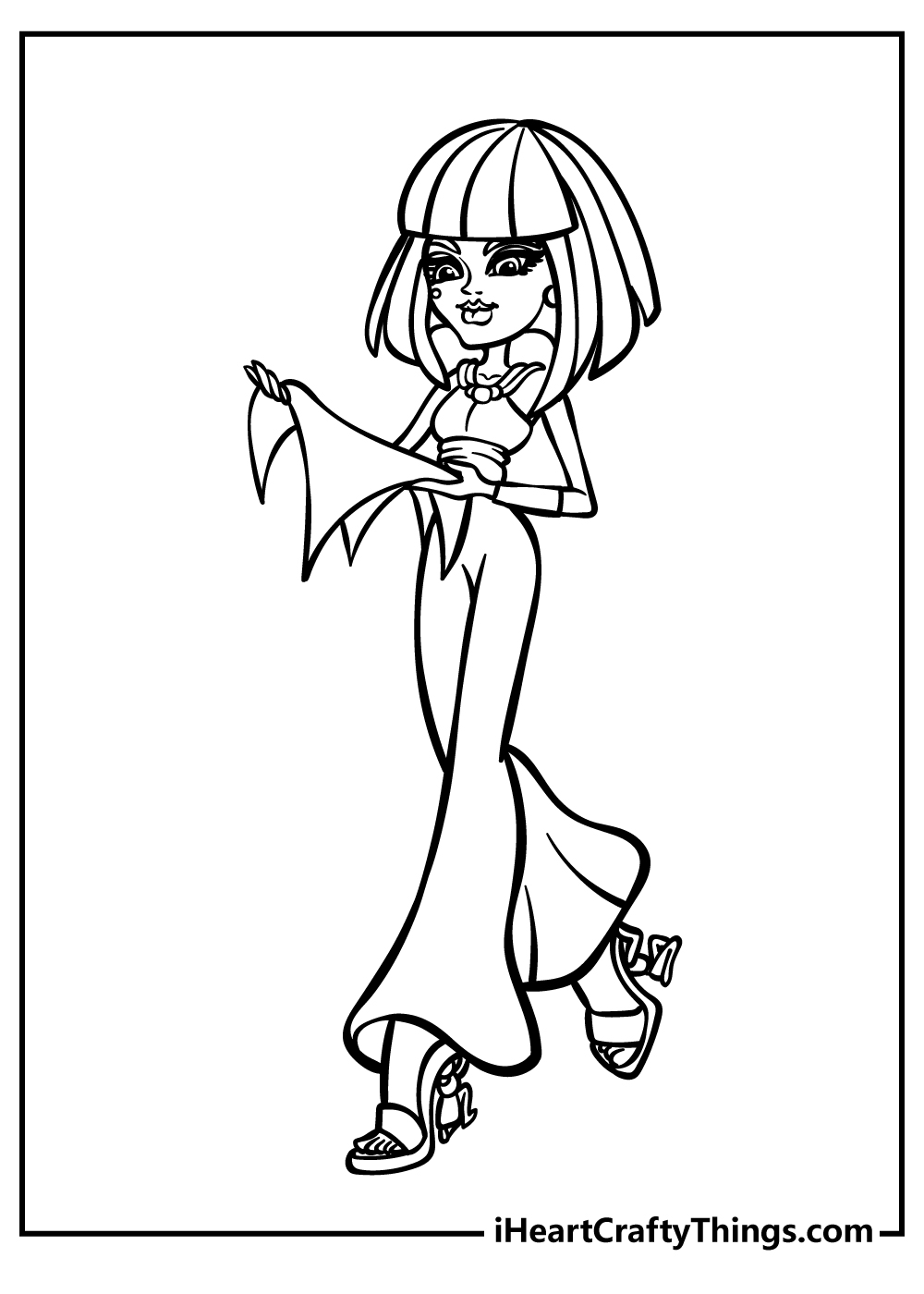 This next character also has a bit of a wolf theme to her design, and the highlight of her outfit would probably have to be her fuzzy monster slippers!
There are plenty of details to color in here, and it will be very interesting to see what kinds of color schemes and mediums you choose for this one.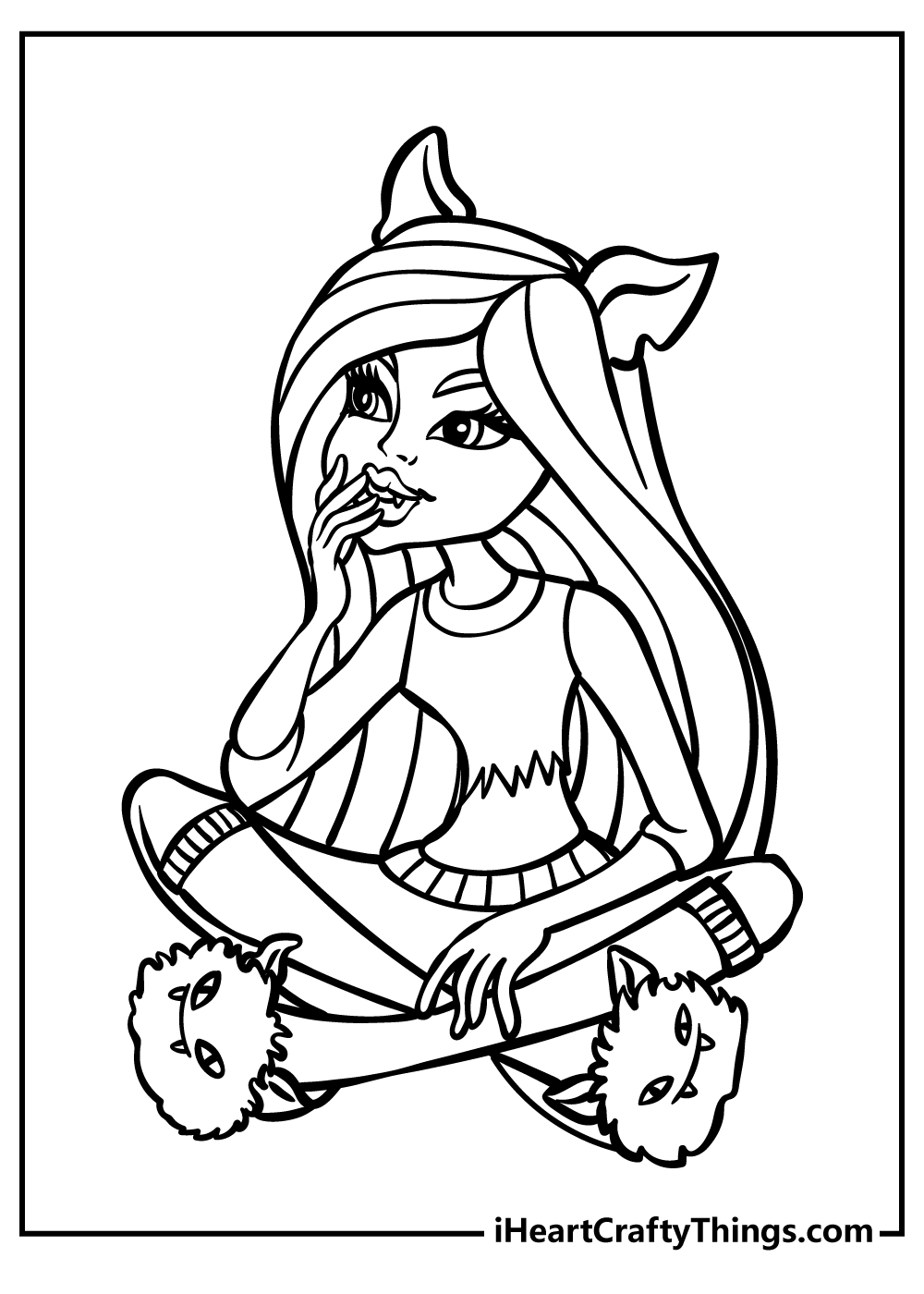 On this coloring page, a sweet moon-loving girl shows off her stellar style. Her dress has a starry pattern and she wears a headband with a crescent moon.
Though her outfit has celestial vibes, her hair is long and curly and she has a bright, cheerful smile.
Will you use her signature colors of blue, purple and silver? Or get creative with your own out-of-this-world color scheme?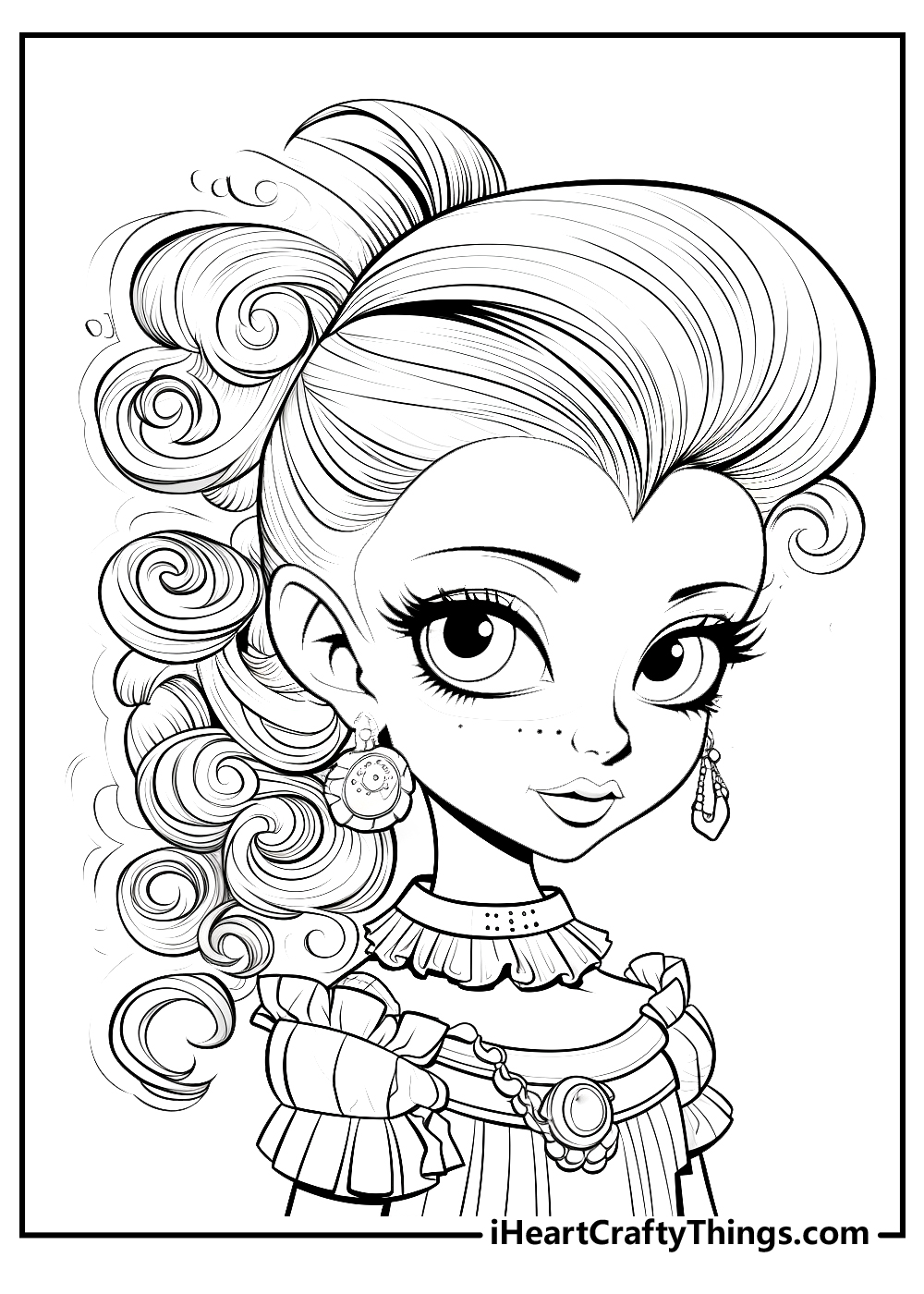 Clawdeen Wolf returns for another page, and she is wearing another really pretty outfit!
This is definitely a picture where you could go for a similar color scheme to the one she is normally seen in, but you could also give her a whole new look based on your own design.
Which approach will you go for?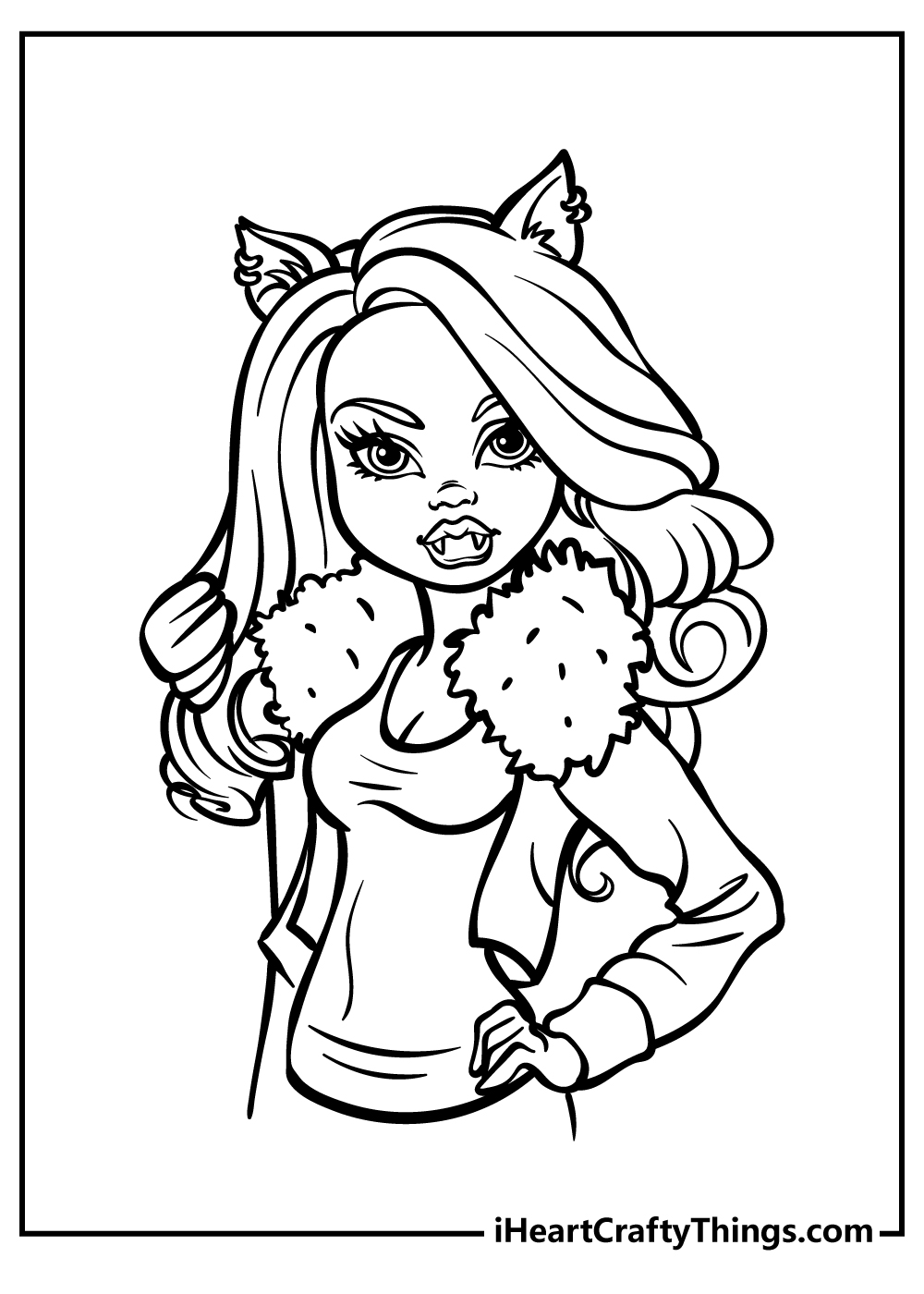 Next, we are featuring Rochelle Goyle. As her name may suggest, her design is taken from gargoyles that you would see at a grand cathedral.
She has some pointy ears and wings to go with this theme, and it makes for a really cool character design!
Her colors are usually a bit colder and muted, so will you use this kind of approach for her here?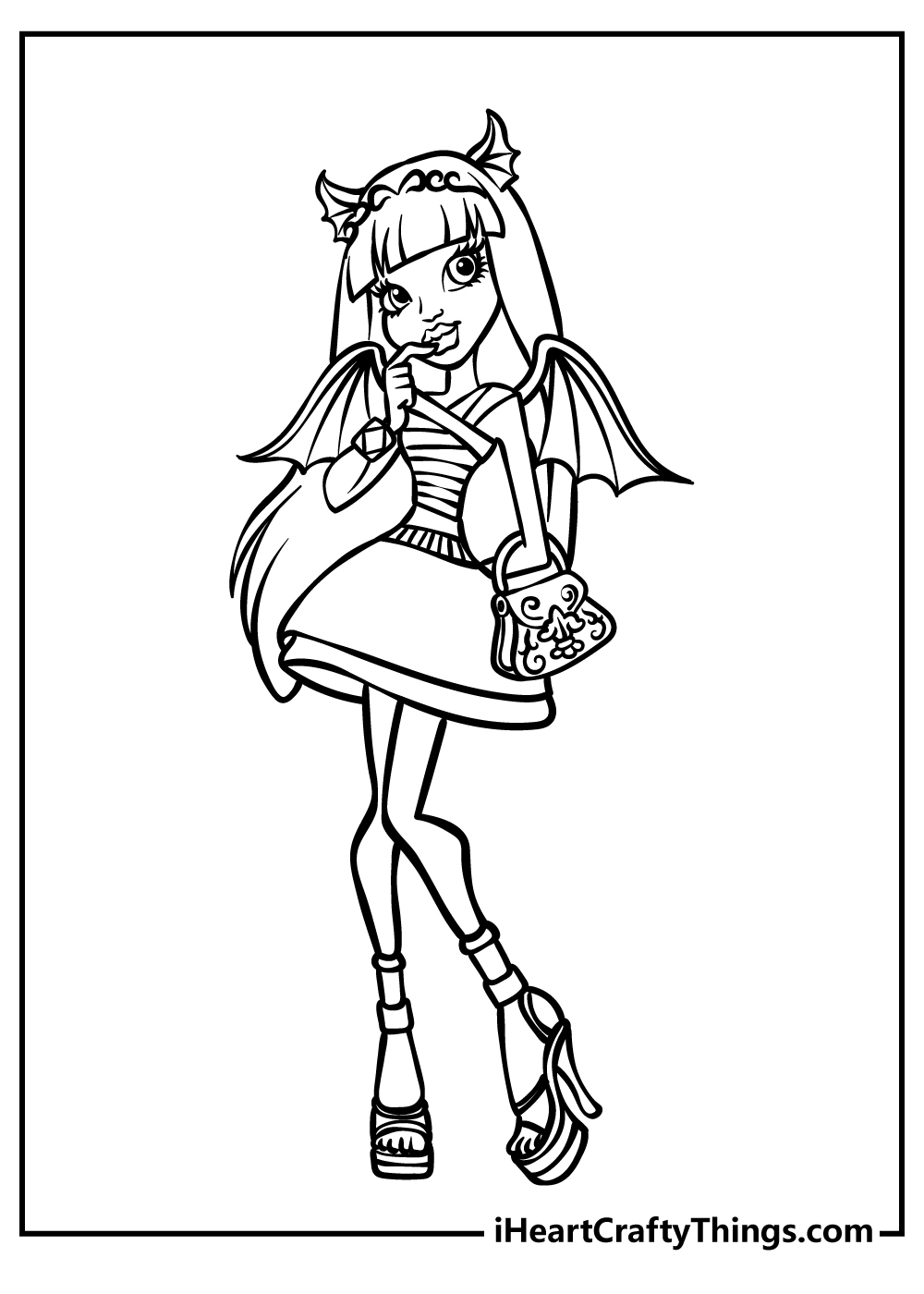 For the next Monster High coloring printable we have for you, Abbey Bominable is up for you to color.
This icy character is inspired by the Abominable snowman of legend, and as you can imagine she has plenty of light blues and pinks incorporated into her design.
We would use watercolors for this page to give the colors a nice, soft look.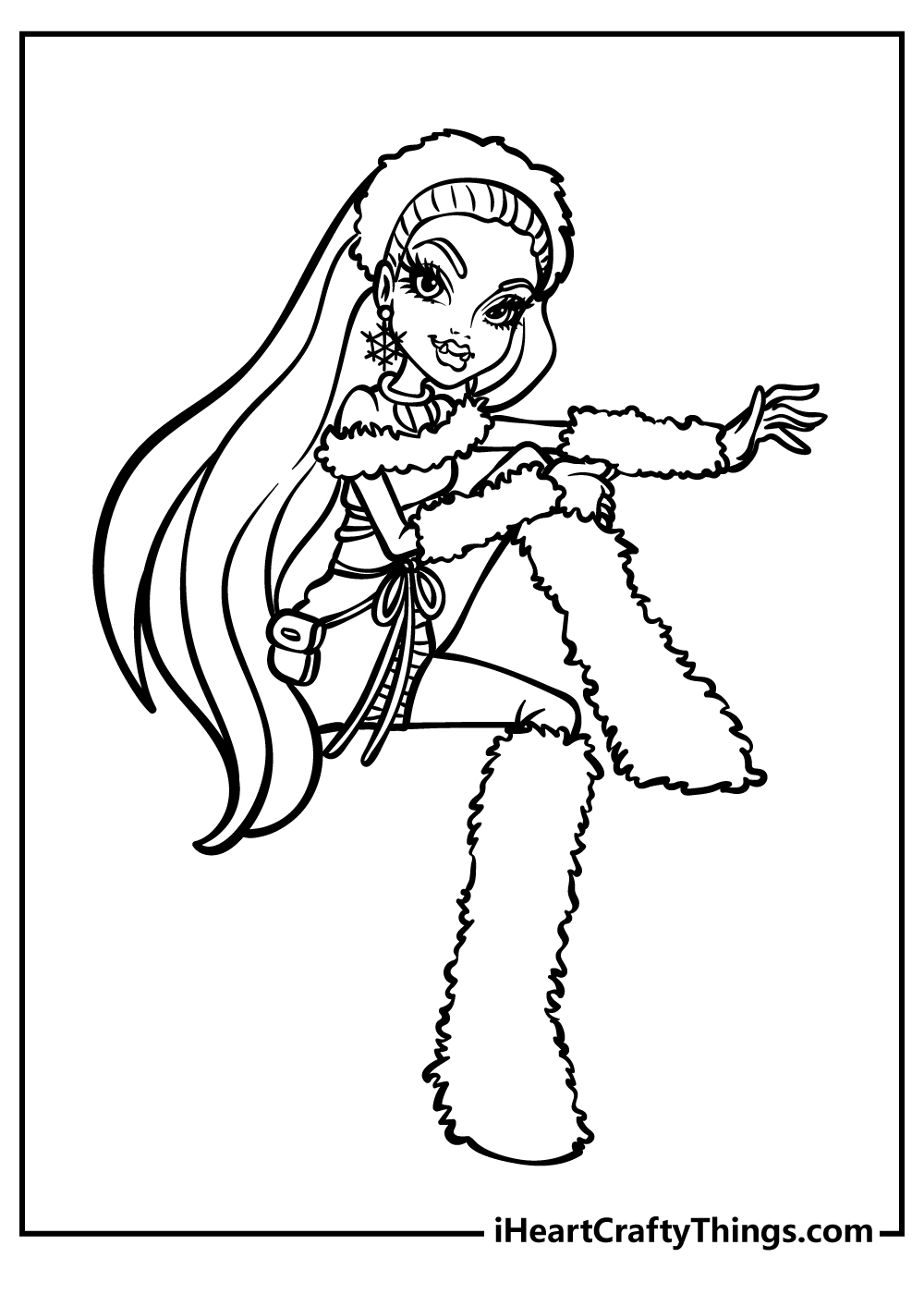 We have a close-up on Draculaura for this next image. This one gives us a great look at some of the smaller details of her design, such as her bat earring and the heart on her face.
There has been some space left around her, so you could add to her design or make a fun background setting for her to be a part of!
Get ready to color this spooky yet fabulous goth girl. Inspired by Skelita Calaveras, she wears a gown with a corset top and full skirt featuring Skelita's signature skull.
Long curly locks with roses flow down her back. A bindi decorates her forehead and a rose adorns her hair.
Will you use classic goth colors like black, white and red? Or dream up a more vibrant scheme?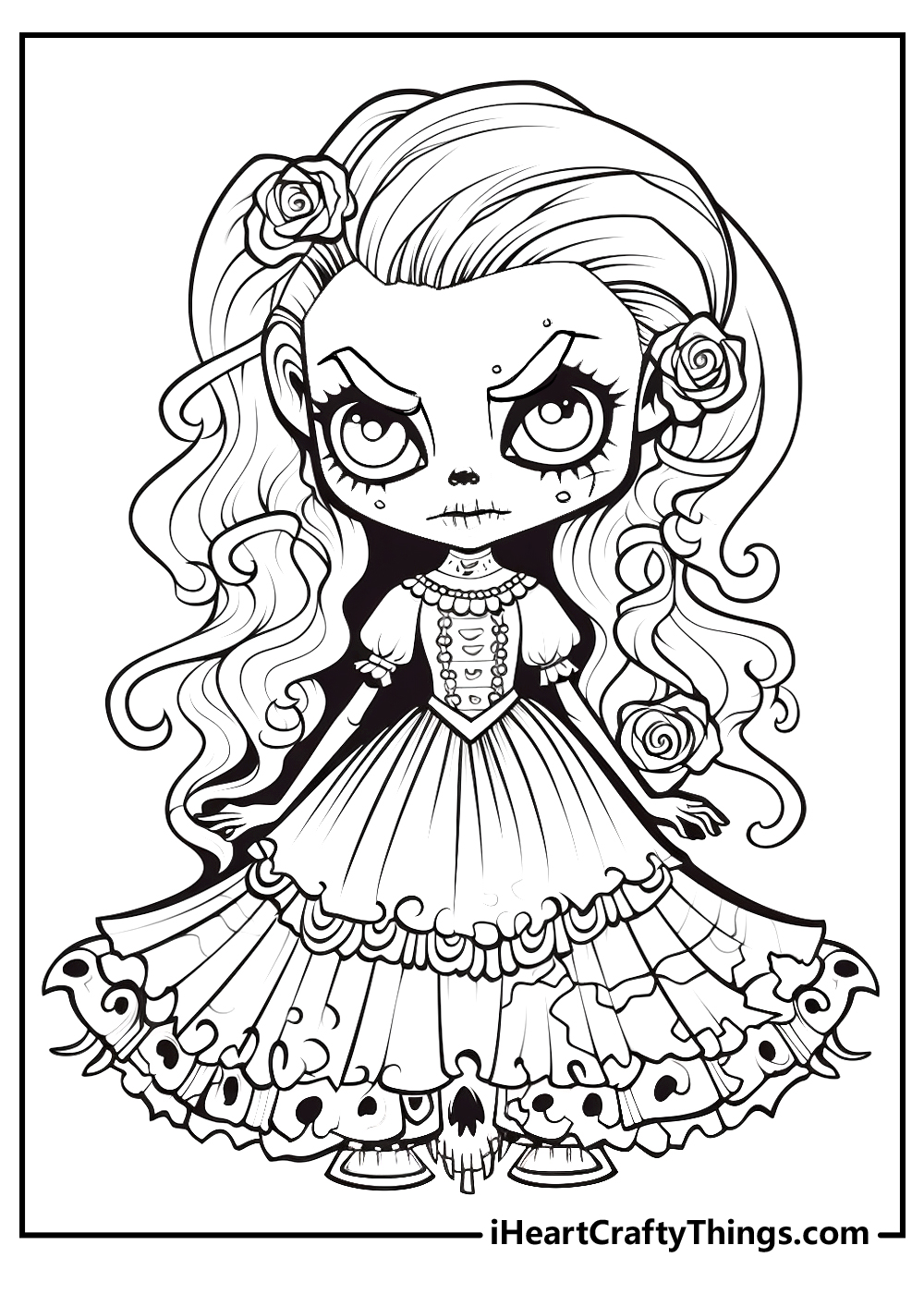 It's time for some more Frankenstein-inspired coloring fun with this depiction of Frankie Stein!
Even her outfit incorporates the famous Frankenstein stitching, and there are plenty more fun details to admire as well. How will you color this one?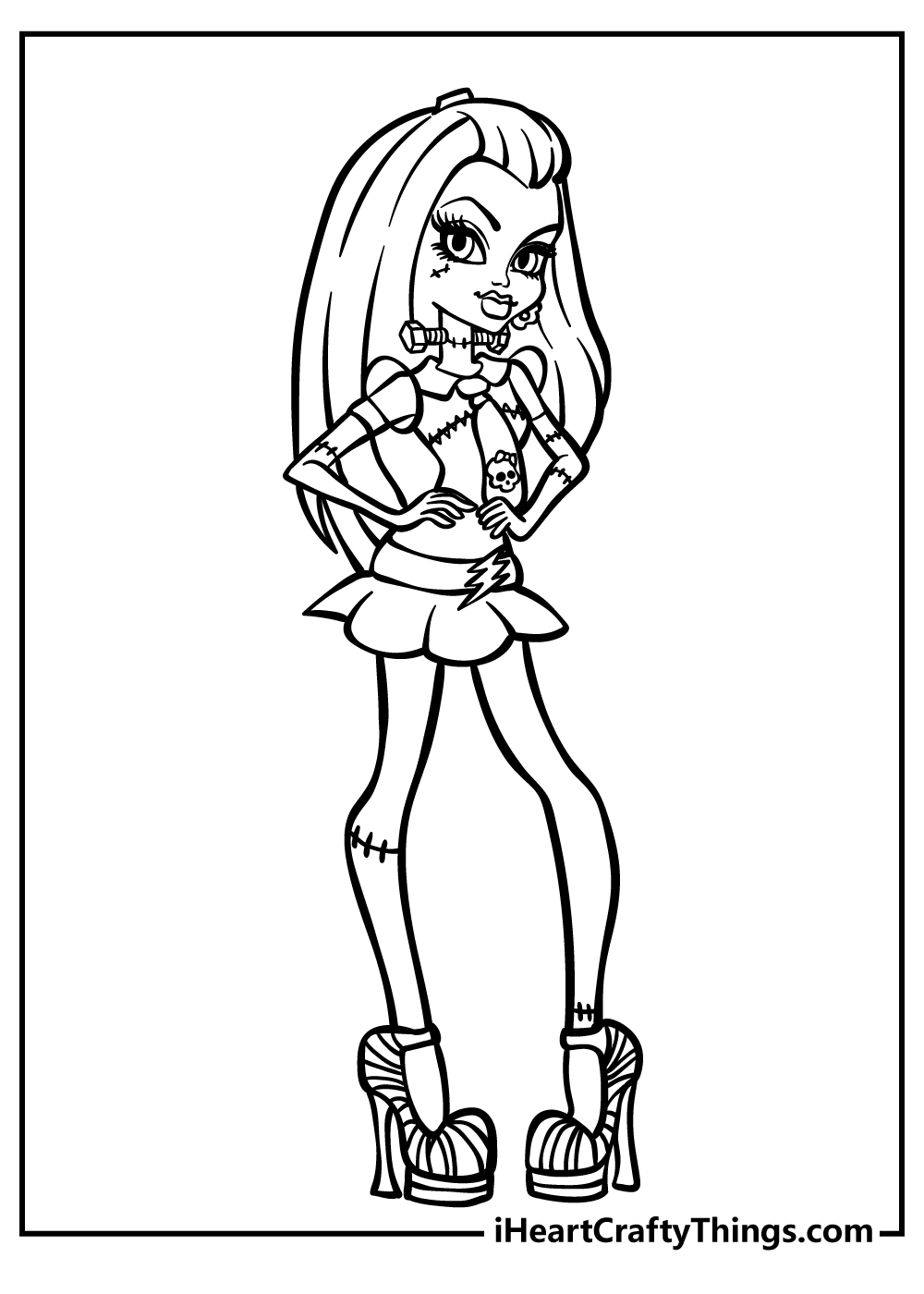 We love the outfit that this next character is wearing! Her outfit has lots of big, fluffy sections, and we think that using some paint mediums for these parts would be perfect.
By using lots of small strokes with paint, you could make the material look fluffy and furry. This is one idea of what you could go for, but how else can you think to color this outfit?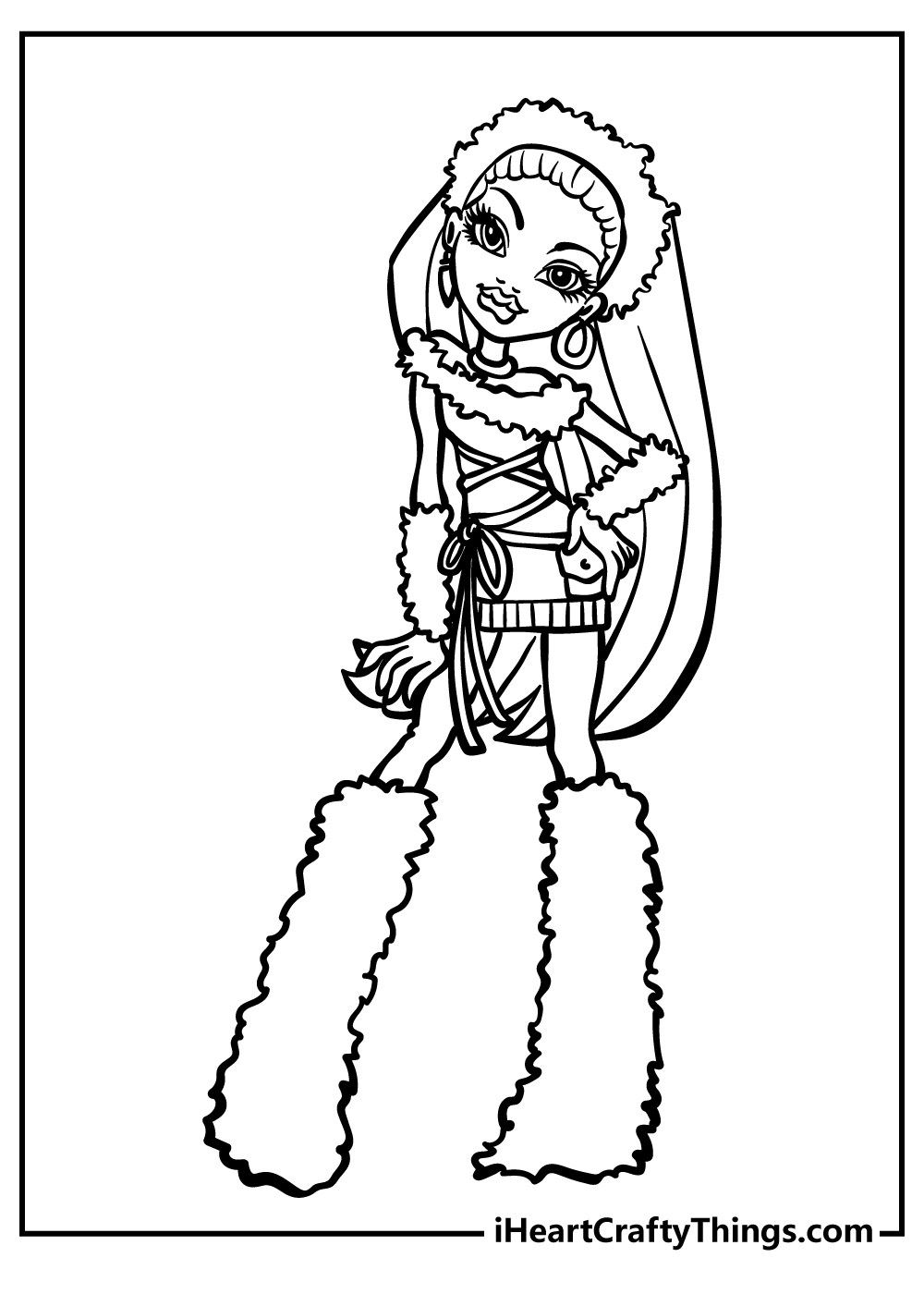 The final Monster High coloring sheet that we have again features our friend Frankie, but she's not alone this time!
She has her adorable pup with her, and in a fun twist the dog has a similar Frankenstein-inspired look to Frankie.
There is also a really cool outfit for you to color here, and you can really show off your artistic skills as you fill them all in.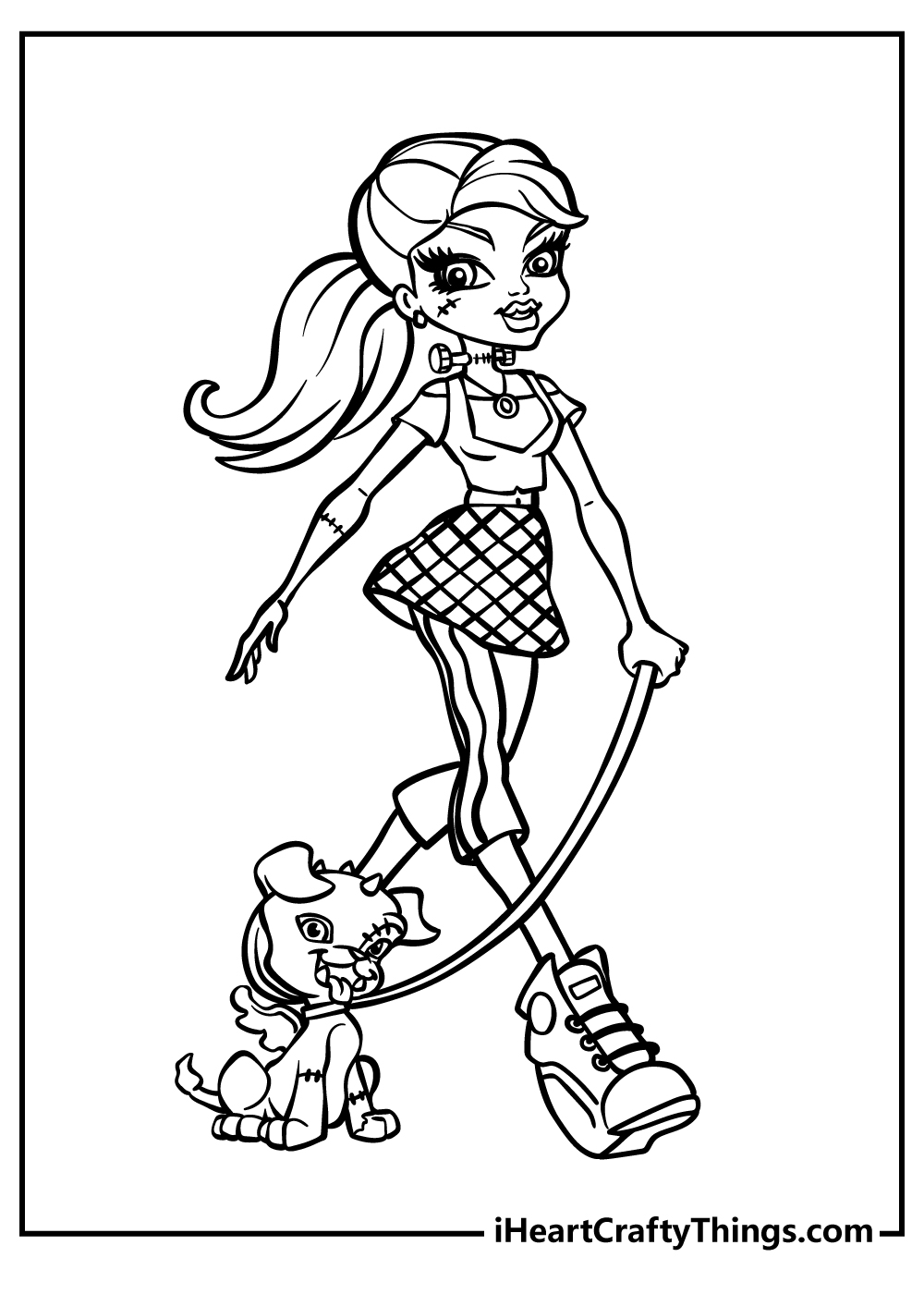 Monster High Coloring Pages – Which will you choose?
That brings you to the end of this collection of free Monster High coloring pages for kids, and we hope you had a monstrously fun time!
There are so many great outfits and characters here, so you can really have fun with all your favorite colors and art mediums.
Don't forget to visit our website frequently, as we will be bringing out more coloring page collections all the time!
Please also be sure to share some of your favorite colored pages on our Facebook and Pinterest pages so that we can see how great they look.