Barbie is a character that has delighted millions of people for generations. She is arguably the most famous doll ever created, and she has starred in many series, games, films and more.
This collection of free Barbie mermaid coloring pages for kids is here to show yet another side of the fashion icon as she takes to the seas for some mermaid fun!
There are 20 free pages here featuring many different Barbie mermaid variations, and you can have fun printing, coloring and sharing them.
So let's dive right into things as we begin the very first page of this coloring journey.
20 Brand New Barbie Mermaid Coloring Pages – Free to Print and Color
We have our first Barbie mermaid coloring sheet for you to color here, and it's a beautifully detailed picture of this Barbie variant!
Whether it's with her hair, outfit or fins, there are so many small areas to add color to, and you can really get creative with the kinds of colors and combinations you utilize.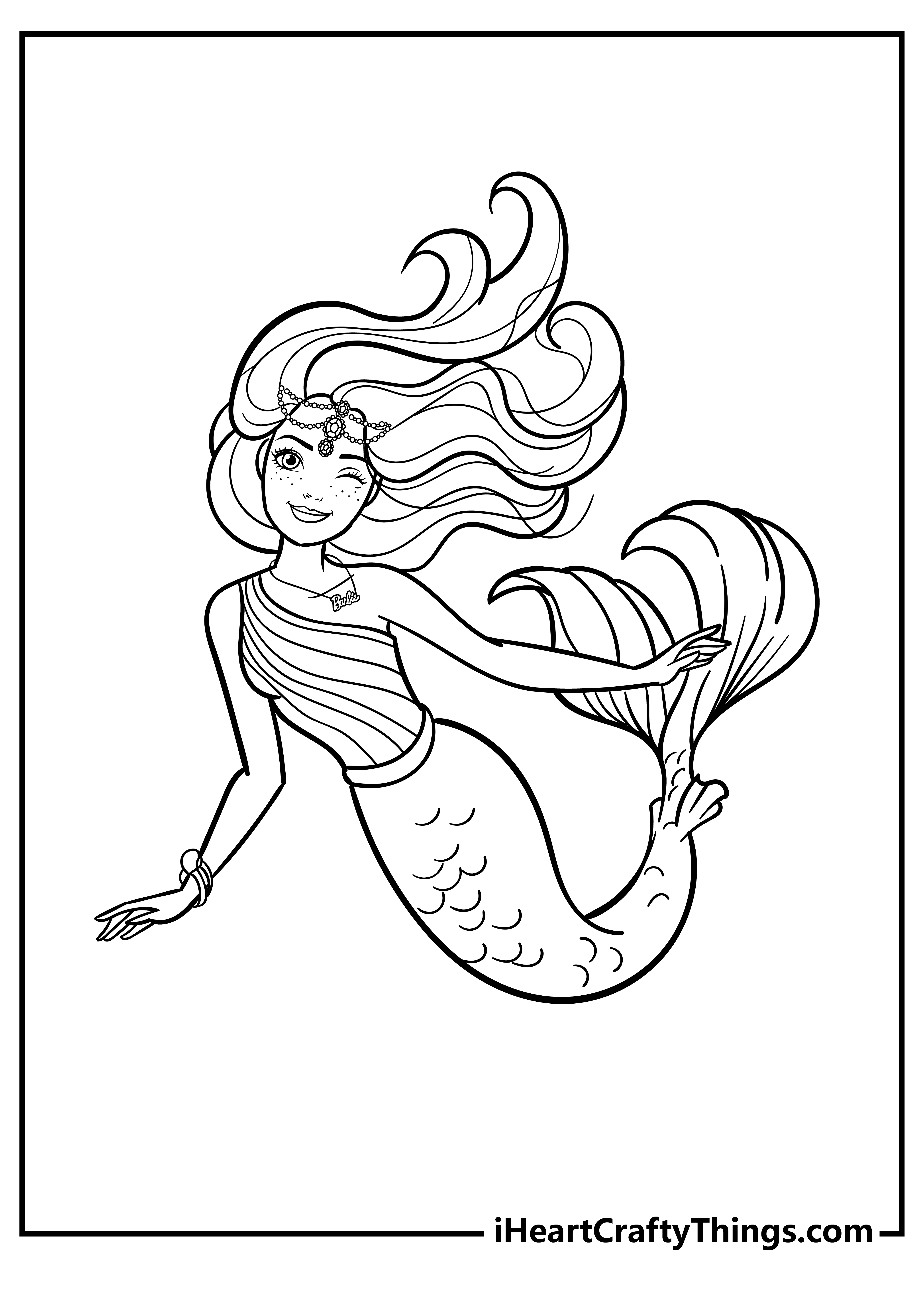 Splash into an underwater adventure with Barbie the mermaid. In this Barbie Mermaid coloring page, half of her body is in the ocean with her long blonde hair flowing freely.
She gazes beautifully at you listening to the soothing sounds of the ocean.
Use your brightest crayons to color Barbie and her seashell bra. Add sparkles to the bubbles for an extra touch of magic.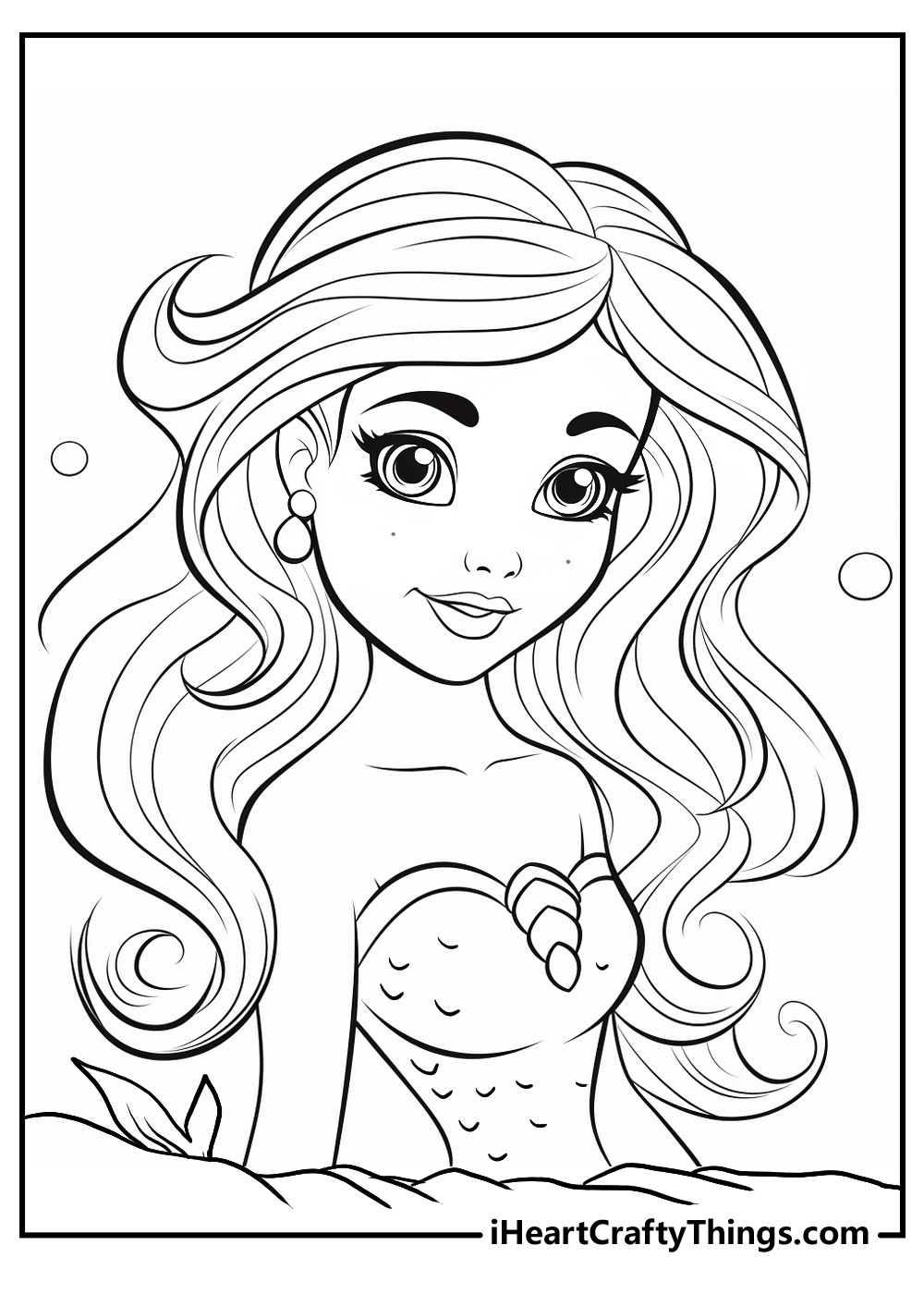 It's time to relax with some coloring as we take on this second page.
This Barbie Mermaid is taking it easy and looking very relaxed, and we would highlight this feeling by using some colored pencils or watercolors to give the colors a softer, calmer feeling.
What colors are you thinking of using?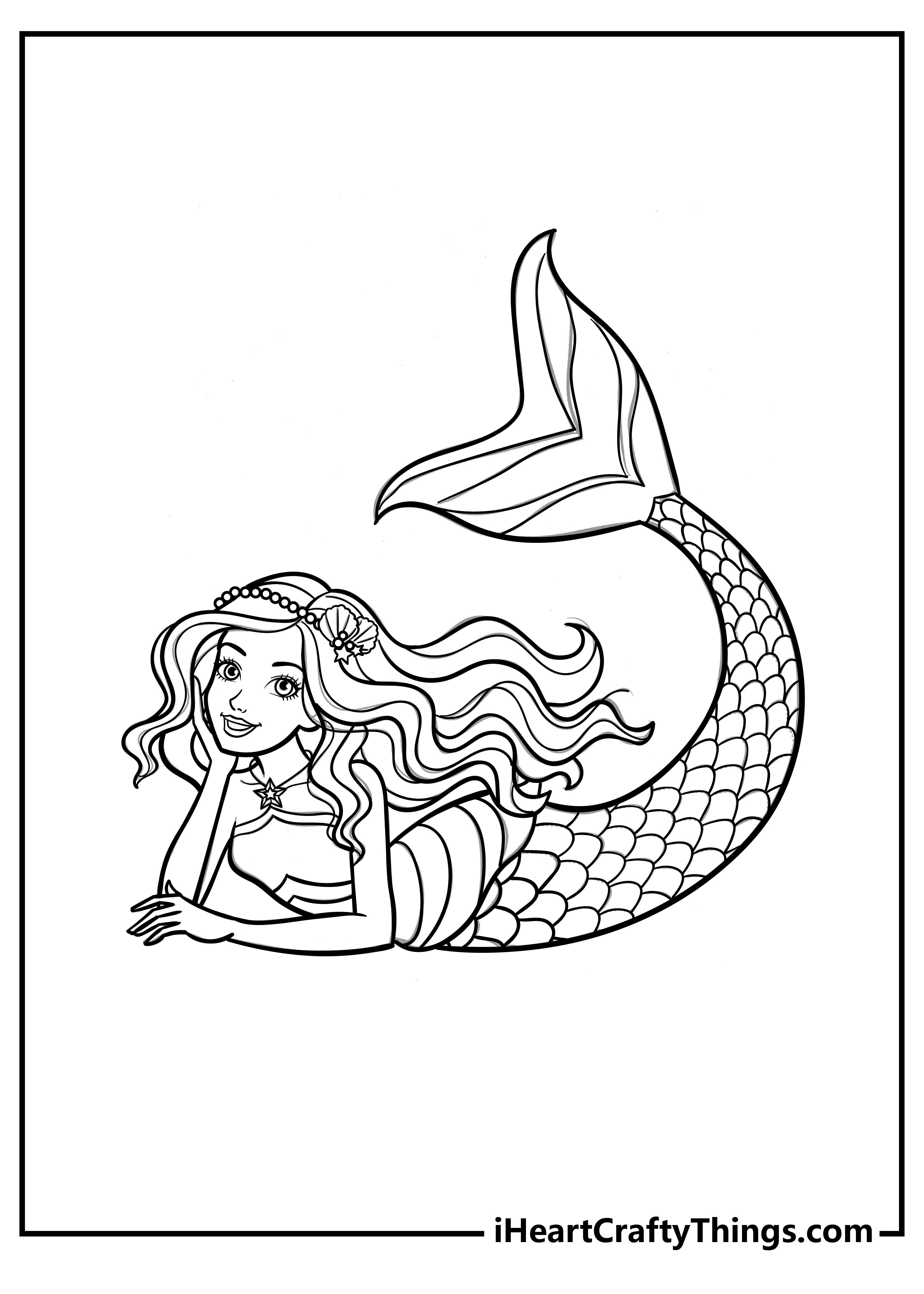 This third page in the collection presents a very happy-looking Barbie mermaid! There is an interesting bead design on her dress and tail.
These beads are quite fiddly, but they will look great with some color added to them.
Using a colored pen to dot some color on the beads would be a fun and easy way to add some color to them, but this is just one possibility.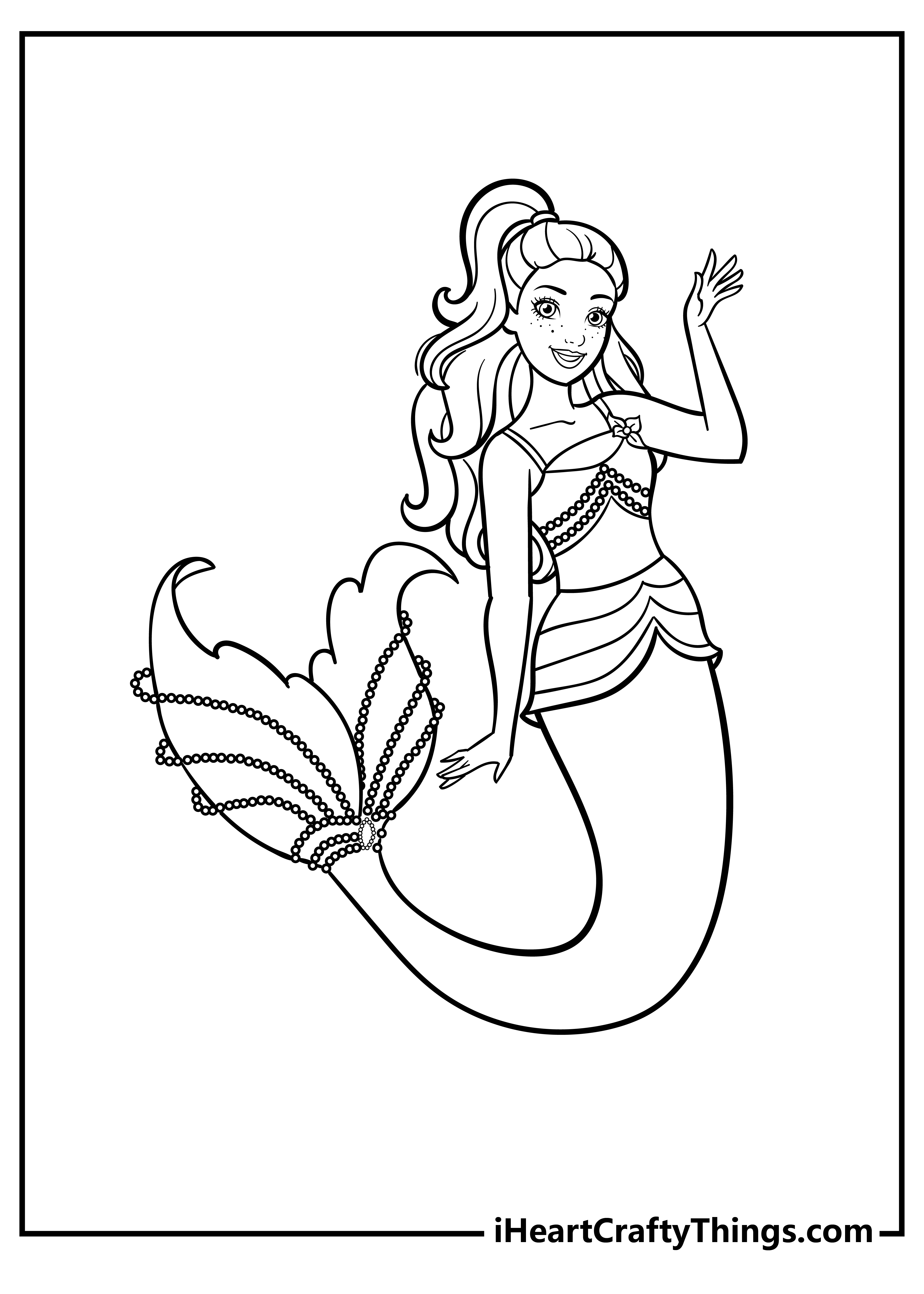 Meet Barbie's fellow mermaid as they swim together. Both mermaids have lovely long hair in shades of blonde and brunette. Their eyes shine as they share a happy smile.
They are wearing seashell bras and have fish tails. The mermaid on the left has a flower in her hair and the one on the right has beautiful earrings.
Color their fish tails with every color of the rainbow. Use gel pens to add shimmer to their hair and tails.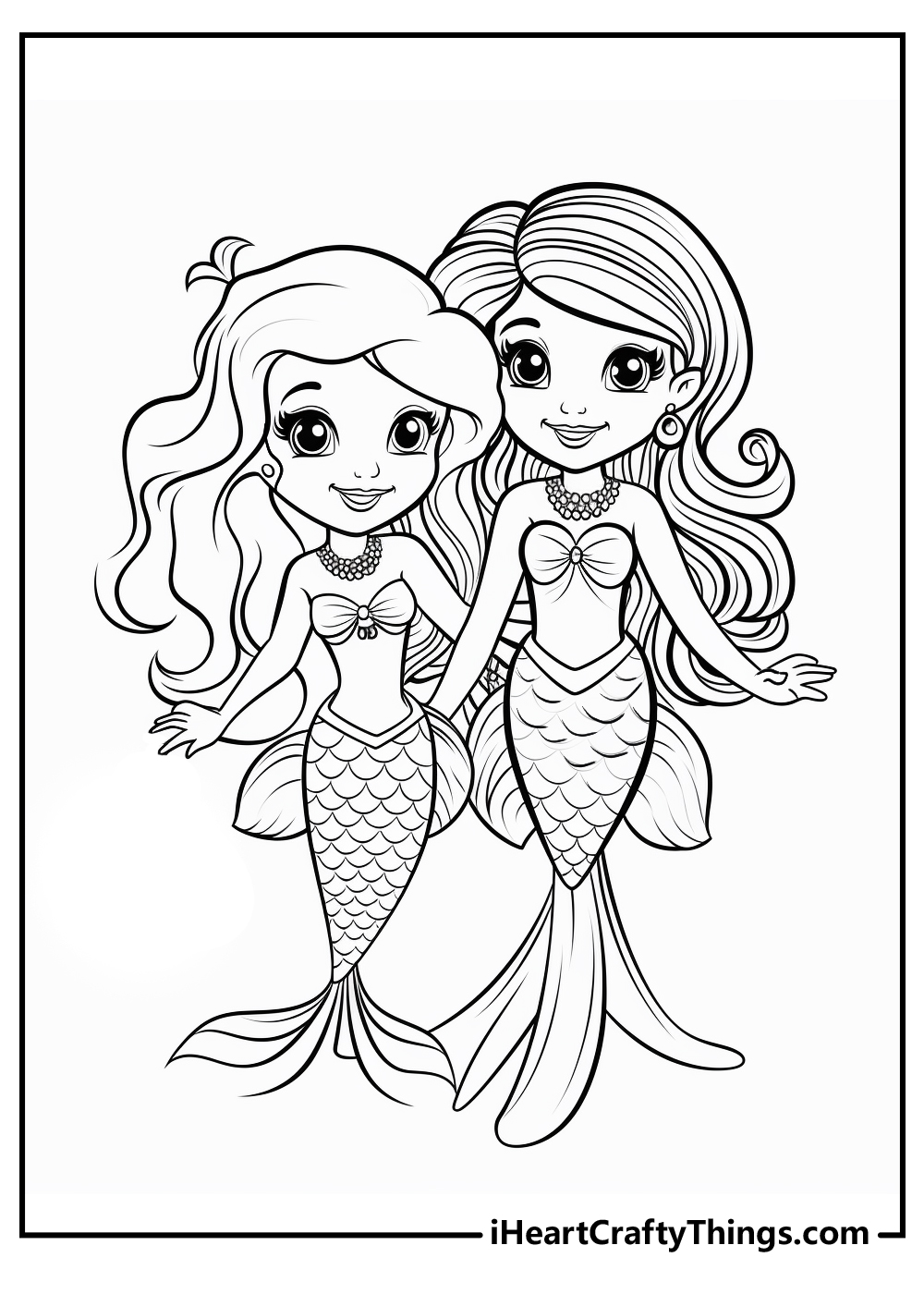 We have another lovely Barbie mermaid coloring page for you to color where she is looking very happy and dreamy.
There are some more beads on this design as well, so you have another chance to use lots of your favorite colors and art mediums. We're sure this one will look amazing once it's finished!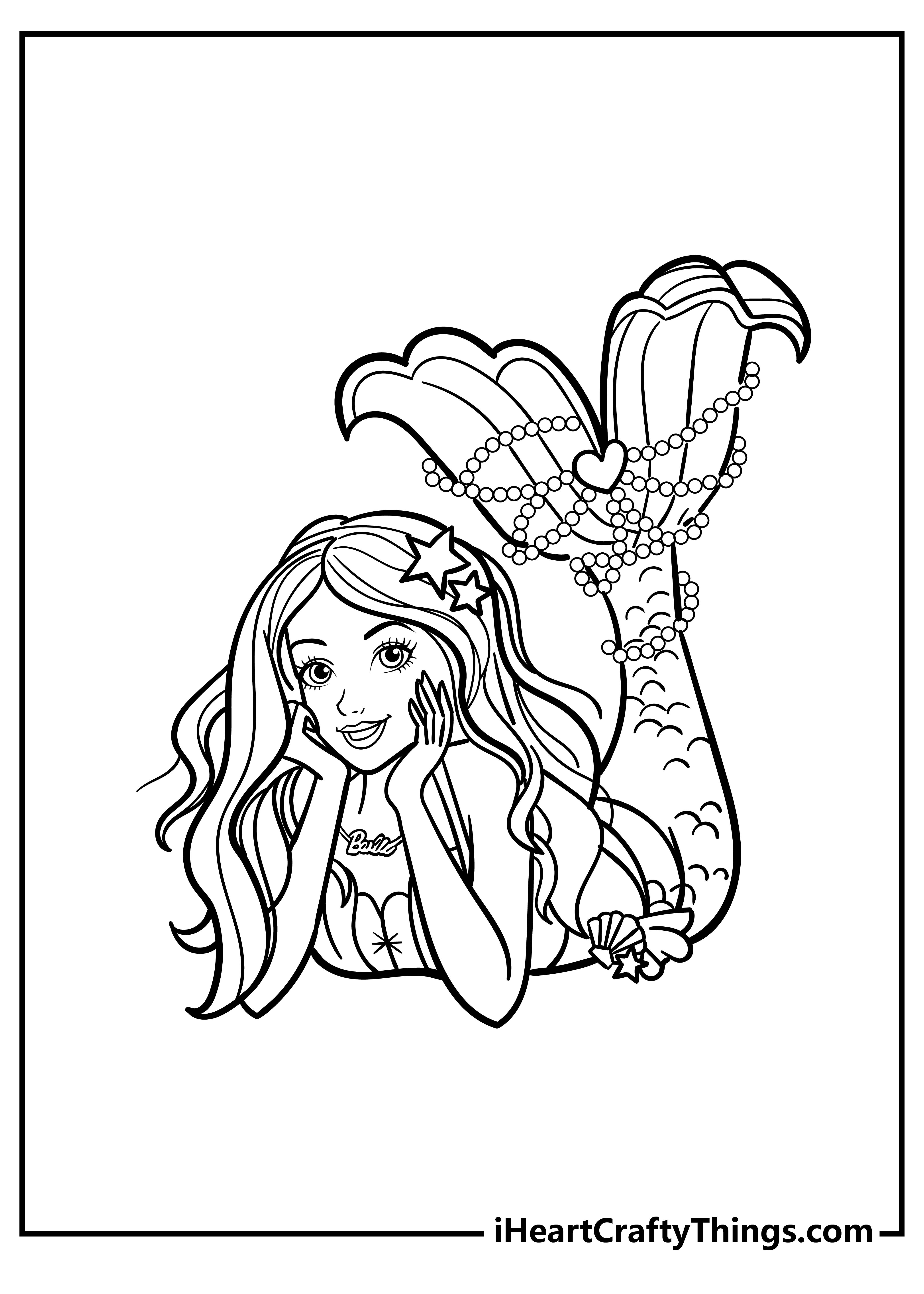 This pretty Barbie mermaid is ready for some coloring magic! She is also relaxed, and she looks as if she could be thinking about something.
For a fun addition, maybe you could draw a speech bubble above her head and show what could be on her mind. What other creative ideas can you think of?
Barbie and her mermaid friend are having a wonderful time together. In this Barbie Mermaid coloring page, they are walking together and smiling.
They have long and flowing hair and are wearing pearl necklaces. Their tails are curved and they are holding hands.
There are bubbles in the background that you can color to make the scene more playful. You can color this page with blue, green, pink, and yellow.
It'd also be great to use some watercolor paints to create a softer, calmer feeling.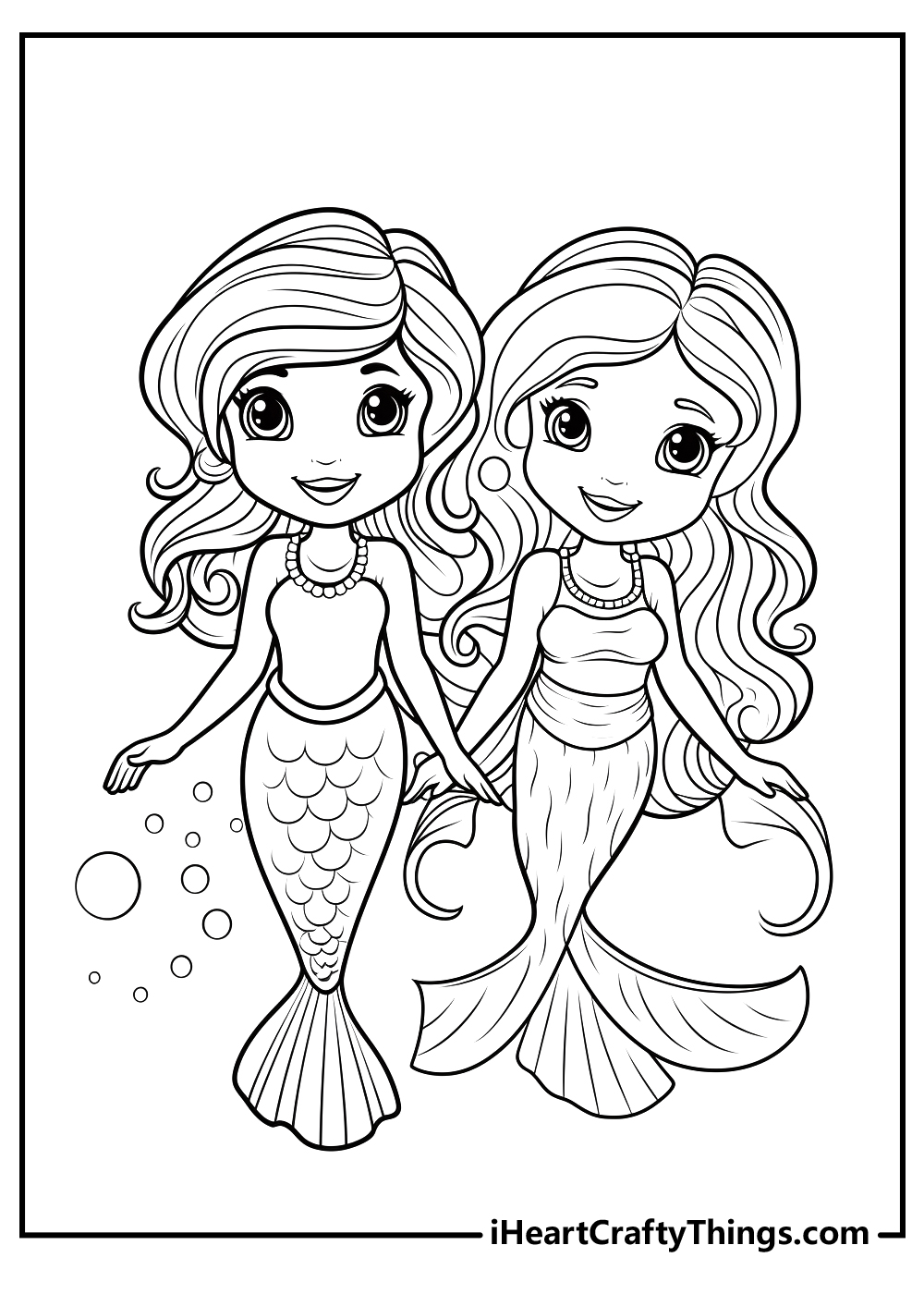 The next Barbie mermaid we have for you to color has a lot of flair and personality! She is striking an extravagant pose, and she looks like she is very happy and confident.
We would use some brighter colors if we were coloring this one, and it could be fun to design a background setting as well.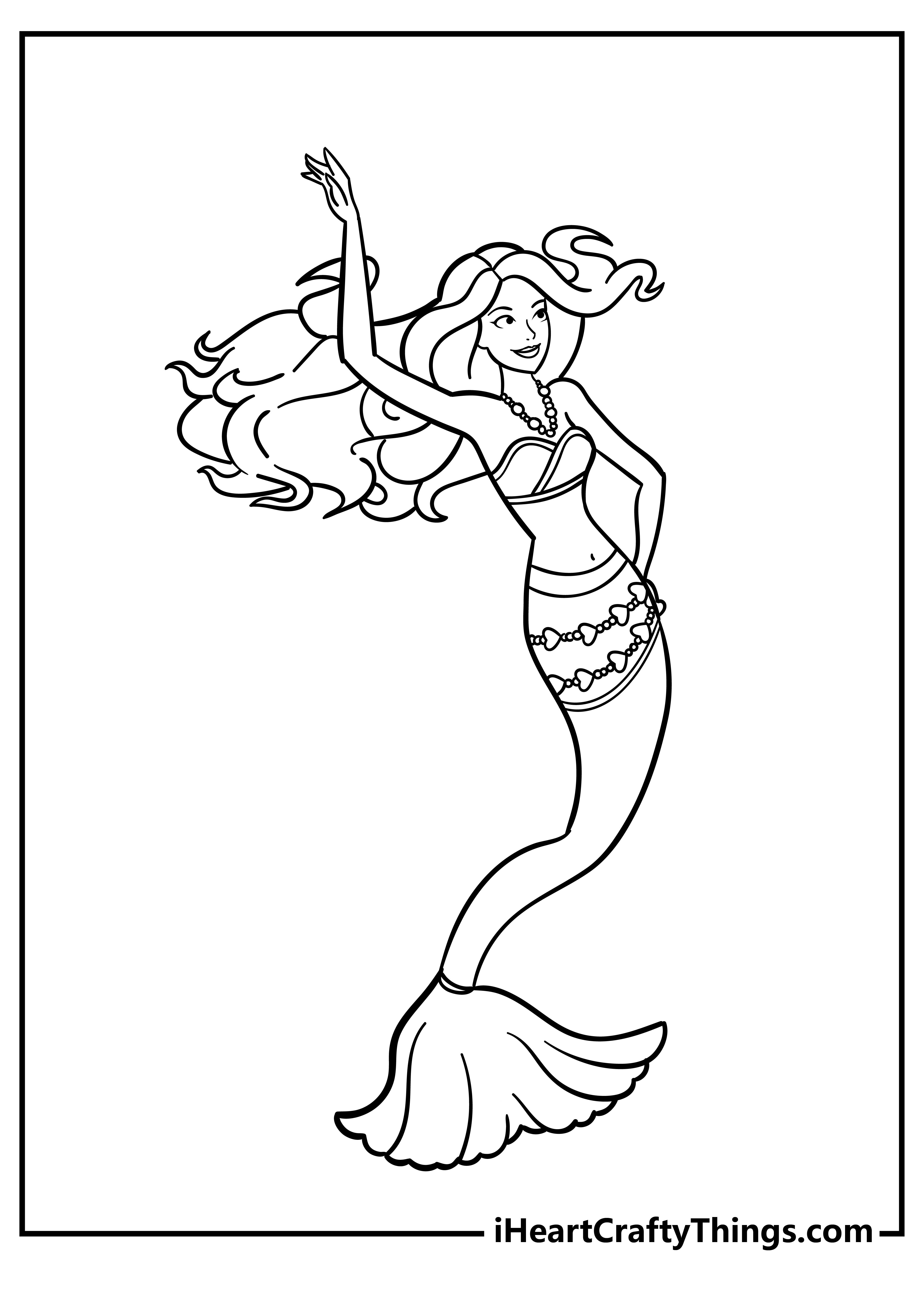 This seventh picture in our collection of free Barbie mermaid coloring pages for kids features another gorgeous mermaid design for you to color.
The two main aspects of this image would be her hair and her tail, and there are all sorts of ways that you could go about coloring these and the other details.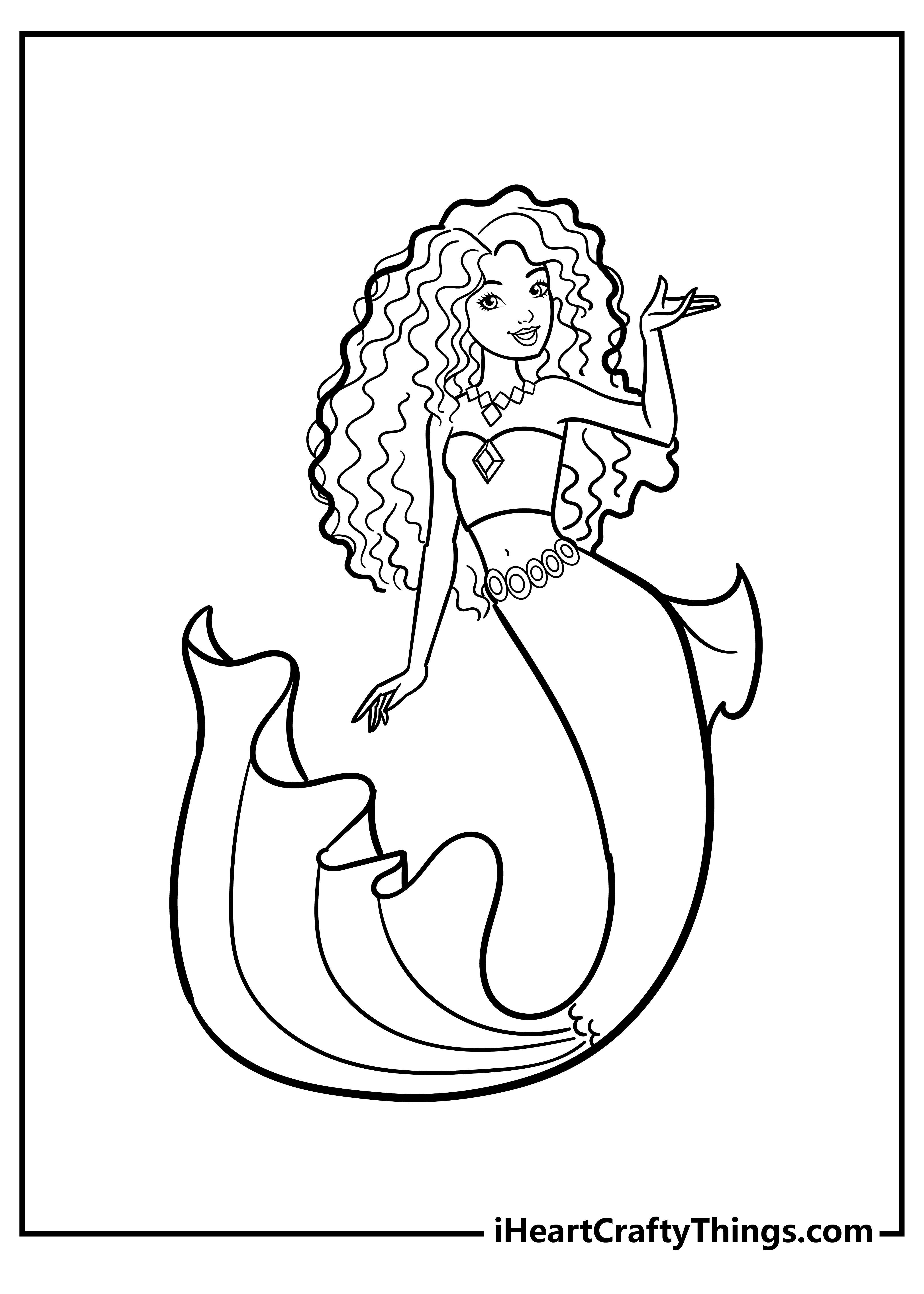 This coloring page features the cool mermaid Barbie. She is wearing a strapless top with a scalloped pattern and a pearl in the center. She has long and flowing hair with a pearl in it.
The background is blank, so you can draw in anything you want and use your best colors. You could even add some colored pens to create a lovely softer look.
Don't forget to share your masterpiece with us or check out other exciting coloring pages on our website.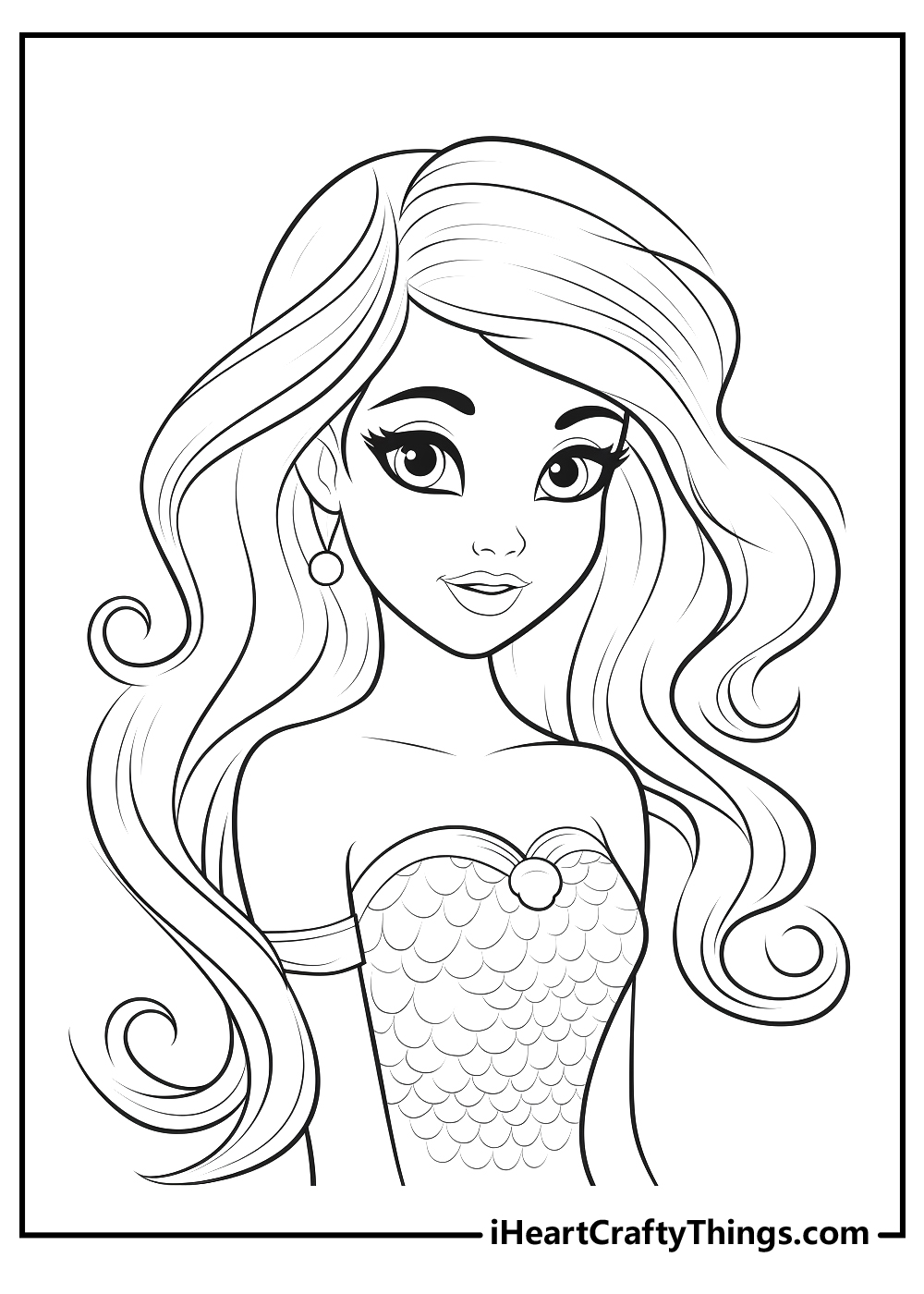 In this next mermaid scene, we have another peaceful and elegant Barbie mermaid design for you to enjoy.
She has some pretty flowers in her hair, and these would also look great switch some bright spots of color to make them pop.
There is a lot of empty space around her, so this could be another great one to add some background details to.
What kind of background would you create for her?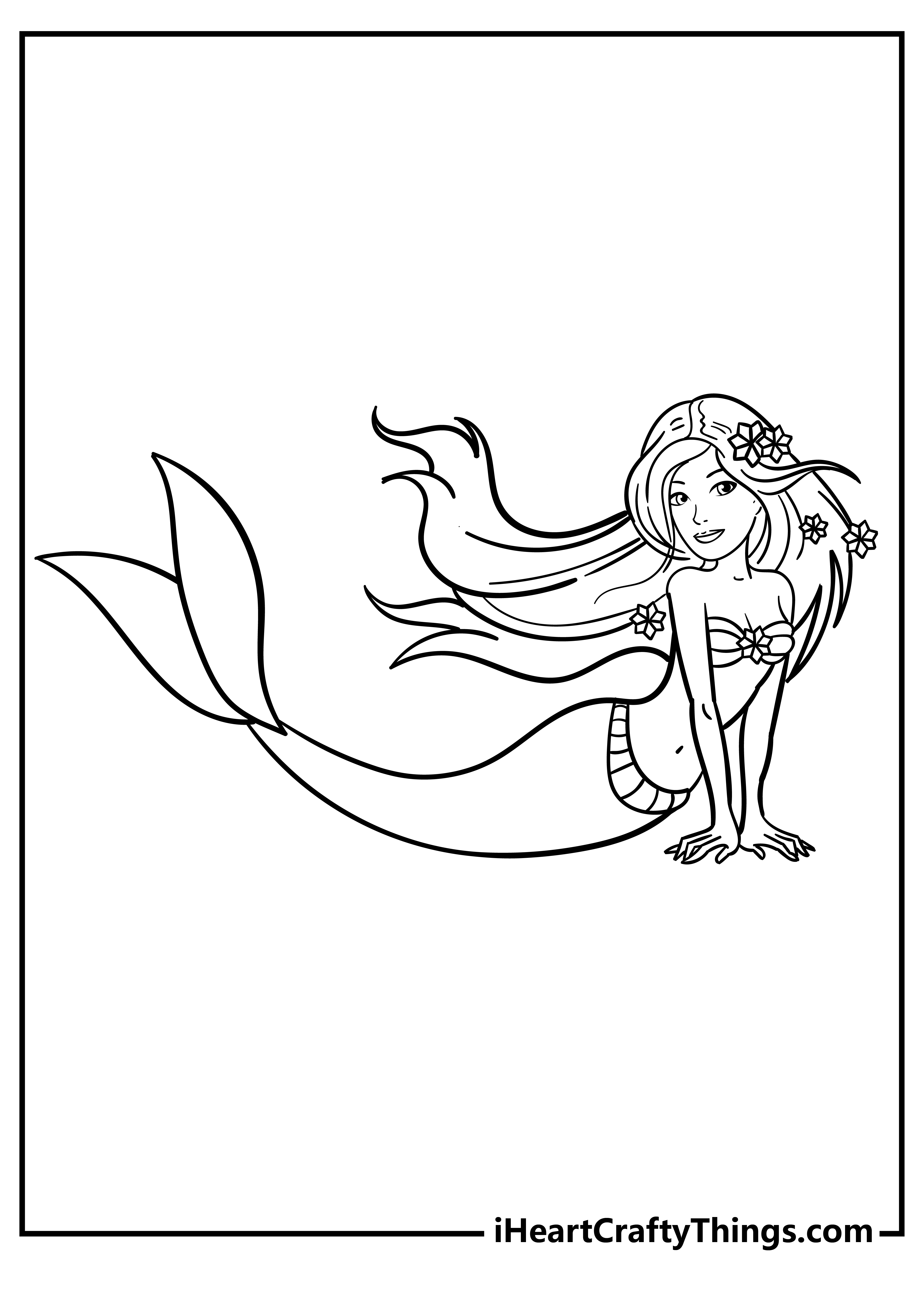 This has to be one of the prettiest pages yet! In this scene, this Barbie mermaid seems to be swimming through the water, and she is really intricately detailed.
Because it looks as if she is swimming, you could create a stunning ocean setting complete with bubbles and fish for her to be in.
Do you think you will create a pretty ocean around her?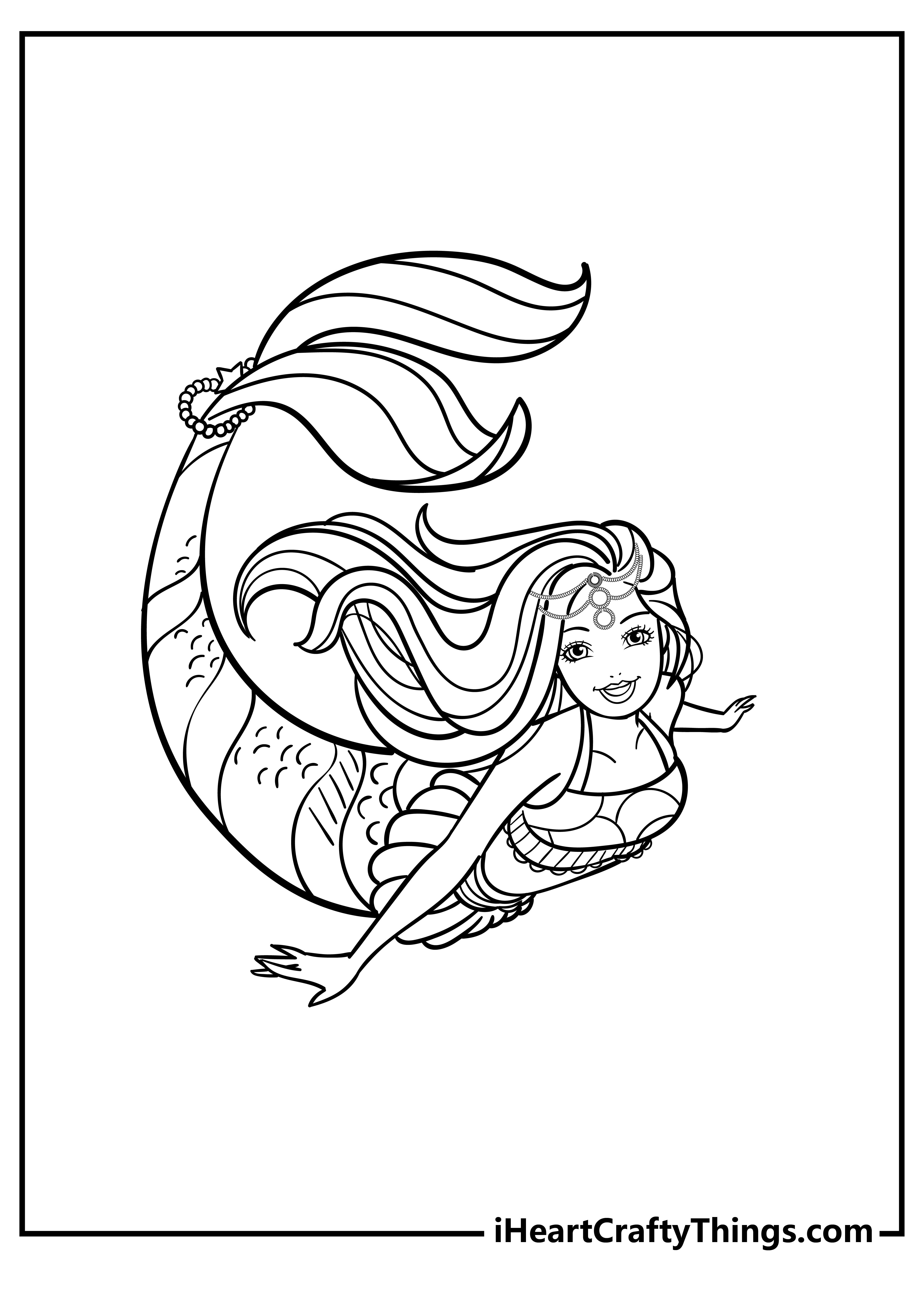 Make a splash with the swimming duo in this Barbie Mermaid coloring page. Our Barbie mermaid friends are smiling with hands on hips. Long hair ripples around their necks and seashell bras.
Their tails and fins have detailed scales that you can color with different shades. The background has bubbles and swirls that add some movement to the scene.
Color the bubbles with bright gel pens. Use colored pencils to add depth to their tails and give their hair a rainbow of ocean colors.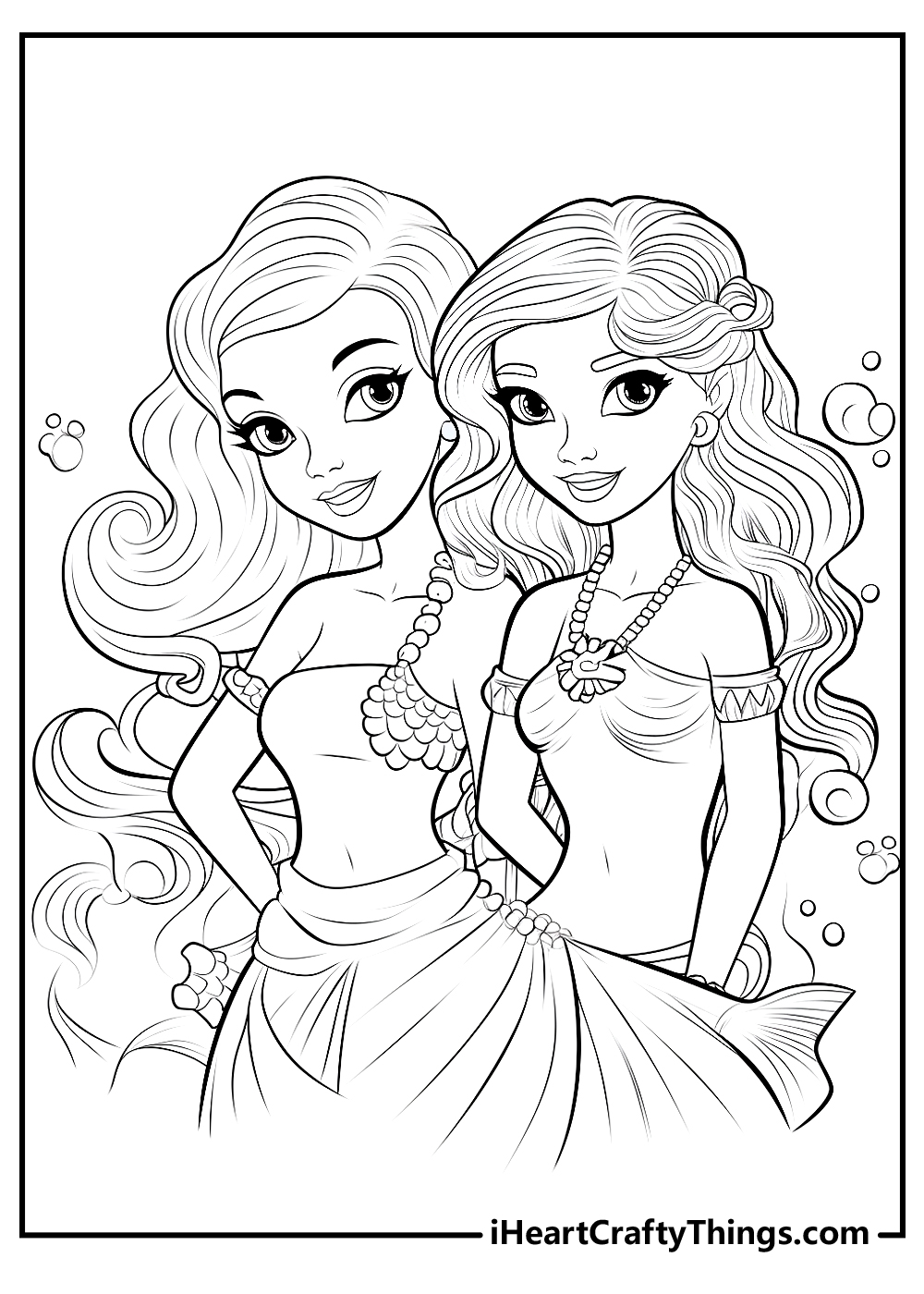 Our next Barbie mermaid coloring printable features a mermaid that is a bit different from the previous ones, as she is wearing a t-shirt.
The shirt has a fun design that features a heart made from a shell, and you can have some fun finishing off the shirt design with your color choices.
Then, you can finish off the rest of this gorgeous design!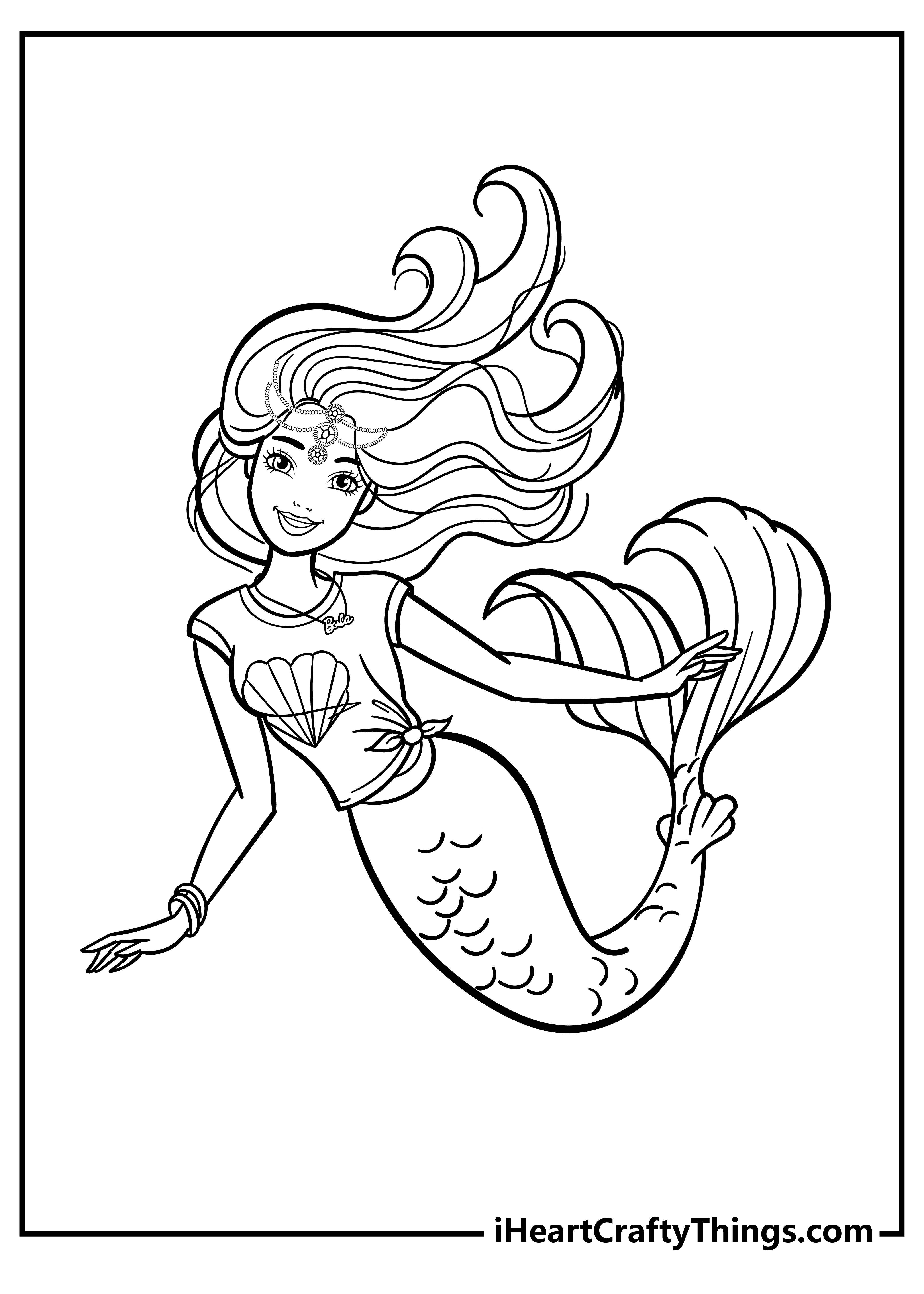 More calming coloring awaits in this next picture we have for you to color.
Her hair in this design is absolutely packed with details, and these details can provide a lot of coloring fun for you to spend time on!
You can also mix various art mediums and techniques to help certain details stand out even more.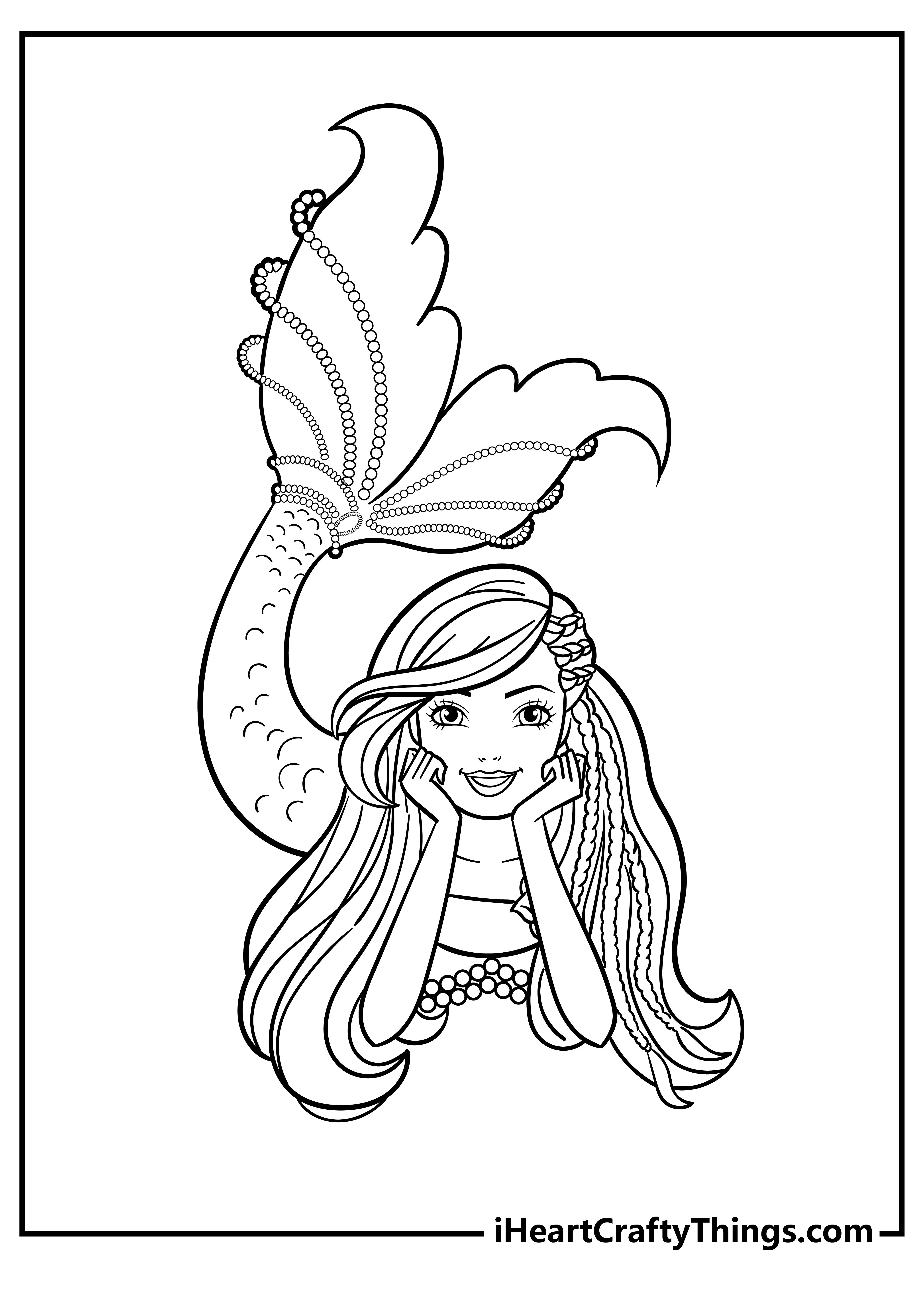 Continuing with this collection, we have another design that has a focus on the hair and tail details.
For her tailfin, you could use some colors that contrast one another or maybe keep all the sections in the same color scheme.
Which approach are you thinking of going for when you color this gorgeous page?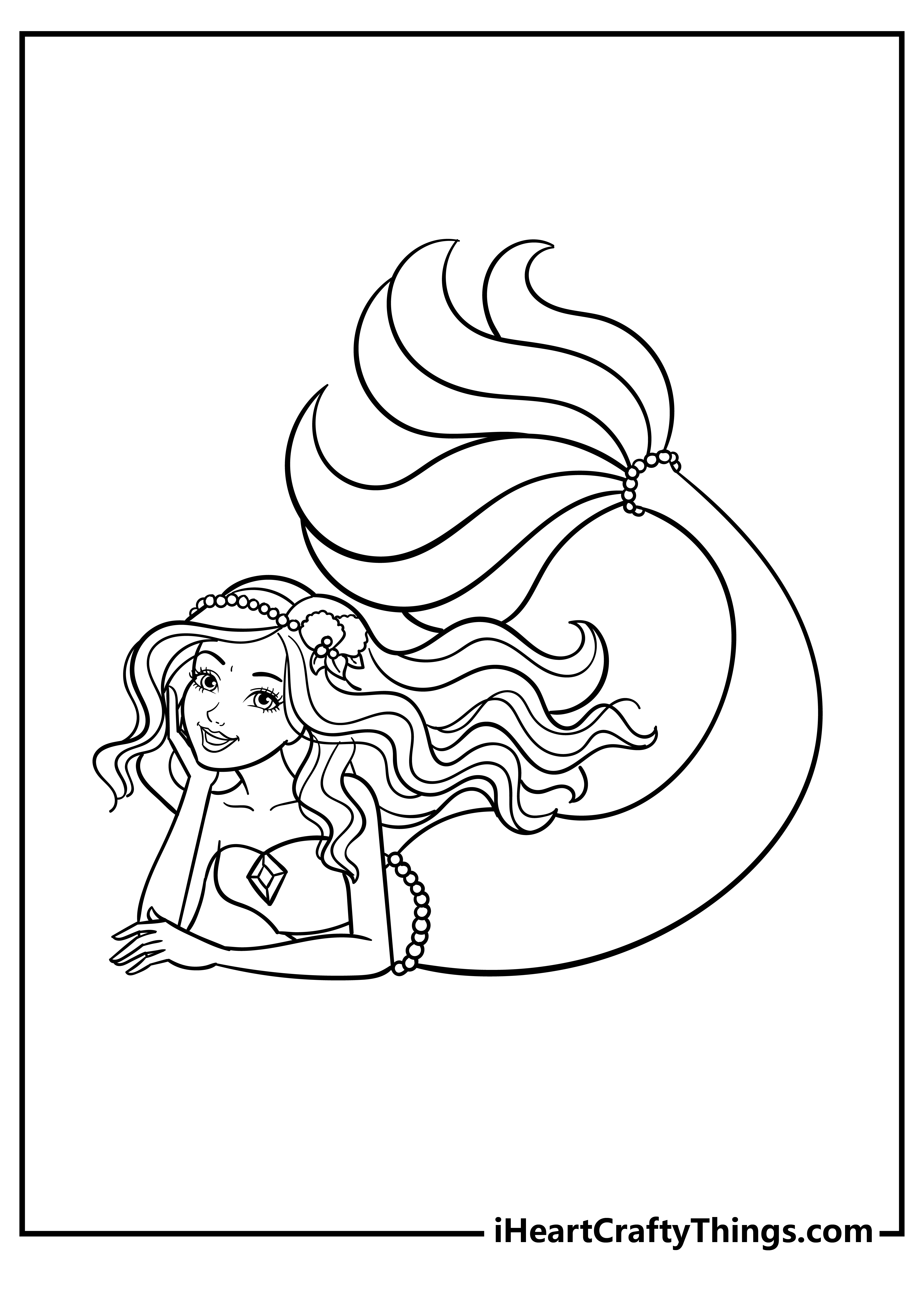 There is a simple yet incredibly elegant design to the look of our next mermaid.
She is wearing a pretty top with a gorgeously decorated tailfin, and we think this one would look perfect with some lovely paints and other distinctive art mediums.
We will be interested to see what sort of color scheme you choose for this lovely mermaid!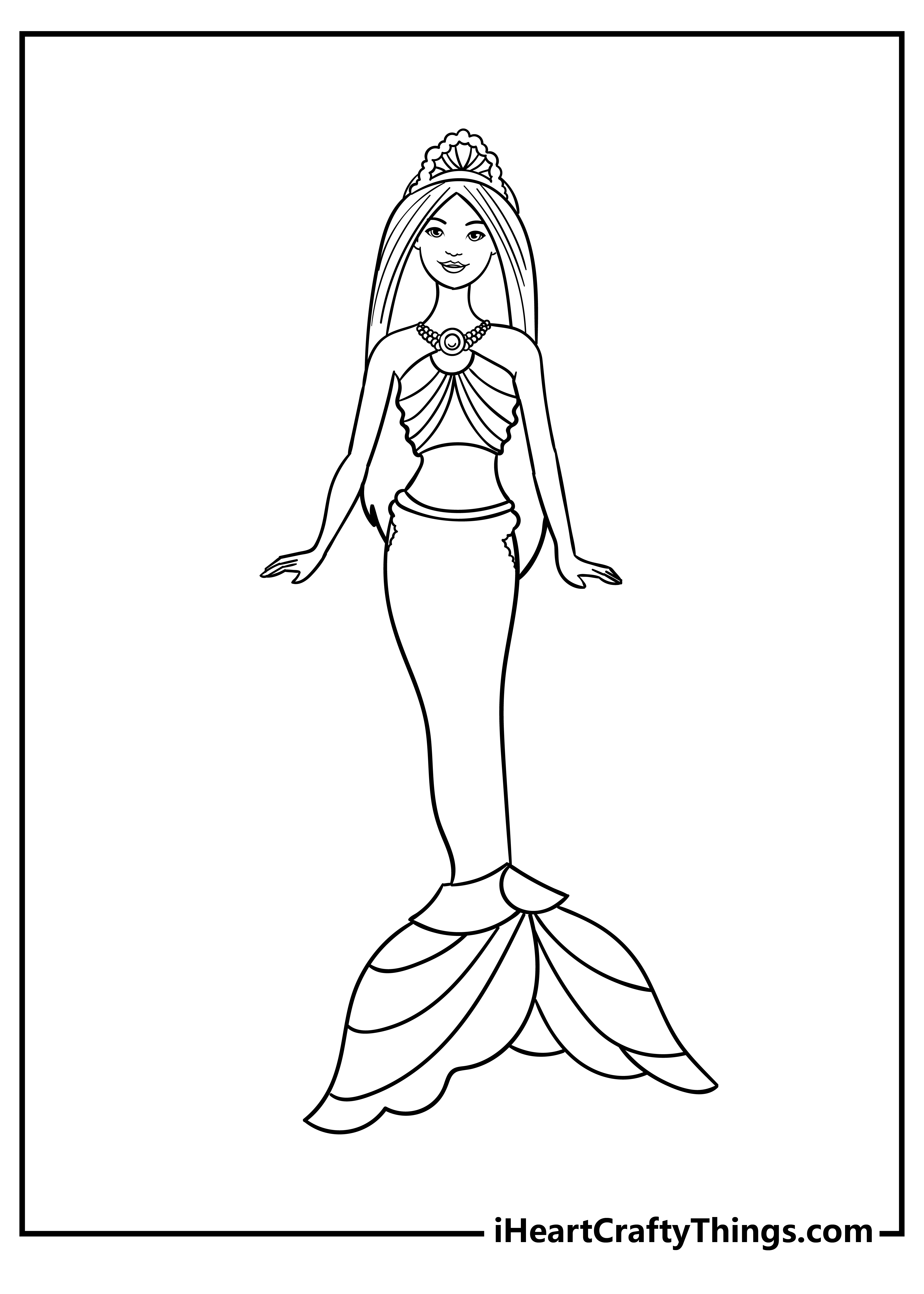 We love the sparkly details on the outfit of this next mermaid.
When an image has sparkly details like this, it can often look great with some actual glitter or glitter pen details that emphasize these details.
Do you have some creative sparkly crafts that you could use for this picture to really make it stand out on the page?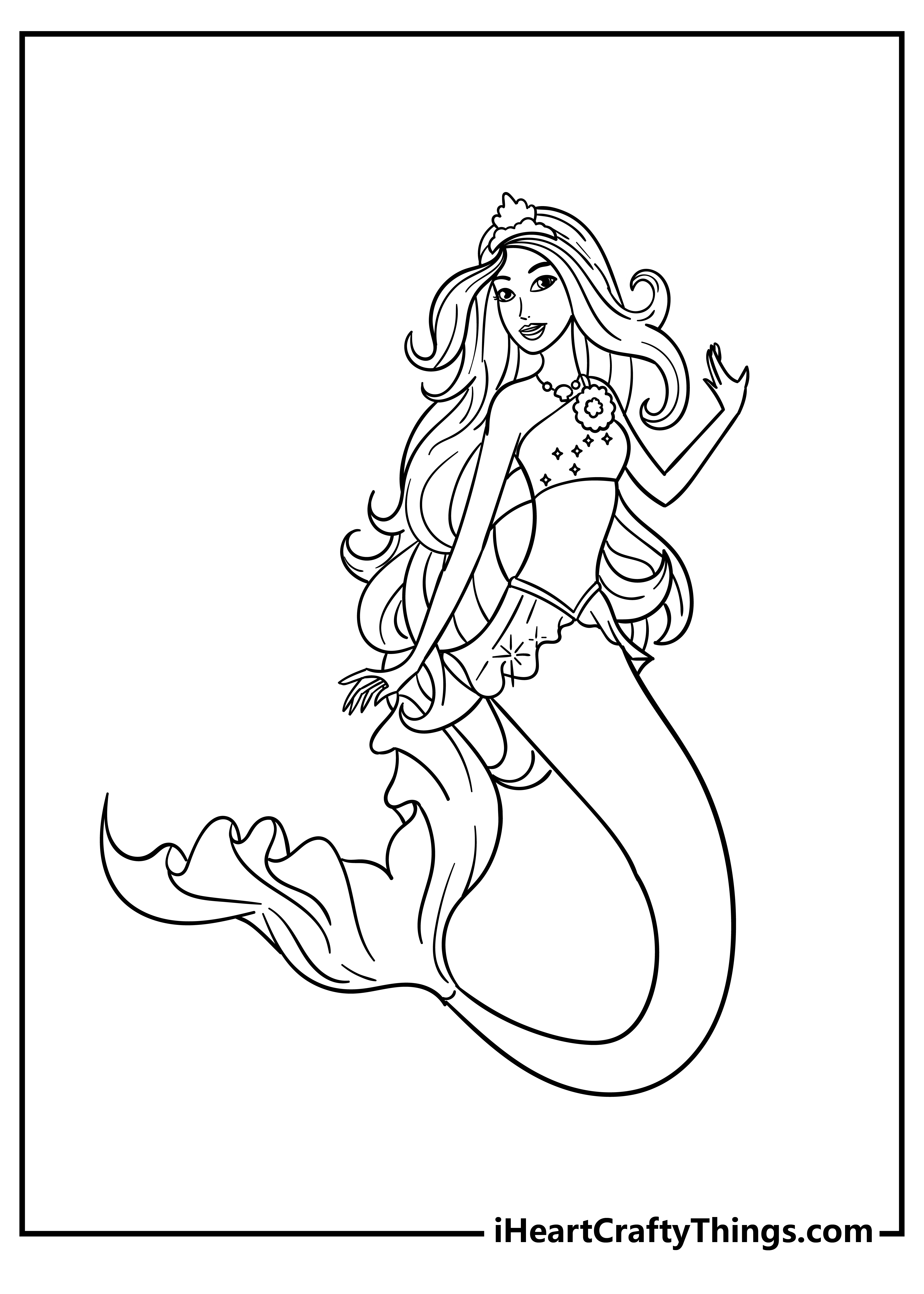 This is the last Barbie mermaid coloring sheet that we have in the collection, and she is joined by a friend this time!
There is an adorable fish that is saying hello to her, and we think this cute fish would look amazing with some bright and vibrant colors.
There has also been some space left in the background, so you could again design a wonderful scene to really finish off the collection in style!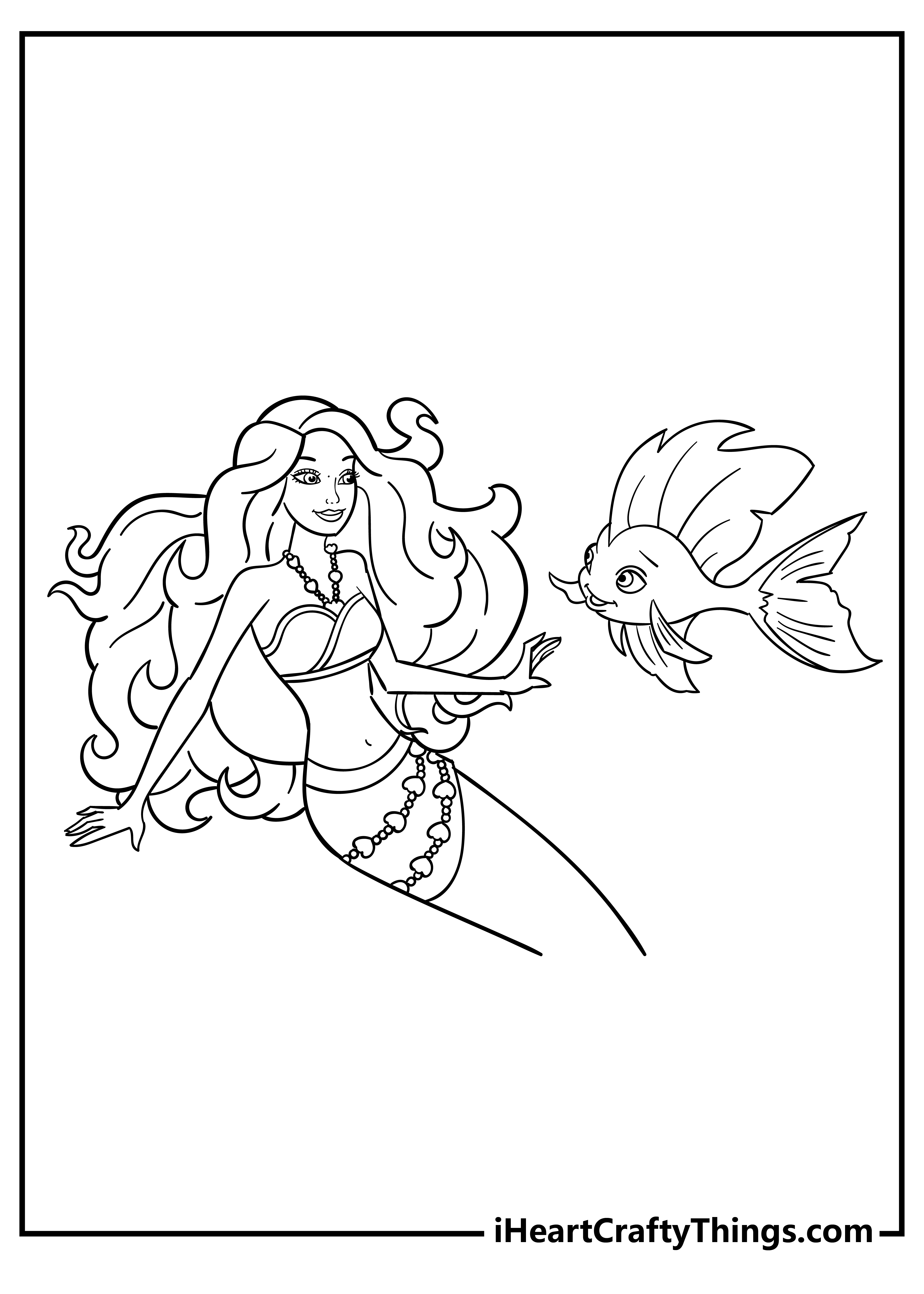 Barbie Mermaid Coloring Pages – Which will you choose?
We hope you had a great time with this deep dive into coloring fun!
In this collection of free Barbie mermaid coloring pages for kids, we wanted to feature a wide variety of designs and scenes so that you can really get creative with it.
If you enjoyed this collection, you'll want to check out our website for many more awesome coloring page collections to try out. We can't wait for you to see what we have for you there!
We would also love it if you would share some of your finished pages on our Facebook and Pinterest pages for us to enjoy!