The Bratz brand of dolls has become really well known worldwide for their unique style and focus on the coolest fashions.
There are so many to choose from, and mixing and matching their clothing and accessories really lets you get creative with it.
This collection of free Bratz coloring pages for kids will let you unleash that creativity even further!
There are 20 free pages featuring various Bratz dolls that you can color and add your own patterns to in order to make them look even cooler.
So get your favorite mediums and let's begin this collection!
20 Brand New Bratz Coloring Pages – Free to Print and Color
This first Bratz coloring page we have for you features a doll in a simple and elegant outfit.
The outfit may be simple in design, but you can make it much more complex by adding some great color patterns and other designs onto the empty spaces.
What kind of design theme can you think of for this first one?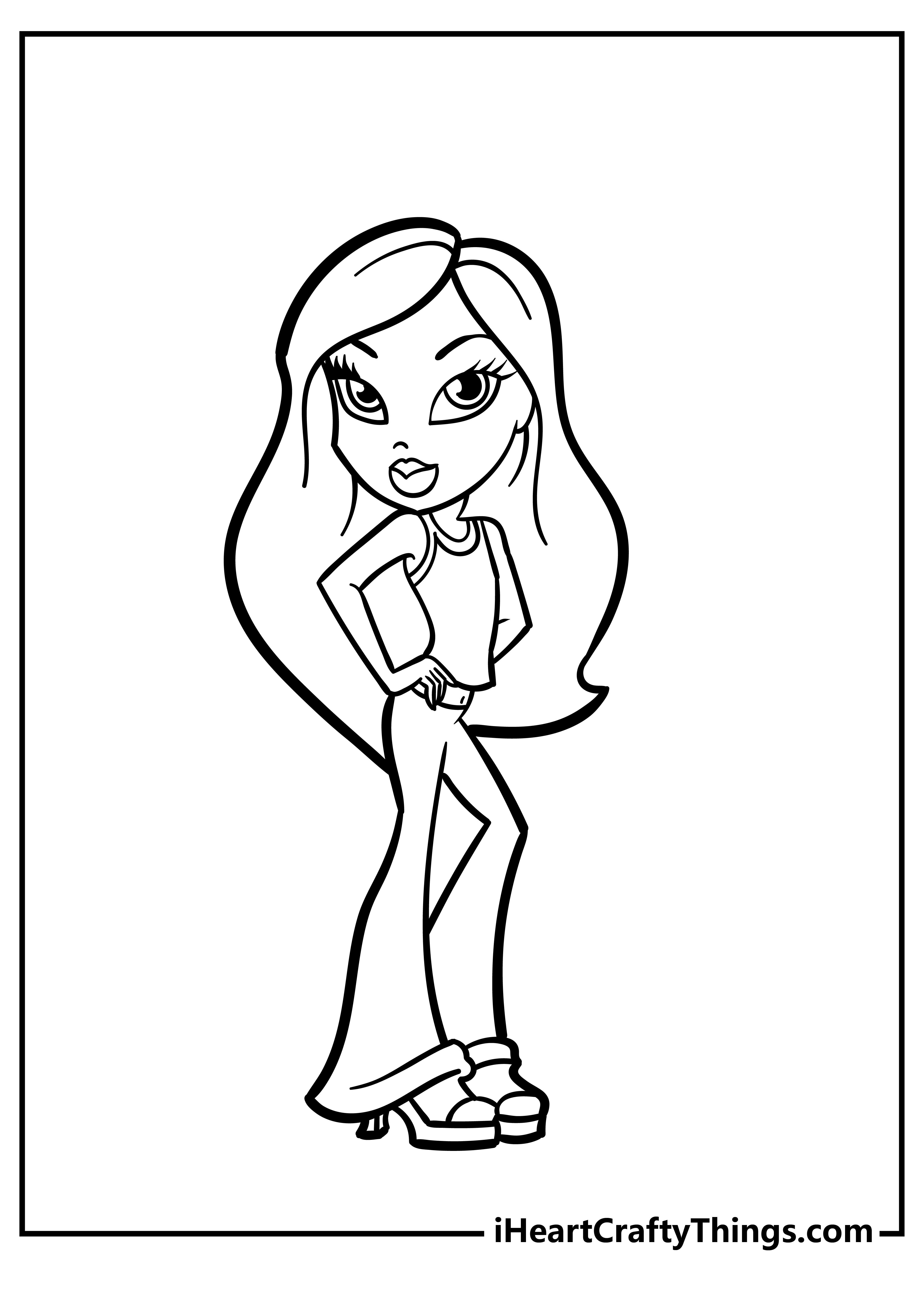 Get ready for a chill hangout with this relaxed Bratz doll! She's dressed in a cozy hoodie, comfy shorts, and stylish boots perfect for a fun day with friends.
Her face is bright with a sweet smile, perfect for coloring. You can give her a little bag and add some yummy snacks or a new book for her to read.
Grab your favorite coloring tools and add some personality by choosing fun colors for her clothes and accessories. Give her hoodie some stripes or her shorts some polka dots.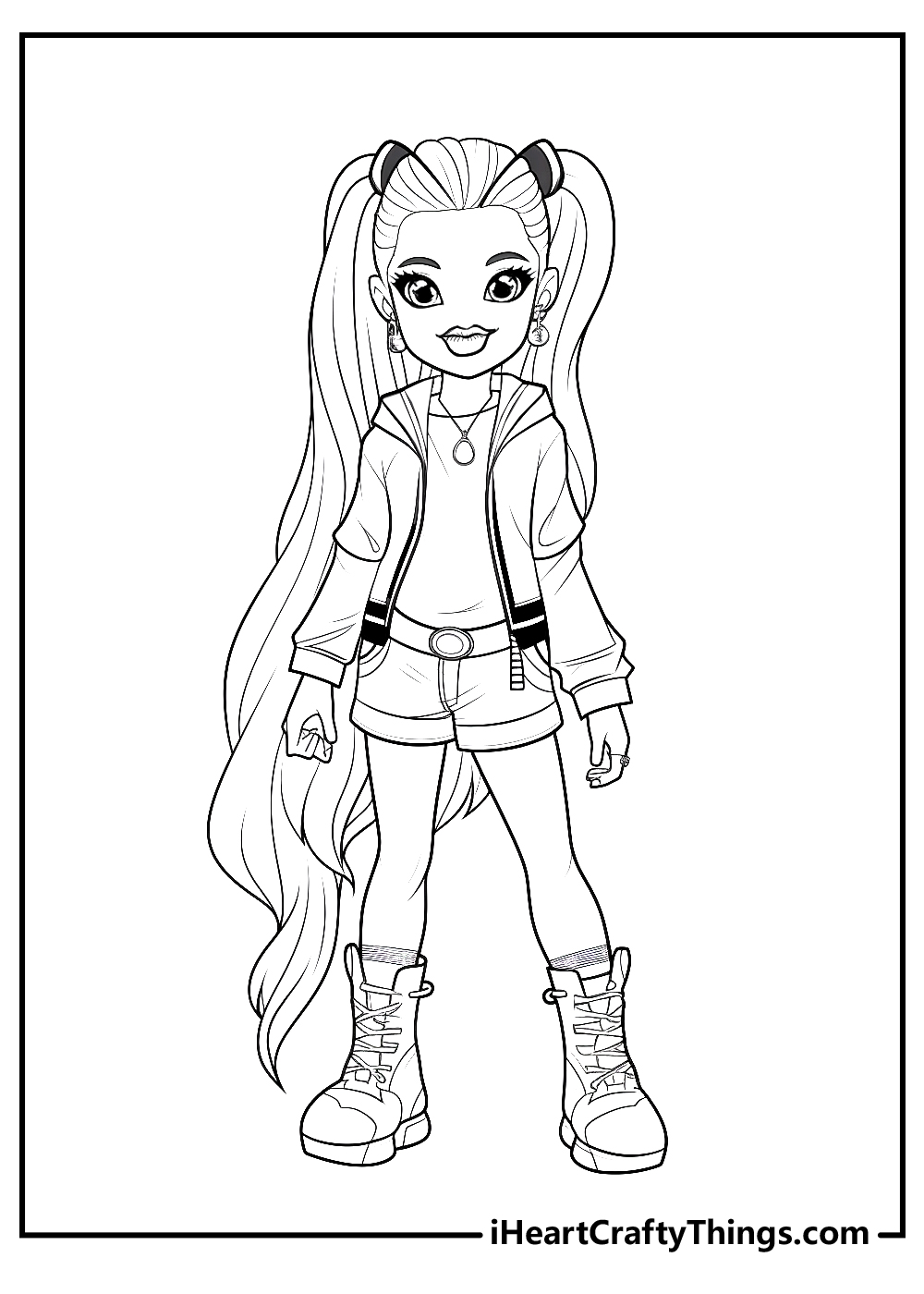 The second Bratz doll that we have for you has a cat on her shirt, and it makes for a really cute design!
When coloring this one, you can also draw extra details, and one fun idea would be to add a cute kitty sitting beside her.
What else can you think of to add to this image? We can't wait to see what you do with this one!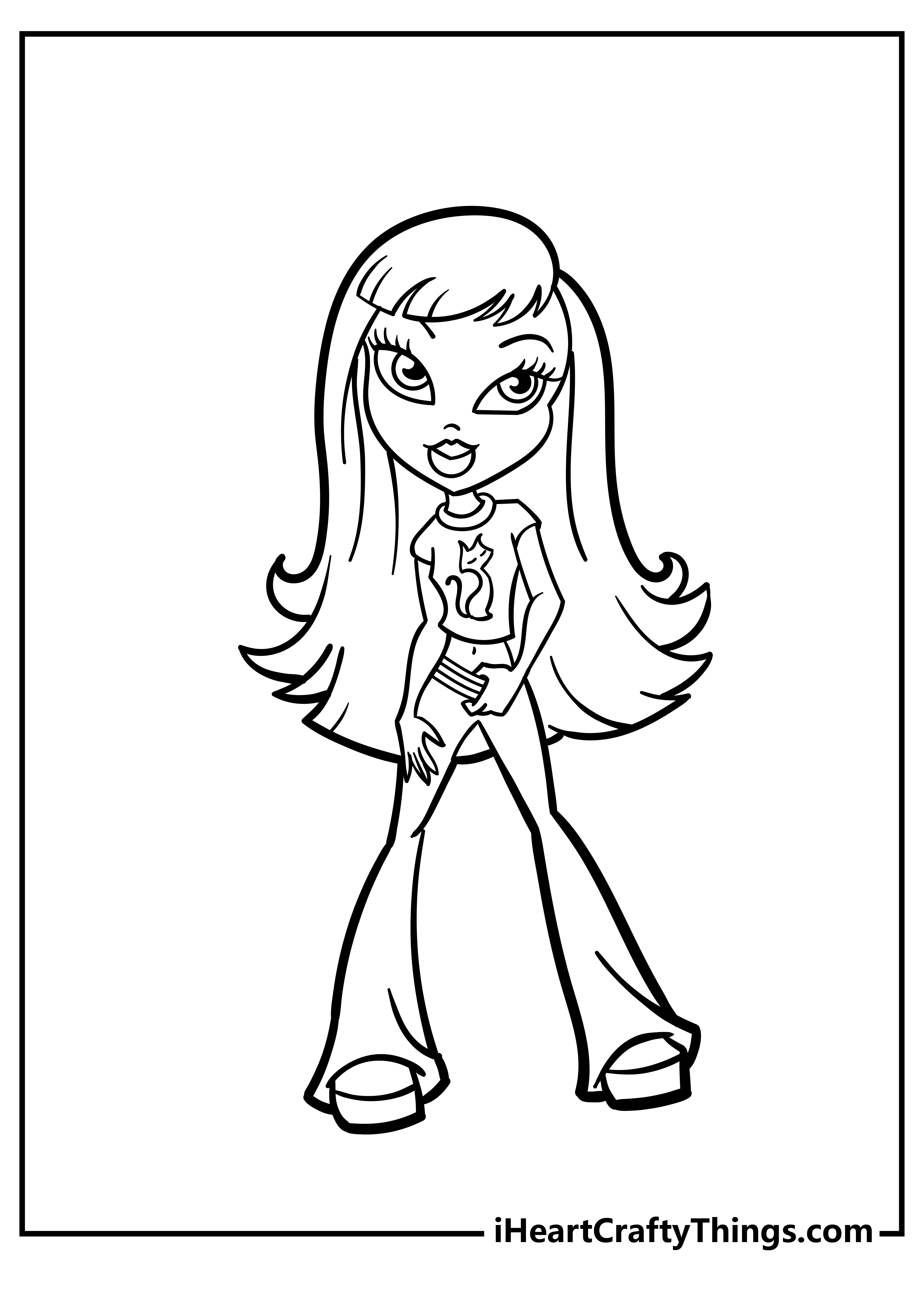 There are some great details on this next Bratz doll. From the heart on her top to the stitches on her jeans, you can have some real fun adding some smaller color details to these kinds of elements.
For images like this, using colored pens or pencils can be ideal, as they allow for greater precision.
What mediums and techniques will you use?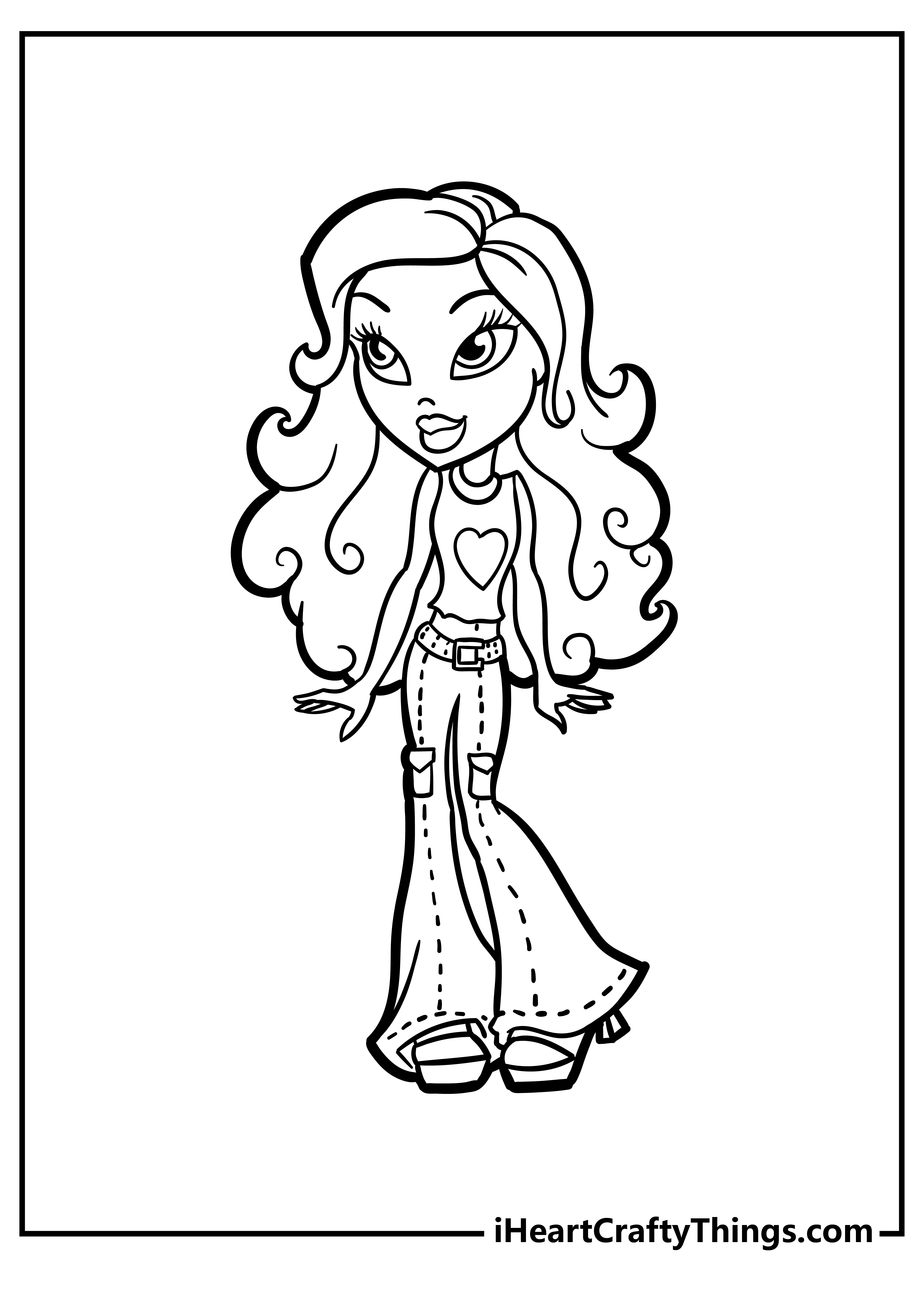 This confident Bratz doll is ready to take on any adventure in style. Her long, braided hair and trendy outfit show she's not afraid to stand out.
Her cropped hoodie, shorts, and high-top sneakers look so cool, while the sparkling necklace and earrings add a touch of glam.
As you color in this image, think about where she might be heading. Maybe to a fashion show to strut her stuff on the catwalk or on a road trip with friends.
Add your own designs to her clothes, like rainbows, lightning bolts, or hearts to show off her bold personality.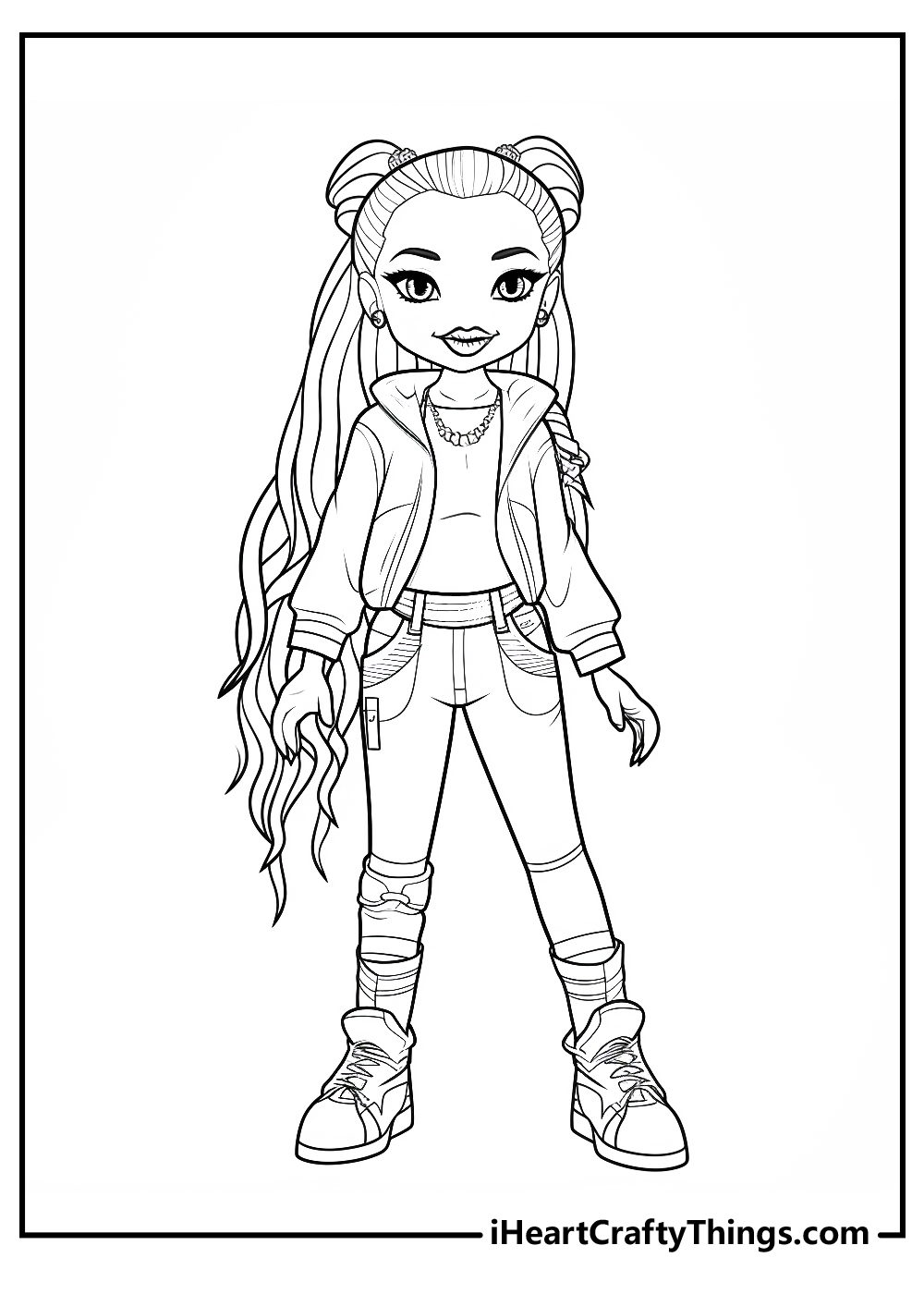 This next Bratz doll is looking very fancy and professional! Her outfit would be nice enough with just the dress she is wearing, but she has also paired it with a pretty jacket.
When coloring her outfit, do you think you will go for a unified color scheme for the dress and jacket or make them look completely different?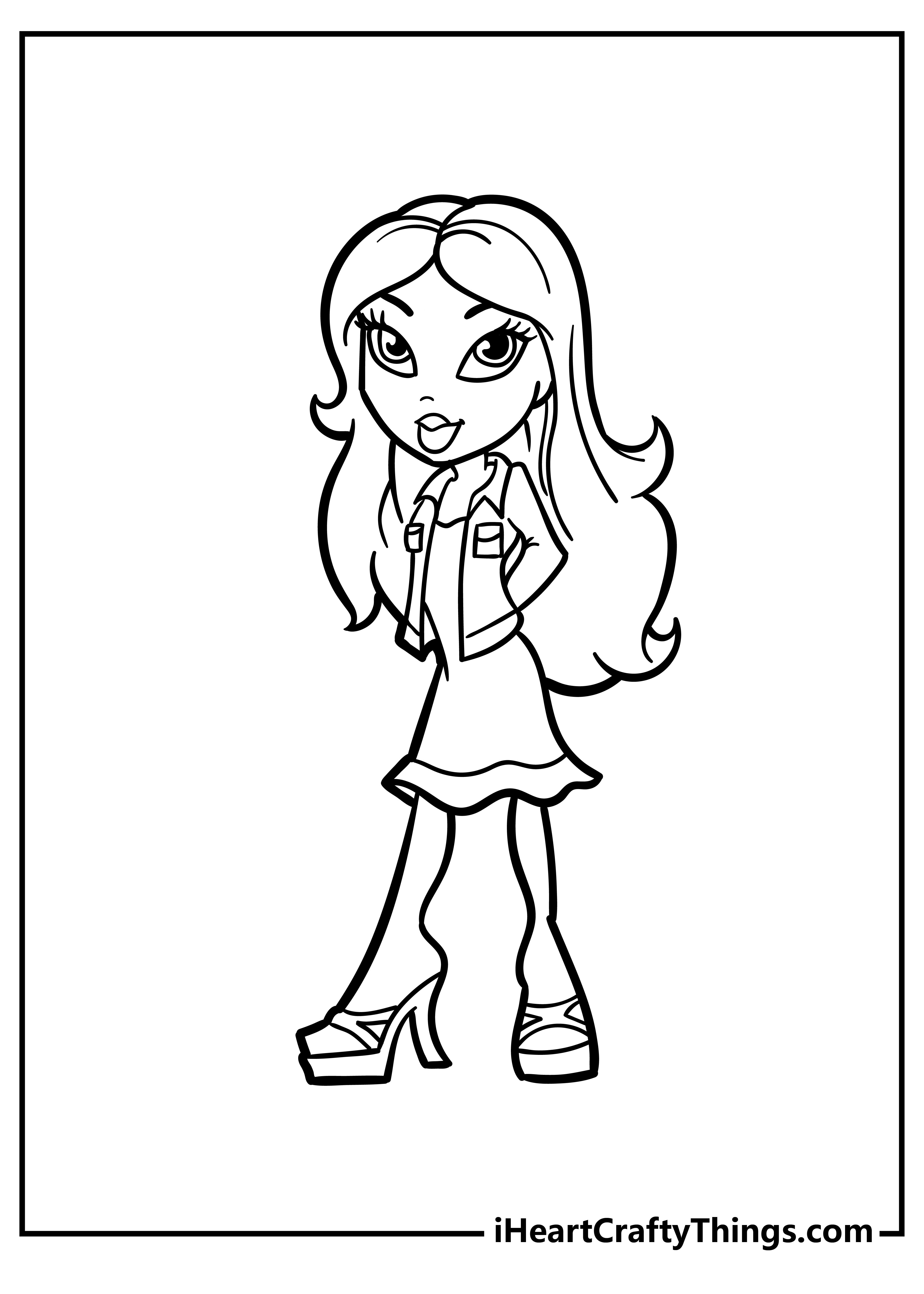 It's time for a tropical vacation for this fifth page in our collection of free Bratz coloring pages for kids!
The way this doll is dressed makes her look ready for the beach, and there are so many great details to her outfit.
One idea we would have for this one would be to add a beach background to really finish off that vacation feeling!
Will you add a cool background?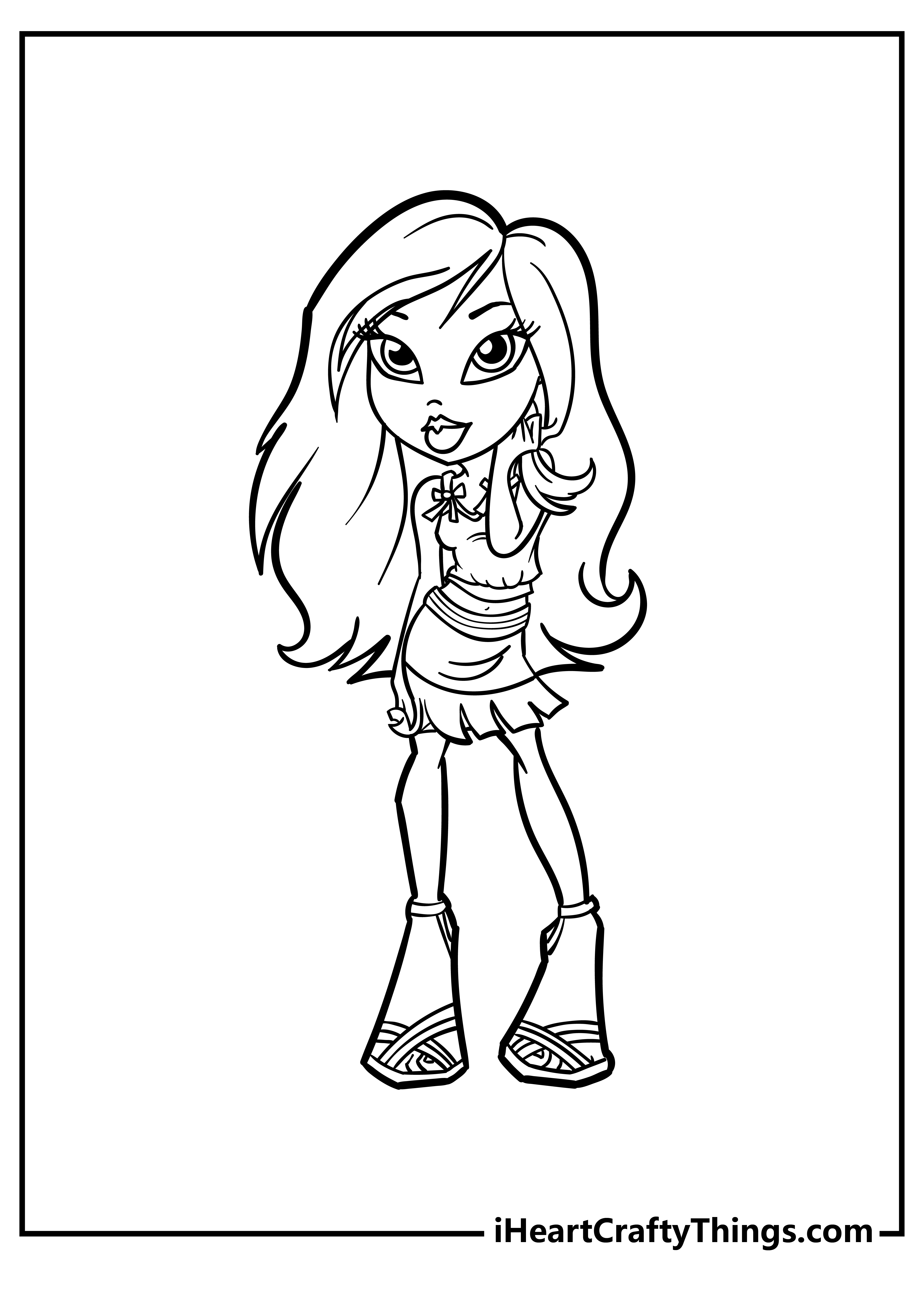 With her cute pigtails and cozy hoodie, this sweet Bratz doll looks ready to have some fun.
Her smiling face shows she can't wait to spend time with you, whether it's playing games, reading stories, or watching movies bundled up in blankets.
You can join her in her fun by coloring this one with your favorite colors. You can also add some details to her hoodie and jeans to make them more fashionable.
What kind of design do you think she likes? Maybe some flowers, hearts, or butterflies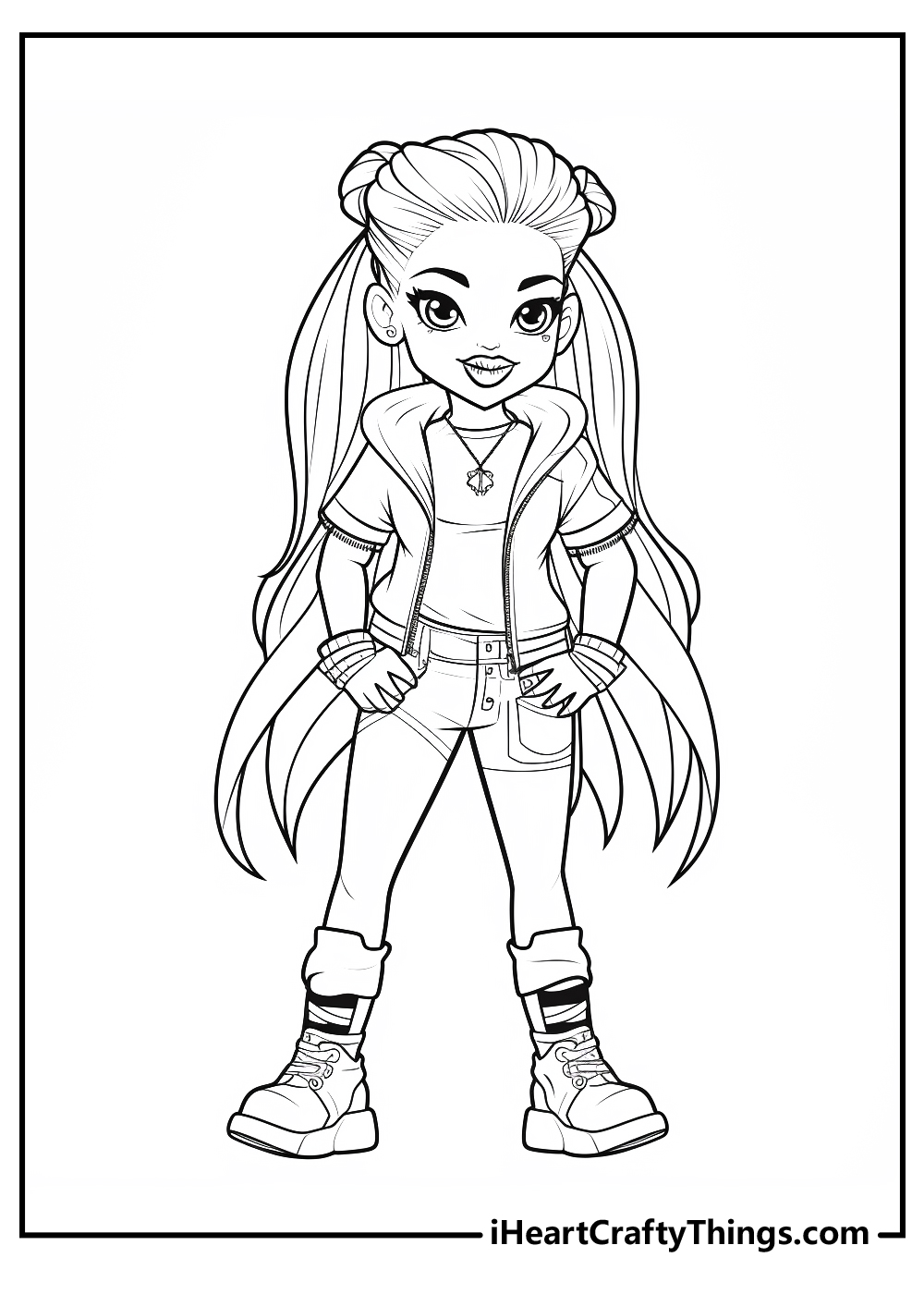 This next page has another doll whose style could be described as simple and elegant. Even her hair is done in a simple yet pretty style!
For a simpler style such as this, you can use some really bright colors in order to contrast the simpler design. What else can you think of to put your own spin on this one?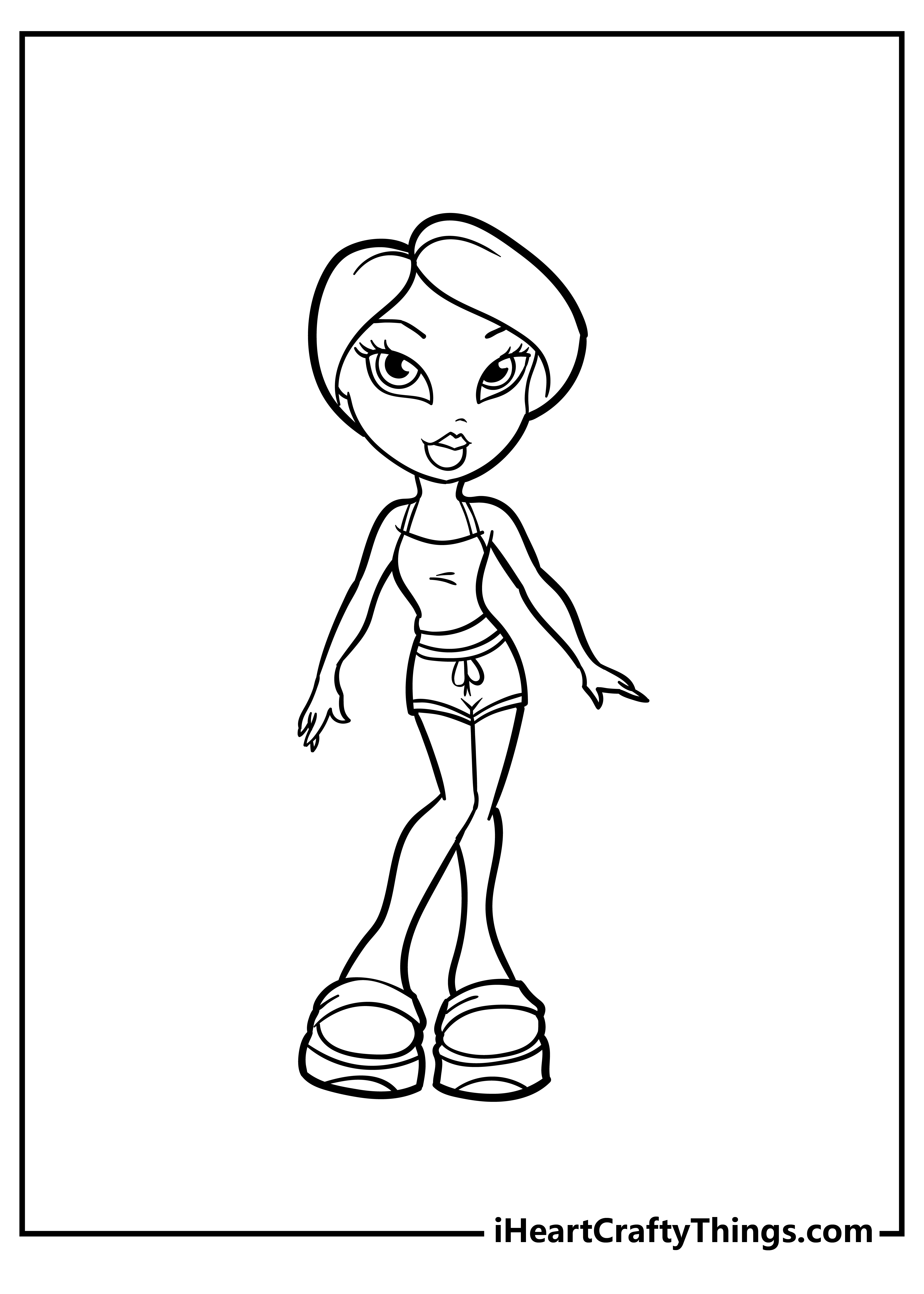 We have a super glamorous doll for you to color up next! Her outfit is really fashionable, and the dots on it make it look as if it is covered in glitter.
When coloring this one, if you have some glitter handy then you could use some to make her outfit glitter for real! Have you got any other fun crafts you could use for this?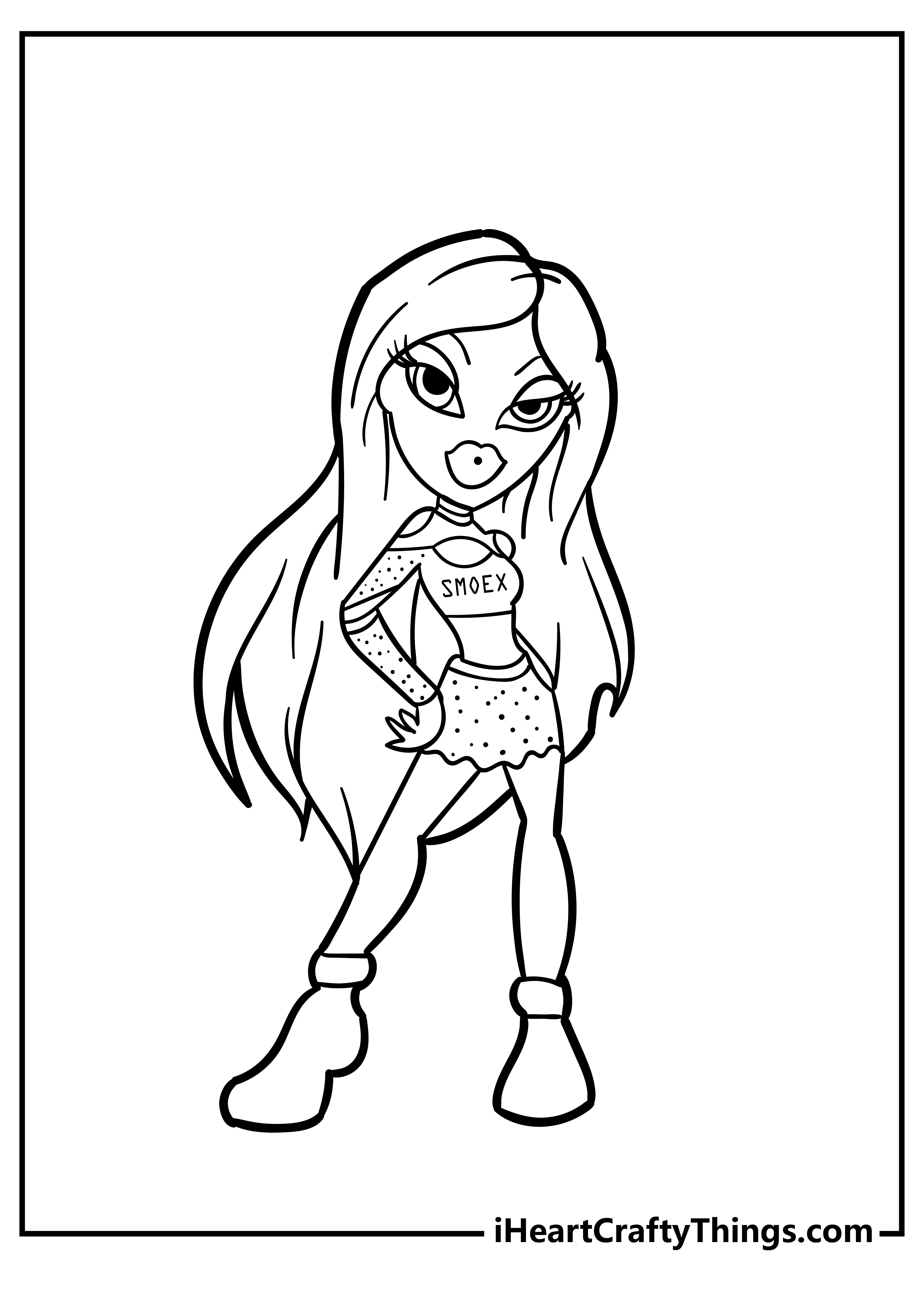 This Bratz coloring page features a cool Bratz doll. She is wearing a jacket, shorts, and boots that give her a rocker vibe. She also has a high ponytail with long strands that frame her face.
She looks like she is ready to rock the stage, don't you agree? Give her jacket some glittery studs or stars and make her boots look scuffed up from dancing under the bright lights.
Add in a background of a cheering, excited crowd and use vivid, neon colors to bring out her fierce style.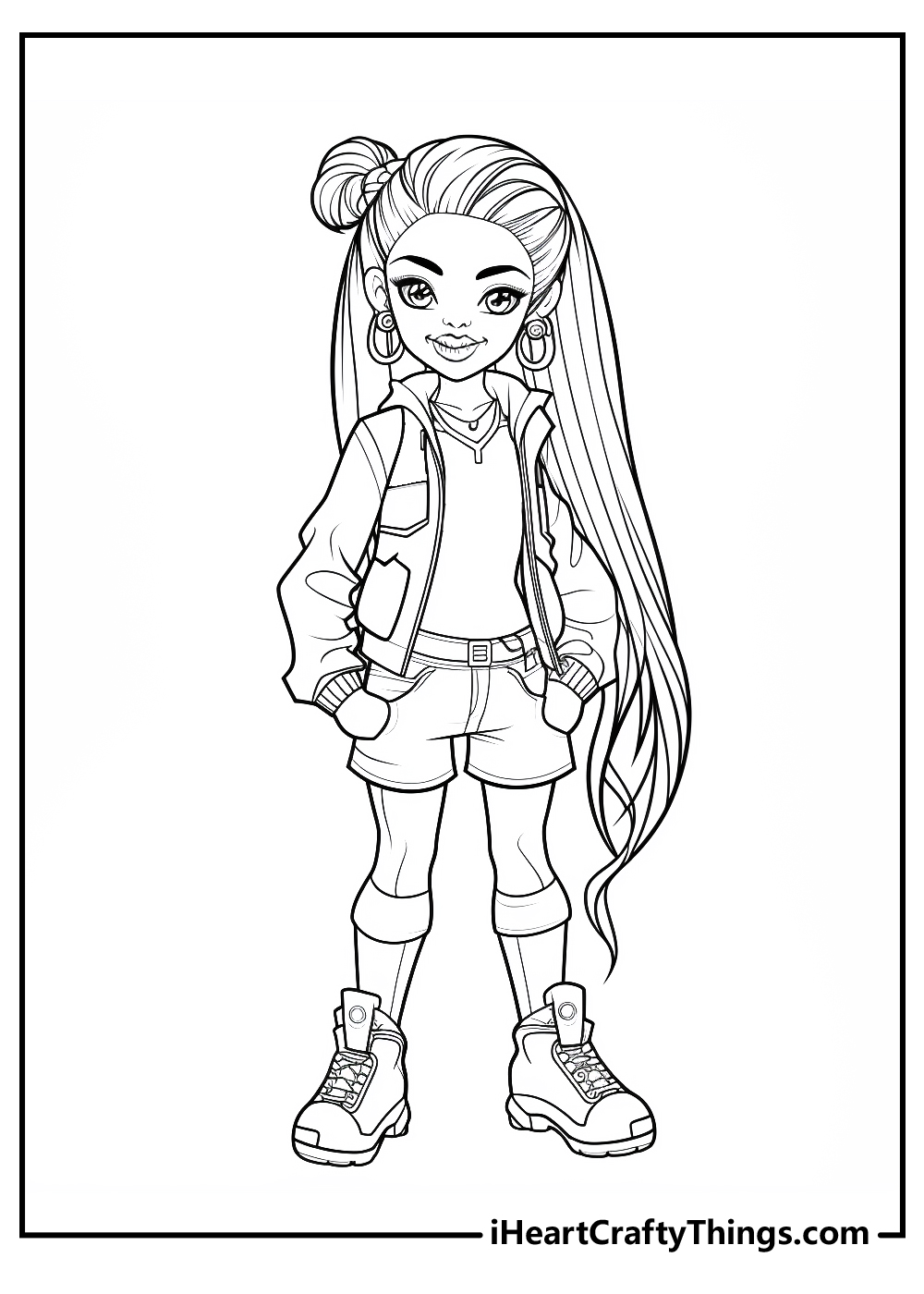 This Bratz doll looks like she is ready for a fun night out!
This would be another one that would look great with some kind of background, and this would be a chance to show off where your favorite place to hang out is.
What kind of fun scene will you put this doll into?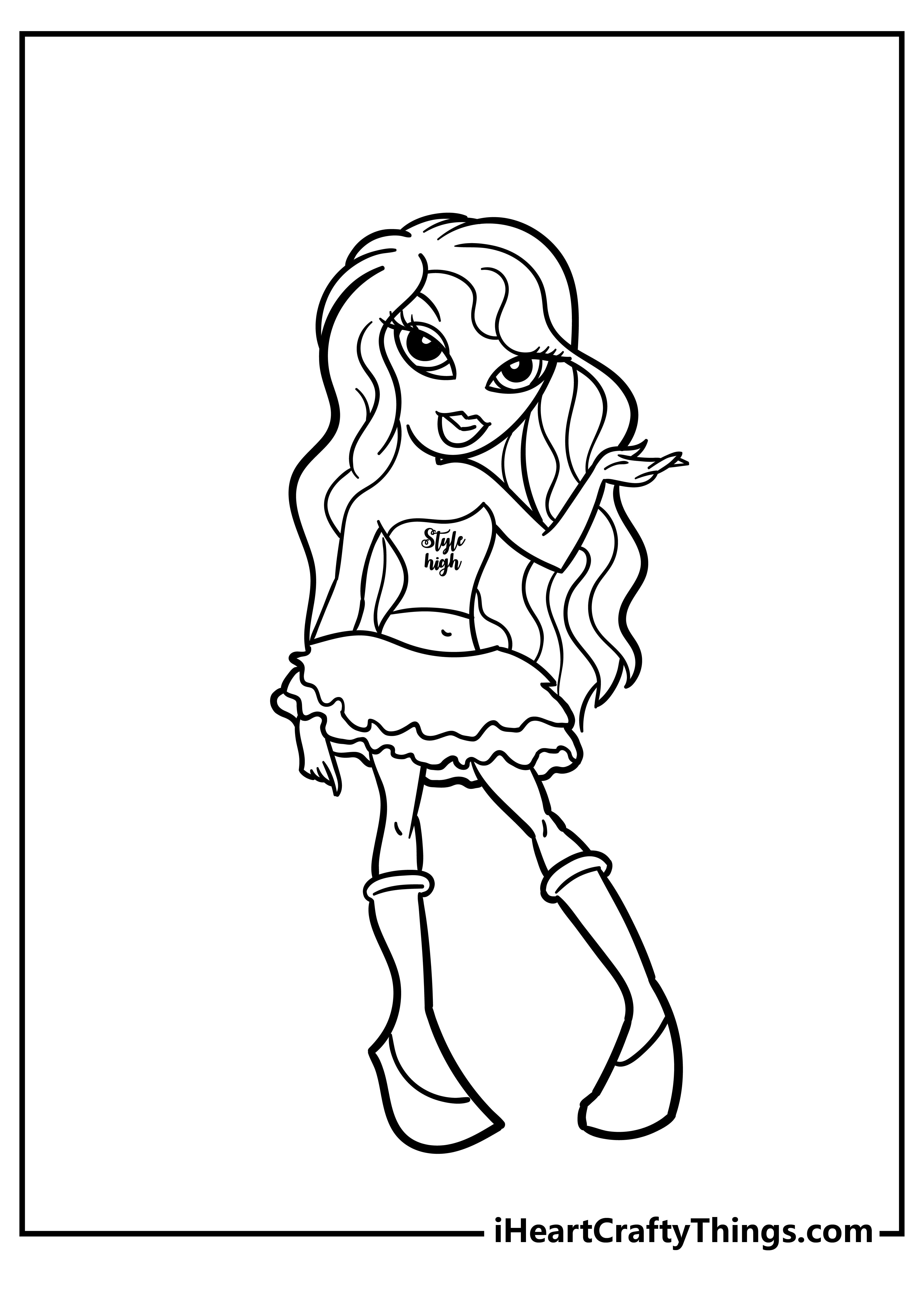 Get ready for a day of fashion and fun with this adorable Bratz doll. Her cute hair buns and chic outfit show she's ready to express her unique style.
Maybe she's headed to the mall with friends to check out the latest looks and try on new outfits. I would use red, blue, yellow, and orange to color in her trendy jacket, shorts and boots.
Give her a fun pattern like polka dots, plaid or even animal print. You can also draw in some accessories like sunglasses or a handbag to complete her look.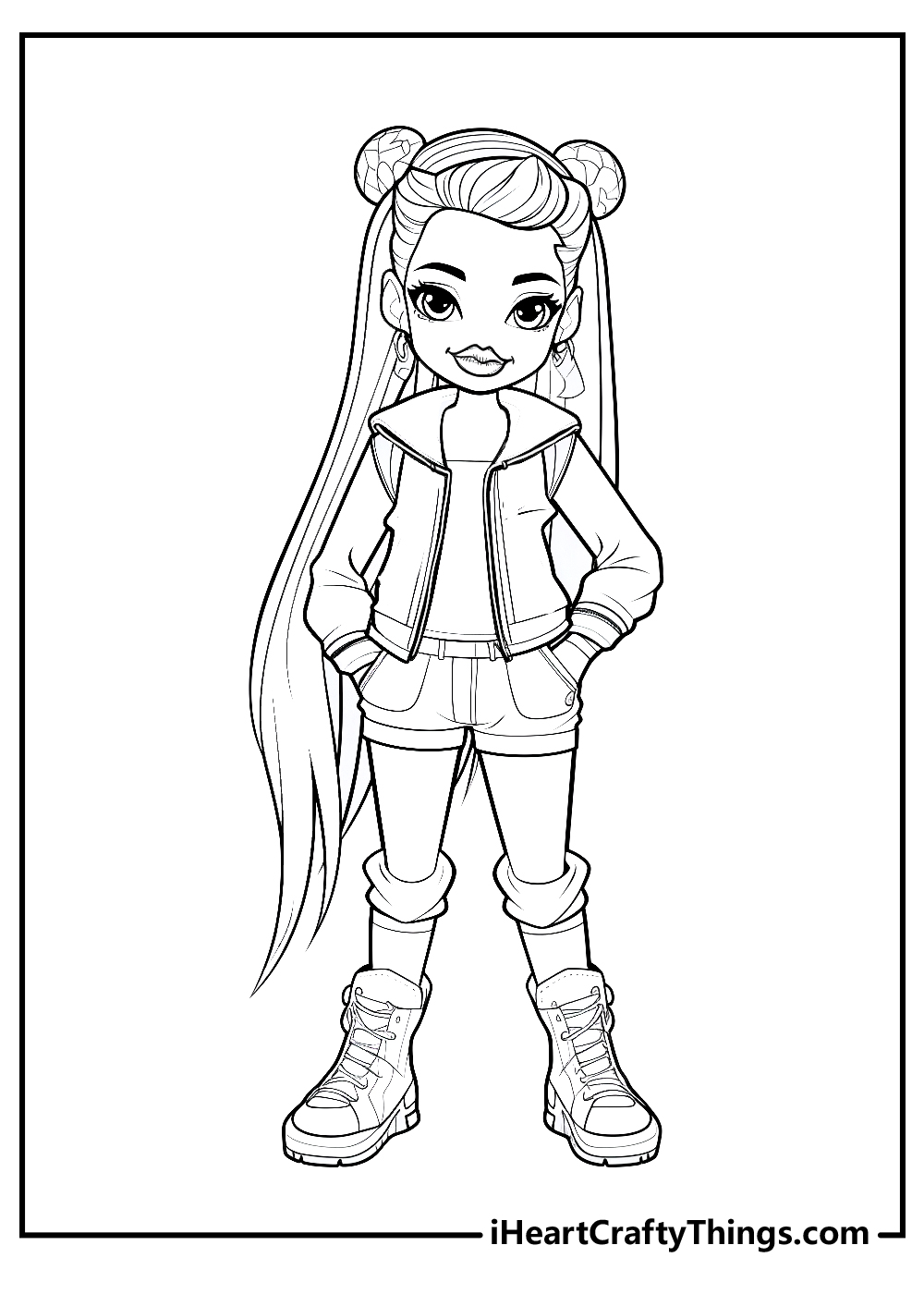 Next up, we have a Bratz doll that has a lot of attitude! This one has a lot of personality, and is striking a feisty pose.
We think that this one deserves some bright and quirky colors to fit the feeling it gives off. What kinds of colors do you think would best suit this doll?
It's time to dance while having some coloring fun with this Bratz coloring printable! This doll is having a great time as she dances, and she has a wonderful outfit for you to color.
Maybe you could draw some music notes and lyrics from a song you love into the background to show what she could be dancing to.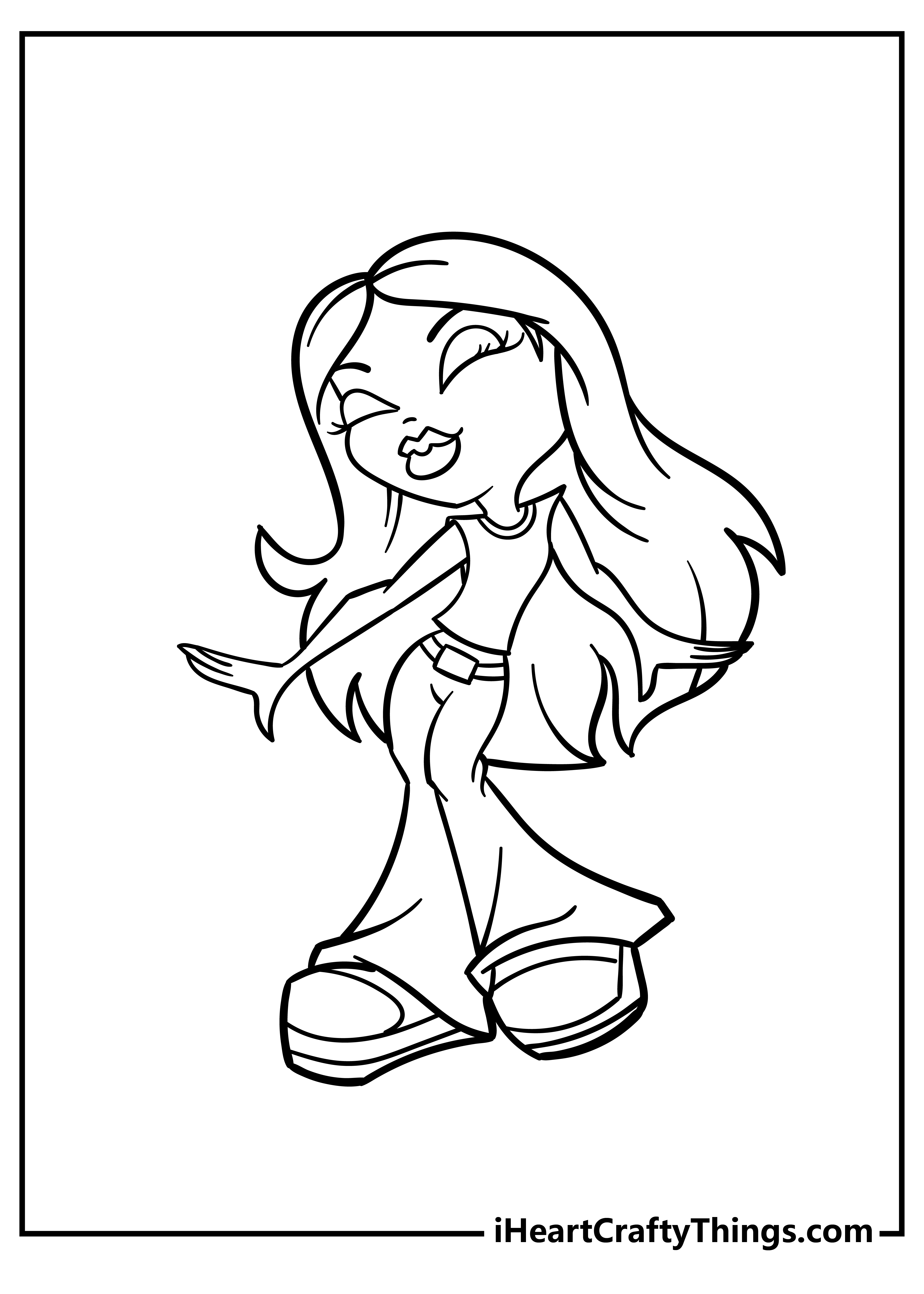 The Bratz doll we have up next is applying her lipstick, and we think it would look great to use a nice bright color for the lipstick details!
Perhaps some lovely reds or pinks done with some colored pens or markers would be good, as that would help the colors to really glow off the page.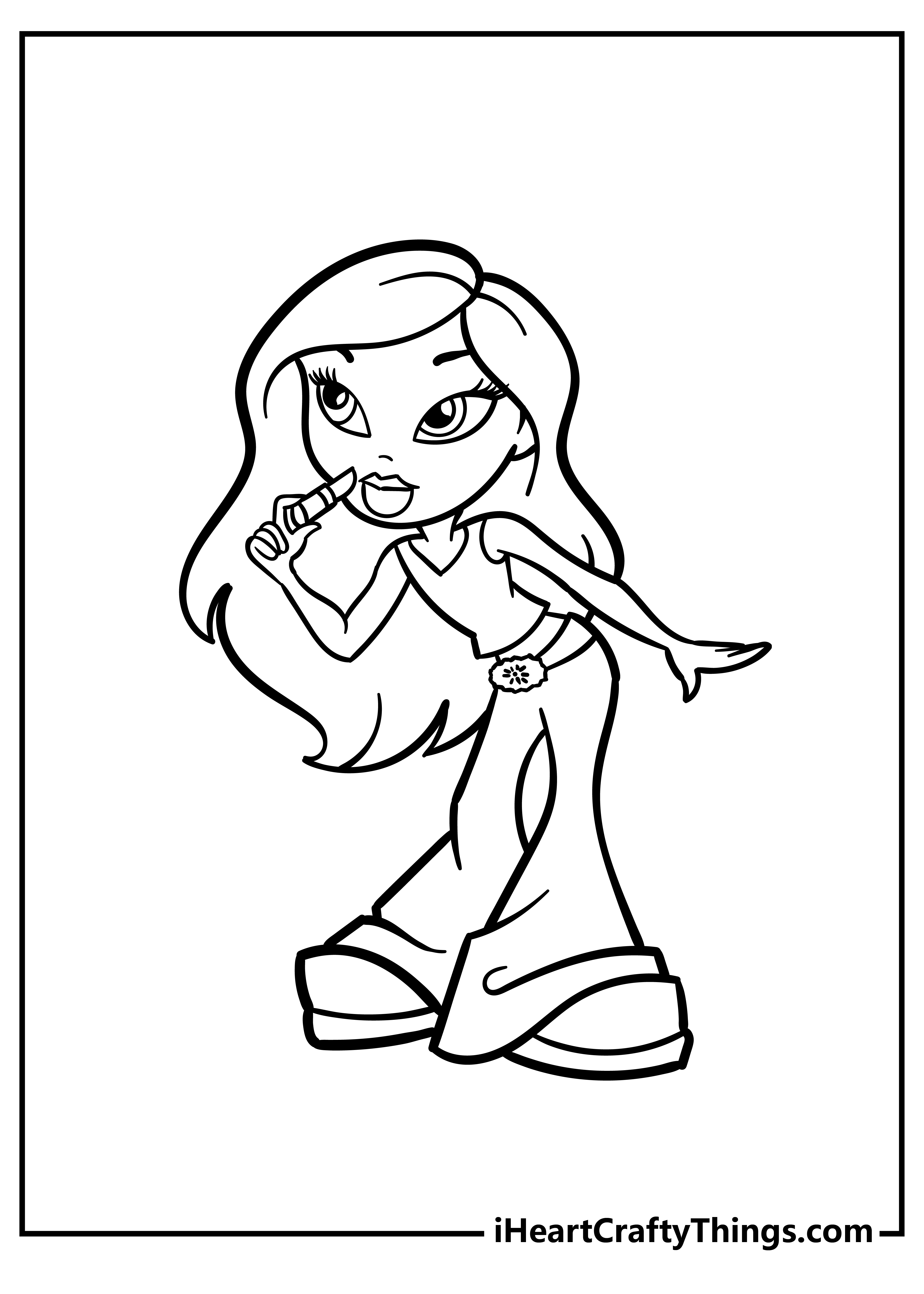 We have one fancy Bratz doll in this next picture for you to color! She is looking like she is enjoying a wonderful stroll, and we wonder what kind of place she is walking through.
Maybe you could create a park setting or an equally calming one to show where she is hanging out in this picture.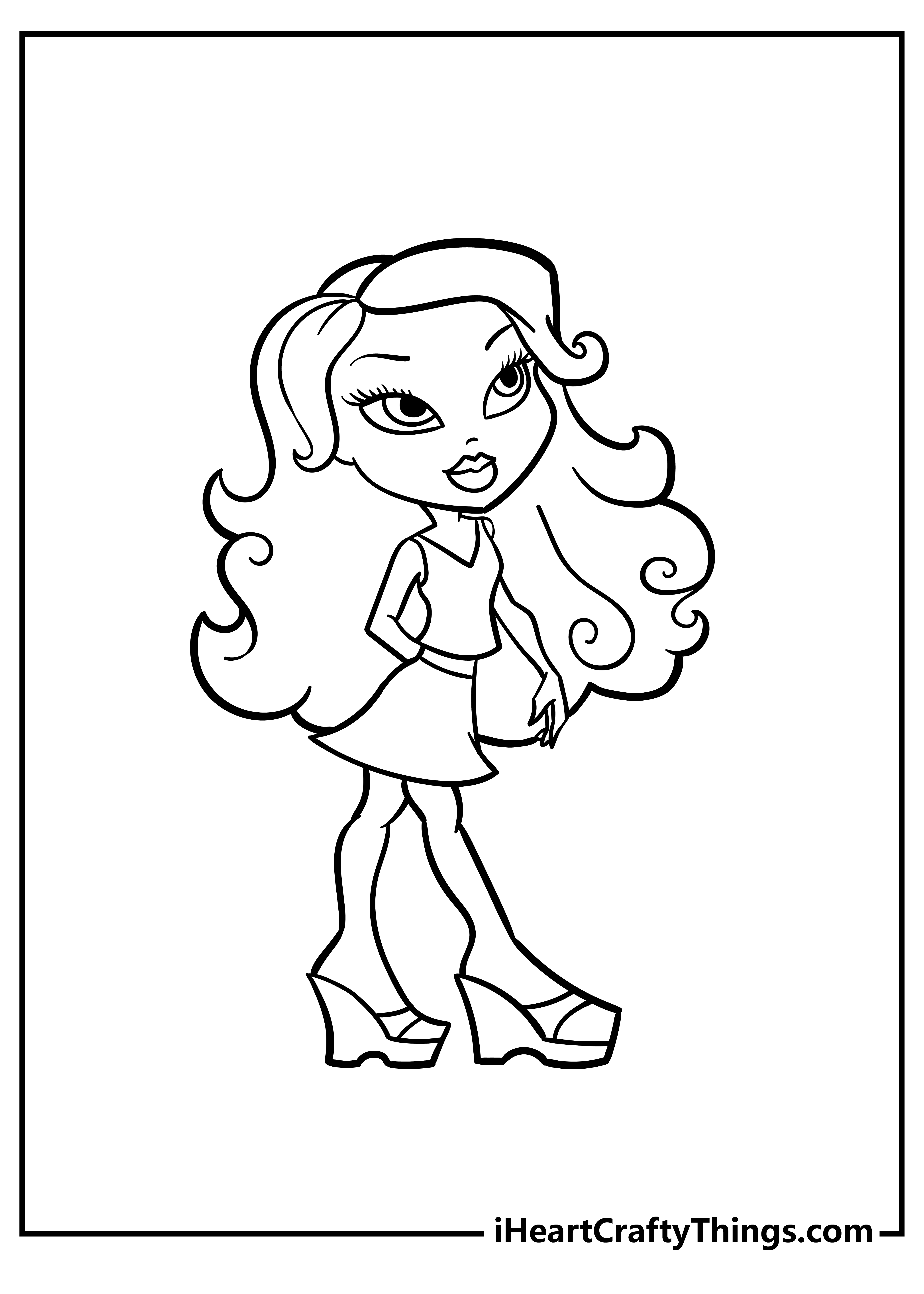 There are some great smaller details on the outfit of this Bratz doll. Some of these details are really small, so we would again recommend some art mediums that would make precision easier.
We mentioned colored pens and pencils as a few ideas, but what other smaller mediums can you think of to color the details of this outfit?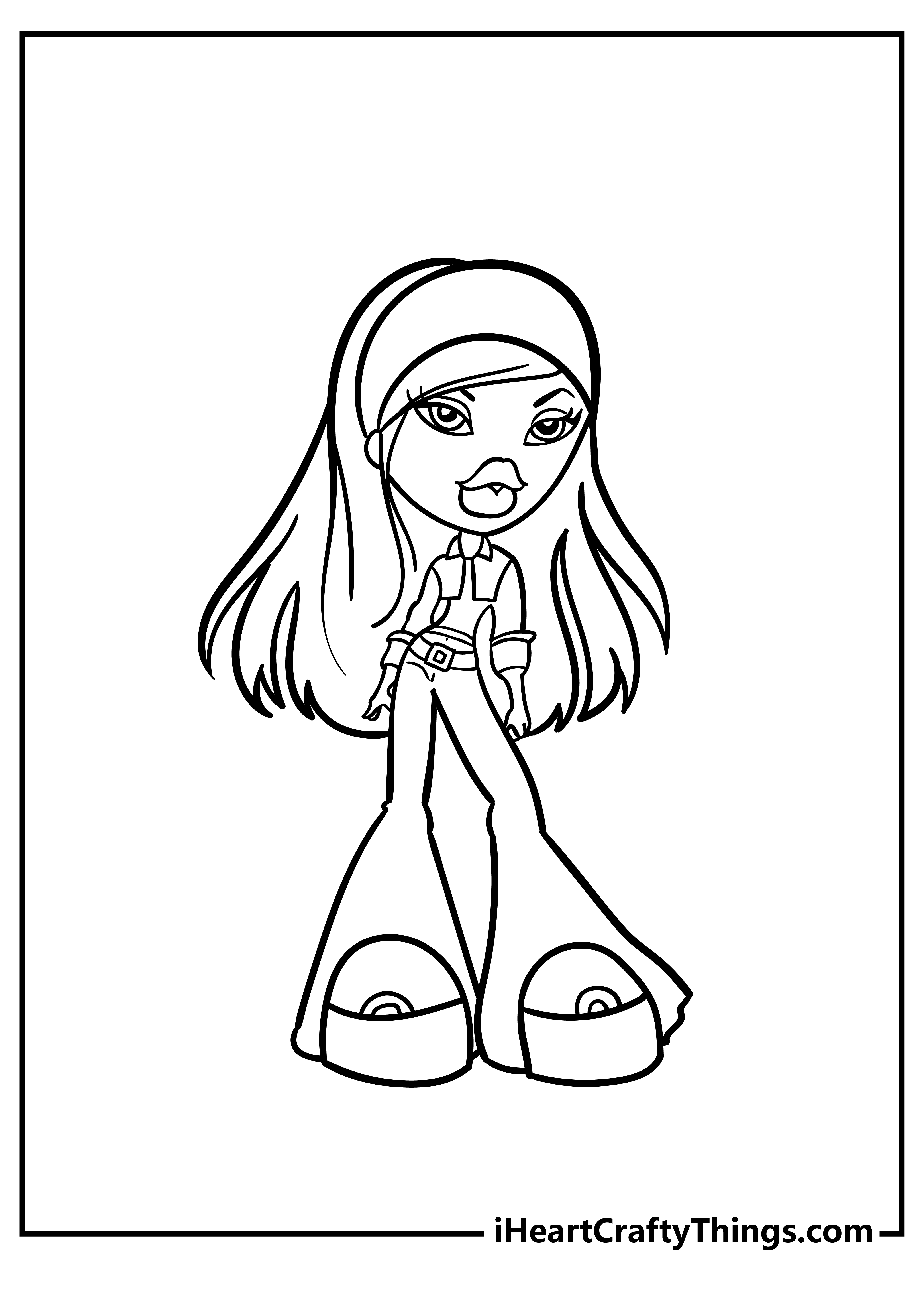 We're nearing the end of this collection, but we have a few more wonderful Bratz doll designs for you to color!
This fourteenth one is another that shows a character that has a lot of personality, and her outfit is really slick and modern.
What kind of color scheme do you think would best suit this trendy doll?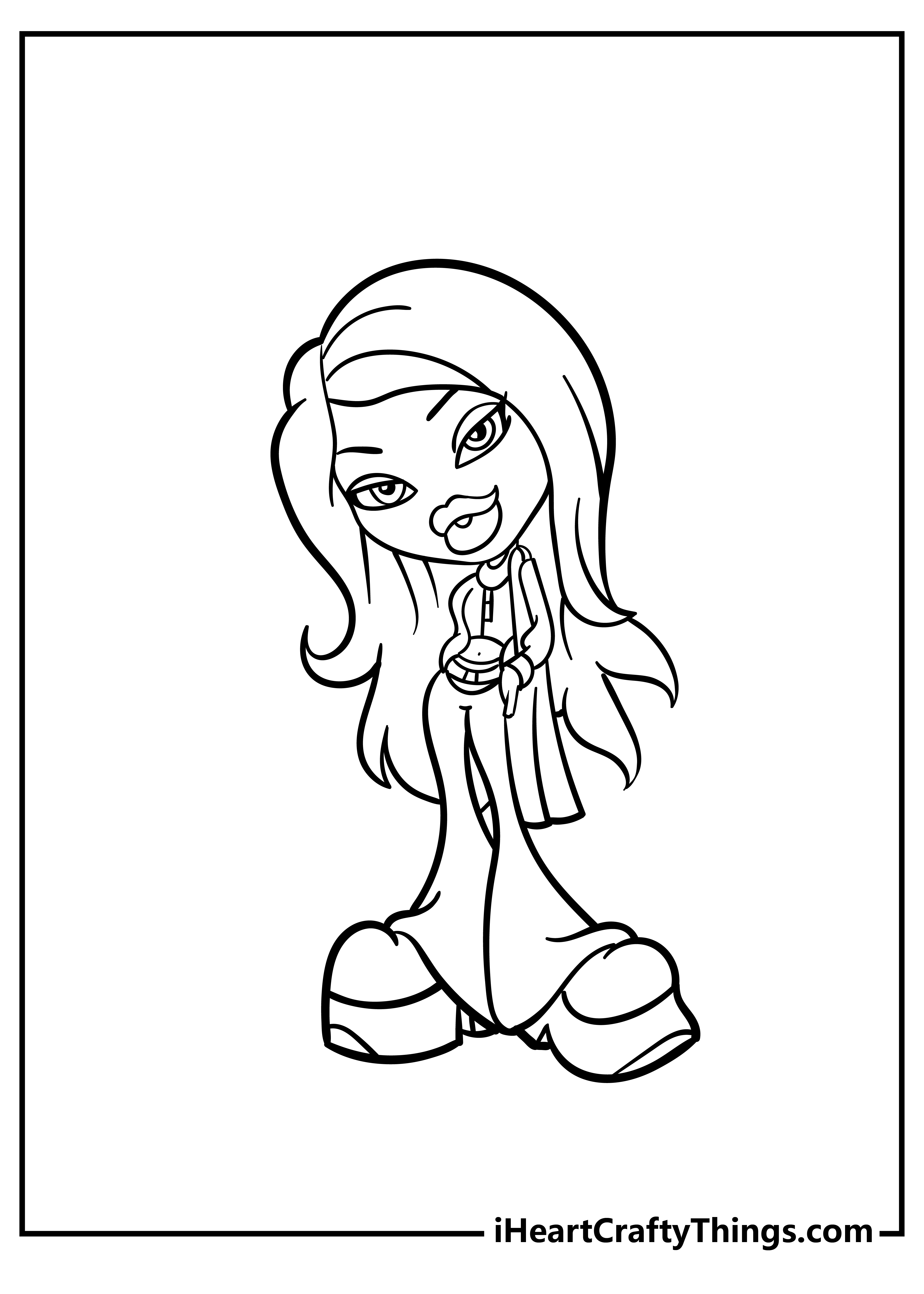 You have arrived at the final Bratz coloring sheet we have for you, and it shows another doll that has a really pretty outfit.
For this one, we think that a milder pink color scheme would be perfect, and we would probably use some watercolors for a softer look.
That is our idea, but it's up to you! Will you go with our idea or use a unique one of your own instead?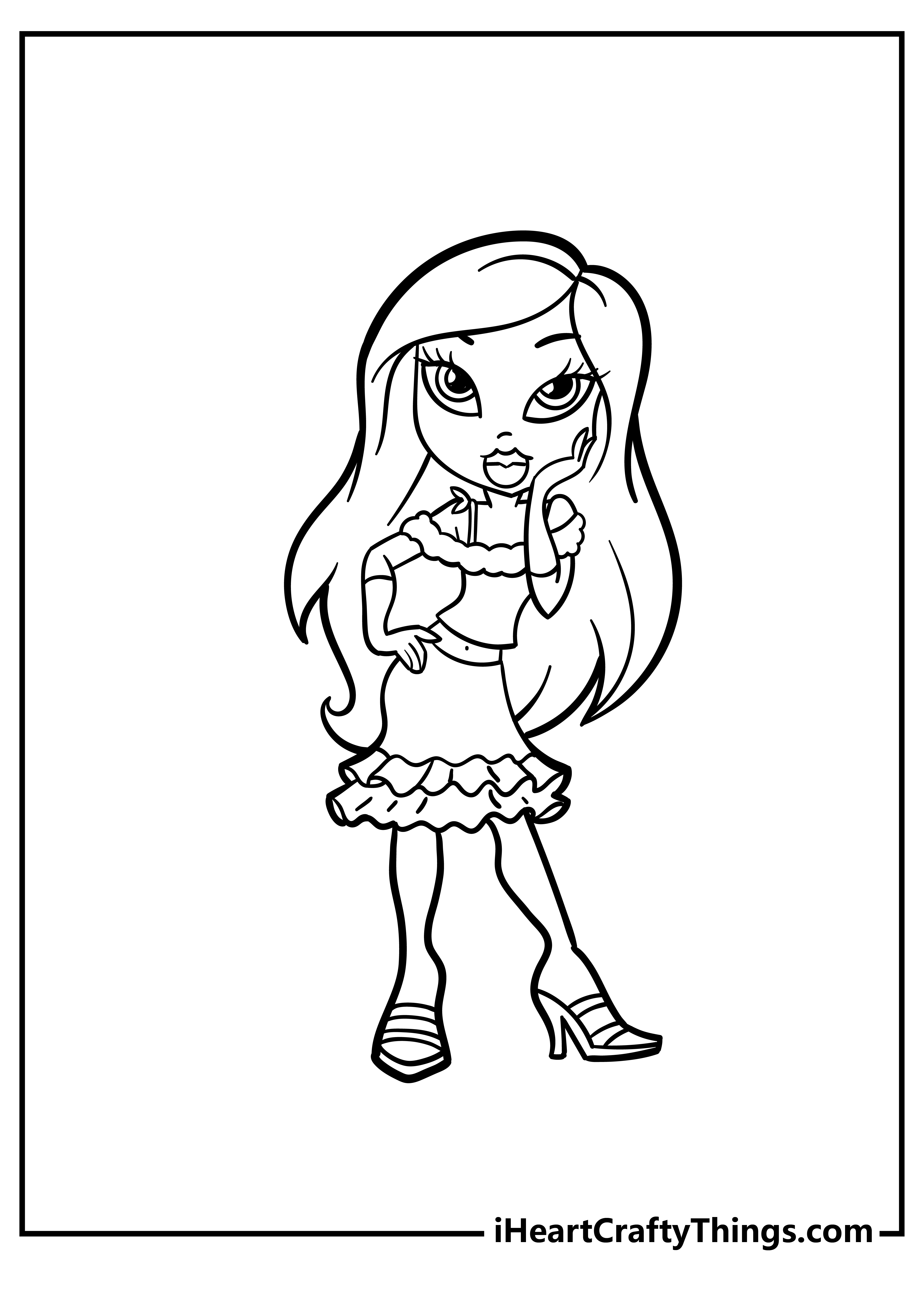 Bratz Coloring Pages – Which will you choose?
That brings you to the end of this super fashionable collection of free Bratz coloring pages for kids!
We hope you enjoyed unleashing your creative powers on these designs, as we tried to make them nice and varied.
When you have finished experimenting with your favorite colors and mediums, remember to share the collection with others and check out our other collections on our website!
We would also love it if you would share some of your finished pages on our Facebook and Pinterest pages, as that's the best way to show off your artworks!