Fairies have been a staple of fantasy stories and mythologies for many years, and they remain popular to this day. Many people love the elegance and sense of wonder associated with fairies.
That's why we wanted to create a collection of free fairy coloring pages for kids. These 15 highly detailed pictures are perfect for anyone who loves fairies or magic in general.
You can use all of your favorite colors and art mediums to color your favorite pages from the collection. Or, you could color each and every page!
So let's begin this magical journey as we show you the collection we have planned for you.
15 Brand New Fairy Coloring Pages – Free to Print and Color
This first fairy coloring sheet shows off the magic of fairies and the outdoors in one go!
The cute fairy on this page is exploring outside, and this allows you to use some more natural colors along with the fancier colors you may want for the fairy.
It's a picture that would be perfect for a wide range of art tools and mediums as well, so you have many options when it comes to coloring this page.
How will you bring this magical fairy to life with your colors?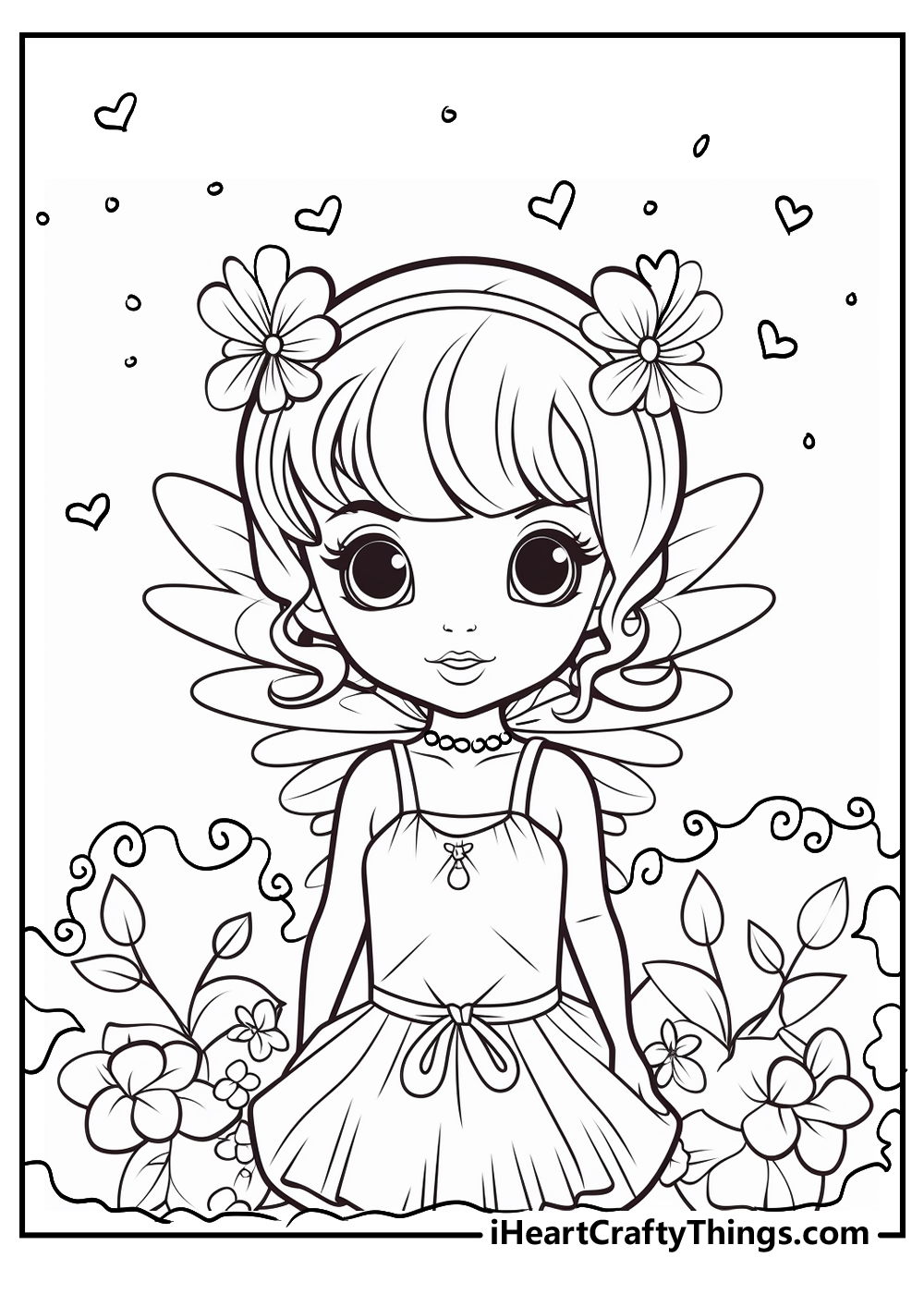 The next fairy we have for you to color is surrounded by sparkly effects, and this is typical of fairies.
When bringing color to this page, you can also use certain craft tools to make the picture more magical.
Glitter is perfect for pictures such as this, as it adds some very real sparkle and a bit of magic to the image. You could use some glitter glue or some regular glue with glitter sprinkled over it
These are a few of the ways in which you can use crafts on your picture, but you may have some other ideas. Don't be shy about experimenting and getting creative with it!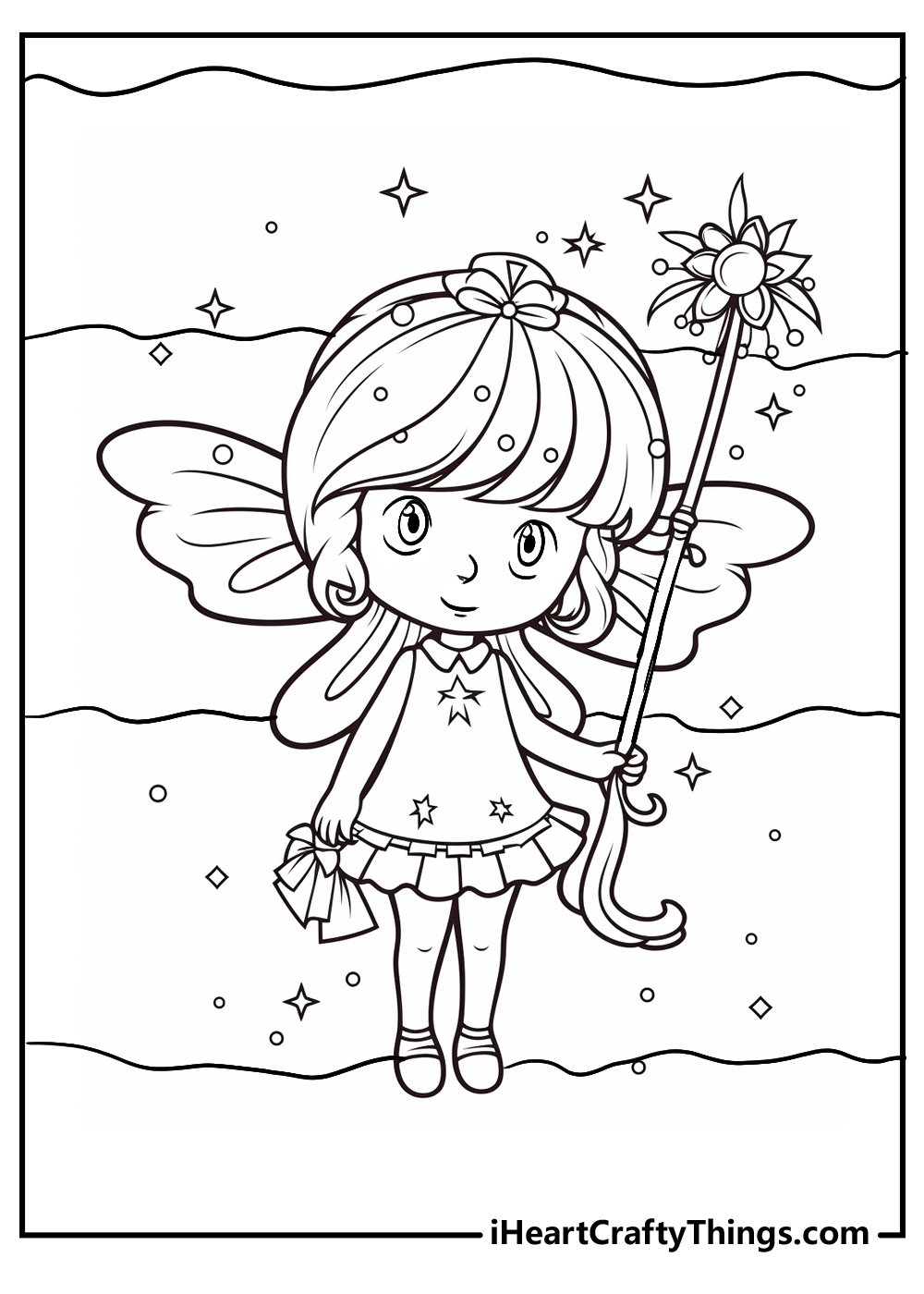 We went with a cartoony, cute approach for this next fairy in the collection. She would be perfect for some bright and vibrant colors which would suit the style of the picture nicely.
Of course, that is just one of the many ways you could color the picture! These pictures are all free to print as many times as you wish, so you can try as many different ideas as you like.
That is a great way to try out all of your ideas to make it as perfect as you could hope for, so have fun experimenting as you bring color to this page!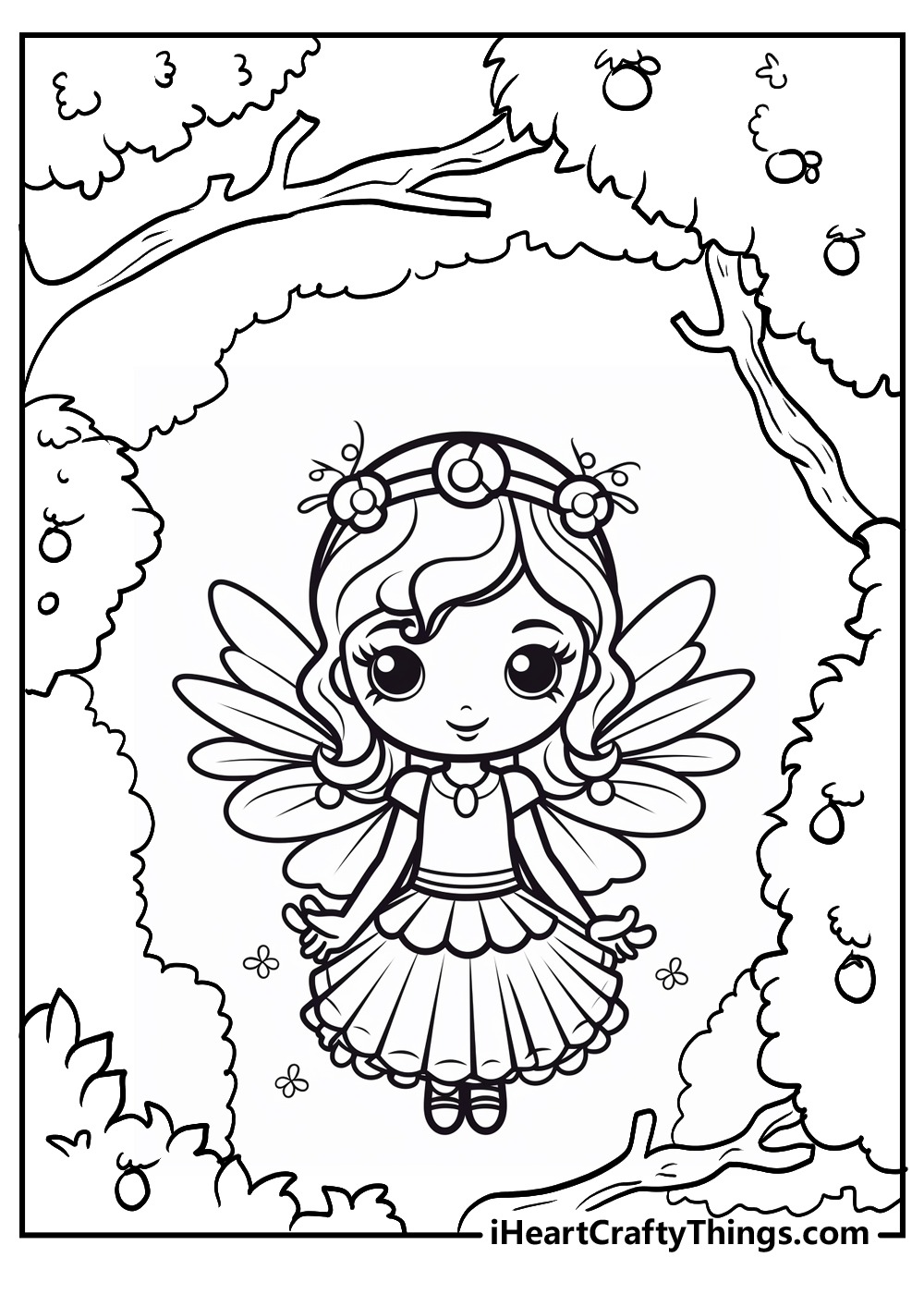 We have another adorable cute fairy for you to color on this next page. She is also drawn in a cartoony style as the previous page was, and so it would make a good companion to that one.
There is a simple segmented pattern in the background which could also be colored in interesting ways. You could use a couple of colors or alternate a wide variety for the background.
The best part of this is that there is no wrong way for you to go about adding color. This is your chance to show off your color skills as you finish off the page!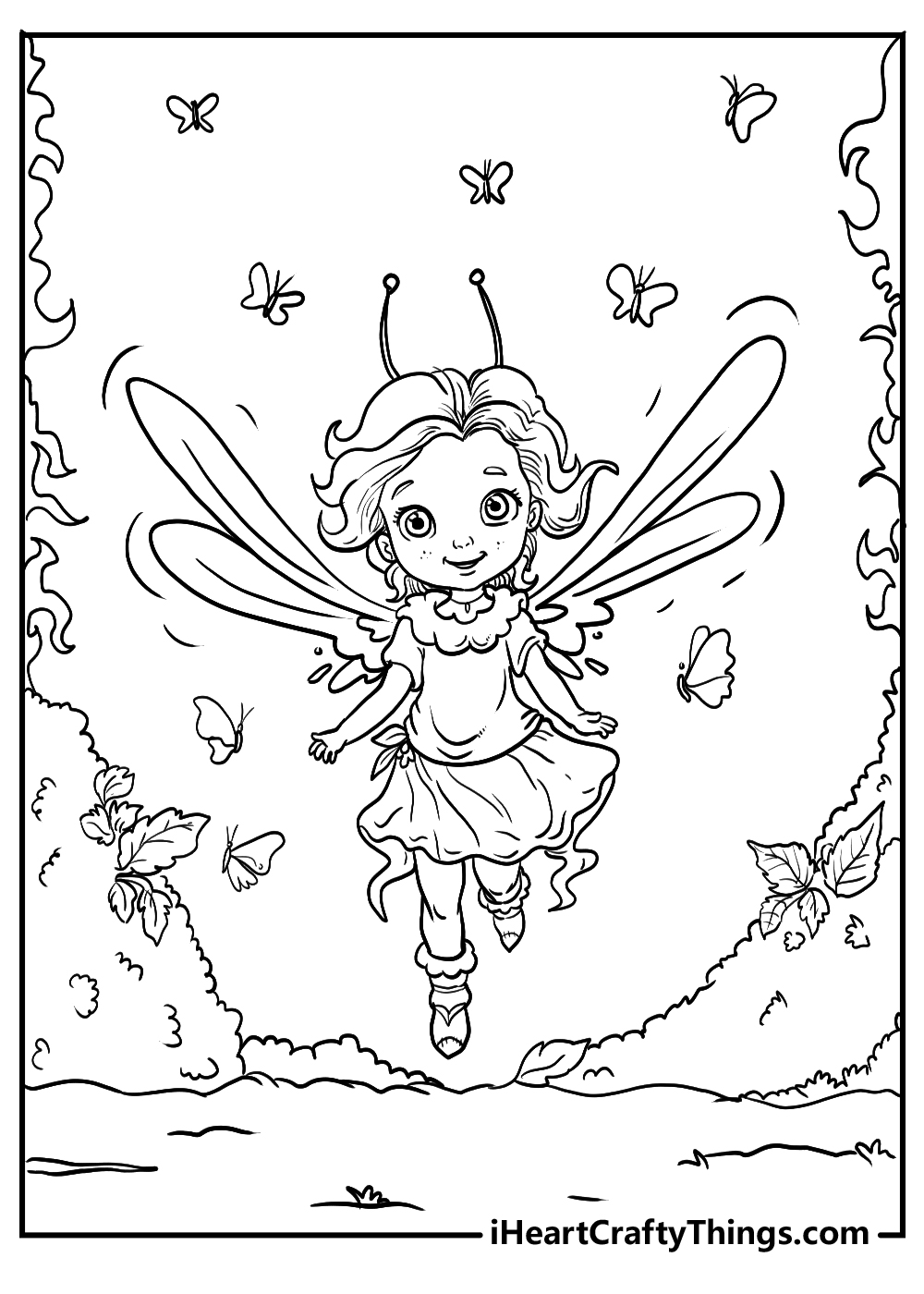 When a picture has small details, it makes it more challenging to color but also more rewarding. You could have a lot of fun bringing color to this fairy-coloring printable with your favorite mediums!
It's one you can really take your time with and enjoy coloring for a long time. You could also go about coloring it in so many ways, so it's perfect for some experimentation.
Once again, printing a few copies of this picture would be perfect for that experimentation, so feel free to do so!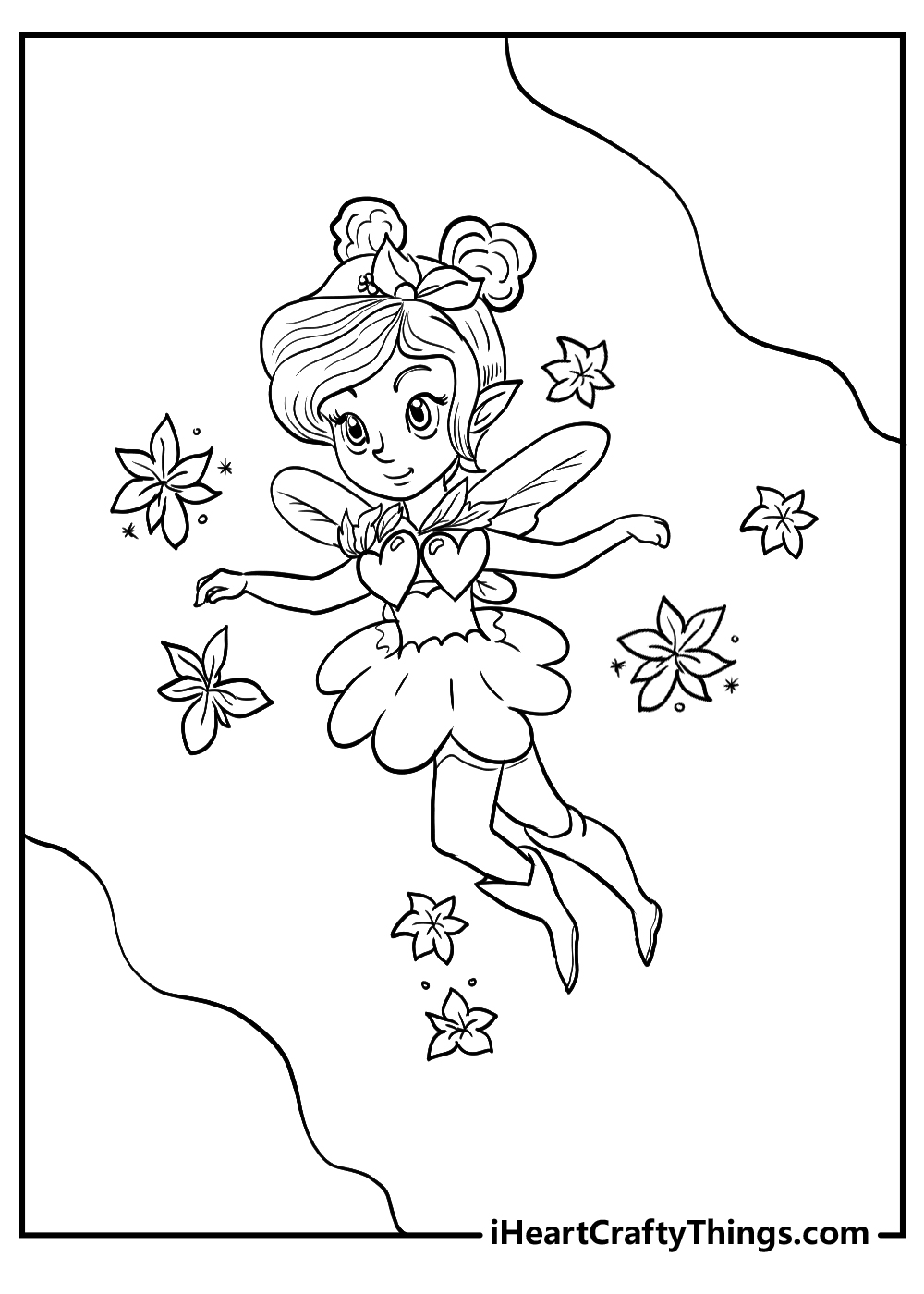 We have a charming picture for you to color up next! This fairy is sitting atop a tree stump, and this once again gives you a good mix of natural and stylistic colors to use.
If I were coloring this page, I would use some bright pinks for the fairy's clothing, and then I would use some dark brown for the tree stump.
That would create an interesting color contrast, but it is one of many ways you could color the image, so let your imagination run wild!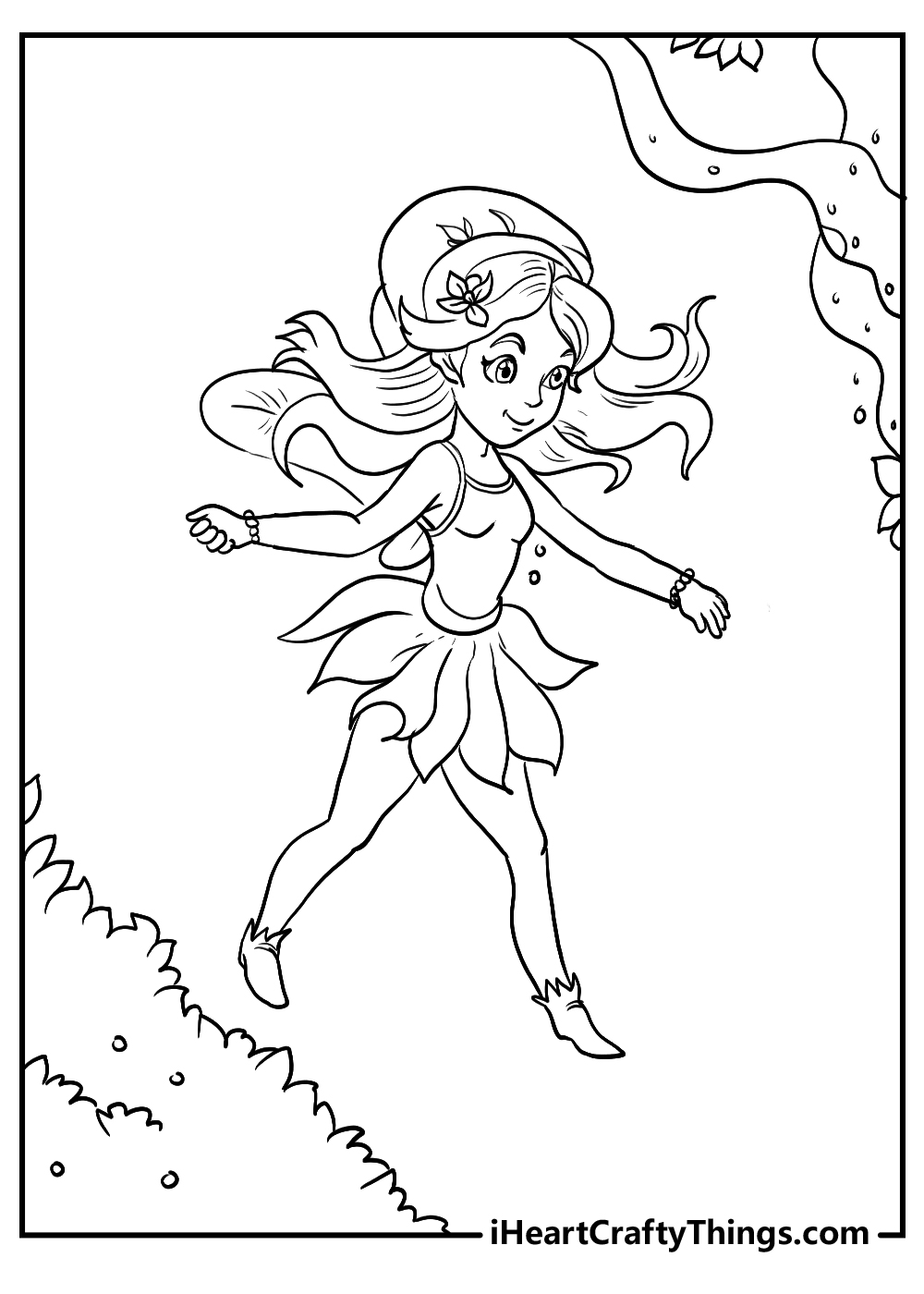 It's double the fun for this next page we have for you! This one features not one but two fairies hanging out for you to color.
My favorite aspect of this coloring page is that each fairy has a completely different clothing style. This gives you some interesting choices to make in regard to the colors you choose.
You could have the fairies in similar matching colors, or you could have each one looking totally unique in their color schemes.
Either way would look good in its own way, so it's up to you to decide!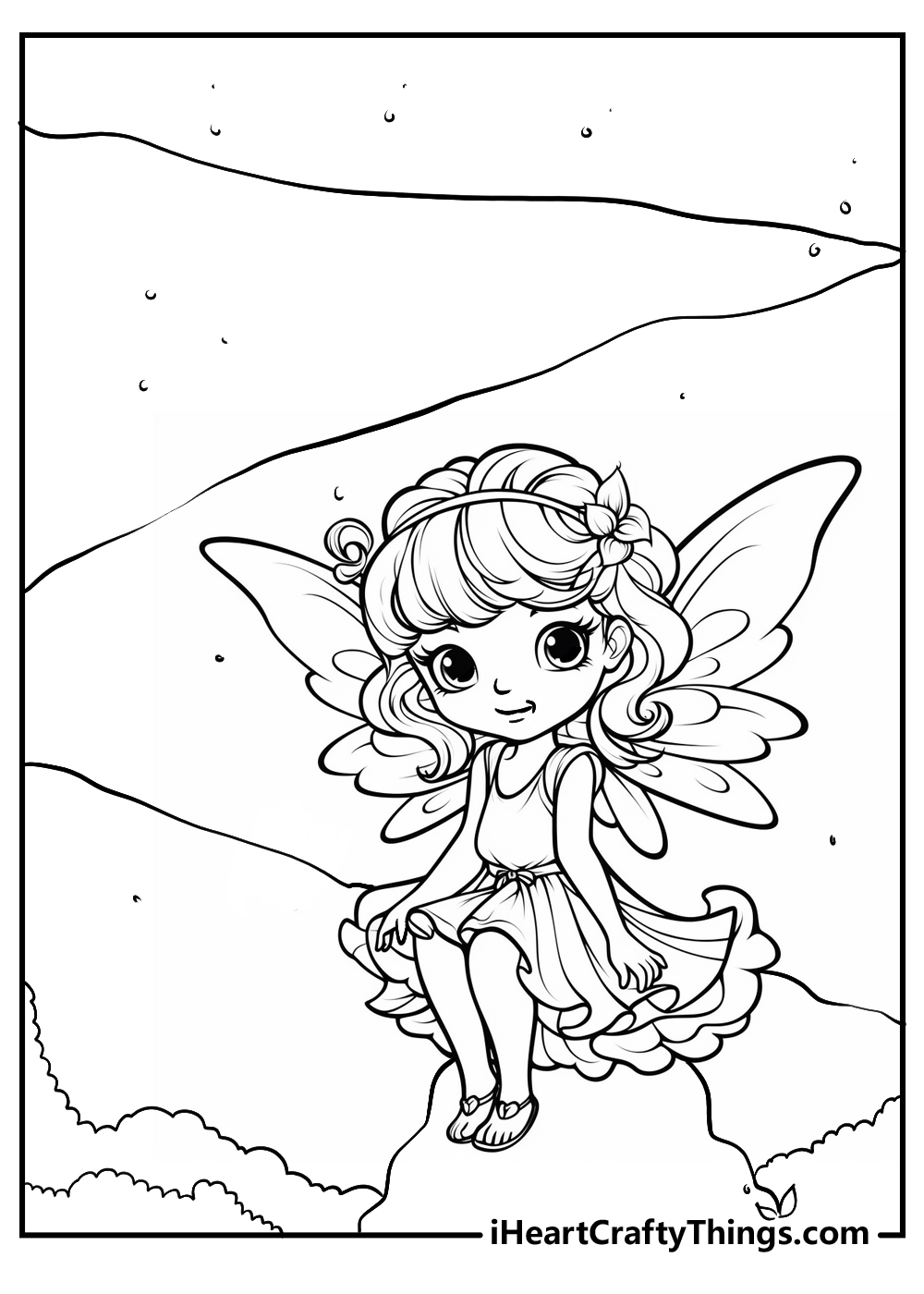 There is such a sense of magic in this next image! This fairy is holding a wand made from a flower, and it is a creative take on a wand.
It is a really intricate detail on the picture, and so you may want to choose your art mediums wisely for this and other details. Some colored pens or markers would be perfect for this kind of detail.
These allow you to use some intricate coloring methods in order to bring color to the image. They can also result in some bright and beautiful colors!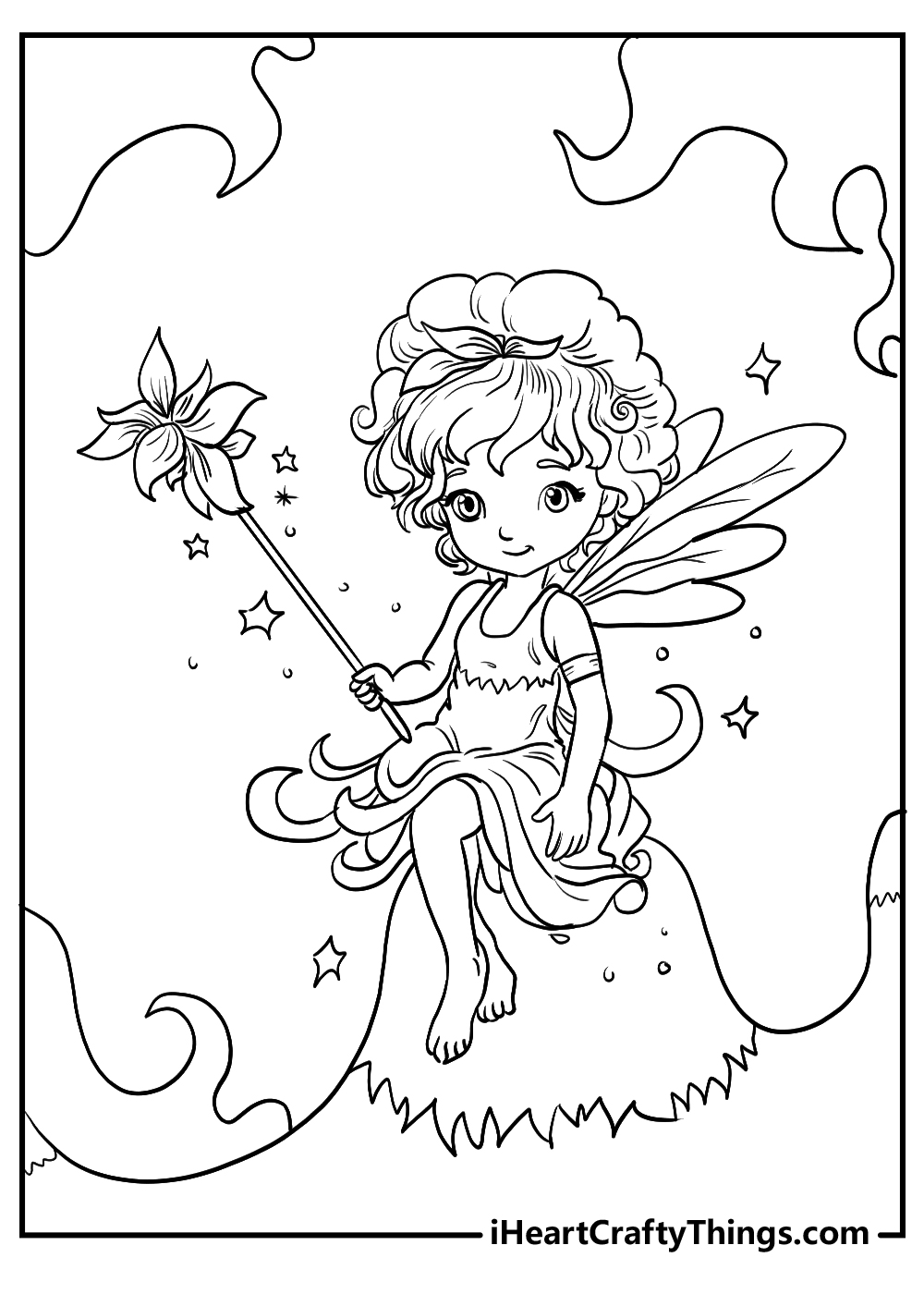 The fairy on this next page is small compared to the rest of the background, and this gives you room to add some of your own details.
We left the background fairly blank, and so you could create your own background setting with your own details. Perhaps she is in a magical forest or maybe in front of a majestic castle.
There are so many magical settings you could use for this picture, and you could be as simple or ambitious as you like. What sort of background setting would you like to create for this picture?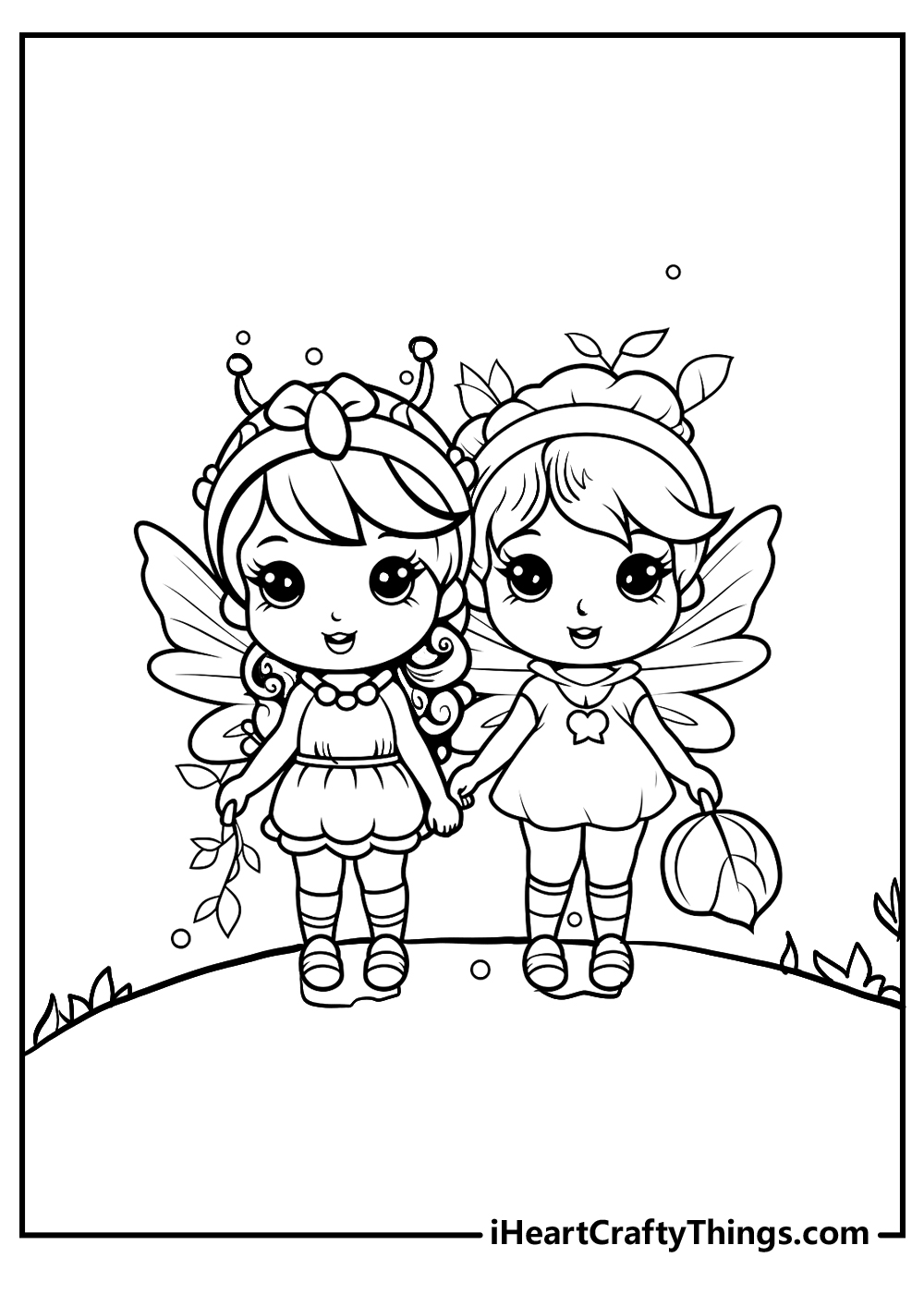 We have such a fun picture for you to color with this next fairy coloring sheet! This fairy looks as if she is dancing outside, and it has such a nice mood to it.
You should let your creativity take over as you color this page. Let your creative instincts guide you as you add color, as this image is well suited to a wide range of different colors and styles.
No matter what you choose, we know it will look amazing in its own way, so we can't wait to see what you choose!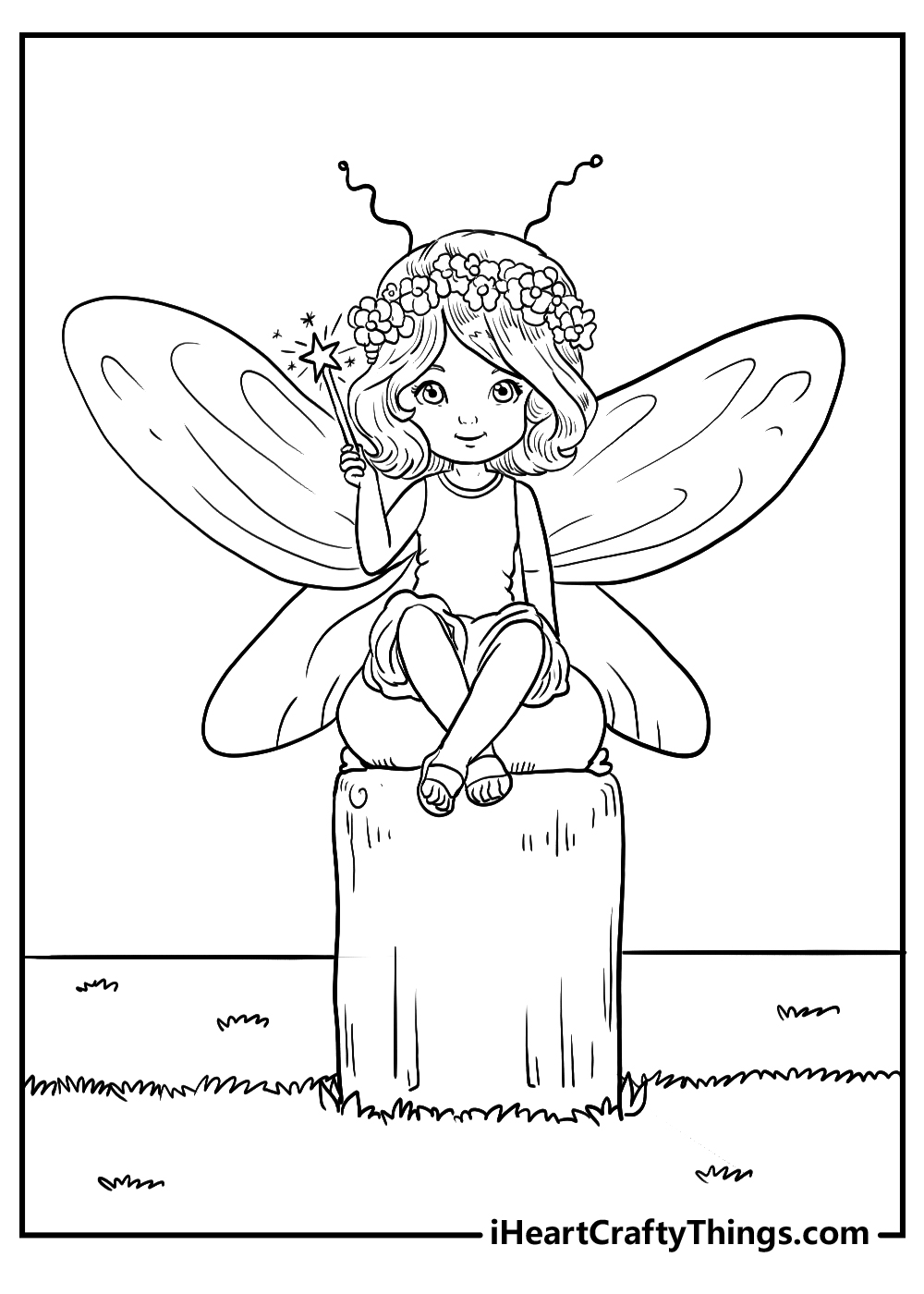 We're really feeling the love for this next picture! This fairy has hearts on her outfit, and it gives the image a romantic feeling.
Because of this theme, I would use colors associated with love for this one. That would include colors like red, purple and pink.
No matter how you decide to color this page, you could also make it into a gift! It would be perfect to present to someone in your life that you love.
Which colors do you think you will use?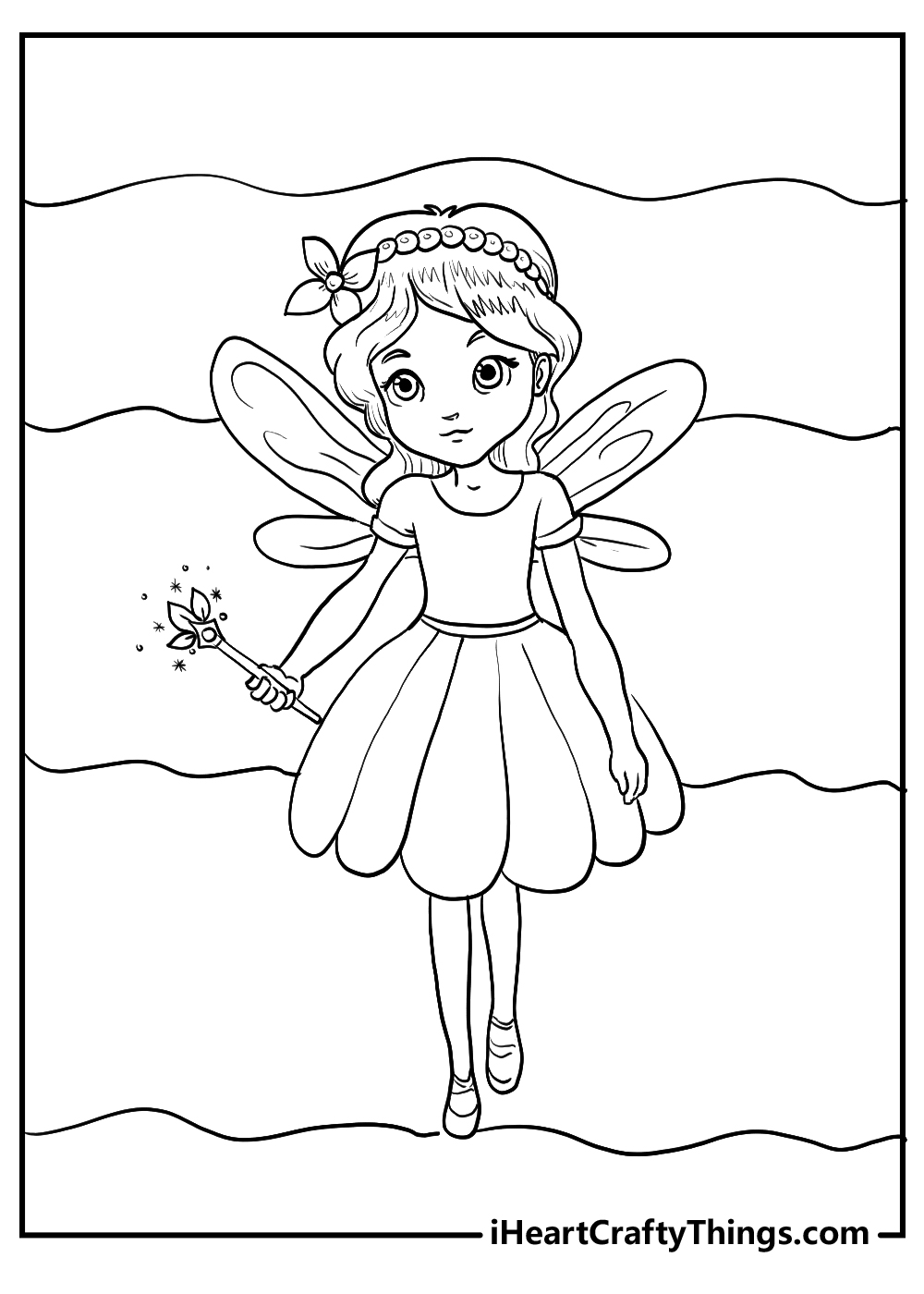 I love the details on this next page. This fairy is going exploring in nature, and there are some great leaf details along with fun touches like flying butterflies.
You could spend a lot of time bringing color to these datils, and it can be a fun challenge indeed! Now it's on you to add the colors you would like that would suit this wonderful fairy portrayal.
Once this one is finished, I'm sure it will look absolutely incredible, so I hope you have a lot of fun with it!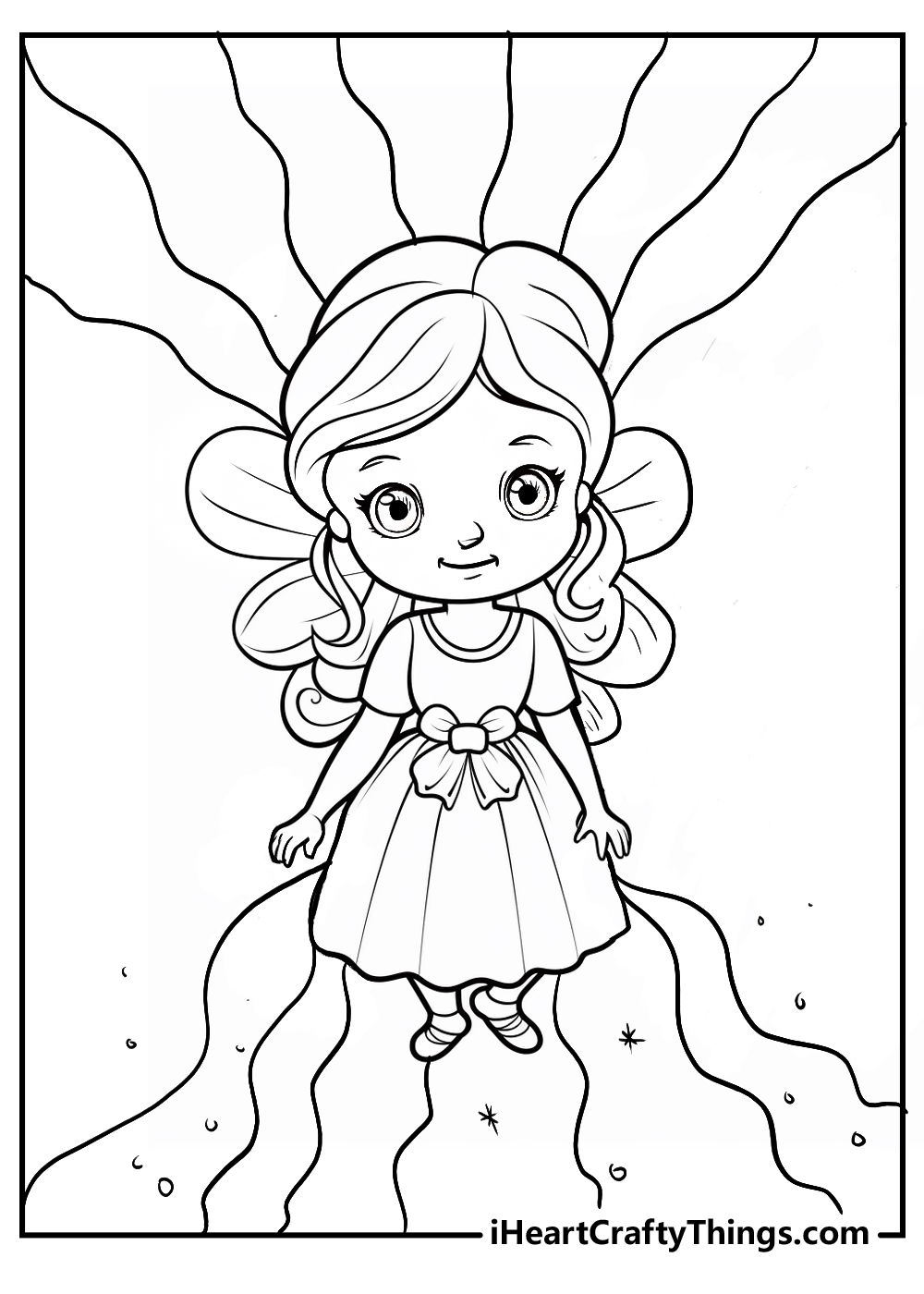 We're heading back to nature again for this next coloring page. I always love having a detailed background in a picture, as once you're done coloring the fairy it gives you even more to do.
That's the case on this next page, as there are plenty of details for you to color once you have finished coloring the fairy. I'm definitely thinking of some rich greens for the plants and bright spots of color for the butterflies.
Do you agree or do you have something else in mind?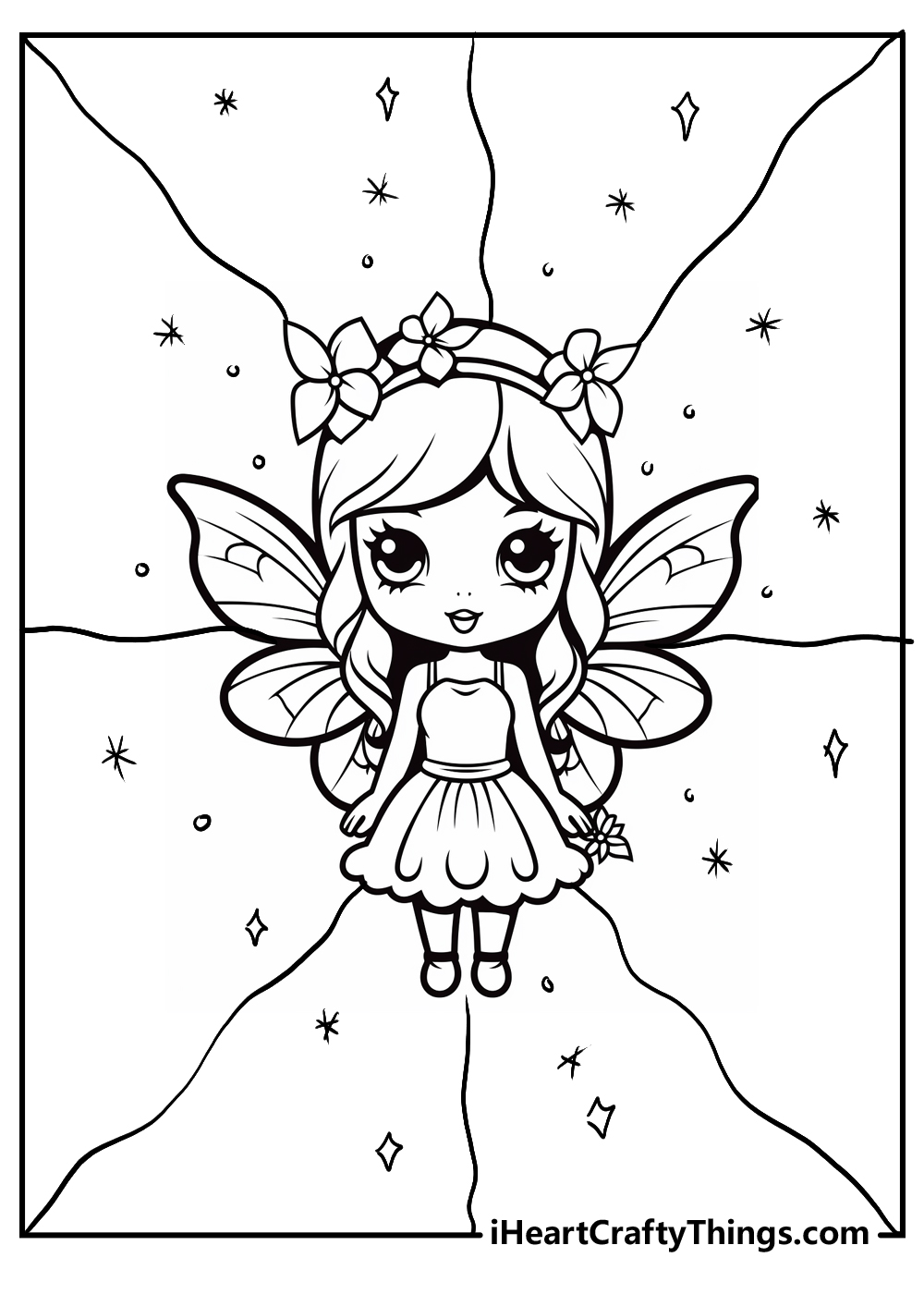 We're turning up the sparkle dial for this charming fairy coloring page! There are sparkle effects all around this fairy, and it makes the picture even more magical.
Once again, some glitter or similar crafts would be perfect for this page. They would bring some real sparkle to the page, and it would be the perfect way to make it even more magical.
If you have other craft supplies you could use for the image, then feel free to incorporate anything you have available. Which crafts would be a good fit?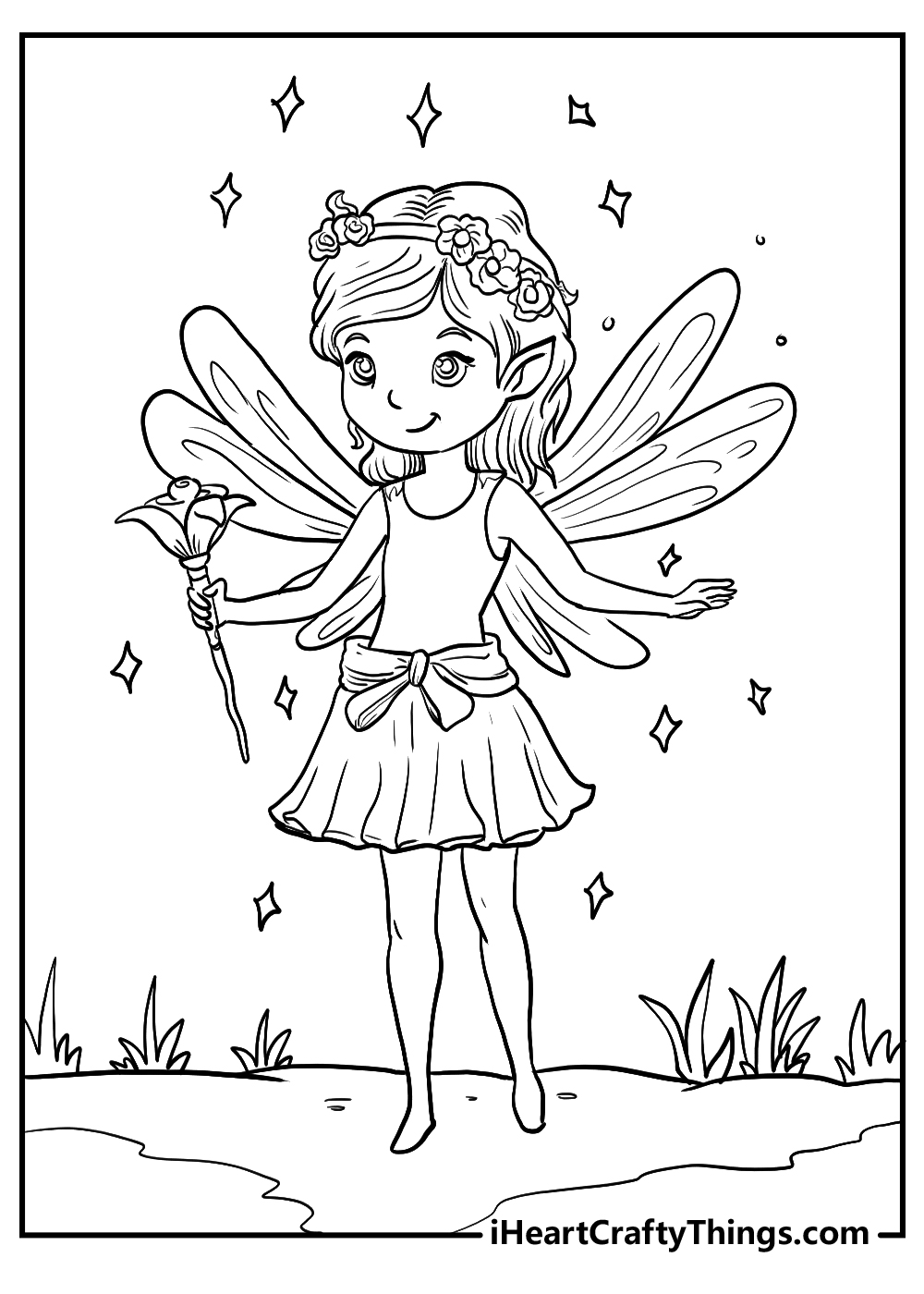 There is some great detail on this final page of the collection! This gives you a lot to work with as you have fun with your colors, and we would love to see how it all turns out.
For this final page, why not use a brand-new art medium you're not as familiar with? It would certainly be a challenge, but you can try as many times as you wish.
No matter how many attempts it takes, it's worth it if you land up with something that you really love in the end.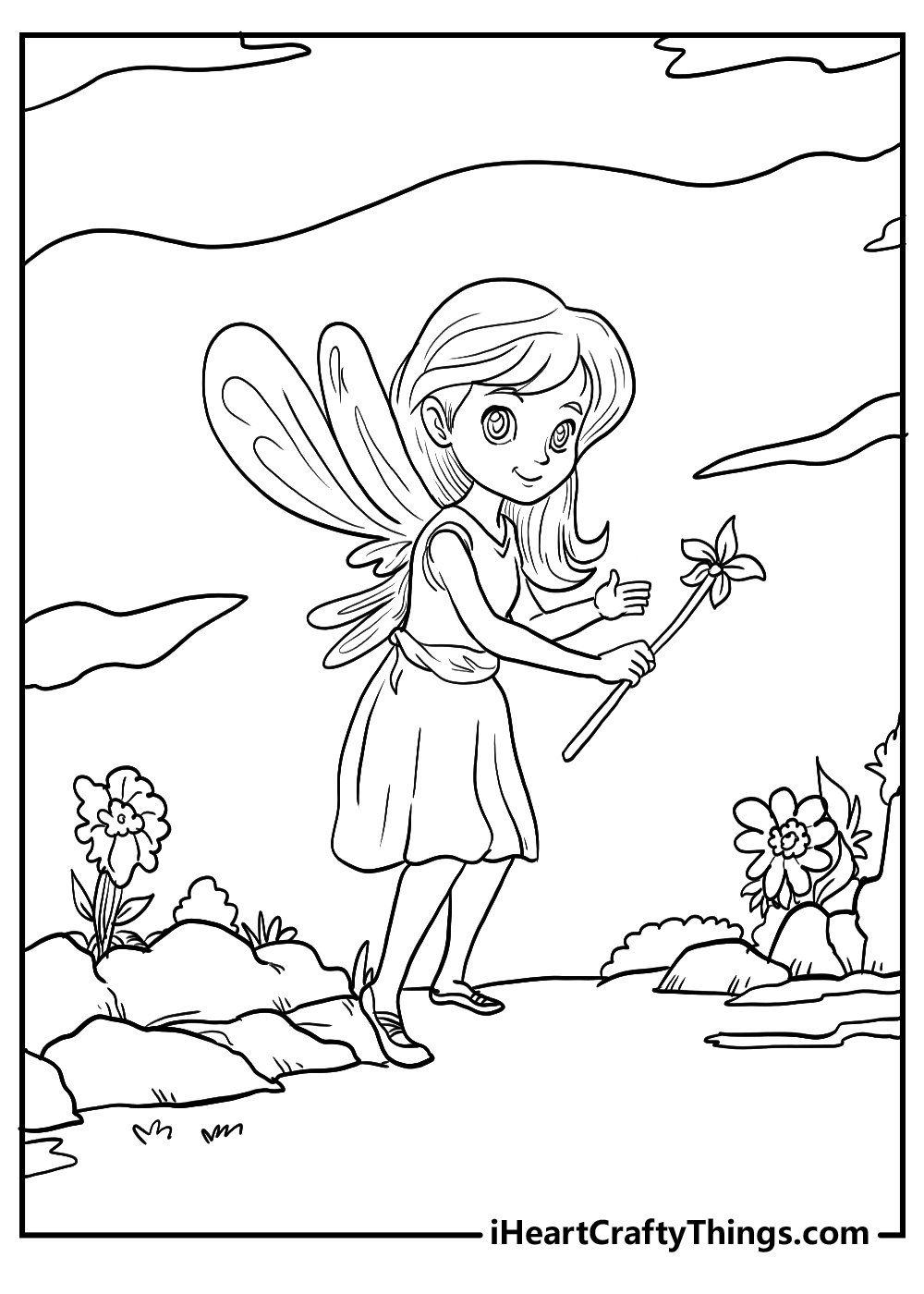 Fairy Coloring Pages – Which will you choose?
There was so much magic to behold in this collection of free fairy coloring pages for kids!
Now that you have worked through the collection, we hope you had a really fun time choosing and coloring your favorite pages.
If you found it hard to choose just a few, then you could color each and every page if you wanted to! This would be a great way for you to create your very own fairy art collection.
Remember that you can also use crafts and other art supplies along with your favoirte art tools. These can really add a lot of magic to the picture!
When you are happy with your artwork, you can share some of your favorite finished pages on our Facebook and Pinterest pages so we can share in the magic!