The story of Peter Pan is one that has delighted audiences around the world for generations.
It has seen many forms, from a popular book to some classic films and even video games, and people just love the characters and scenarios the story presents.
This collection of free Tinkerbell coloring pages for kids will be showing off one of the most iconic characters from the story!
Tinkerbell fans will have a lot to enjoy here, as we have 15 free images featuring the feisty fairy in many different scenarios.
Don't forget to share this magical collection with other Tinkerbell fans you know as well!
15 Brand New Tinkerbell Coloring Pages – Free to Print and Color
Our first Tinkerbell coloring sheet features a picture that captures the moodier side of this character. She can sometimes be a bit sulky, but then again who isn't from time to time?
We won't hold it against her as we color this first image, but we would use lighter shades to suit the mood if we were coloring it in.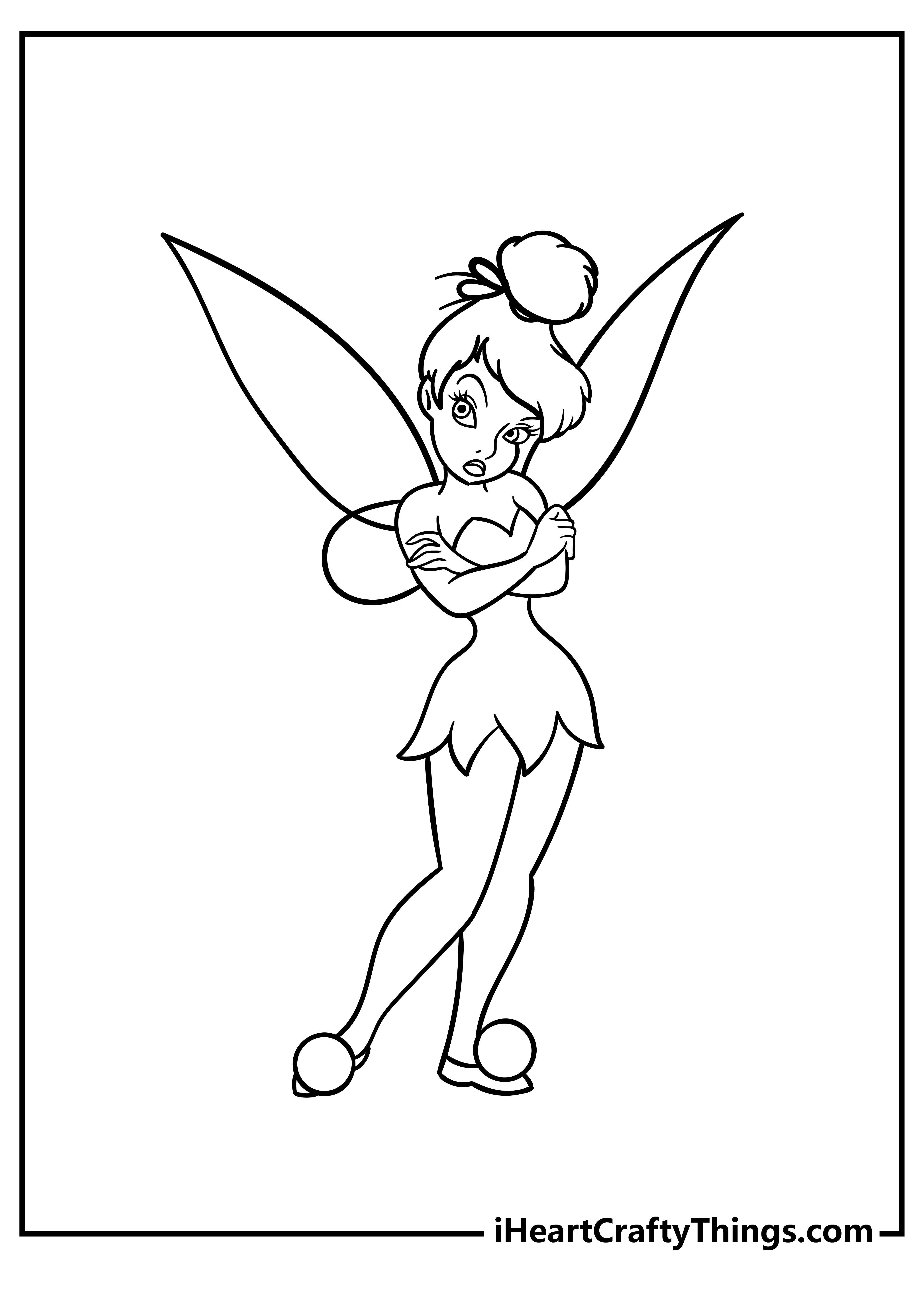 Tinkerbell is looking much happier in this image, and she is even giving a cute curtsy!
For this happier depiction, we would take the opposite route and make the colors nice and bright to give it a vibrant feel. Will you go this route or do you have something else in mind?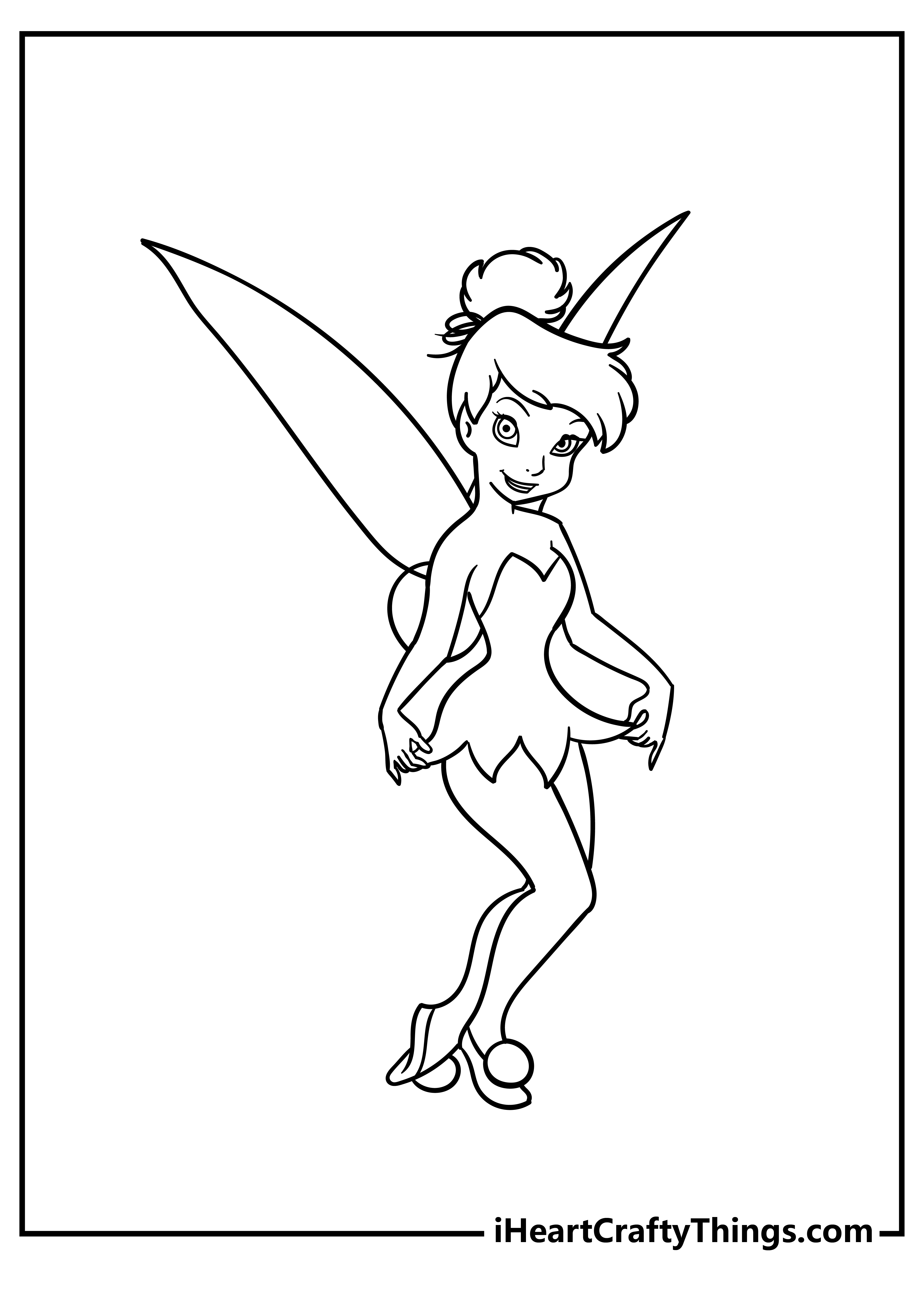 This next page again manages to capture her character brilliantly. She is looking very happy but also a bit mischievous, which sums up her character quite well!
When coloring these pages, don't be afraid to use some unique colors that she may not necessarily have in the films or shows she appears in.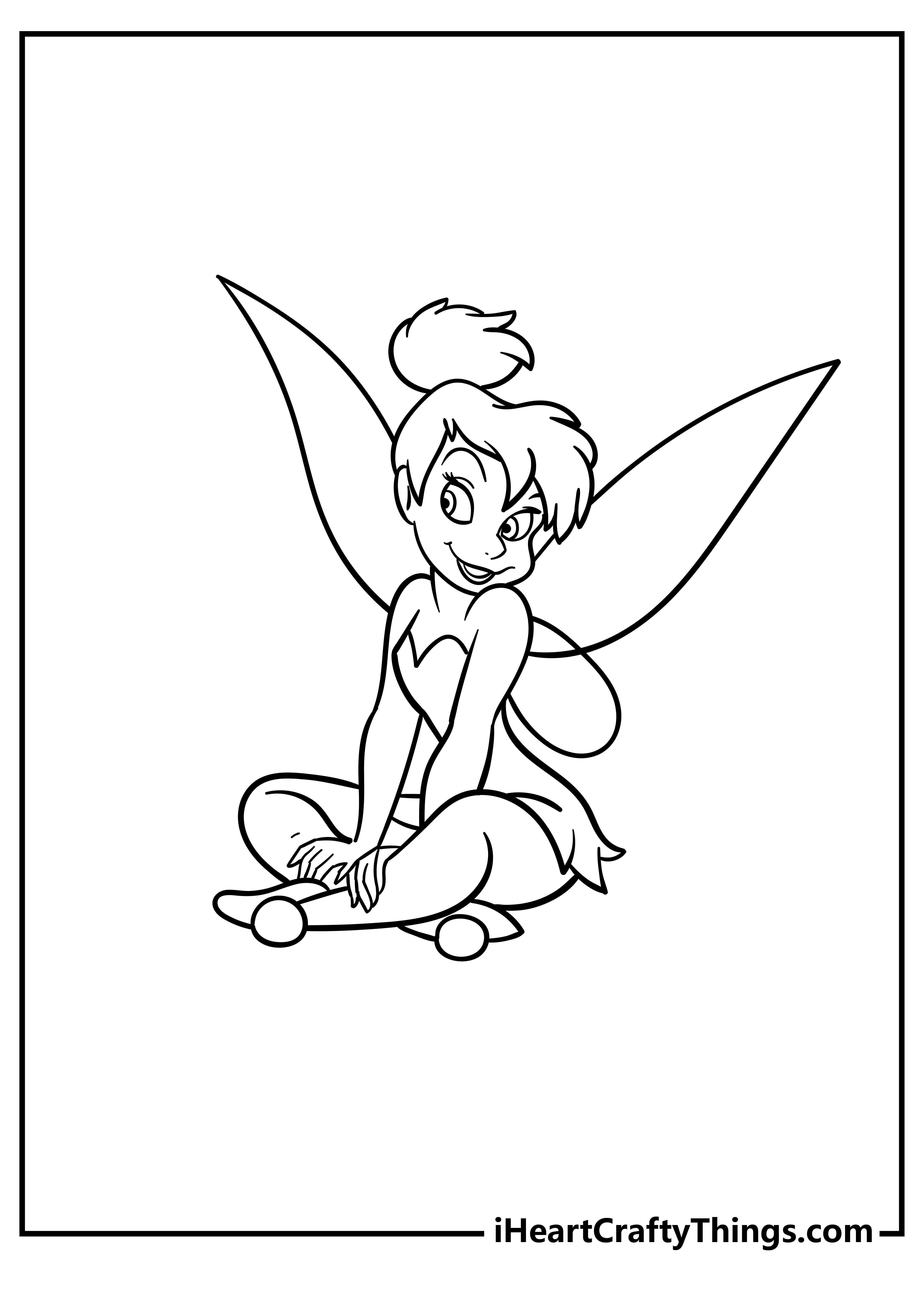 While Tinkerbell can be a rather moody character sometimes, she is also a happy and playful character most of the time!
This picture definitely captures her happier, feistier side that she is well known for. What kinds of fun and quirky colors will you use to bring this portrayal to life?
It will be interesting to see what you go for!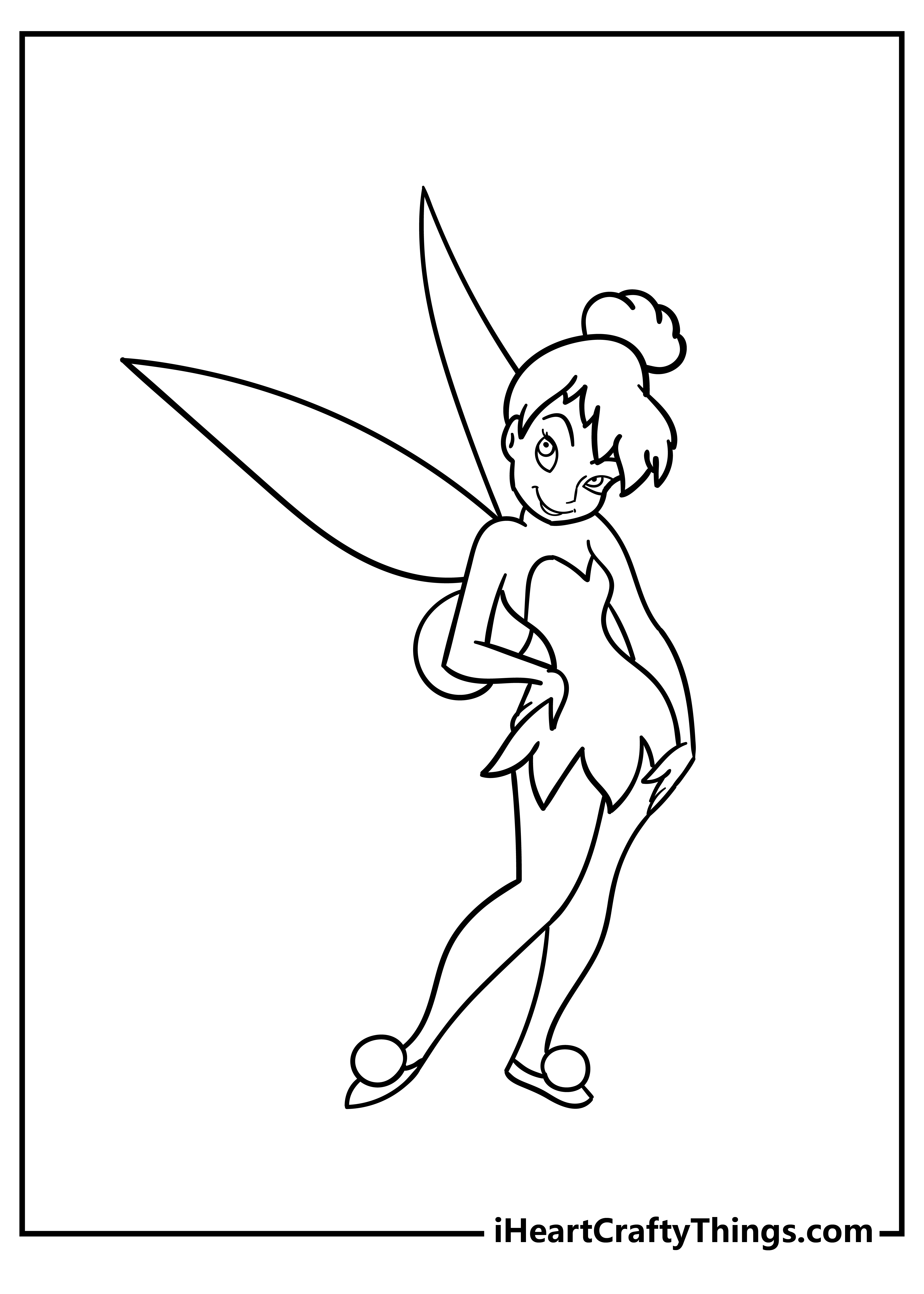 This fifth page in our collection of free Tinkerbell coloring pages for kids features Tinkerbell hovering in the air!
When she is flying, she is often depicted as having golden fairy dust floating around her, so you could add little yellow or gold dots around her wings to add a magical effect to the image!
Will you add some fun details like this to the image?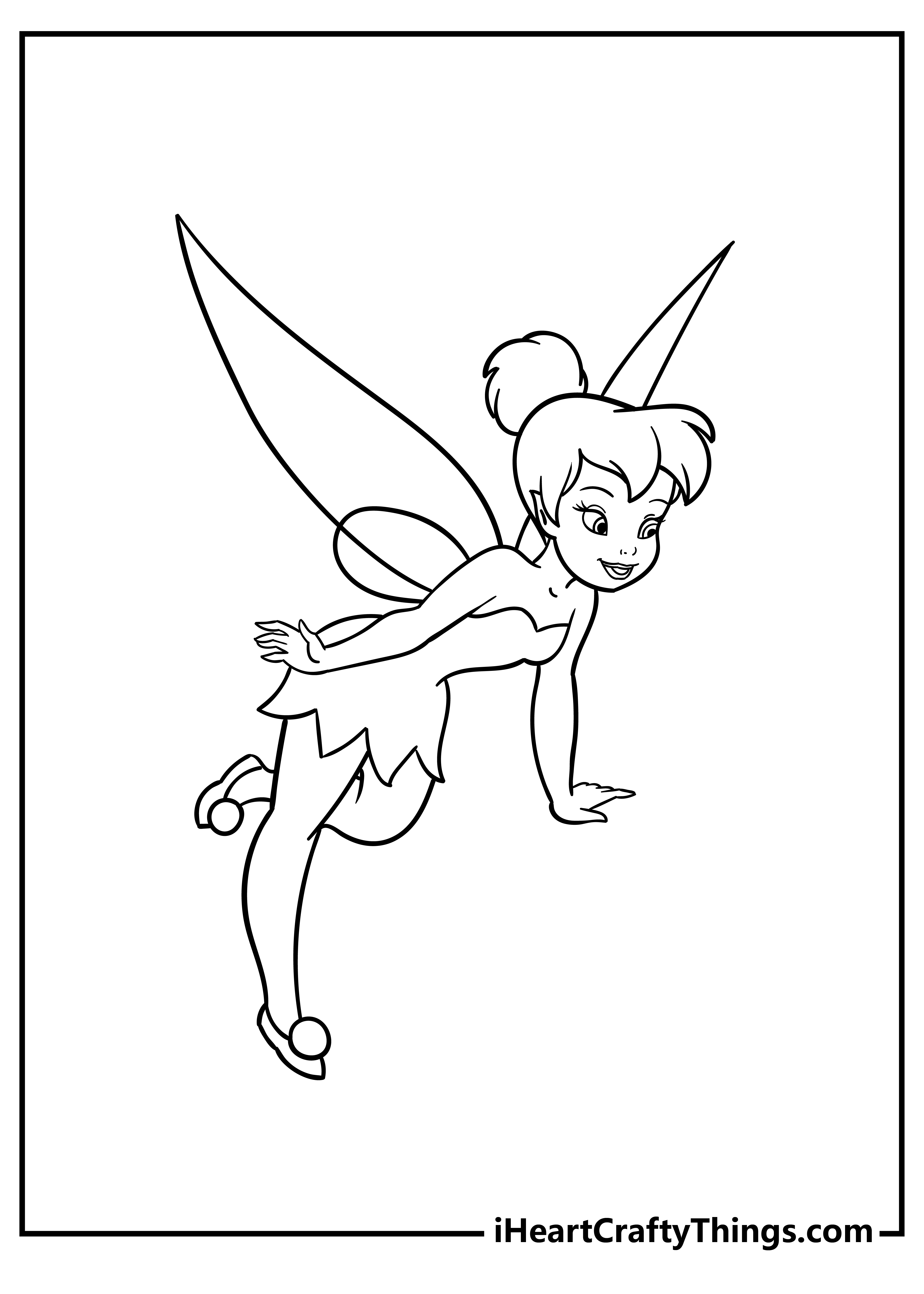 Tinkerbell is looking very dreamy in this next picture. She seems lost in thought here, and it makes you wonder what she's thinking of!
For one idea, why not draw a speech bubble above her head and then draw what you think could be making her look so dreamy into it? What would you put in such a bubble?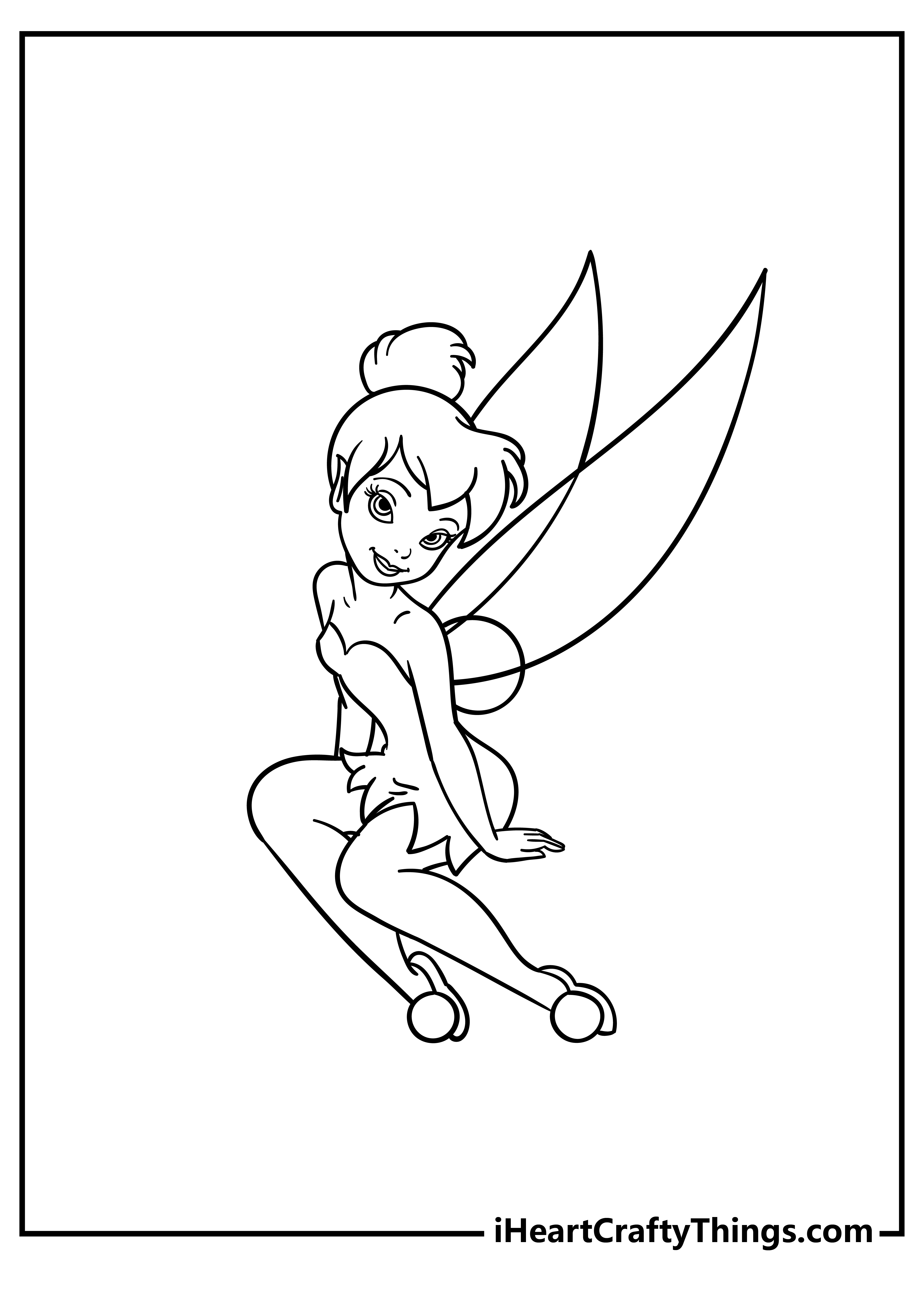 We're really feeling the love in this image! Tinkerbell is not only looking very happy here, but she is also holding a lovely heart to show how much she cares.
For the heart, we would use some bright red done in some colored pen or marker to make it really vibrant.
What other art mediums would suit this loving image of Tinkerbell?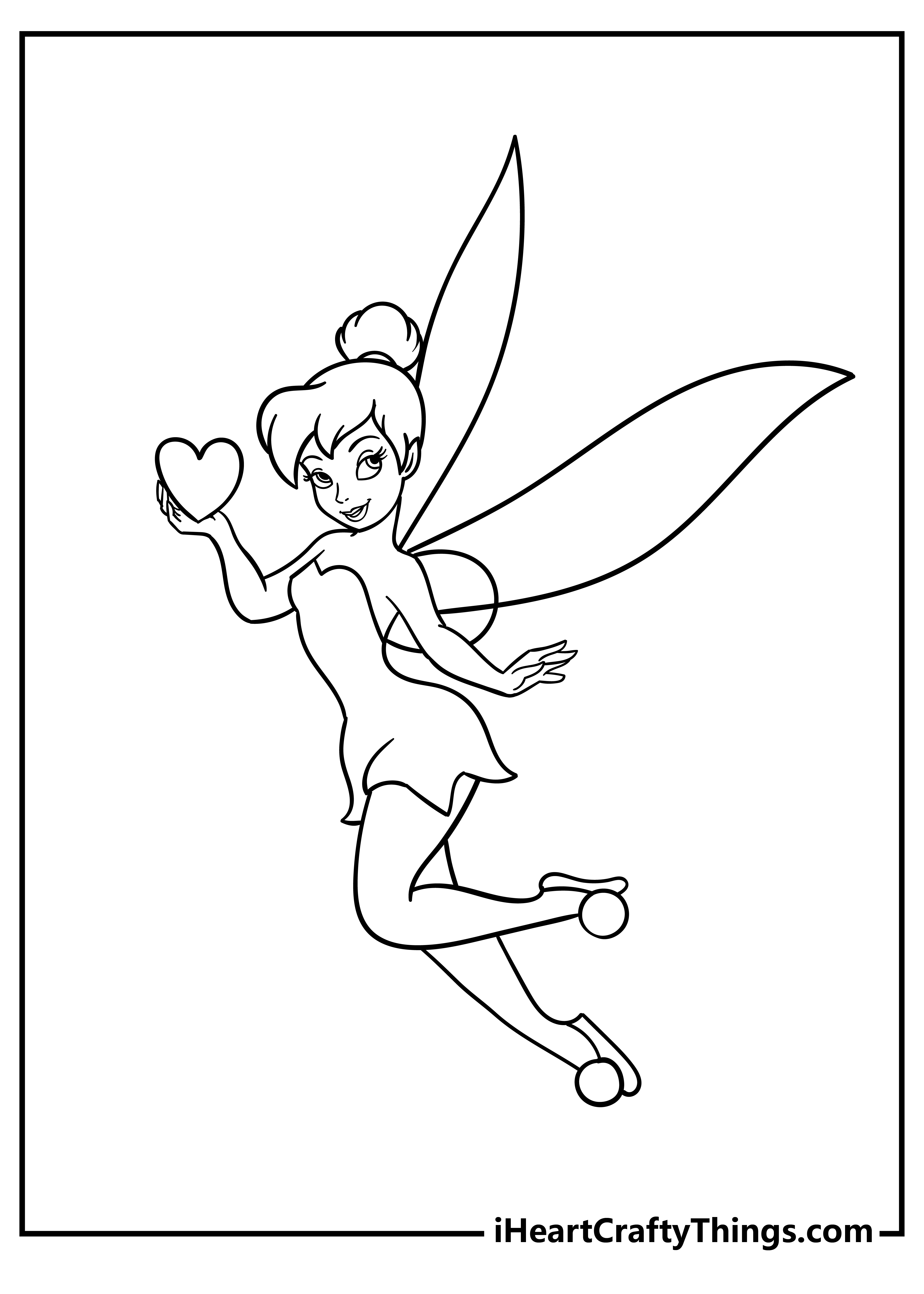 This is a really fun pose that Tinkerbell is in here, and she has a lot of expressiveness to her design as well. How do you think you will color this version of Tinkerbell?
If we were to go for it, we would probably go for some watercolors or colored pencils again, as we feel a softer look would suit the picture.
That is what we would go for, but what will you choose?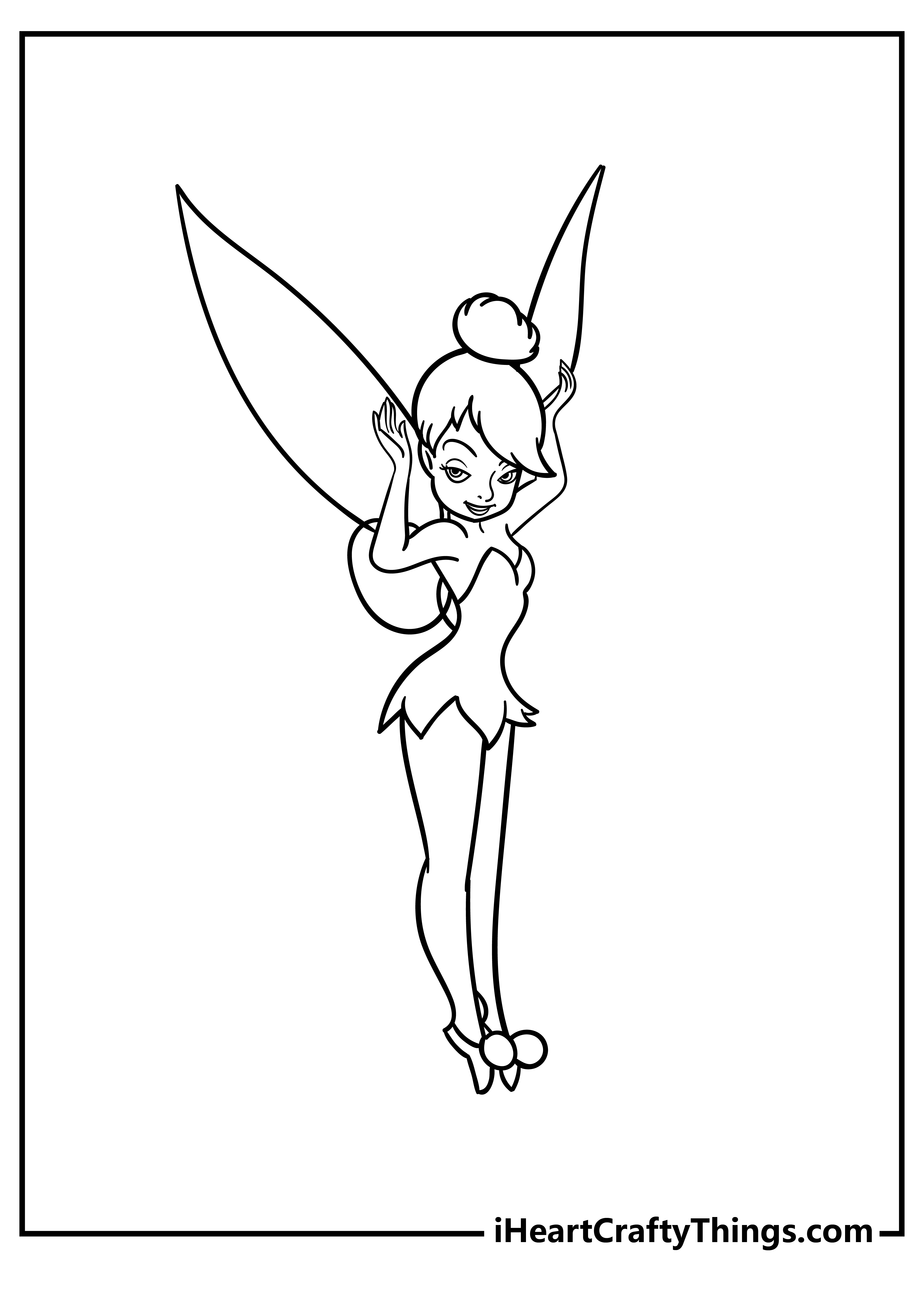 Our next Tinkerbell coloring printable again features her in a feisty, playful mood! There is a lot of empty background space here, so you could draw a background to finish off the scene.
If you have a favorite Peter Pan movie scene, maybe you could use it as inspiration for a background here.
What scene would you choose if you were to do that?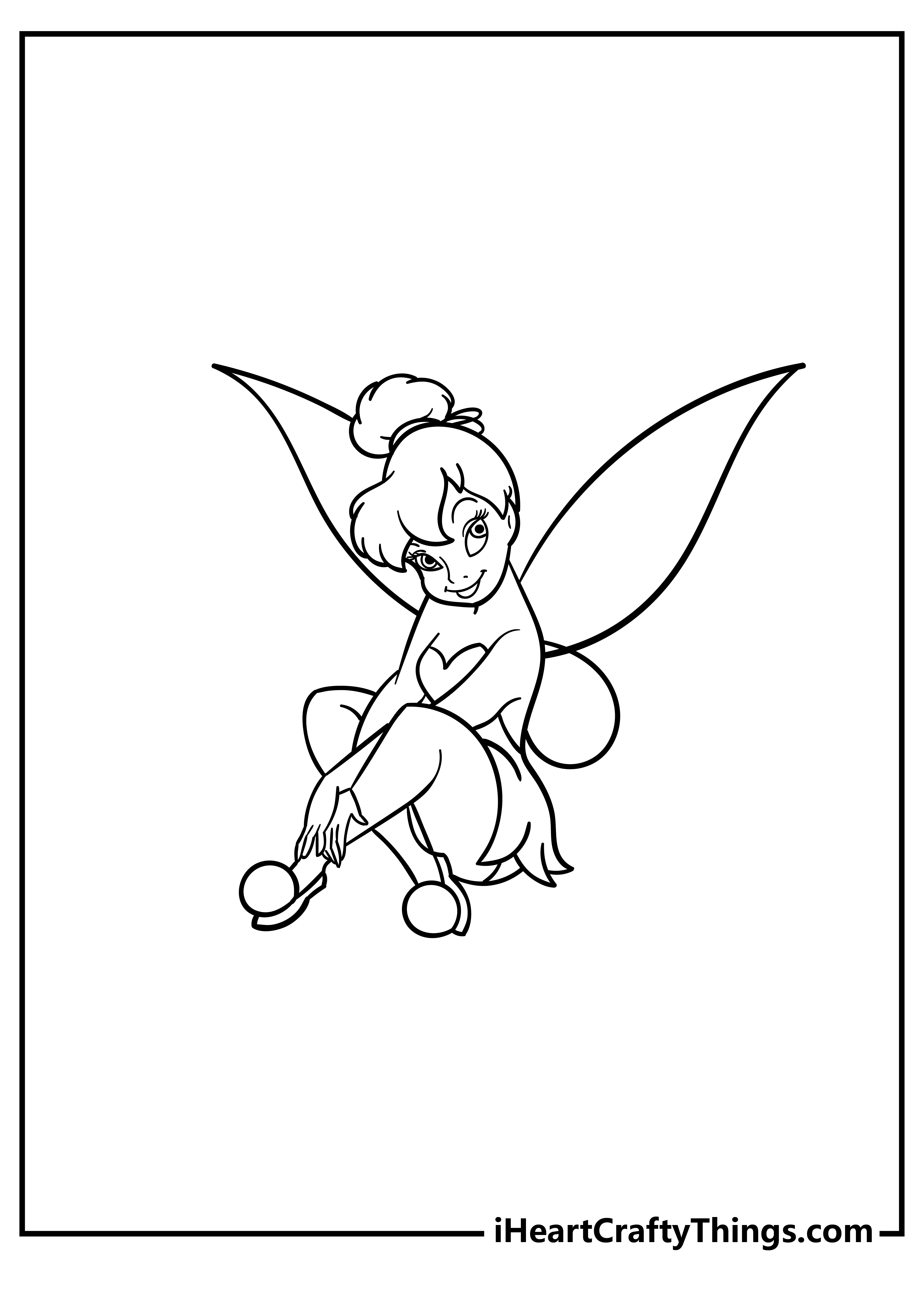 This tenth page in the collection again features Tinkerbell floating in the air! Once again, we think that adding some yellow or gold fairy dust details would help to make it look even more magical.
You could even take it a bit further and use some gold glitter to give this page a sparkly look! What other fun crafts can you think of that you could use?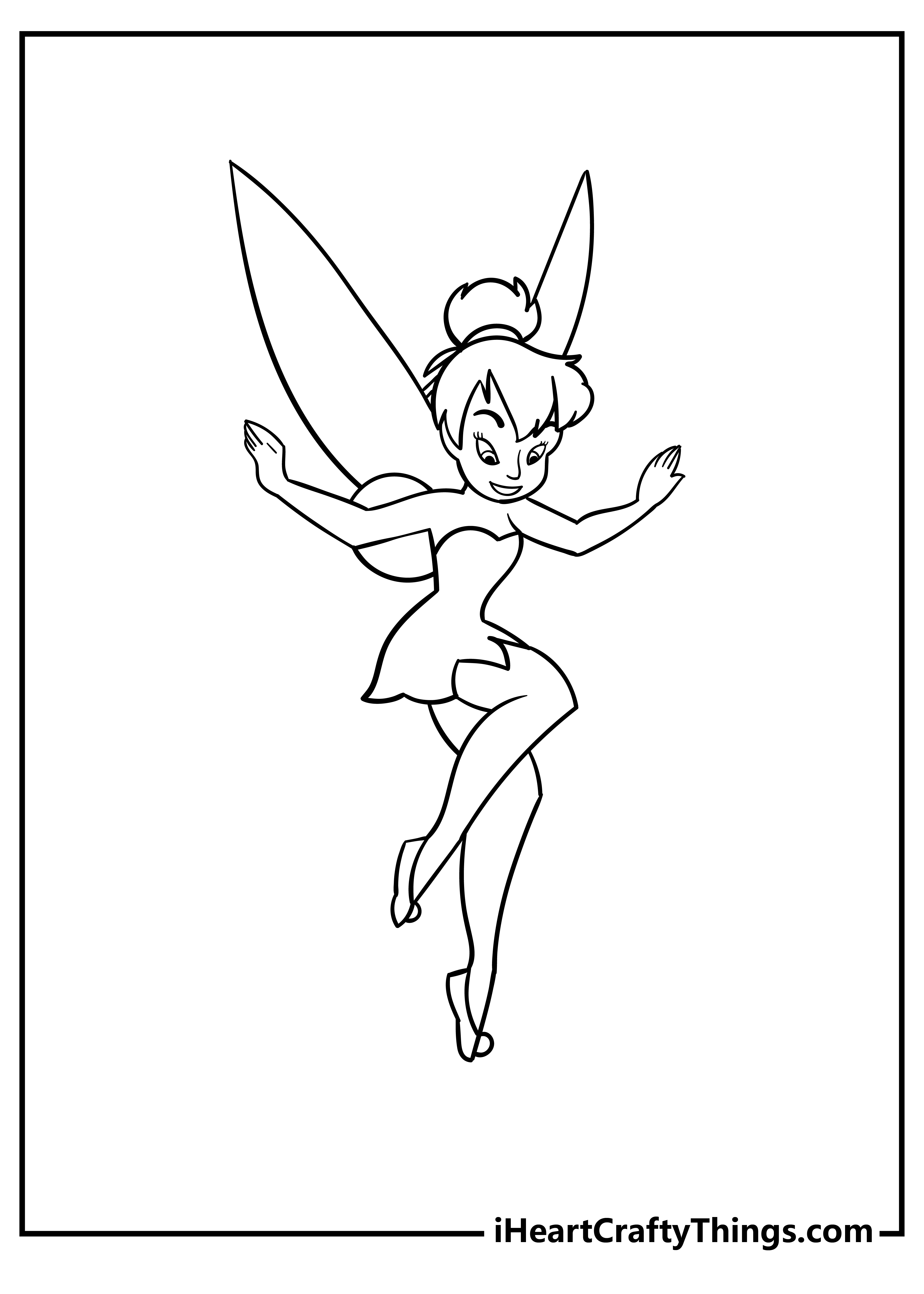 We have another really relaxed portrayal of Tinkerbell for you to color in this next image.
She is lying down and looking rather dreamy again, so this is another one that we think would be fun to add a speech bubble to show what she is thinking about.
Alternatively, you could create a magical background to show where she is hanging out!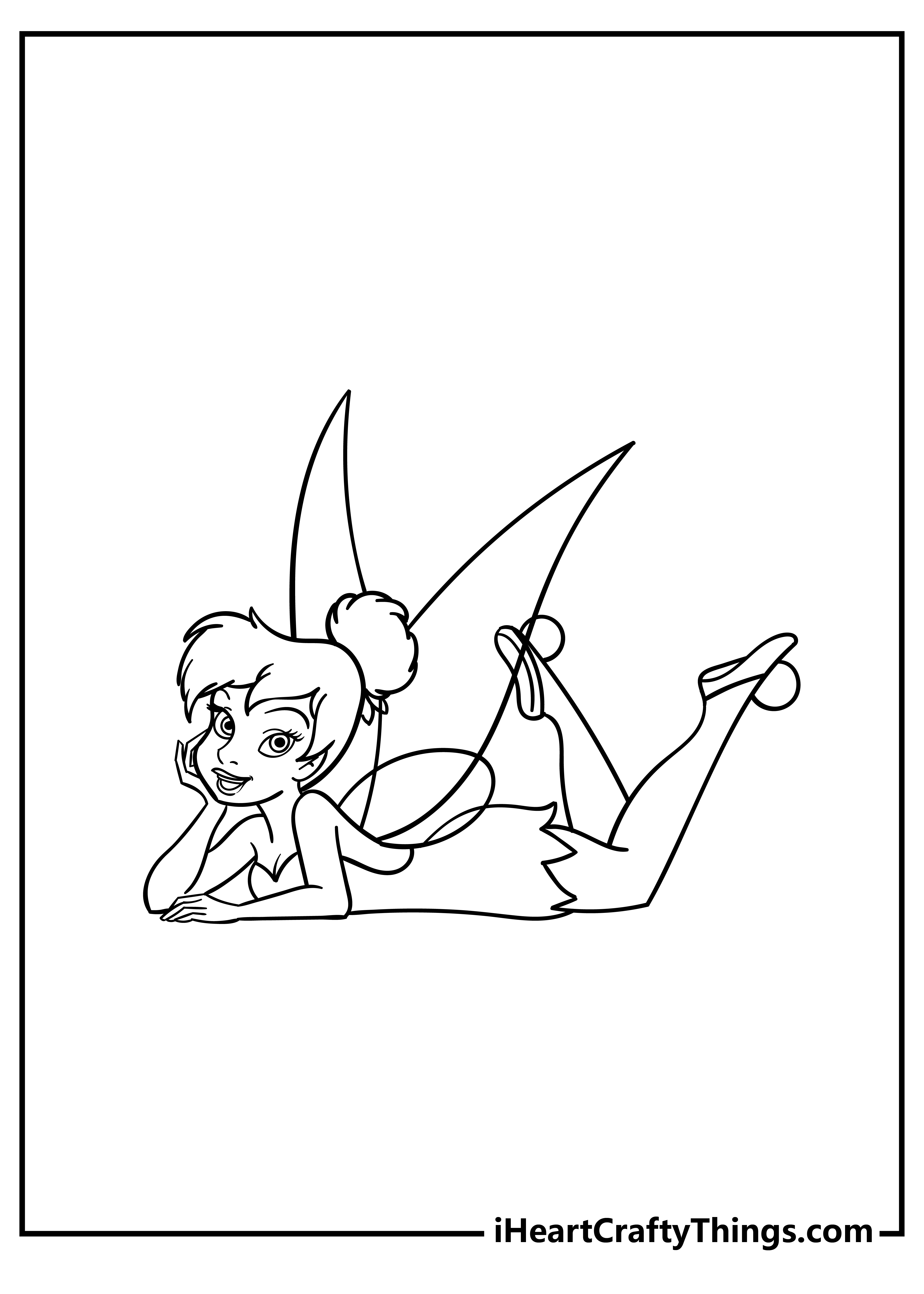 Tinkerbell is of course known for her magical abilities, and here she is wielding a magic wand.
For this page, we would add some bright and colorful magical effects around the tip of the wand to show the magic coming from it.
It would be another one where some fun crafts would be a perfect addition too!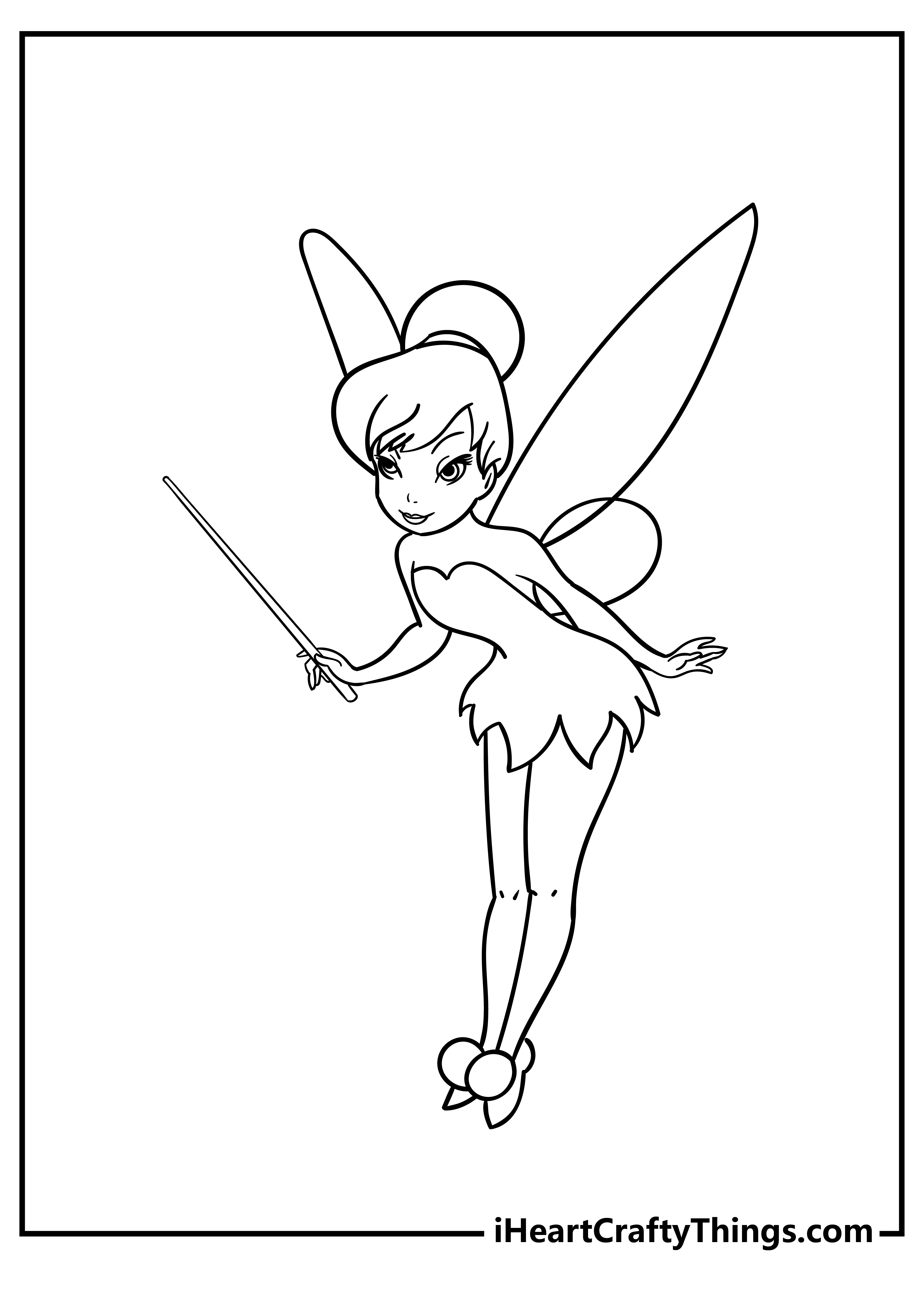 Another image of Tinkerbell with a wand is gracing this next page!
She is looking very happy and excited here, and this is an image that we think would be made even better with a magical background.
Maybe you could draw and color the magical spell that she is performing to show why she is looking so pleased and happy!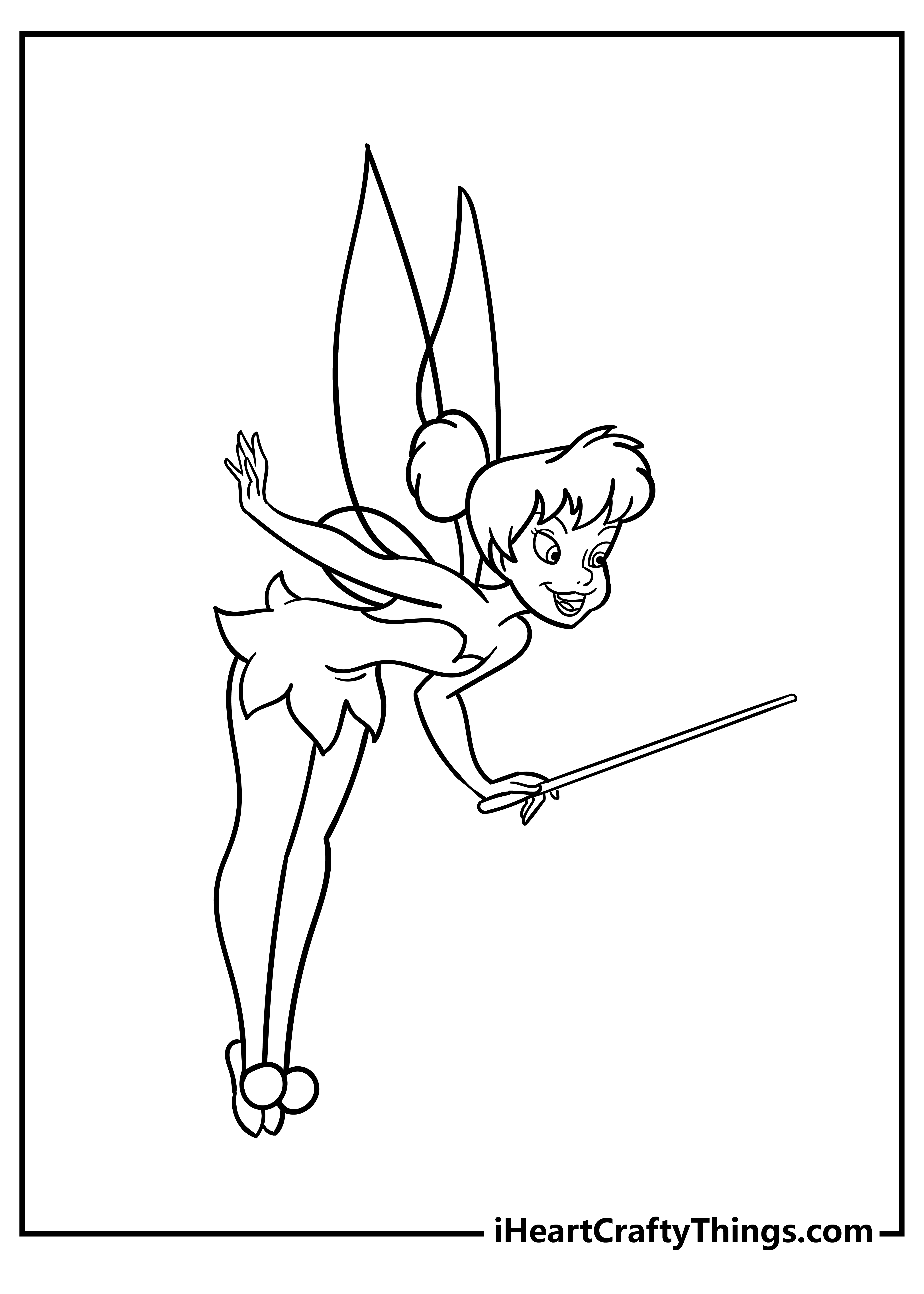 It's time to kick back and relax with Tinkerbell for this next page! She again looks deep in thought here, so you know what we will suggest for this one!
You can really get creative with images like this though, so we really encourage you to think outside the box when it comes to your colors and background details.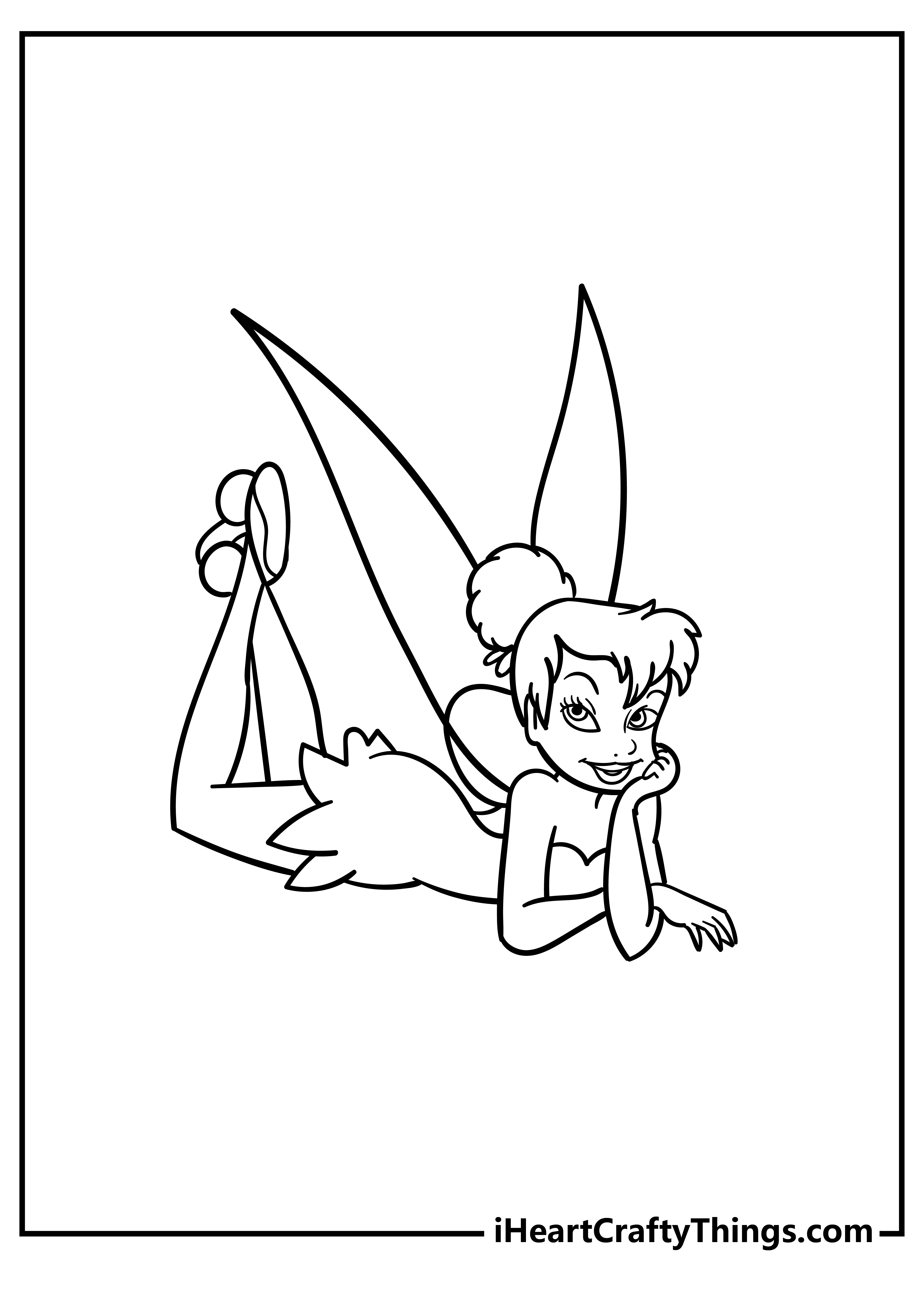 You have reached the final Tinkerbell coloring sheet of the collection, and she is striking a fabulous pose for you!
This picture really captures her feisty character perfectly, and it demonstrates that she likes to show off a bit sometimes.
We would again definitely go for some incredibly bright and vibrant colors for this one to close off the collection, but be sure to show off what you think this one should look like!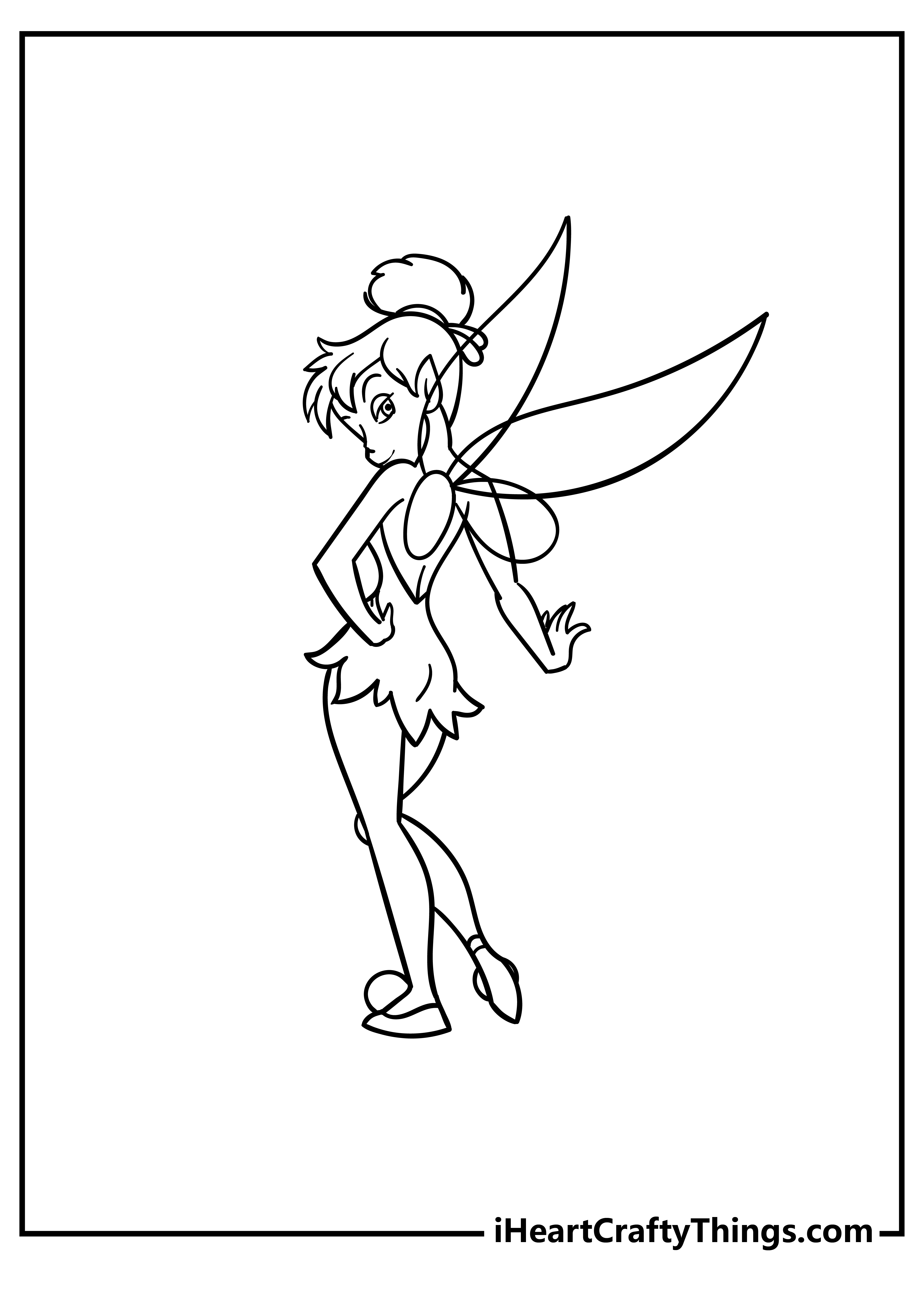 Tinkerbell Coloring Pages – Which will you choose?
This was a magical collection of free Tinkerbell coloring pages for kids, and we hope you had a great time working on them!
We tried to capture all aspects of her personality in these pages, so you can really vary up the colors and techniques you use.
Remember that it's fun to share the coloring joy, so be sure to share the collection with others!
We would also love to see how they turned out, so please share some of your finished pages on our Facebook and Pinterest pages for us to enjoy.