First published in 1812, Rapunzel is a German fairy tale created by the Brothers Grimm. However, most of us know Rapunzel from the 2010 Disney animated film Tangled. Rapunzel is particularly known for her beauty and her 70 feet golden blonde hair. She typically wears a long purple dress with a pink accent.
Until now, Rapunzel has remained a favorite Disney character of kids of all ages. The extreme popularity of Rapunzel has prompted us to craft and compile free Rapunzel coloring pages.
If your kid watches Tangled, then coloring these Rapunzel coloring sheets is the perfect activity that the kids will surely enjoy.
Simply choose an image, download it, print it out, and finally, color it! The most fun part is, you can opt to color Rapunzel the way she originally is or use your creativity to customize these Rapunzel coloring printables.
Have fun and use your artistic skills!
Rapunzel Coloring Pages — Free to Print and Color
Rapunzel still looks beautiful even on her side view, as shown in this Rapunzel coloring page. Her eyes are wide open, fixated at something in a far distance.
Perhaps she's looking at her love interest, Flynn Rider riding his horse named Maximus. Rapunzel looks so in love!
Rapunzel, as seen on this Rapunzel coloring page, is feeling shy! Maybe Flynn Rider is nearby so she hides her face behind the plate she's holding, looking embarrassed. Her freckles are also visible up close, but she still looks pretty!
We suggest using a touch of subtle pink on her cheeks for a flushed blushing effect to perfectly match her facial expression.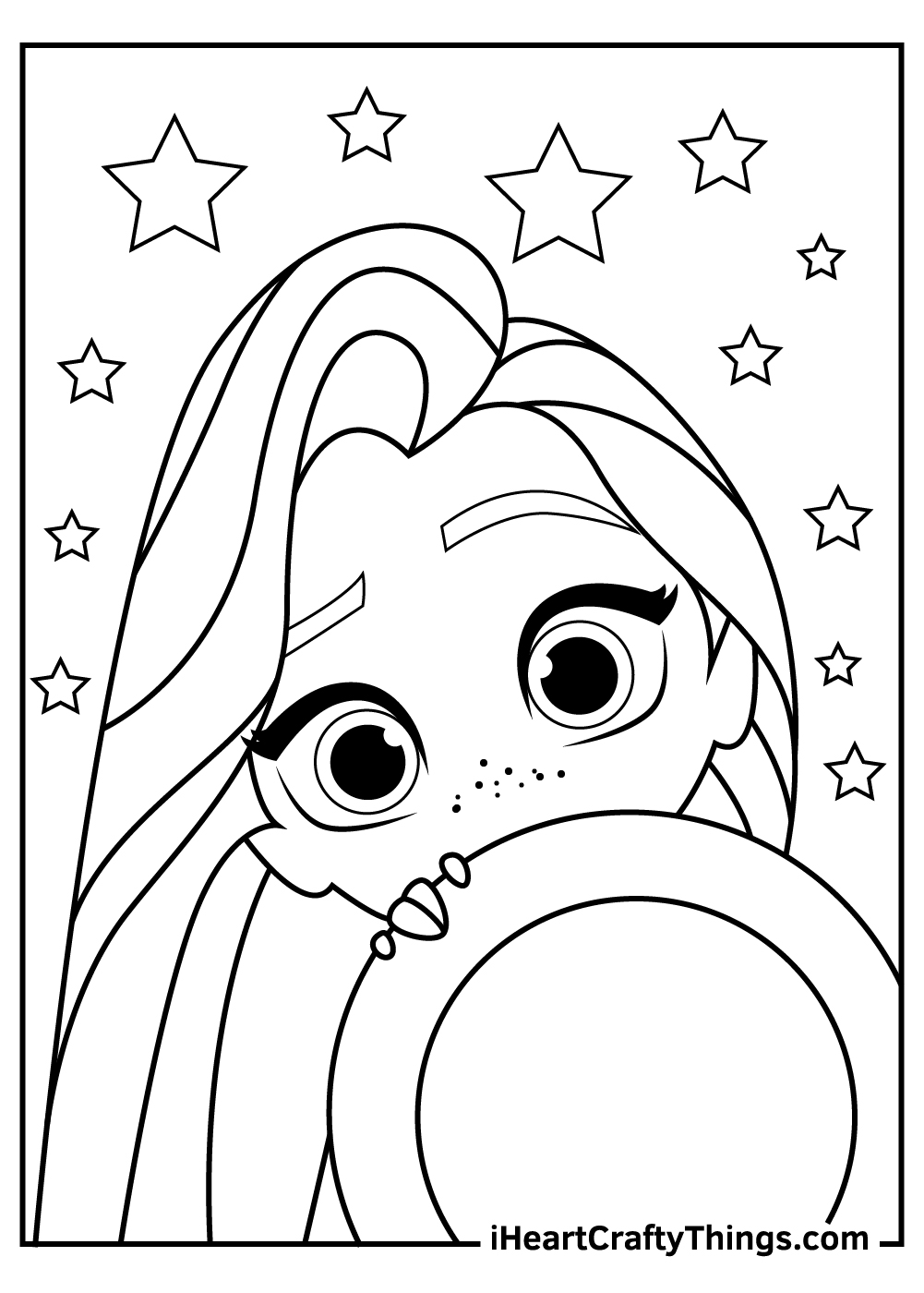 Rapunzel's hair is so long she had to carry it to get it out of the way as she walks, just like what she's doing on this Rapunzel coloring page.
That looks heavy! Imagine having a hair as long and sleek like Rapunzel's. It seems fun, but challenging!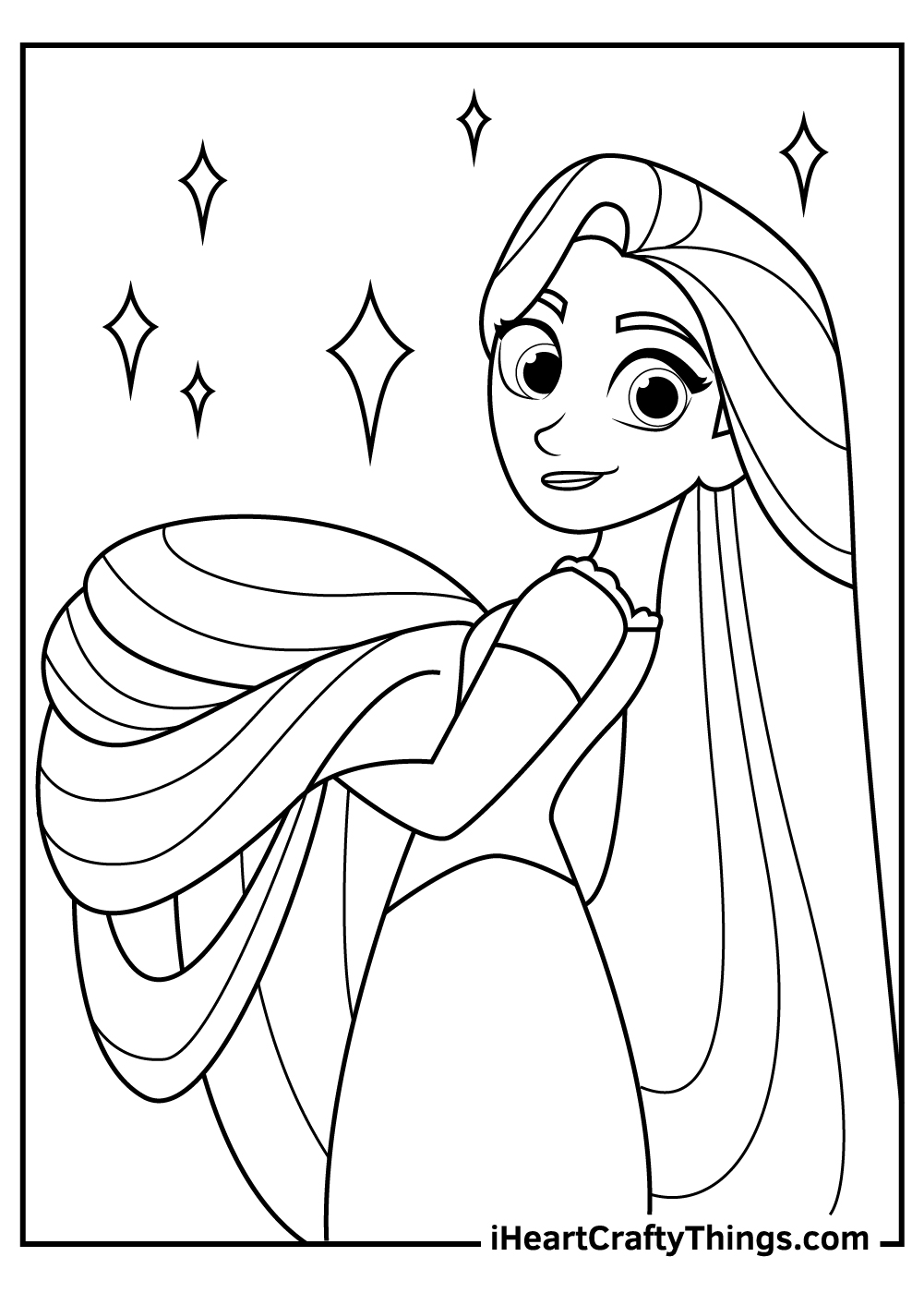 Sometimes, Rapunzel would put her hair into a loose braid to make it more manageable, as shown in this Rapunzel coloring page.
She has a subtle smirk on her face and one of her eyebrows is raised—her signature facial expression!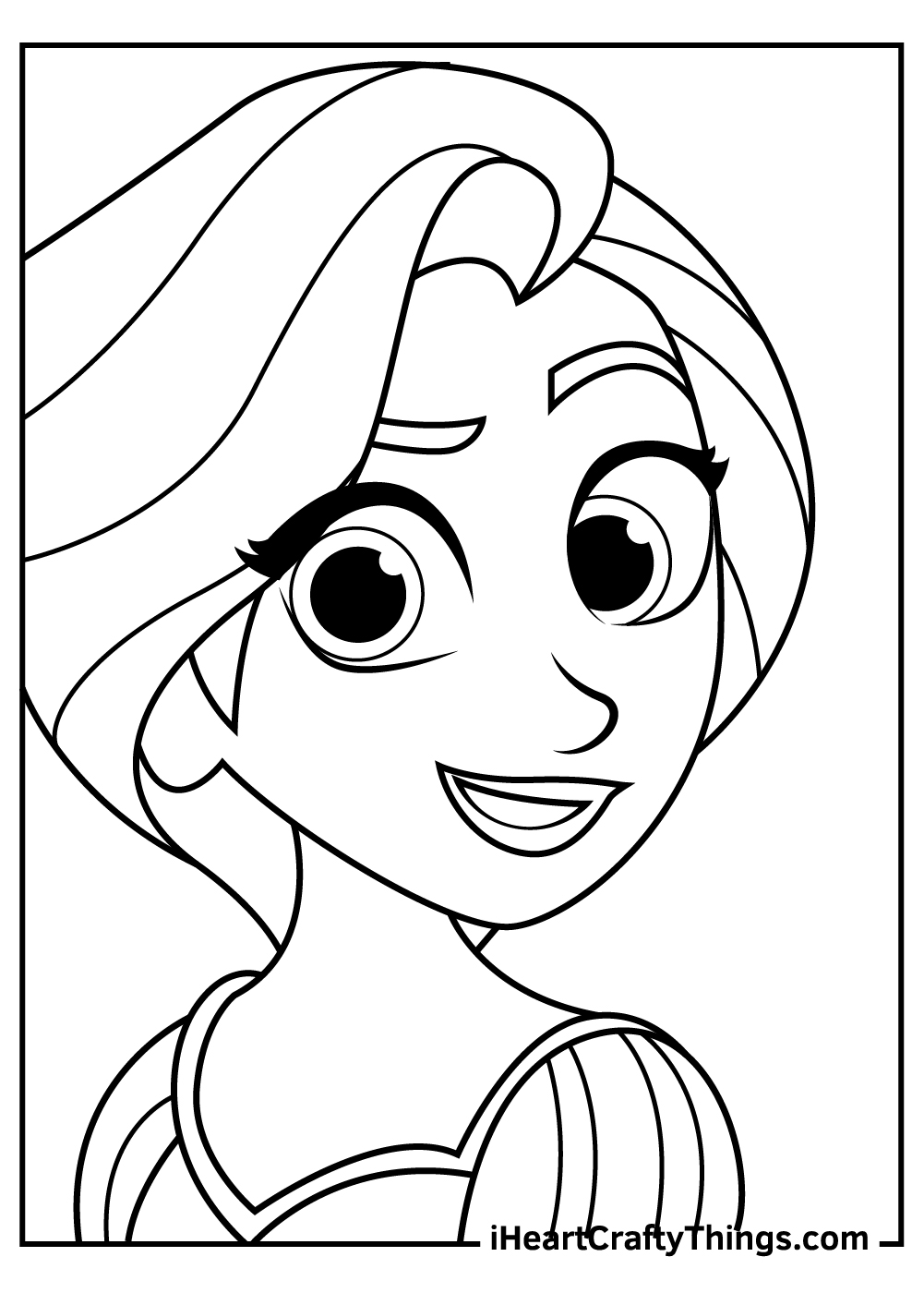 Rapunzel, as seen on this Rapunzel coloring page, seems like she's up to something. She's holding her hair with one hand as she leans back, perhaps getting ready to throw her hair out of the window.
Maybe she's planning to use her long hair as a ladder to get out of the tower she was stuck in. With her sharp eyes, she seems focused and determined to do whatever it takes to get out. Hopefully, the witch doesn't catch her anytime soon!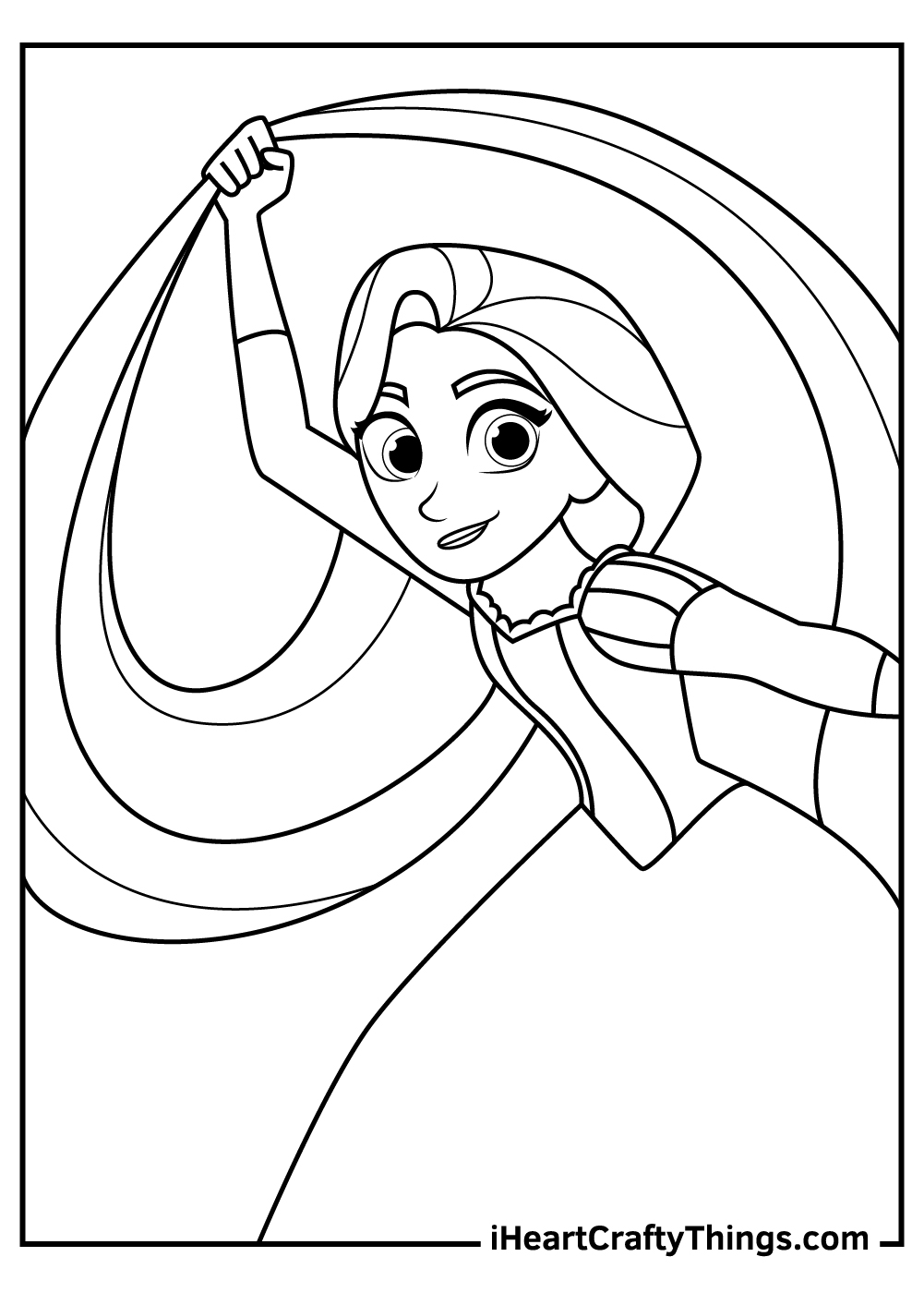 As usual, Rapunzel is wearing her hair down, as shown in this Rapunzel coloring page. She's wearing her usual long dress with puffed sleeves and an adjustable strap at the front for a perfect fit!
What colors will you use to make the dress she's wearing colorful?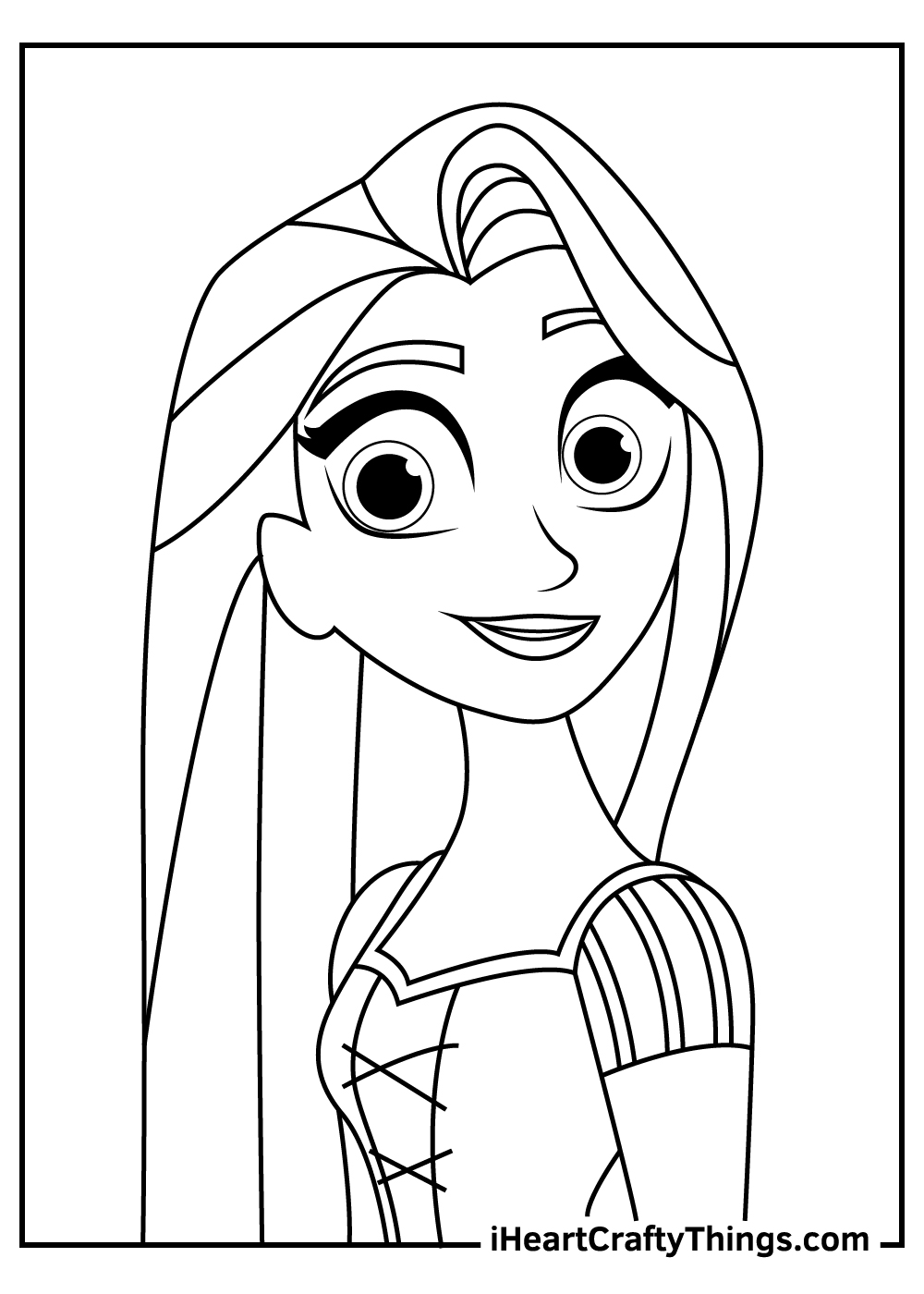 In this Rapunzel coloring page, Rapunzel is standing with both of her hands on her hips. She looks charming with her gentle eyes and soft smile. Her hair is on a loose ponytail—isn't it unbelievable how Rapunzel looks lovely in every hairstyle?
There's a lot of glowing stars surrounding her, adding an extra dazzling effect to her beauty. We think the colors red, orange, and yellow for the stars would complement the golden color of her long, sleek hair.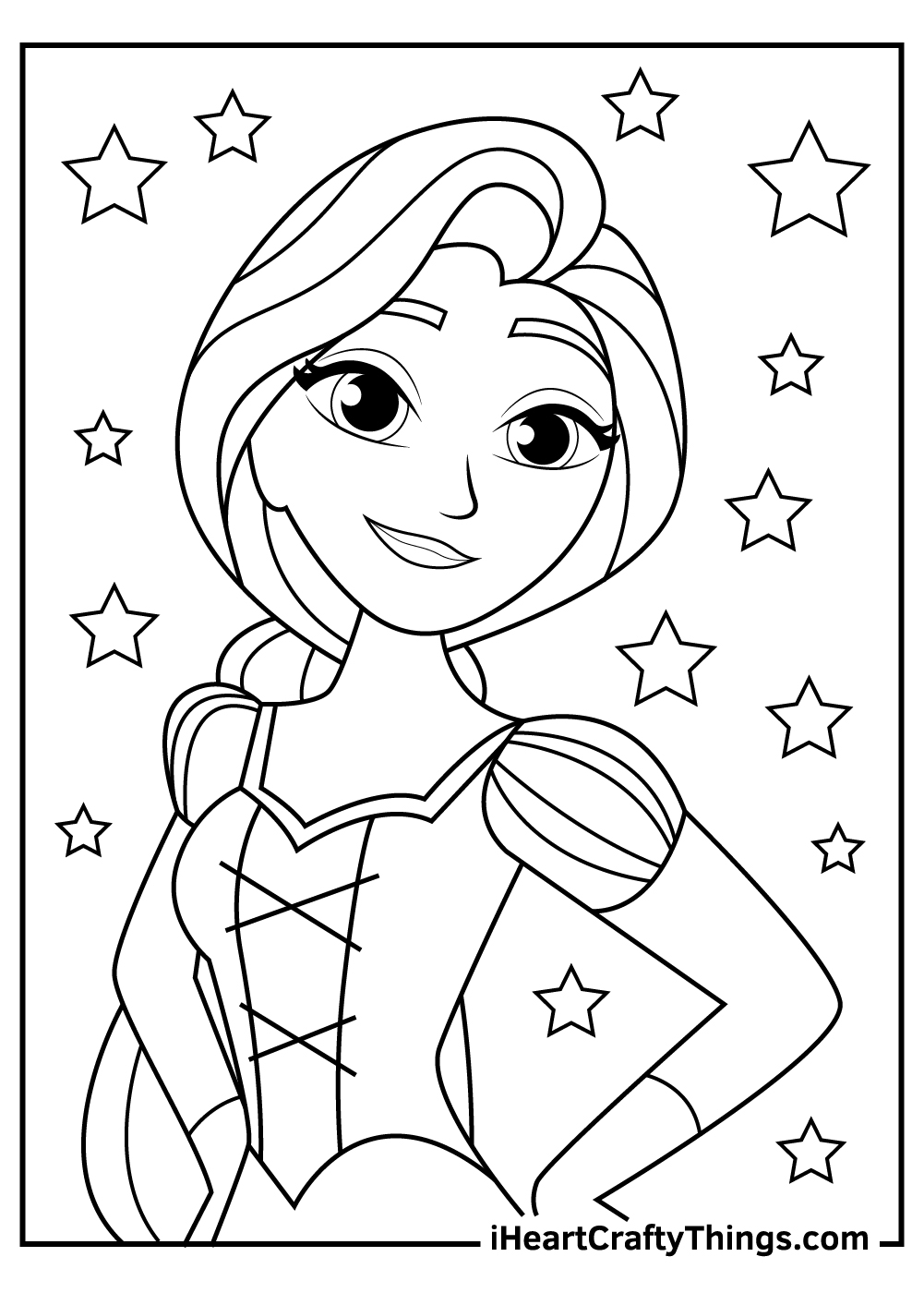 This Rapunzel coloring page perfectly captures the beauty of Rapunzel. She is leaning forward as she tilts her head to the side. She looks extremely beautiful with her huge gleaming eyes and gracious smile.
Did you know that Rapunzel originally has green eye color? We think it perfectly matches her golden blonde hair. What colors will you add to this printable?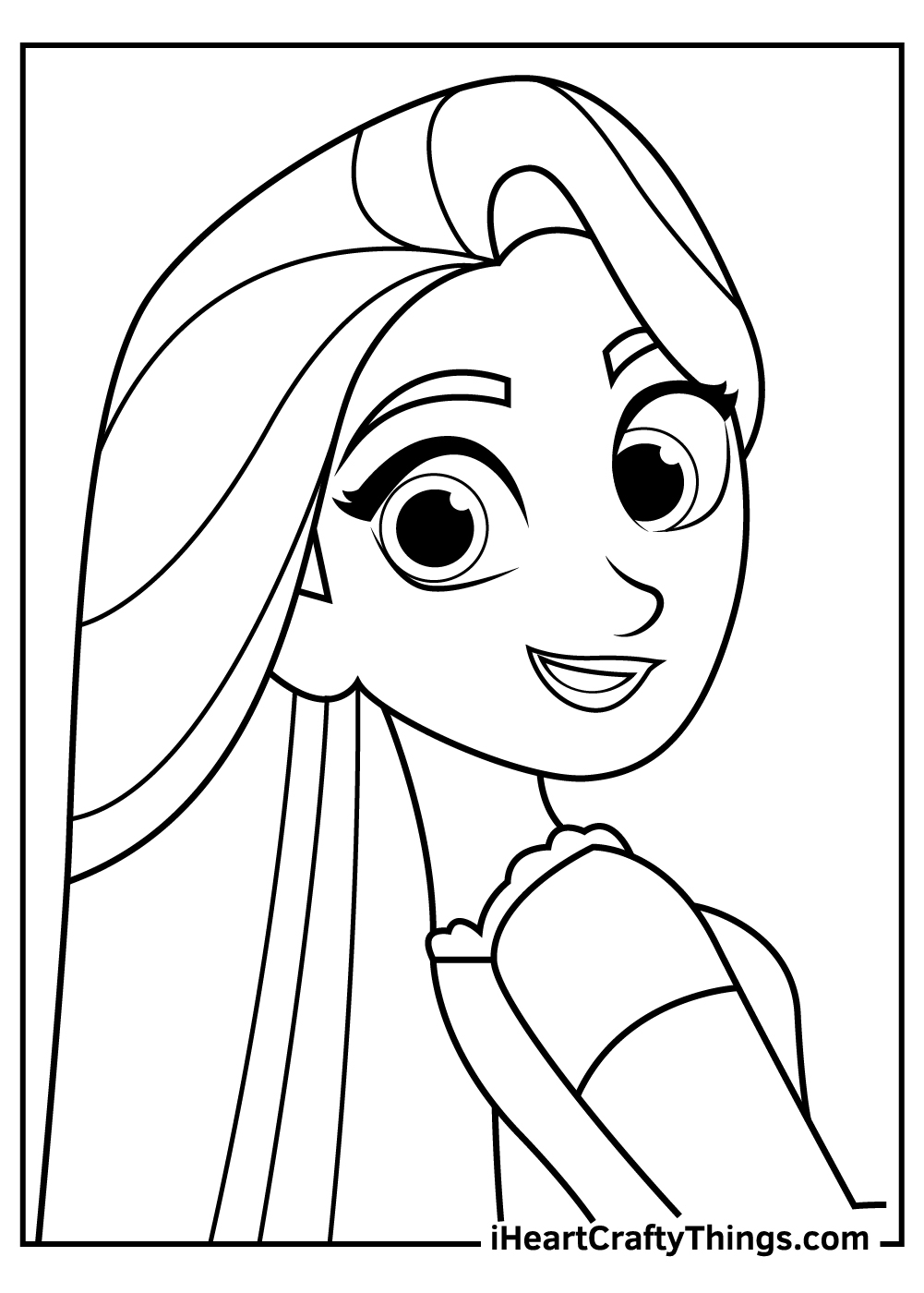 In Tangled, Rapunzel has no other choice but to cut her hair in order to defeat Zhan Tiri, as shown in this Rapunzel coloring page.
As soon as she cuts her hair, it loses its power and turns to color brown. Regardless whether she has long or straight hair, she still looks as beautiful as ever, isn't she?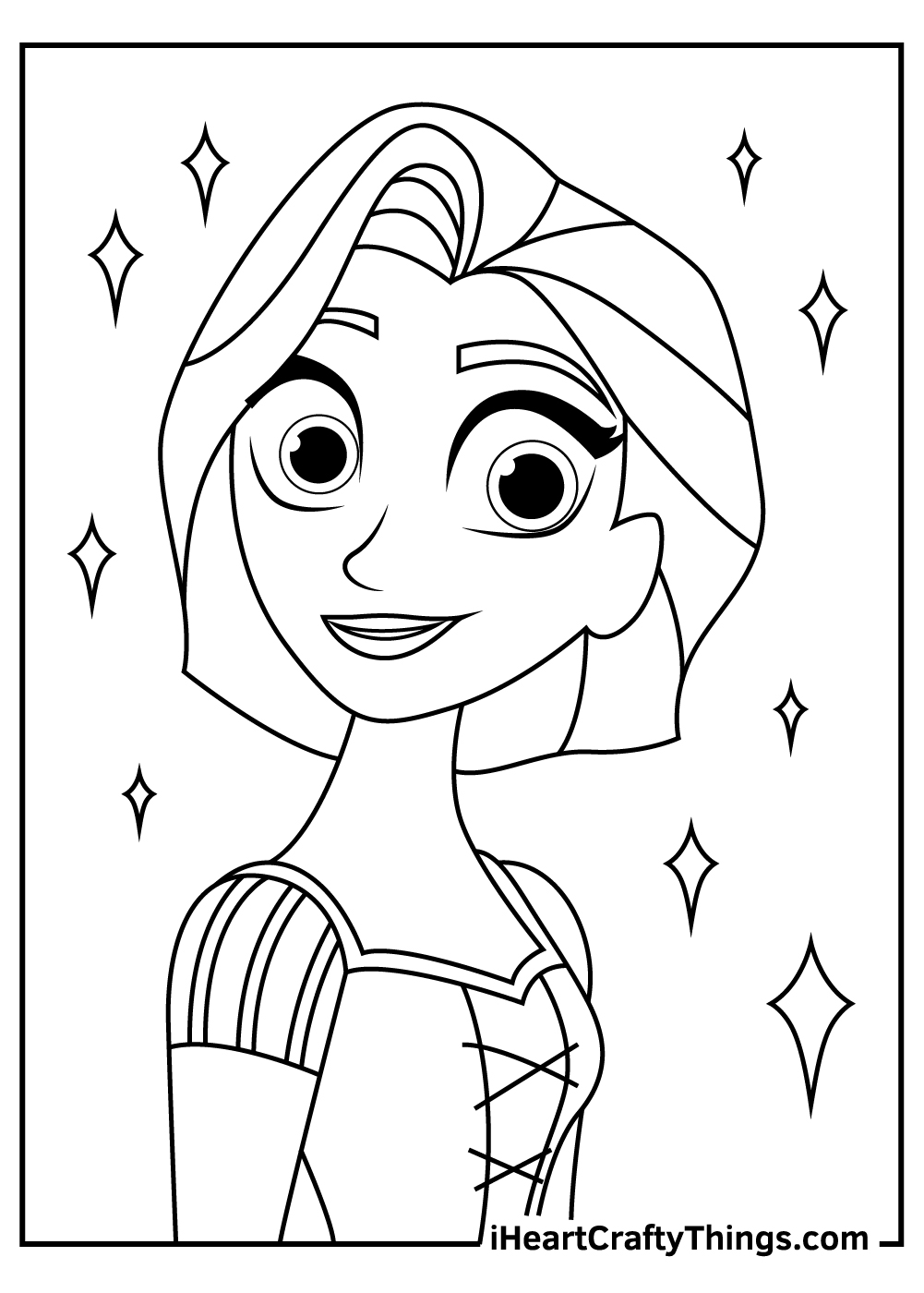 Rapunzel looks focused with her sharp eyes and pursed lips. What is she up to? Perhaps she's coming up with strategies to escape the tower she was locked in.
She is wearing her hair down as the strong breeze of wind blows her hair. It must be a windy day! What colors will you add to this printable?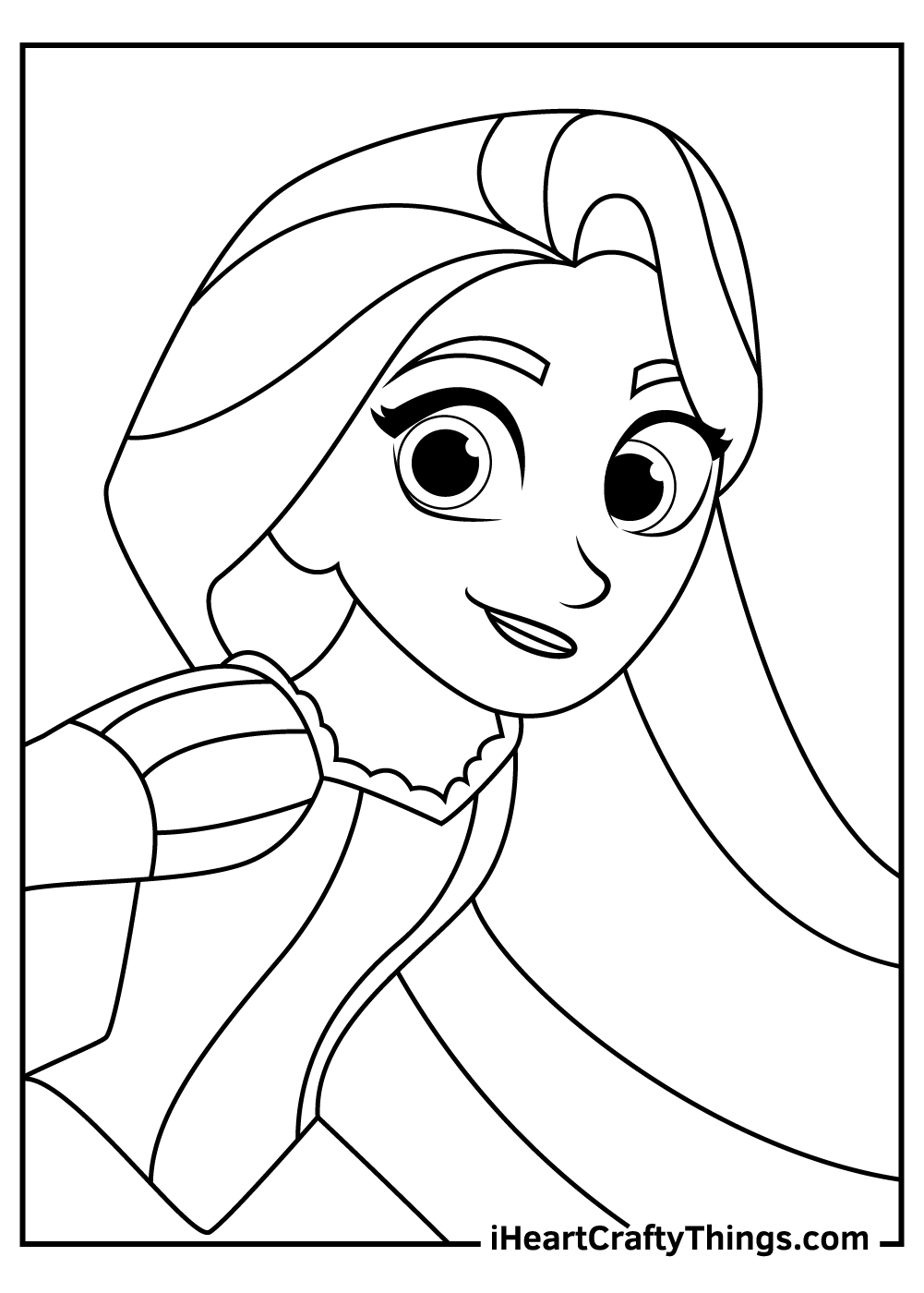 Rapunzel Coloring Pages — Which image will you color?
Hopefully, you enjoy these Rapunzel coloring pages. It consists of simple and intricate illustrations of the beautiful Princess Rapunzel. Coloring these Rapunzel coloring sheets is the perfect activity for kids of all ages who are a fan of the Disney film Tangled.
Remember, all of our crafts and coloring printables are 100% free for you to download, print, and color. We are always updating our catalog and uploading new content to our catalog. So don't forget to keep re-visiting our website to continuously enjoy all-new coloring pages.
Once you've finished coloring your Rapunzel coloring printables, you must be very proud of yourself for completing a masterpiece—as you should be! Make sure to show off your work of art and share it on our Facebook page. We're sure it looks amazing!
We are excited to see how your creativity and imagination brought Princess Rapunzel to life!