Beauty and the Beast is one of the most classic and beloved Disney films ever created.
This timeless tale has delighted audiences worldwide since its release in 1991, and it has since seen sequels and even a live-action remake.
This collection of free Belle coloring pages for kids is here to celebrate this lovable character from the film!
These 15 pages feature various moments starring the beautiful Belle, and all are free for you to print, color or share with others.
When you have chosen and colored your favorite pages, we also hope you will share some of your artworks on our Facebook and Pinterest pages!
15 Brand New Belle Coloring Pages – Free to Print and Color
We will start this collection of free Belle coloring pages for kids with a closeup of our beautiful heroine!
This is such a great portrayal of Belle, and there is plenty of space in the background and surrounding areas for you to add some extra details or elements of your own.
How will you color and add to this first page as you get this collection going?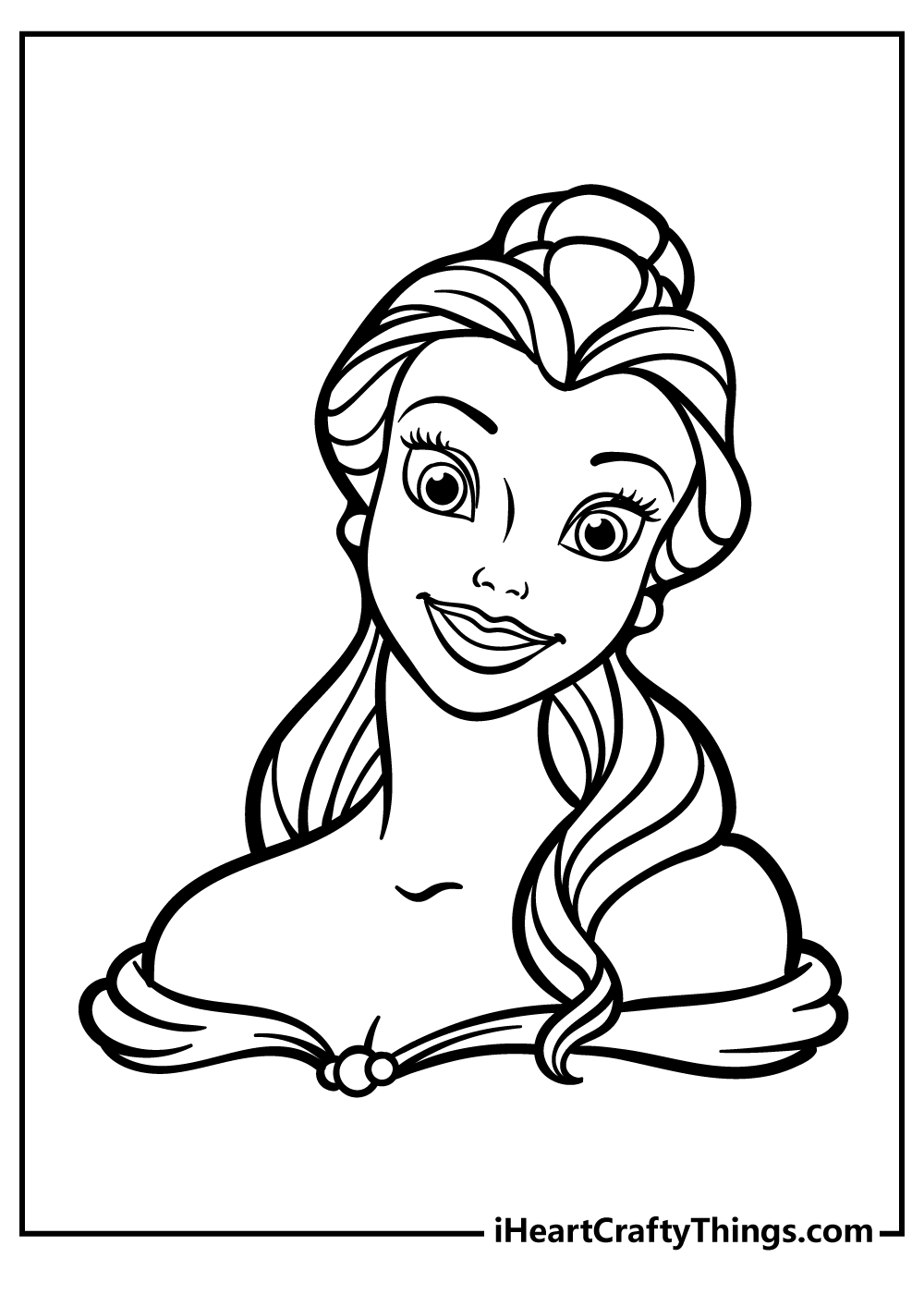 There are so many great details to color in this next image. We get a great look at one of Belle's hairstyles, and she looks really glamorous!
This closer look also allows for some more intricate color details, so this is one you can really take your time with as you make it look even more incredible.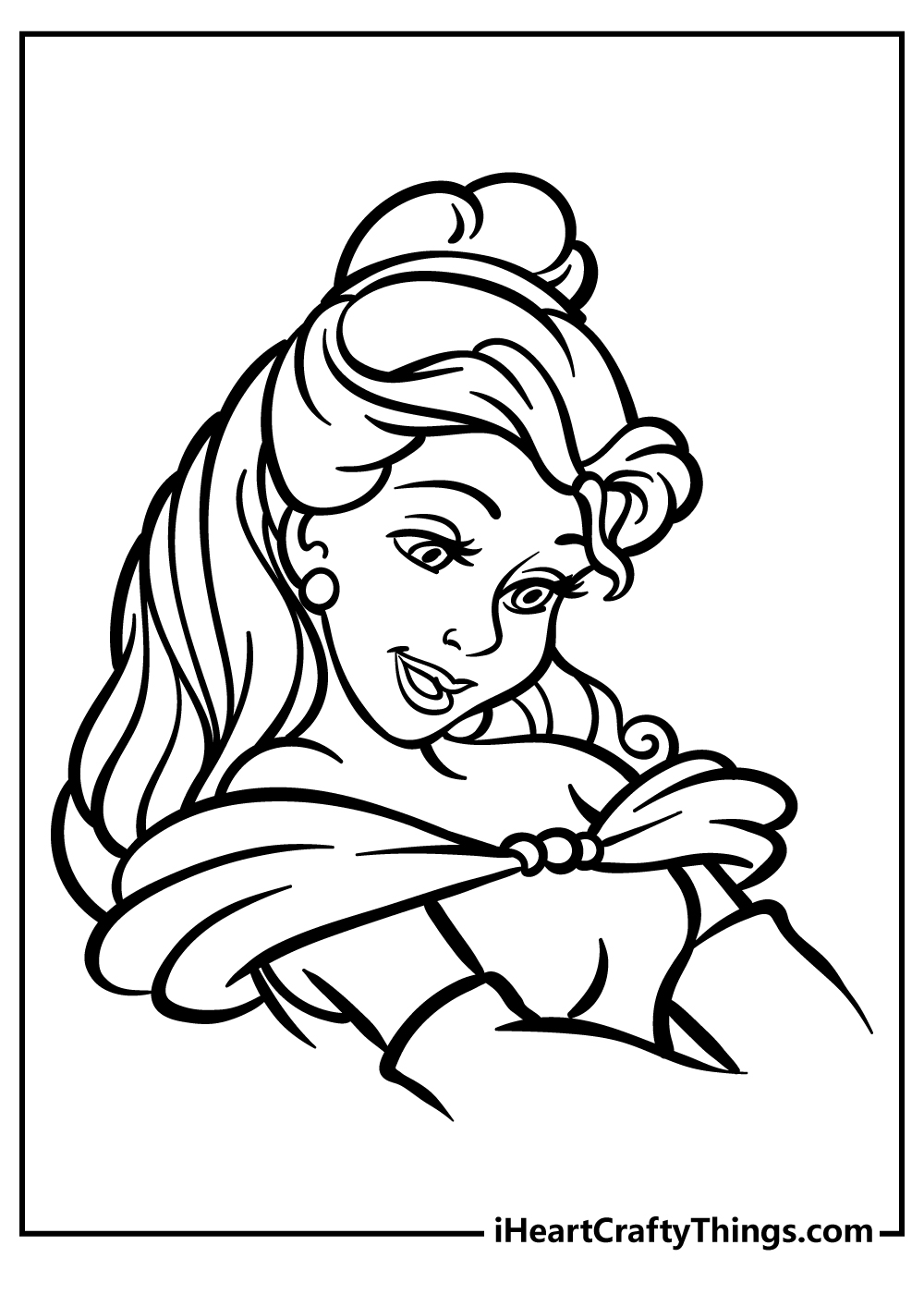 Belle is looking lovely in this next image! She is dressed in the casual clothing that we see throughout the film, so you can refer to some of those scenes if you wish to make her look how she does in the film.
You could also go for a completely unique look if you prefer, and it's totally up to you!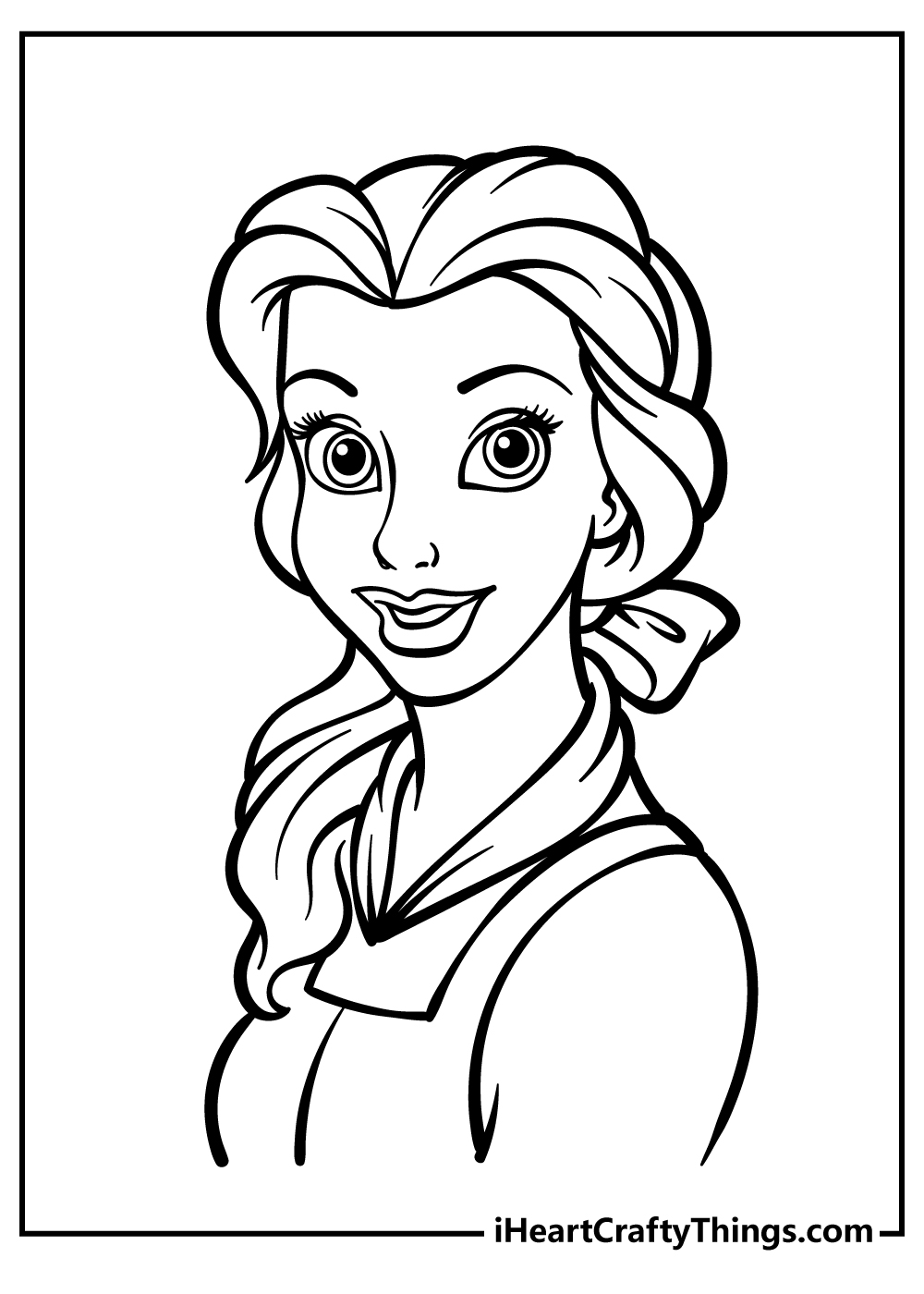 It's time for another close-up with this fourth picture we have for you.
Belle is again looking very pretty and glamorous in this image, and you can make her look even better with the colors and details you use.
You could even draw some background details to show off what one of your favorite scenes from the movies may be!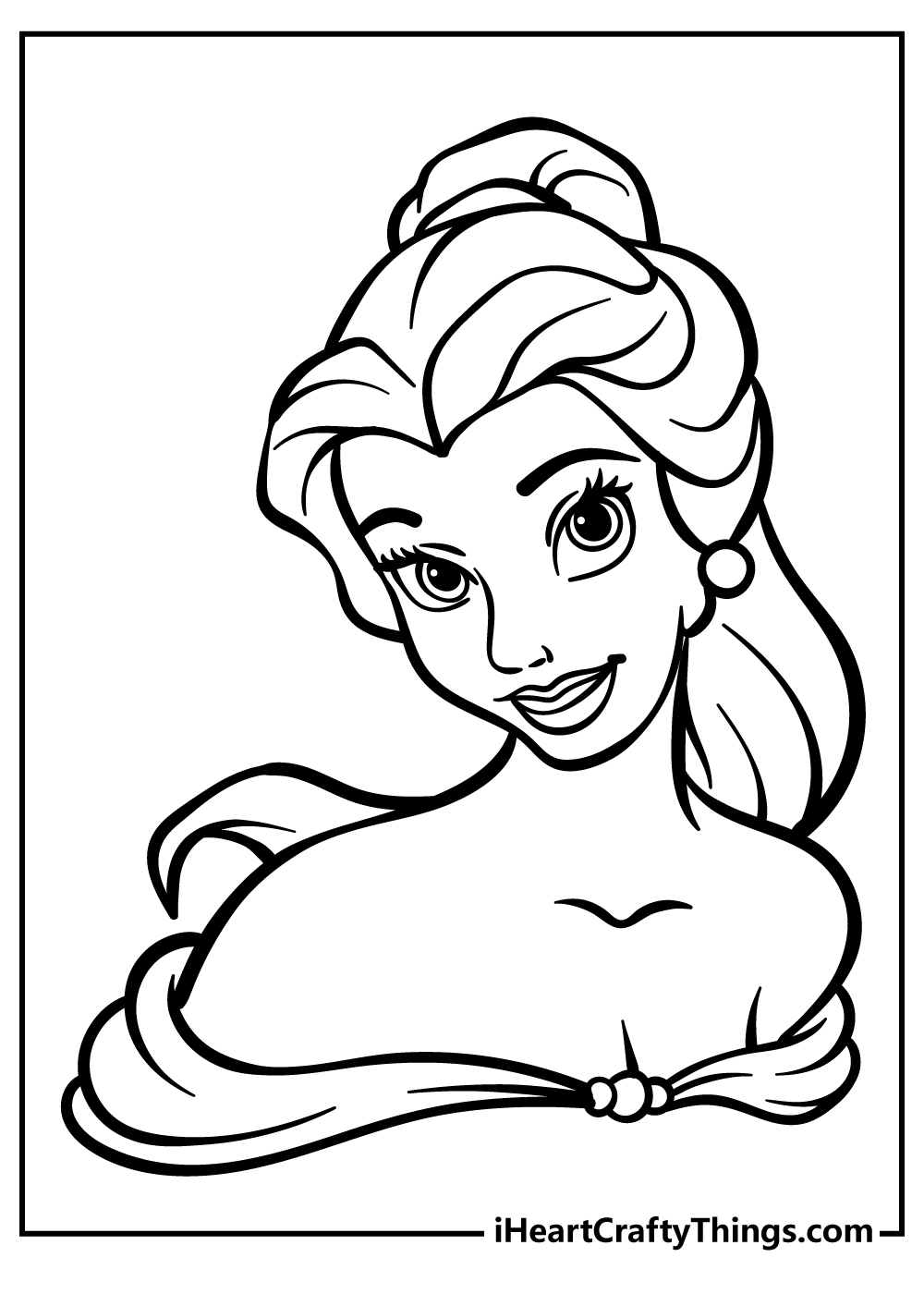 This is a wonderful pose that we have for you to color in this Belle coloring sheet.
There is a softer feel to this image, so we would possibly use some lighter colors done with watercolors or colored pencils if we were coloring this one.
That would look great, but what other ideas do you have for the colors on this one?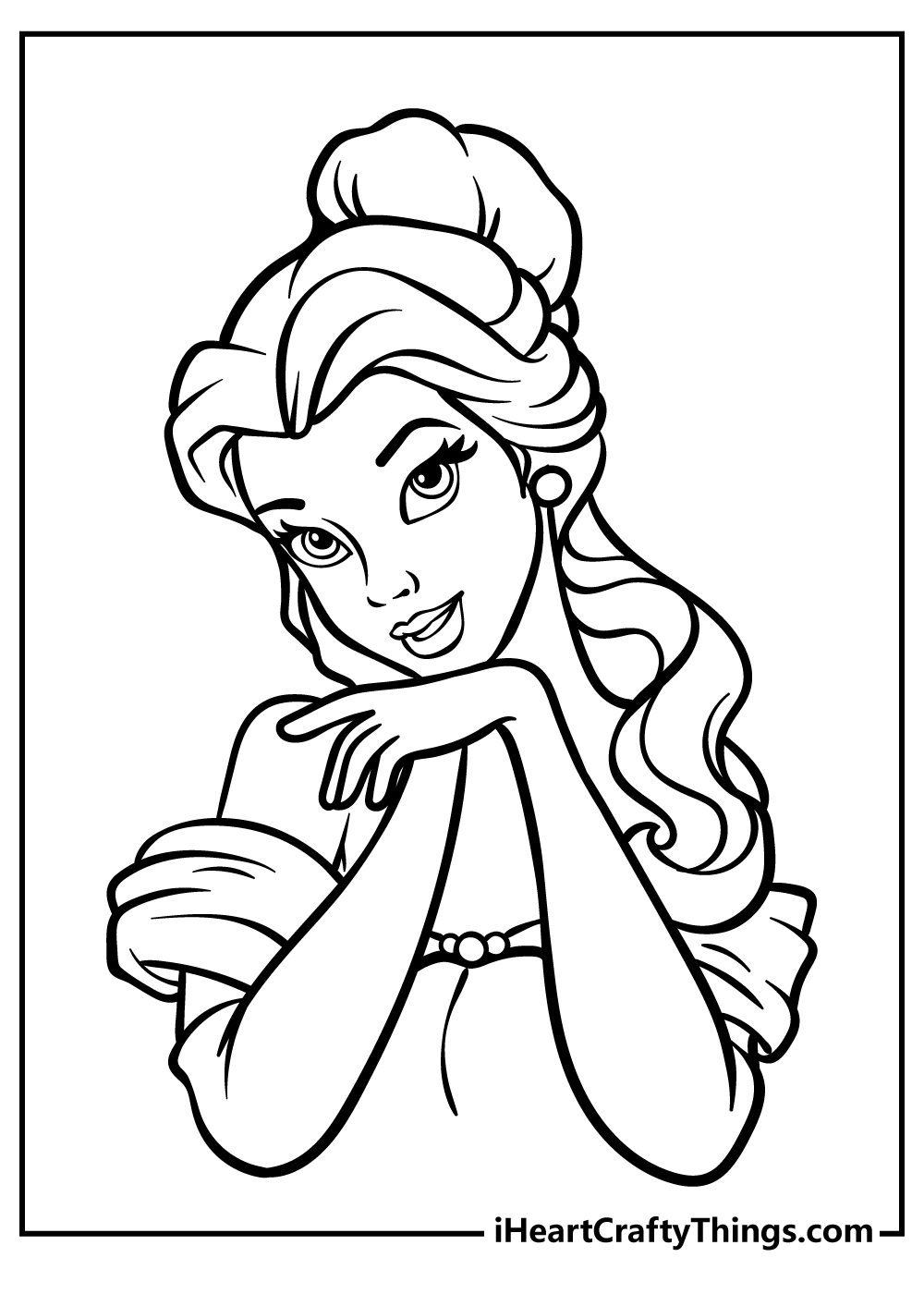 We have another wonderful Belle moment for you to color with this next image! She is admiring a beautiful rose, and it is a moment that could have come right out of the film.
The flower in this picture also allows for a spot of beautiful, bright color in the image. We would go with a lovely red, but you could put your own spin on it by using another color for the flower instead!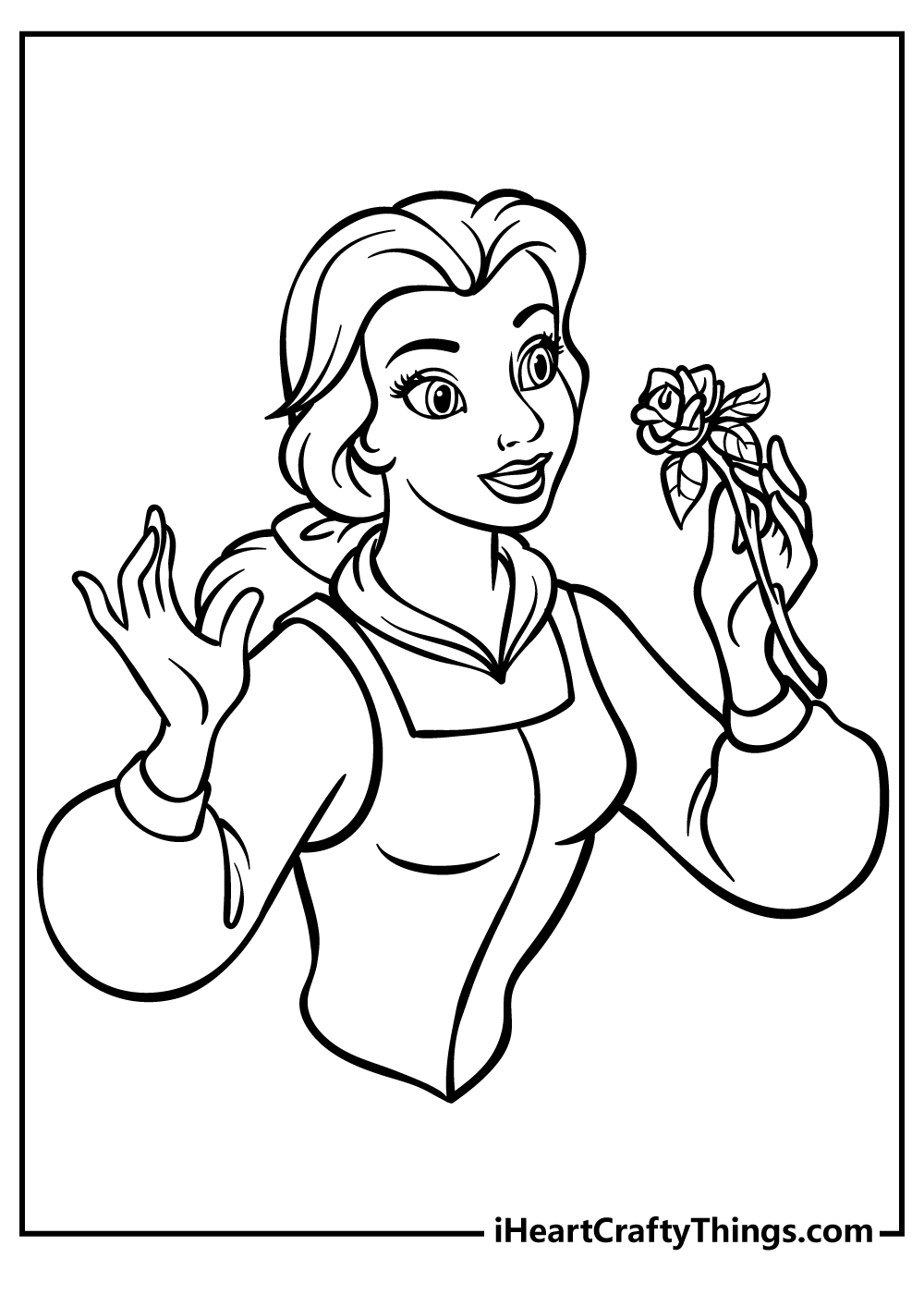 Belle is joined by many wondrous characters throughout her adventures, and here we have one of the cutest: Chip the teacup!
This pose with these two characters is really adorable, and there are some great smaller details to color in.
Will you try to replicate the colors from the film or create a unique look for these characters?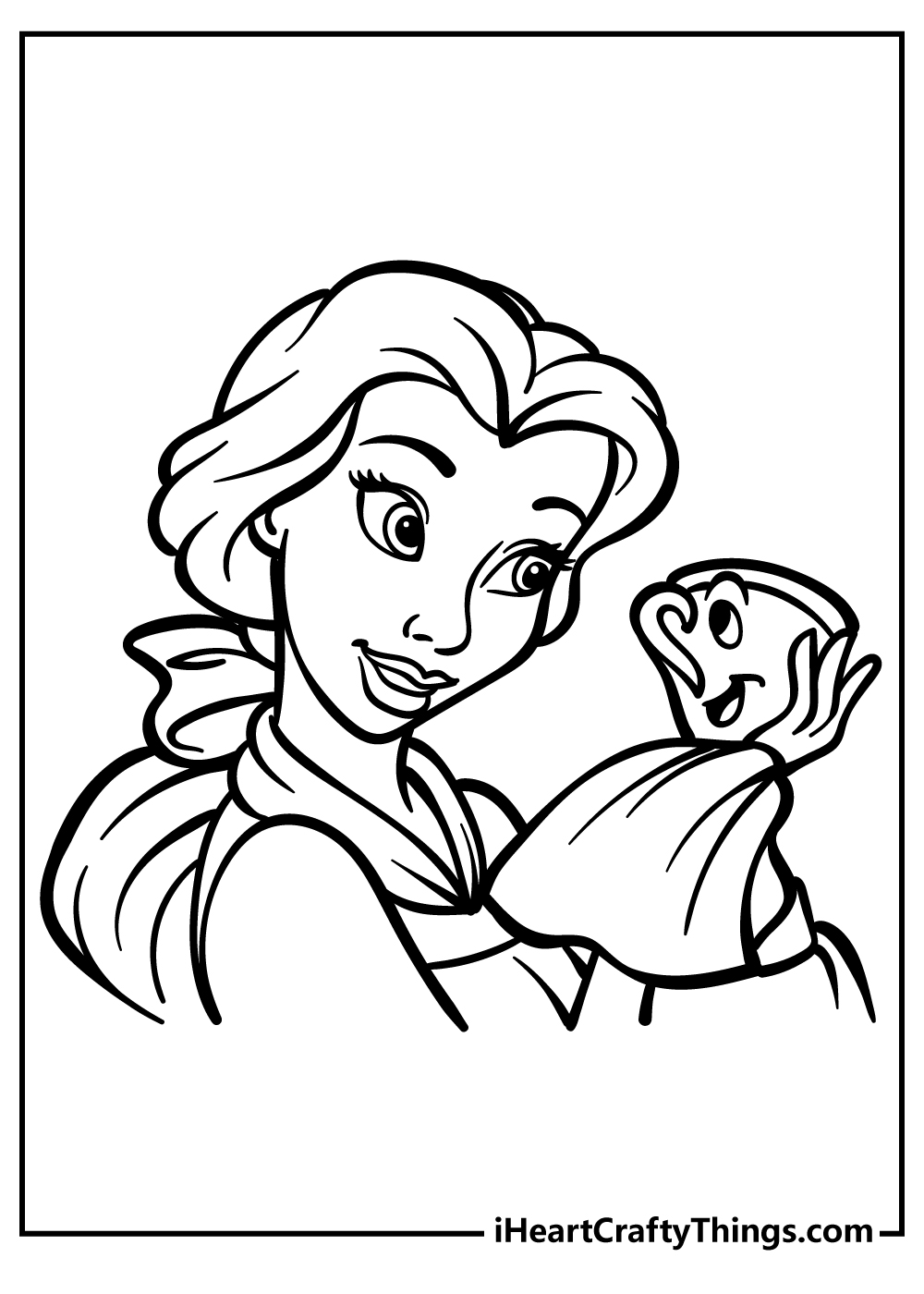 There is another glamorous image of Belle for you to color with this next page!
We again get a great look at her gorgeous hairstyle, and there are so many ways that you could color this wonderful portrayal.
Which colors and details will you use to finish off this eighth page of the collection? We can't wait to see!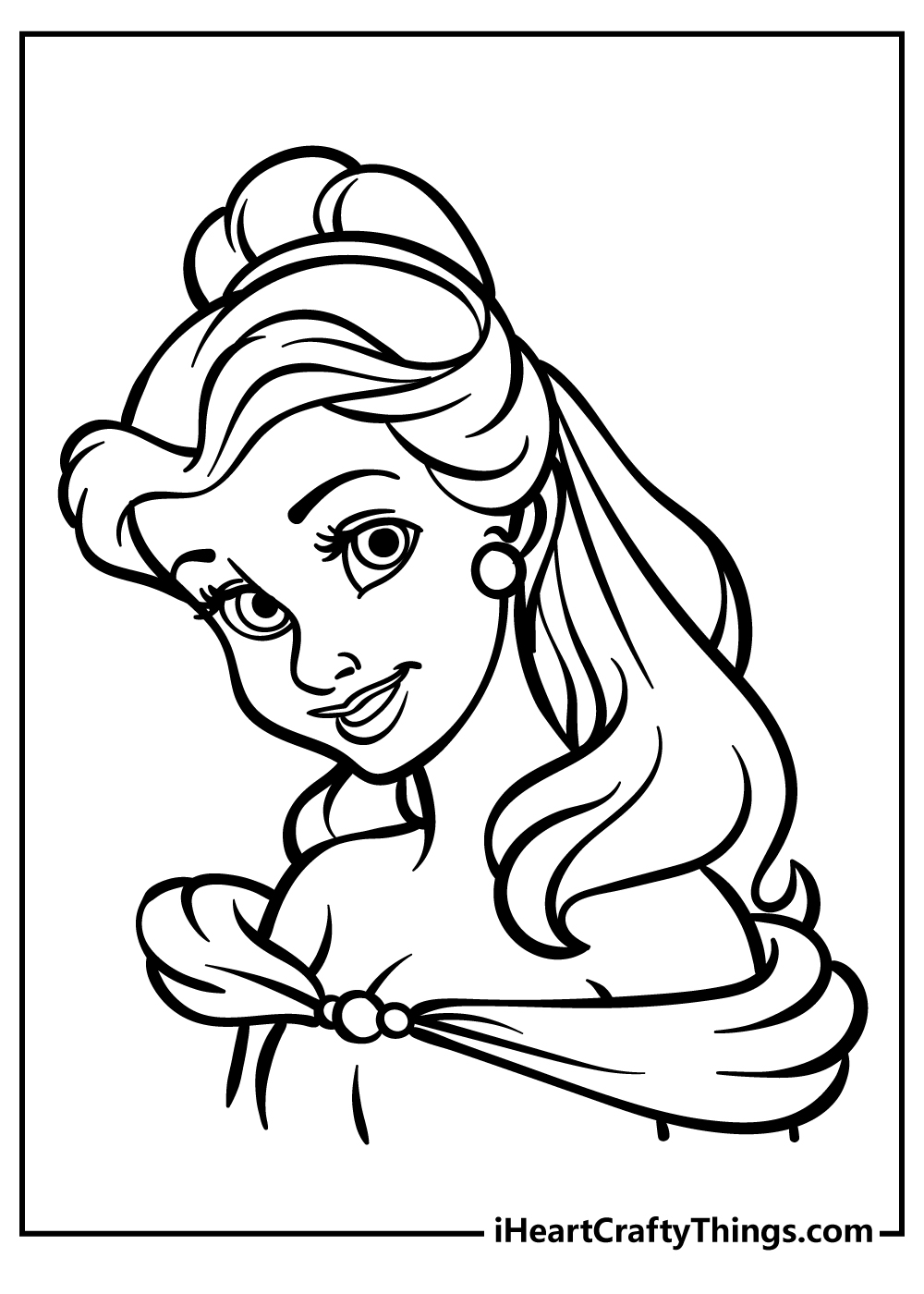 We think that this Belle coloring printable really captures the essence of her character! Her face is really expressive here, and there is a lot of personality projected by this pose.
It's another scene that could have come straight from the frames of the film, and we would try to make it as screen accurate as possible if we were coloring it in!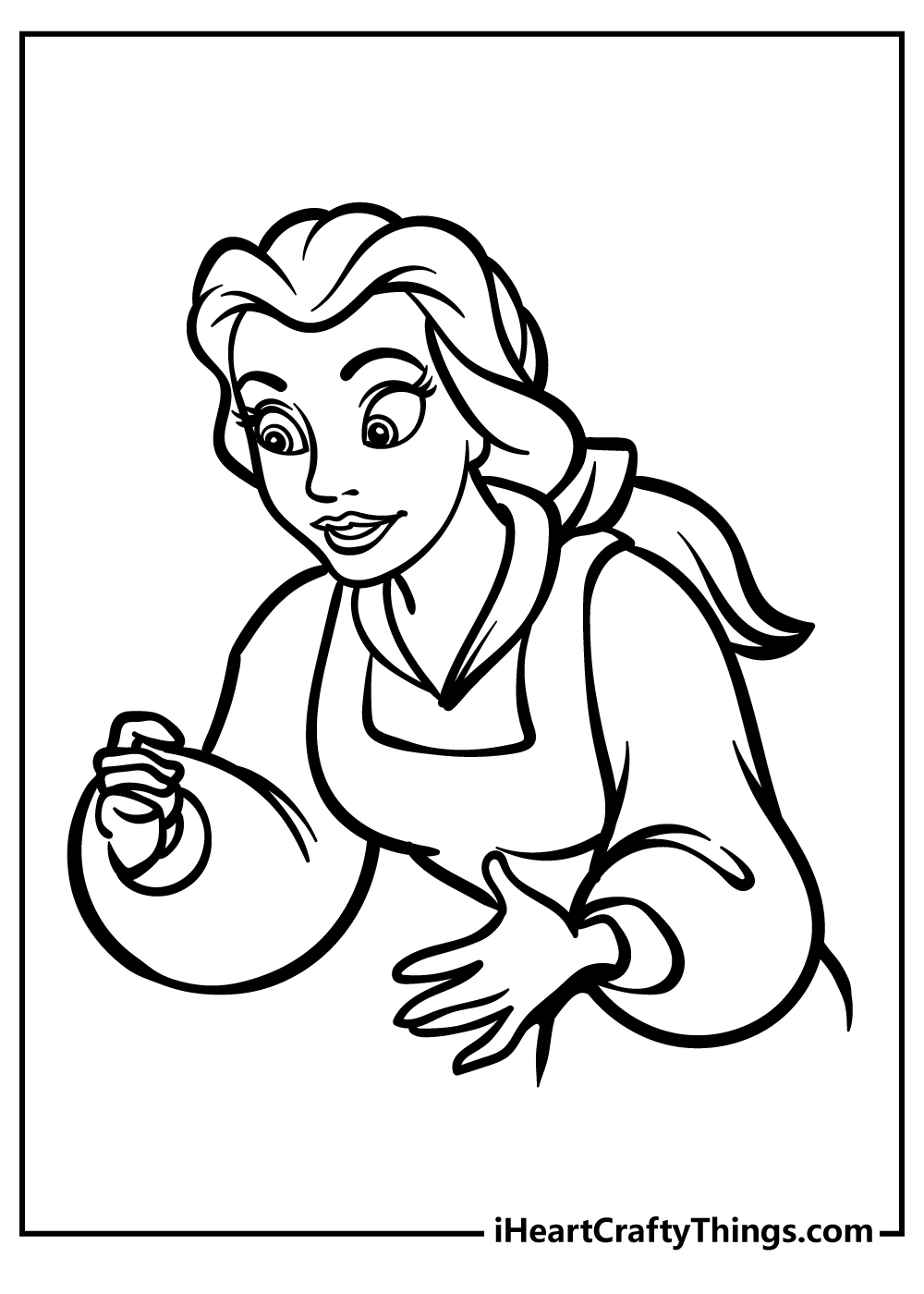 The lovable Chip is back for another pose with this next image!
There is a really happy feeling given off by this particular image, and we would try to capture that mood with some bright, happy colors.
What colors and art mediums do you think would best suit this happy scene?
Remember that you can show us by sharing the finished page on our various social media pages!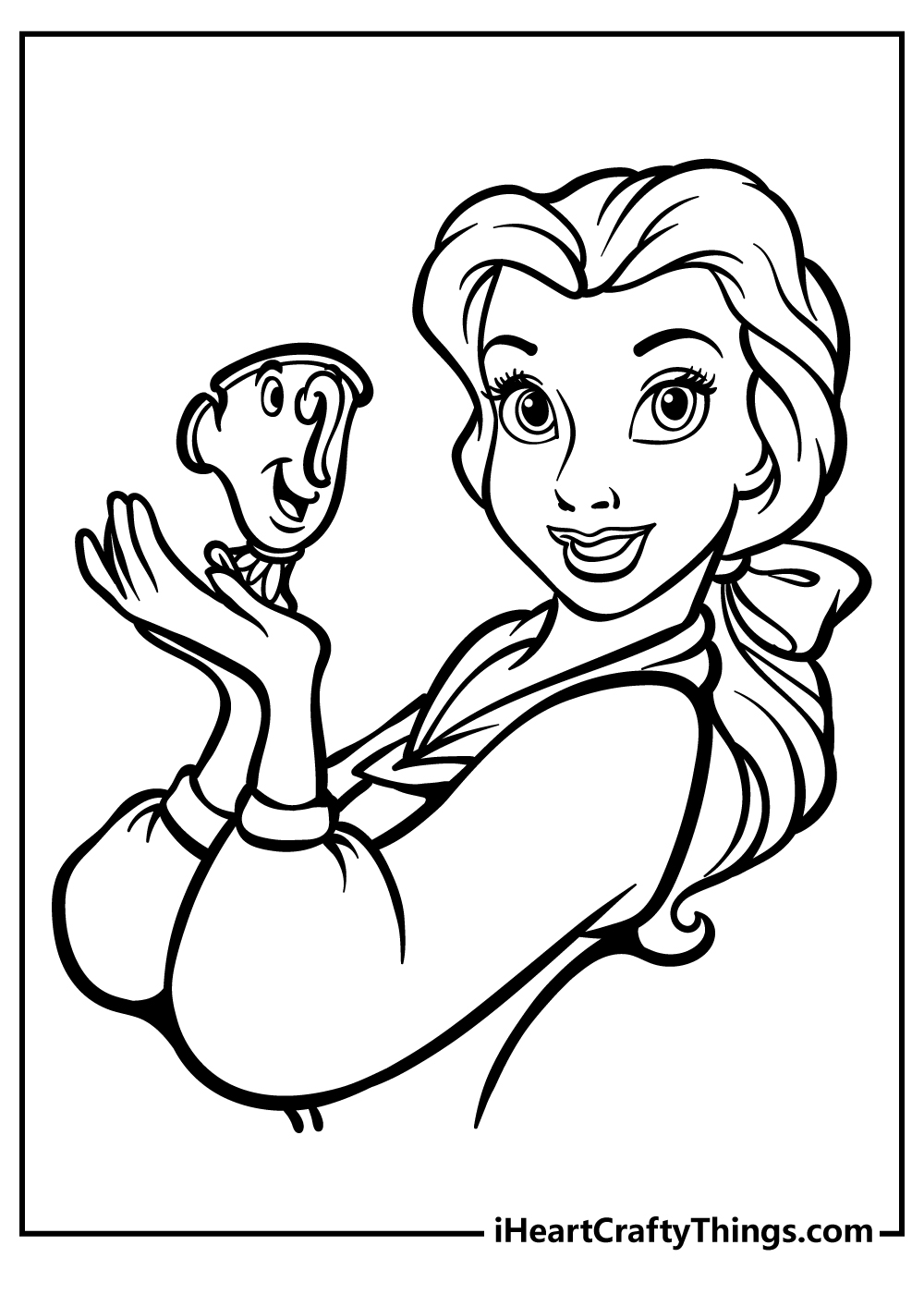 Belle is looking to be in a dreamy mood in this next image.
This is another page where we would go for some lighter colors, as this would help to capture the dreamy feeling that is captured in the drawing.
That's not to say that you couldn't use brighter colors, though! Each approach would look great in its own way, so which will you go for?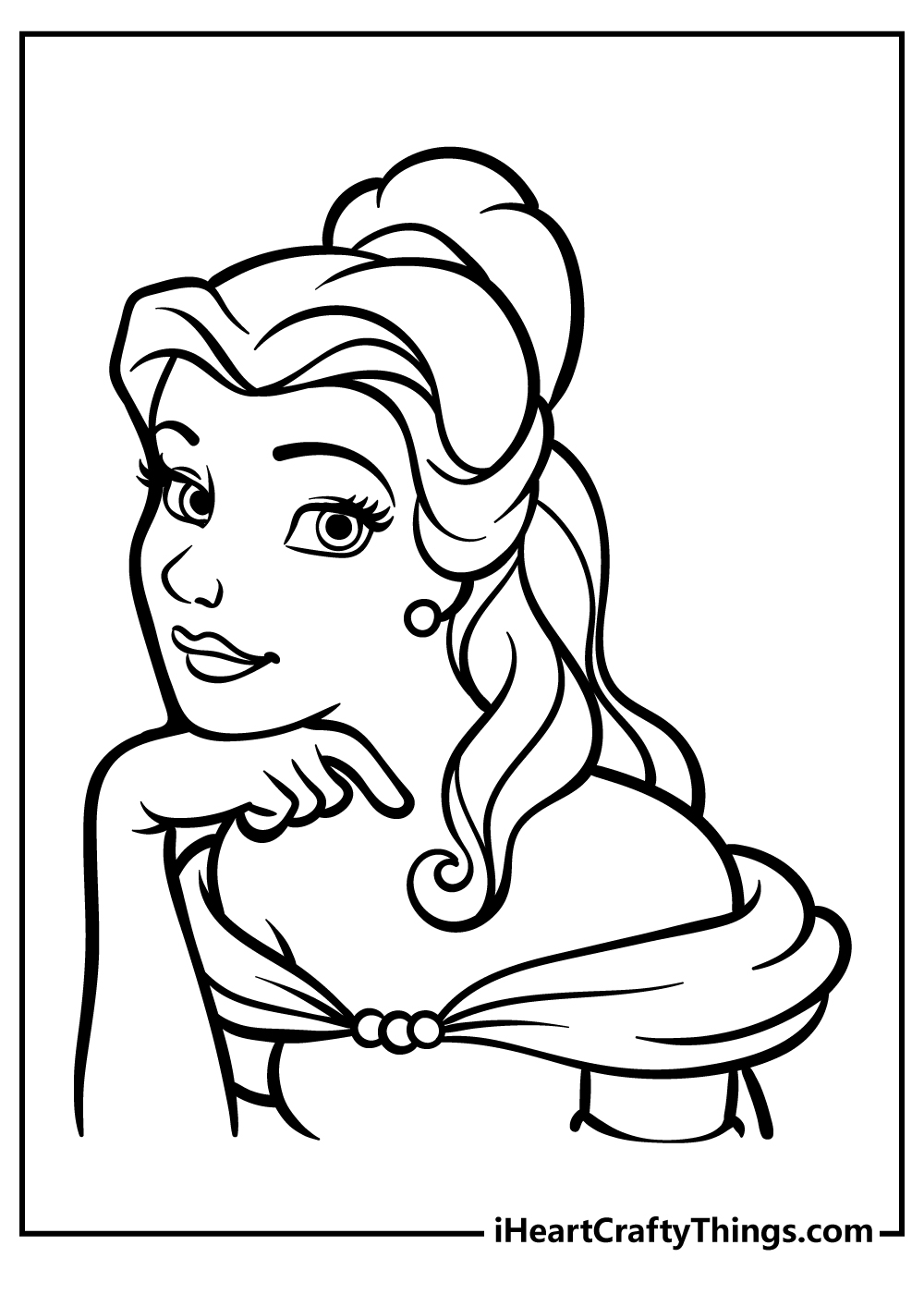 Another gorgeous portrayal of Belle is here for you to color with this twelfth page!
Her hair is flowing beautifully in this one, so one suggestion would be to use some paint with large, expressive brushstrokes to capture this flowing movement with color.
What other art techniques would you like to use here?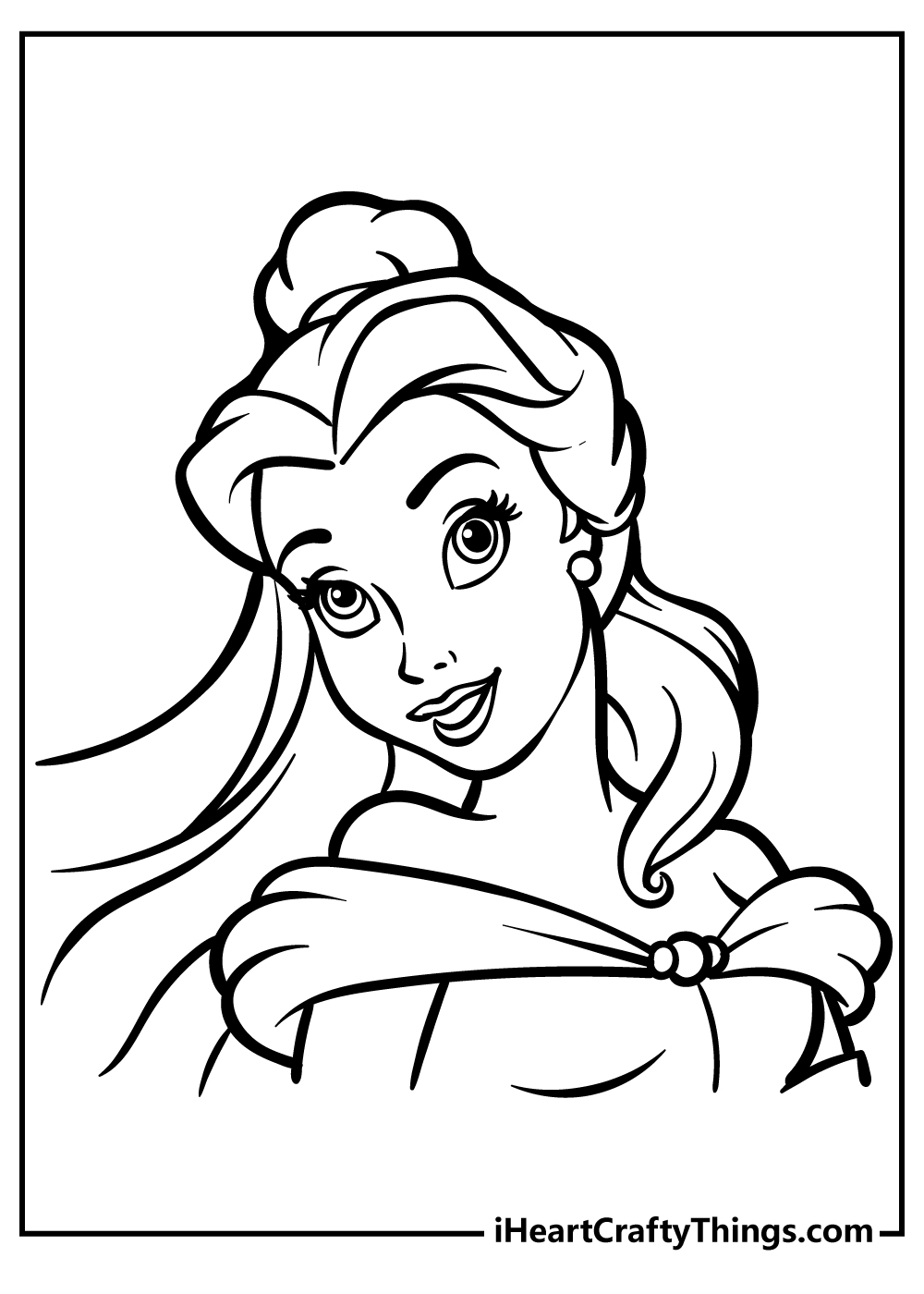 There is another glamorous portrayal waiting for you in this next page! There are some more amazing details here, and this time we get a bit of a better look at her dress details.
Will you give Belle a color makeover here, or will you give her a look that more closely captures her appearance in the movies?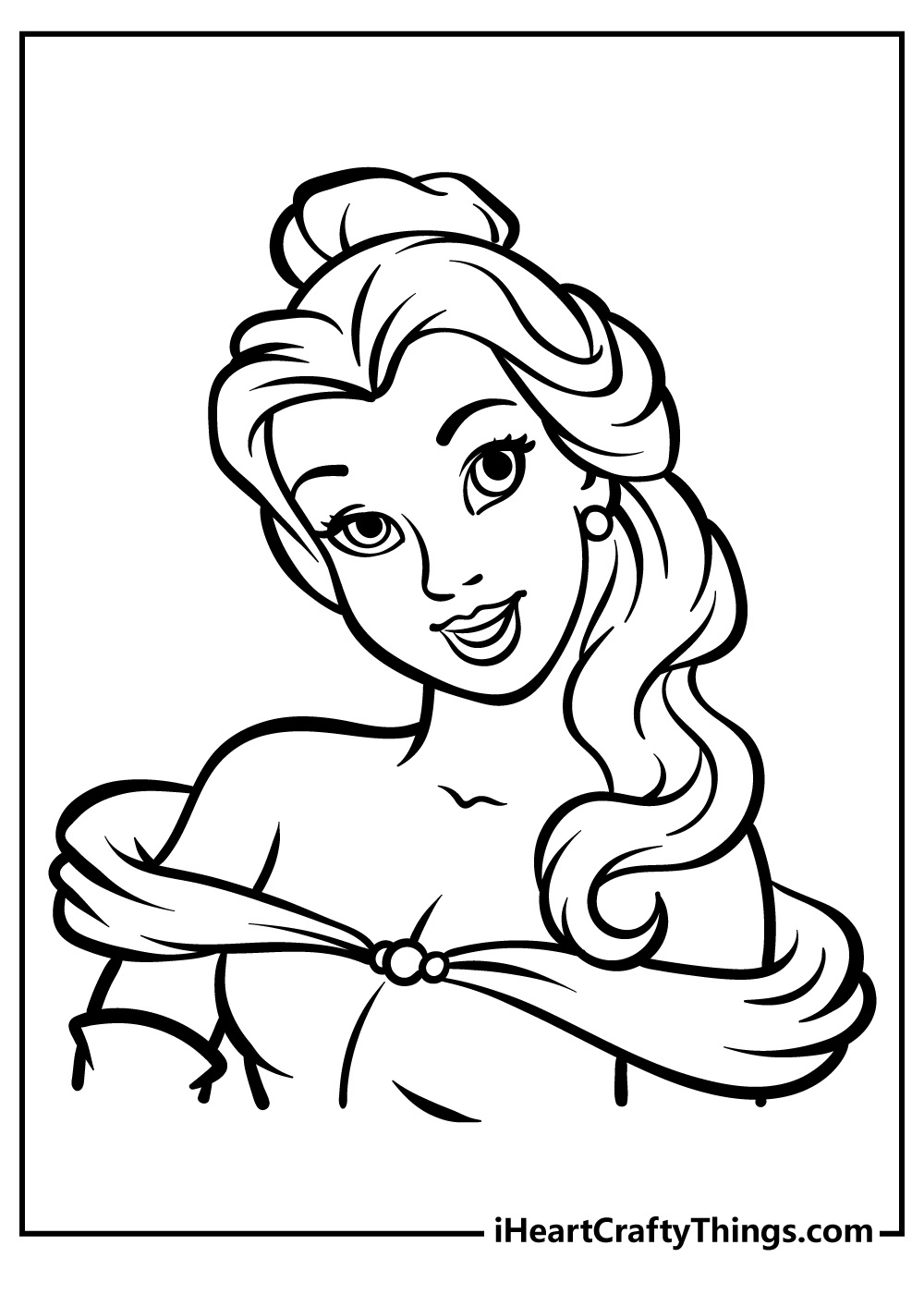 This might be the closest look we've gotten at Belle in this collection!
This image is really fun and creative, and we think it would look even better if you added some shapes, details or colors to the background.
What can you think of that would add even more dimension to this picture? When it's done, you will then be ready for the final page!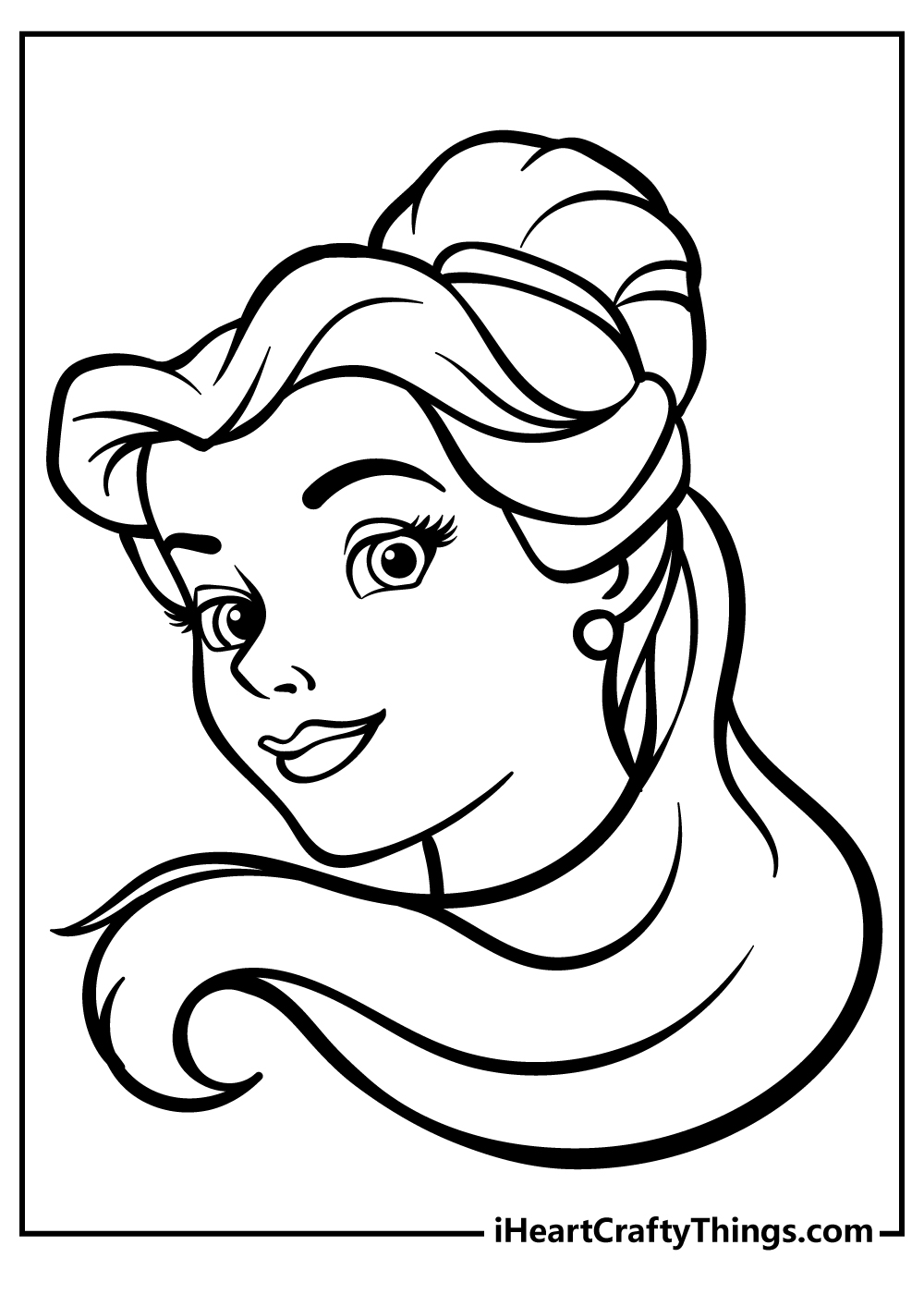 We're closing things off with one more delightful Belle coloring sheet for you to enjoy. She is looking very happy here, and there is such a bright feeling given off by this one.
We would go all out with our favorite bright colors if we were coloring this one, and we would use mediums such as colored markers or acrylic paints for colors that pop!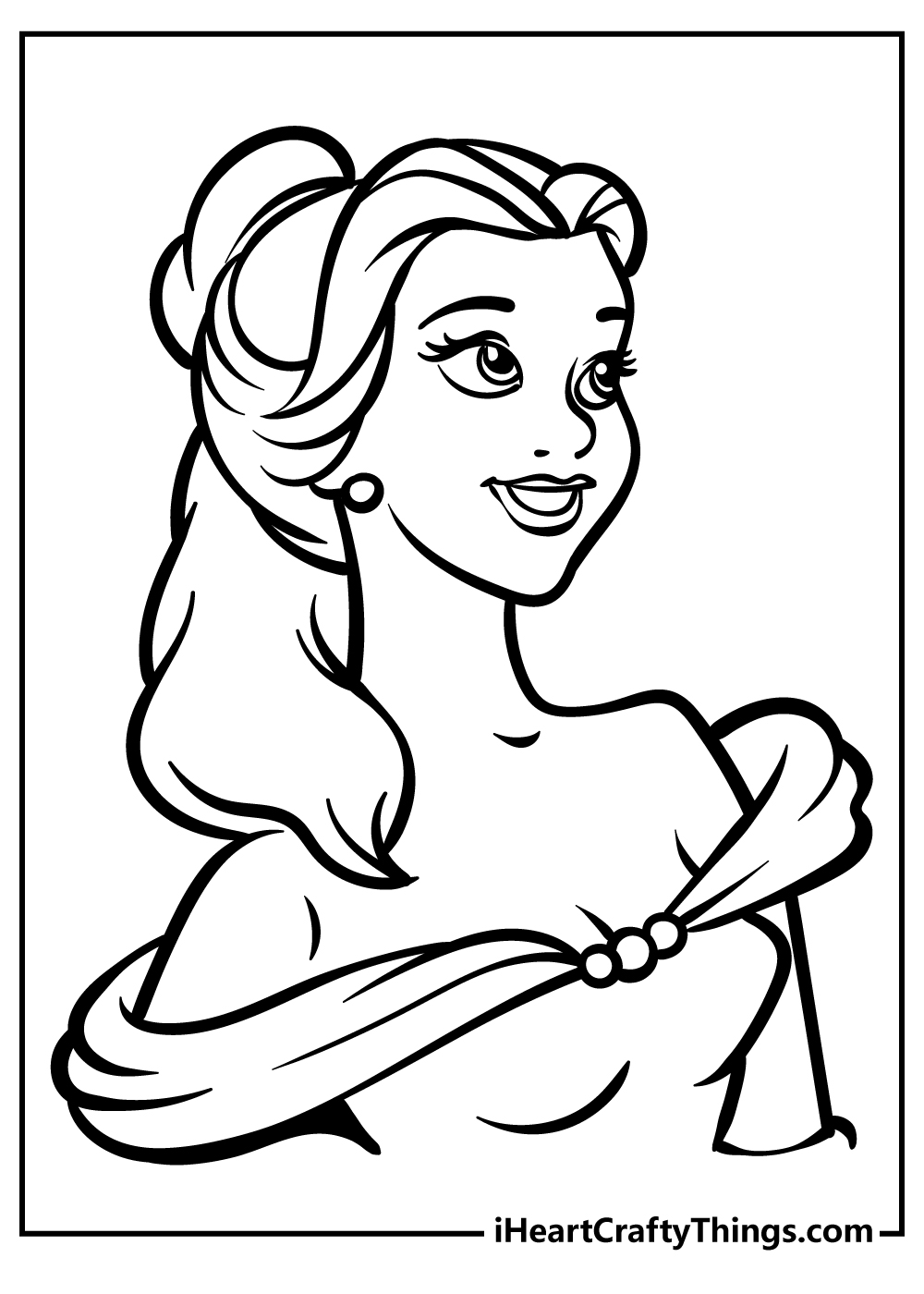 Belle Coloring Pages – Which will you choose?
That will conclude this collection of free Belle coloring pages for kids! We hope you had an amazing time reliving some of your favorite Belle moments as you expressed yourself with these pages.
Don't forget to share these pages with other Belle fans you know!
You can also check out many more coloring page collections on our website, and then you can share some of your finished Belle pages on our Facebook and Pinterest pages!