On this page, you will find 30 all new Cinderella coloring pages that are completely free to print and download.
Growing up, there are many classic fairytales and stories that we get to enjoy.
Some of these are very well known around the world, and the story of Cinderella is one of the most famous, thanks in large part to its popular Disney film adaptation.
This collection of free Cinderella coloring pages for kids features 15 images from this classic story for you to color and share with others!
We're sure you will fall in love with this story all over again during this collection.
When you have chosen and colored your favorite pages, you can share the results of your creativity on our Facebook and Pinterest pages for us to see!
30 Brand New Cinderella Coloring Pages – Free to Print and Color
This Cinderella coloring sheet gives us an incredible look at all the small details of the amazing gown that she wears in the movie.
She seems to be twirling around, and it creates all sorts of folds and flowing fabric that you can then color in.
She has a few different looks featuring colors like blues and pinks in her movies, so you have a few options for how you could color her outfit here.
If you have a favorite look from the films, do you think you will replicate it here or will you give her a unique makeover?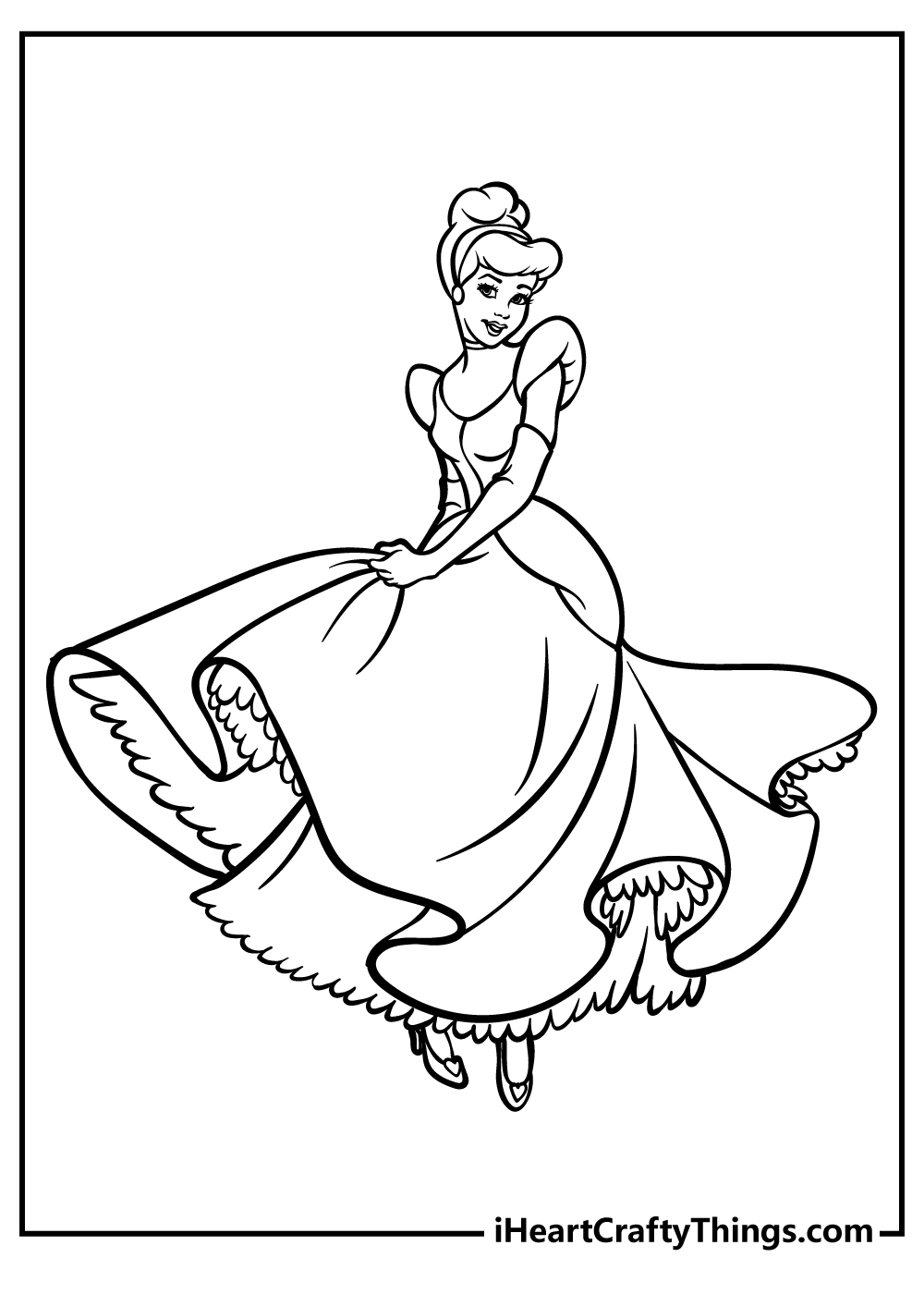 We get a closer look at Cinderella in this next image we have for you!
This picture shows off the details of her facial expression wonderfully, and you can see some of the finer details of her dress as well.
Once again, this kind of picture provides you with the chance to either replicate one of your favorite looks for her from the films or use a unique approach.
When you have colored this portrayal of Cinderella, you could also draw some more details or maybe even add a background to finish off the scene of this page.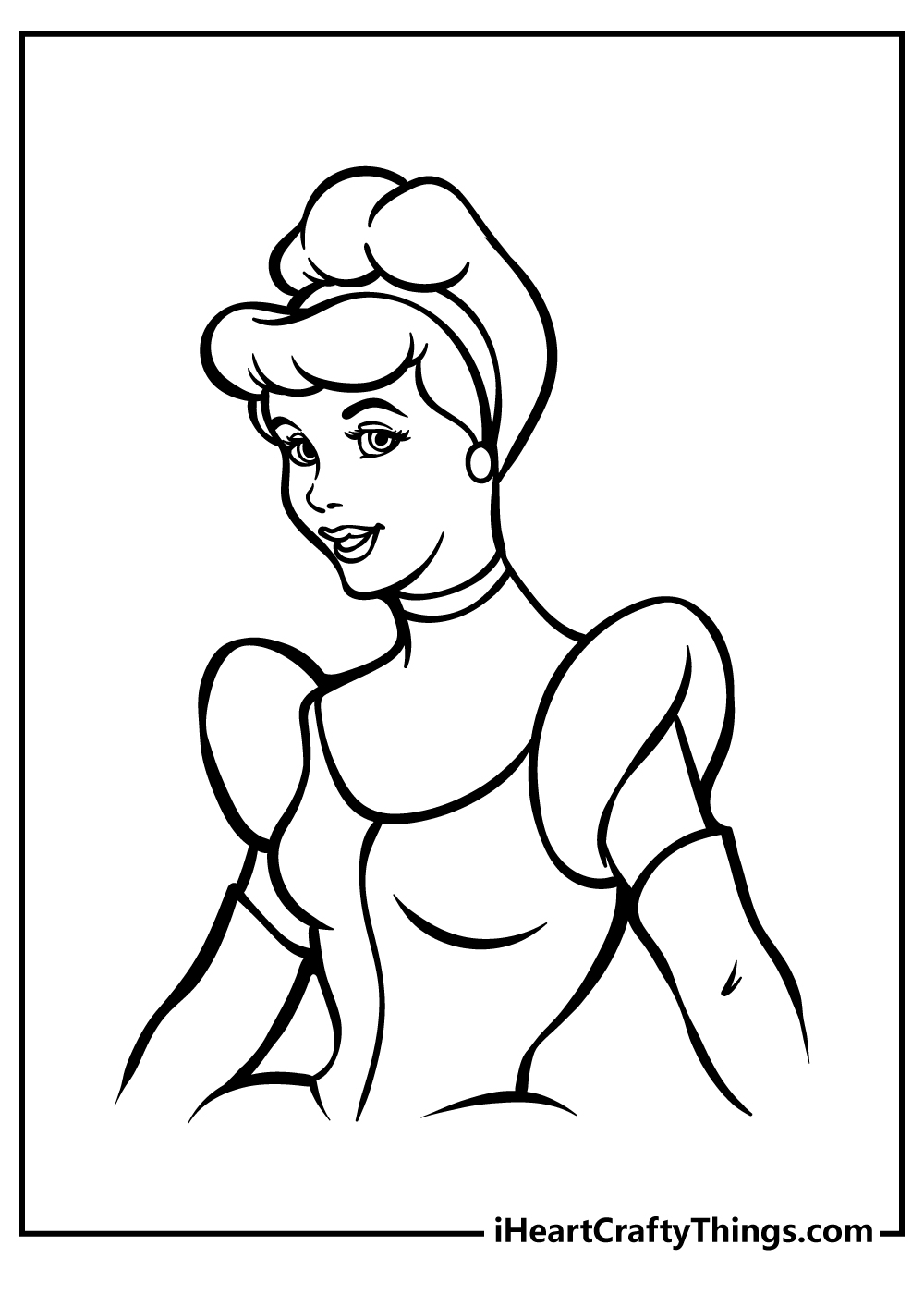 This coloring sheet features Cinderella in a stunning ball gown. She is standing in front of a magnificent palace with elegant pillars and decorations.
She is wearing a sparkling tiara and necklace, and her hair is styled in a sophisticated updo.
Her gown has puffy sleeves and a full skirt that will be so fun to color. Add lots of glitter and sparkle to the dress to make it dazzling.
You can also color the palace pillars and arches in royal colors like purple or gold.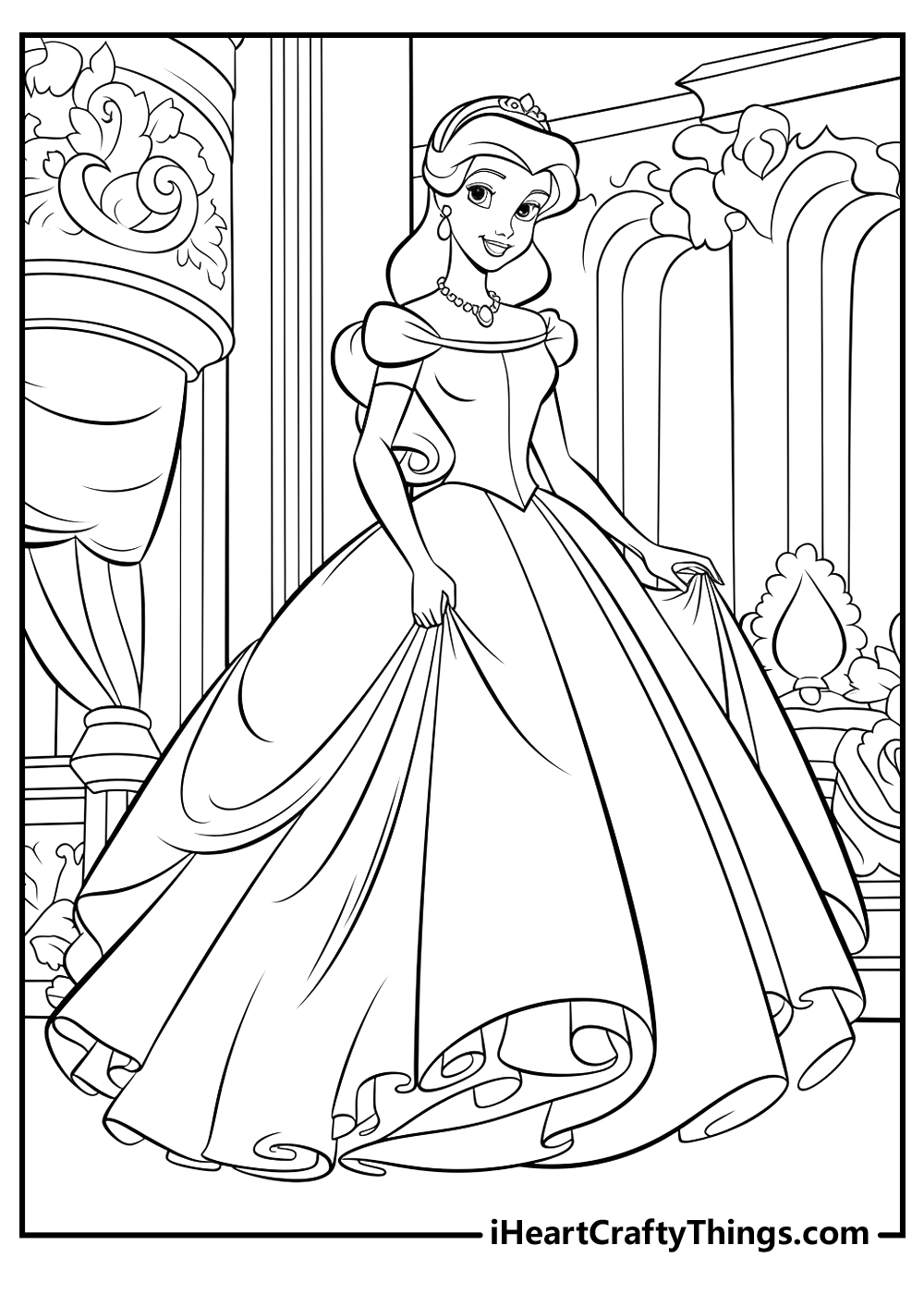 We have a lovely portrayal of this famous character for you to color in this first page of our collection of free Cinderella coloring pages for kids!
She is in one of her classic outfits from the film here, and that gives you some inspiration for colors to use unless you would prefer to give her a unique look instead.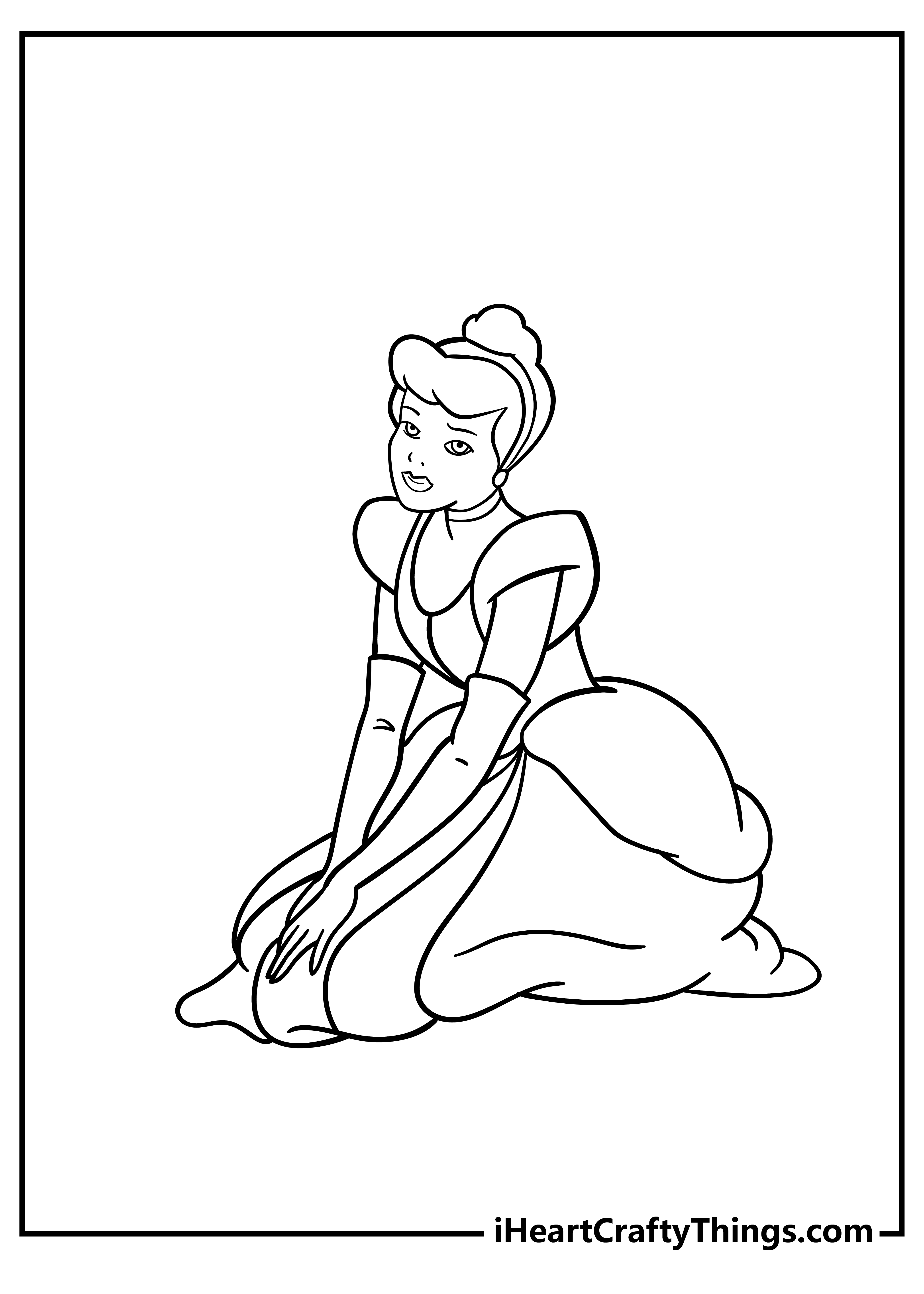 It's a really charming scene from the film that we have for you to color this time! Here Cinderella is dancing with the prince at a fancy ball, and it represents one of the film's most magical moments.
Which colors will you use to represent the fanciness and magic of this scene?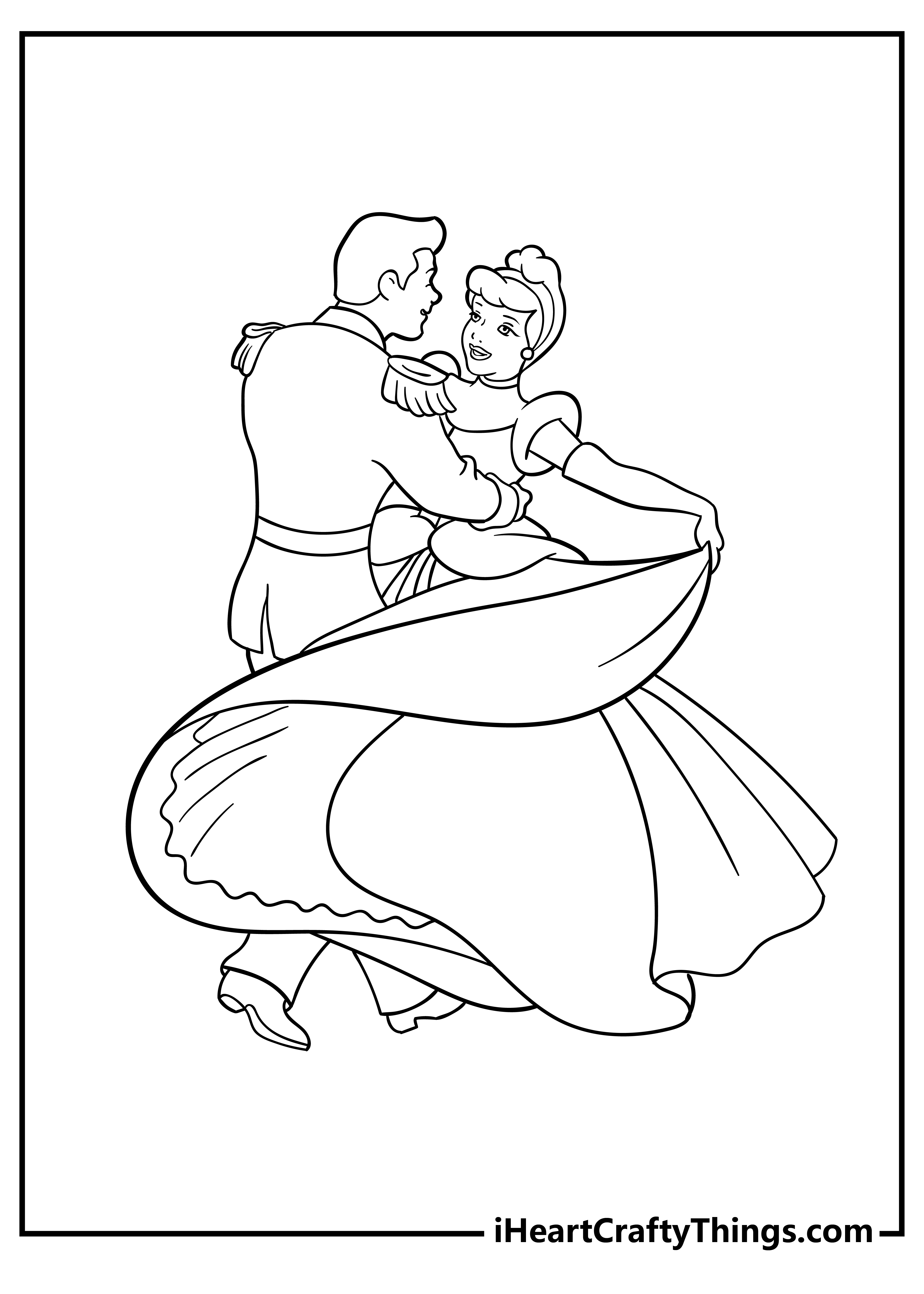 Cinderella is ready to dance the night away at the royal ball. Her gown is off the shoulder with a full skirt that flows elegantly. She looks like she is ready to dance at the royal ball.
The background of this page shows some pillars, a vase, and a plant that add some detail to the scene.
You can color this page with any medium you like, such as crayons, markers, pencils, or paints
Use your imagination and creativity to make this coloring page your own. Have fun.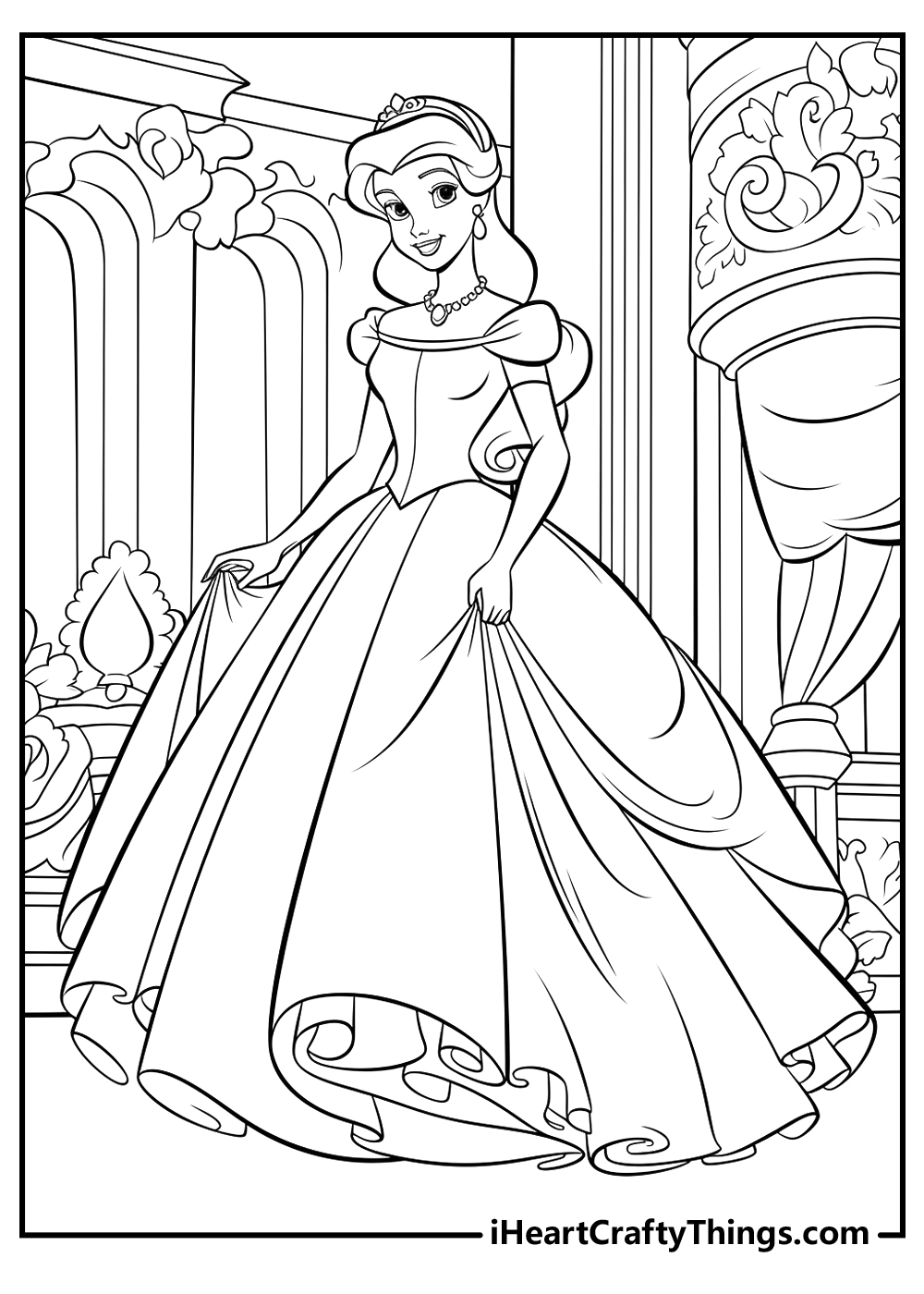 Another stunning close-up of Cinderella is presented here, and it shows her in her fancy ball gown look.
For this look, you will notice that she has some transparent fabric over her shoulders, and you can represent these with the art tools and mediums you use.
We would use some softer mediums for these details, and some you could try out would be colored pencils or watercolors.
You could then use darker colors and mediums for some of the lines in these areas to create the illusion that they are transparent.
What are some other mediums or techniques you could use for this transparent fabric?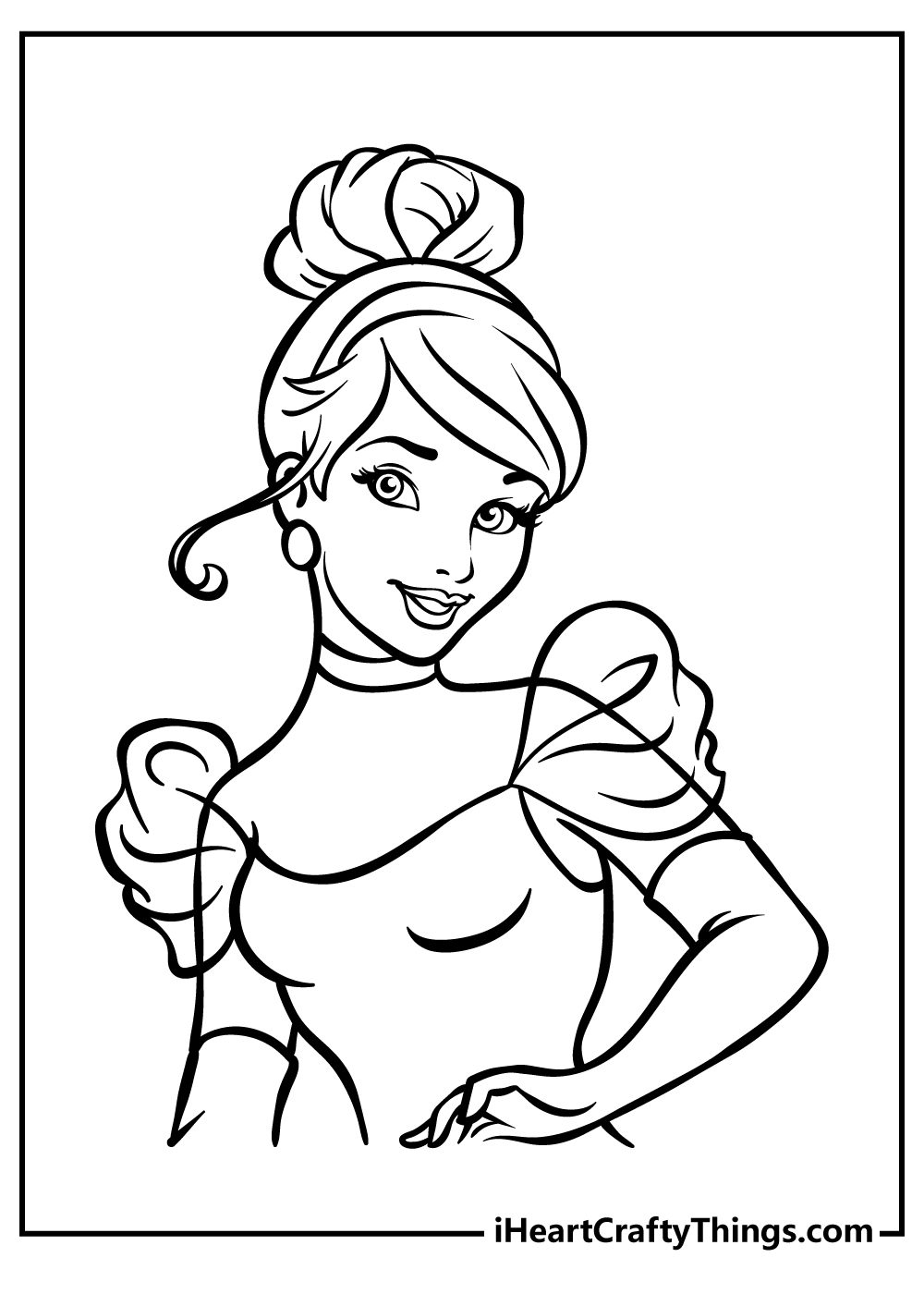 This next page in our collection of free Cinderella coloring pages for kids features a delightful portrayal of this classic character.
We get to see a good portion of her dress, and she has such a wonderful facial expression and pose.
If you're feeling extra creative, you could print this picture smaller on a large piece of paper and draw the rest of her outfit.
You could use some of the other pages from this collection to help, or you could put on the movie and freeze the frame to get a better look at the details.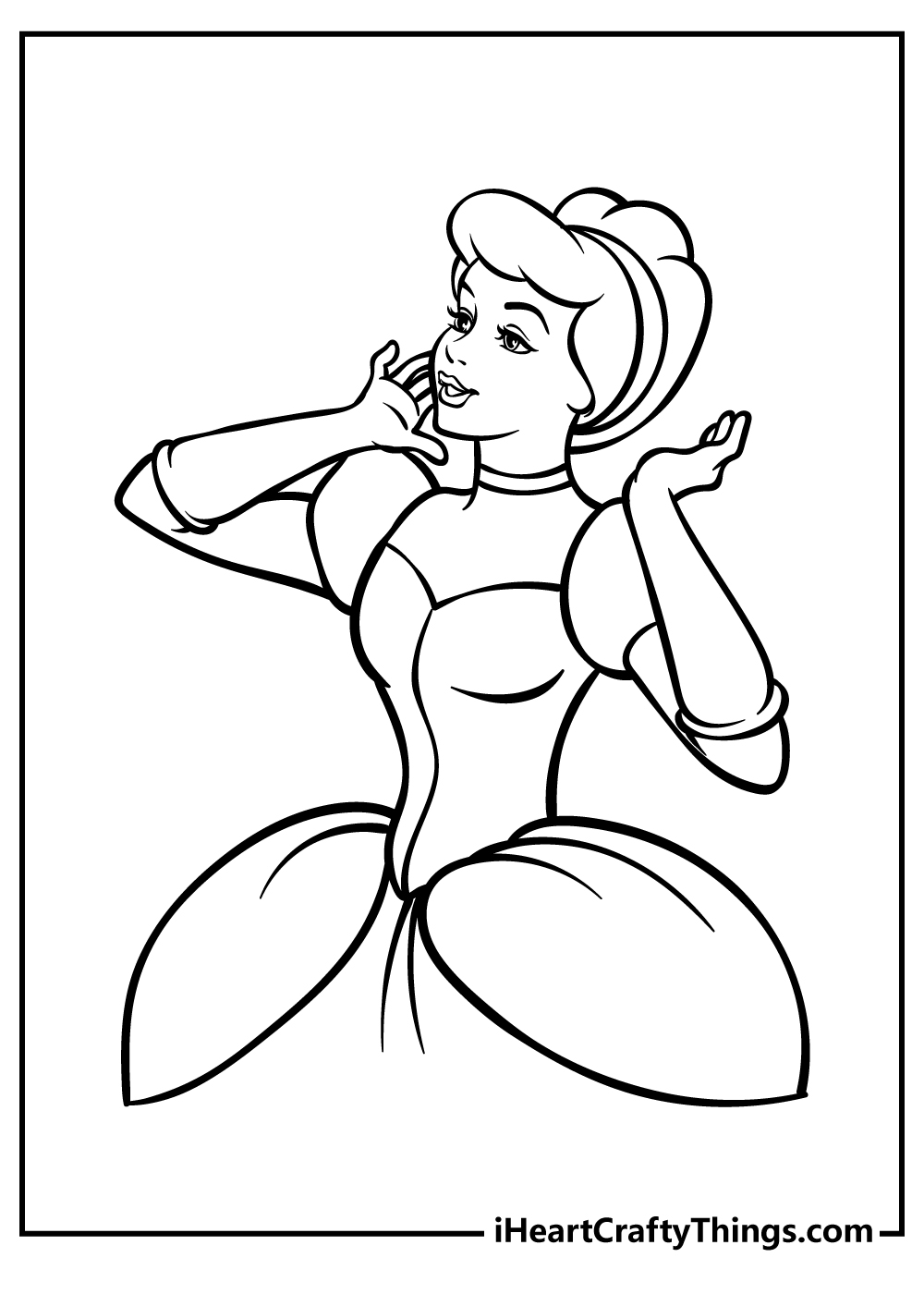 We have a great close-up of Cinderella for this third image of the collection. There are a few different ways you could go about coloring this one, and you can really get creative with it.
Will you color the background a solid color or maybe add some shapes and patterns?
It's up to you, so let your creativity flow!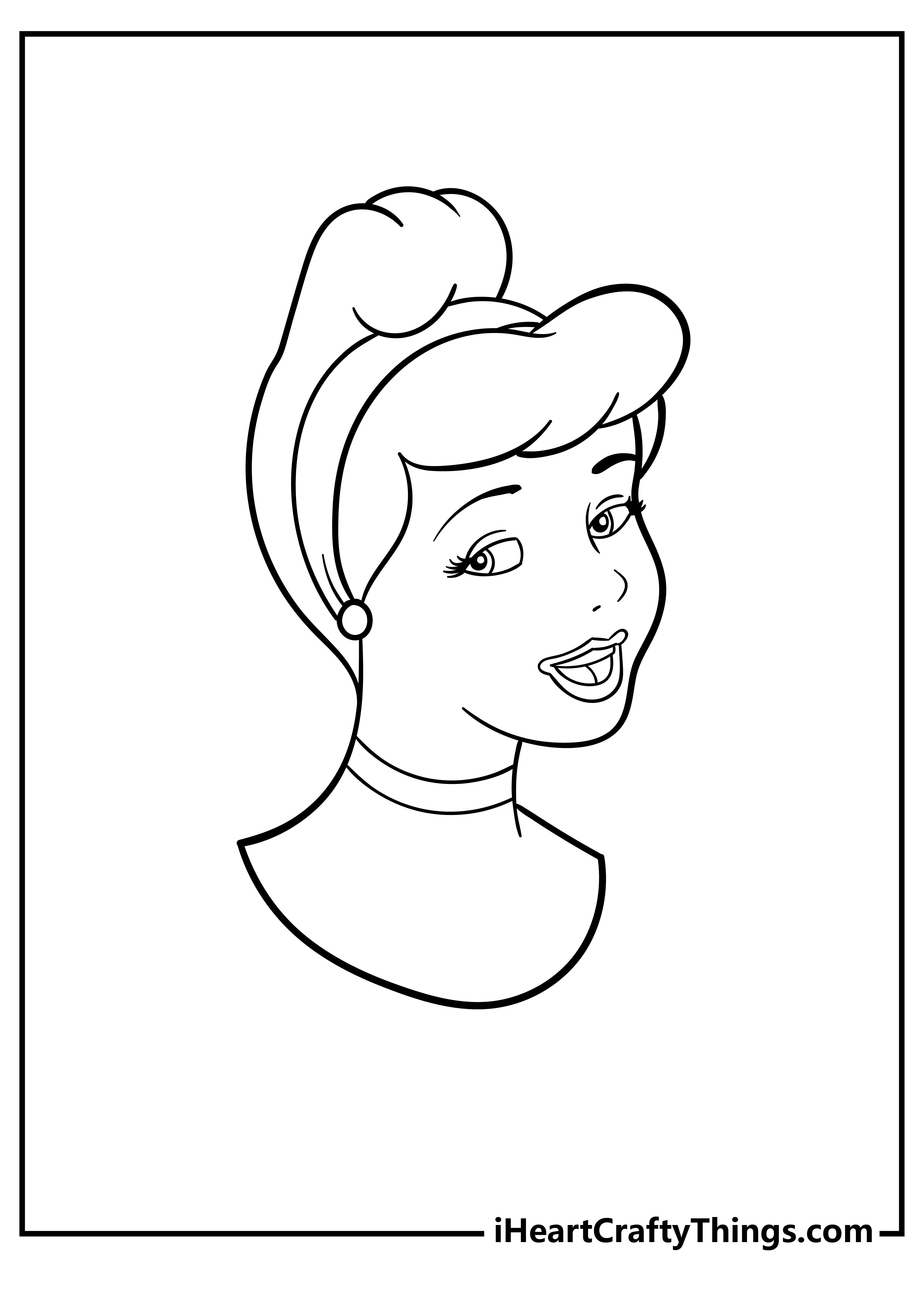 This coloring page shows an incredible scene of Cinderella in a gorgeous ball gown descending a staircase. She has a tall, elaborate hairstyle and is wearing a pearl necklace and earrings.
Her gown is off the shoulder with a sweetheart neckline and a full skirt that looks stunning.
How will you color this amazing coloring page? Will you use warm colors or cool colors? Will you add some patterns or textures to make her gown more elegant?
Remember, all our Cinderella coloring pages are free to use, print, and share with your friends.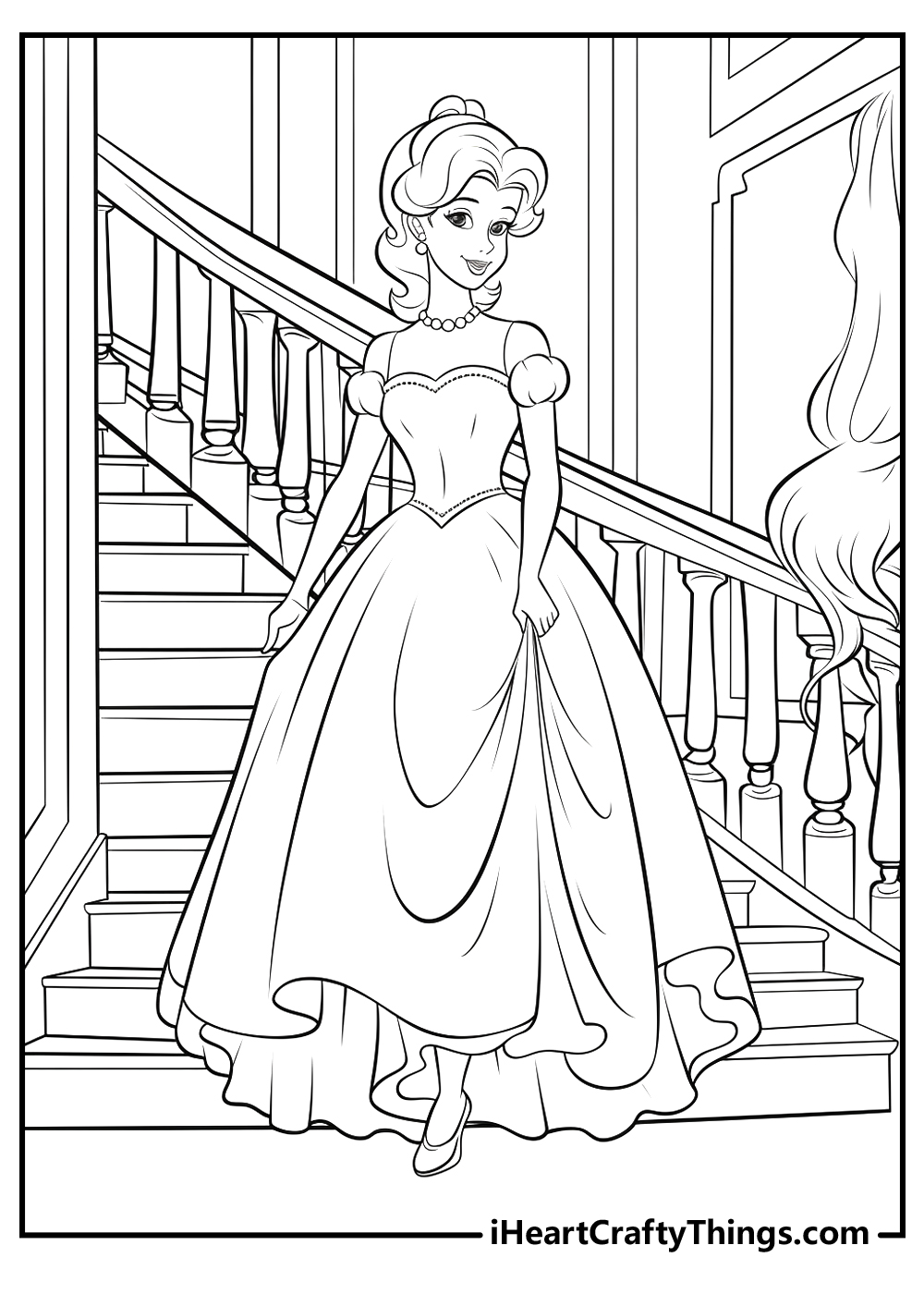 Cinderella is doing some watering in this next picture that we have for you. This is the kind of page where you could draw some extra details to color in.
One idea would be to draw some pretty flowers that she is watering. If you were to do that, you would also have some extra little fun details to add some color to!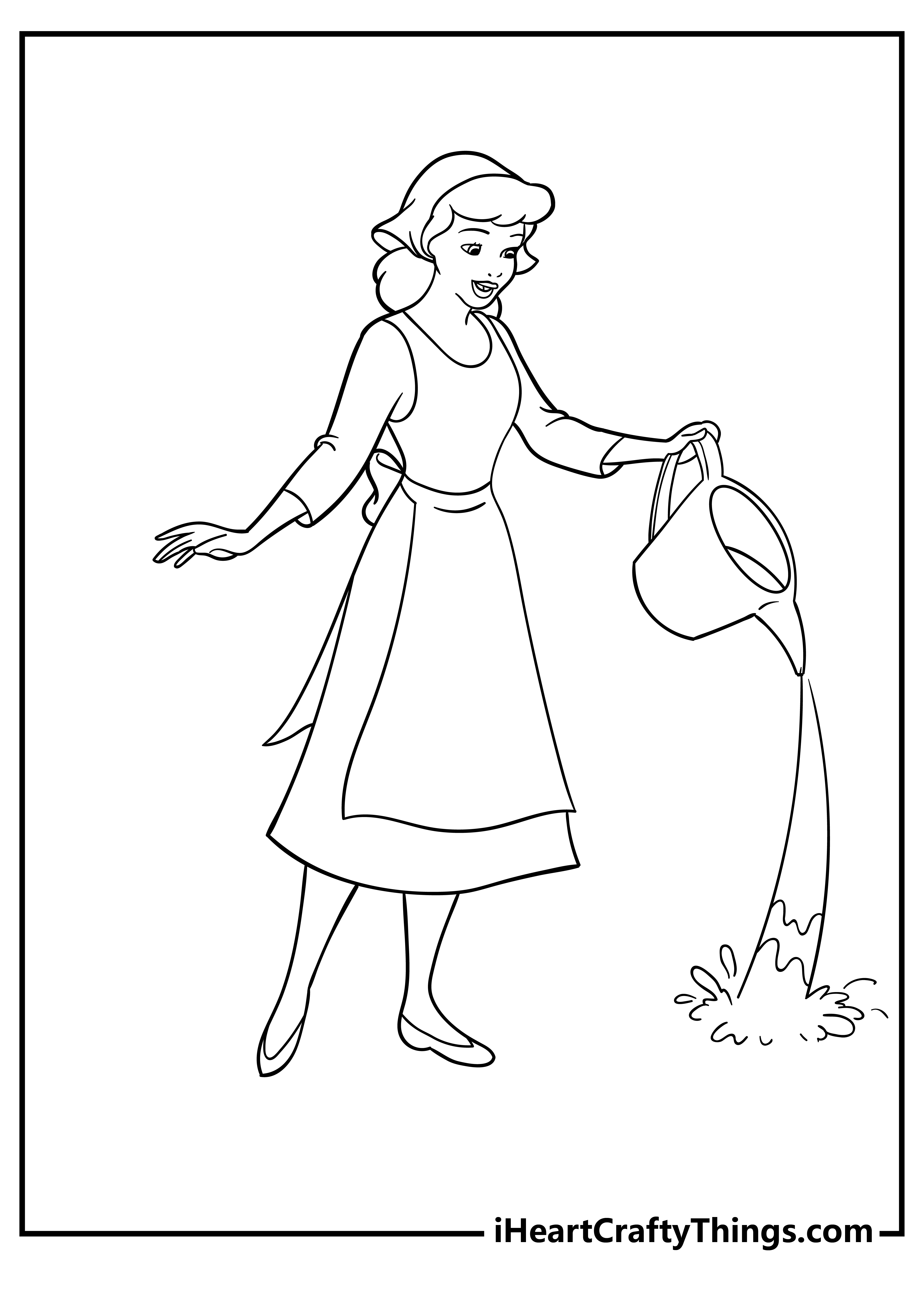 This story isn't all fun and games for our hero, and this Cinderella coloring sheet shows one of her low points in the story.
For this reason, we would use some duller, lighter colors for this scene to replicate the mood of the image.
Watercolor paints and colored pencils would be some great options for this one, but what will you choose?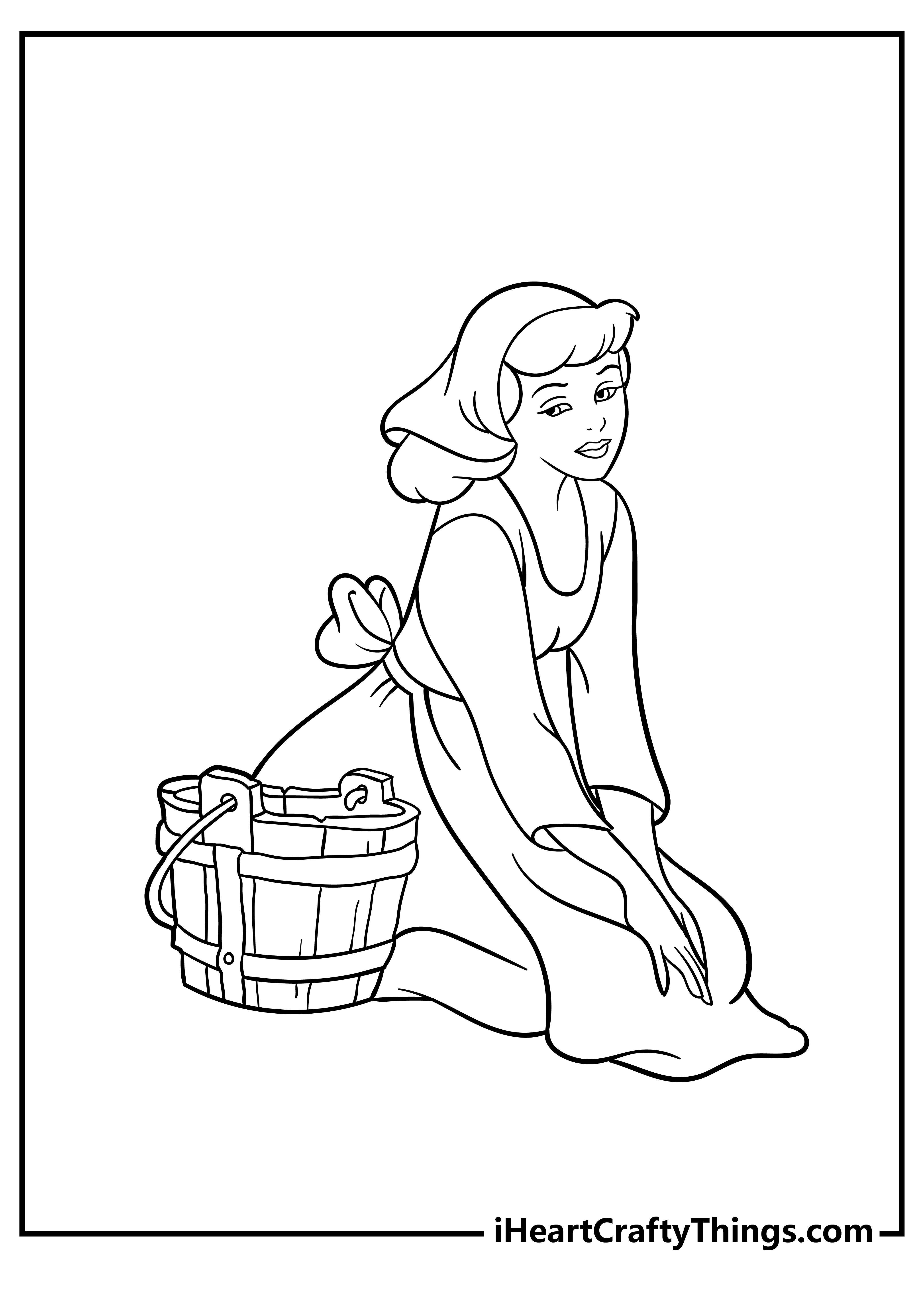 One of the most iconic aspects of this story involves the glass slipper that Cinderella wears, and this page captures the moment of her putting it on.
Apart from the slippers, she is dressed in the more casual outfit that she wears as she performs chores for her evil stepmom.
For that reason, we would keep the colors light and dull for her outfit while using some brighter colors for the fancy slippers.
That would help to make this page even more thematic, but what other ways could you color this page?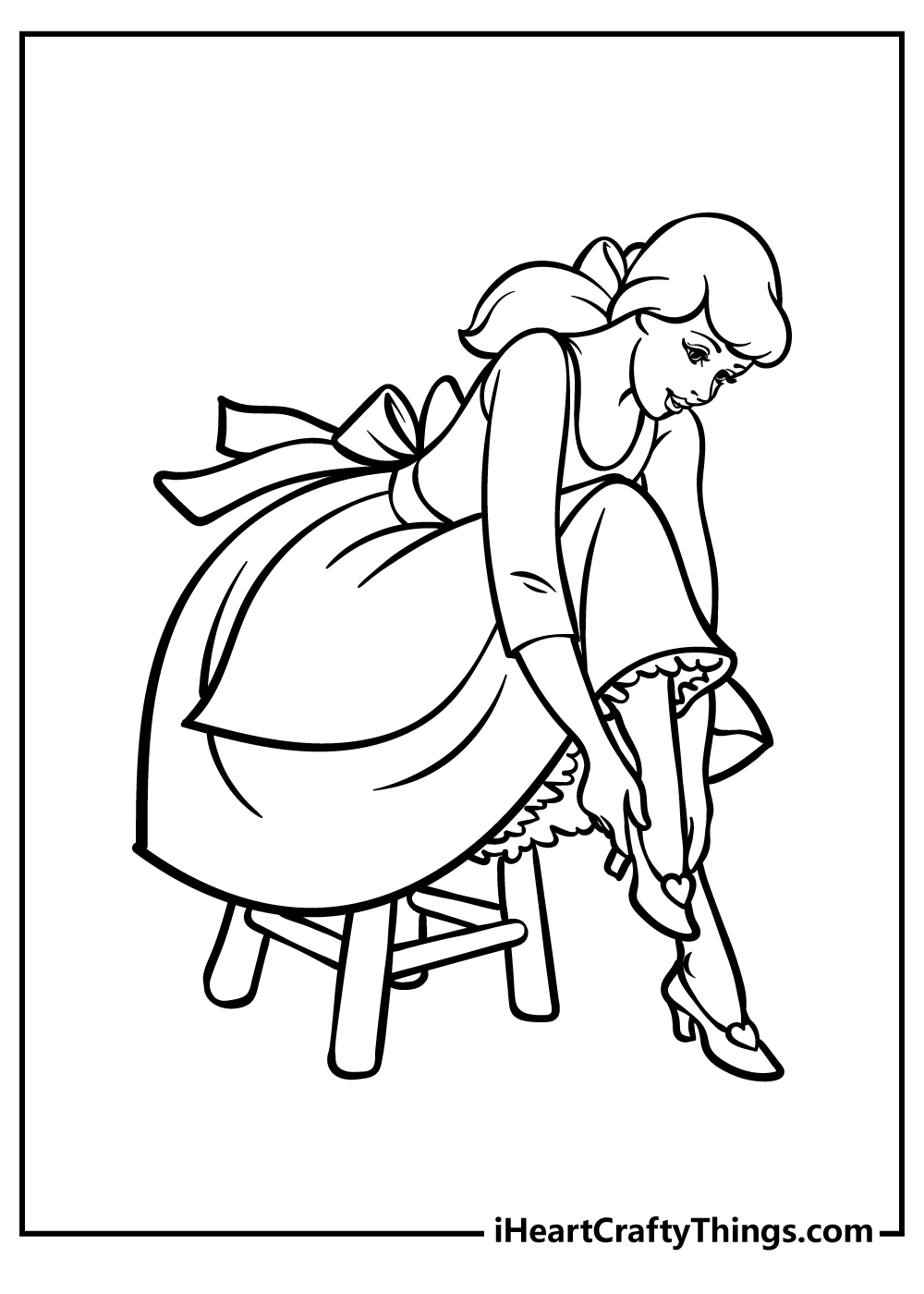 We have another really pretty picture of Cinderella in her finest gowns for you to color on this next page!
There are so many great details to admire here even though we only see a small portion of the character.
Details such as her tiara, necklace and gown will provide you with plenty of opportunities for some amazing color details.
She is also wearing a pretty veil behind her head, and this would be great with some nice, soft colors to also give it that transparent look.
We look forward to seeing how you color this wonderful portrayal of Cinderella!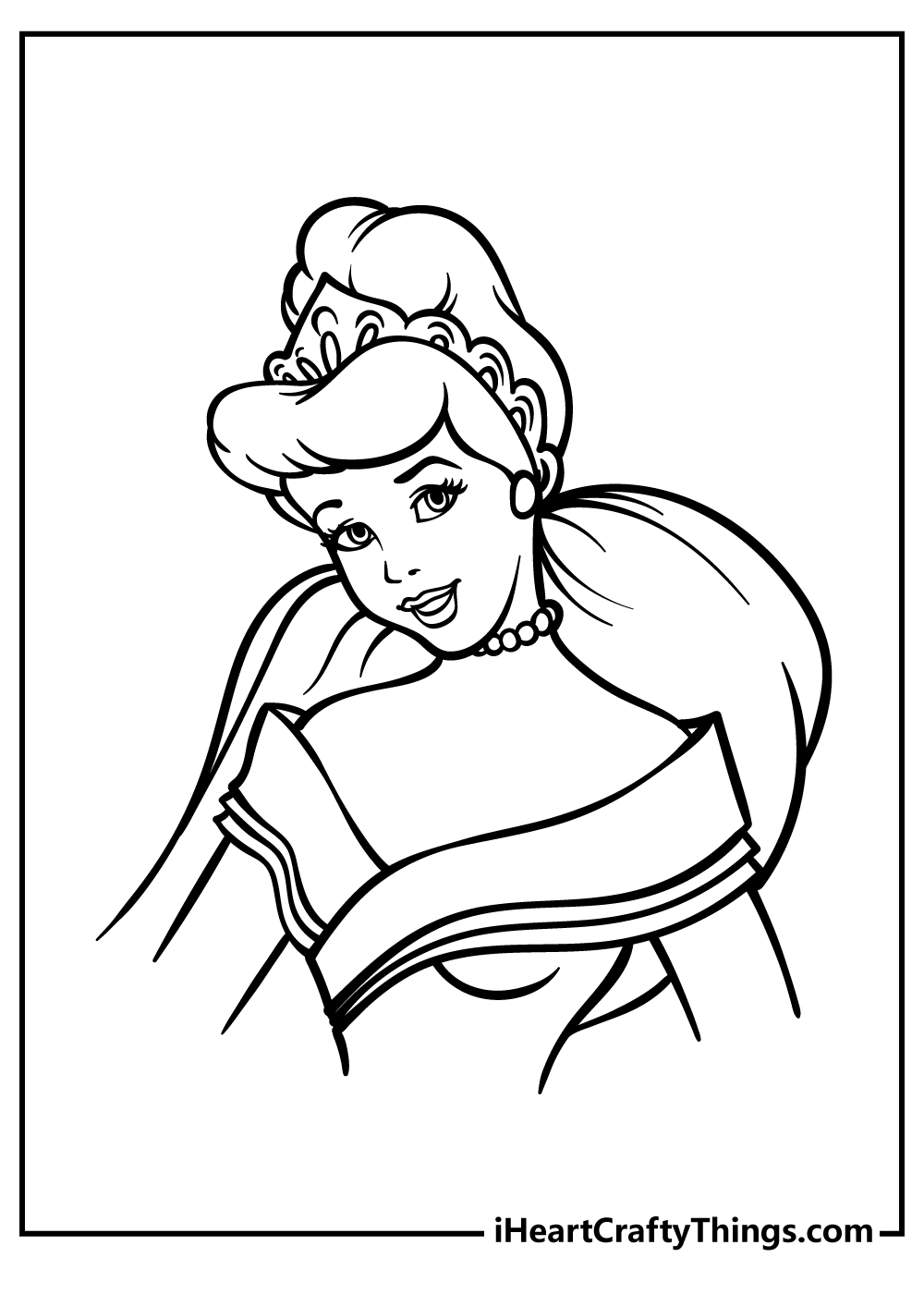 This Cinderella coloring page depicts a wonderful scene of Cinderella in a magnificent ball gown standing in front of a background of ornate pillars and arches.
She is wearing a tiara and a necklace with a rose pendant.
Make sure to color the rose beautifully. Will you add some flowers or stars to make her gown more romantic?
And don't forget to color the arches and pillars in the background. You could make them look like marble or add golden details.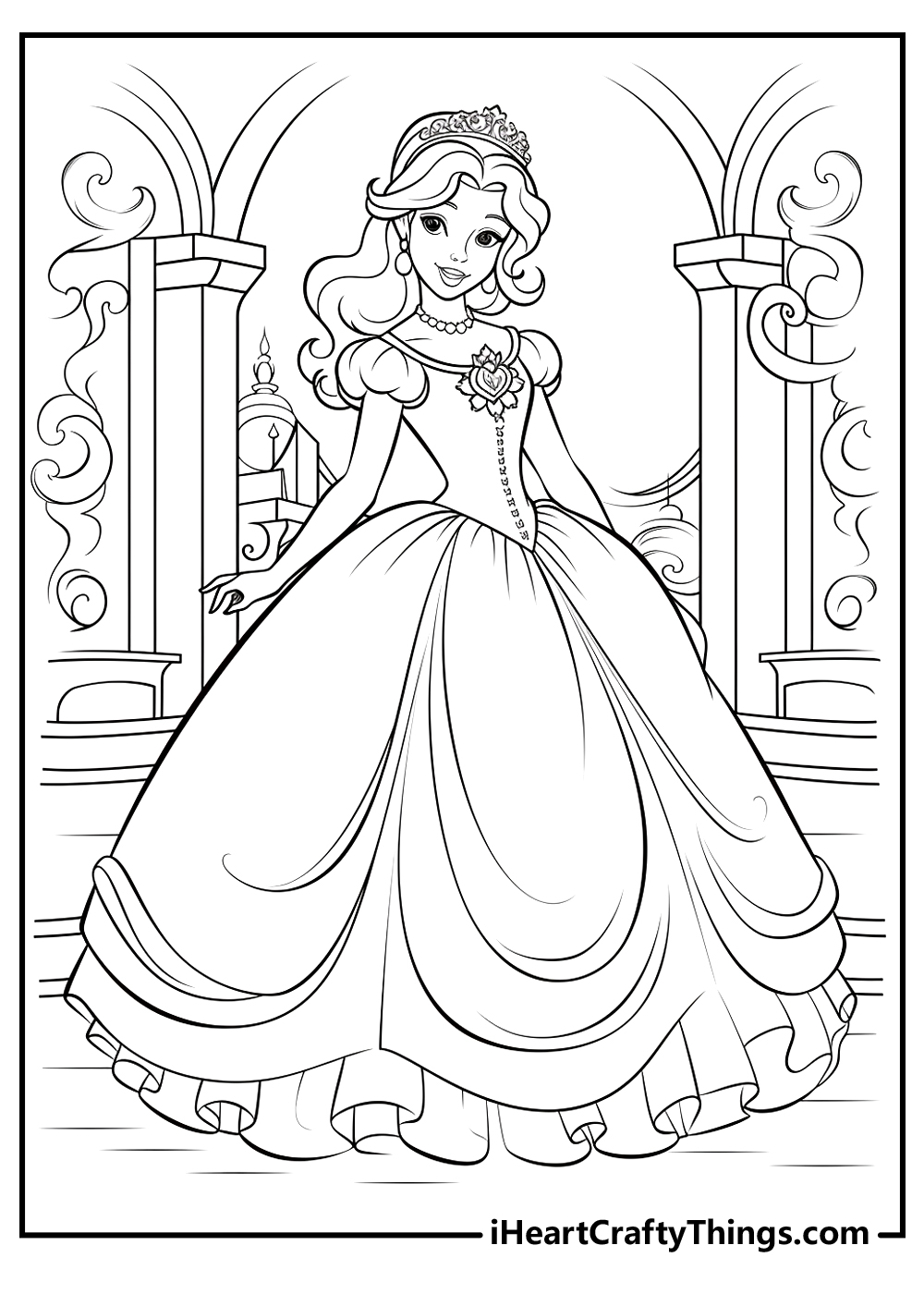 We're back to a slightly happier image with this next one.
Cinderella seems to be enjoying a quieter moment in between the chores that she has to do, and she has a dreamy expression on her face.
What do you think she is thinking about in this one? Maybe you could draw a bubble over her head to show what she could be contemplating.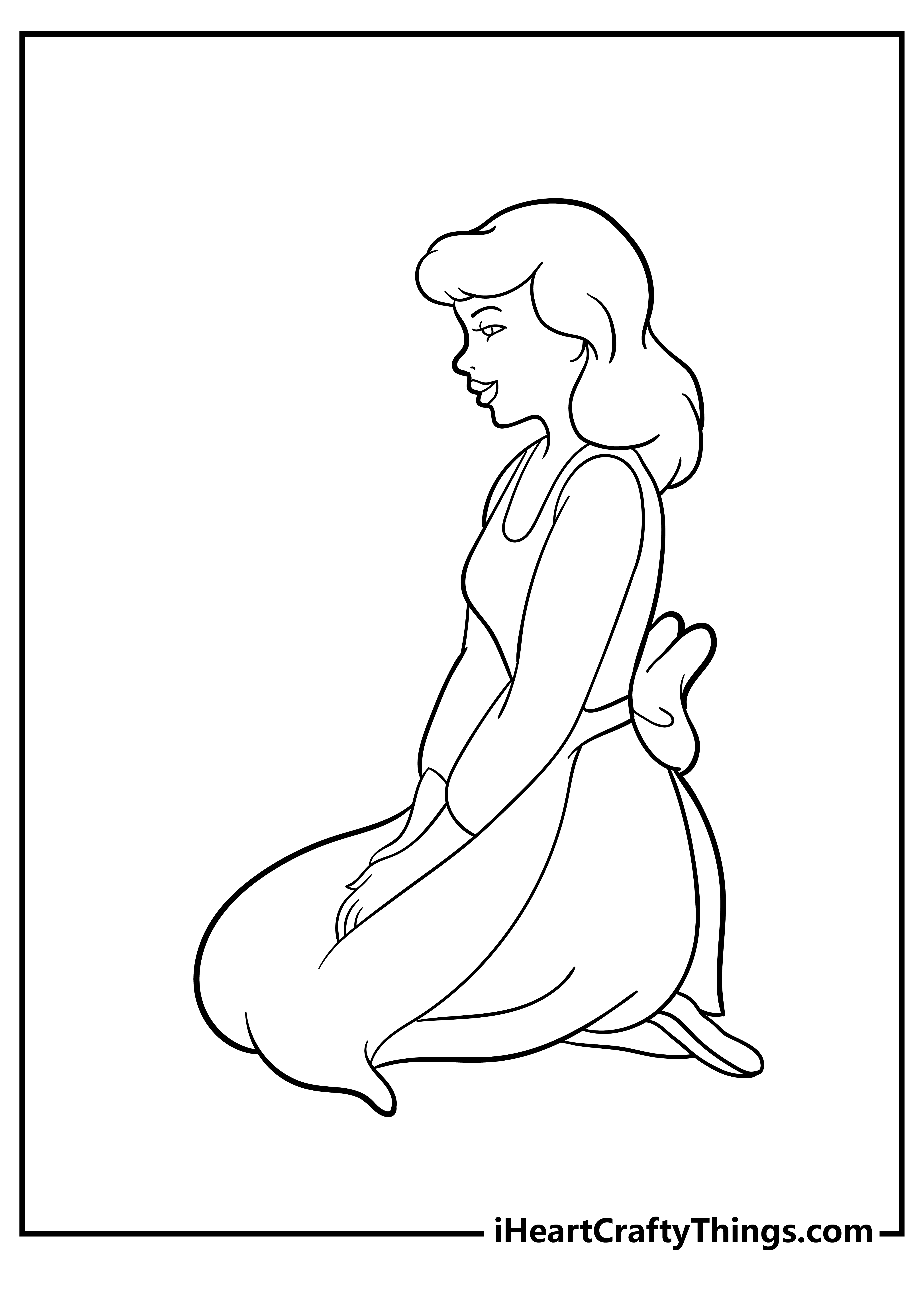 This next page is such a fun and charming scene for you to color.
Cinderella is enjoying a happy moment as she dances with her broom, and it is a moment that shows you can have some fun no matter what you're doing!
What fun colors will you use for this charming scene?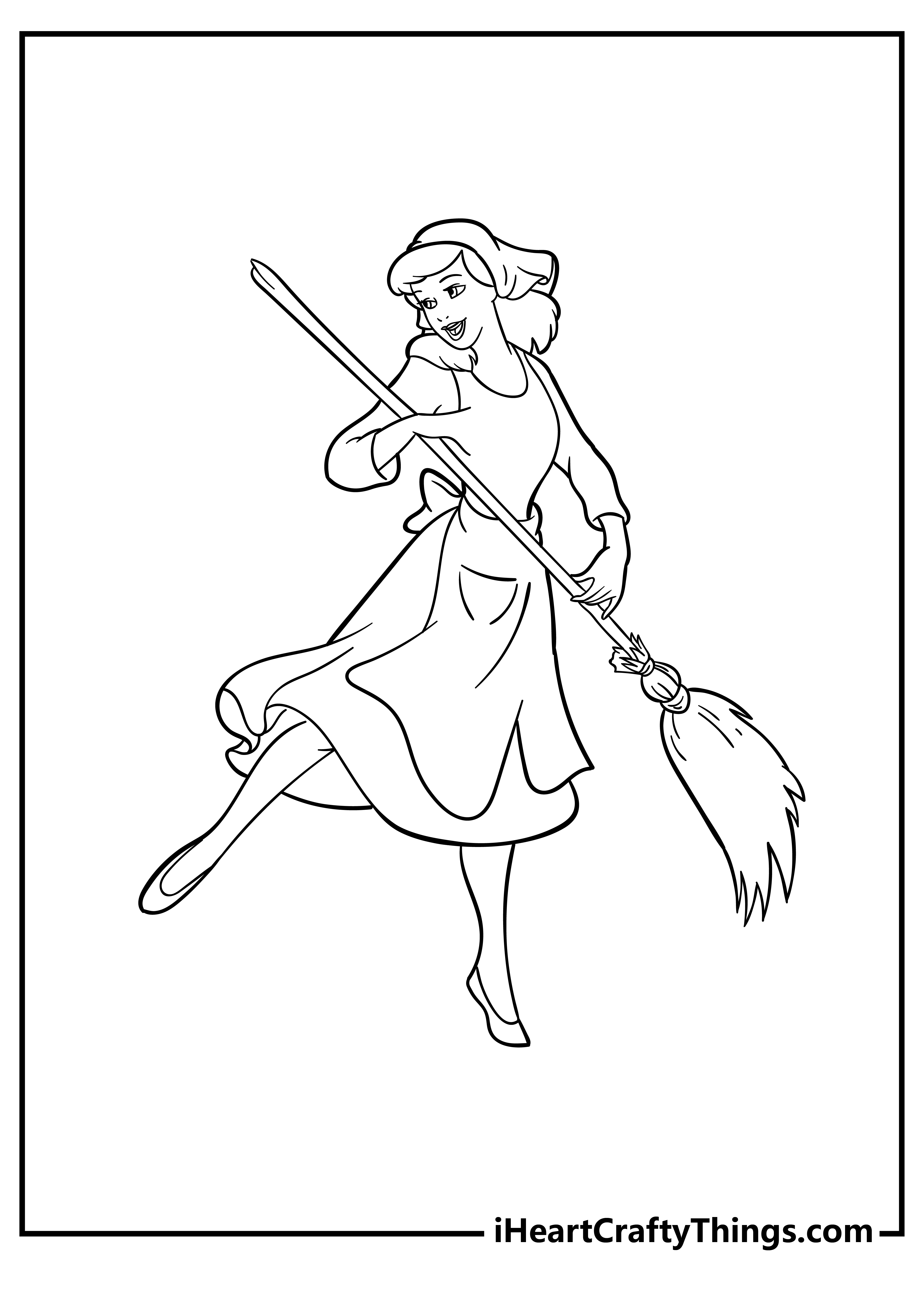 Cinderella is going to the ball. She looks so happy in her beautiful gown with a puffy skirt. Let's make her dress look extra special by adding lots of patterns or gradients.
She looks like she is happy and confident.
You could also give Cinderella a fun hairdo by coloring her hair pink or blue. In the background, there is space to draw Cinderella dancing at the ball.
You could add fancy guests, a big chandelier, and lots of balloons and confetti..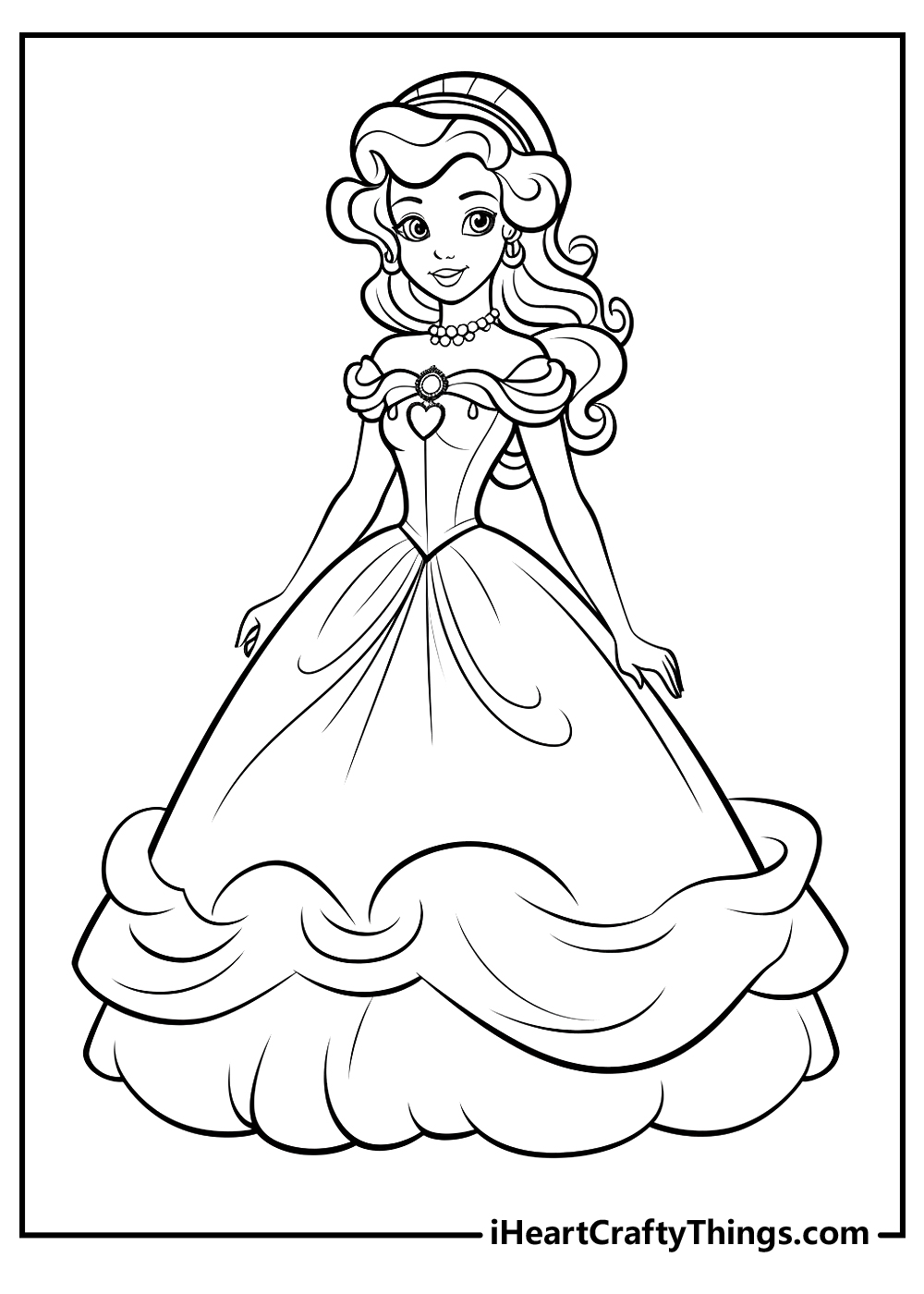 We love how expressive this next Cinderella coloring printable is in its portrayal of this famous character.
The way she looks here makes it look like she could be saying "Who, me?" to someone who is looking at her. That is one possibility, but there are lots of things she could be saying.
If you have some ideas as to what it could be, you could draw a speech bubble over her head and write what you think she could be saying inside of it.
Do you have any favorite Cinderella quotes you could use for this?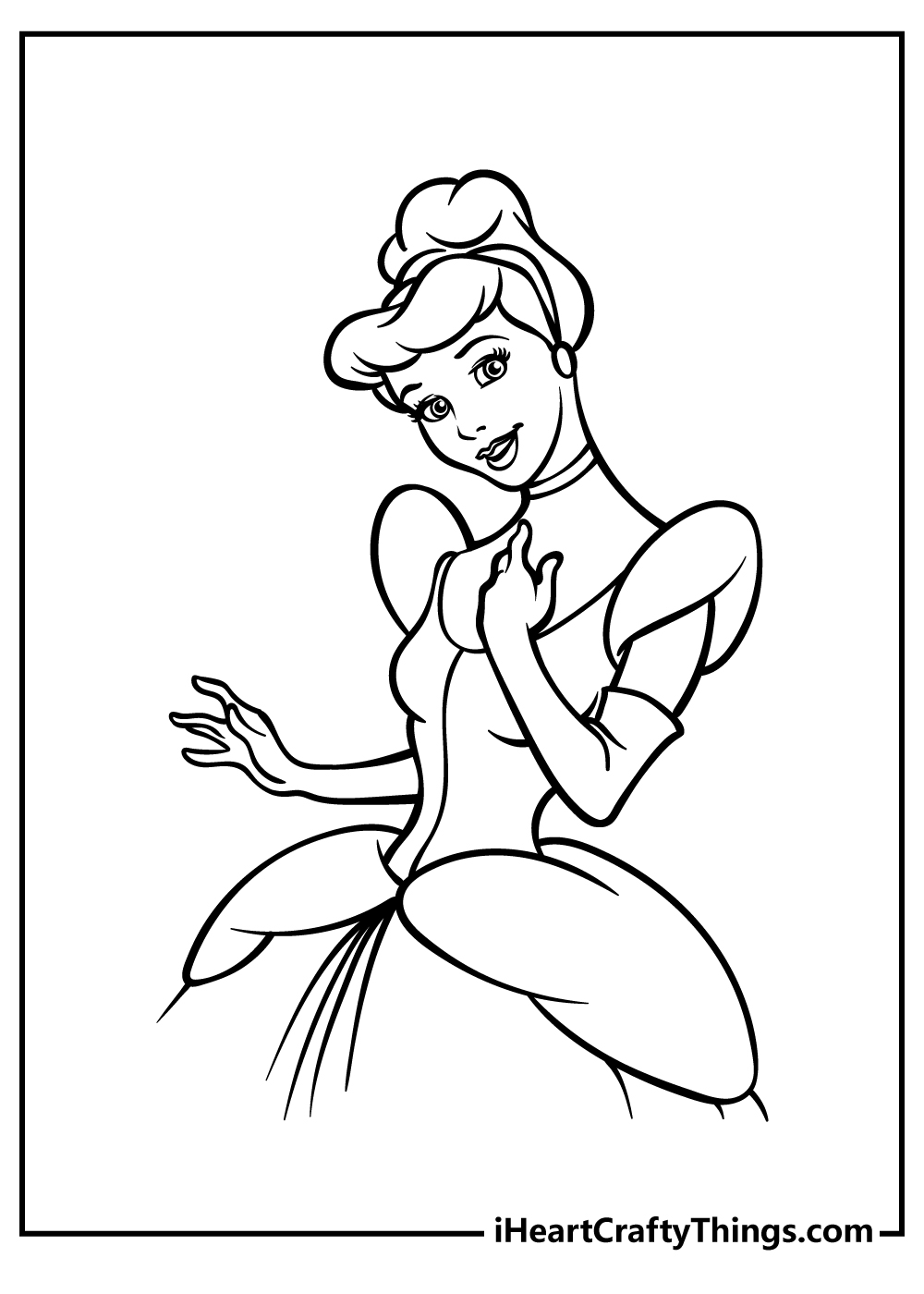 The details on the tiara are quite a highlight of this next page. Coloring an object such as this can be quite tricky, as some of the details are quite small and fiddly.
For objects like this, we always recommend using colored pens, pencils or markers, as these mediums have thin tips that allow for greater precision.
You can also mix mediums, so if you favor paint then you could use it for most of her and then use the other mediums we mentioned for the tiara.
Do you think you will try this approach, or do you have something else in mind?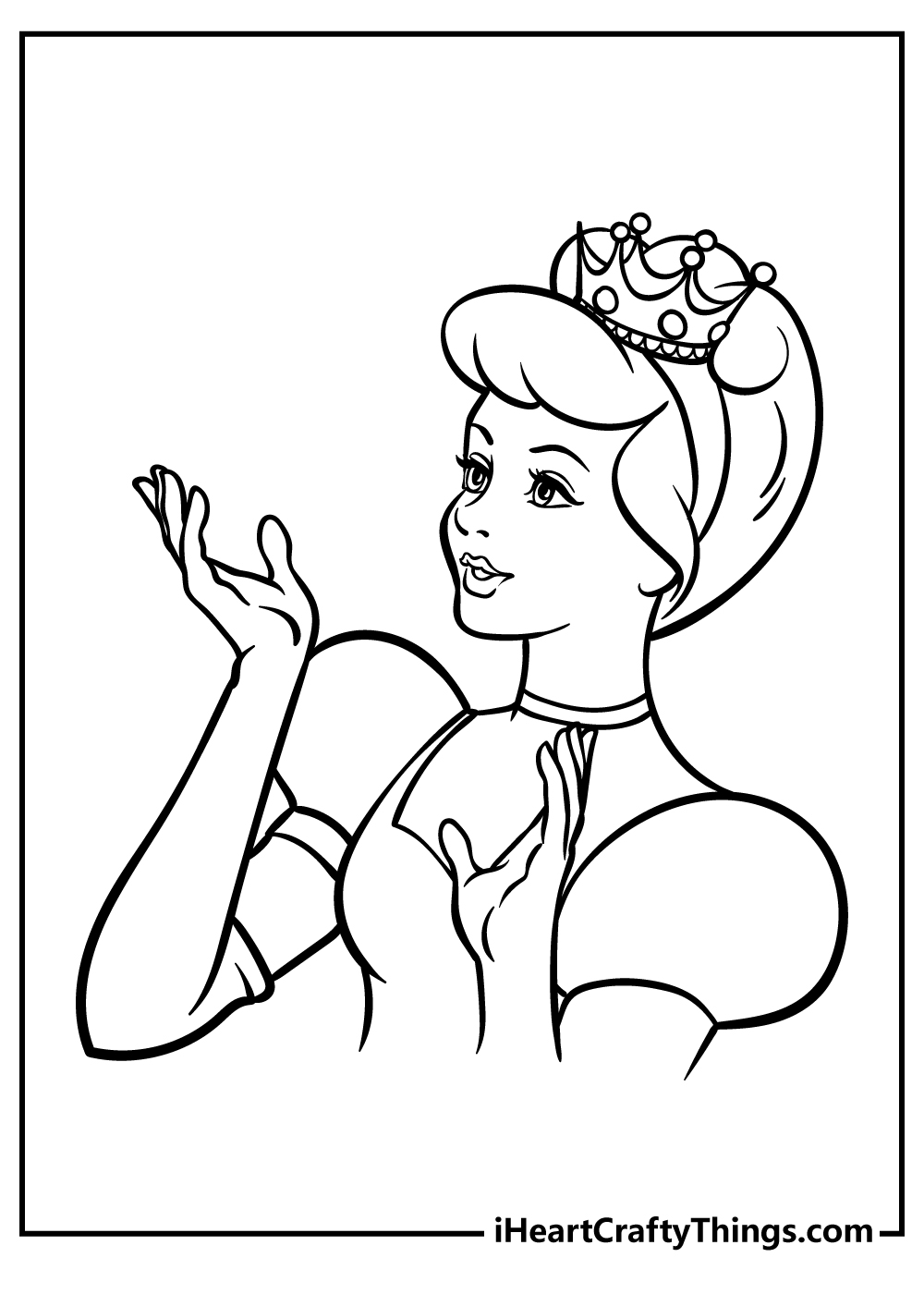 For this next page, there is a lot of empty space in the background. This is done to give you some options for how you complete the page!
You could draw a background scene to show what she is up to, or you could stick to using some colors and patterns to create a really striking image.
Which approach do you think you will take for this one?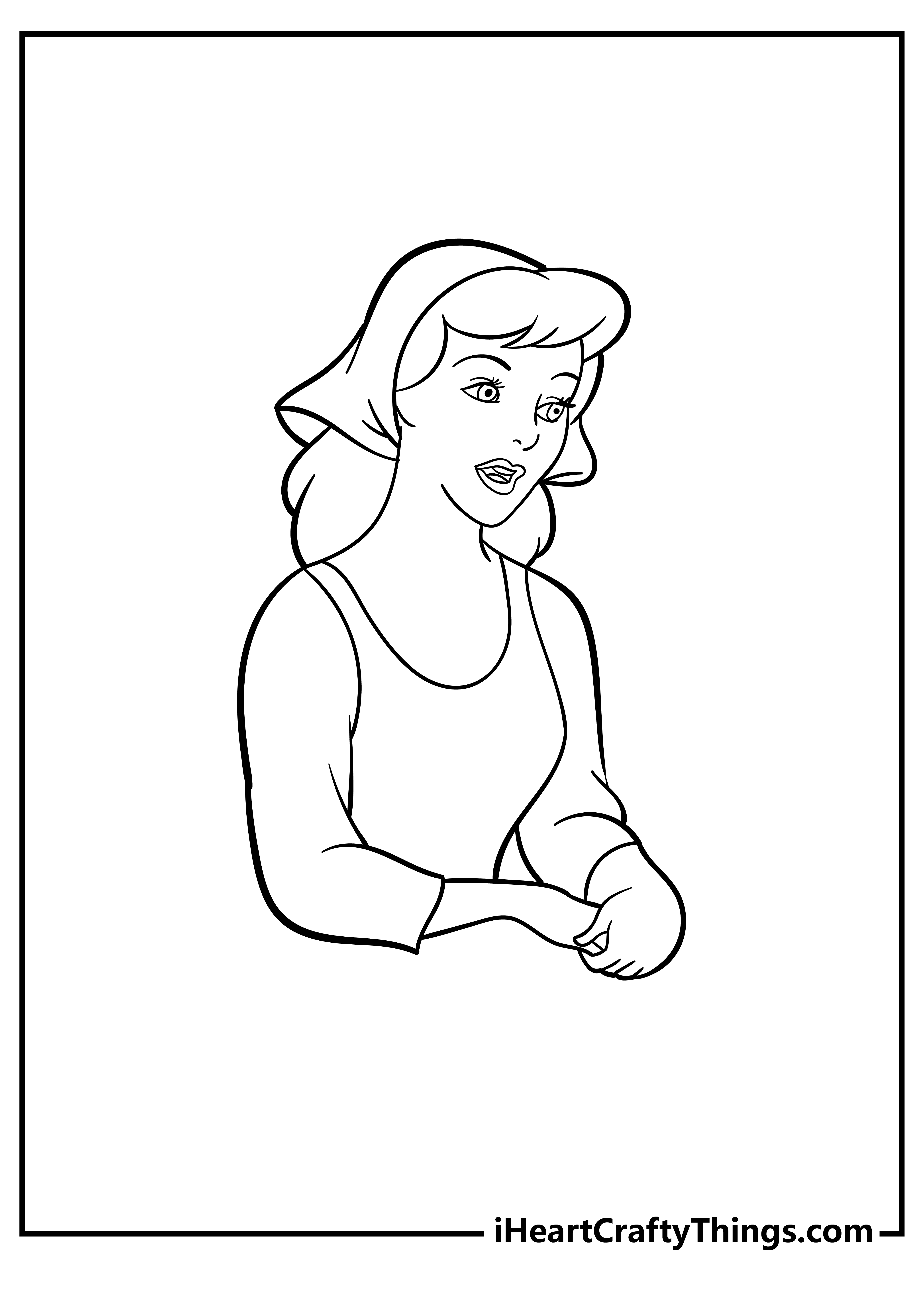 The romance between Cinderella and the prince is the heart of the story, and this page brilliantly captures that romantic feeling.
For this one, we would probably go for some warm colors like reds and purples to highlight that romantic feeling.
How will you capture the magic of this scene with your colors?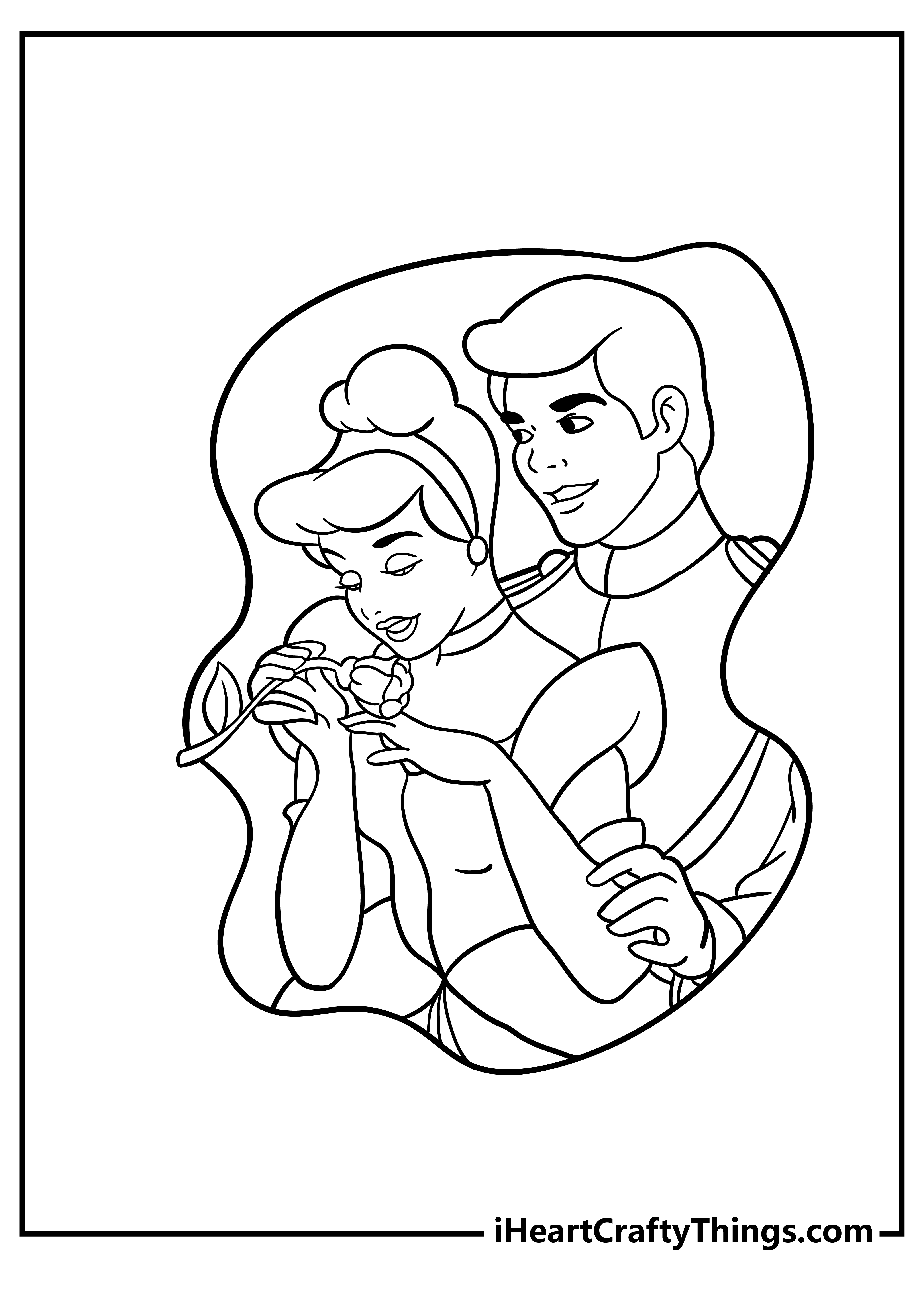 It's time for another close-up for this next page. The focus is almost entirely on her face for this one, and we only get a few elements of her gown to color.
We also get to see the details of her hairstyle, so you can have a lot of fun bringing some subtle colors to all of these elements.
While this close-up looks great, you could also draw in some more of her dress or body if you want to make this a more complete close-up of Cinderella.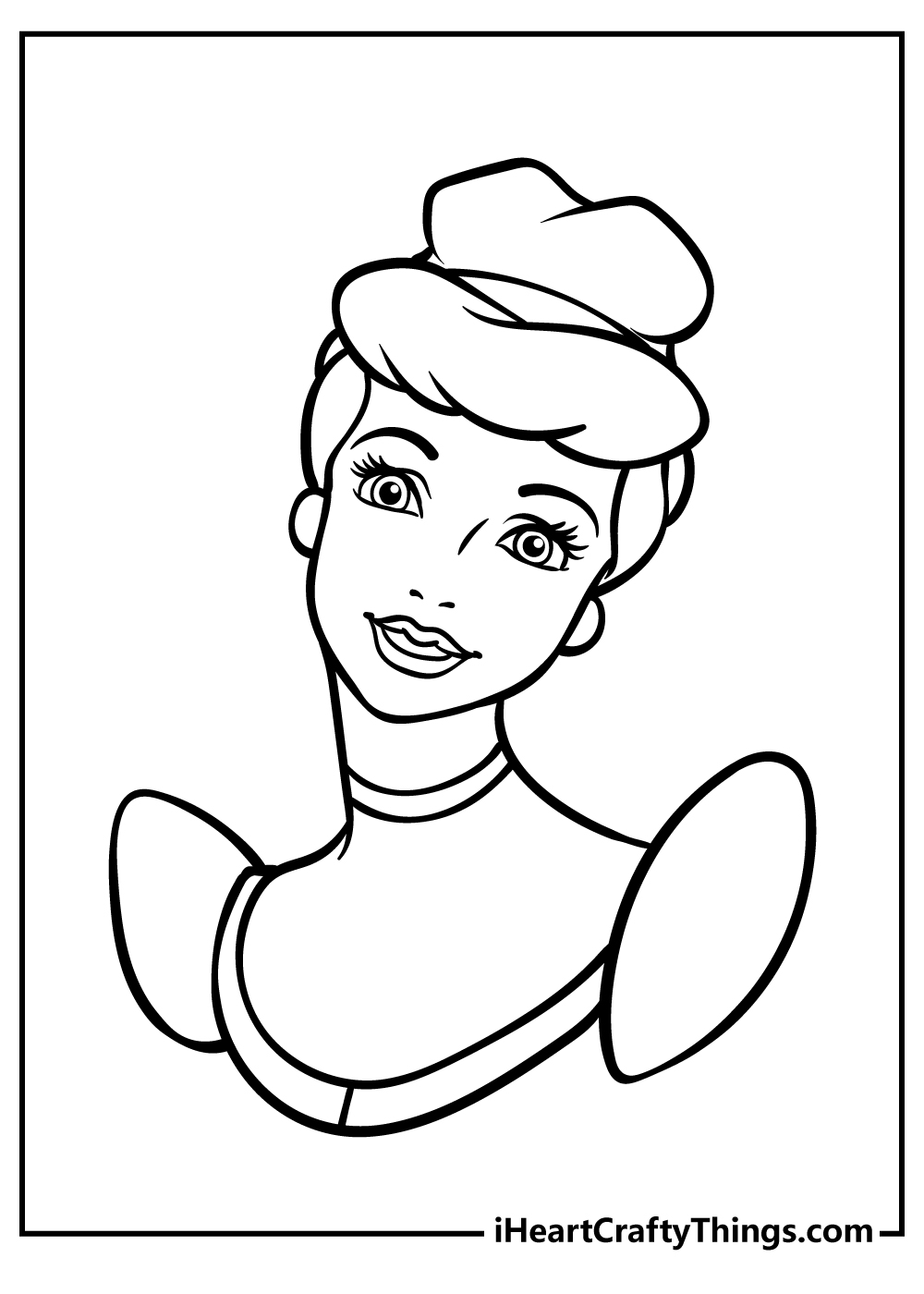 The famous slipper is again making an appearance on this Cinderella coloring page. She is looking at this slipper as if it is the most beautiful object she has ever seen, and who can blame her?
For the slipper, we would use some really bright colors and mediums to make it pop on the image.
Then, we would make it stand out even more by using lighter colors for the rest of the image.
What kinds of colors do you think you will use for this one?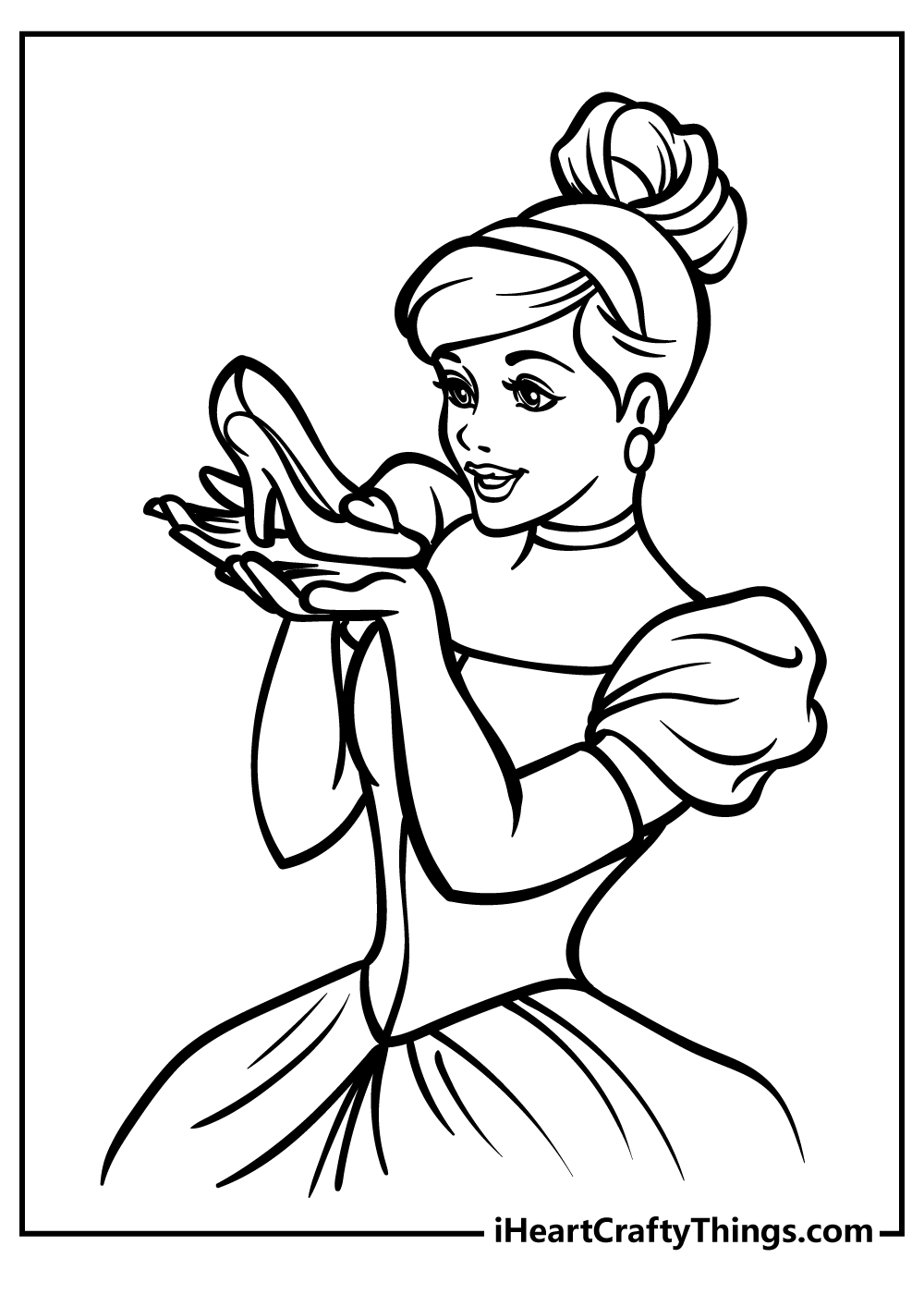 The Fairy Godmother is an important character from the story, and she is featured on this next Cinderella coloring printable!
In the film, she is dressed in various shades of purples, and you could replicate these colors for this portrayal. Do you think you will go for her classic colors or give her a unique look?
You could also draw some background details for this one and add some magical effects!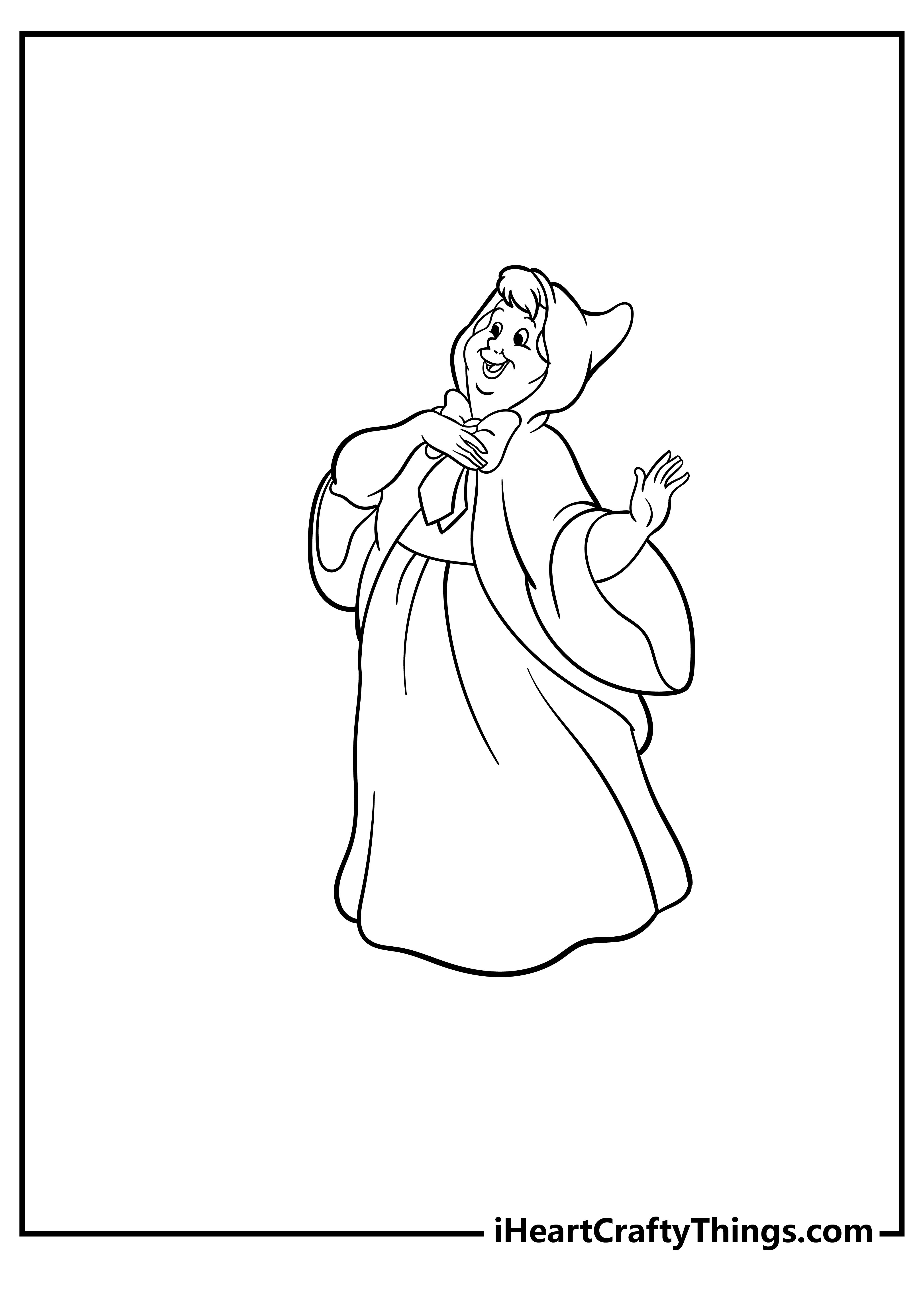 You get two characters to color for this next image!
In this one, the Fairy Godmother is performing some magical transformations for Cinderella, and this would be a great opportunity to add some wonderful bright color effects.
These could help to visually represent the magic spells she is casting, and it would be a lot of fun to create these effects!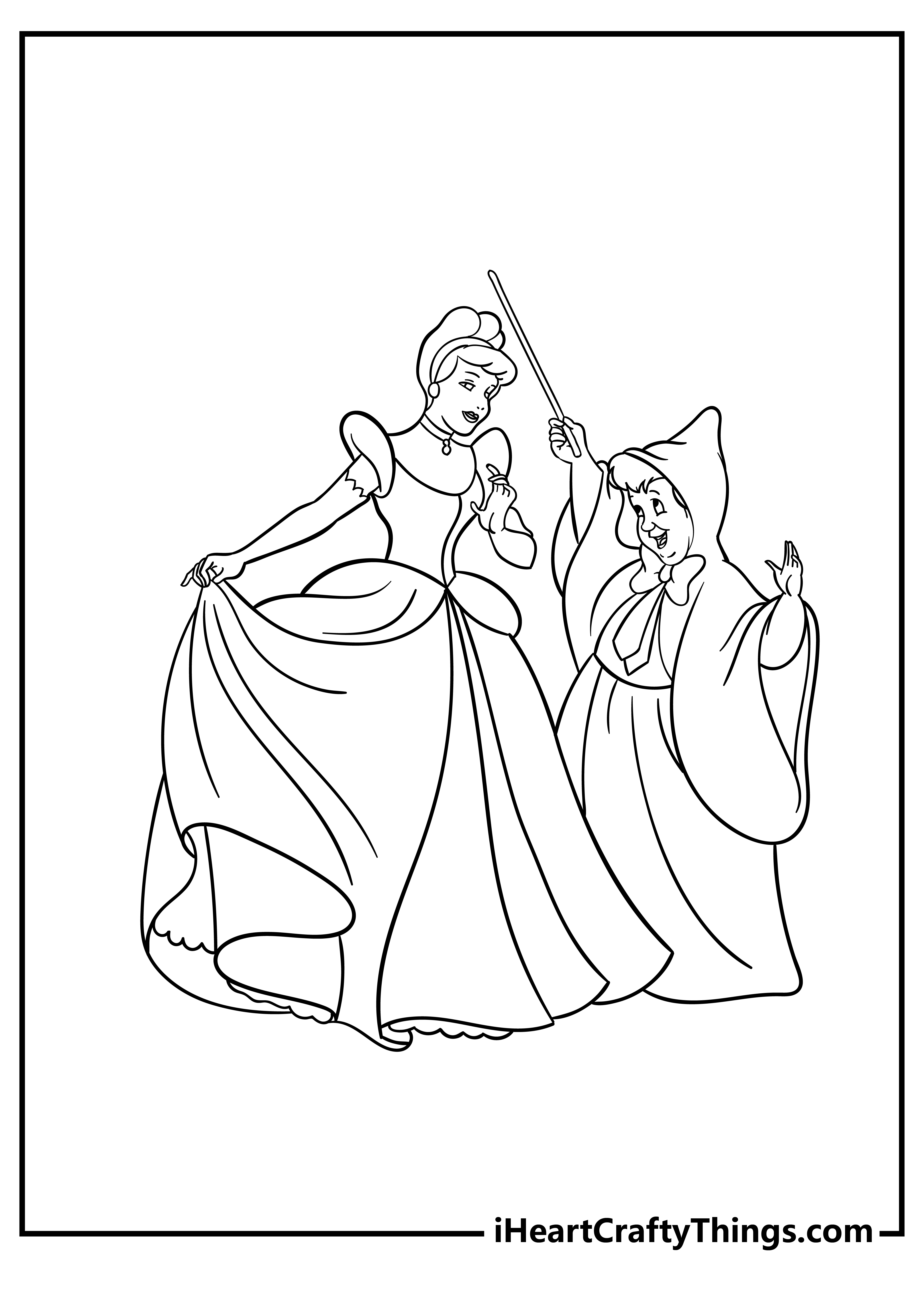 This twelfth image in the collection gives us a great look at Cinderella's famous ball gown!
This gown typically has a blue color scheme, and you could use the film as inspiration if you wish to keep this look for the dress.
Will you go with her typical look or maybe give Cinderella a makeover?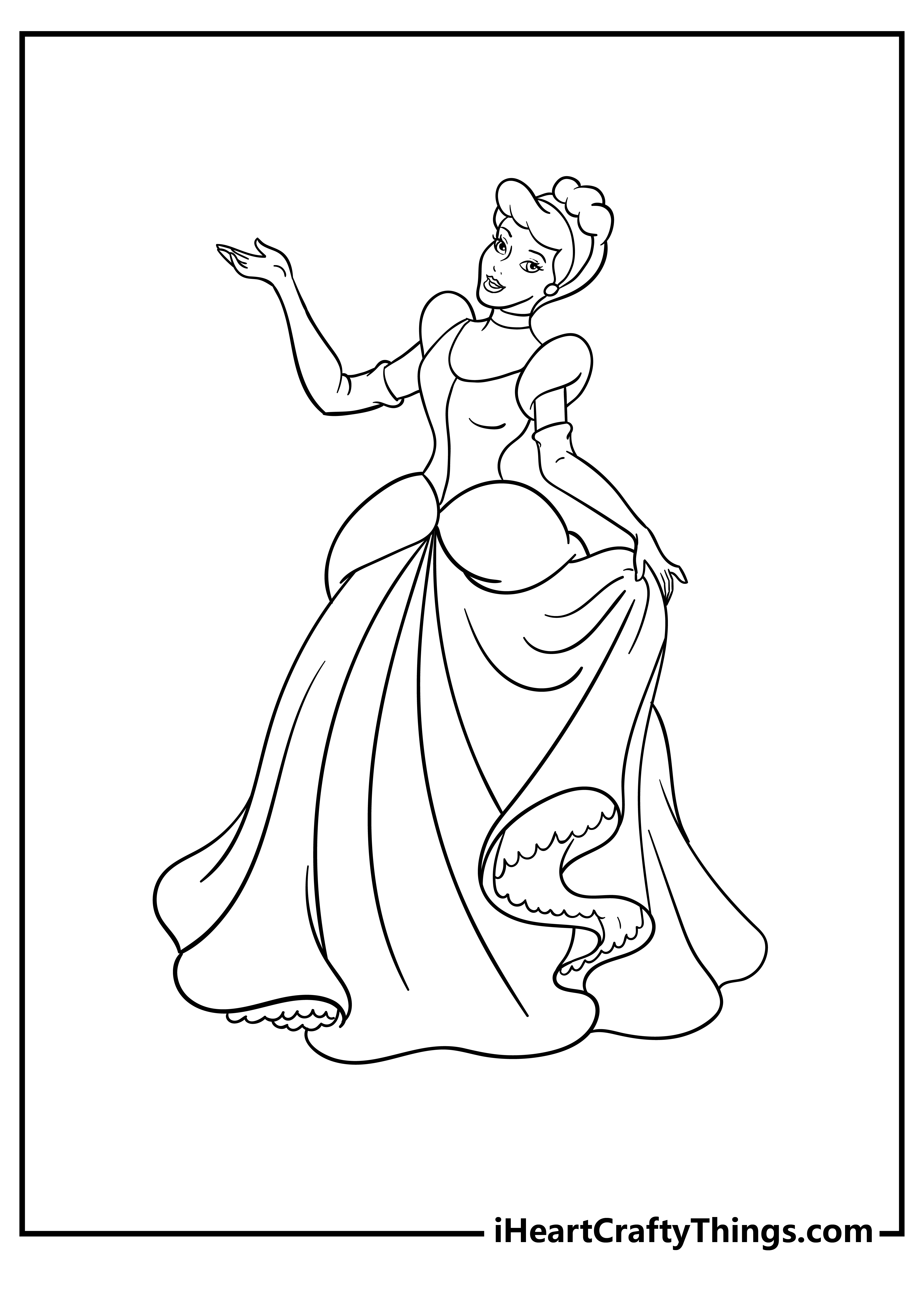 Cinderella is enjoying a quieter moment away from the glamor of some parts of her story in this next image.
She is calmly brushing her hair, and judging from her expression she is feeling quite contended.
This is another one where we would use lighter, milder colors done in mediums such as watercolors to create a charming look to the scene.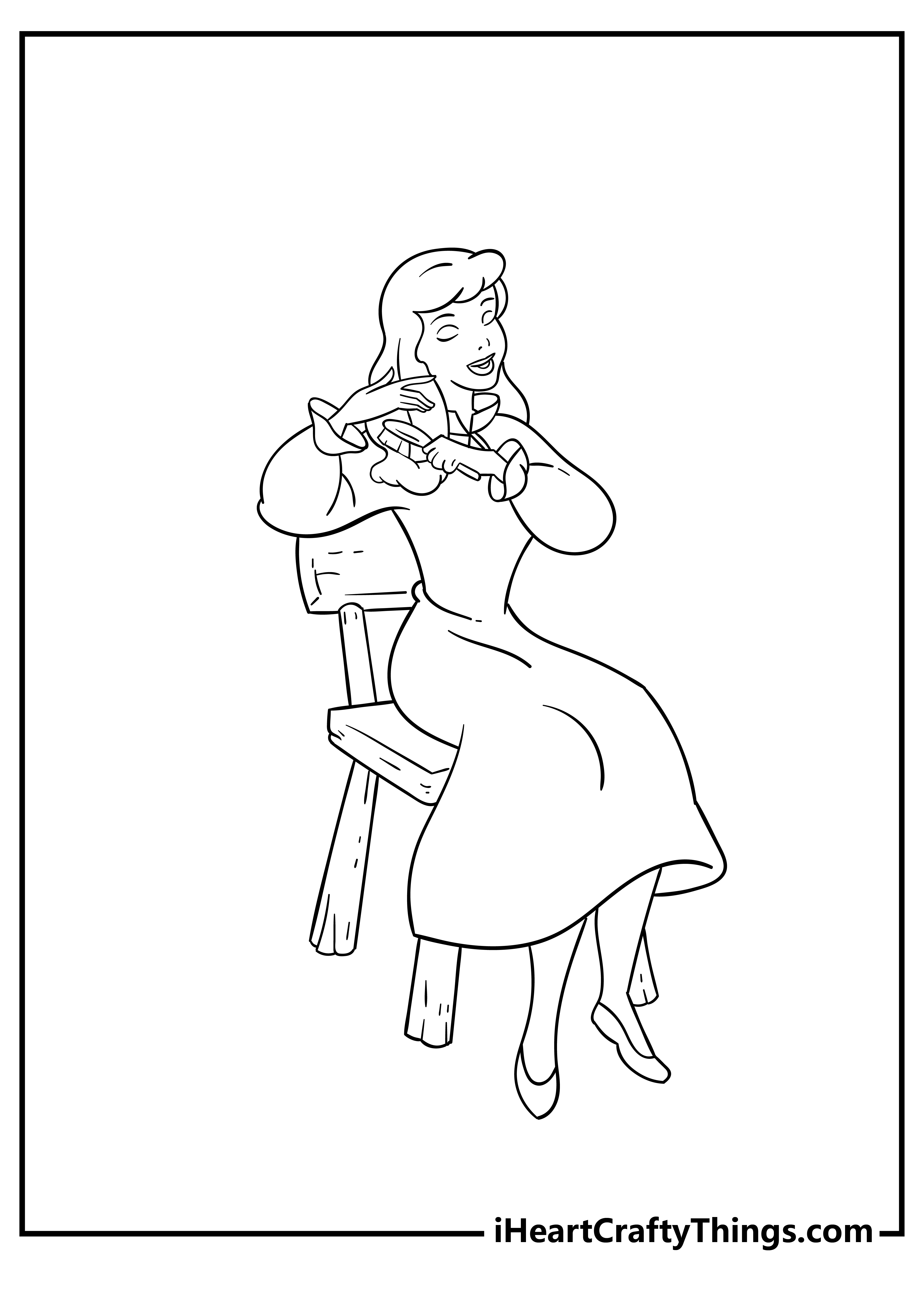 Cinderella's story has a few setbacks and unpleasant moments, and this page features her looking a bit distressed.
Mood can be emphasized brilliantly with your color choices, and we think you could make this one even more dramatic and emotional with the colors that you use.
How will you portray the emotion of this scene?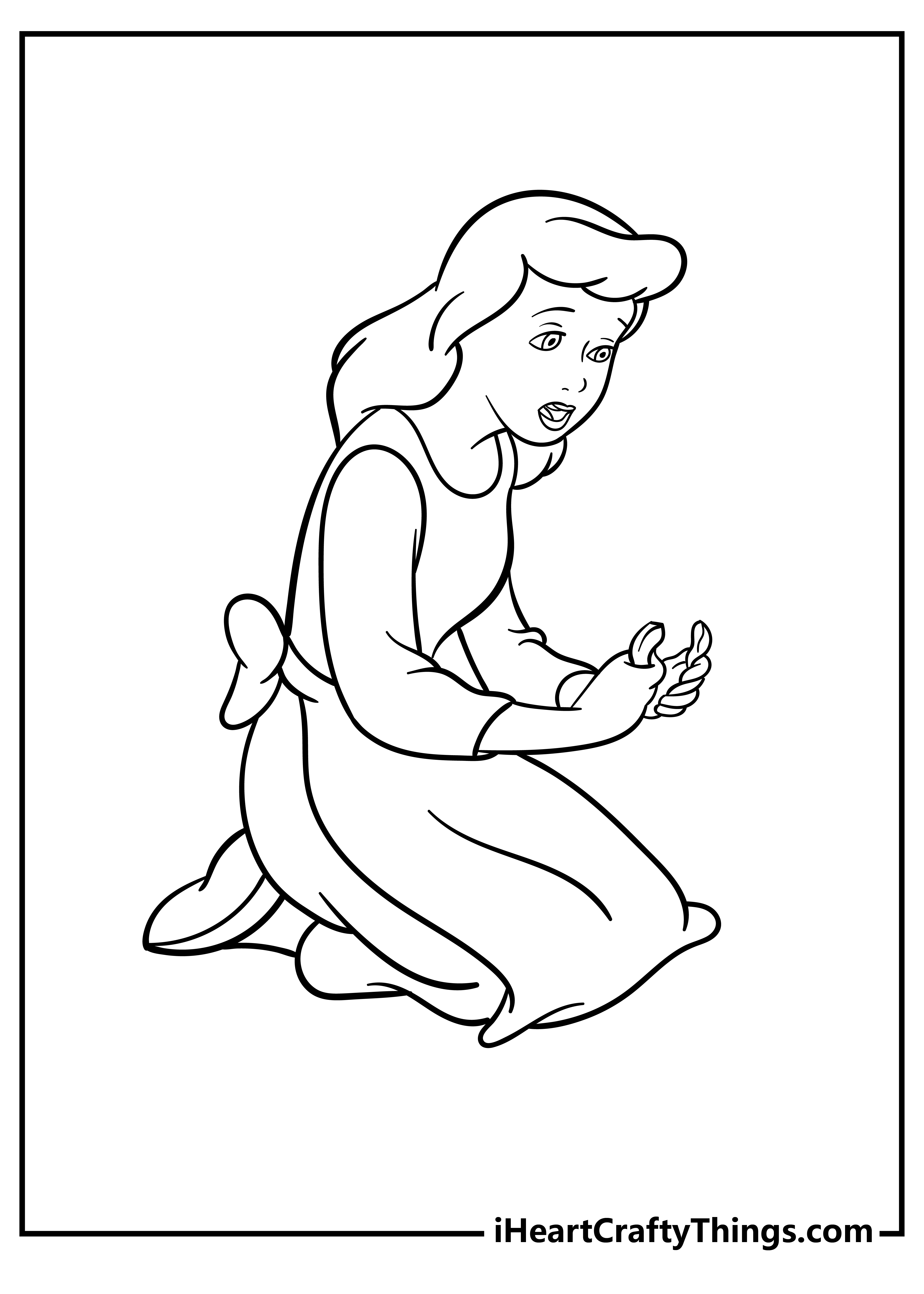 We have one more Cinderella coloring sheet for you to color, and this one features her looking really dreamy again.
Once again, you could show what you think she is dreaming of by drawing a bubble over her head or maybe with some subtle visual clues.
Will you add some extra background details to this one or keep it a bit simpler?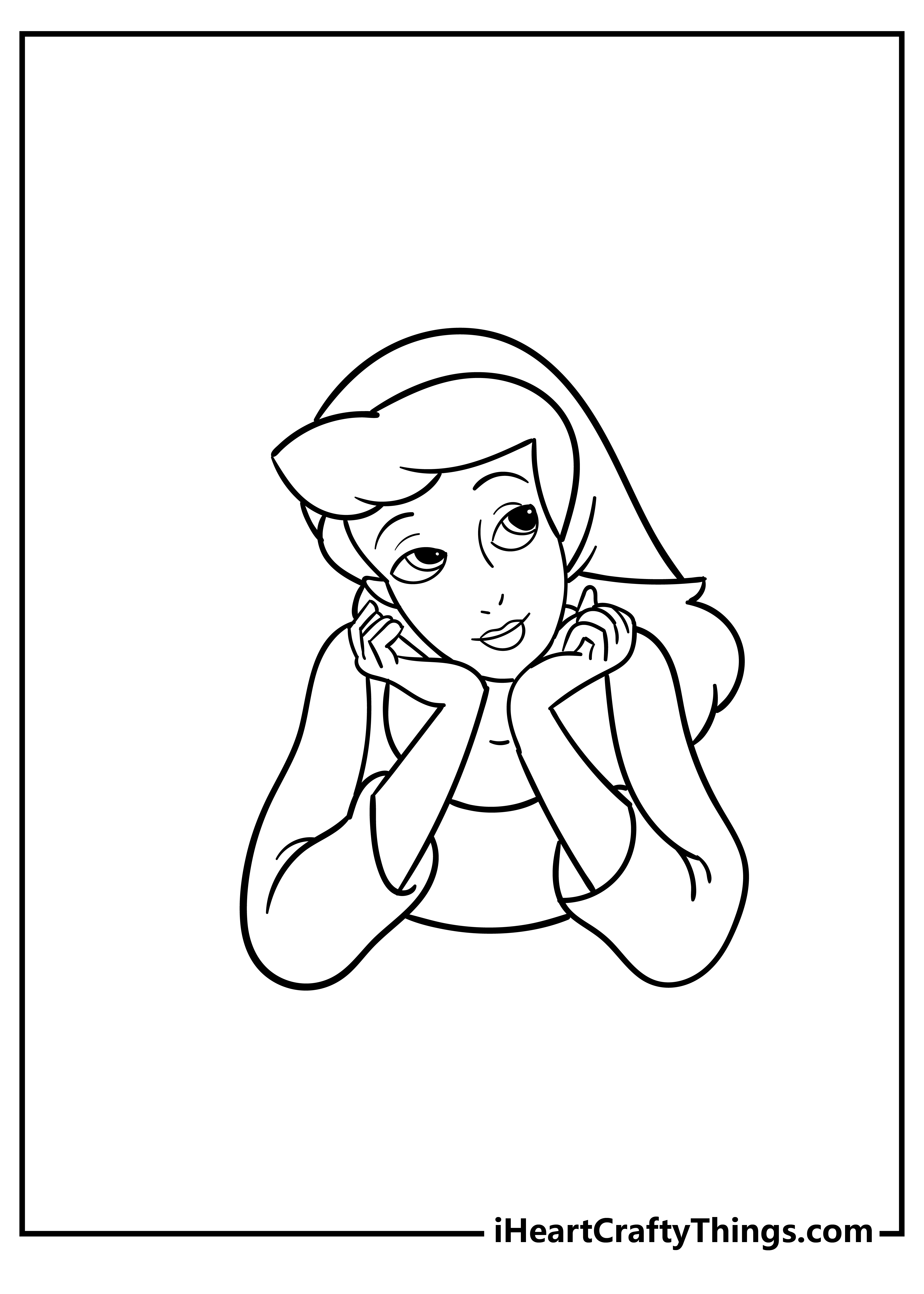 Cinderella Coloring Pages – Which will you choose?
What a magical set of pages we had for you in this collection of free Cinderella coloring pages for kids!
We hope you had an incredible time reliving some favorite moments from the story alongside us with these pages!
Remember to share the collection with others to enjoy so that you can spread the fun!
When you are ready for more, you can check out the many coloring page collections we have for you on our website!
You can also share some of your finished Cinderella coloring pages on our Facebook and Pinterest pages!