On this page, you will find 20 all new Elsa coloring pages that are completely free to print and download.
There have been many different films released by Disney and Pixar, but few would go on to be as popular as Frozen was.
This movie has so many memorable characters, and one of the main ones is the ice queen Elsa.
This character is known for her icy persona, but she also has a lot of love for those she cares about! This collection of free Elsa coloring pages for kids is focused on this iconic character.
These 20 images are free for you to color and enjoy in any way you like, and they are free to share with others as well!
When you have picked and colored your favorite pages, please also share your colorful artworks on our Facebook and Pinterest pages!
20 Brand New Elsa Coloring Pages – Free to Print and Color
This first free Elsa coloring page for kids that we have for you features a close-up on this famous character!
She is typically dressed in clothing that is light and more muted, and her hair is always a beautifully mild yellow color.
Will you go for these classic colors for this first picture or go for a unique appearance?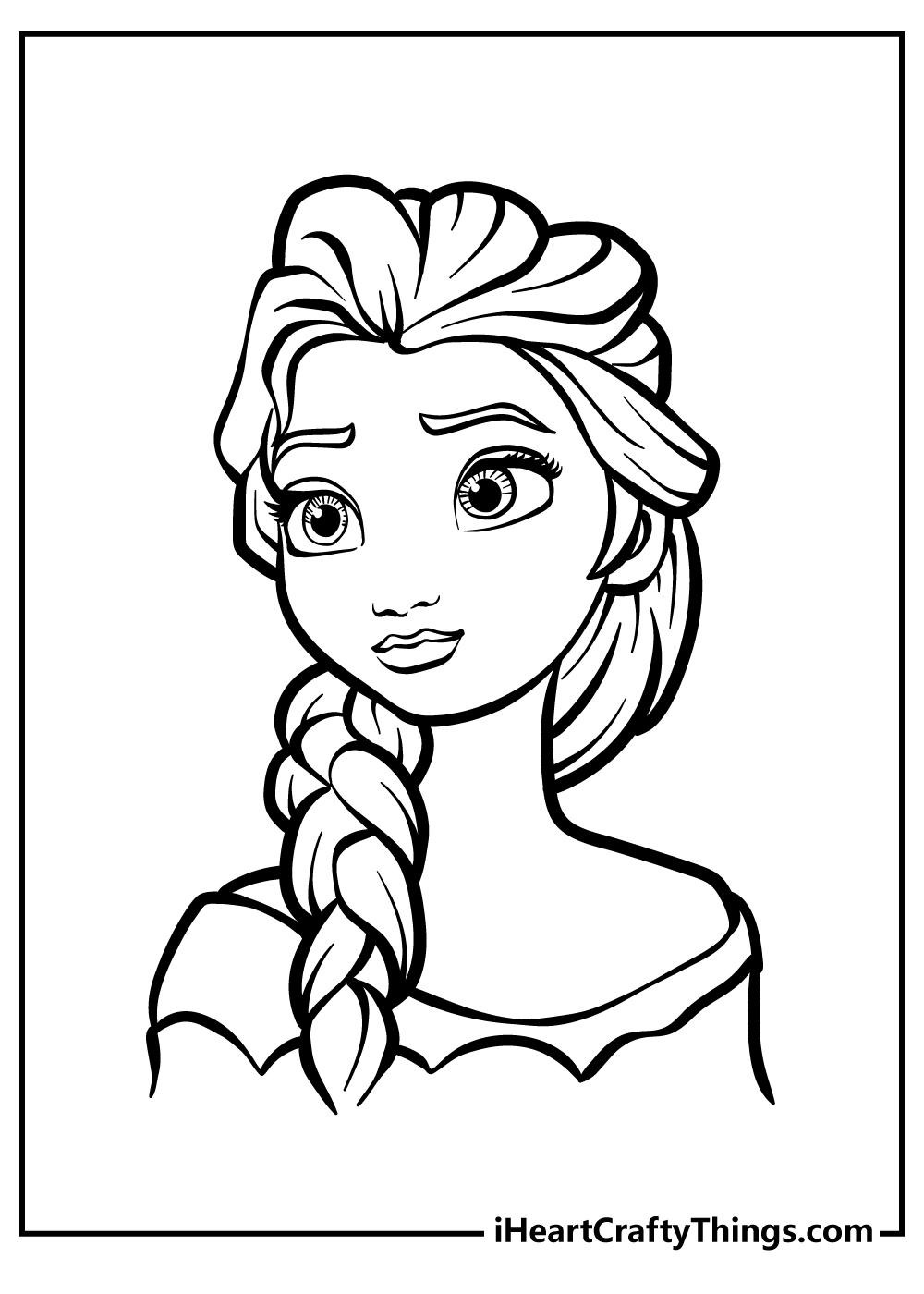 Look at Elsa's friendly smile in this picture. She looks so warm and welcoming. Elsa's long, blonde braid cascades down one shoulder.
Her shirt has a preppy collar with a dainty bowtie, and is decorated with beautiful snowflake embroidery that matches her icy powers.
As you color in this image, think about what makes Elsa so happy here. Is she glad to see a friend? Or maybe she just conjured up a snowstorm to play in!.
Bring out Elsa's cheerful personality by choosing vivid colors for her outfit. Add rosy cheeks and bright blue eyes to show her joy.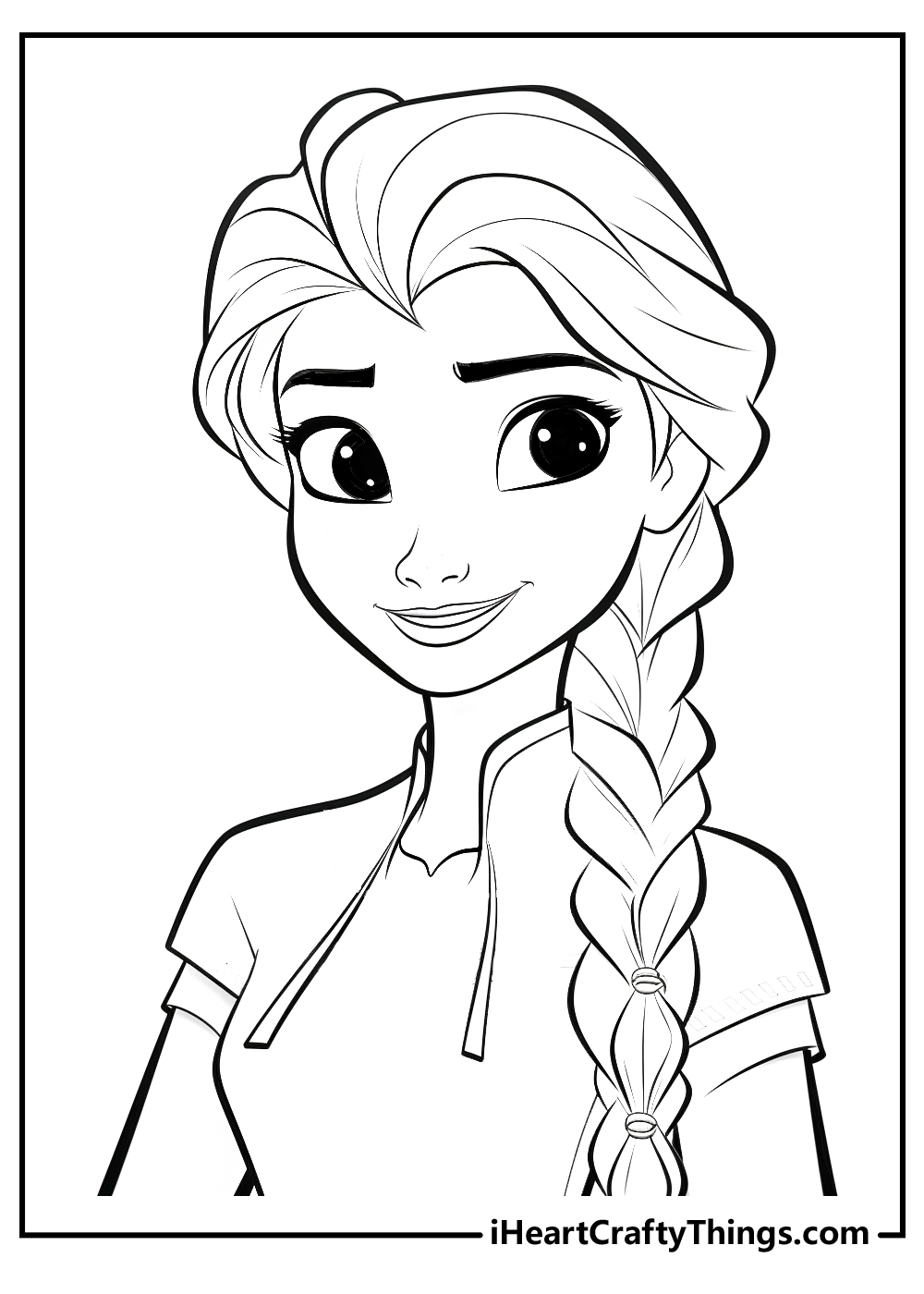 Elsa is known to be a serious and sometimes grumpy character, but that doesn't mean she can't ever be happy! Here she is smiling, and it makes for a lovely image of her.
When coloring this one, we would use some brighter shades to highlight the happy feeling of the image.
How will you color it in?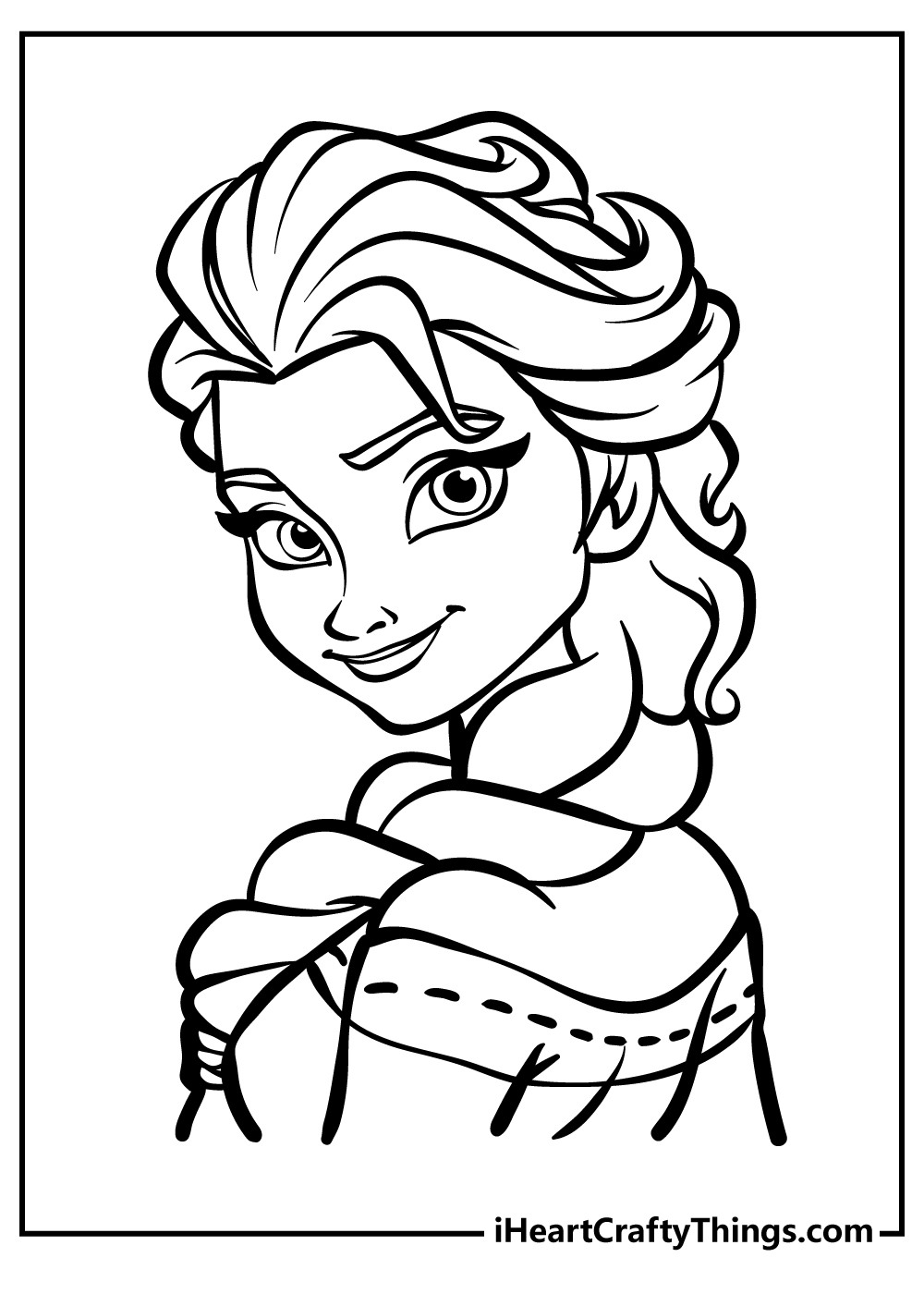 This next page features Elsa in a relaxed and happy pose. There is a lot of attitude to her expression here, and it really captures the feistier side of her character!
Elsa can make ice come from her hands, so you could draw and color some ice effects coming from her palm in this image to finish it off nicely.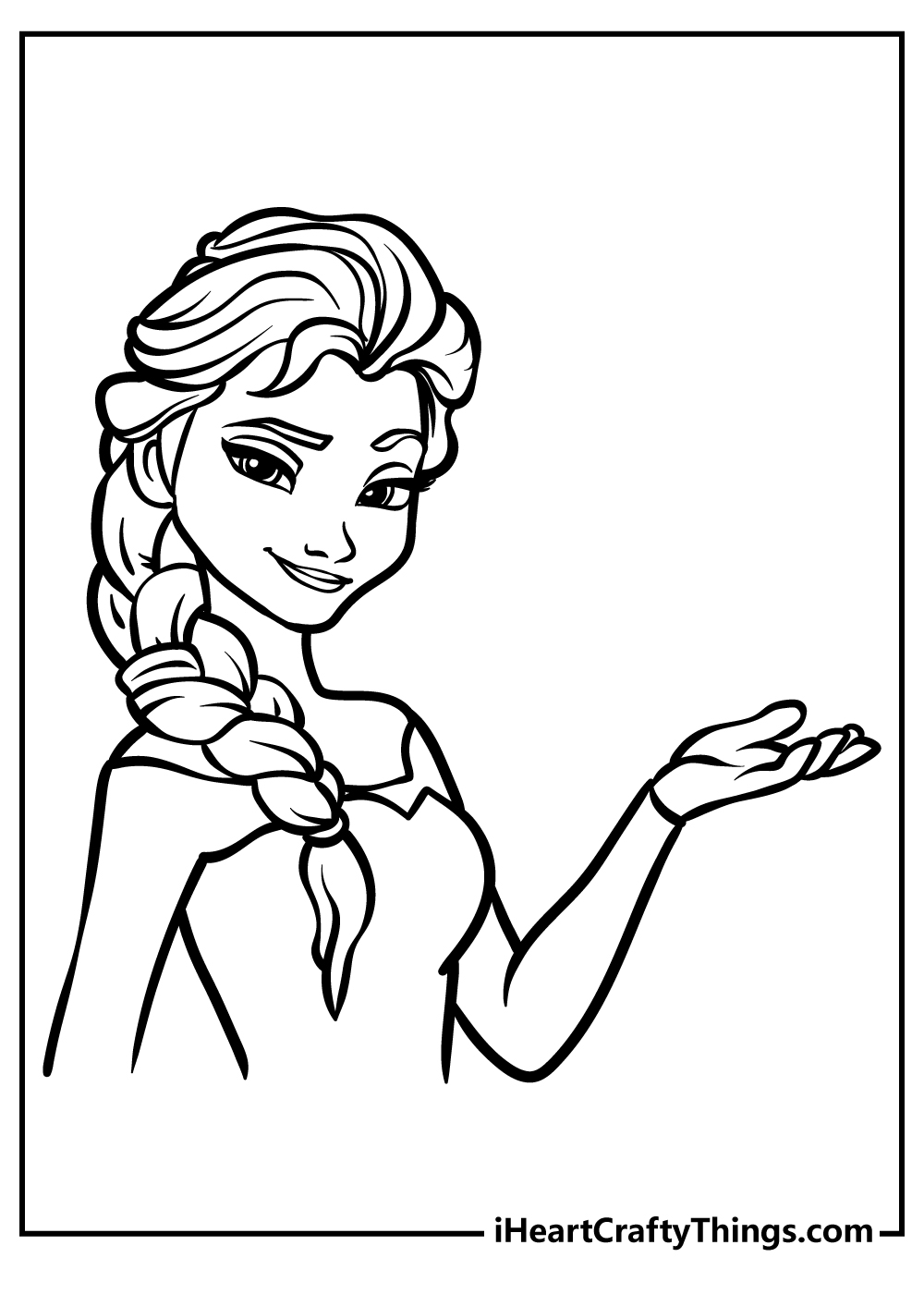 Elsa looks absolutely magical in this sparkling ballgown. The dress has a lace-up corset bodice dripping with jewels, puffy sleeves, and a voluminous skirt made for dancing the night away.
Her smile glows with excitement for the grand ball ahead. As you color this page, imagine the ballroom aglow with glimmering ice sculptures and snowflake decorations Elsa created.
Choose bold, shimmery colors for her gown. Add glitter to the skirt and jewels to make them dazzle. Let Elsa's inner radiance shine through in this elegant dress.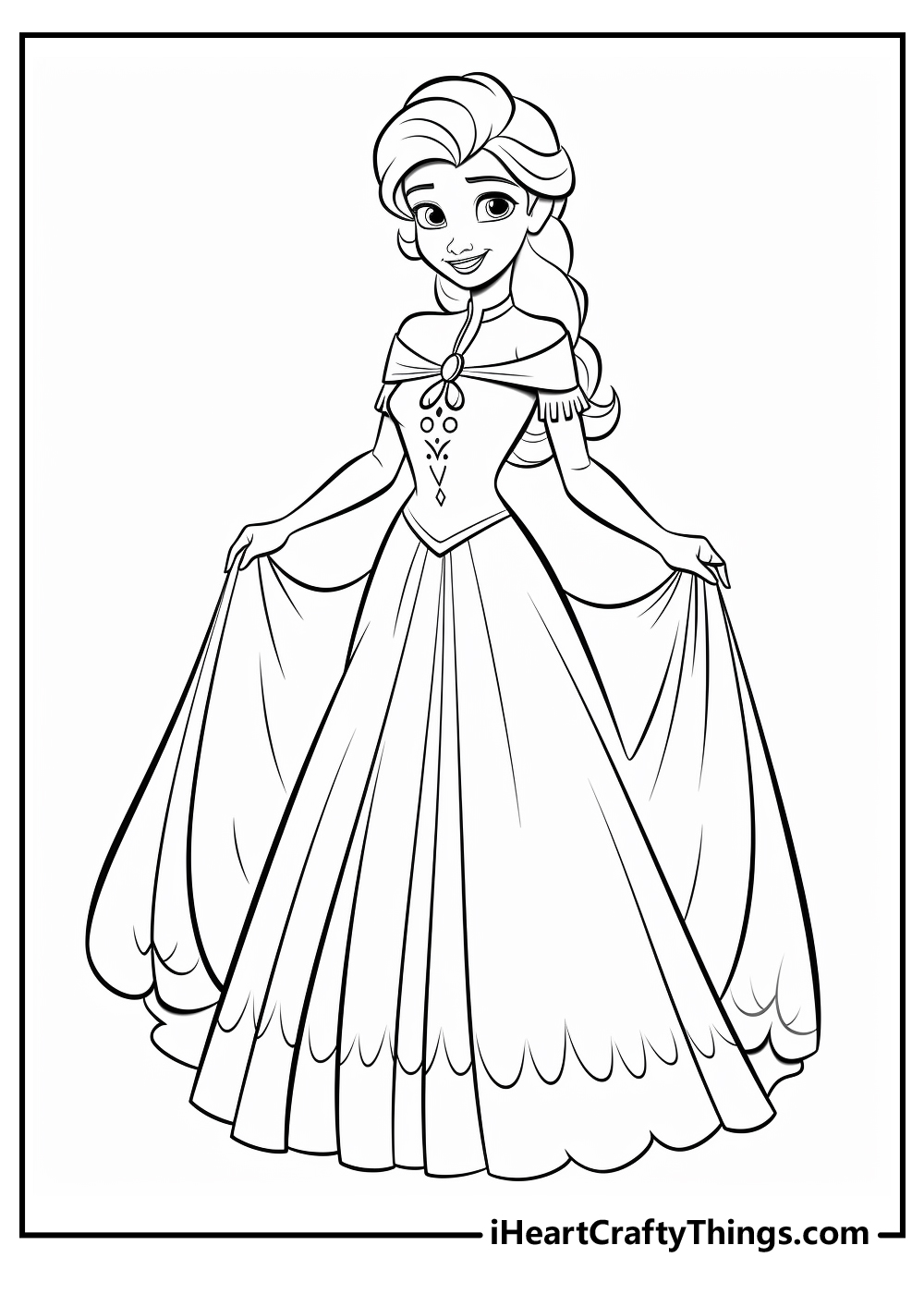 While Elsa is most recognizable in her ice-inspired outfits, she sometimes does dress in brighter shades!
In some of her appearances, she is dressed in a mostly green dress that gives her more of a Summer look.
Will you use that kind of color scheme for this page, or will you stick to her classic look?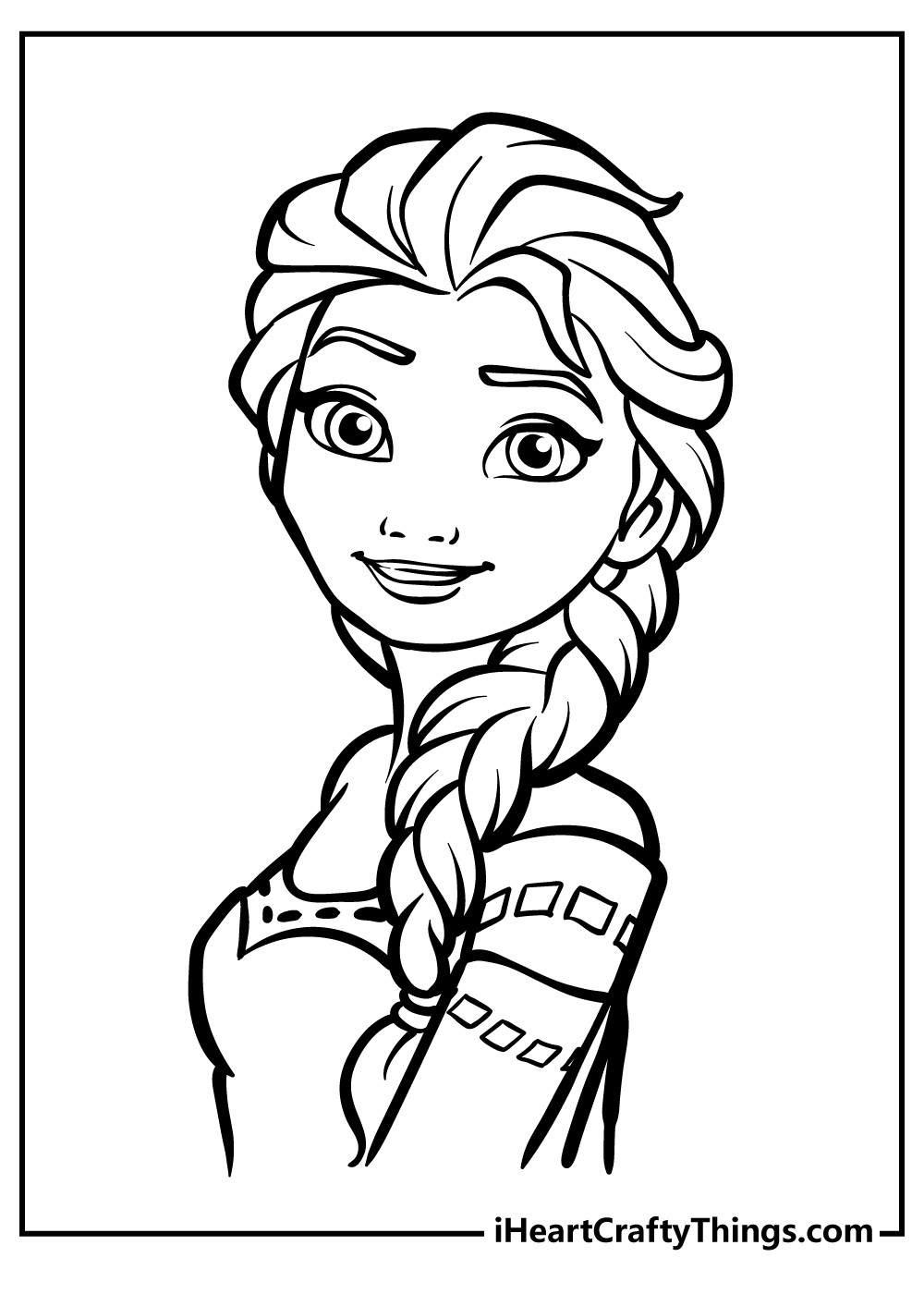 This next Elsa coloring sheet features her with a more nervous expression.
Even though she is a brave and powerful character, she can still find herself in some overwhelming situations! What kind of situation do you think she could be in?
We would use lighter colors depicted with mediums like colored pencils or watercolors for this one, but anything you choose will look great!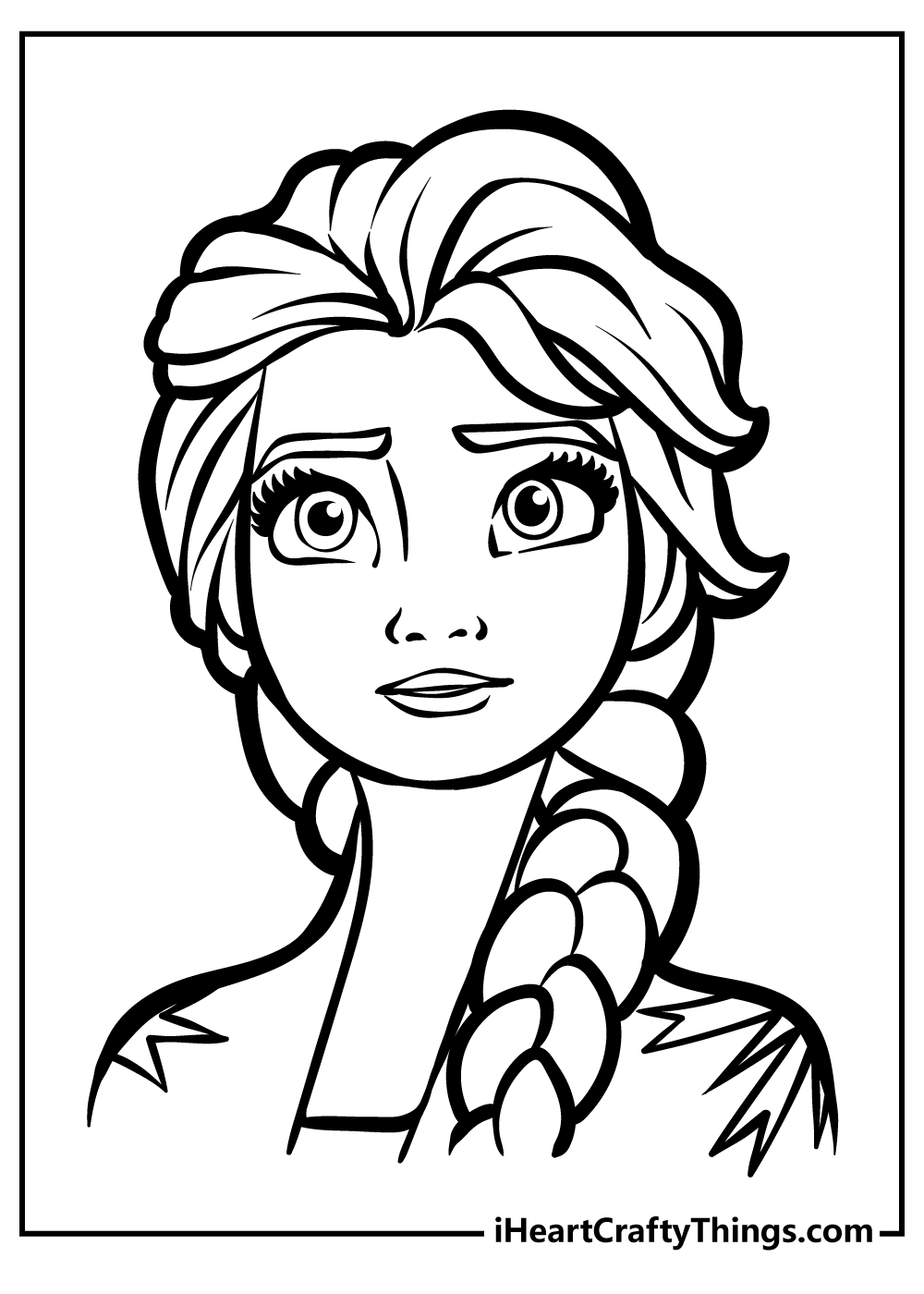 The sixth page we have for you is another one that really captures Elsa's feisty attitude perfectly!
The details of this depiction portray her facial expression brilliantly, and there are some great smaller details to color for her hairstyle.
We would use some colored pens or pencils for this one, as they would make coloring these smaller details much easier!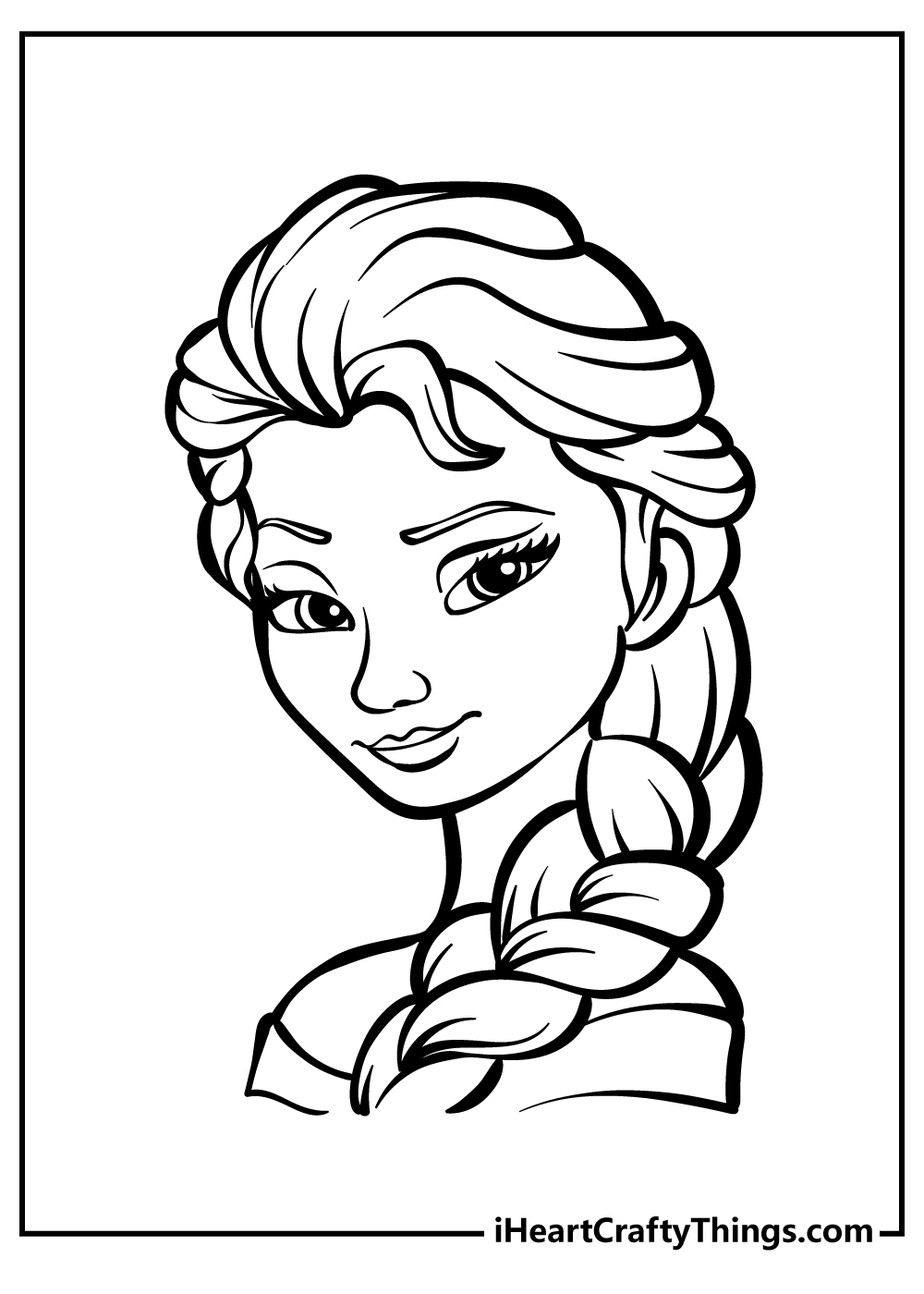 Elsa gazes thoughtfully in this portrait, her true emotions on display. She wears an intricate dress with a lace-up bodice and high collar that frames her face.
Her dress has a lace-up front and a patterned neckline. Her hair is styled in curls and piled on top of her head.
Use muted, introspective colors for her dress. Add blush to her cheeks and light to her eyes to hint at the depth of her feelings.
Let your imagination explore Elsa's inner world through this poignant portrait.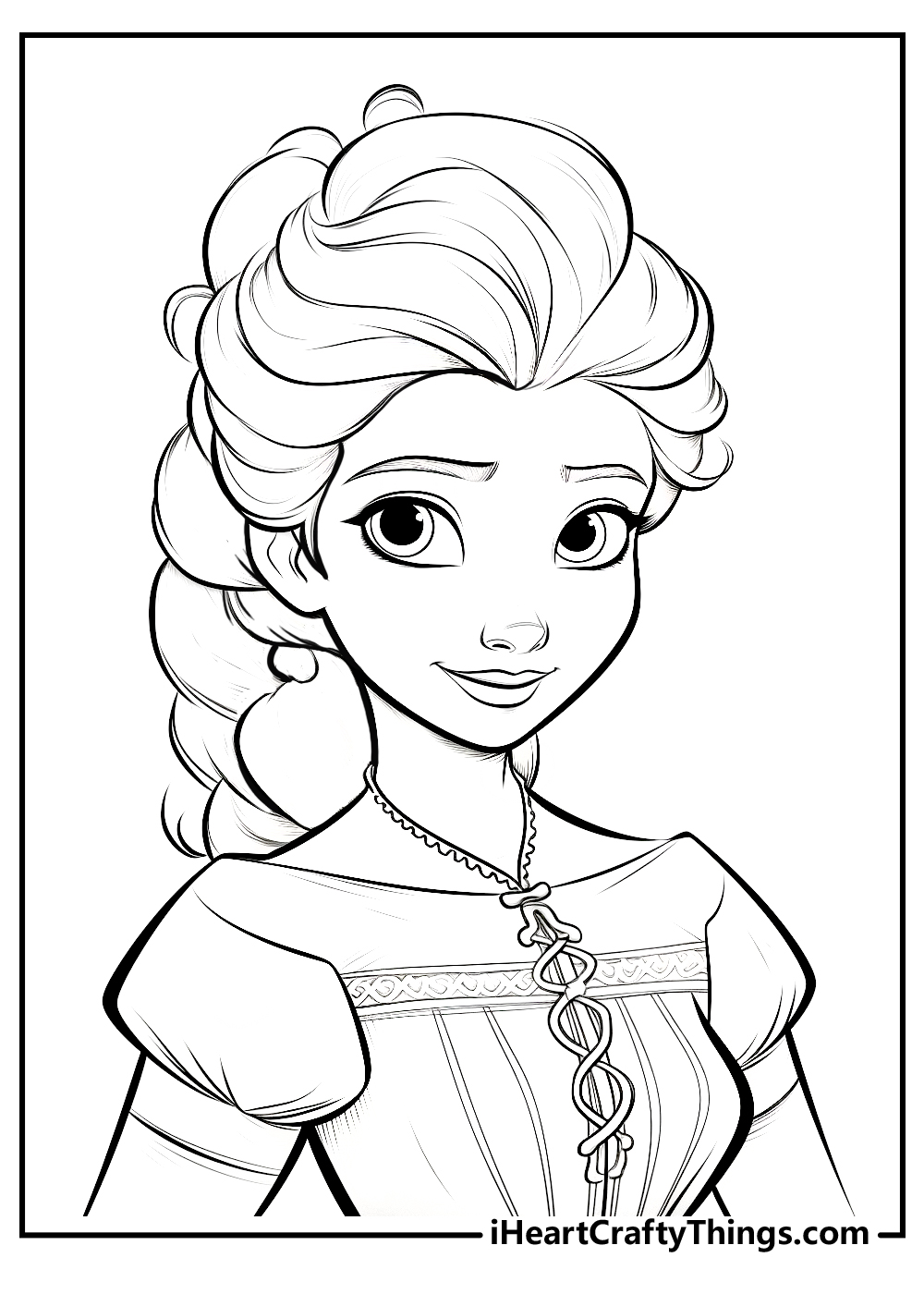 There is a lot of grace portrayed in this awesome picture! The film is known for its catchy songs that have beautifully choreographed dances, and this looks like it could be from one of these sequences.
We think it would be stunning to draw some icy magic effects around her or maybe a background to really finish it off!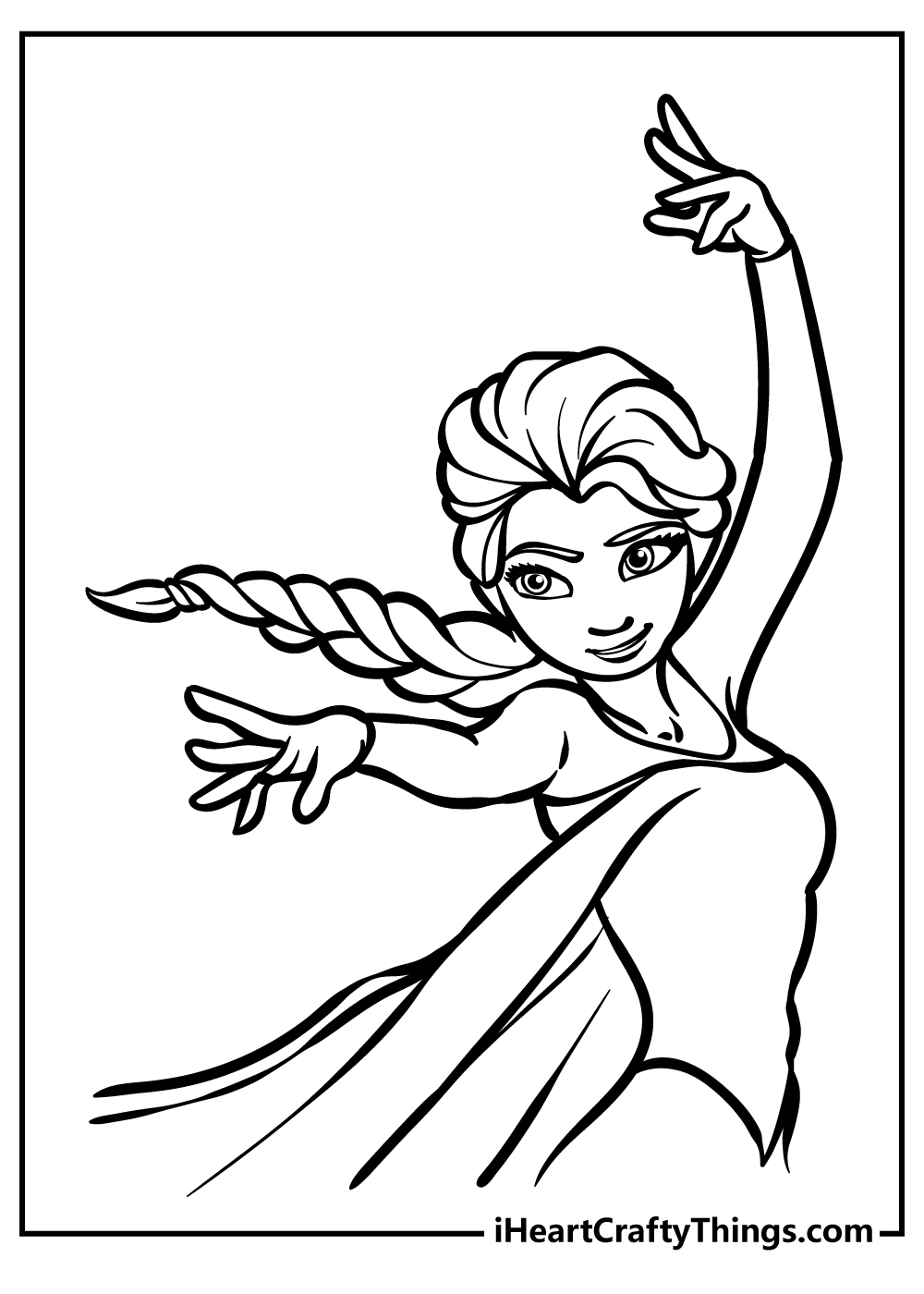 The outfit that Elsa is dressed in here is truly stunning to behold! We get a great look at some of the smaller details of this dress in this image, and they make for a really interesting portrayal.
This also means that you can fit in lots of colors for this outfit!
You could use one of her appearances from the films as inspiration, but you could also create an entirely new look for Elsa! Which approach will you take?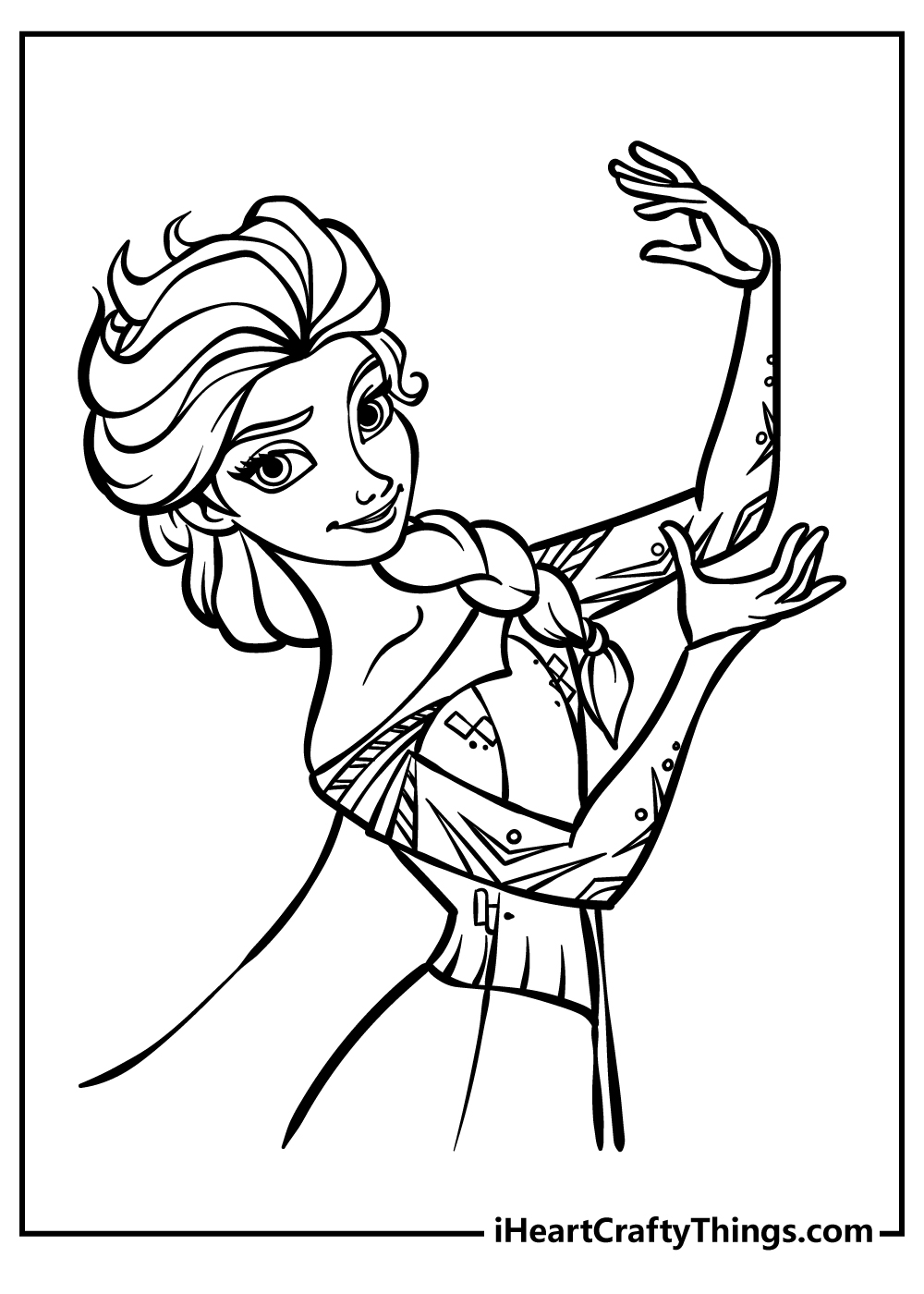 This picture shows Elsa with a blouse that has a high collar and a ribbon tied in a bow at the neck.
The blouse has a ruffled neckline and a buttoned front. She is also wearing a necklace with a pendant.
This picture is suitable for anyone who wants to color Elsa in a different and unique way. You can use any colors you like to make her look fashionable and stylish.
You can also add some details to her blouse, such as lace, embroidery, or jewels.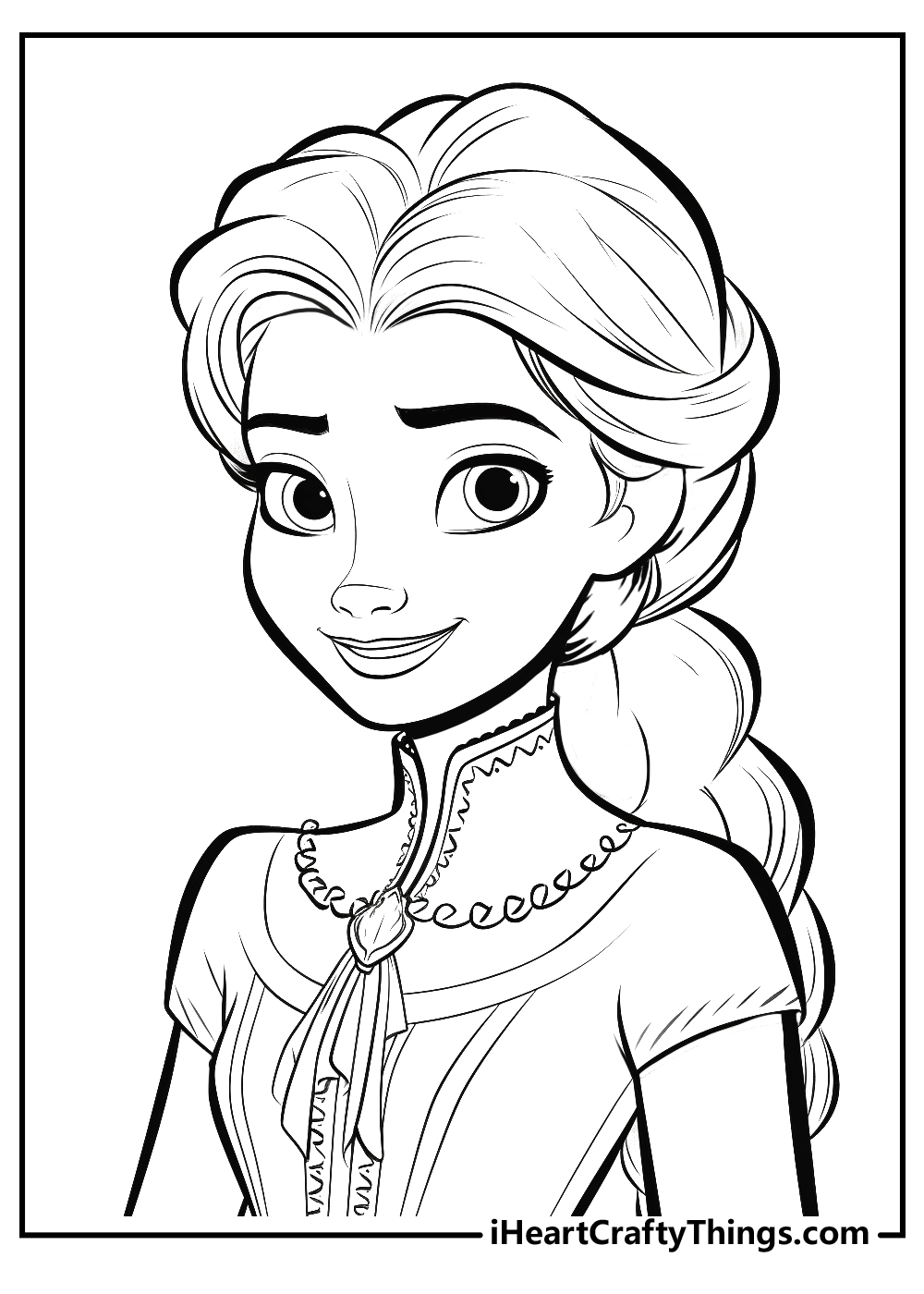 Our ninth Elsa coloring printable that we have for you features Elsa performing some of her icy magic.
She is conjuring a beautiful snowflake between her hands, and there is a lovely calming feeling coming from this page.
We would use some bright, vibrant blues for the snowflake to make it stand out if we were coloring this one.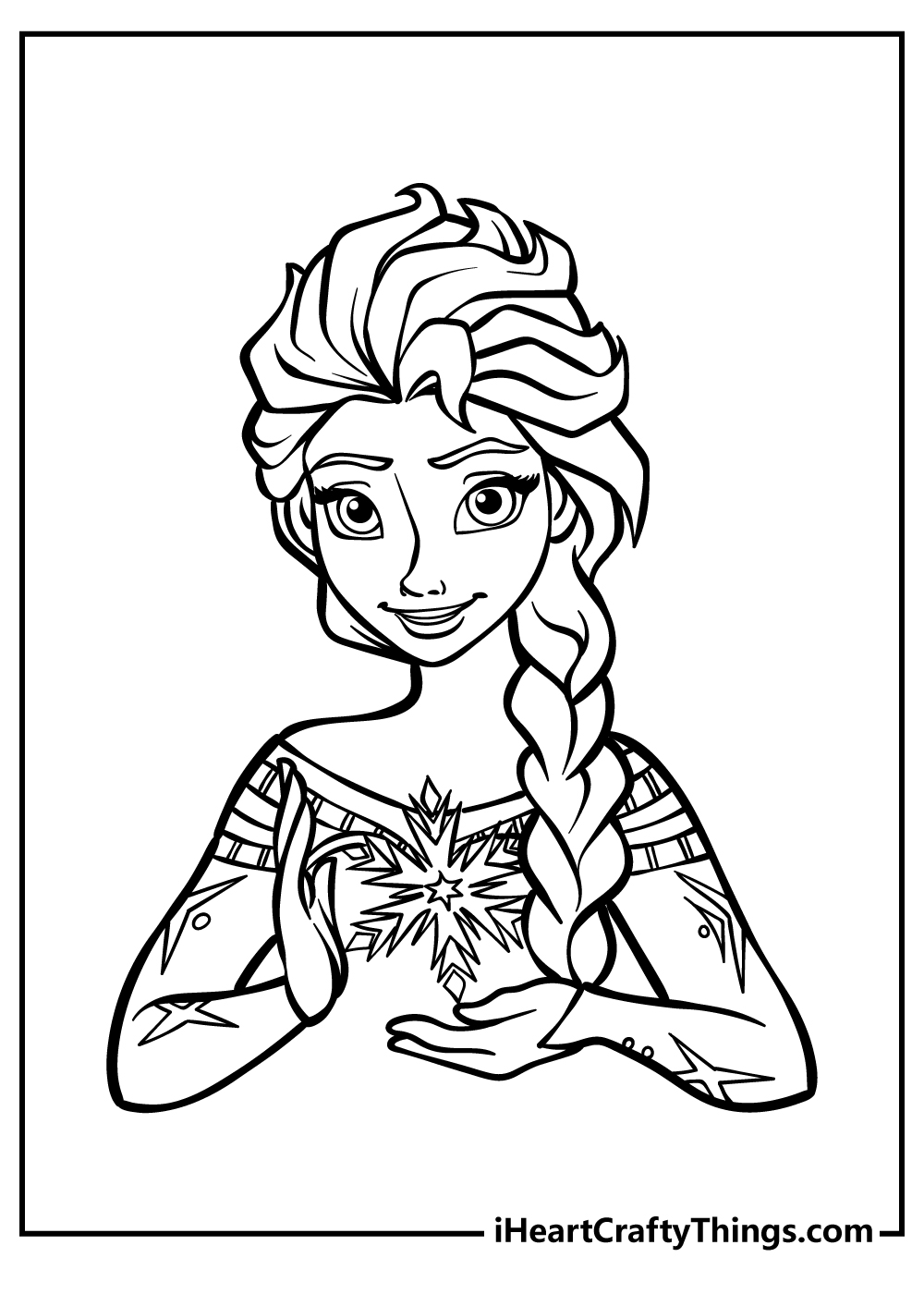 This next page is a really pretty portrayal of Elsa! She is wearing a beautifully elegant outfit that has a transparent veil coming from the top.
When coloring this outfit, we would use some lighter colors behind the fabric of the veil to finish off the transparent effect.
This one should be stunning to behold once you have finished it!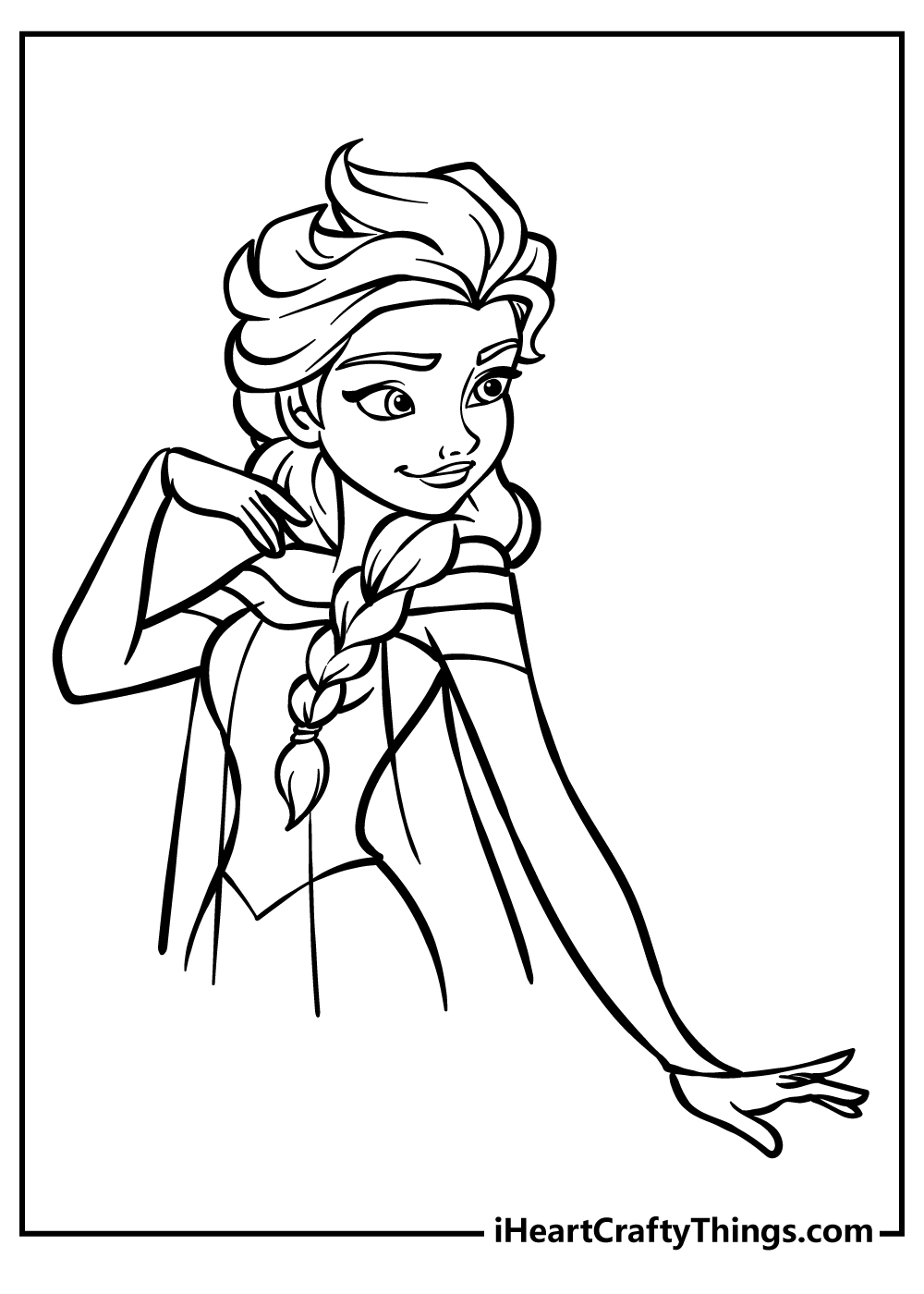 This picture shows Elsa with wavy hair that has a braid on top of her head. She has big eyes and a small nose and mouth. She is wearing a high collared shirt with a snowflake design on it.
Elsa's eyes gleam with fun and mischief. As you color this page, think about what amusing antics she might be up to.
Did Elsa use her powers to give herself a crazy new hairdo? Or is she plotting her next snow day surprise? Make this Elsa vibrant by choosing bright, cheery colors.
Elsa seems to be performing some more of her incredible magic in this next image. She is also once again dressed in a beautifully detailed gown, and there are so many possibilities here!
We think this would be another one where drawing some magic effects around her hands would really take the image to the next level!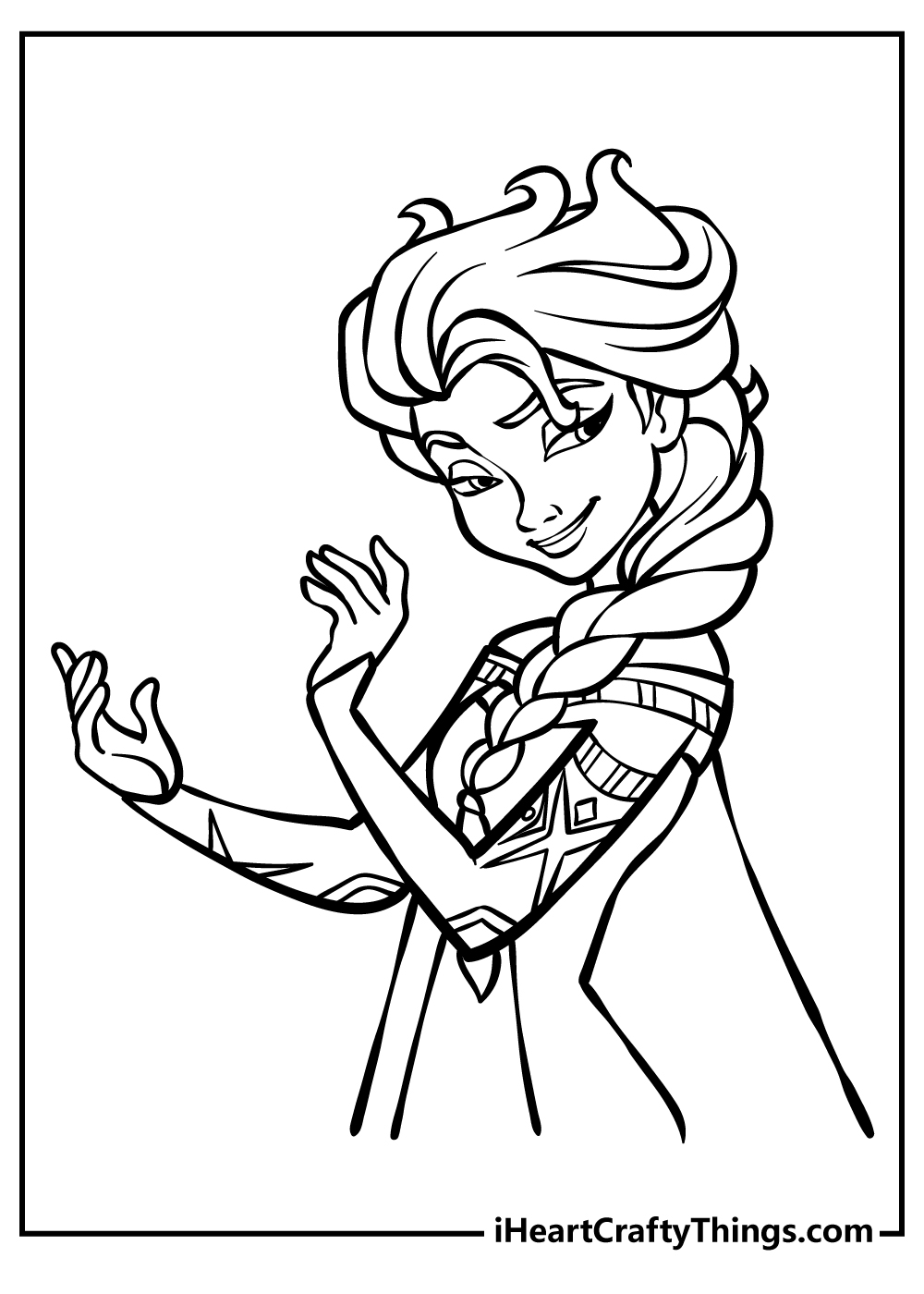 We have something a bit more unusual for this next page. We love how Elsa is framed in an oval shape, as it makes this picture look like it could be a painting of her on the wall!
For that reason, if we were coloring this one we would use some kind of paint medium to finish off the effect.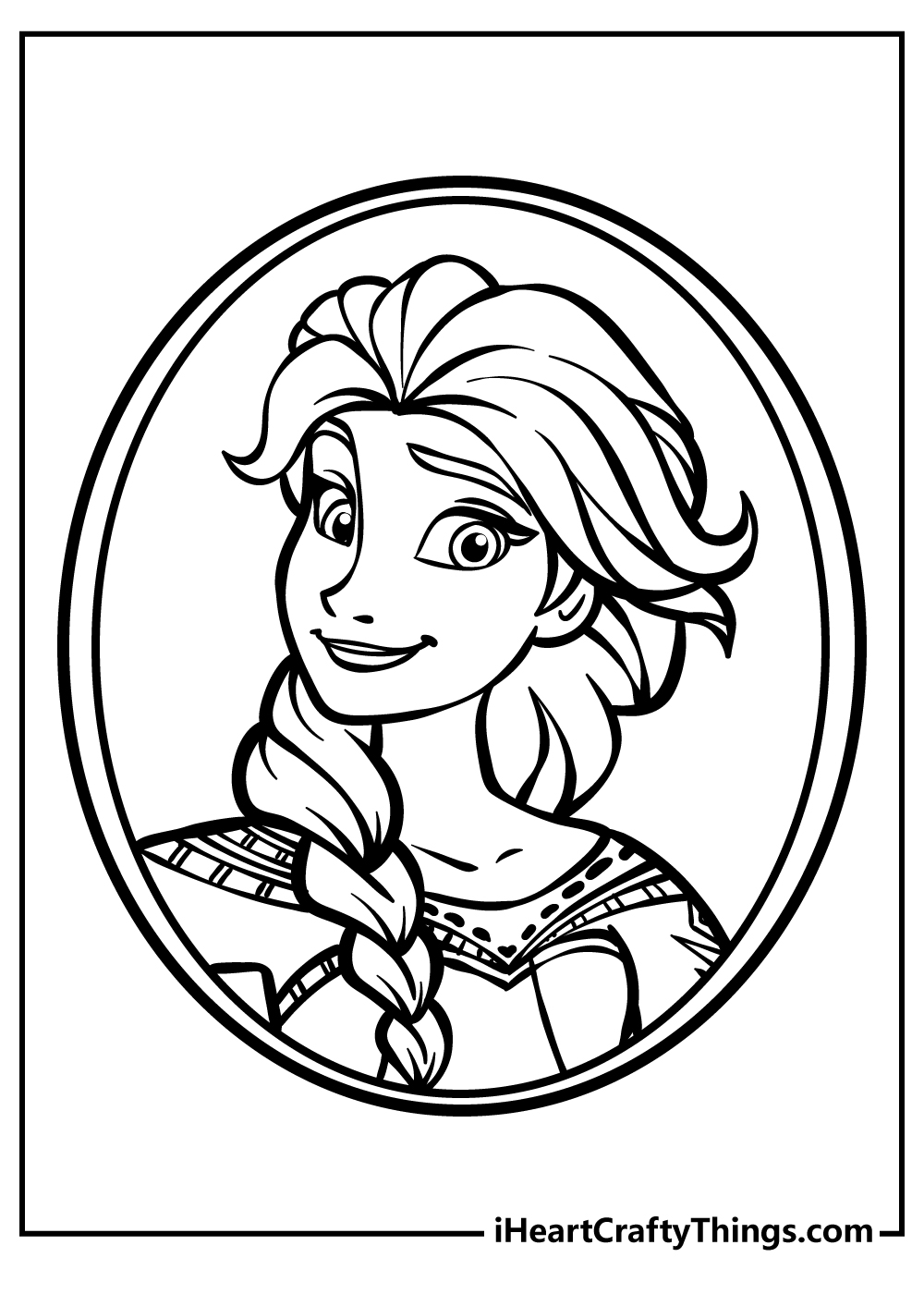 It's time for some more magic in this next image!
Once again, some space has been left around her hands, and this opens things up for you to show off what kind of magic spell you think she could be performing.
We will be very interested to see what you come up with here!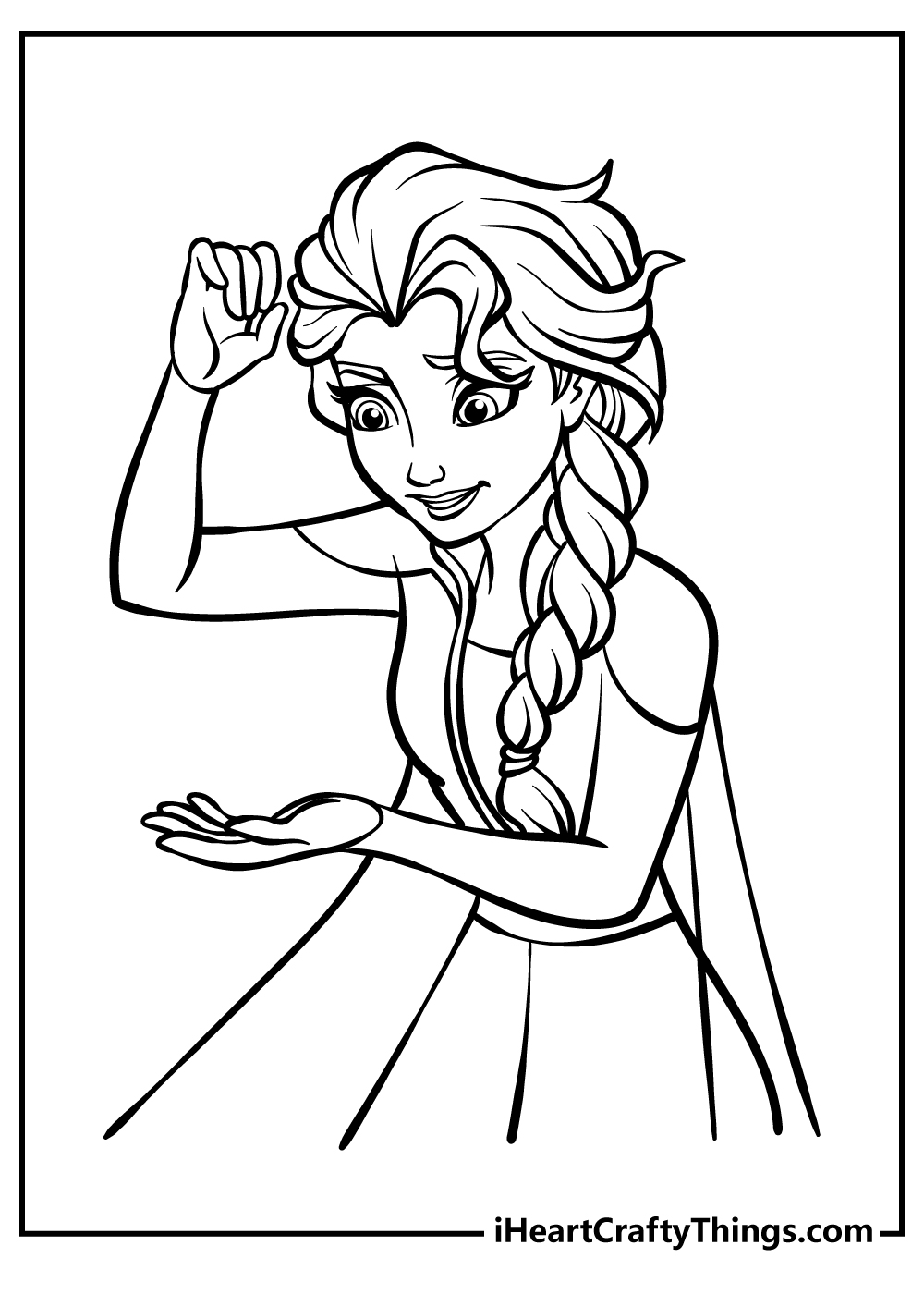 This is another stunning portrayal of the beautiful Elsa that we have for you to color! There is quite a lot of empty space behind her, so you could create a beautiful background setting behind her.
If you have a favorite scene from the film, you could use it as inspiration for a background.
What scene would you use as inspiration?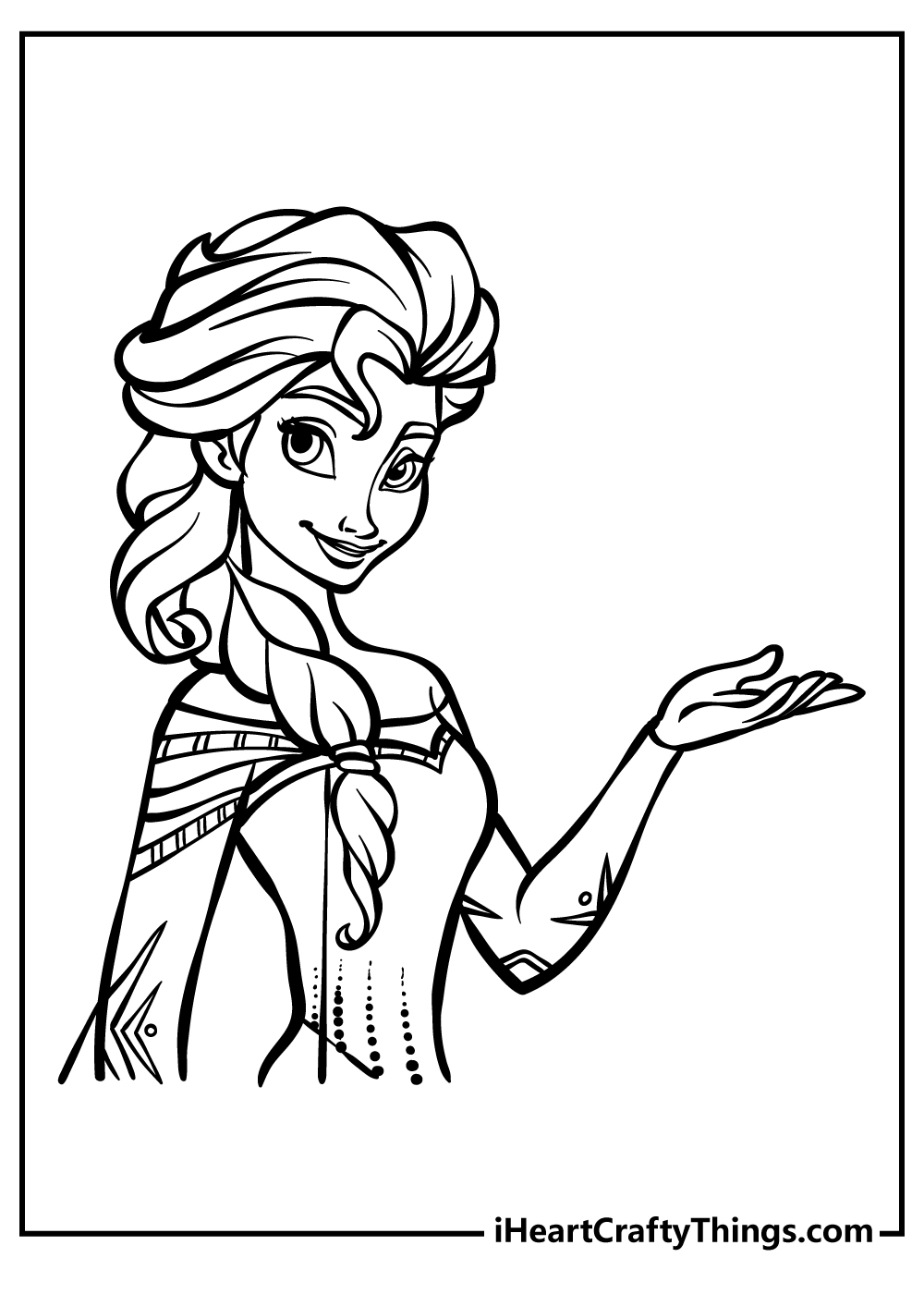 You have reached the final Elsa coloring sheet we have for you, and it is a lovely calm portrayal of the character.
For this final one, we would complement the mood of the image by using some milder colors portrayed with some colored pens or watercolor paints.
How will you close off this collection with your color creativity?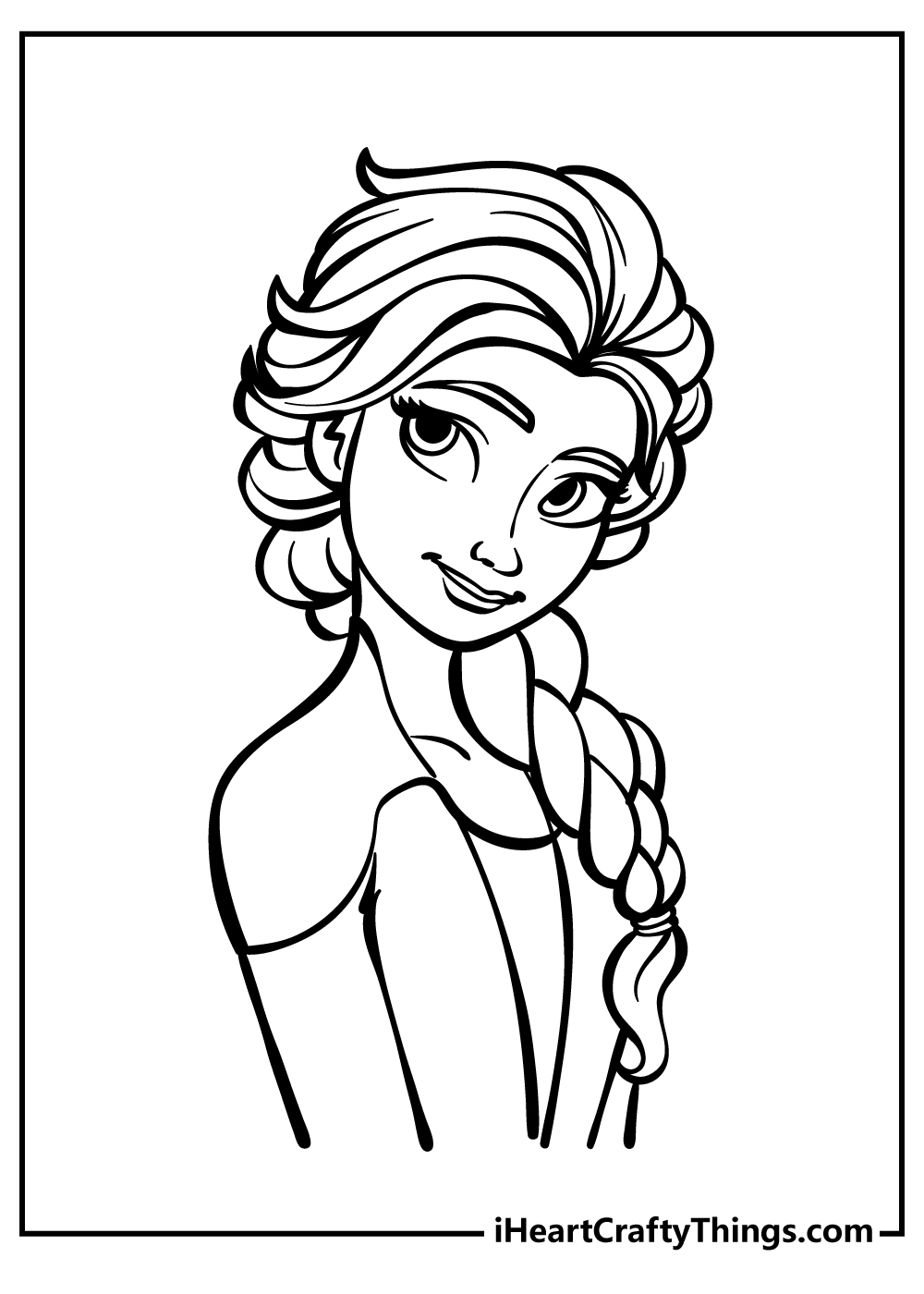 Elsa Coloring Pages – Which will you choose?
This is one of the most popular characters to emerge in recent years, and we hope you had an amazing time coloring her in this collection of free Elsa coloring pages for kids!
There were so many great poses and scenes featuring her here, and you can really let your creativity flow when coloring them.
By sharing the collection with others, you can also all compare how you chose to color the pages!
Lastly, we hope you will remember to share some of your finished pages on our Facebook and Pinterest pages, as we would love to see them!