On this page, you will find 15 all new Frozen coloring pages that are completely free to print and download.
Fairytales have been a common setting for films and stories throughout the years, and Disney is especially famous for bringing many different fairytales to modern audiences.
The film Frozen was released in 2013 and took the world by storm! It charmed audiences young and old with its fun characters, brilliant songs and interesting takes on fairytales.
This collection of free Frozen coloring pages for kids is here to celebrate this famous film.
Each of these pages are free for you to pick, print, color and have a great time with! You can share the fun by sharing the collection with others too.
When you have colored some of your favorites, please share them on our Facebook and Pinterest pages for us to see!
15 Brand New Frozen Coloring Pages – Free to Print and Color
Olaf the snowman is a sidekick character in the film, but he still managed to win over millions of fans, and is a favorite character from the movie.
He is also the star of this first page of our collection of free Frozen coloring pages for kids! His colors are pretty simple, as he has his bright orange nose along with black for the stones on his body.
You could work some brighter colors into the background or maybe give him a new look!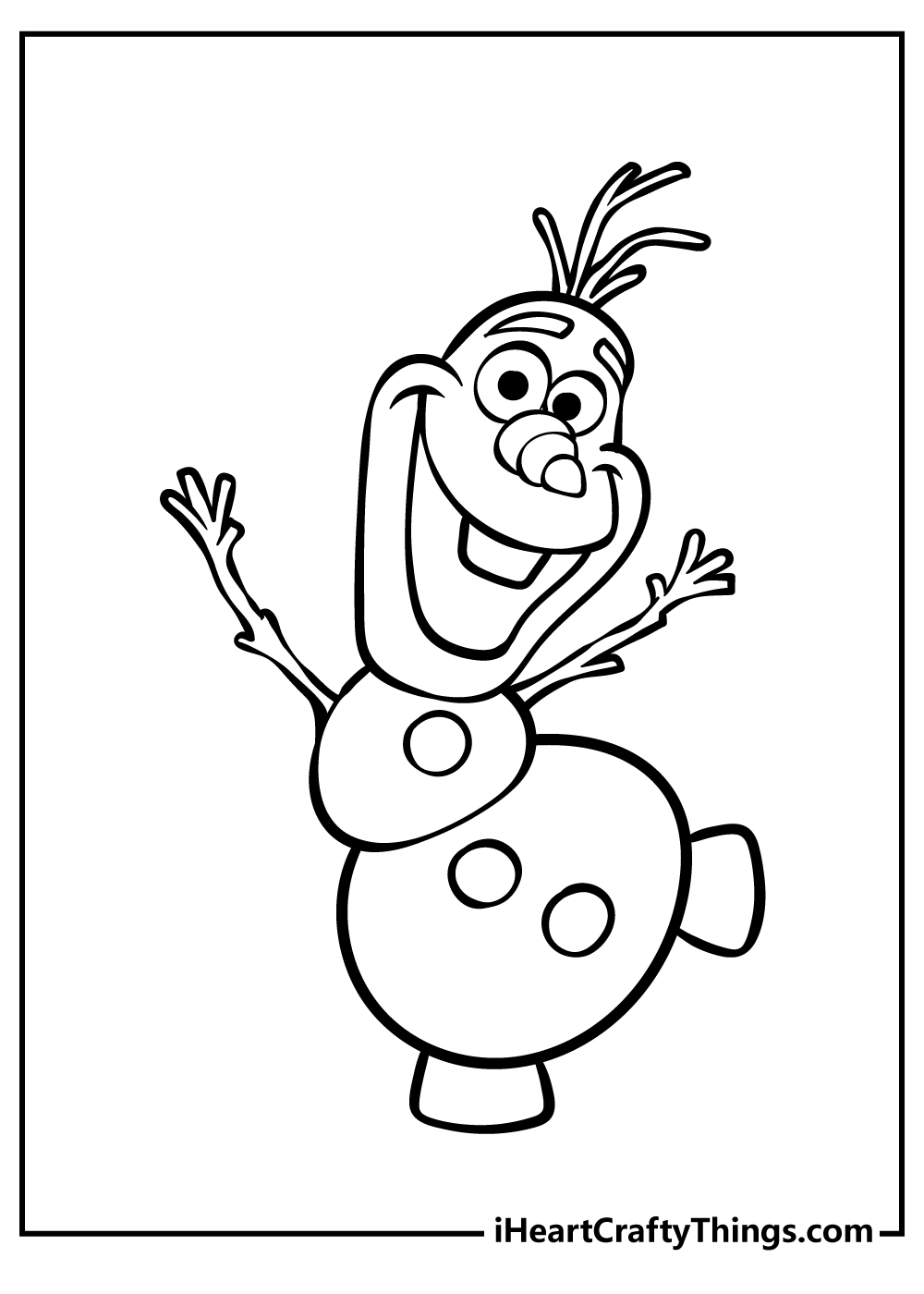 Every hero on an adventure needs a faithful steed, and that's where Sven the reindeer comes in. This brave reindeer has a lot of character, and he helps the heroes of the film to reach their goals.
Will you color him in to look like his film counterpart, or will you give him a unique look?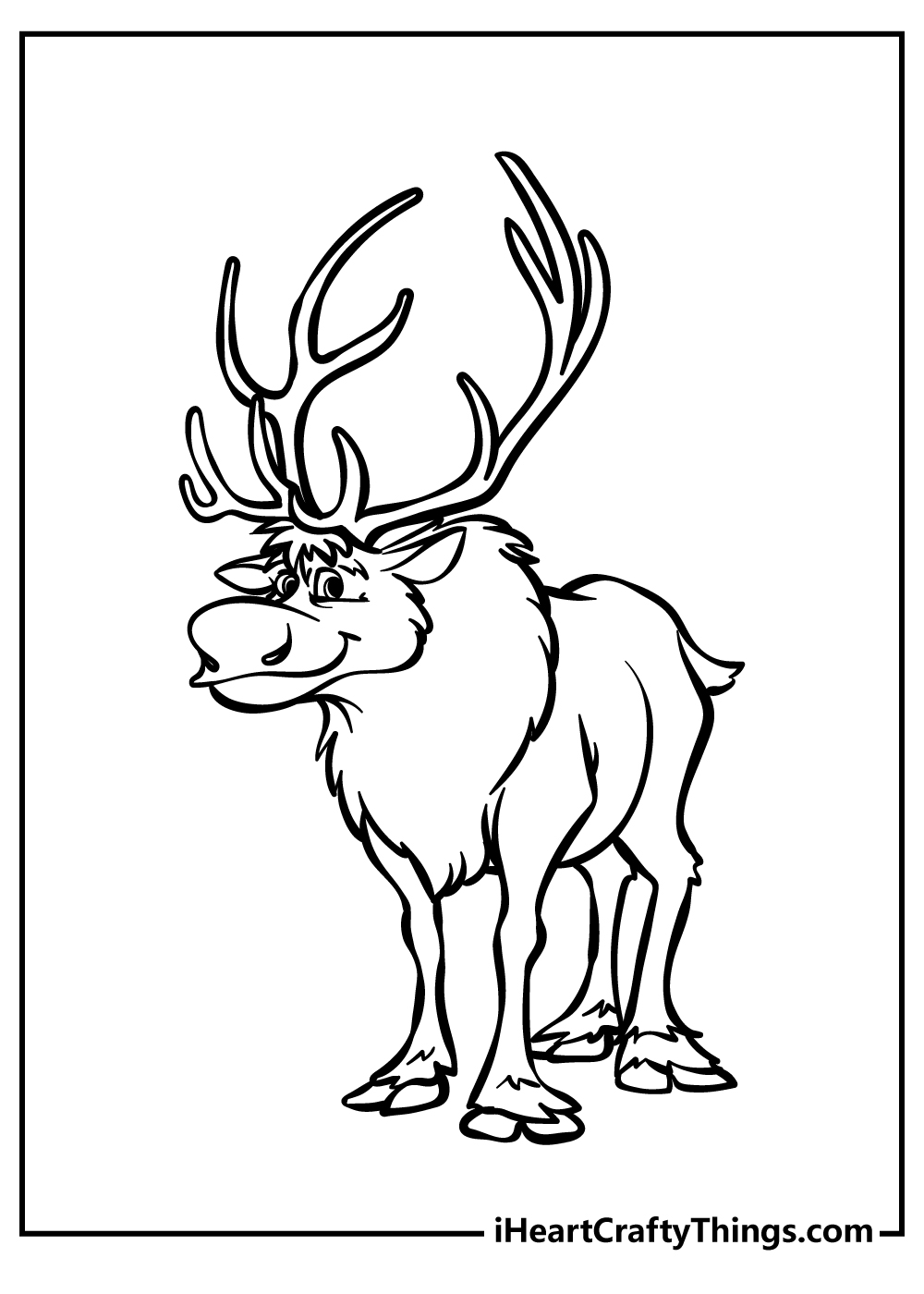 Kristoff is up next for this third page! This is a character that is very capable, and goes on many adventures with his buddy Sven!
There are some great details to his outfit, as he is dressed to brave the cold wilds he lives in.
This one should be fun to color in!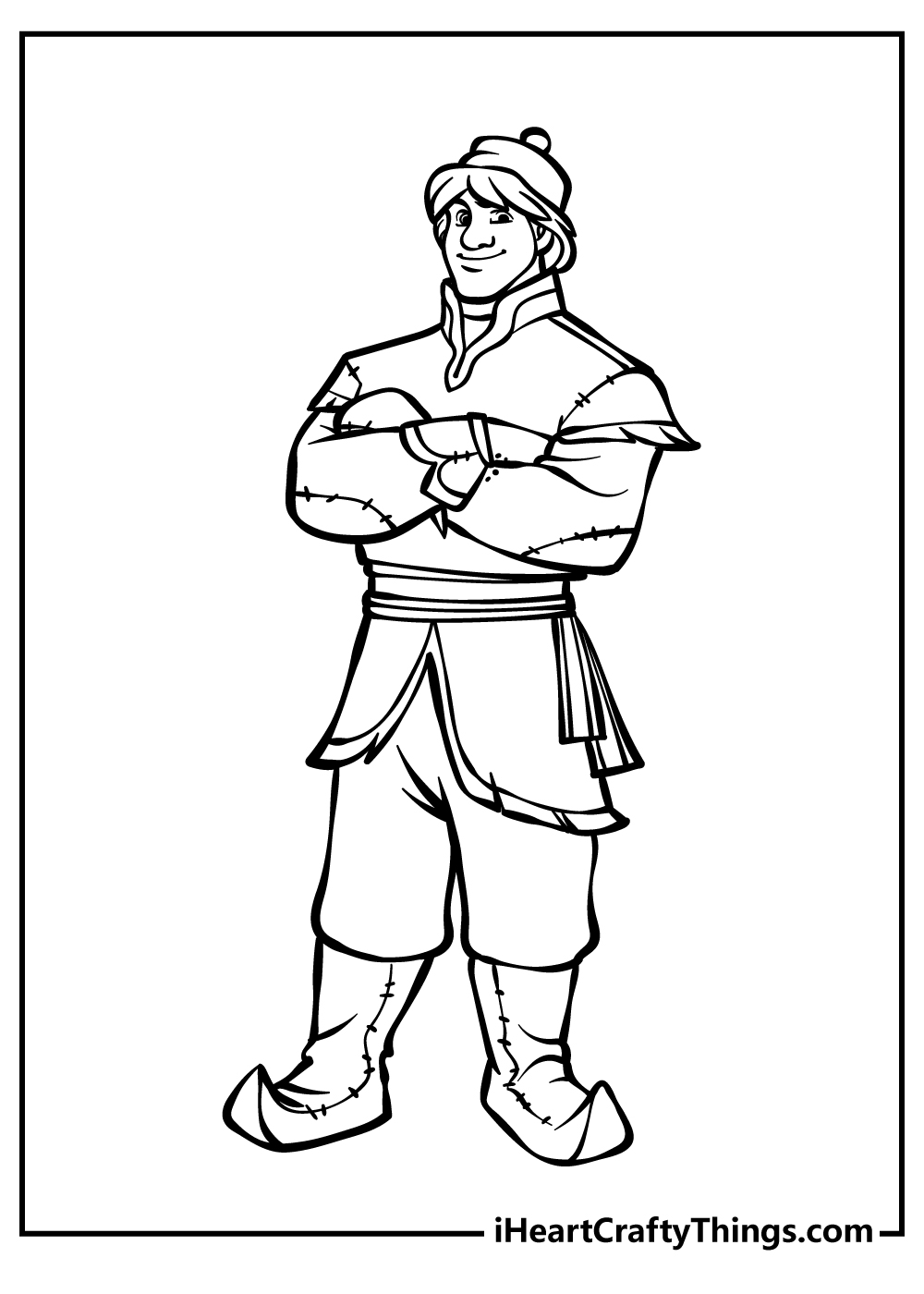 We have another great portrayal of Sven the reindeer for you to color on this next page! He is portrayed from a different view in this one, and there are some more great details to color in here.
Will you draw a background for this fun reindeer as you color it in?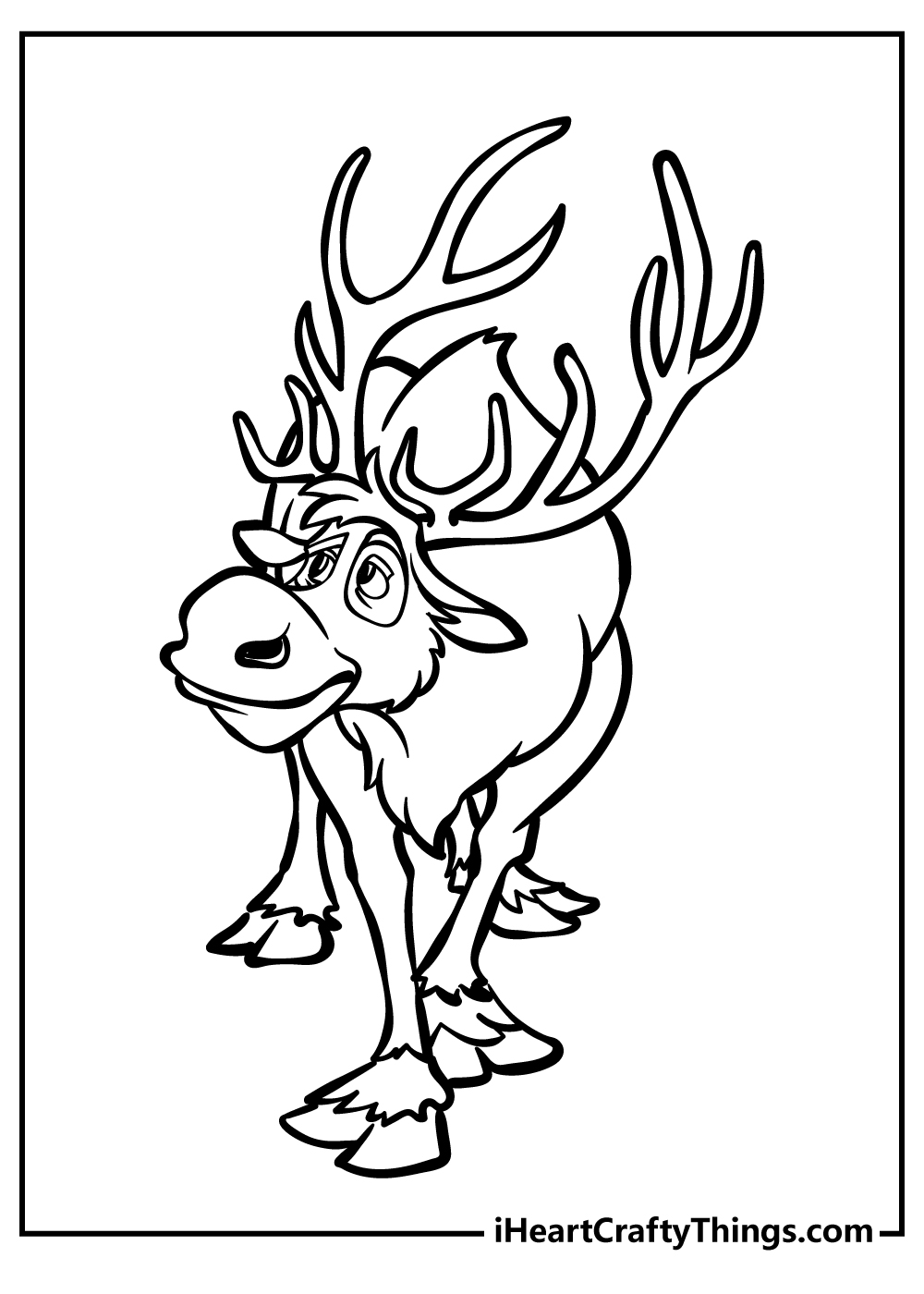 At the heart of the film, we have the relationship of the sisters Anna and Elsa. Anna is featured in this next Frozen coloring sheet, and the picture is a fun portrayal of her!
It really captures her character, and you can work in some warmer colors as you color her red hair.
Which art tools and mediums will you use for this one?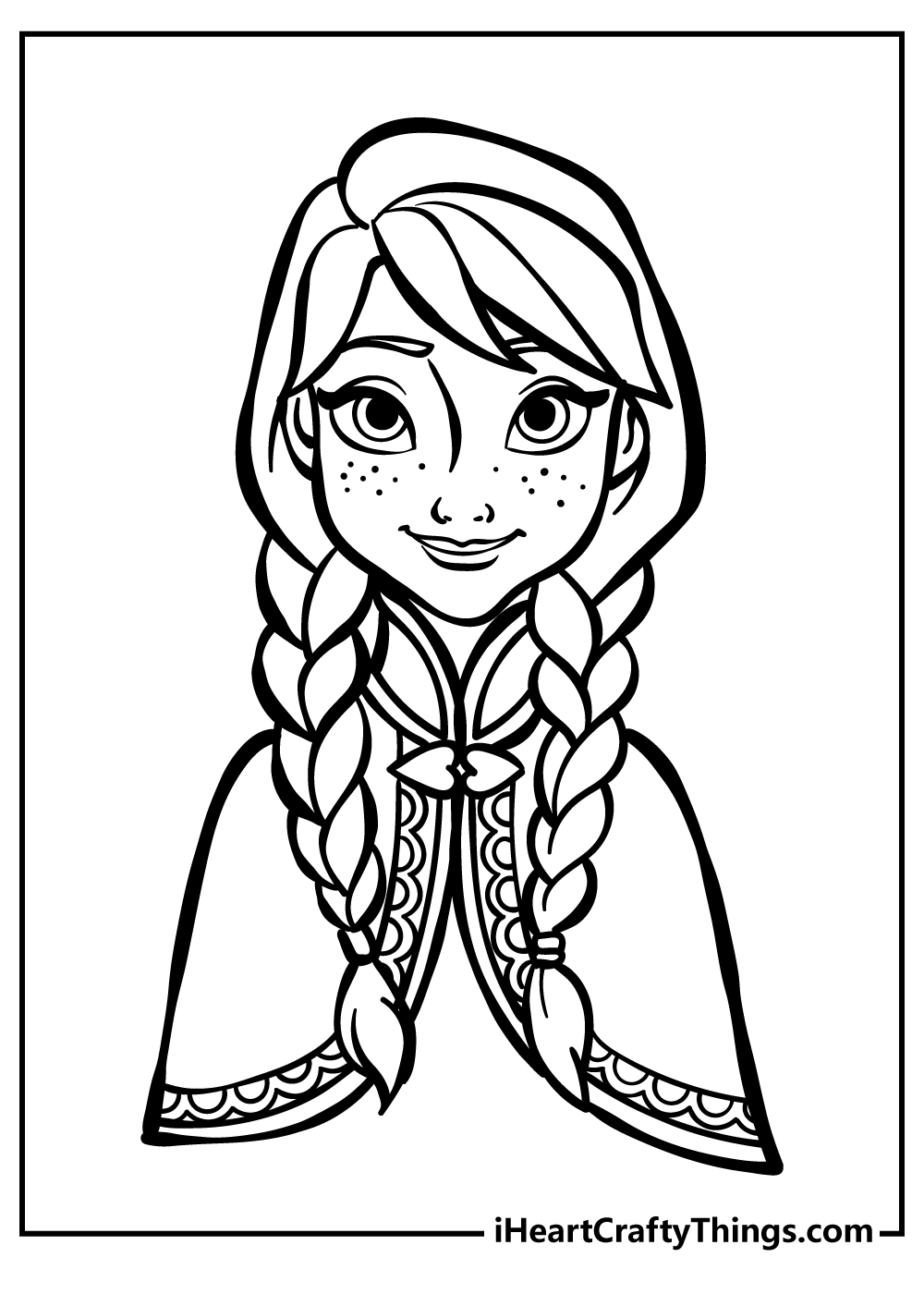 This sixth page we have for you features the lovable Olaf making his return! He is in a rather excited pose in this one, and he gives off a really happy feeling in this one.
For this one, we would use some bright, happy colors for the background to fit the fun mood this picture gives off. Will you take a similar approach?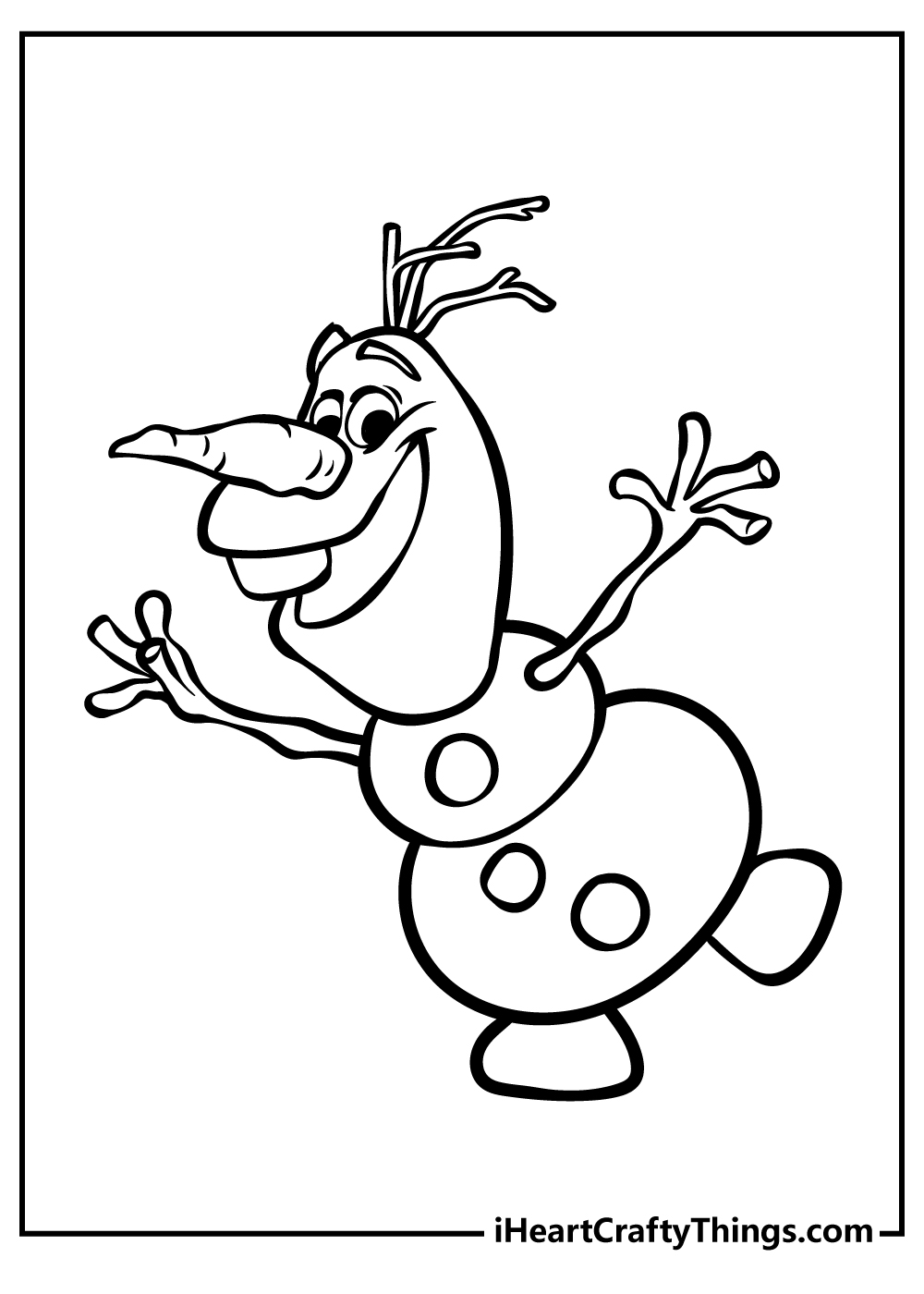 We have another lovely picture of Anna for you to color in this next image. This one really captures her character so well, and there are many smaller details.
You could use the film or pictures online to get the colors just right, or you could give her a totally unique look if you prefer.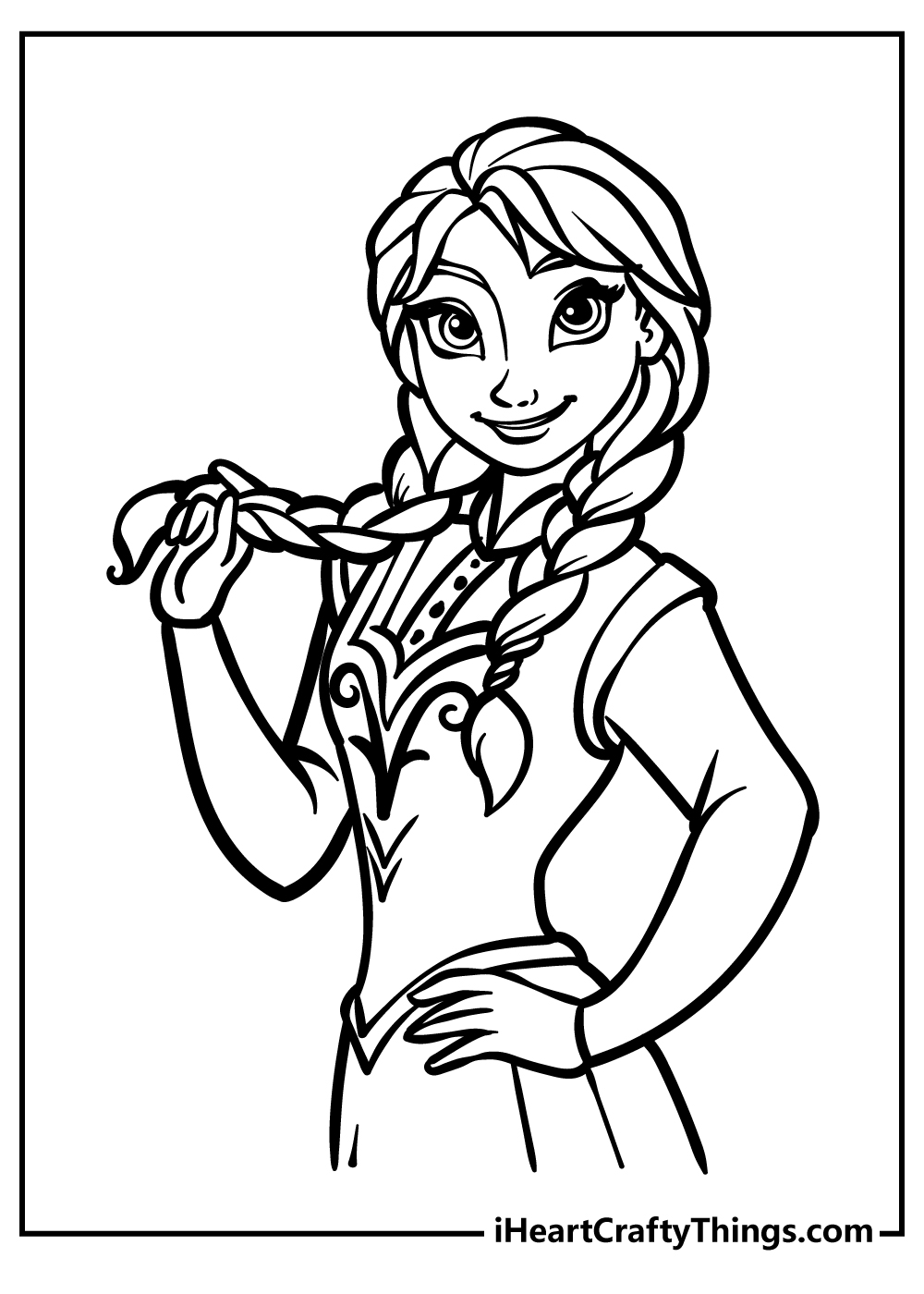 Kristoff returns in this page, and it's a really fun pose for you to color. He's looking a bit flustered as if he is facing a difficult task, but we know from the films that he is always up to a challenge!
We would use some darker, moodier colors for this one to suit the mood it gives off, but what will you choose?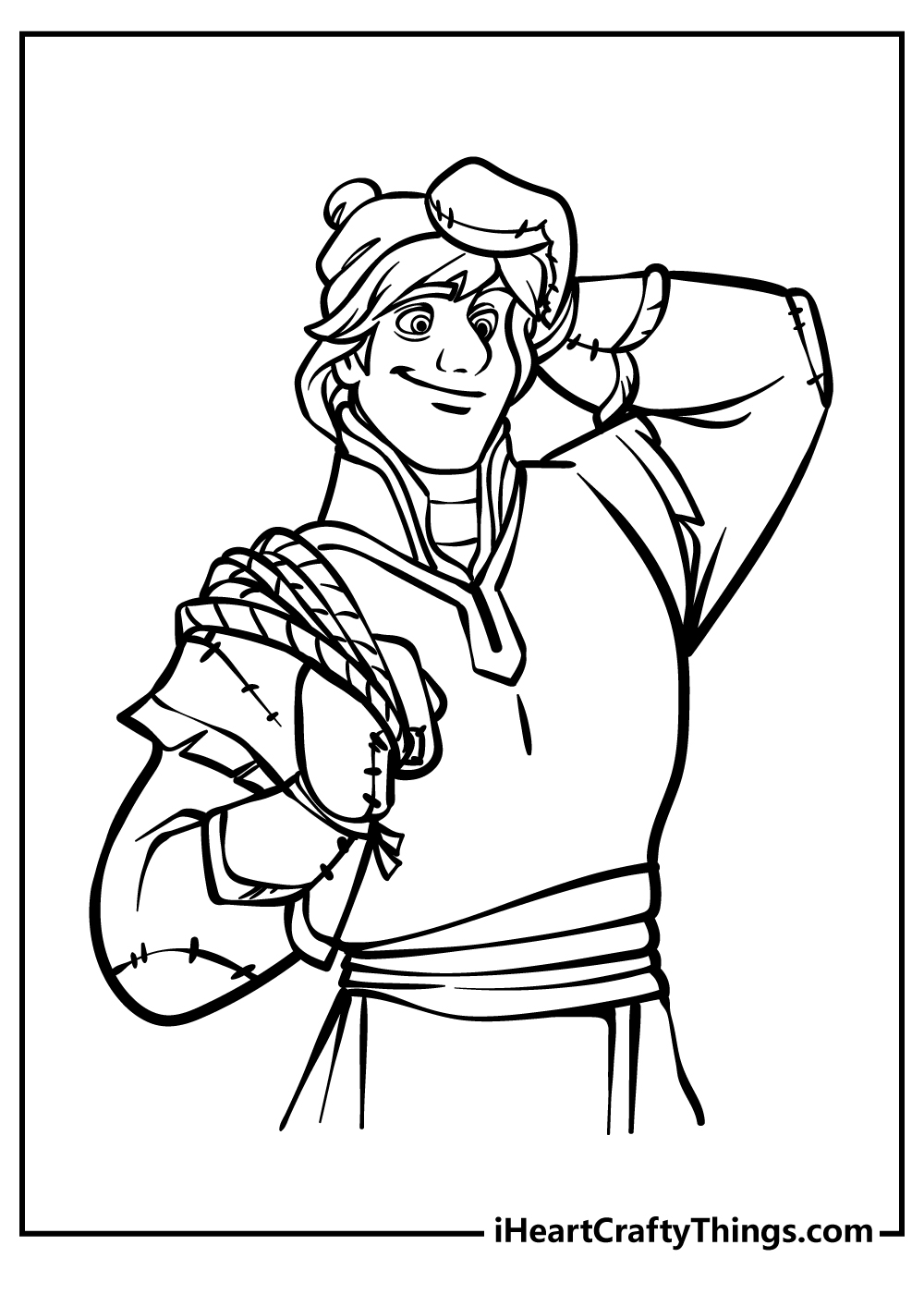 We love the pose Olaf the snowman is in for this ninth Frozen coloring printable! He is a character that is known to get easily excited and run about, and that is what he is doing here.
For this one, we would again use some brighter colors to give it a sense of fun.
This should be a great one to look at when it's done!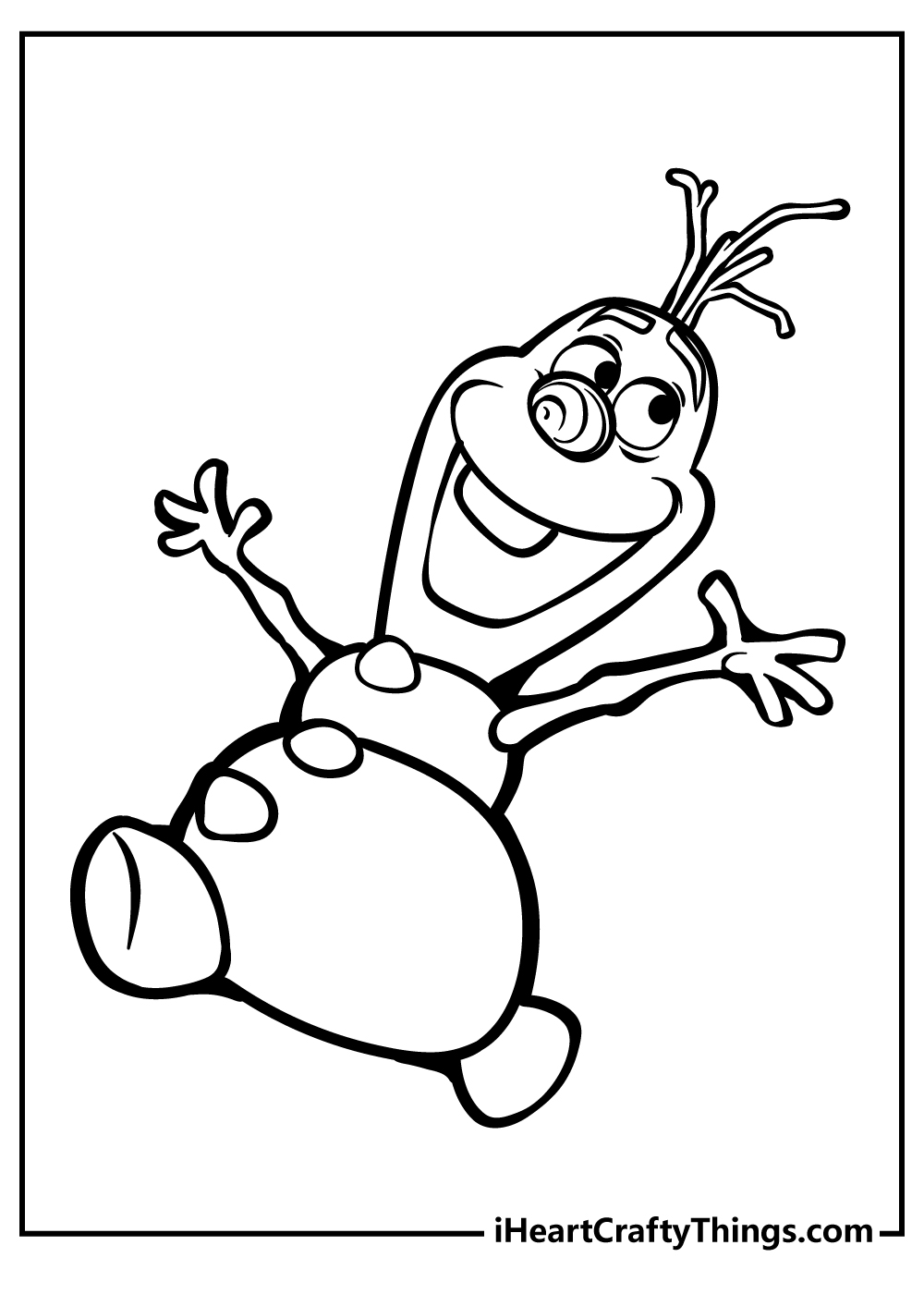 This tenth page turns back time to show Anna as a young girl building a snowman.
In the movie, "do you want to build a snowman?" is an important line, but here we will be coloring a snowman instead. There are so many wonderful colors and mediums you could use for this picture!
How will you color this charming scene?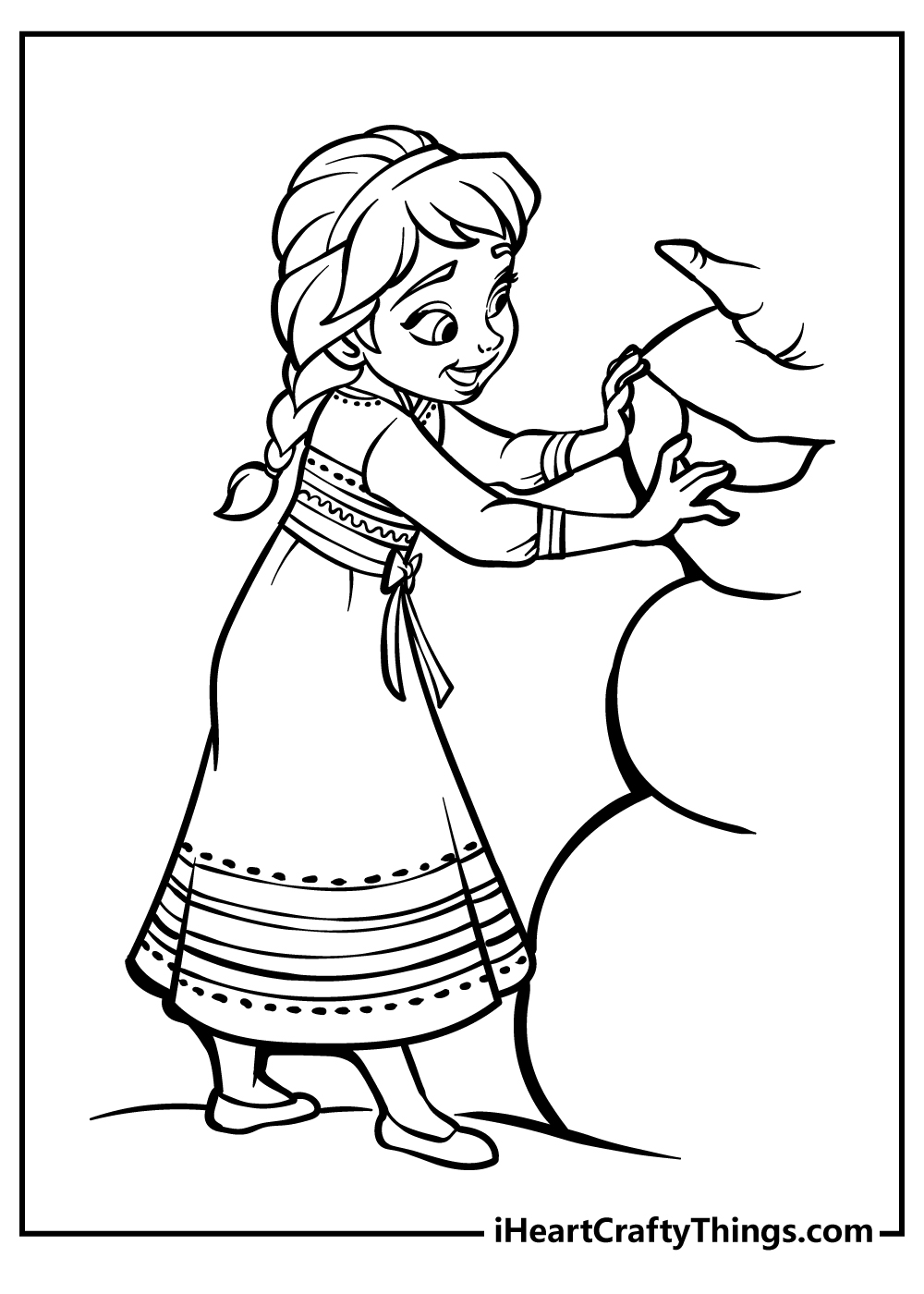 Anna is looking very happy and confident in this next picture! She wears clothes with a similar color scheme throughout the films, but there are a few variations.
That means you have a few options for how you could color this portrayal of this beloved character!
Which iteration will you choose?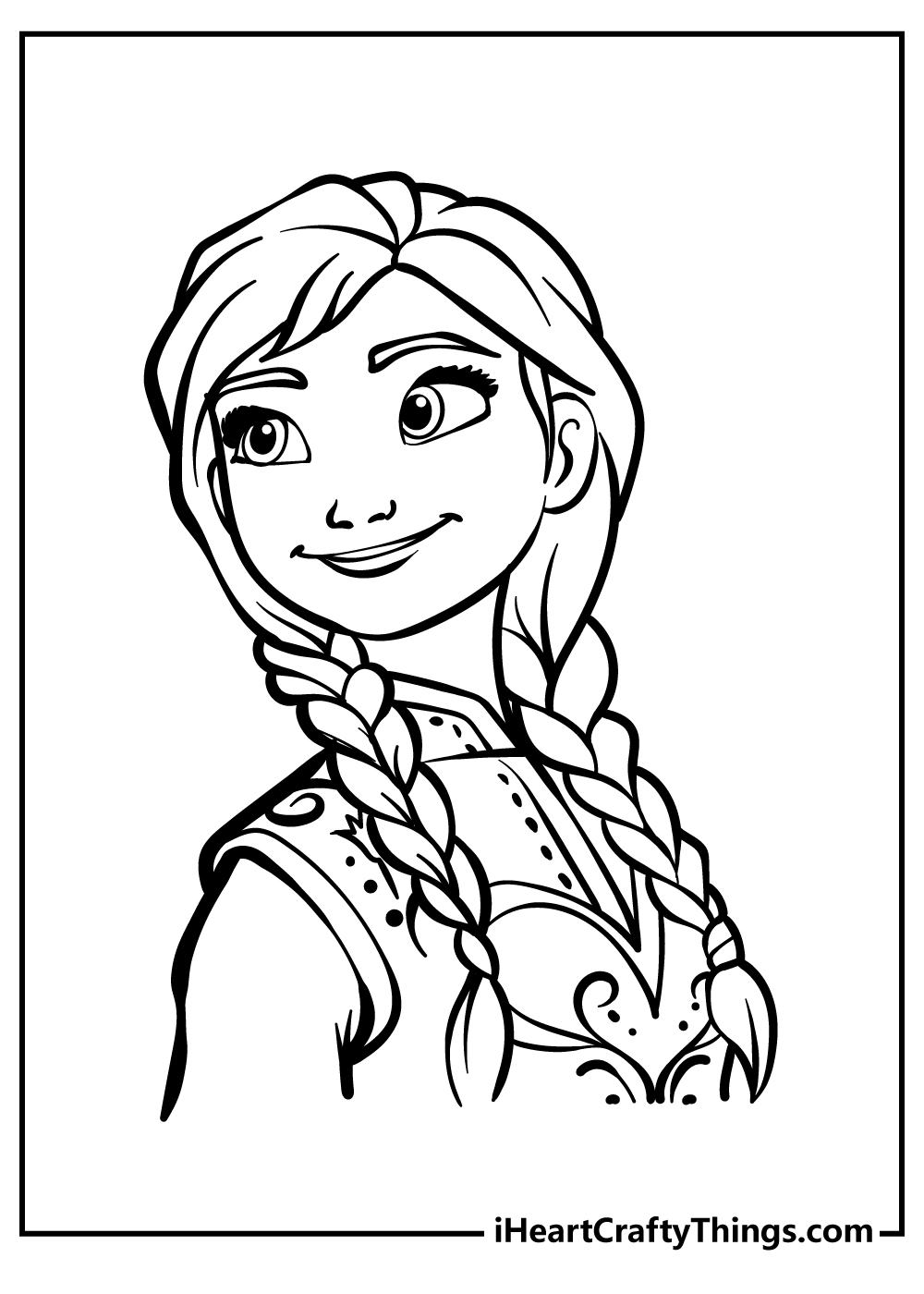 Olaf is looking rather delighted in this next portrayal! He is known to be a happy and optimistic character, and that is really portrayed perfectly.
For this one, we would use some rich colors like reds and purples for the background to finish off that loving feeling. That is what we would do, but what colors come to mind for you?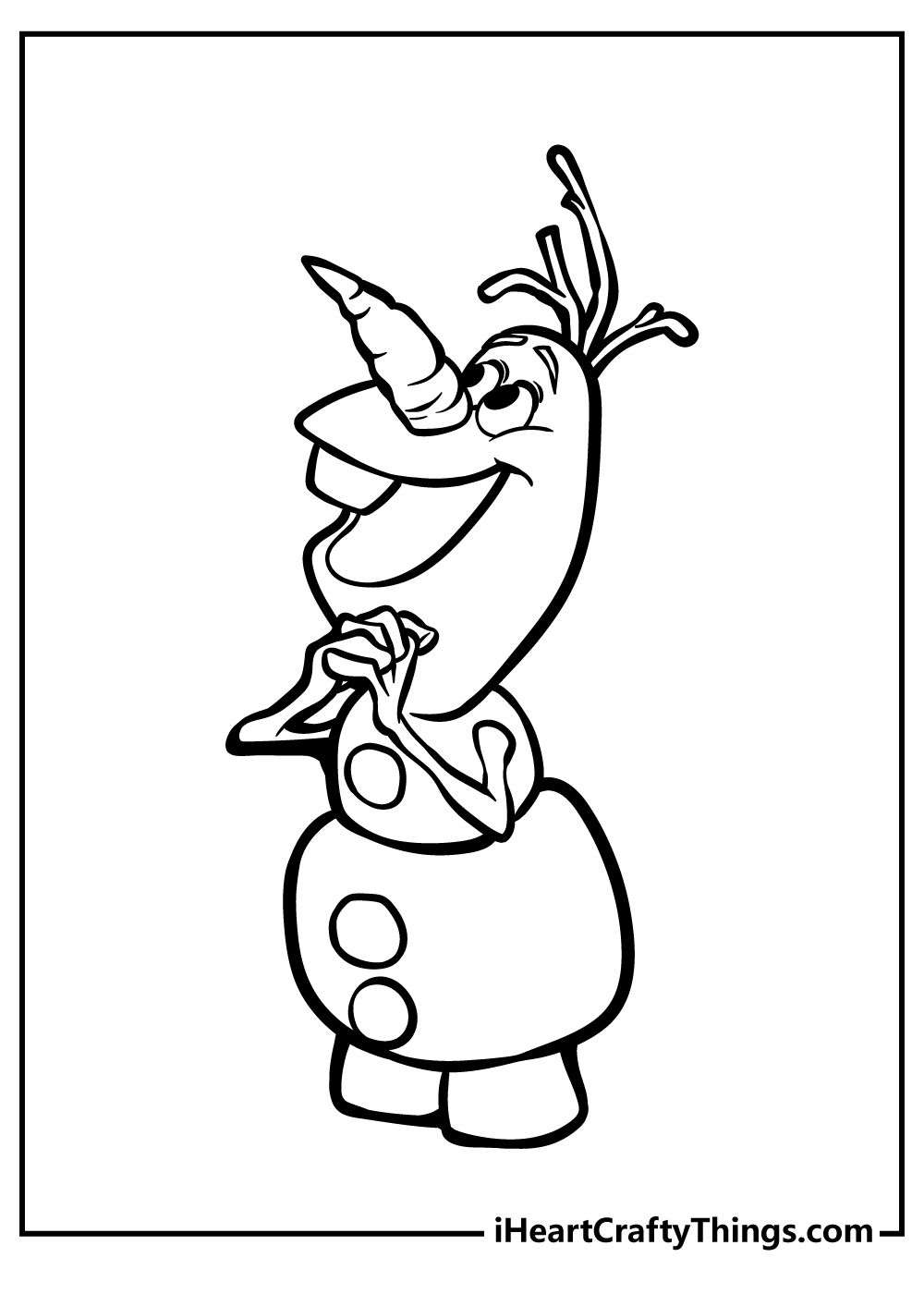 This picture of Anna is another one that captures her character perfectly.
Certain details such as the braids of her hair are quite small and fiddly to color, so you can use mediums such as colored pens and pencils to make coloring these small areas much easier.
What other art tools and mediums will you use to finish off this charming image?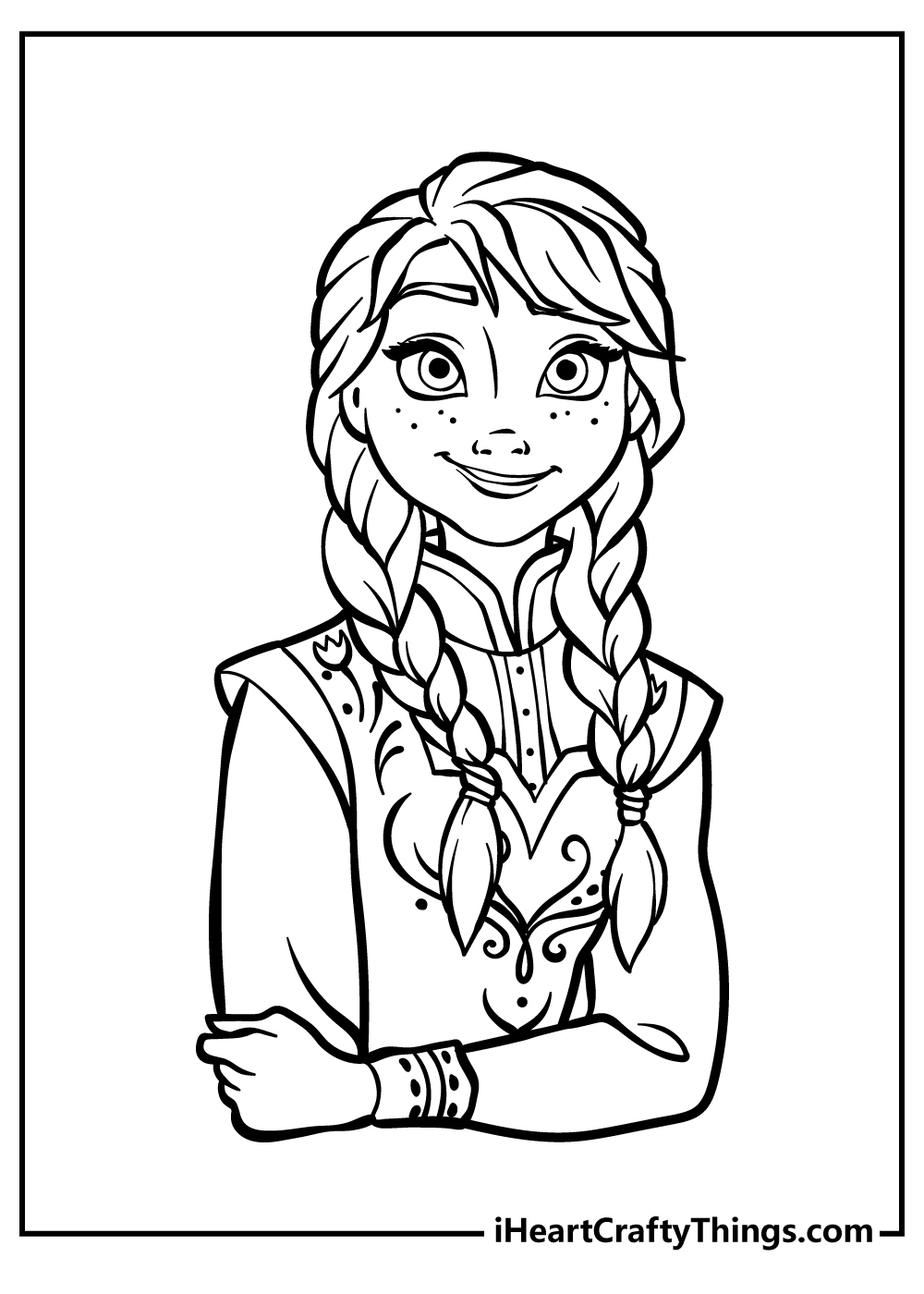 No collection of Frozen coloring sheets would be complete without the ice queen herself, Elsa!
Elsa typically has clothing that has lighter blues and white incorporated, and this is complemented nicely by her light blonde hair.
Will you use her classic colors when finishing off this page?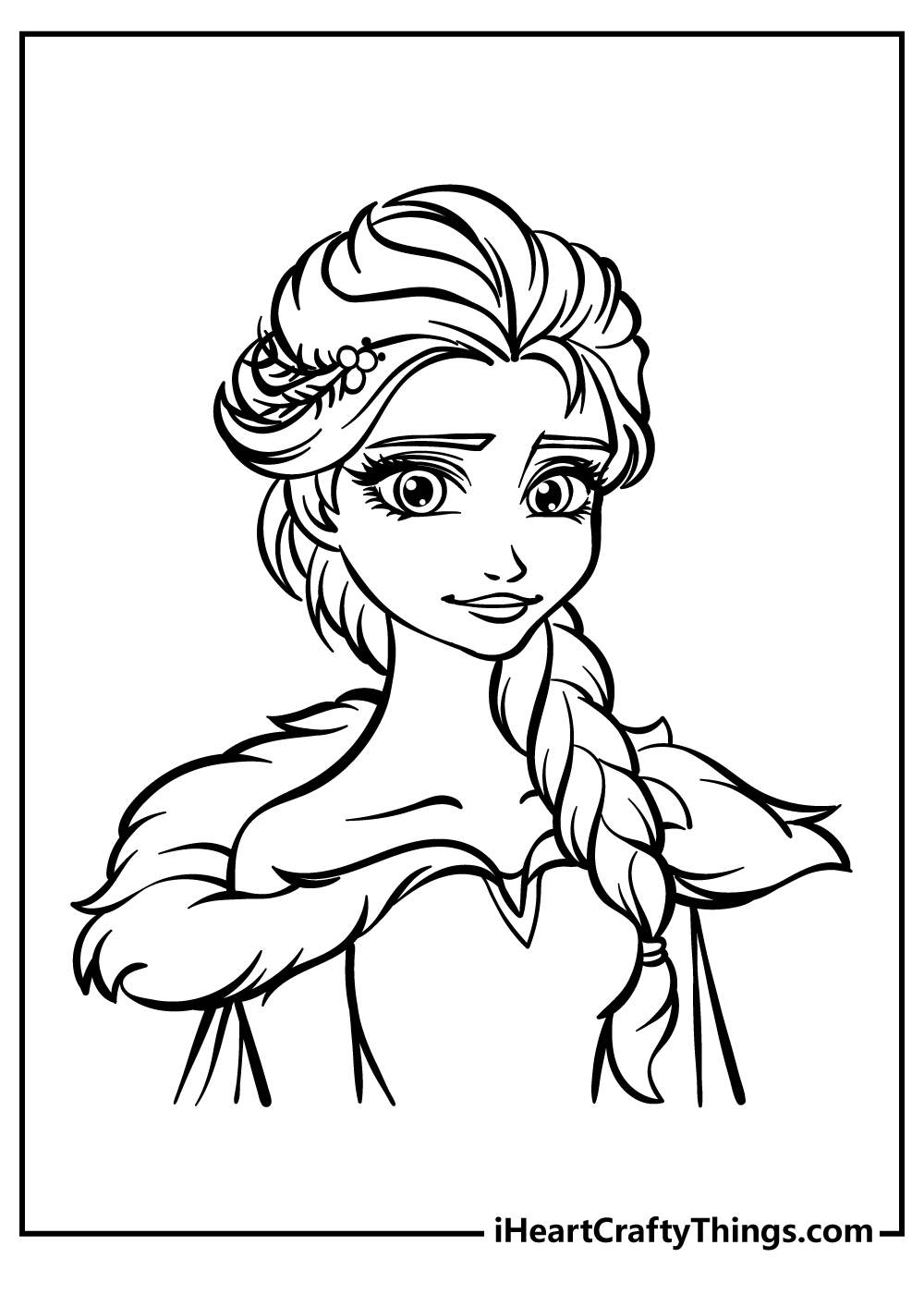 Let's close off this collection with another wonderful picture of Anna. she looks really calm and serene here, and we would use colors to highlight this feeling.
We would use lighter colors created with some watercolor paints or colored pencils to really bring this one to life, but any colors and mediums you use will look great!
How will you close off this collection?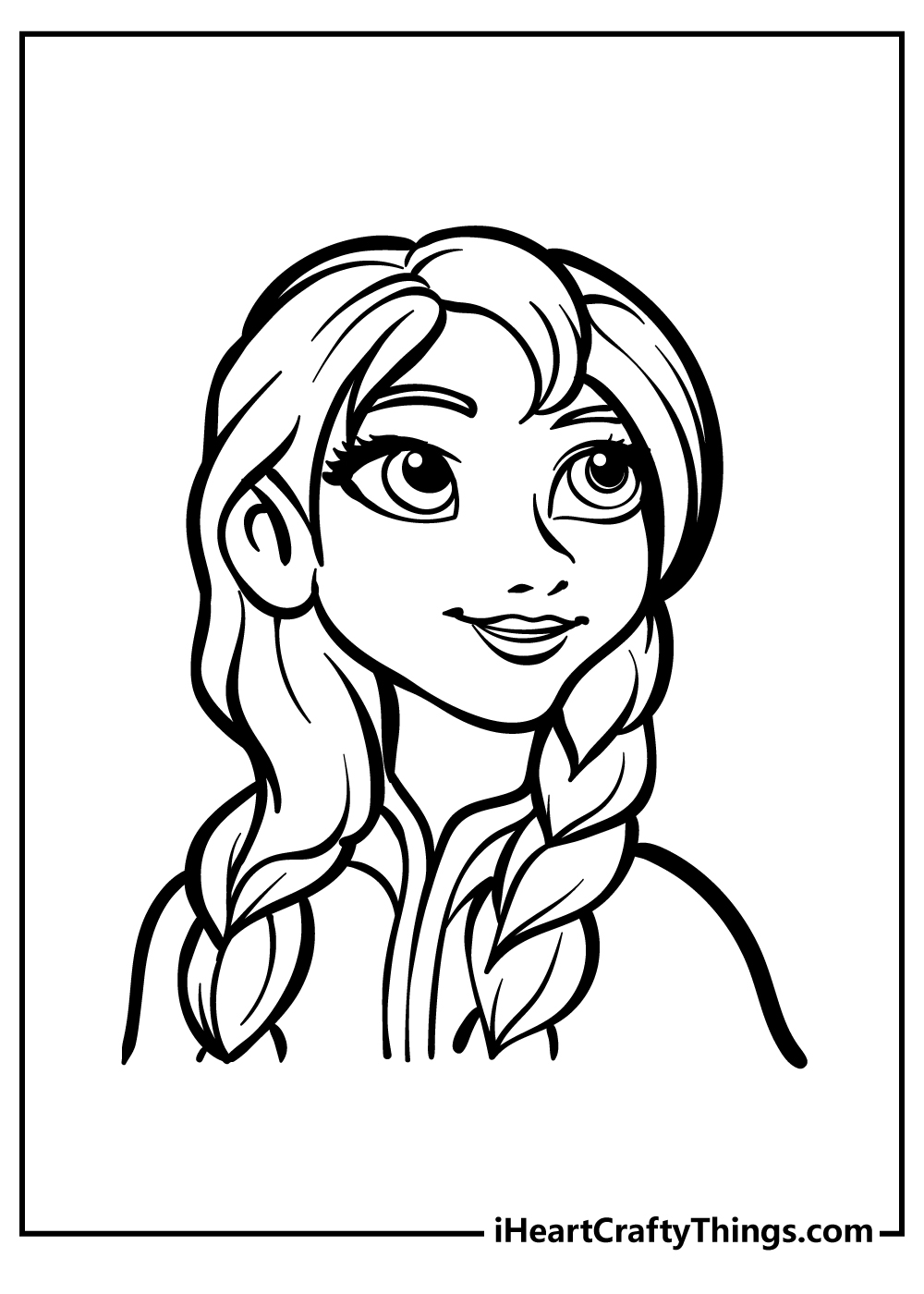 Create Some Magic With Extra Ideas For These Frozen Coloring Pages
Frozen is a popular film series, and there is plenty of magic to behold in the series. That magic was captured in this collection of Frozen coloring pages, but there is a lot more magic that can still be added!
Before we finish this guide, we wanted to give you a few other ideas you can use that will help to make your chosen pictures even better.
One way you can do this is in how you choose to add your chosen colors.
We always suggest trying out unique art tools and mediums, and we also think it can be lots of fun to try out different craft supplies. Earlier, we spoke about how magical these films are.
One of the best ways to add some magic to an image is by using glitter. In movies and other media, magic is often portrayed with some sparkle and glow, and glitter is a great way to portray this.
You could do this by using a light layer of glue and then sprinkling glitter over the glue. You can do this sparingly to keep it subtle, or you could add a thick layer of glitter.
It's up to you, and there are other ways you can make your picture more magical. Adding lots of different art tools and mediums with some fun crafts can be a fun and easy way to do this.
There are no wrong ways to go about doing it, so now you can have some fun experimenting! You can try any of your ideas and they will look amazing in their own way.
How will you go back and make your favorite coloring pages in the collection even more special with your amazing ideas?
Frozen Coloring Pages – Which will you choose?
That will finish off this collection of free Frozen coloring pages for kids! We hope that despite the icy setting of this story that you got a lovely warm feeling from these pages.
Remember that you can color as many of these pages as you like, and you can share the collection with other Frozen fans to enjoy!
Speaking of sharing the pages, you can share your finished Frozen coloring sheets on our Facebook and Pinterest pages for us to see when they're done!