On this page, you will find 20 all new Anna from Frozen coloring pages that are completely free to print and download.
It's easy to see why Anna from the Frozen series has become so beloved worldwide.
Her cheerful yet slightly naive nature in the movies both helps and hinders her as more obstacles come her way, and it's great to see how her character learns and grows.
This collection of free Anna coloring pages is here for you to get closer to this amazing character!
All 15 of these wonderful coloring pages are free whether you want to enjoy them all yourself or share them with others.
So get ready for a magical coloring journey as we begin this collection!
20 Brand New Anna Coloring Pages – Free to Print and Color
We mentioned in the introduction that Anna is a cheerful and confident character, and this first Anna coloring sheet really captures that side of her.
Additionally, we also get a look at some of the pretty details on her clothing, so you have some smaller details to color in to make the image look even better.
What colors and mediums will you use for this first image?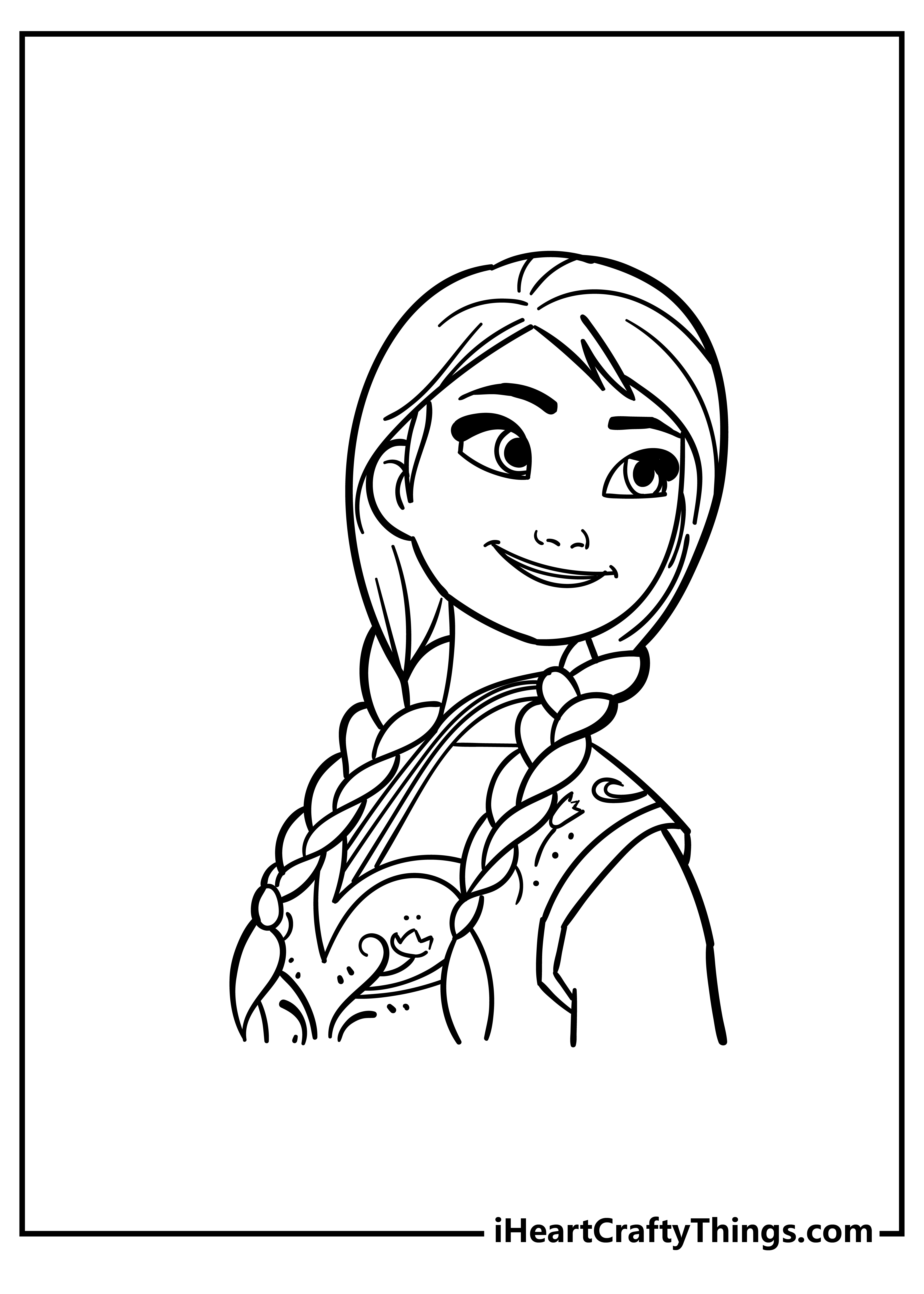 Anna looks very happy in this close-up image of her! Her face is quite small on the page, so you could have a lot of fun filling in the background of the image.
There are many ways you could do this, from using solid color to incorporating some shapes to even drawing some background details.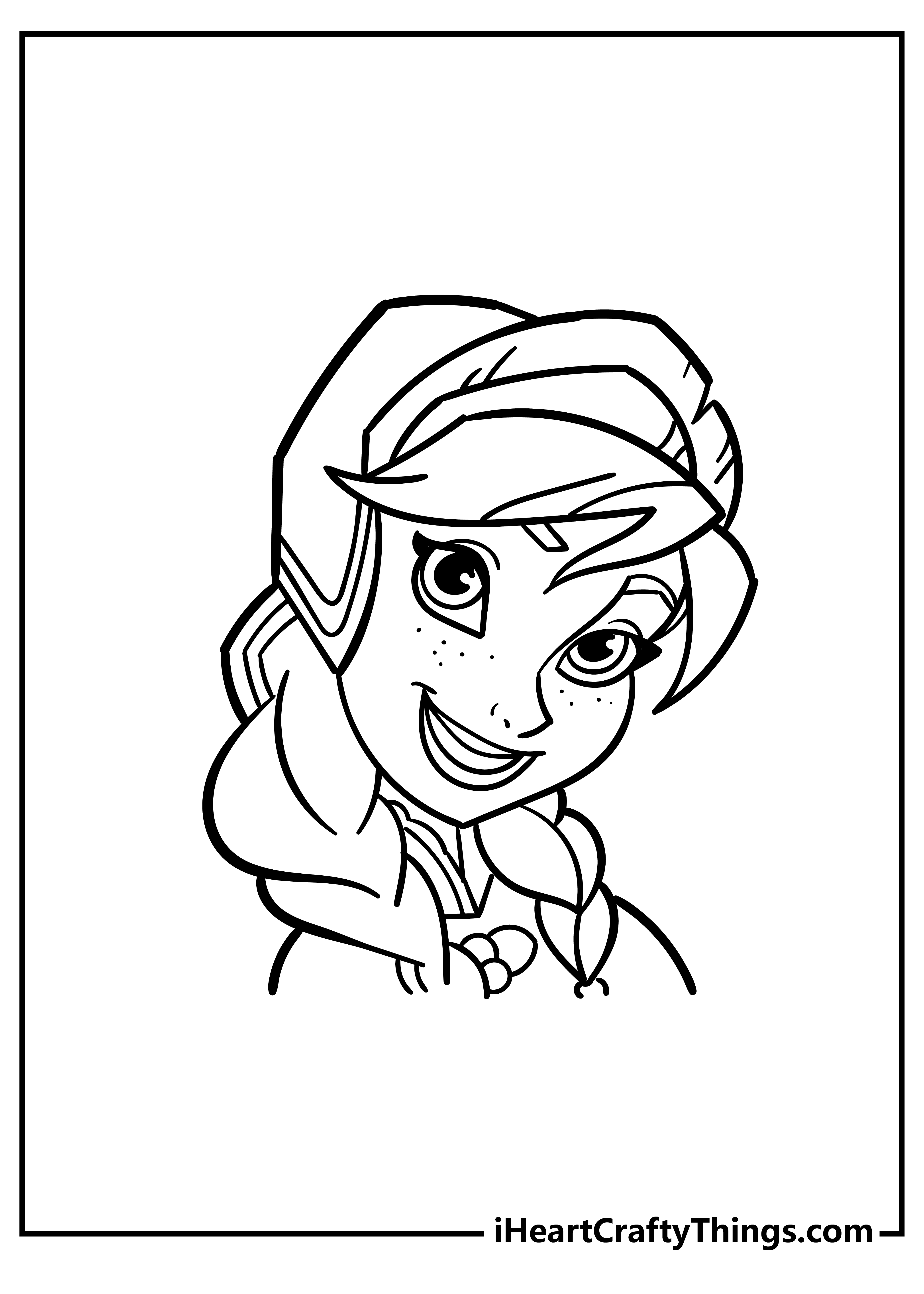 This Anna coloring page features Anna in a lovely German folk costume called a dirndl. This cheery costume has a classic black corset cinched over a puffy white blouse.
She wears a pearl necklace and earrings, and has her hair styled in a bun with curls on the side.
In the background, let's draw a fun fairytale village with pointy cottages, sprawling castles and shops with cuckoo clocks. Add winding rivers, snowy mountains and trees ripe with apples.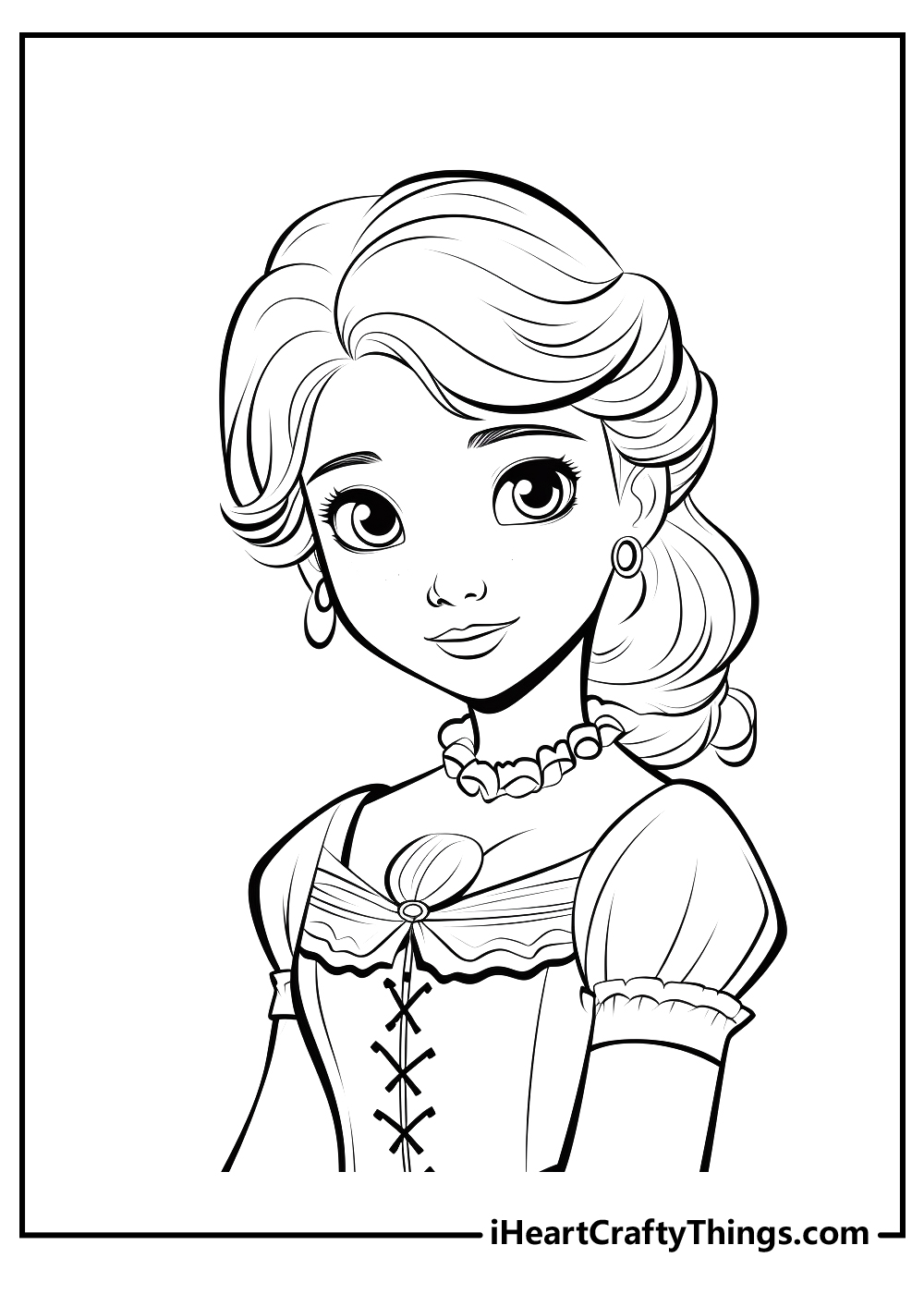 There are more awesome details to color in this next picture. It's a really fun pose as Anna plays with her hair braid, and you have loads of small details to color in.
If you want to challenge yourself even more, you could draw some more of her body below her and add some fun details to that as well!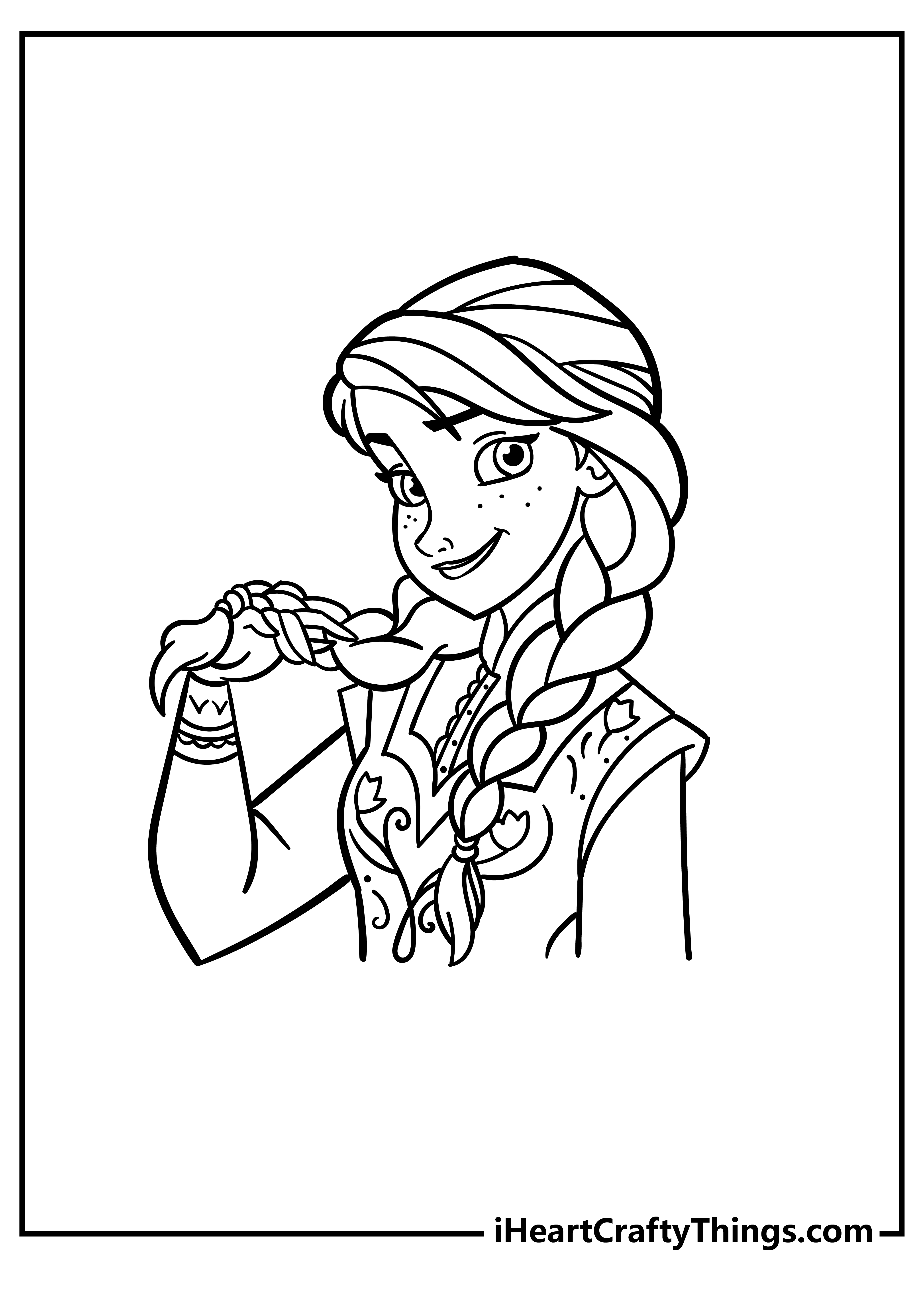 Meet the imaginative Anna with her stylish hairstyle. She's smiling with a joyful grin, looking at something amusing in front of her.
What do you think she's smiling at? Maybe she's looking at beautiful landscapes on a scenic vacation, taking in the views.
Now let's style Anna up in some fun fashions. Her collared shirt can become a rainbow, polka dots, hearts or anything you dream up.
Also, add whimsical accessories like star sunglasses or a unicorn horn headband.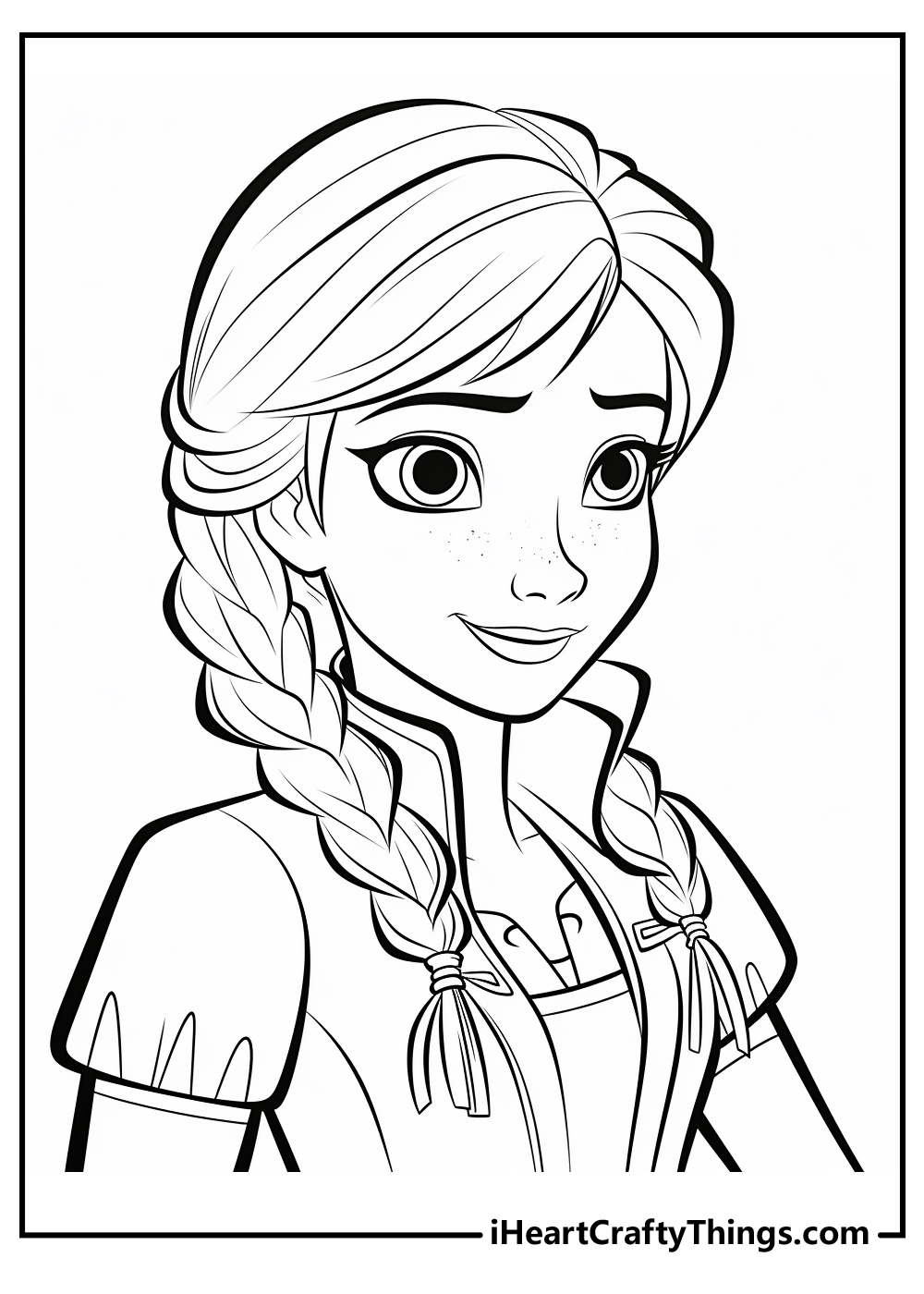 This fourth page captures the quieter side of Anna.
For this reason, we would use some softer colors done with mediums such as colored pencils and watercolor paints in order to capture this softer side.
You can really create a mood with the kinds of colors and mediums you choose, so what will you pick for this one?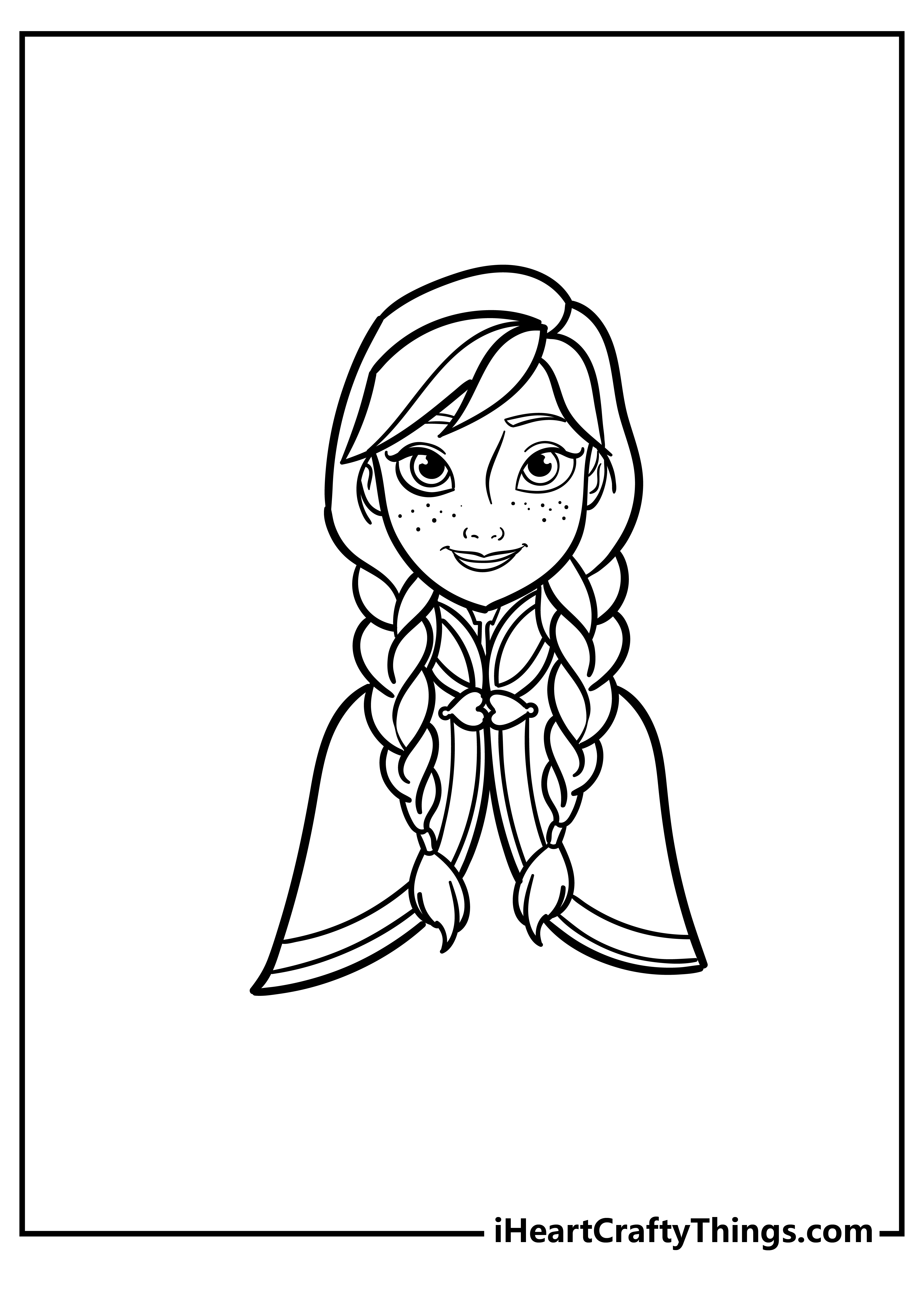 Our fifth page in this collection of free Anna coloring pages for kids is simply loaded with details!
Some of these details are quite small and intricate, so when coloring them you may want to use art tools and mediums such as colored pens and pencils.
These mediums are great for smaller details, as they have small tips that allow for precision.
Meet the cheerful Anna in her beautiful stylish dress. Her long braided hair flows down her back as she smiles, holding her bag.
Give Anna rosy pink cheeks to match her happy expression. Blue eyes like the Bavarian sky will look lovely with her braids.
With crisp lines and bright colors, you can bring the storybook village to life. For extra flair, decorate with flower stickers, glitter or ribbons. Make the scene as lively as Anna.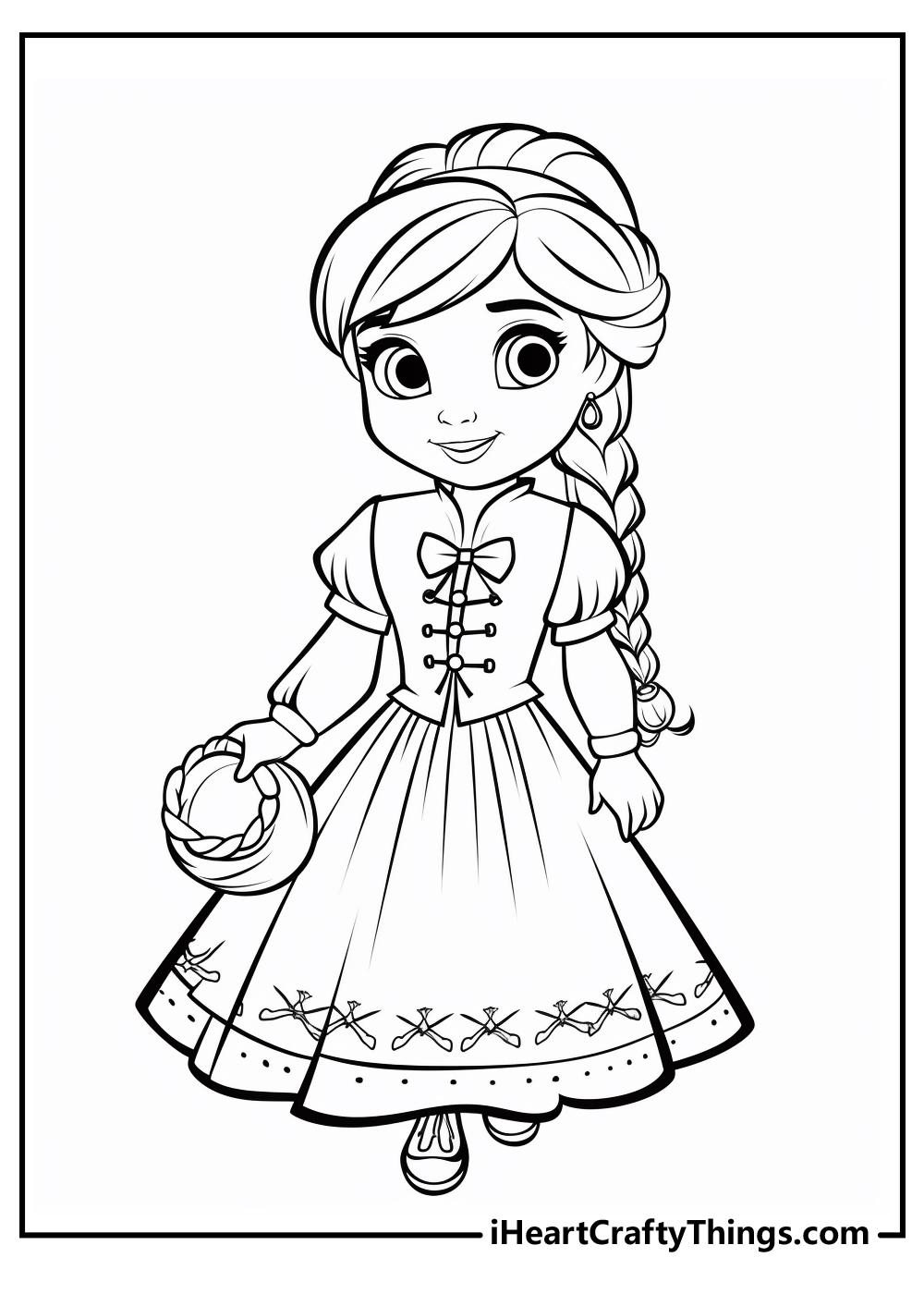 Anna has generally been looking pretty happy in this collection, but this time we have her looking a bit sad.
She seems to have taken a bit of a tumble here, and it captures a bit of a low moment for her. Which colors will you pick to highlight this moment for her?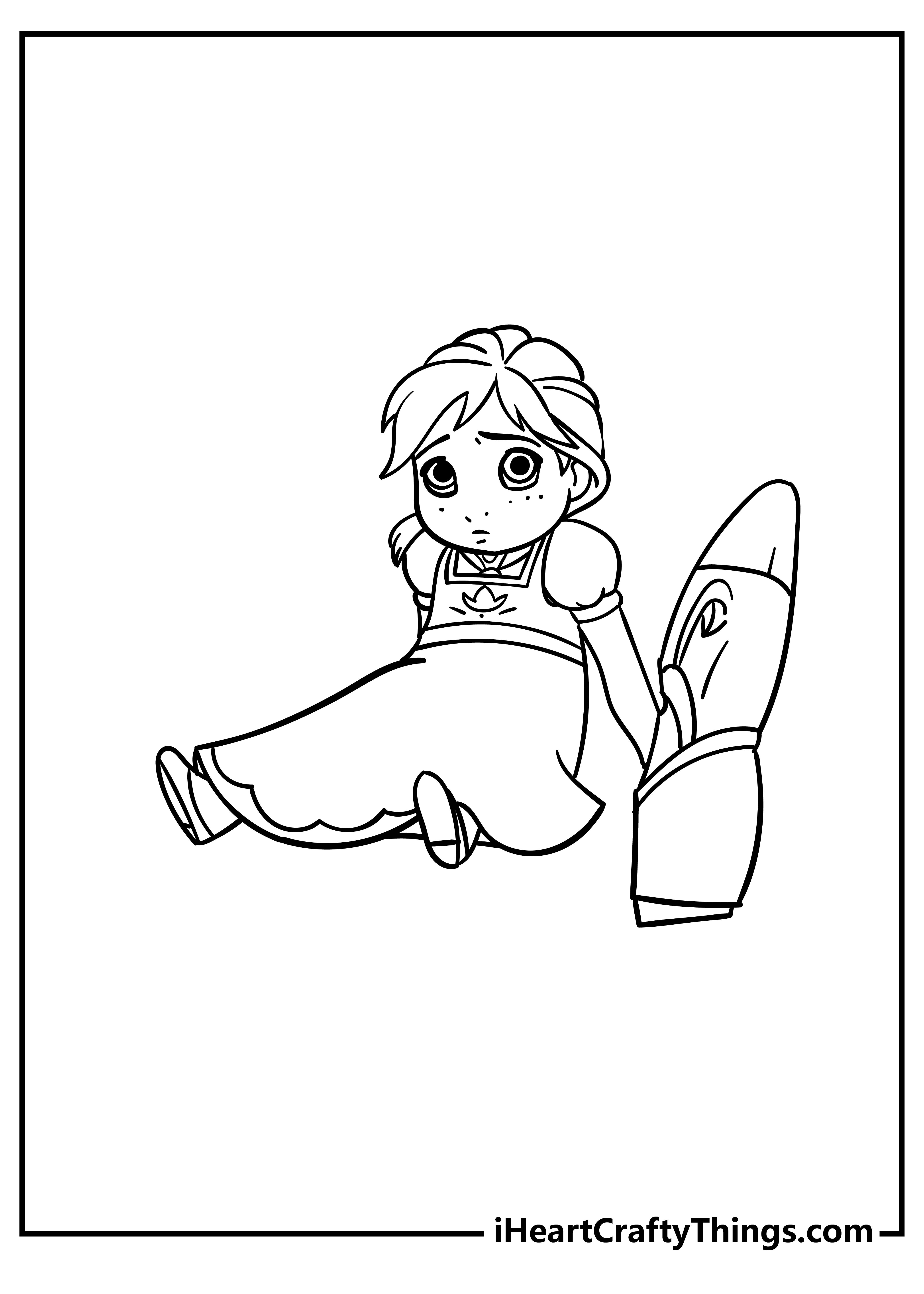 The previous page had a bit of a sad feeling to it, but this one is much happier!
Here, Anna is running and playing as a small kid, and it's a scene that really captured her fun and mischievous side.
For this image, we would probably go for some bright and vibrant colors to capture the fun of the moment.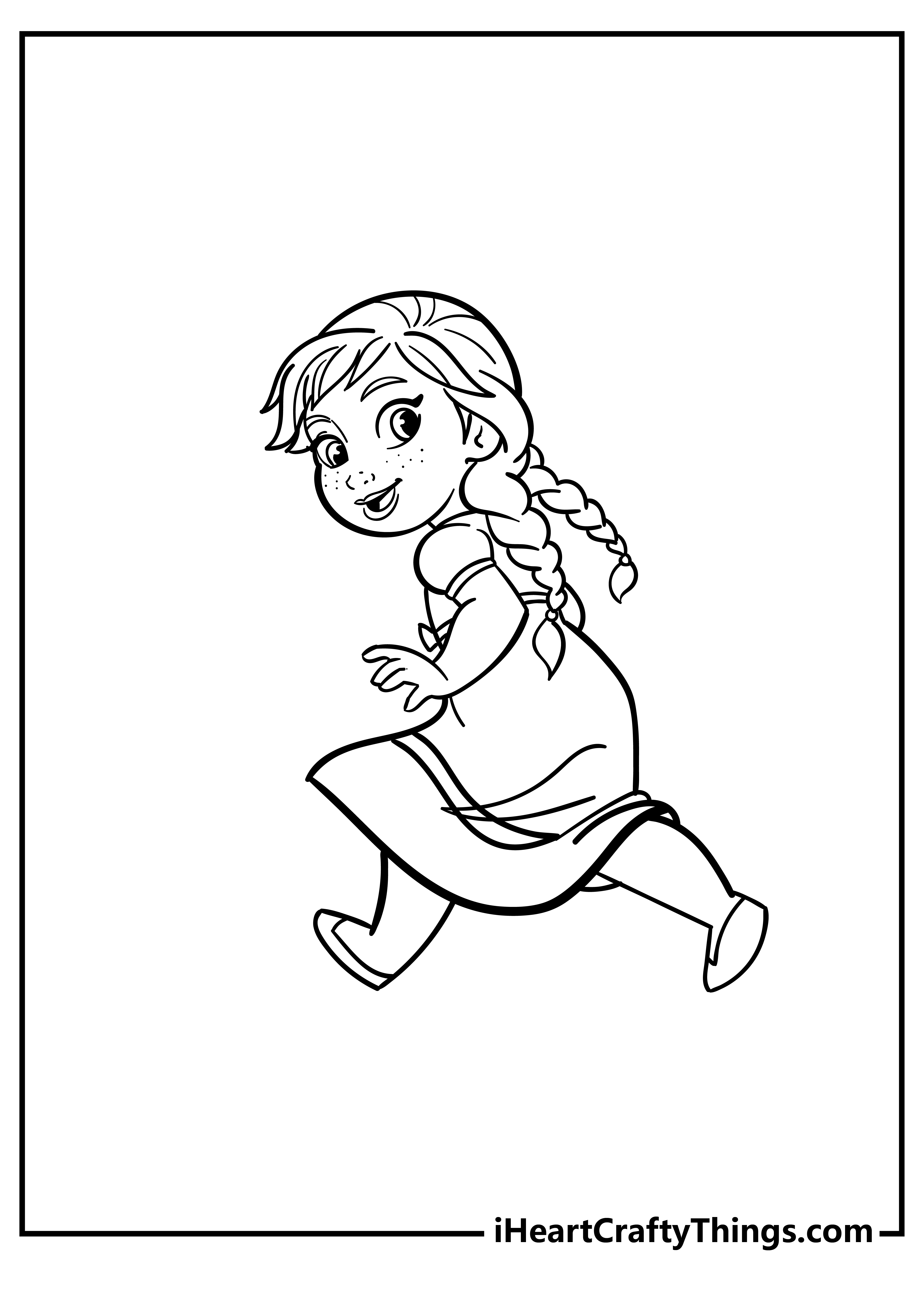 Glam up this elegant lady with your own stylish coloring. Anna's beautiful face is ready for you to add striking features – try bold eyes with long lashes or dark red lips.
Her dress can become any color or pattern – Add vivid florals, polka dots, swirls. Fancify it with buttons, lace frills or a sash.
Her flower pendant necklace would shimmer in silver, gold or jewel tones.  Have fun coloring this glamorous person in their stunning attire.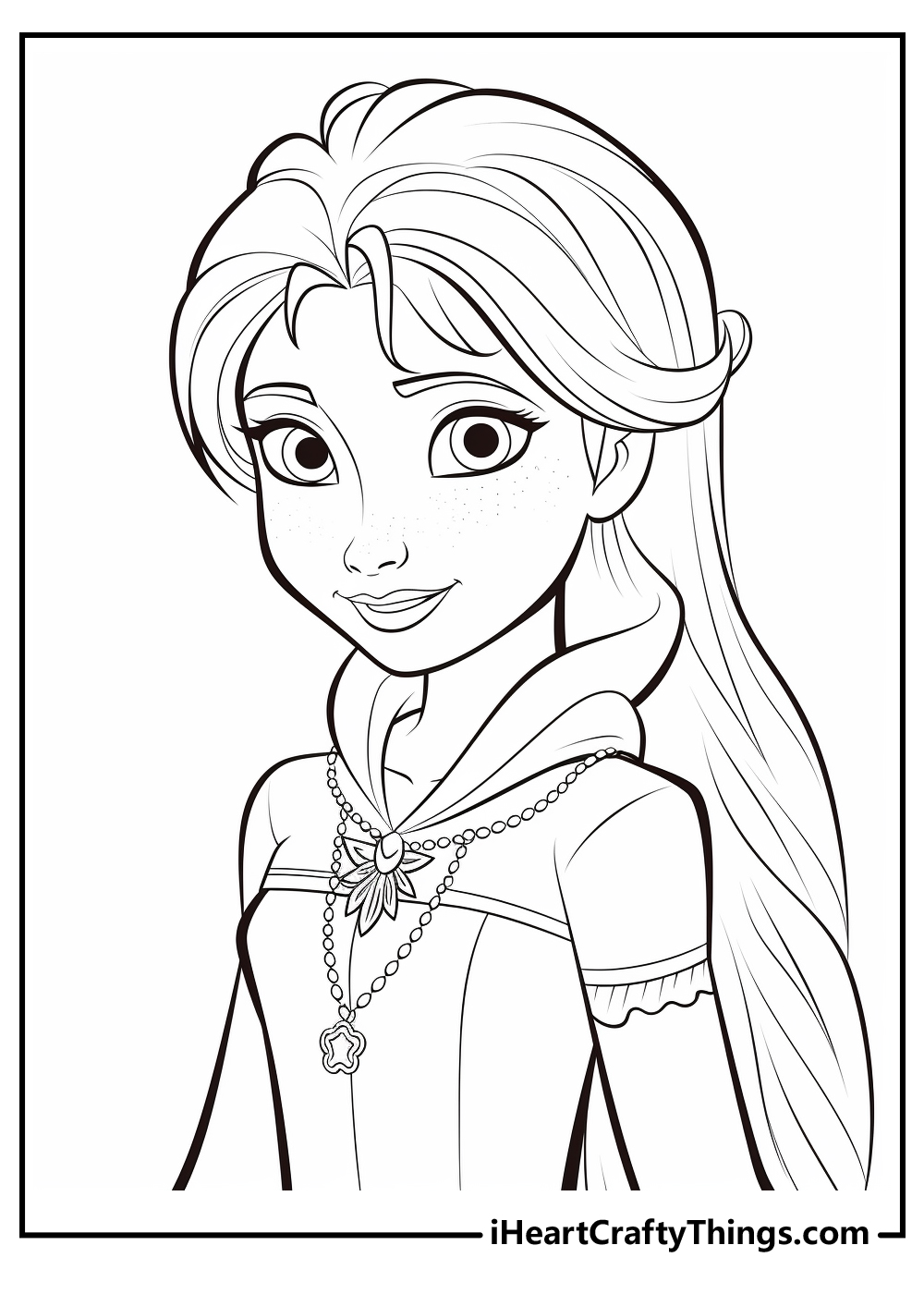 What a pretty picture of Anna this is! Here she is posed in an alternative outfit she is seen in sometimes, and there are again so many details that you can color in here.
It's also another one where you could draw some more of her arms and body beneath her in order to finish off the pose nicely. It's up to you, so how will you complete this one?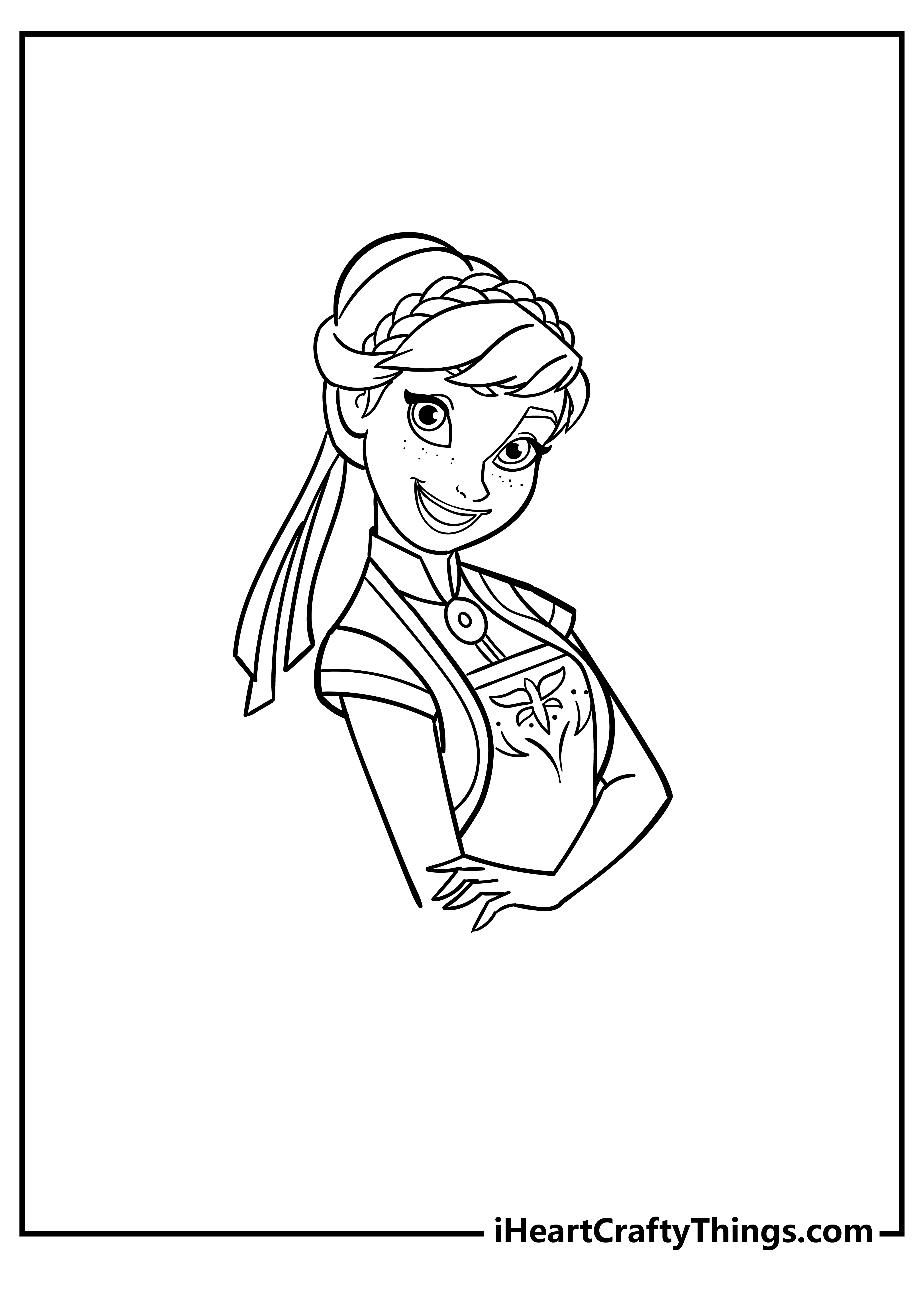 We have a bit of an unusual Anna coloring printable for you here! The focus is entirely on a close-up of her face, and you can spend some time coloring all of the small details.
For the background, we would maybe go for some solid colors to bring the emphasis to her face, but what will you choose?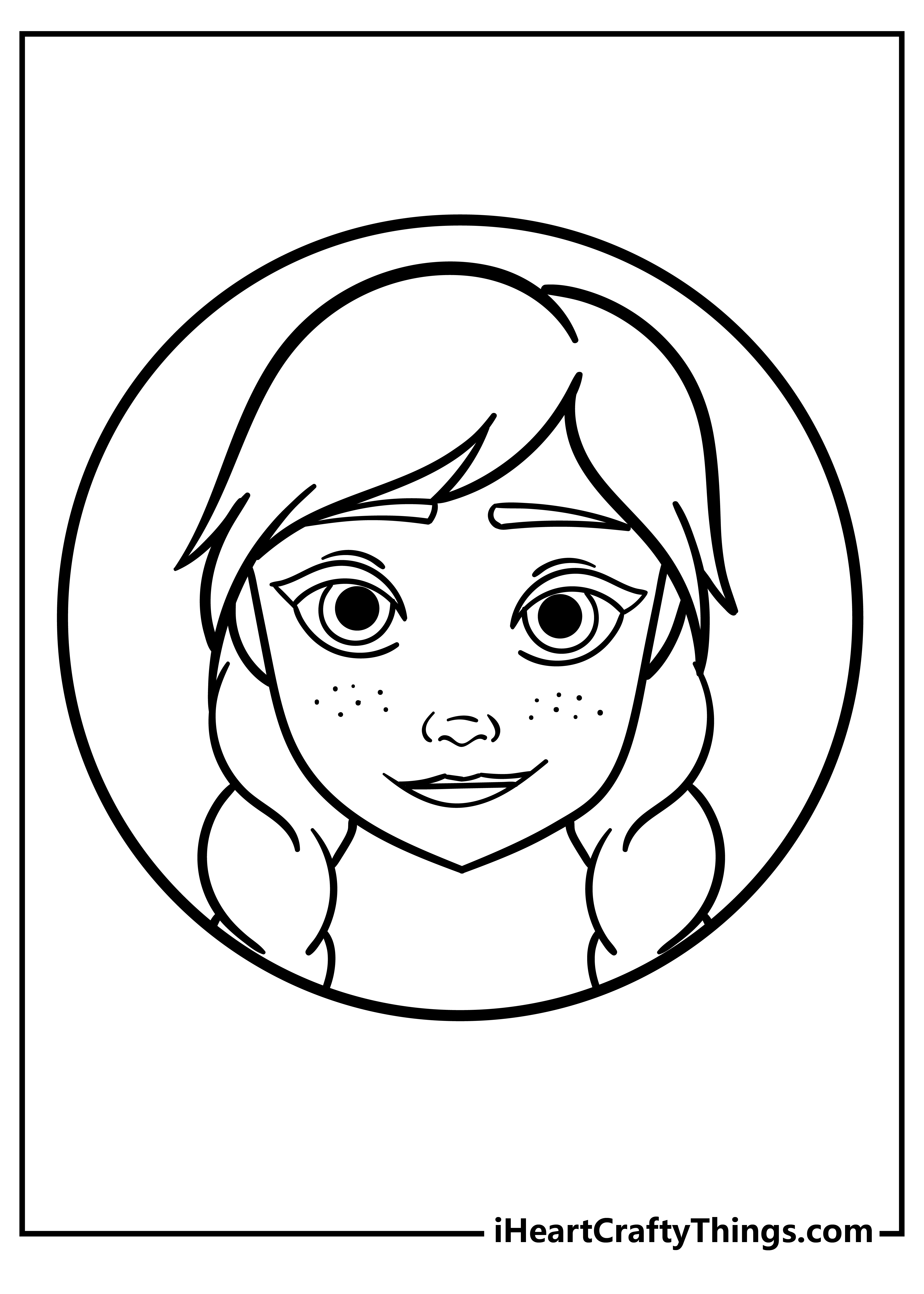 This Anna coloring page features a graceful girl with a sophisticated hairstyle. Her face is visible and clear, ready for you to bring out her beauty.
You can style her hair in platinum blonde, midnight black or auburn. Her braided updo is woven with ribbons and topped with a gemstone tiara.
Draw in ornamental hairpins or fresh flowers for a romantic touch.
The background is white, and blank so you can draw some scenery like a ballroom, a garden, or a castle, or use different colors to create a mood.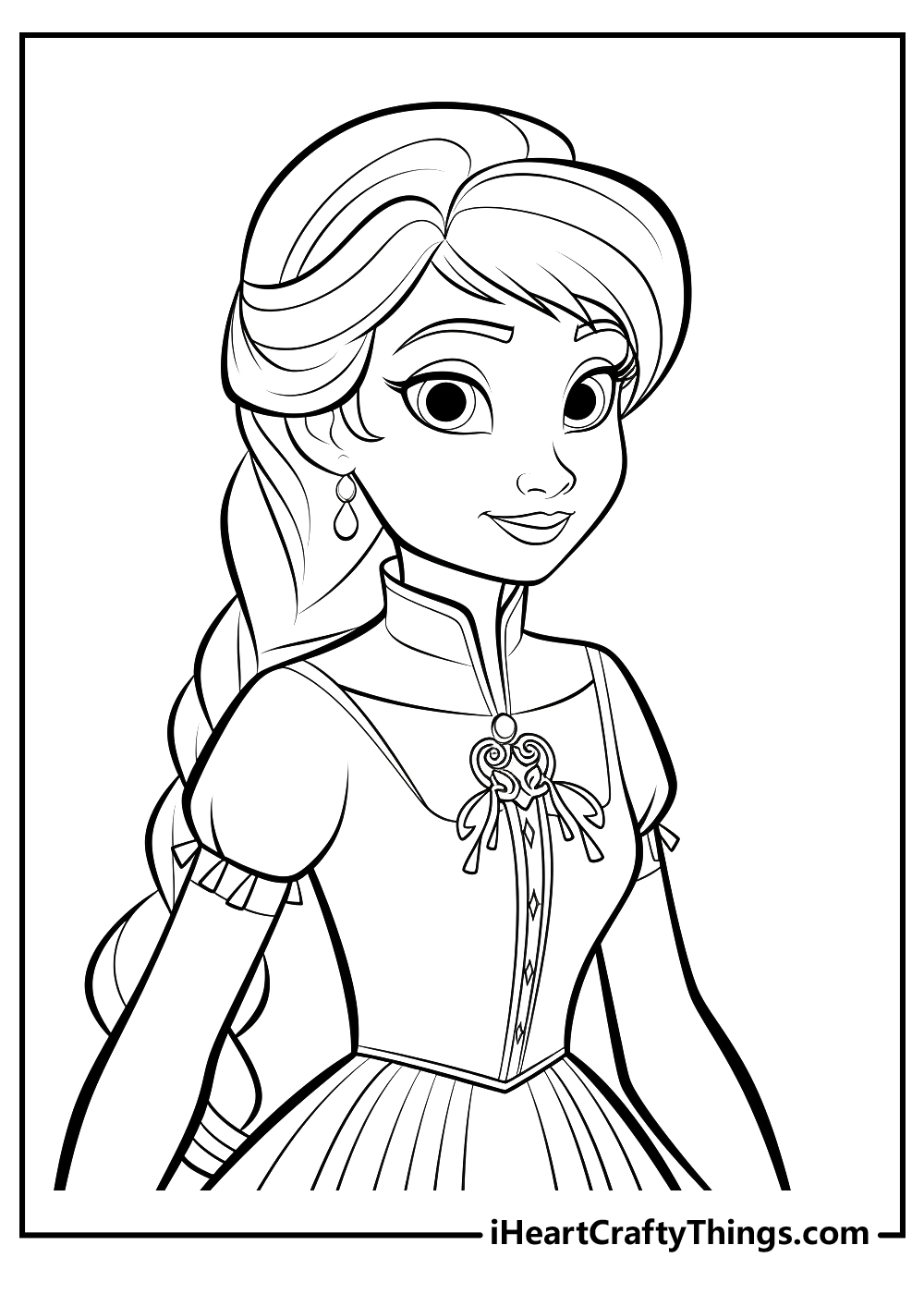 Anna is again looking nice and happy in this image! It would also be another great image to draw some more details onto, and there are so many ways you can get creative with it.
Maybe you could draw some background details to show off a favorite scene from the movies! Which background setting would you choose if you went down this route?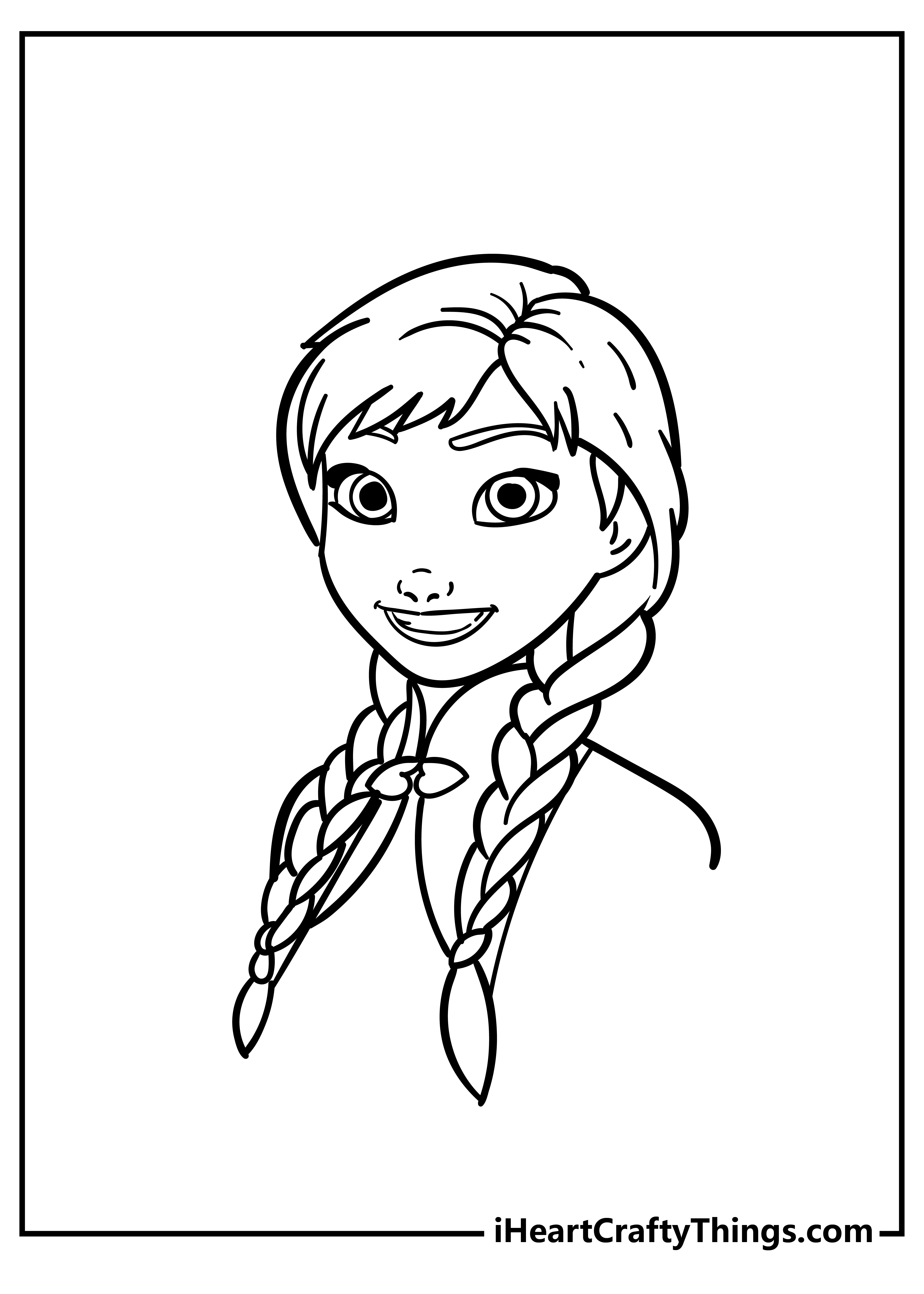 This is another really charming depiction of Anna that really captures her happy personality brilliantly.
When coloring these pages, it can be fun to incorporate some colors and mediums that you aren't as familiar with, as these can bring some new dimensions to the images.
What are some creative art tools that you have that you think would suit this lovely picture of Anna?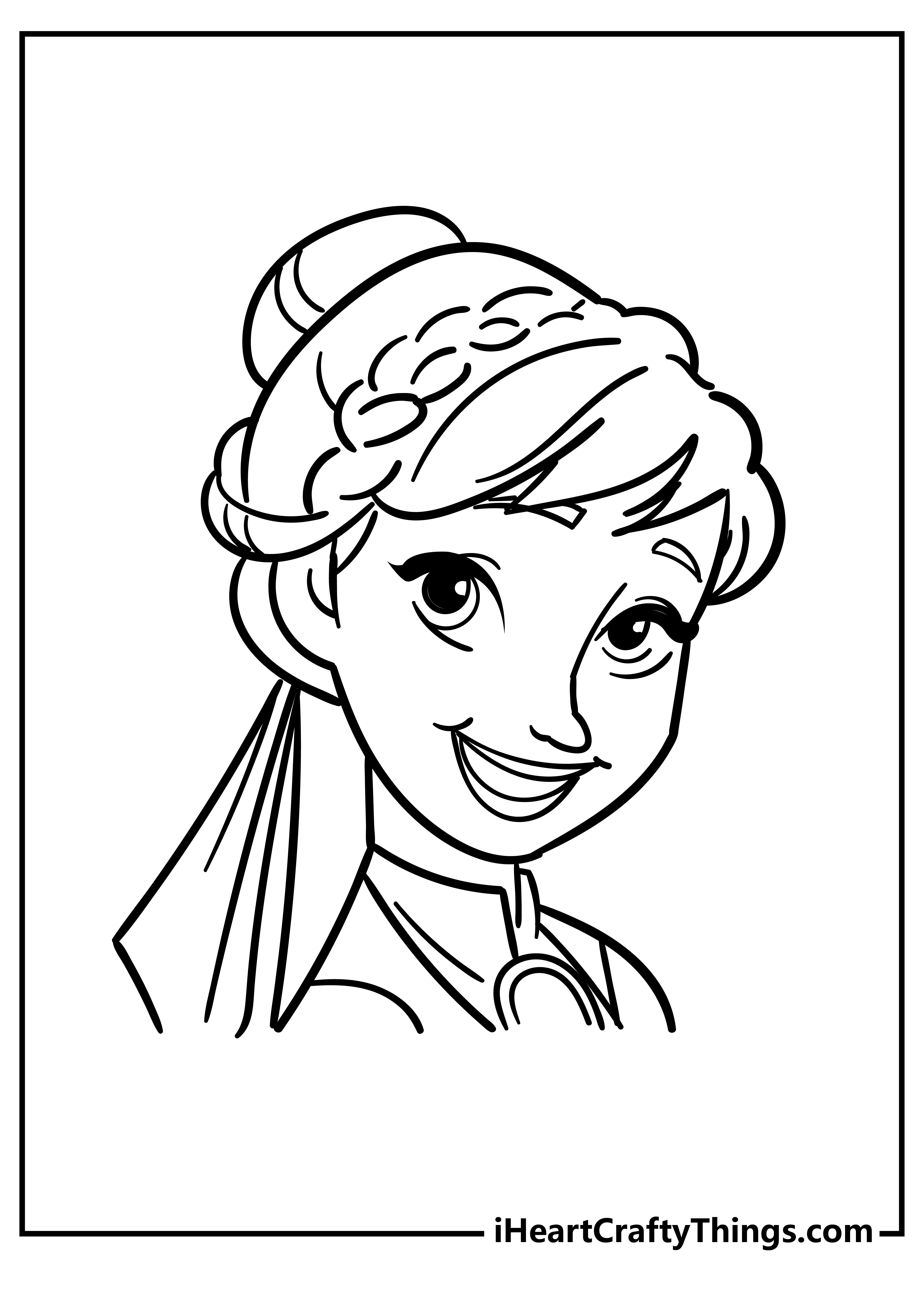 It's time for adventure in this fun image! Anna is on the move while looking very happy here, and we get a great look at the entirety of her outfit in this one.
There are some great details included here, so you can have a great time taking it slow and bringing this adventurous scene to life with your colors.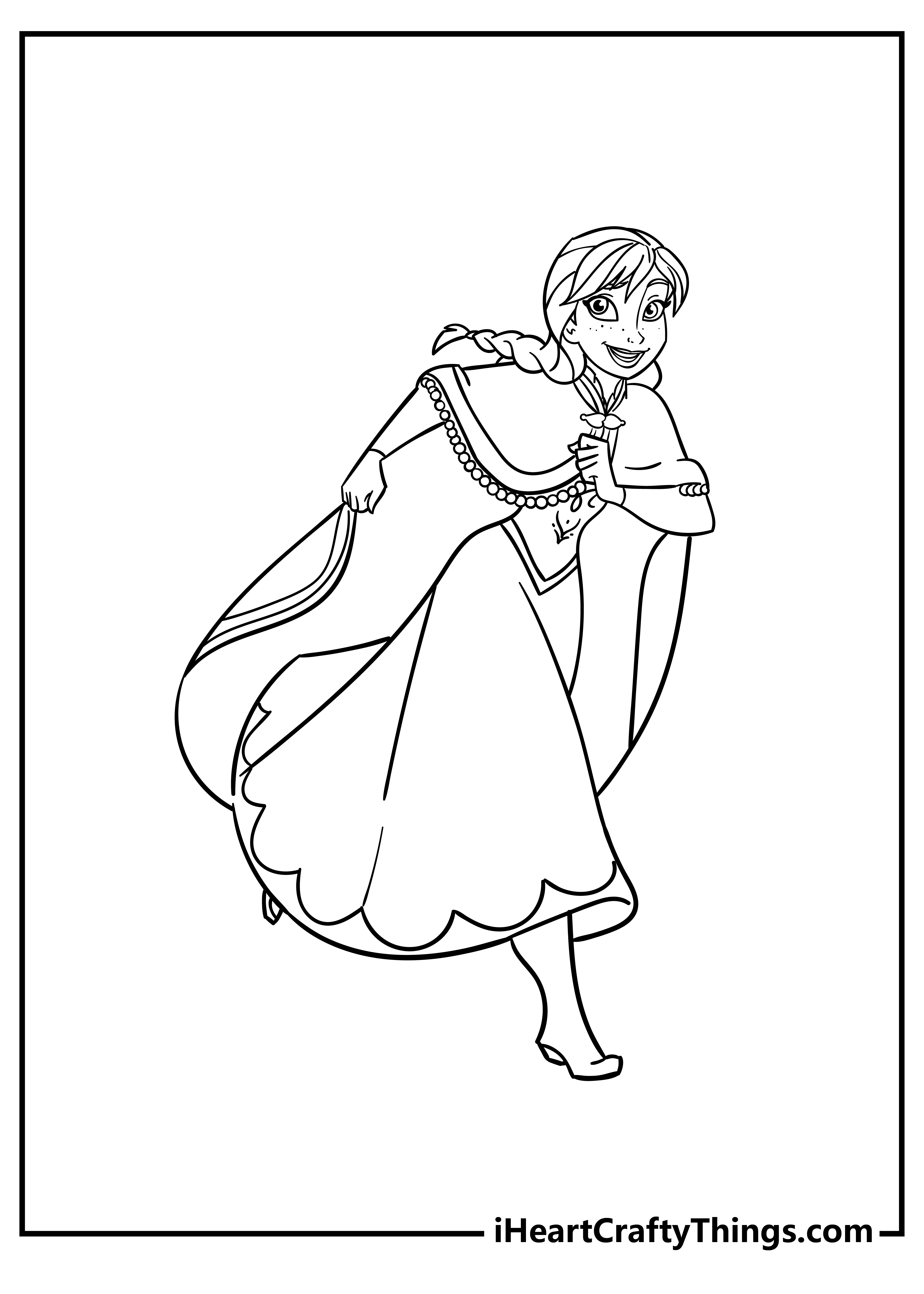 Anna is looking quite confident on this next page. She is a character that manages to get out of many tricky situations, and this side of her is captured really well here.
This is another one that we would try to use some brighter colors and mediums. Using some colored pens for some of the smaller details would really help to bring them out!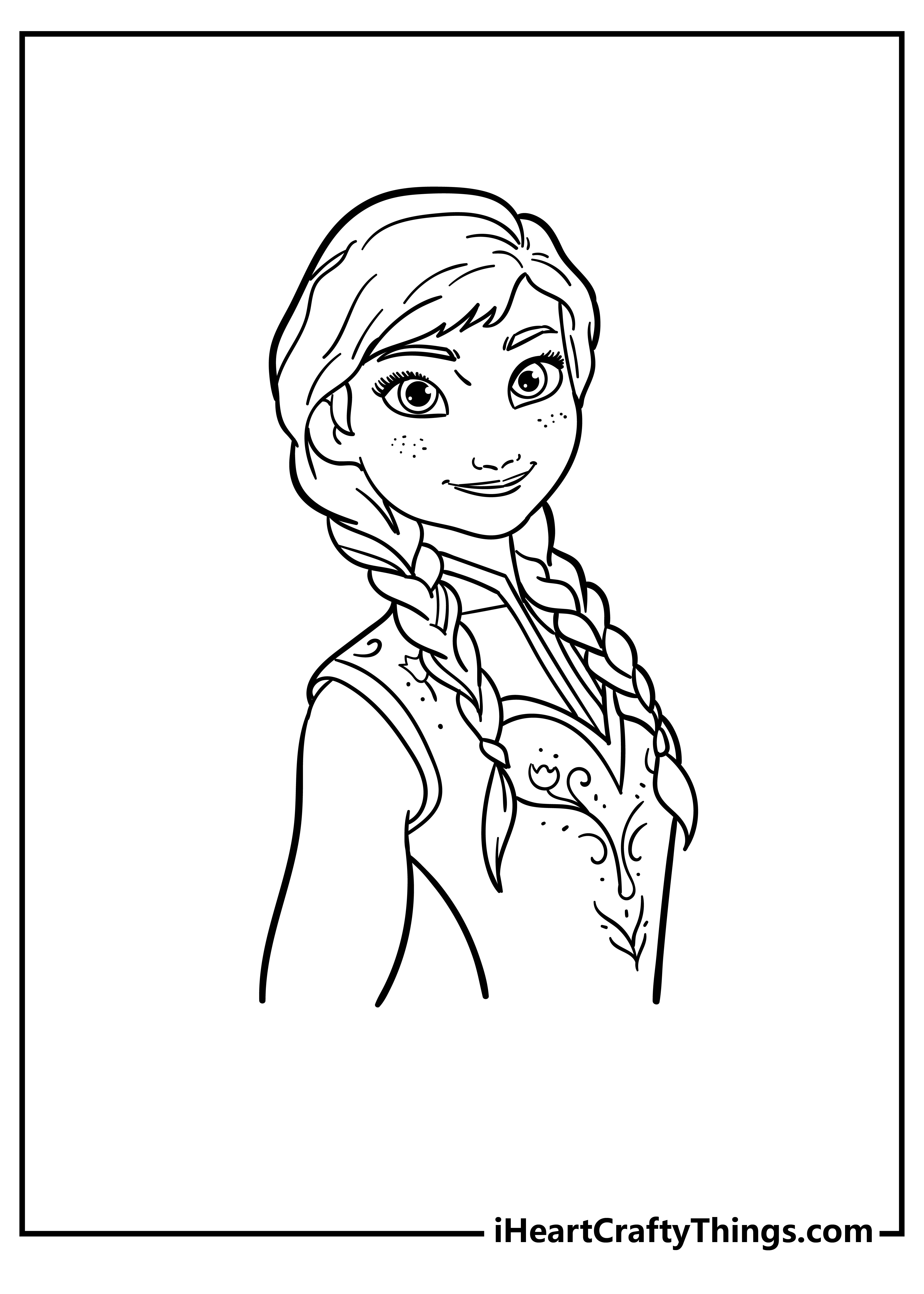 A big part of Anna's character is that she is a member of royalty, and she is living up to that in this next picture.
She is looking like a regal queen, and for that reason we would probably pick lighter colors done with something like watercolor paints for a more elegant look to this one.
Of course, it's completely up to you, so how will you color this one in?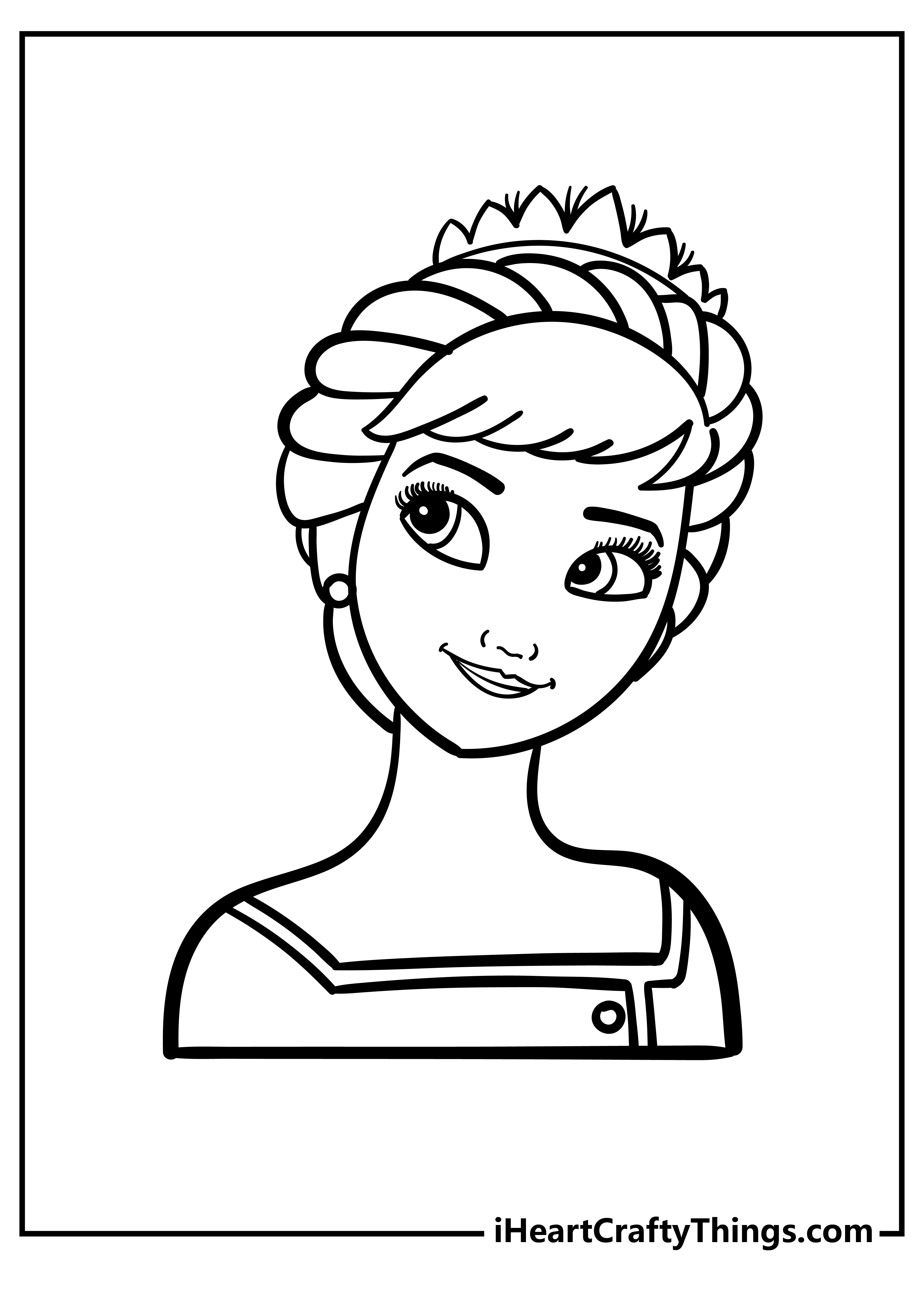 This is the last Anna coloring sheet that we have for you, and it shows her dressed in some pretty winter clothing.
When coloring her outfit, you could try to make it look as it does in the movie, but don't be afraid to go for your own look!
You could even print out two copies and experiment with different color schemes if you can't decide.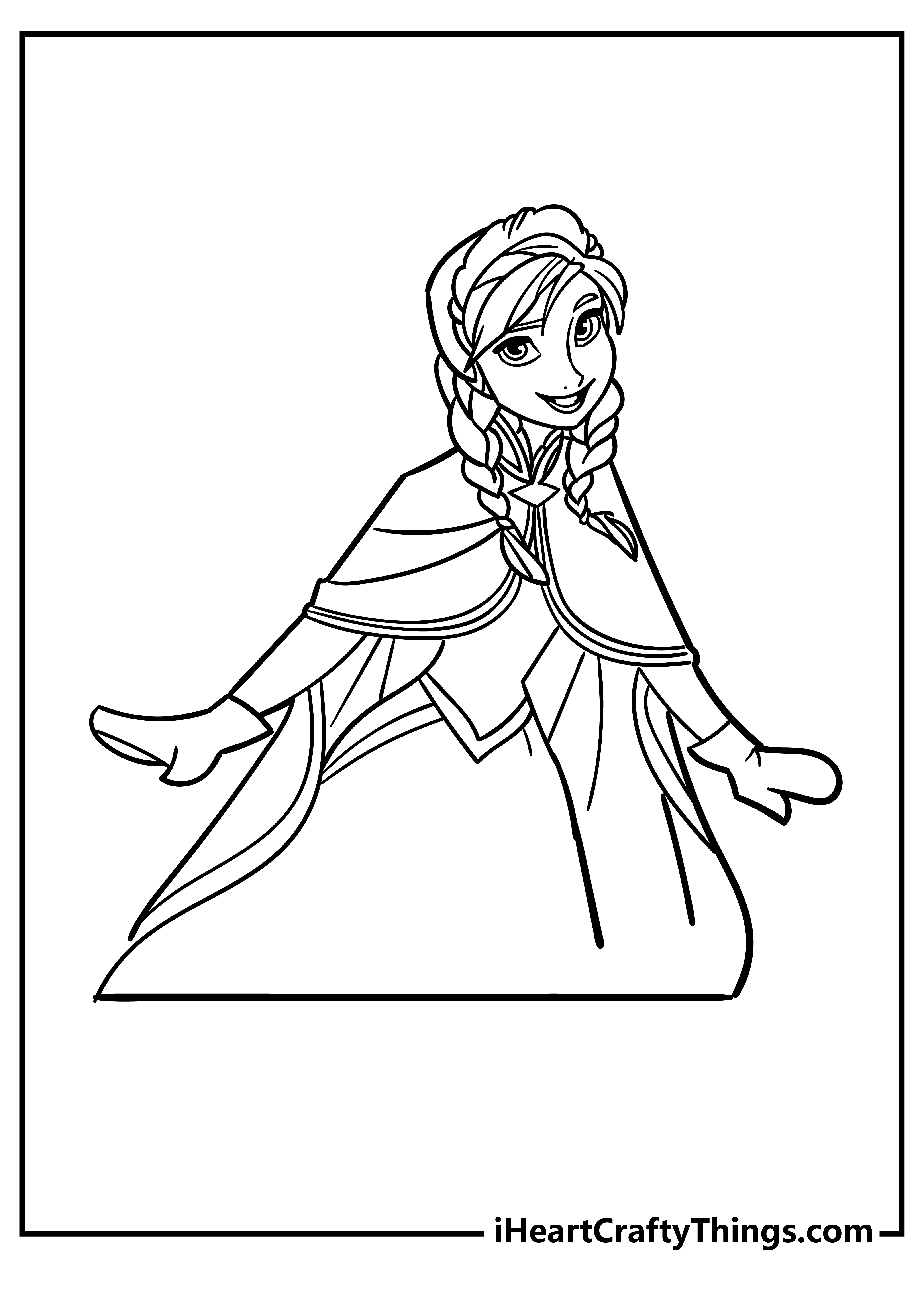 Anna Coloring Pages – Which will you choose?
Anna is such a great character that's easy to love, and we hope this collection of free Anna coloring pages for kids did her justice!
There are so many creative scenes and poses that can be colored, and we know you will do an incredible job.
Remember to also share the collection with others to enjoy, as that makes it even more fun!
You can also share some of your finished pages on our Facebook and Pinterest pages for us to enjoy when they're done.