On this page, you will find 25 all new Moana coloring pages that are completely free to print and download.
There have been many incredible stories presented to us thanks to Disney and Pixar, but Moana still has to rank as one of the most incredible!
This wonderful story features a bright and exotic story and setting, and these free Moana coloring pages for kids are here to help you relive that journey.
These 15 pages are all free for you to enjoy as much as you like! You can also share them all with others you know to enjoy as well.
When you have colored in your favorite pages, you can also share your finished pages on our Facebook and Pinterest pages for us to see and enjoy!
25 Brand New Moana Coloring Pages – Free to Print and Color
We have an adorable Moana coloring sheet for you to take on over here!
This one references points in the movie where we get to see our main character as a young child, and you can only wonder what she is up to here.
If you have an idea for what she could be doing here, you could show it by drawing some extra details and things for her to interact with.
You could even make an imaginative scene around her to show what she is imagining around herself in this scene! What kinds of settings can you think of for this page?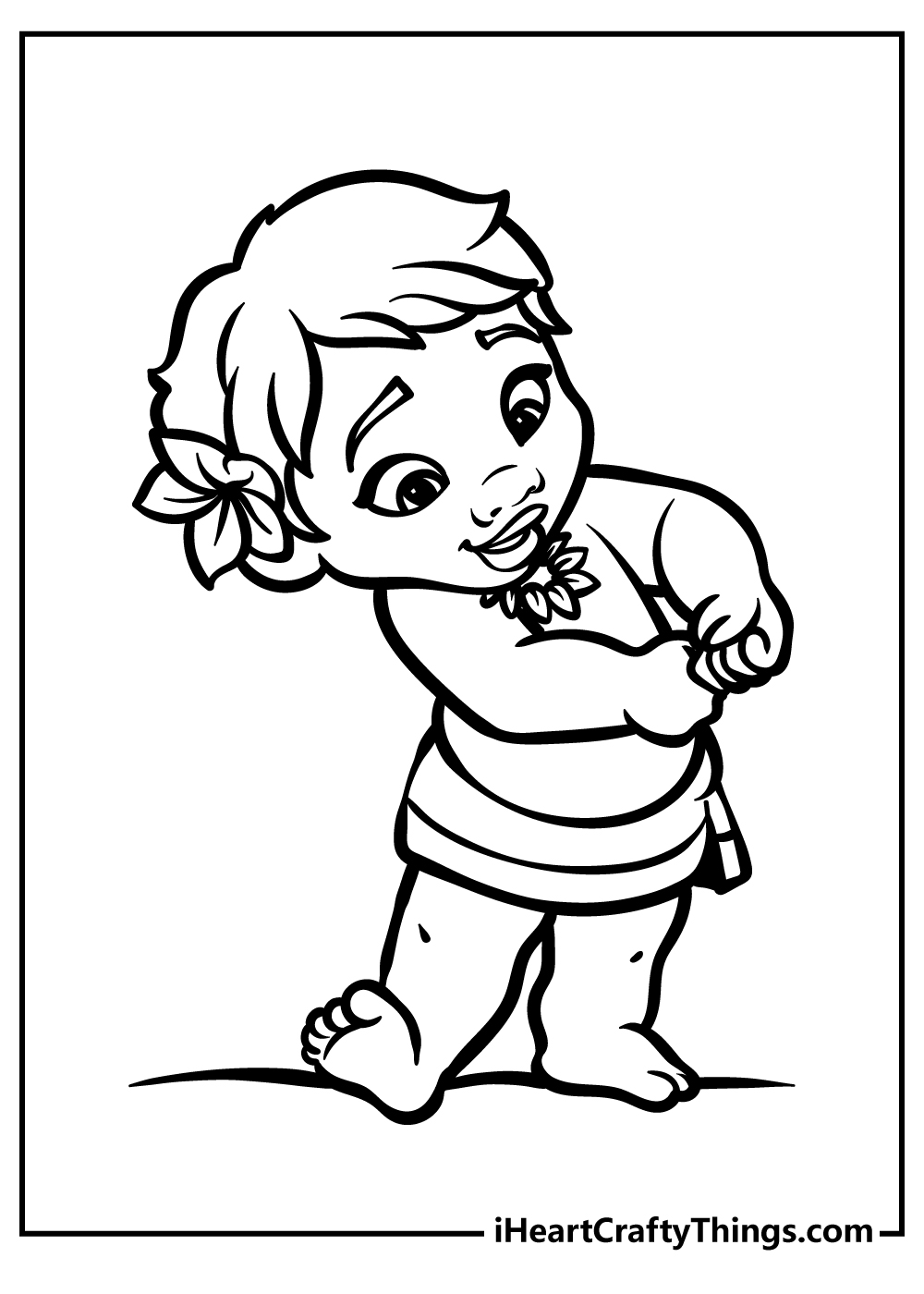 This next page may be a bit of a close-up on our hero, but we still get to see lots of amazing details on her outfit. There are some intricate patterns on her outfit that you could add lots of colors to.
When coloring her outfit, you could use the colors she is seen with in the movie, or you could create a brand new look for Moana.
When coloring the smallest details on this drawing, you could use some colored pencils or pens in order to make coloring these smaller parts easier.
What sorts of colors will you use for her outfit?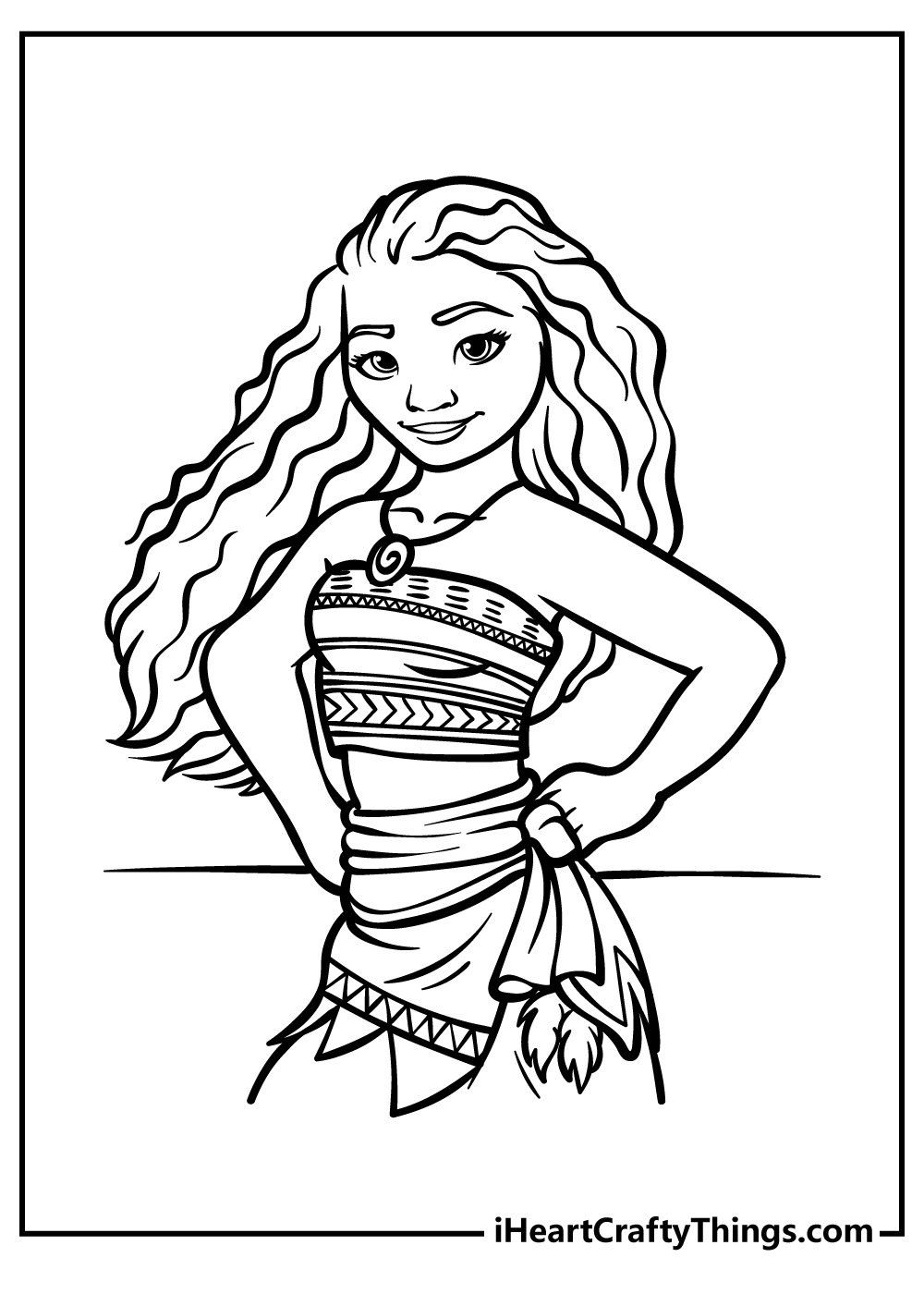 Moana is famous for her rowing skills, and she is posed with her paddle in this first page of our collection of free Moana coloring pages for kids!
The background has been left big and blank here, and this means that you could draw in a fun background setting to really bring this scene to life.
Is there a moment from the film you would like to recreate here?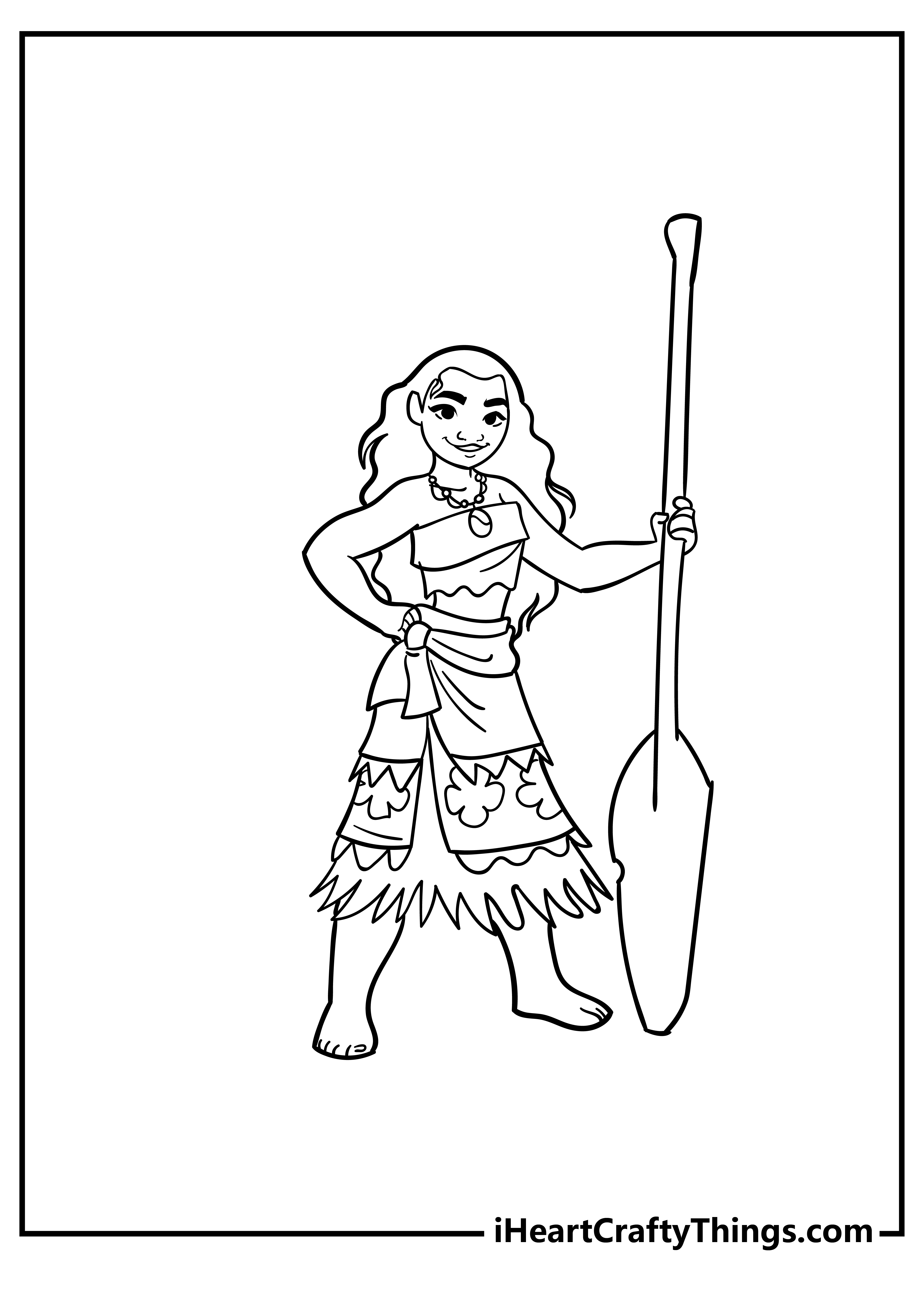 In the movie, we get to see a large portion of Moana's life from a young child to a teenager. Here we get to see her in her younger years, as she investigates a shell on the beach.
This is such a cute scene that really captures the curiosity that this character has! How will you make it even better with your colors?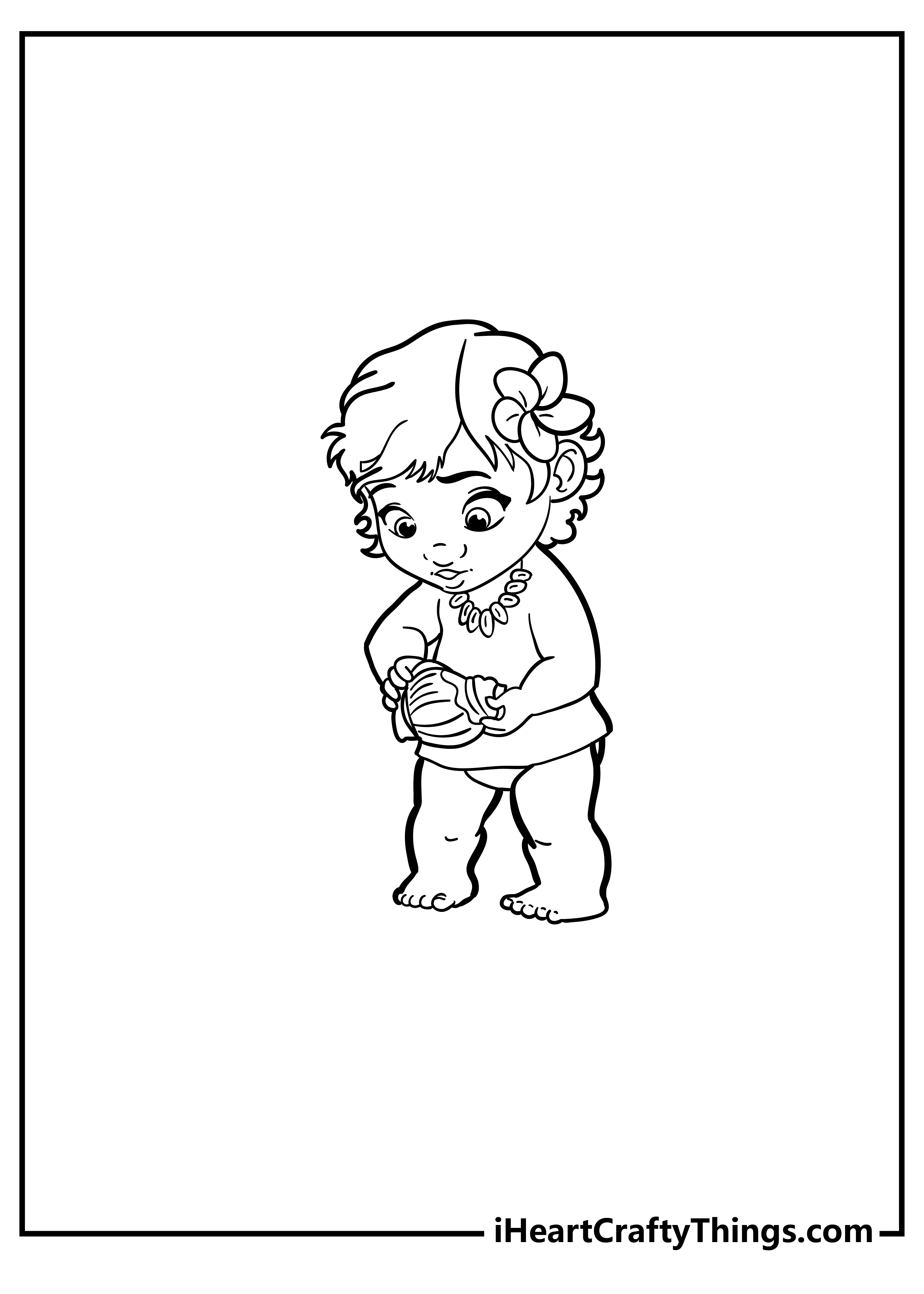 Next, we have a truly awesome portrayal of Maui, one of the movie's most popular characters. He is well known for his many intricate tattoos, and they are all portrayed in stunning details here.
We have mentioned how you can use colored pens, pencils or markers for intricate details, and we think they would be very helpful for these tattoos.
If you would like to paint this page, then you can get paintbrushes that have very thin tips, and these help to color these smaller spaces. It can take a bit of patience, but it's worth it in the end!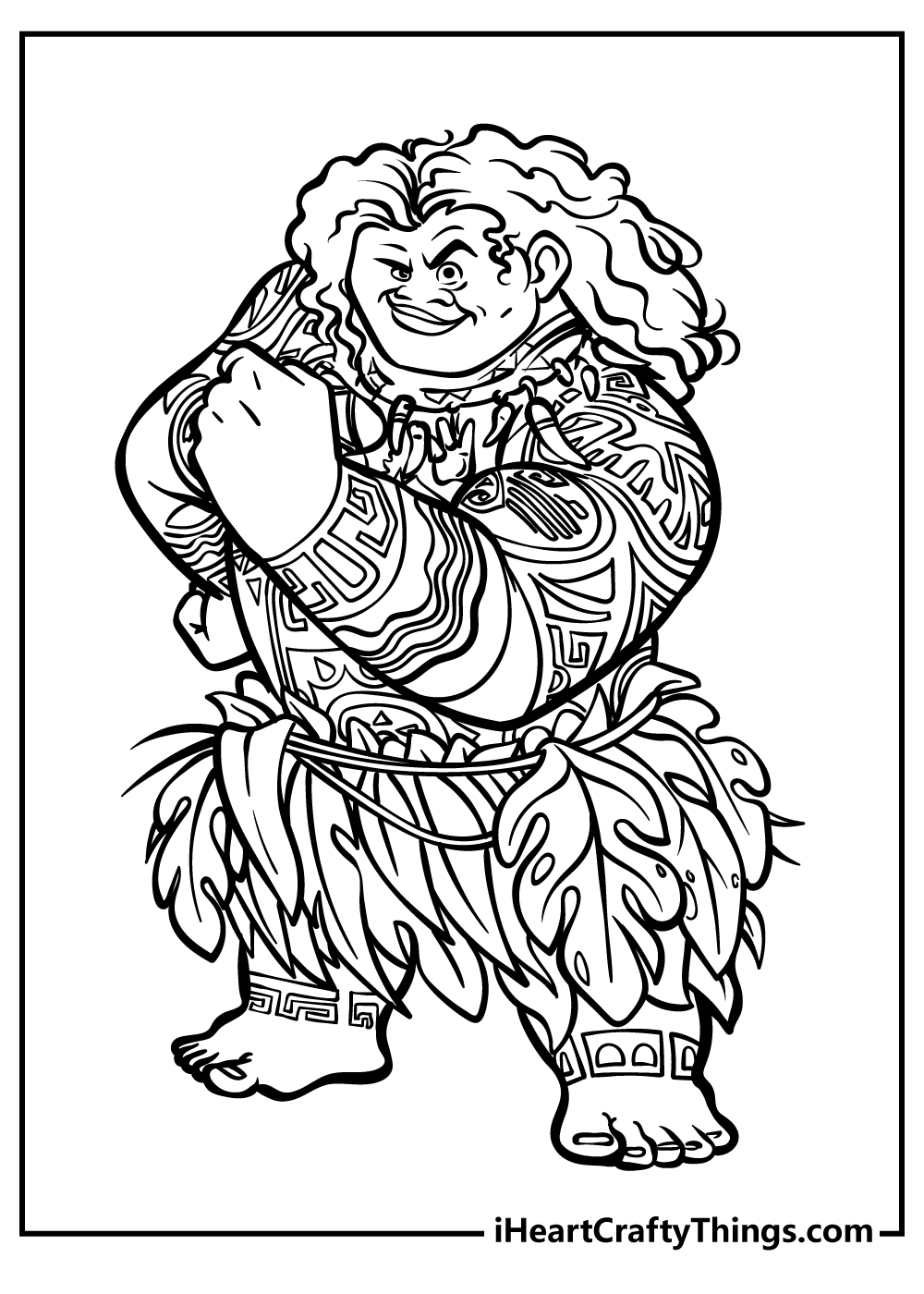 This next page in our collection of free Moana coloring pages for kids is a really classic pose for this character.
She is known to have a love of rowing and the sea, so it's only appropriate that she would be posed with her trusty oar.
This pose also gives us a full view of the character, so you can color all of the details of her entire outfit.
For the background, we would use some blues and greens to make it look like there is an ocean background. You could even take it further and draw an ocean backdrop!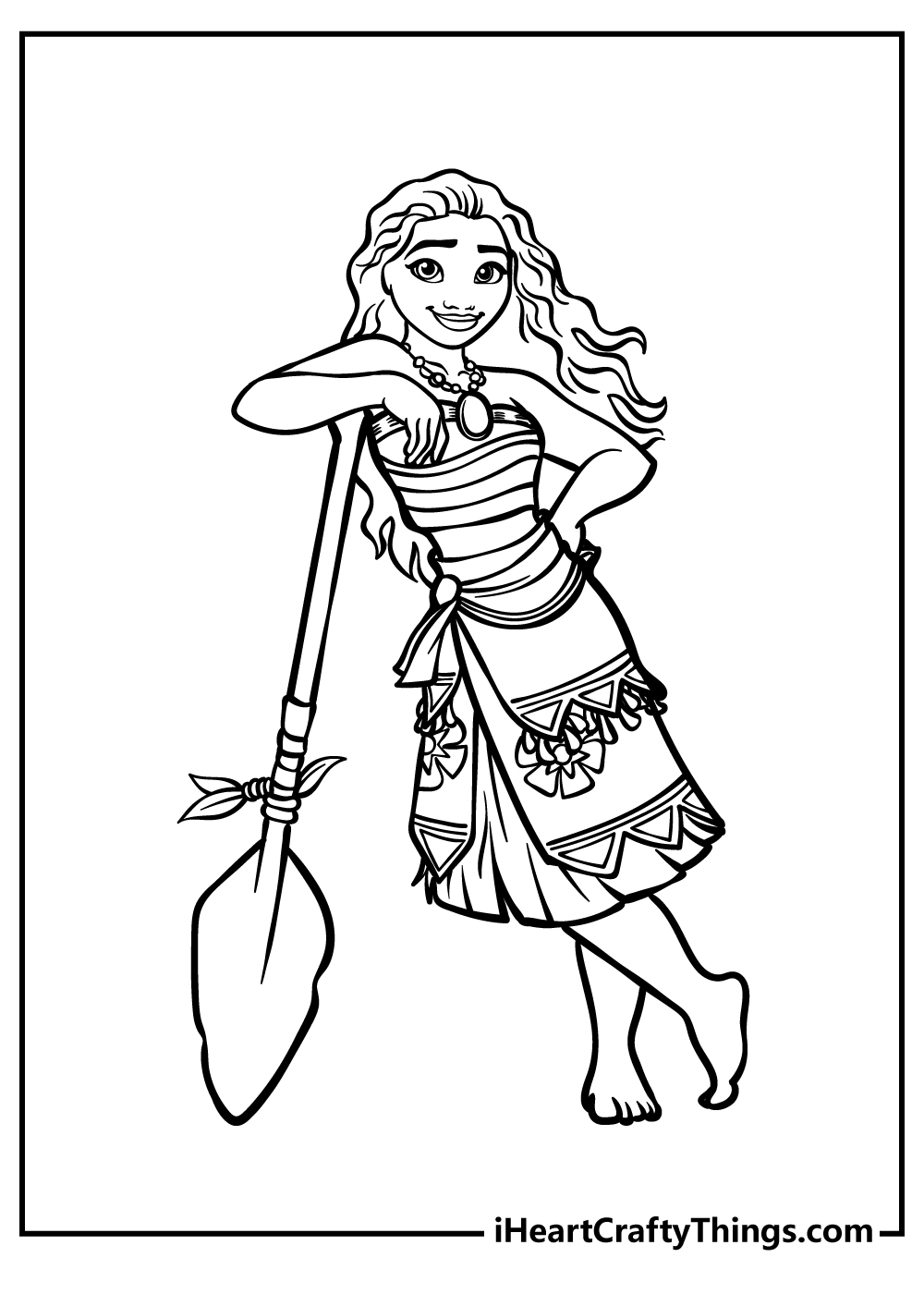 Young Moana is back for some more coloring fun in this next image. She seems to be very happy, and she is reaching up towards something that seems to have caught her fancy.
What do you think she could be reaching for? You could draw a fun detail for her to reach for in order to add to this scene, and there are many things you could go for if you do that!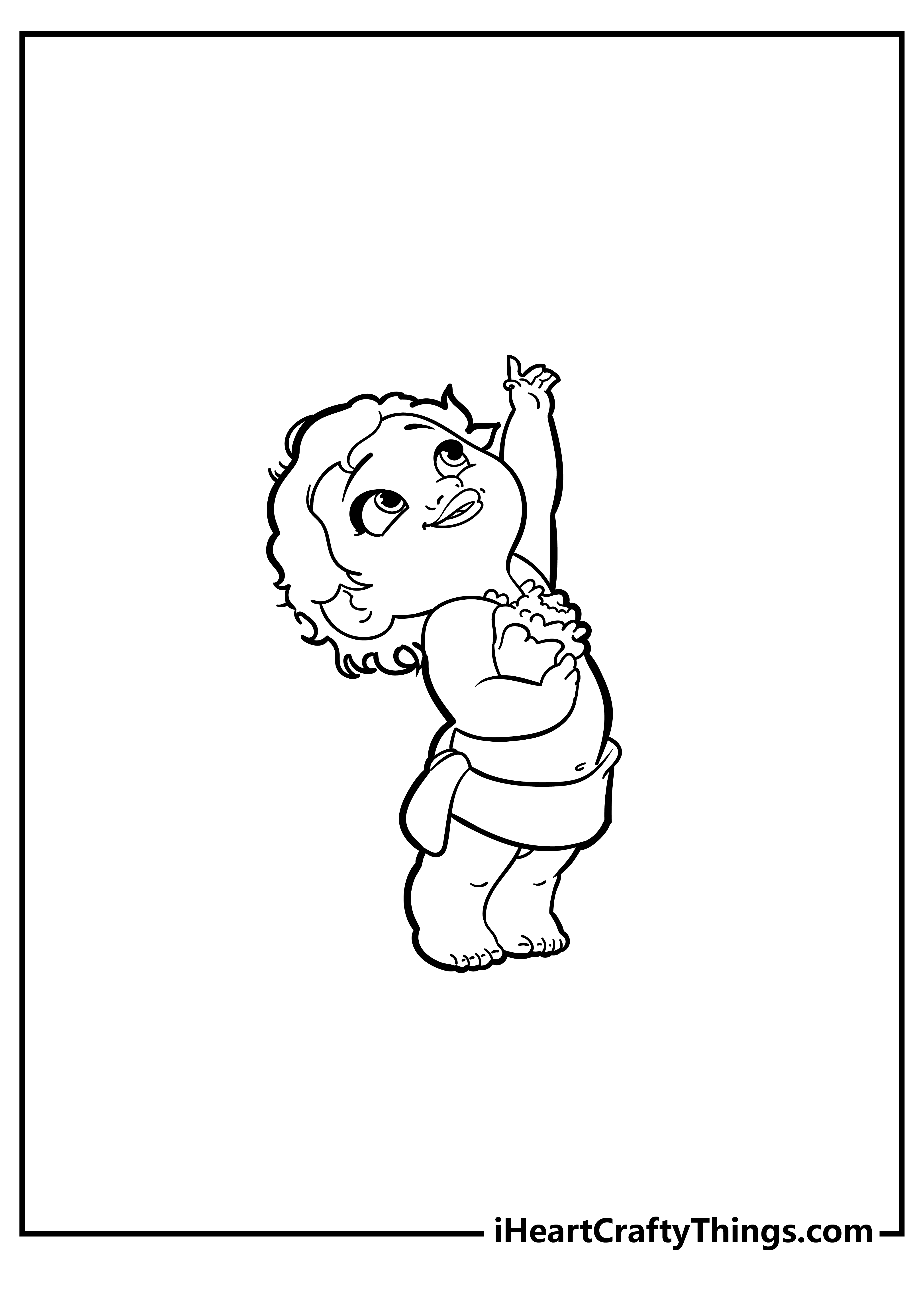 This next page really captures the spirit and bravery of this character. When coloring her in, you could use the film itself as a reference if you want her to be screen-accurate.
Alternatively, you could also create a unique look for Moana by using unique colors of your own!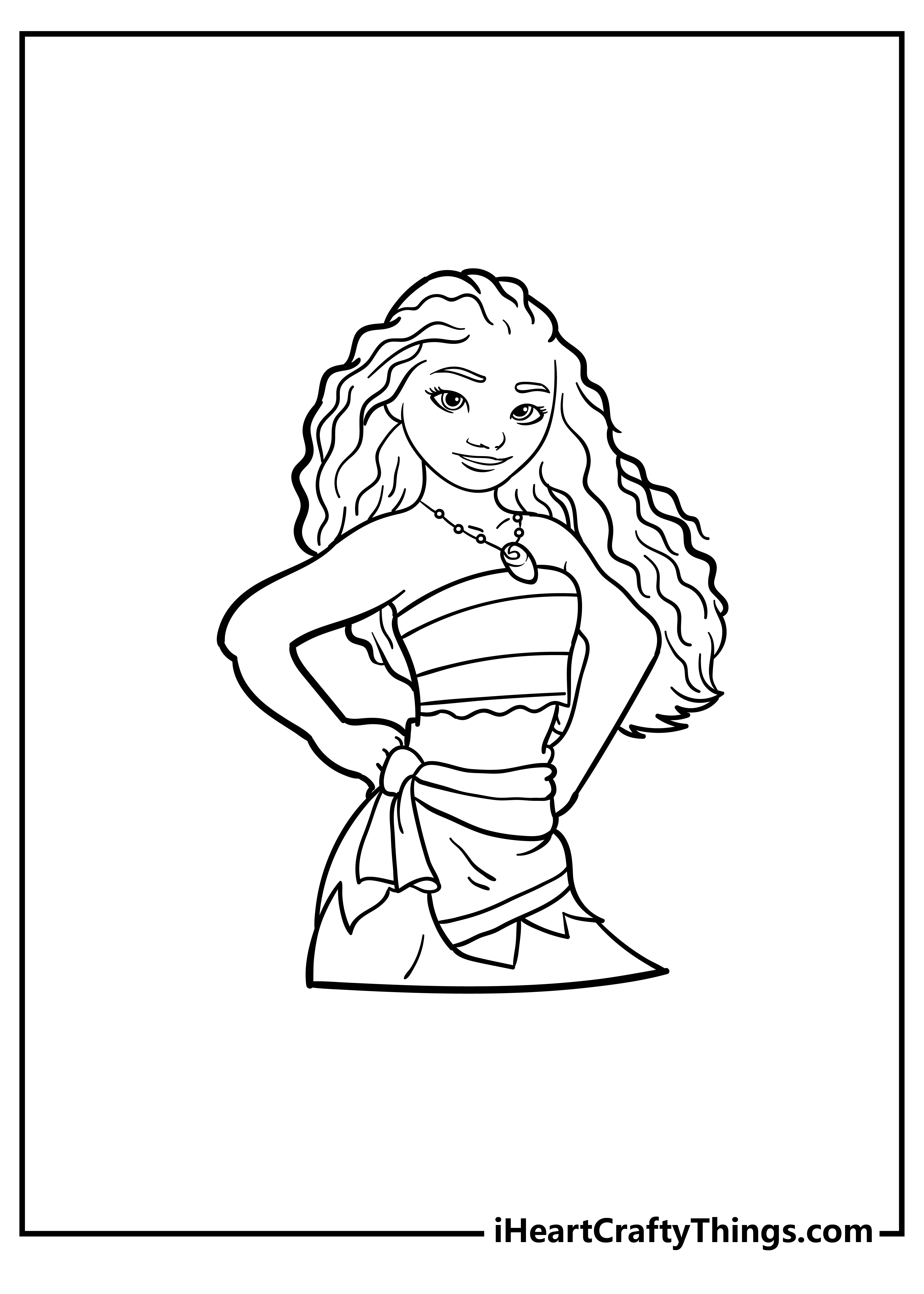 Here we have another picture that shows Moana posing with her oar. In this image, the frame has been drawn back a bit, and this makes her a bit smaller on the page.
This leaves the background wide open, so you could do all sorts of creative things to fill it!
One idea would be to draw some patterns and shapes, and these could reference things such as the patterns on her clothes or Maui's tattoos.
Another idea would be to draw a background setting, and that would be a great way to recreate a favorite scene from the movie!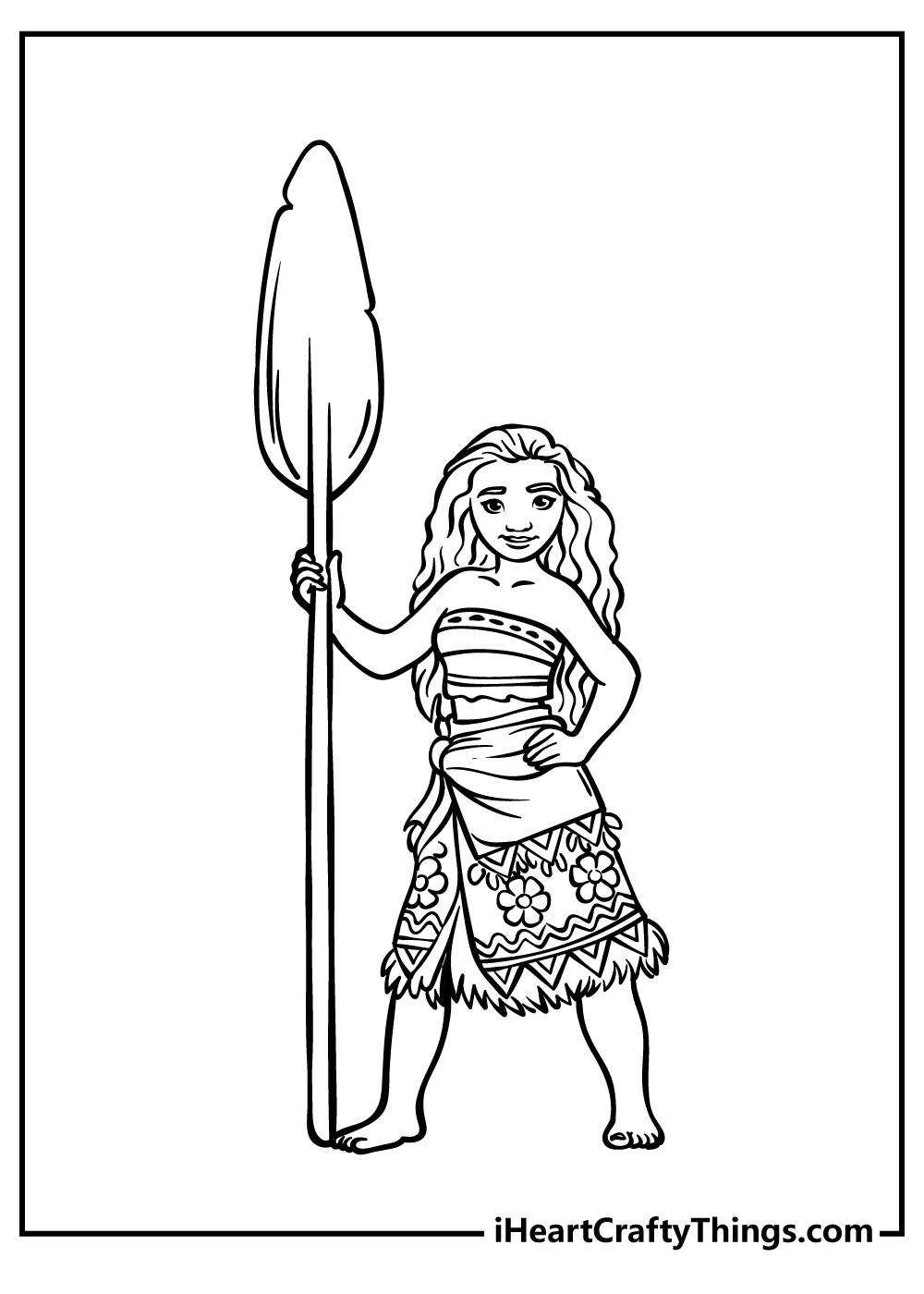 When we see Moana as a young kid in the movie, she is portrayed with a sense of curiosity and wonder, and that is captured on this next page.
Here we see young Moana reaching up towards a pretty butterfly with a wondrous look on her face.
It's such a cute little scene that captures her character brilliantly, and it will look even better when you have finished coloring it!
This is also another page that has a lot of open space in the background, so you could fill it in any way that you like!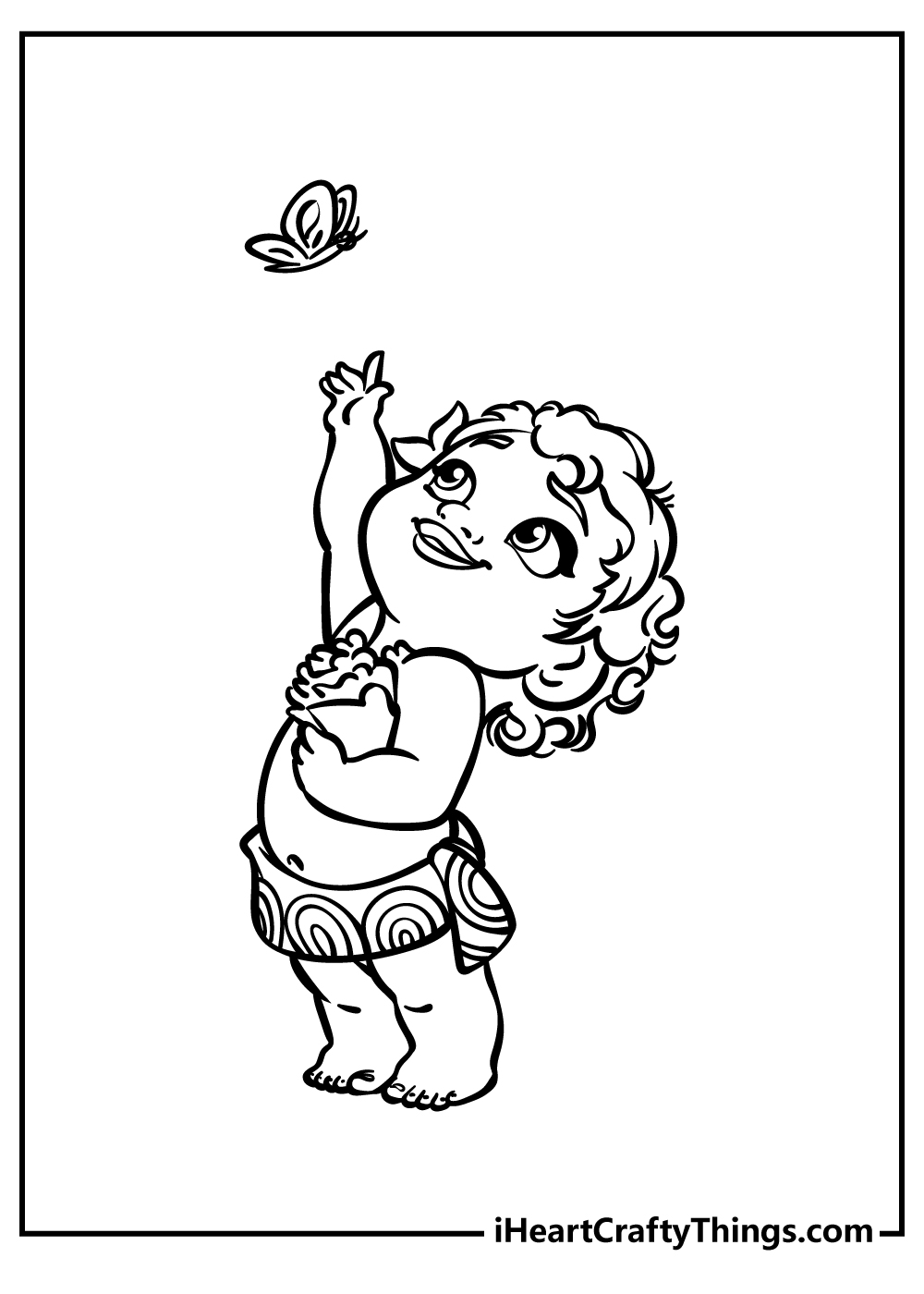 Our fifth Moana coloring sheet presents Moana looking really brave and confident! She faces many trials in the film, and she faces them head-on with courage.
Here she is in one of those situations as she wields her trusty oar like a weapon. Will you add any additional details to this awesome picture?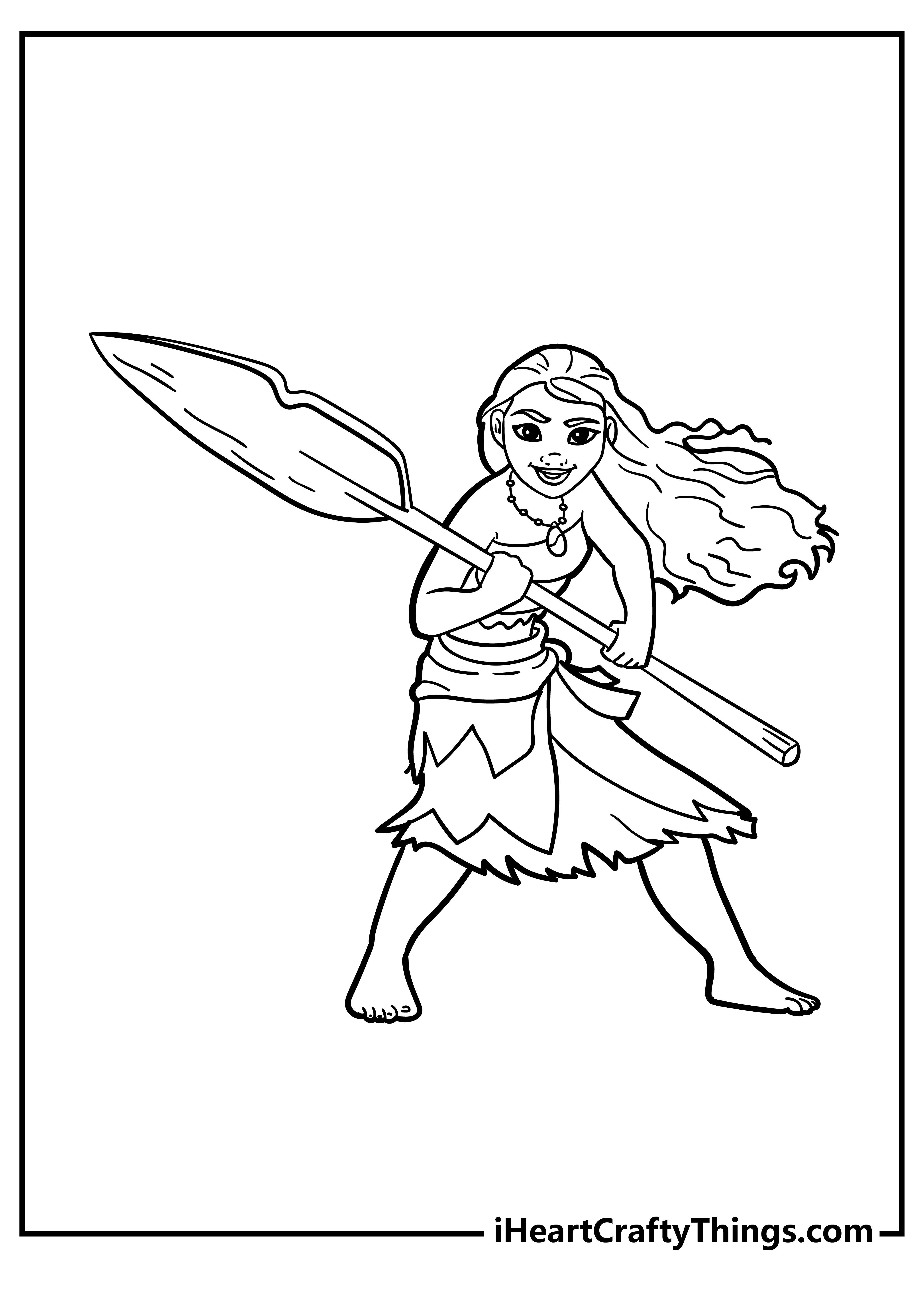 We're slowing things down a bit for this next page. This image captures a dreamier side to this character, as she seems to be lost in thought.
If we were coloring this one, we would use some softer colors done in watercolor paints or maybe colored pencils to create a milder look for this calming scene.
This character is known to be really brave and adventurous, and that is captured beautifully on this next Moana coloring printable.
She is posed with her oar in this one, but she is brandishing it as a weapon.
It would suggest that she is in a dangerous situation, but the smile on her face definitely makes it look like she has no fear.
There are so many situations that she could be in here, and you could show what you think is happening by drawing a scene around her.
What kind of perilous situation do you think she could be in here?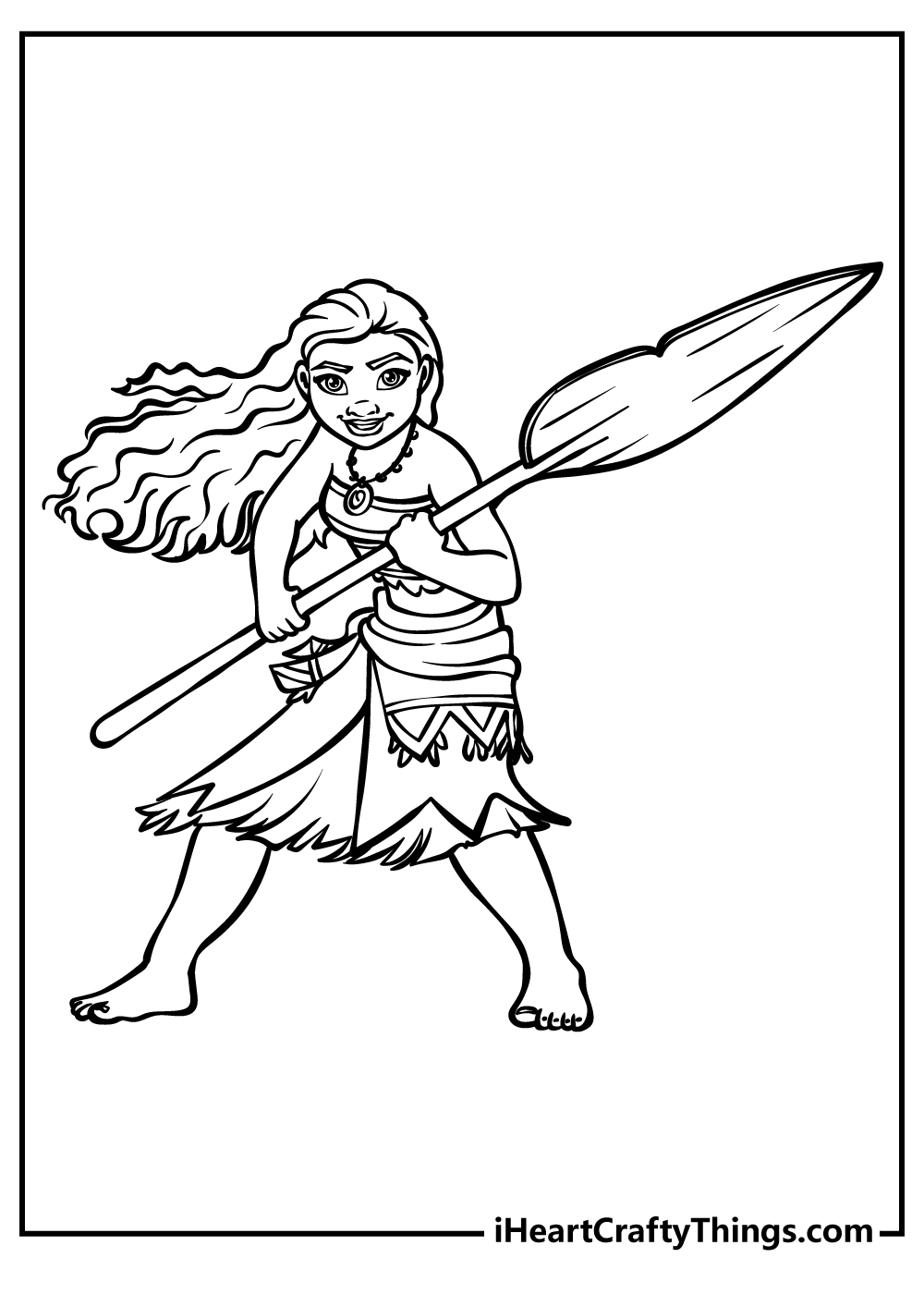 In the Moana movie, there are many scenes that have strong emotional moments, and this next page is capturing one of these moments.
She is yelling here while looking quite angry, and it makes you wonder what could be going on out of frame.
This is another page that would be perfect to add some background details to, and these could help to create a situation that shows off what she is going through here.
If you want to keep the background vaguer, you could use warm colors like reds to highlight that she is feeling angry here.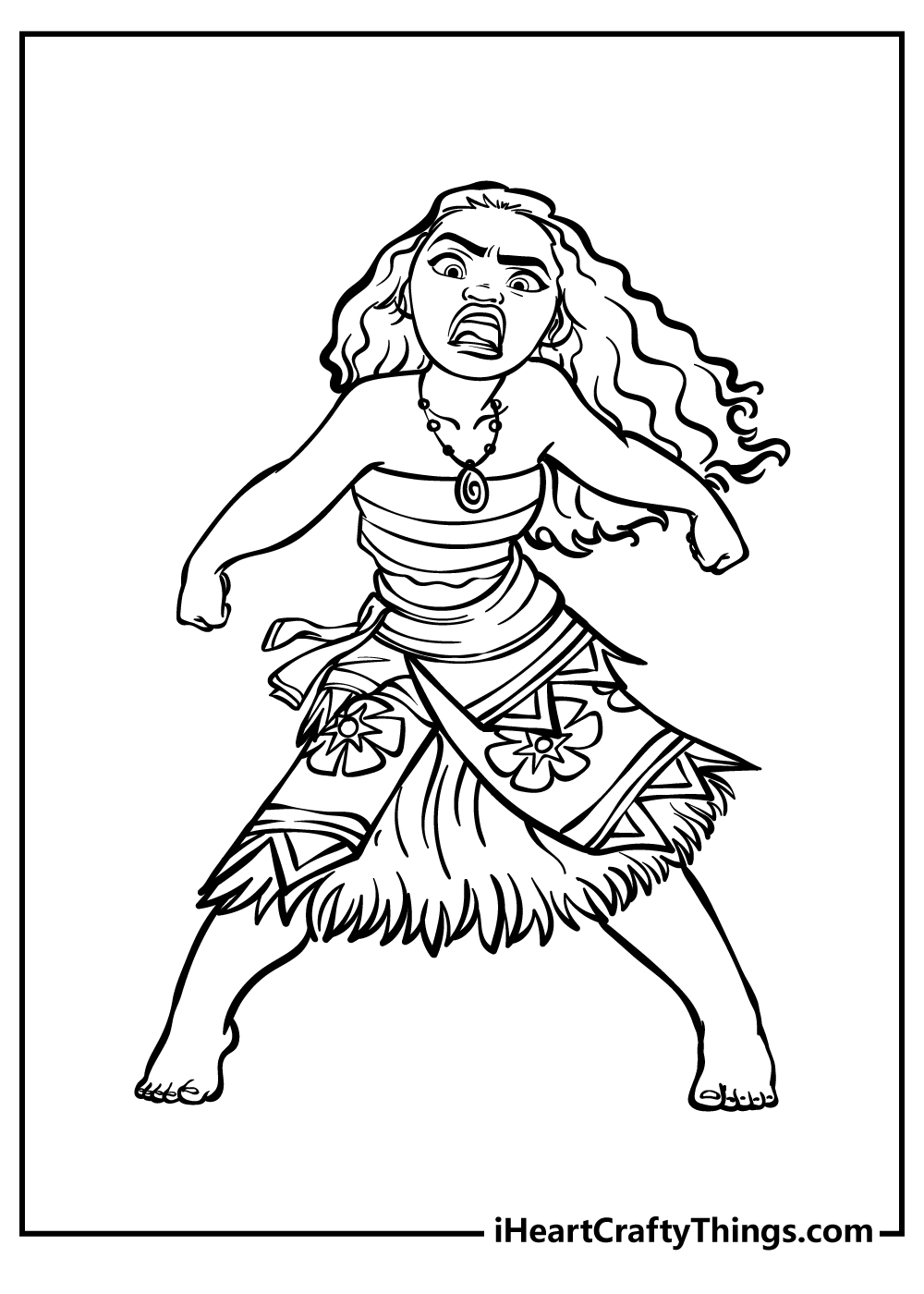 This next page is another one that is a really fun design!
She has been drawn in a slightly cartoony style for this seventh page, and for that reason we think that some brighter colors would be perfect for the style.
What favorite colors do you think would best suit this portrayal of Moana?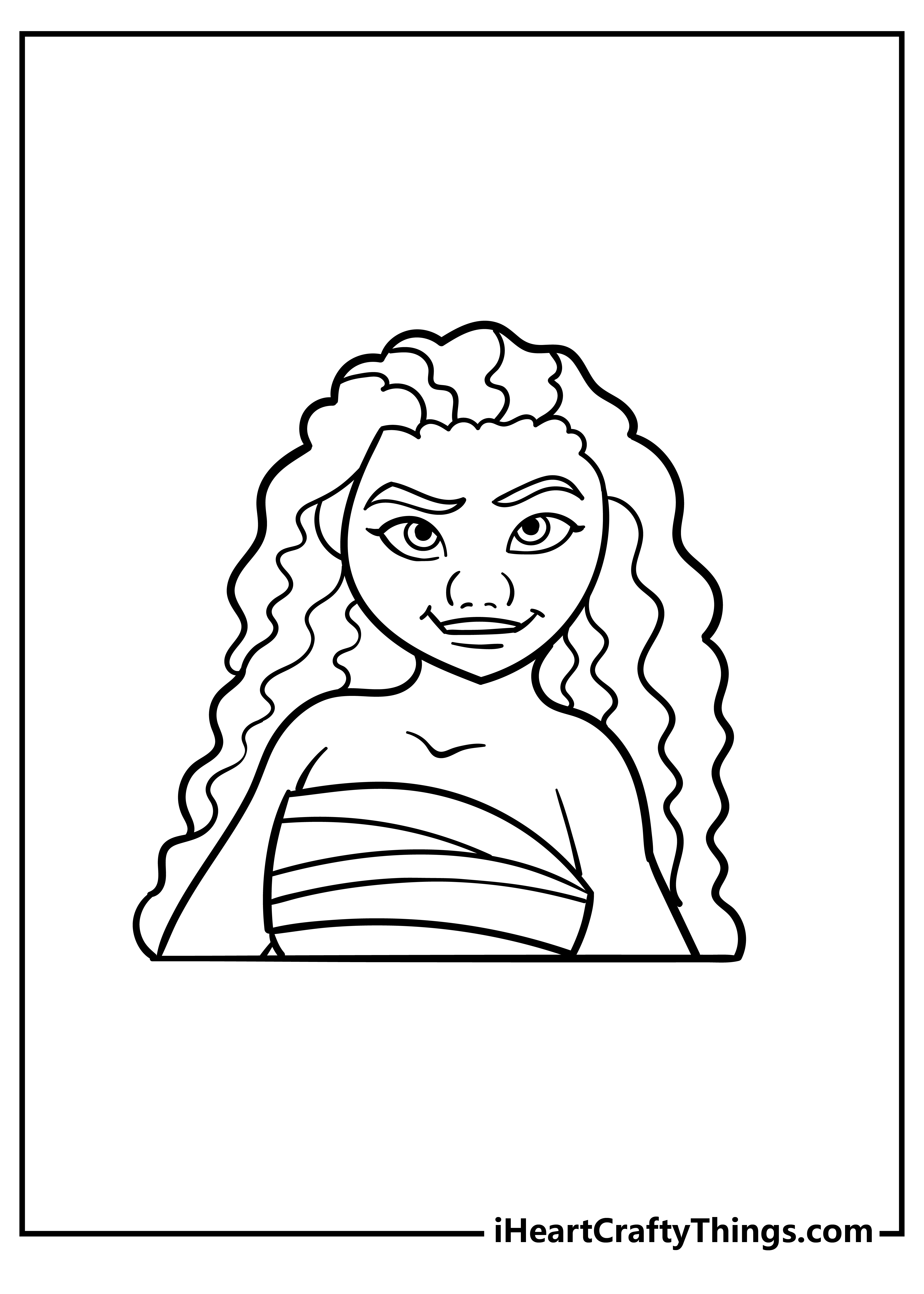 If you've seen the movie, you'll know that Moana is definitely not the only character we grow to know and love!
Here we have two of her animal companions that we meet in the film: Hei-Hei the rooster and Pua the pig.
These two animals may not have any dialogue, but they certainly have tons of character! Will you use the colors they have in the movie or give them a unique look?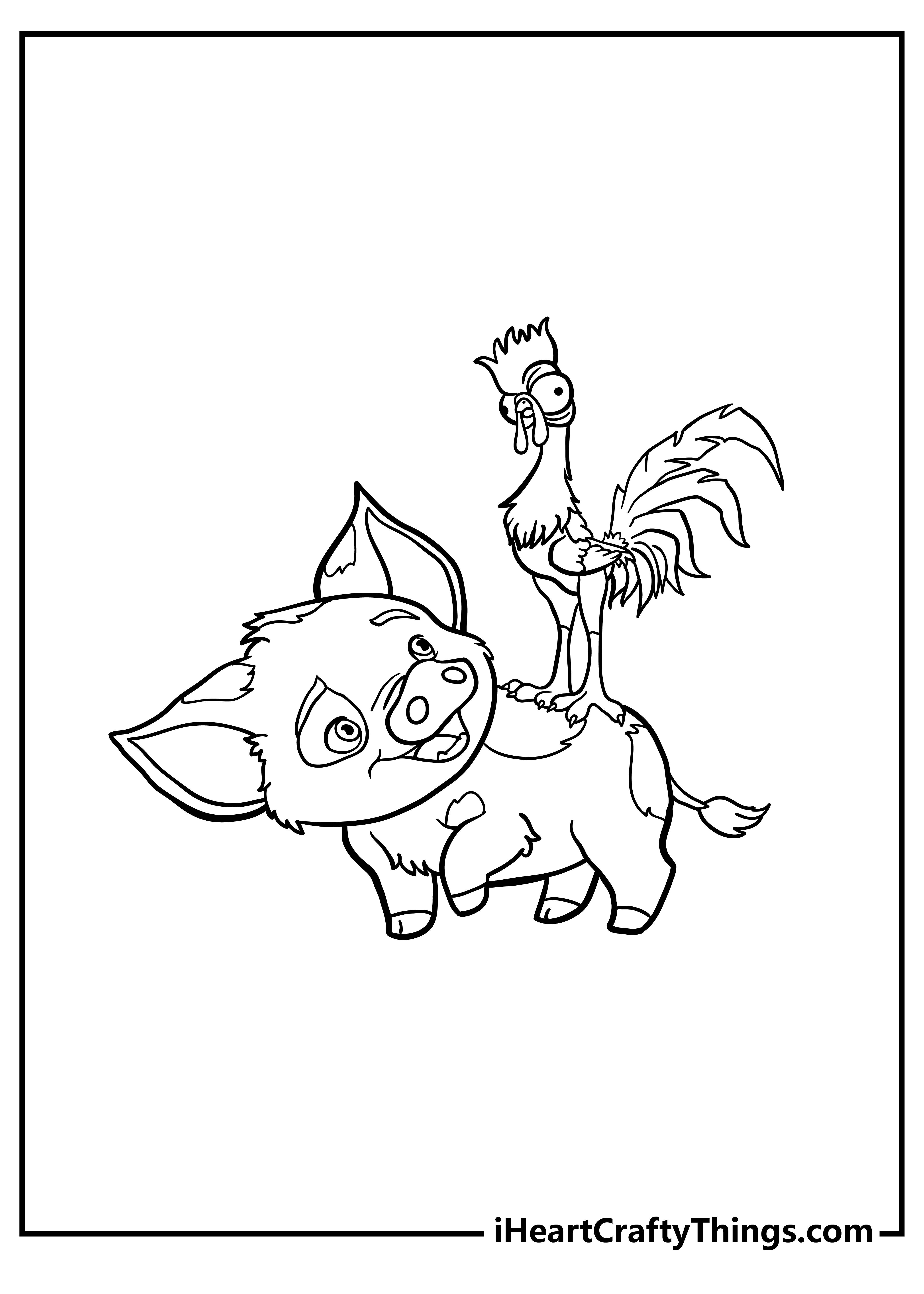 Throughout her adventures, Moana is joined by some animal friends, and they are shown off on this next page.
These animals are Pua the pig and Hei Hei the rooster, and these characters help provide some laughs during serious points of the movie.
Pua has a black and white color scheme in the movie, whereas Hei Hei is more brightly colored. You could stick with these colors or give them new ones for this page!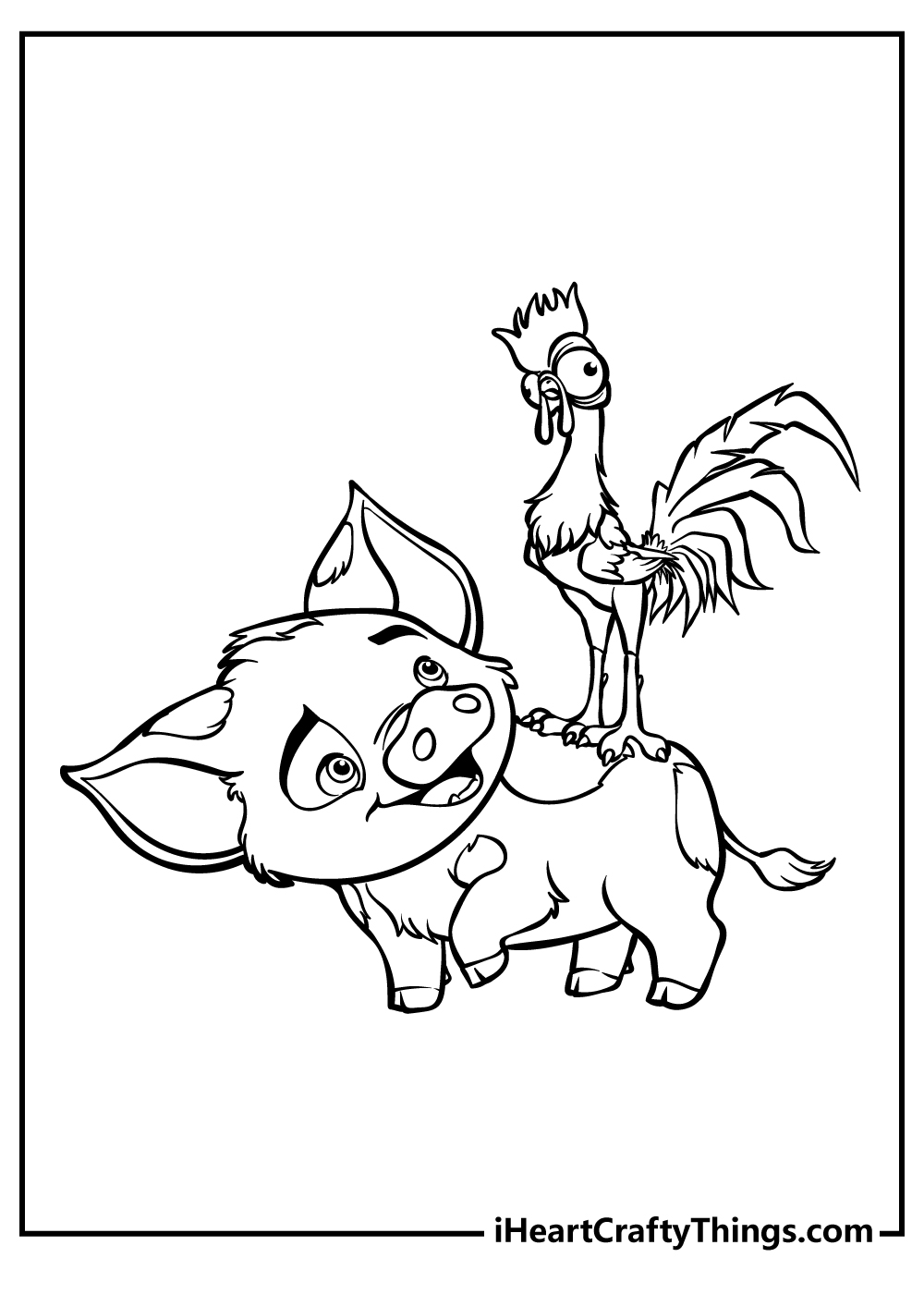 Next up, we have another really cute Moana coloring page for you to enjoy. It's another one where we see her as a young child, and she seems entranced by the amazing shell she has just found.
When you are coloring this page, you could try to use some art tools or mediums that you don't normally use as frequently.
That could be a great way to try out some new techniques and have fun experimenting!
Remember that you can print out multiple copies of each page so that you can play around with colors with no fear of messing up.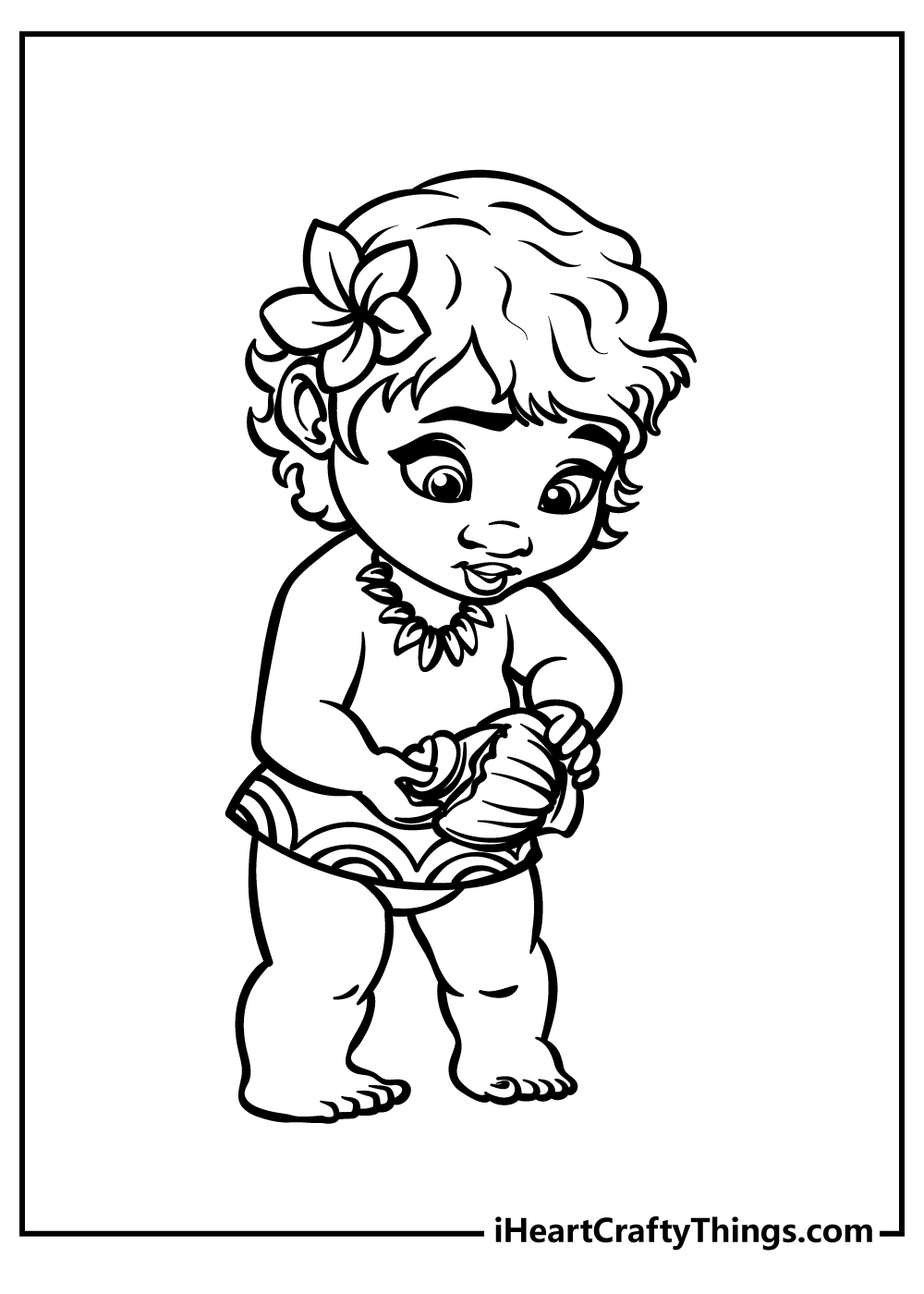 While Moana is definitely the main character of her story, the demigod Maui is certainly the next most important character.
He is featured on this next Moana coloring printable, and there are so many fun details to color in!
He is famous for his many tattoos, and these have been left off here so that you can draw some tattoo designs of your own for extra fun.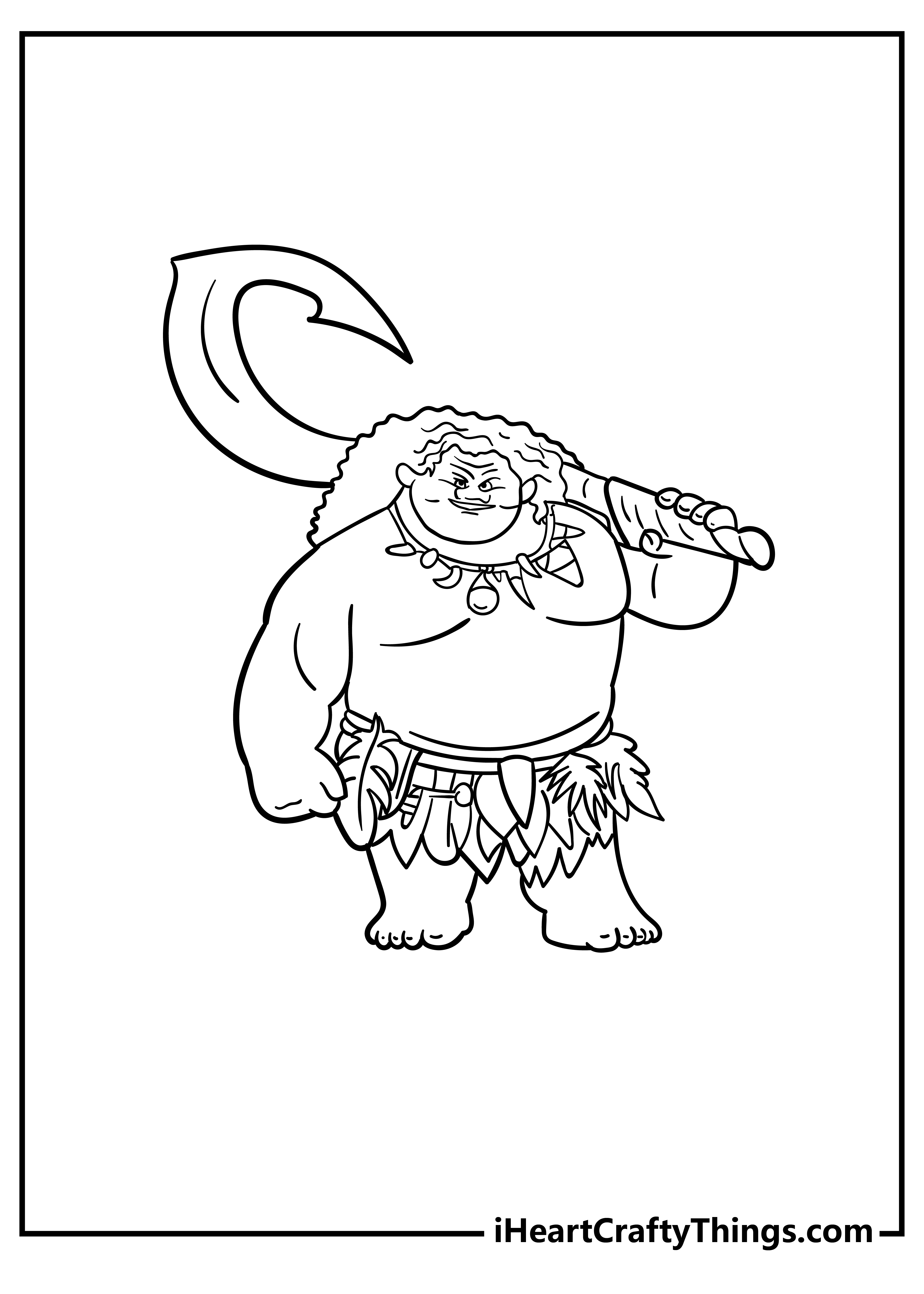 We're not done with Maui quite yet! We have a close-up of this awesome character to color here, and there are loads of ways you can get creative with it.
He performs a few amazing songs and has some memorable lines in the film, so maybe you could write some favorite lines you associate with Maui around him!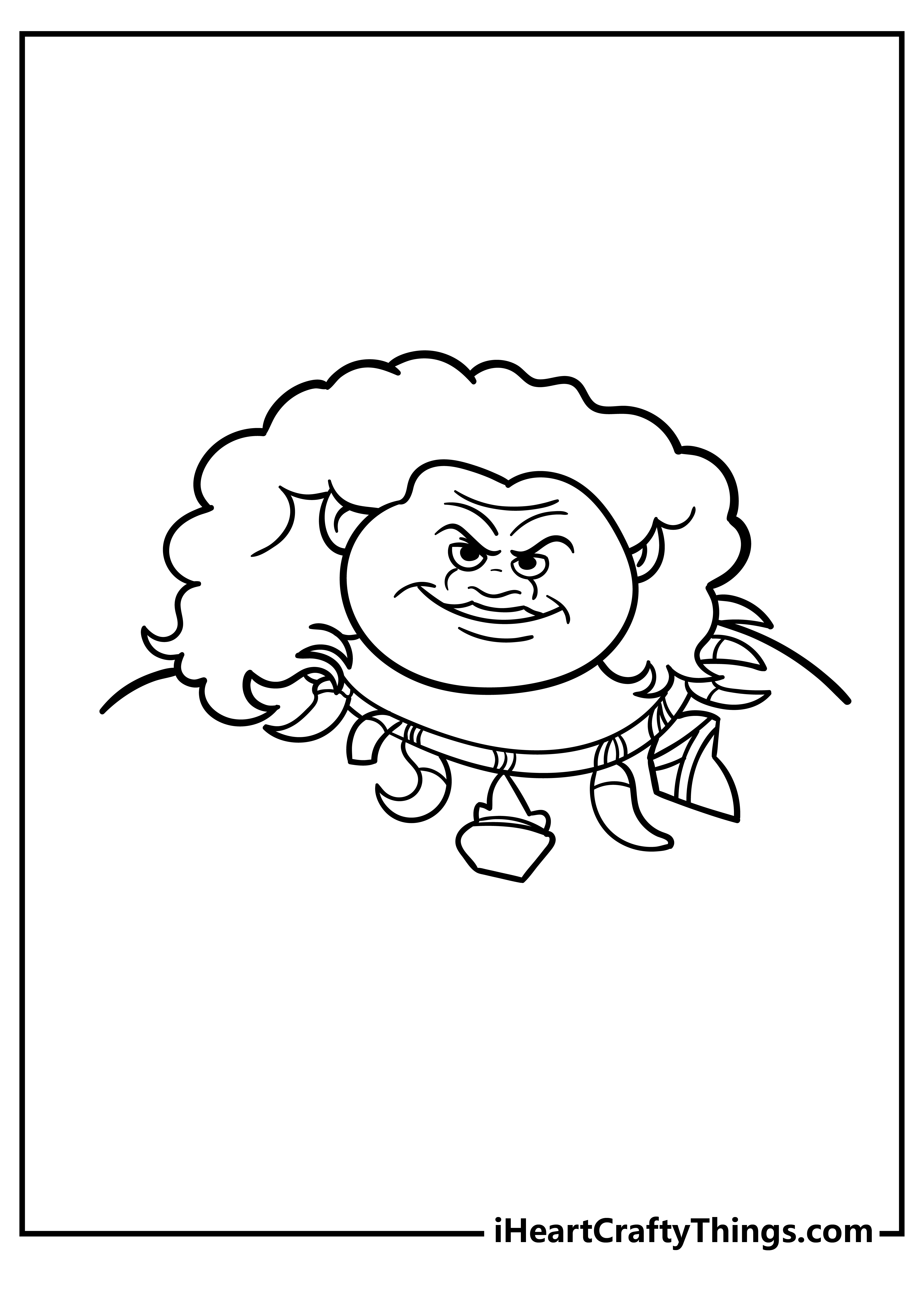 Moana is back to star in this next page, and we get another adorable scene of her as a young kid.
Here she is playing with a  big palm leaf, and this detail would look great with some bright greens and yellows! What other colors can you think of for this fun scene?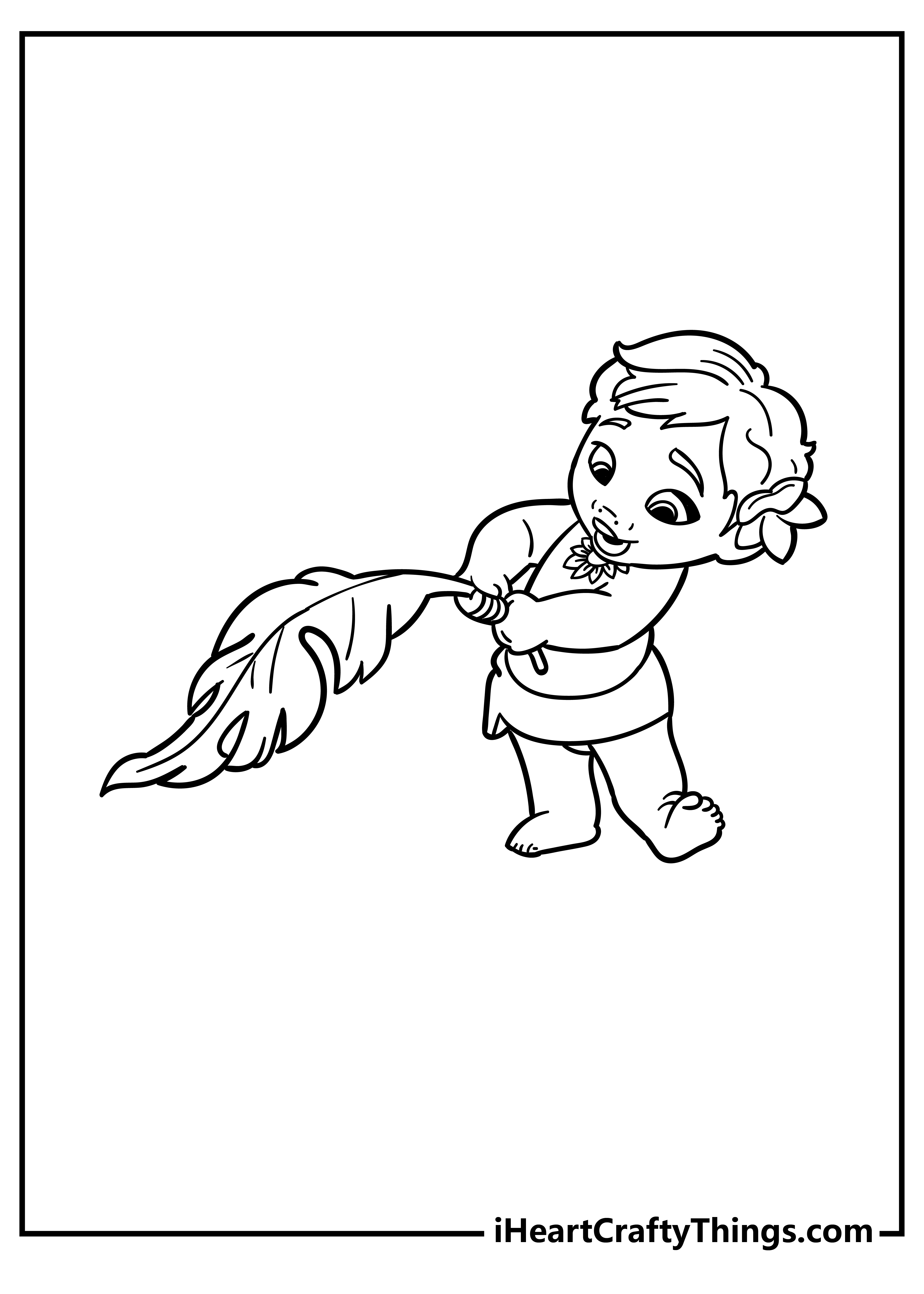 This next page is such a sweet scene to color in! Moana is cuddling with her pal Pua, and they're both looking really happy!
This is another scene where we would use some lighter shades done with watercolors or colored pencils in order to create a softer look to the image.
Do you think that is the approach that you will take as well?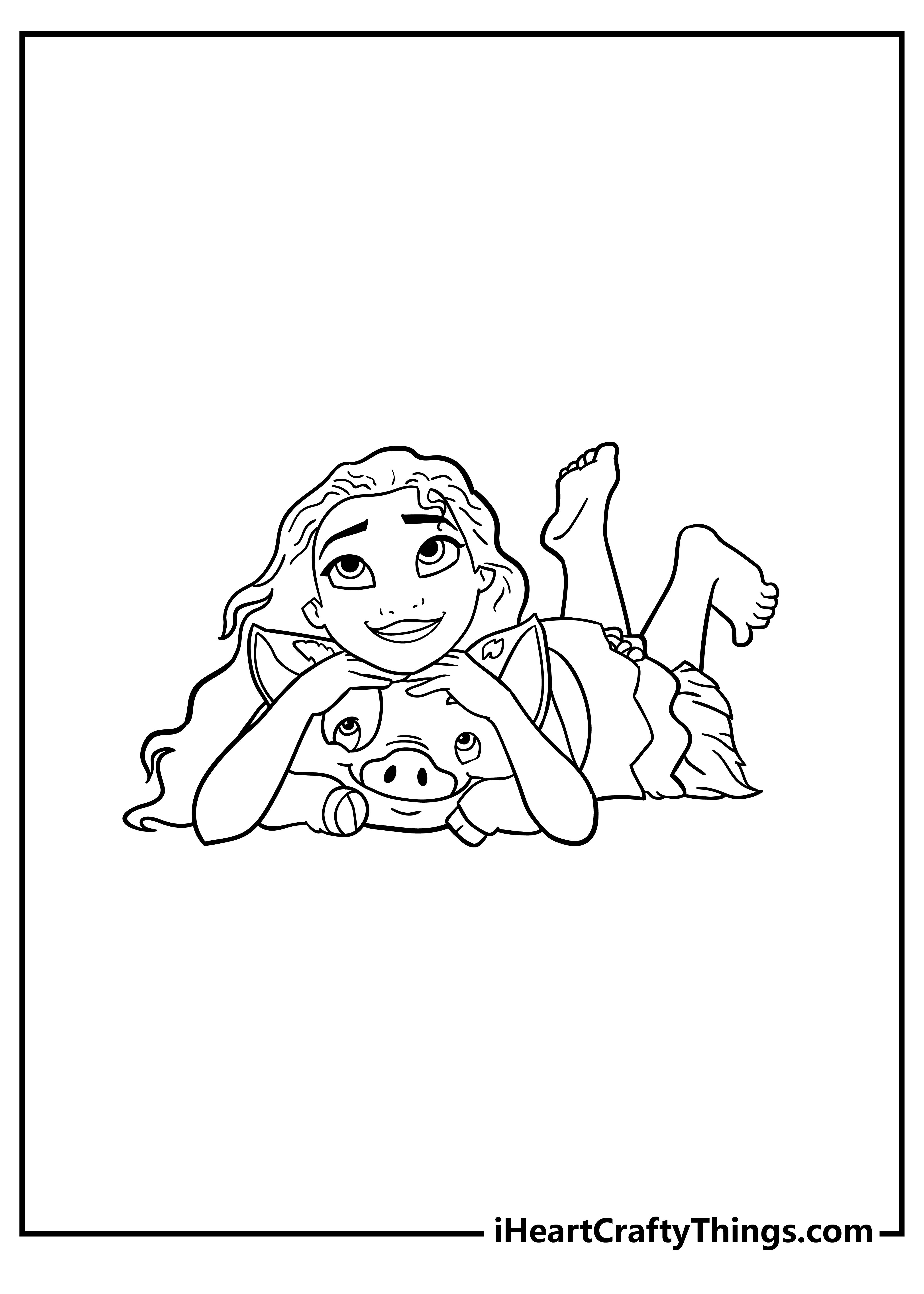 Moana is definitely known to be a strong and confident character, and that is captured wonderfully here.
There are some great smaller details to color on her outfit, and it's another one that would be perfect to add some background details to.
We know that this one will look even more amazing once you're finished with it!
Young Moana is back one more time with another adorable pose!
If you have a favorite scene featuring the younger Moana from the film, you could try to replicate it using the right colors and extra details to really finish it off nicely.
Which scene would you choose if you were to do that?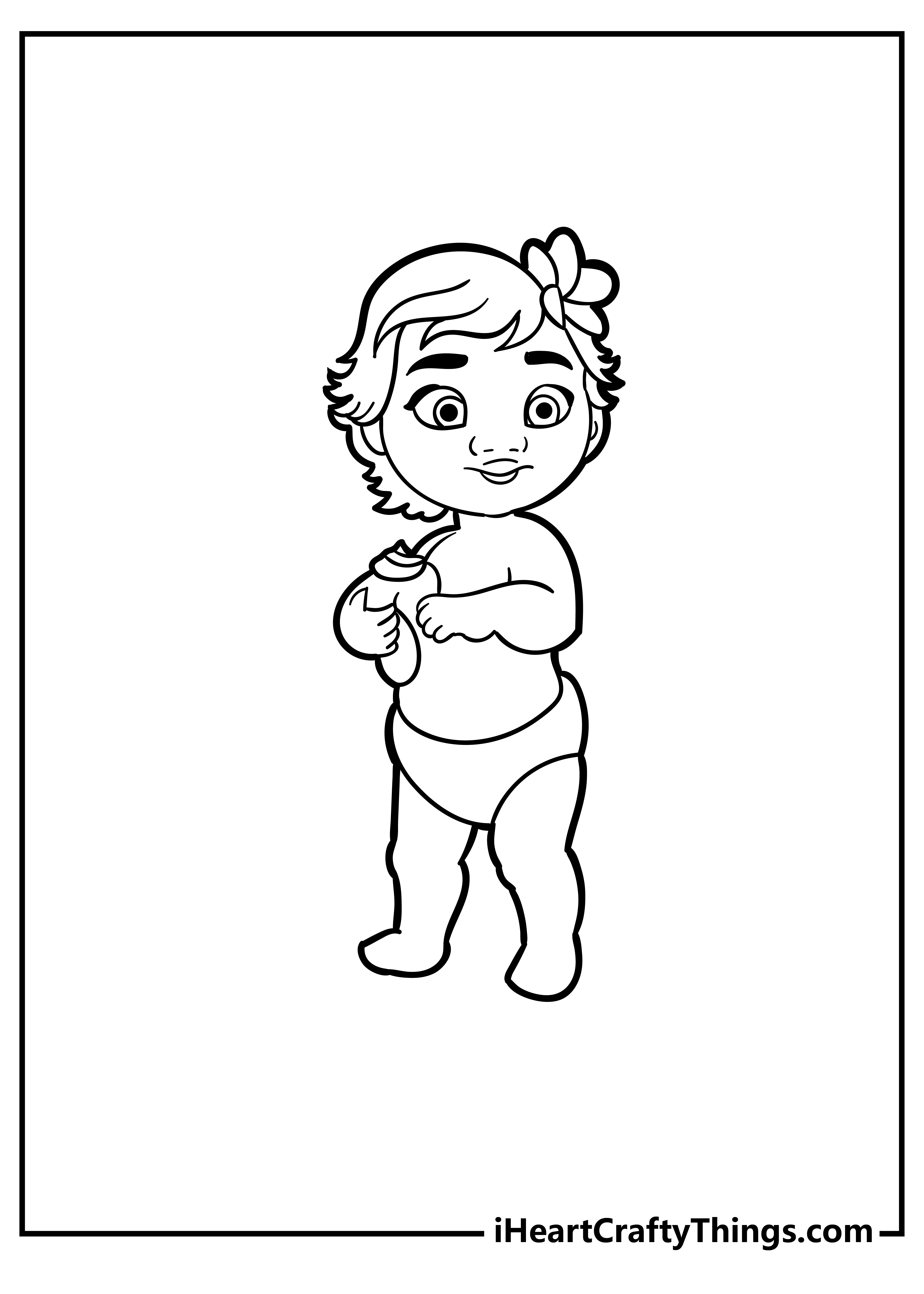 The Moana film is famous for its amazing songs, and she seems to be singing one in this final Moana coloring sheet.
This would be another one where you could write some lines from your favorite song she sings around her to make this image even better!
Which Moana song is your favorite from the film? We hope you will show us how this one turns out!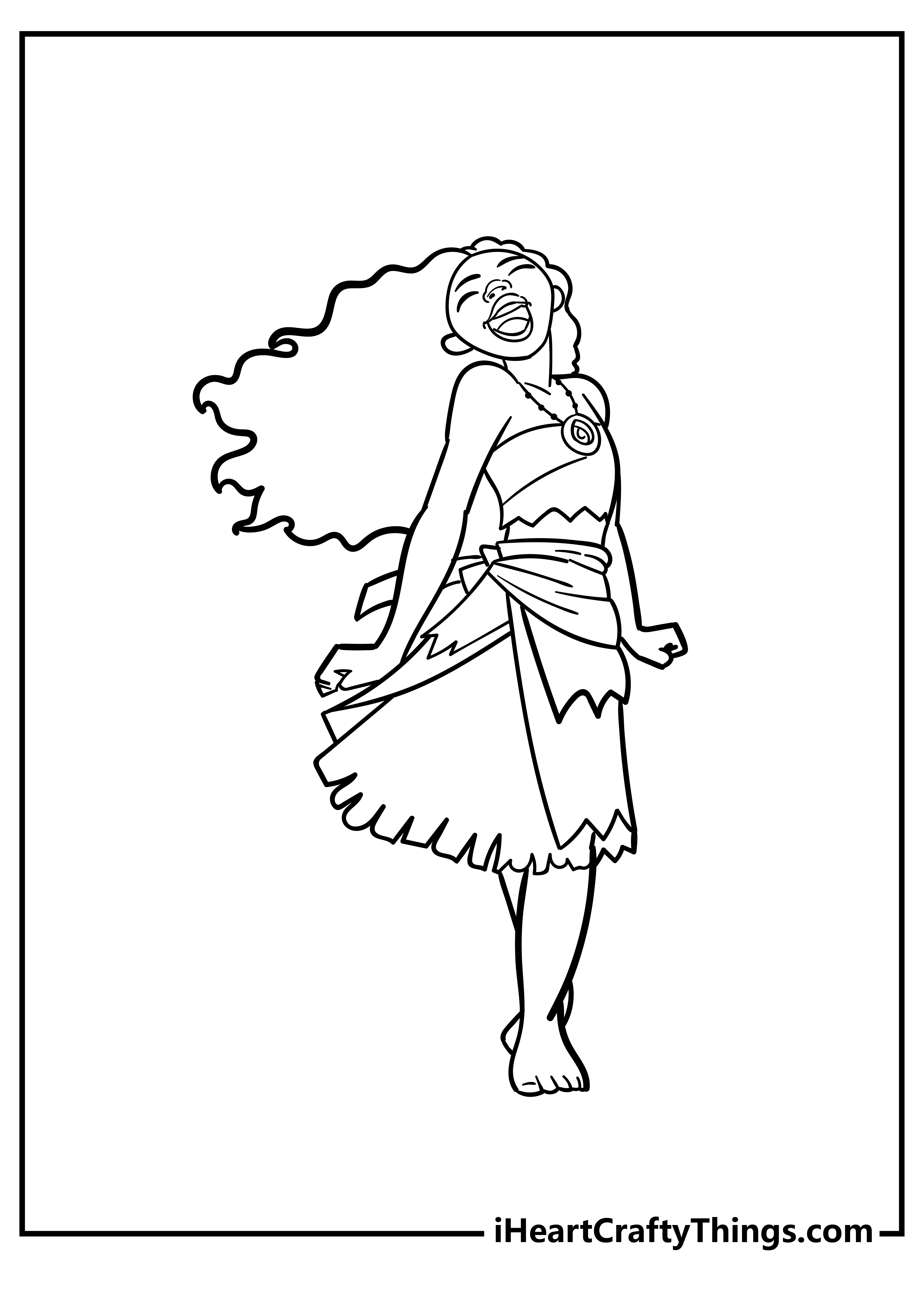 Moana Coloring Pages – Which will you choose?
We hope you had a magical time working on these 15 free Moana coloring pages for kids!
These pages captured so many great moments and characters from the film, and they really allow you to show off your creativity.
Don't forget to share this wonderful collection with other Moana fans you know, and be sure to check out more of our coloring page collections on our website!
Lastly, we really hope that you will share some of your finished Moana coloring pages on our Facebook and Pinterest pages for us to enjoy!