The film Snow White and the Seven Dwarfs was an important movie for many reasons.
Not only was it a film beloved for generations, but it was the first ever feature-length animated movie, which was quite an achievement!
This collection of free Snow White coloring pages for kids focuses on this classic movie so you can relive some favorite moments.
There are 20 free pages to enjoy, and it will be so much fun to color and share them all!
So let's begin as we relive some favorite moments from this timeless tale as we take on the first page of the collection.
20 Brand New Snow White Coloring Pages – Free to Print and Color
We have a wonderful portrayal of this classic character for our first Snow White coloring sheet we have for you.
This image really captures her character and personality brilliantly, and you have a few ways that you could color it.
Do you think you will use the movie as inspiration and use her usual colors for her clothing, or will you create a brand new look?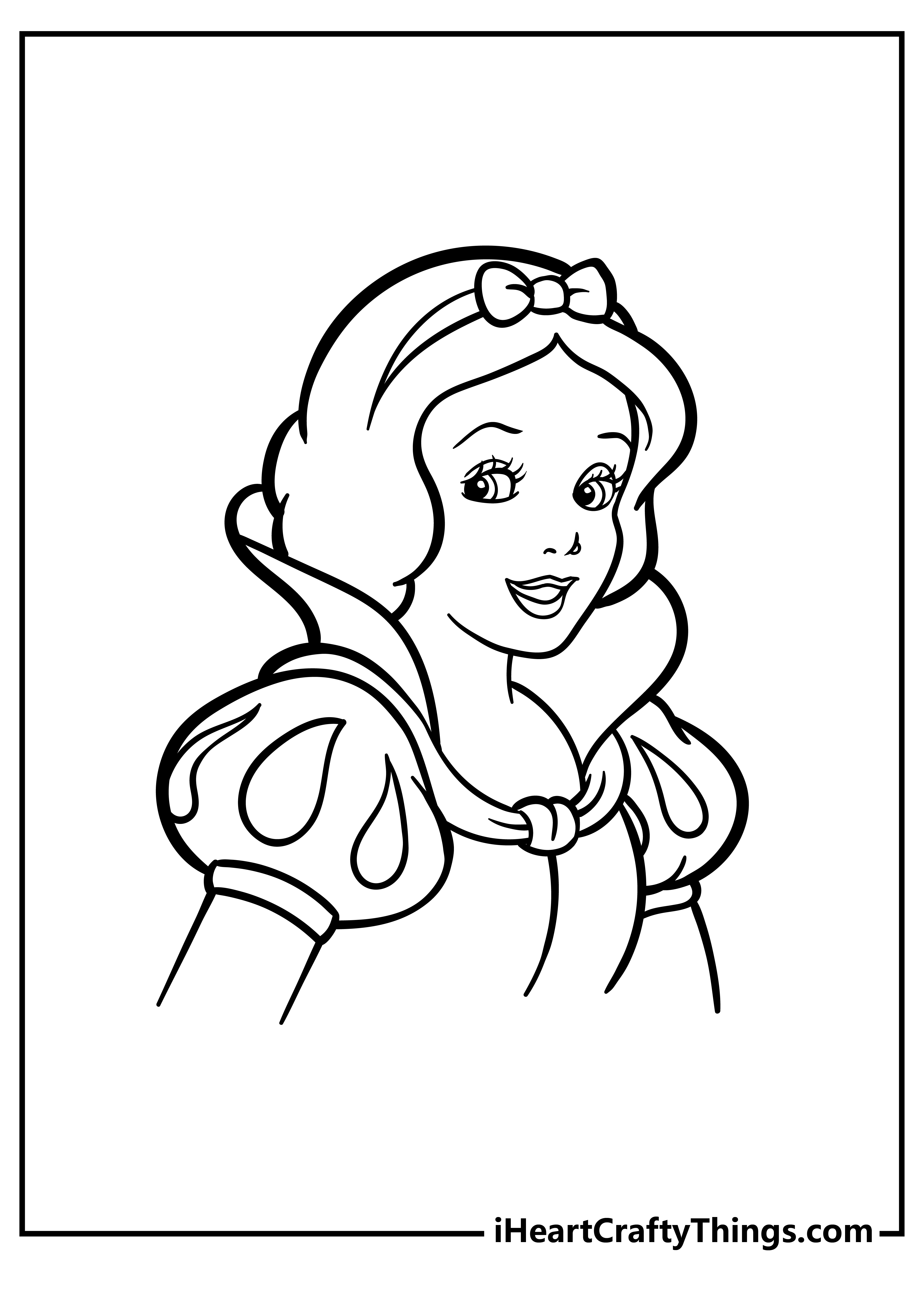 Snow White looks like she's having the time of her life, strutting down the forest path with her fluffy puppy pal Muffin by her side.
Her long, dark hair flows freely behind her, and her frilly blue dress sways gently in the breeze.
In one hand she carries a handbag, perhaps on her way to meet her prince.
Add bright pops of color to Snow White's headband, shoes, and handbag as she journeys past quaint cottages and through the lively village square.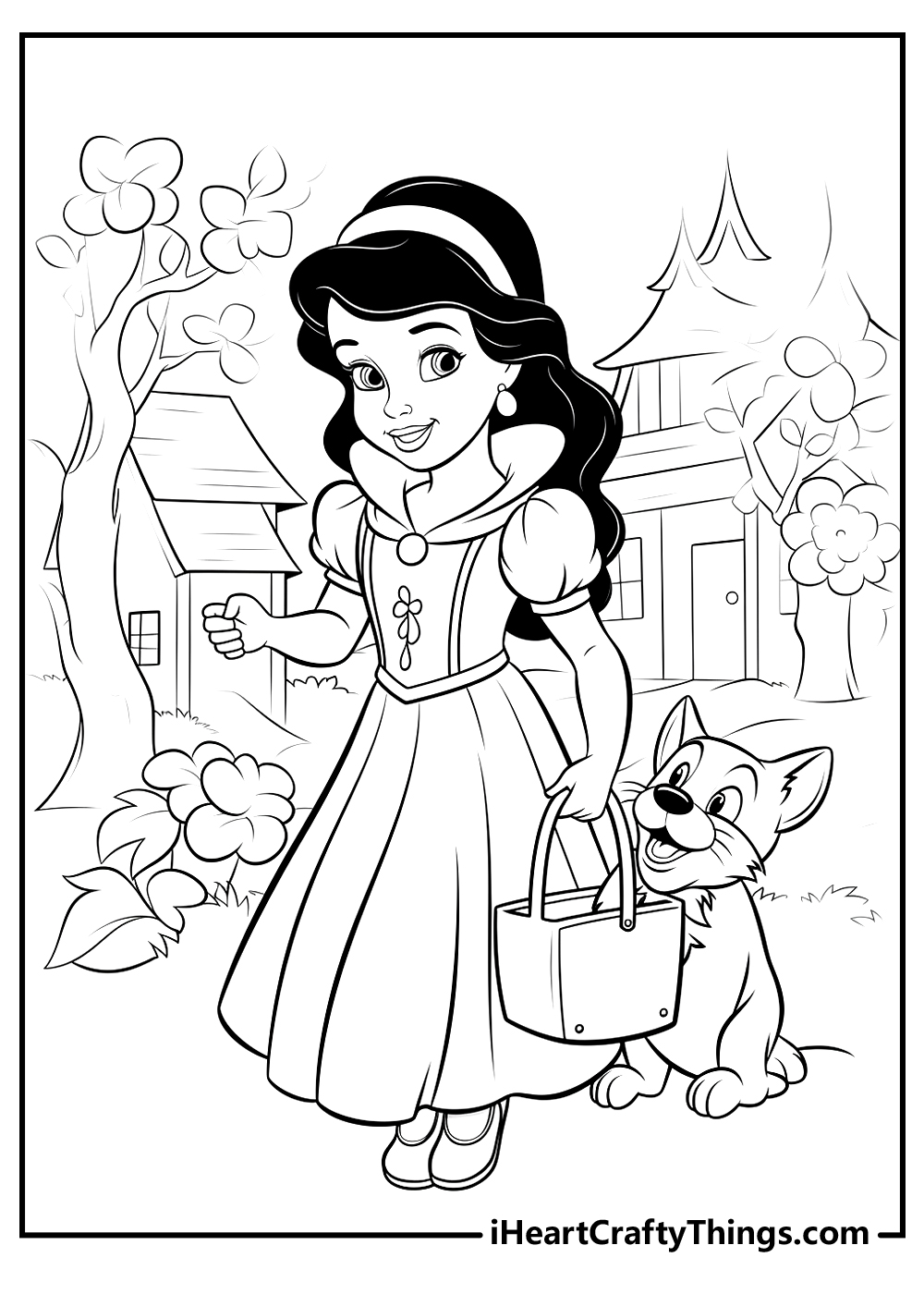 Apples play a big role in the story of Snow White, and here she is holding one. Apart from being a detail from the movies, it also gives you a chance to use some bright colors for this detail.
Do you think you will make this apple bright red or green? Either would look great and represent a different aspect of the story.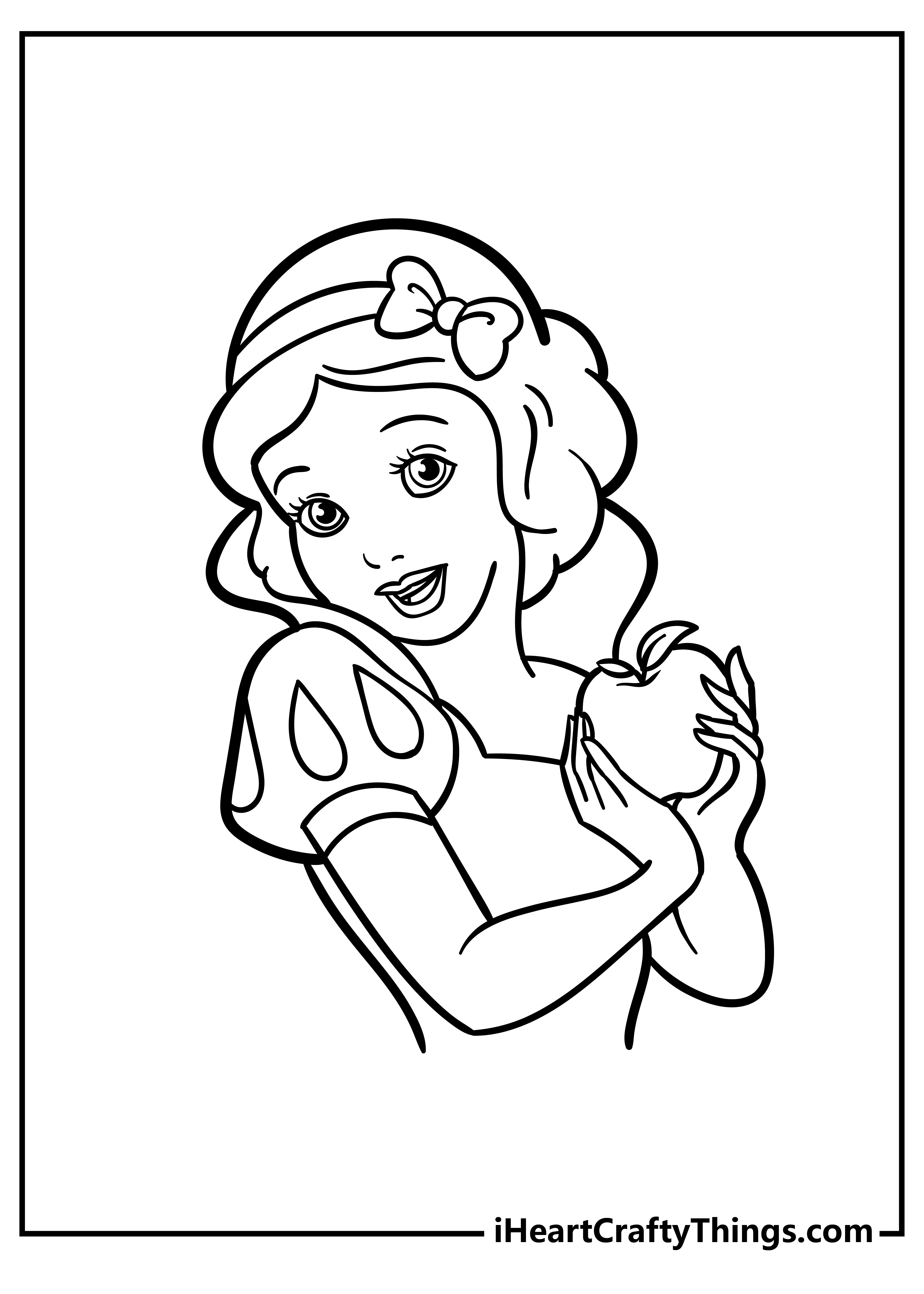 Snow White is a gentle character that loves animals, and that is on full display in this charming image.
She is spending time with a pretty bird here, and it makes for such a calm and lovely scene.
For this one, we would use some lighter watercolors or colored pencils to fit the calm, soft feeling this scene gives off.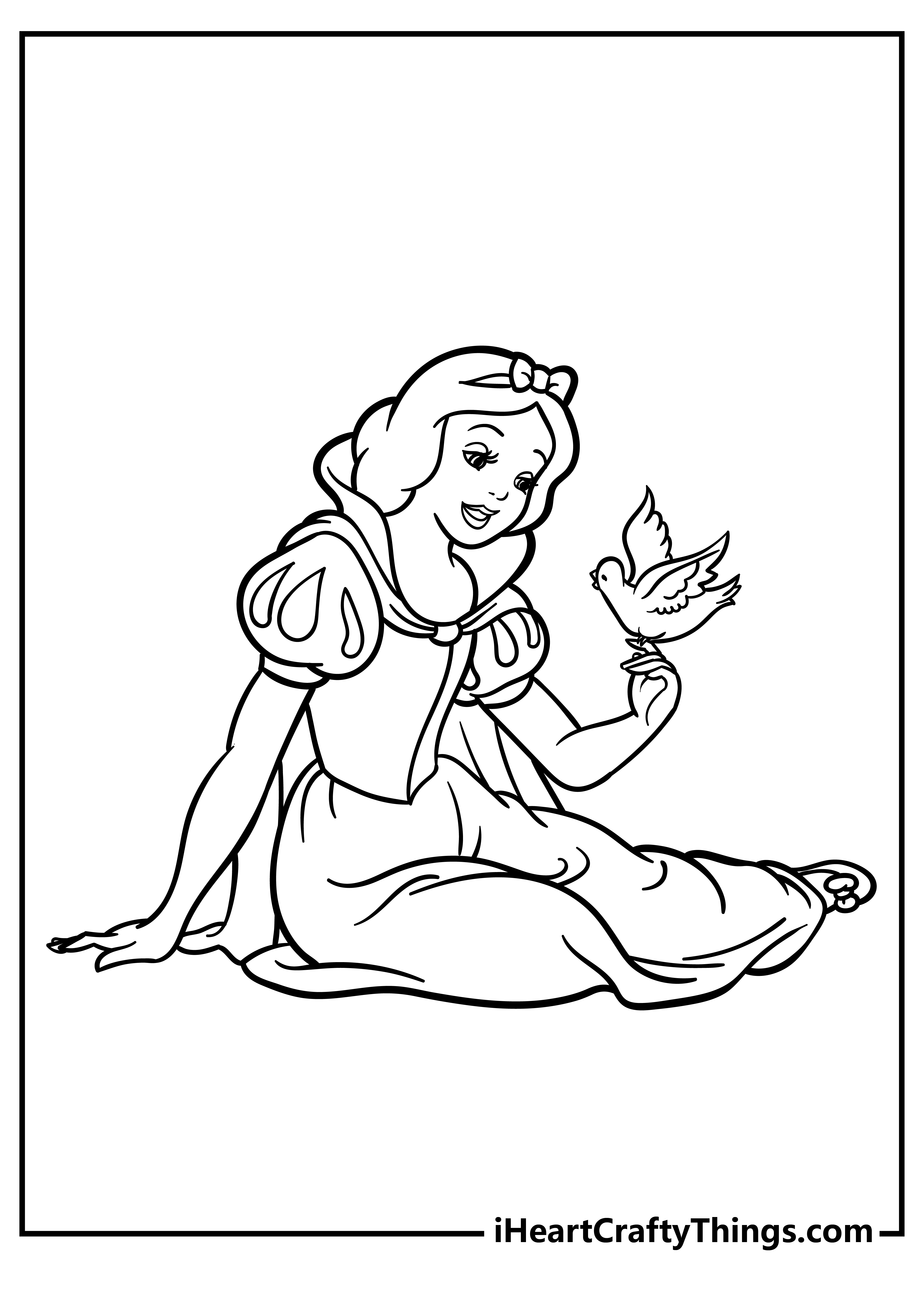 This Snow White coloring page captures Snow White in an elegant gown with Muffin standing happy beside me.
Her dress features a corseted bodice with a high lace collar and puffy striped sleeves. The skirt is a striking black and white stripe, cut wide and full.
As you color, use bold contrasting hues for the skirt stripes. Add shimmering accents to the bodice and color the trees in shades of mystical midnight blue.
Don't forget to use soft, fuzzy strokes to color Muffin's adorable fur.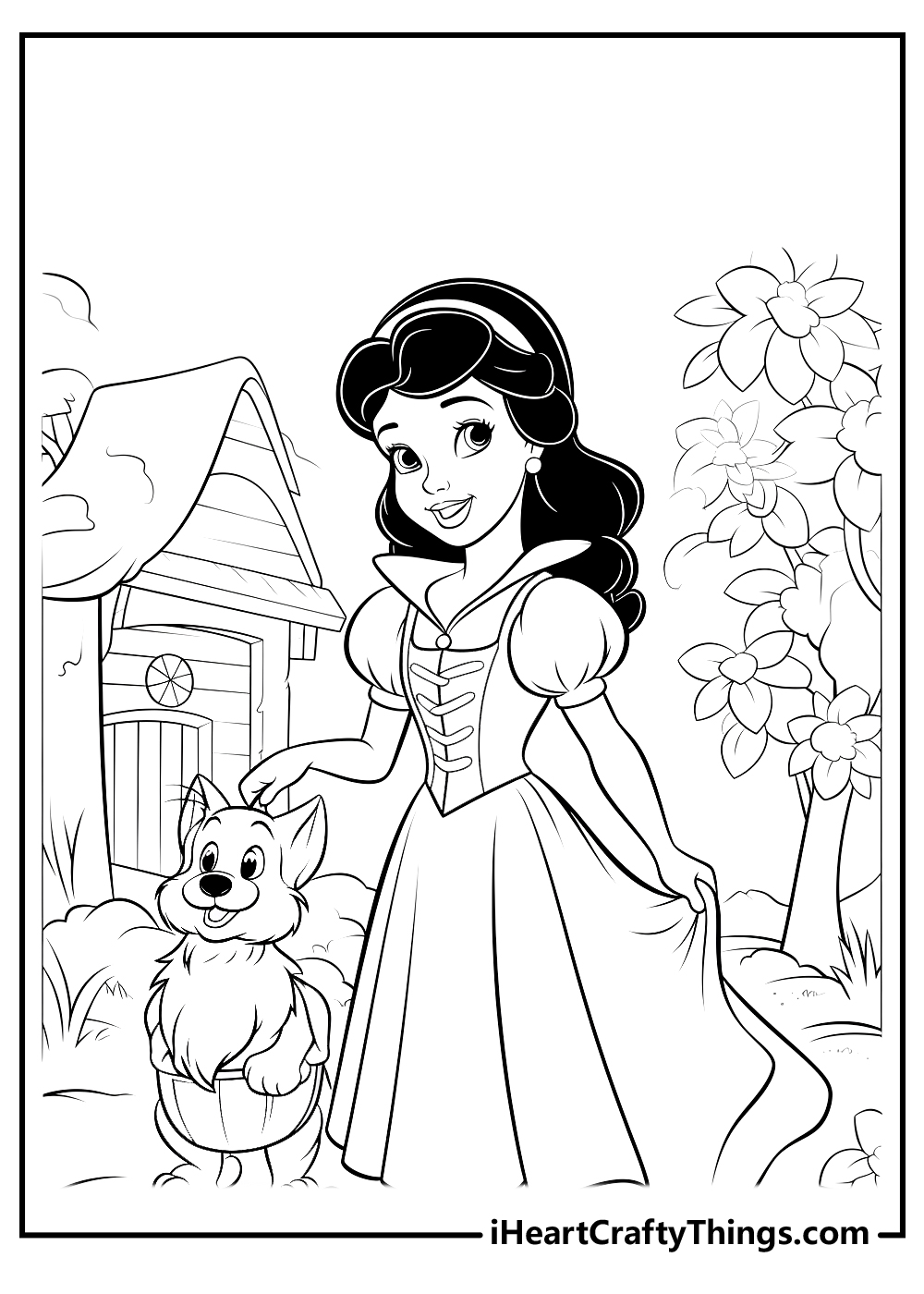 This next page represents a dramatic moment from the story. Snow White has been put into a deep sleep by the evil queen, and she can only be awakened by a true love's kiss.
We see the prince who is about to bring her back to life with just such a kiss in this scene, and it's definitely one of the most thrilling parts of the story! How will you color this dramatic moment?
Our fifth page in this collection of free Snow White coloring pages for kids features another scene that shows off her love for animals!
Here she is singing to an adorable bird companion, and we think that it could be a fun touch to draw some words from a favorite song in the film in a speech bubble.
What song would you choose?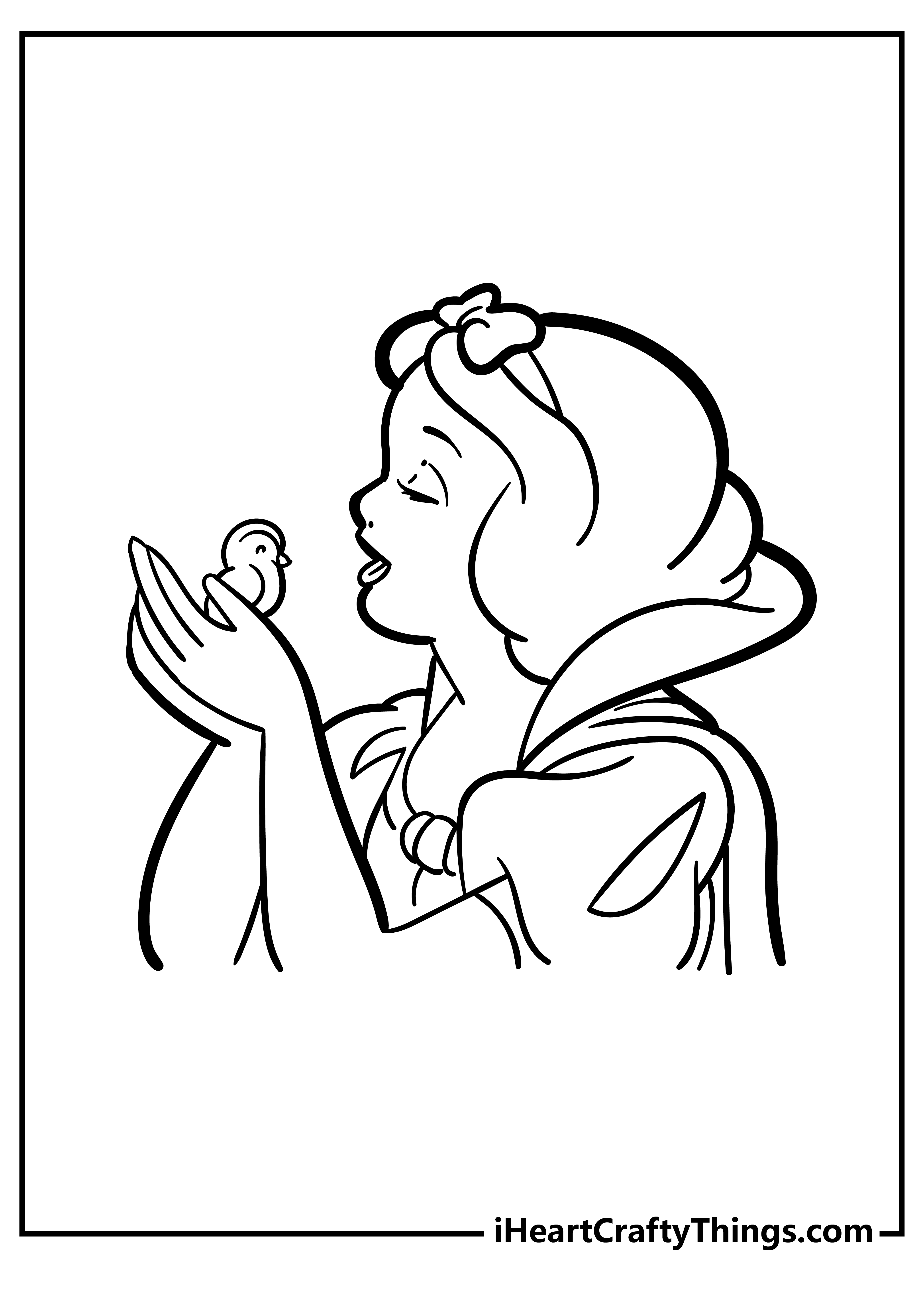 Snow White is the picture of playful joy in this sweet dress! Her eyes twinkle merrily as she gives a little spin, her full pink skirt bouncing around her.
She wears her hair in bouncy strawberry blonde curls, tied back in a matching pink bow. In her hand she carries a round purse, ready for a day of fun and adventure.
Leave plenty of white space to highlight Snow White's cheerful mood, and use your brightest colors for her dress bow, shoes, and rosy cheeks.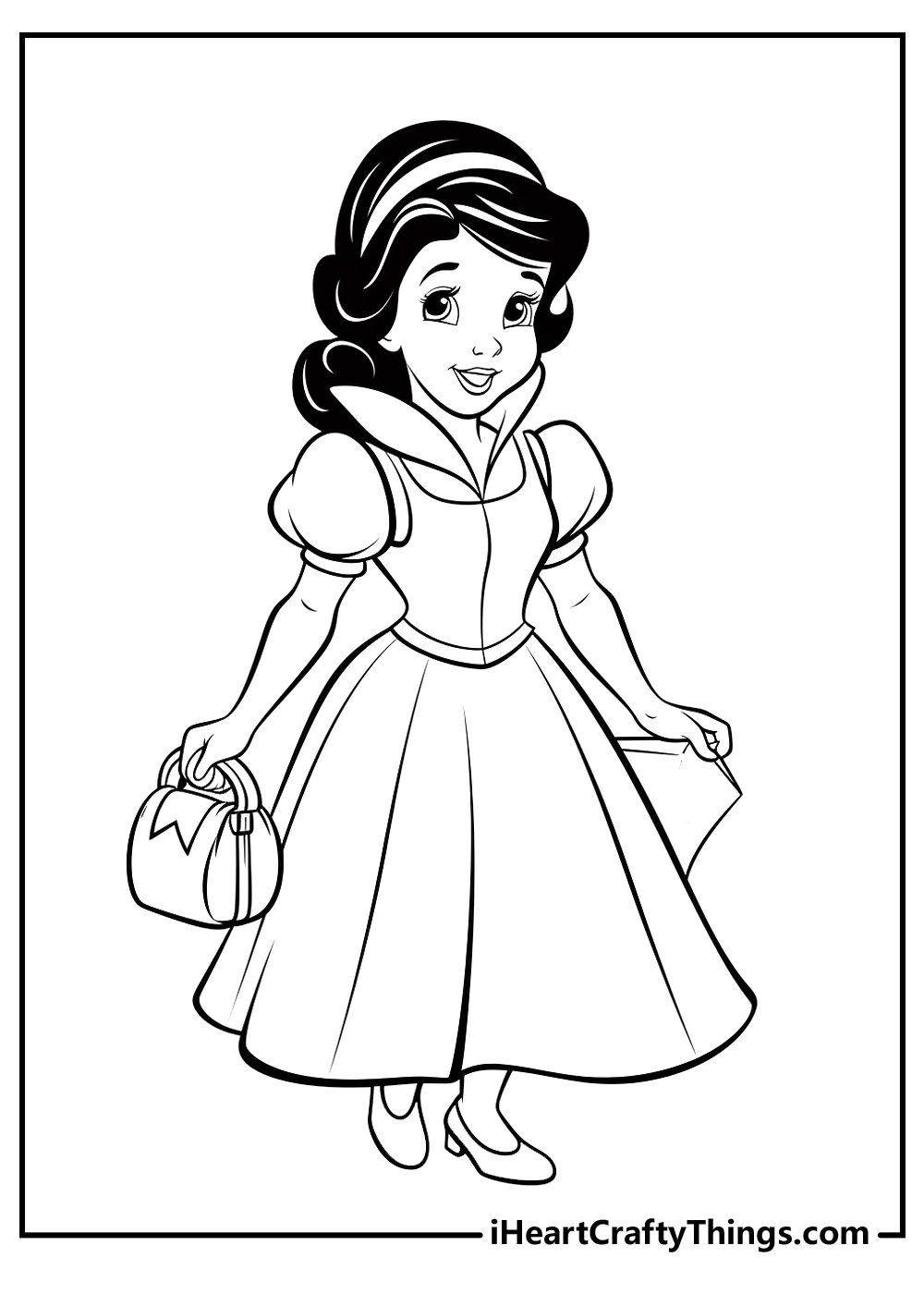 We have another charming image of Snow White for you to color on this next page!
She is enjoying a quiet and peaceful moment here, and you can emphasize this mood with the colors and mediums that you use.
We would go for some lighter colors done in some watercolors or colored pencils if we were doing this one, but what would you use?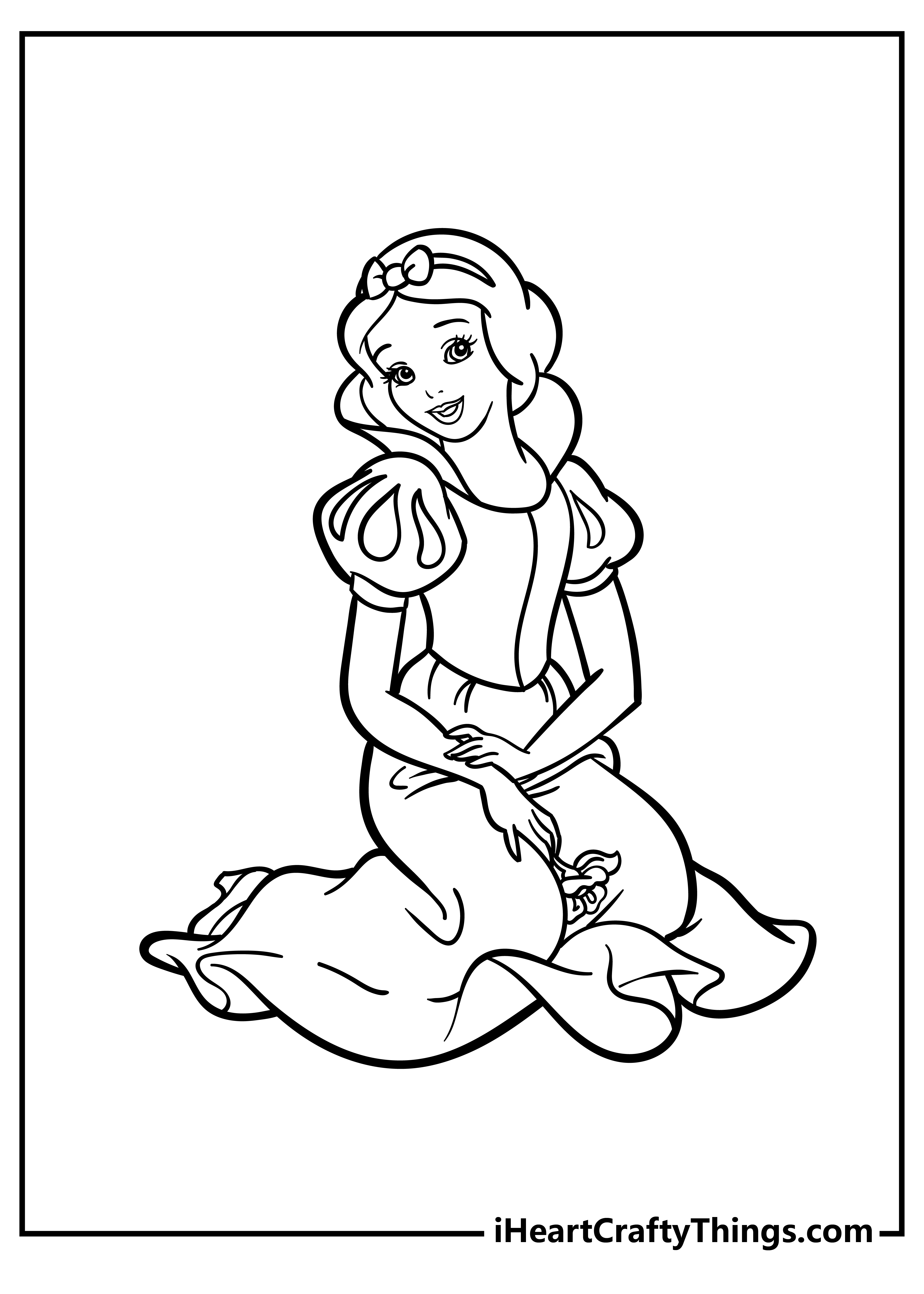 It's time for some more animal fun in this wonderful picture. As we mentioned before, Snow White is always kind towards animals, and they return the favor by helping her out with several tasks as well.
This scene really captures that special bond, and we know you will do an amazing job bringing some color to this portrayal!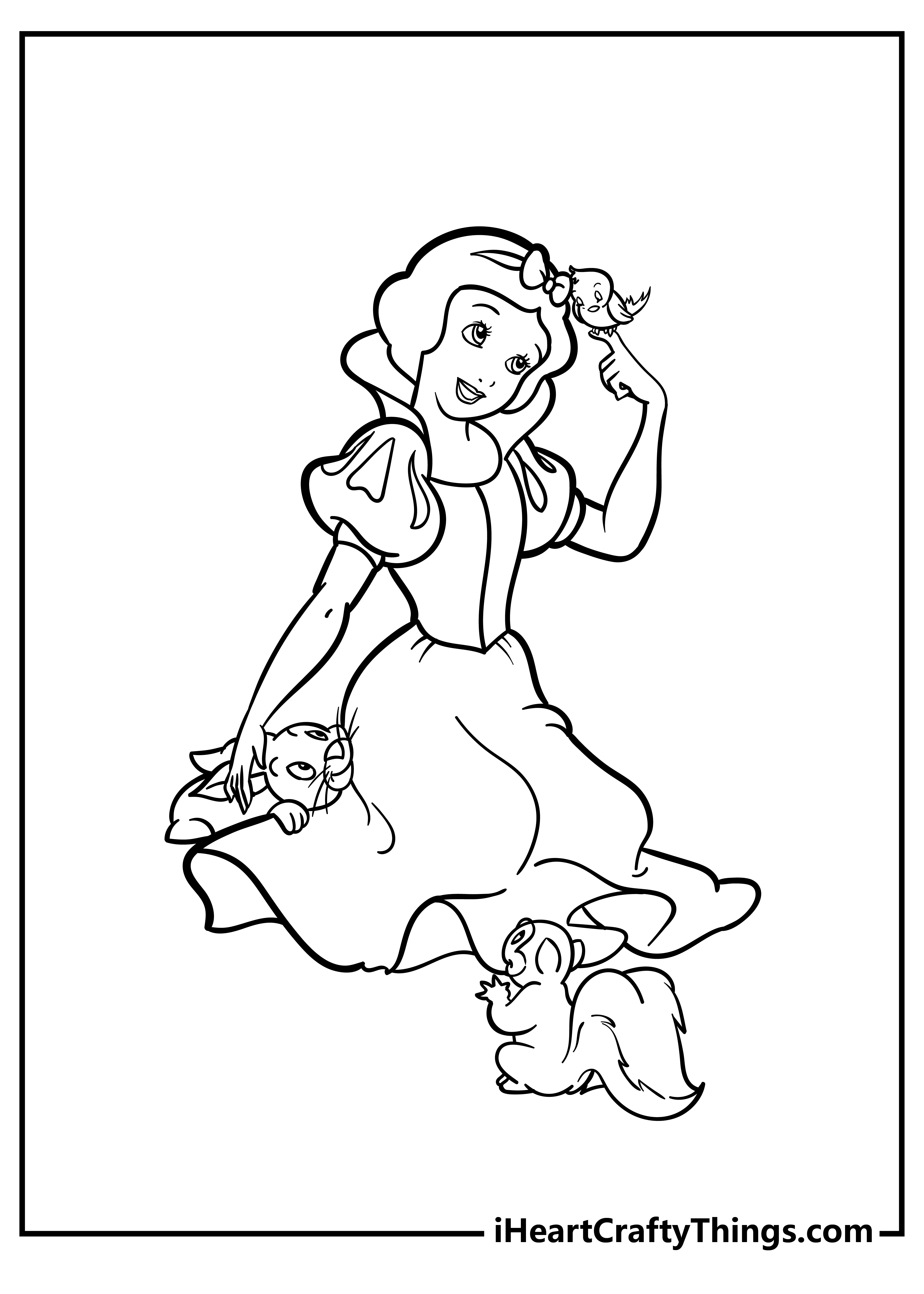 This Snow White coloring page shows a formal portrait of Snow White. She gazes directly at us with her adorable eyes, lips curled into just the hint of a smile.
Her dark hair is swept back in an elegant bun and she wears understated pearl earrings and a matching necklace.
Use elegant gold accents for the jewelry and soft pinks and peaches to capture Snow White's fair complexion. Add intricate designs to the dress for royal flair.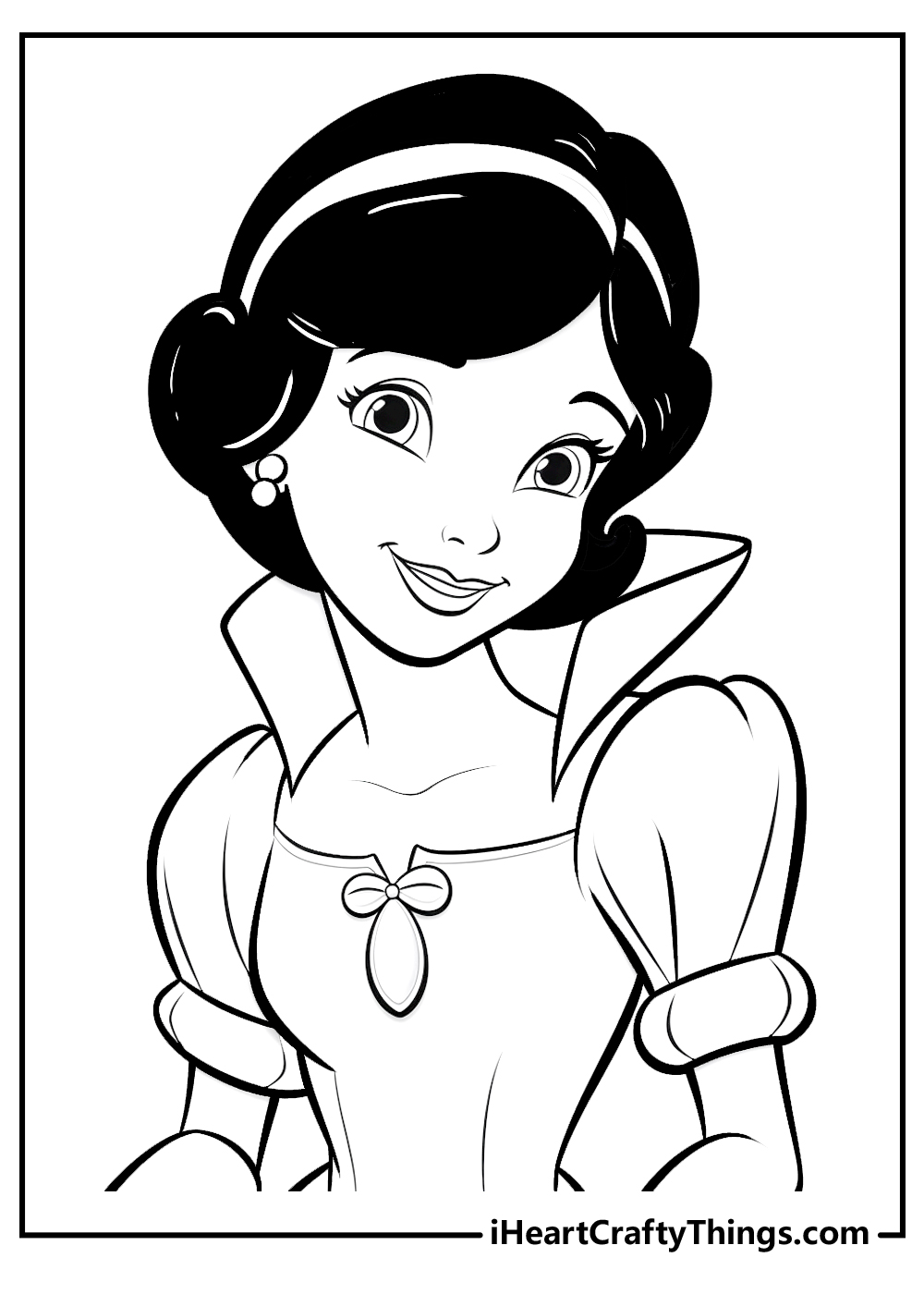 The way that this image is drawn makes it look like it is a portrait of Snow White hanging on a wall!
One way that you could do this image would be to draw a wallpaper pattern around the picture to finish off the look of it hanging on a wall.
You could even draw and color some more pictures to hang beside it!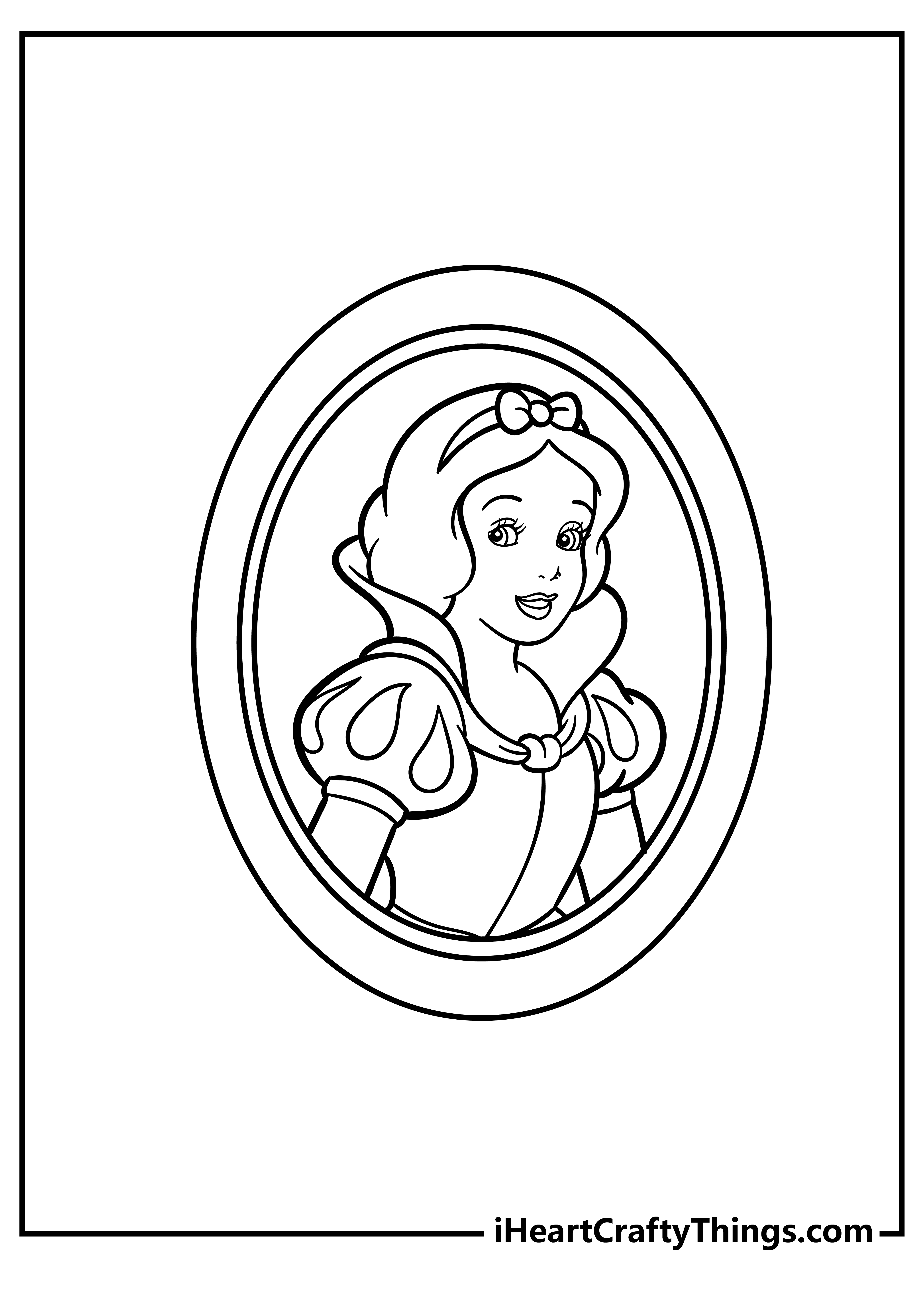 There's another adorable bird for you to color in this picture!
It's another one that makes it look like Snow White could be singing another song, and so this would be another great opportunity to incorporate some lyrics from your favorite.
What other ideas do you have for this wonderful image?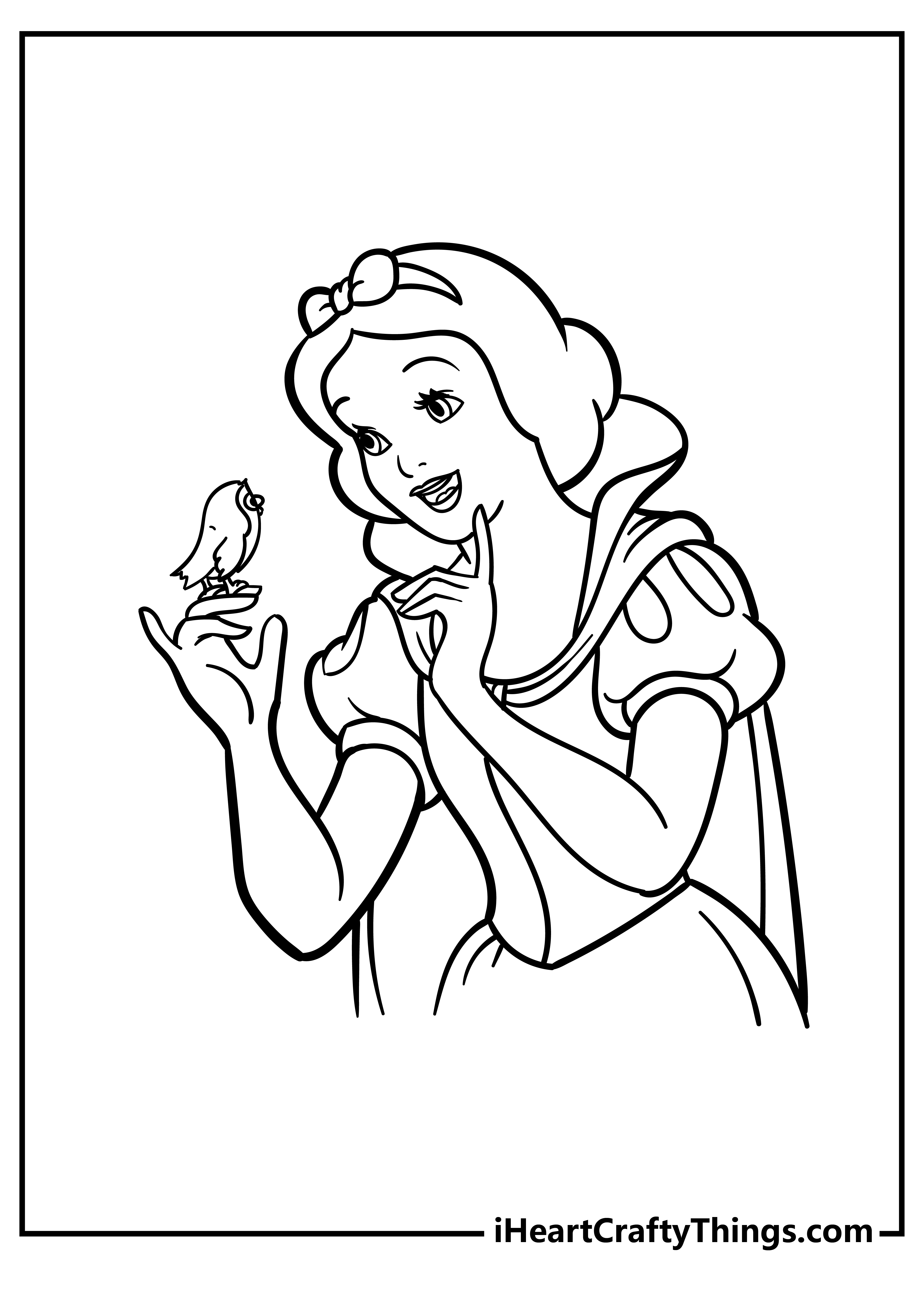 In this Snow White coloring page, Snow White wears her iconic fairy tale gown. The dress features a paneled bodice laced with a ribbon, puffed shoulders, and a high lace collar.
Below the fitted waist, the full skirt alternates between triangular panels. Snow White accessorizes with a headband in her loose, flowing hair and carries a matching little red handbag.
As you color, make the skirt panels bold and bright. Add delicate details to the lacy bodice and rosy blush to Snow White's smiling cheeks.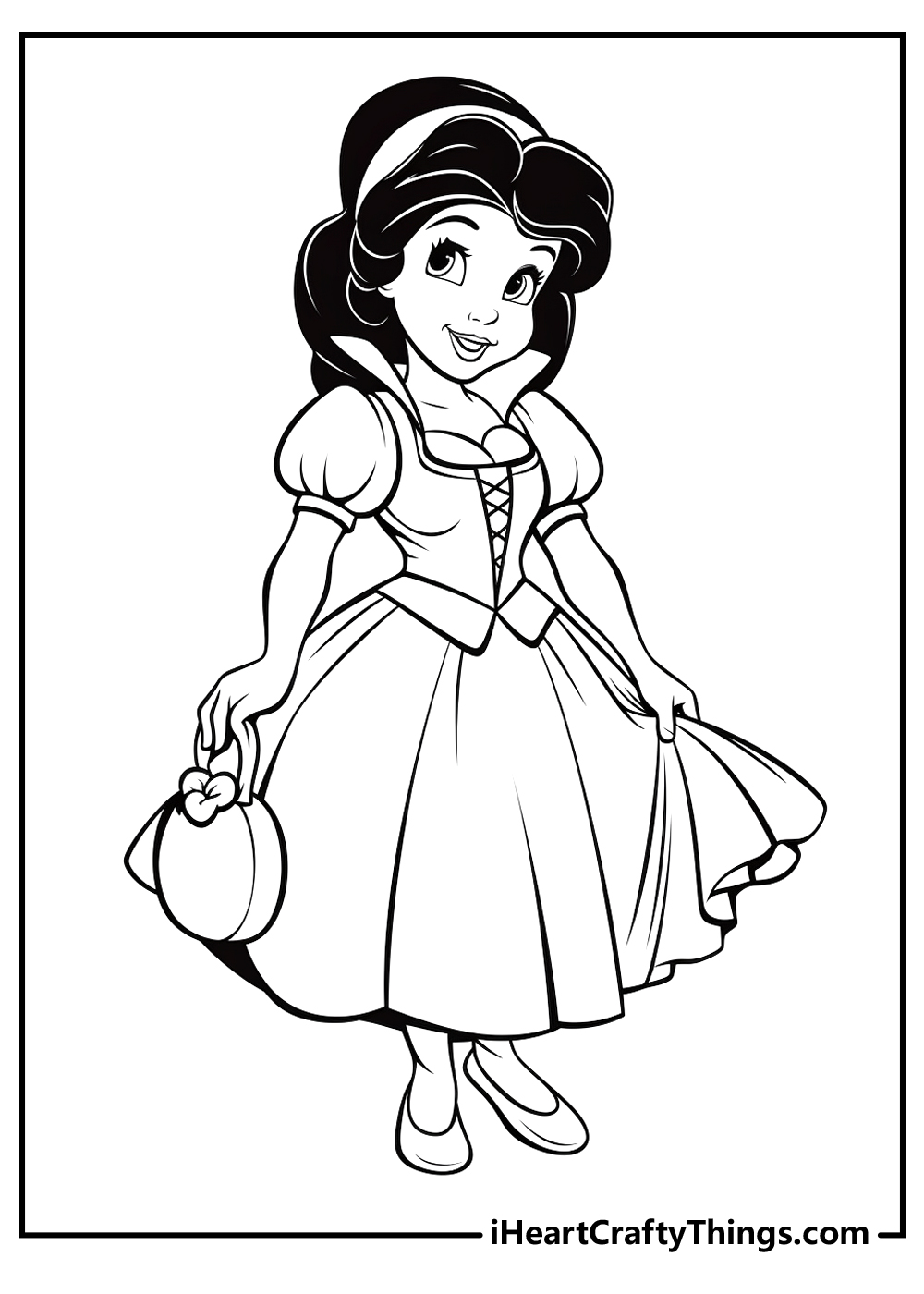 This tenth Snow White coloring printable that we have for you is a lovely close-up of this character!
Because we are so zoomed in, you can really get in there with some subtle color details to bring this image to life. Which colors come to mind when you see this image of Snow White?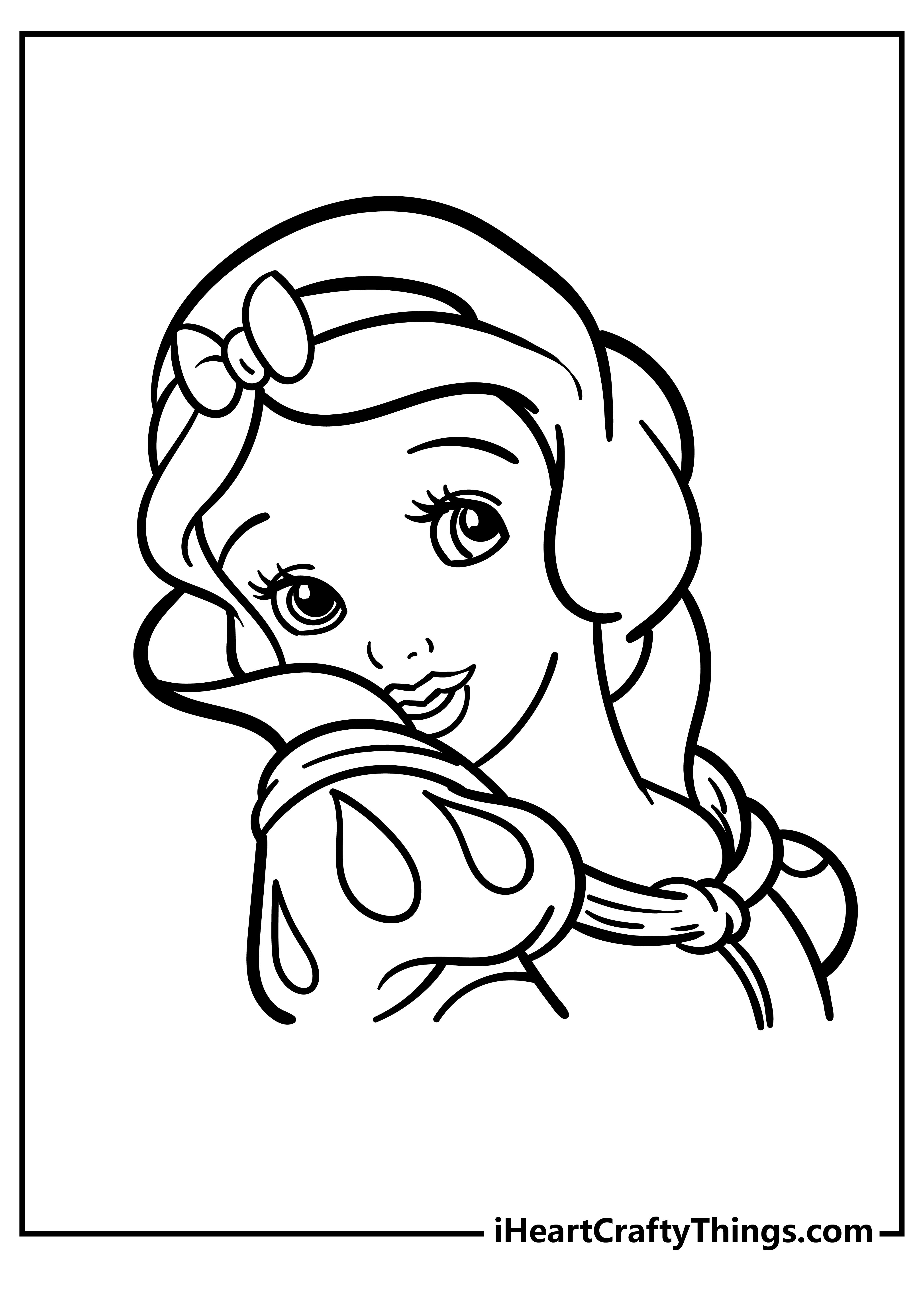 We have another amazing portrayal of Snow White in this pretty image. Here we get a great look at her entire outfit, and there are some more incredible details to fill in.
This would be a fun image to add a background to, and you could use your favorite Snow White scene as inspiration if you do that.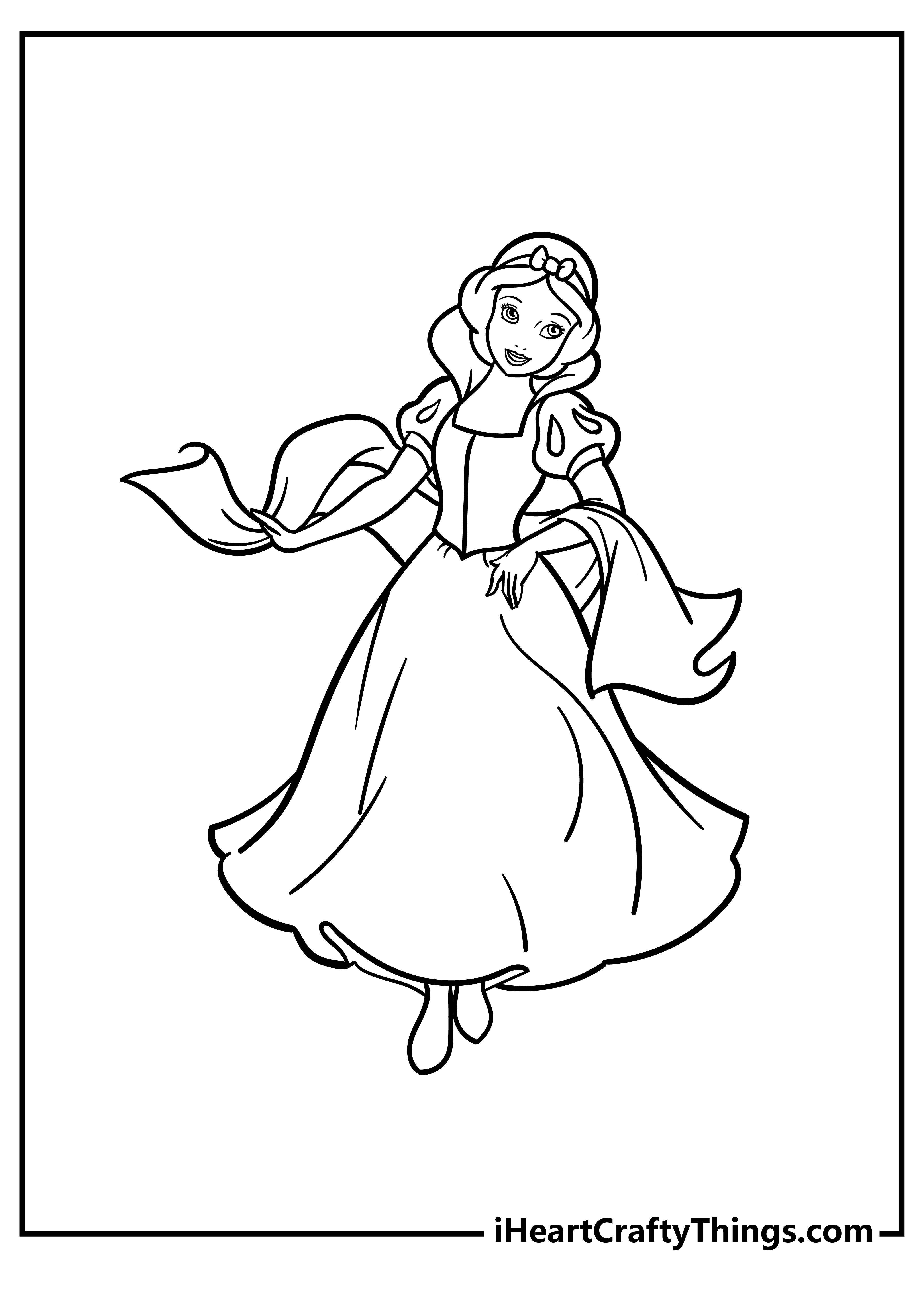 Snow White is unwrapping a lovely gift in this next picture! She seems very excited to see what it may contain.
There are also some small details on the present and its ribbon, and you can make these details nice and bright to make it pop in the scene.
Which of your favorite bright colors and mediums would you choose for this element of the image?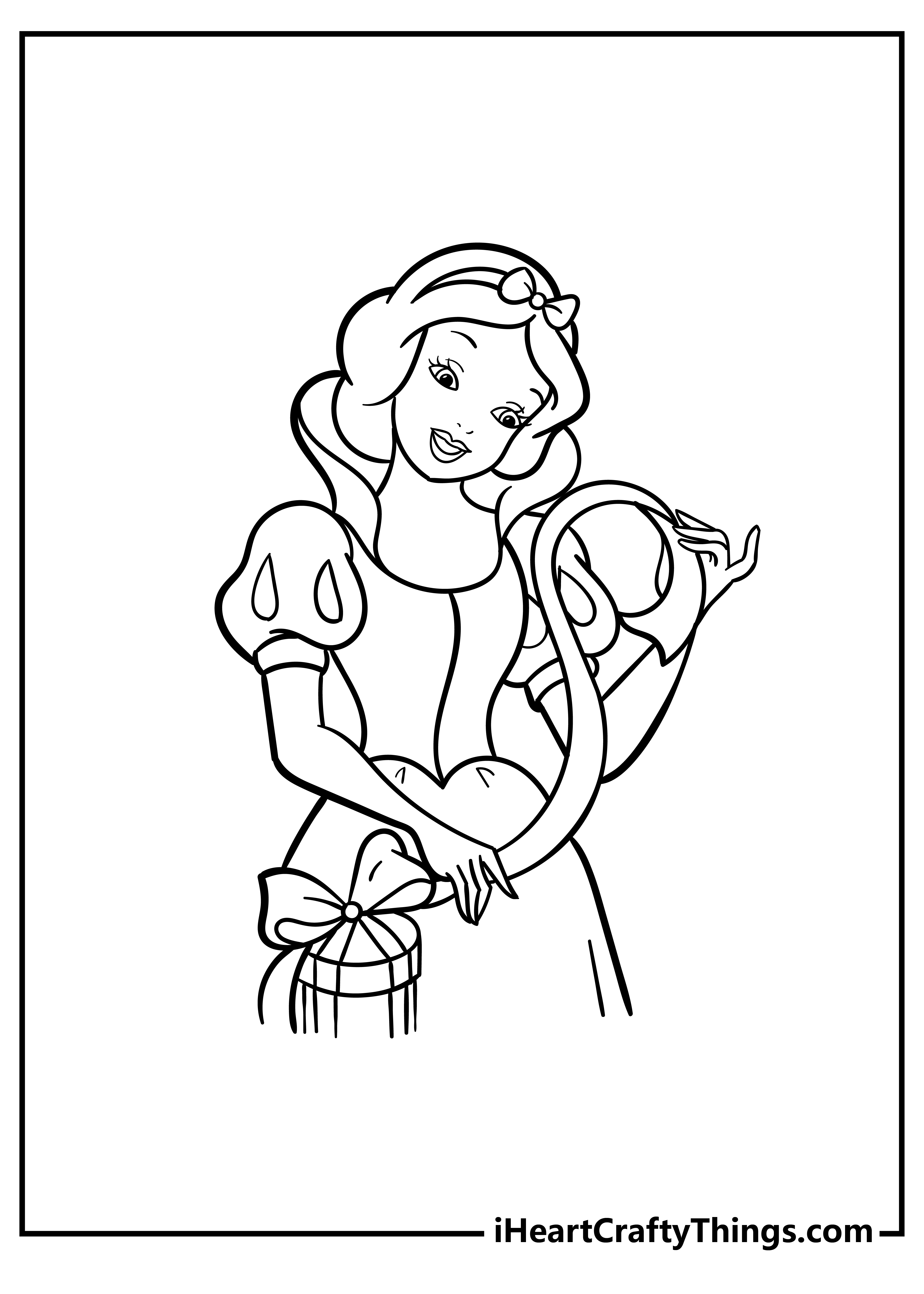 This next picture is another one that captures an important moment in the film.
Here she is about to bite into a juicy red apple, but what she doesn't realize is that it is a poisoned apple that will put her in a deep sleep!
If you want to make this match the scene from the film, you should try and use the brightest red you have for the apple.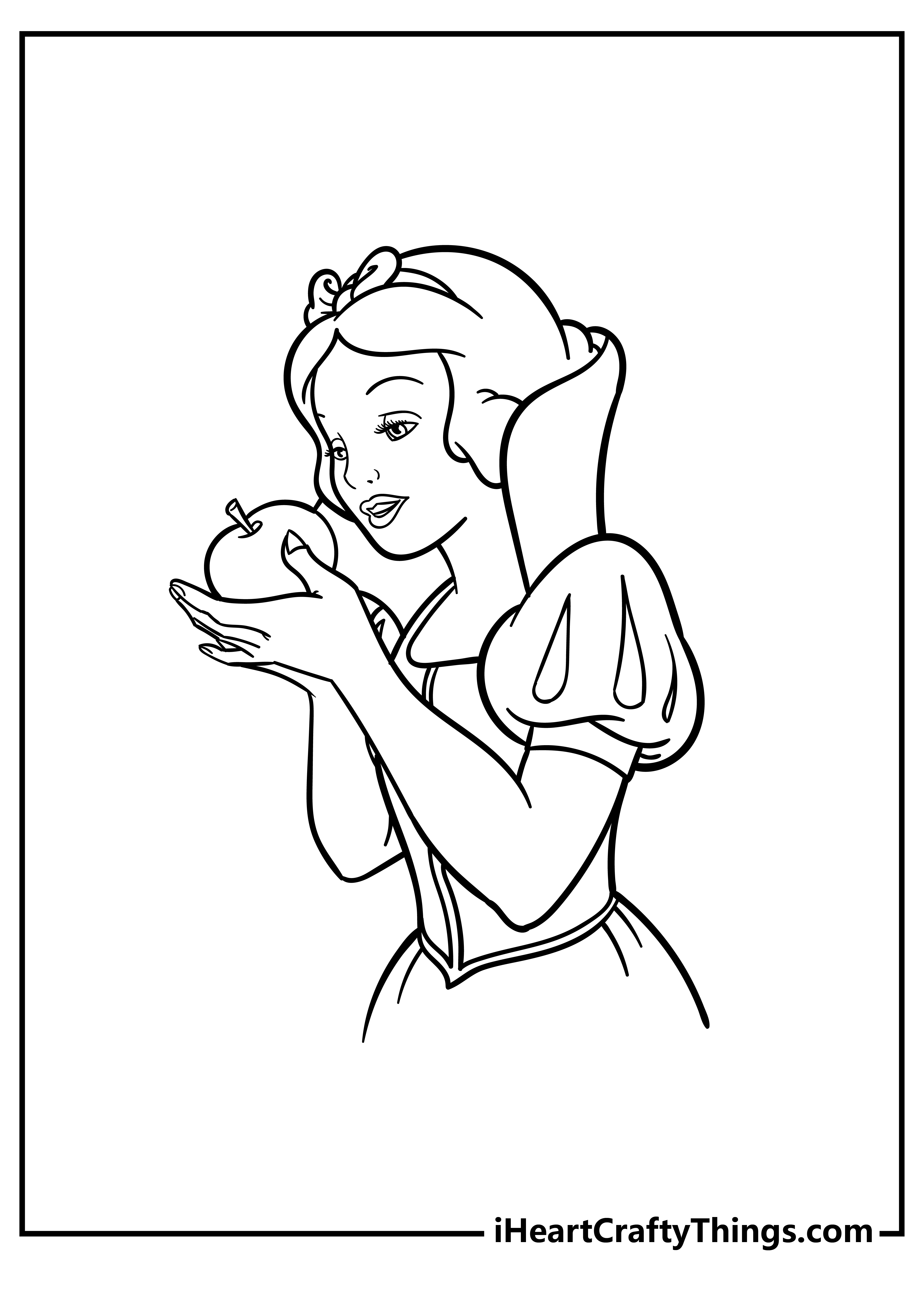 Here's another wonderful close-up on Snow White where she is looking very happy!
This is another one where adding a background would be fun, and you could either use solid color and patterns or draw a background scene.
This is just one idea, but how will you complete this image?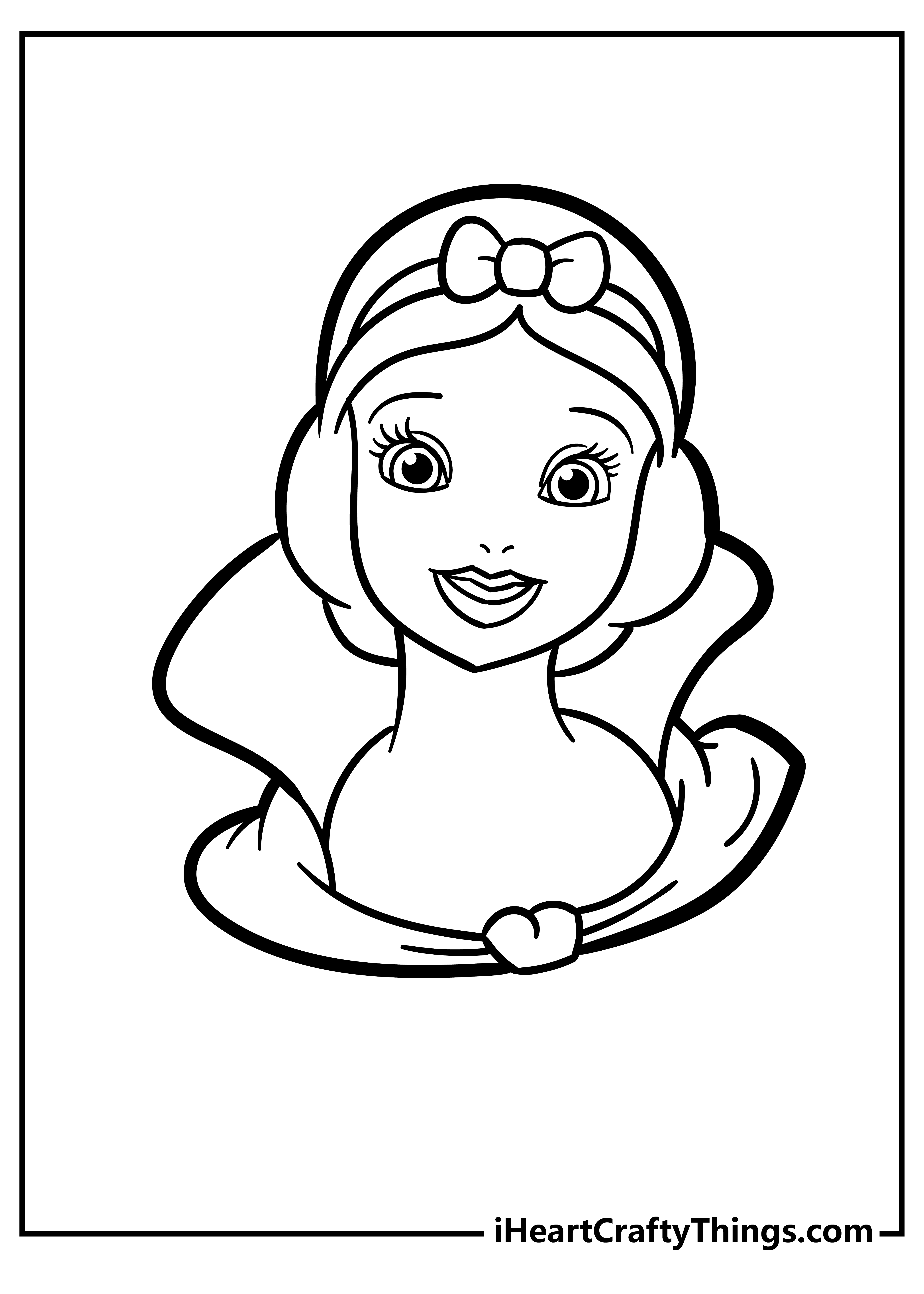 Our final Snow White coloring sheet features her with another of her beloved birds!
There is a lot of empty space in the background, so it's another one where you could have some fun drawing and coloring a wonderful background.
If you do this, will you use a scene from the movie or create a brand new scenario for Snow White to be a part of?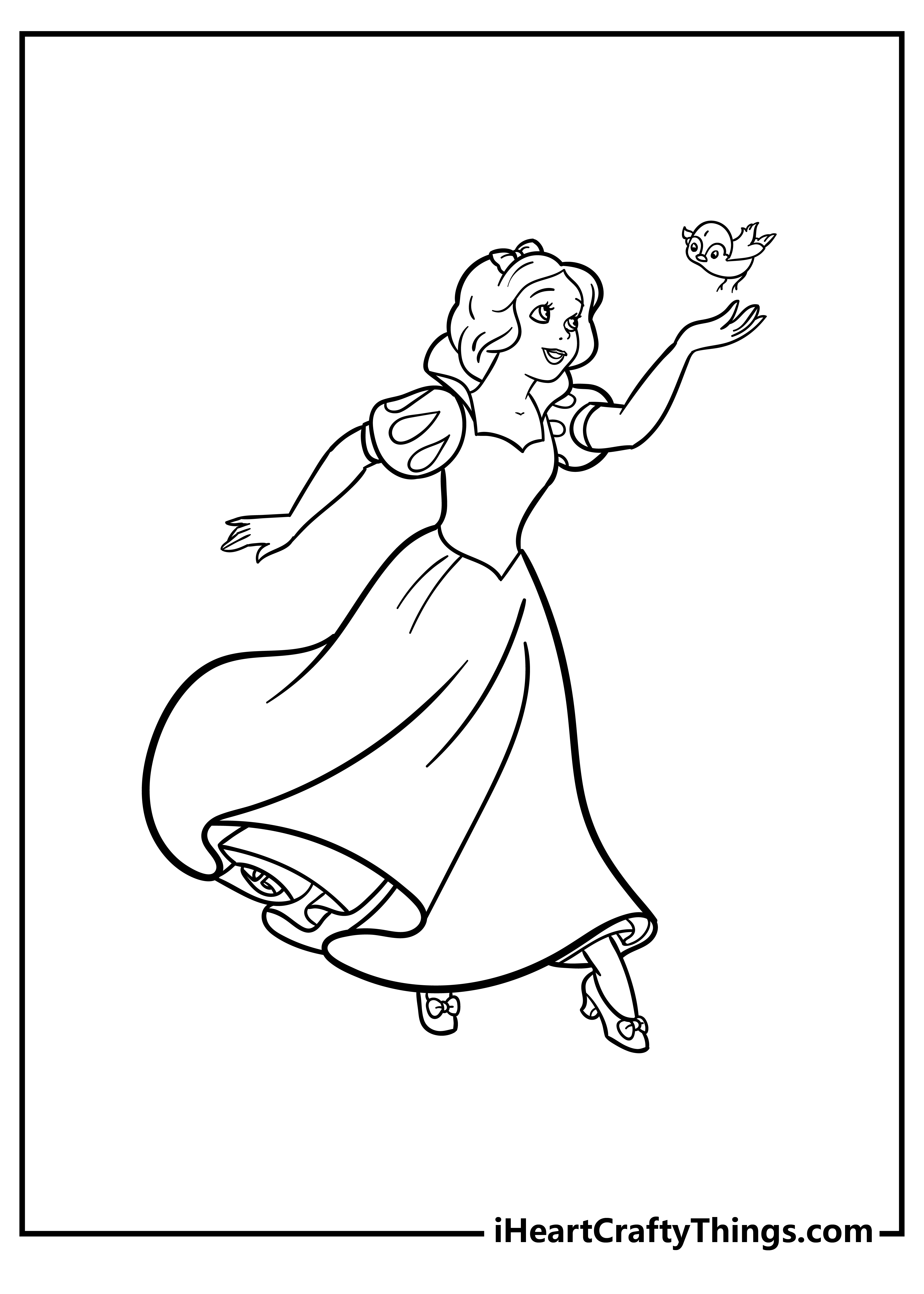 Snow White Coloring Pages – Which will you choose?
This collection of free Snow White coloring pages for kids had such a wonderful selection of characters and moments from this classic movie!
We hope you had a great time going through the collection and coloring your favorites.
Remember to share the collection with other Snow White fans you know as well!
We would also love to see how some of your finished pages look, so you can share some of them on our Facebook and Pinterest pages for us to look at.