Many of the early Disney films dealt with adapting classic fairy tales, and the story of Sleeping Beauty is one of their most beloved!
This classic tale features a captivating story with a classic romance at the center, and this collection of free Sleeping Beauty coloring pages for kids is here to celebrate it.
You have 15 free pages filled with amazing details to color, and you will get to experience some of your favorite moments from the story.
So let's begin this fairytale to make some colorful magic as we start the first page of the collection!
15 Brand New Sleeping Beauty Coloring Pages – Free to Print and Color
This first Sleeping Beauty coloring page features such a pretty portrayal of the princess!
We get a great look at details such as her crown and her hair, and you can have a lot of fun working in some amazing smaller color details.
For her dress, will you color it as it appears in the movies or give her a new look?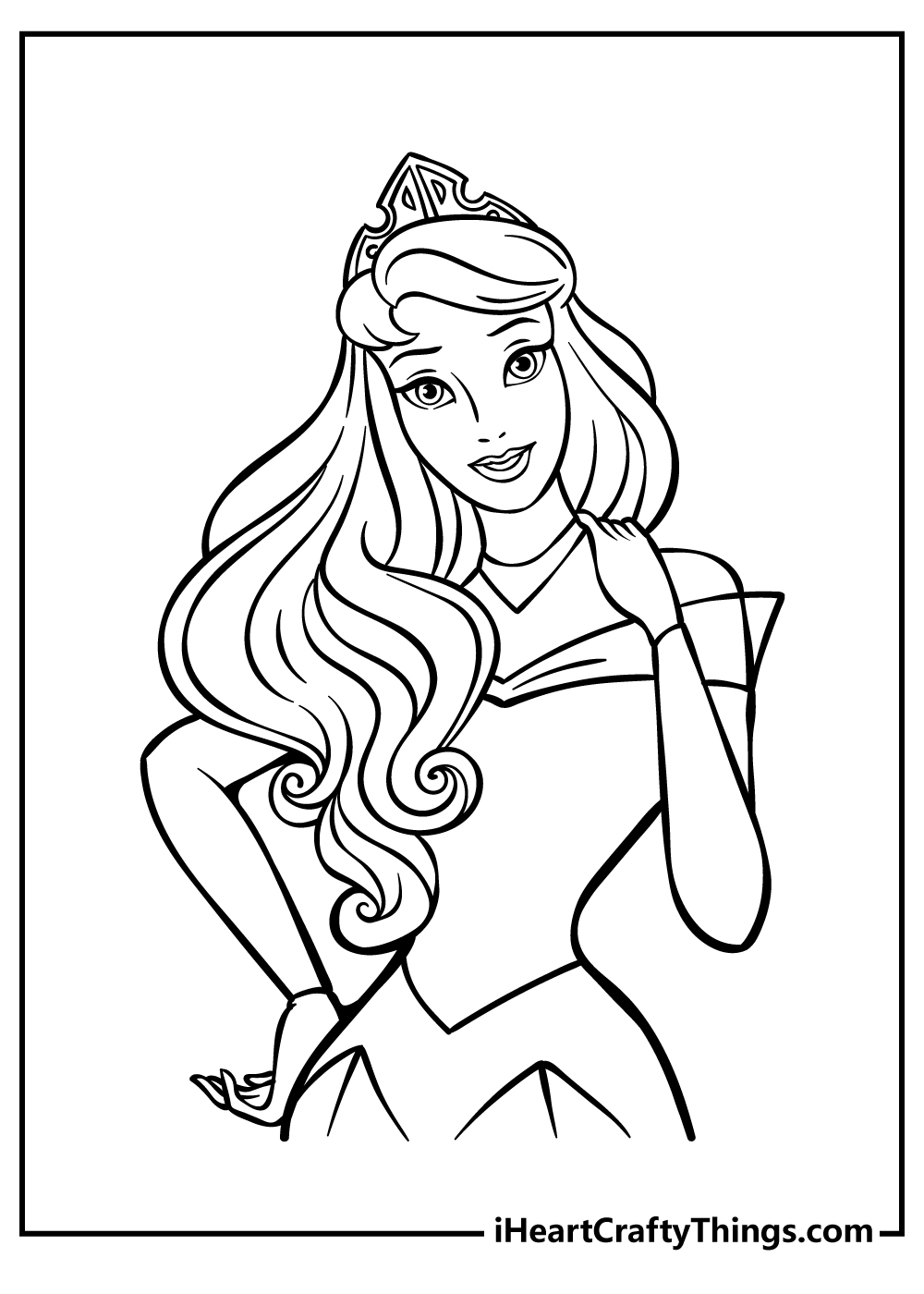 We have another portrayal of the princess, and here she is posed with a beautiful rose.
The rose plays a big role in the story, and it also allows for some beautiful reds to help make the image pop. We can't wait to see how you color this one in!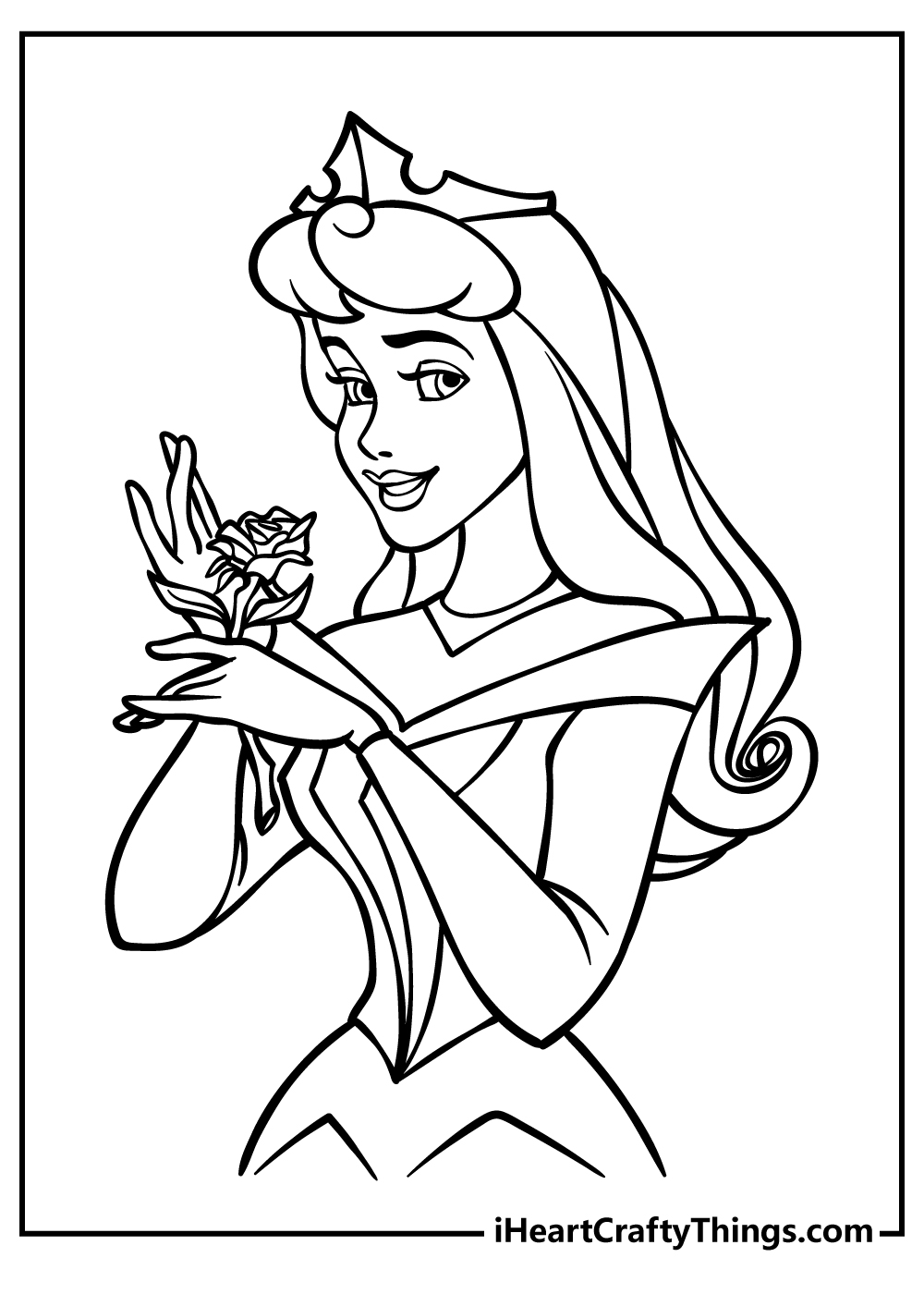 This is a stunning portrayal of the princess that gives us such a great look at her stunning dress.
When a picture has lots of details like this, it can be a bit intimidating to color, but you can change up the mediums you use as you color.
This can not only make it look better, but some mediums are better suited to certain details than others.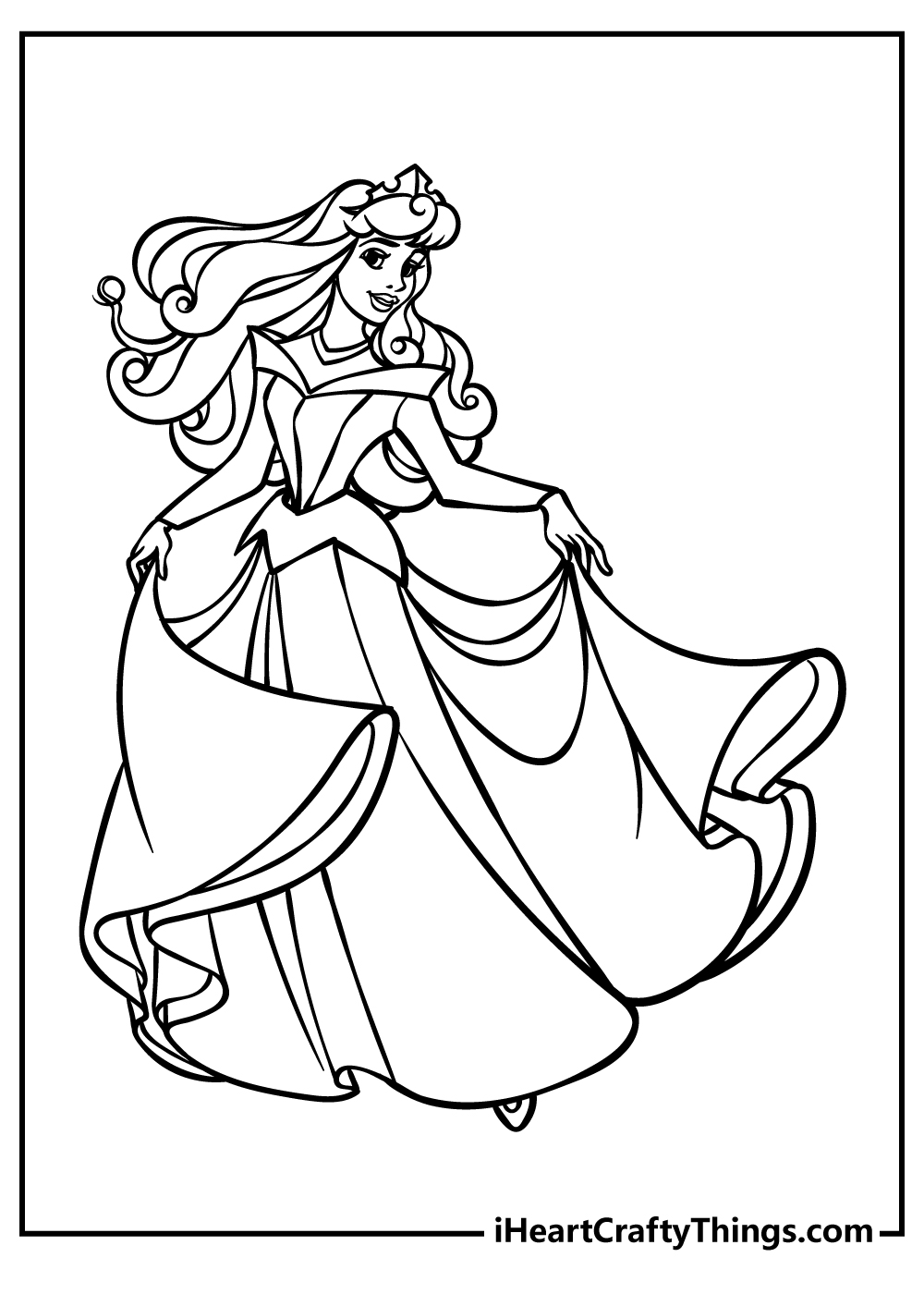 It's time for a close-up with this next Sleeping Beauty coloring page we have for you. There is a really dreamy look in her eyes here, and it makes for a really calming image.
For this one, we would try to match the mood of the picture by using some watercolors or colored pencils for a softer look to the picture. That's what we would use, but what are you thinking of?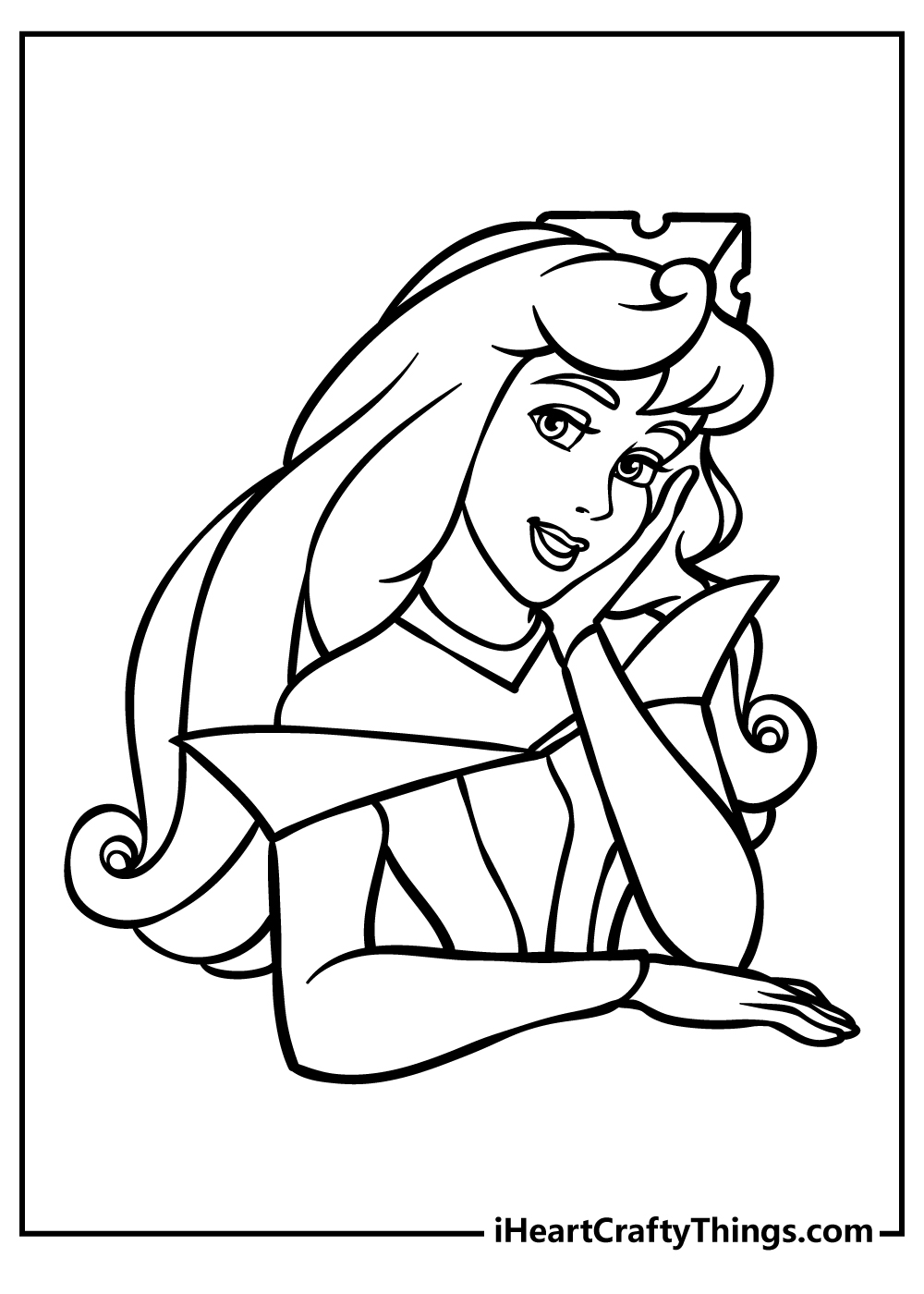 Princess Aurora is looking really happy and serene in this image! There are more great details here, such as the heart necklace that she is wearing.
We think that some colored pens or markers would help the colors on smaller details like that really stand out. Do you have mediums like that to use or will you try something else?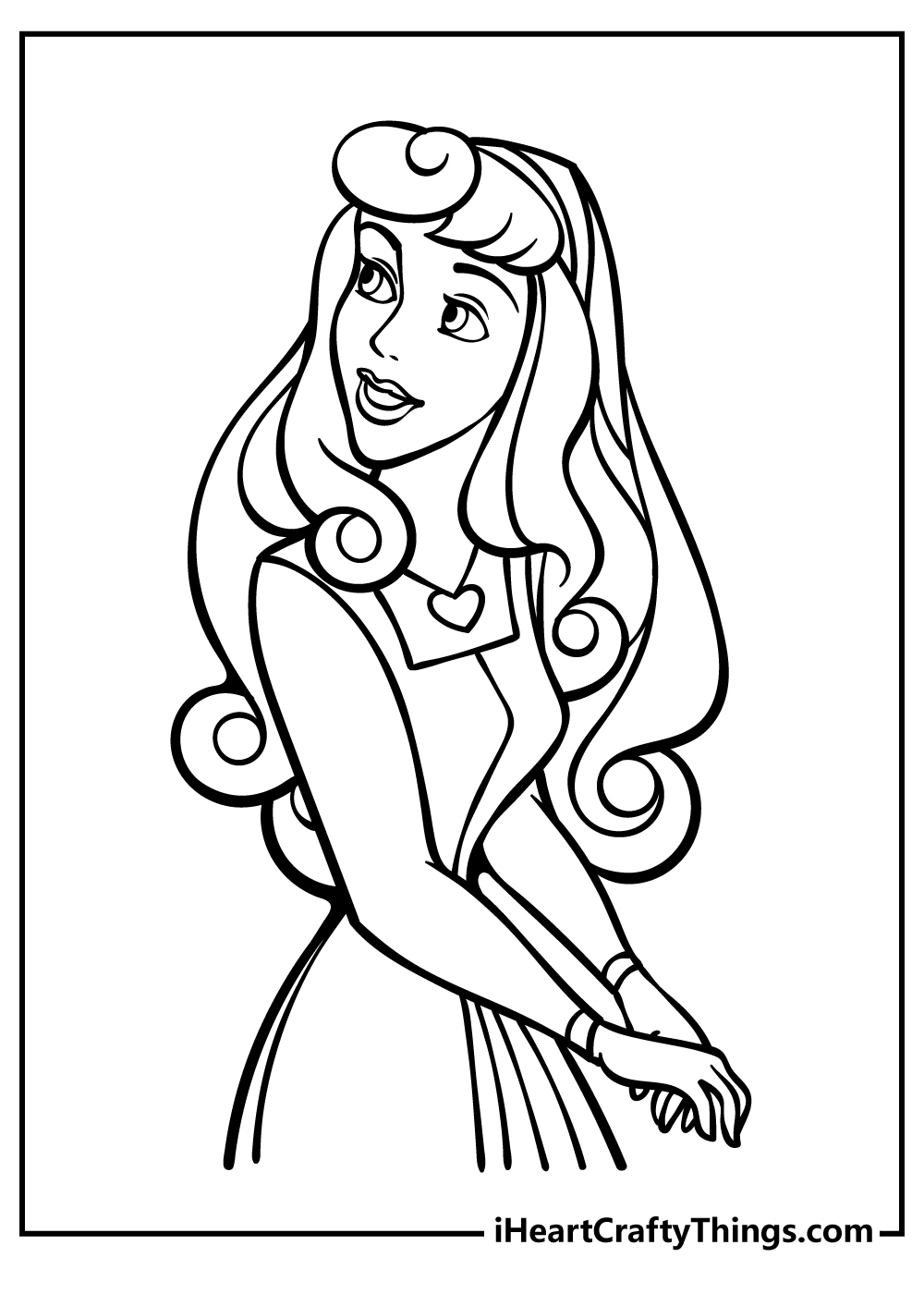 We get another great look at the princess's beautiful dress in this picture, and now you can show off what you think it should look like!
In the movies, the dress is sometimes pink and sometimes blue, but you could use any other colors you like instead if you prefer.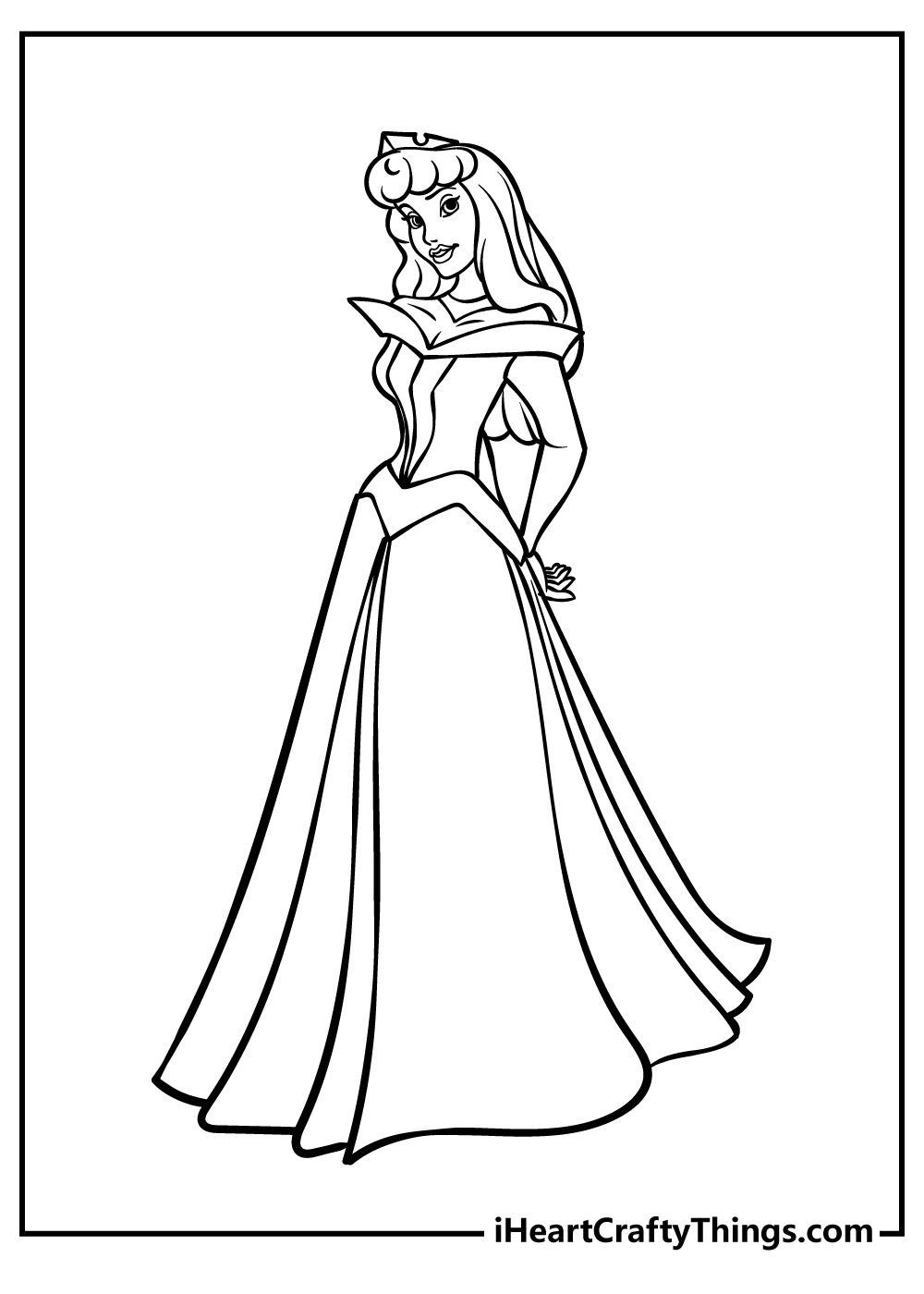 For the seventh page in this collection of free Sleeping Beauty coloring pages for kids, Princess Aurora is performing a graceful curtsey!
It's another one where her beautiful dress is on full display, and it could also be fun to draw some background details in order to create a scene.
What scene from the films would you choose if you were to go for that?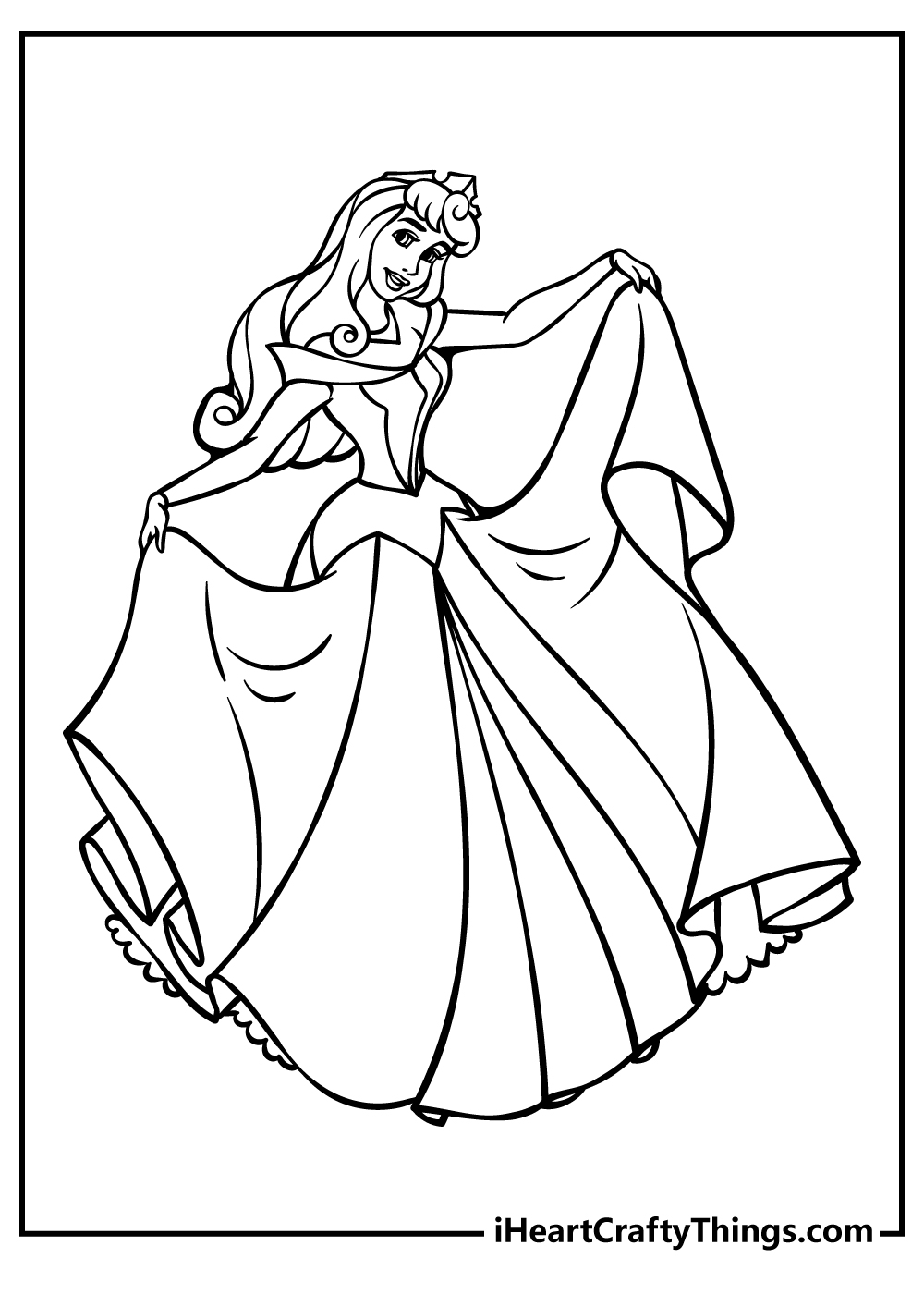 This next image is another one that gives off a lovely calming feeling. For that reason, we would again recommend softer mediums such as colored pencils or watercolors.
That being said, brighter colors would also look great! It's up to you, and you should definitely go for the colors that feel right to you. We can't wait to see what you come up with!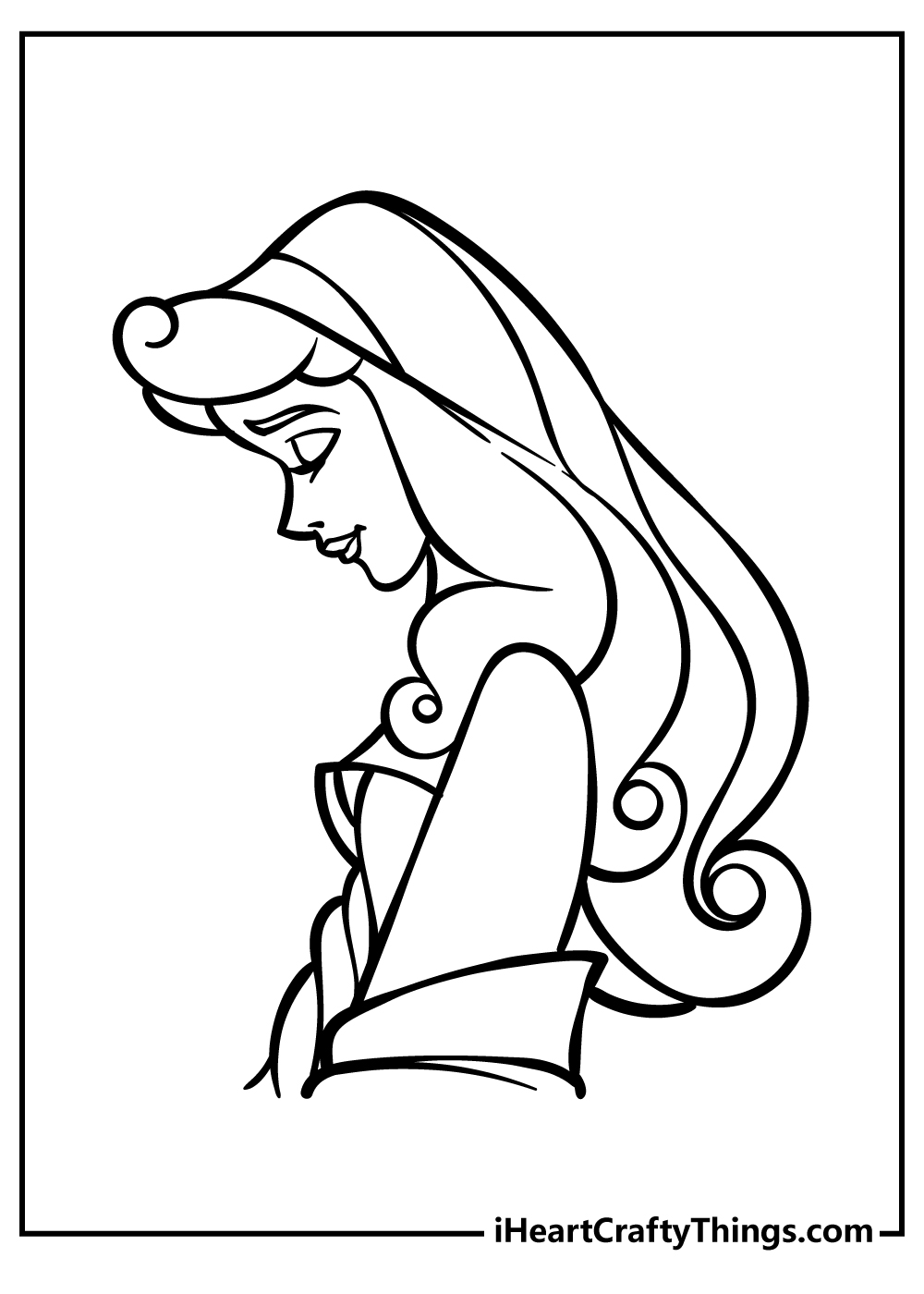 The Princess looks like she has a lot on her mind in this picture. What do you think she could be thinking about here?
One way to show this would be to draw a thought bubble above her head and then draw a picture to show what's on her mind.
Do you think you will do something like that?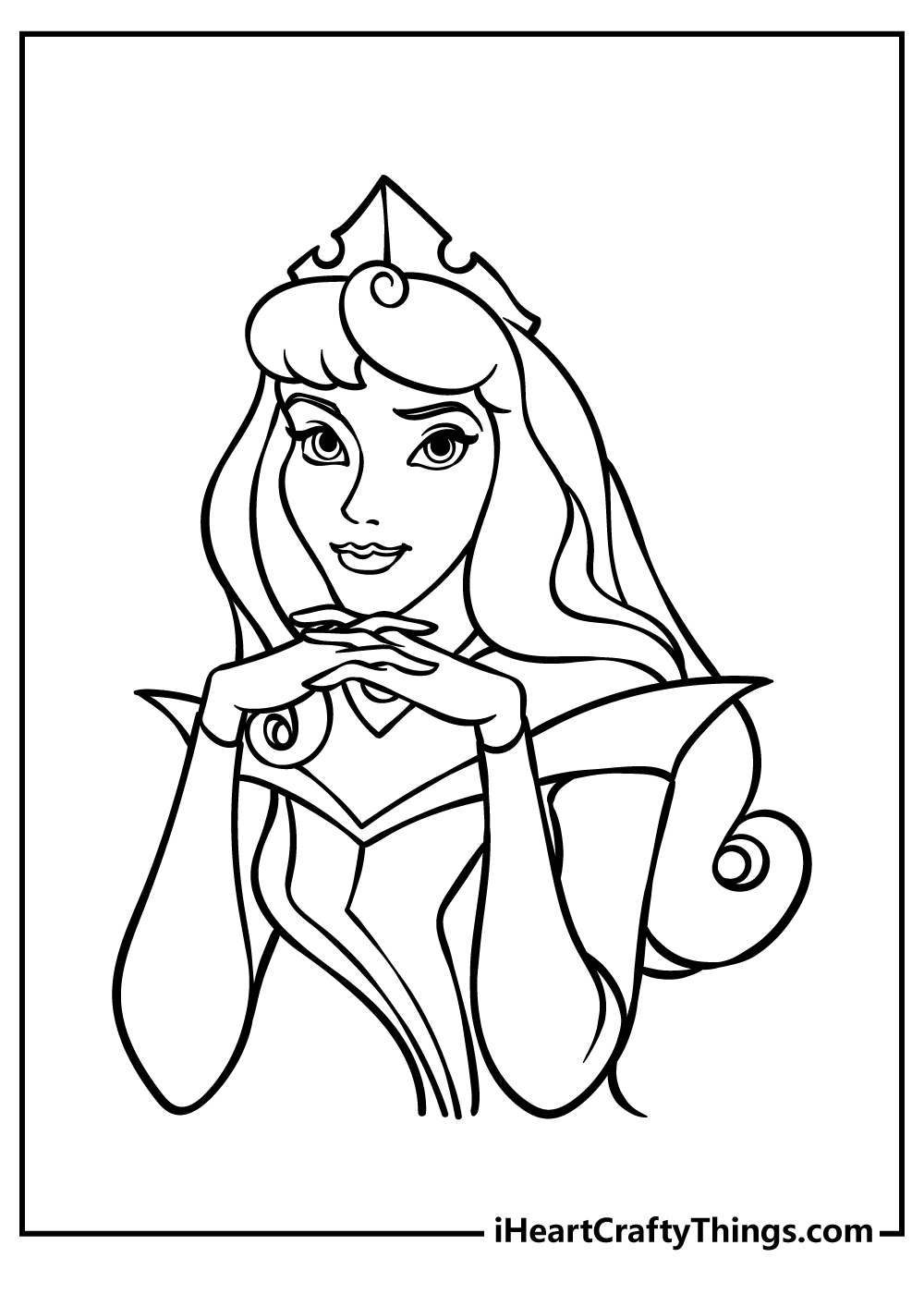 Perhaps the most powerful scene in the story is when the princess is awoken from her cursed sleep, and that is the moment that is being portrayed here.
She is looking so happy and content here, and it's easy to understand why!
There are so many ways that you could color this special moment, and each one will bring something unique to the image.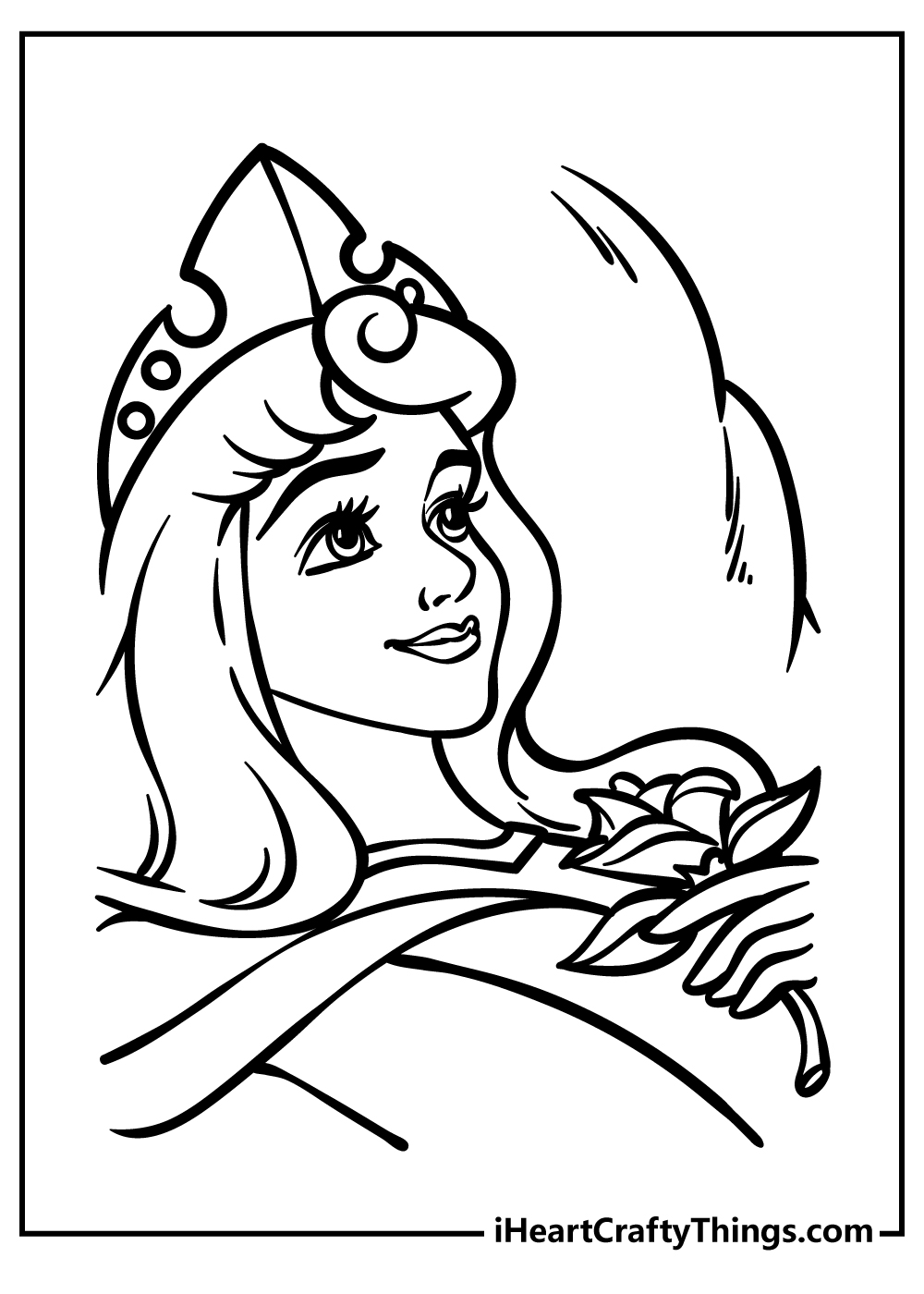 We've seen a lot of the princess in this collection, but in this Sleeping Beauty coloring printable she is joined by her love, the prince.
This picture gives us a good view of the details on both of their outfits, which gives you a lot to work with.
They are also sharing such a loving look here, so how will you depict this special moment?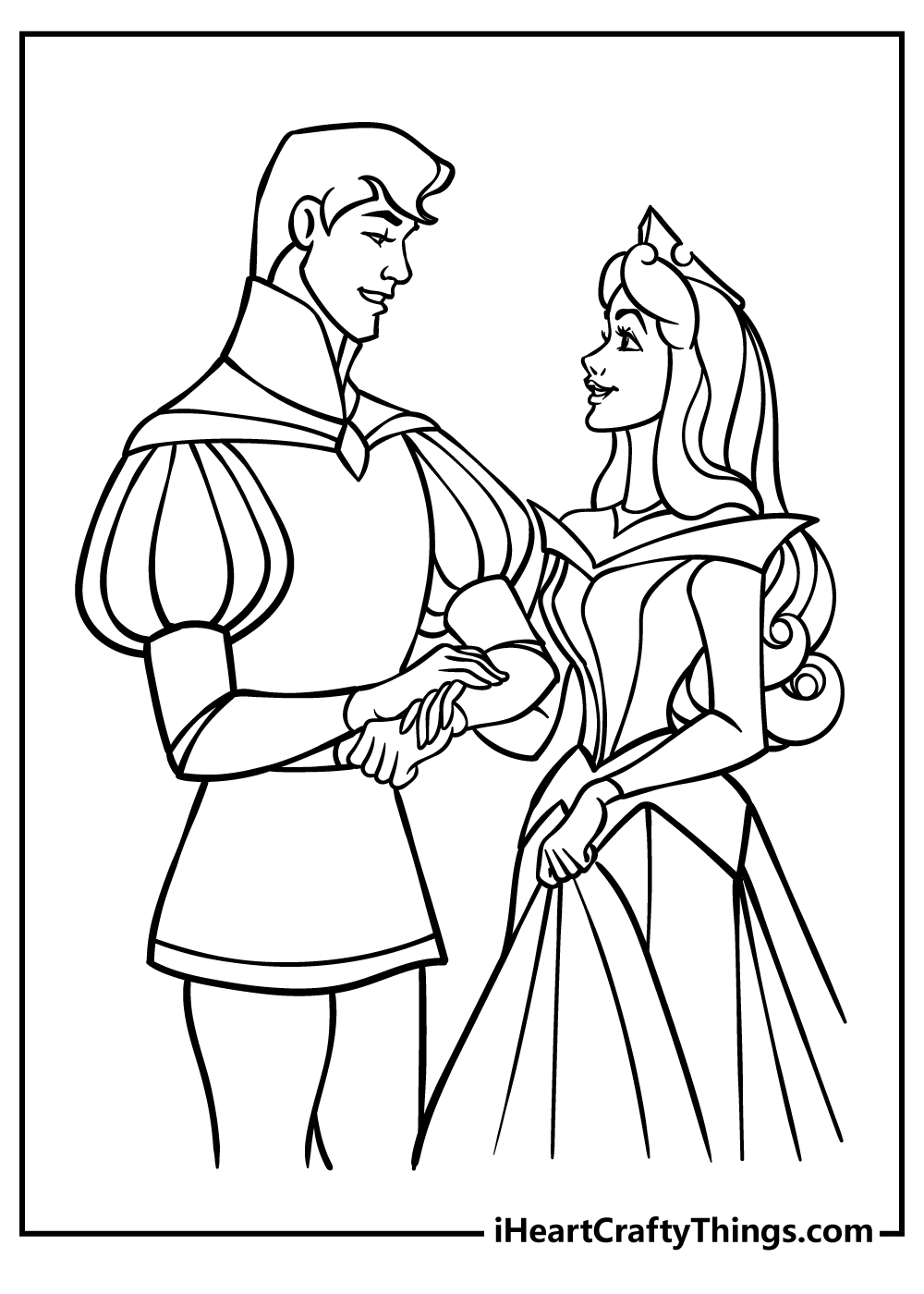 This is a really fun scene, as the prince is placing the heart necklace around her neck.
This is a funny picture because of the difference in both of their facial expressions, and now you get to make this picture even better with the colors you choose. We know you will do an incredible job!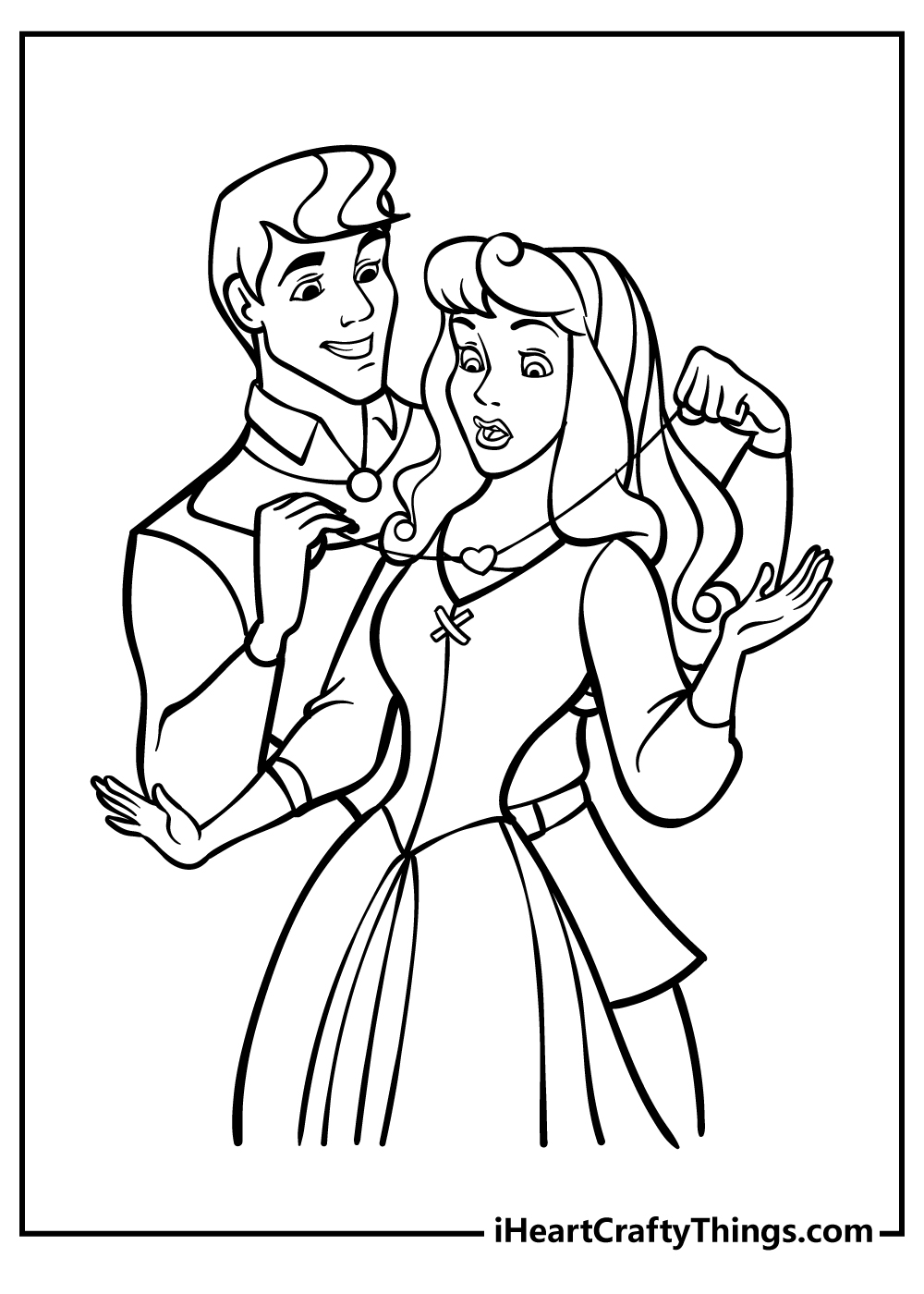 We have another loving moment between our main characters here, and the details on this one are just great!
You could create different moods depending on your medium choices, and if you want to make variations then you could print out multiple copies. That way you can really have fun experimenting!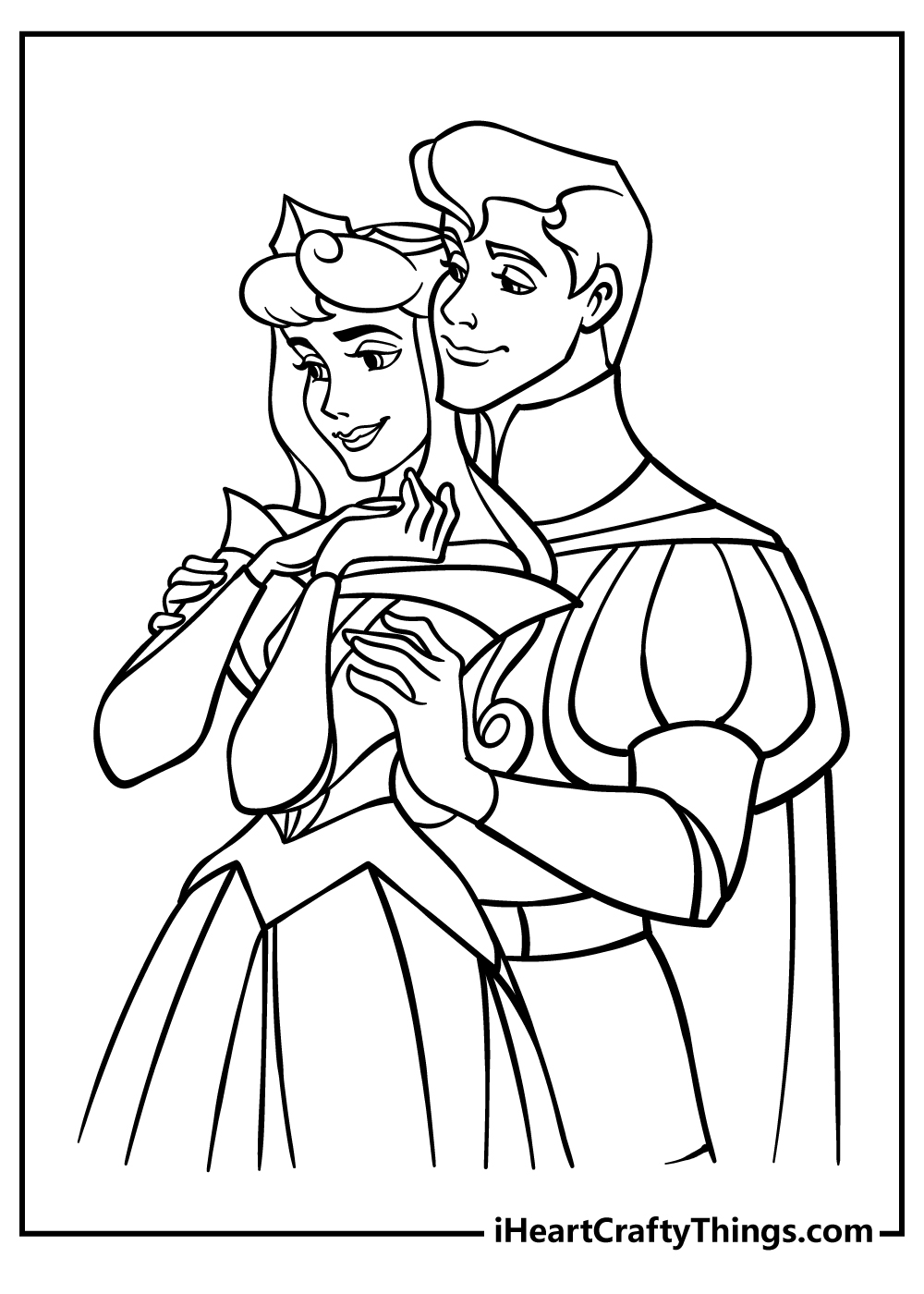 It's time to unwrap the gift of coloring fun with this next page! She has some lovely presents here, and there are pretty bows and other details to color.
We think it would look amazing if you used a different color scheme for each of the three presents!
That being said, it would also look great if you used the same colors for each, so what will you choose?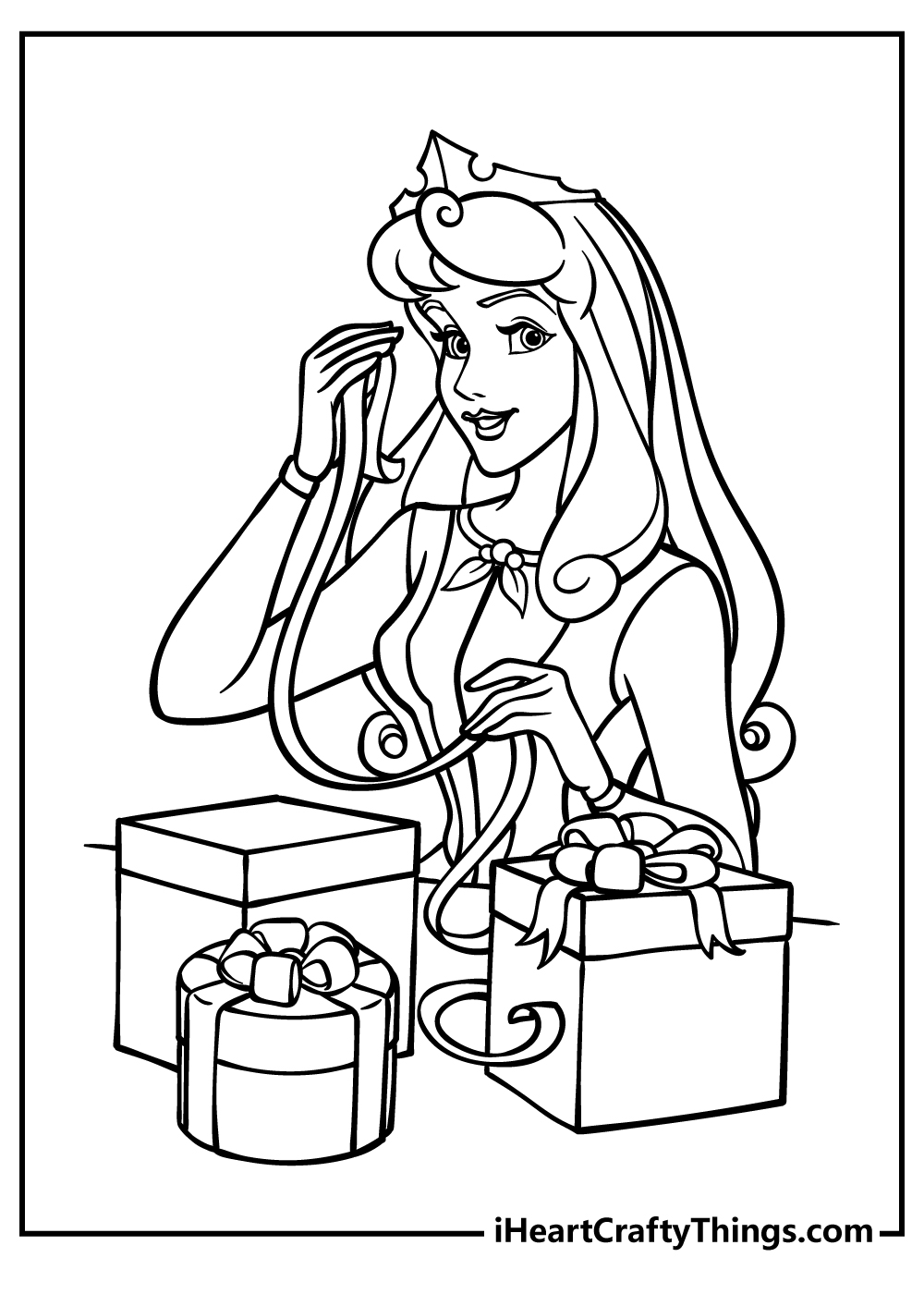 Let's end this collection with a final Sleeping Beauty coloring sheet that features the prince and princess sharing a loving moment.
They are dancing here, and it makes for a really charming picture. This picture really captures the romance of the story, and you can emphasize it with the colors you use.
We can't wait to see how you choose to finish off this collection!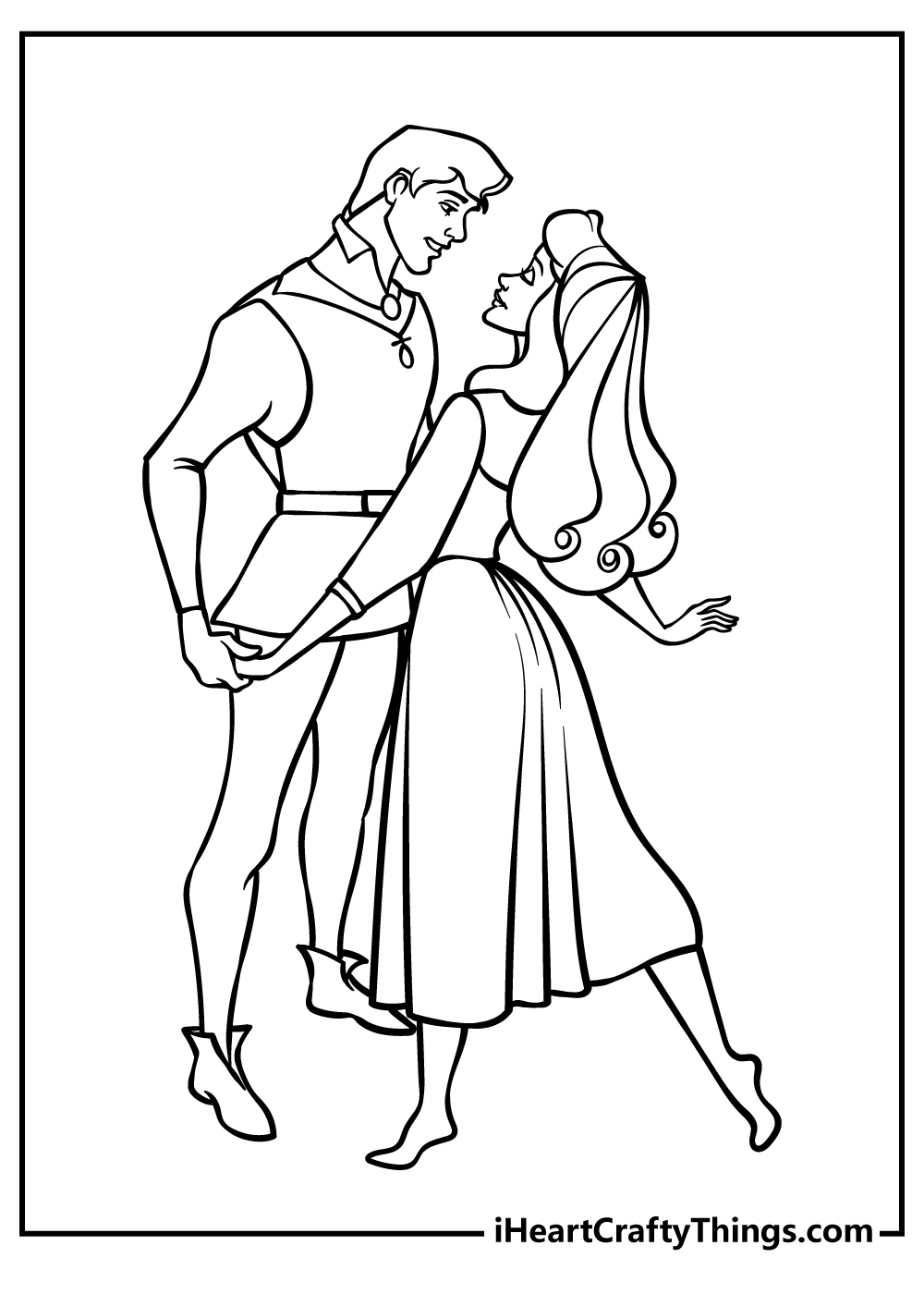 Sleeping Beauty Coloring Pages – Which will you choose?
That finishes off this collection of free Sleeping Beauty coloring pages for kids!
We hope you had a marvelous time reliving this classic story as you used all of your favorite colors, mediums and techniques.
Don't forget to check out the other coloring page collections we have for you on our website! We also hope you will share the collection with friends and family to enjoy.
Lastly, when you're ready to show off some of your finished artworks, you can share them on our Facebook and Pinterest pages for us to see!