On this page, you will find 15 all new Curious George coloring pages that are completely free to print and download.
There are many classic characters who entertained us as kids with their adventures and lessons.
One of the most popular of these characters is Curious George, and he has appeared in many different books and other forms of media.
He has delighted millions of people with his whimsical adventures, and now you can color him in this collection of free Curious George coloring pages!
In this collection of pages, you will find a big variety of different scenes, activities and poses that Curious George is taking part in.
This will allow for all manner of different color and art medium choices for you to choose from! These Curious George printables will be perfect for unleashing your creativity.
Every one of these Curious George printables are free for you to print, color and enjoy as much as you like. You can also share these pages with other people you know so that they can join in the fun!
We hope that you enjoy joining in some colorful adventures as you take on this collection of free Curious George coloring sheets.
When you have completed your favorite pages from the collection, you can share the finished pages on our Facebook and Pinterest pages.
15 Brand New Curious George Coloring Pages – Free to Print and Color
Everyone knows that monkeys love bananas, so it's no surprise to see George enjoying one in this first free Curious George coloring page for kids!
Curious George is usually seen in a darker brown color scheme, and if you go for that shade then you could add a splash of warmer color with some bright yellow for the banana.
This is just one suggestion, but it's up to you with how you color in these printables! What colors will you choose for this first one?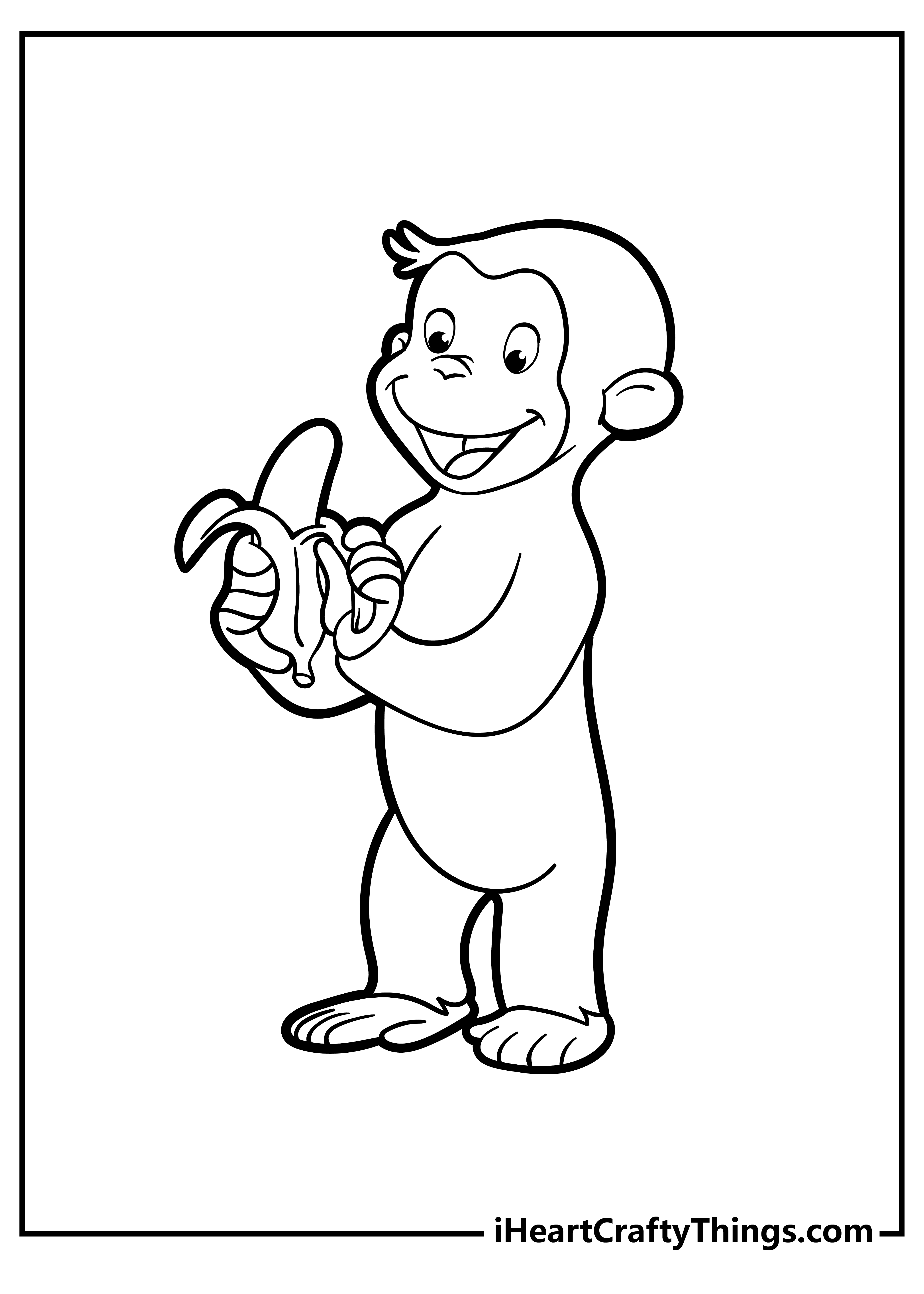 Look at this adorable coloring page of curious George who is busy working on his farm. He is holding a banana in his hand, which he probably harvested from his own trees.
He is standing on a green field with some plants and flowers around him.
This coloring page is full of details that you can color in any way you like. You can see the clouds in the sky, the grass on the ground, and the bushes and trees in the background.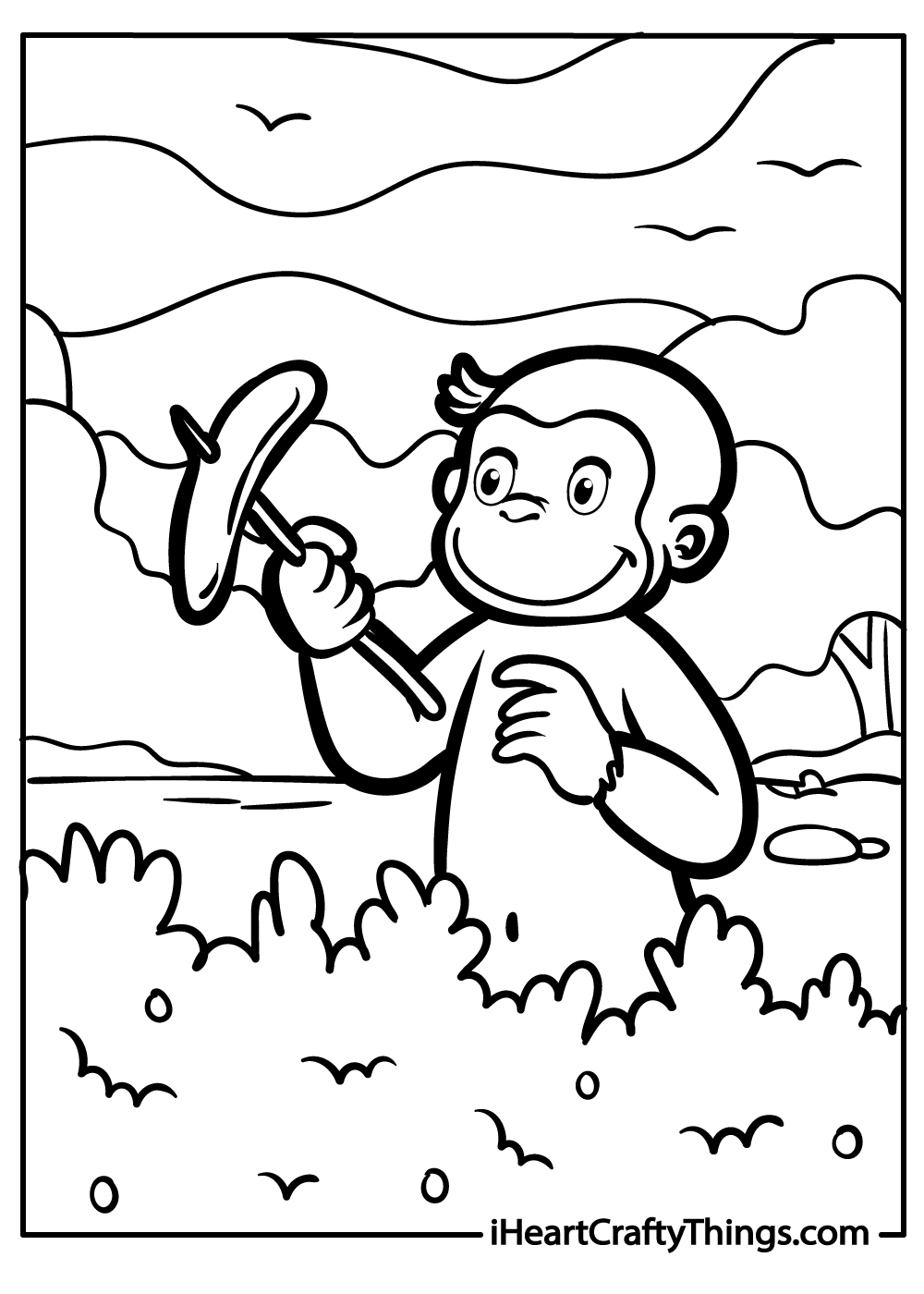 We have a really cute picture of George in this second Curious George coloring sheet! He's living up to his name in this one, as he looks rather curious about something in this page.
With these coloring pages, you can have fun coloring but you can also enjoy some extra drawing fun!
When the background is blank like this, you can draw all kinds of fun settings and environments for him to be in. What kind of setting would you choose to put Curious George in?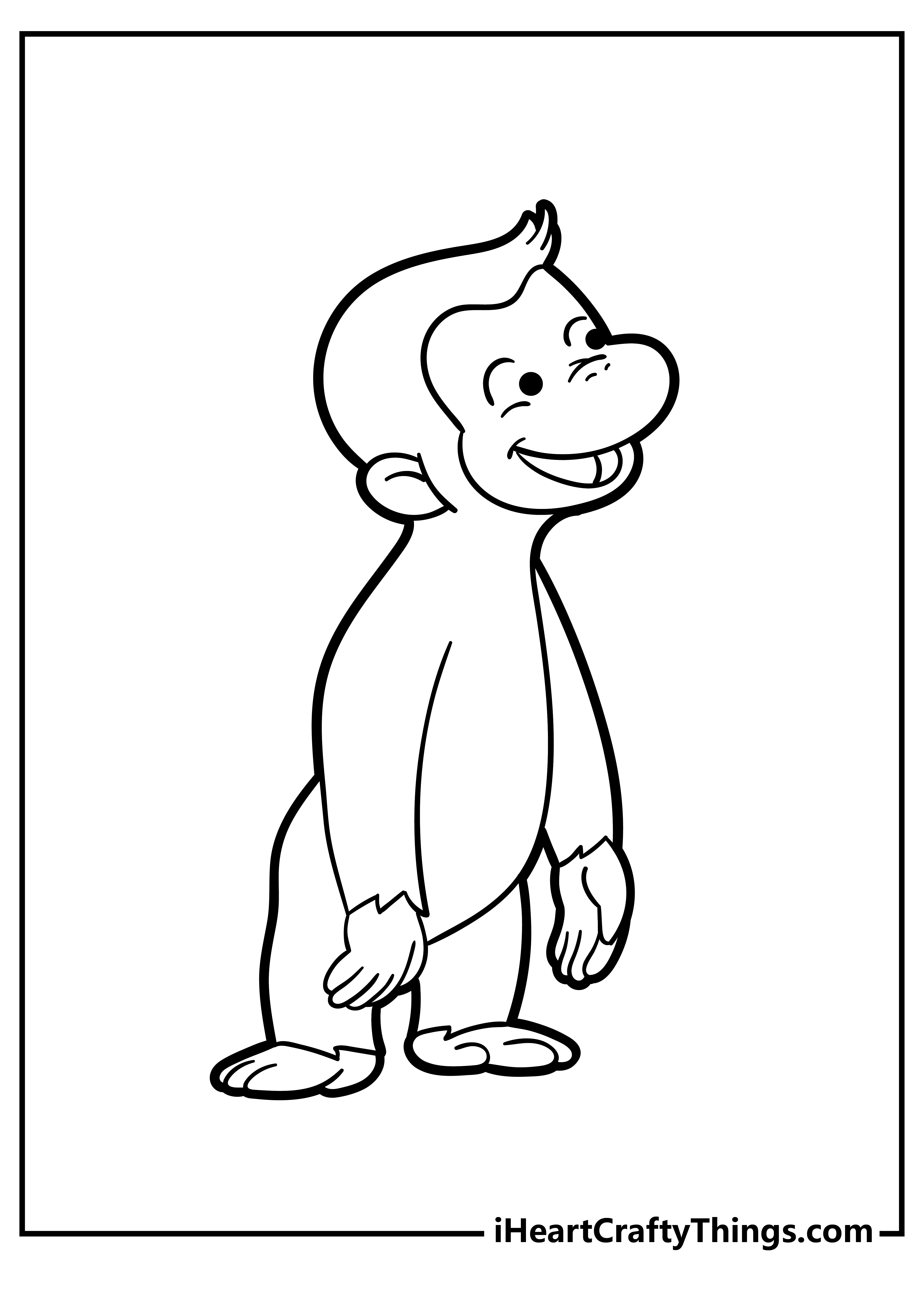 What a cute portrayal of this character we have for you to color in this adorable Curious George coloring printable! He looks like he is enjoying a happy, peaceful day in this page.
Once again, this could be a fun page to draw a background for. There are so many cool settings that you can design for him in these pages.
Maybe he's having a fun day in the yard or perhaps he could be in some indoor setting.
What are you thinking for this image?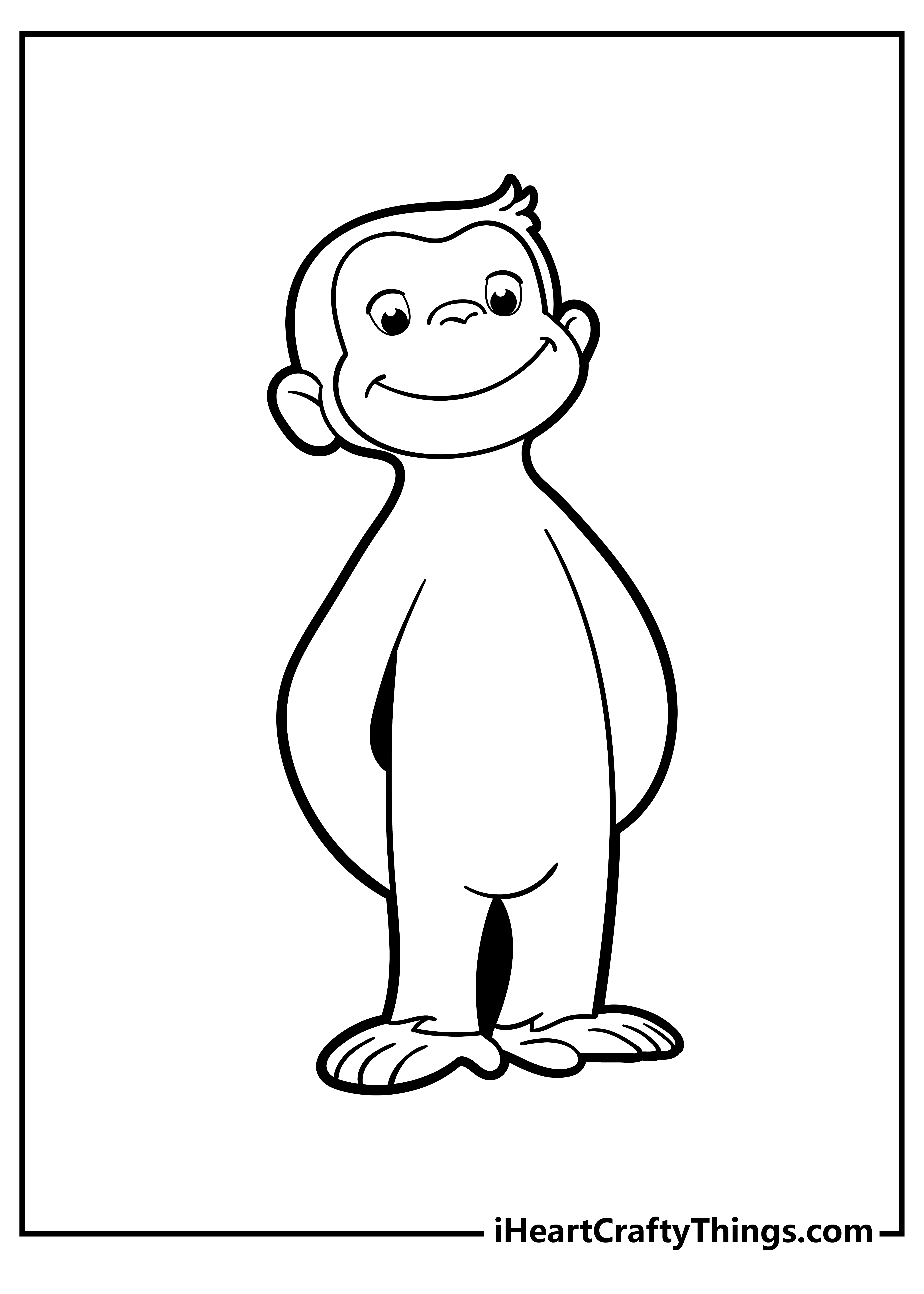 In this Curious George coloring page, our little friend is wearing a large wizard hat. He is standing with his legs wide apart and his arms stretched above his head holding the hat.
The background is a snowy landscape with clouds. He has a curious and excited expression on his face.
To color this playful curious George, try bold purples and blues for his mystical garb and hat. For the wintery landscape, cool whites and grays can portray the ice and snow.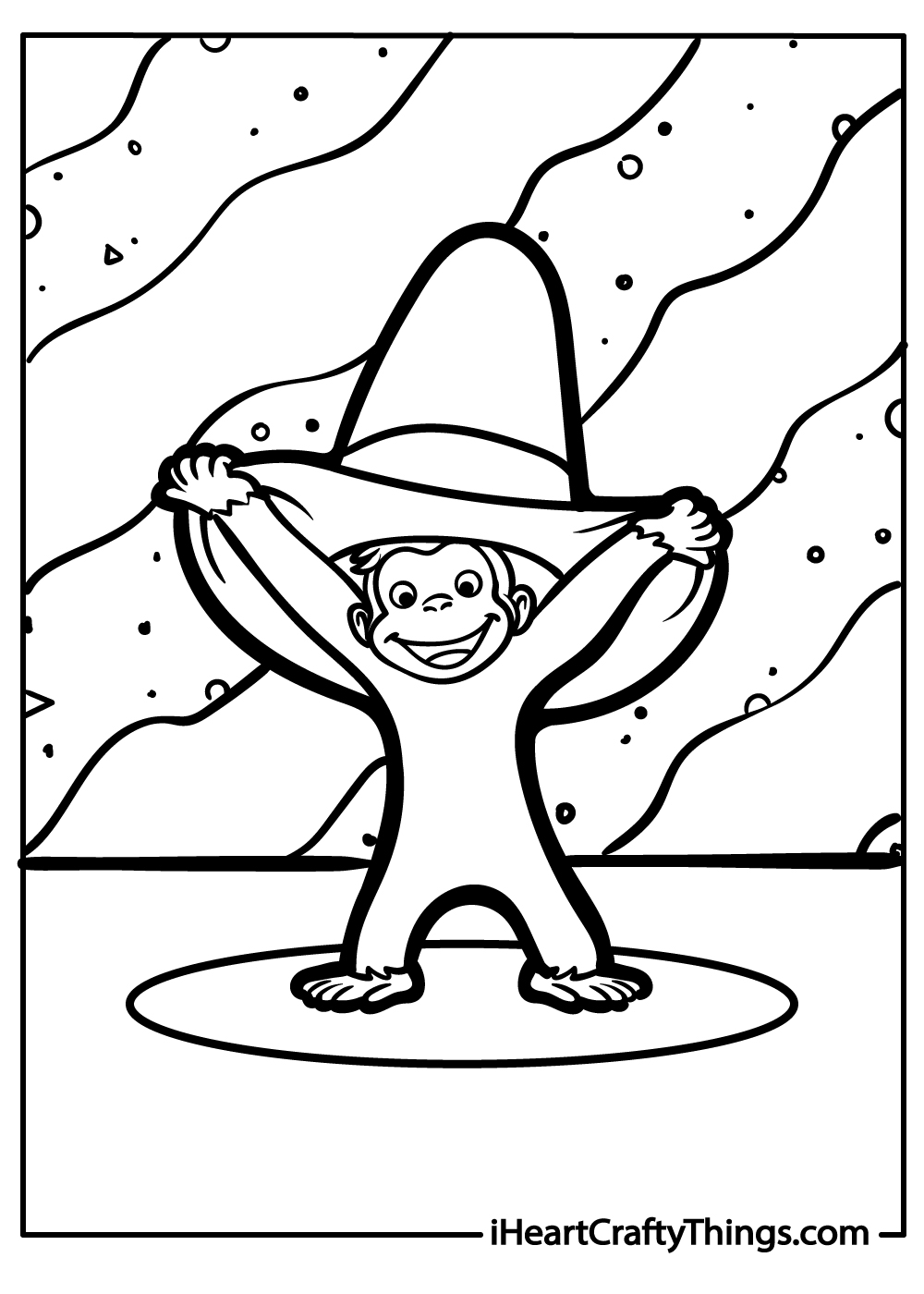 George is looking excited for some coloring good times in this next free Curious George coloring page!
He is looking very happy and cheerful in this one, so we think some bright, vibrant colors would suit it nicely.
If you decide to go for a bright color scheme, you can emphasize these colors by using art mediums such as colored markers, acrylic paints or pens.
Which of your favorite art mediums will you choose?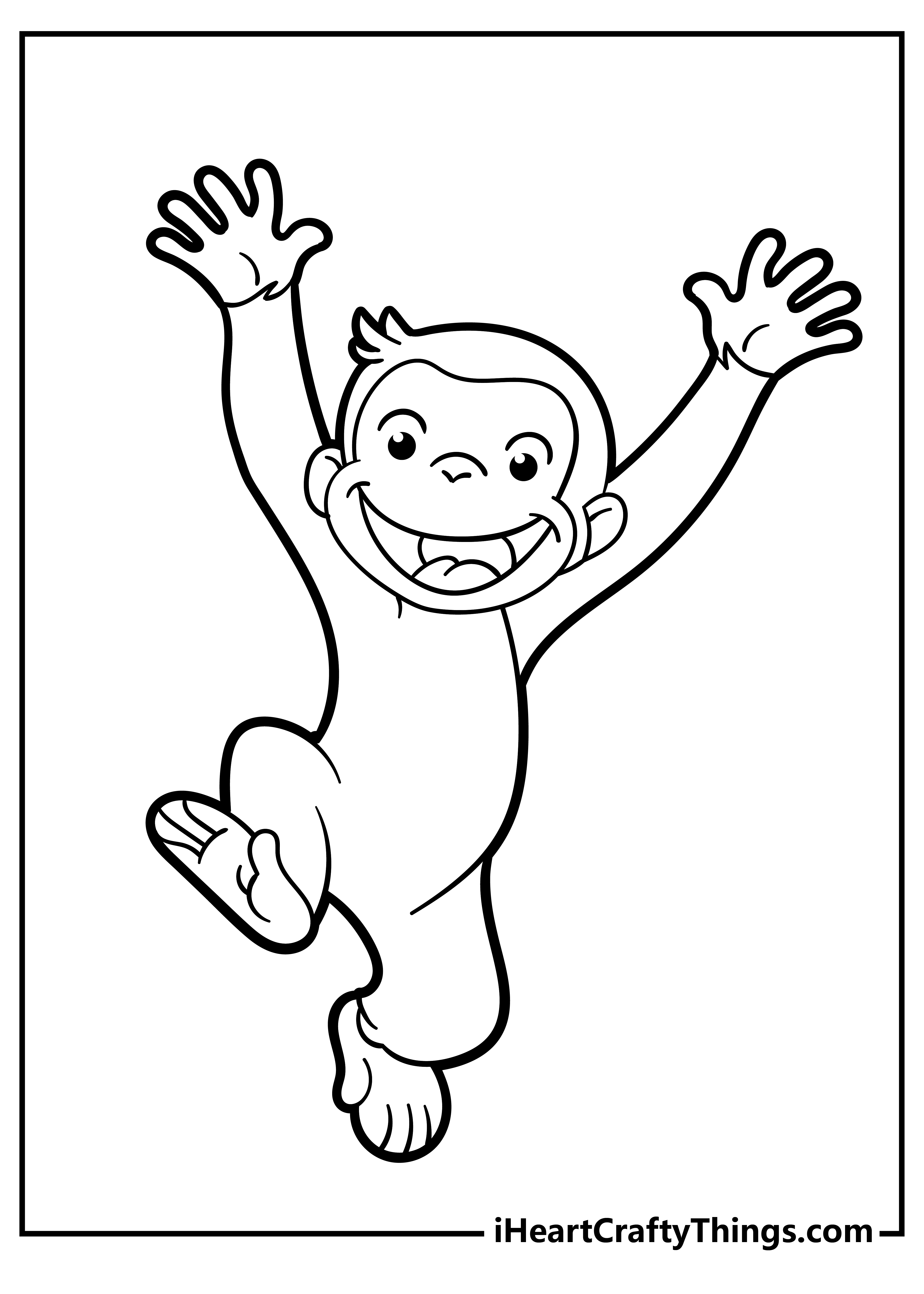 We have a really creative angle of George for you to color in this fun Curious George coloring sheet. We are looking down at him from above, and he is reaching out to us.
For this printable, you could draw some fun patterns or background details for the floor for an even more dynamic image.
It will be great to see how you finish this creative picture.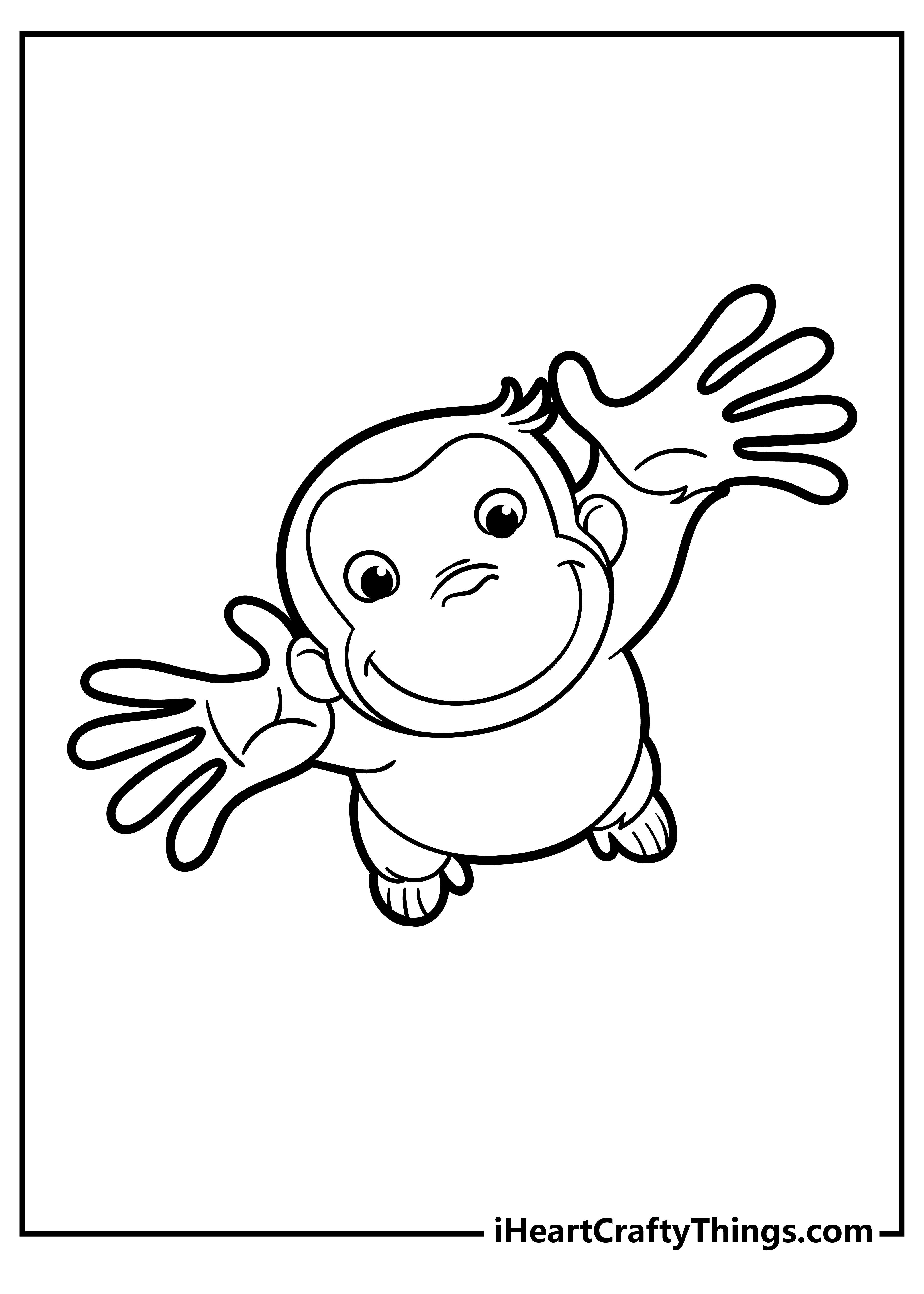 Curious George is having a fun adventure with his binoculars. He is exploring a beautiful field with green grass and tall trees.
He is curious about the nature around him and wants to see everything up close. He is holding his binoculars to his eyes and looking at something in the sky.
His mouth is wide open and his eyes are big. He seems very amazed by what he sees. Maybe he found a colorful butterfly or a flying saucer. What do you think it is?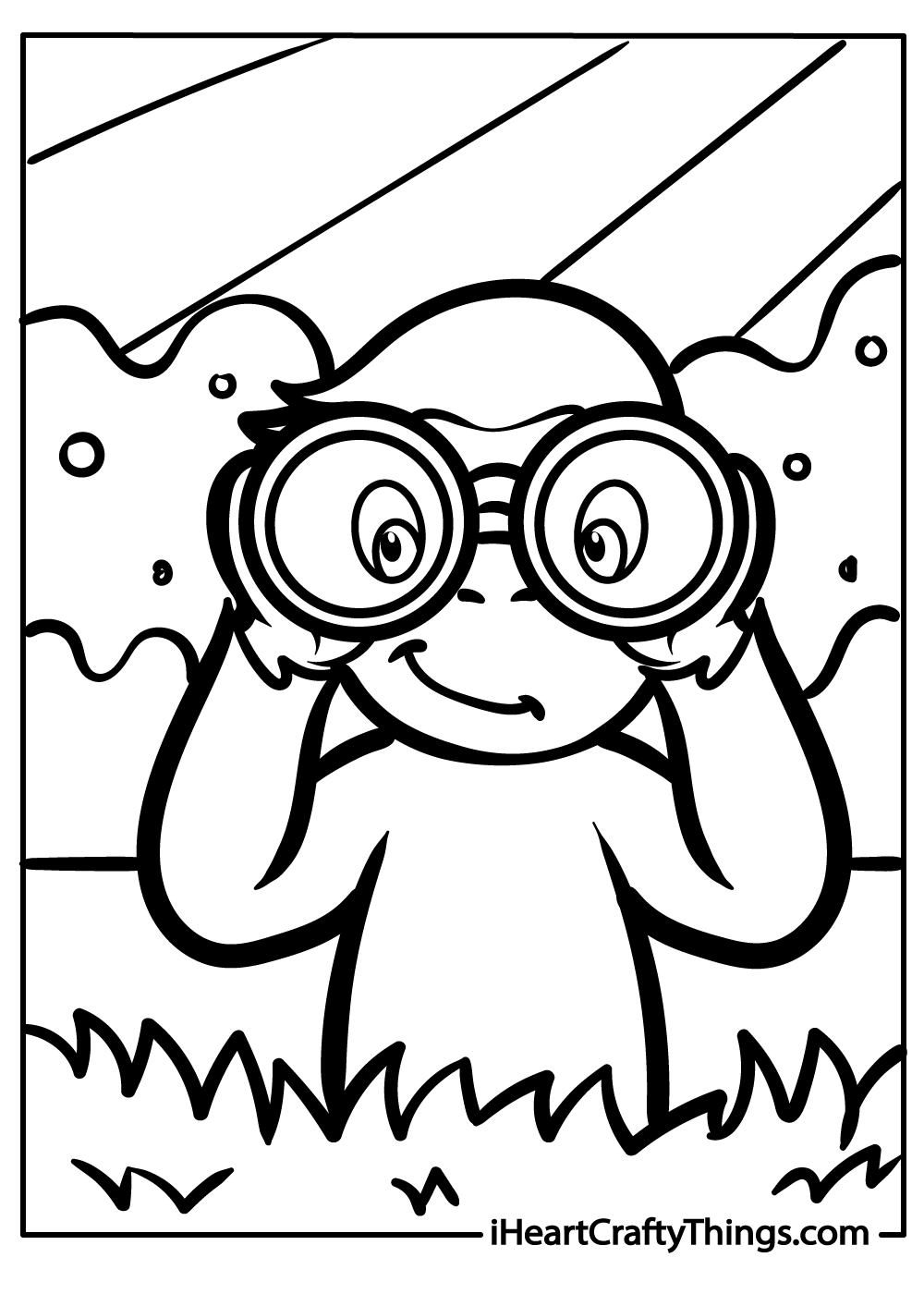 This is a really relaxing Curious George printable that we have for this sixth page.
Curious George is laying down with a good book for a really calming image. We think that some milder colors would look great to suit the calming mood of the scene.
You could also use softer mediums such as watercolor paints and colored pencils to further create a soft, calm mood.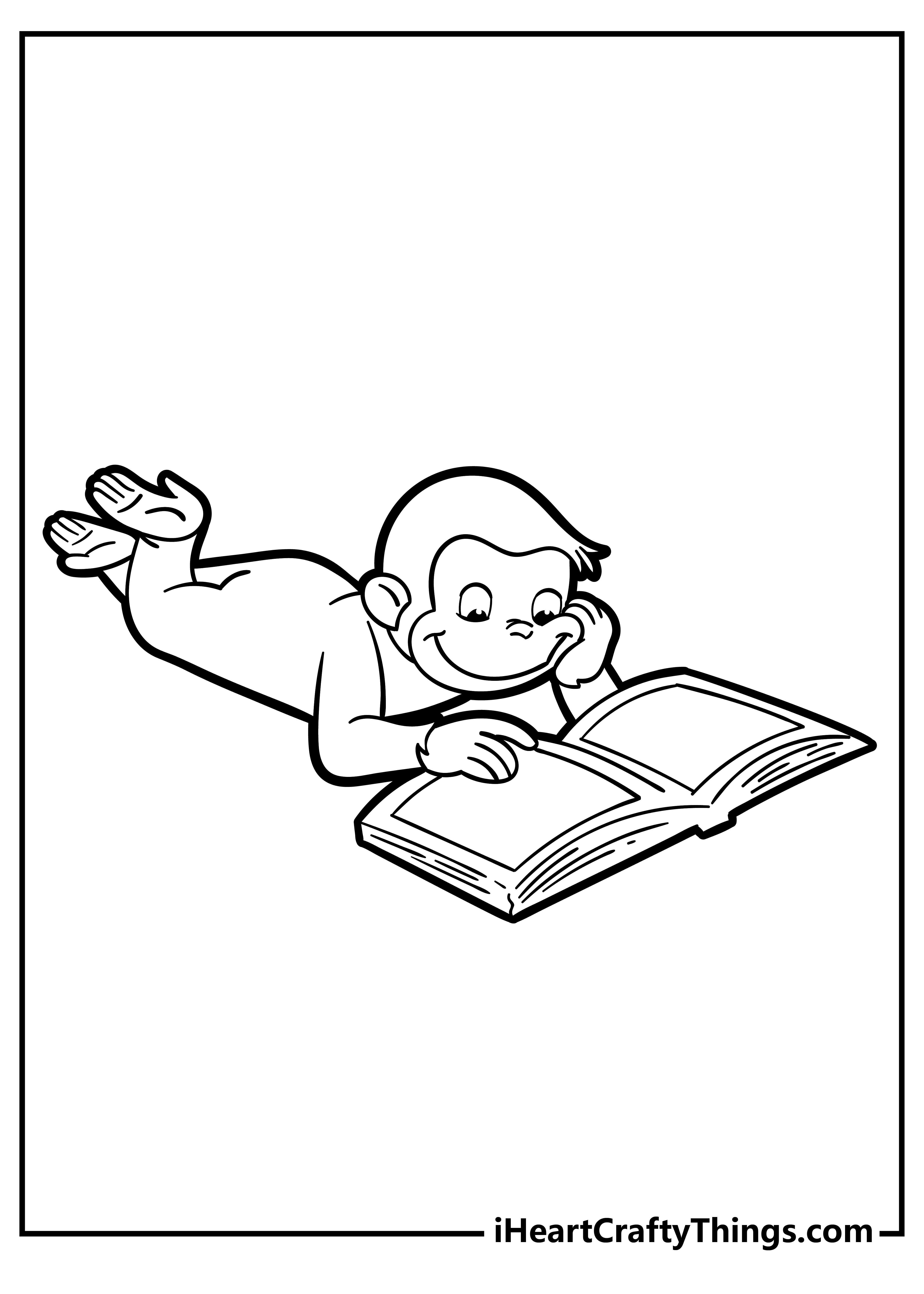 The previous Curious George coloring page featured a calm image, but this next one has him in an action pose! George is having a great time swinging from a rope, and he is looking very happy.
This is another picture that we think would be suited to some bright colors and mediums. As always, it's completely up to you to decide how you color this printable!
What colors came to mind when you first saw this fun image? We can't wait to see how you color this one!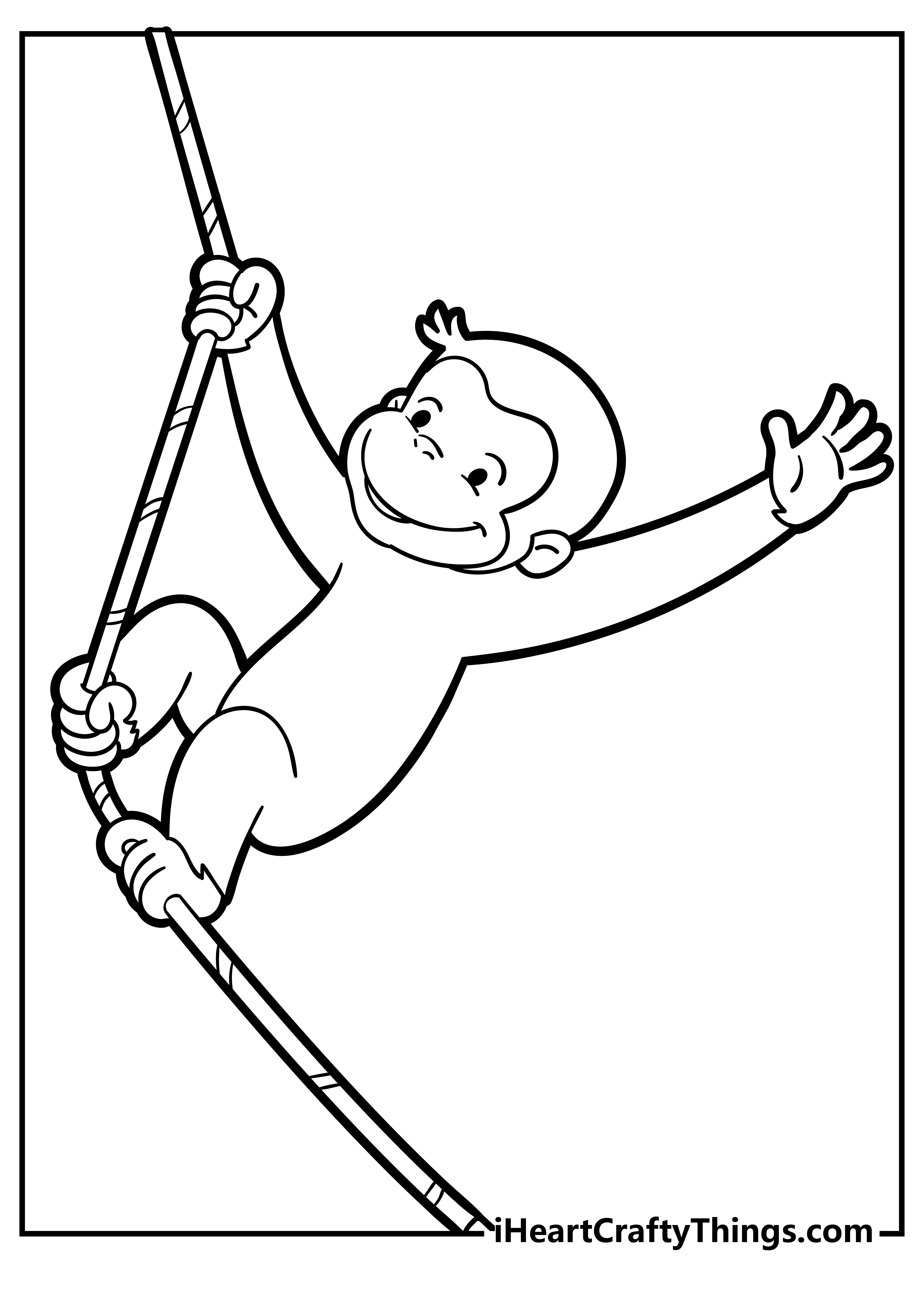 Curious George looks very happy sitting in the jungle. He is surrounded by nature and enjoying the fresh air. He is sitting on his legs and resting his hands on his knees.
He has a big smile on his face and he is looking up at something in the sky. Maybe he just saw a bird or a plane or a cloud.
You can use red, yellow, green, blue, and black to color this picture and make it look more lively.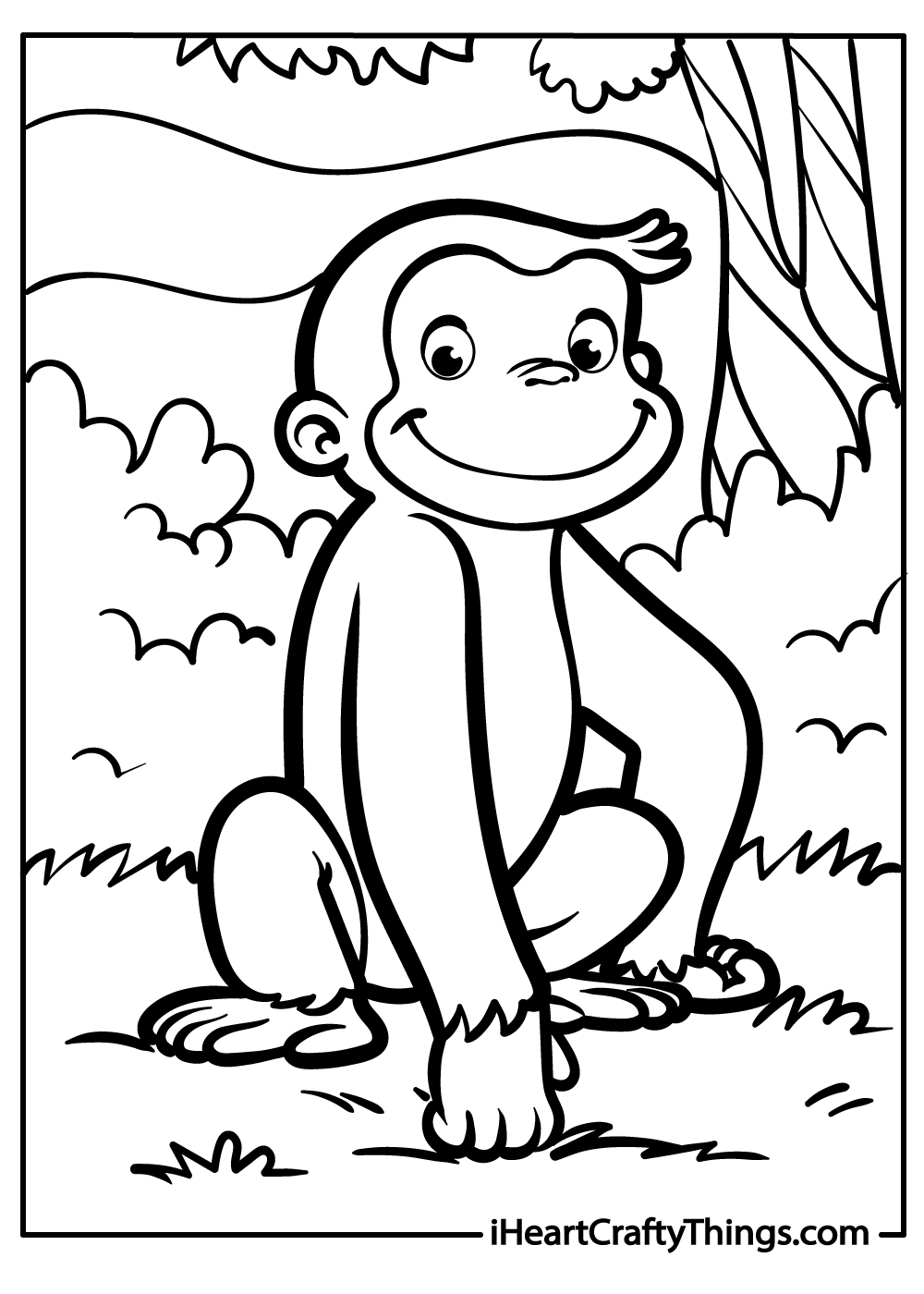 This next Curious George coloring sheet shows a rather guilty-looking George with some paint all over him! With a face that cute, who could stay mad at him?
There are so many options for how you could color this printable.
The paint all over him gives you opportunities for some vibrant splashes of color, and you could also add some colorful swatches to the background to show what he was up to with that paint.
This should be a really fun image to add some color to, so let your creativity flow!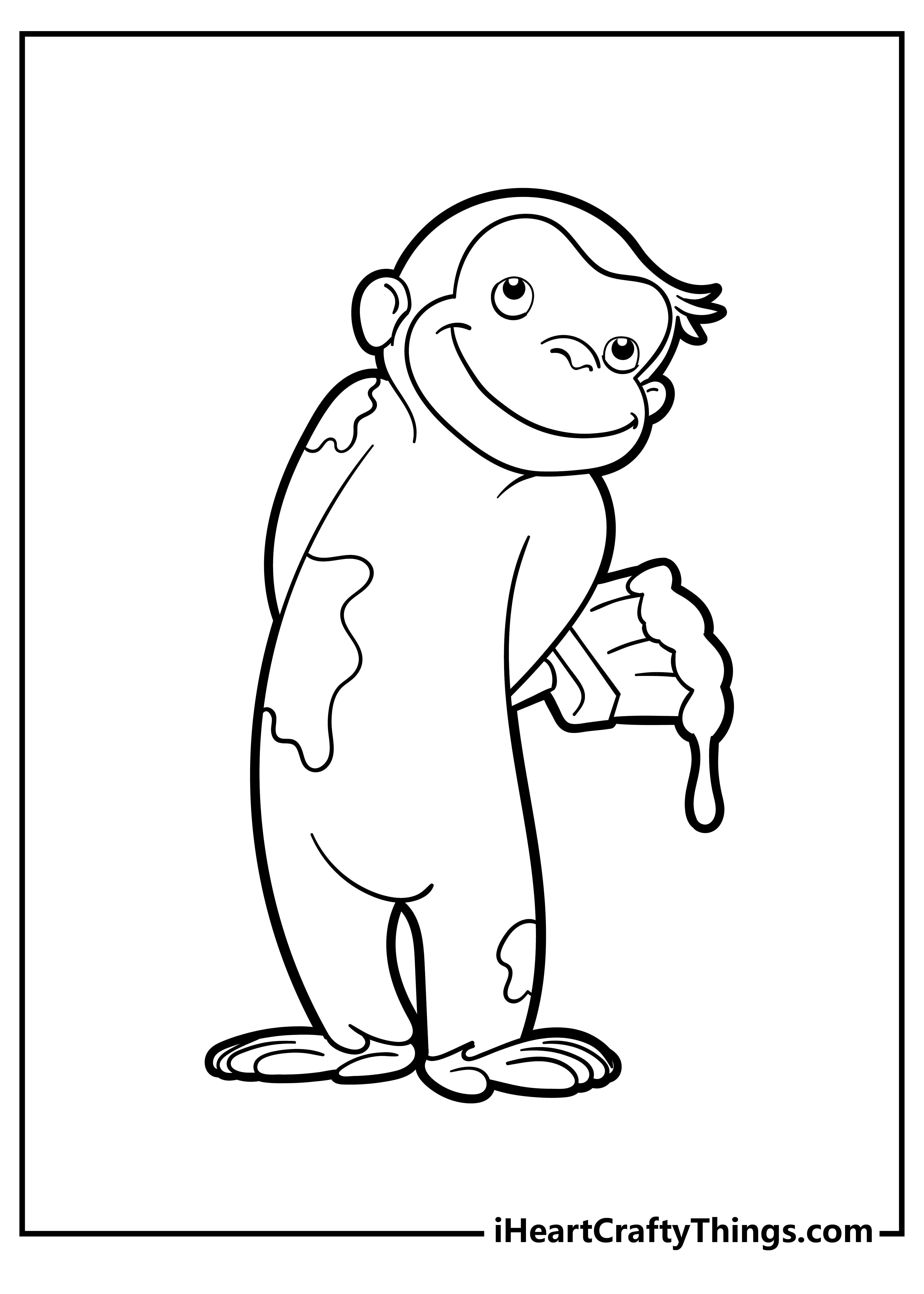 The famous big yellow hat is featured in this next free Curious George coloring page. He is enjoying another tasty banana in this image, and he is leaning against the iconic hat.
If you want to create an accurate representation, you can get out your brightest yellows to color the hat!
Will you go with the classic yellows, or will you maybe create a unique variation of the hat?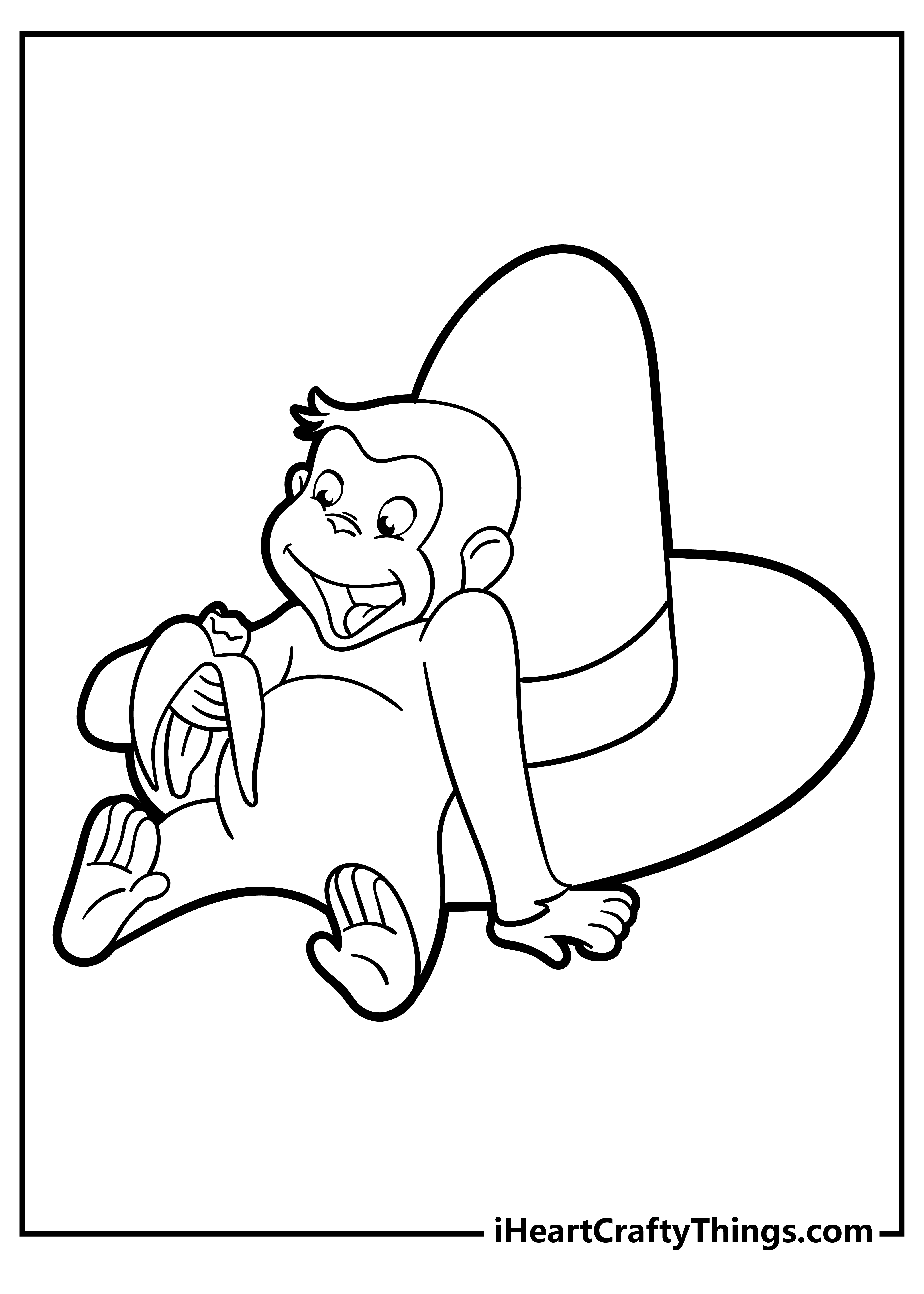 This is a sailboat Curious George made by himself. He is holding the boat with both hands and showing it off to you.
He is smiling and has a sparkle in his eyes, which shows he's curious and adventurous and likes to try new things.
What colors will you use to bring Curious George to life? I think a combination of purple, green, and yellow is perfect for this playful creature..
Remember, these Curious George coloring pages are all free, so you can explore as much as you want and use your creativity.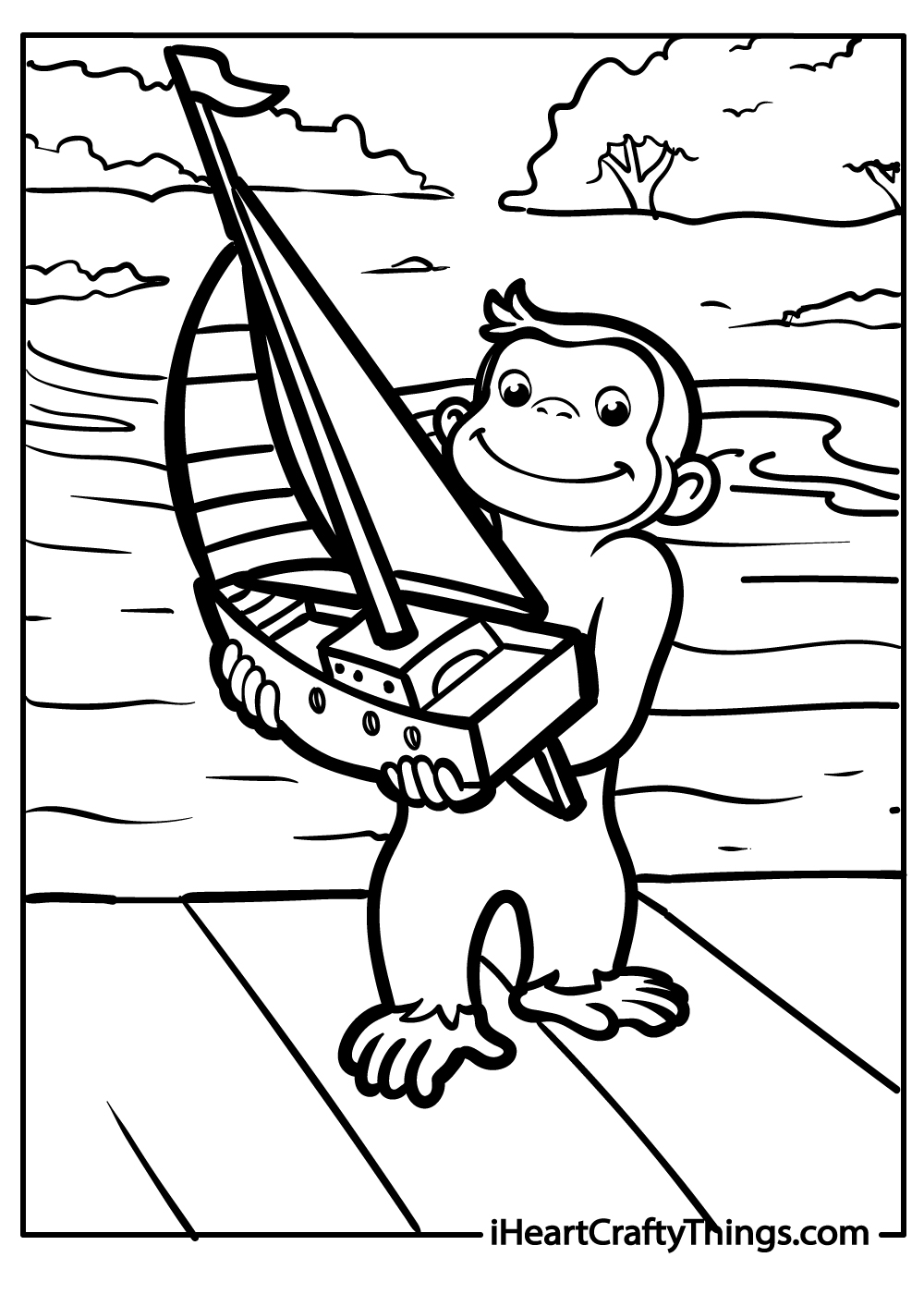 We had George sitting against the famous yellow hat in the previous Curious George printable, and he is wearing it in this final page of the collection!
This is an adorable scene, and George once again looks very happy in this one. This should be a wonderfully bright and vibrant page to close off this delightful collection.
When this one is done, we bet it would make for a stunning poster for your room!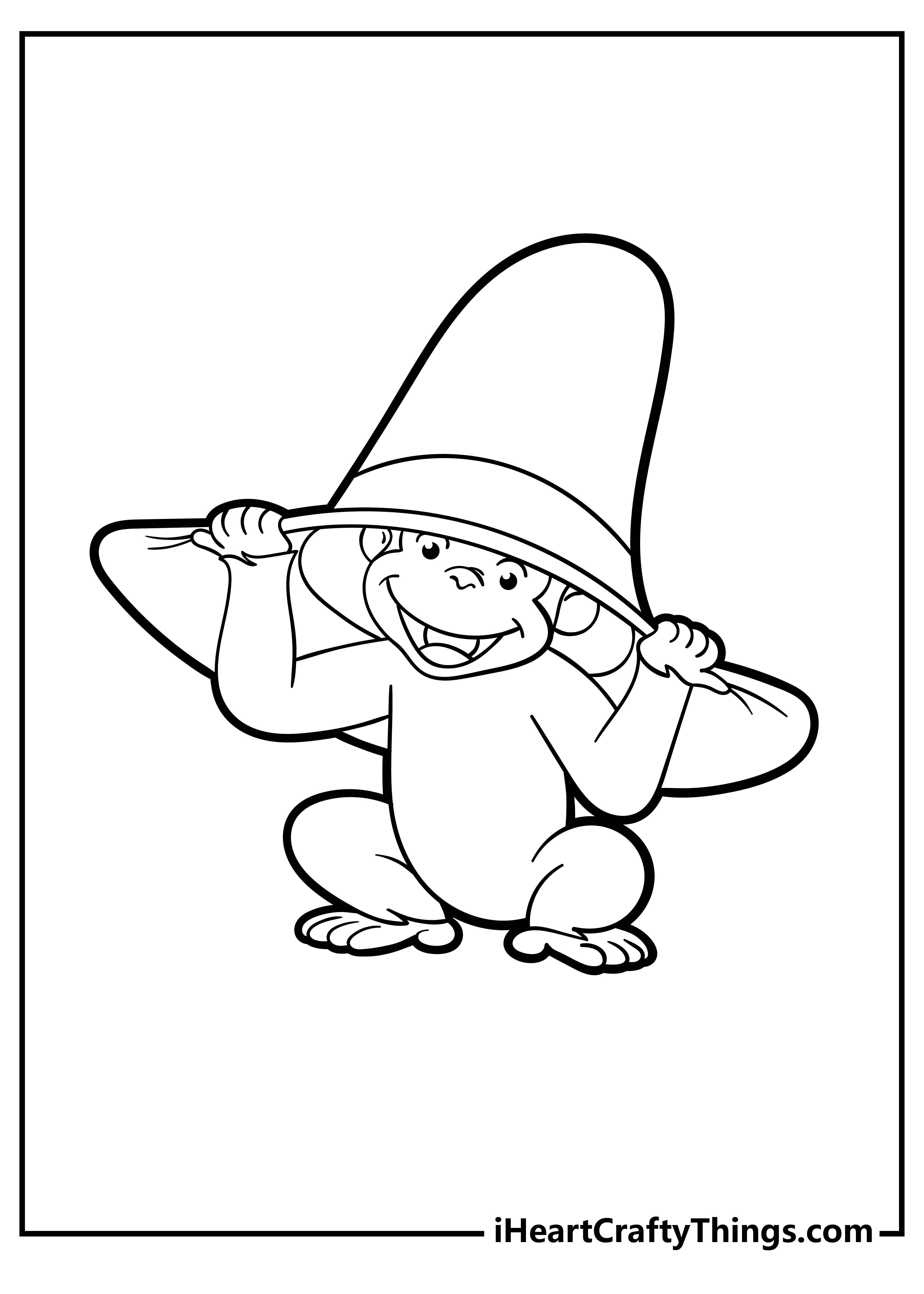 Curious George Coloring Pages – Which will you choose?
We hope that you had a wonderful time with this marvelous collection of free Curious George coloring pages for kids!
There are many fun poses and scenarios to color in this set, and you can choose your favorites or color every single one. Be sure to print them out as much as you like and share them with others!
Then, you'll want to check out our website for more coloring fun. We have tons of coloring page collections we know you'll love, and even more are on the way soon. Keep checking in to join the fun!
It's always tons of fun to see your finished coloring pages, so when you have completed your favorite Curious George coloring sheets, we would love to see!
You can share your colorful artworks by sharing them on our Facebook and Pinterest pages.