On this page, you will find 10 all new Anime coloring pages that are completely free to print and download.
Coloring is an enjoyable activity for children of all ages to improve their creativity, attentiveness, motor skills, and color awareness.
If your kid enjoys Japanese culture, we've got your little anime fan covered! Below you can find the most popular anime characters for your children to color and print.
These free printable anime coloring sheets are suitable for kids of all ages and may be downloaded and printed at any time, so they become a source of endless fun!
10 Brand New Anime Coloring Pages – Free to Print and Color
The first of our anime coloring sheets features a beloved character from Hunter X Hunter.
Hunter X Hunter is a very popular anime among both kids and adults, so if your little one is a fan, they will surely love this Gon Freecss coloring page.
He is the main protagonist of the series and is going through amazing adventures to become a hunter and find his father.
Whether they choose to stick to the Gon's memorable green outfit or let their inspiration go wild, your kids are surely going to have fun creating a piece of art with one of their favorite anime characters!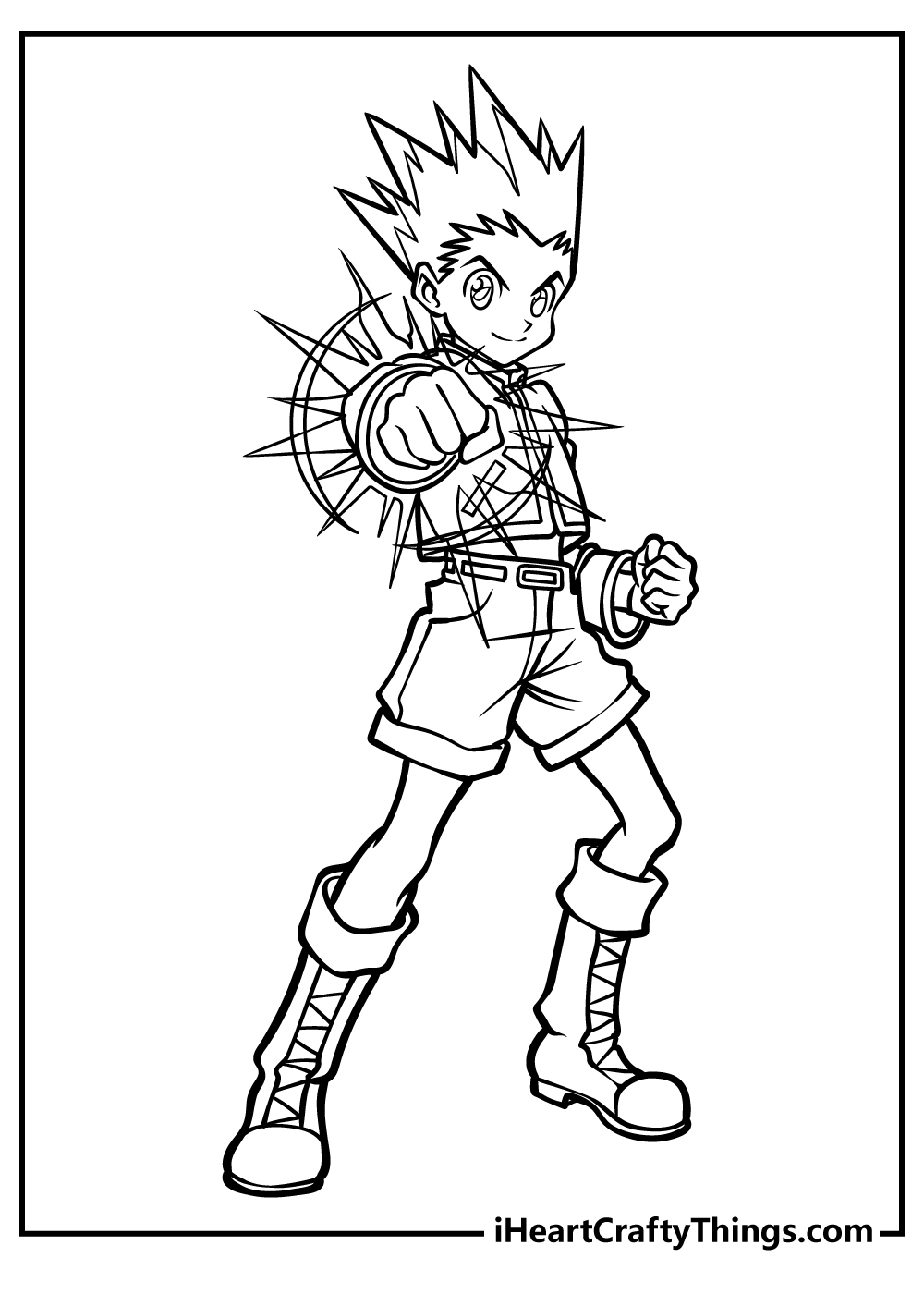 This next coloring printable is a timeless classic featuring one of the most popular Dragon Ball Z characters, Trunks.
Dragon Ball is one of the most beloved anime series of all time, so if your kid enjoys the adventures of Goku and his friends, they will surely love coloring their very own Trunks.
Did you know that coloring can be a relaxing hobby for adults as well? If you were a Dragon Ball Z fan back in the day, you might also enjoy a few minutes of coloring together with your kid.
Be it Trunks or any other Dragon Ball Z character you can find while browsing through these free printable anime coloring sheets, we promise you are going to have lots of fun!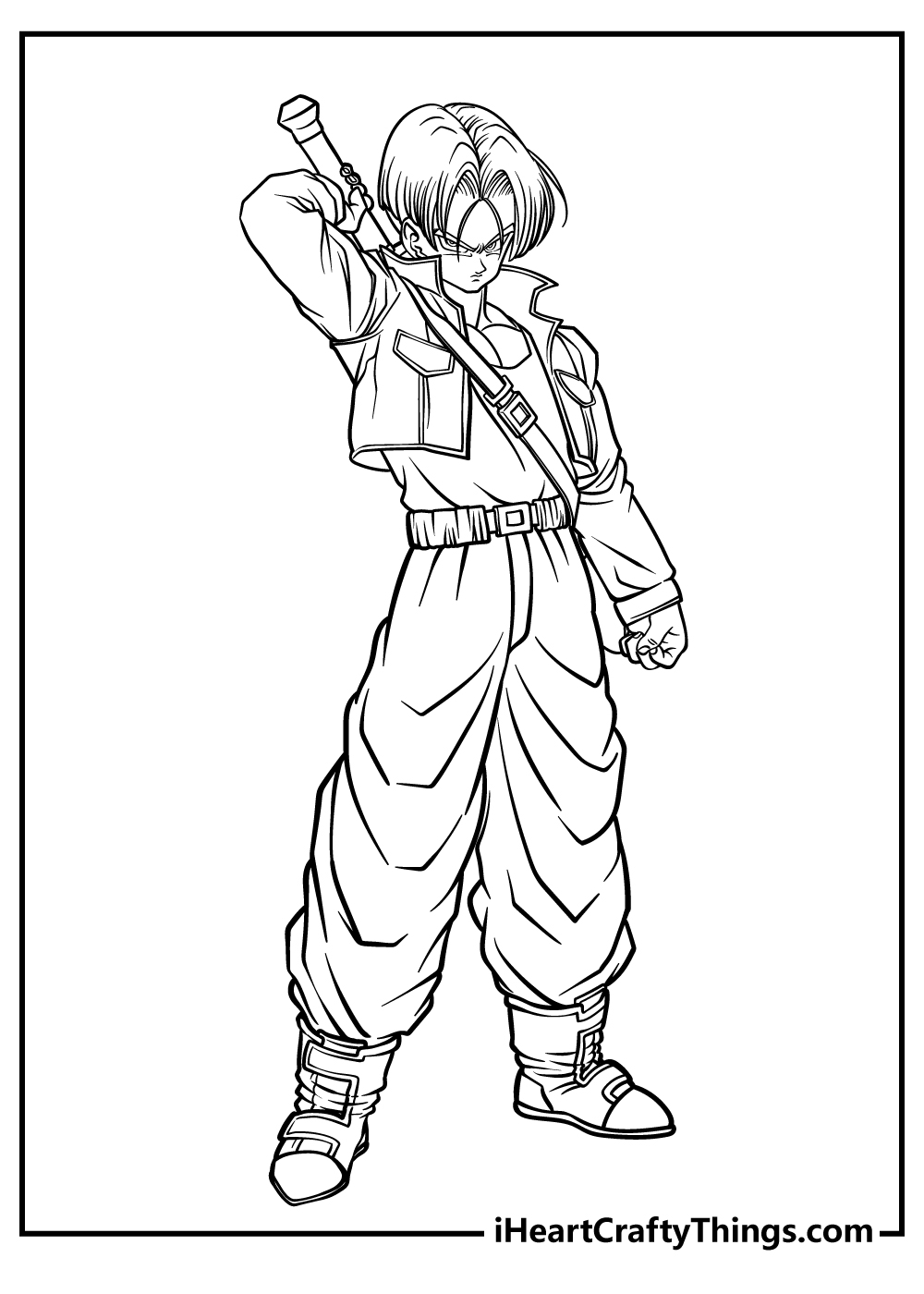 Is there anyone, adult or kid, who does not instantly recognize Sailor Moon's iconic look?
We don't think so, which is why we could not leave the pretty leader of the Guardians out of our list of anime coloring pages.
Sailor Moon and her friends embark on amazing adventures that go beyond our realm and share a story of love and friendship that can teach children amazing life lessons.
These coloring sheets are a fun way for kids of all ages to develop their creativity and can be used for art school projects, birthday party activities, or just to make time pass on a rainy Sunday.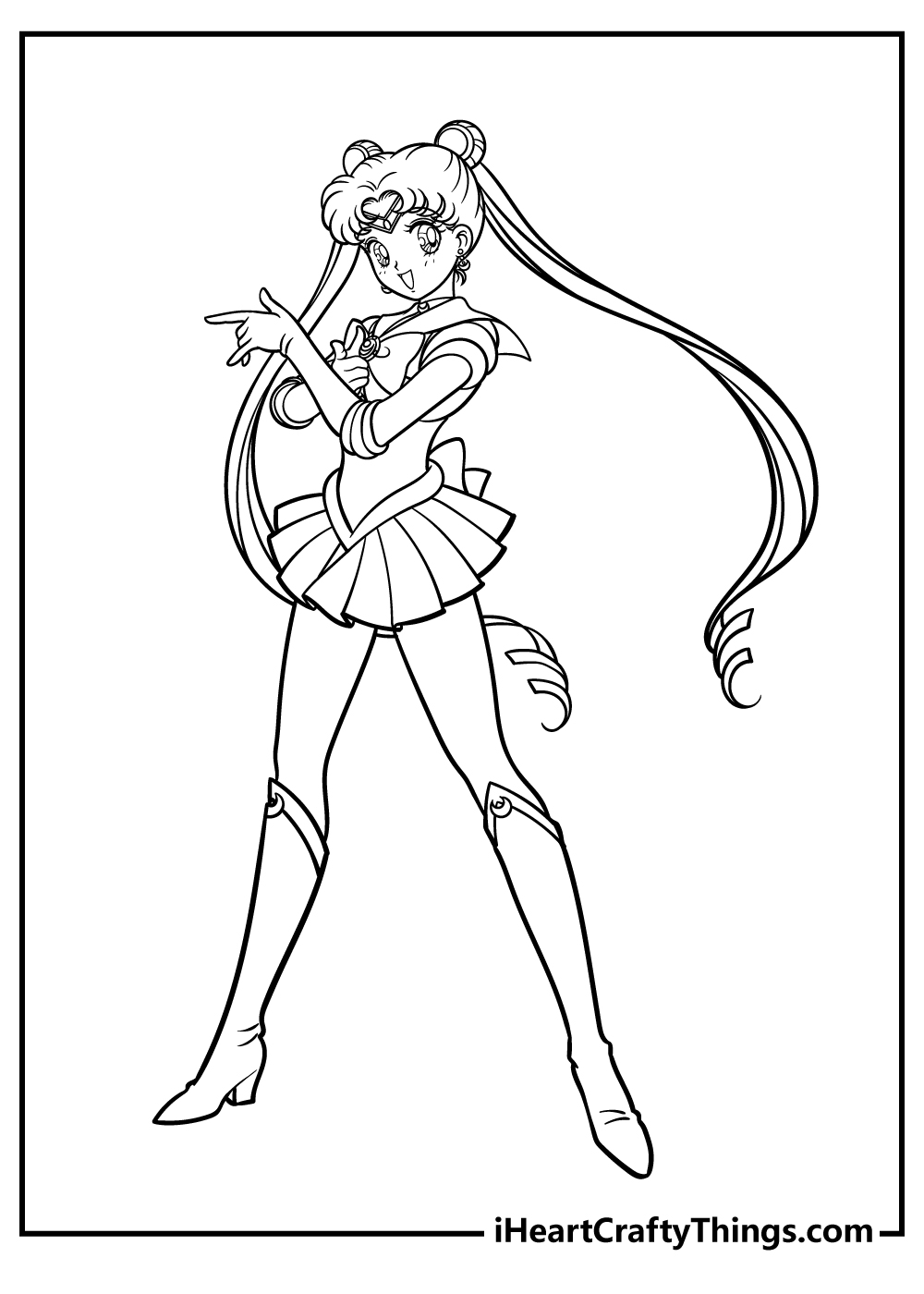 Because Dragon Ball Z is one of the most popular anime series ever to be made, we have included quite a few anime printables featuring its characters.
Goku is the main character of the series, and his orange jumper is recognizable anywhere.
Your kid is going to love coloring the young version of Goku and sharing the finished work of art with their friends.
You can even print all these pages out and create an anime coloring book for your kids to enjoy so that they train their creativity and explore with colors.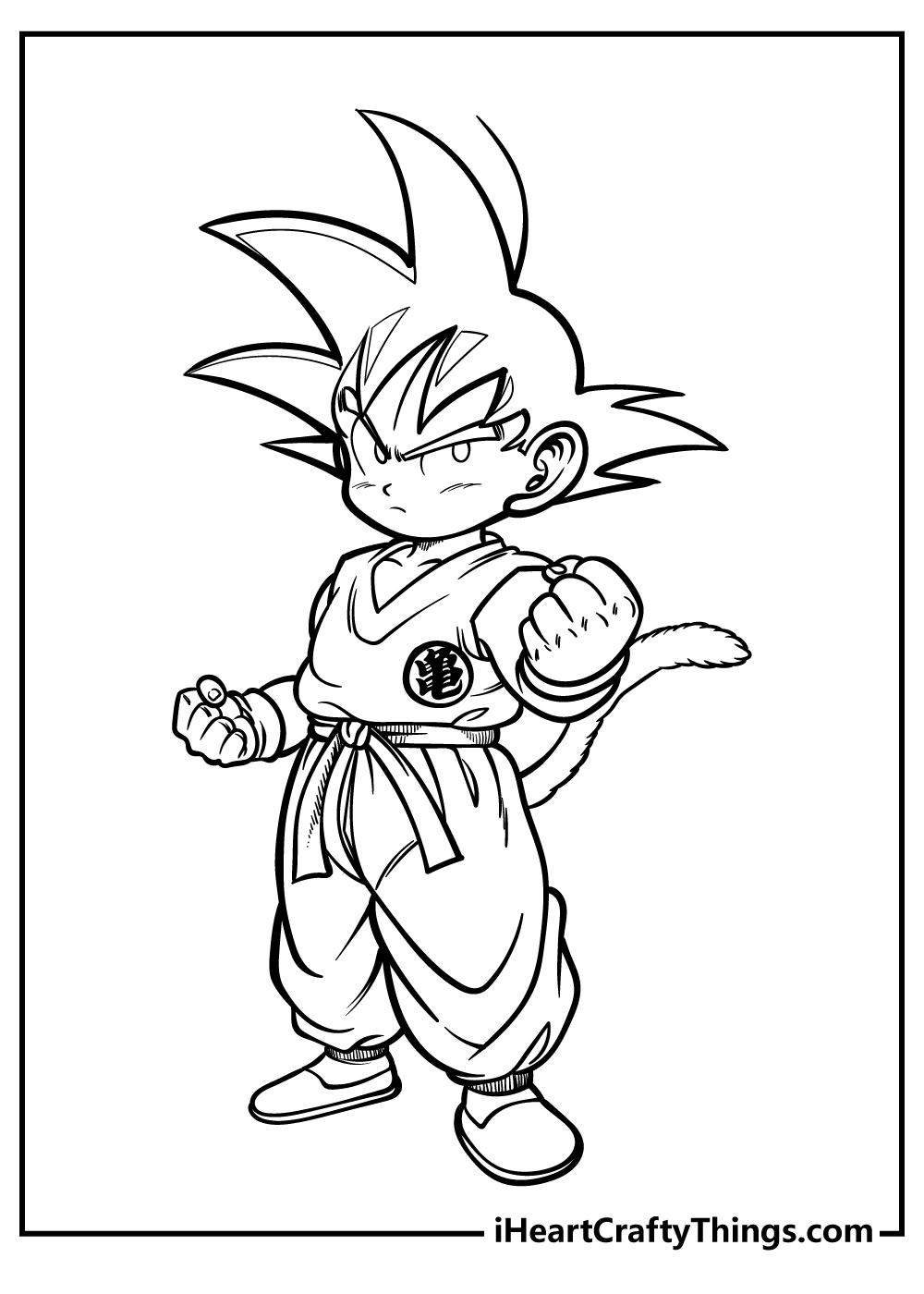 The last Dragon Ball Z anime coloring page features the grown-up version of Goku – perfect for adding to the collection!
The best thing about coloring is that kids can give these characters a new look using various color combinations, so they can get creative and exercise their imagination.
If you are a teacher, you can use these anime printables, which feature characters that children love, to teach them about complementary colors and to encourage them to learn in a playful way.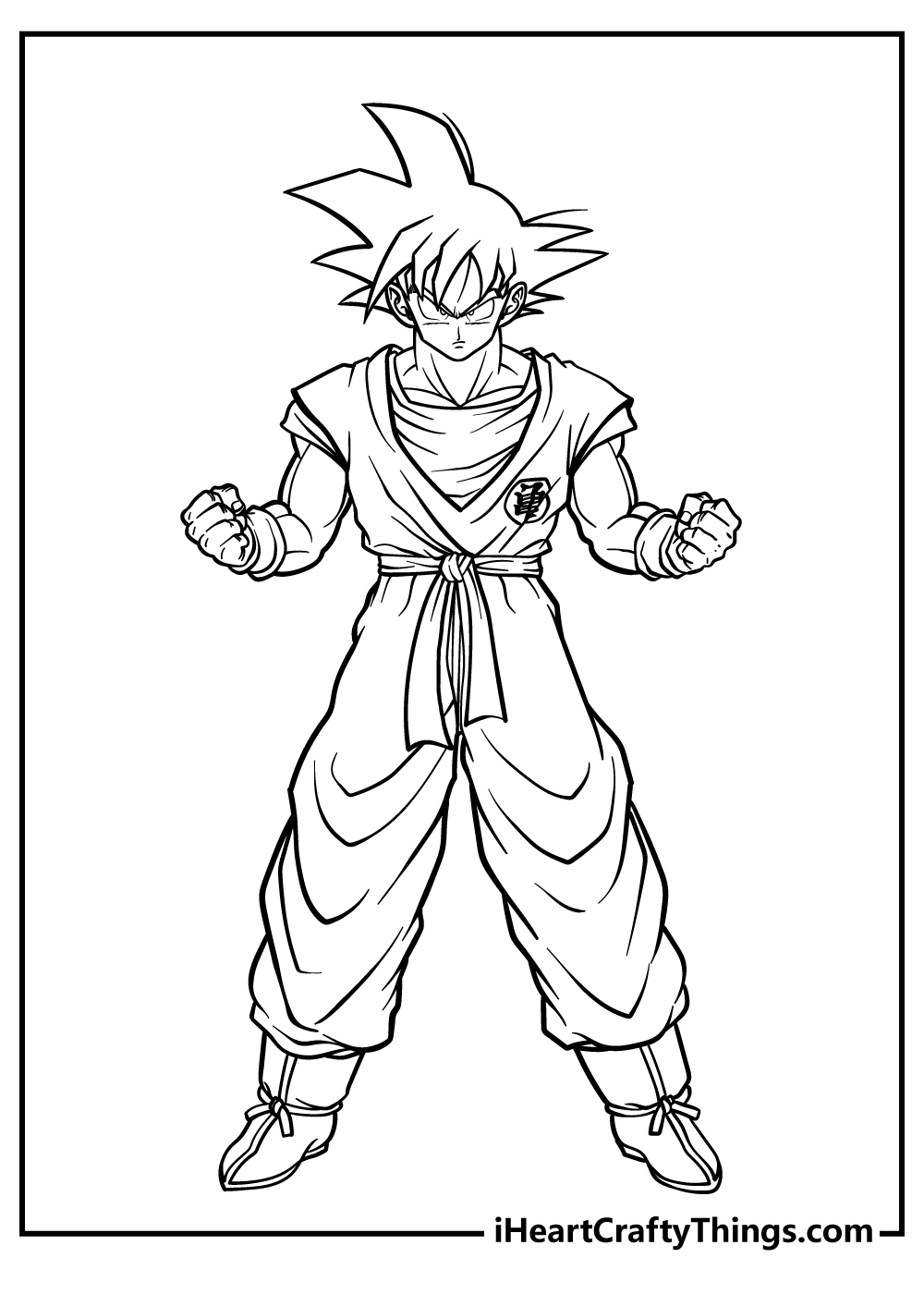 Naruto is the story of a boy who wishes to achieve universal recognition and become a Hokage.
The series features Naruto Uzumaki and his friends Sakura and Sasuke as they overcome numerous trials and defend powerful opponents.
This anime coloring page features Sasuke, one of the main characters of the series, and you can print it out right away so that your kid can start having fun!
They can use dark colors, as Sasuke normally wears, or give him a full makeover and color him up as bright as a rainbow!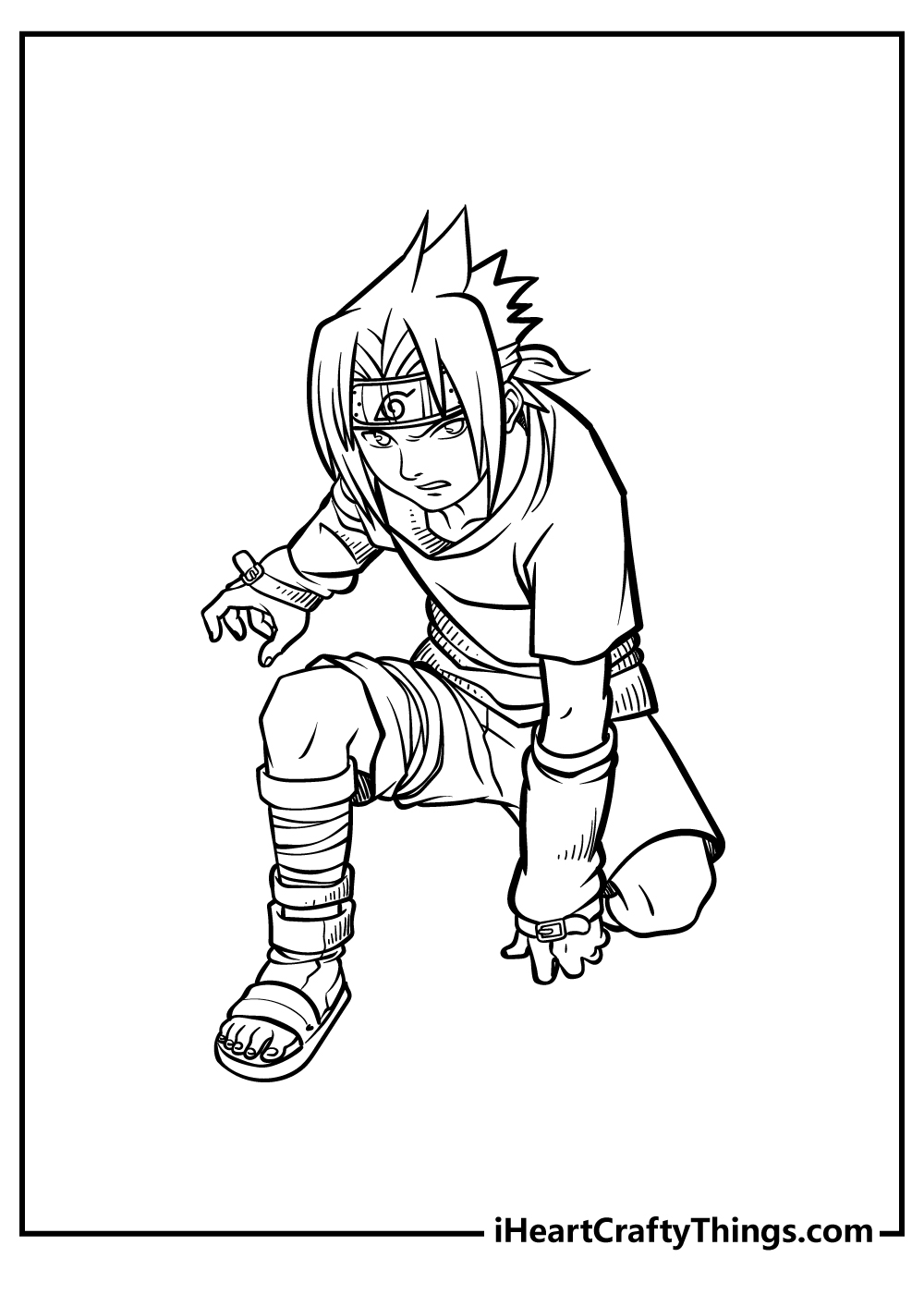 Of course, we had to include the one and only Naruto Uzumaki on this list as well, as he is one of the most popular anime characters with kids today.
With this printable page, kids can create their own Naruto story and explore this animated universe however they wish.
They can draw new characters in the background, recreate a scene from the series, or simply play with colors to create their own work of art.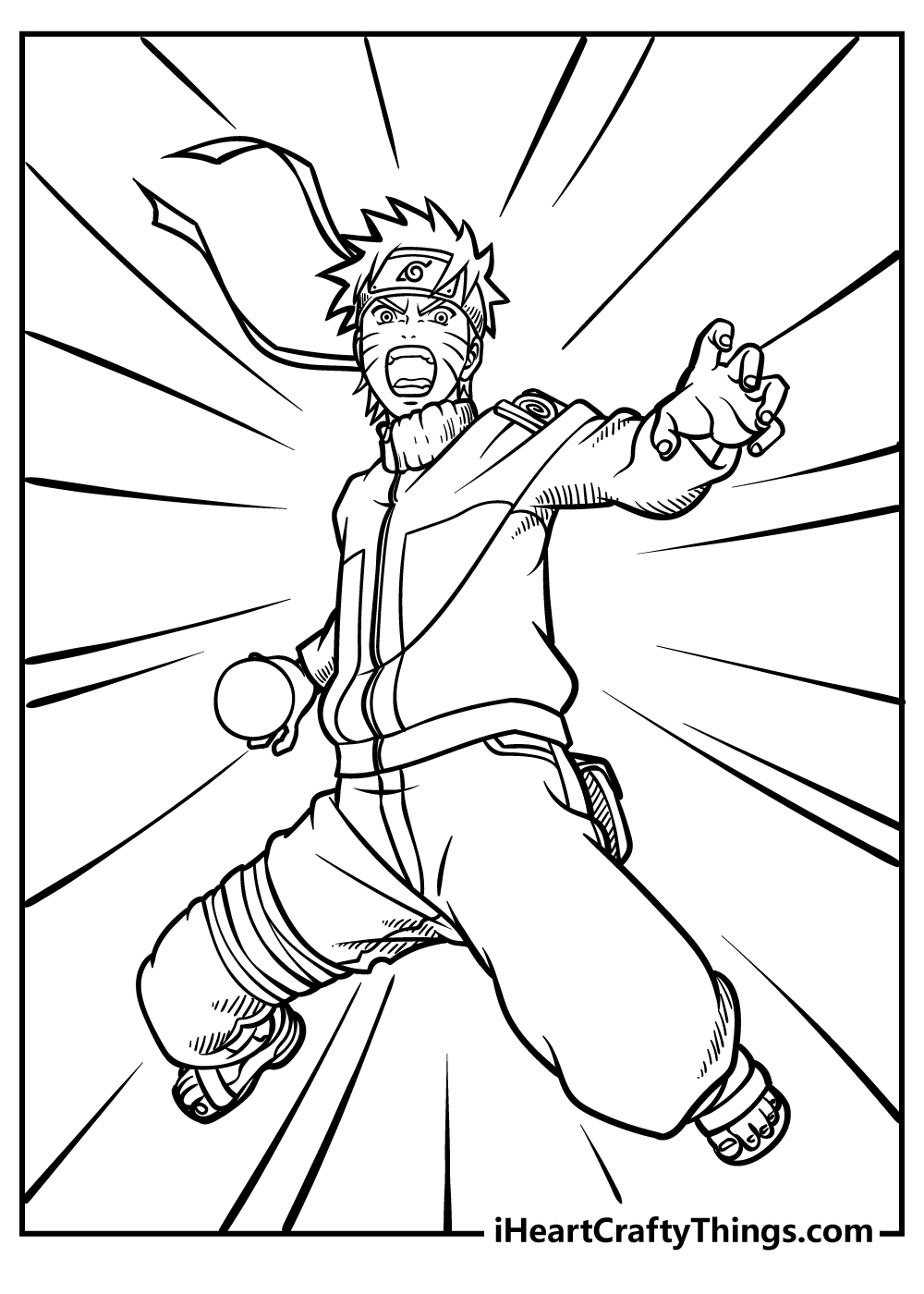 Studio Bones' anime series My Hero Academia is based on the Japanese superhero manga of the same name. This coloring sheet is based on Deku, the main character of the popular anime.
My Hero Academia depicts a universe where every child is born with an uncommon skill known as a "quirk."
You may become a cool superhero or villain with skills like blowing anything up with your hands, going through walls, morphing into other species, or even growing your own physical size at times.
This anime teaches kids many valuable life lessons about friendship and overcoming obstacles, and by printing this coloring page, they can exercise their creativity as well.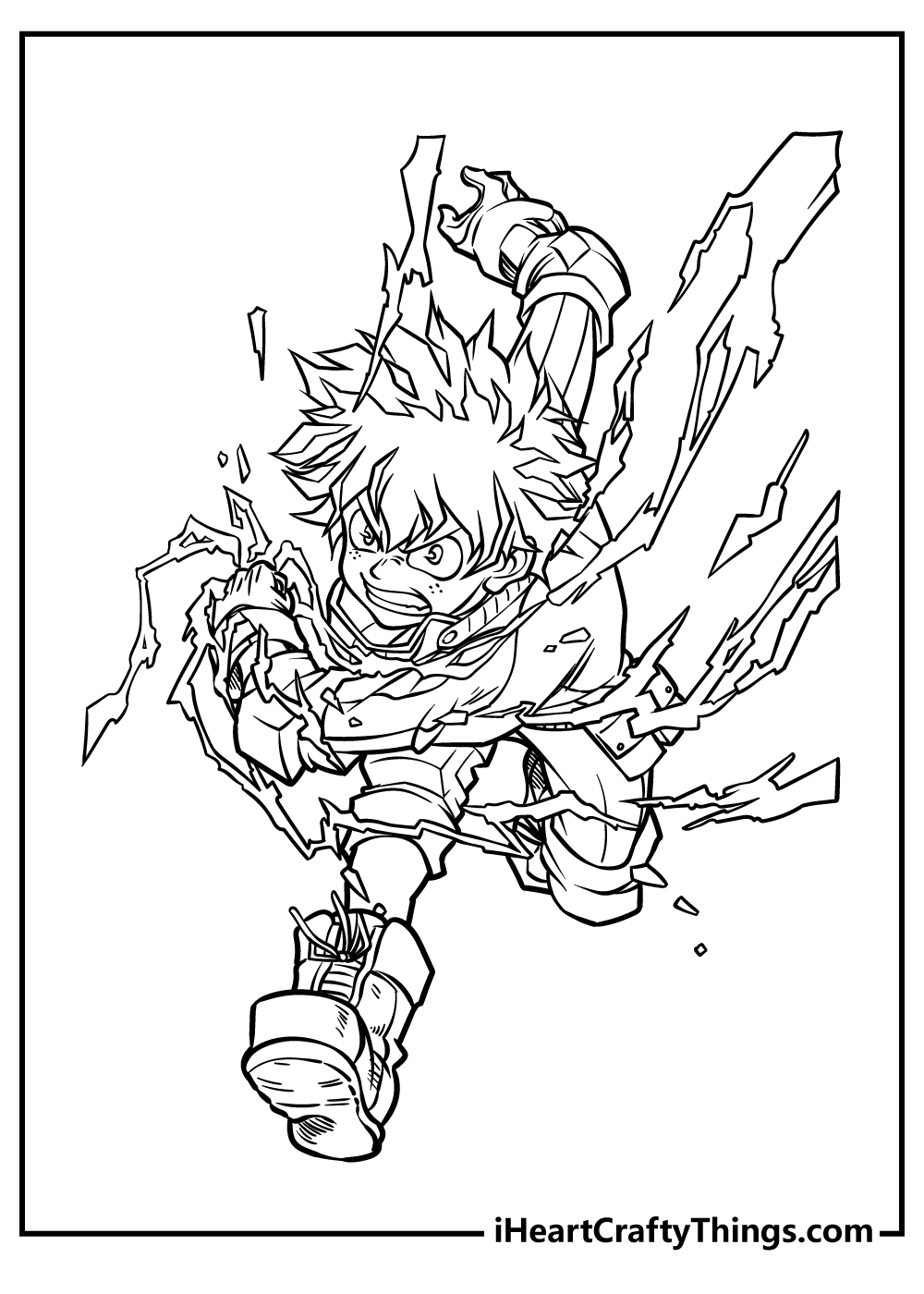 Anime characters are instantly recognizable because of their unique style.
These adorable characters often have unique and creative designs with plenty of details, as you can see in this printable coloring page as well.
Our collection includes a variety of these characters, some more popular than others, but all meant to help keep your child entertained and active while learning things at the same time.
Let them explore with colors, add as many details to these characters as they want, and even create the background of each page by themselves.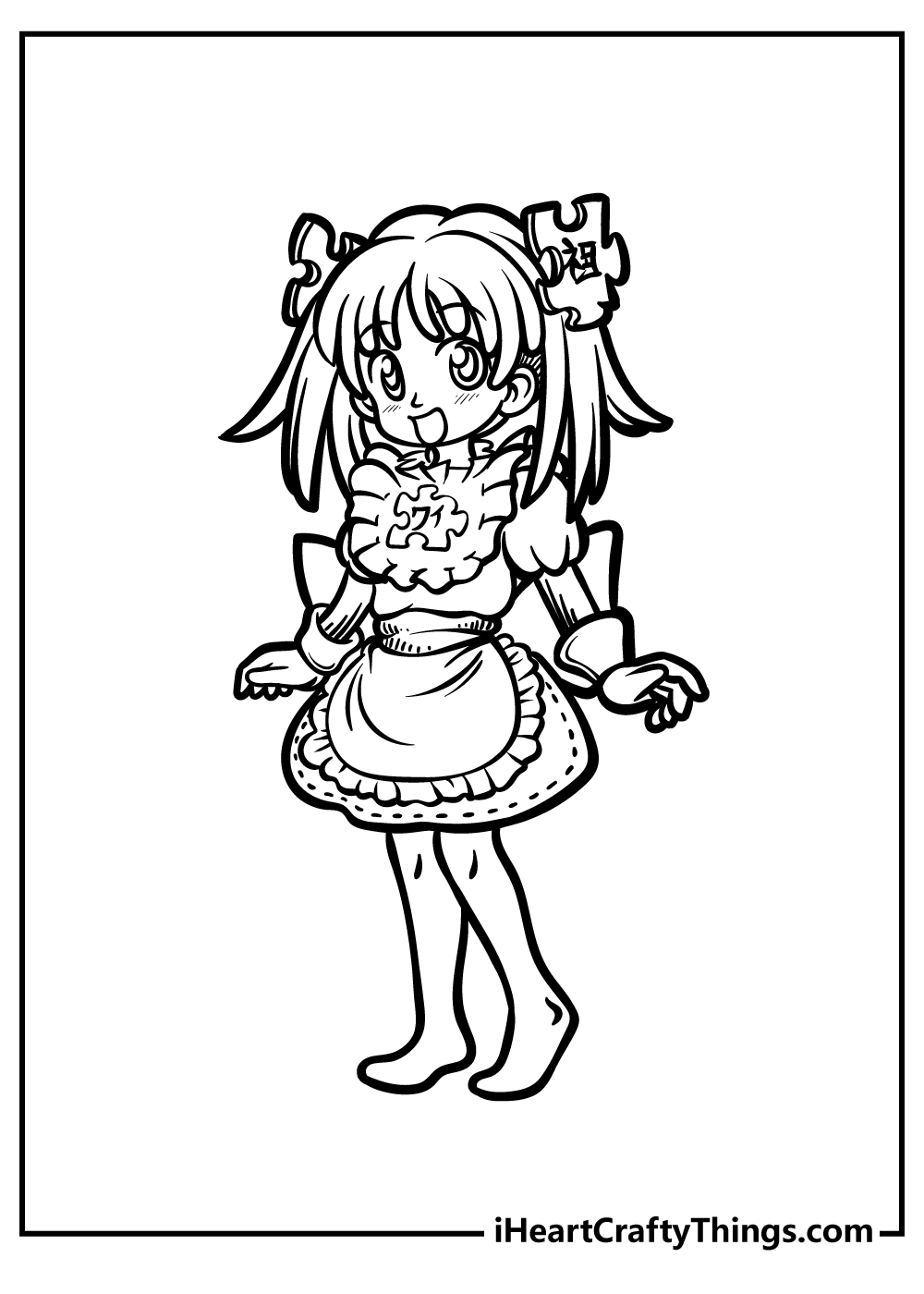 This last coloring page features Luffy, the main character of the popular anime One Piece.
The anime tells a pirate story as Luffy and his friends embark on challenging adventures in the waters of the world.
If your kid dreams of being a pirate one day, this anime coloring page will surely make them happy and prepare them for their adventure!
Are you looking for more printable coloring pages? Explore our collections and create your own coloring book!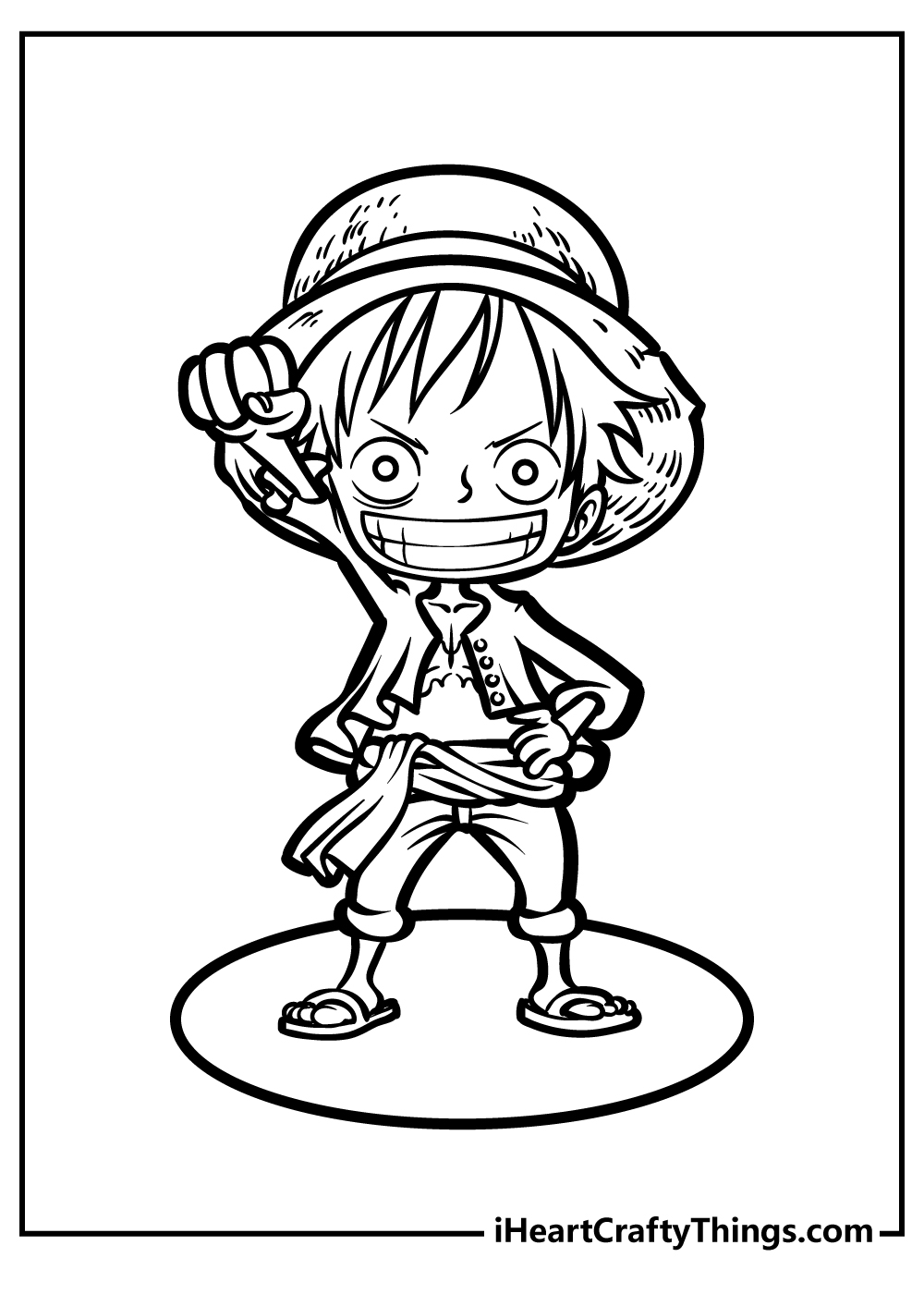 How To Make These Anime Coloring Pages Even Cooler
Now that you have chosen and colored your favorite anime coloring pages in this collection, you may think your coloring adventure has concluded.
However, there are a few ways to keep the fun going, and we will cover them now before we conclude this coloring extravaganza.
You'll notice that the focus of each coloring page was the character. Sometimes, there are some props and weapons, but there are no backgrounds.
You can probably see where this is going, as we would suggest that you add some backgrounds to your favorite pages. There are a few ways that you could do this, and you can have some fun with it.
For example, you could pick your character and then think of a favorite scene from the anime they star in. it could be a battle scene or a small moment in a house.
It's up to you, and there are no wrong ways to do it! Once you have your chosen location, simply add it as the background of your picture, and then you can color in the background too.
You can use the anime to guide you or draw it from memory. Of course, you could also go for a totally unique background setting of your own design.
This would be a great way to take your favorite characters on some brand new adventures. Adding other characters, weapons or objects can also enhance the images dramatically.
The more you add, the more you will have to color as well! As we mentioned, you can either use things and ideas from the anime or come up with your own unique ideas.
It's up to you, and you can really show your love for these characters with what you add. What adventures will you create?