Three pre-school-aged girls with superpowers? Yes, please!
Blossom, Bubbles, and Buttercup, also known as The Powerpuff Girls, are the little heroes we never knew we needed. The Powerpuff Girls is an animated TV series featuring the adventures of the three little girls from saving the planet from mad scientists, local criminals, or aliens using their superpowers.
Each character on the Powerpuff Girls has their color designation and kids are fascinated not only by the action-filled stories but also because of the visuals of the series.
We created these new Powerpuff Girls coloring pages to be enjoyed by kids. These free printables are easy to download, print, and color. Kids will learn to associate colors with characters and their motor skills will also be used on these intricate illustrations.
Time to bring out those super bright colors!
10 Brand New Powerpuff Girls Coloring Pages – Free to Print and Color
The Powerpuff Girls each has their personality, unique superpower, and designated color.
Blossom, the leader of the group and is in the middle of this Powerpuff Girls coloring page for kids, is known for her pink signature looks and red-orange hair with a red bow.
Bubbles, the one on the left, is the sweet one on the team. Her signature color is blue and her blonde hair is in pigtails.
Buttercup, flying on the right side, is regarded as the tough one of the Powerpuff Girls. Green is her signature color and has short black hair.
These little girls are seen flying upwards on these free Powerpuff Girls printables with heart-shaped lines above their heads.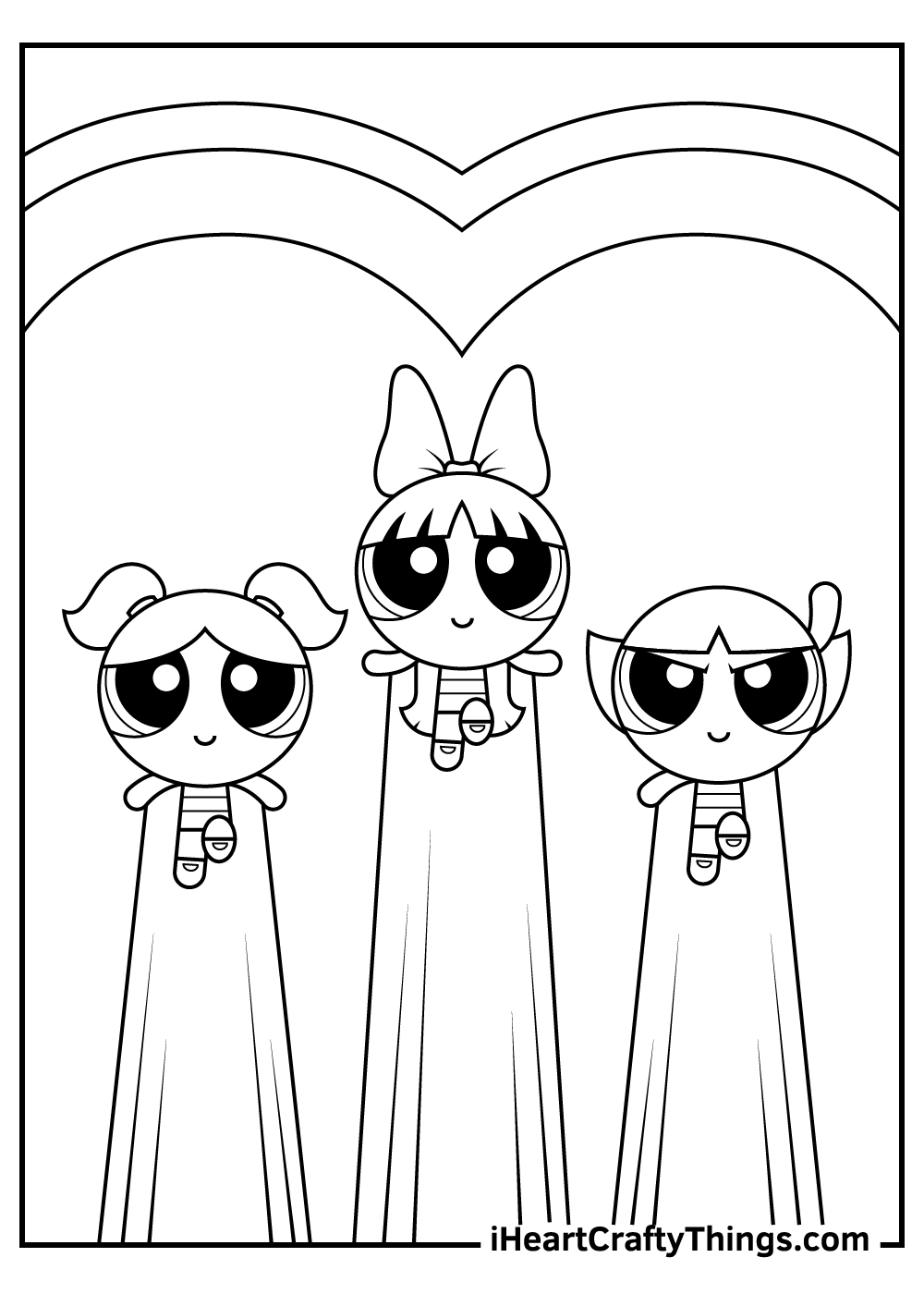 These girls are superheroes and they may be strong but they're also just little girls who are sweet and playful.
In the show, even though it's about saving the world, the kids are also faced with normal issues young children encounter, such as going to school, bedwetting, sibling rivalries, etc.
In this Powerpuff Girls coloring page for kids, the girls are seen waving and smiling, with their signature big round eyes looking happy.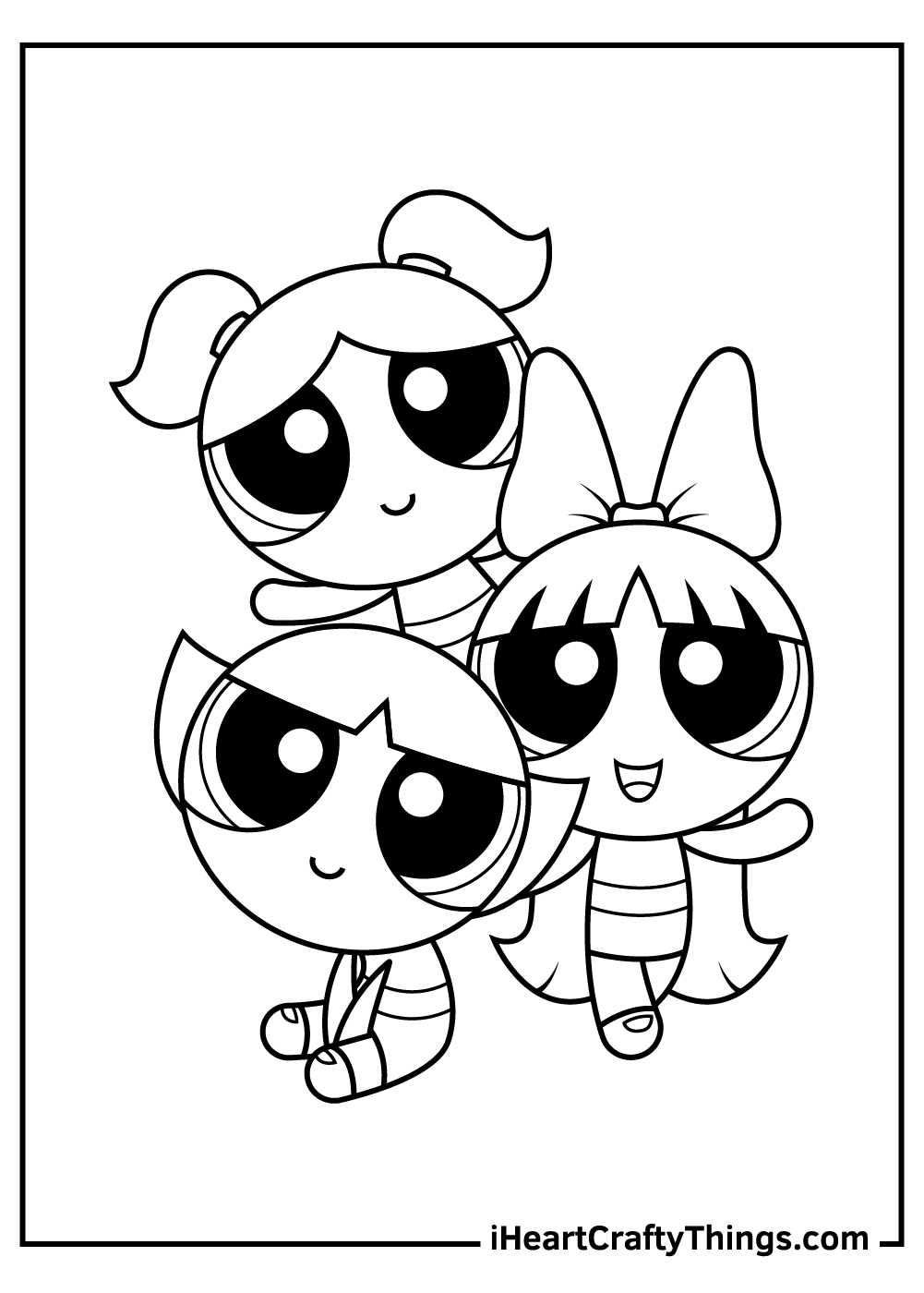 The Powerpuff Girls are back in action on this free printable!
They are seen flying on their signature flying poses with heart-shaped geometric lines. Heart shapes are a common illustration in the series as the Heart Stones, three heart-shaped crystal stones (pink, blue, and green) possess magical powers and are acquired by Blossom, Bubbles, and Buttercup.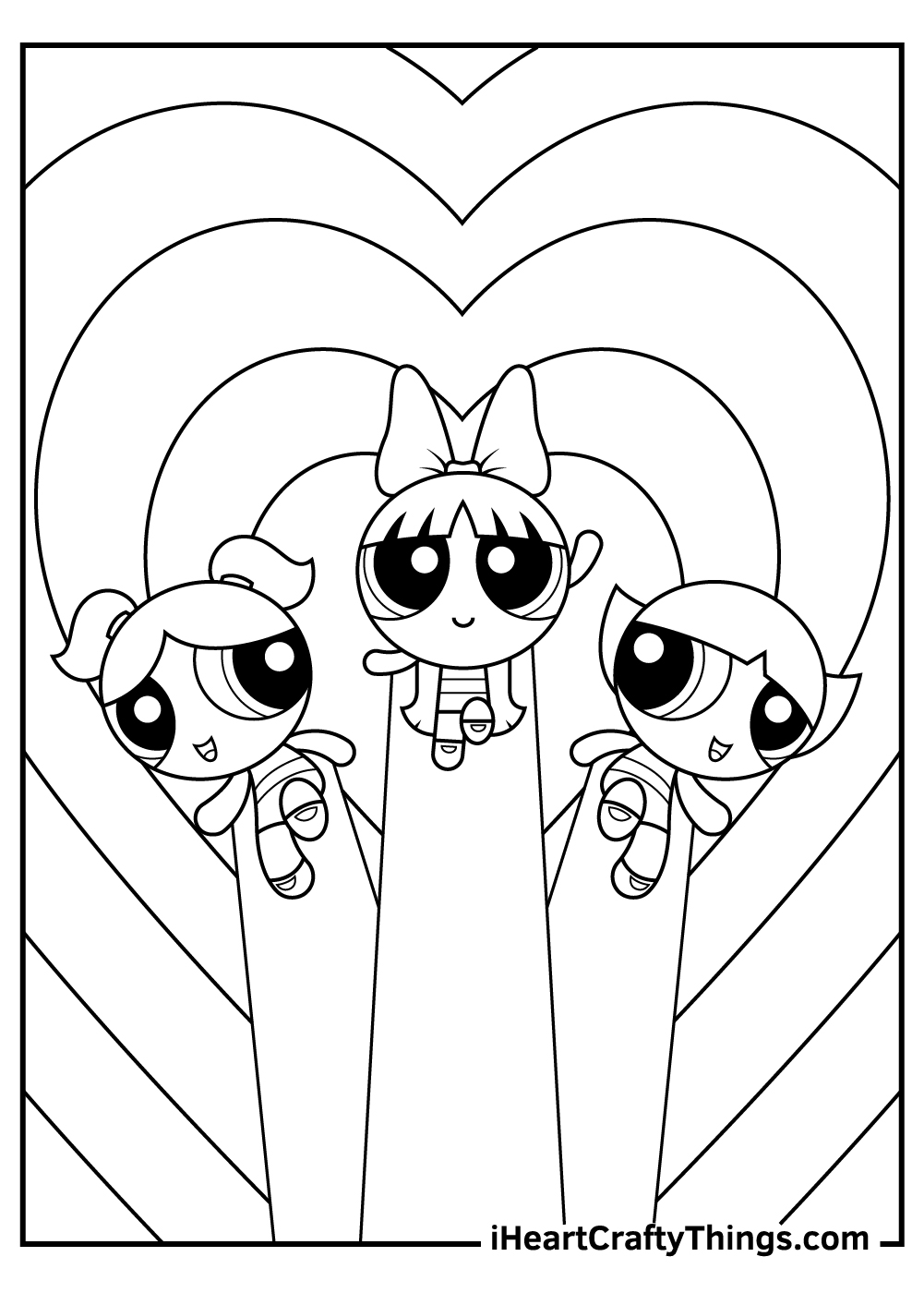 In this Powerpuff Girls coloring page, you'll see the three female heroes flying with one of their known flying poses.
Blossom leads the group, followed by Buttercup just below her and Bubbles behind them in the middle.
This coloring page will activate a kid's color association skills as well as color combination skills. Pick colors that suit or match the flying path of the Powerpuff Girls.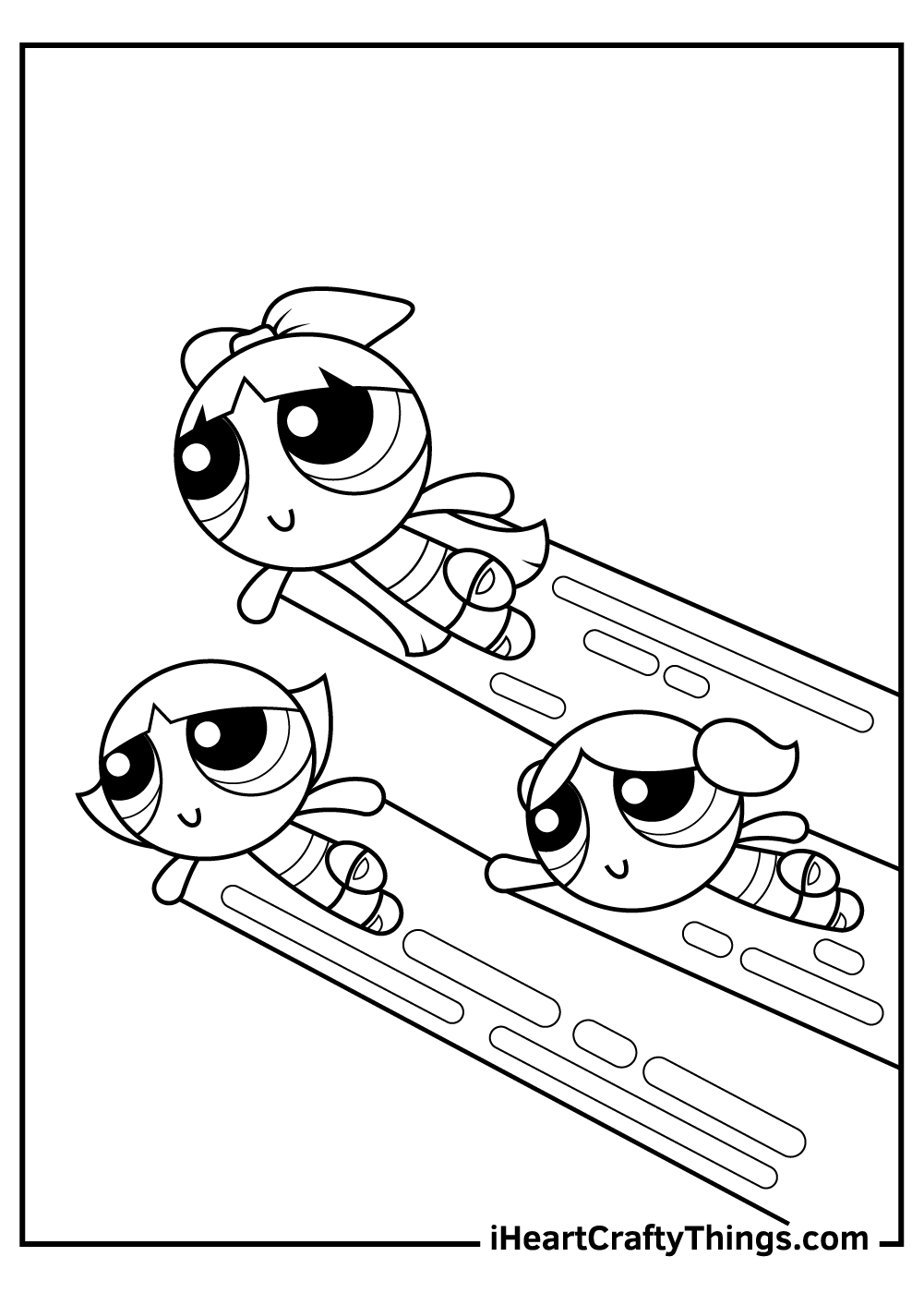 It's another bright and colorful page!
The series is also known for its intricate drawings' of 1950s futuristic pizzazz. The beautiful art and visuals of the animated series positioned it among pop culture's favorites.
This Powerpuff Girls printable highlights the three girls with wave lines on their background. It's an illustration where you can mix and match and play with different colors.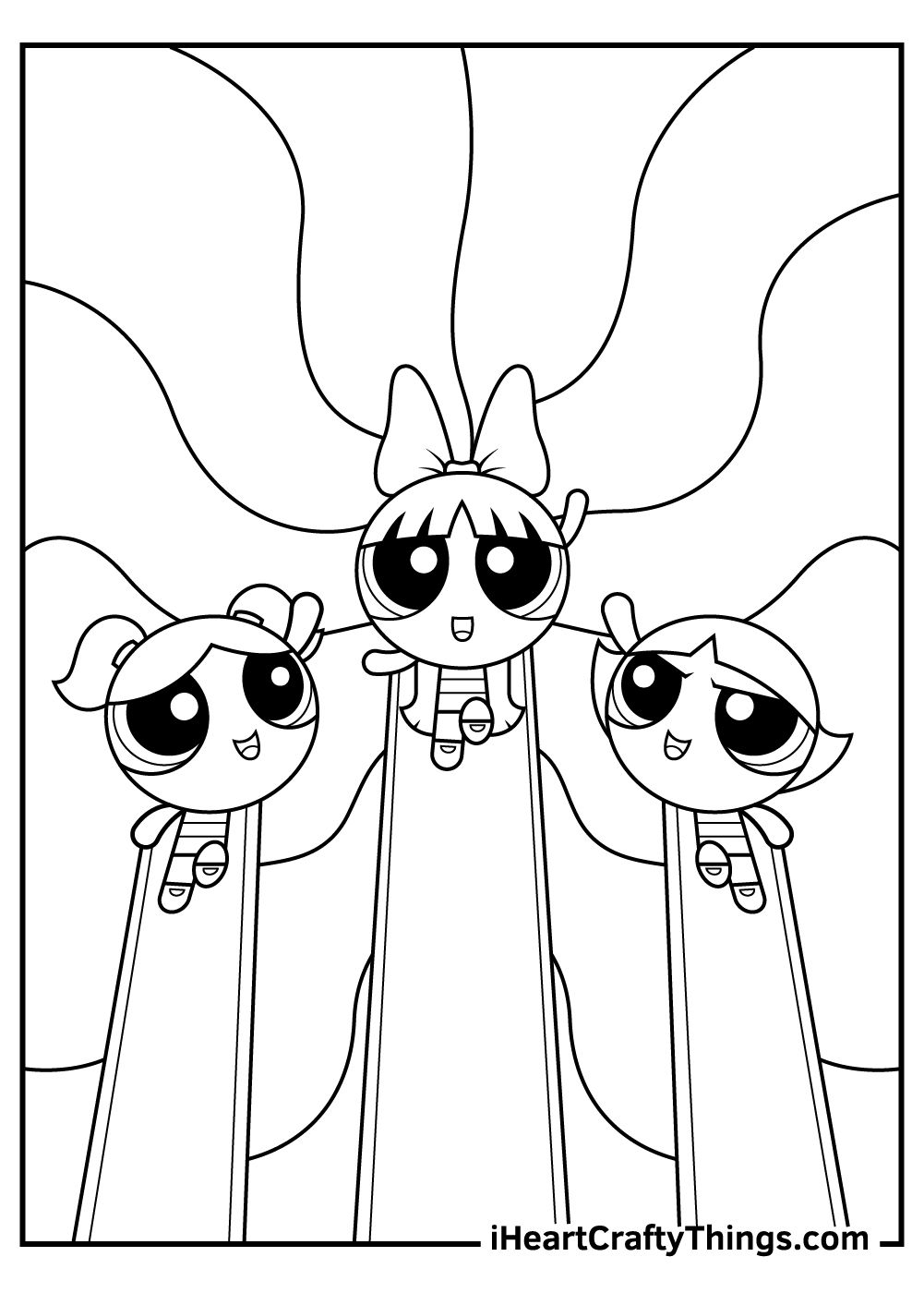 Our Powerpuff Girls coloring pages are all about the strong, little girls that are always saving the world.
In this image, you'll see them doing another pose, with stars as designs on this print.
These girls are indeed stars in their own right!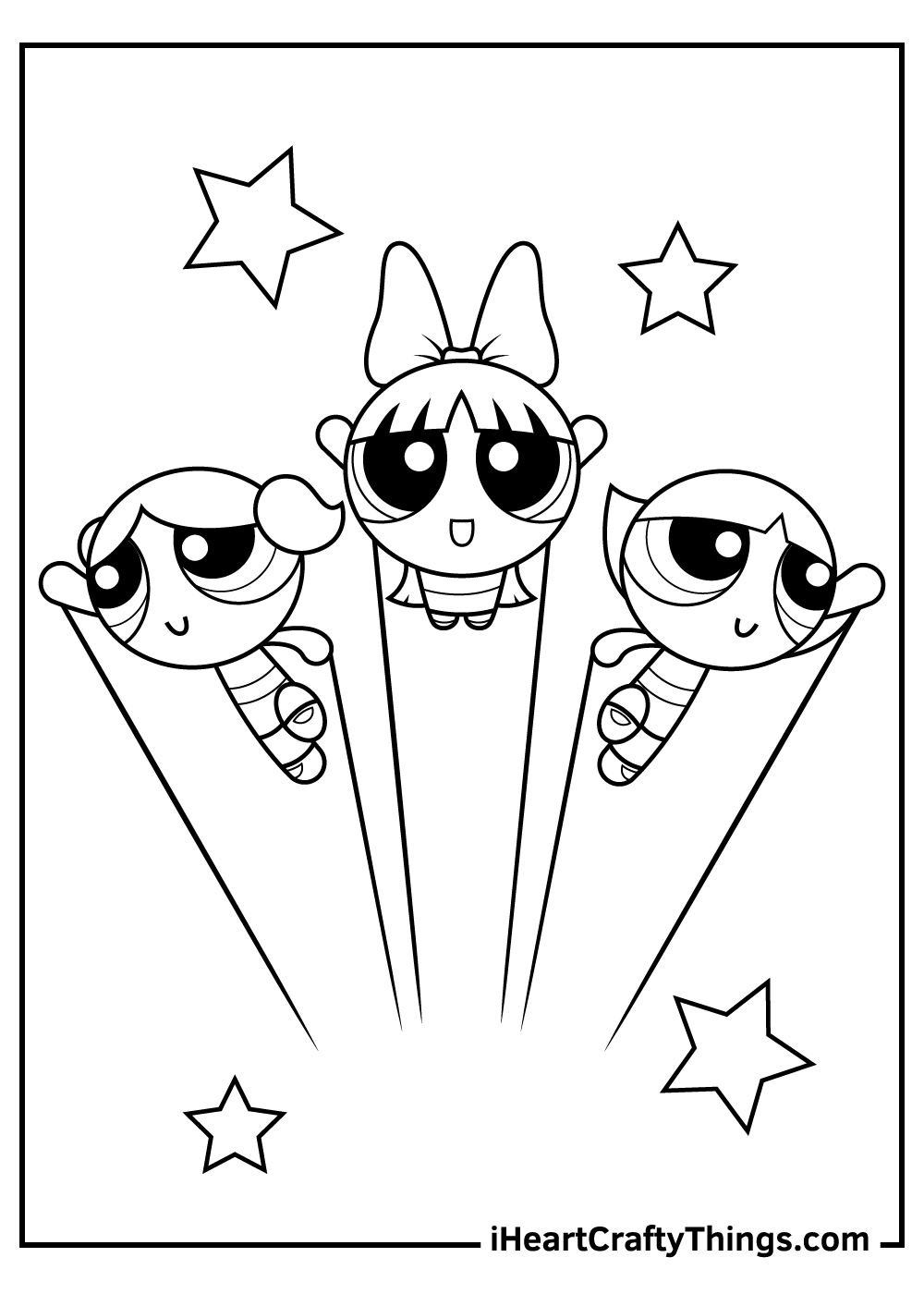 Shown in this image from Powerpuff Girls coloring pages the little superheroes with Buttercup's personality shining. Bubble and Blossom are both smiling while Buttercup, with her arms crossed, is grinning showing off her playful and strong personality.
They are standing on a heart-shaped flooring with stars shining above their heads.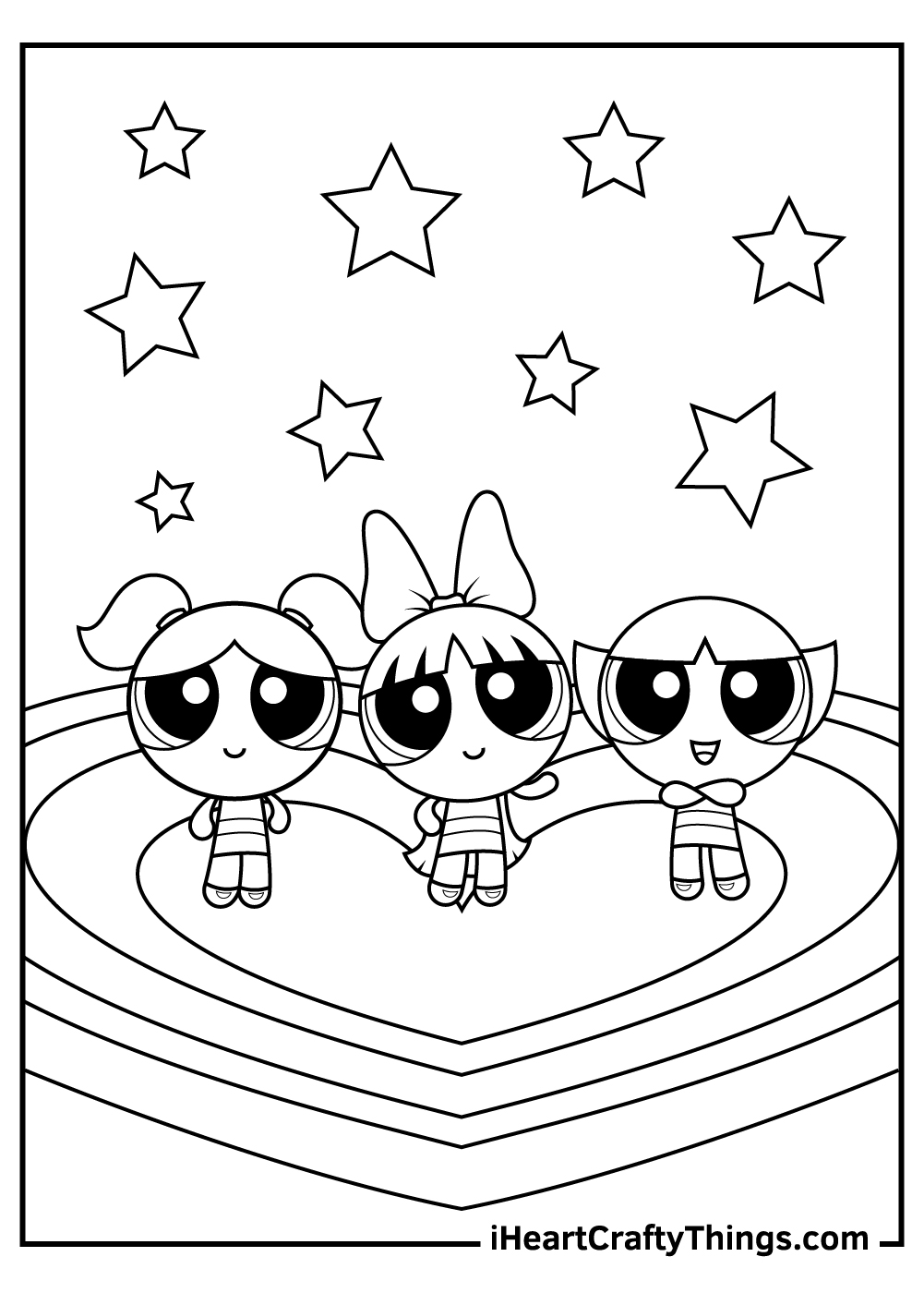 Powerpuff Girls is set in the fictional city of Townsville, USA. It's an American city with many major skyscrapers and has become a background for the many fights of the girls.
This free Powerpuff Girls printable shows the little girls flying over the big skyscrapers of the city they are protecting.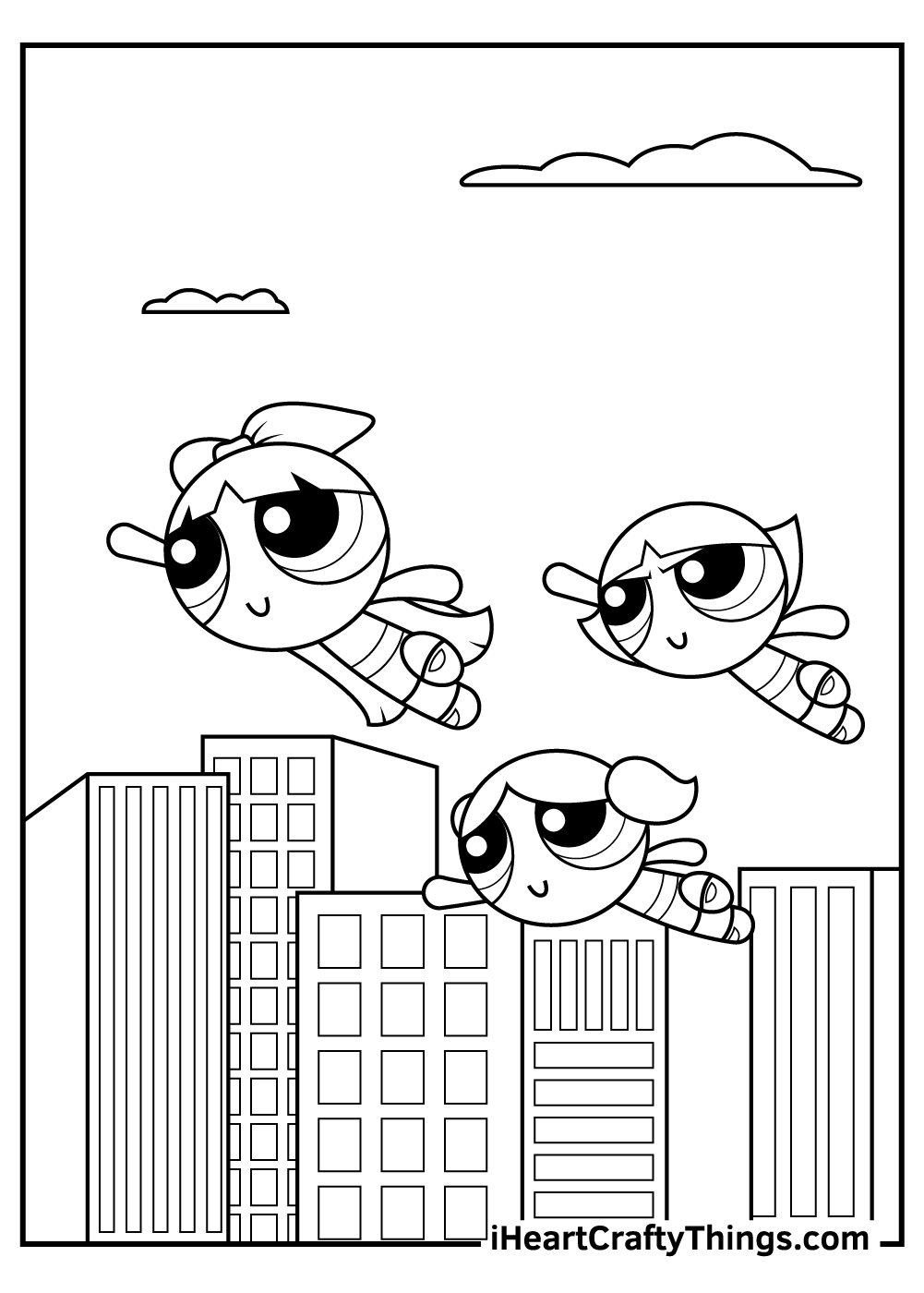 The Powerpuff Girls are set to take on another adventure!
In this illustration, you'll see them flying away looking happy and excited as they gear on towards their next escapade – although Buttercup is looking a little less happy and more serious. She is regarded as tough and hot-headed. Possibly showing off her serious fighting face.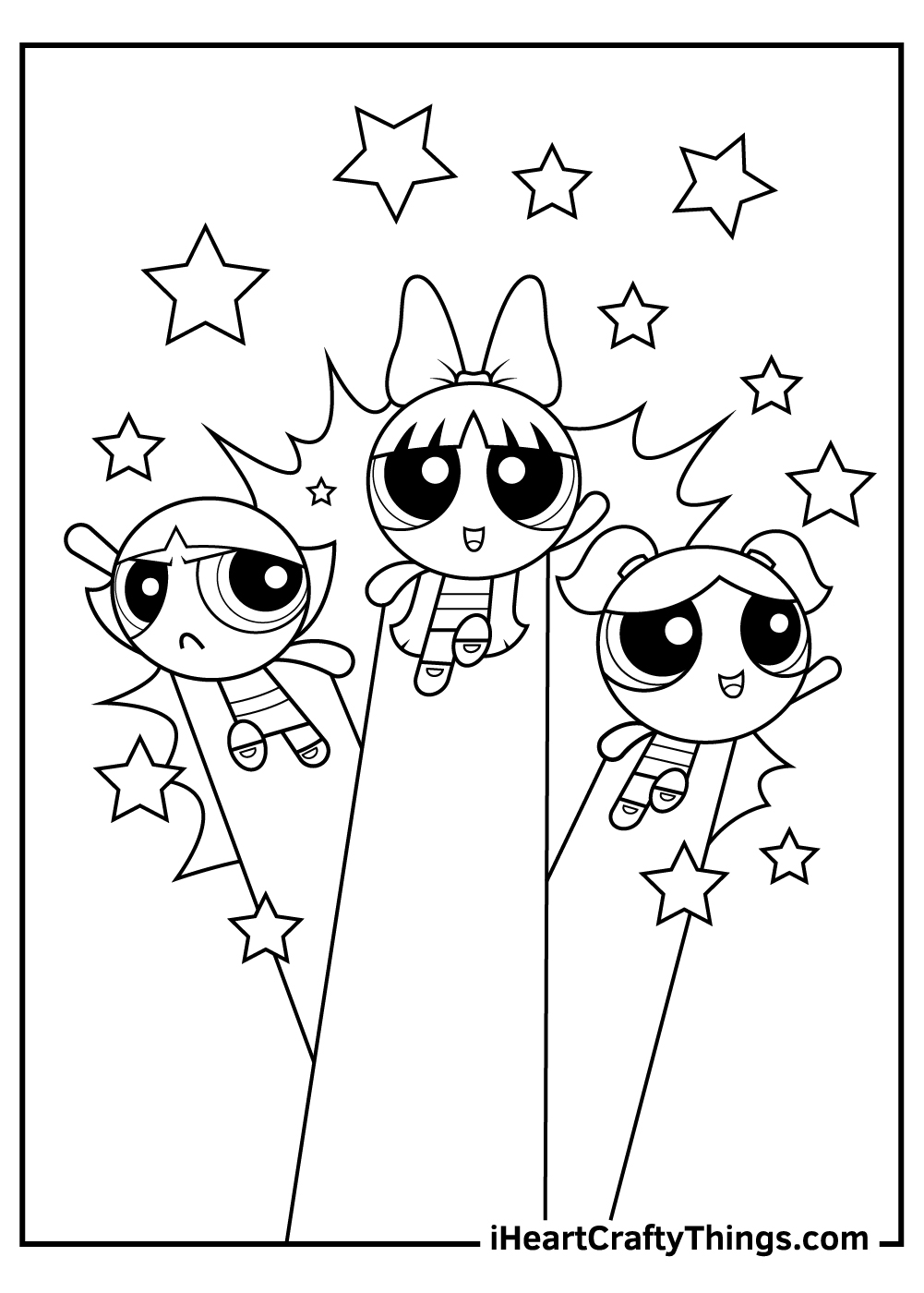 On this last page of our Powerpuff Girls coloring pages, you'll see three smiling little girls flying towards the sky. They are surrounded by different cute designs of flowers and peace symbols.
These symbols represent what the Powerpuff Girls is all about – girl power and peace as they try to protect their city from the bad guys.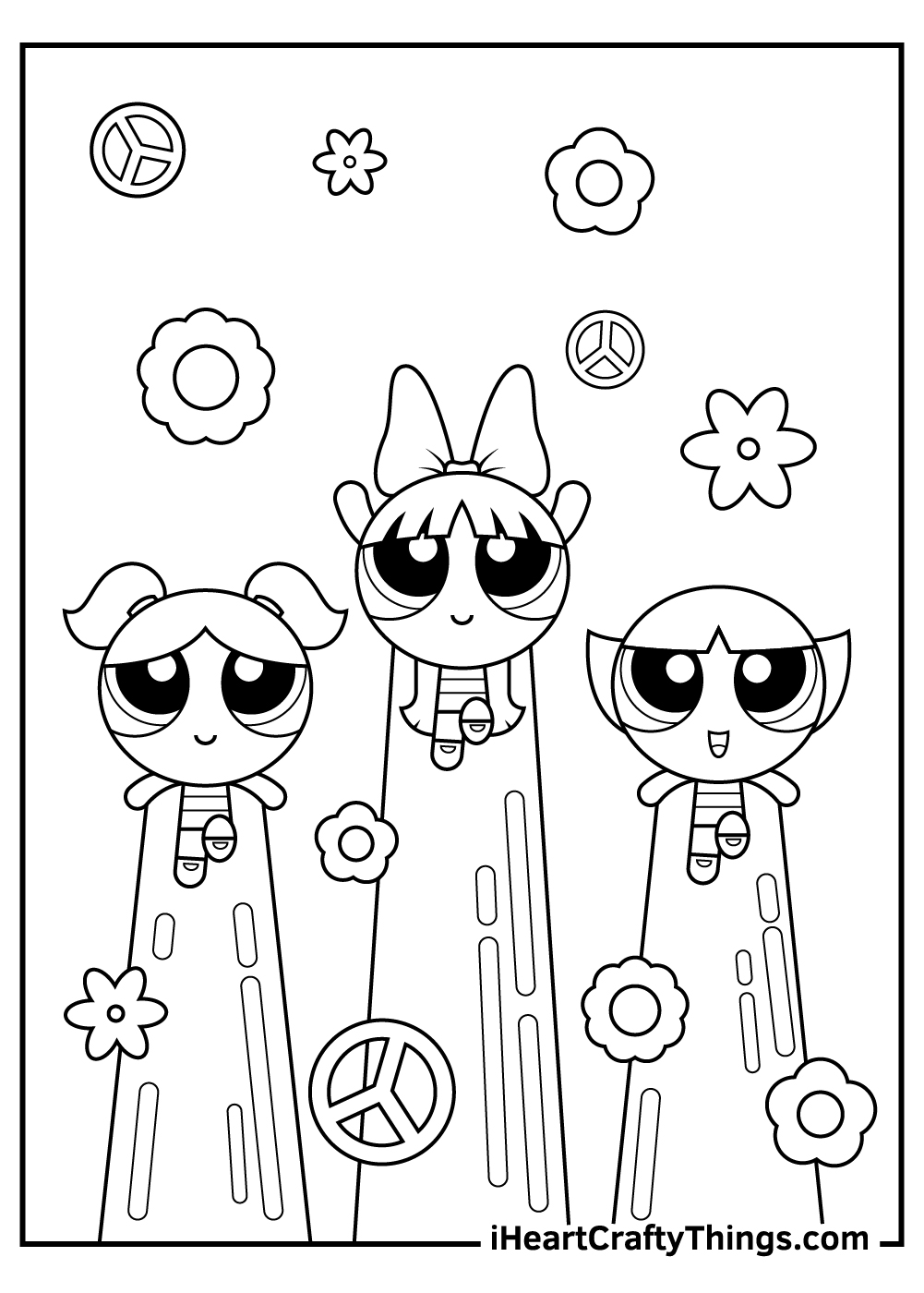 Powerpuff Girls Coloring Pages – Bright Colors for these Free Printables
The Powerpuff Girls may be small but they indeed come with great abilities and are filled with such personalities!
The series has highlighted the relatability of these characters that's why kids love them. The visuals are stunning and the colors bring out so much life to these characters.
We created the Powerpuff Girls coloring pages for kids of all ages to enjoy. Whether you're a fan or not of the series, you can appreciate these free printables because of the attention to detail we've put into them.
This unique set of coloring pages will surely bring out the creative side of each child. The stunning visuals and design of this series and the characters will make coloring activities fun and engaging.
If you like these Powerpuff Girls coloring pages for kids, share them with friends. You can also post your finished artworks on our Facebook page as we would like to see them.