On this page, you will find 15 all new Transformer coloring pages that are completely free to print and download.
When watching a concept such as the one presented in the Transformers series, it's hard not to wish that you could be a part of that world!
In this series of cartoons, films, games and other media, seemingly ordinary vehicles can transform into awesome robot fighters, and it's a sight to behold for sure!
This collection of free Transformers coloring pages for kids is here to show off some of the coolest characters from this iconic series.
These pages are all free to enjoy whether you color them yourself or share them with others to enjoy as well, so let's get started!
15 Brand New Transformers Coloring Pages – Free to Print and Color
We're beginning this collection with an absolutely awesome Transformers coloring sheet!
This character is looking very noble and tough, and if you look closely you can see the car origins that they started out with.
This also gives you loads of great small details to color in, so this will be an image that you can really take your time with as you have a great time coloring!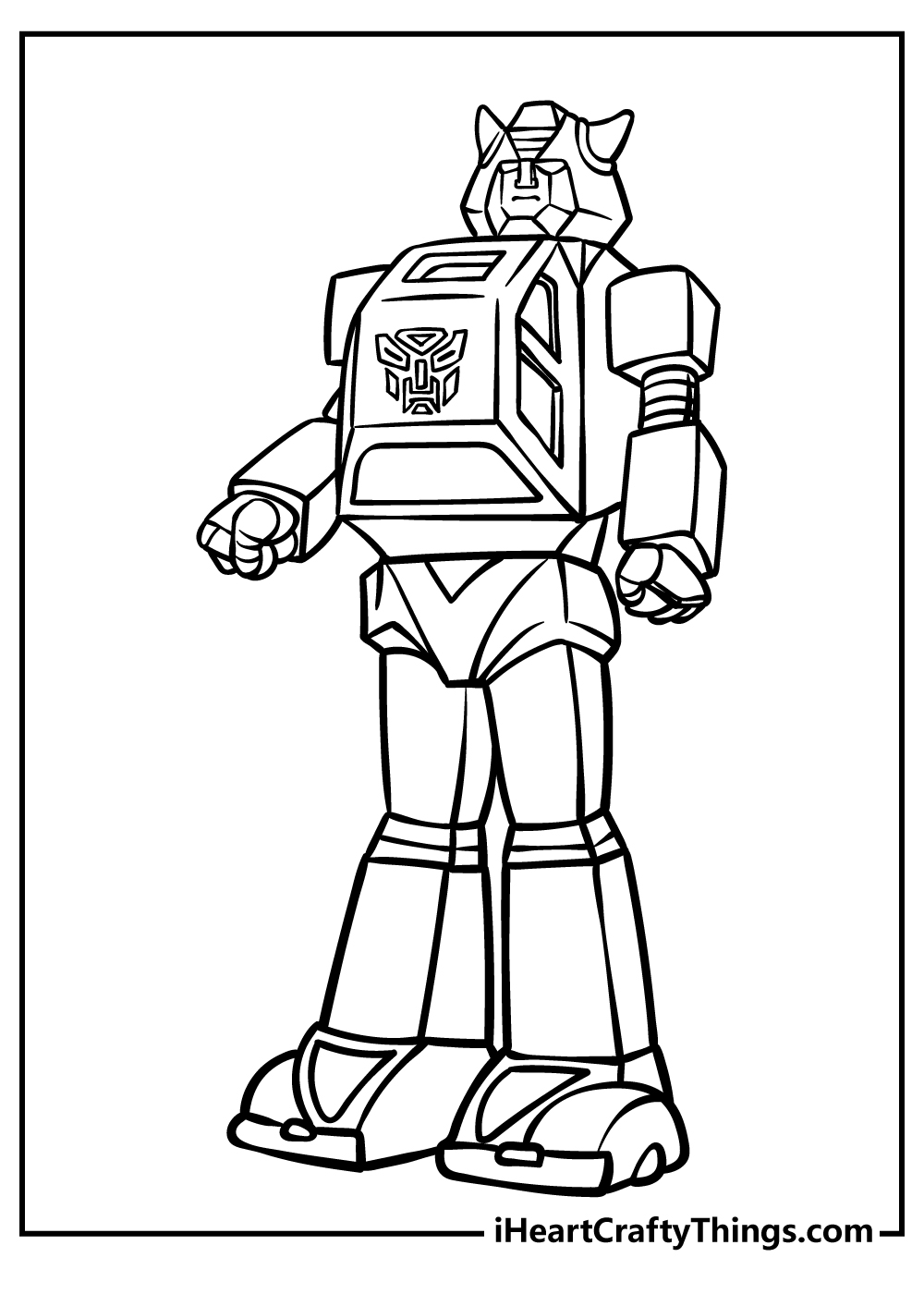 This next page features possibly the most famous Transformers character: Optimus Prime. He is a powerful leader in the series, and he is looking very focused and cool here.
The background is separated into segments, so we would use some bright colors for these background elements to highlight the authority of the moment.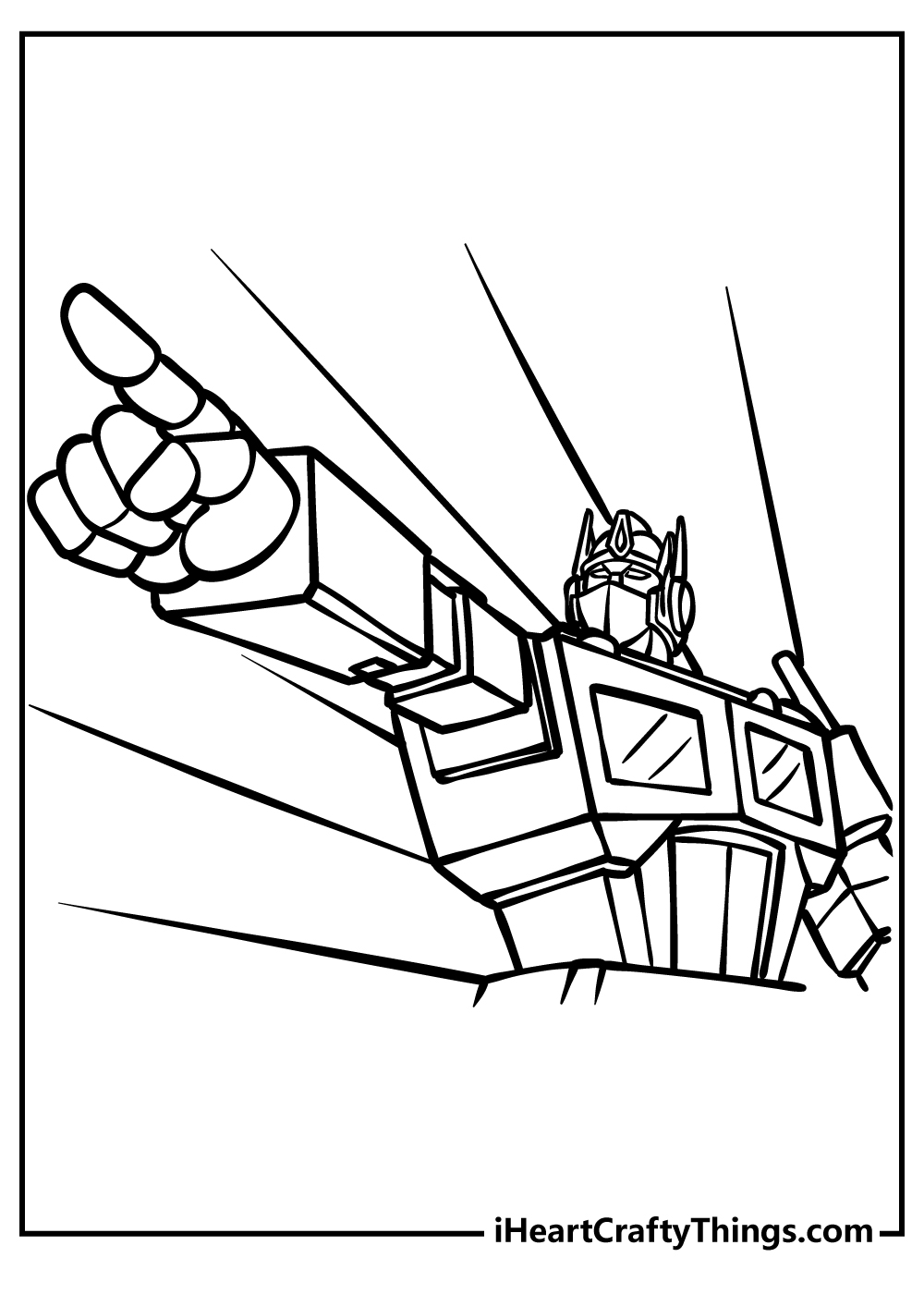 The more lighthearted character Bumblebee is up next in this picture.
This character is known to be really cool and funny, and they also have a bright yellow color scheme that really makes him stand out from the crowd.
Will you go for his normal color scheme or maybe give a brand new look to this character instead?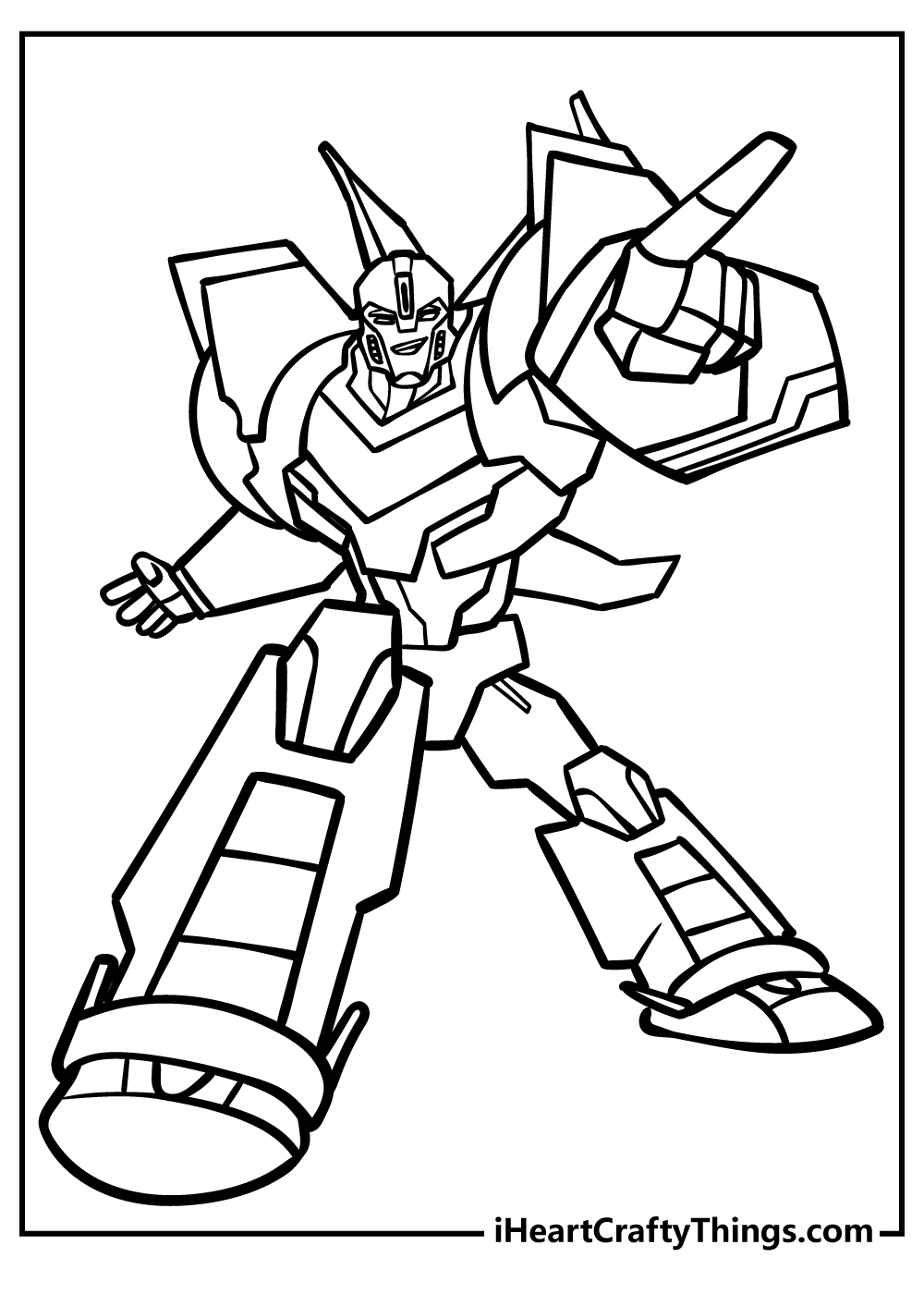 Another awesome image of Optimus Prime is here for you to color on this fourth page! Here we get a great close-up on all the details, and it makes for a really powerful image of him.
When coloring these smaller details, we would use some colored pens and pencils to make coloring the smaller details much easier for you.
Optimus Prime stars again in this next page in our collection of free Transformers coloring pages for kids.
If you thought the previous one gave a good look at his details, you haven't seen anything yet! This one gets even closer, and the details are really incredible here.
Details like these can be intimidating to take on, but don't be afraid to really take your time and have fun with it!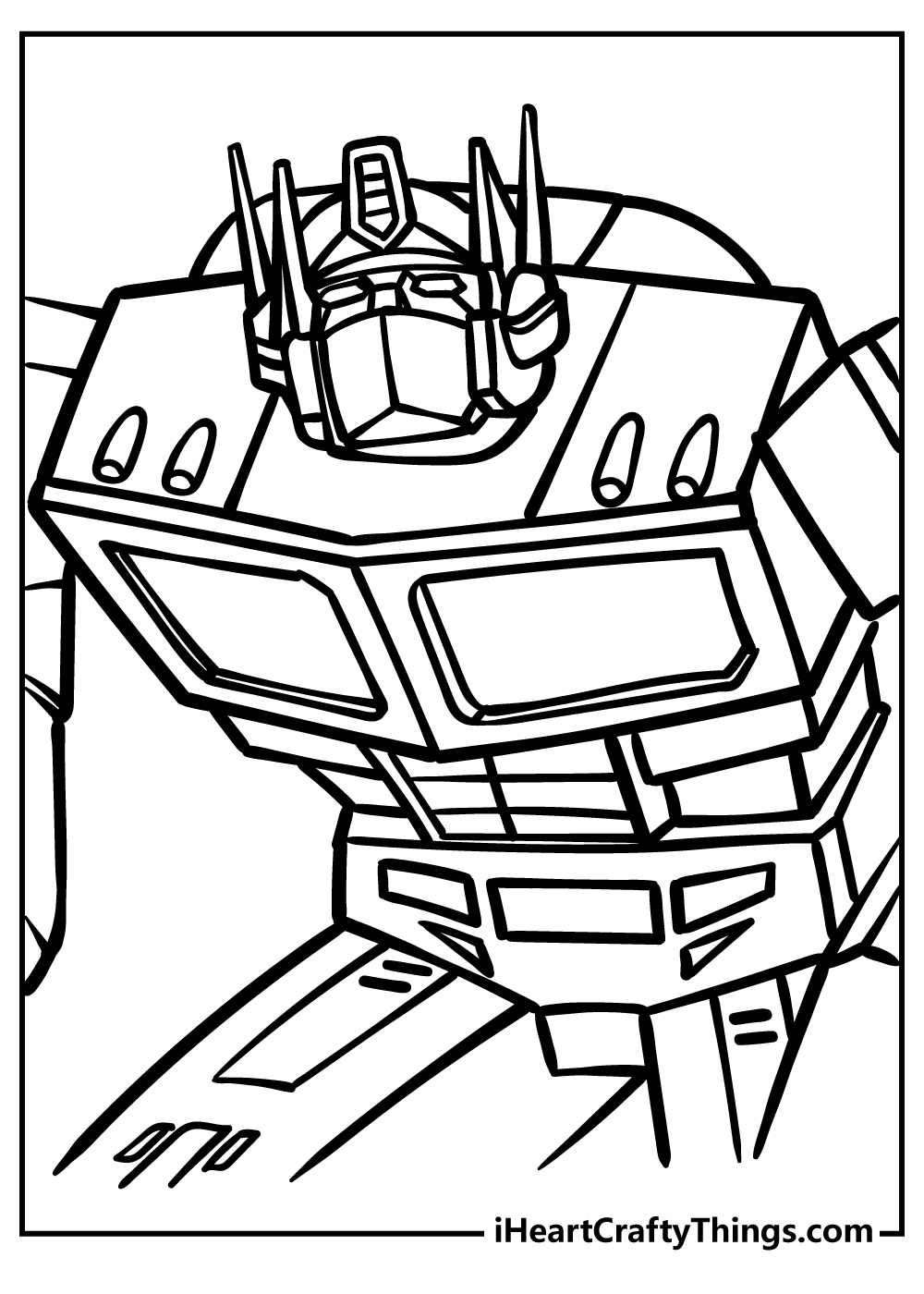 This next character has a really cool look about him! With him, we get a detailed face that shows off his expression, unlike Optimus Prime that has a mask section over his face.
This picture makes this character look really powerful and formidable. If you recognize him from the series, you could use the colors he has there or again give him a unique look if you prefer!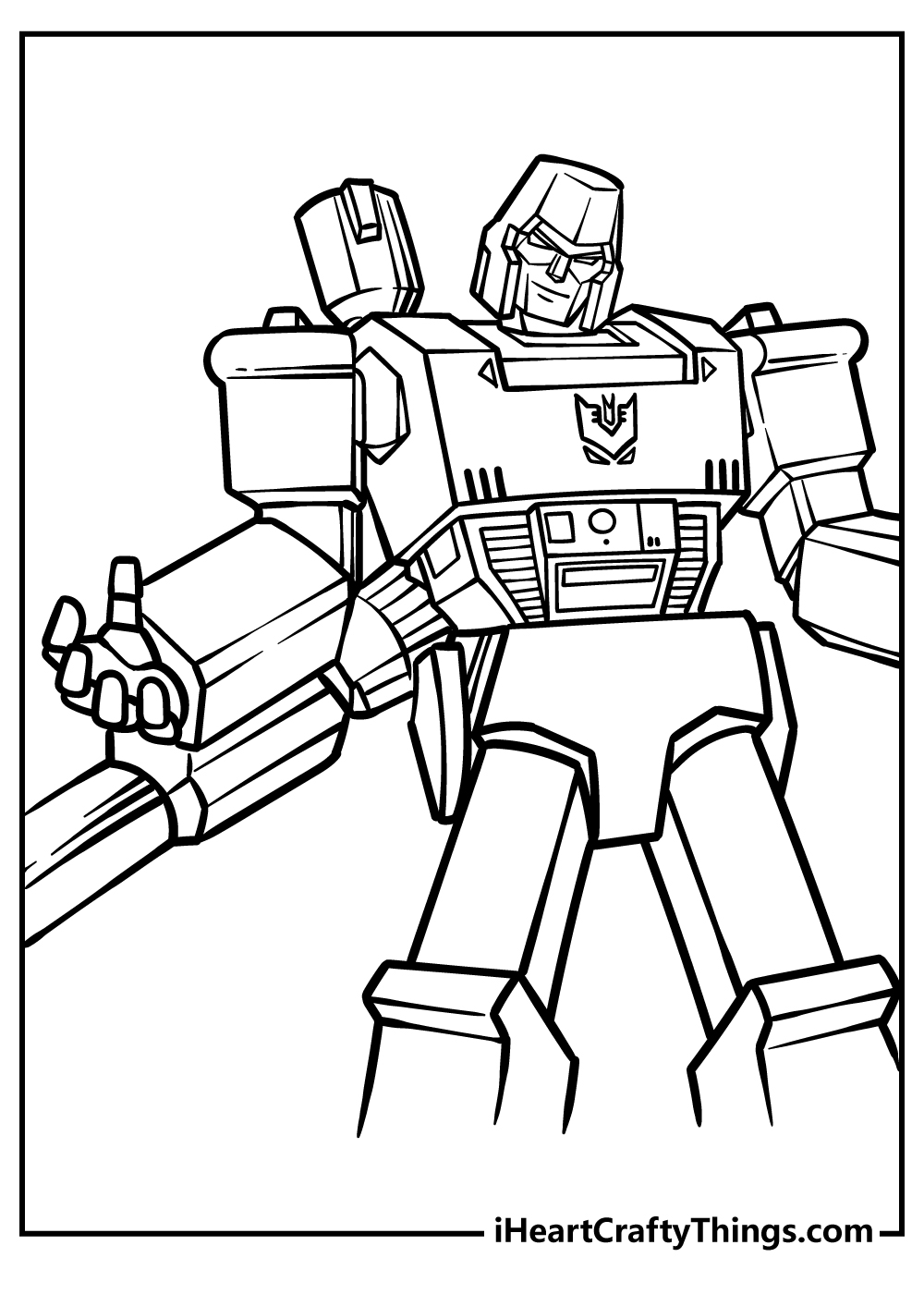 For this next page, we present an image that you would not want to see in real life!
This Transformer is aiming a big and powerful rocket right at us as the viewer. It makes for an awesome picture, just not a situation you would want to be in!
How will you color the details of this Transformer and his weapon?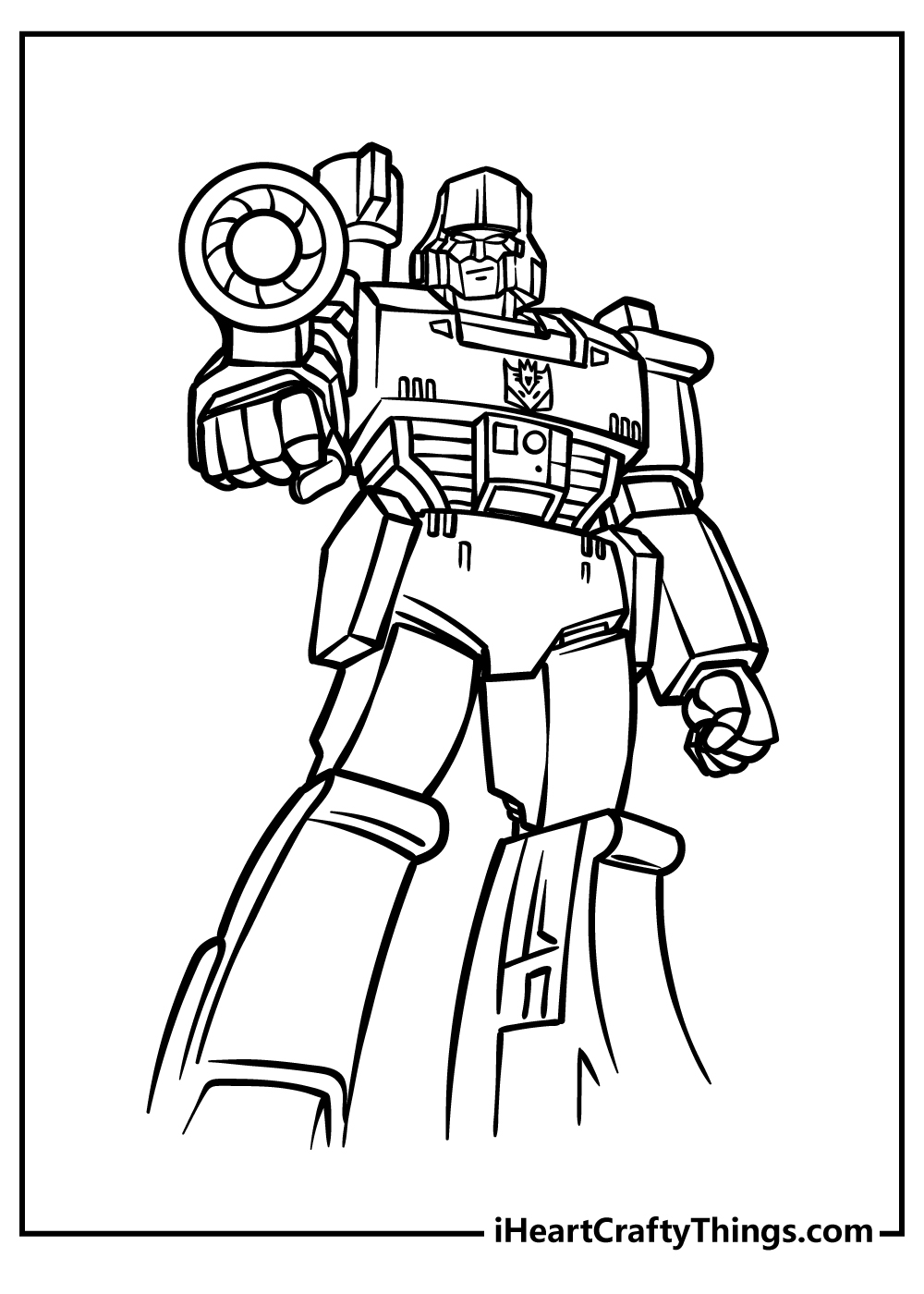 It's time for another awesome image of Optimus Prime for you to color! This page again zooms in to give you a good look at some of his smaller details.
For this one, maybe you could try out some fun new art tools and mediums that would help to give this page a unique look!
What are some you could think of to use for this portrayal?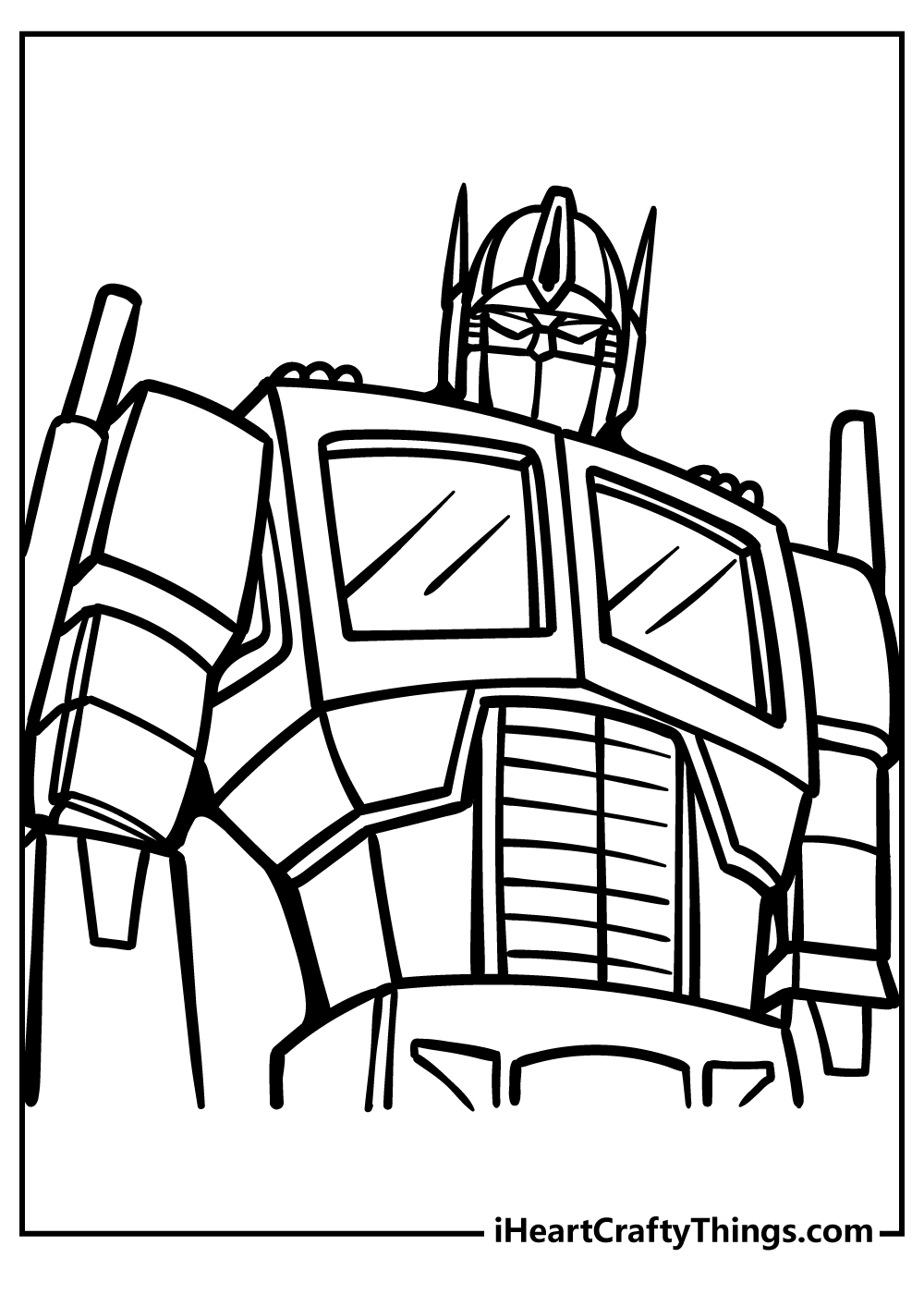 We have our closest look at Optimus Prime yet with this Transformers coloring sheet! We especially get a good look at the details on his face and mask, and it really shows off his cool design.
This is definitely one where we would recommend using some colored pens on, as this is a medium that lets you color smaller details with precision.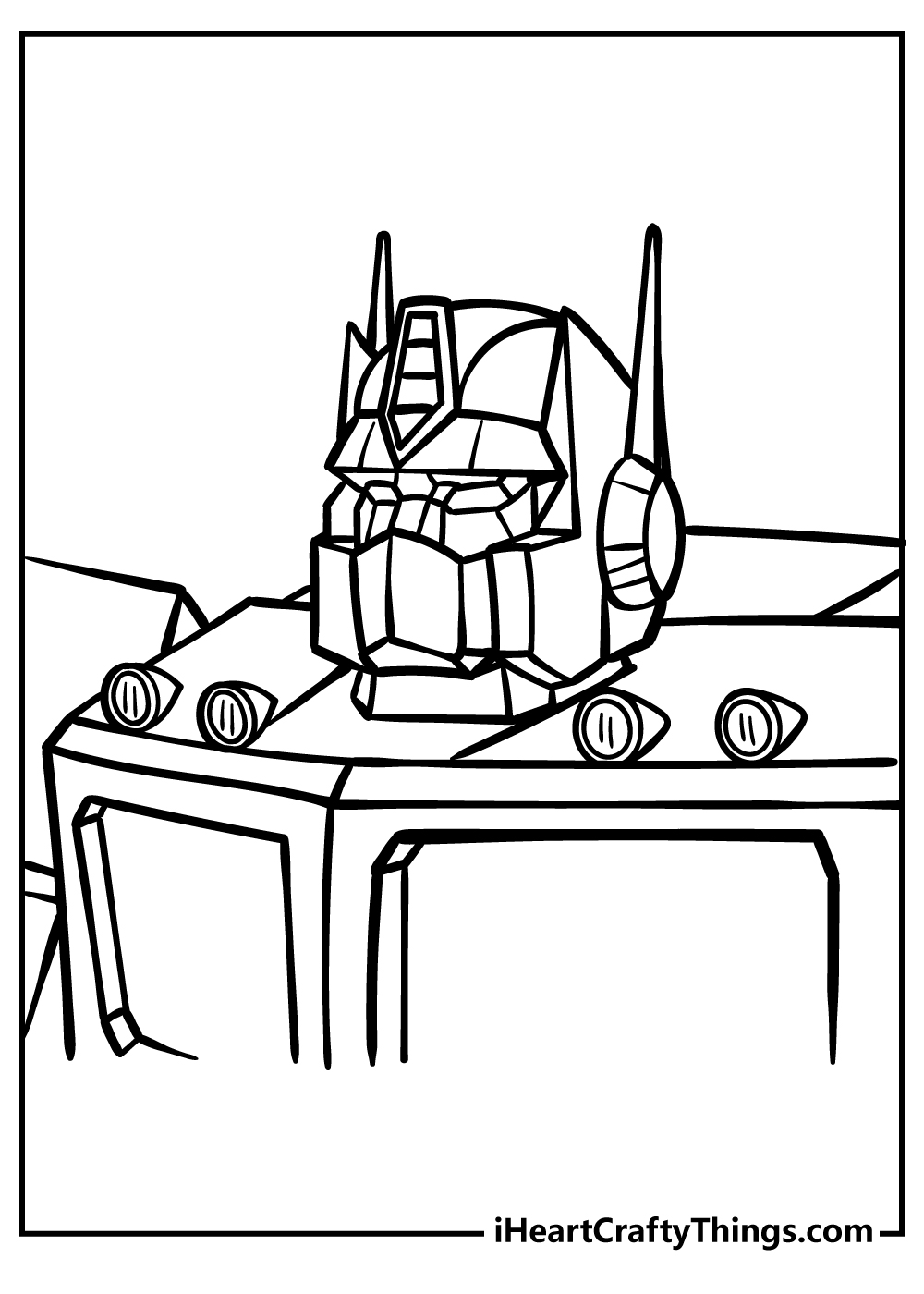 This may be one of the most detailed versions of Optimus Prime we've seen yet! This is another picture that really captures how cool of a character he is.
It could take a while to color this one, but part of the fun of coloring is taking your time and filling in all the details, so this should provide a lot of fun to enjoy!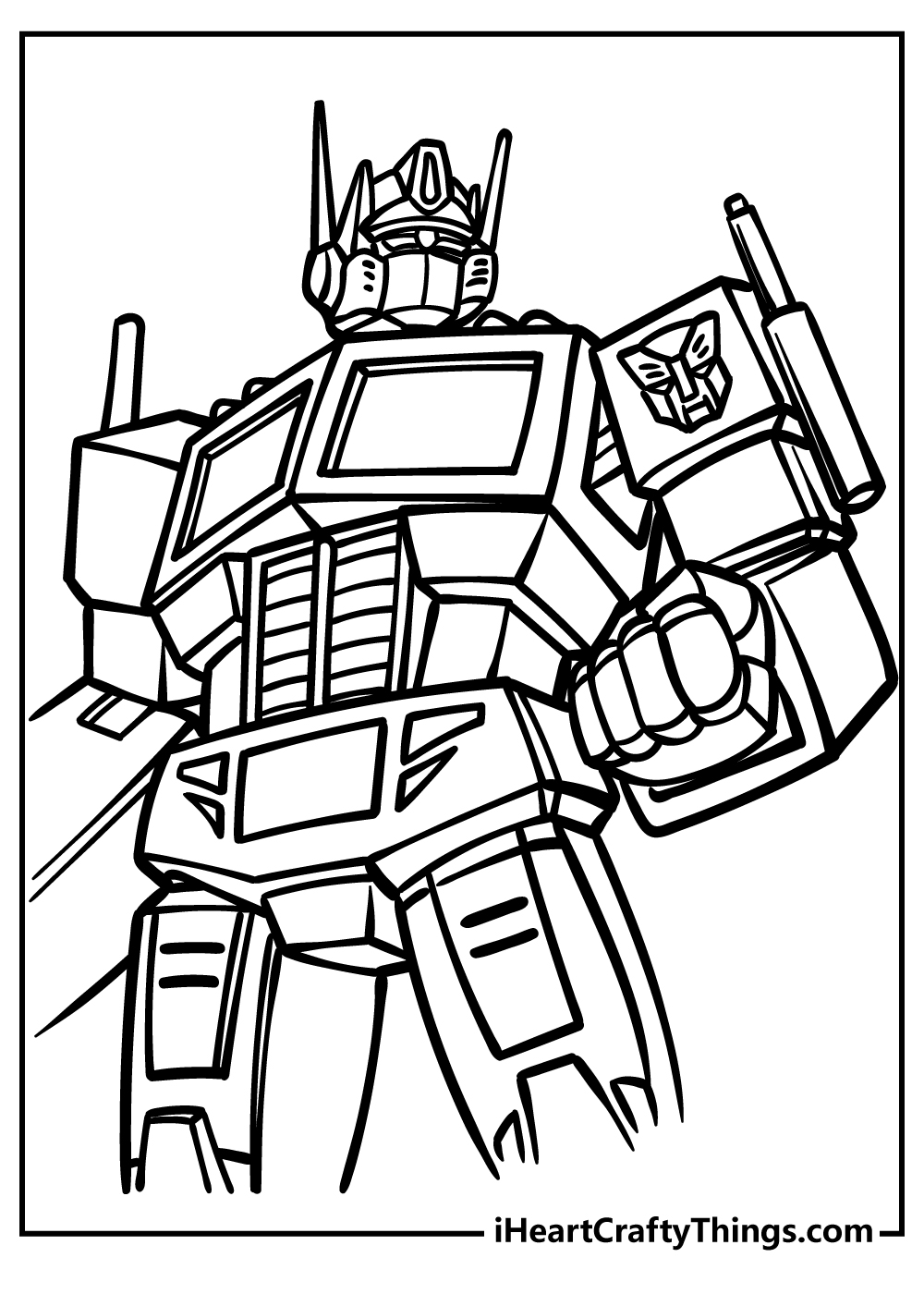 We have another character with a scary weapon in this next page.
There is an absolutely massive rocket on the shoulder of this character, and you would definitely not want to have to face off against this character.
Once again, we are safe on this side of the page, so you can relax as you color in this formidable character!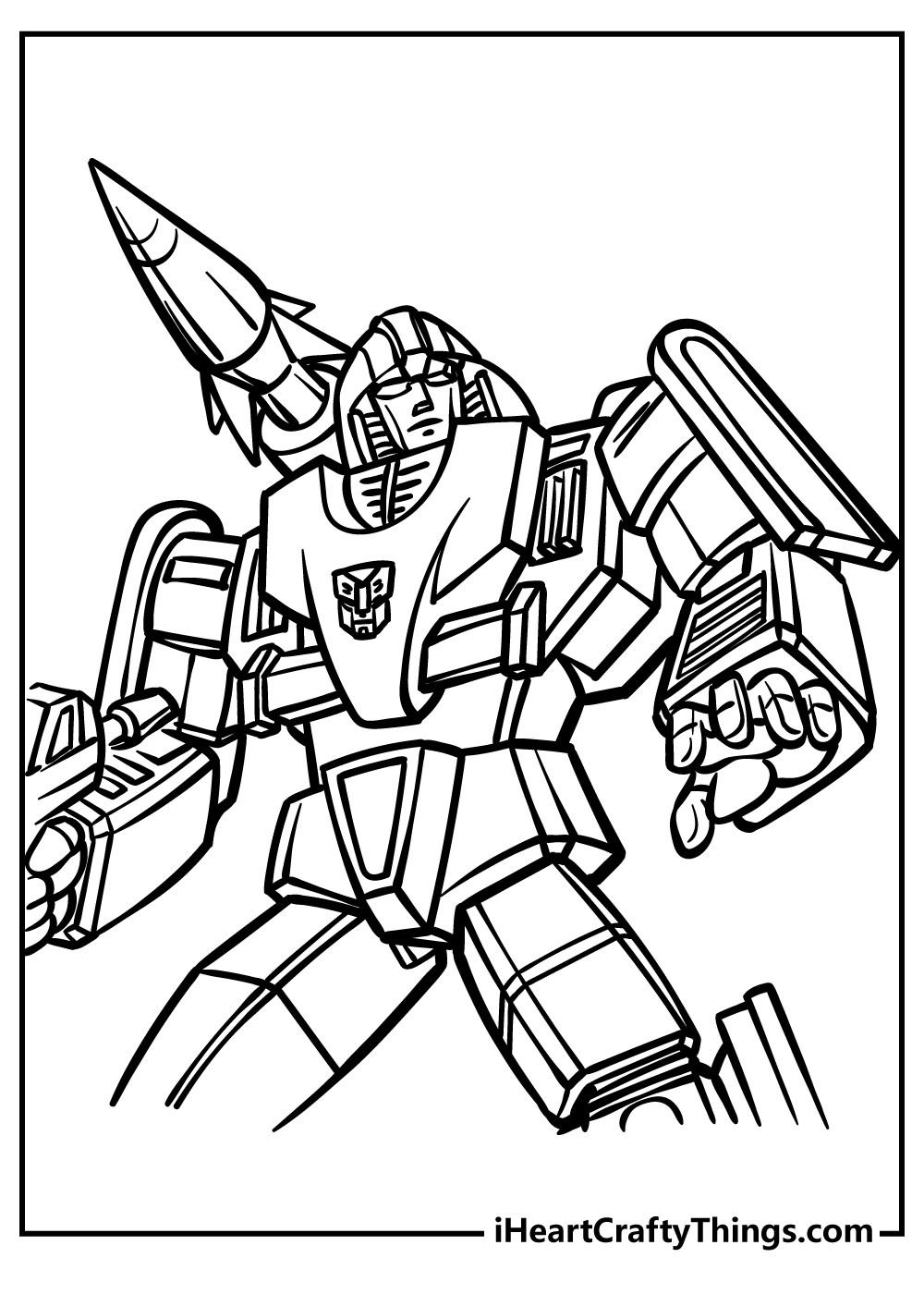 Bumblebee is back for another appearance in this next image! As we mentioned earlier, this character usually has a yellow color scheme primarily.
If you stick with this color scheme, we would incorporate some markers to make the colors bright and luminescent. Will you go with these bright colors or use darker ones for Bumblebee?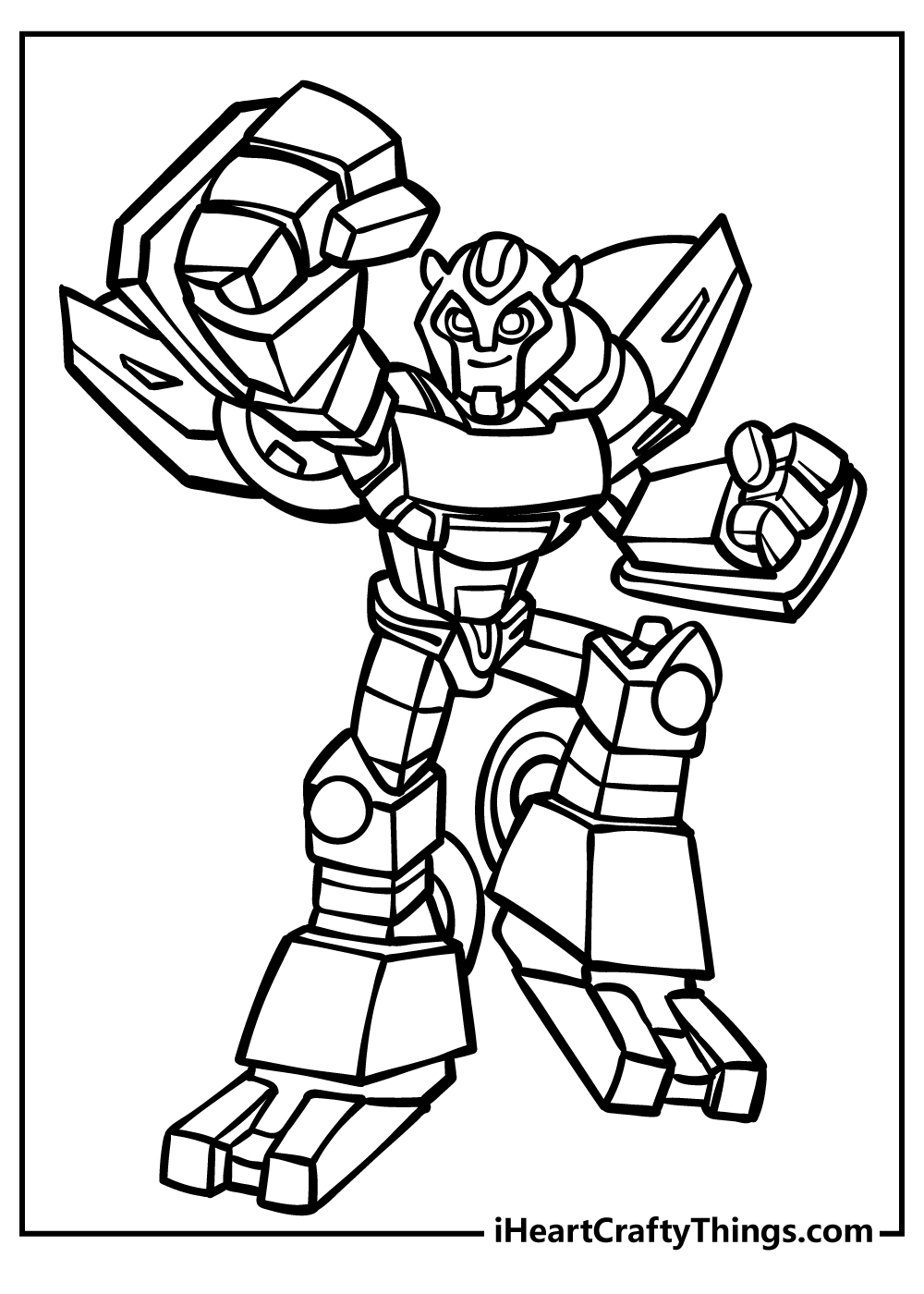 This character that we're featuring next is definitely ready for action! They are in a really cool pose, and there are so many ways that you could color it in.
You could also print it on a large piece of paper if you would like to draw in a cool background setting to finish him off. Will you add some additional elements like that?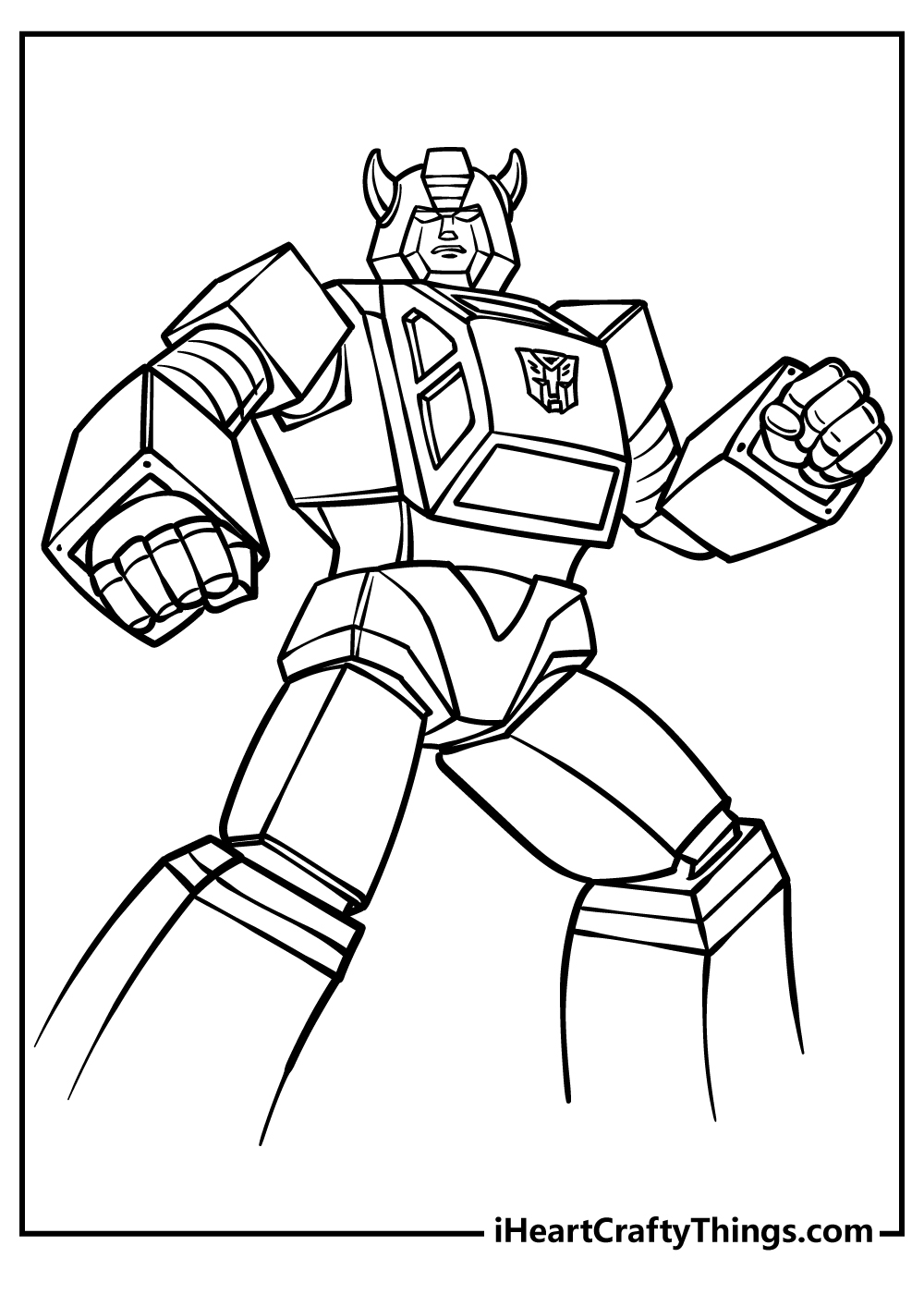 We love the pose and design of this next Transformer! This character has a more light-hearted feel to their design, and they have a big smile even as they brace themselves for battle.
It's another image that we would use some bright colors on to really fit the mood of the character, but it's up to you to decide how you will color this one in!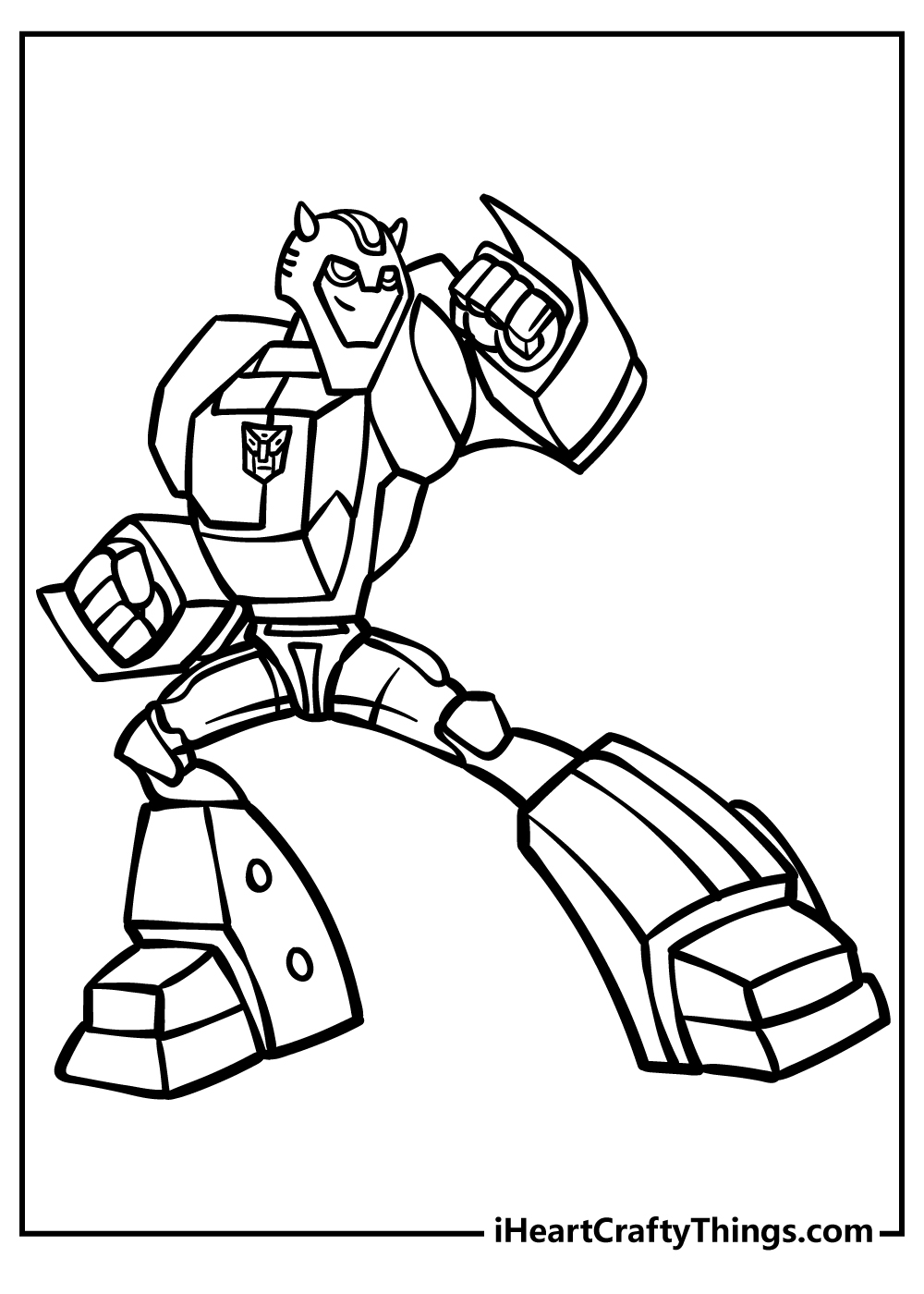 It's time to finish off this collection of Transformers coloring printables with one more depiction of Bumblebee.
While we have seen him before in this collection, this may be the most detailed version yet!
Now you can really show off what you can do as you make Bumblebee look as cool as possible! How will you close off the collection?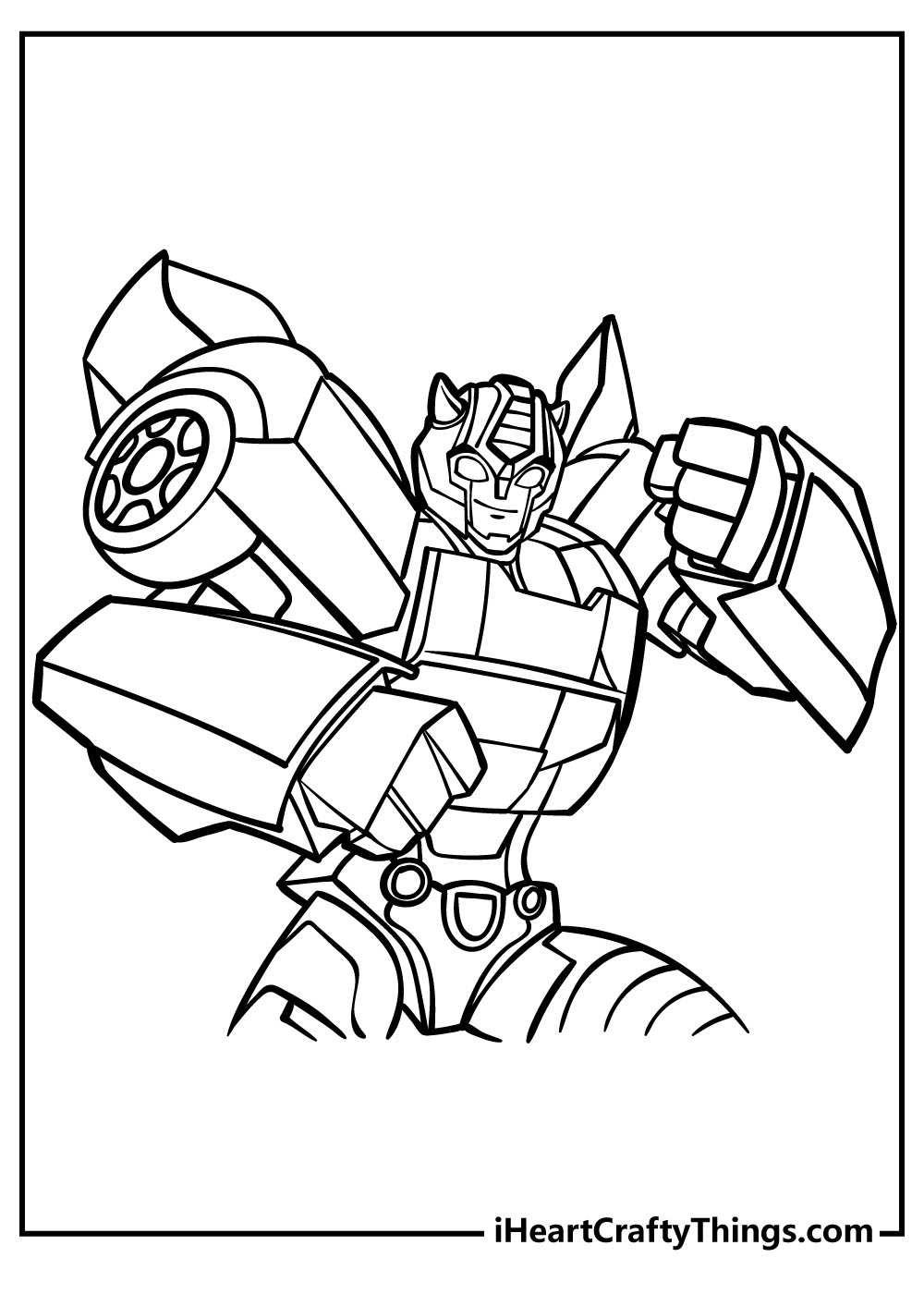 Transformers Coloring Pages – Which will you choose?
Hopefully this collection of free Transformers coloring pages for kids gave you a lot of fun as you transformed these colorless pages into colorful artworks!
We hope you got to see some of your favorite characters, amd we also hope you will share the collection with other Transformers fans you know.
Please also don't hesitate to share some of your finished pages onto our Facebook and Pinterest pages for us to see when they're done!