On this page, you will find 20 all new Bumblebee coloring pages that are completely free to print and download.
The Transformers series is full of many iconic and colorful characters that fans around the world love.
One of the most famous Transformers would have to be Bumblebee, and he has appeared in many comics, TV shows and even starred in his very own movie adventure!
This collection of free Bumblebee coloring pages for kids is here to provide plenty of fun featuring this famous hero.
You will have many amazing portrayals of this character to enjoy in this collection, and they're all free to print and enjoy.
So get ready for many adventures starring this famous character as we begin this collection!
20 Brand New Bumblebee Coloring Pages – Free to Print and Color
There are so many great details in this first Bumblebee coloring sheet that it can be tough to decide where to start!
When coloring such a highly detailed picture, remember that coloring is never a race. You can take your time with it and fill in all the details at your own pace to create a great picture.
We would recommend certain art tools and mediums such as colored pens and pencils for this one, as they make coloring smaller details much easier.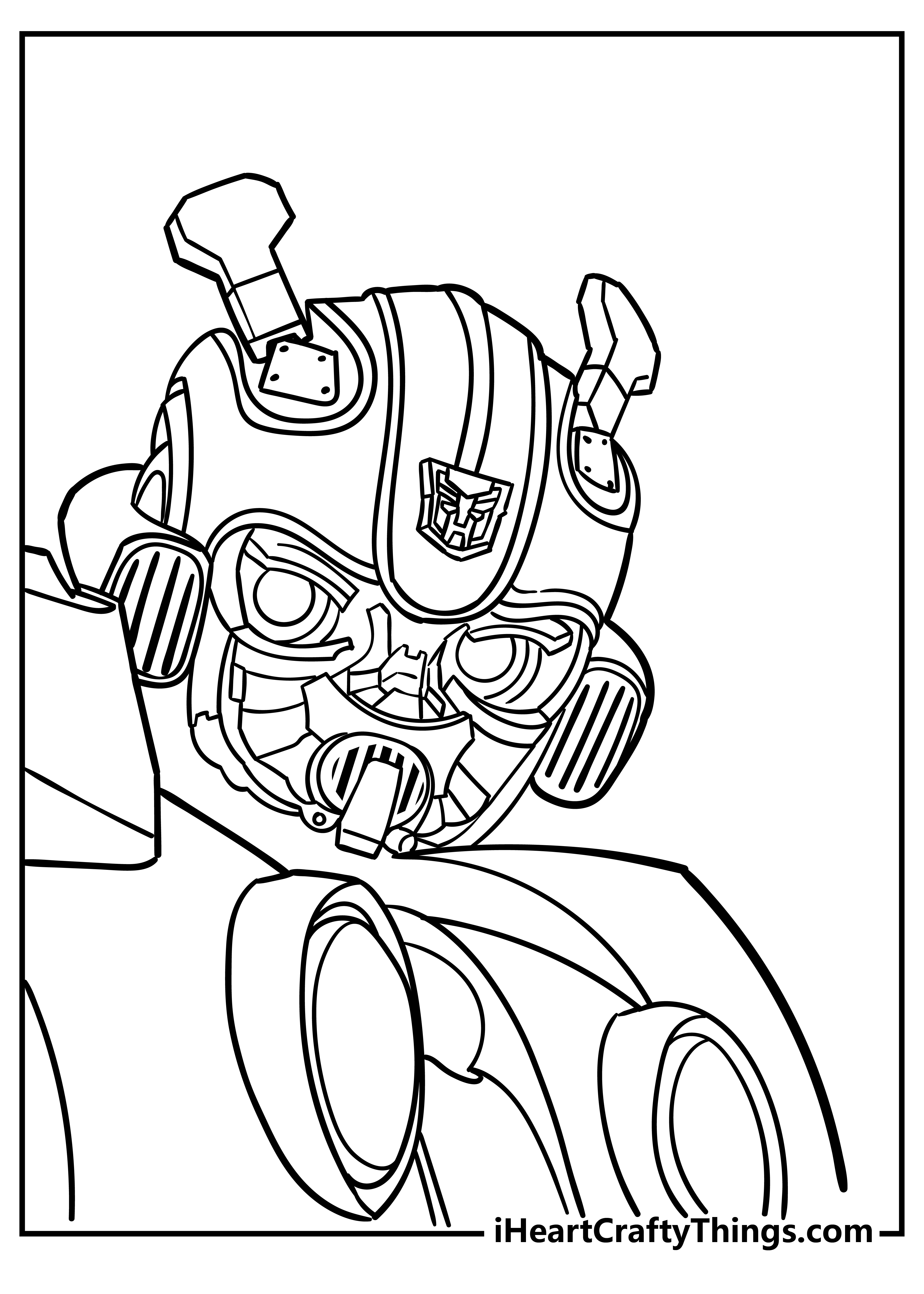 This second page we have for you is a lot less detailed than the previous one, and it shows off a more cartoony portrayal of this vibrant hero.
For that reason, we would keep the colors bright and vibrant in order to create a striking portrayal that fits the style.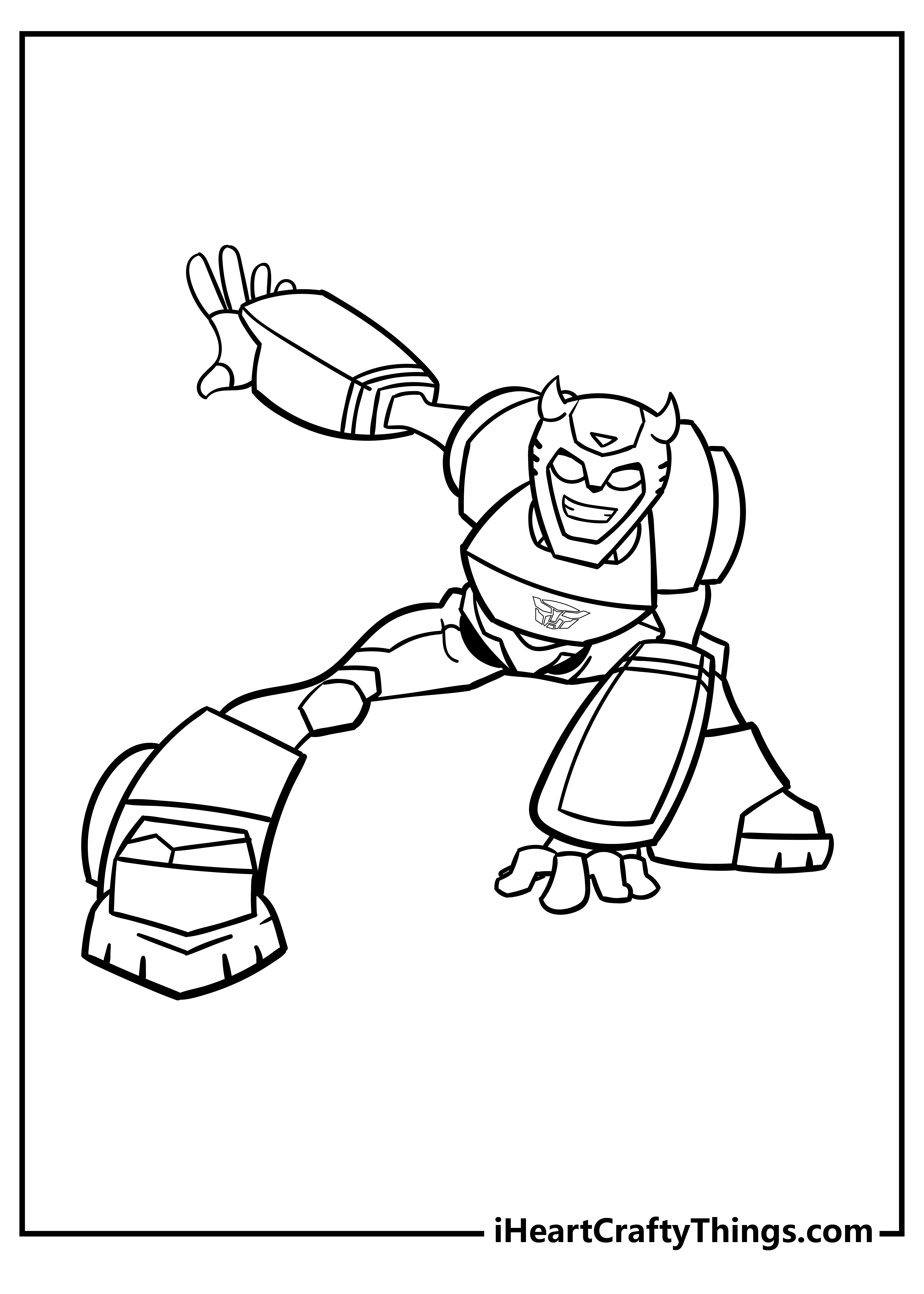 This coloring page shows a sleek and futuristic version of Bumblebee in his robot form. His sturdy metallic body shines, smooth and polished.
Intricate details like vents, panels, and hydraulics give him a complex, and high-tech look.
As you color this Transformer, think about how to make the details pop. You can use Metallic colors like silver, gold, and copper to capture his smooth armored exterior.
Bold yellows would make him shine like the sun. Or go totally original with neon hues from your imagination.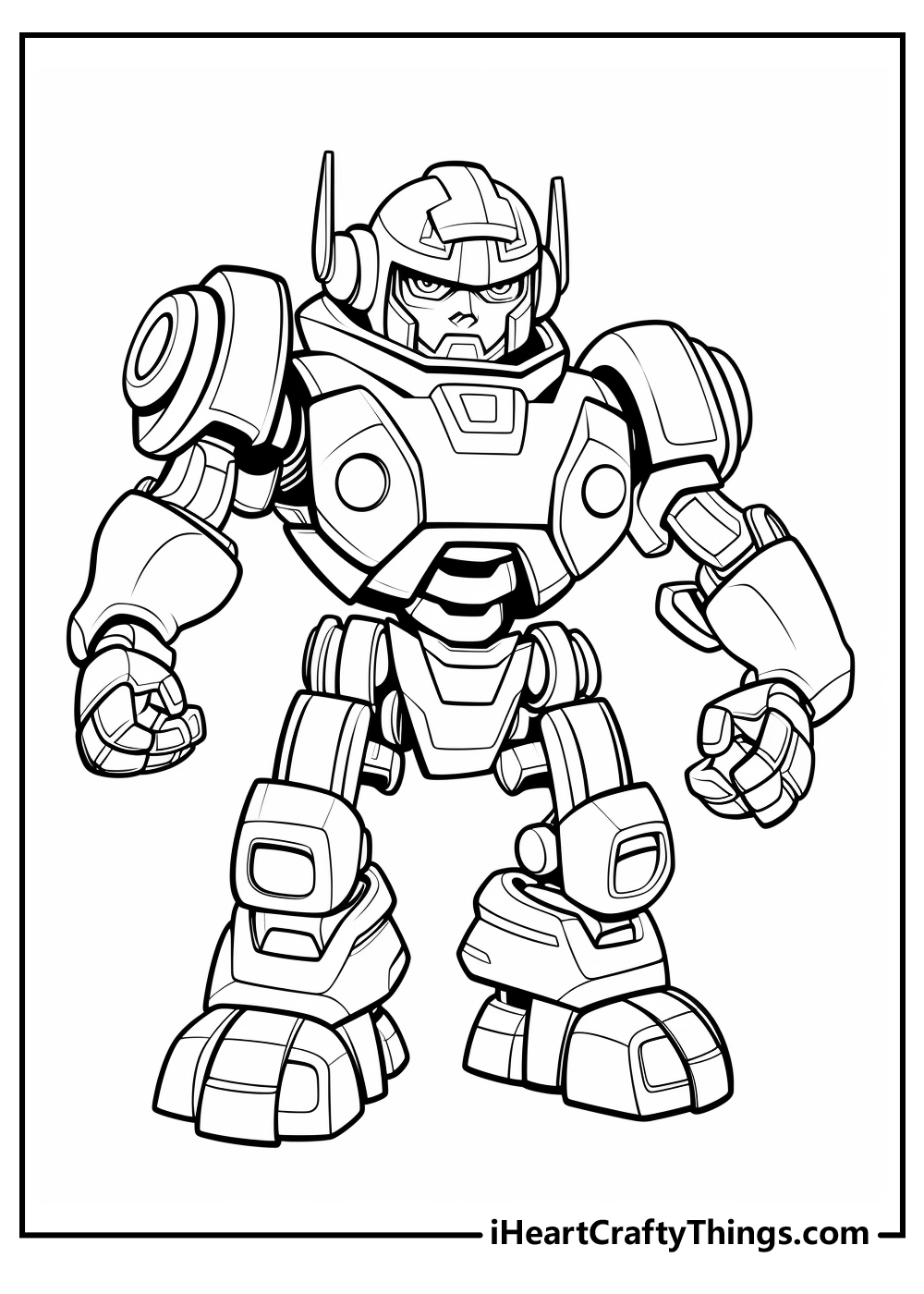 We have another fun and cartoony portrayal of Bumblebee for you to color in this third image.
Because it is done in a similar style, we would probably try and use similar colors for this one to the ones we suggested for the second image to create a more vibrant image.
Do you think you will go with our suggestion or do you have something else in mind?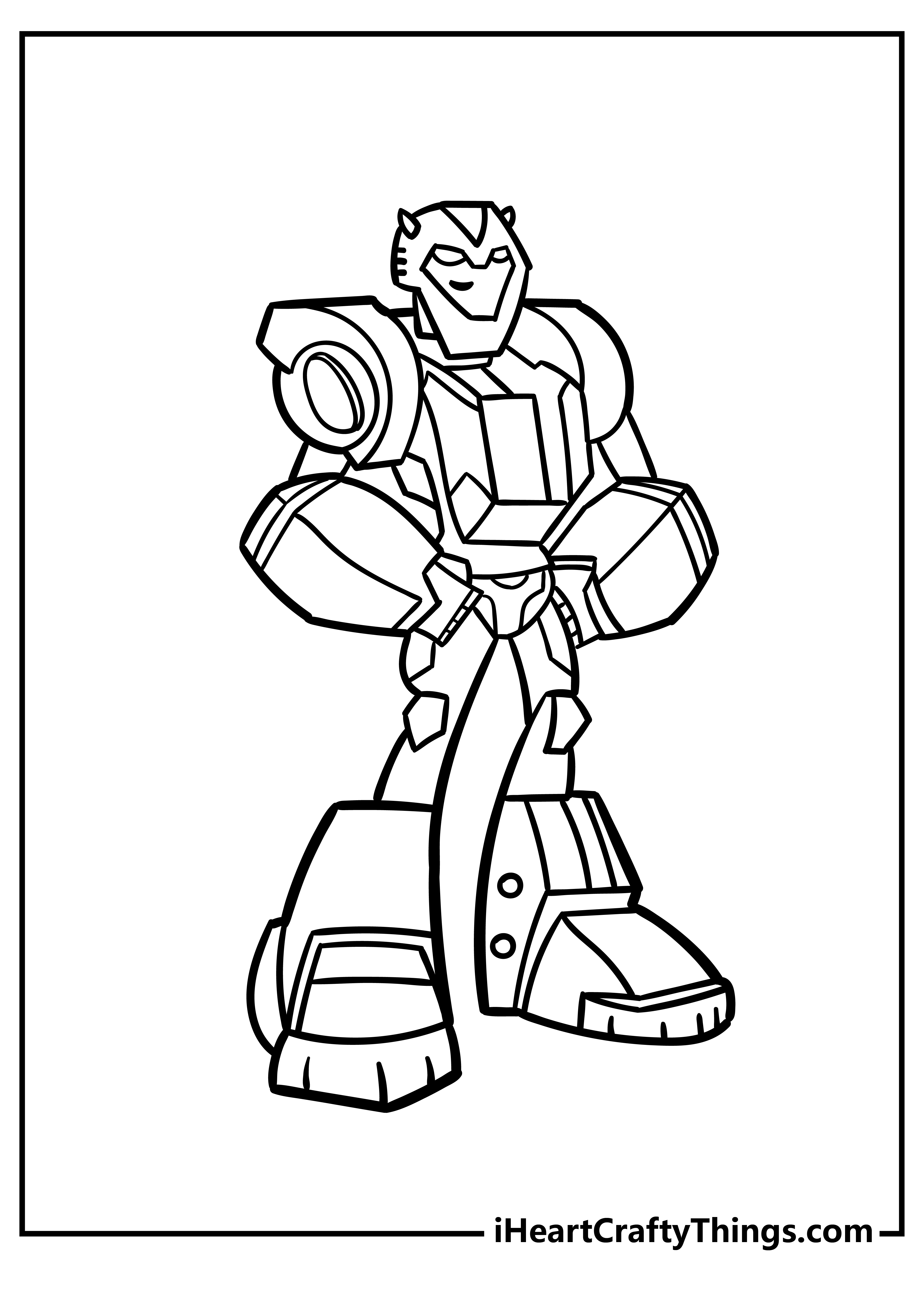 The focus is on Bumblebee's face in this next image. It's quite a close-up, so we get a lot of details for this zoomed-in facial portrait of Bumblebee.
How do you think you will color the background here? We would probably go with some solid color for the background, but there are many other ways you could fill it up instead!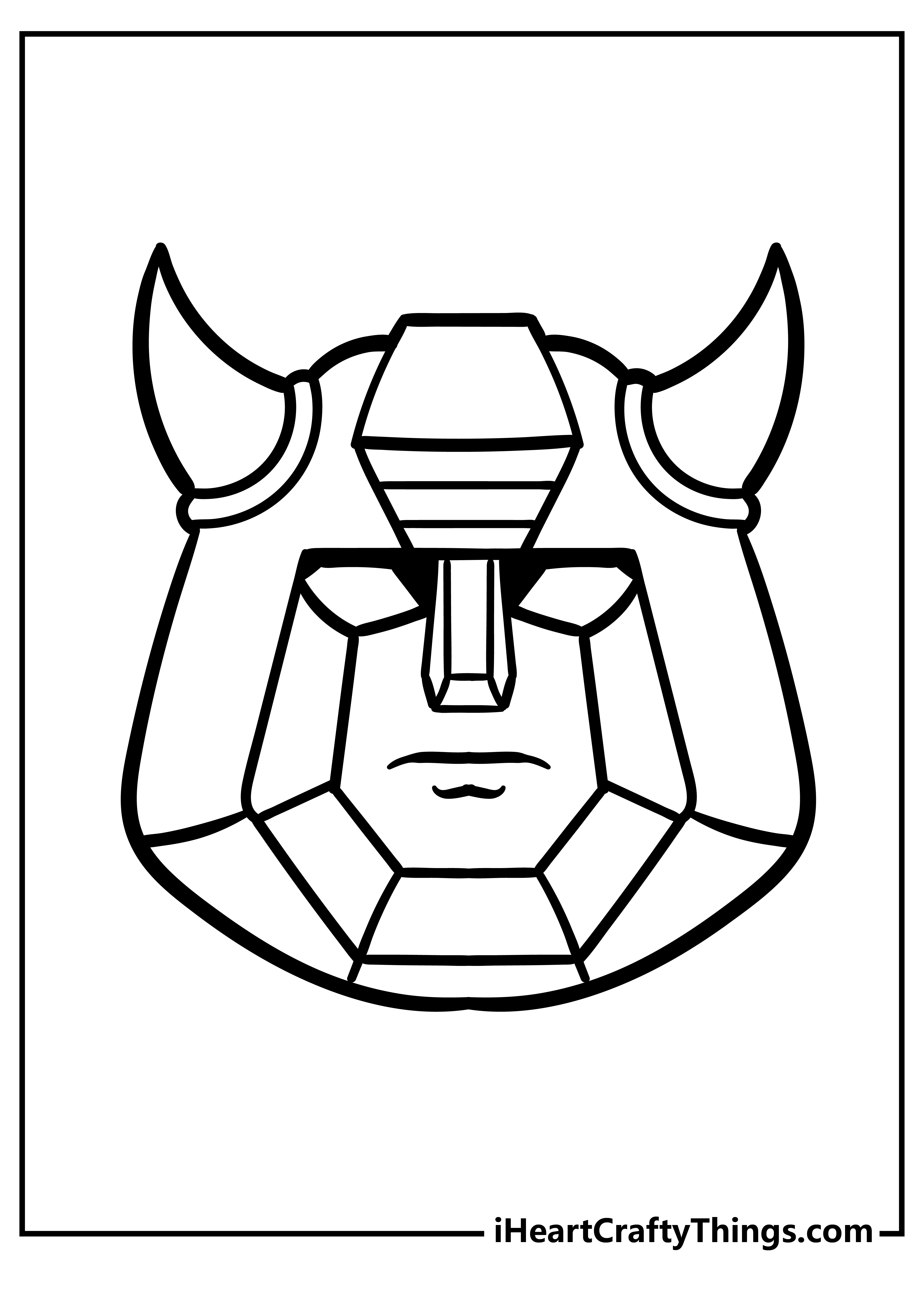 Bumblebee is rolling out the cuteness in his new Autobot form. This Bumblebee coloring page has a lot of details and features that make him look adorable and cuddly.
His rounded edges and squishy details make him look like the coziest teddy bear.
I would use dreamy blues or puffy pinks to make him unique. You can also add polka dots, stripes, and wavy patterns. However you color him, this cute Bumblebee can't wait to be your coloring buddy.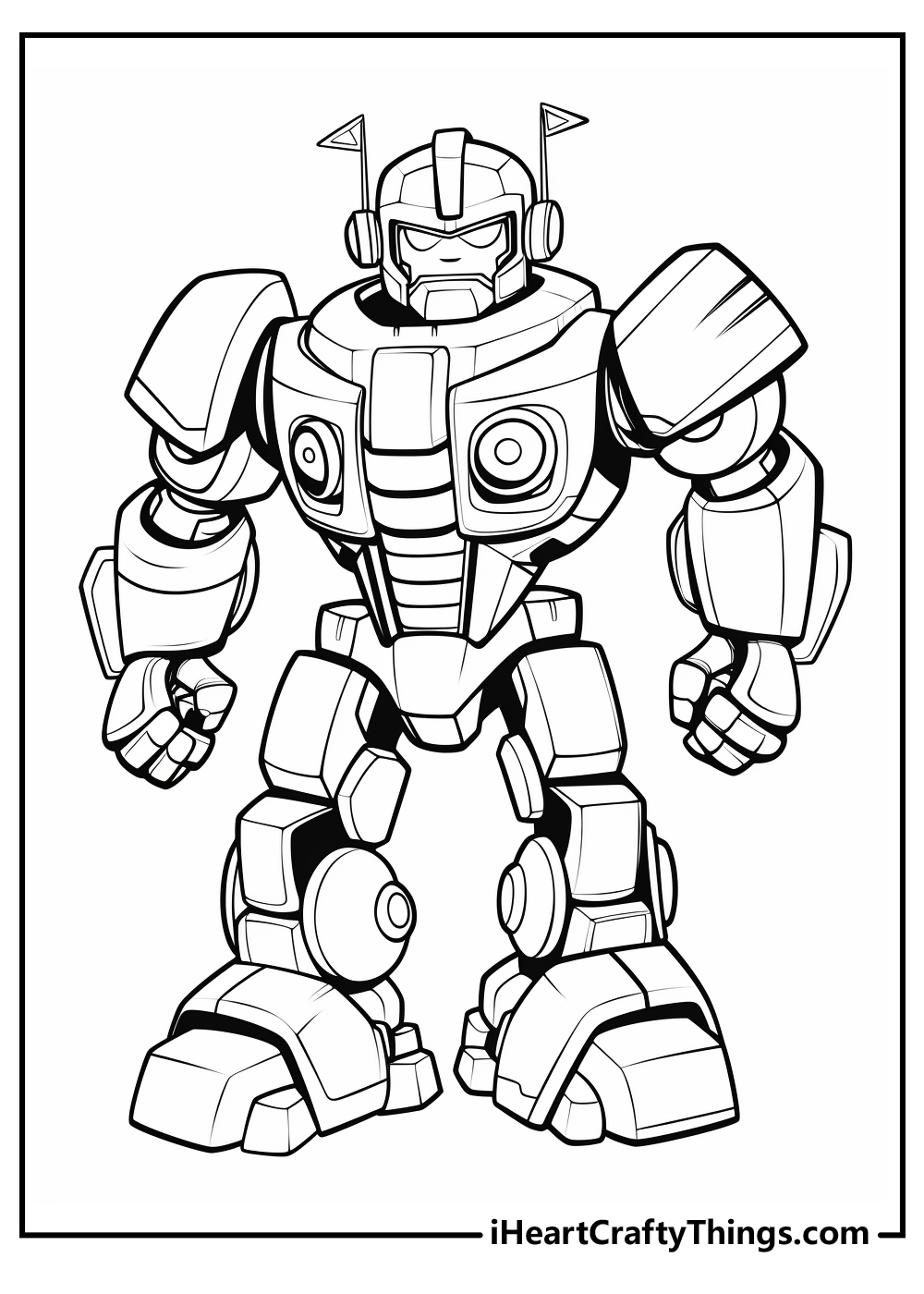 This character has had many different appearances throughout his history across different mediums.
This fifth page in our collection of free Bumblebee coloring pages for kids shows a very unique one that has some more awesome details to fill in.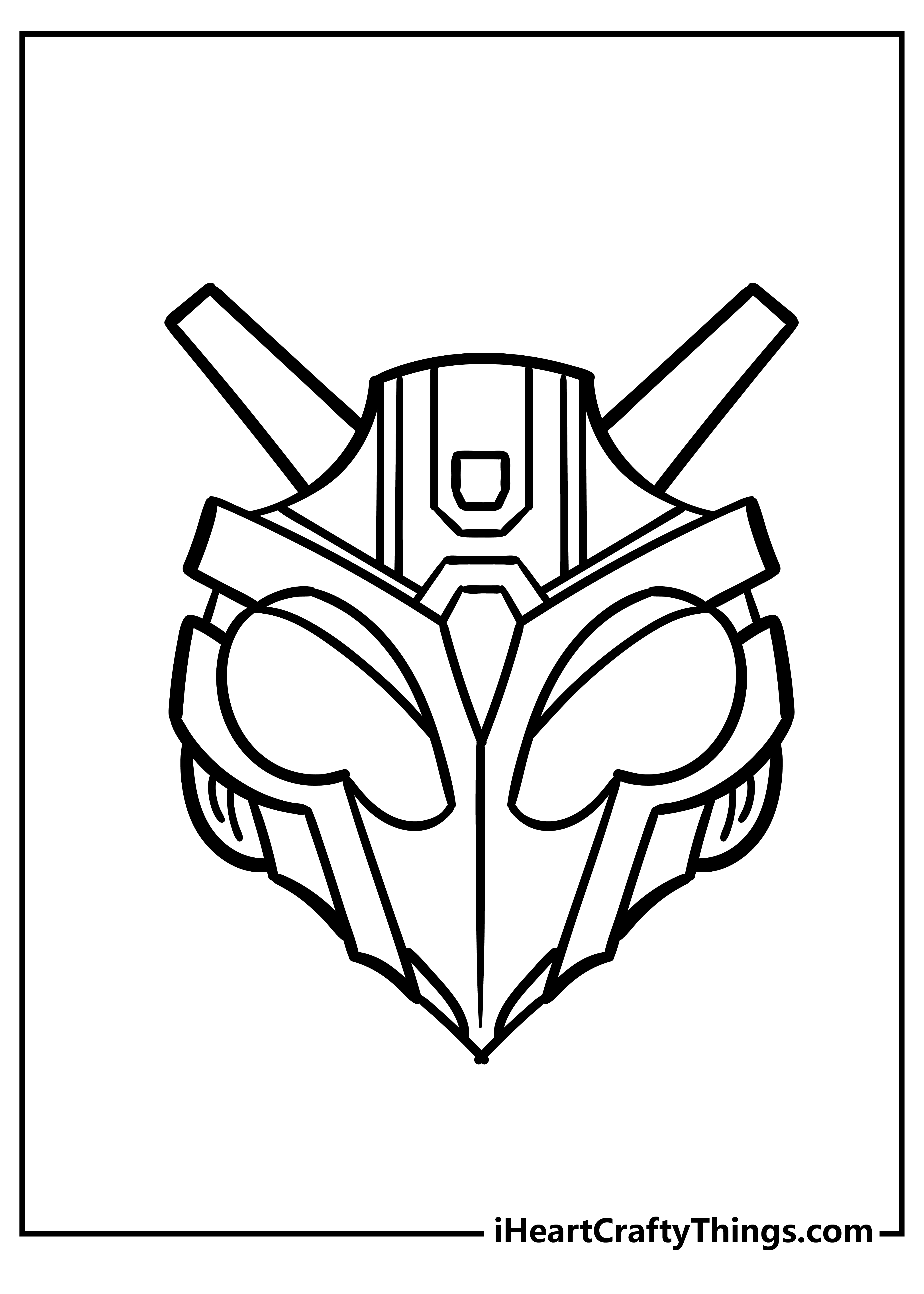 There's another Bumblebee face close-up for you to color here, and it's another one that shows a unique design for this hero.
Bumblebee typically has a bright yellow color scheme in most of his appearances, but you could also design a unique look for him if you prefer! Which approach will you take?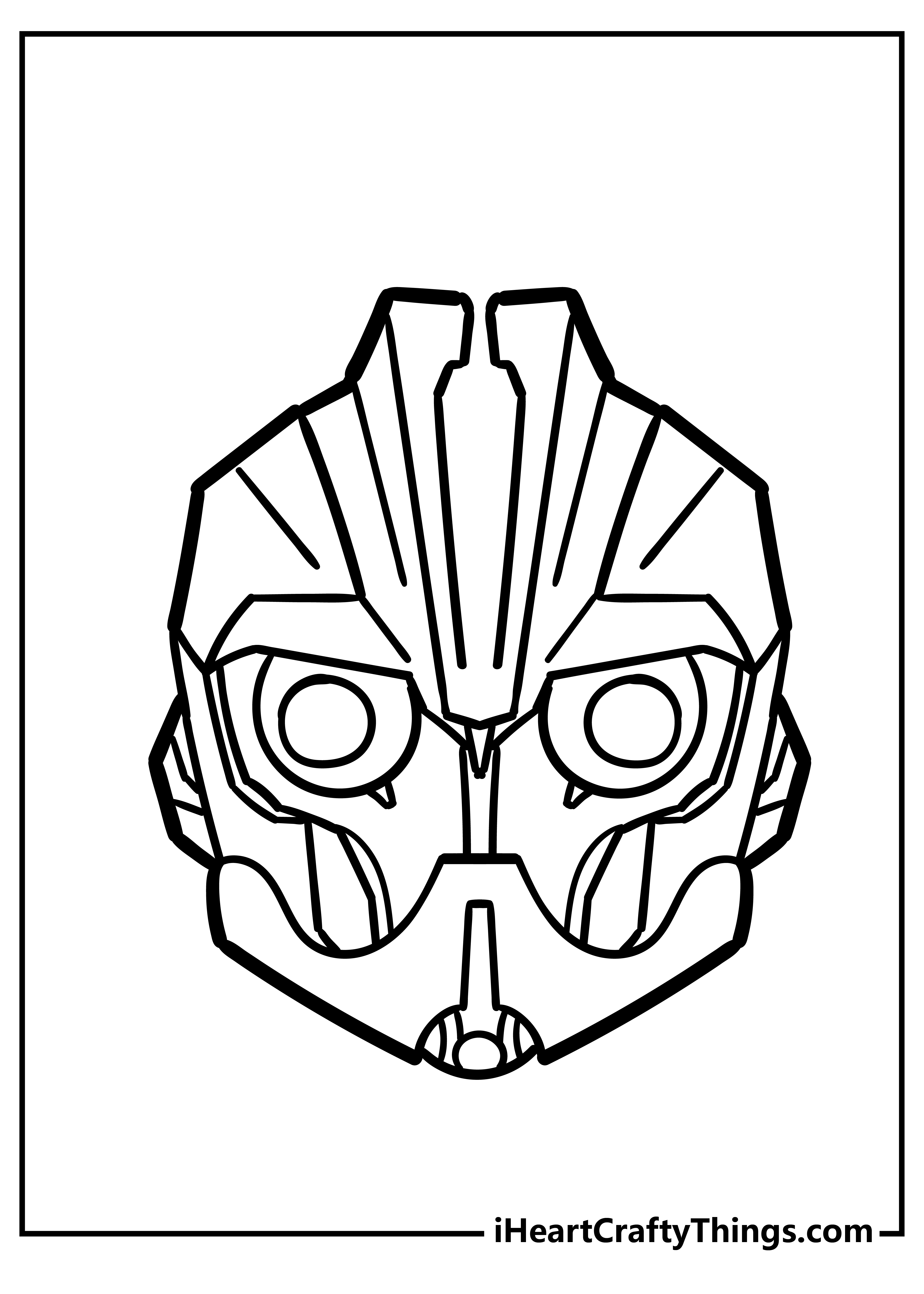 This Bumblebee coloring page shows a serious version of Bumblebee with this visor on. Bumblebee usually turns on this visor when there's an enemy around and he wants to fight.
Not only does it activate his superpowers, but it also scares away enemies.
Color in the details on his visor, arms, and legs. Draw other details in the background like shots flying around, helicopters in the air, and decepticons trying to take him down.
As you color this angry looking autobot, consider using colors like red, black, and orange to show his mood.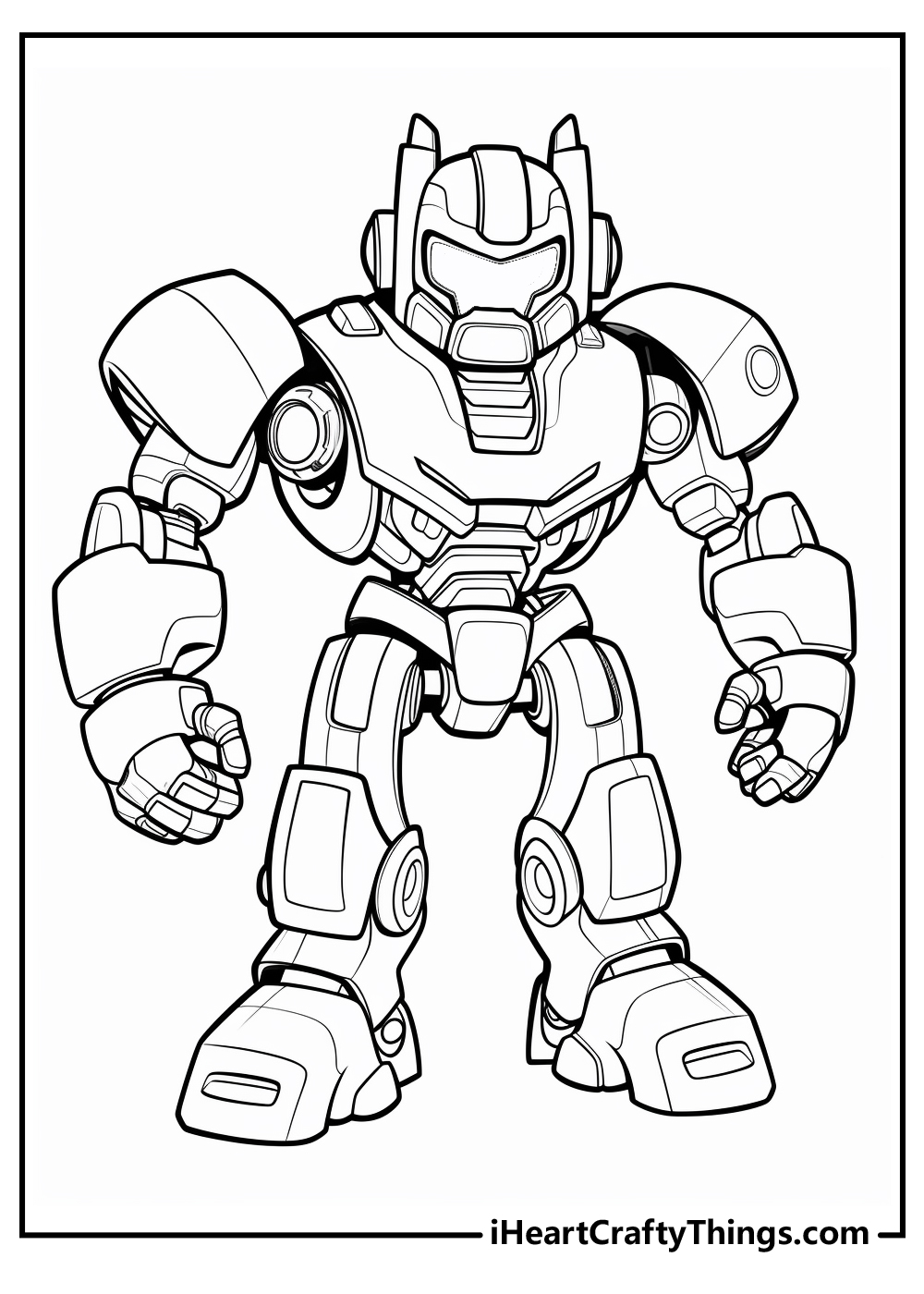 We have a really classic portrayal of Bumblebee that references his appearances in the cartoon adaptations for you to color in this next one.
When coloring a portrayal that is based on an established appearance, you can try to replicate the color scheme they had in that appearance, but you can also create a new look!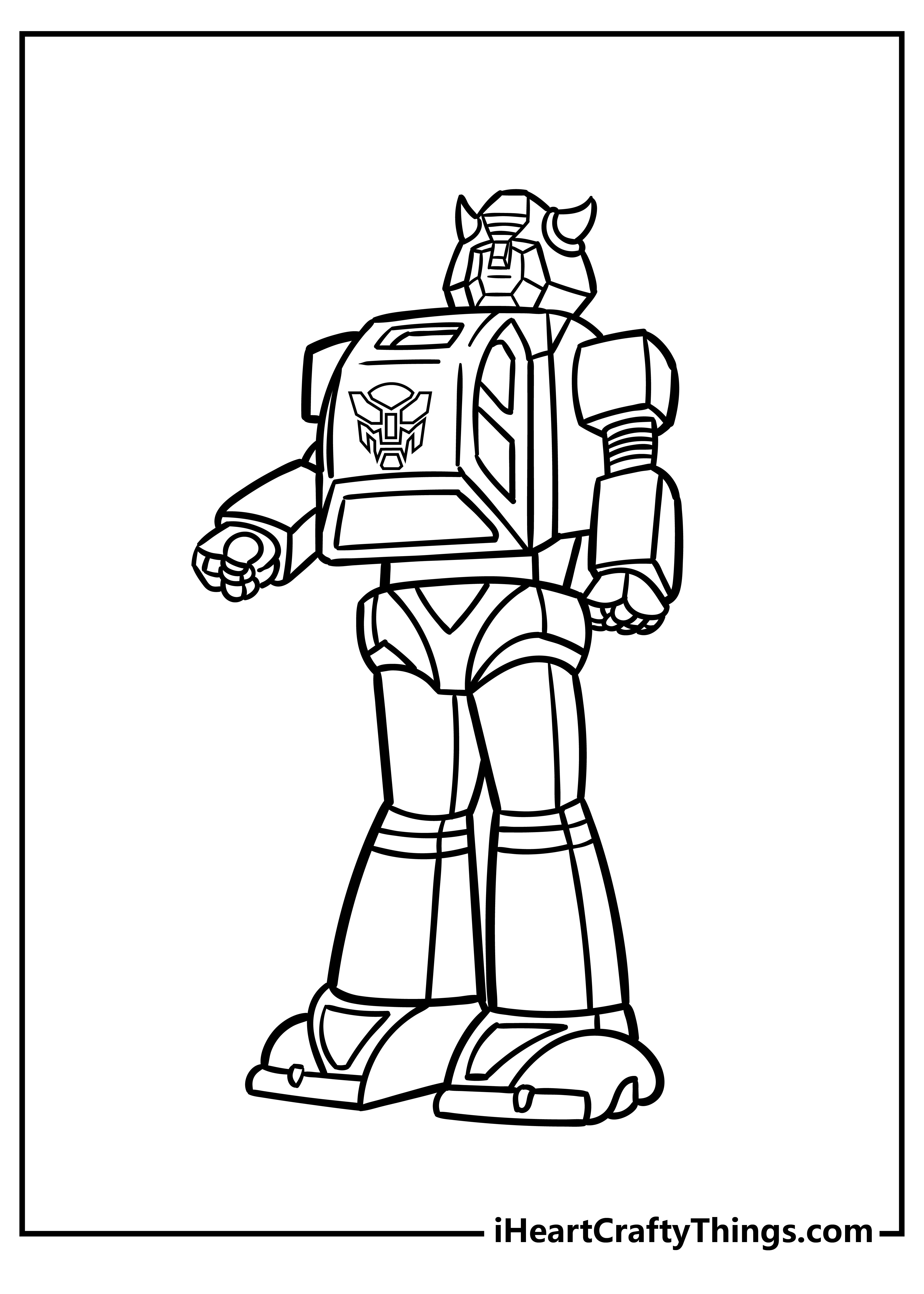 Bumblebee is ready for anything in this next picture. He may be a more light-hearted character, but he can get pretty serious when the chips are down.
This definitely looks like an action scene, so it could be cool to draw a background to show what kind of scenario he is in. Some cool explosions behind him could be a good start!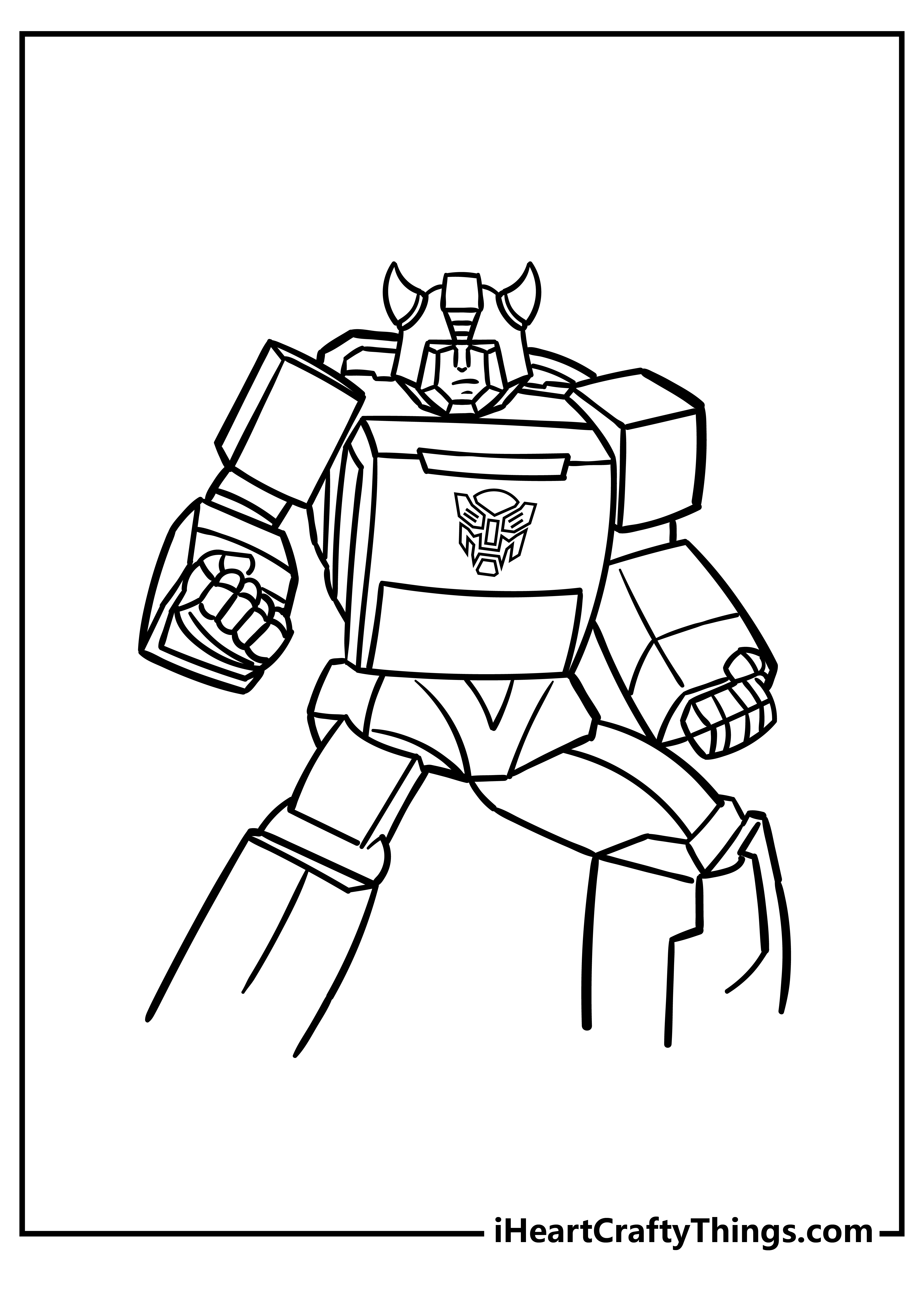 Bumblebee stands ready for action, his iconic black and armor gleaming. His battle visor is down, framing his bright robotic eyes which look angry and ready for a fight.
For his armor, use bold yellows and blacks in sleek metallic shades. Make sure to color the sections on his powerful legs and arms black for cool contrast.
For his chest, head and face, vivid yellows will make them pop! Use silver for detailing on his torso, limbs and helmet. And color his eyes a bright glowing blue and his mouthplate silver to complete this powerful Autobot hero!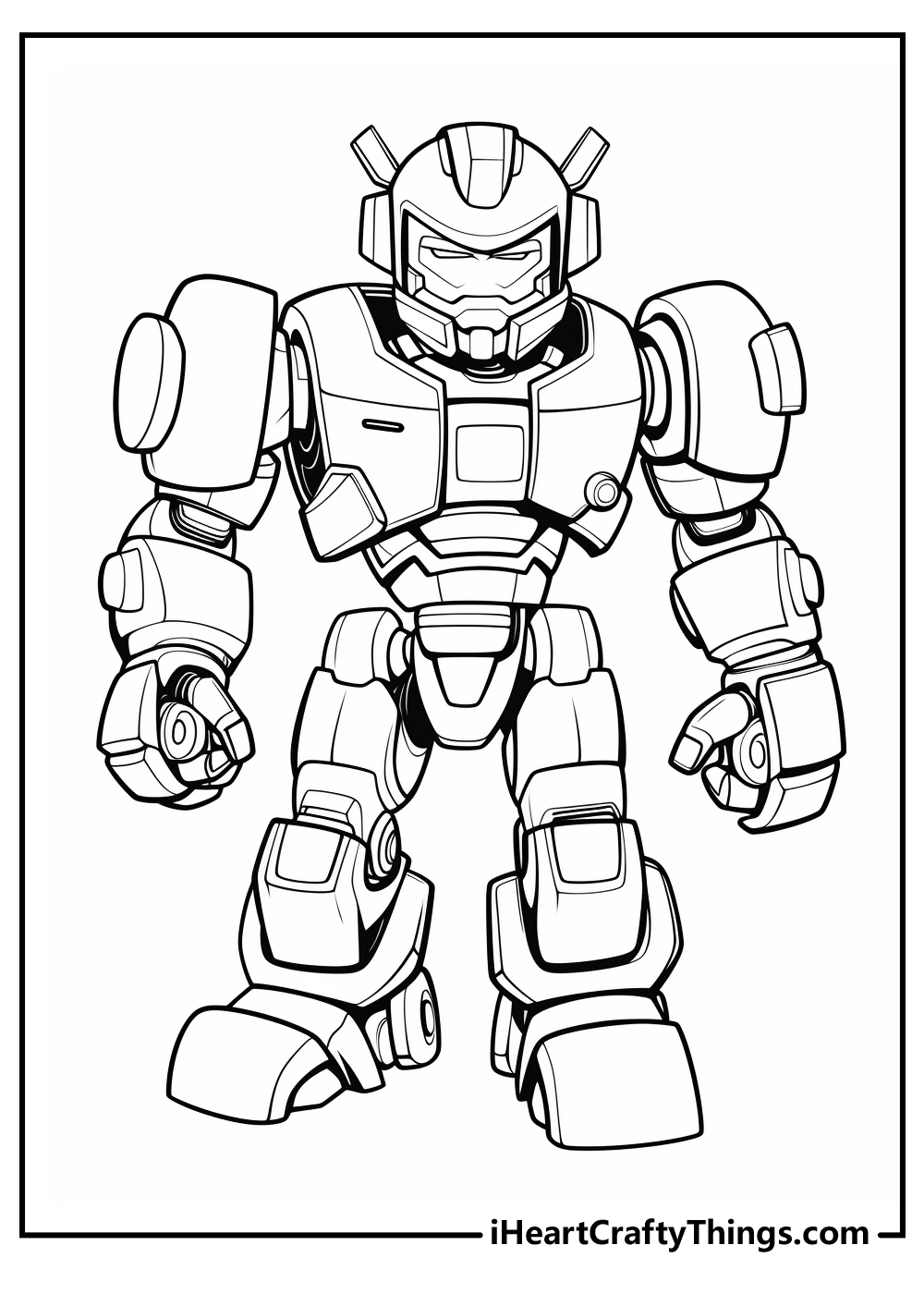 There's another really interesting design for Bumblebee that you can color in this ninth image. This version of Bumblebee looks quite high-tec, and there are some amazing details to fill in.
This is another one that we would recommend mediums such as colored pens and pencils for, as they will work really well for portraying these smaller touches.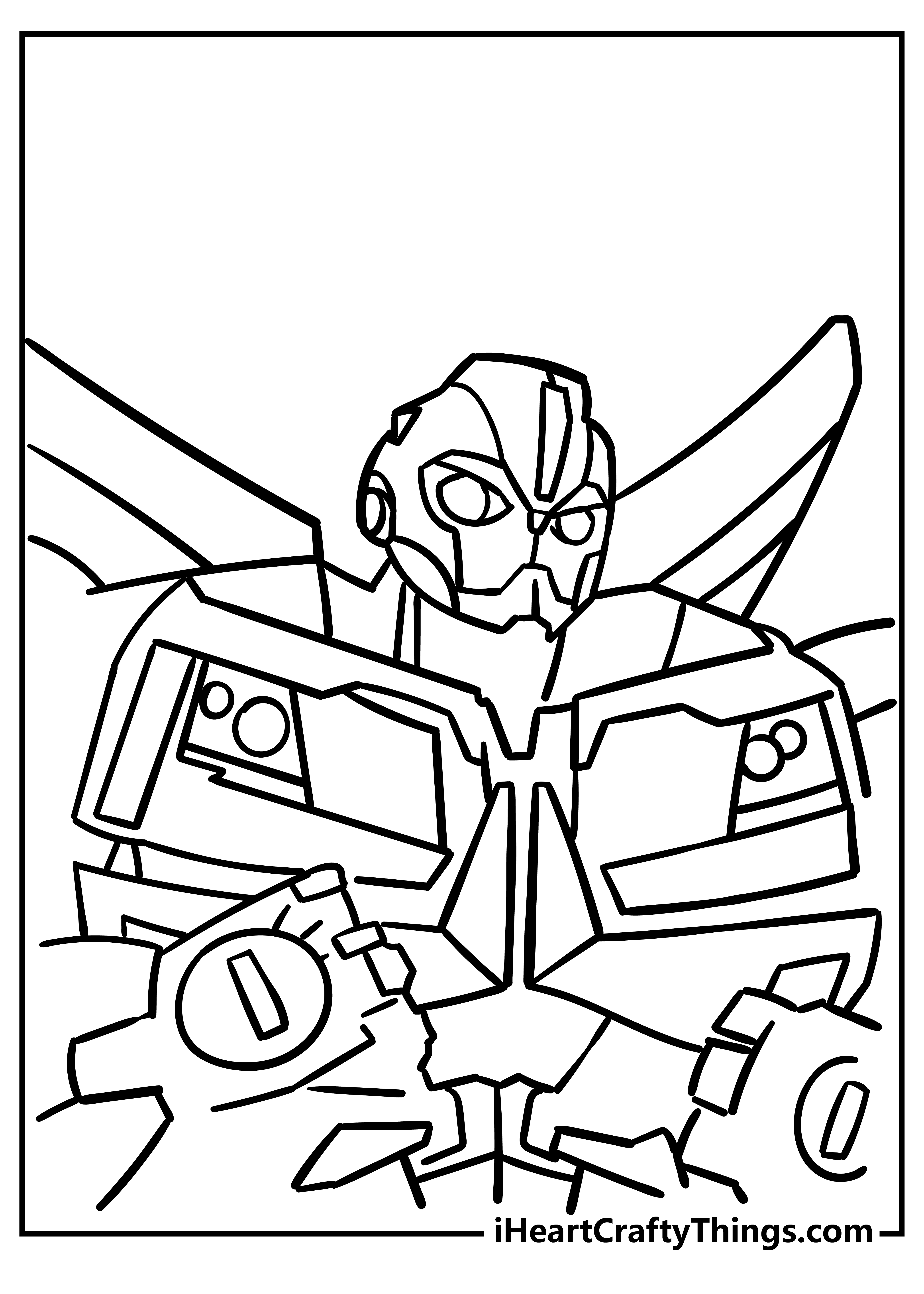 This next Bumblebee coloring printable features a really cool pose for this classic hero! He is looking really serious and ready for action here, and the design is just so detailed and awesome.
We would keep the colors a bit darker for this one, as that would suit the more realistic look of this design.
That is our idea, but what kinds of colors will you try?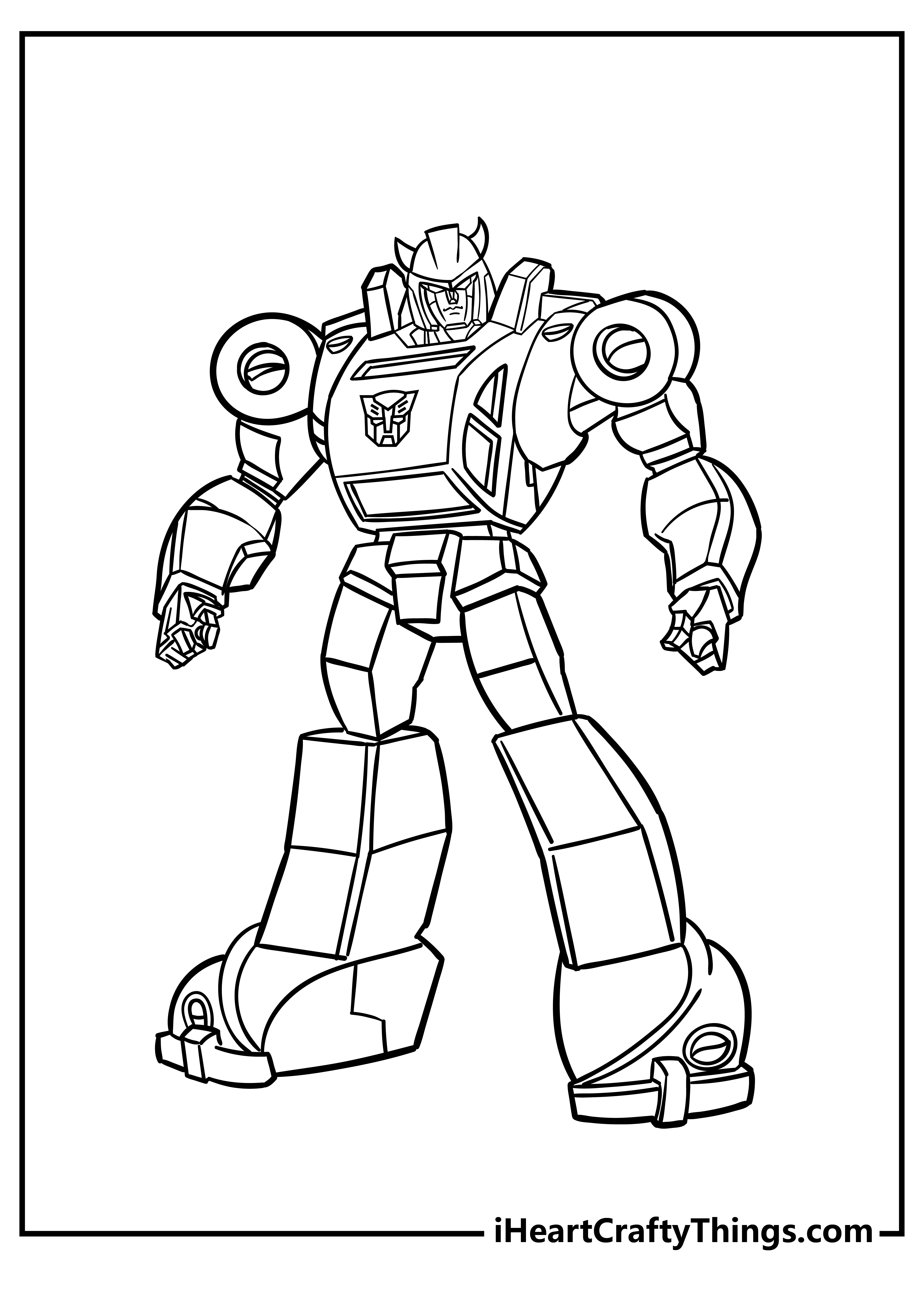 Bumblebee is looking off at something we can't see in this next image, and you can only wonder what he could be looking at while looking so serious.
If you have a favorite Bumblebee scene or moment that would fit this portrayal, maybe you could draw a background to make it seem like that moment.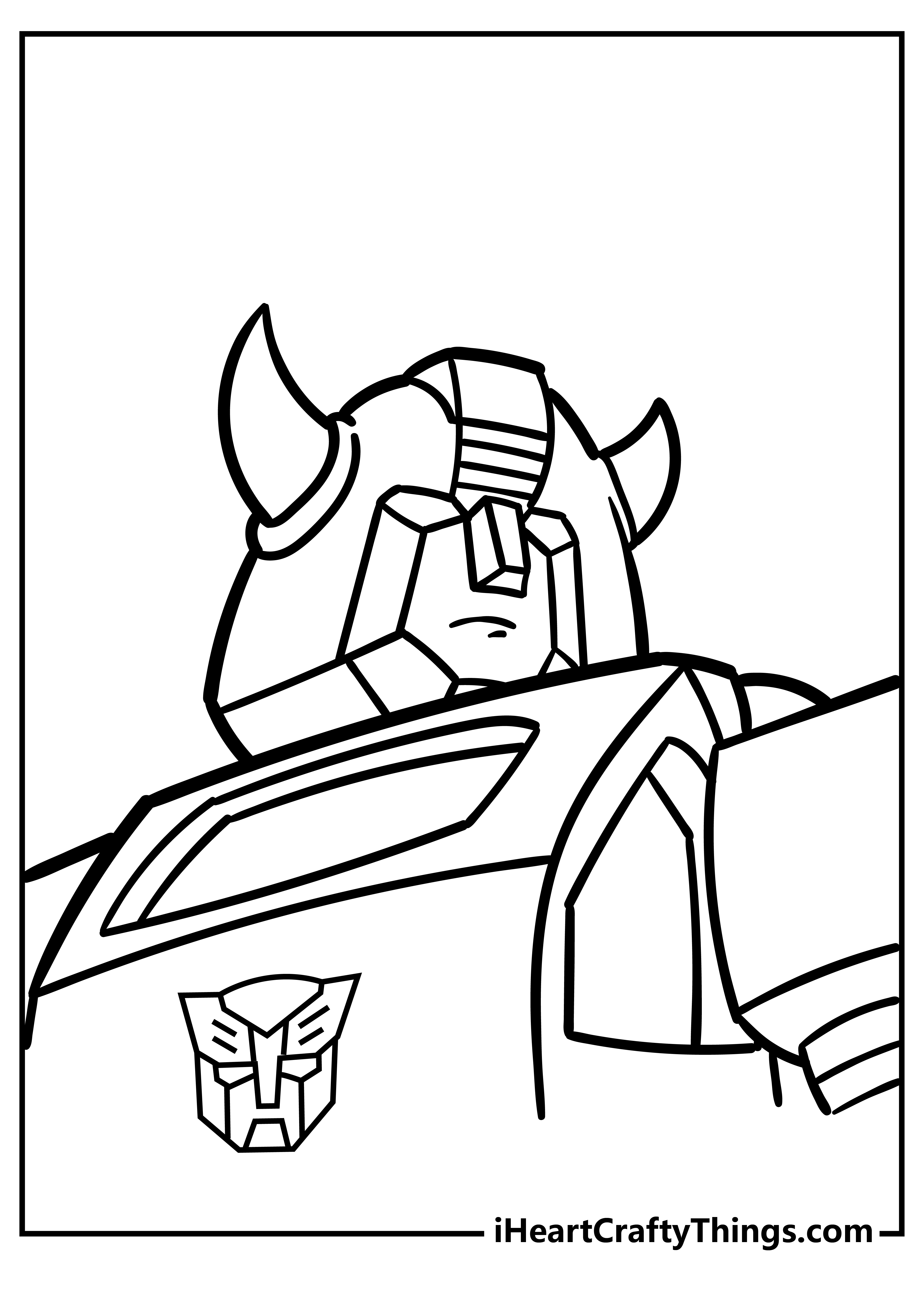 Bumblebee stands in a fighting stance, ready for battle. His visor is raised, showing his stoic robotic eyes focused seriously ahead.
His metallic fists are clenched, and his legs are posed back, loaded for action.
Use bold yellows on his chest, head and face for his iconic look. Color his powerful arms and legs black for cool contrast against the yellow.
Add silver detailing throughout his armor for depth. Make his eyes glow a vivid blue, and use silvers and grays on the mechanical parts of his face.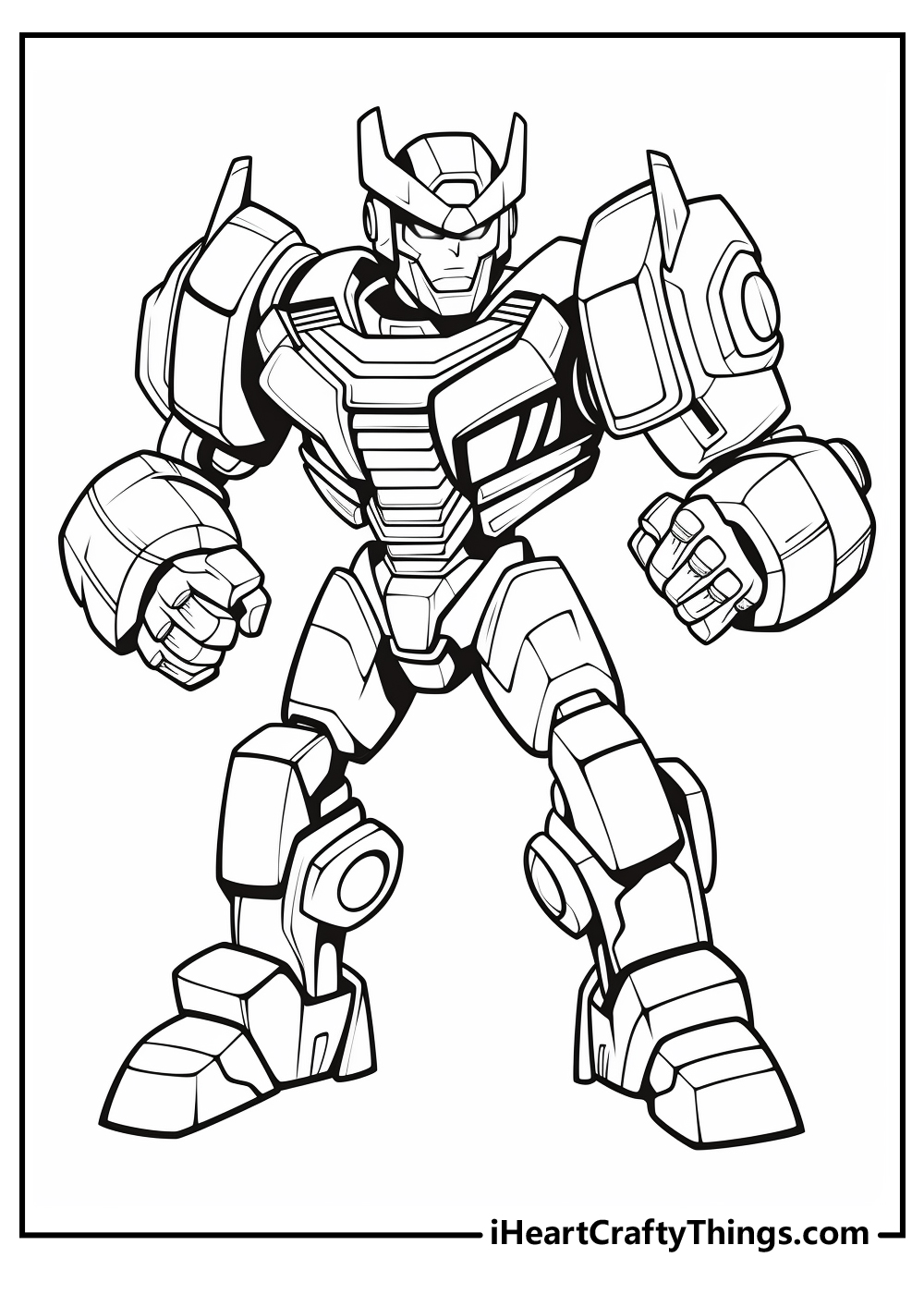 This next page shows Bumblebee looking really serious and cool! He is wielding a massive weapon here, but this page also stands out because of the background that is drawn here.
There is a city scene, and this allows for plenty of awesome color details that you can add. Will you add any more to the background or keep it as is?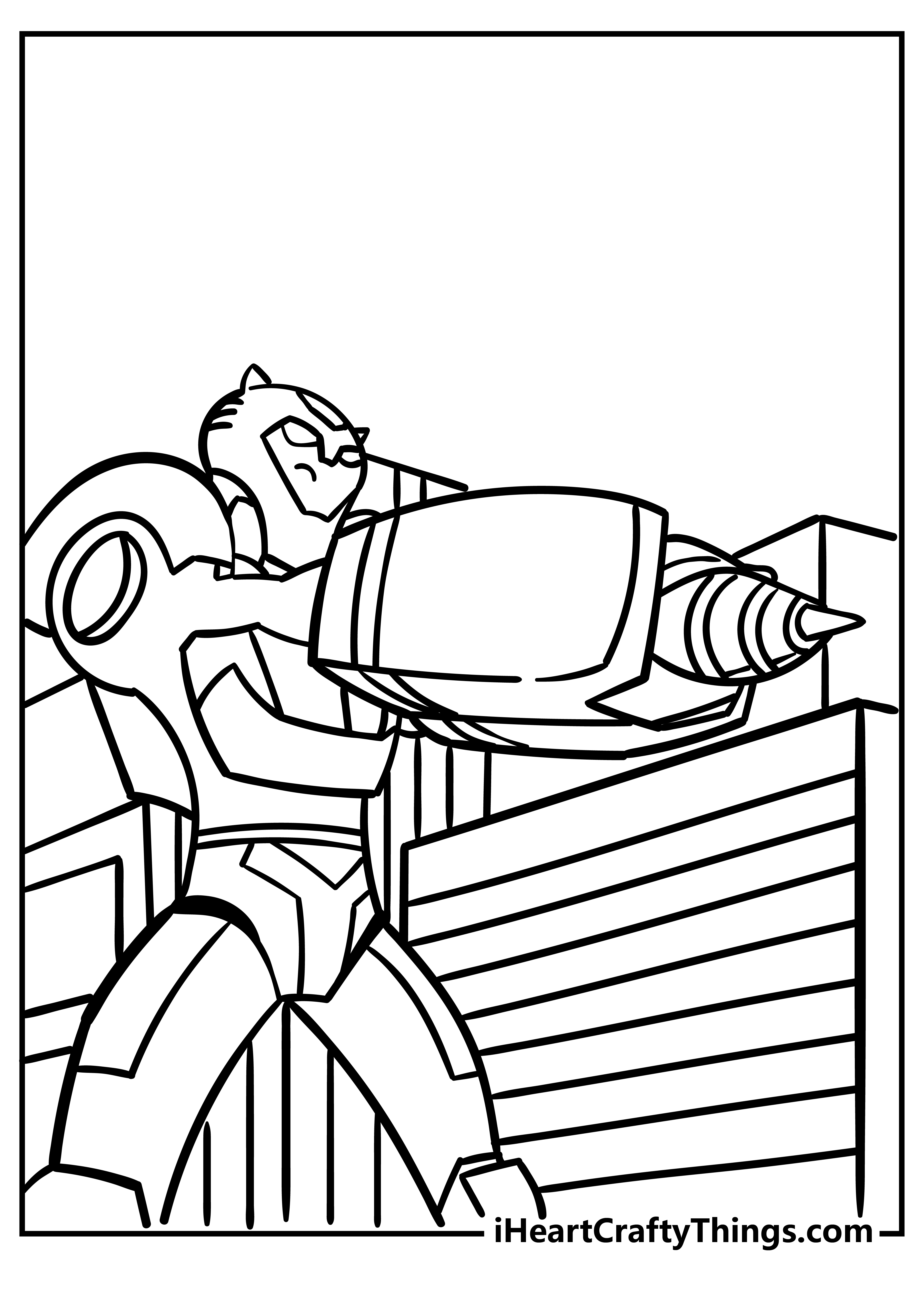 This is another really fun design of Bumblebee. This one is also more cartoon-inspired, and it captures the more light-hearted side of Bumblebee.
There are many details on this depiction, but you could also add even more if you want to personalize him even more! Will you add some details on or around him? If so, what would they be?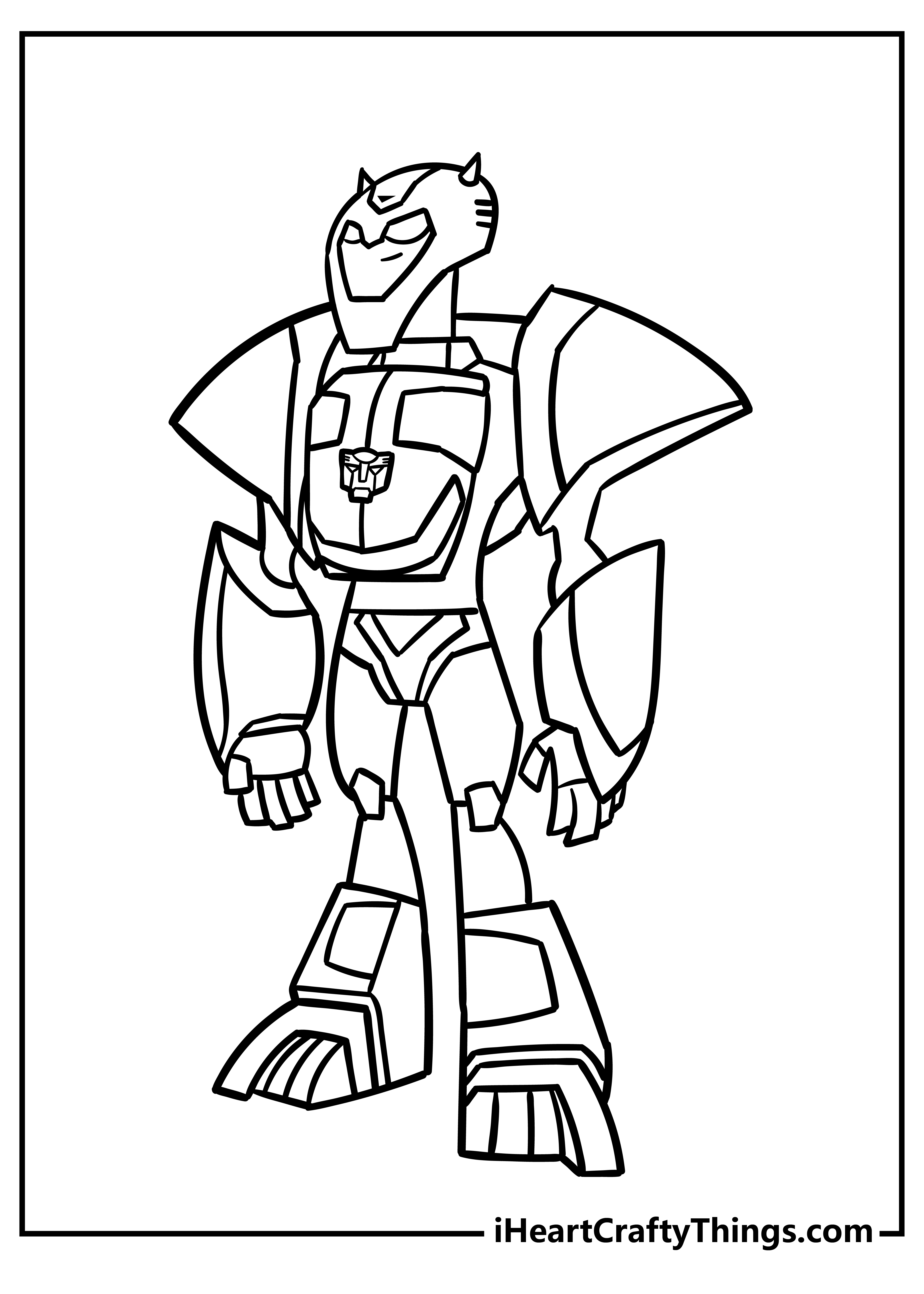 The main trick of the Transformers is that each robot can transform into a normal-looking car.
In this image, we see the car version of Bumblebee, and it makes for a page that is quite different from all the others!
Even though he is in his car form, you could still use elements of his yellow and black color scheme to give a hint that this car will transform into Bumblebee.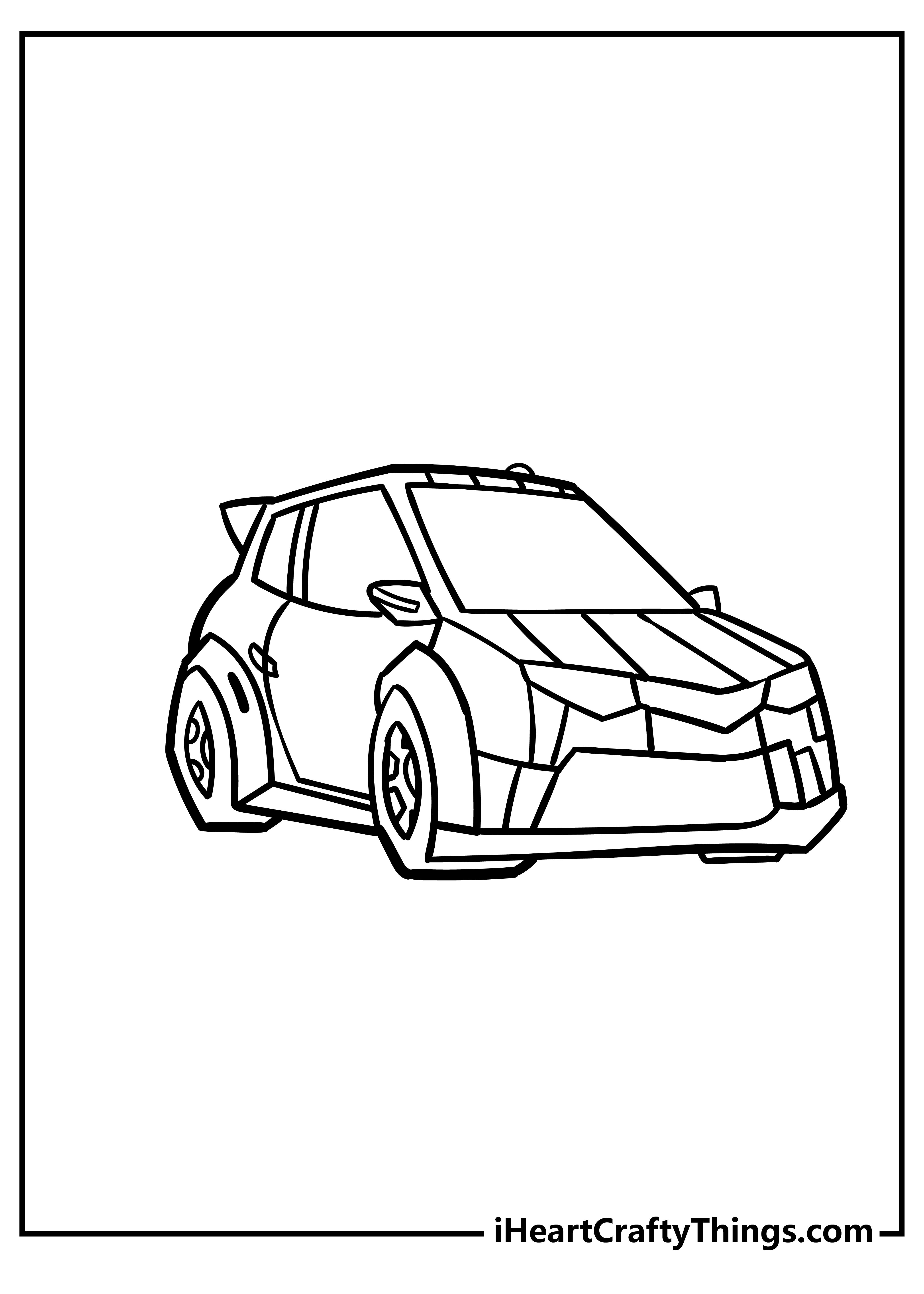 Now we have the final Bumblebee coloring page of the collection, and we saved one of the coolest for last! Here he is about to fire a big weapon, and he again looks like he means business.
This is also one of the most highly detailed pictures in the collection, so you can spend a lot of time having fun with this one. We know this one will look so cool when you have finished it!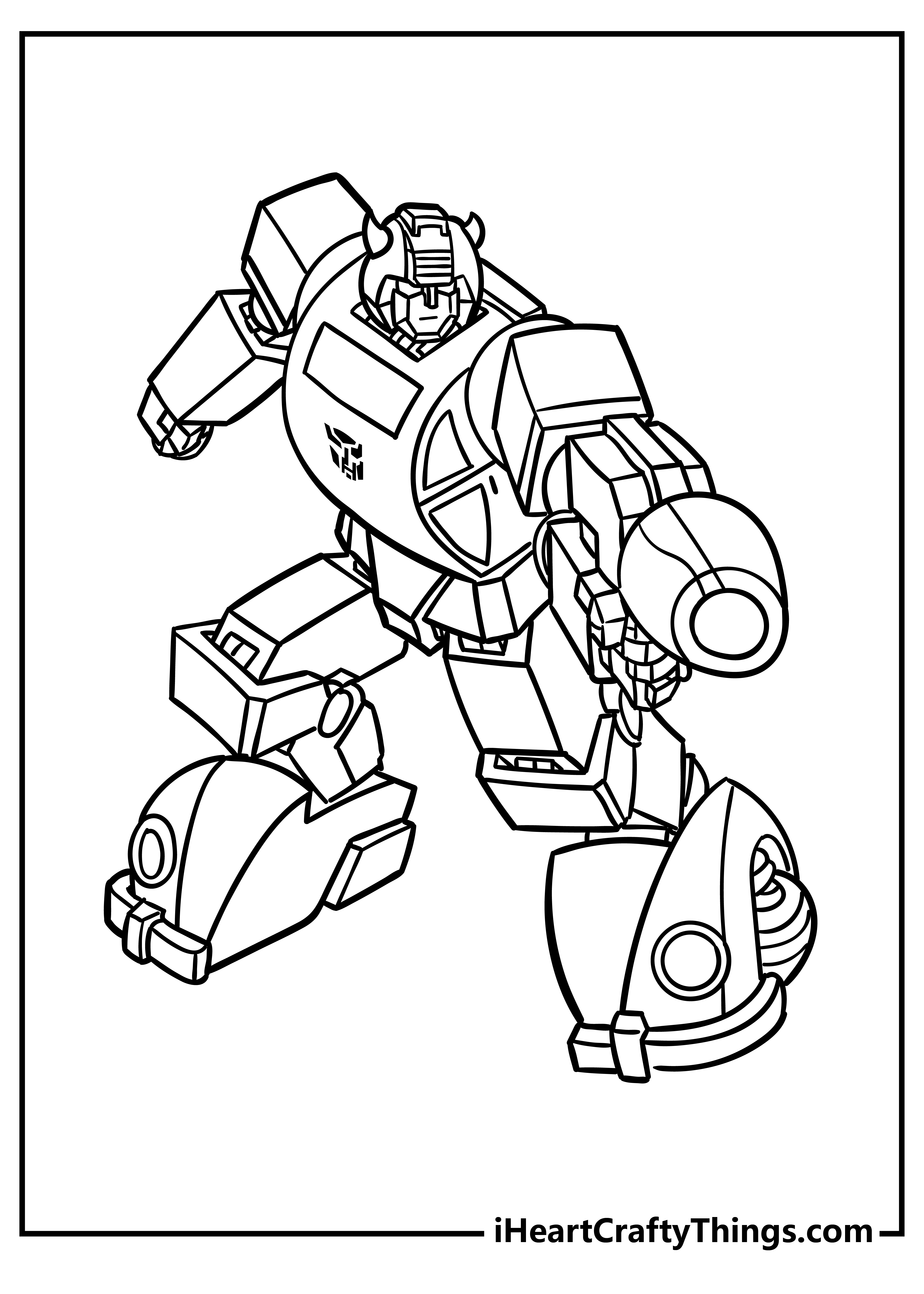 Bumblebee Coloring Pages – Which will you choose?
That concludes this collection of 15 free Bumblebee coloring pages for kids! We hope you enjoyed this color journey as we saw Bumblebee in many different styles, poses and designs.
When you have finished these pages and shared them with others, you can find many more coloring page collections to enjoy on our website.
We would also love to see how some of these Bumblebee pages turned out, so please share some of your finished artworks on our Facebook and Pinterest pages for us to see!