On this page, you will find 20 all new Lion King coloring pages that are completely free to print and download.
The Lion King is one of the most beloved animated films ever created. Since it came out, there have been many sequels, spin-offs, books, video games and even a Broadway musical.
This collection of free Lion King coloring pages for kids is here to capture some of the magic of this incredible series.
There are 20 pages featuring many characters from the series, so you should get to use all of your favorite colors.
You can also share how they come out by sharing some of your completed pages on our Facebook and Pinterest pages!
20 Brand New Lion King Coloring Pages – Free to Print and Color
The Lion King has many side stories told in series, books and other media, and this first page in our collection of free Lion King coloring pages focuses on one of these side series.
The Lion Guard focuses on the next generation of lion royalty following Simba, and this picture features his son, Kion.
He has a really distinctive look to him, and there are some great color details to fill in with this character.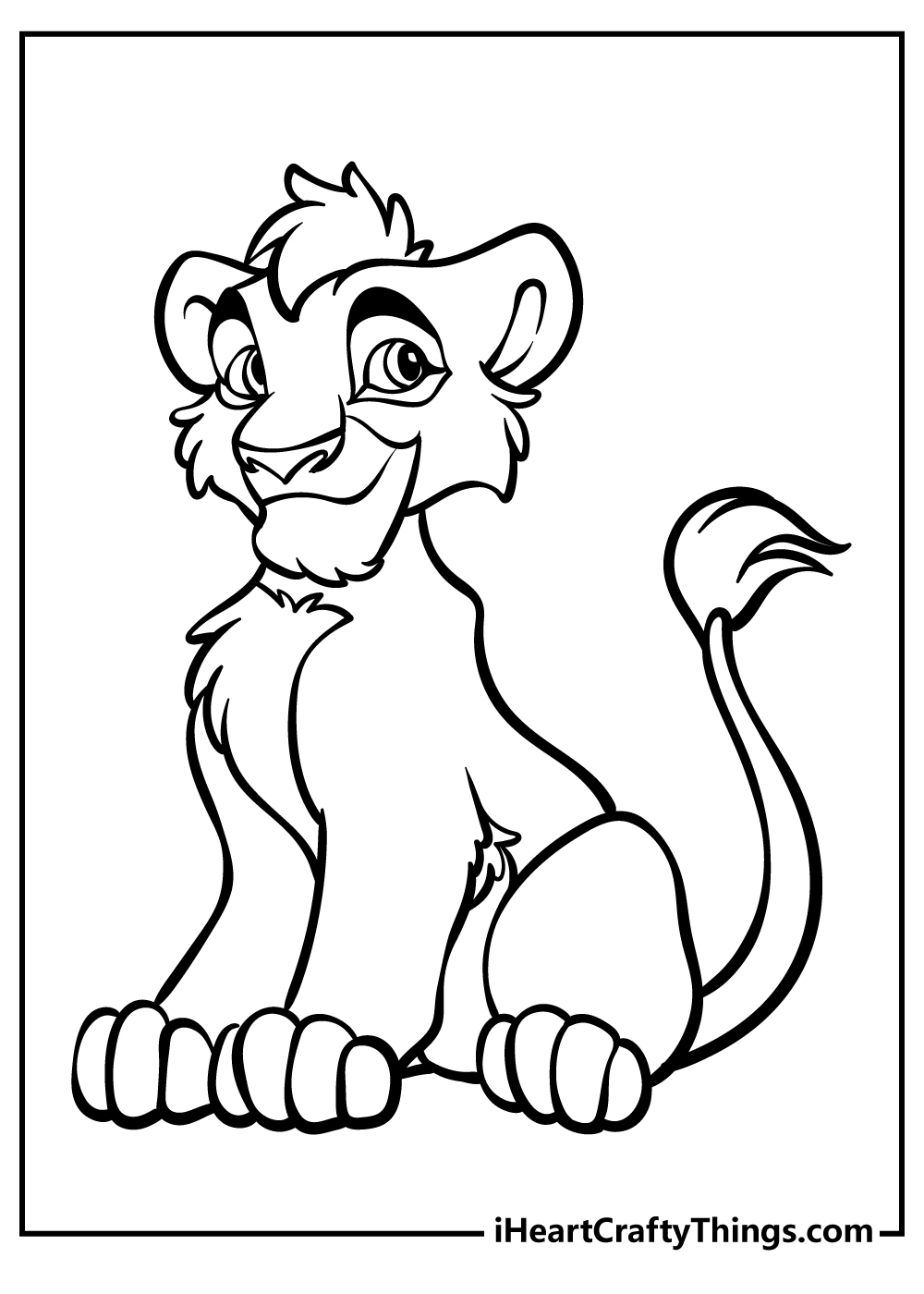 This adorable Lion King coloring page shows our hero Simba as a young cub, ready for adventure.
The background details are quite minimal, so you could show where he is hanging out by drawing a background.
Where do you think he could be hanging out in this picture? There are so many famous locations to choose from!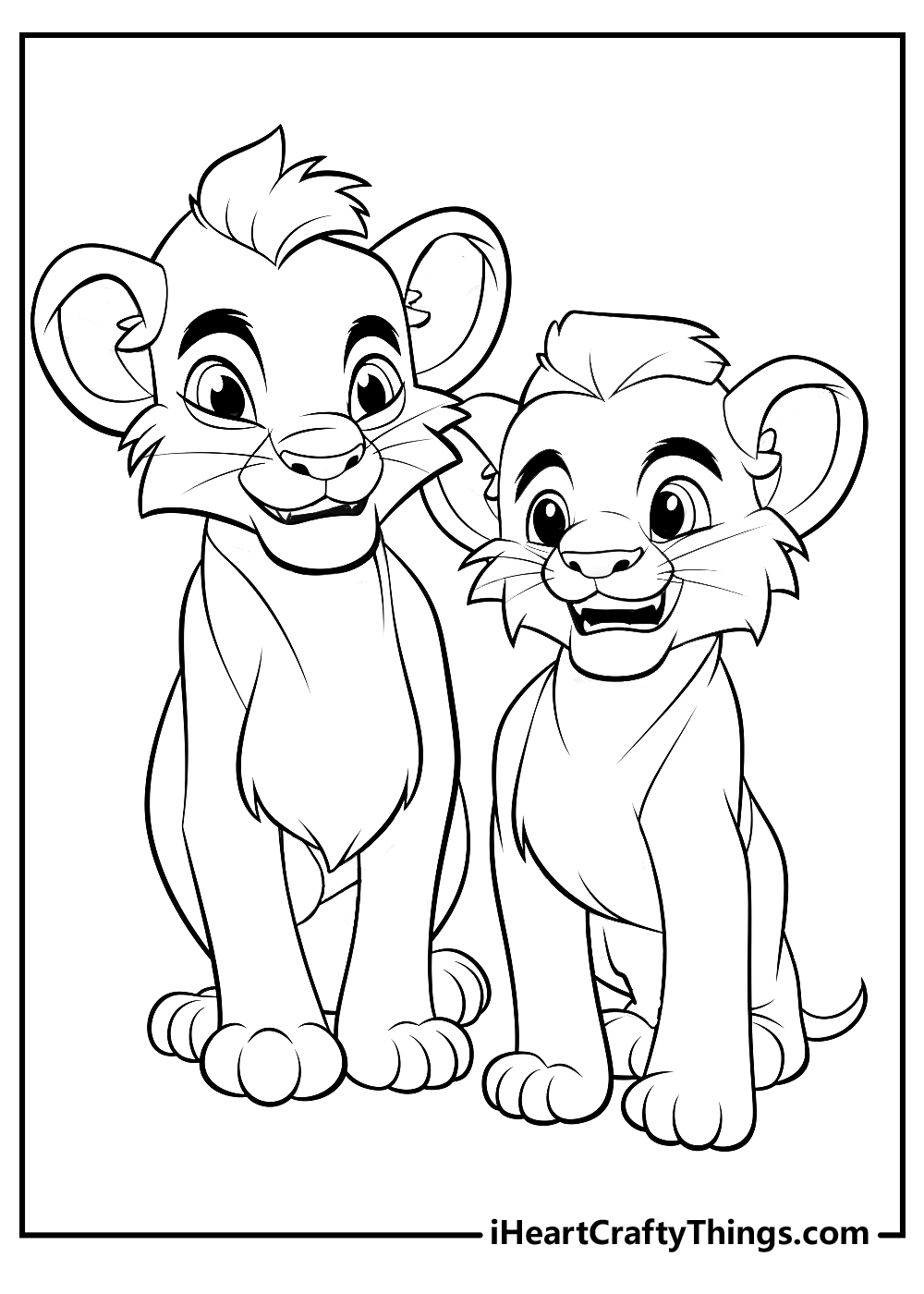 For the second page that we have for you, we are focusing on a classic Lion King character, young Simba!
His journey from a young cub to a king is a really compelling story, and Simba is at the heart of this story.
In the films, his colors range from tan colors to browns, and you can use them as a reference if you wish to make him screen accurate.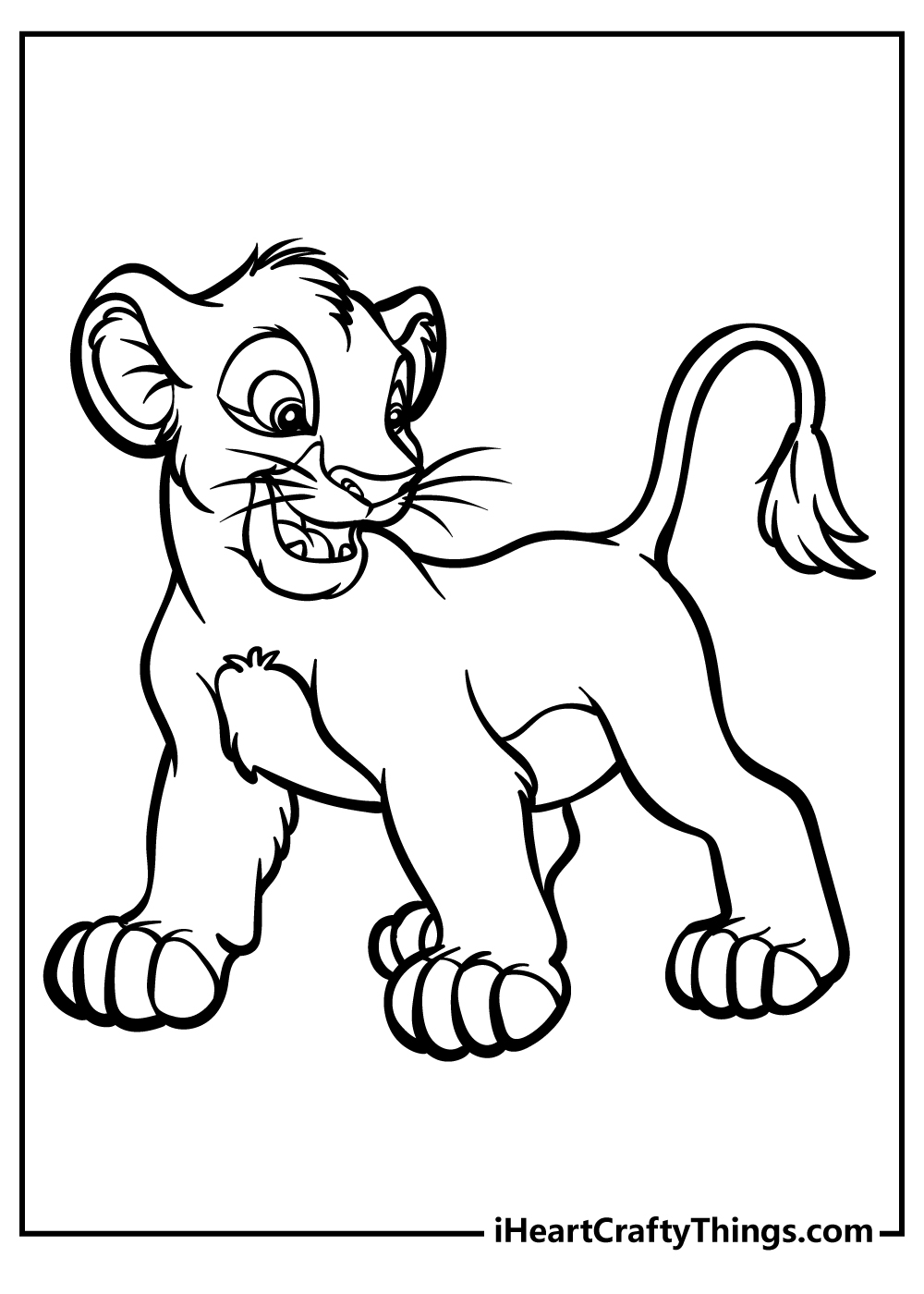 There's another adorable picture of Simba for you to color in this third image. He is looking happy and optimistic here, and it makes for a lovely bright image to behold.
We think that using some bright colors for this page would be perfect to suit the mood that the picture gives off!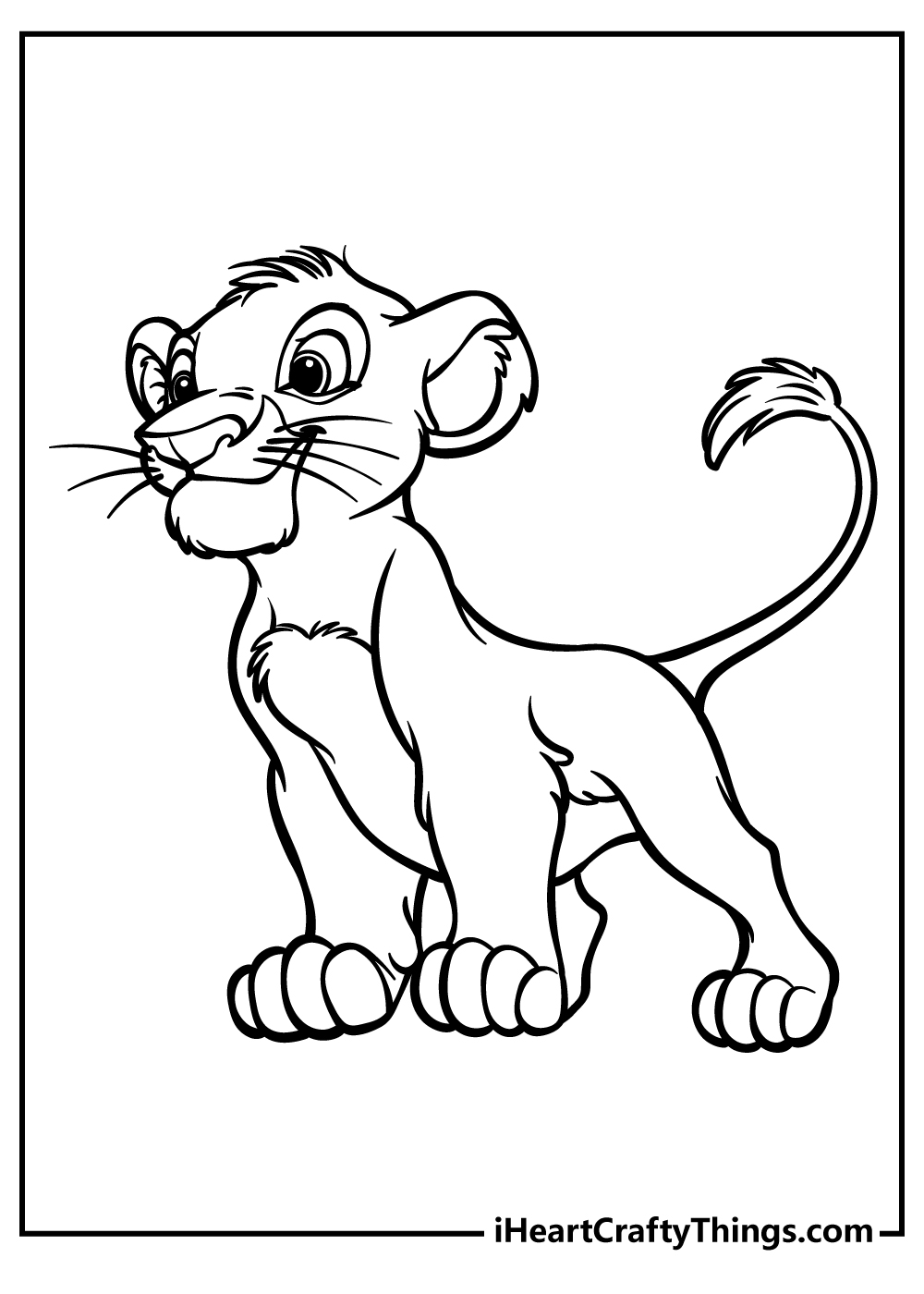 This next image shows an adorable sight, a father and his cub! They seem to be exploring together, and this moment of bonding deserves some amazing colors.
Once you have finished coloring the scene, you could also add some of your favorite Lion King characters by drawing them into the scene.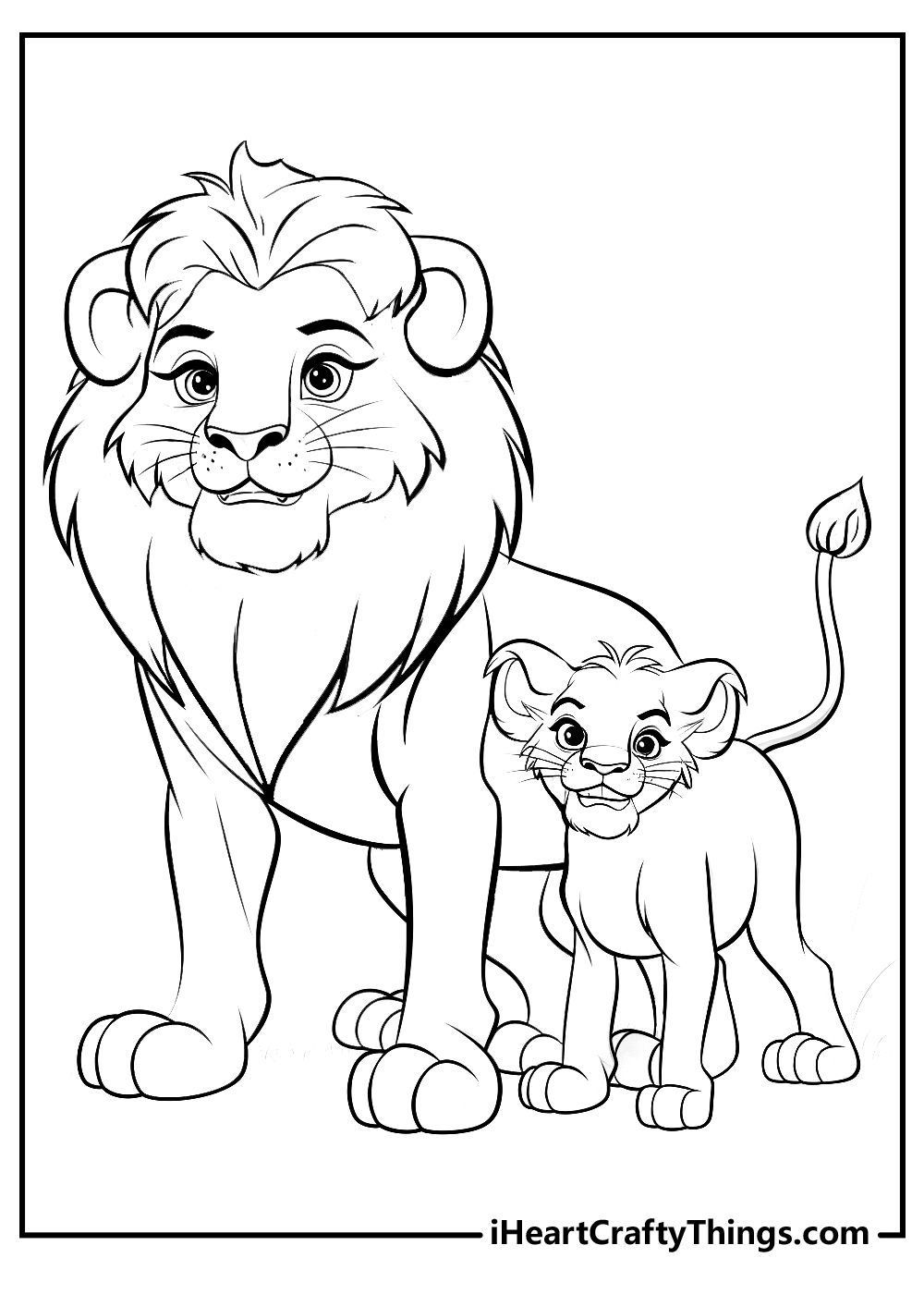 We're going even further back in time for this next page. This time, Simba is a really young cub, and he is looking closely at a new butterfly friend!
It is such a cute scene, and it will look even better when you have added some color to it.
How will you color this super-cute image?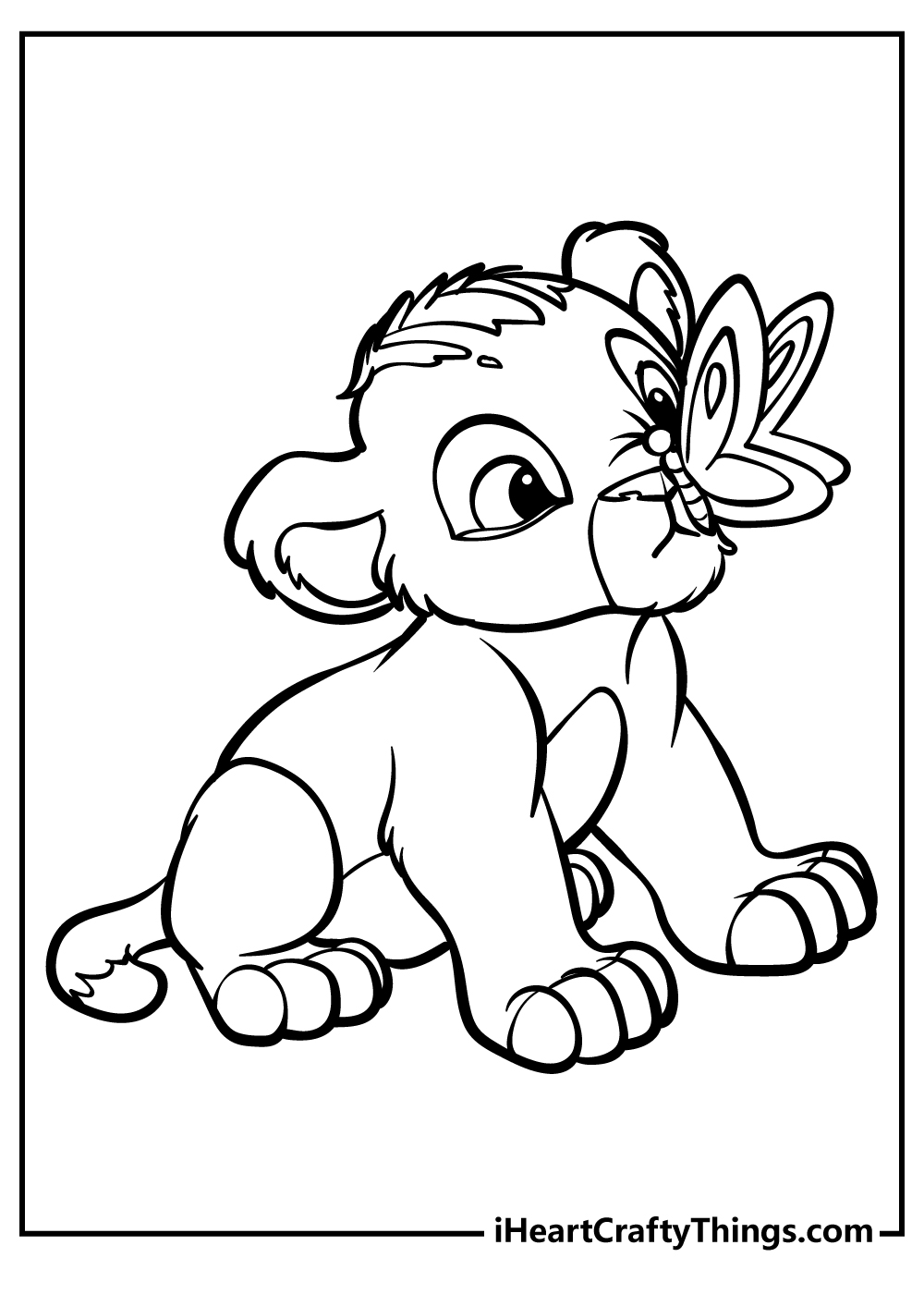 It's time to play in this next Lion King coloring sheet! Simba is having a great time here, and you can only wonder which character he is playing with.
This would be the perfect image to add some extra details to in order to finish it off nicely.
What extra details would you like to add in order to create a fun scene? We will be interested to see which creative ideas you have!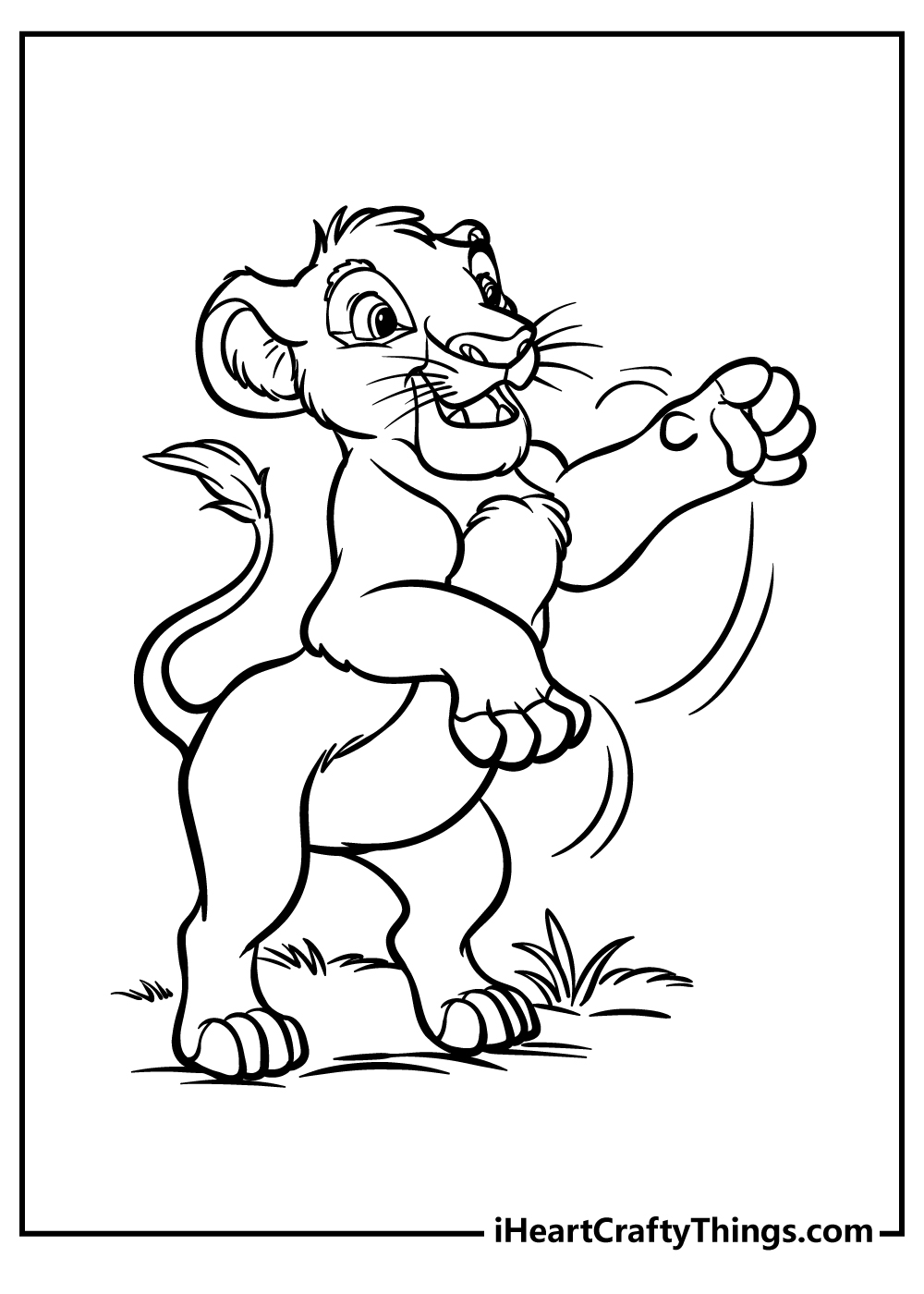 It's time for some more adventure in this Lion King coloring sheet for kids! This cub looks ready to explore, and you can use your favorite art mediums and colors to bring this scene to life.
Will you recreate a scene from the Lion King movies, or will you make your very own unique scene instead?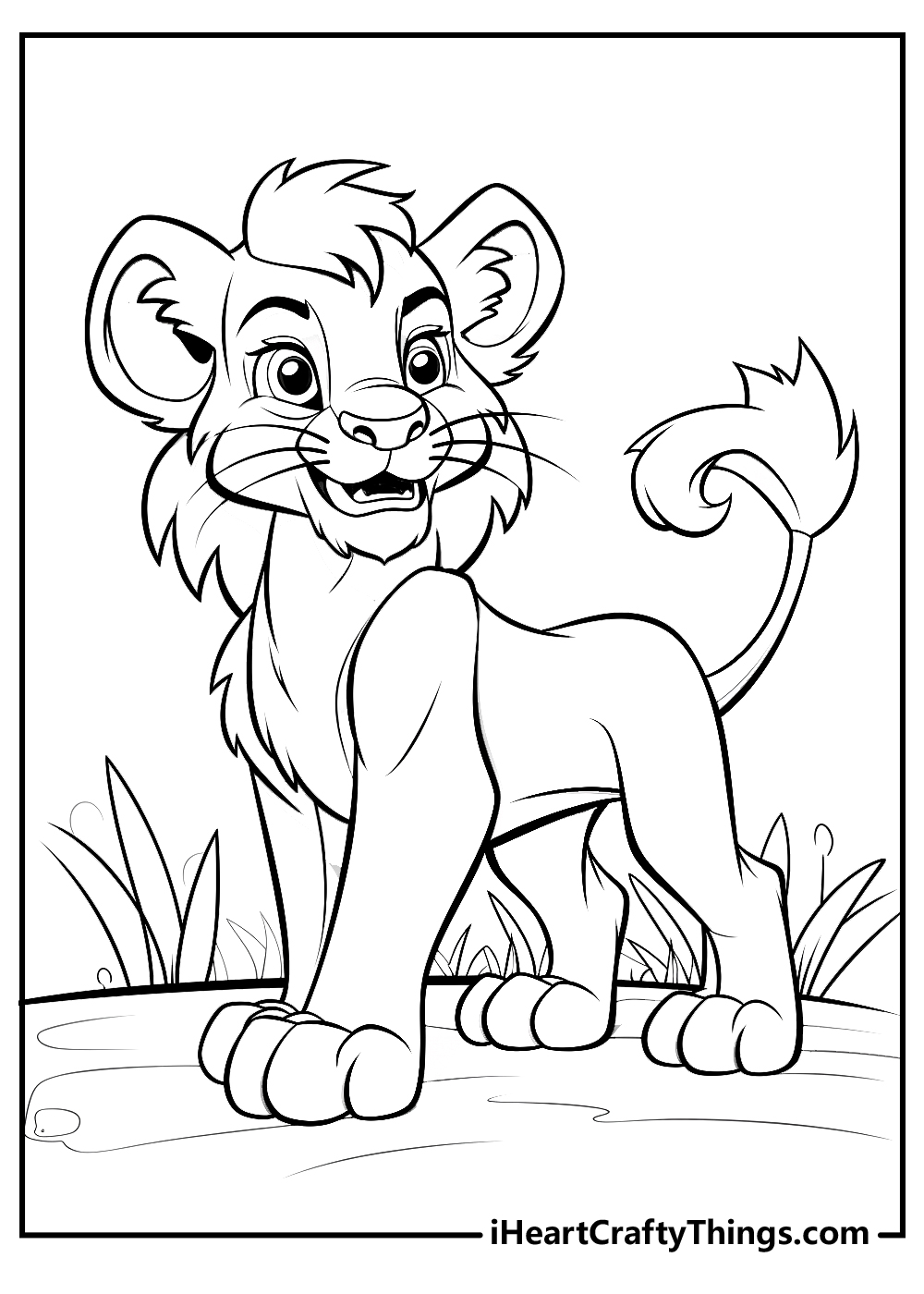 For the next image we have for you, we are focusing on the character of Mufasa; the previous lion king before Simba.
He is a noble character that has a lot of dignity about him, and his colors are similar to the colors used for adult Simba.
How will you color this noble lion king and his surroundings?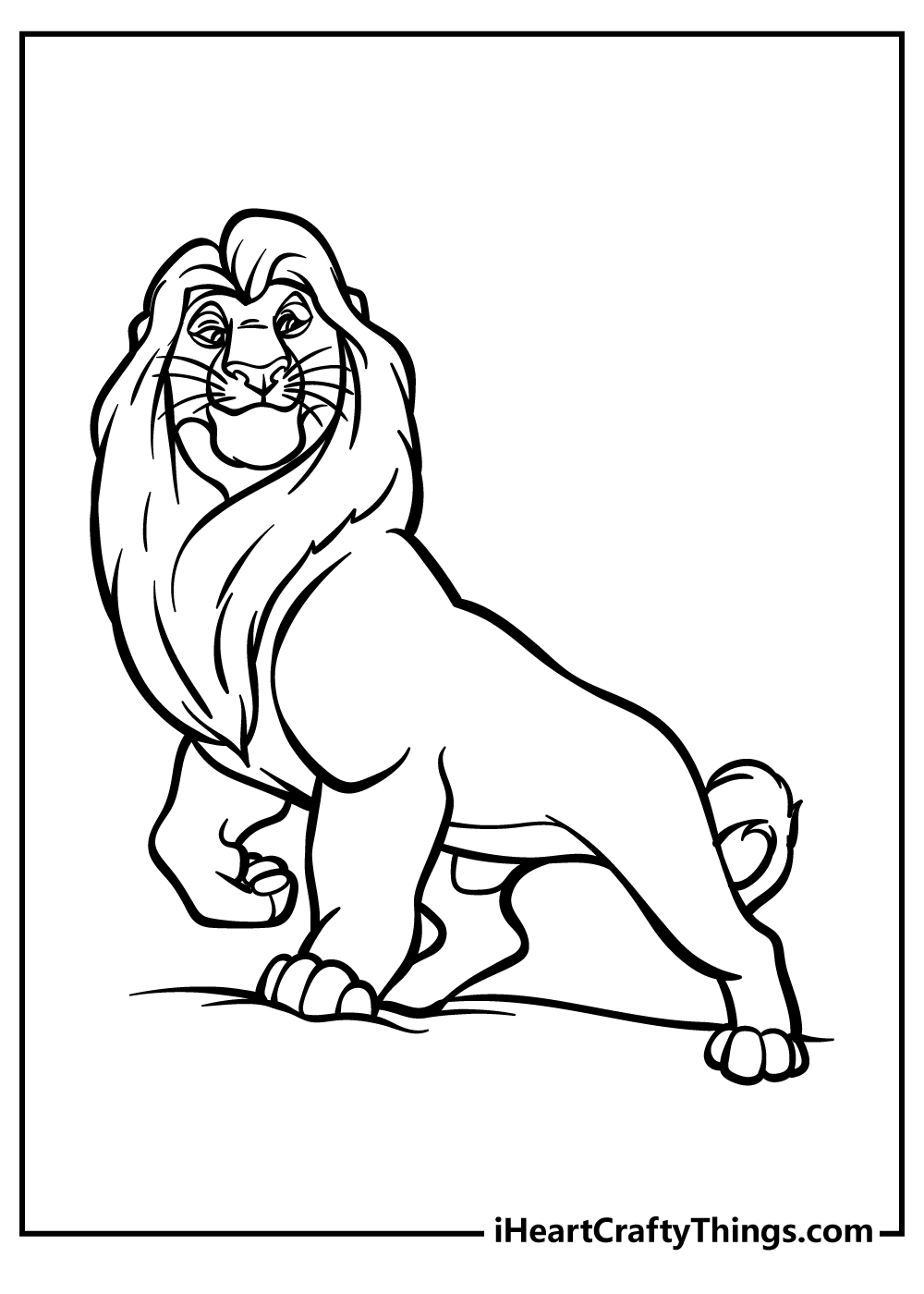 This page has a close-up on young Simba, and it is a portrayal that really captures his character brilliantly!
While you can use the same colors that are used in the films, you could also go for some more stylistic choices to create a fun interpretation of this classic character.
If you can't decide, you can also print out multiple copies to experiment!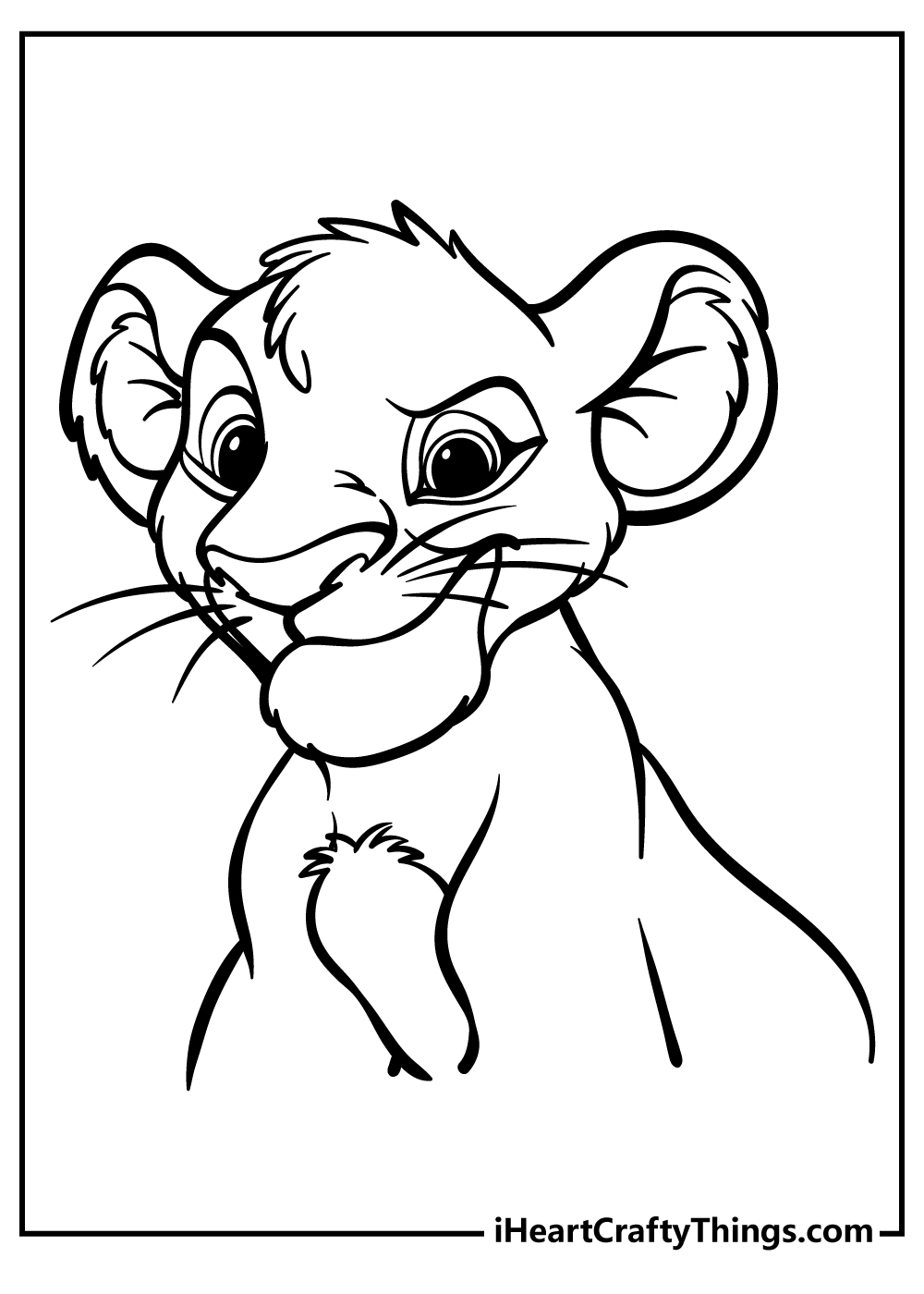 We have another moment between parent and cub for you to color with this next page. Once you have finished coloring this page, it would be an amazing gift to give to one of your parents.
You could even add some text to the image to show a message saying how much you love them! It would make a great gift for anyone you know, for that matter.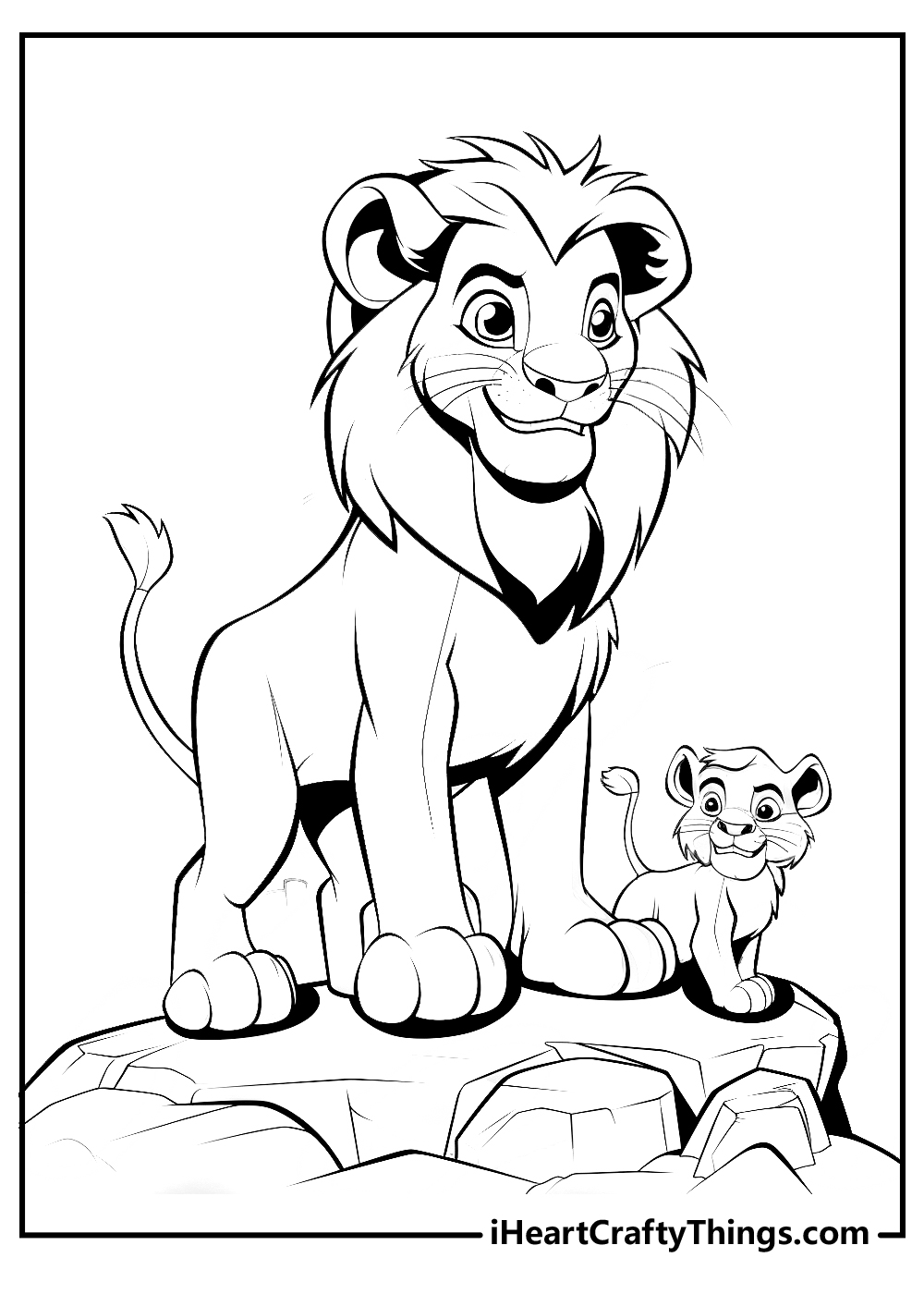 For the eighth page, we again have a close-up on Simba, and it's another one that captures so much of his personality.
The background is blank, so you can also have even more fun by adding some background details and other elements.
You could either create a scene or you could use colors and shapes to create a colorful backdrop. Either approach would look great, so let your creativity flow!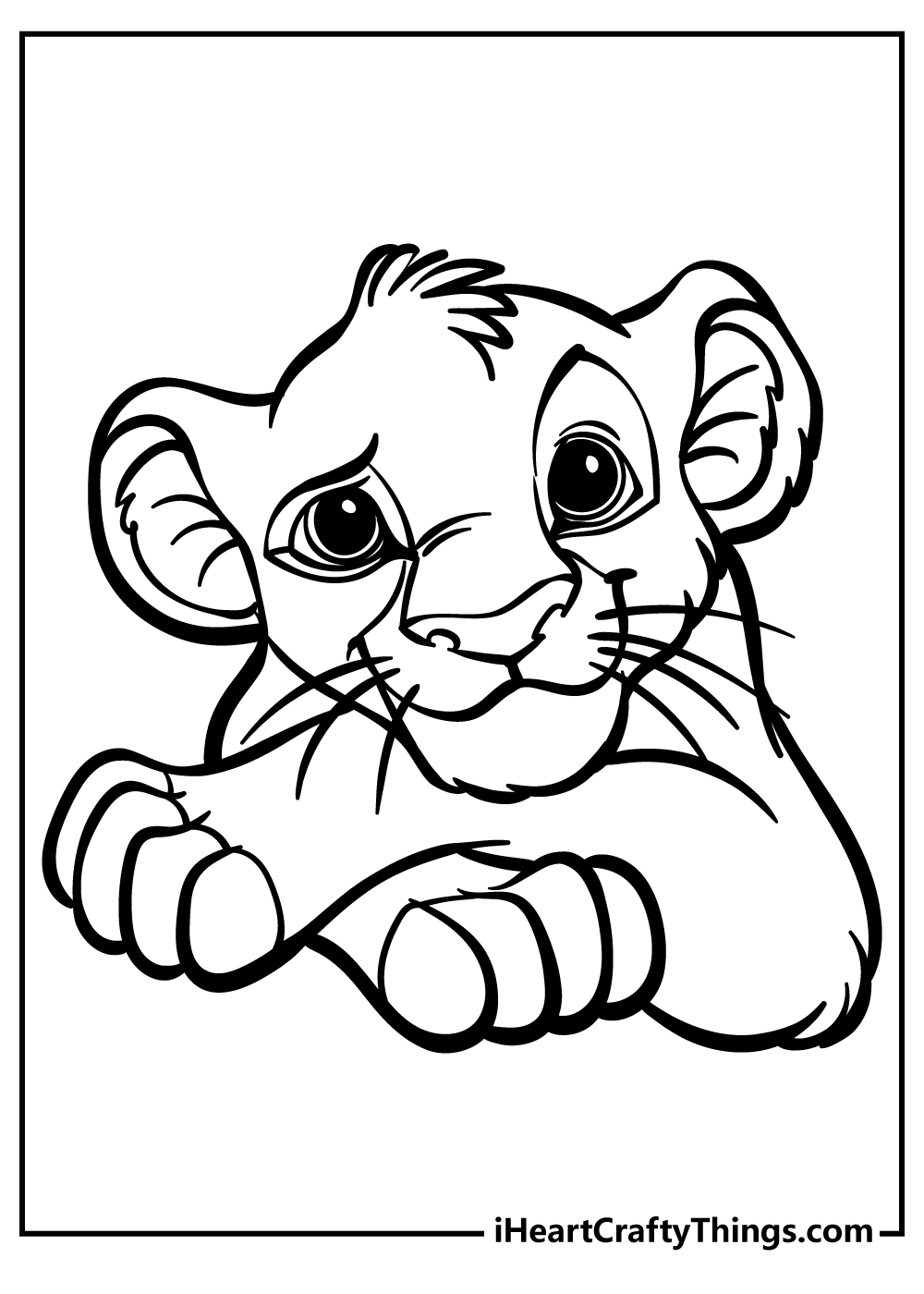 Nala is a lioness that Simba meets as a cub, and they will later go on to share a romance. She is also the focus of this next Lion King coloring printable!
Her colors are similar to those of Simba, but the shades used are a little lighter if you want to keep her looking screen accurate.
Will you color her to look as she does in the films or go with a different approach?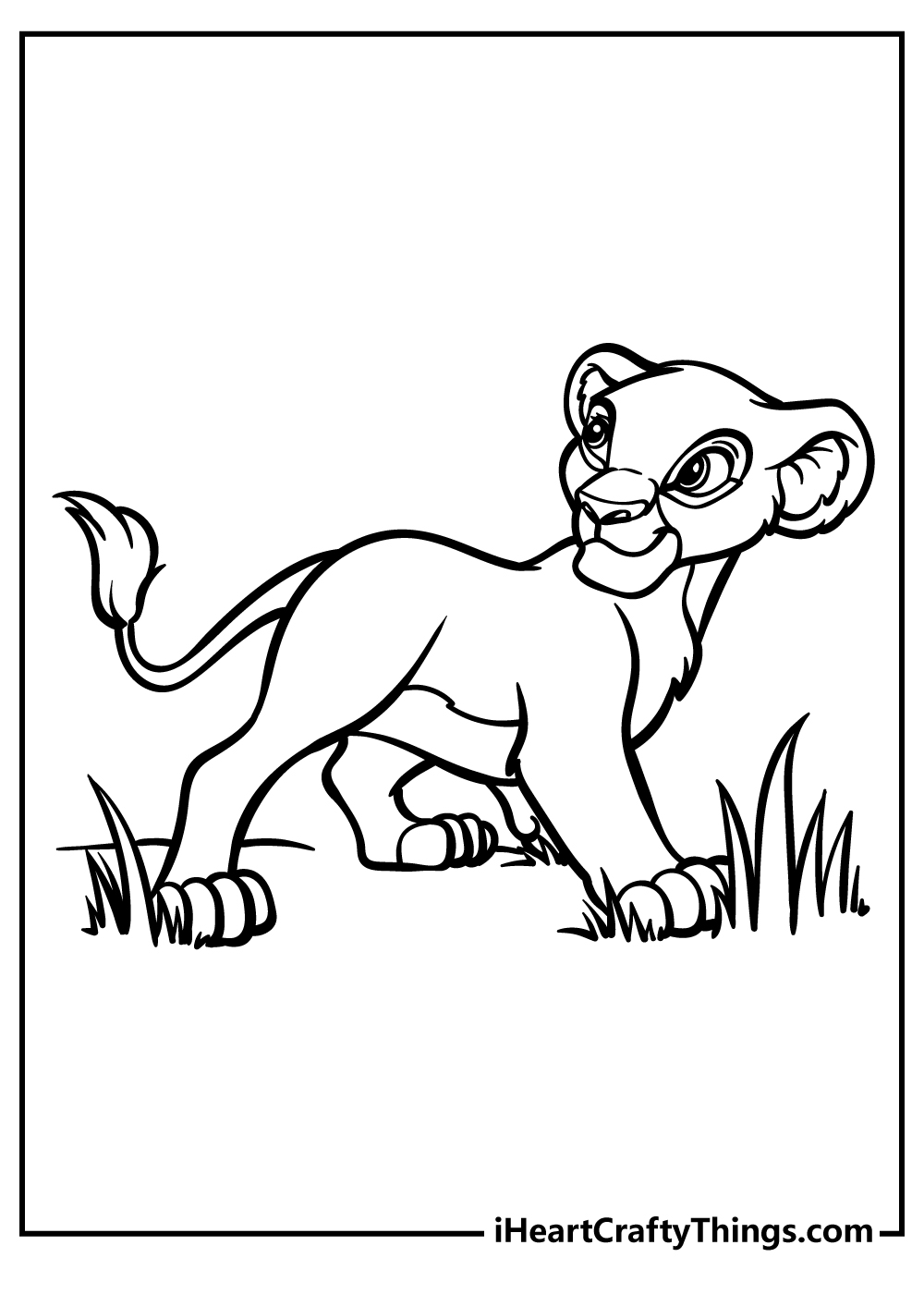 We've had lots of lions in this collection so far, so now we shall focus on another species with Pumba the warthog! He is one of the funniest characters in the series, and he is a favorite of many.
His color scheme is a bit darker, using lots of reds and browns. You can use the films to help you out if you want him to look like his movie counterpart!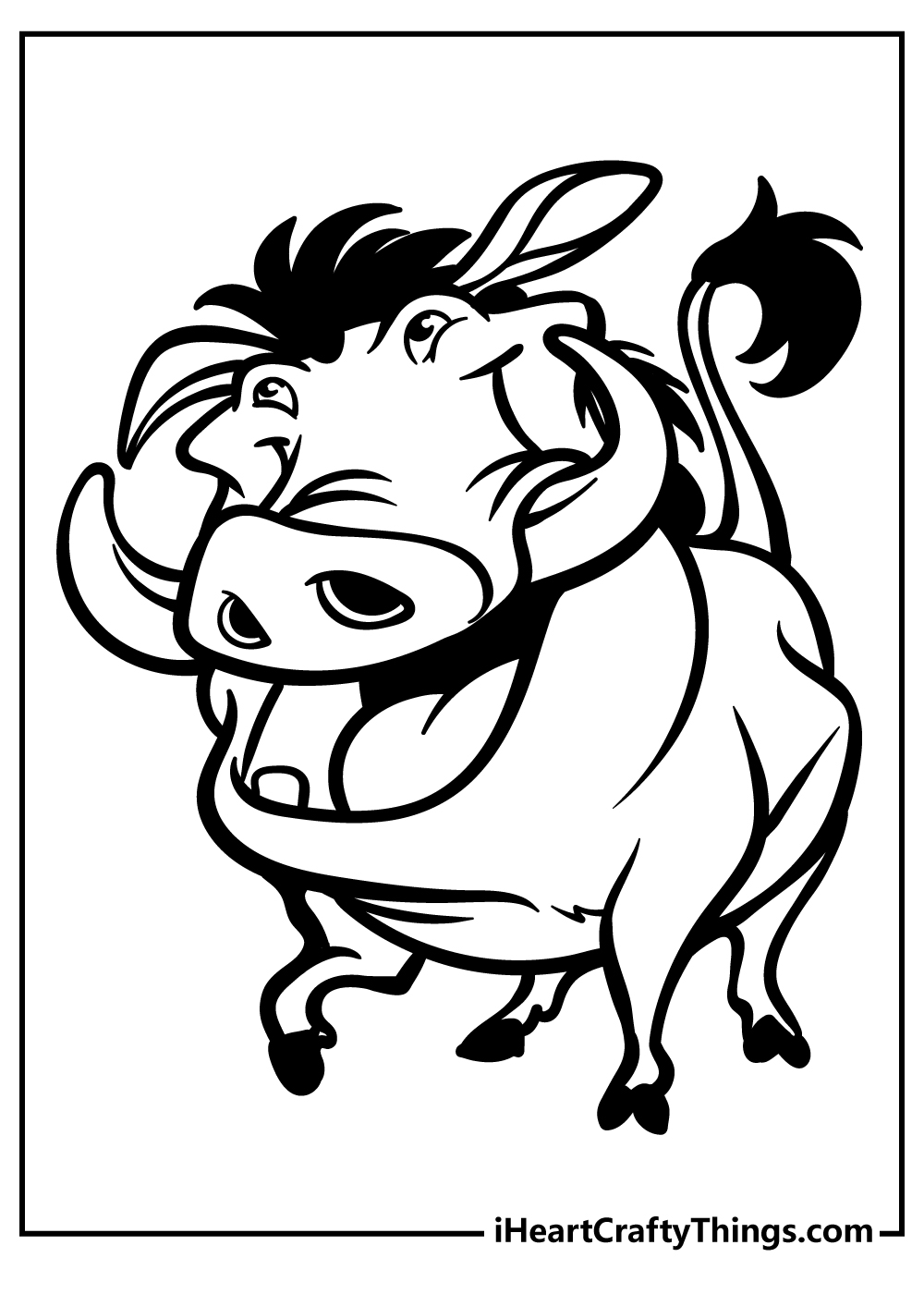 There's another great portrayal of Pumba here for you to color! This is another picture that really captures the personality of this character, and there are so many great details to fill in.
Don't be afraid to experiment with new colors and art mediums as you color Pumba!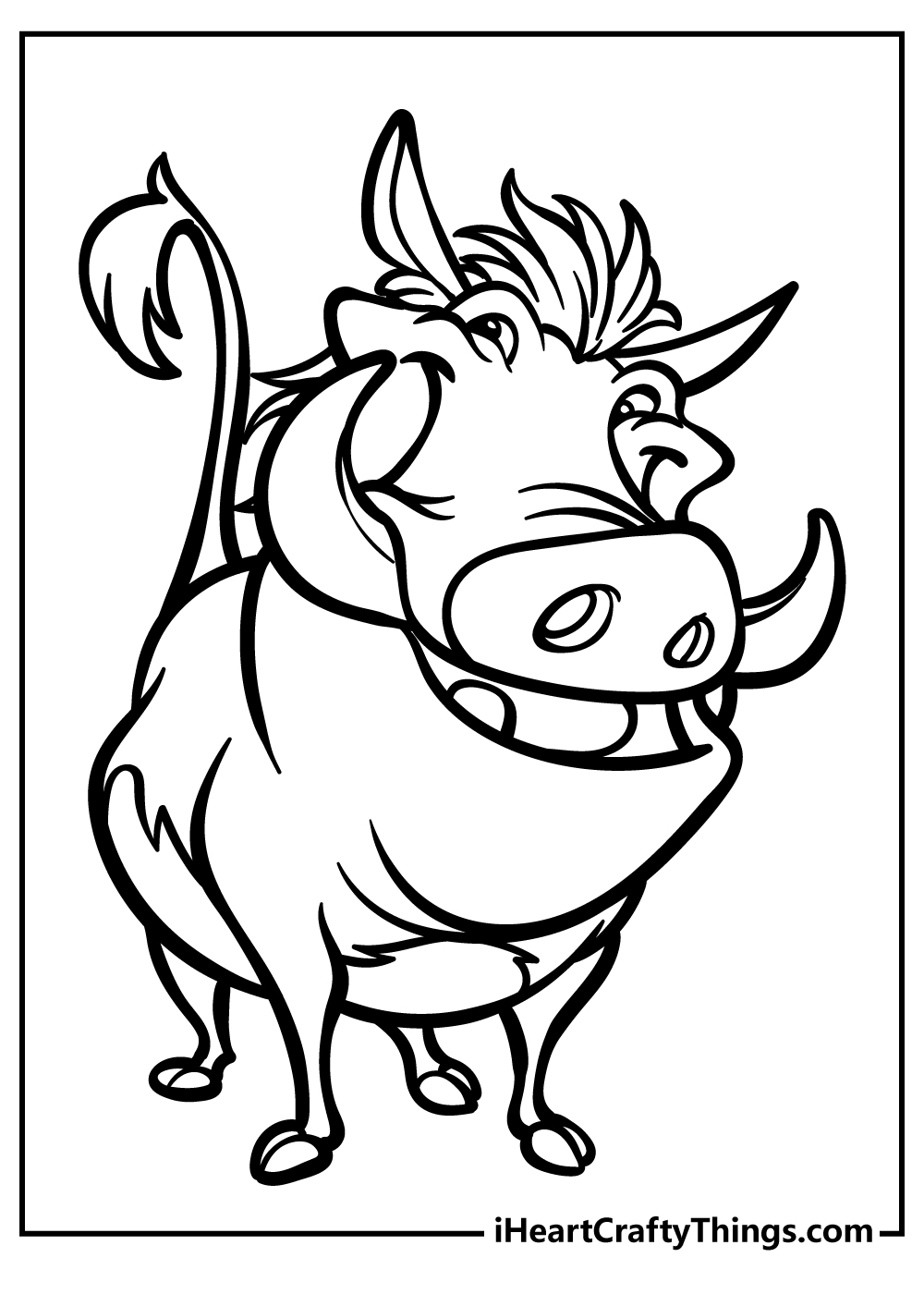 Baby Simba is back for another adorable page! He is such a cute little lion cub, and he will look even cuter when he's all colored in.
We think some watercolor paints and colored pencils would be perfect in creating a softer look for this young version of Simba.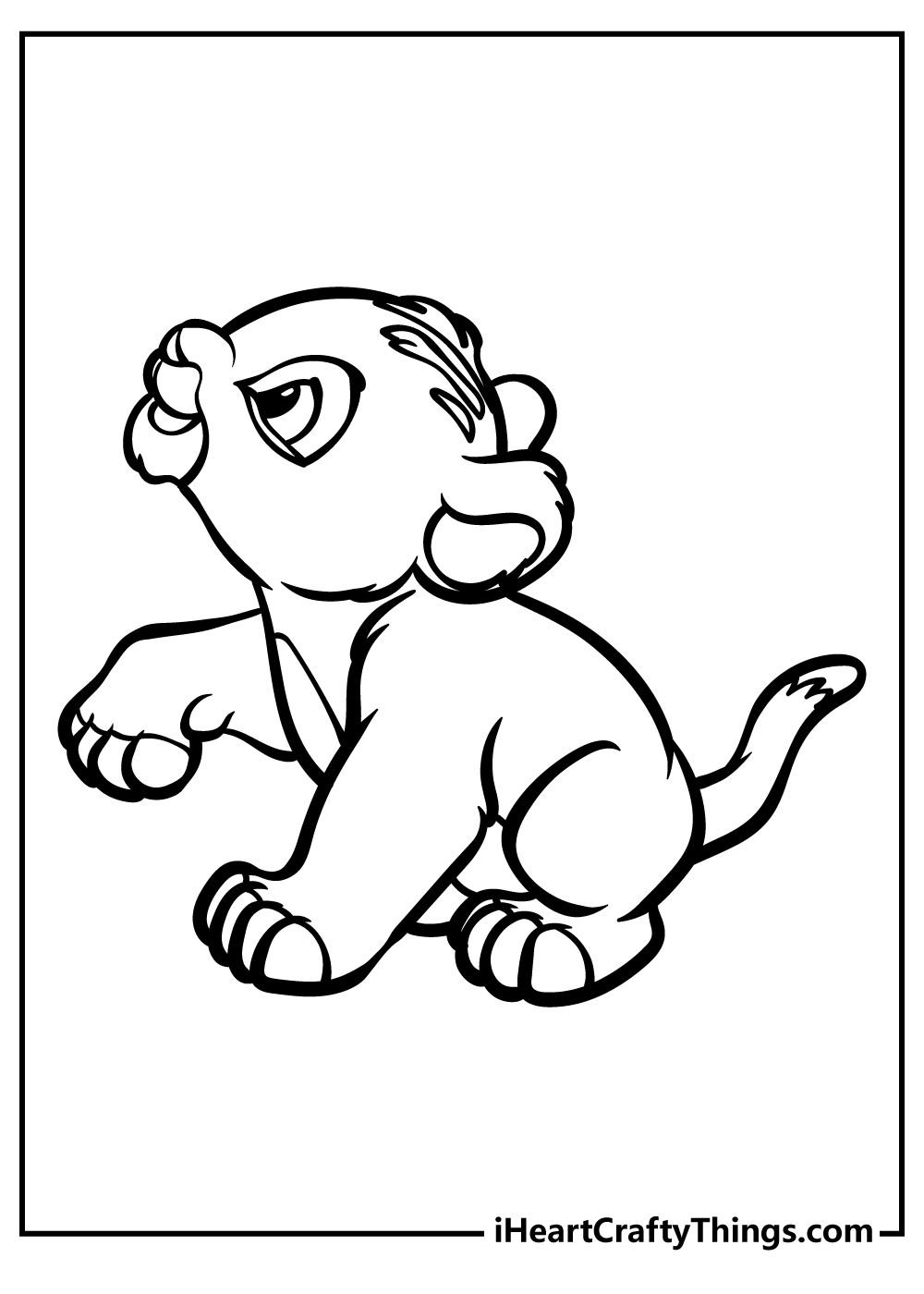 We're featuring Nala again for this page. She is a bit older in this image than she was in the previous page she appeared with.
For this reason, this page would make for a great companion piece to the previous one she appeared with! Will you use the same colors and mediums that you used for that one?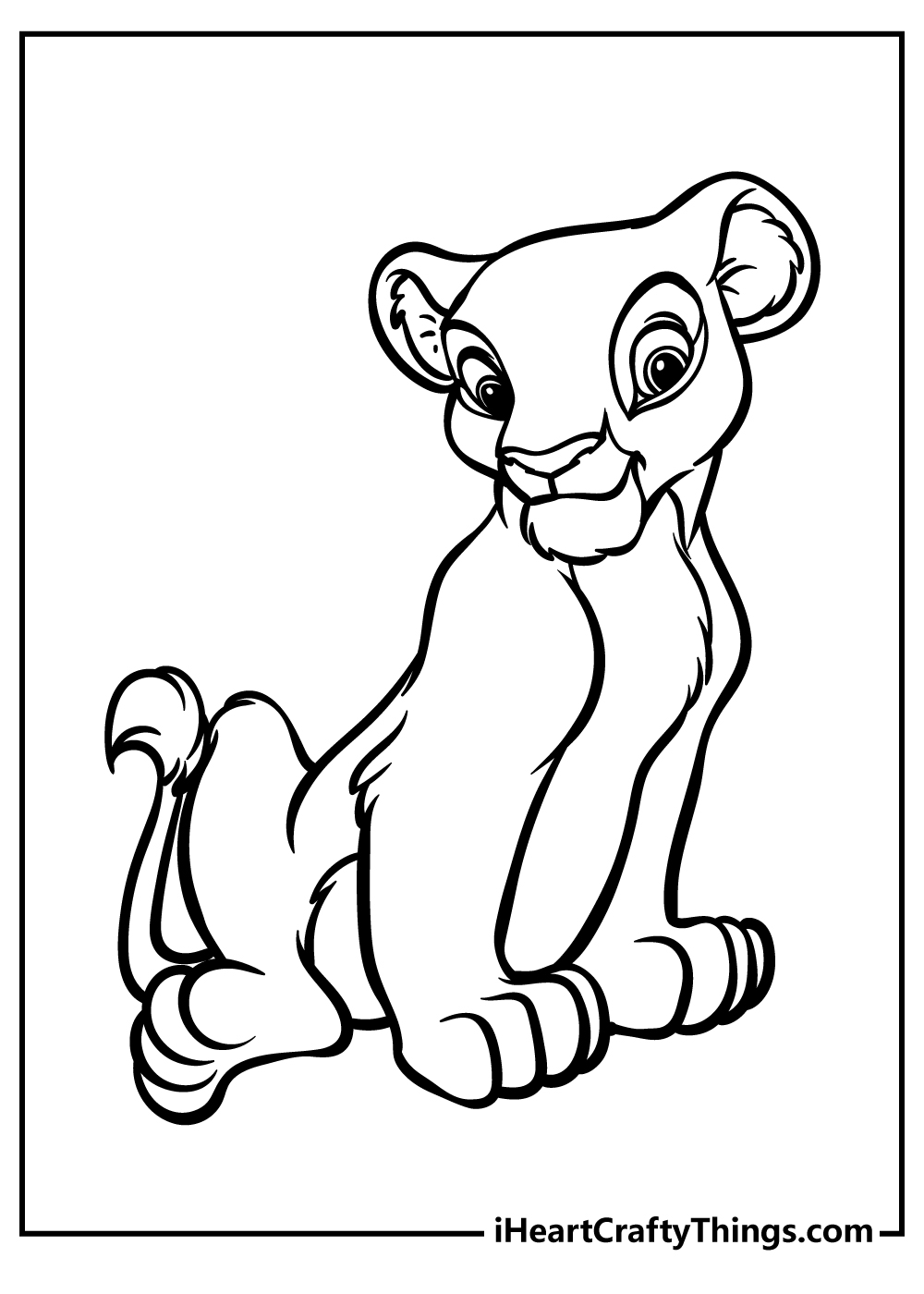 There's another playtime scene for you to color before we get to the final page of this collection.
Simba is having a great time in this one, and we think it would be perfect to use some bright and happy colors to fit the playful mood of the image! Which colors would you go for to finish this one?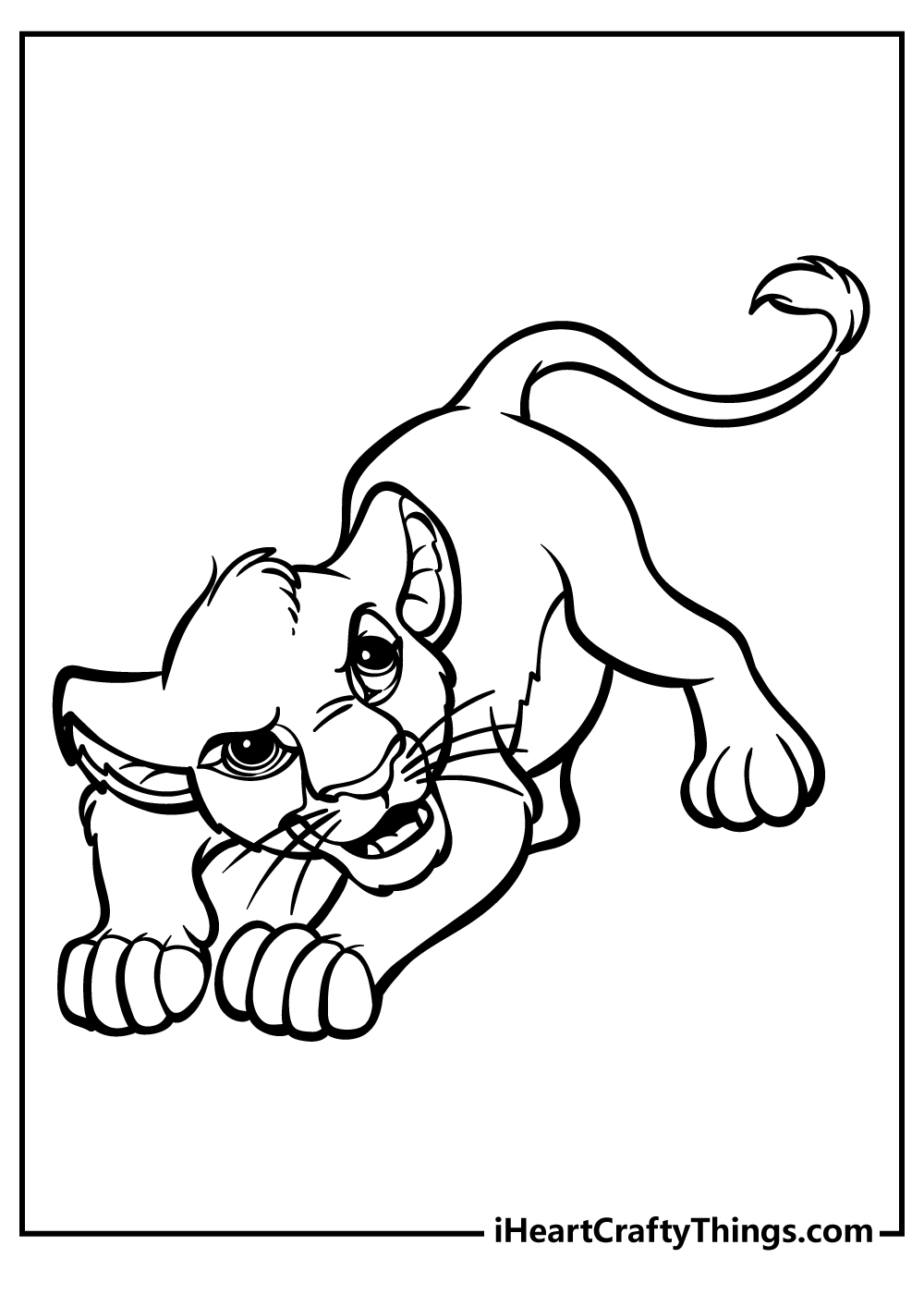 These two lion cub friends look like they're up to mischief! Lion cubs love to play around and misbehave, so what do you think the cubs in this Lion King printable could be up to?
You could show off what you think they're doing by adding some interesting details and extra elements to the page to make it even more unique.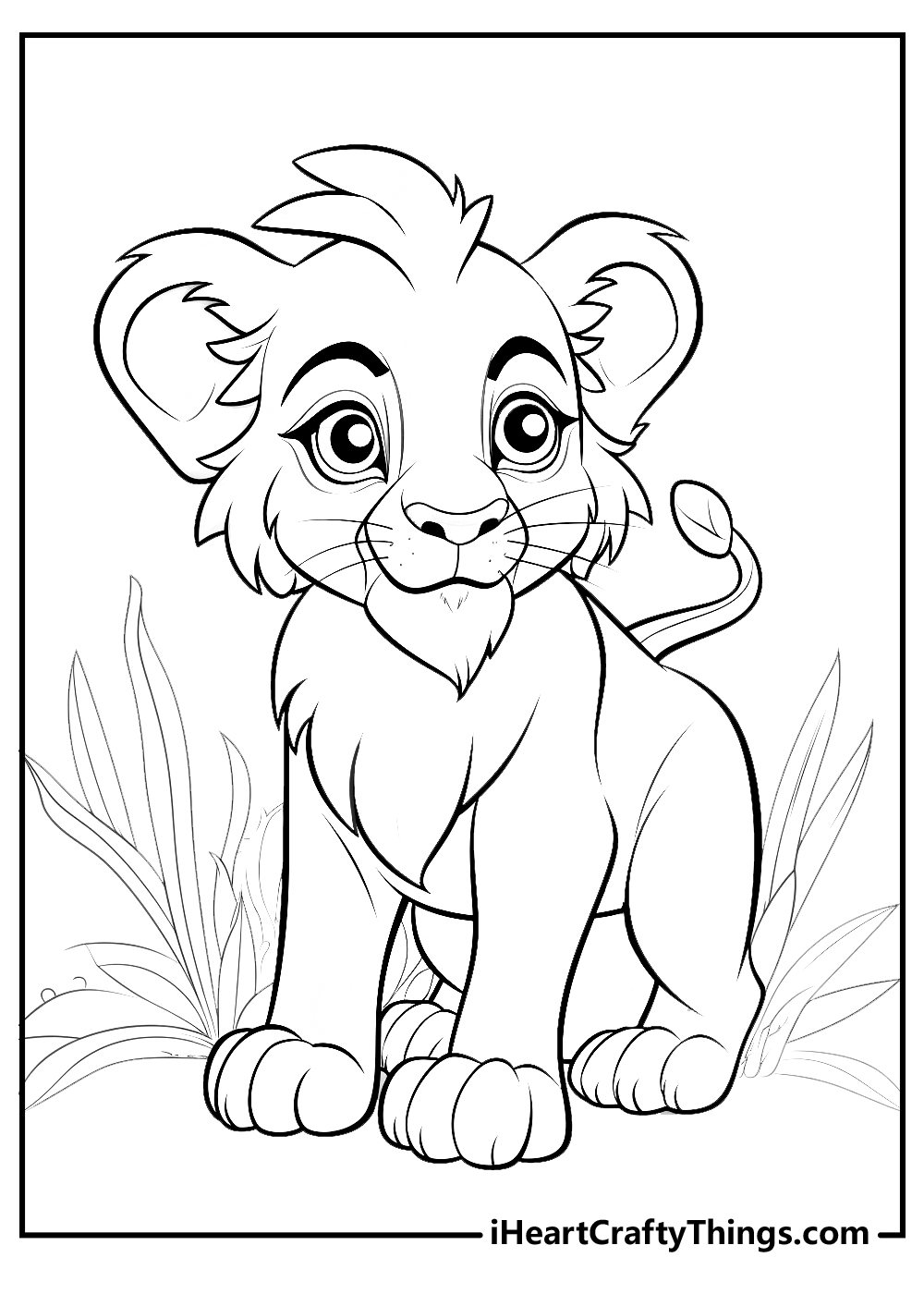 This is the final Lion King coloring sheet we have for you, and it features the meerkat Timone.
He is the best friend of Pumba, and he has an interesting color scheme that you can replicate for this picture!
He is often surrounded by colorful bugs and other backgrounds, so you can draw in some extra details for more color.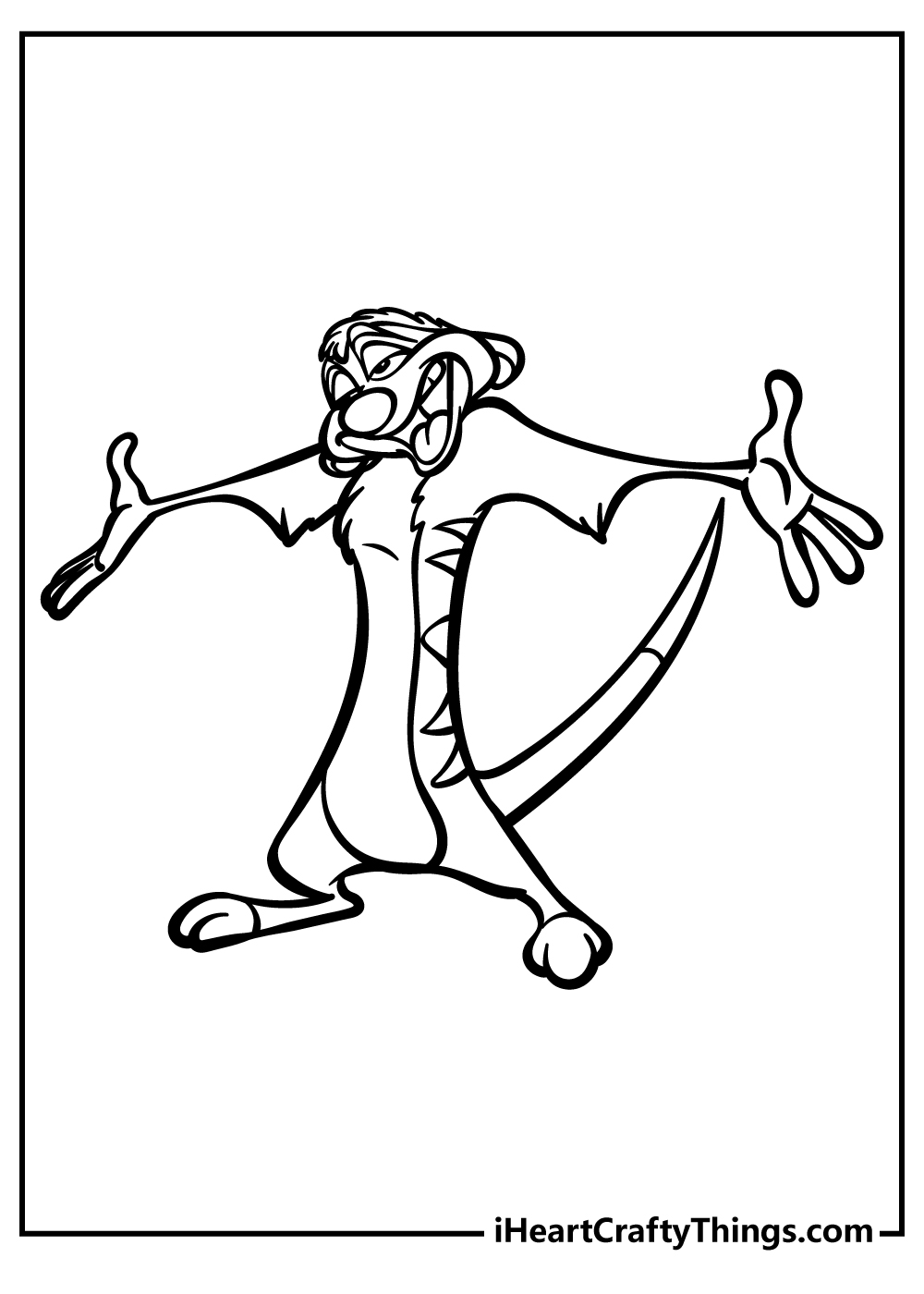 Lion King Coloring Pages – Which will you choose?
We hope you had tons of fun reliving some classic movie moments with this collection of free Lion King coloring pages for kids!
We tried to feature many characters from the films so that you have a chance to use lots of amazing colors and mediums.
Remember to share the collection with other Lion King fans, and then share some of your finished pages on our Facebook and Pinterest pages for us to see!