The Muppets are some of the most beloved fictional characters in the world!
These colorful and varied characters have delighted people young and old, and this trend was continued with the Muppet Babies.
This collection of free Muppet Babies coloring pages for kids is here to show off some of these lovably cute baby versions of our favorite Muppets!
These 20 images are all free for you to print and enjoy as many times as you please, and you can share them with other Muppet Babies fans you know as well!
So get ready for some cute coloring fun as we begin the first page in the collection.
20 Brand New Muppet Babies Coloring Pages – Free to Print and Color
It seems appropriate that we would begin this collection of free Muppet Babies coloring pages for kids with a character that loves the spotlight, so baby Miss Piggy is up first!
As expected, she is dressed in some fancy clothing while striking a fabulous pose, and no you get to decide how her outfit will look.
Will you go with how she looks in the series or create a new look for her to kick off this collection?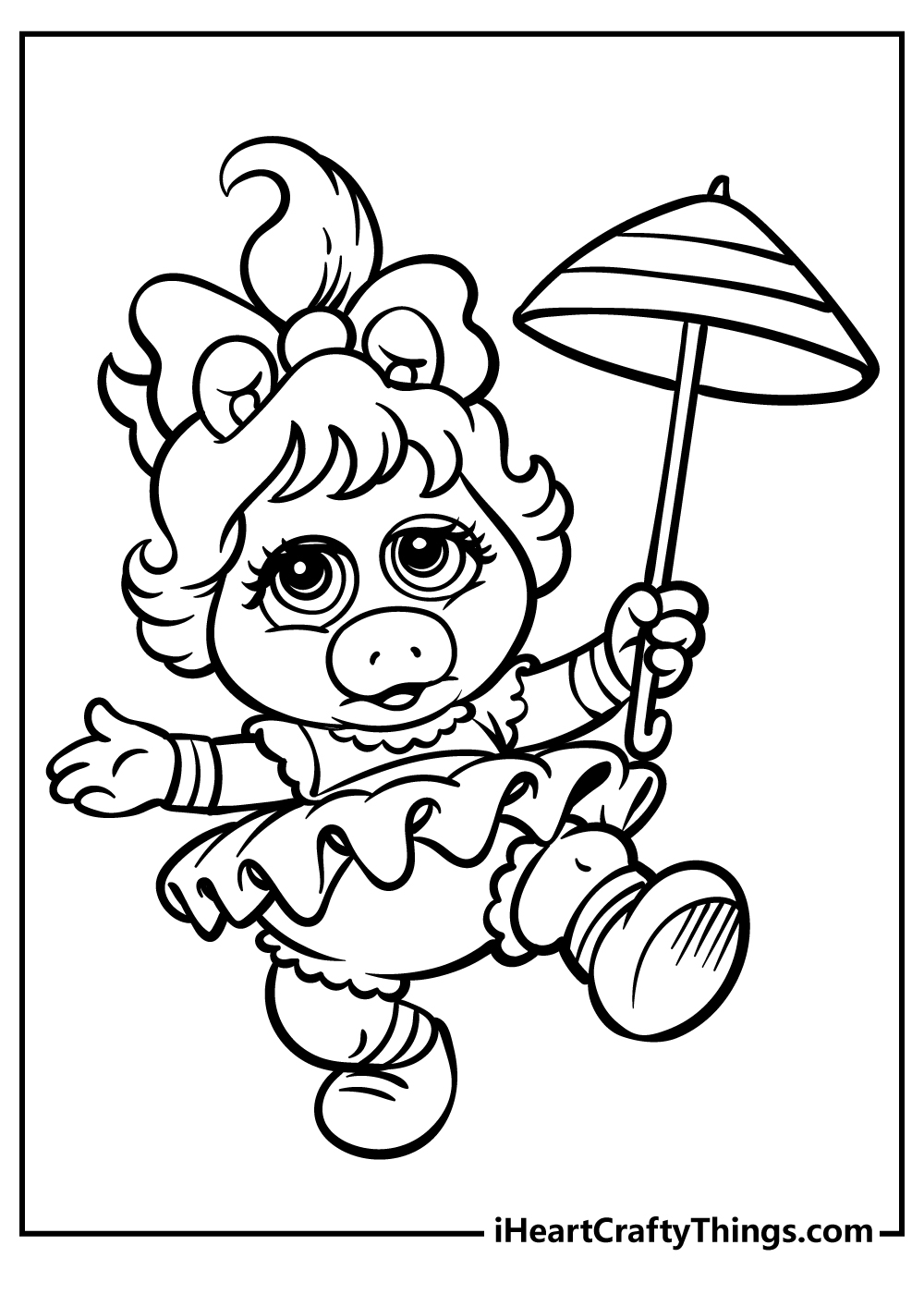 Lights, camera, action. Get ready for laughter and fun with this comedian Muppet Baby.
In this coloring page, the joke-telling Muppet Baby is on, getting ready to tell his best jokes and make everyone giggle.
His fur is brown and fuzzy, and he's wearing his signature round glasses, polka dot bowtie, and plaid hat.
As you color him in, think about what hilarious jokes he might be telling. Add some color to the stage too – maybe you can draw a red curtain and some spotlights.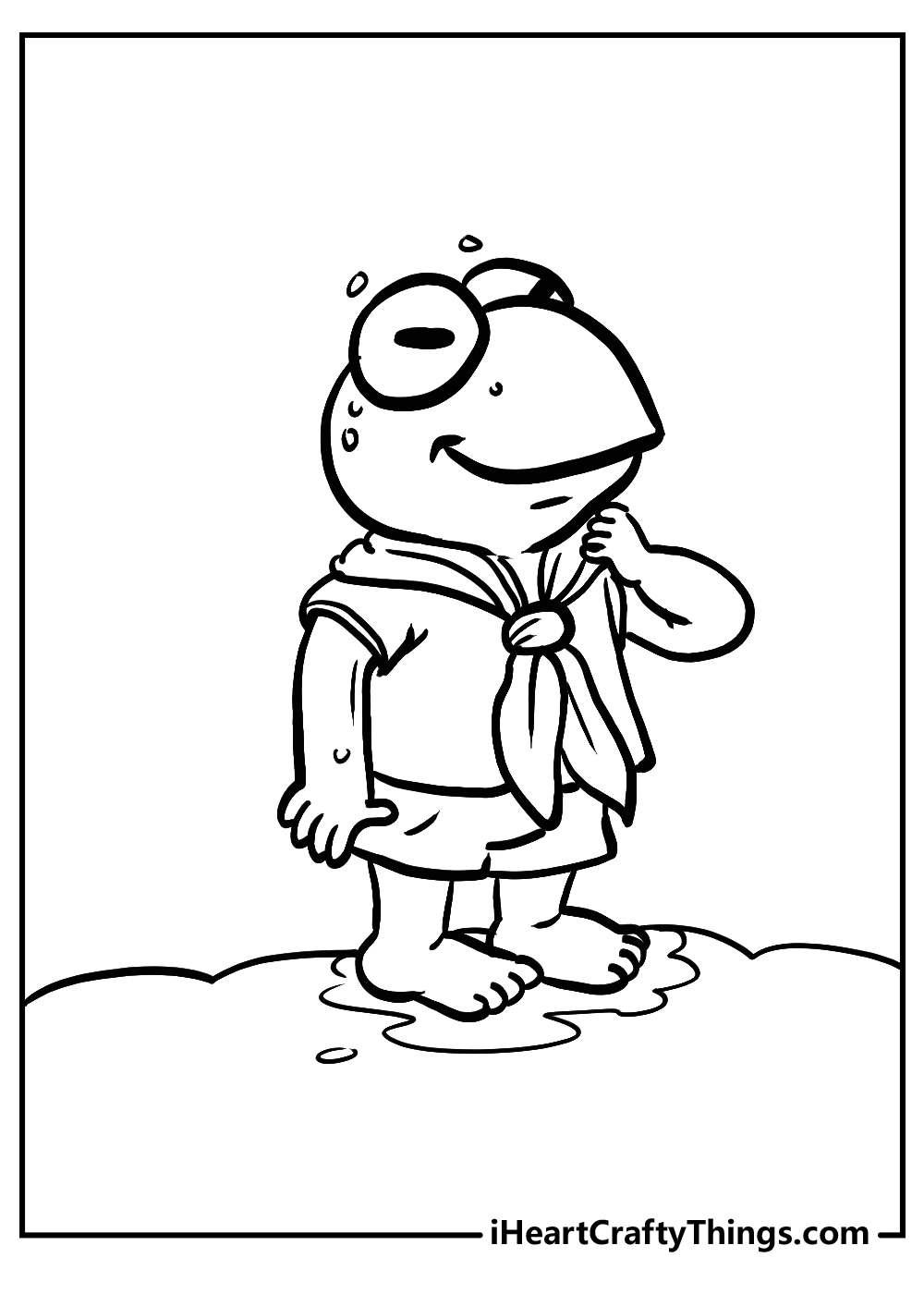 Summer the penguin is a fairly new addition to the Muppet Babies family, but she has still really managed to make a name for herself in that short time!
She is also being creative here, much as you are as you color! She has a painting palette, so for a fun touch you could put real blobs of paint on her brush and palette if you have some.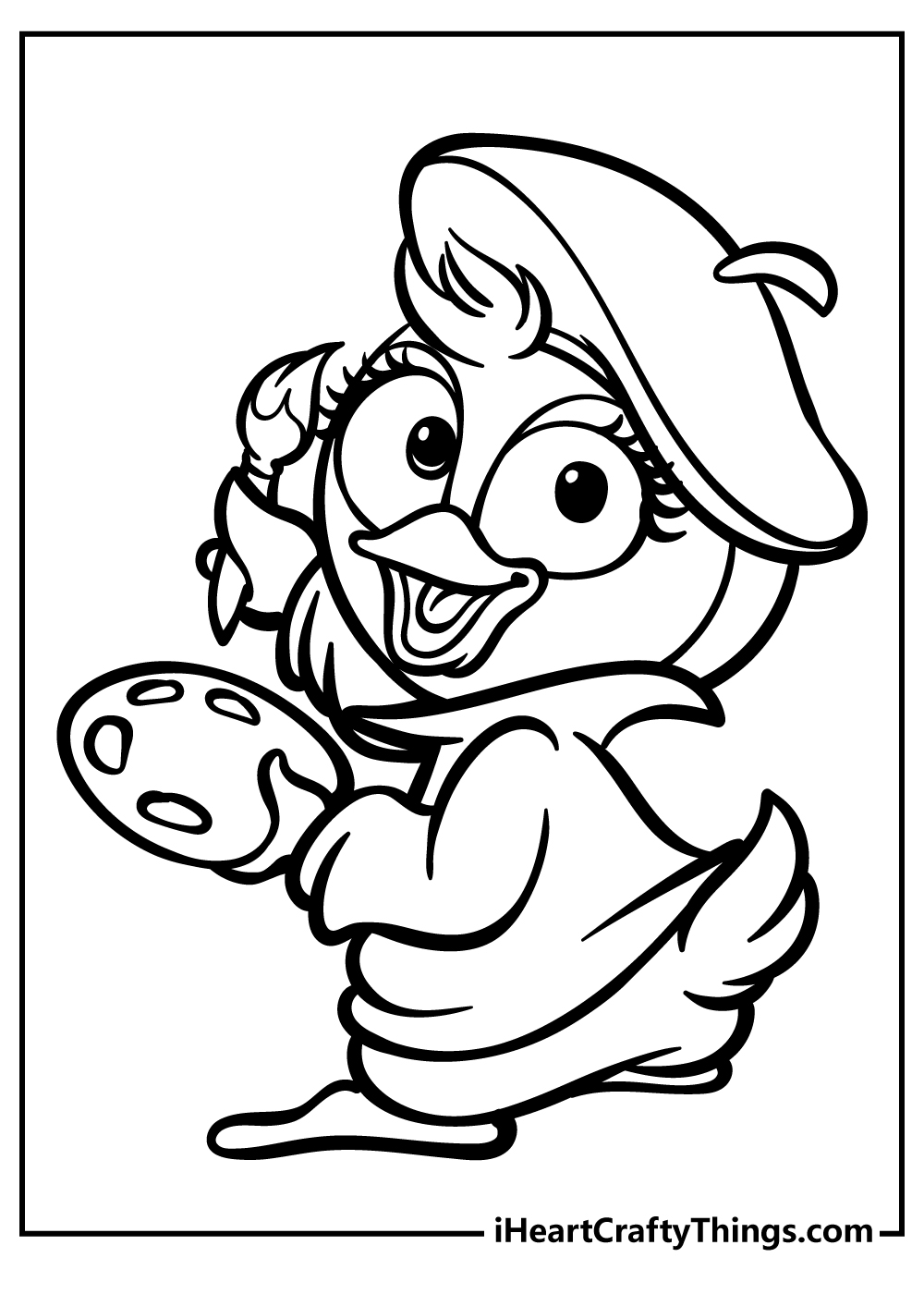 Animal is probably the wildest of all the Muppets, and that is true even in his baby form!
Here he is having a great time as he plays with a toy airplane, and there are so many cool details to color in here. How will you color this wild and wonderful character?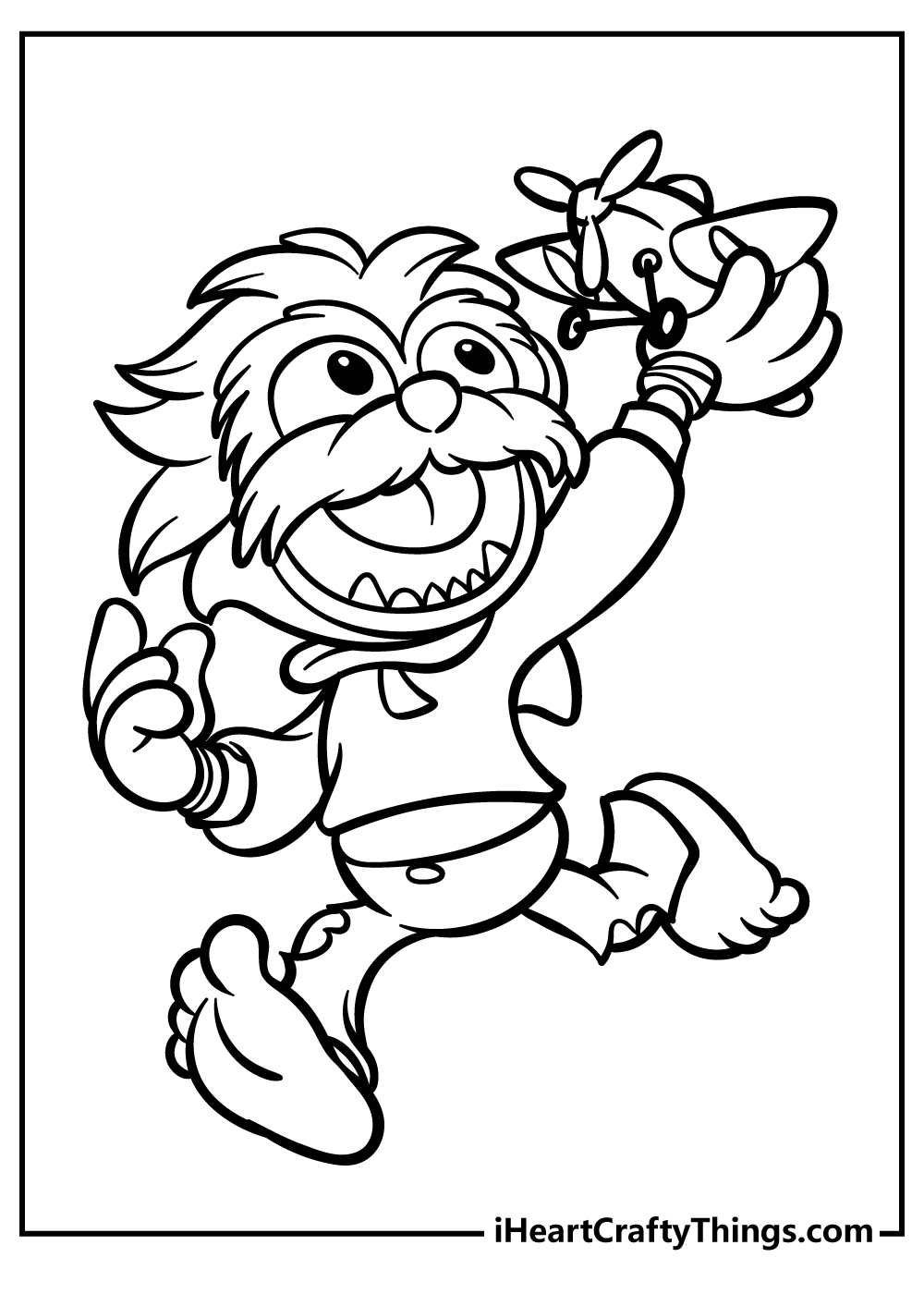 This fabulous Muppet Baby is ready for her close-up in this glitzy coloring page. With her curly hair and fancy purple gown, it's clear this stylish Muppet Baby is dressed to impress.
As you color in her dress, shoes, gloves, and jewels, think about what makes this Muppet Baby feel beautiful. Perhaps she's getting ready for a performance, a photo shoot, or a night on the town.
However you decorate this Muppet Baby with your crayons or markers, she will shine like the star she is.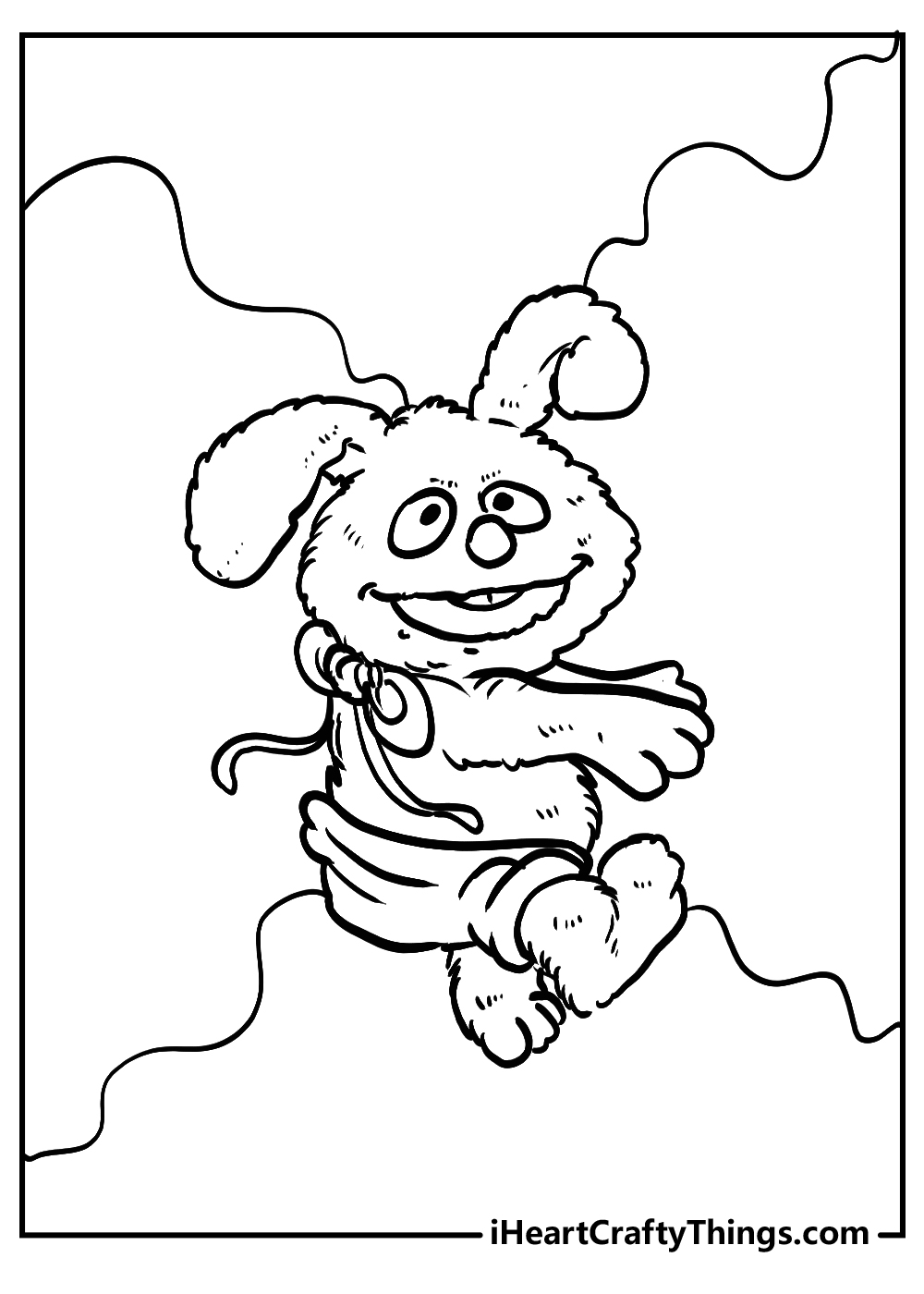 We're not quite done with Animal yet! He is staying active in this next image as he is skating along at high speeds. What kinds of colors will you choose for the gear he is wearing here?
He is a really vibrant character, so we would make the colors of his gear equally bright and vibrant to match his character.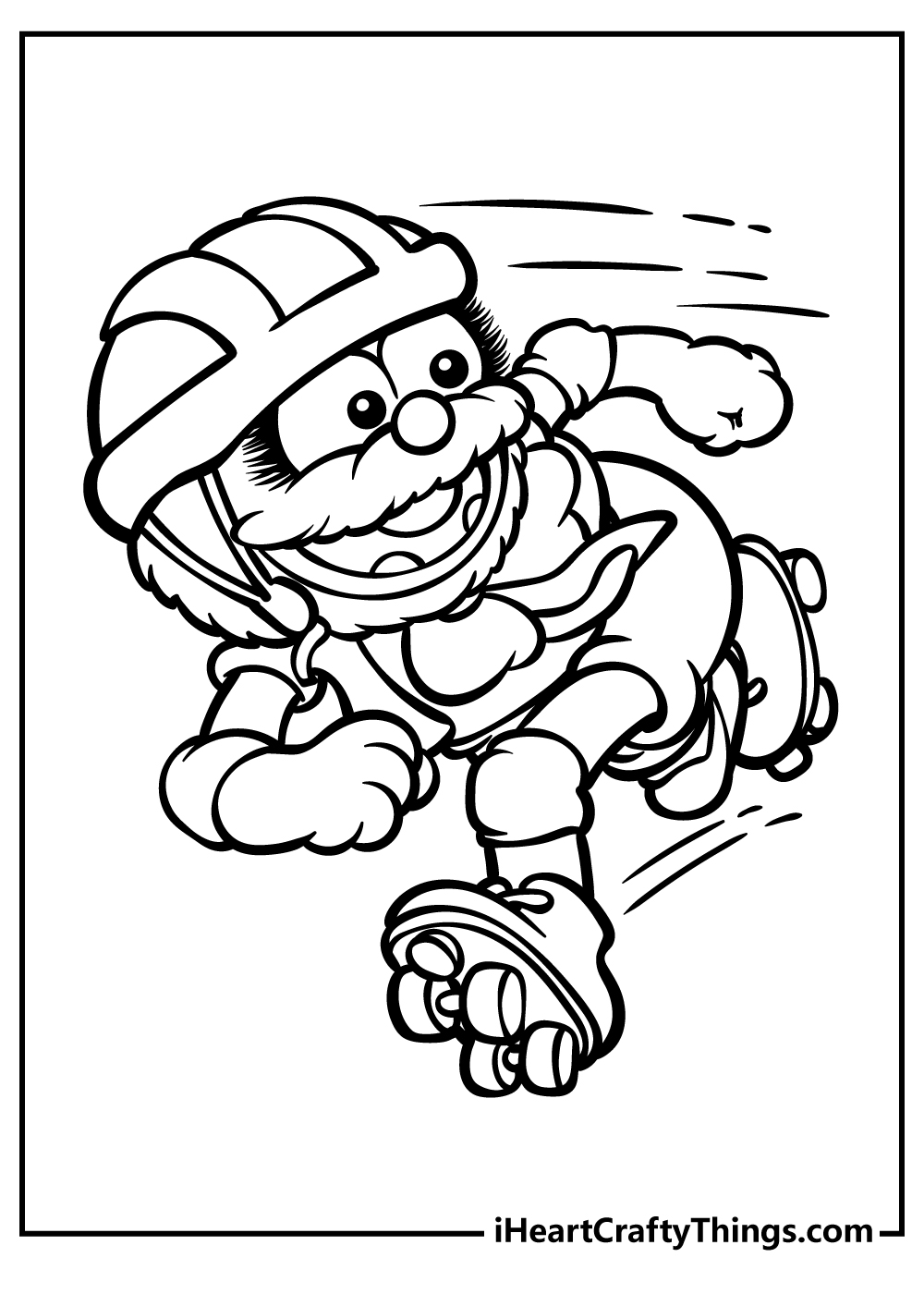 This depiction of baby Rowlf that we have for our fifth Muppet Babies coloring sheet is truly adorable!
He looks like he is taking part in a parade here, and he seems to be having an amazing time while doing so. Will you maybe add a background to this image?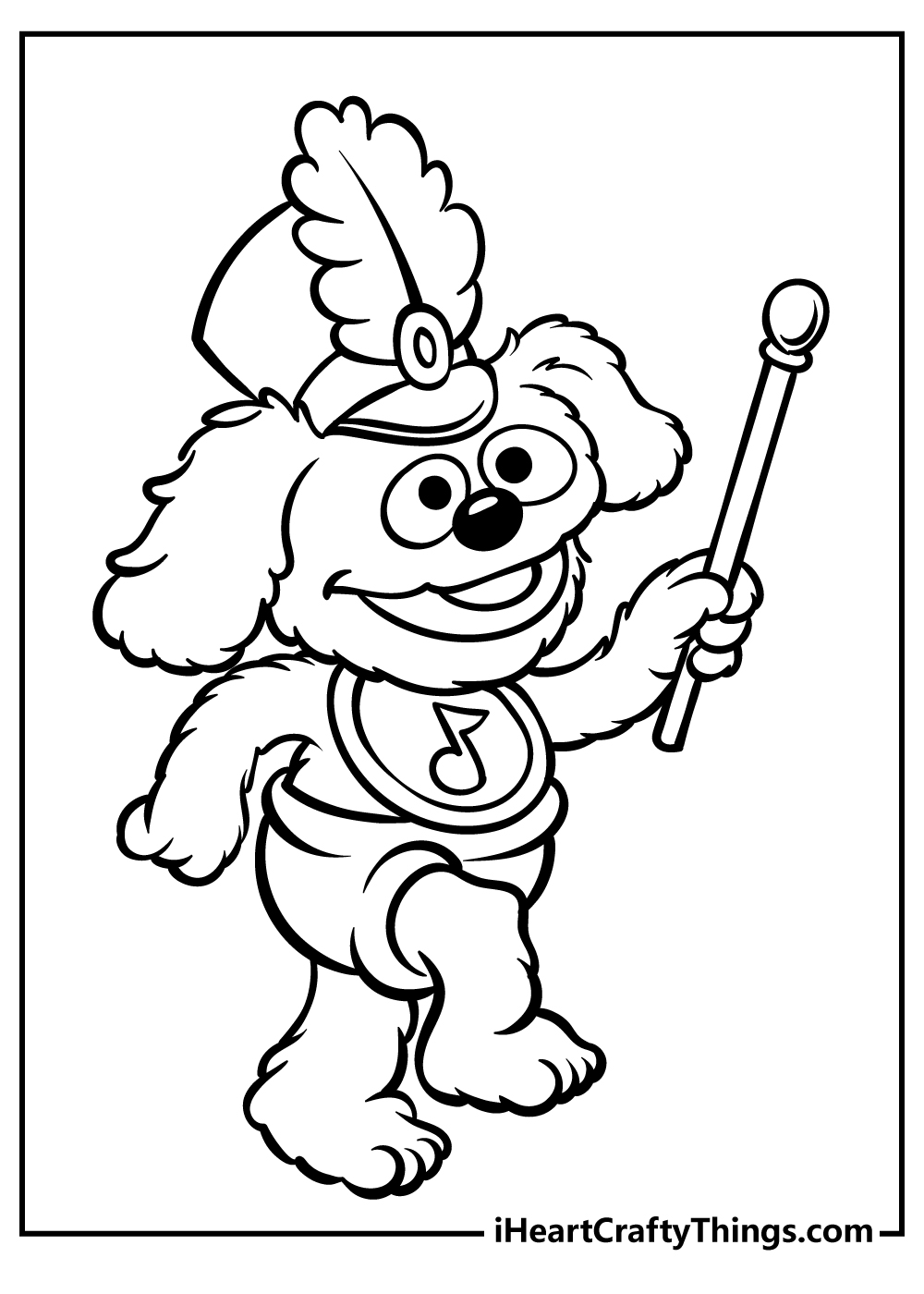 Adventure awaits with this brave Muppet Baby. As the leader of the Muppet Babies, this Muppet
Baby is always up for excitement. He has a big nose and two antennae. He is wearing his signature overalls and shoes and looks ready for some fun.
When coloring, you can add some details to the background, such as flowers, trees, or clouds. Have fun coloring this Muppet Baby.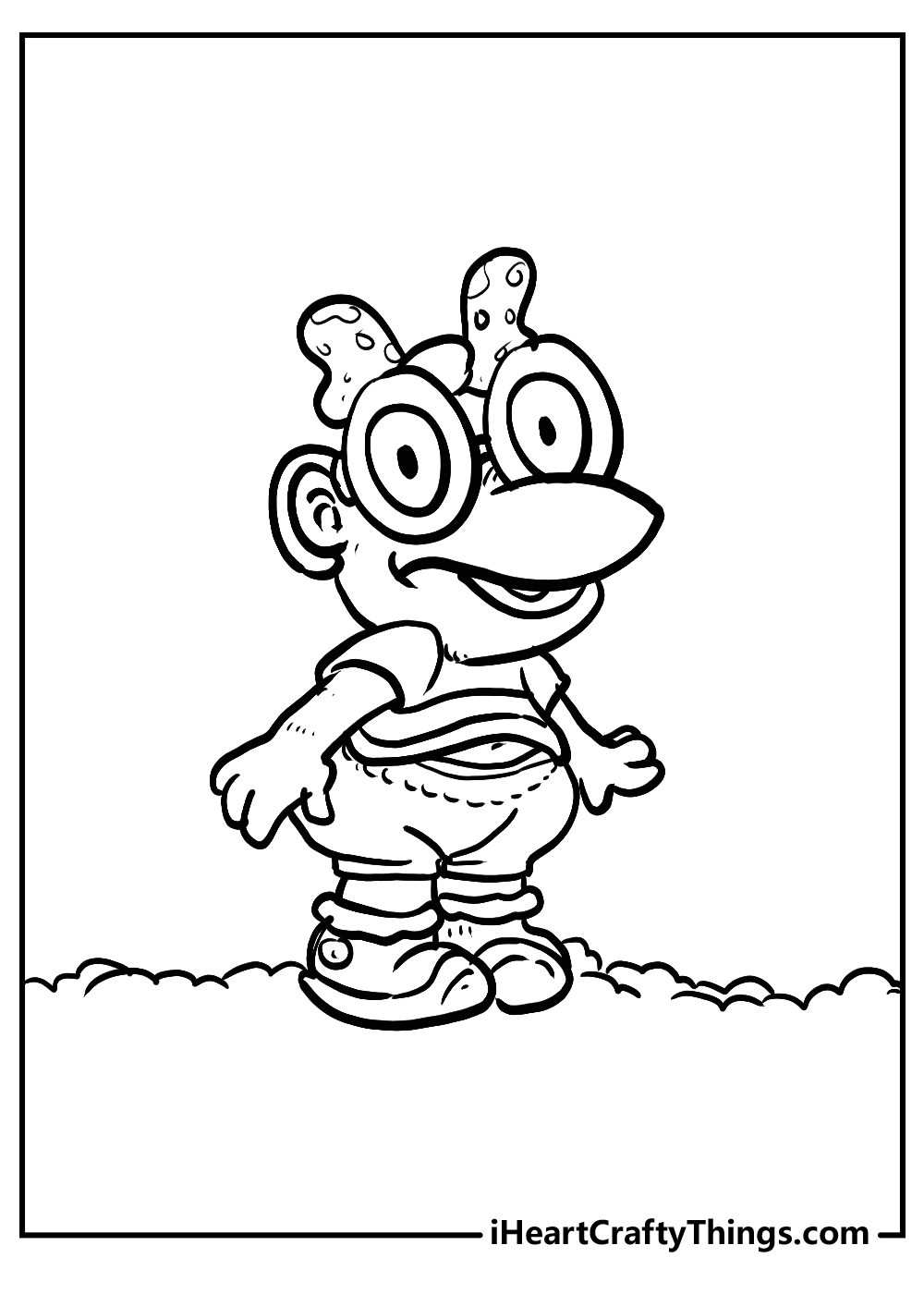 The doctor is in, as baby Gonzo is all dressed up in this cute picture! Not only is this a really cute image, but there are also some great small details that you can really take your time with coloring.
We would use some colored pens or pencils for some of the details here, as these make coloring smaller areas much easier.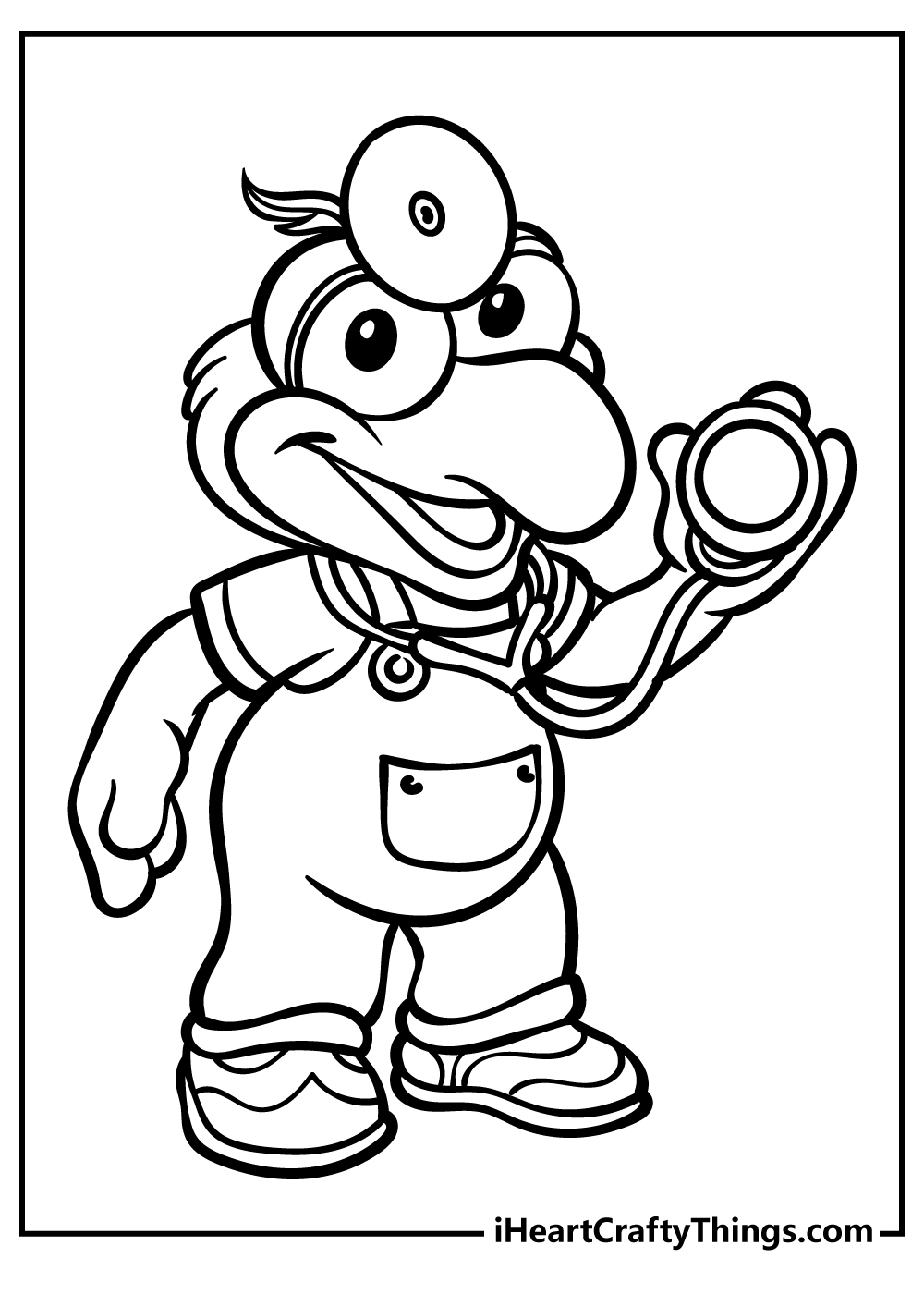 Fozzie is quite a cute character even as an adult, as he resembles a giant teddy bear. This cuteness is increased in his Muppet Babies form, and this picture is a wonderful portrayal of him!
He is wearing a spotted shirt while carrying his beloved teddy bear, so you have many fun details to bring some color to.
This should be one of the cuter images in this collection when you're done with it!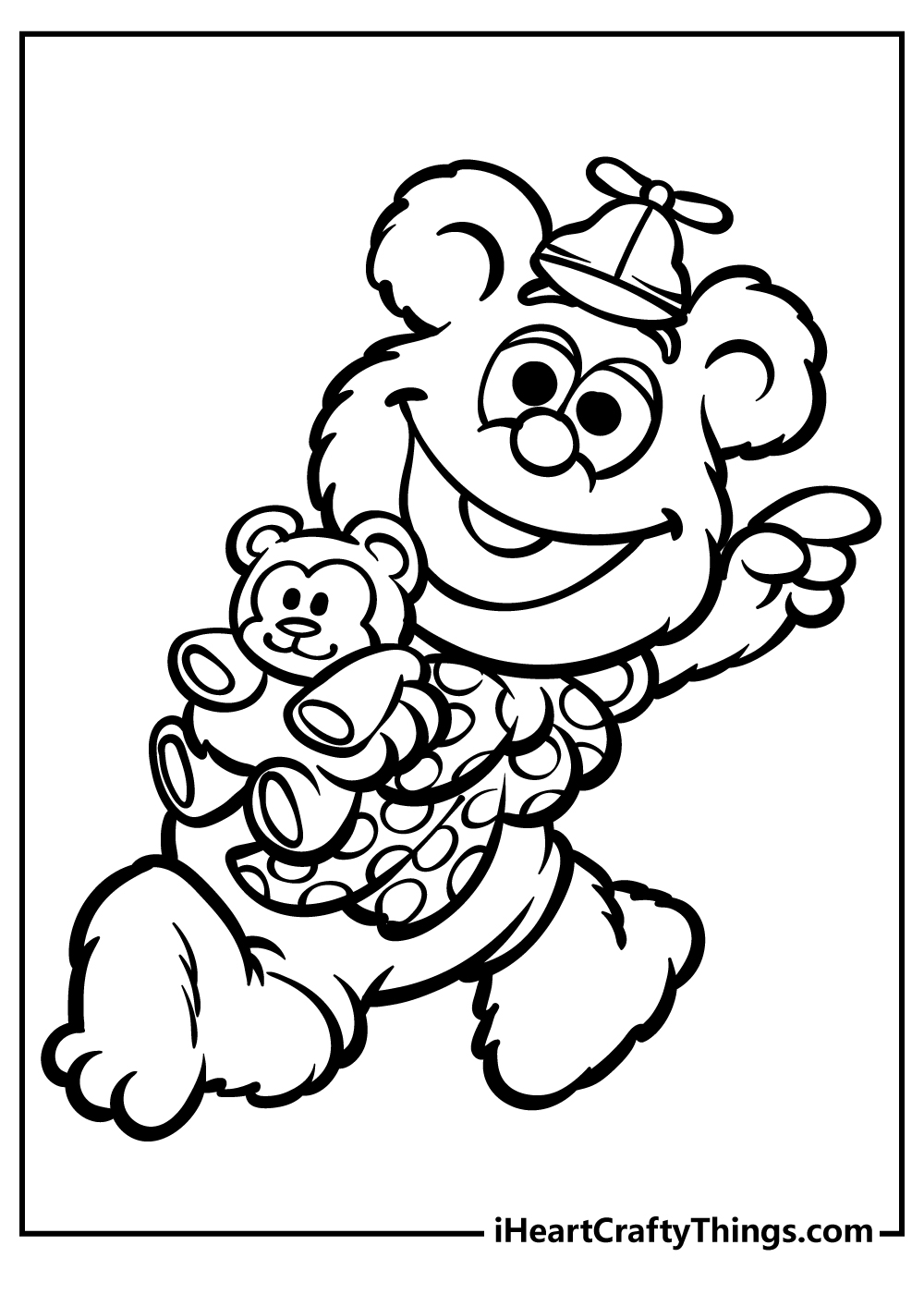 Say hello to Muppet Baby, the brilliant and curious Muppet Baby who loves to invent and experiment. He has a big nose and shoes. He is holding a bottle and enjoying some milk.
What do you think is inside the bottle? Maybe it's a magic liquid or a secret milk formula. You can use your imagination and color the bottle any way you want.
You can also color him with red, yellow, and blue to make him look more awesome.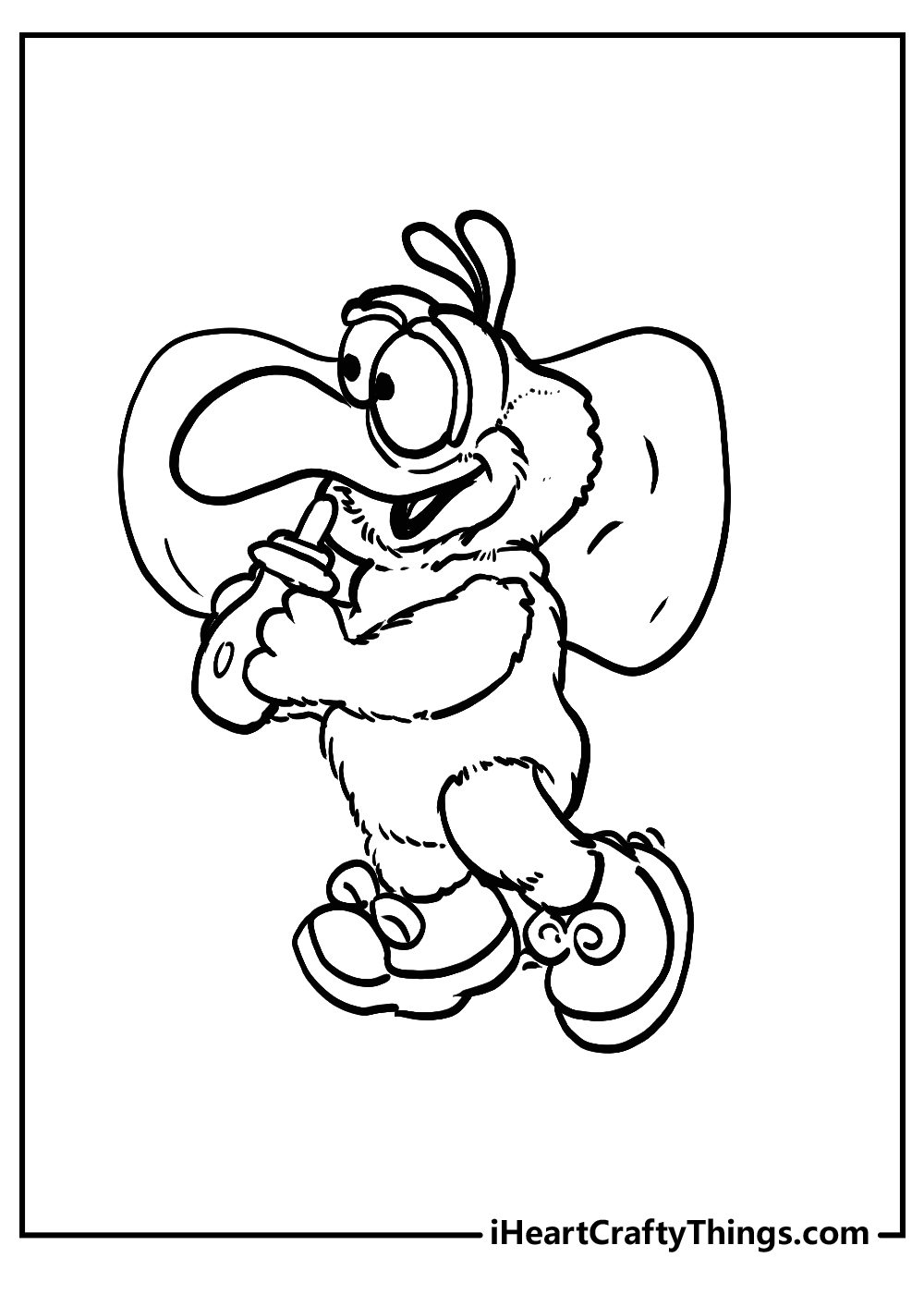 In this next image, we are featuring Skeeter, and she is tearing up the street on her awesome skateboard!
If you wanted to show that she is going really fast, you could use small strokes of lots of different colors in the background to show that her surroundings are whizzing by.
What other ideas do you have for the background?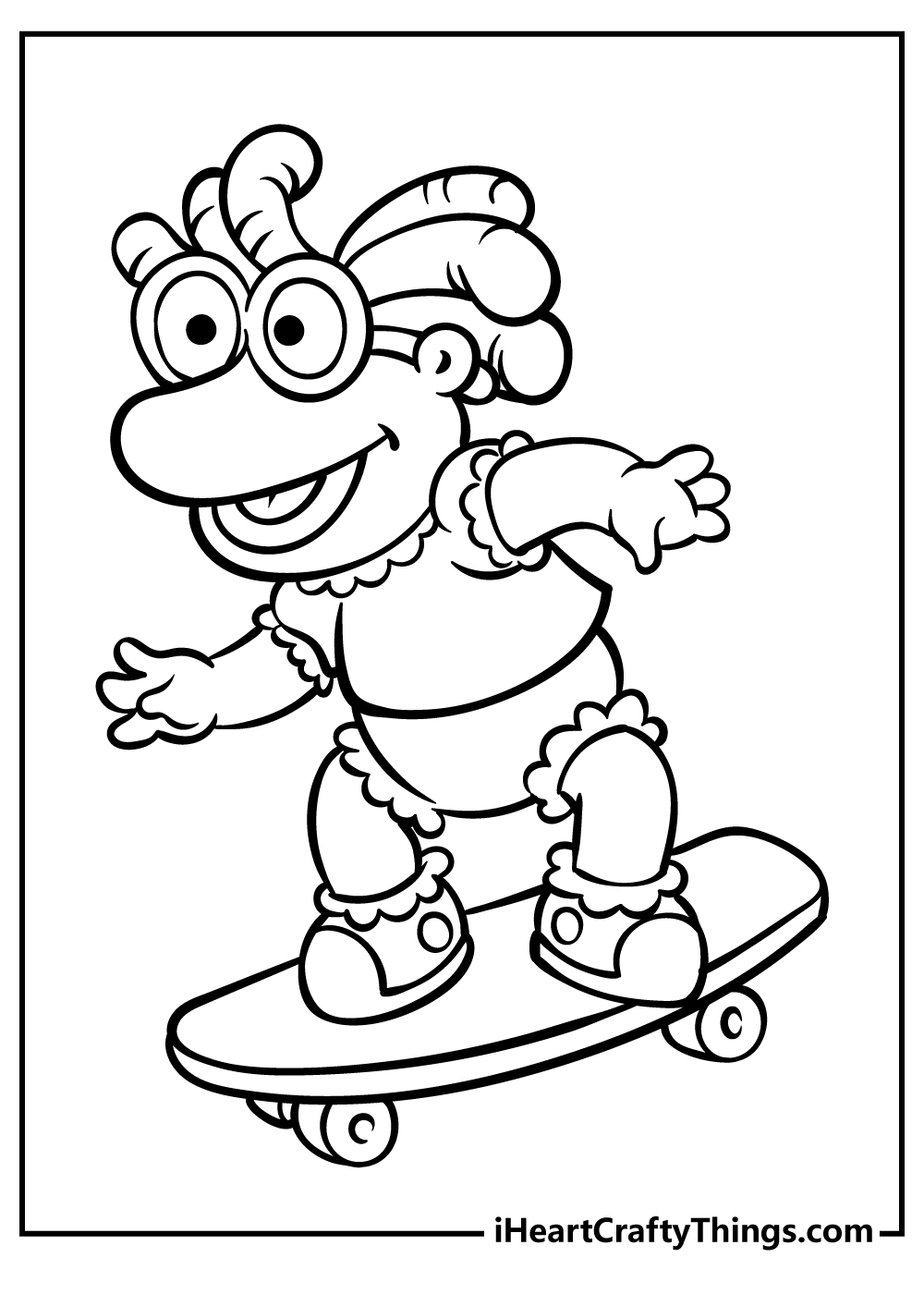 The previous Muppet Babies coloring printable that we featured had Skeeter, and now we have her older brother Scooter.
While Skeeter loves to have adventures outdoors, Scooter is quite content to enjoy a good book, and that is what he is doing here.
For a fun extra detail, you could draw the title of a favorite book of yours onto the book that he is reading!
Say hello to this creative Muppet Baby chick! With her fluffy feathers, curly hair bow, and paintbrush in hand, she's ready to make art magic happen.
Let's color her feathers with bright, bold yellows, oranges, and reds – the colors of a sunrise!
Decorate her bow with rainbow polka dots, stripes, or zigzags. As you color, think about what inspires her.
Does she love painting flowers, drawing animals, or crafting sculptures?
In the background, we can draw her art studio filled with crayons, paper, glitter, pipe cleaners and more!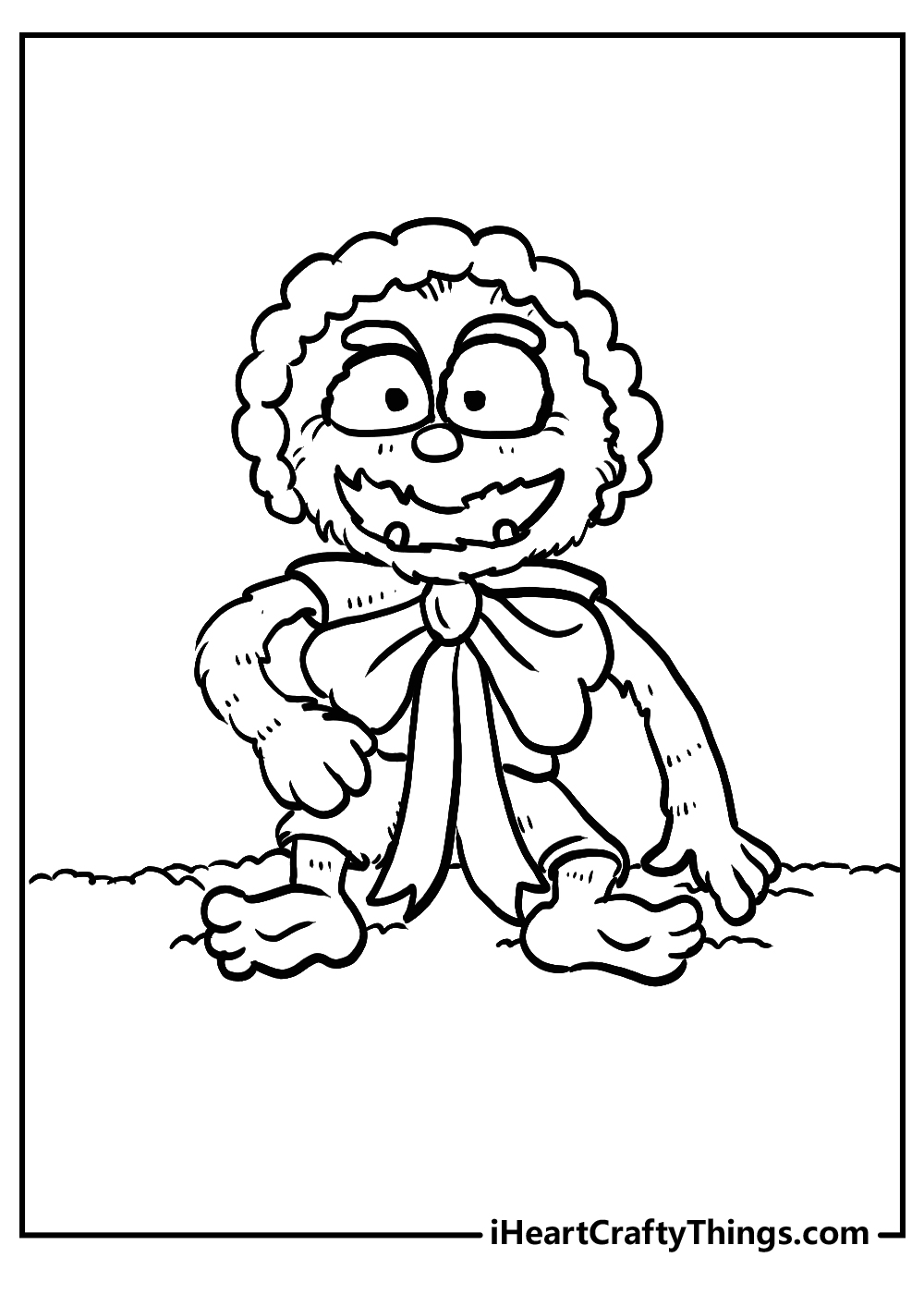 Baby Miss Piggy is back for another coloring page, and she is again looking fabulous in her outfit!
Miss Piggy is such a vibrant character, and you could use any of your favorite bright colors to finish off her outfit. What color scheme will you use for her?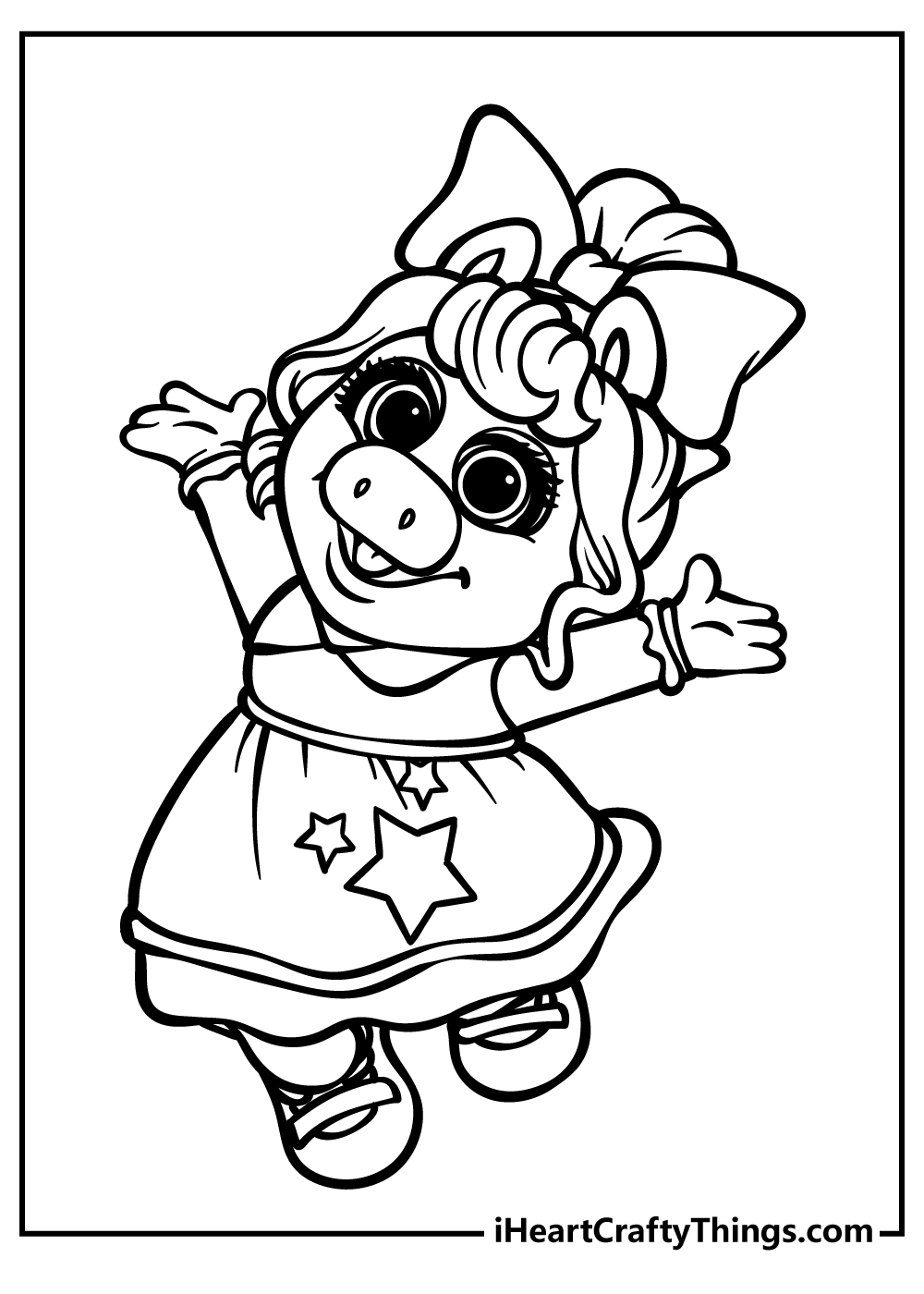 There's another look for Miss Piggy in this picture that you can have some fun coloring!
For this one, we would maybe use some colored pencils or watercolor paints to give her outfit a softer look. This is what we would do, but how would you finish off her look?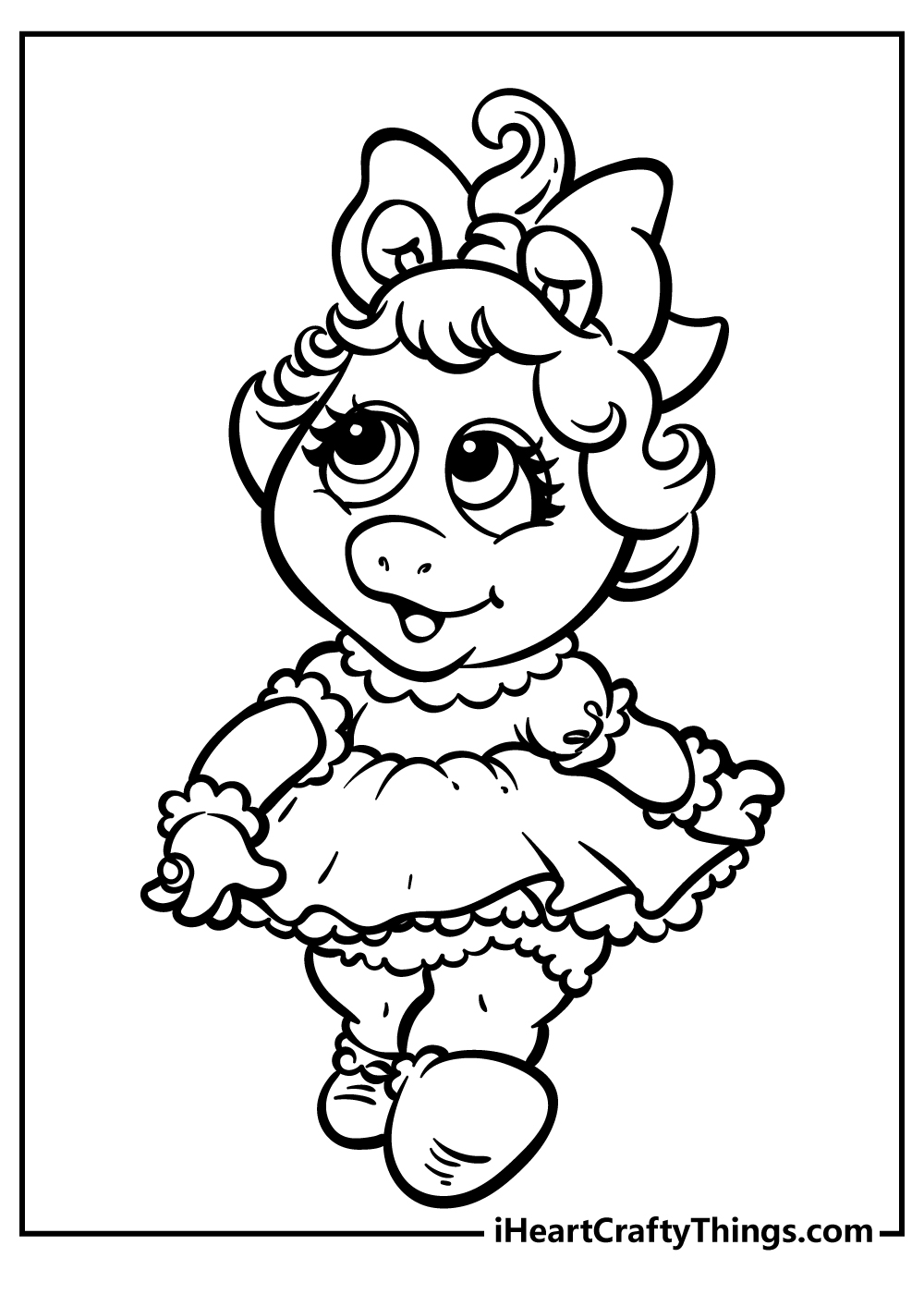 Miss Piggy is enjoying an ice cream in this next picture, and it has three layers to it!
If we were coloring this picture, we would try to use a different color for each layer of the ice cream, and we would try to use some bright colors and mediums.
When you have colored this ice cream, you can then have fun coloring all the details of her outfit!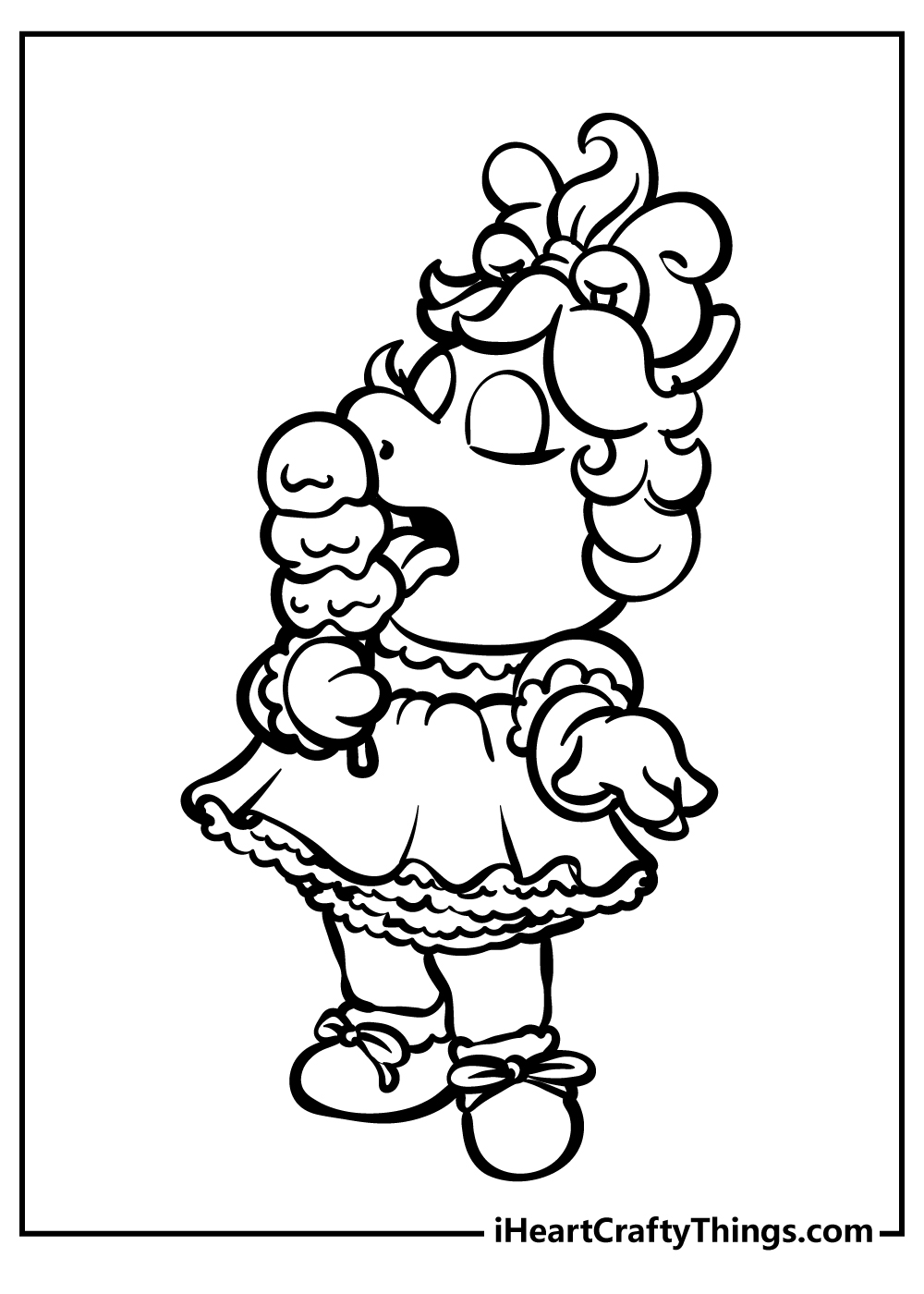 We're continuing the ice cream theme in this thirteenth page! This time, we have possibly the most famous Muppet: baby Kermit, enjoying his ice cream.
There is only one layer to his ice cream, but he still seems pretty happy with it!
What color do you think you will choose for the ice cream in this one?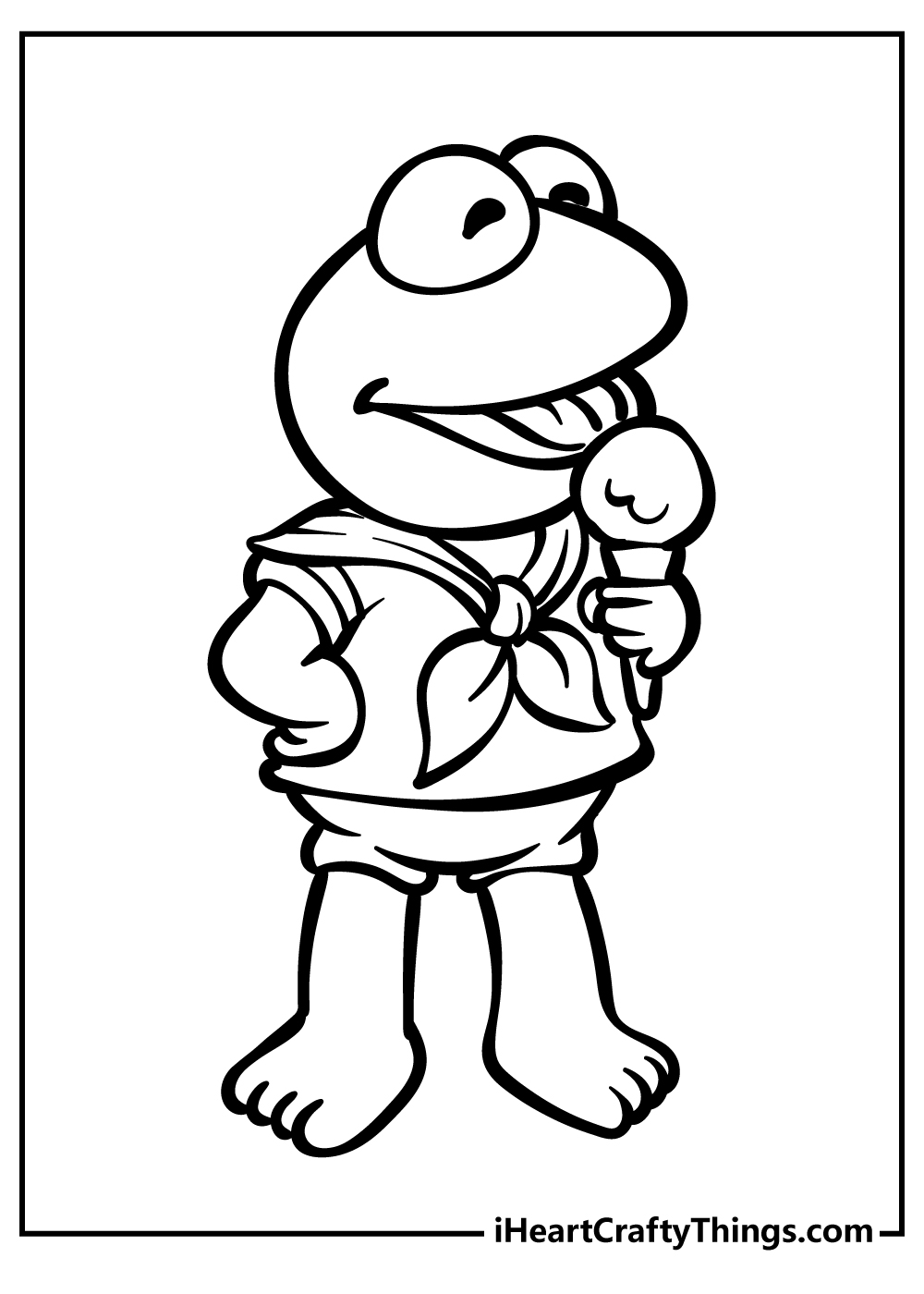 Baby Gonzo is up next, and what an adorable picture this is! He is hugging onto a stuffed bird here, and he looks very happy and contented.
Not only is this an adorable picture, but there are also some great details to color in here.
You could really experiment with different colors and mediums here, so don't be afraid to try out some new things!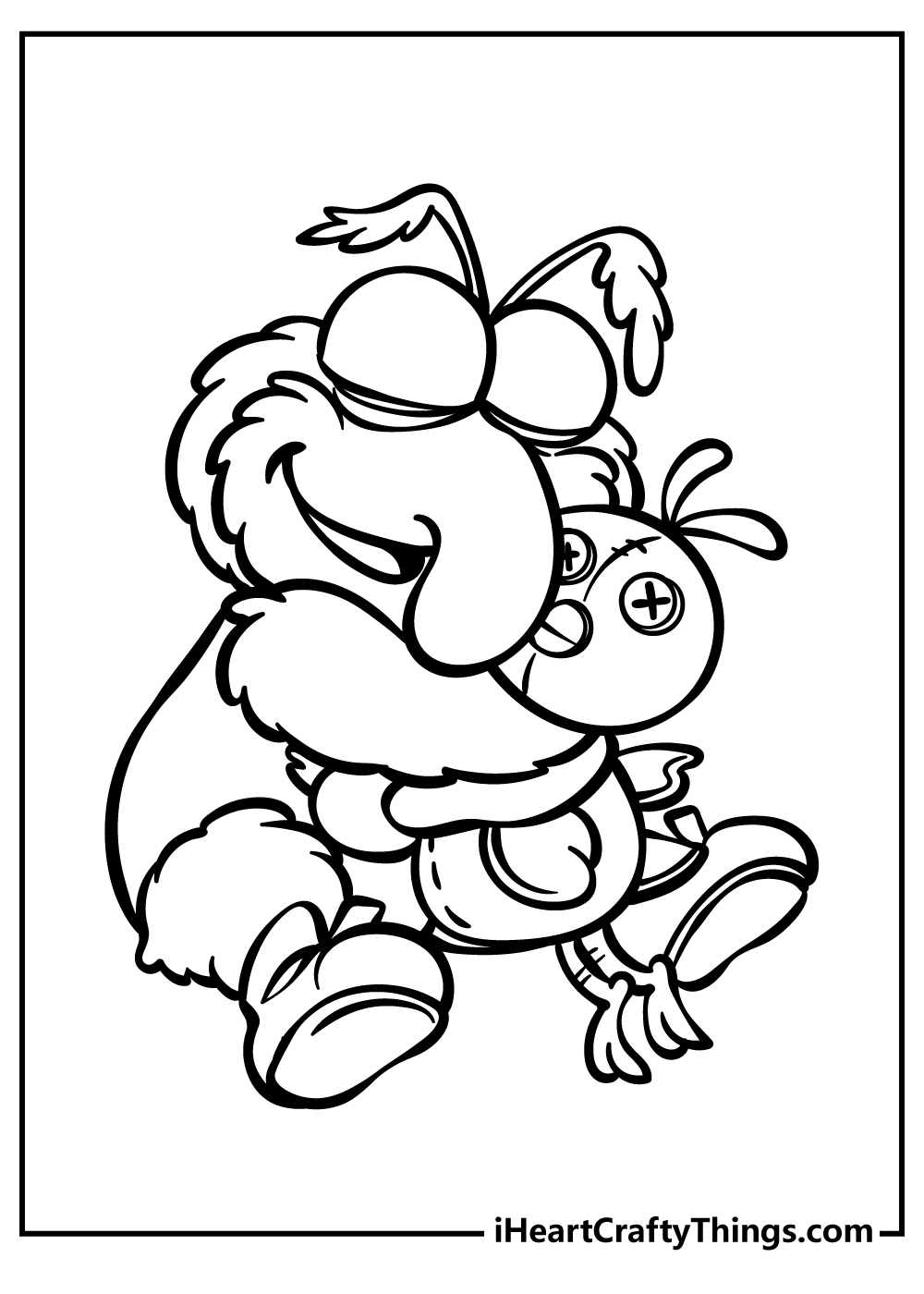 The last Muppet Babies coloring page that we have for you again features baby Gonzo. In this one, he is running around while in his swimsuit, and he is having a great time!
This would definitely be a really fun one to draw a background for, and we would probably draw a yard with a sprinkler he's running under for one idea. What settings can you think of?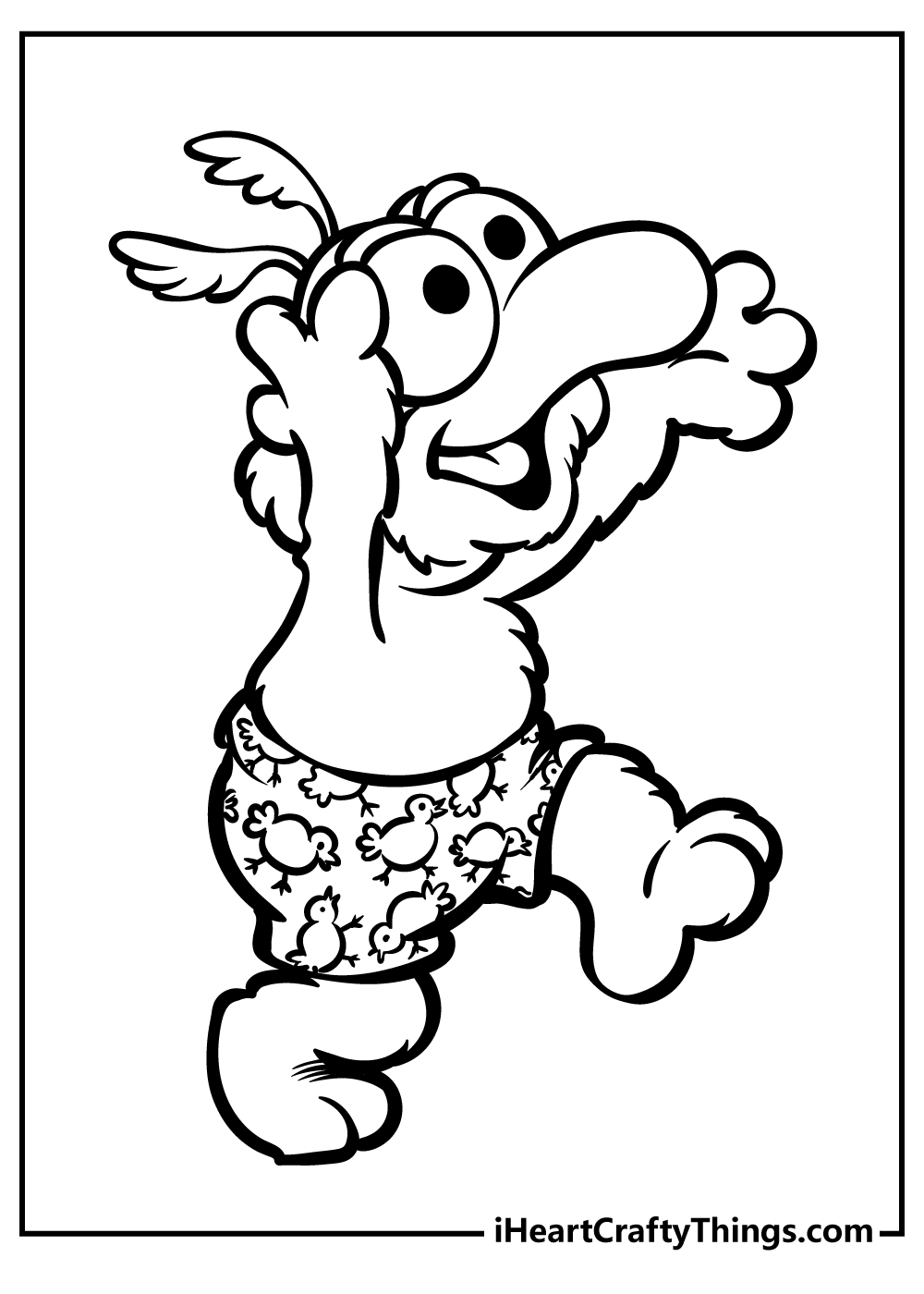 Muppet Babies Coloring Pages – Which will you choose?
There was plenty of adorable fun to be had in this collection of free Muppet Babies coloring pages for kids, and we hope you had a great time!
We tried to feature all of the most popular Muppet Babies, so hopefully your favorite made an appearance!
It would be fun to see how you colored these pages, so please share some of your favorite finished pages on our Facebook and Pinterest pages for us to see!