Sailor Moon, originally called Pretty Guardian Sailor Moon, is a famous manga/anime series that originated in Japan and has been made into animated feature films, TV specials, and live-action adaptations. It has become a major franchise and has generated over $13 billion in merchandise sales worldwide.
Sailor Moon's story revolved around a middle-school girl named Usagi Tsukino who befriends Luna, a talking black cat that gives her a magical brooch that gives her the power to transform into Sailor Moon – a solider destined to save Earth and fight off evil. She is later joined by fellow students turned fellow Sailor Soldiers.
It's popular among children and adults alike because of its art, characterization, and humor. The dynamic heroines and action-filled stories truly changed the magical girl genre and have captured the hearts of millions.
Kids who are fans of Sailor Moon will enjoy these beautiful and extra challenging Sailor Moon coloring pages we've prepared.
Here are 10 free Sailor Moon printables designed to bring out the creative Sailor Soldiers in kids.
10 Brand New Sailor Moon Coloring Pages – Free to Print and Color
Usagi Tsukino, or Sailor Moon, is the lead character and Earth's lead defender against evil. She has blue eyes and blonde hair that she wears on a pair of buns and long pigtails.
This Sailor Moon coloring page for kids showcases her Sailor Moon costume. She wears a white leotard with a blue-collar that has three stripes on it and light-yellow shoulder pads. She has white gloves and a blue skirt. Sailor Moon also sports a red bow on her chest and her back.
In this printable, she is seen wearing her Pink Moon Rod, her first weapon used to perform Pink Sugar Heart Attack and Pink Sugar Tuxedo Attack.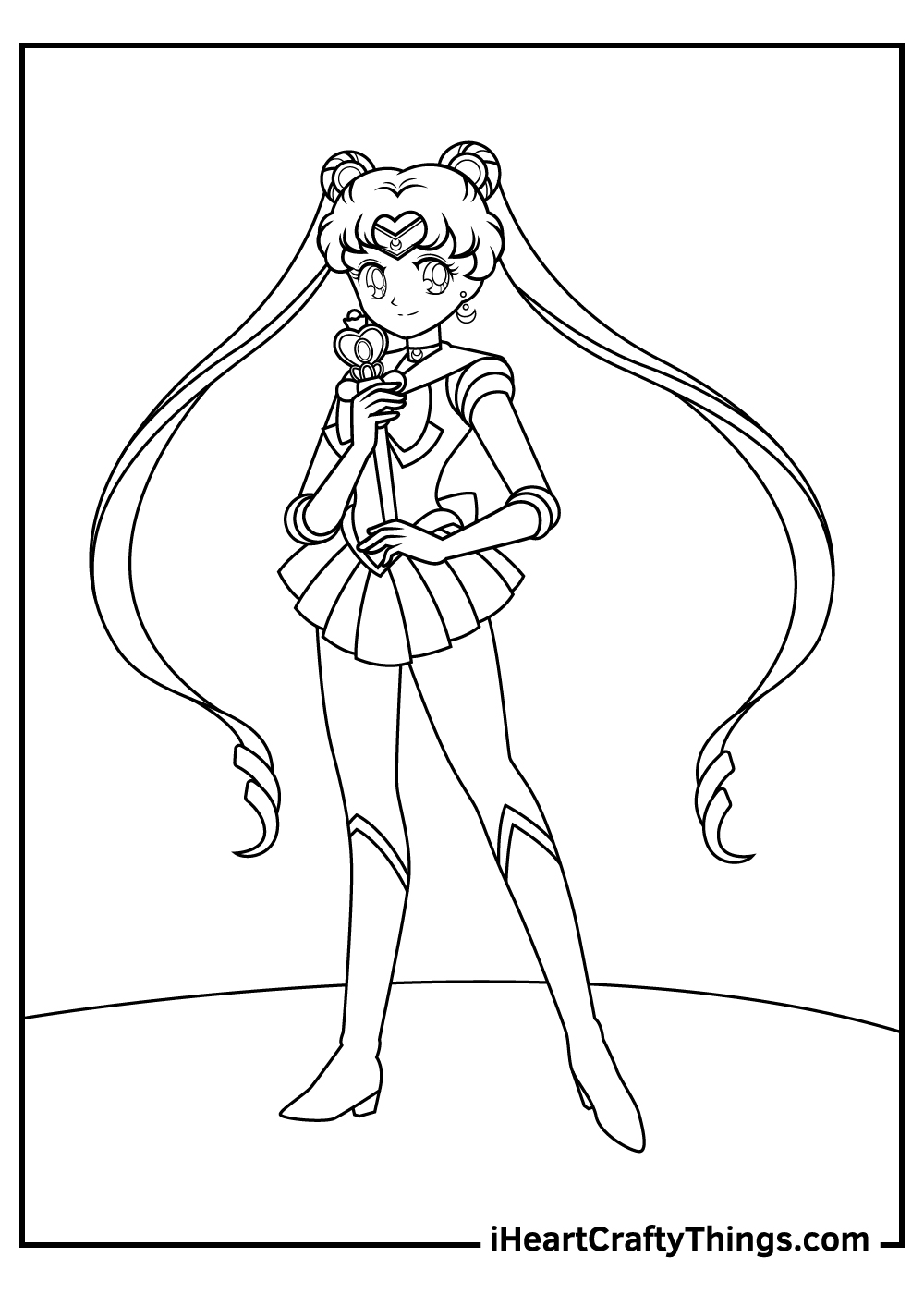 Sailor Moon is originally from the Moon Kingdom, a civilization on the moon. She was reborn on Earth and re-awoke as the leader of the Sailor Soldiers, protecting the Earth from evil forces.
On this next Sailor Moon coloring page is our main protagonist, sitting on a crescent moon. This is a bit tricky and challenging as intricate details of Sailor Moon's costume as well as her hair, are illustrated in this printable.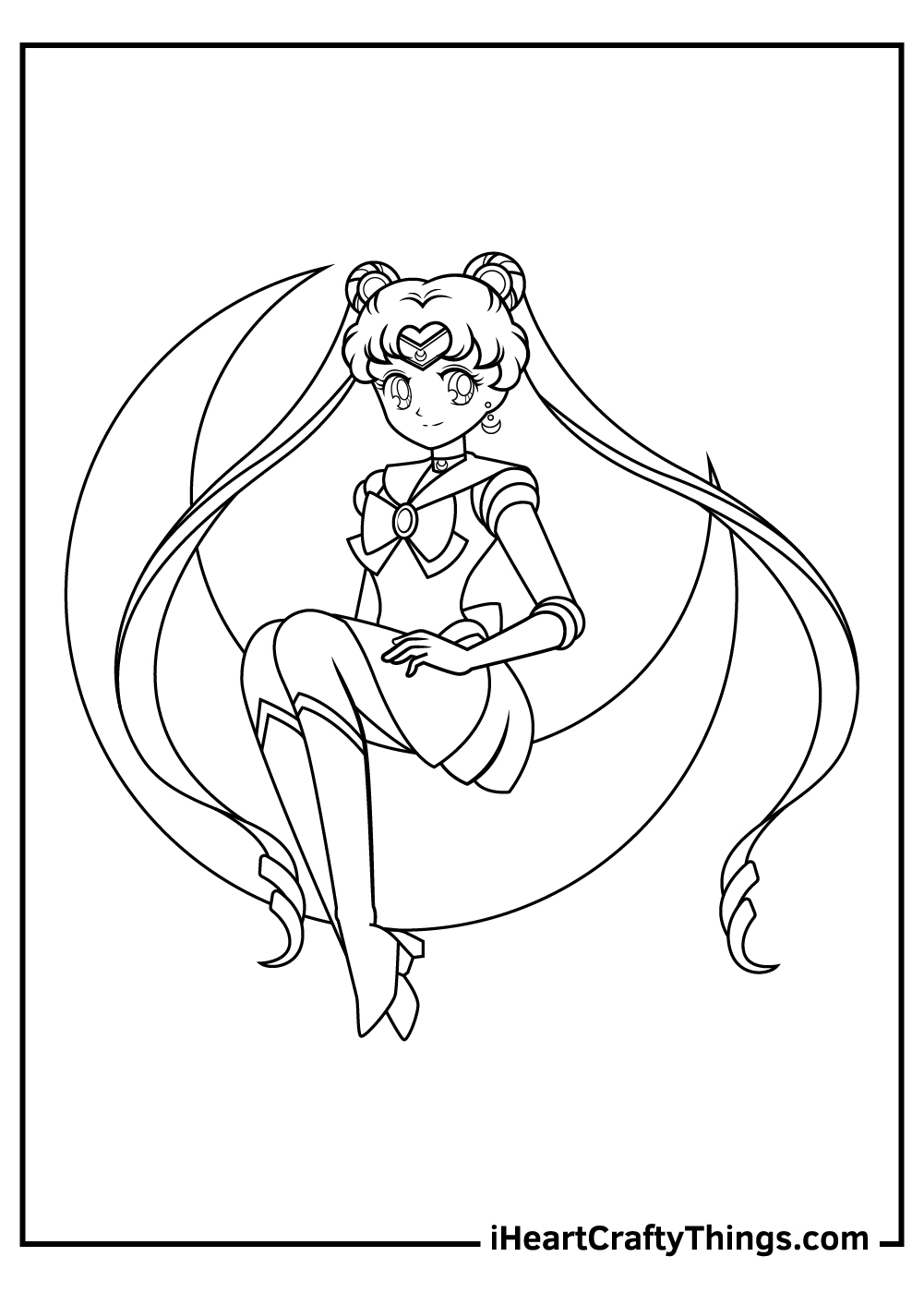 This Sailor Moon coloring page for kids is a simple and easy-to-color layout. It shows the features of Sailor Moon up close and contains big lines making it easy to follow for kids with small hands.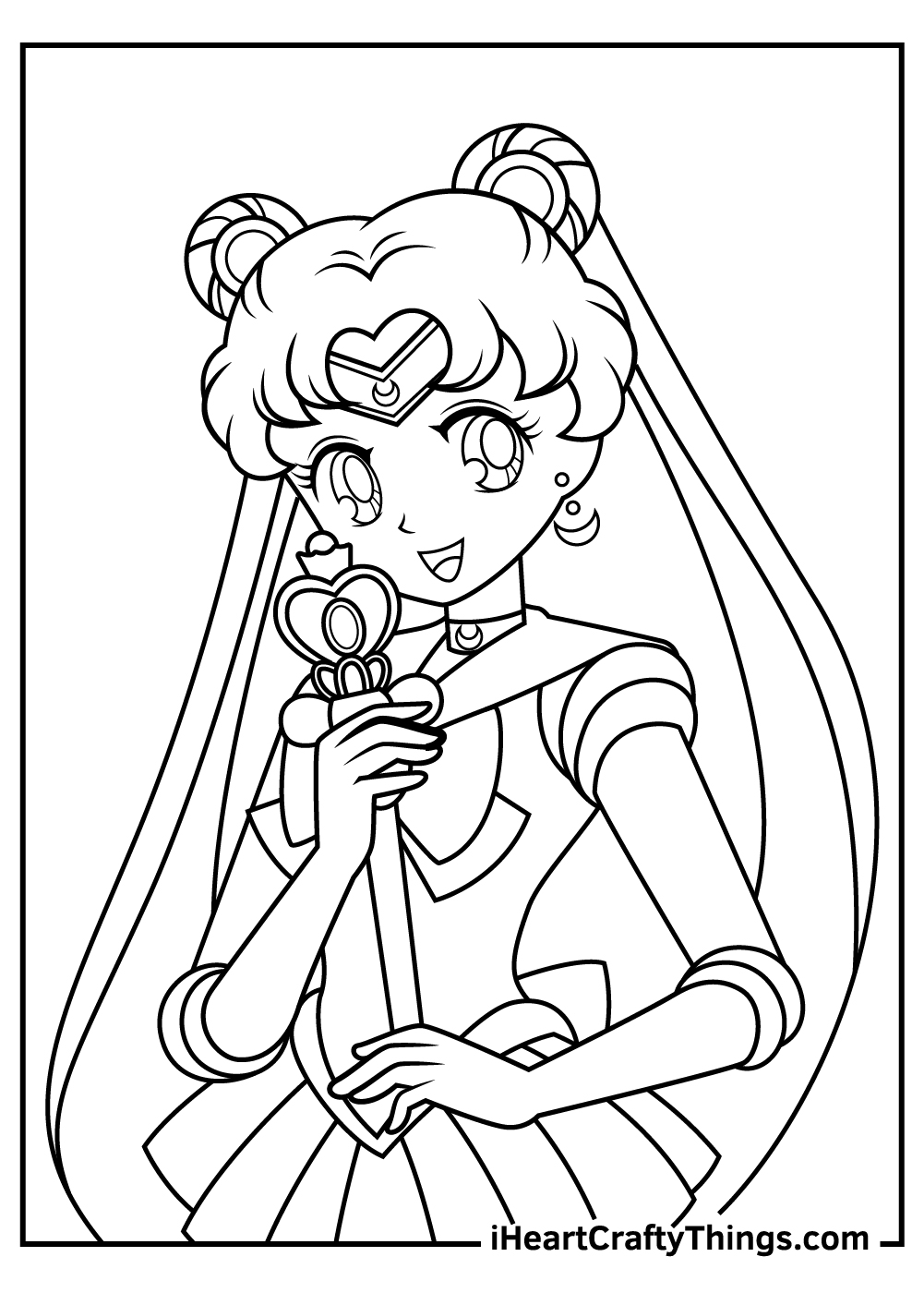 Sailor Moon can be overly dramatic but cares very deeply for her friends and family. She cares about people and doesn't like to kill innocent humans. Even when they have transformed into monsters, she opts to find ways to heal them instead of killing them.
In this free Sailor Moon printable, she is seen doing a peace sign pose with sparkles around her. This printable can be a good poster to hang up on the walls!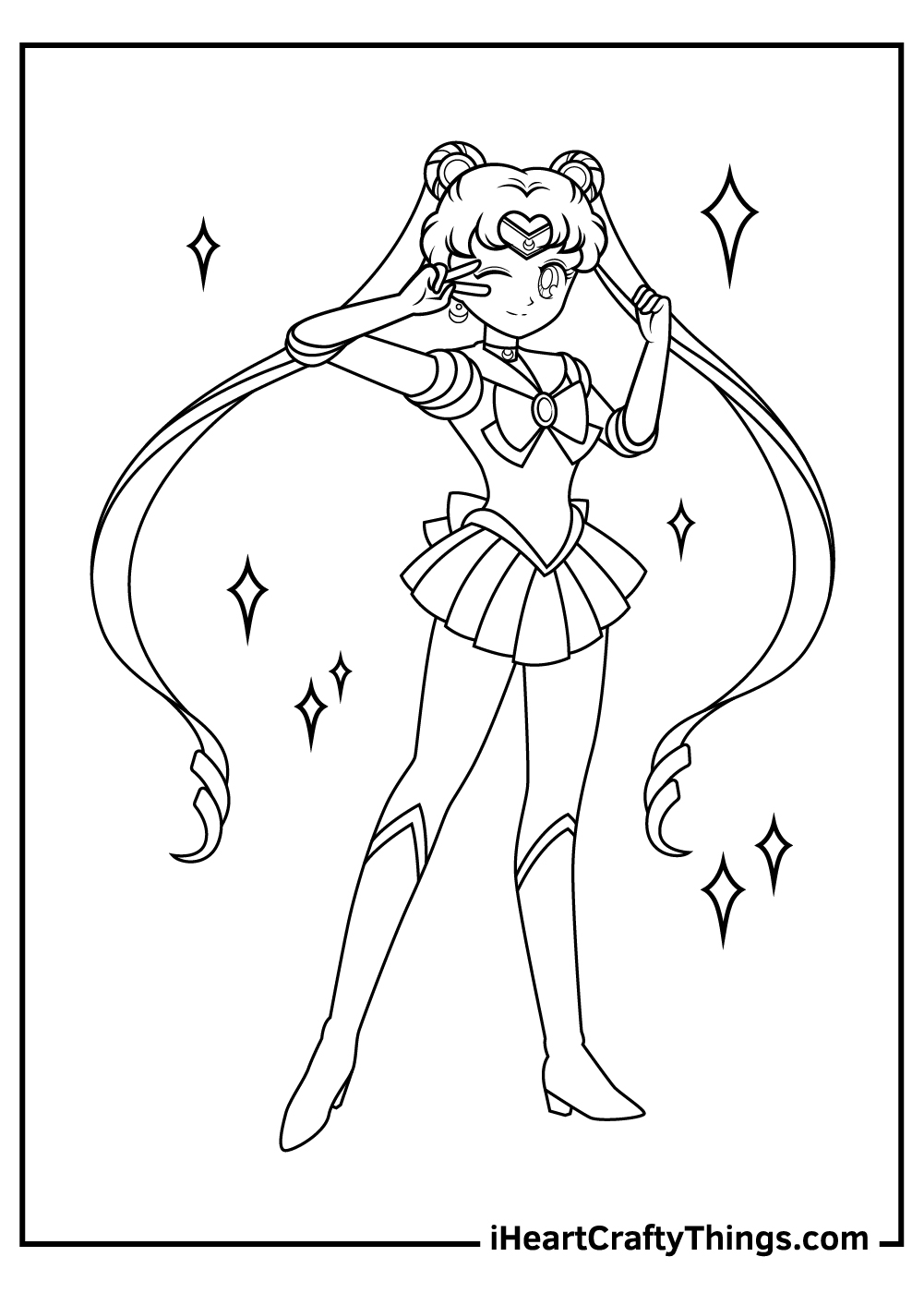 Usagi transforms into Sailor Moon once she wears the magical brooch while shouting a command to activate the device. Her original transformation phrase is "Moon Prism Power, Make Up!".
The Sailor Moon coloring pages contain various portraits of Sailor Moon. They are free to download and print.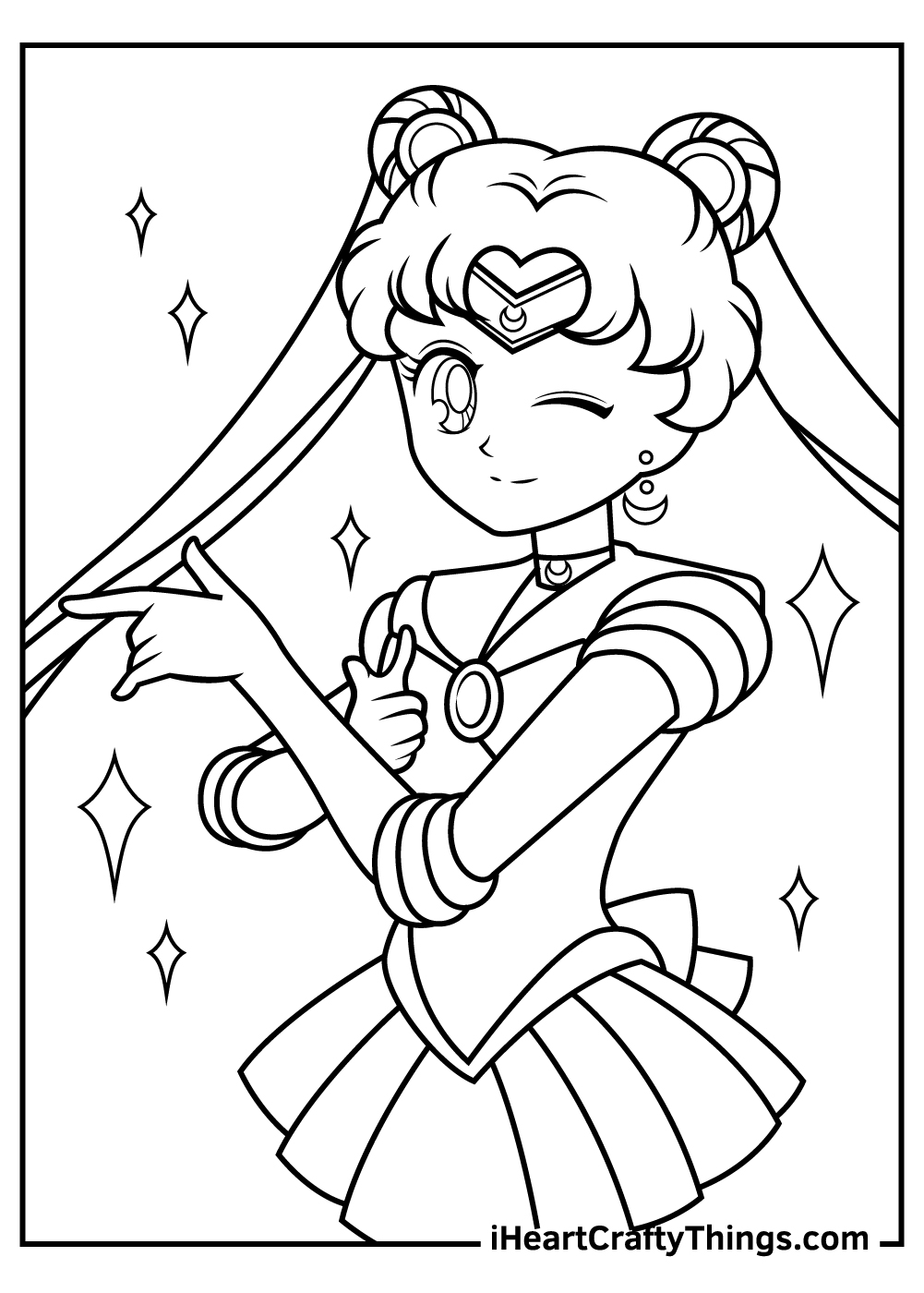 Our next free printable from our Sailor Moon coloring page for kids highlights the Pink Moon Rod of Sailor Moon. It's her first primary weapon and is called the Mini Heart Moon Rod in other versions.
The Pink Moon Rod is colored pink with red and yellow-gold accents.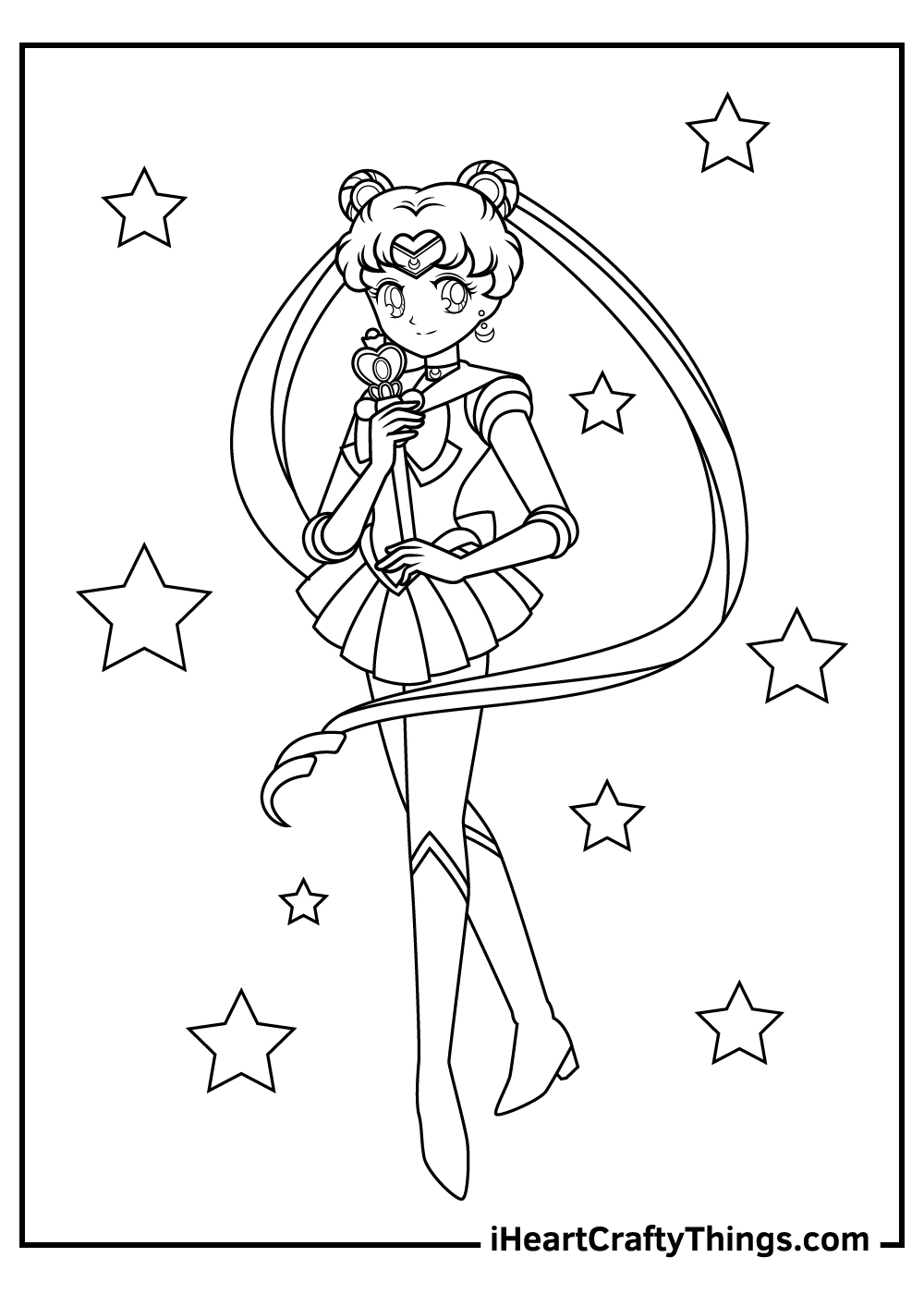 As the main protagonist and leader of the Sailor Soldiers, Sailor Moon has got some pretty special powers compared to other characters. She appears to be stronger too.
One of her famous attach techniques is the Supersonic Wave. It involves her red hairpieces acting as an amplifier for her wails.
Despite her powers, here she is in this Sailor Moon printable looking relaxed and smiling calmly.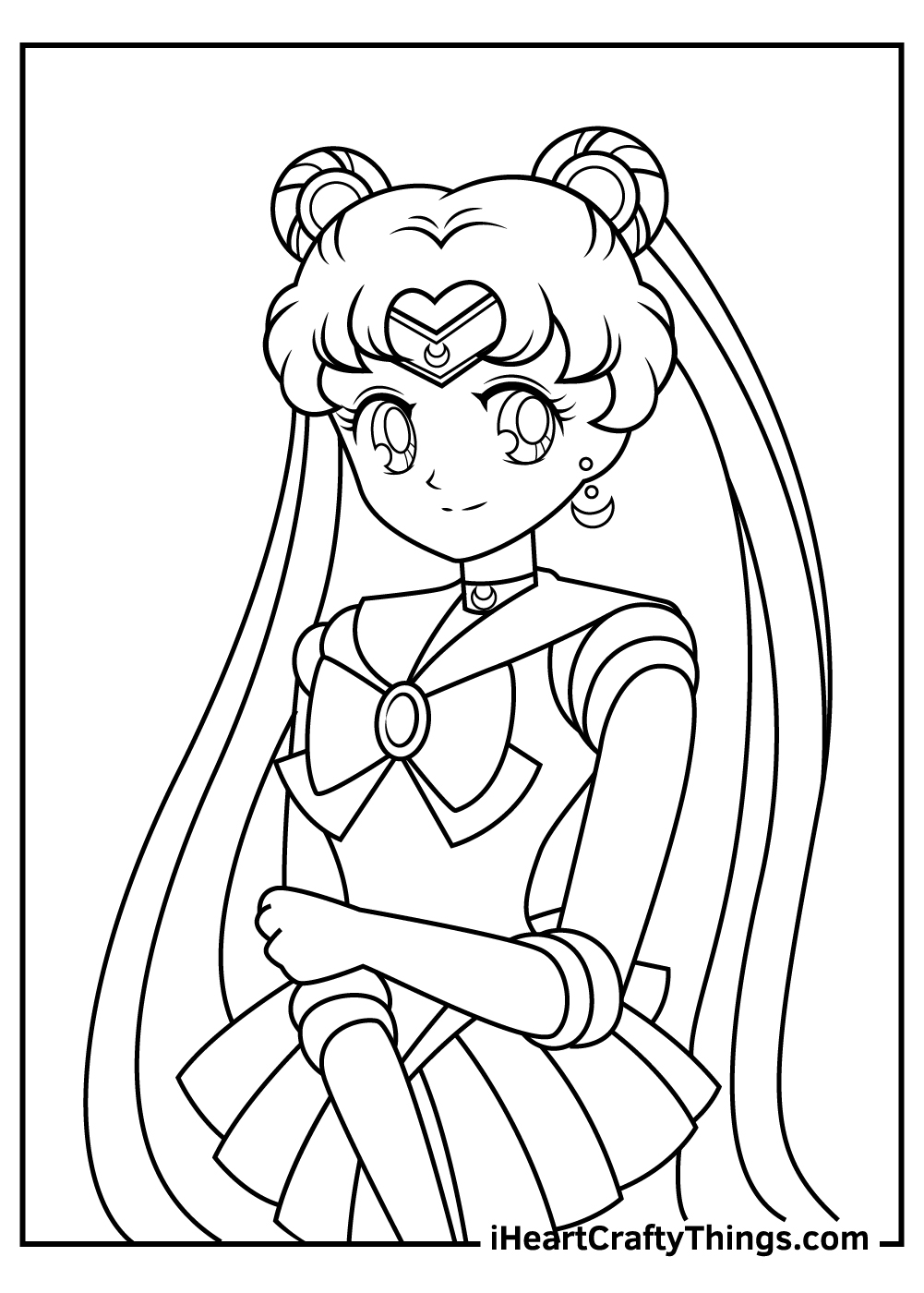 As Usagi transforms into Sailor Moon while chanting "In the name of the moon", her hands are doing a hand signal or sign language translating to "I love you".
This hand signal is common in most Sailor Moon poses, and as seen here in this Sailor Moon coloring page.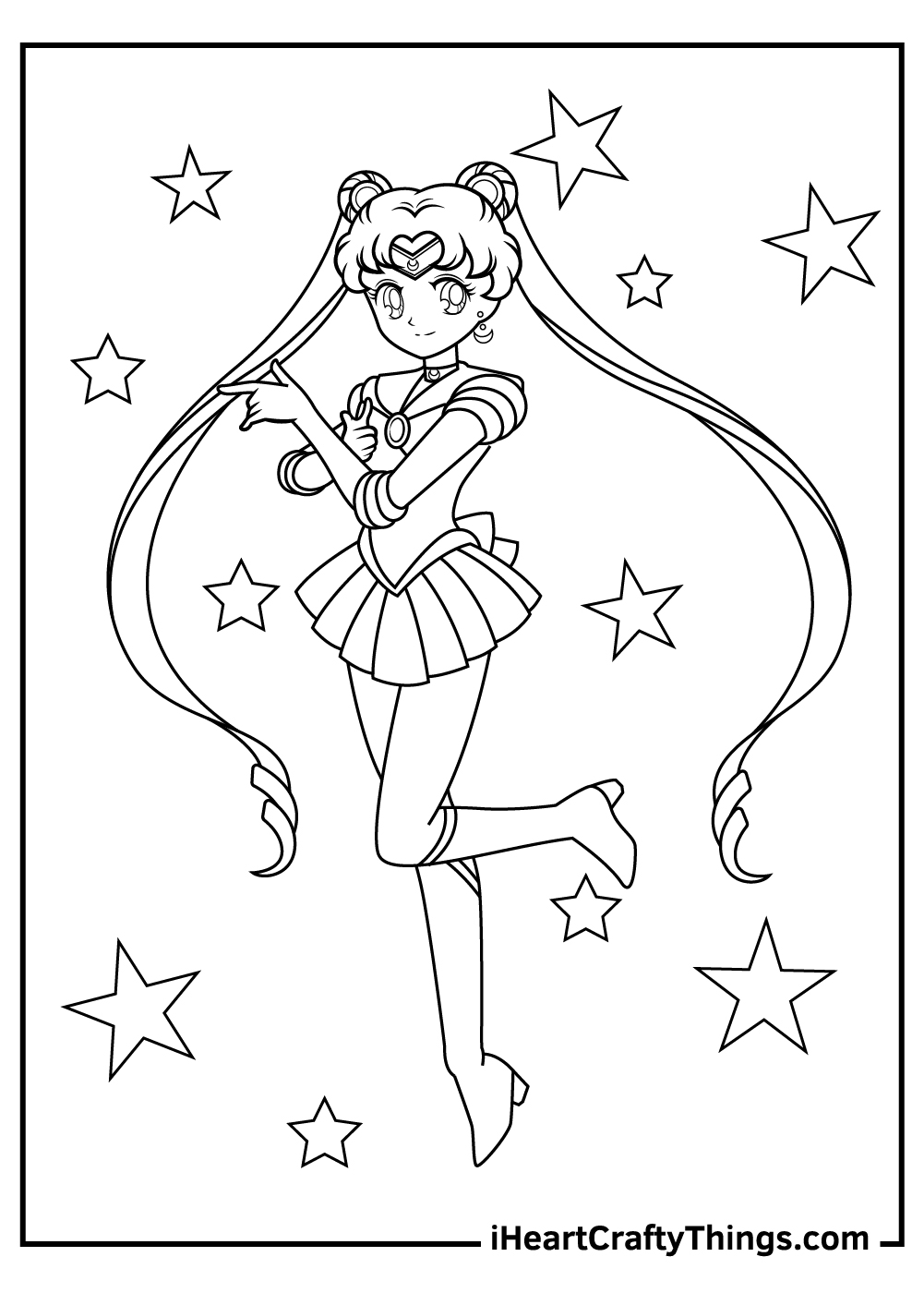 Sailor Moon ends her transformation with her signature pose, the "V" symbol over her eyes, or the peace sign. It could be V for victory. But it has become her signature stance that pop culture has related it to Sailor Moon.
This Sailor Moon printable features her in this signature pose with the moon and sparkles as part of her portrait.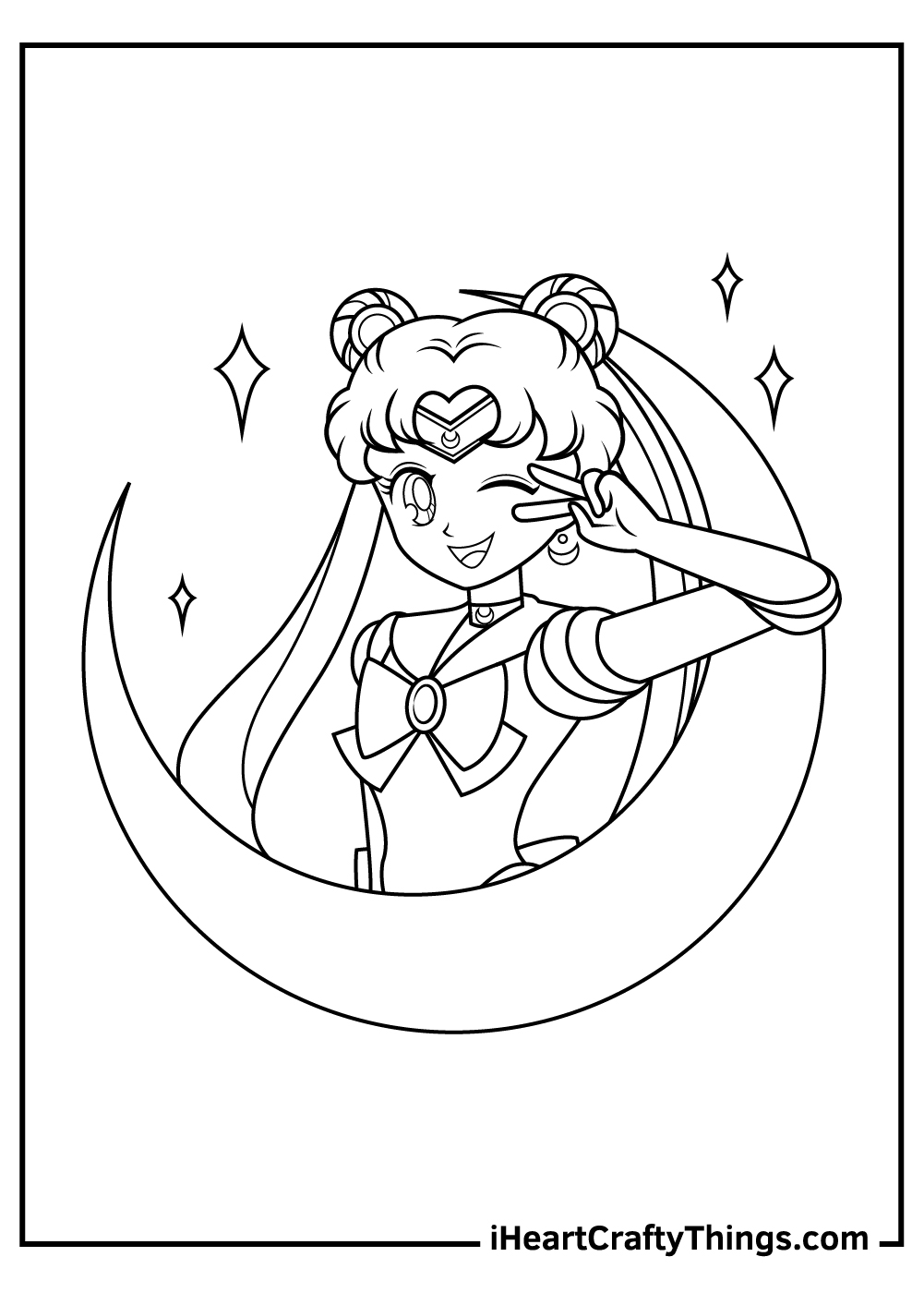 Our Sailor Moon coloring pages are filled with Sailor Moon portraits that kids can enjoy coloring.
This free Sailor Moon printable is a full-body poster of her, where she stands proudly showcasing her full costume.
This coloring page will level up the coloring skills of kids as it contains many shapes and details. What approach do you think will work on this?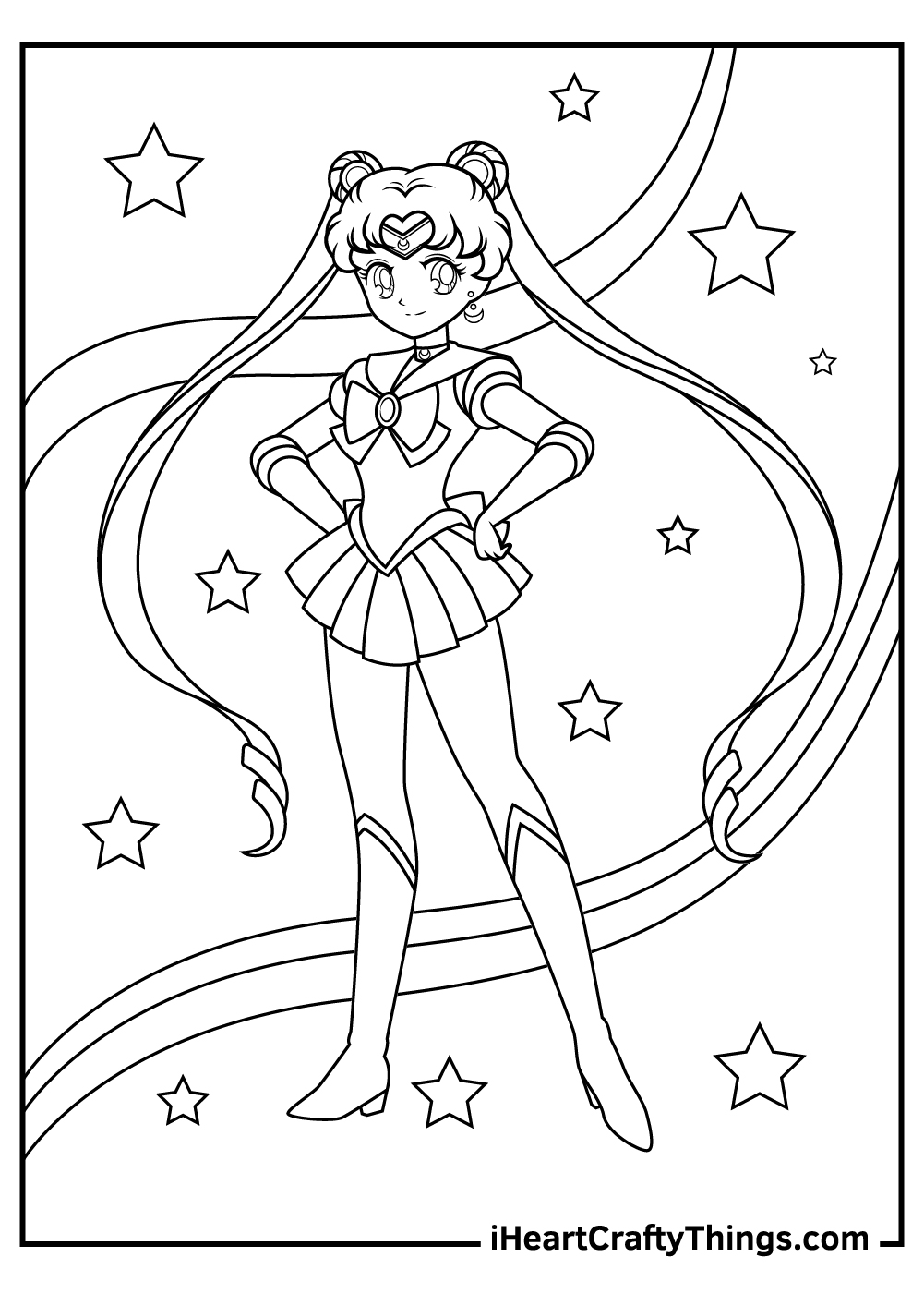 Sailor Moon Coloring Pages – Enjoyable and Colorful Free Printables
Sailor Moon has been around for years and its popularity remained constant throughout. Kids are still in awe of its art and story and even kids then (who are adults now) remain big fans.
Sailor Moon already has cute and colorful art that's why these Sailor Moon coloring pages for kids hit the spot for a fun and engaging activity.
Our Sailor Moon Coloring pages contain printable coloring pages for kids of all ages – from beginners to advanced. The set includes easy-to-color ones and more complex ones. The complex and detailed ones provide advanced kids the challenge to follow complex lines and patterns.
You can download these printables for free, print them, and watch kids have a good time.