The real world can get kind of stressful sometimes, and for that reason we can all use some fun fantasy worlds to escape into.
The Winx series is the perfect fantasy world for that, as it presents a magical world filled with colorful fairies and other magical creatures.
We will be featuring some of these fairies for you to color in this collection of free Winx coloring sheets for kids!
This series of magical pictures features many characters from the series for you to have fun coloring.
You could go for the classic color schemes these characters usually have, or you could create some unique looks!
Whichever approach you go with, you will be able to use all of your favorite colors and art mediums for these amazing images.
All of these pretty pages are totally free for you to print and enjoy as much as you like! It would also be fun to share the collection with others so that you can compare how you finished the pages.
So with all that said, it's time to start the collection! When you have colored your favorite pages, be sure to share them on our Facebook and Pinterest pages so we can check out your creativity.
10 Brand New Winx Coloring Pages – Free to Print and Color
To kick off this collection, we have a pretty fairy from the series for you to color in! She has a lovely outfit that she is wearing, and there are stars incorporated into the design.
When coloring any of these characters, you could go for the color schemes that they appear with in the series, or you could go for some unique color choices of your own!
What colors are you thinking for this one? We think some bright pinks and yellows would look great, but we will be interested to see what you go for!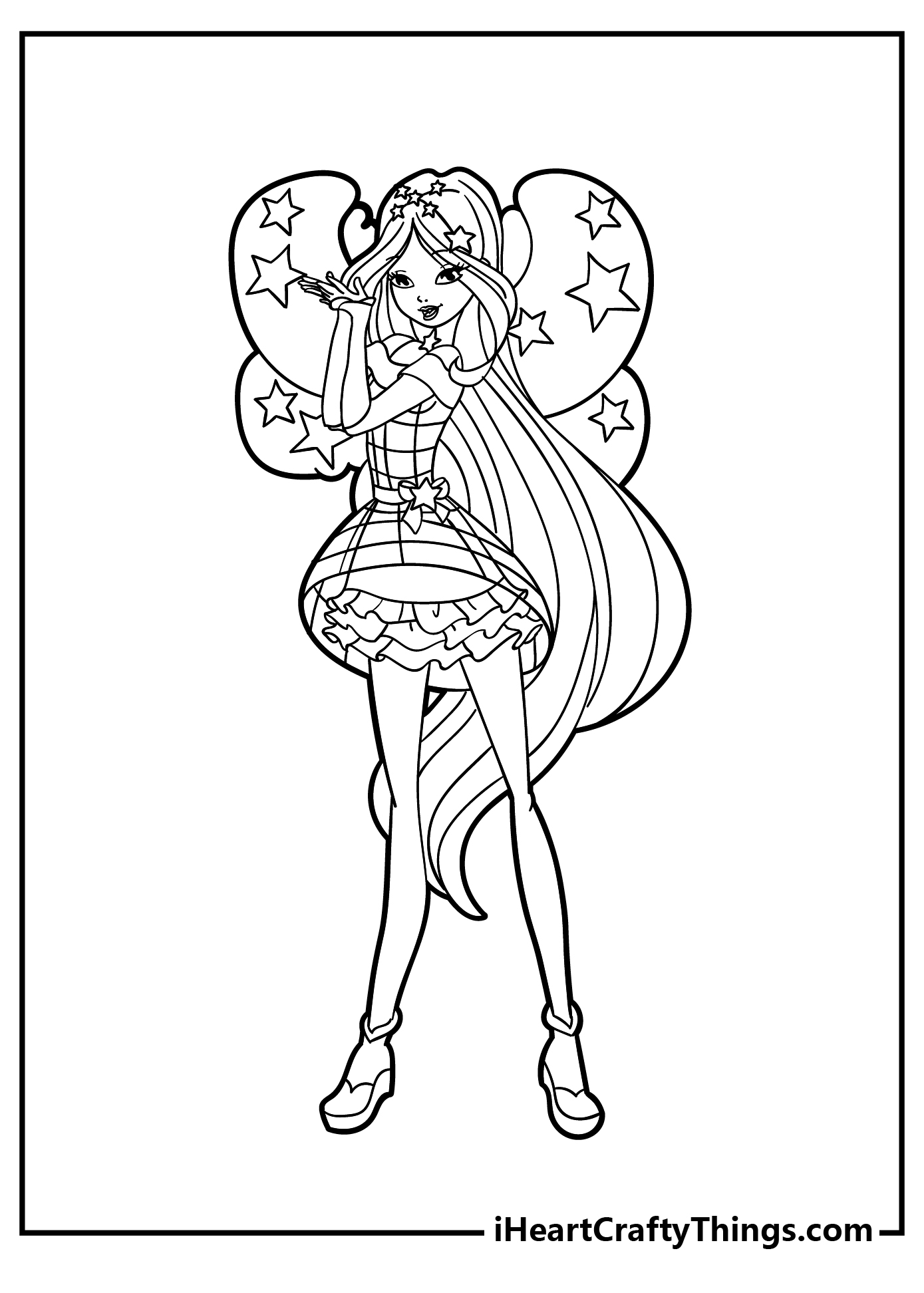 Our second free Winx coloring page for kids shows an elegant little fairy for you to color! Do you recognize this character?
If so, you can again choose whether to portray her as she appears in the show, or go with your own portrayal.
This character usually has red hair with a blue color scheme for her outfit, so you could go for those, or you could create a great new color scheme for her.
How will you color this pretty fairy?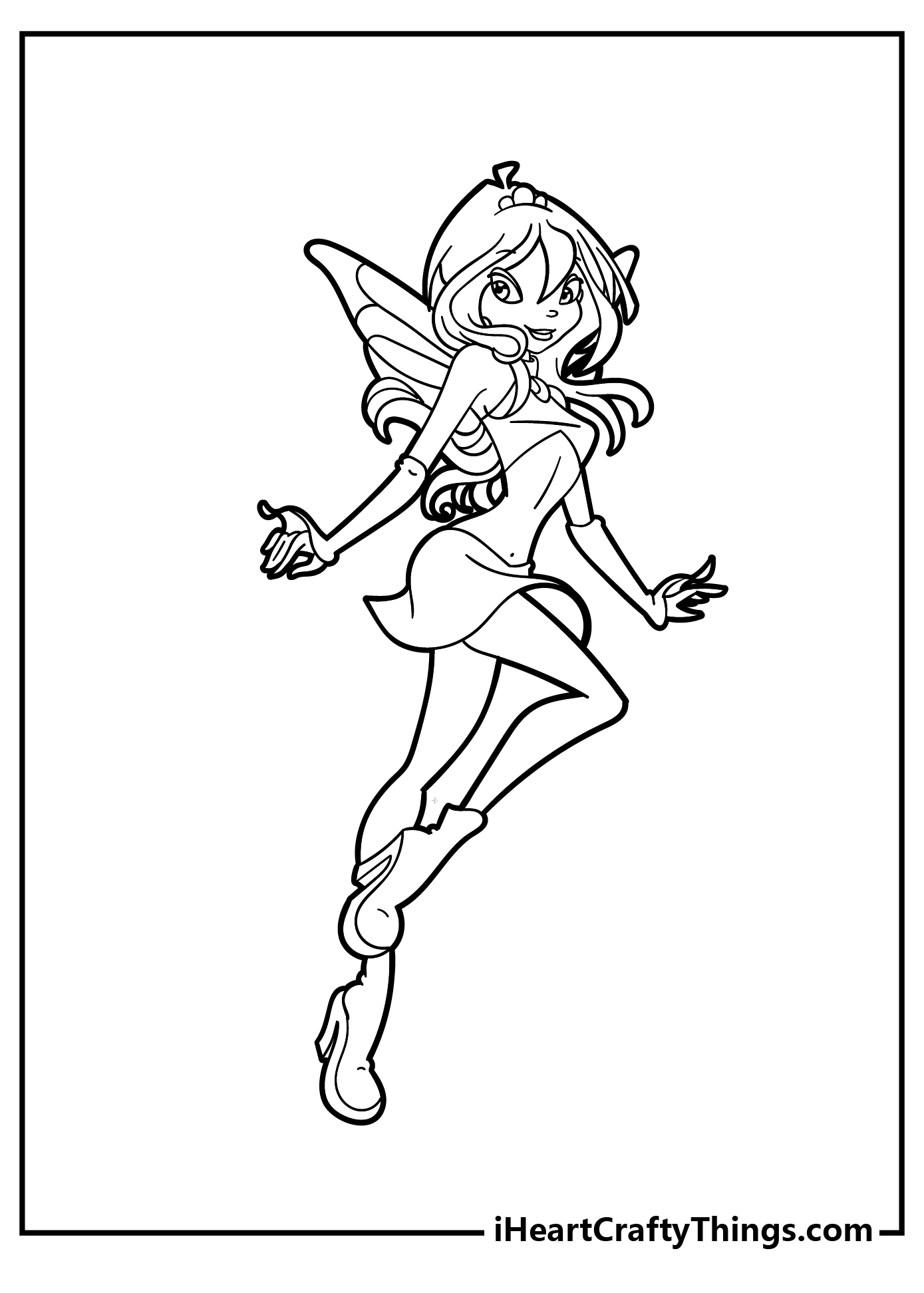 We're featuring the same character from the previous page in a really fun pose in this next image. She's in a fun, dramatic pose in this one, and she is looking like she is having a great time!
There is a party feeling to this one, so we think it would be fitting to have some bright, cheerful colors for her outfit and the background. What kind of feeling will you portray in this one?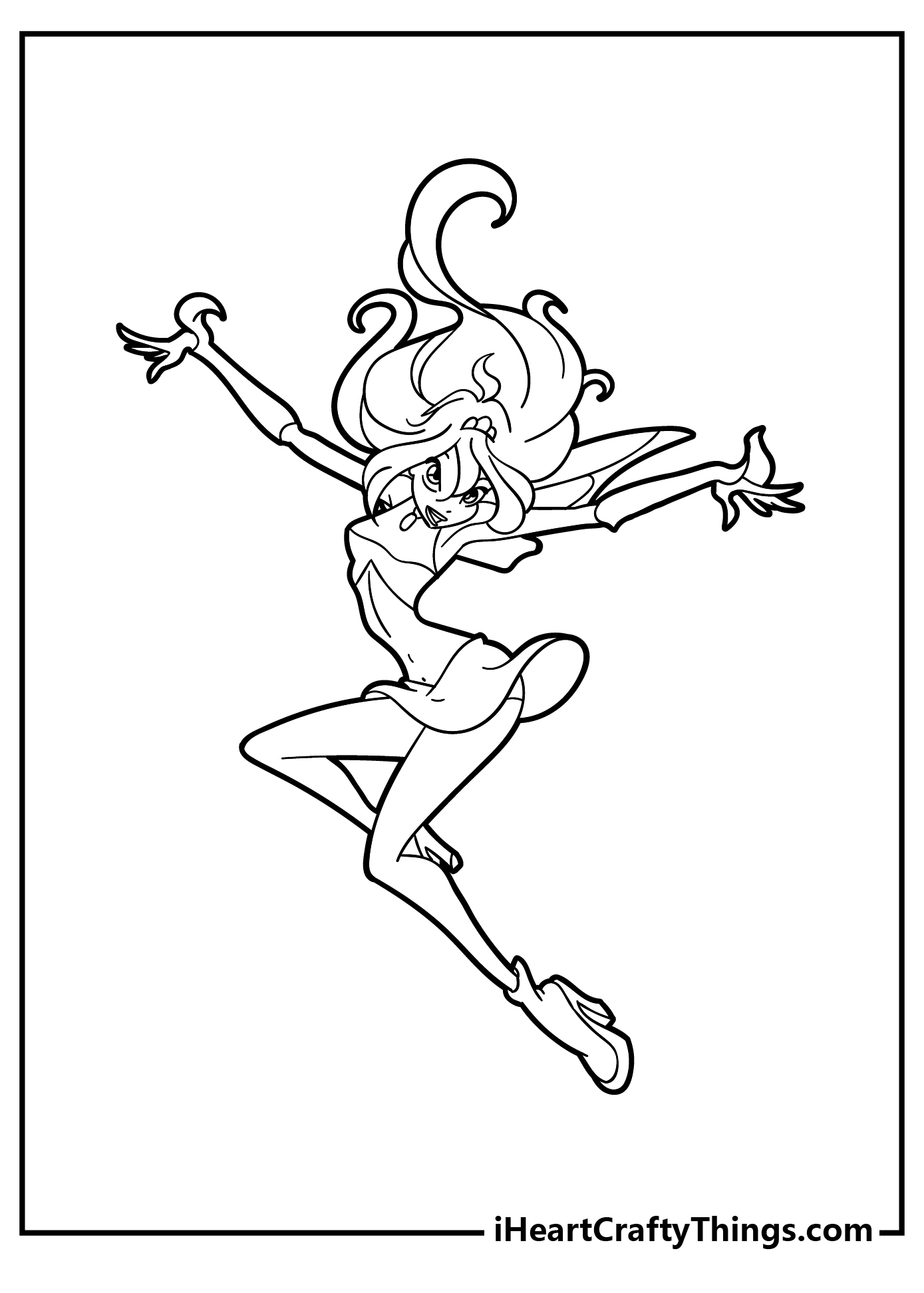 This next Winx coloring sheet that we have for you features another character from the series.
She normally appears with a mostly purple color scheme, and that would look great if you wish to keep her colors looking accurate.
As with all of these pictures, the choice of colors is up to you! There are so many awesome color schemes you could go for in order to give this character a unique look.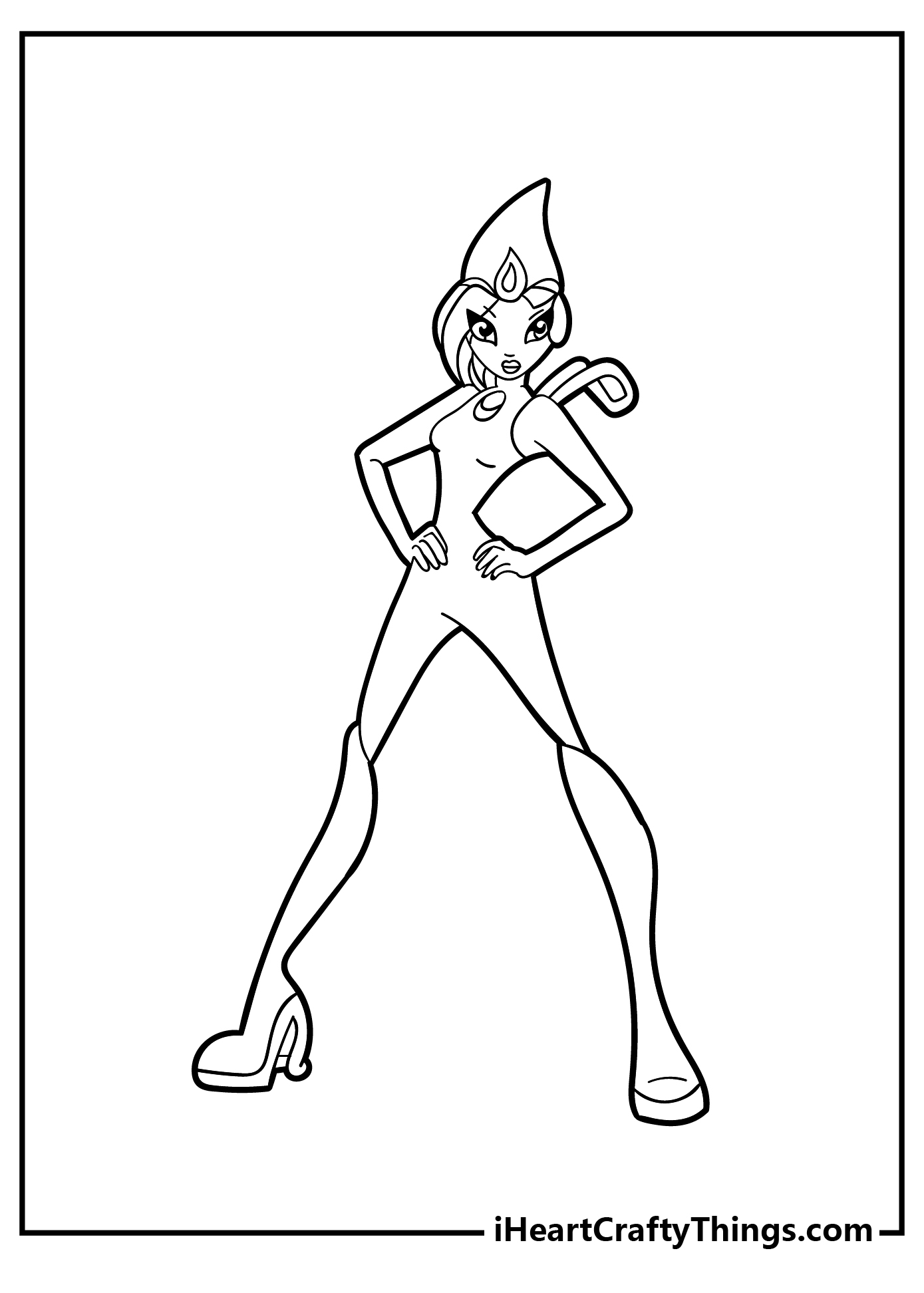 What a cool-looking character we have for you to color in this next one! She normally has a red and pink color scheme for her outfit with pretty black hair to finish off her look.
There is also a lot of empty space in the background, and this leaves a lot of room open for some great background details that you could draw in.
What kind of setting would you put her in?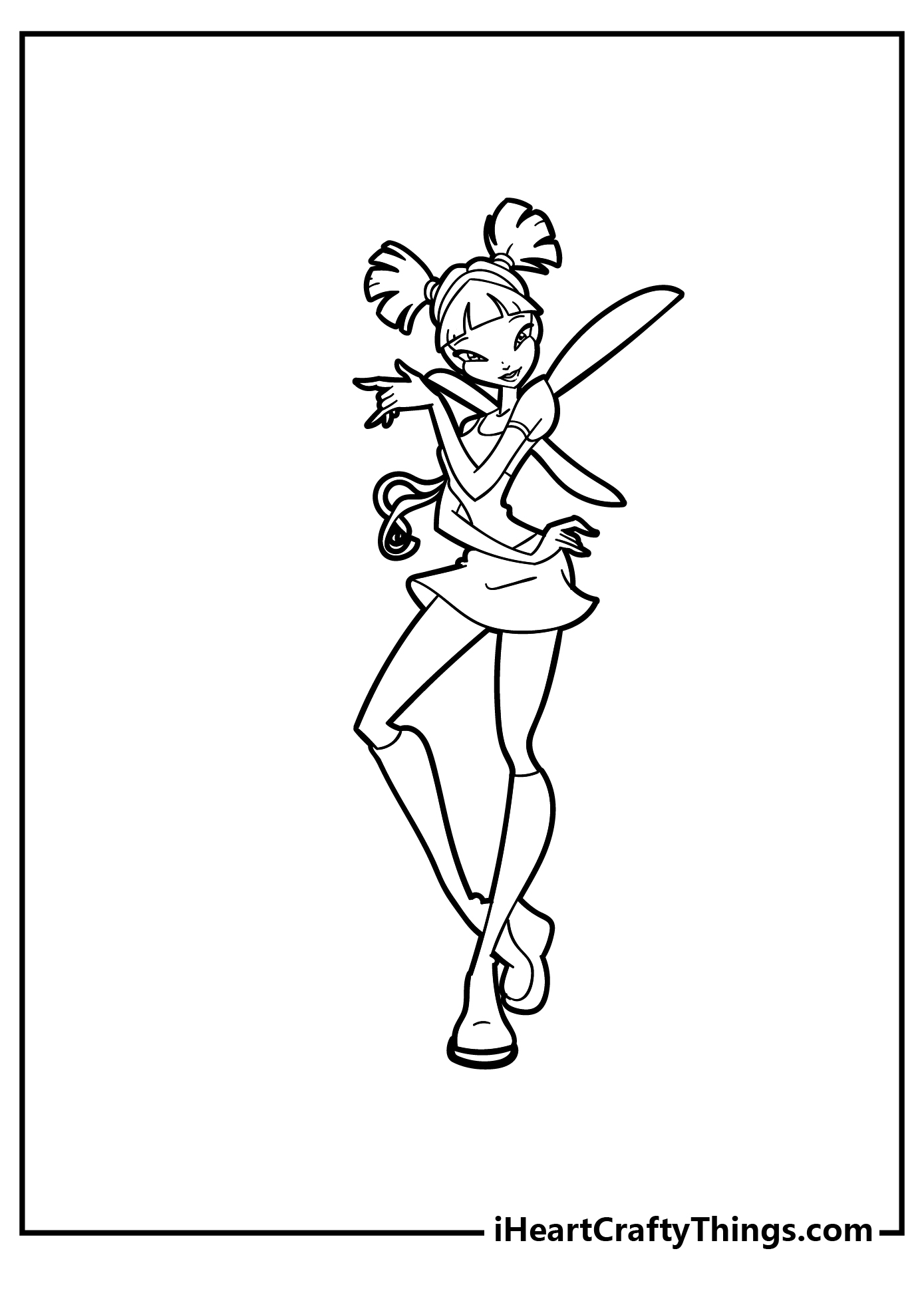 The sixth Winx coloring printable we have for you features the same character from the first two pages. She has a different style of clothing in this one, and the style is more modern and trendy.
Even with the style change, when she has this look she generally has the same color scheme as when she is dressed in the other style.
Will you go for a totally new look for her or stick with her classic colors?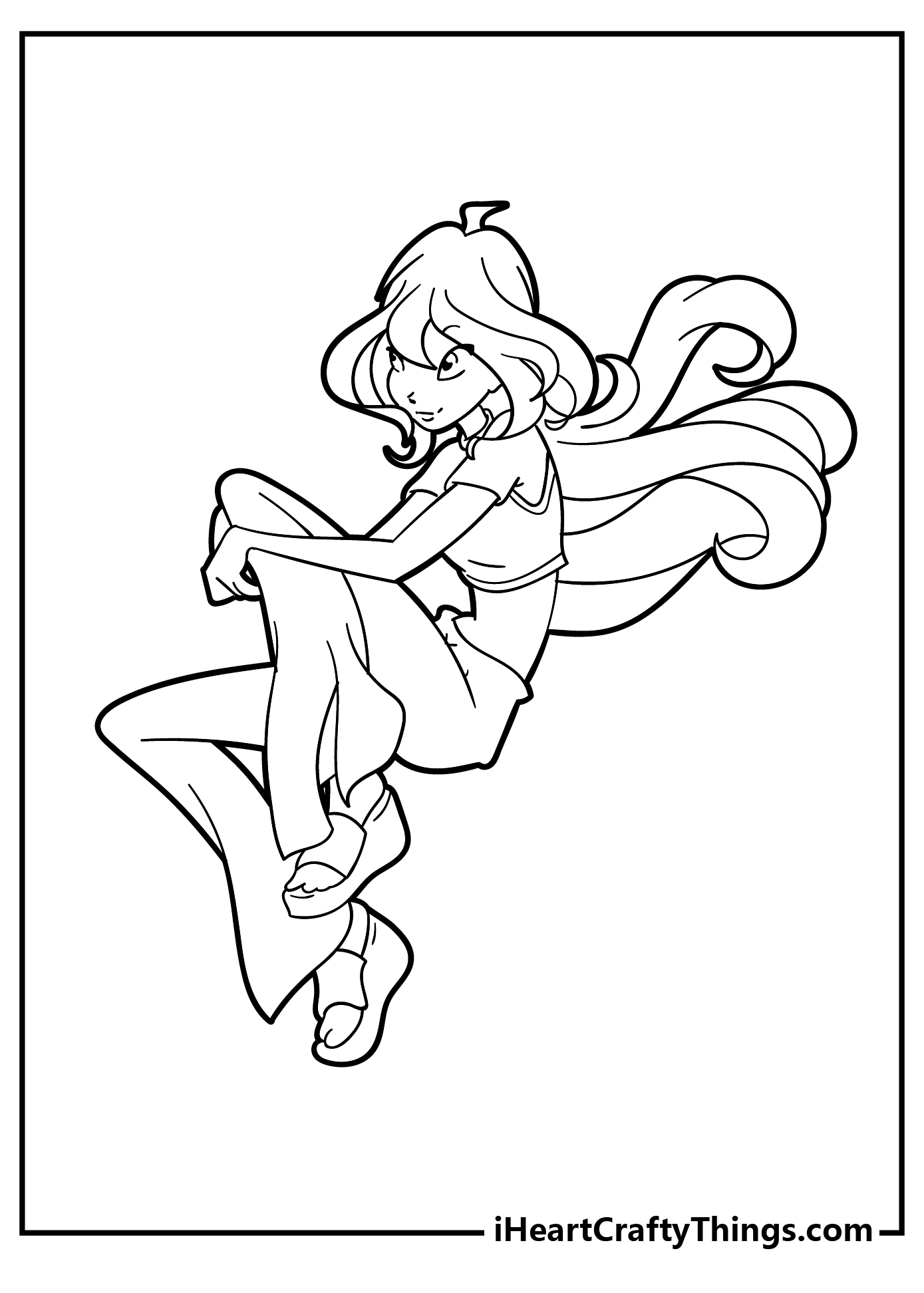 Here's another returning character for you to color in! This character has also had a bit of a style update in this image, as she is looking more modern and trendy as well.
Like the fairy in the previous page, she has a similar red and pink color scheme with some blue pants when dressed in this style.
There is a checkered pattern on her top, so you could also use a variety of your favorite colors to color in the different sections of her top. What colors are you thinking of using for this one?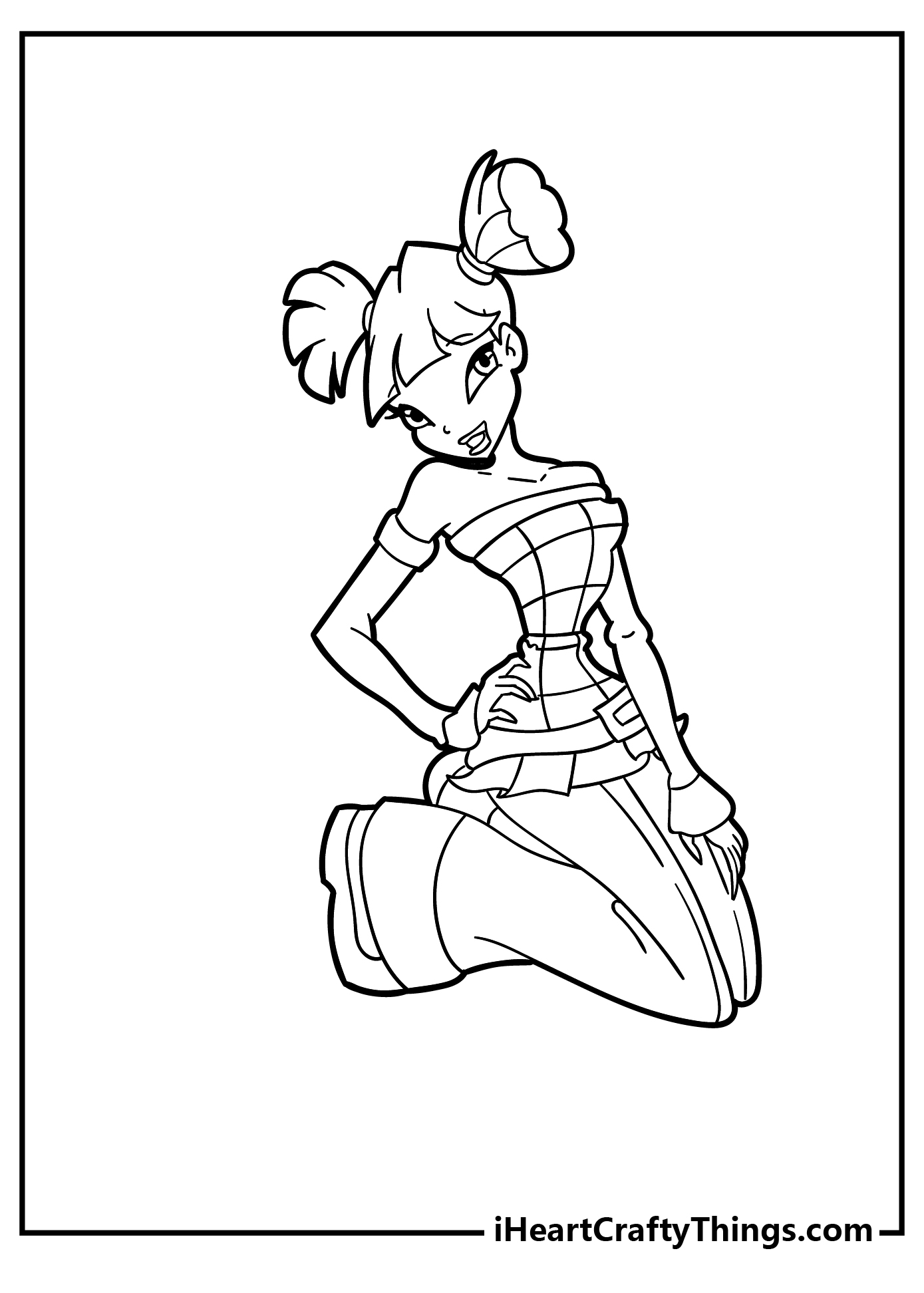 We have another cool, trendy outfit for you to color in this next Winx coloring sheet.
She is pulling a really fun pose in this one, and it's another that we think would look great with some bright and vibrant colors.
Using art mediums such as colored pens or acrylic paints would help the colors to pop even more as well!
What colors and mediums will you choose to bring this one to life?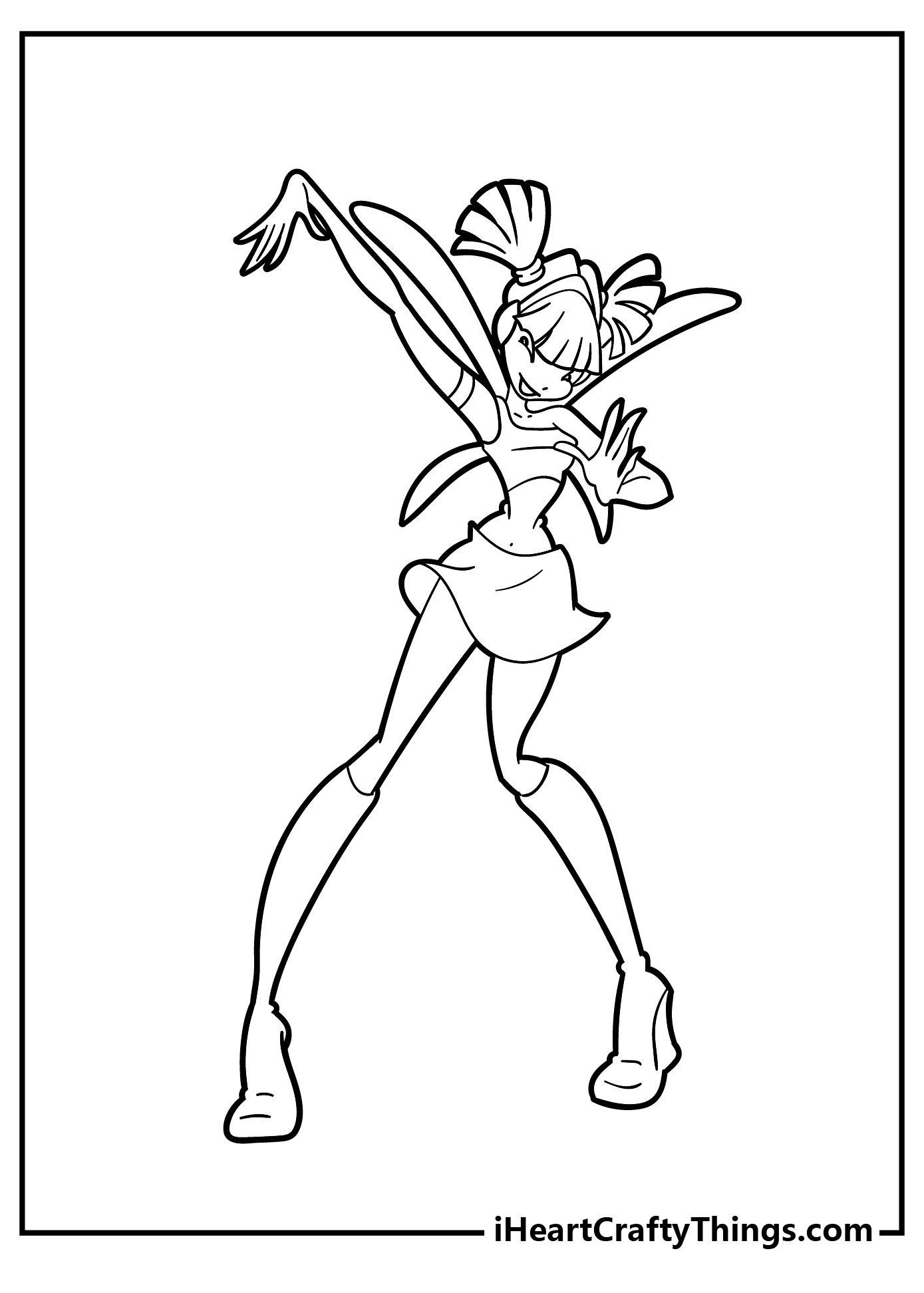 There's a more subdued scene on this next page. This fairy is looking very calm, and that feeling comes through when looking at the picture.
For this one, we would use milder, cold colors such as light blues, pinks and purples for this one. This would further help to emphasize the calm mood given off by this image.
Do you think you will go for this approach or will you go for a warmer color scheme?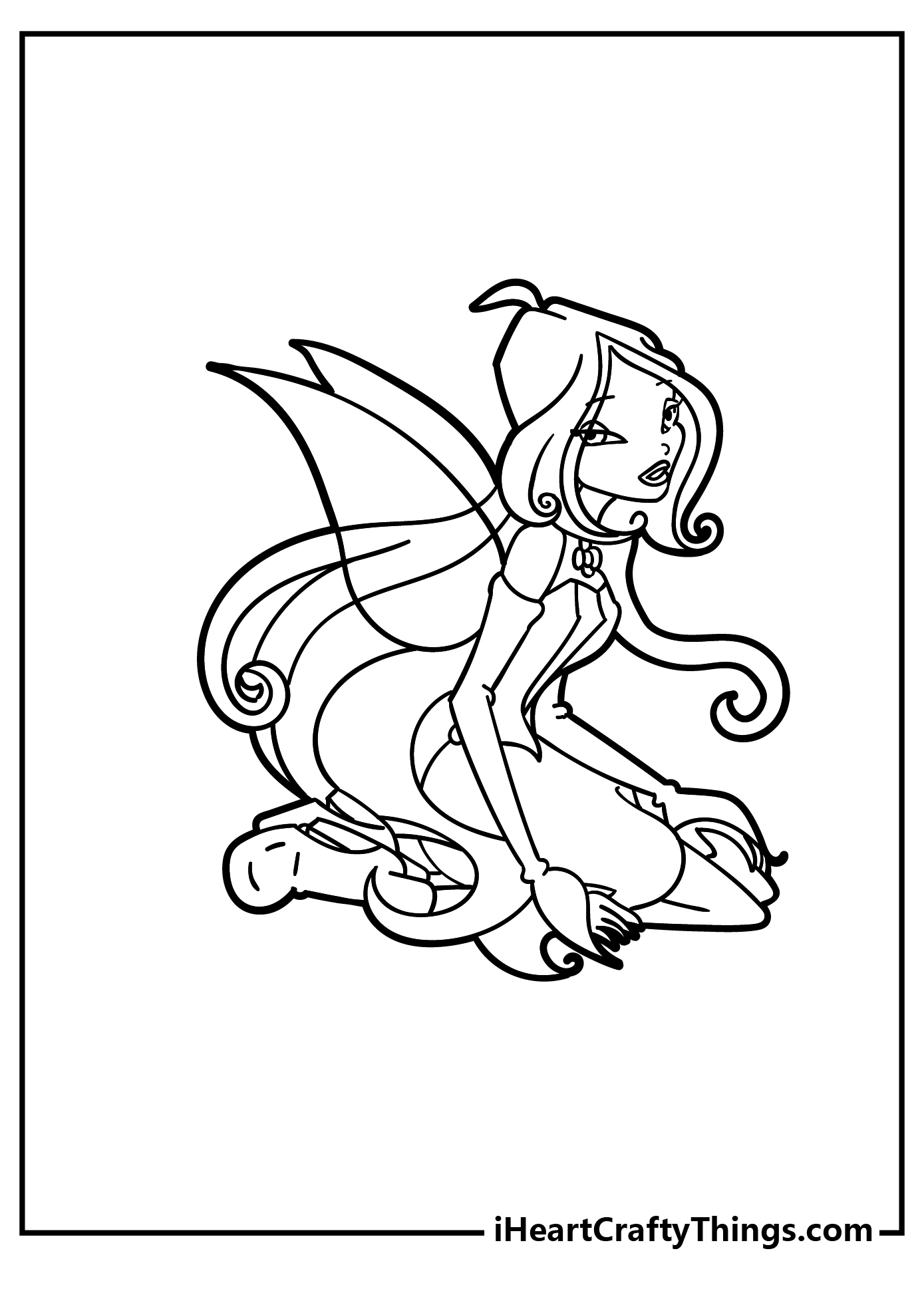 For our final Winx coloring printable, we have a confident portrayal of this character. When coloring any of these pages, you could also use some crafts and other art tools.
For example, many of these fairies have a glittery effect on their clothing and surrounding them, so you could use some glitter on top of the colors you choose to make them sparkle!
What other fun crafts and unusual art tools and supplies would you like to use for these pages?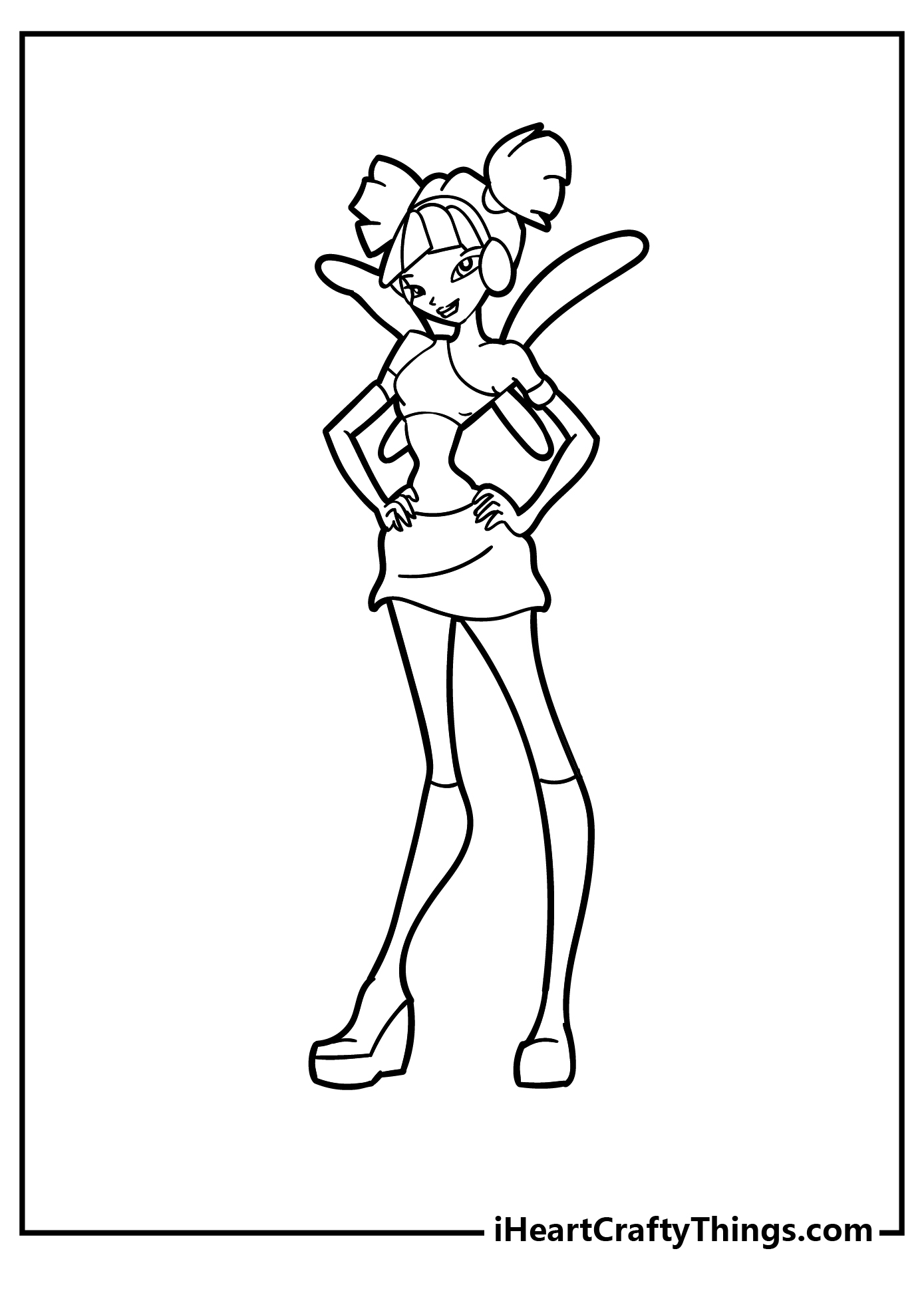 Winx Coloring Pages – Which will you choose?
We hope that you had a magical time working on this collection of free Winx coloring pages for kids!
There was a great selection focused on the various characters from this series, and we're sure that all sorts of amazing colors were used to bring them to life.
It will be great to see how you chose to color these pretty fairies.
When you have finished coloring your favorite pages, be sure to check out our website for even more awesome coloring pages to enjoy!
We also hope you will share these pages with other Winx fans to enjoy.
Please also share some of your favorite finished pages to our Facebook and Pinterest pages for us to enjoy when they are complete!