The trolls lived happily in a tree many years ago and had fun every day, hugging, dancing, and singing. Then met the Bergen, their unhappy neighbors, who didn't sing, hug, or dance but ate trolls for fun.
And this is how the trolls started an adventure that presented them with a world they'd never known before.
If your children are in the mood to watch one of the Trolls movies, you can transform the activity into a themed event with our troll coloring pages.
Troll coloring printables are a fun way for children of all ages to develop color recognition, creativity, and focus.
10 Brand New Troll Coloring Pages – Free to Print and Color
The branch is the only troll in the tree who didn't hug, sing, or dance because he was always paranoid. He knew that singing could attract the attention of the Bergens, and he always stayed in survival mode.
Our coloring printable sheet shows a smiling Branch with an eyebrow raised, probably planning to get rid of the Bergen.
If your children want to paint Branch to resemble the movie character, they should use blue-grey for the skin, lavender for the nose, sky blue for the eyes, and black for its short hair.
They can color his attire in green and dark brown as in the film or pick other shades.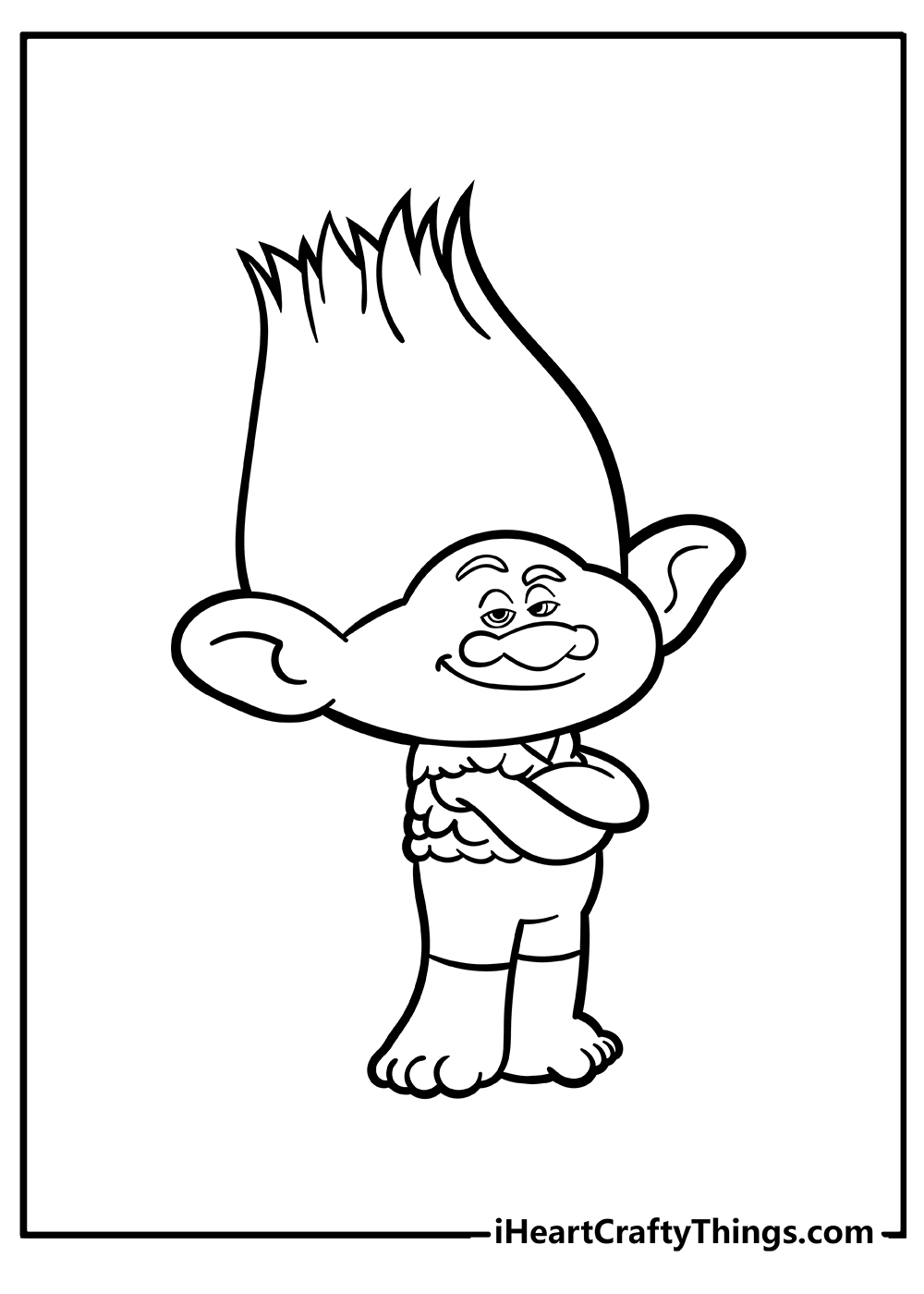 Poppy has always been kind, positive, enthusiastic, energetic, and committed to helping everyone. She loves to have fun and spends her days singing and dancing.
Poppy is a famous appearance in troll coloring pages because girls of all ages love her cheerful personality.
If your little one loves the Trolls movies, they're going to be very excited to paint Poppy from our printable.
They can use a light pink for her skin and glitter and rose shades for her freckles.
She usually wears a blue dress and a crown of blue flowers to highlight her dark pink hair that naturally sticks up in the air.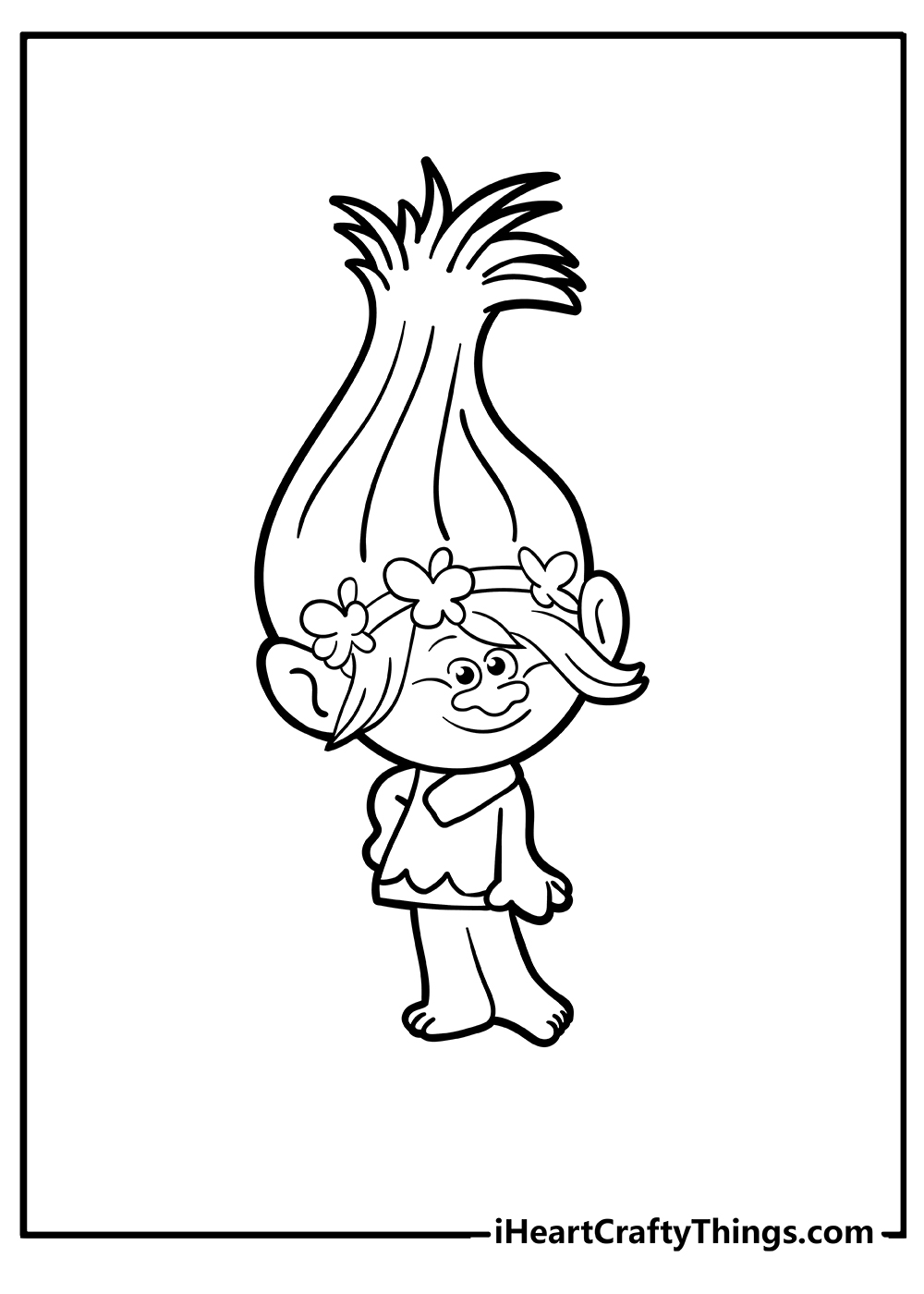 Look how happy Poppy seems on this coloring page. She is probably running around the village spreading hugs to all the trolls she meets.
Poppy has her arms spread wide on this printable sheet to welcome the troll she is about to hug and wears her usual short dress. Her hair sticks in the air, with a couple of strands floating freely around her ears.
If your children painted her dress and flower crown in blue shades in the above printable, they could use other colors for this page.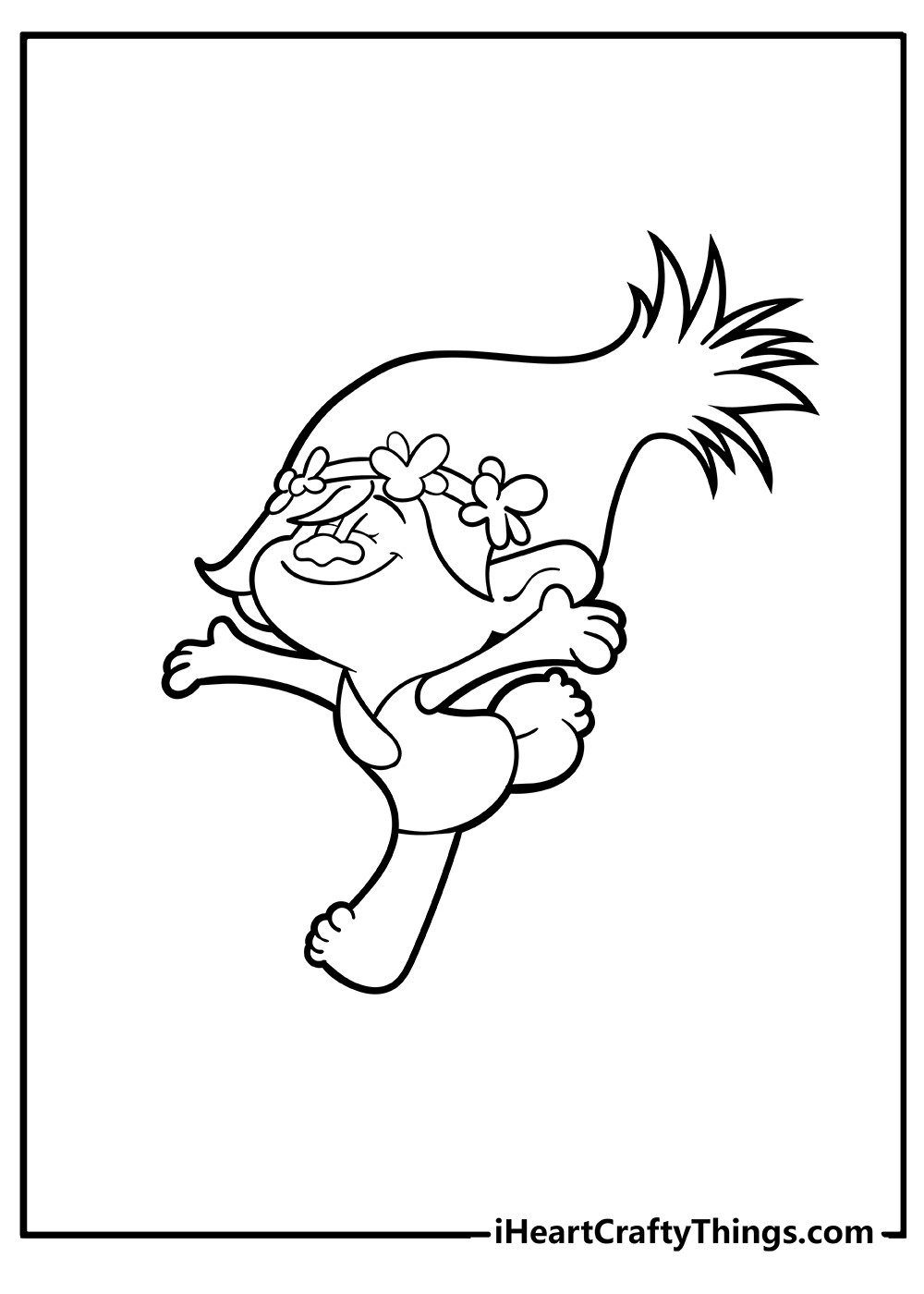 If you look at this coloring page, you can quickly tell that this troll doesn't look like the others.
Cooper has a different appearance than most trolls because he has stripped pink and red fur, four blue legs, and a long neck.
His hair is also unique because it doesn't stick up like the other occupants of the Troll Village. He sports short, wooly blue locks with a green cap.
Your children will have a lot of fun painting this coloring printable that depicts a Cooper running around and showing a toothy smile.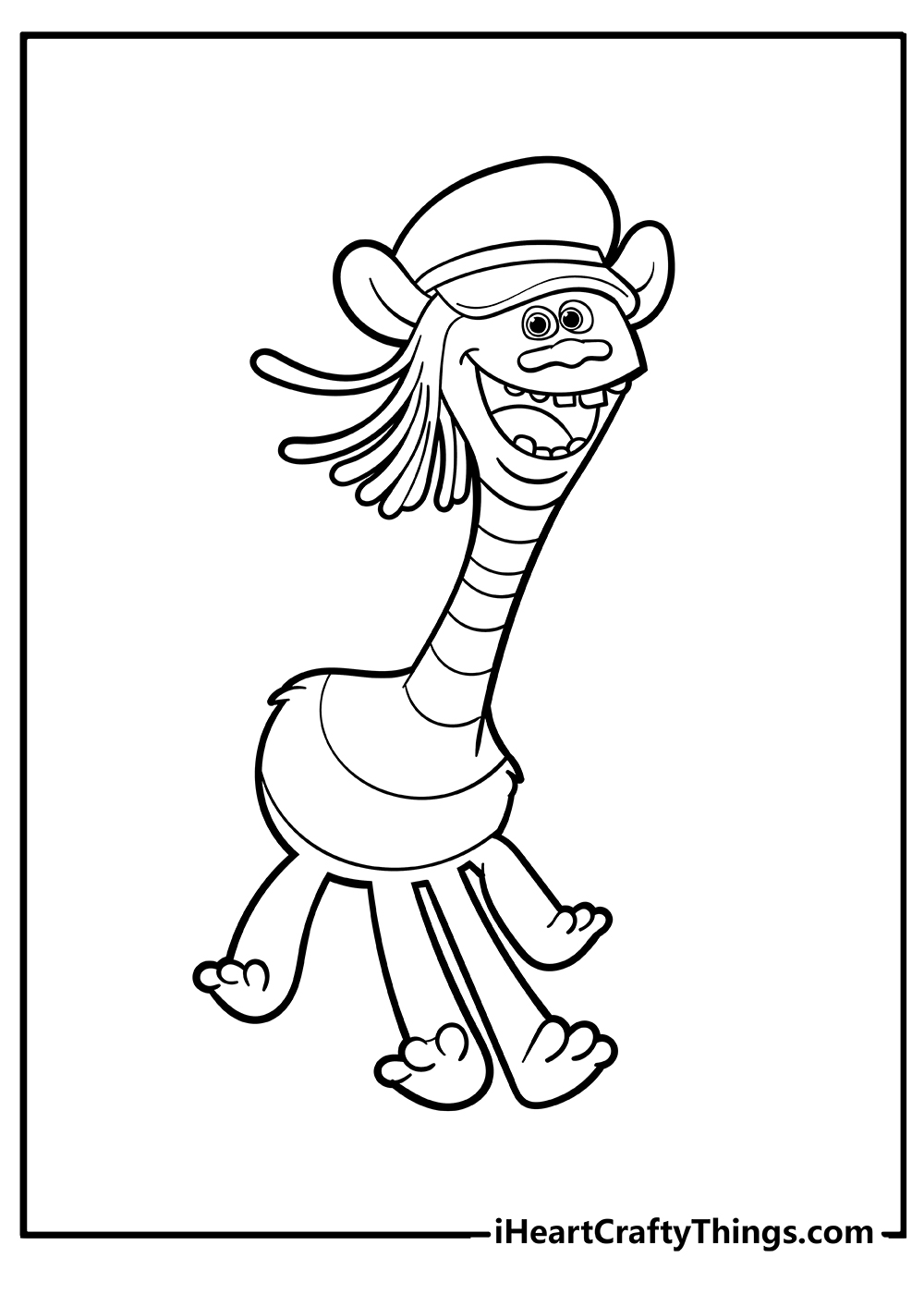 Biggie is the most prominent member of the Snack Pack and has the most incredible heart.
Children quickly find out that underneath his imposing appearance Biggie is a softie who bursts into tears at scary or happy moments.
We made sure to include Biggie's pet work, called Mr. Dinkles, on this troll coloring sheet because he carries it with him everywhere.
Biggie is a chubby troll with light teal hair and dark blue skin. He has a pink nose and usually wears purple pants and vest attire.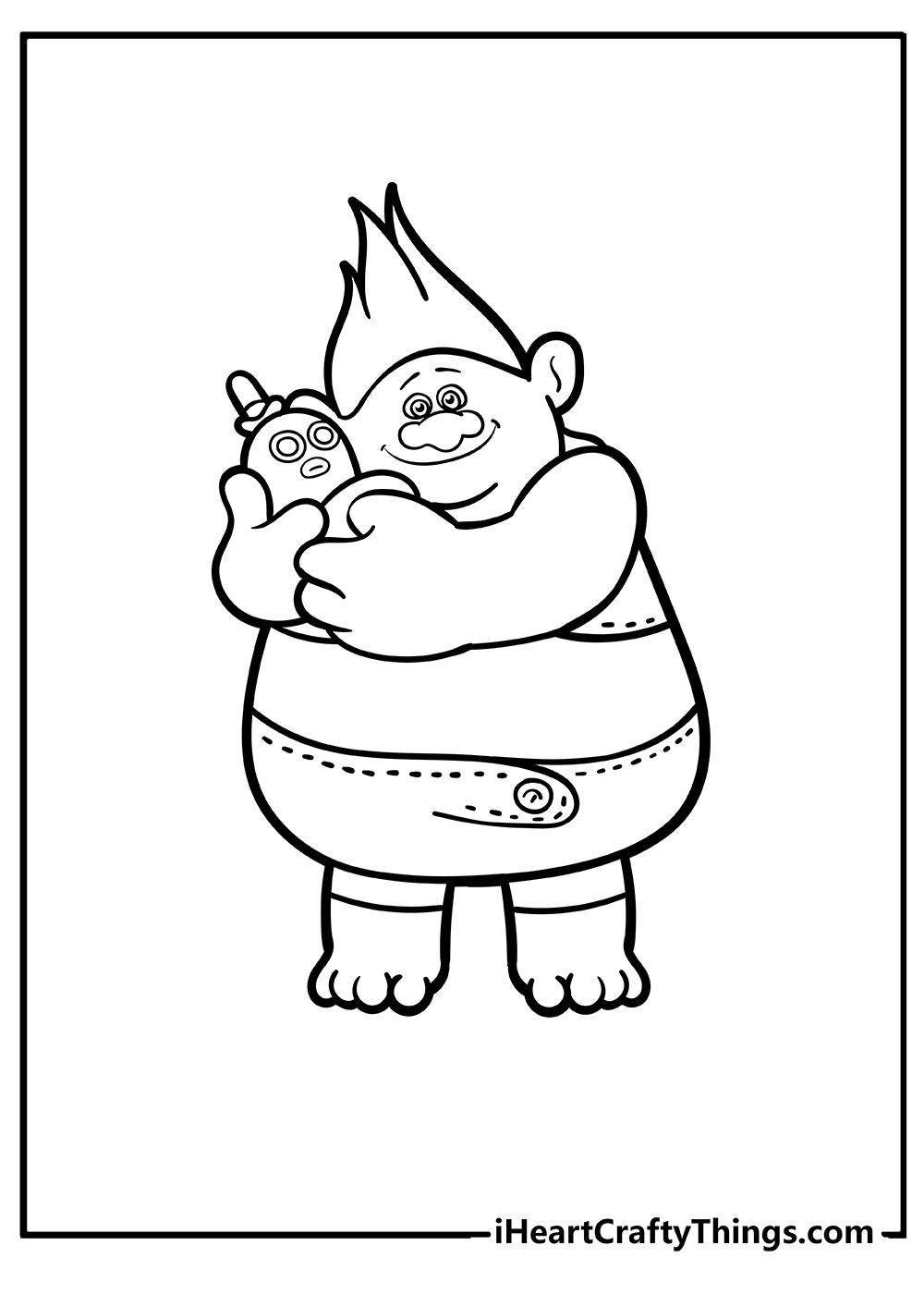 One of the smallest trolls, Smidge, has yellow skin and long hair sticking in the air.
Even if Smidge is a tiny troll, she has a strong baritone voice and hobbies like listening to heavy metal music and weightlifting.
In this troll coloring sheet, Smidge seems to sing and dance. She wears her usual little pink dress with a pom-pom in the center.
Encourage your children to pick her another outfit if they think pink isn't suitable for her yellow skin tone.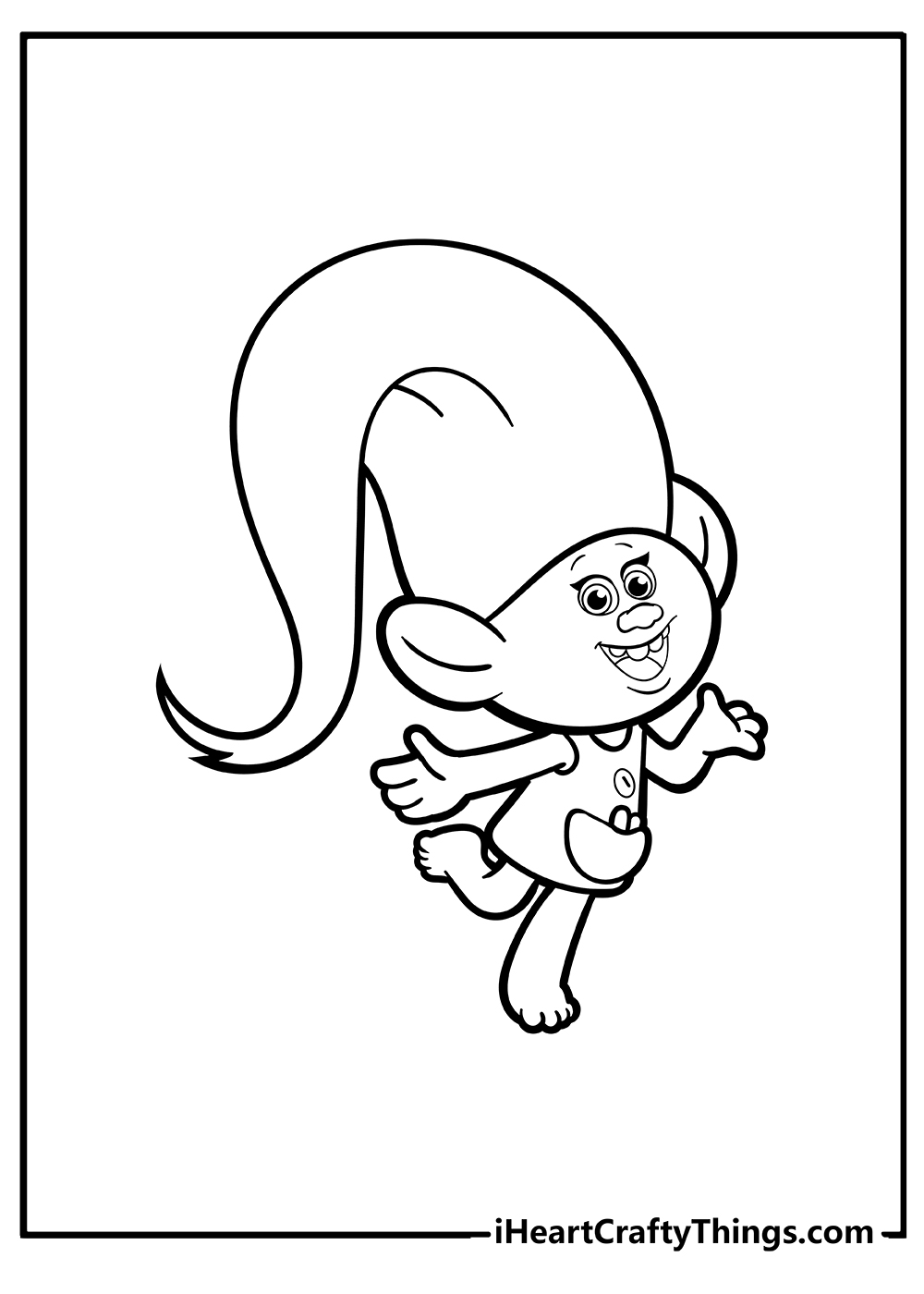 Some of our troll coloring pages feature characters from the Bergen family.
If your children watched any of the Trolls movies, they probably know the character in this printable is Bridget, a former scullery maid.
Children love Bridget because she is a sweet and amiable Bergen who worked for a mean boss in Bergen Town.
In this coloring page, Bridget wears a fashionable outfit formed from a pair of flared pants, a shirt with a high collar, high heels, and a small and elegant purse.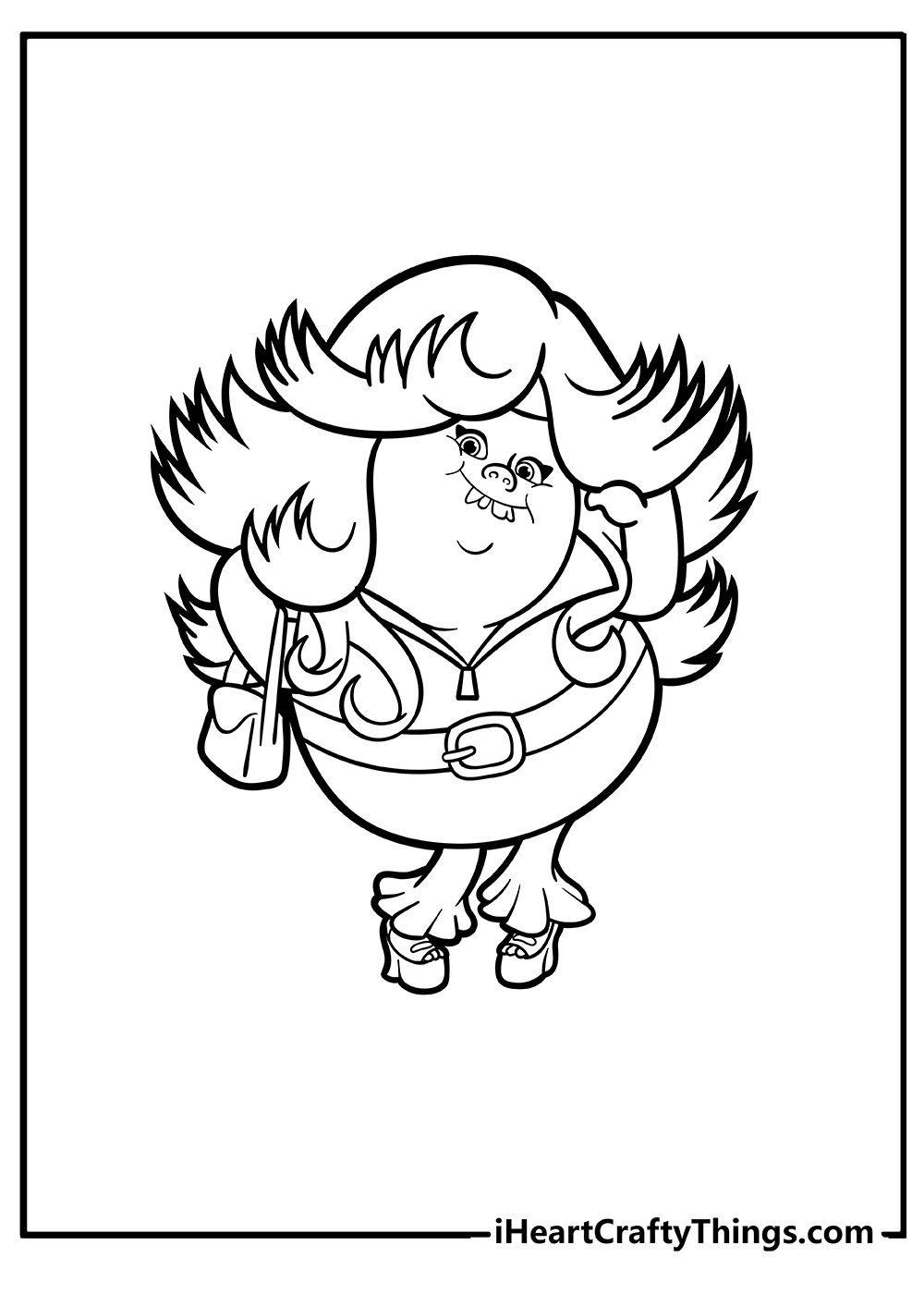 Here is another coloring printable sheet that depicts a Bergen Monster. This character is the unpopular Prince Gristle, who inherited the crown when the furious subjects dethroned his father.
He promised them to put trolls back on the menu to make them happy.
Most troll coloring pages show Prince Gristle wearing a too-small top, shorts, a royal cape, sandals, socks, and a crown.
He has green skin and hair, so encourage your children to paint his clothes in shades that match his complexion.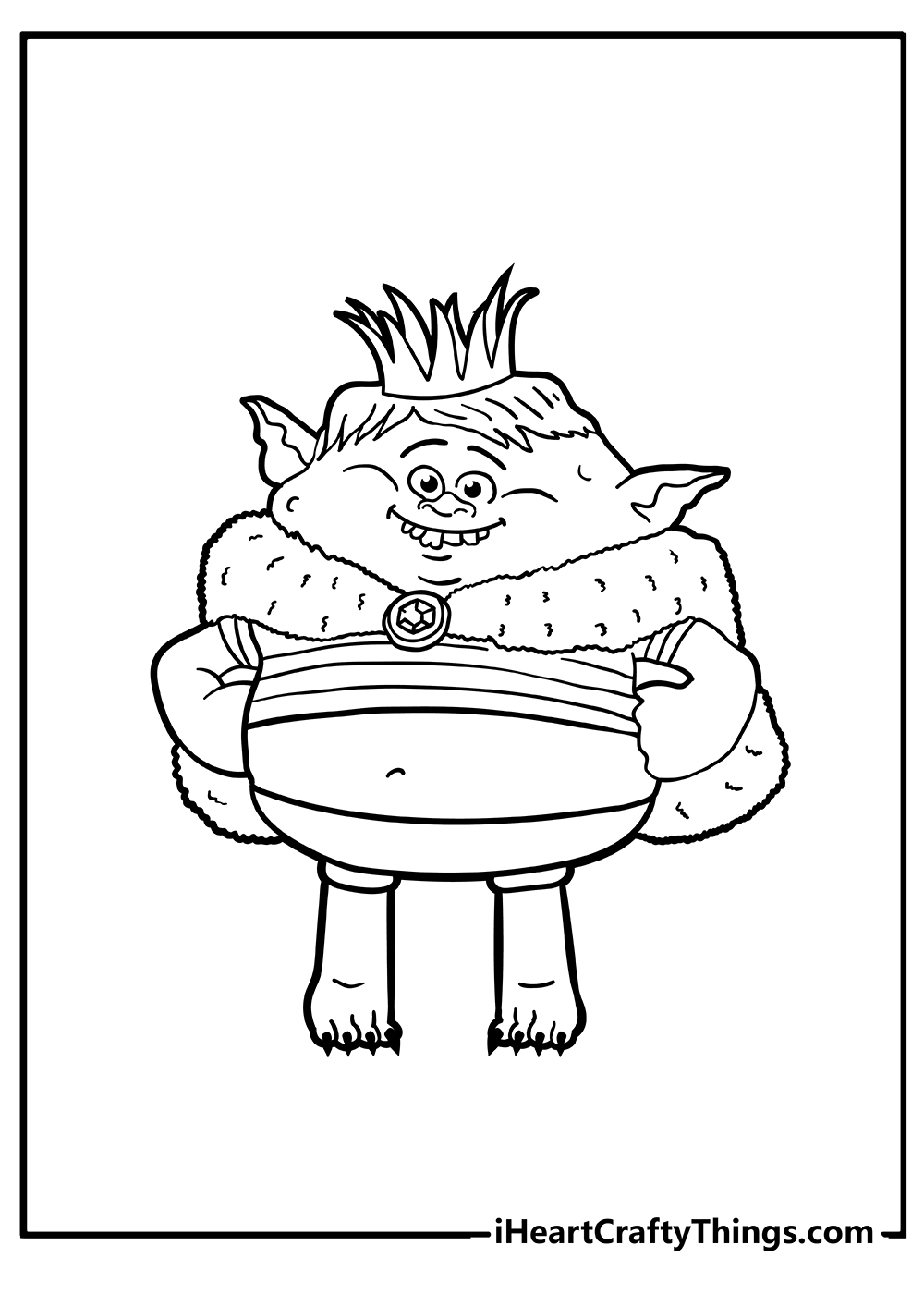 Smidge isn't the only troll who listens to heavy metal music.
Riff is a Rock Troll who wears a rocker outfit consisting of torn pants, a beanie hat covering his eyes, a shirt, vest, gloves, and a handkerchief with a skull print.
This coloring sheet features Riff dancing while listening to music, with his black locks floating around his head.
Riff has violet-grey skin, blue eyes, and a giant pink nose. Most Rock Trolls find it strange that he has such a large nose.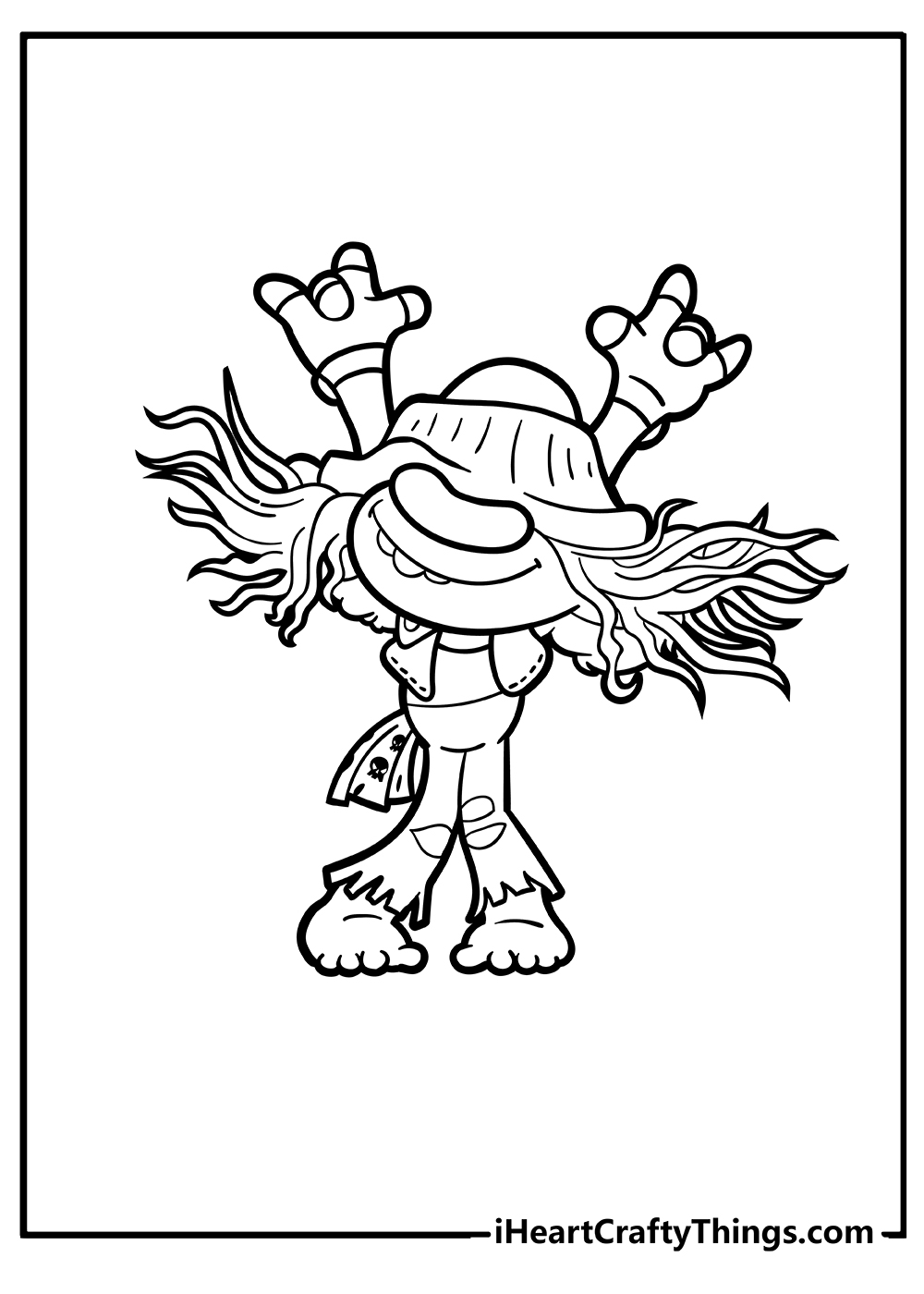 Bridget makes a comeback in this coloring sheet that depicts her as a dishwasher and scullery maid for Chef.
Bridget styles her hair in short pigtails tied with pink rubber bands. It's easy to identify her among the other Bergens because she has crooked teeth that stick out of her mouth and a unibrow.
She wears a dress with sleeves and collar and a ragged apron over it in this printable.
If you loved the above troll printable pages, come back soon because we regularly upload new coloring sheets to download and print for free.