The trolls lived happily in a tree many years ago and had fun every day, hugging, dancing, and singing.
Then met the Bergen, their unhappy neighbors, who didn't sing, hug, or dance but ate trolls for fun.
And this is how the trolls started an adventure that presented them with a world they'd never known before.
If your children are in the mood to watch one of the Trolls movies, you can transform the activity into a themed event with our troll coloring pages.
Troll coloring printables are a fun way for children of all ages to develop color recognition, creativity, and focus.
25 Brand New Troll Coloring Pages – Free to Print and Color
The character featured in this Trolls coloring sheet is Poppy, and she is one of the main characters from the movie.
She is also perfect for a coloring page, as she has so many different colors on her design. Fans of the colors blue and pink should be happy, as these are the two main colors she has for her design.
The movies have dancing and singing as large themes, so this pose she is pulling fits the feeling of the movies perfectly! How will you go about coloring this rocking picture of Poppy?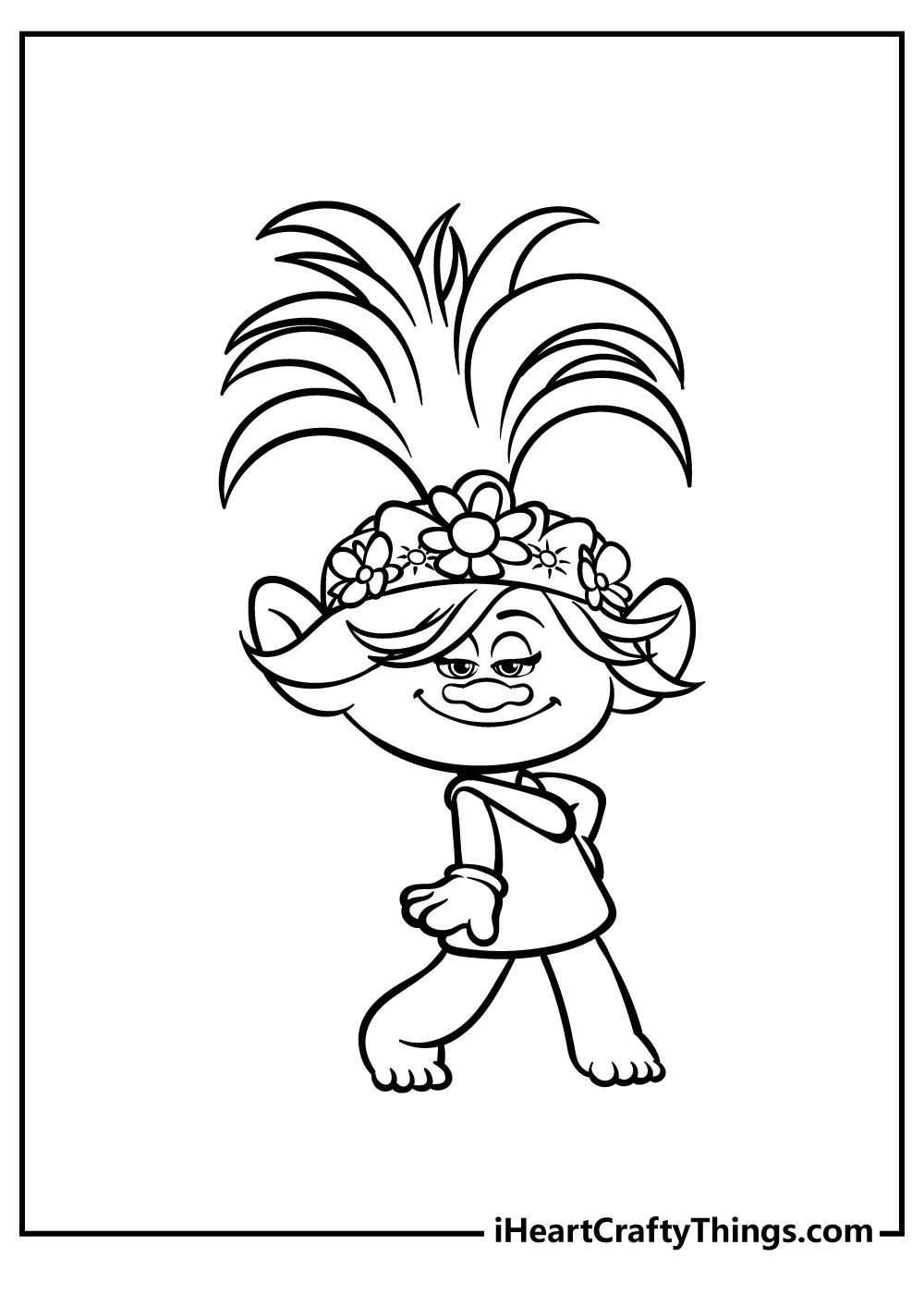 Get ready to rock out with Poppy, the peppy pink-haired Queen of the Pop Trolls. This Troll coloring page shows Poppy smiling big with her hair whipped up into a funky tuft. She's wearing her signature leaf dress with a matching leafy skirt.
As the Queen, Poppy loves to spread joy through music and dance. Use your brightest markers and glitter pens to color in her glittery skin and make this party troll shine.
Add stickers, glitter glue and your own design touches to make this page really POP!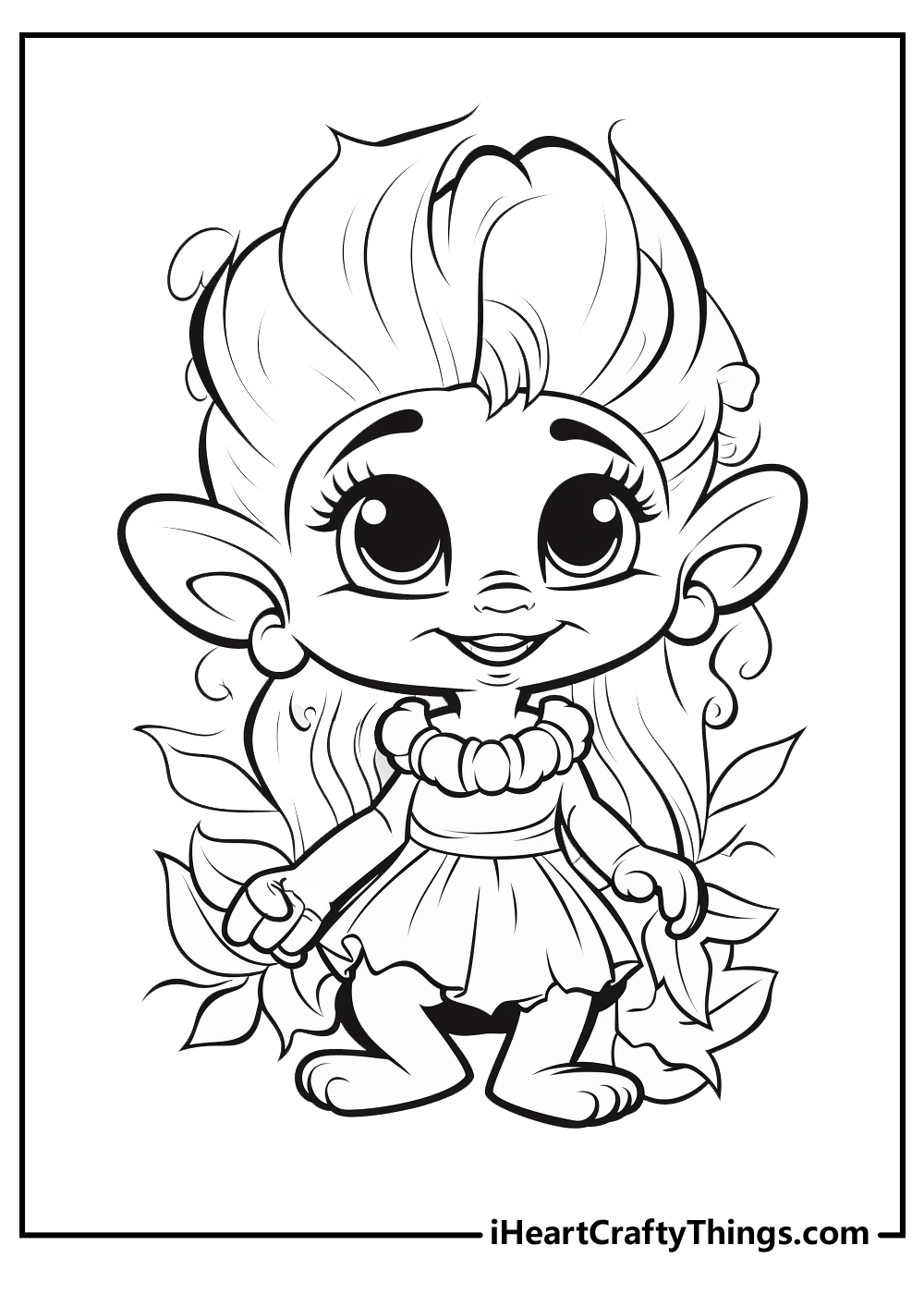 Next up, we have Prince Gristle for you to color. This character has a really fun design, and there are lots of details to color in here.
He has green skin and hair, and he wears a shirt that has red and white stripes.
When coloring this picture of this character, you can use the colors that he has in the movies if you would like him to match his screen counterpart.
If you want to create a new look for Prince Gristle, then you could do that instead! It's up to you to decide how you want this page to look.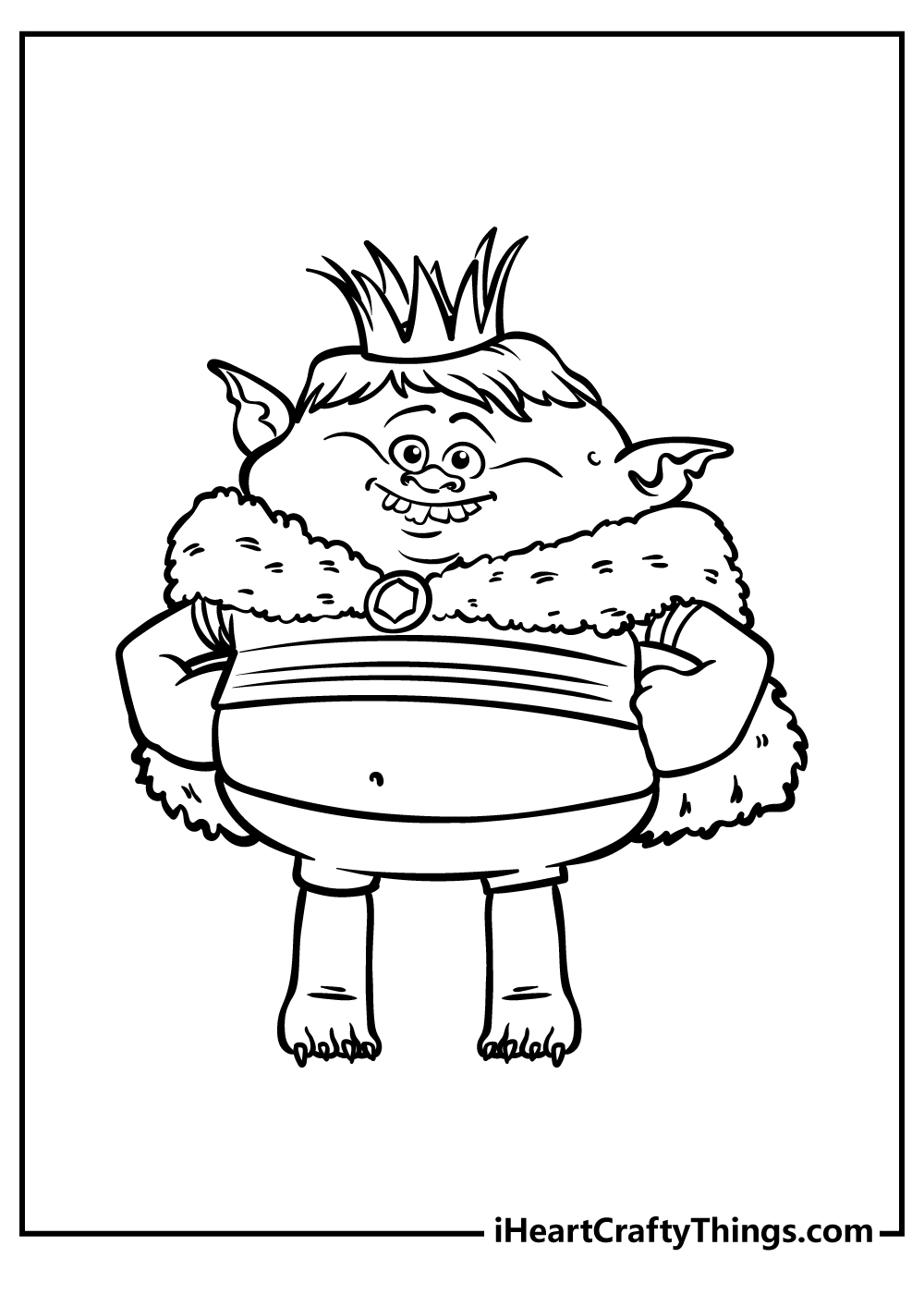 The branch is the only troll in the tree who didn't hug, sing, or dance because he was always paranoid.
He knew that singing could attract the attention of the Bergens, and he always stayed in survival mode.
Our coloring printable sheet shows a smiling Branch with an eyebrow raised, probably planning to get rid of the Bergen.
If your children want to paint Branch to resemble the movie character, they should use blue-grey for the skin, lavender for the nose, sky blue for the eyes, and black for its short hair.
They can color his attire in green and dark brown as in the film or pick other shades.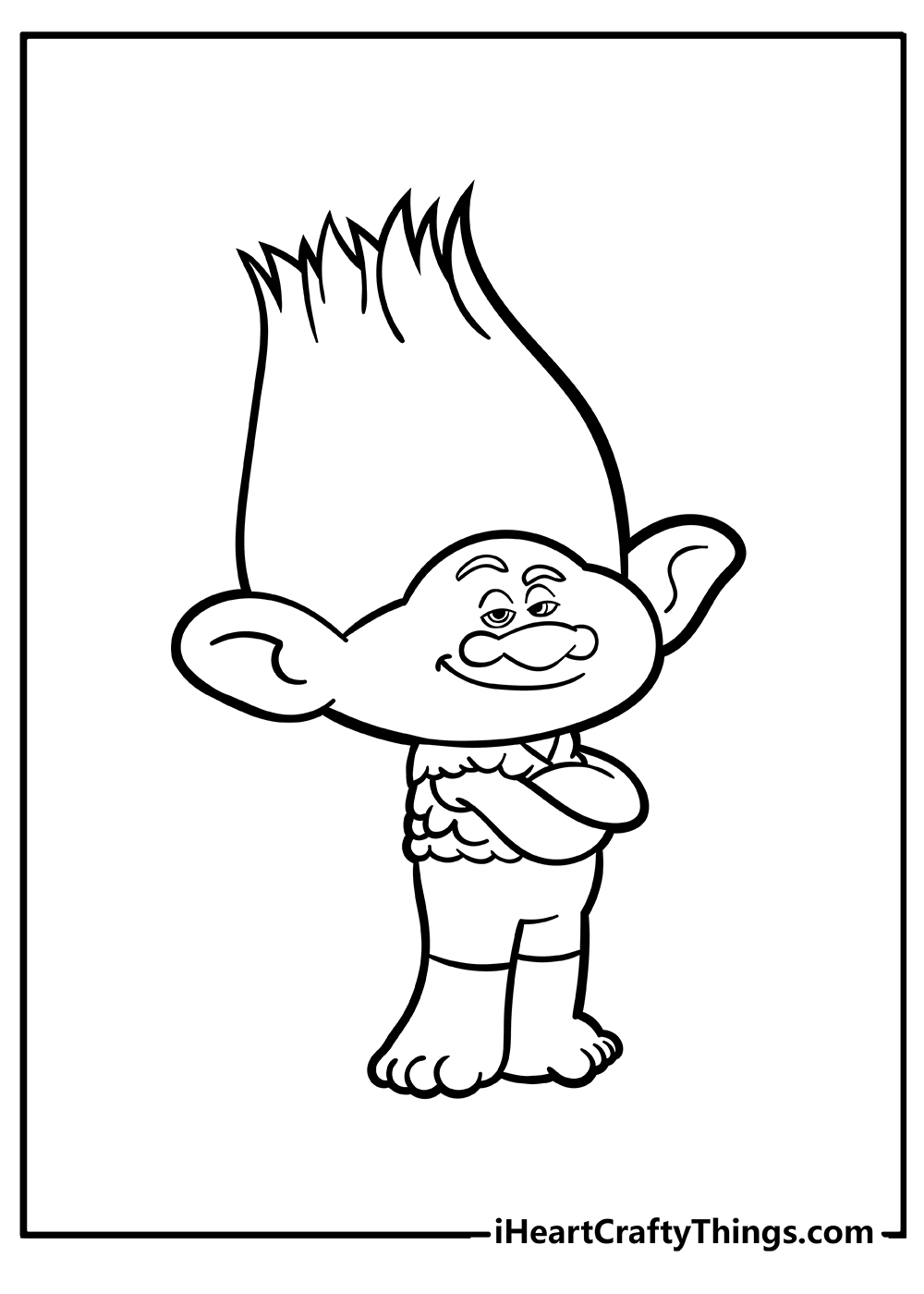 Poppy is ready to sing and dance! This exciting coloring page shows the cheery Queen wearing a cozy scarf around her neck. With her tufted pink hair bouncing and her blue leafy dress swishing,
Poppy looks ready to put on a show. As a Pop Troll, music and performance are her passion! Color her in with bright, bold colors to match her fun personality.
Add some bling with glitter glue or sequins so she sparkles on stage under the lights!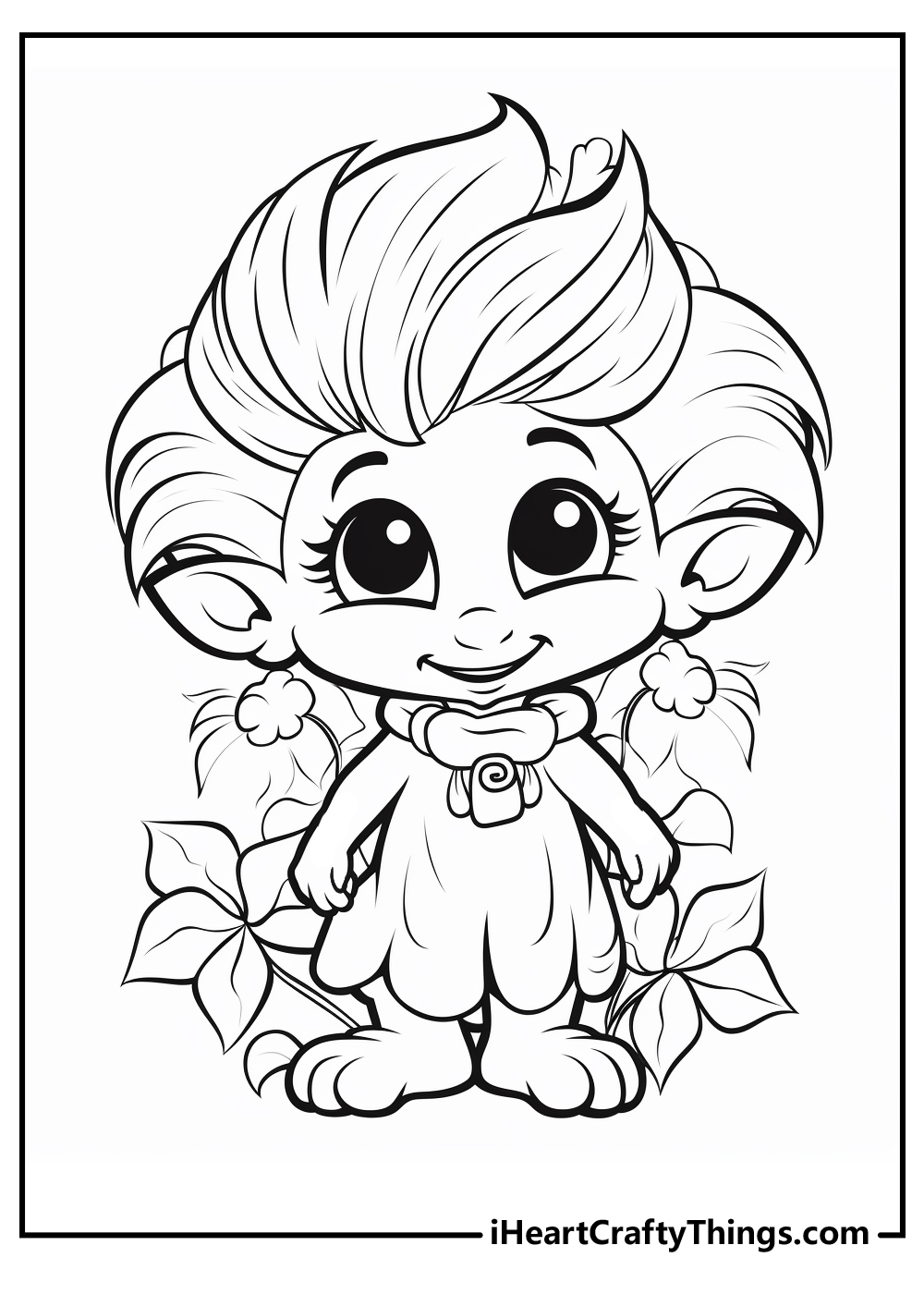 Poppy has always been kind, positive, enthusiastic, energetic, and committed to helping everyone. She loves to have fun and spends her days singing and dancing.
Poppy is a famous appearance in troll coloring pages because girls of all ages love her cheerful personality.
If your little one loves the Trolls movies, they're going to be very excited to paint Poppy from our printable.
They can use a light pink for her skin and glitter and rose shades for her freckles.
She usually wears a blue dress and a crown of blue flowers to highlight her dark pink hair that naturally sticks up in the air.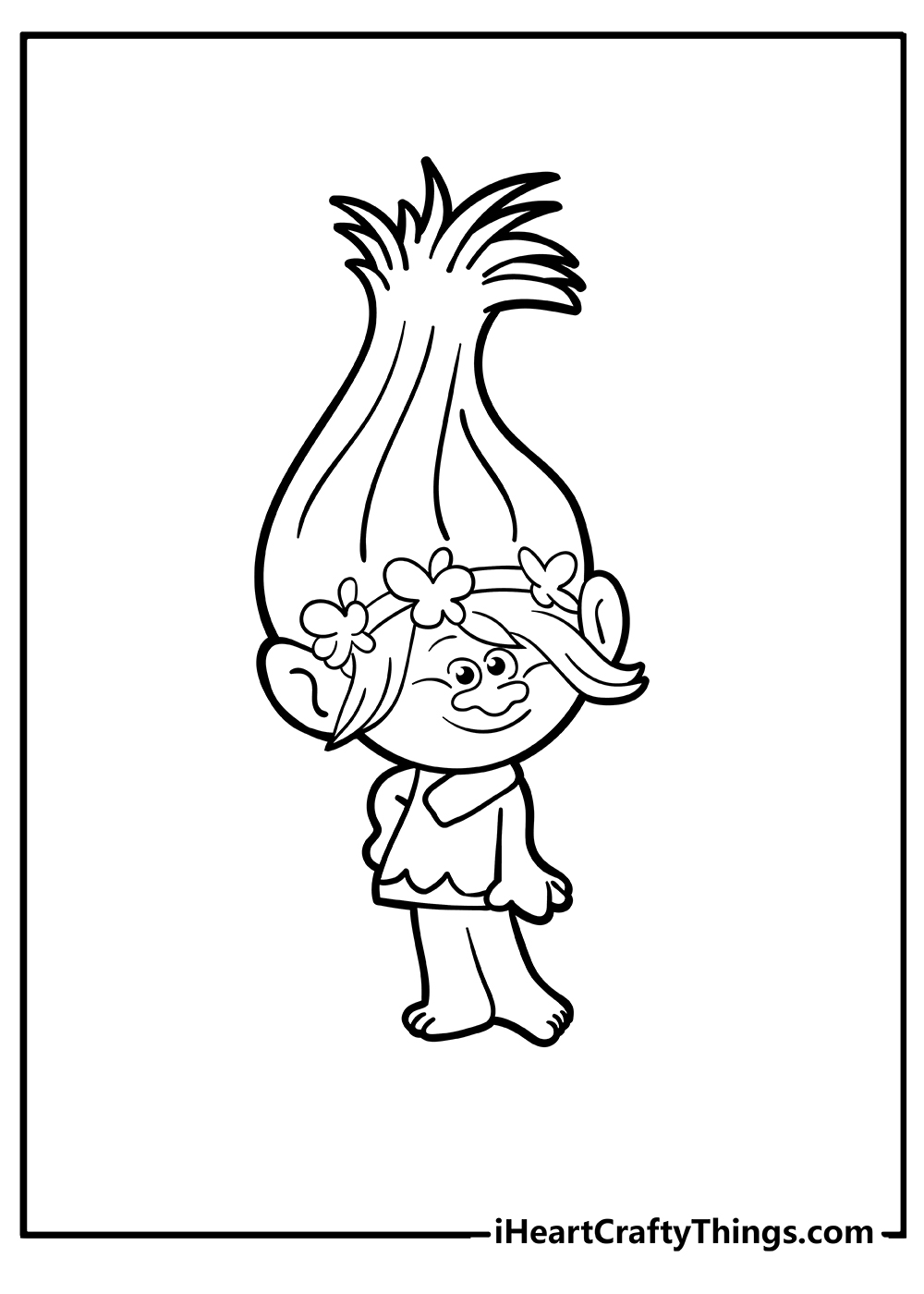 Poppy is back for some more coloring fun with this next page. This time, she is posed with some accessories, and these just give you even more to color.
The stick that she is holding is very thin and fiddly, and the bag has some small details as well.
You could use mediums such as colored pens or pencils to make coloring small areas like this much easier.
Then, you can decide which colors and mediums you would like to use for Poppy herself! Whatever you decide on, we know it will look amazing.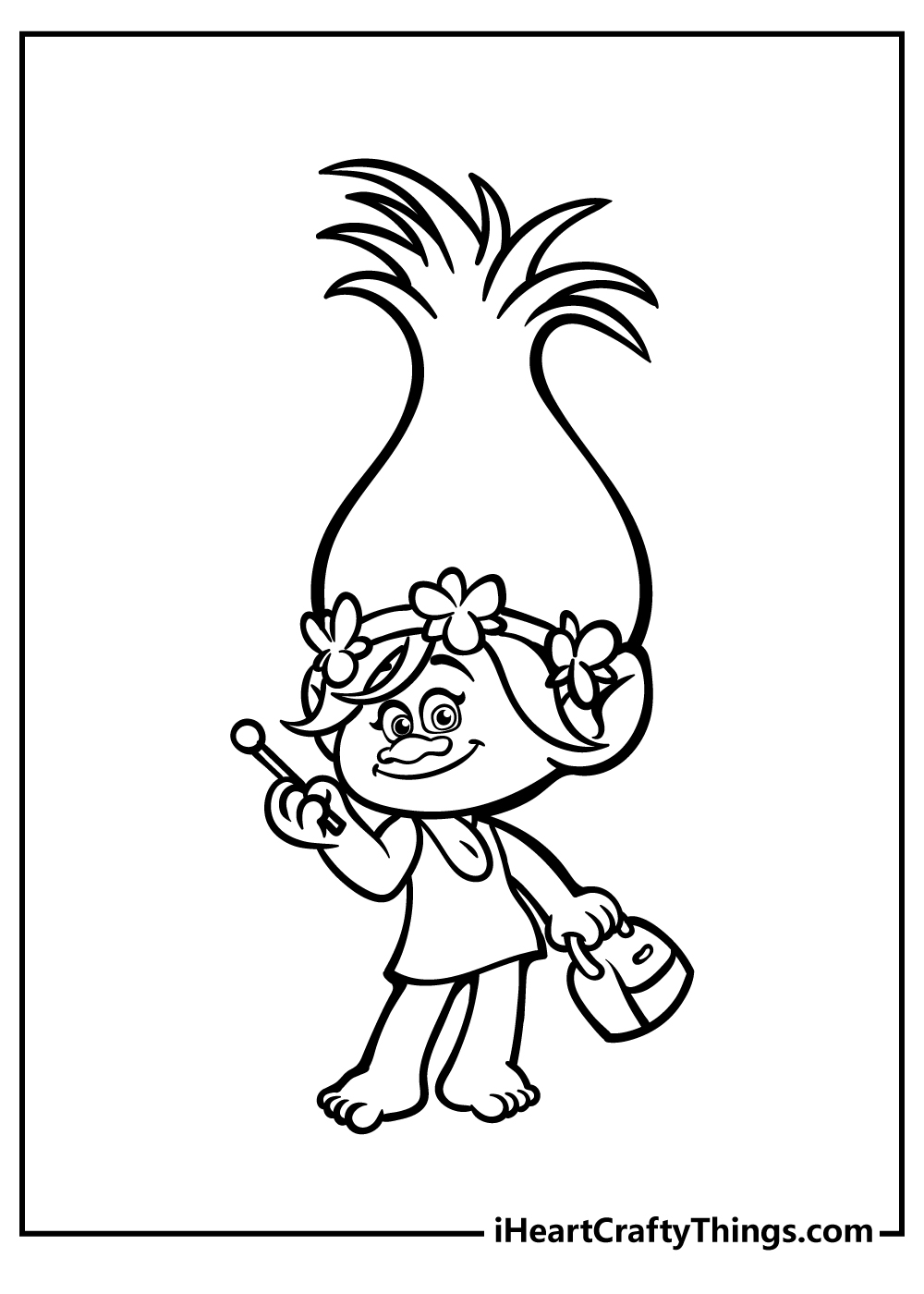 Poppy is taking a break among the flowers and leaves in this troll coloring page scene. With her signature hair and dressed in a leaf dress and flower necklace, the troll Queen looks relaxed and content.
As a troll who loves nature, Poppy enjoys relaxing among the plants and soaking up the sunshine. Use soft, natural colors like greens, blues and yellows to color in the nature around her.
Make her pop with vivid pinks and purples for a peaceful page.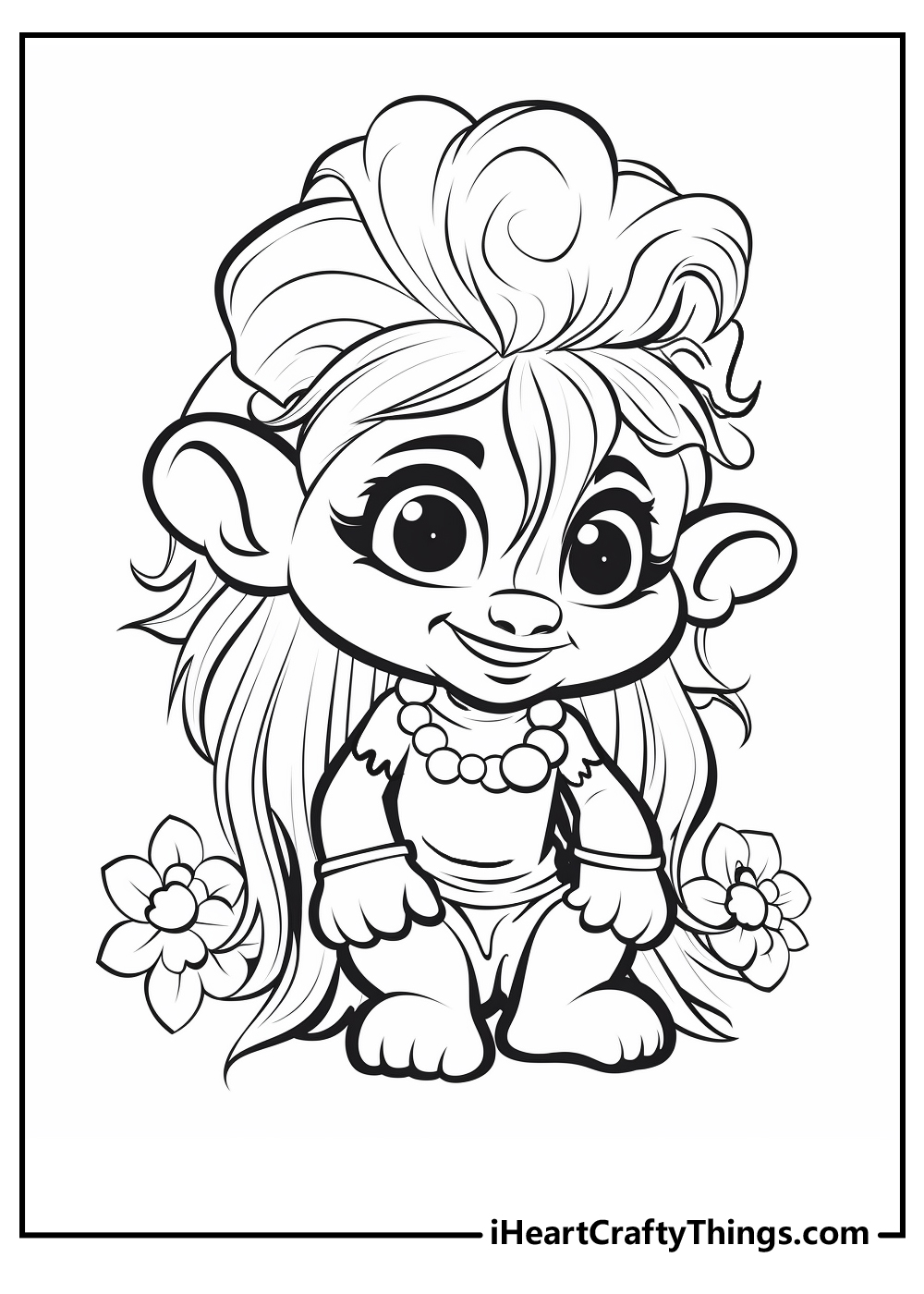 This page in our collection of free Trolls coloring pages for kids features one of the most unusual-looking characters in the movies.
This character is called Cooper, and he has a lot of colors to use if you want to make him look as he does in the movies.
He has different shades of pink for his body and neck, and he has a green hat with blue hair.
He is also playing the harmonica in this picture, so once you have colored this detail you could also add some other fun elements such as music notes around him.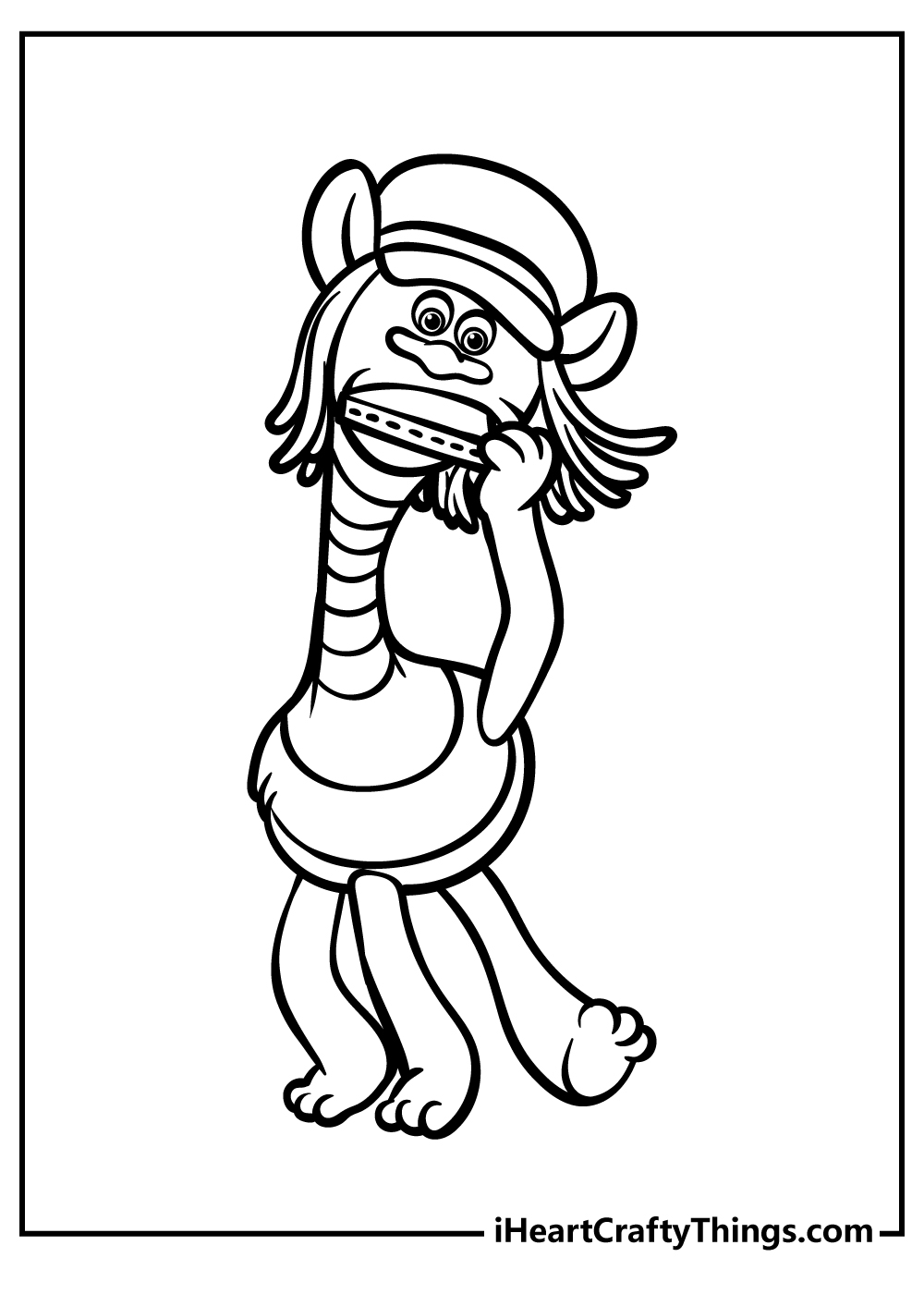 Look how happy Poppy seems on this coloring page. She is probably running around the village spreading hugs to all the trolls she meets.
Poppy has her arms spread wide on this printable sheet to welcome the troll she is about to hug and wears her usual short dress. Her hair sticks in the air, with a couple of strands floating freely around her ears.
If your children painted her dress and flower crown in blue shades in the above printable, they could use other colors for this page.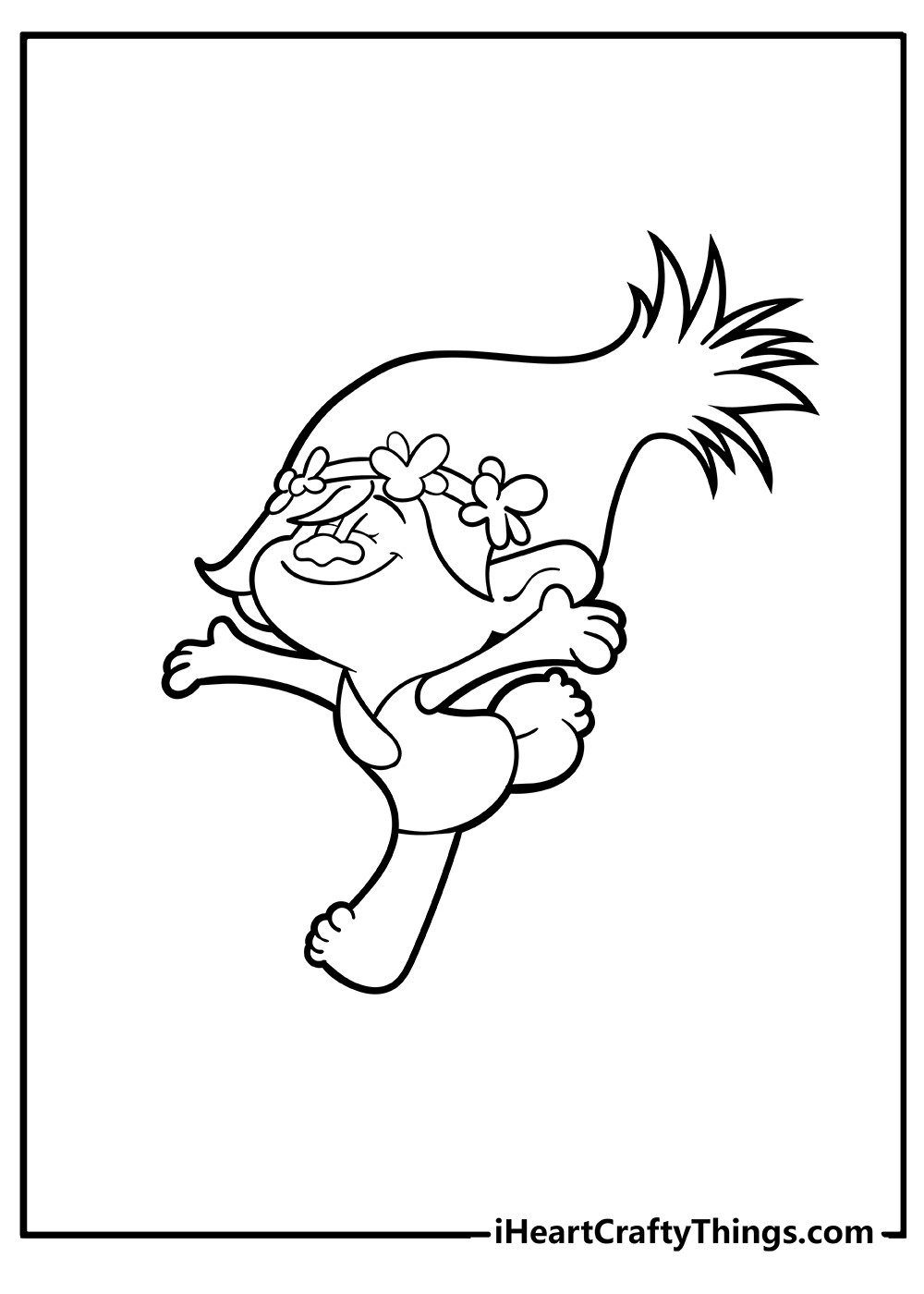 Surprise! Poppy springs up from behind the flowers in this troll coloring page. The happy-go-lucky Queen peeks out, wearing a big scarf around her neck and flowers attached to her hair.
Her tuft of hair and glittery skin give her away! As a fun-loving troll, Poppy enjoys surprising her friends. Use fun color combos to make this page lively and whimsical. Add some musical notes or your own doodles for extra personality!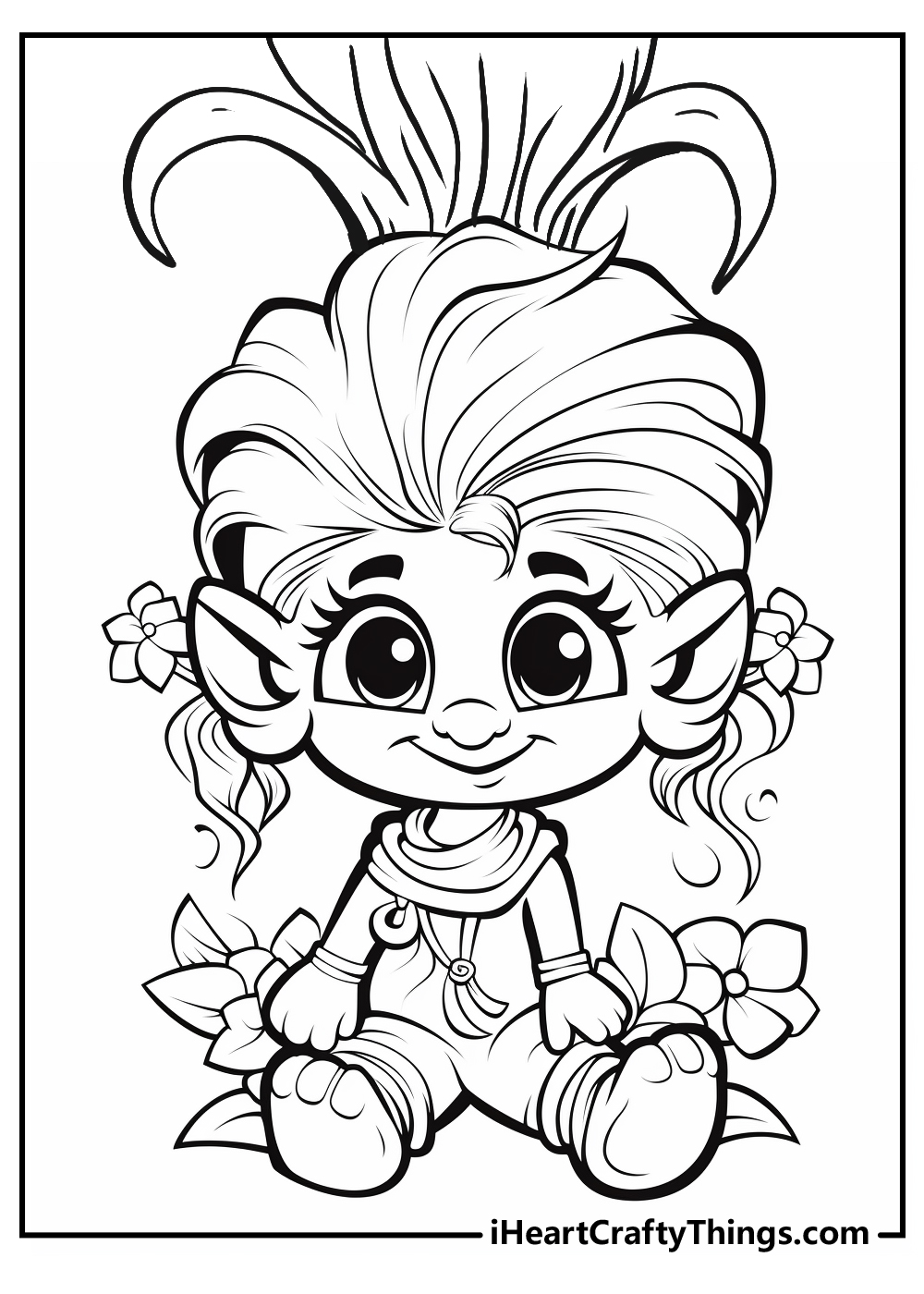 If you look at this coloring page, you can quickly tell that this troll doesn't look like the others.
Cooper has a different appearance than most trolls because he has stripped pink and red fur, four blue legs, and a long neck.
His hair is also unique because it doesn't stick up like the other occupants of the Troll Village. He sports short, wooly blue locks with a green cap.
Your children will have a lot of fun painting this coloring printable that depicts a Cooper running around and showing a toothy smile.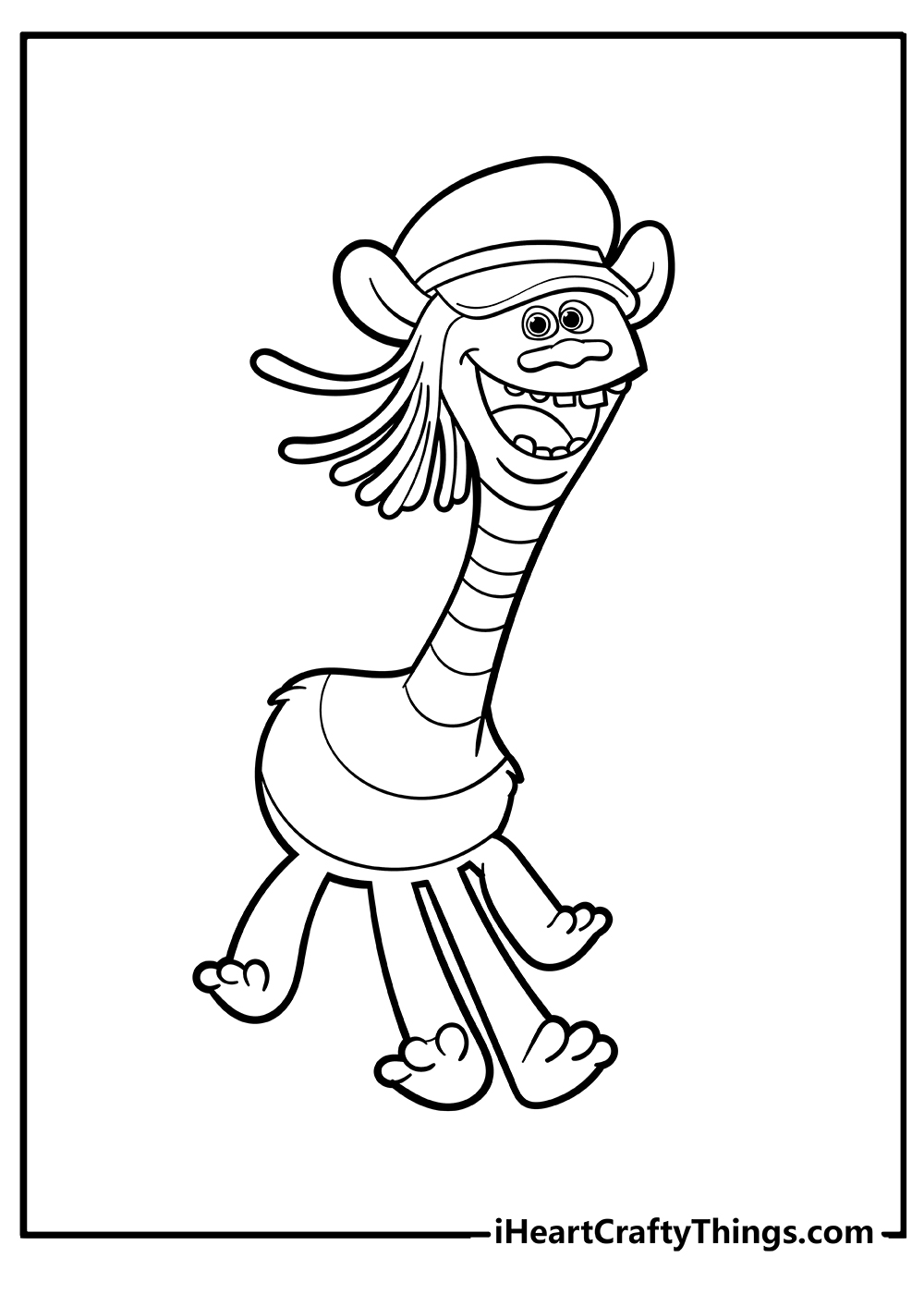 Most of the characters we have seen in this collection so far have had pretty bright colors, but for this one you will get to use some darker colors.
This troll is named Branch, and he has a pretty muted color scheme. His hair is black and his skin is grey, and his clothing has some earthy colors and textures.
If you were to stick to this color scheme, we think that some watercolor paints would work nicely for portraying some more muted tones.
Do you think you will make him look as he does in the movies or gives him a unique look?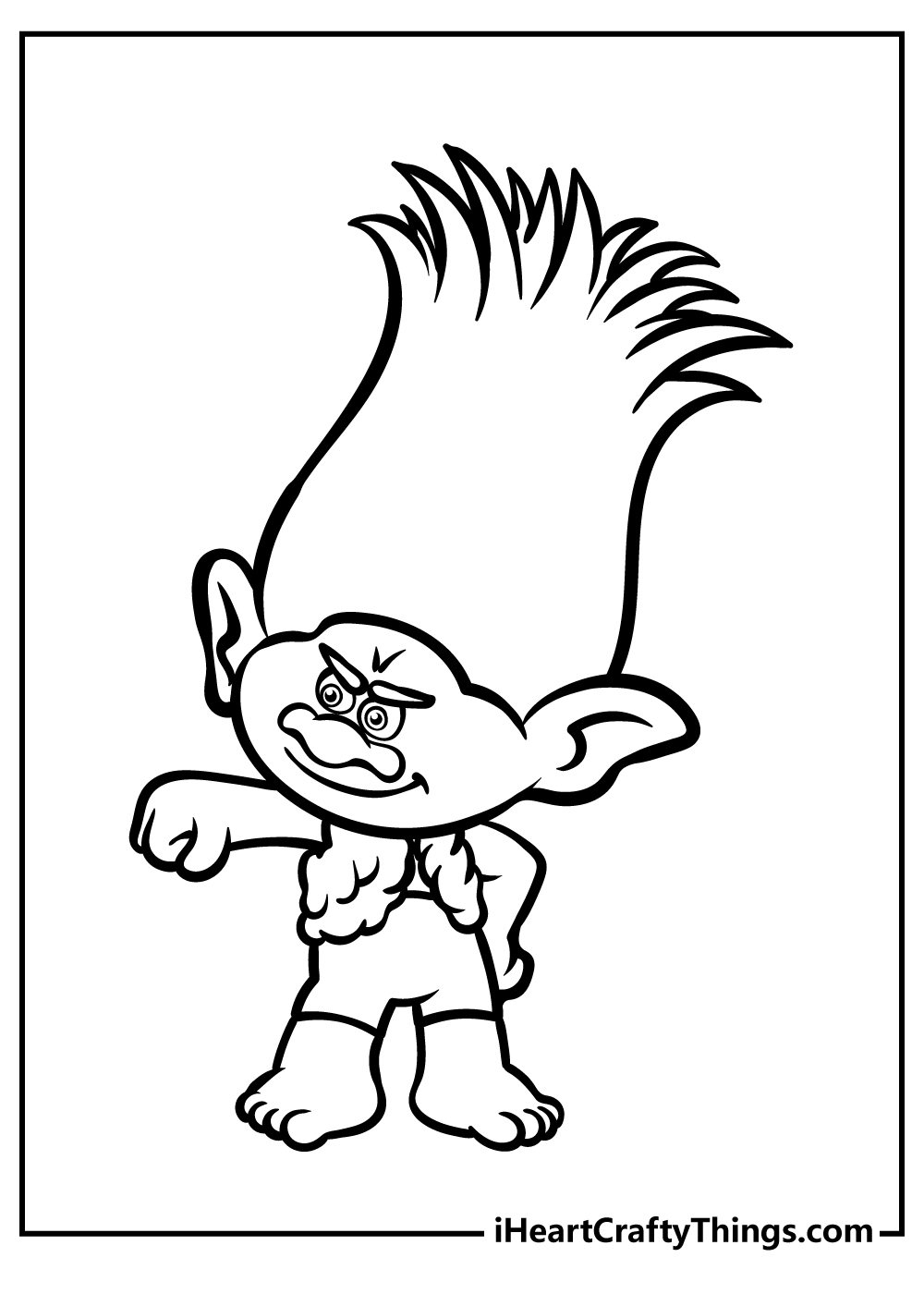 Branch looks really happy as he holds two daisies in this troll coloring page. The cautious survivalist troll has slate blue skin, black hair and a leafy vest.
Did the cheerful Poppy give him these flowers? As a grumpy troll who prefers solitude, Branch may be confused by this kind gesture!
Color in the page with your own wacky color scheme for Branch. Add stickers, glitter glue or drawings to show this grumpy troll in a new light!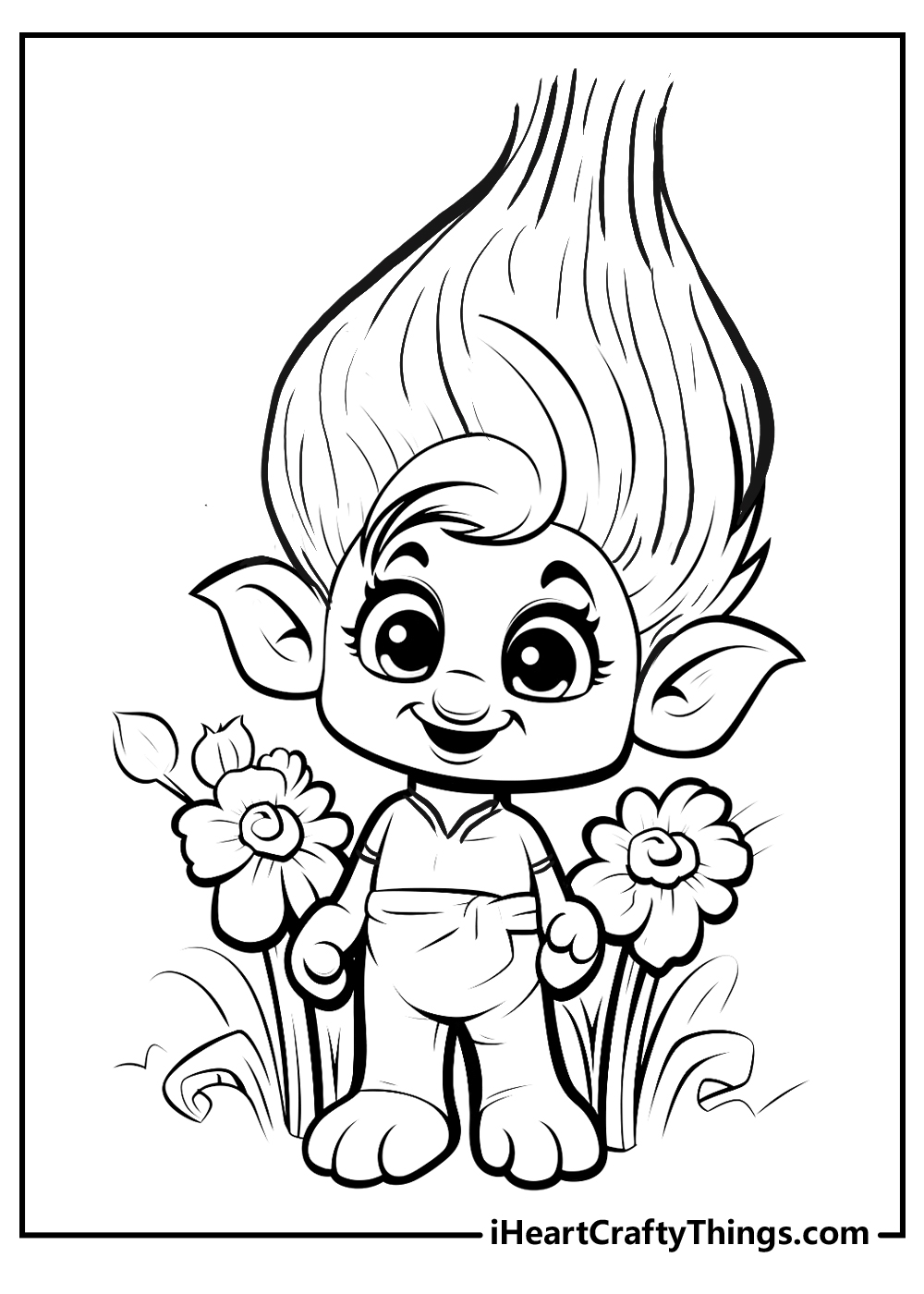 It's time to get out your favorite bright colors and mediums, because we have another page featuring Poppy!
While it can be fun to match the characters on these pages to how they look in the movies, you shouldn't feel like that should limit your creativity.
If you think that Poppy would look cool with a completely different set of colors, we're sure that would also look great.
Coloring is all about expressing yourself creatively, and you can really show off how you're feeling with the colors you choose. We can't wait to see what you choose!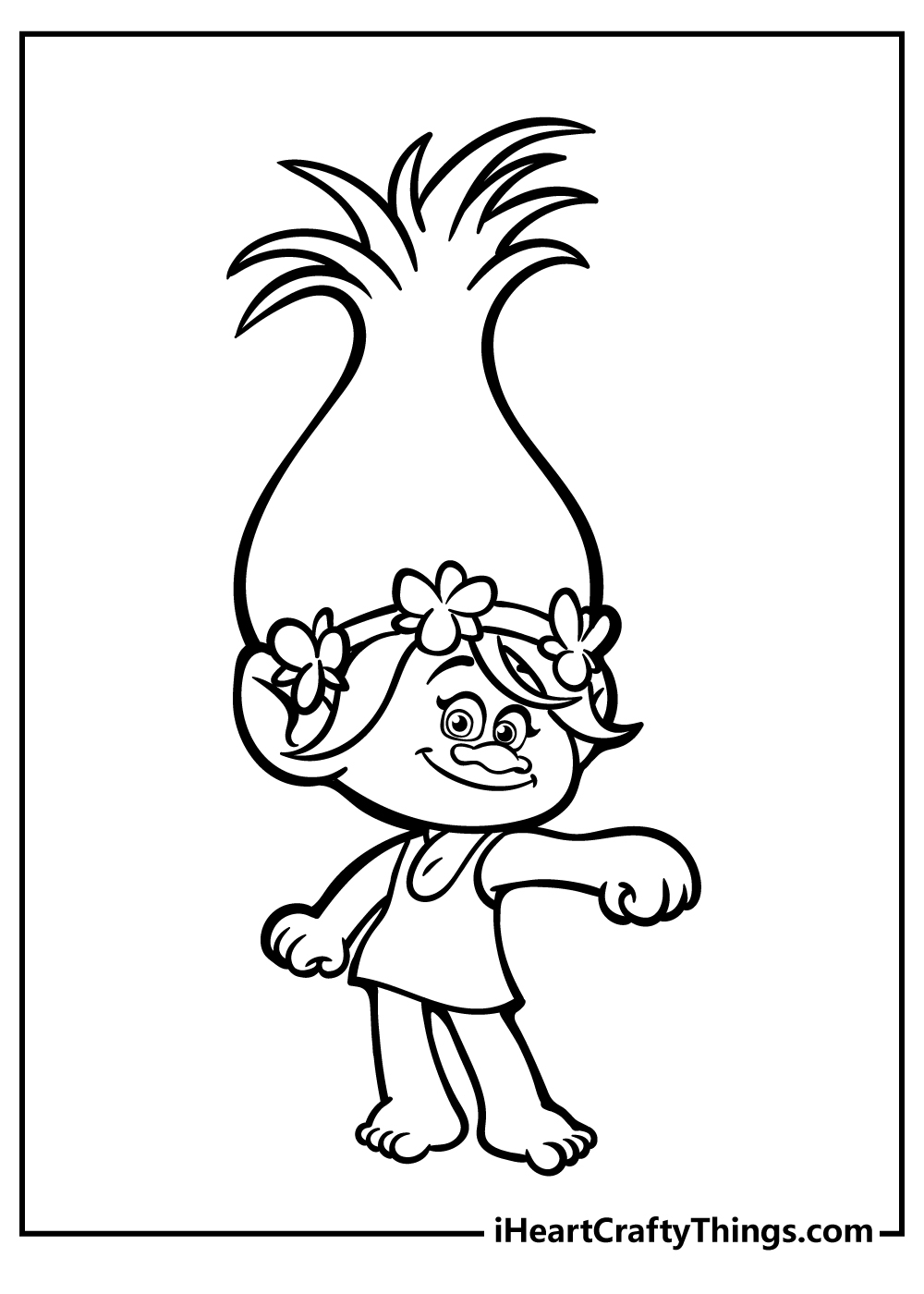 Biggie is the most prominent member of the Snack Pack and has the most incredible heart.
Children quickly find out that underneath his imposing appearance Biggie is a softie who bursts into tears at scary or happy moments.
We made sure to include Biggie's pet work, called Mr. Dinkles, on this troll coloring sheet because he carries it with him everywhere.
Biggie is a chubby troll with light teal hair and dark blue skin. He has a pink nose and usually wears purple pants and vest attire.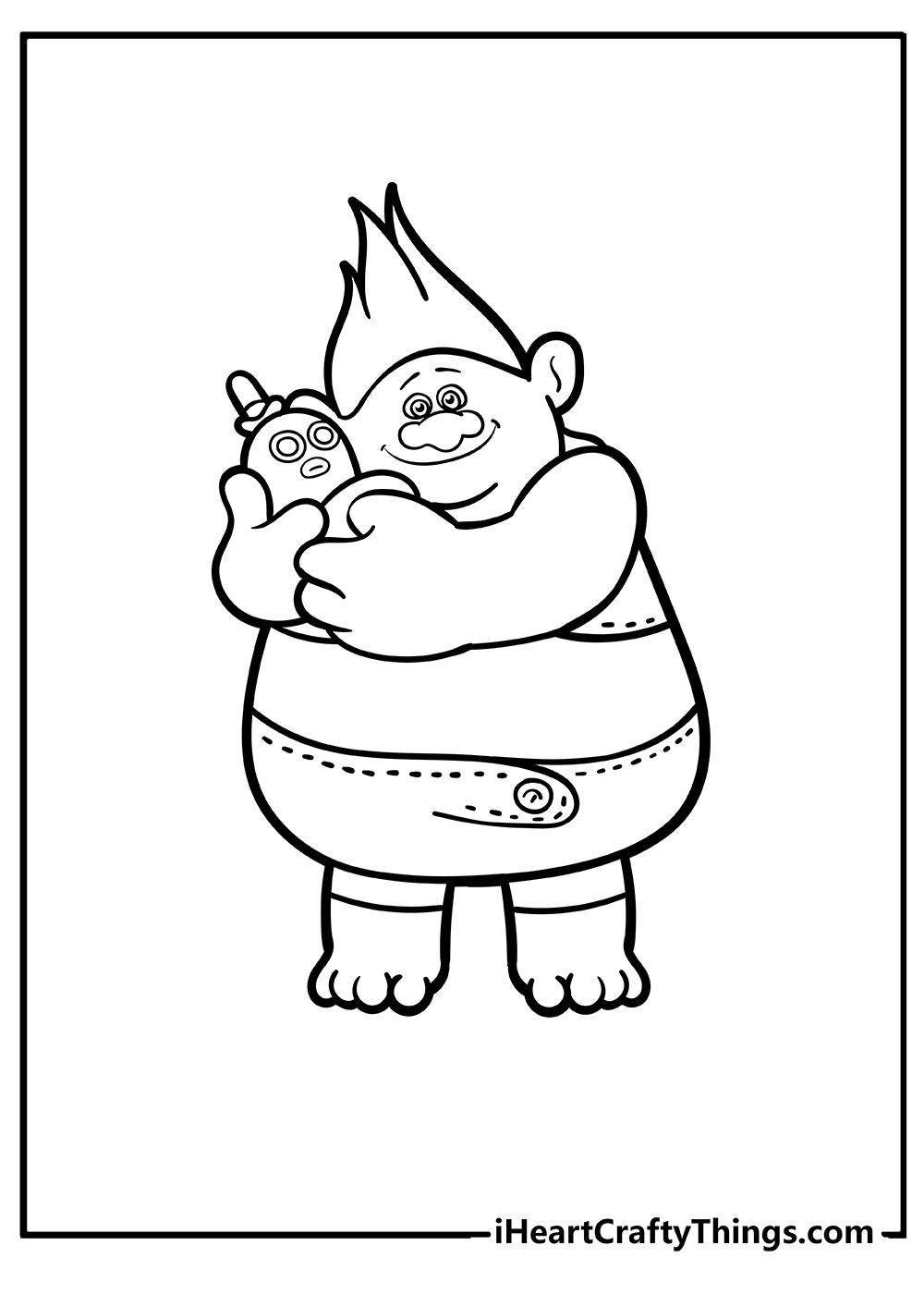 One of the smallest trolls, Smidge, has yellow skin and long hair sticking in the air.
Even if Smidge is a tiny troll, she has a strong baritone voice and hobbies like listening to heavy metal music and weightlifting.
In this troll coloring sheet, Smidge seems to sing and dance. She wears her usual little pink dress with a pom-pom in the center.
Encourage your children to pick her another outfit if they think pink isn't suitable for her yellow skin tone.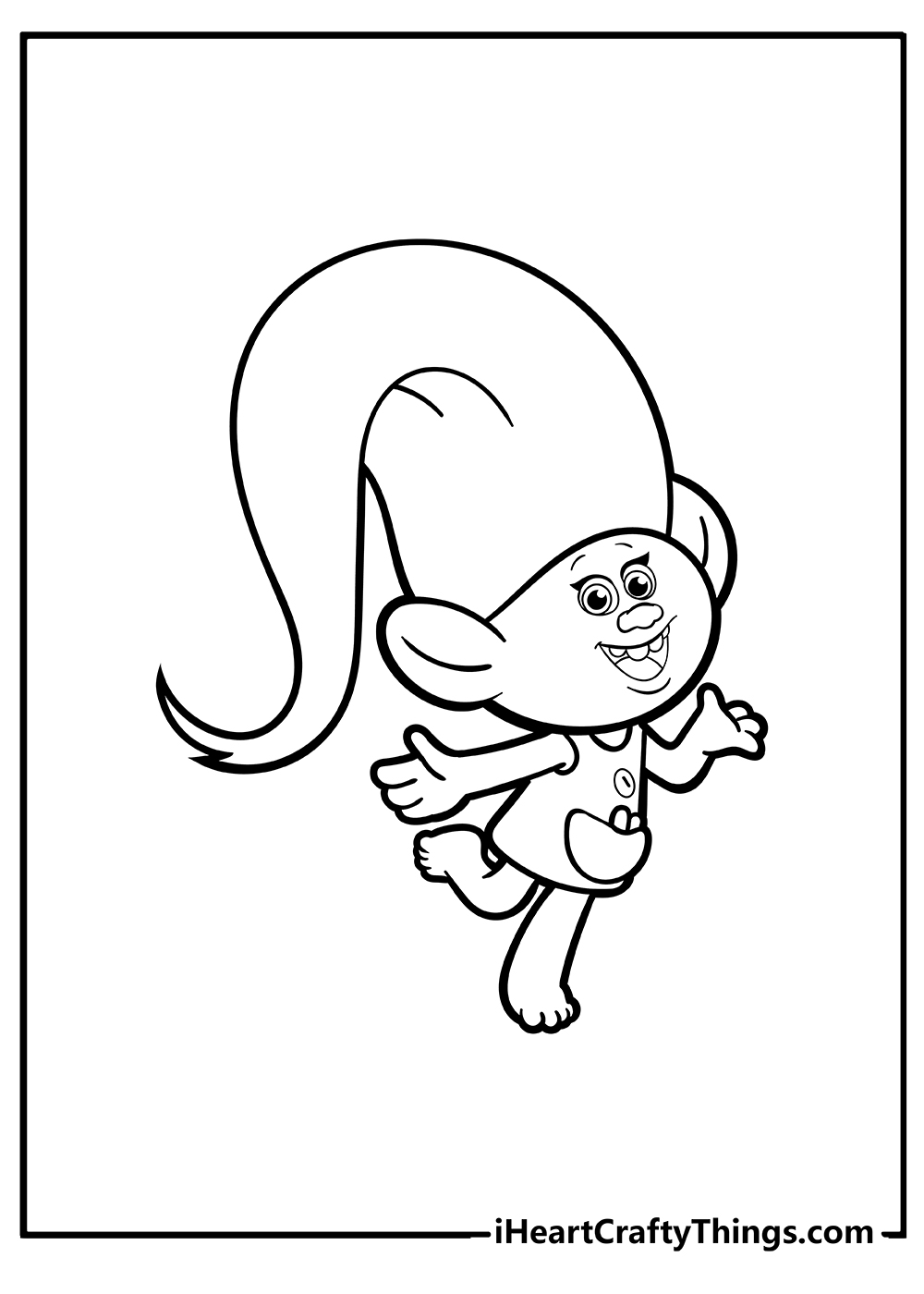 This Trolls coloring printable again features Branch, and he's looking pretty confident in this image!
Previously in the collection, we mentioned how Branch has a darker, more muted color scheme.
If you were to stick with this color scheme, there are ways that you could bring brighter colors to the picture.
For example, you could use some bright colors for the background and even add some details, shapes or patterns.
These are a few ways that could give you an excuse to work in brighter colors, but what are some other ways that you can think of?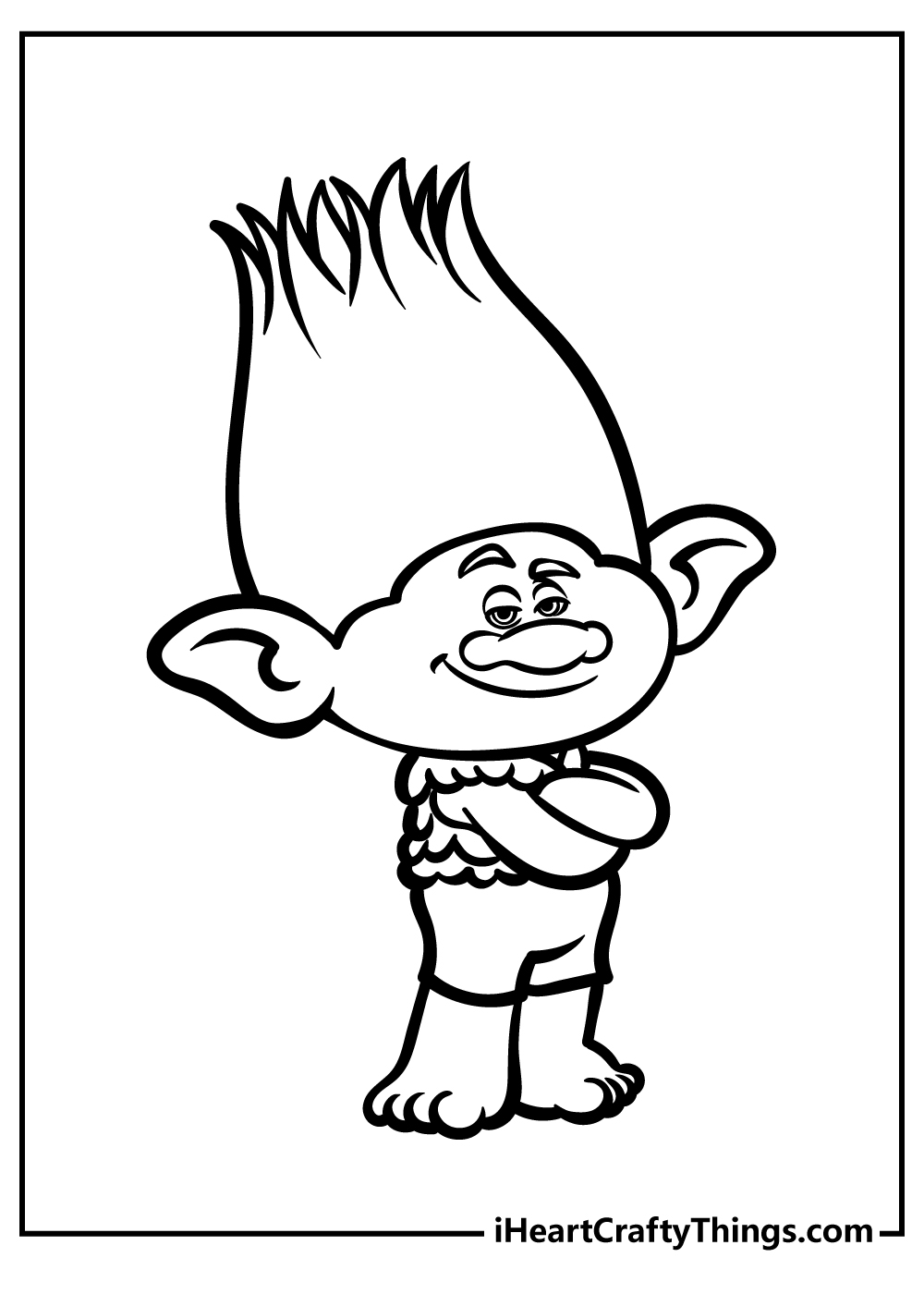 We're not done with Branch yet, as he is starring on this page! We often see him in a static pose, but here he is feeling the music as he does a dance.
Because of this, we think that a bright and happy background would be perfect for this page. Maybe you could draw a background that matches one of the dance scenes in the movie.
That's one thing you could do, but you could also create an entirely new setting for him to be grooving out in. Where do you think Branch is partying on this page?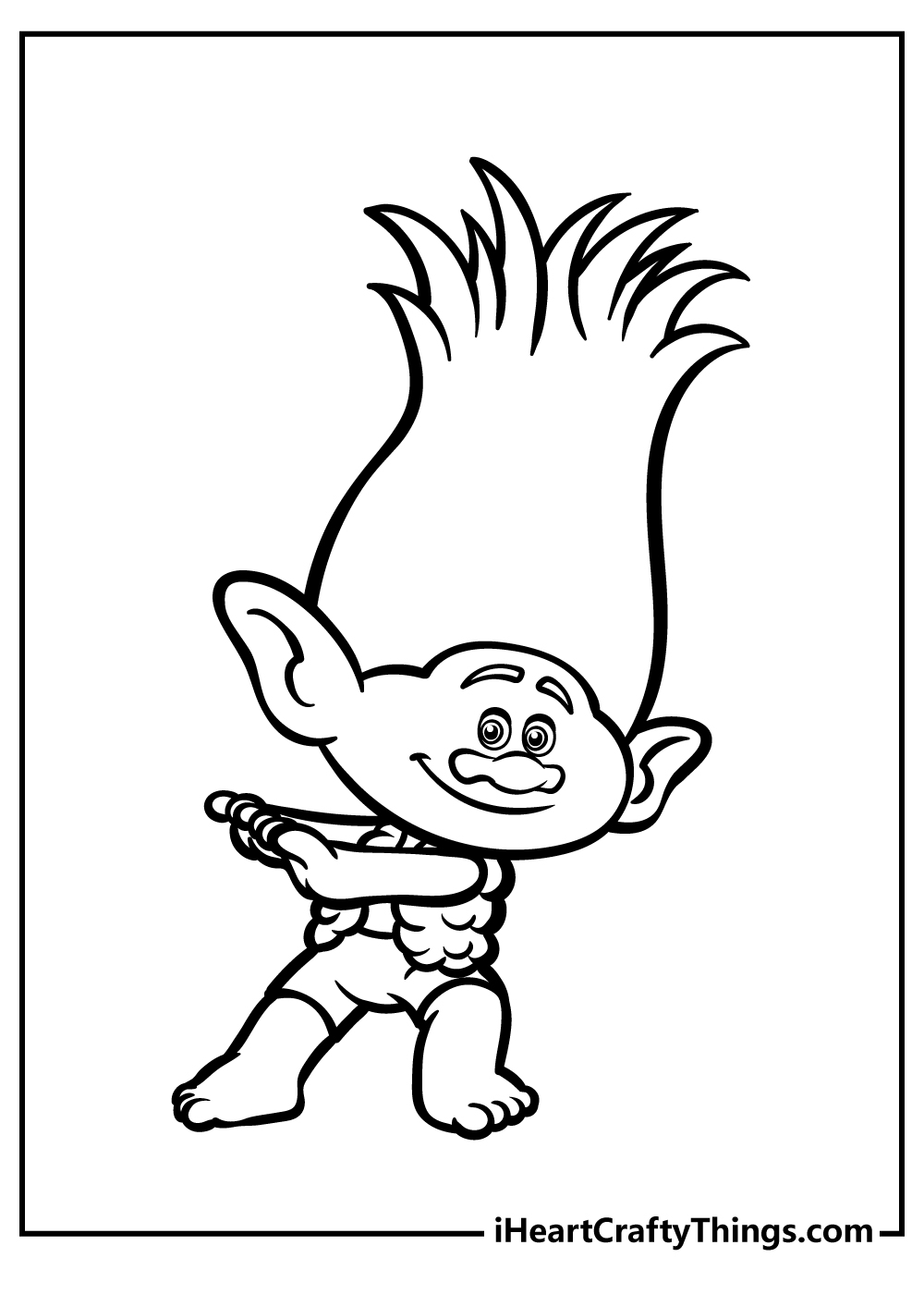 Some of our troll coloring pages feature characters from the Bergen family.
If your children watched any of the Trolls movies, they probably know the character in this printable is Bridget, a former scullery maid.
Children love Bridget because she is a sweet and amiable Bergen who worked for a mean boss in Bergen Town.
In this coloring page, Bridget wears a fashionable outfit formed from a pair of flared pants, a shirt with a high collar, high heels, and a small and elegant purse.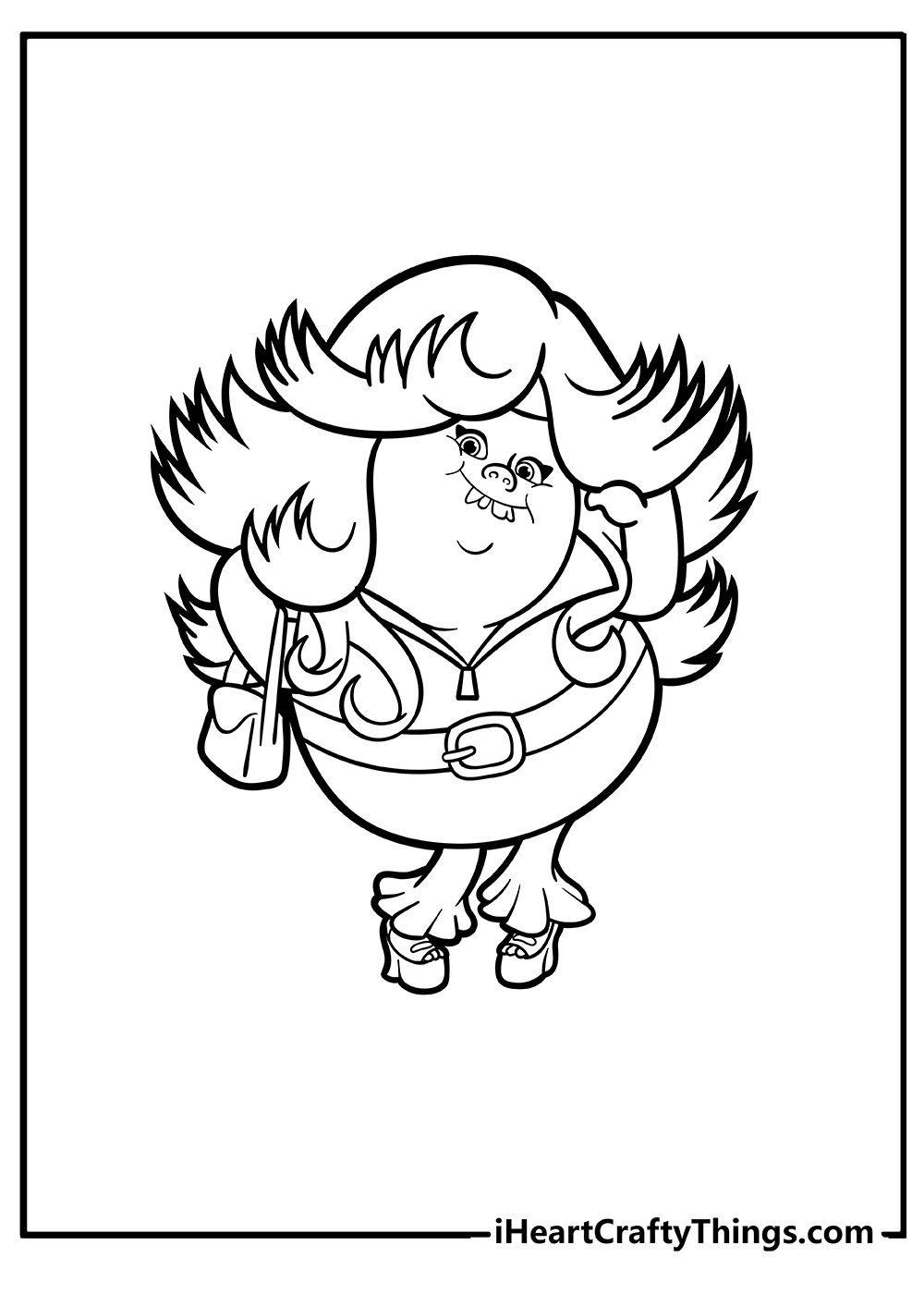 Here is another coloring printable sheet that depicts a Bergen Monster. This character is the unpopular Prince Gristle, who inherited the crown when the furious subjects dethroned his father.
He promised them to put trolls back on the menu to make them happy.
Most troll coloring pages show Prince Gristle wearing a too-small top, shorts, a royal cape, sandals, socks, and a crown.
He has green skin and hair, so encourage your children to paint his clothes in shades that match his complexion.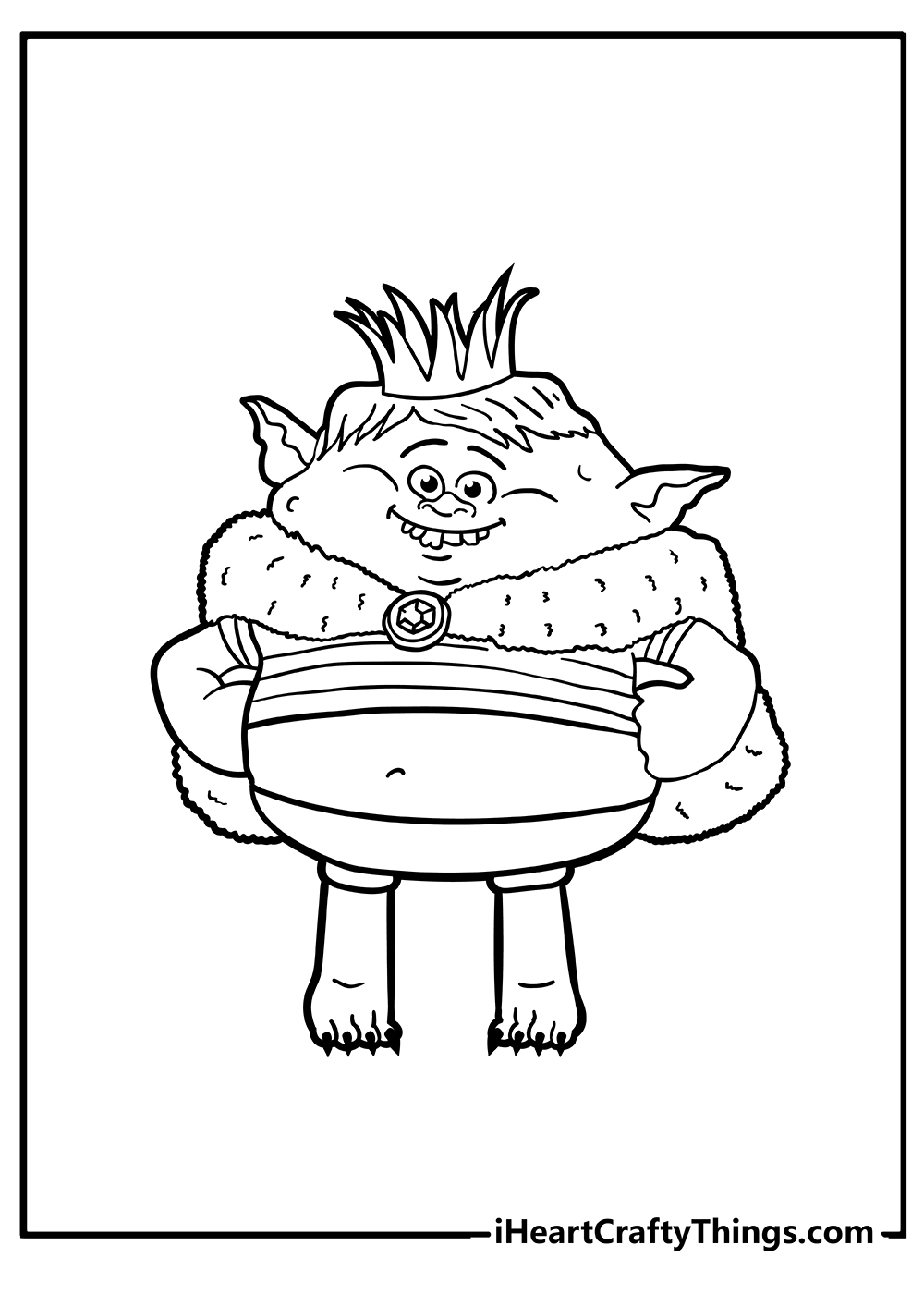 For the next page we have for you, the character Creek is here for some fun. He has yellow pants with pink skin, and his hair has lots of different colors as well.
The colors of his hair tend to blend with one another, and you could achieve a similar effect by using some paint and blending the colors.
Once you have chosen how to color Creek, you can then decide how you will finish off the background to make this picture even better.
Be sure to have fun getting creative with it and see what happens!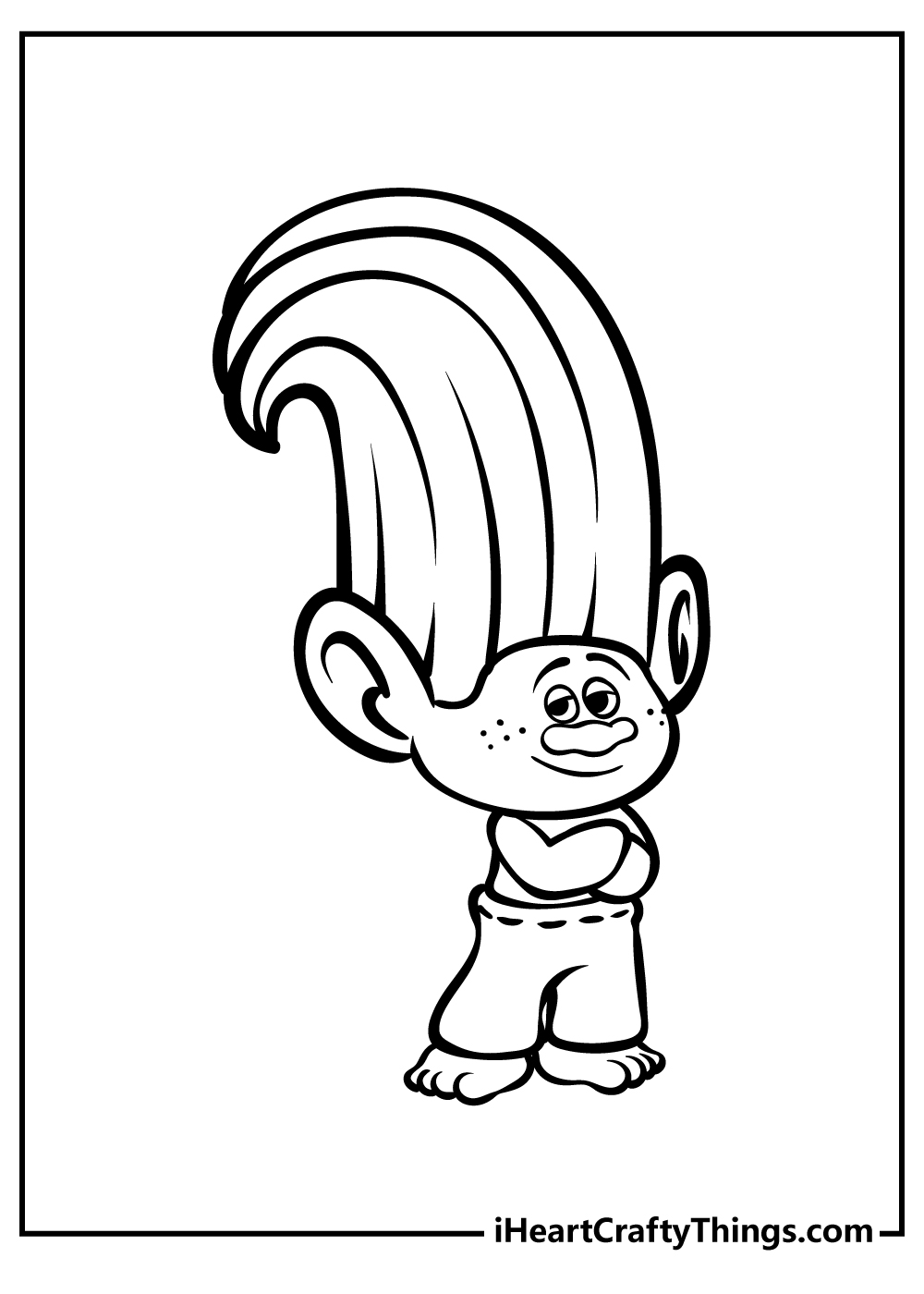 Hickory the bounty hunter is starring on this next Trolls coloring page.
This interesting character has a cowboy look to his style, and for that reason he is not as brightly colored as many other characters.
He does compensate a bit with his bright hair, and that will look awesome when you have colored in that section as well.
Maybe you could draw a ranch or desert background to fully fit the theme that Hickory is going for here! What other settings could you add behind him?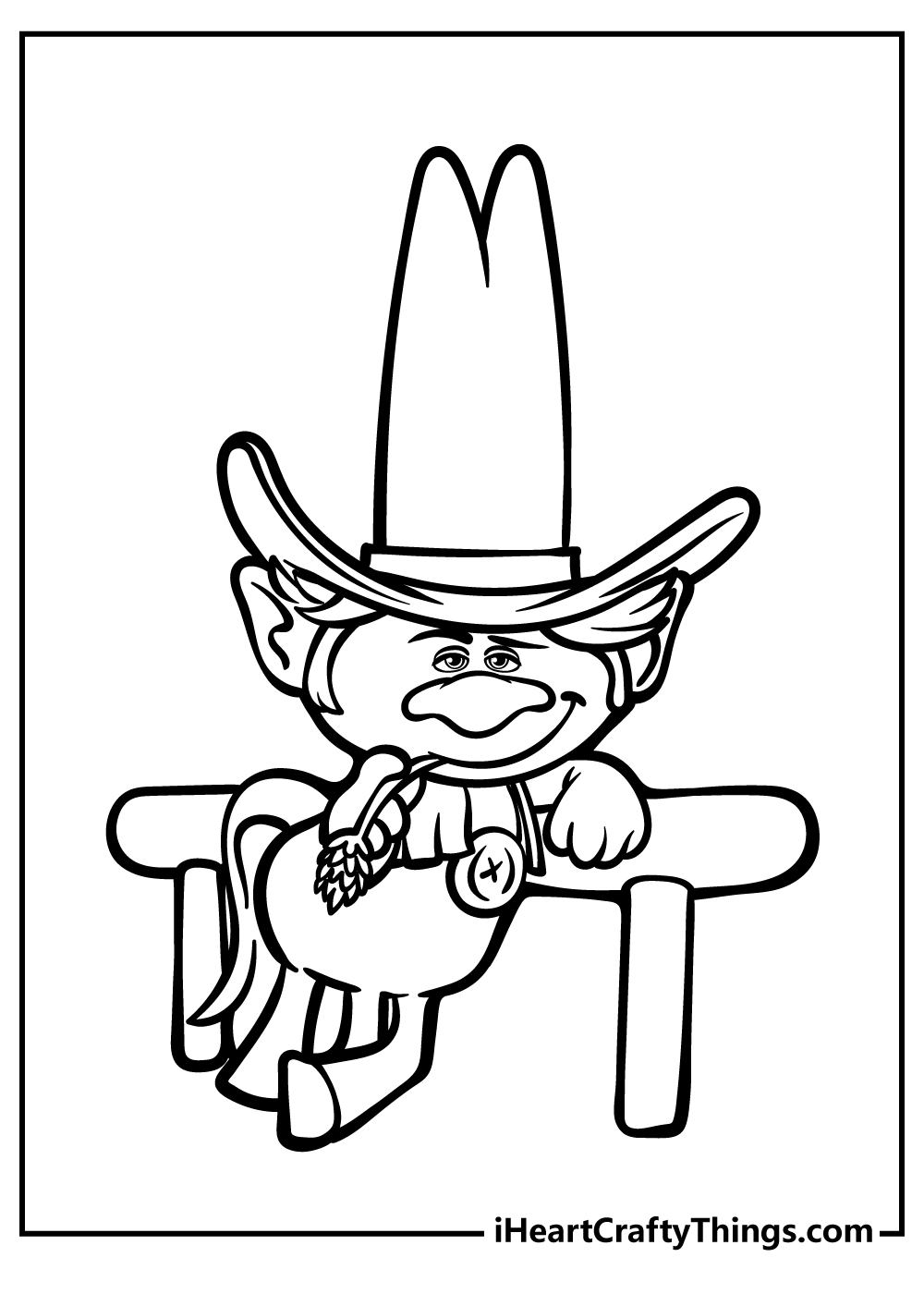 Smidge isn't the only troll who listens to heavy metal music.
Riff is a Rock Troll who wears a rocker outfit consisting of torn pants, a beanie hat covering his eyes, a shirt, vest, gloves, and a handkerchief with a skull print.
This coloring sheet features Riff dancing while listening to music, with his black locks floating around his head.
Riff has violet-grey skin, blue eyes, and a giant pink nose. Most Rock Trolls find it strange that he has such a large nose.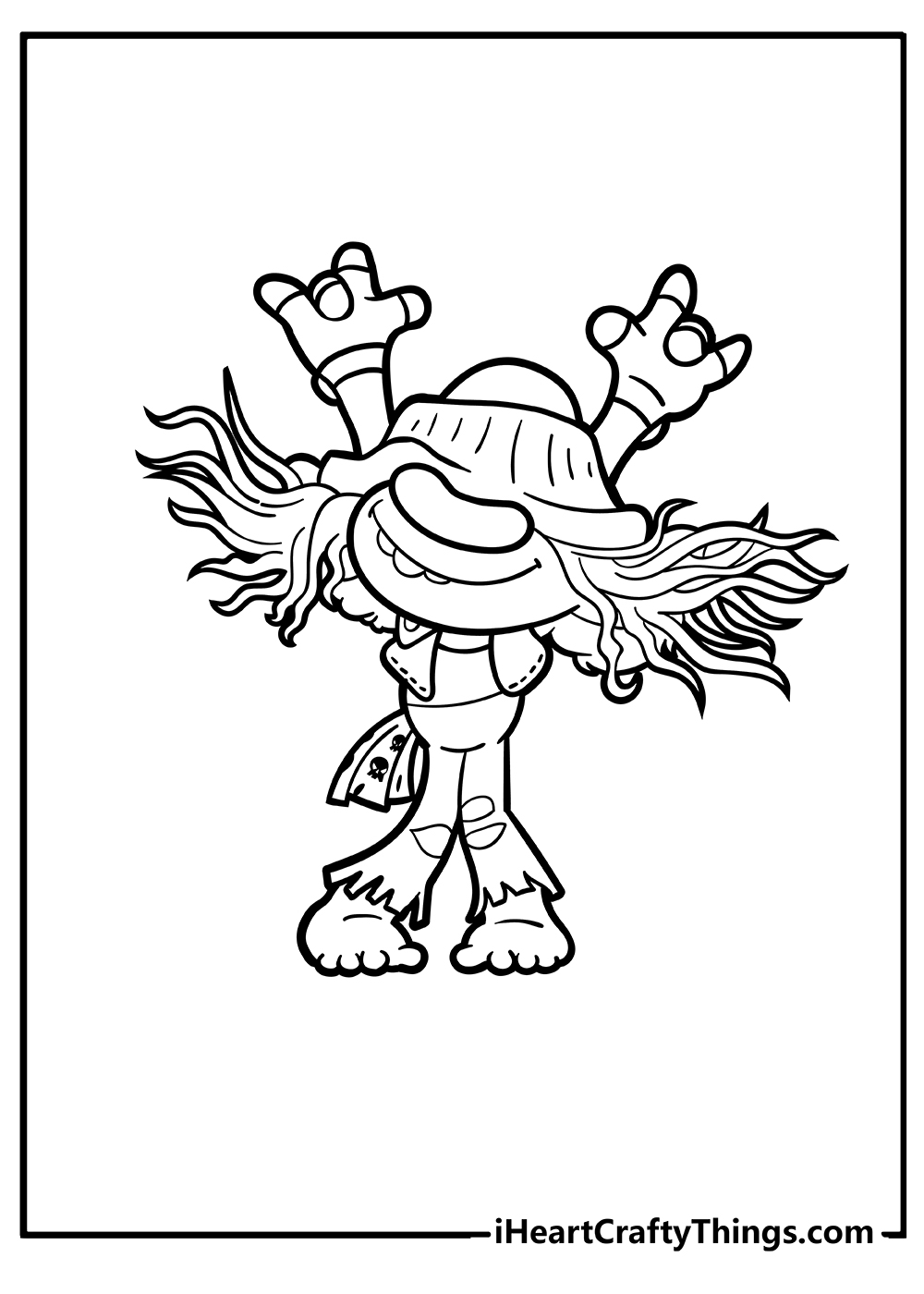 Bridget makes a comeback in this coloring sheet that depicts her as a dishwasher and scullery maid for Chef.
Bridget styles her hair in short pigtails tied with pink rubber bands. It's easy to identify her among the other Bergens because she has crooked teeth that stick out of her mouth and a unibrow.
She wears a dress with sleeves and collar and a ragged apron over it in this printable.
If you loved the above troll printable pages, come back soon because we regularly upload new coloring sheets to download and print for free.