Humor can come in many different forms, and the Minions show that you can get a lot of laughs out of a simple concept!
These lovable little creatures are known for their chaotic antics, and there is no shortage of hilarity when they are inserted into any scene.
This collection of free Minions coloring pages for kids is here to provide some color fun featuring these lovable oafs.
All of these pages are totally free to enjoy, and you can share them as many times as you like as well!
Get ready to have some hilarious fun with the Minions as you color your favorite pages!
25 Brand New Minions Coloring Pages – Free to Print and Color
In this Minions coloring sheet, we have a cute minion that is holding onto a balloon. The balloon not only makes for a nice detail, but it also gives you the chance to use some great bright colors.
When it comes to balloons, you can find them in any colors you can possibly imagine.
We would use some bright colors done with mediums such as colored pens or markers to really make your color choice nice and bright!
What colors will you choose for the balloon and the outfit this minion is wearing?
Minions are known for being really lively and energetic, and they always seem to be on the move! This page shows one that is looking quite smug and relaxed, and it makes for a calmer image.
We would probably keep the colors a bit lighter for this one, but that can be tough when yellow is the main color of the Minions!
Even if you go for a brighter color like yellow, you can make it lighter by using mediums such as watercolor paints and colored pencils for a softer look to the colors.
What will you choose for this page?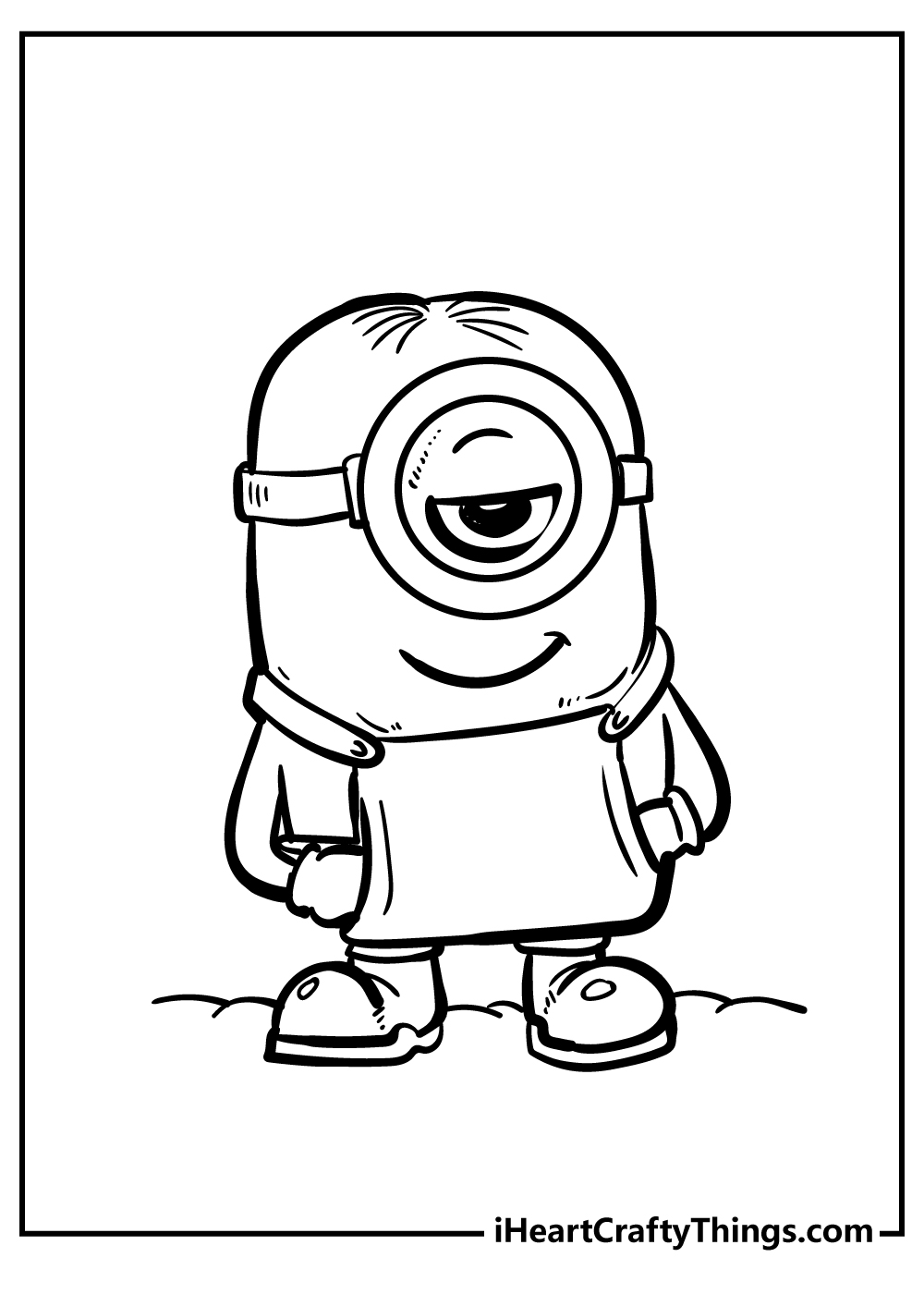 It's time to take a peek at this first page in our collection of free Minions coloring pages for kids!
This little guy is peeking up over a table surface, and you could have some fun drawing some fun and silly objects onto the table surface.
What kinds of fun things do you think would suit this particular Minion?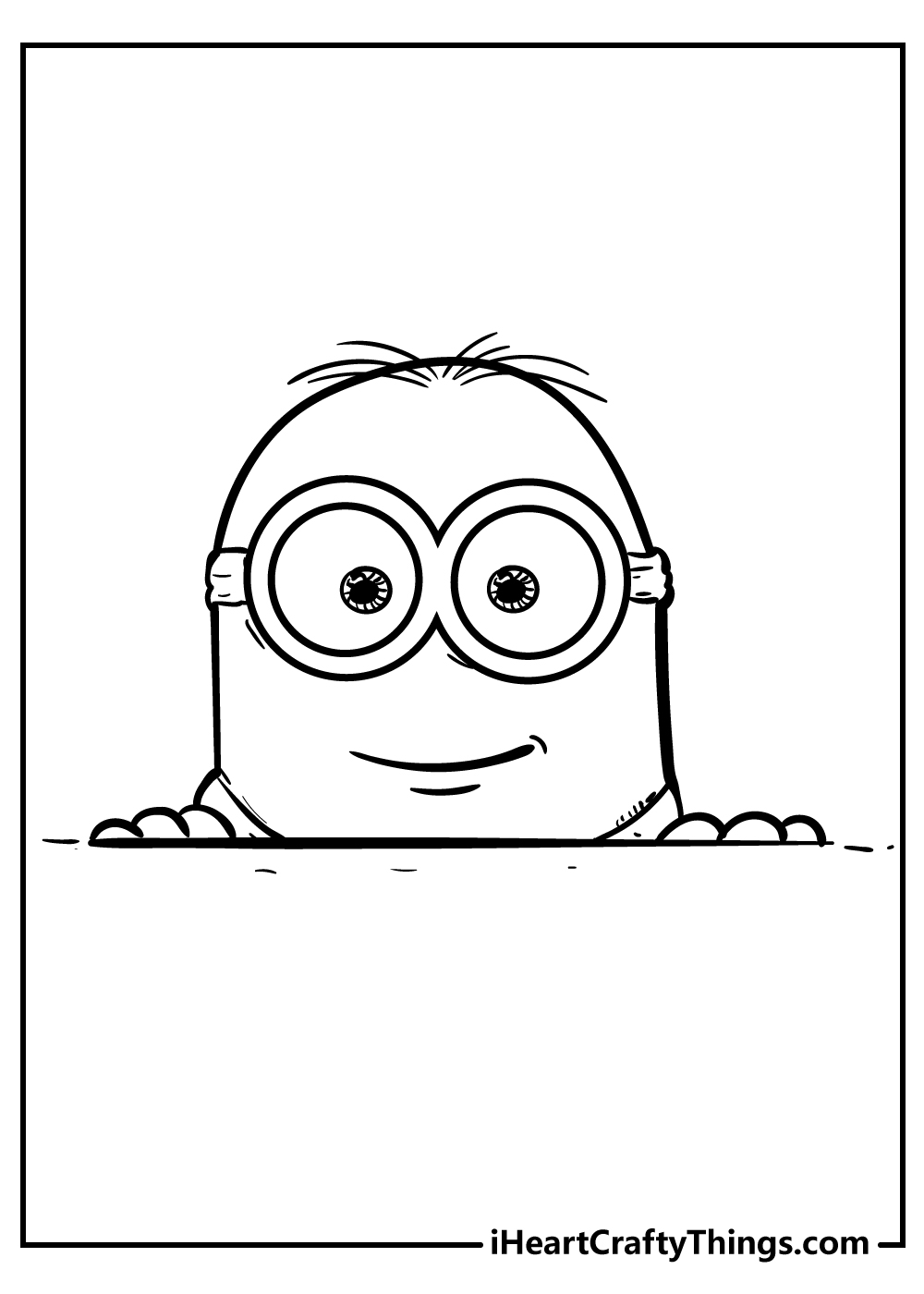 Stuart was a character featured in the popular Minions movie, and he is the star of this next page.
Most Minions are quite happy and jolly, but Stuart is a bit of a grumpier character, as shown with his expression here.
Will you complement his grumpy mood with lighter colors or emphasize it with some lighter, moodier shades?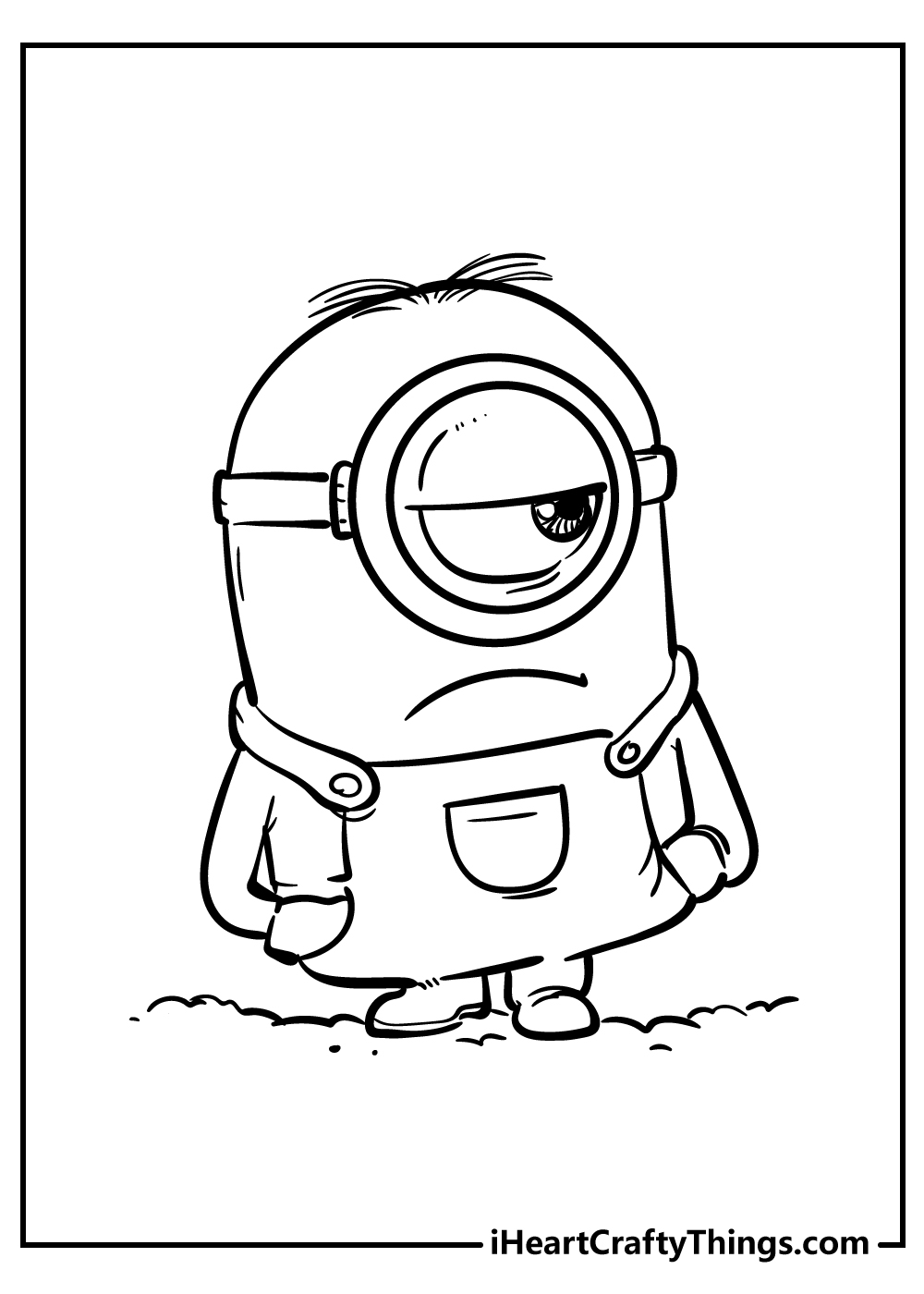 The minion that we have up next is looking a bit frazzled! What do you think could have caused this minion to look like this?
If you have some ideas, then you could draw some extra details to show what could have caused it to look like this.
Maybe a science experiment involving a small explosion could have gone wrong, and then you could add some details to show the after-effects of such an incident.
That is just one fun idea you could go with, but what else can you think of that could finish off this scene?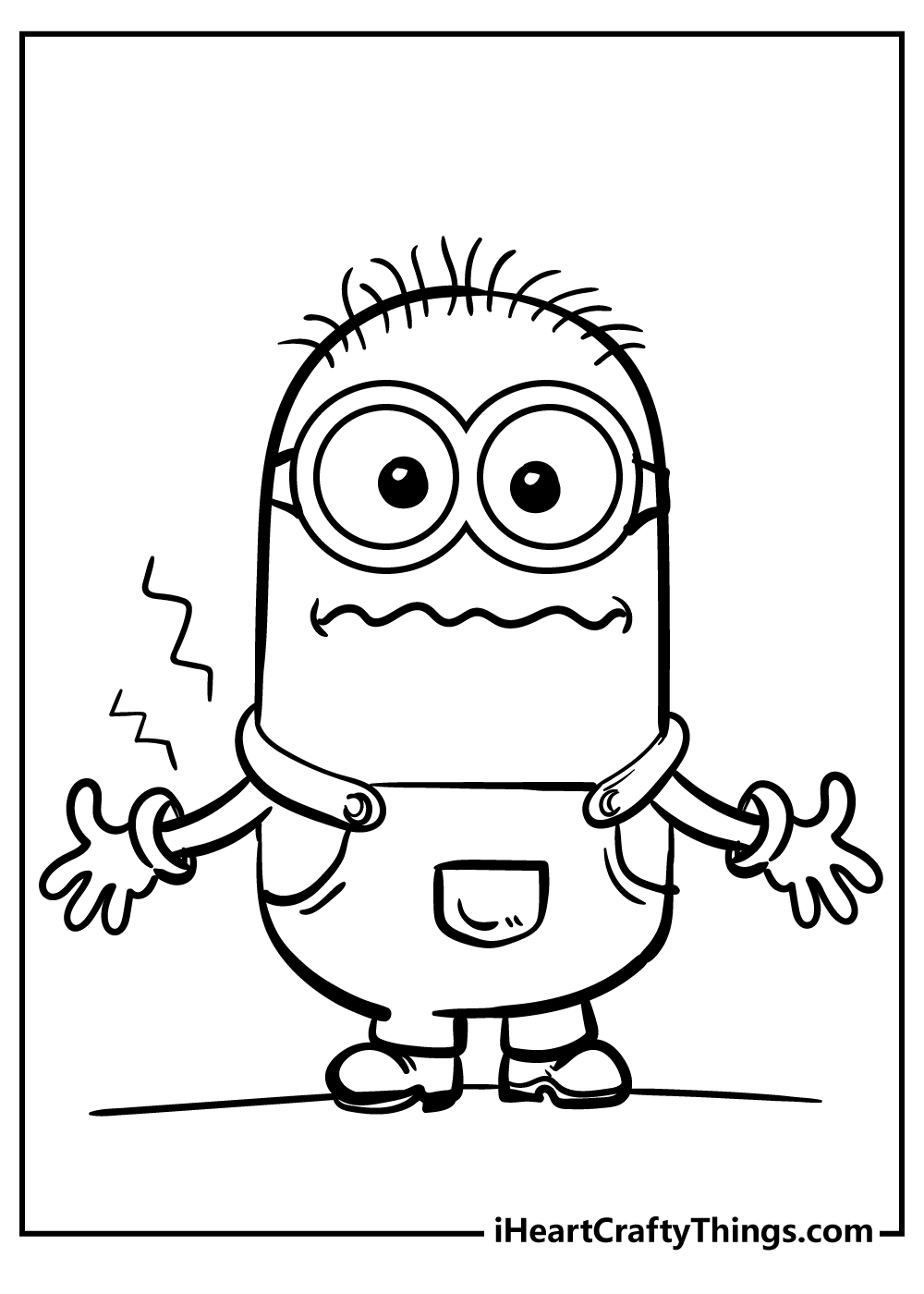 Everyone likes to enjoy a nice snack every now and then, and this next page in our collection of free Minions coloring pages for kids is proving that!
This minion is about to munch on a tasty chicken drumstick, and it makes for a fun little scene to color in.
While he seems perfectly content with this snack, you could take this fun scene even further with some extra details!
Maybe you could draw some other snacks or beverages that you think this minion would enjoy around him. What tasty treats would you add?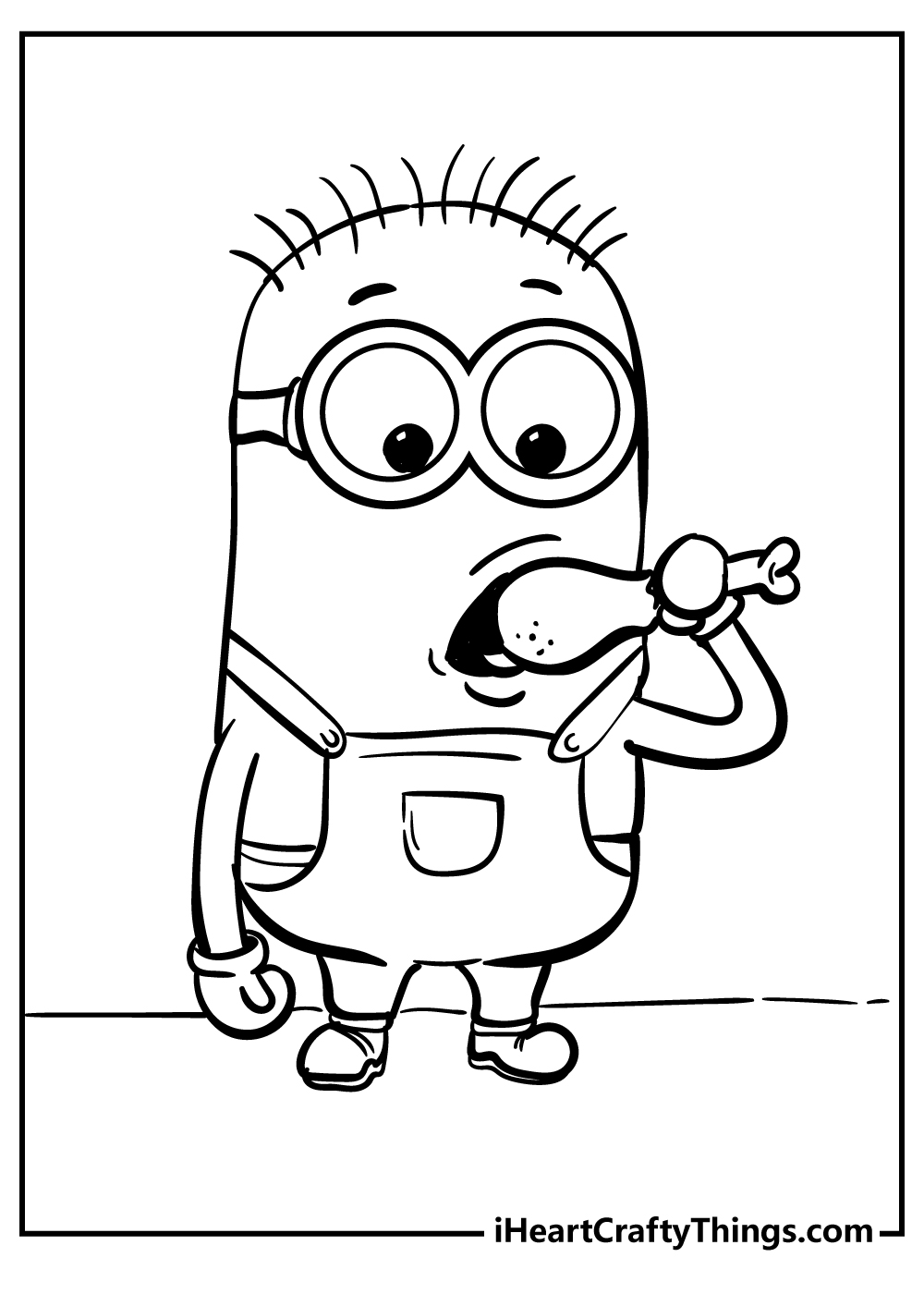 This next Minion is pointing at something while looking rather delighted! It makes you wonder what he could be pointing at, and this is another instance where you could add some fun details.
You could print this image out on a large piece of paper and draw a scene that would suit the pose being shown off here!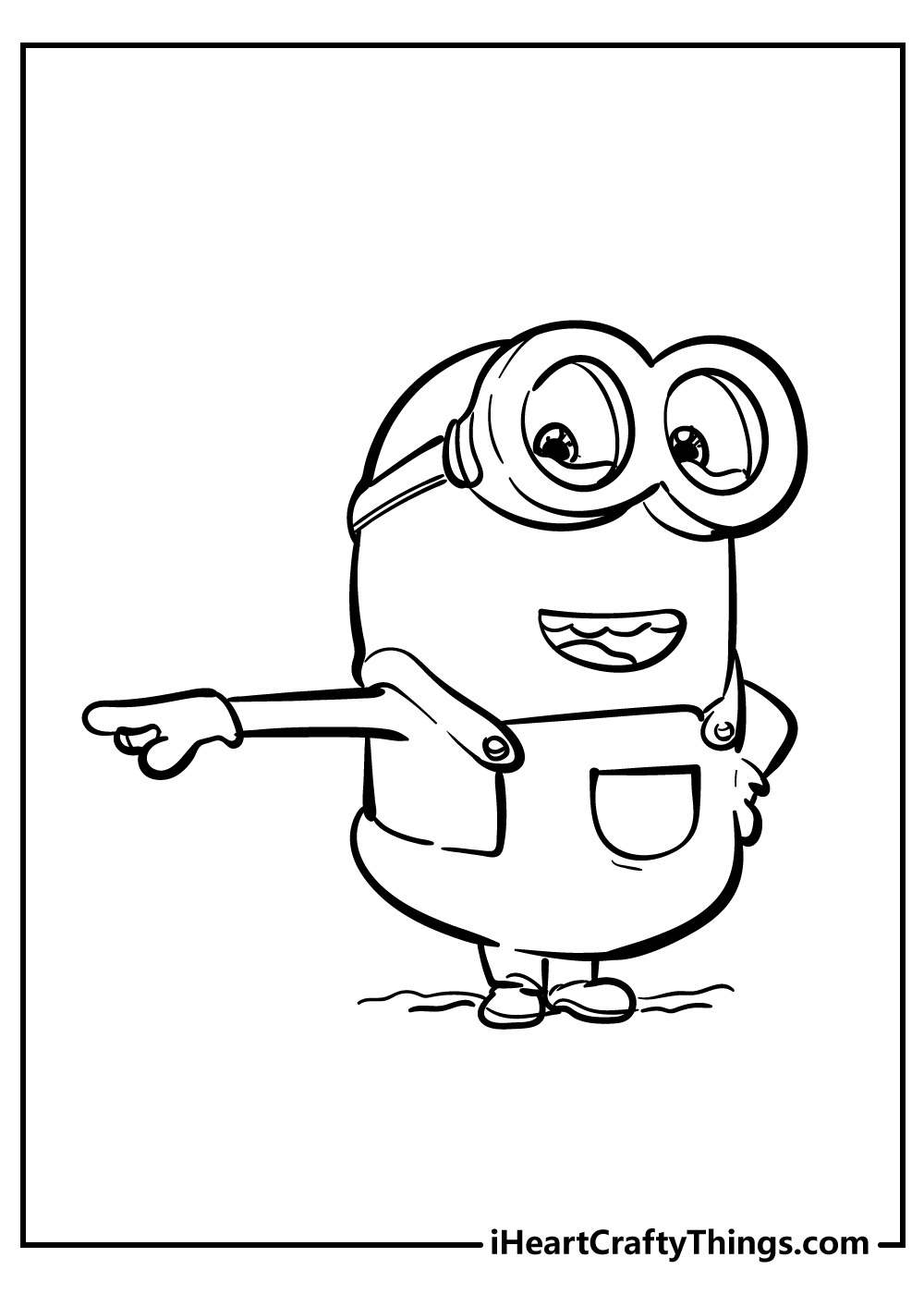 We have another cute Minion for you to color here. The Minions are typically colored with bright yellow while wearing blue overalls and black gloves.
You could use these colors for these pages, or you could create your own Minions variations by using some other colors you like!
Which approach will you take here? We will be interested to see!
For this next Minions coloring sheet, we have one that is looking very happy and excited! He is looking up, and it again makes you wonder what he could be looking at.
Perhaps it is a cool balloon or maybe a cloud that is in a funny shape. These are just a few ideas, but what else do you think this happy Minion could be looking up at?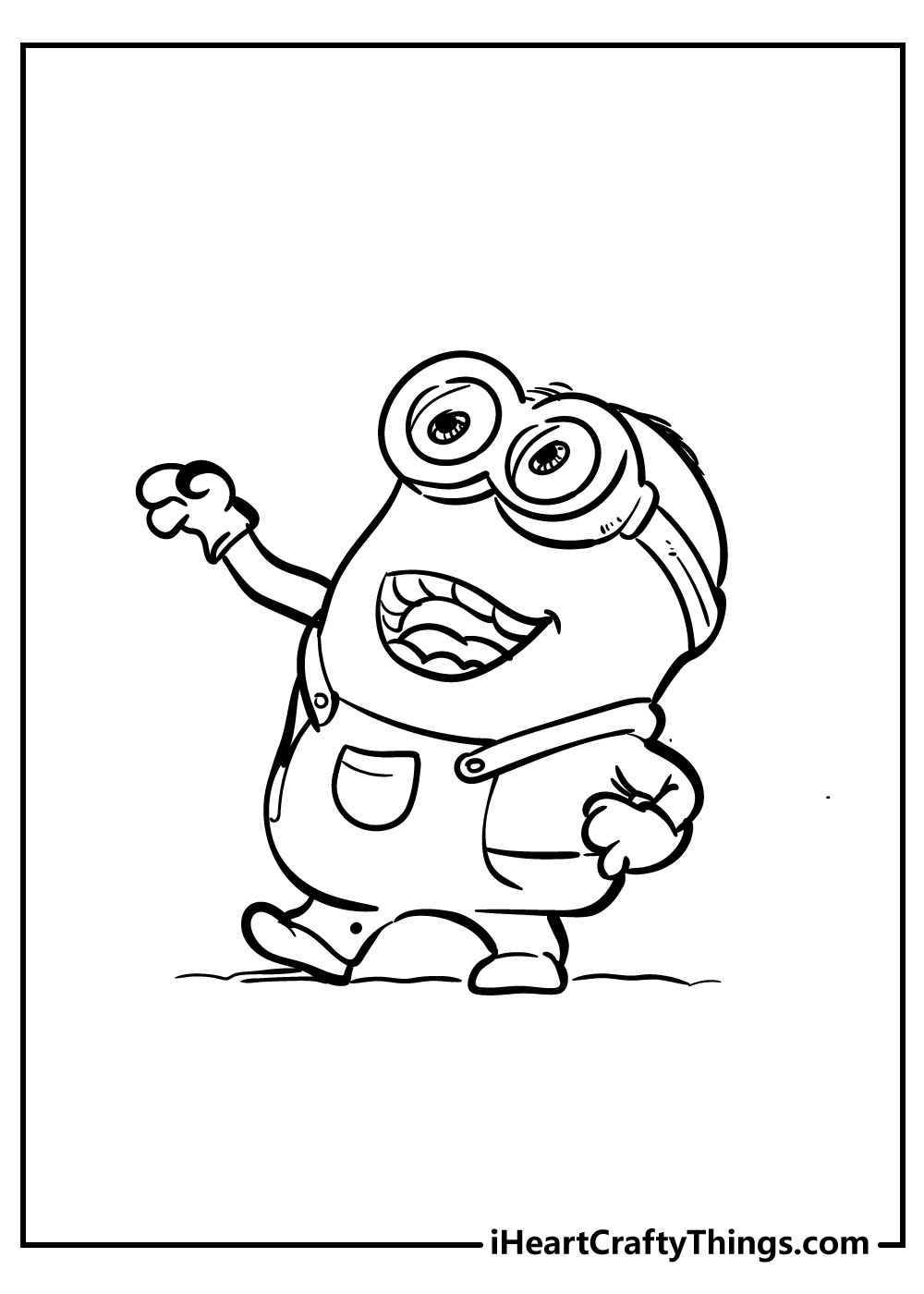 If there's one thing you can say about the Minions, it's that they love to be silly and have some fun!
That is definitely the case in this funny picture, as this minion is having a great time while playing around.
This is a picture that we think would look great with bright, wacky colors to suit the playful mood of the image.
It would also be a great picture to add some background details to as well! There are lots of ways to finish off this page, so what will you choose as you have fun with it?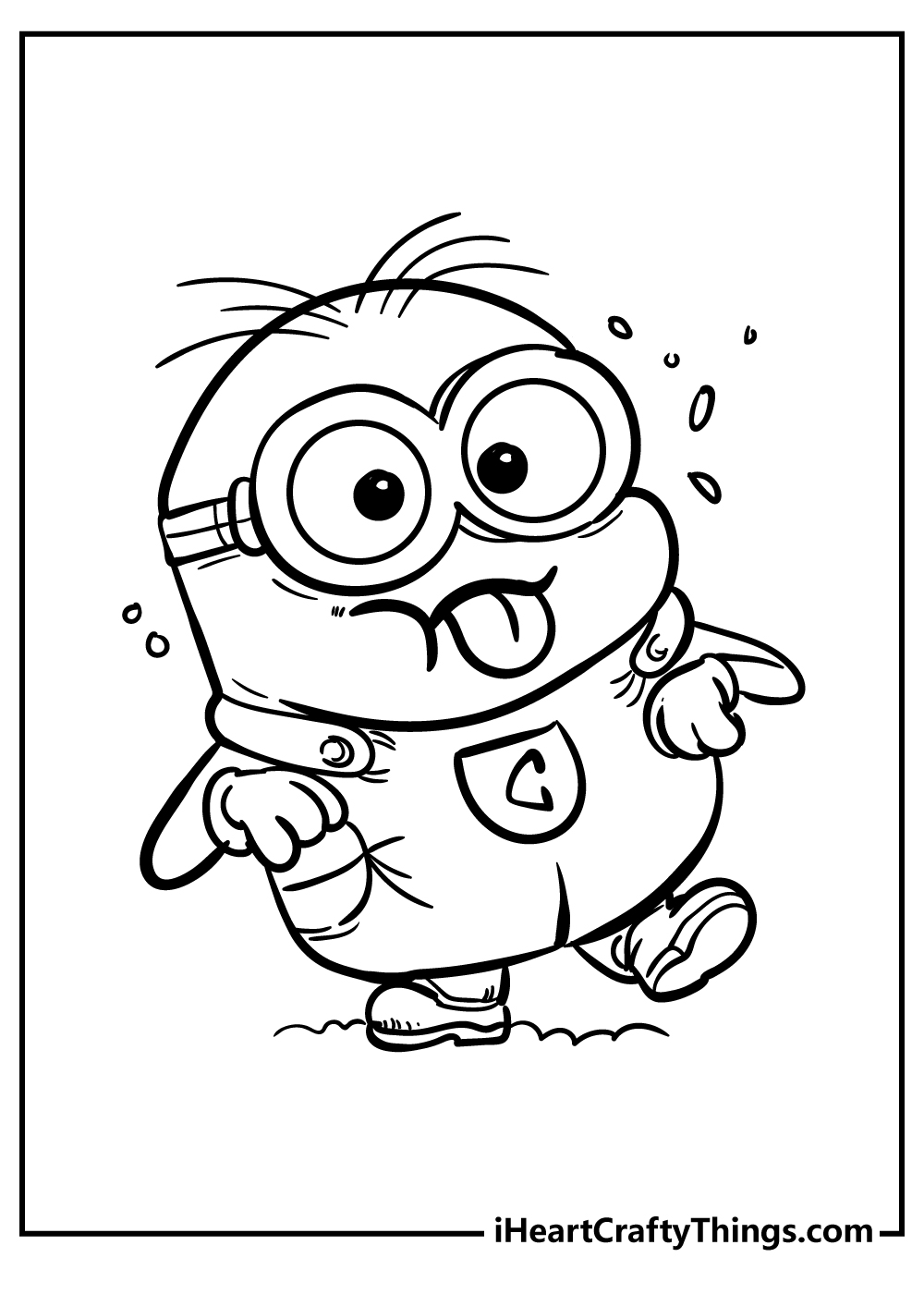 This next page is an interesting one! This minion looks rather surprised and even a bit scared.
There is also a beam of light shining down on him, and this seems to be the source of his facial expression.
The only question now is what could be causing this light and this reaction? Maybe it could be the beam of an alien spaceship, or it could be an experiment gone wrong.
These are just two ideas you could try, but there are so many fun scenes you could make out of this page. What other scenarios can you think of?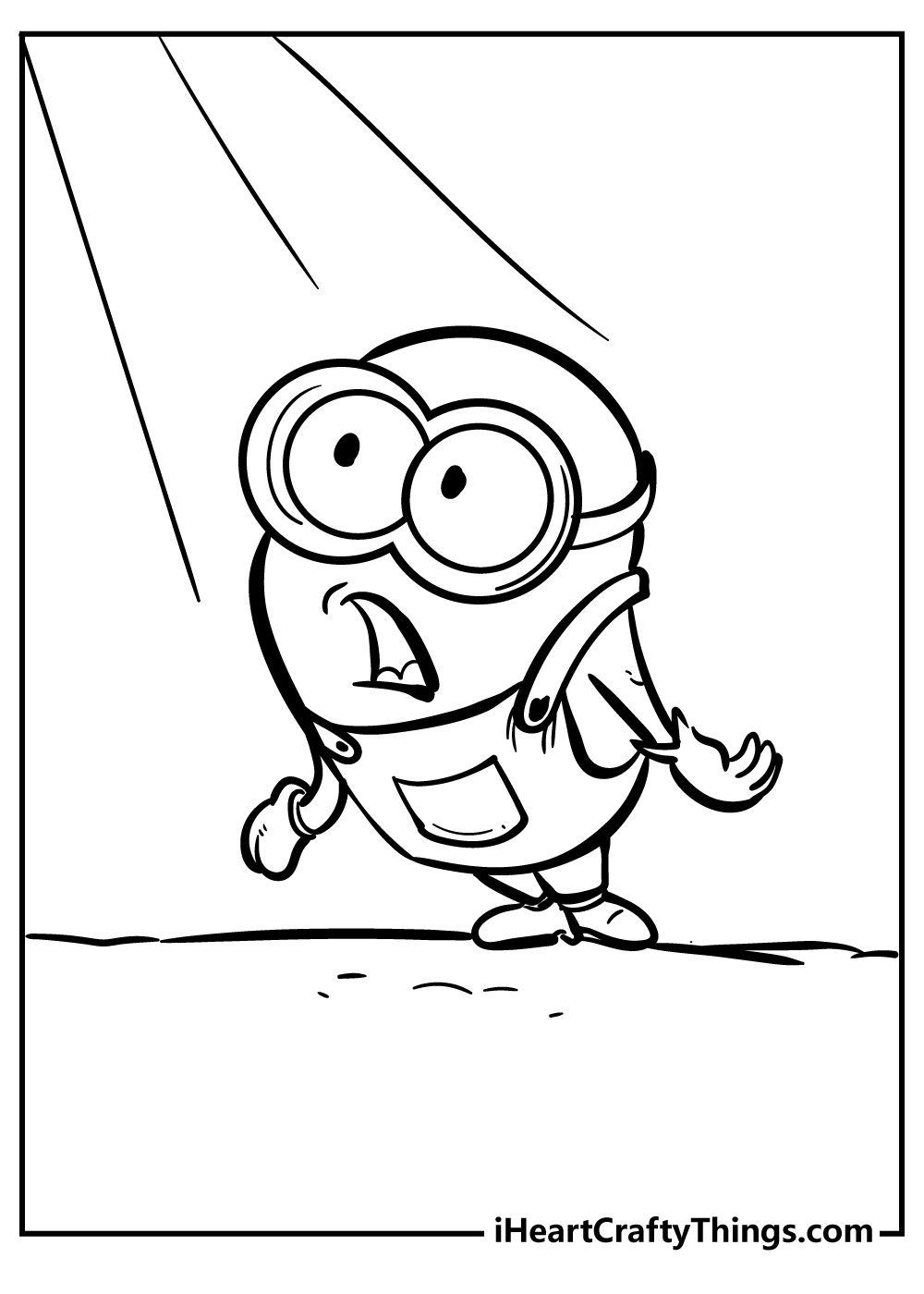 This next Minion is looking a bit unsure and nervous.
Because Minions are so clumsy, they are often breaking things or messing up, so it makes you think that this one has caused some kind of mayhem.
You could show us what you think this Minion may have done to make it so nervous by adding some extra details!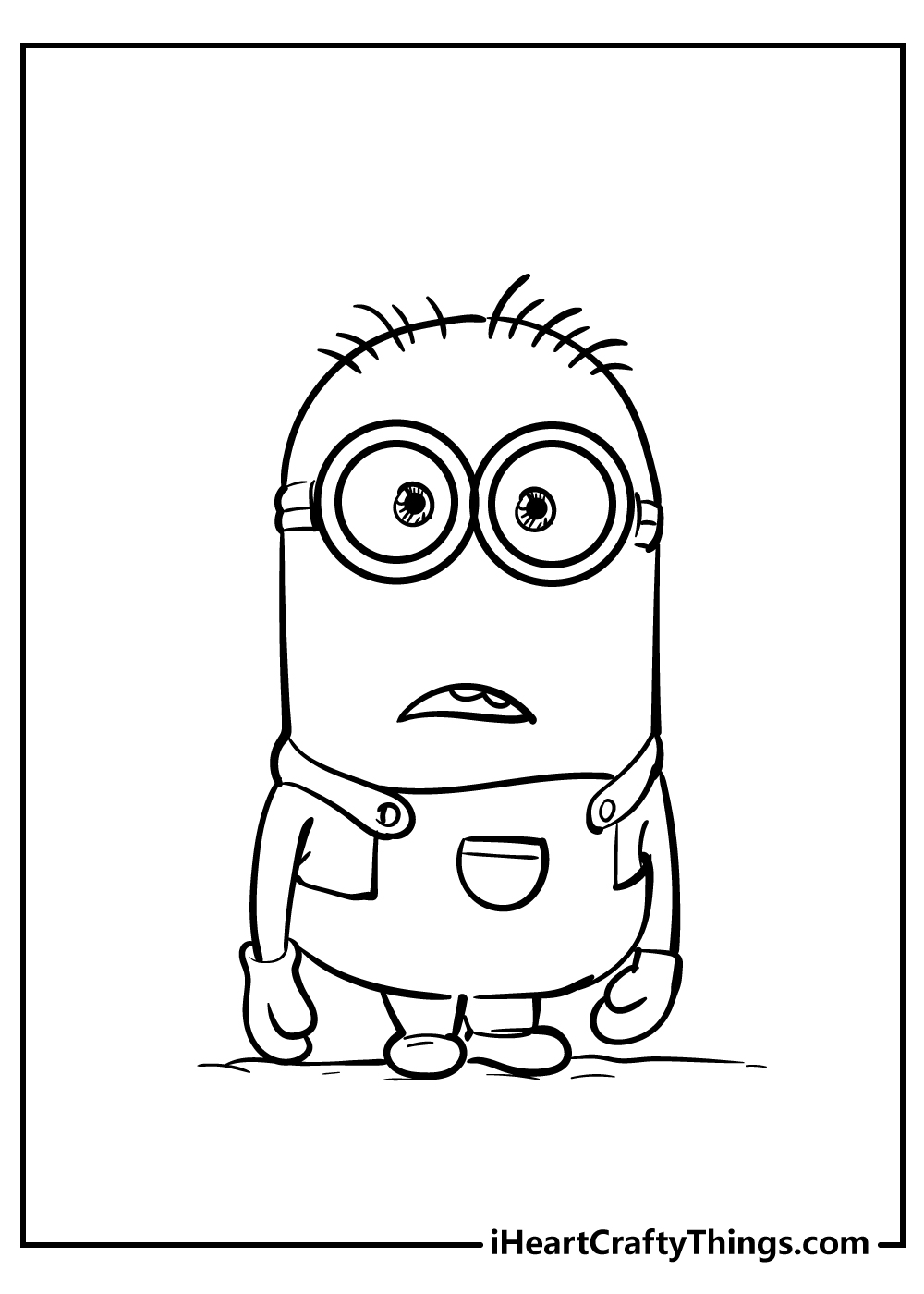 Do you hear some sleigh bells? It's Christmas time with this adorable page, as this Minion is dressed in a Santa outfit!
Because he is dressed like this, you have the opportunity to add some lovely bright reds to his outfit to really make this image pop.
What other fun Christmas details would you add to this scene?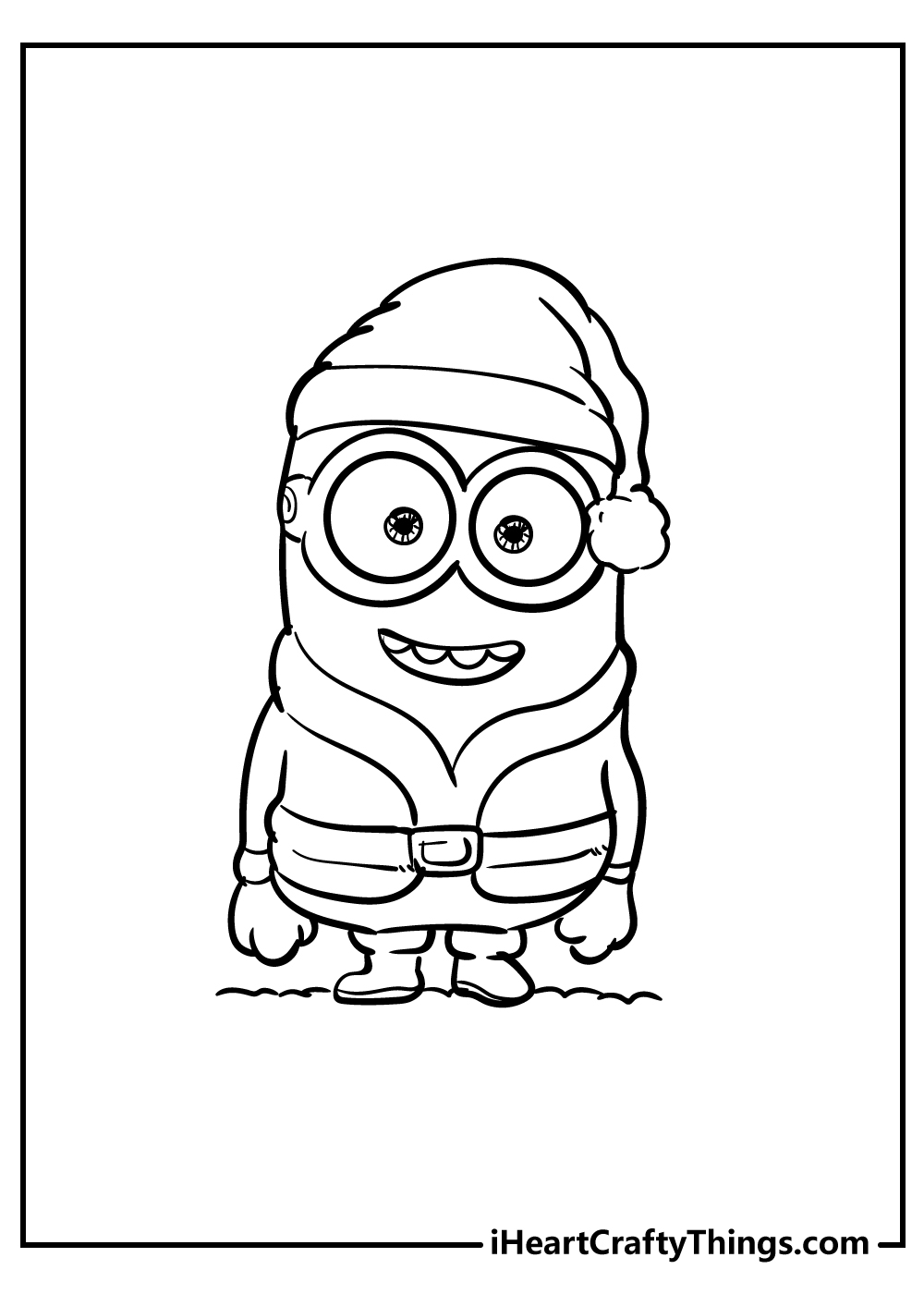 The minions may not be able to speak many words, but they make up for it with their over-the-top facial expressions.
That is being shown off in this next image, as this minion has quite a detailed look on its face!
The expression being shown is one of surprise or maybe disgust, and these are just two ways you could interpret it.
Now it's your turn to show off what you think this facial expression could be. Once again, you could do this by adding some more objects to create a little scene that explains this funny face.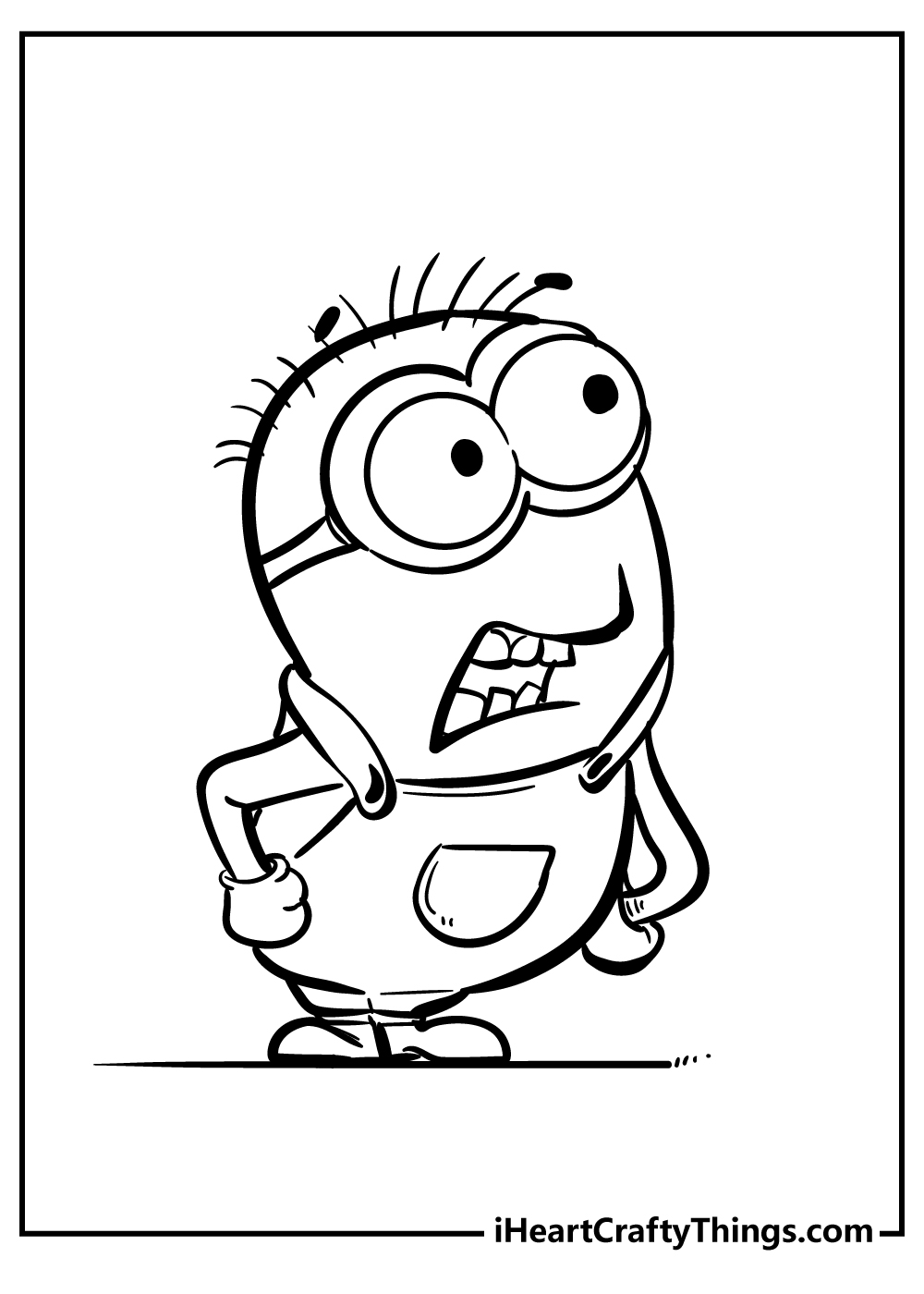 Next, we have a minion that is looking rather calm and a bit uncertain in this picture. He isn't looking particularly happy here, and we wonder what could have caused this feeling.
You can show how this minion is feeling by using some more subdued colors, as these would suit the mood of the picture perfectly.
That being said, if you think some brighter colors would be better, then they would also look great!
If you want to try out a few different ideas, you could also print out a few copies of this page to try them out.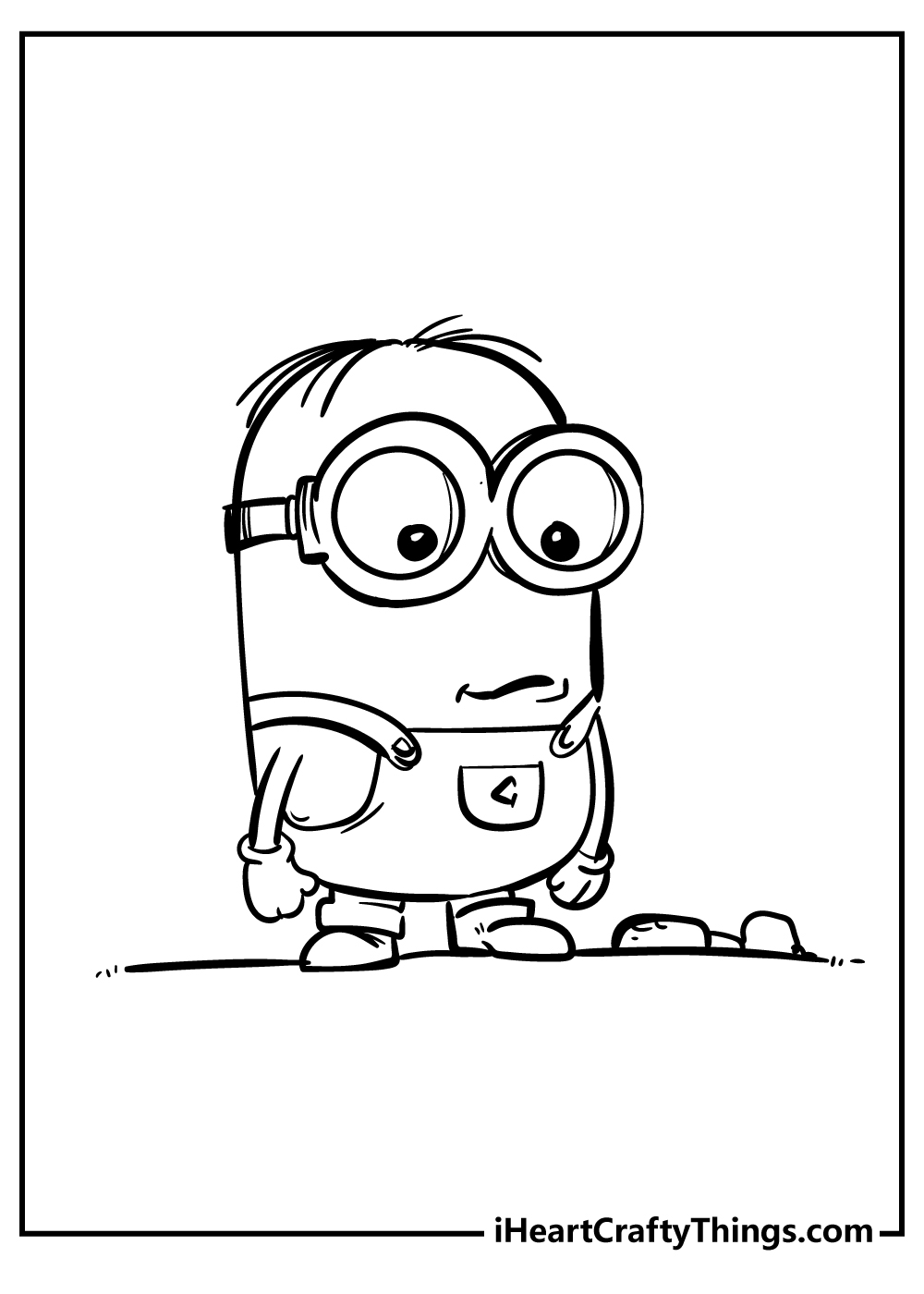 We have another joyful Minion for you to color in this next one! This guy is running somewhere while rejoicing, and there are many things that could be causing him to feel so happy.
Once again, we think that drawing some background details would be a great way to make this happy image even better!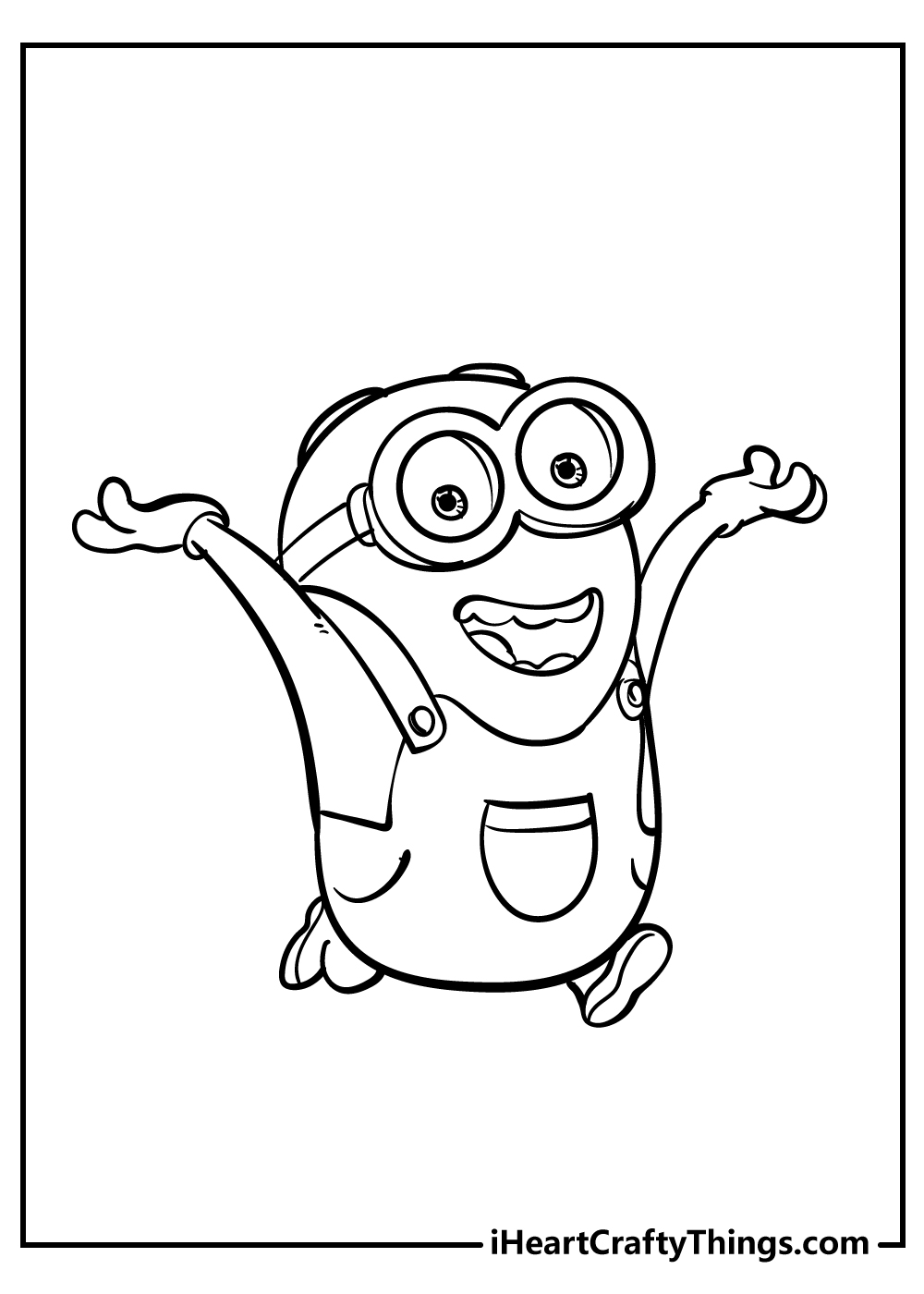 Now this has to be one of the cutest Minions coloring printables in this collection! Here we have another character from the Minions movie, the lovable Bob.
He is holding onto his teddy bear in this one, and it makes for such a charming scene.
If we were coloring this one, we would probably go for some watercolor paints or colored pencils to create a softer look for the scene. How will you color it in?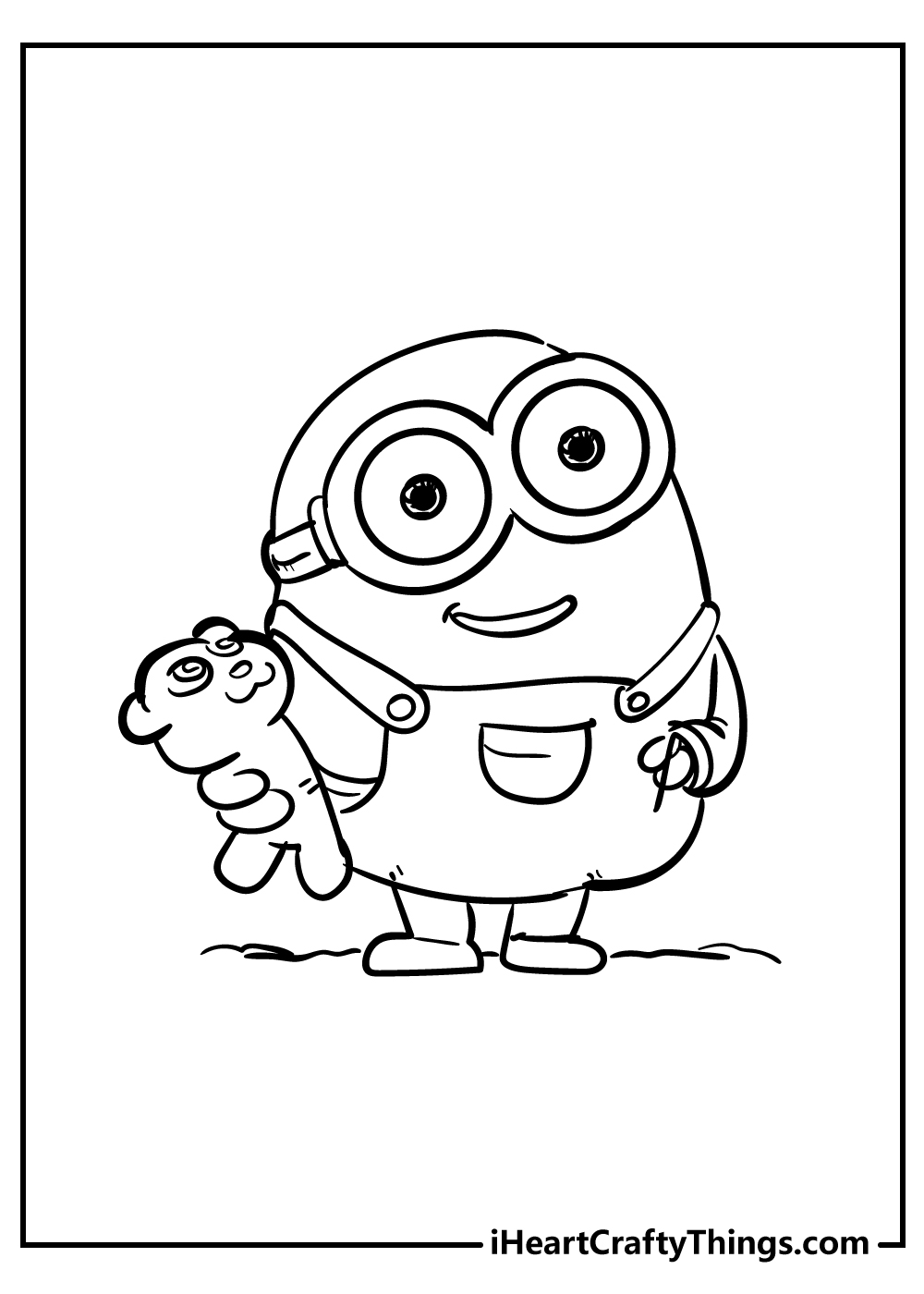 For this page, we have a minion that fancies himself a bit of a superhero! What kind of superhero theme do you think a minion would go for as their identity?
If you have an idea for what it could be, you could draw a symbol onto his outfit or draw some extra details. Also, maybe you could come up with a superhero name for this heroic minion.
If you were to do that, then you could write that superhero name below the minion for an extra fun touch.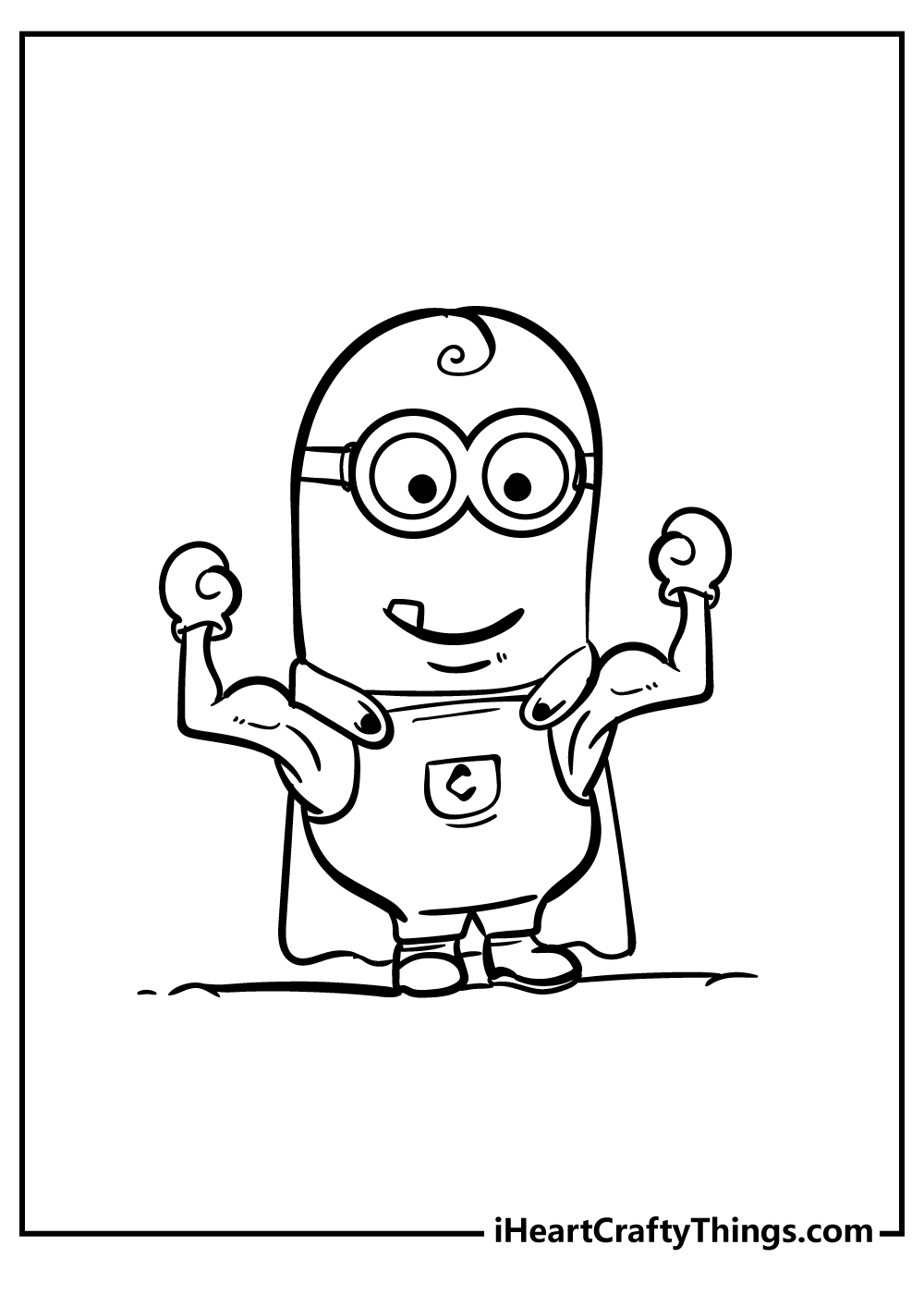 The fellow that is starring on this Minions coloring page has a really funny look on his face!
It makes for a really interesting picture to look at, and it will only become even more interesting when you have added some color to it.
What kind of scene do you think could be happening around this weird-looking minion?
If you draw some extra background details, then you can decide what colors you will choose for the minion and the clothes he is wearing.
This should be one of the most interesting pages in this collection when it's done!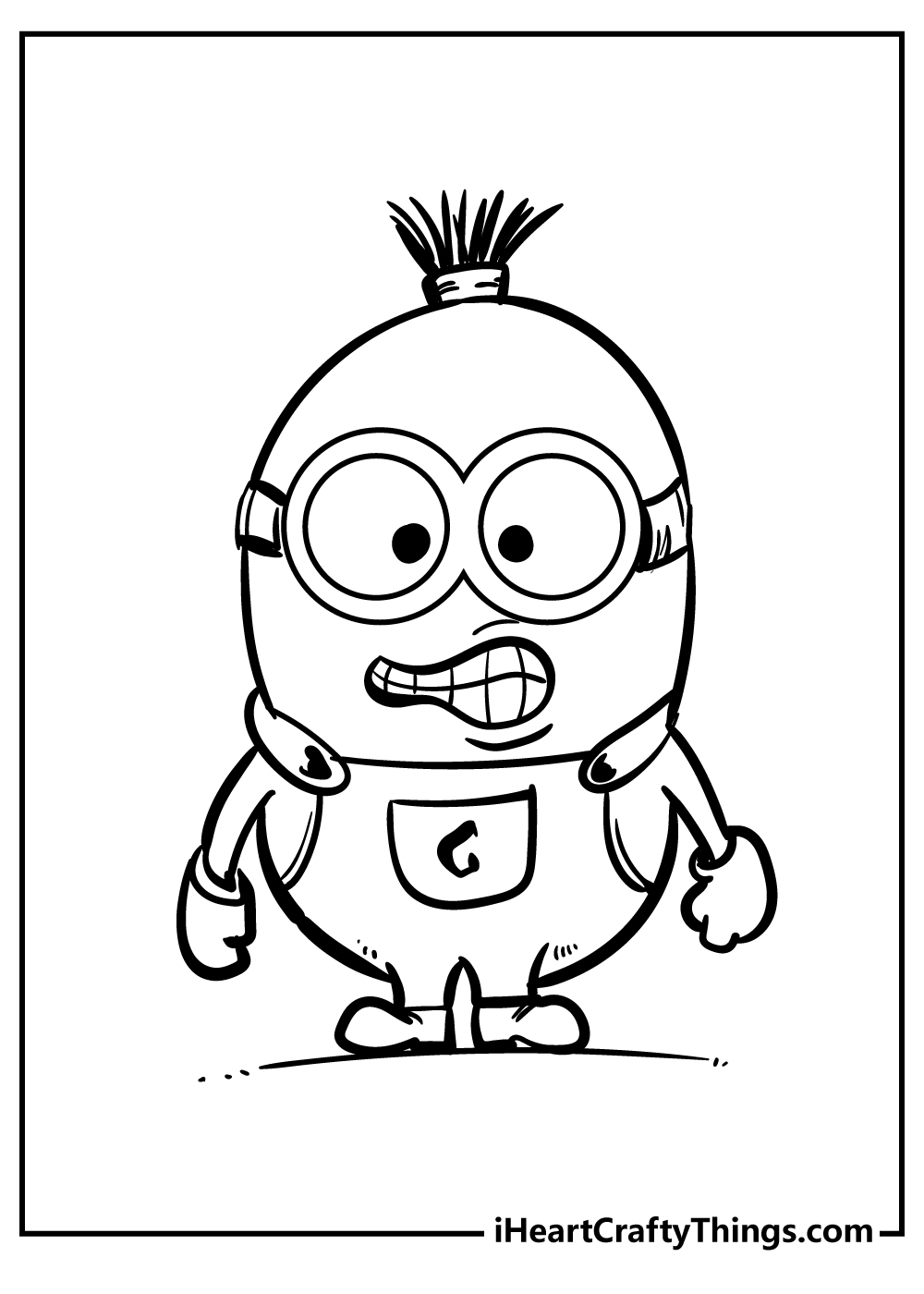 There is a fun, wacky look to the design of this next Minion! He doesn't have much hair, but what he does have is quite messy and chaotic.
This gives him a quirky look, and you could match it with equally quirky colors. Will you go for the classic yellow and blue Minion color scheme or give this funny guy a new look?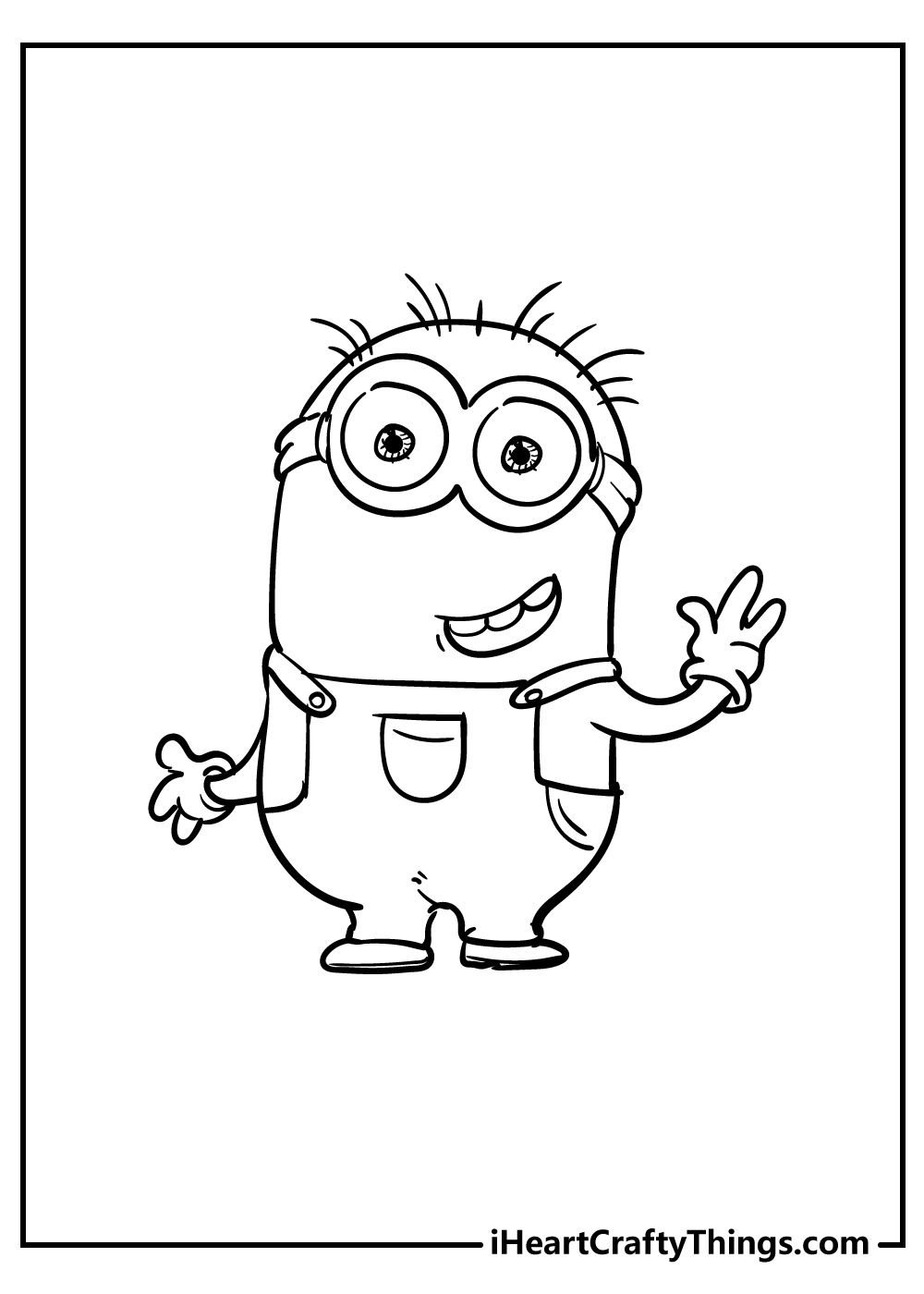 This next Minion seems to have had a bright idea! Minions may not be known for their powerful intellects, but they do occasionally have some pretty smart ideas.
For this one, maybe you could draw a lightbulb above his head to show he has had a great idea.
If you're feeling even more creative, you could also draw a bubble over his head and illustrate the thought he is having at this moment.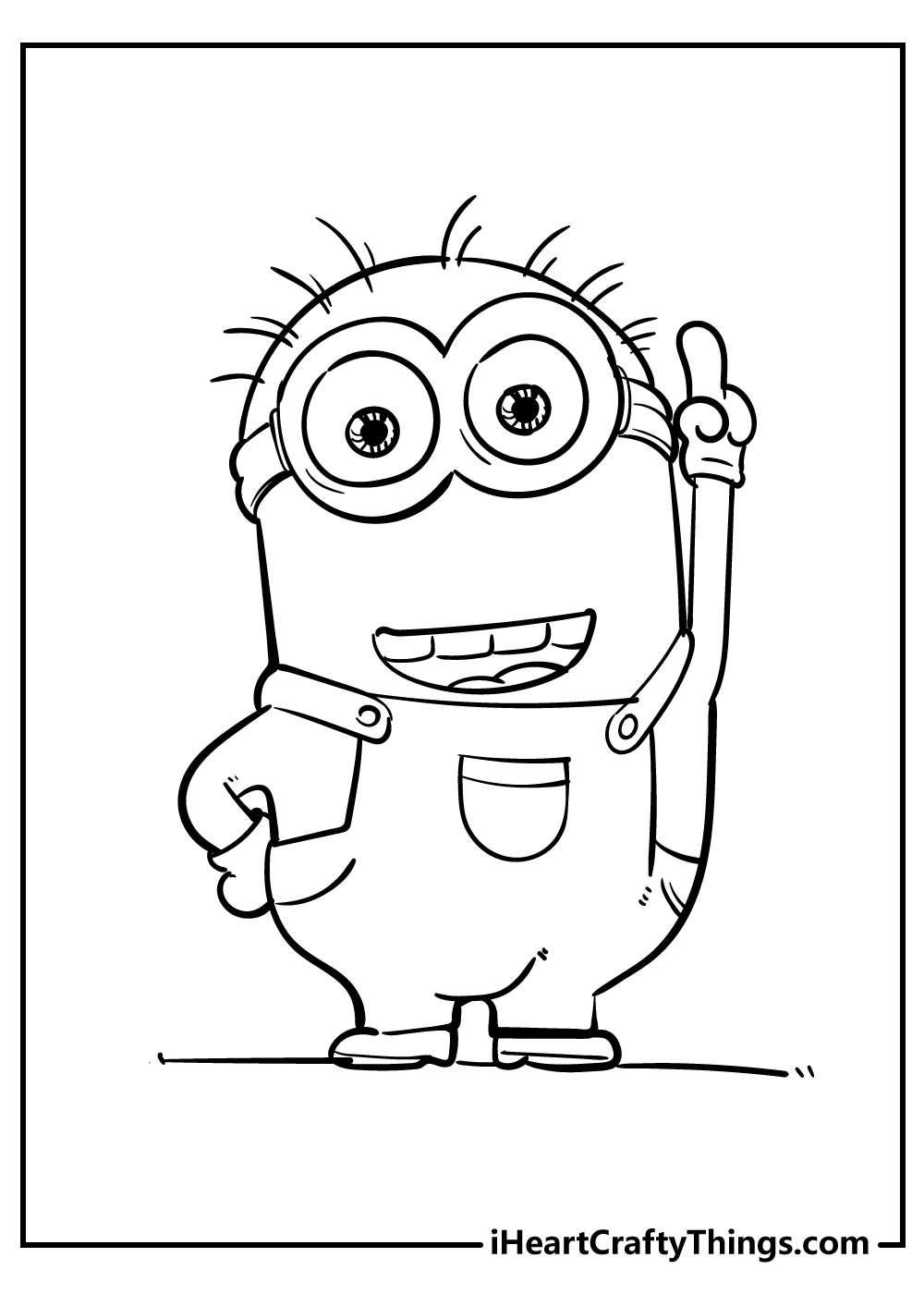 The twelfth image we have for you features a really fun picture. This Minion is dressed up in a  dress and a wig, and it is looking really pleased to be in this getup!
This outfit also has lots of great small details that you can color, so this is one that you can really take your time on.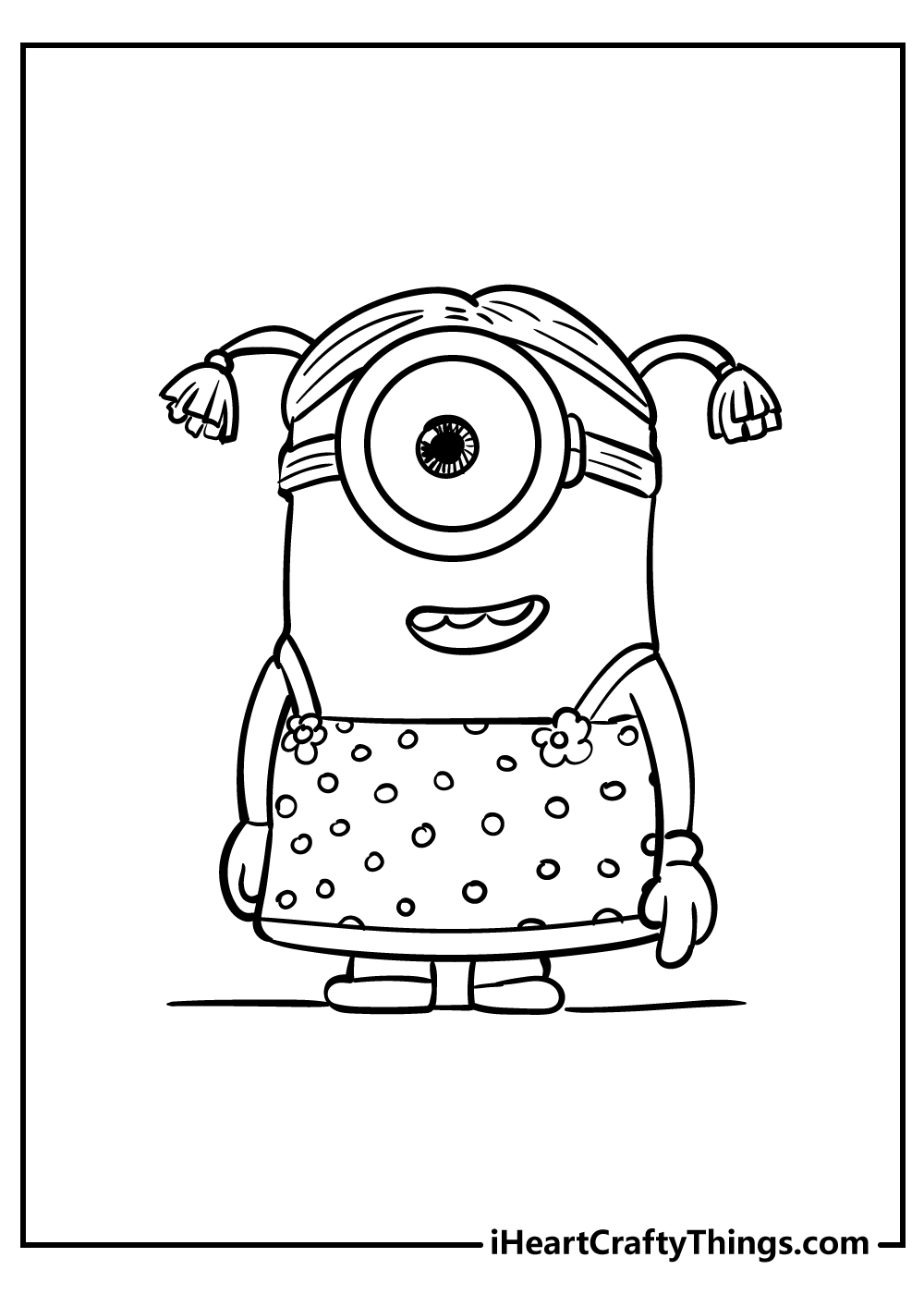 It's playtime in this next picture we have for you! This Minion is playing catch with someone, and it looks like they are about to catch the ball.
For this image, it could be fun to draw a lovely outdoor scene to show that this Minion is having a great day out!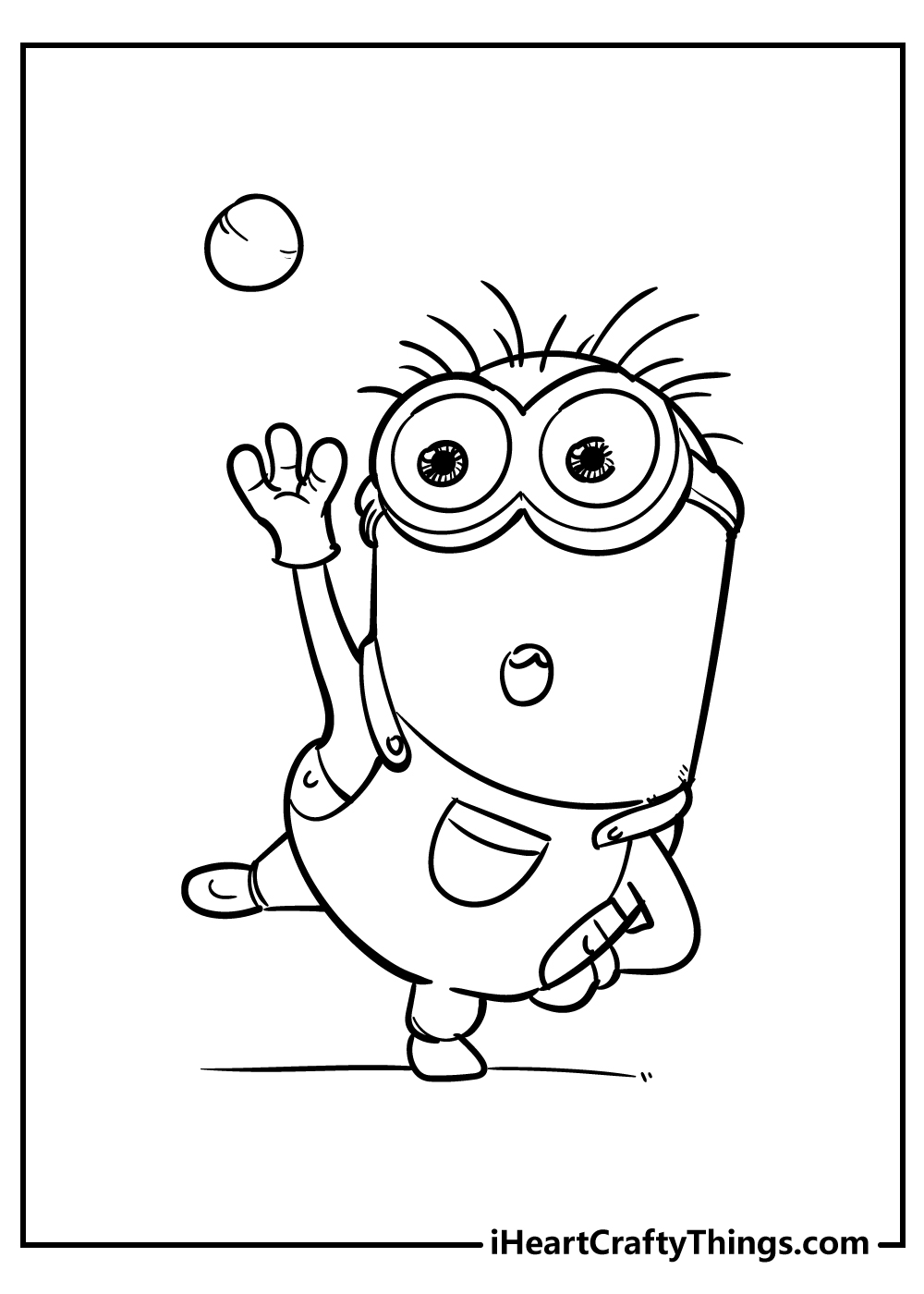 The Minions are famous for a song they performed featuring bananas, and this Minion is paying tribute to that song by holding the fruit.
For this image, we would maybe use some brighter mediums like colored markers or acrylic paints in order to give this picture a really vibrant feeling.
How do you think you will color it?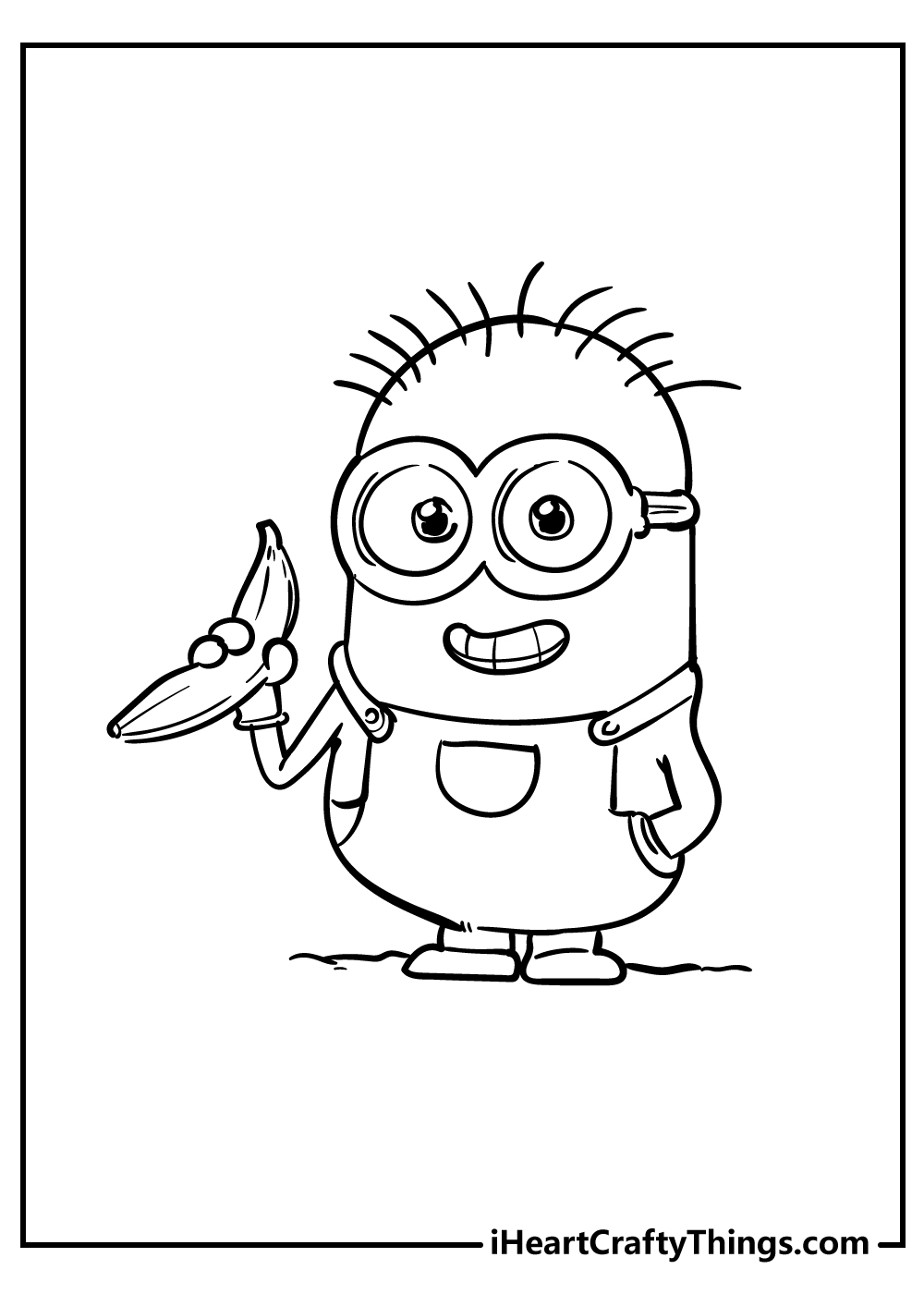 It's time for the final Minions coloring sheet that we have for you, and it features another Minion that is looking a bit nervous and unsure!
Now it's up to you to decide how you will close off this series of pages as you show your creativity with your colors and art mediums.
What will you use to finish off this zany collection in style?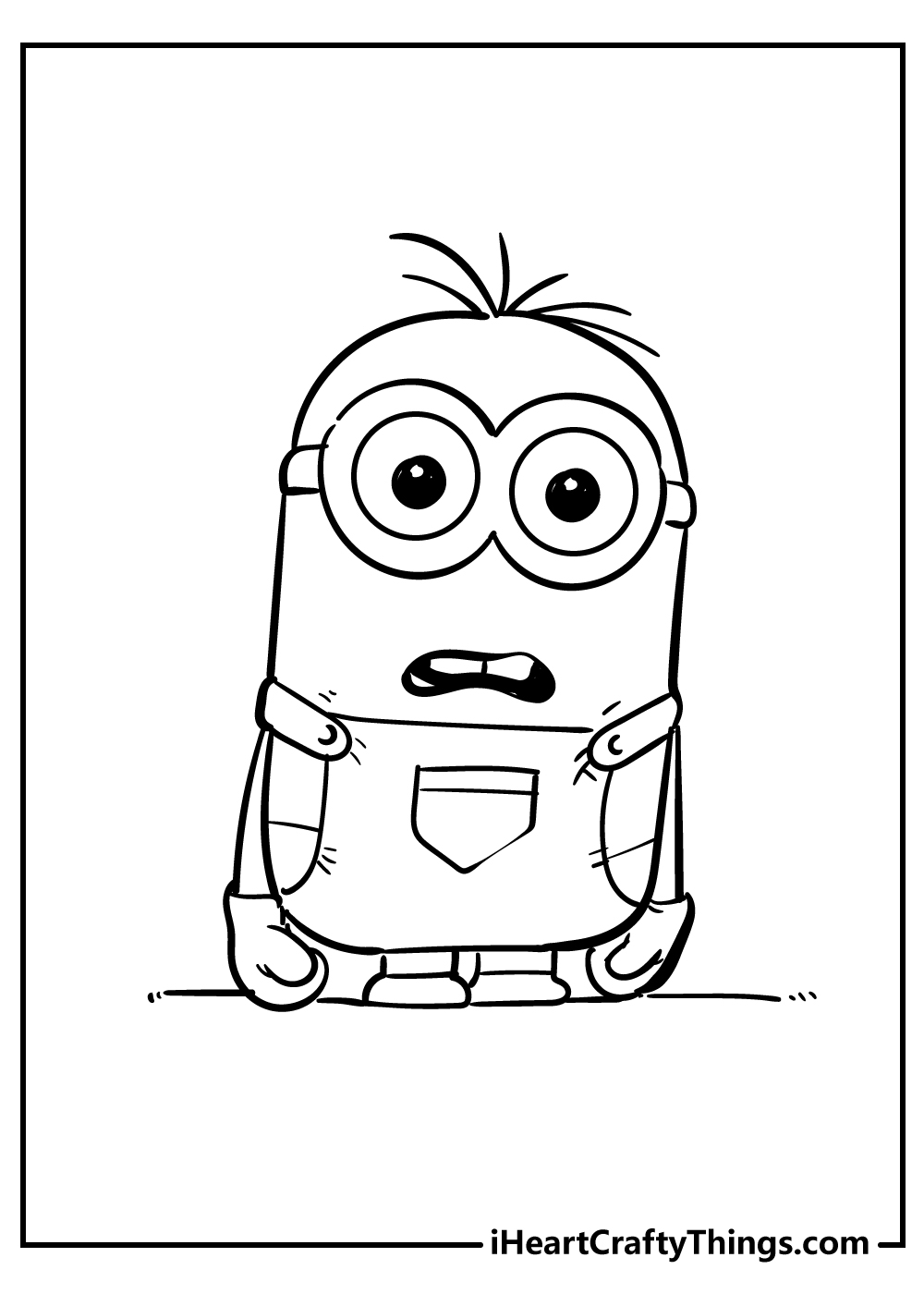 Minions Coloring Pages – Which will you choose?
This was a really fun collection of free Minions coloring pages for kids, and we hope you had a great time coloring these zany characters!
Now that you have finished your favorite pages, you can also share them with others or check out more of our coloring page collections on our website.
These are just two ways that you can keep the fun going! You can also show us how your pages turned out by sharing them on our Facebook and Pinterest pages for us to see.