On this page, you will find 15 all new Blaze coloring pages that are completely free to print and download.
One of the best pastime activities to do with your child is to color – it can strengthen your bond as you notice how happy your little one gets.
Plus, this activity can nurture your children's creative skills, and there is no doubt it is entertaining.
With our collection of blaze coloring pages, your little ones will be excited to begin coloring their favorite cartoon characters.
Imagine what a beautiful memory this will be when your child gets older!
15 Brand New Blaze Coloring Pages – Free to Print and Color
Chances are your little one is familiar with the well-known cartoon Blaze and the Monster Machines.
If that is the case, they will recognize the character on this first printable sheet of our blaze coloring pages collection instantly.
The monster truck featured on this blaze coloring sheet is the main character that gives the cartoon its name – Blaze.
With an orange-red shade and bright blue eyes, and a flame symbol on the sides, Blaze is brave and a loyal friend to AJ, its driver.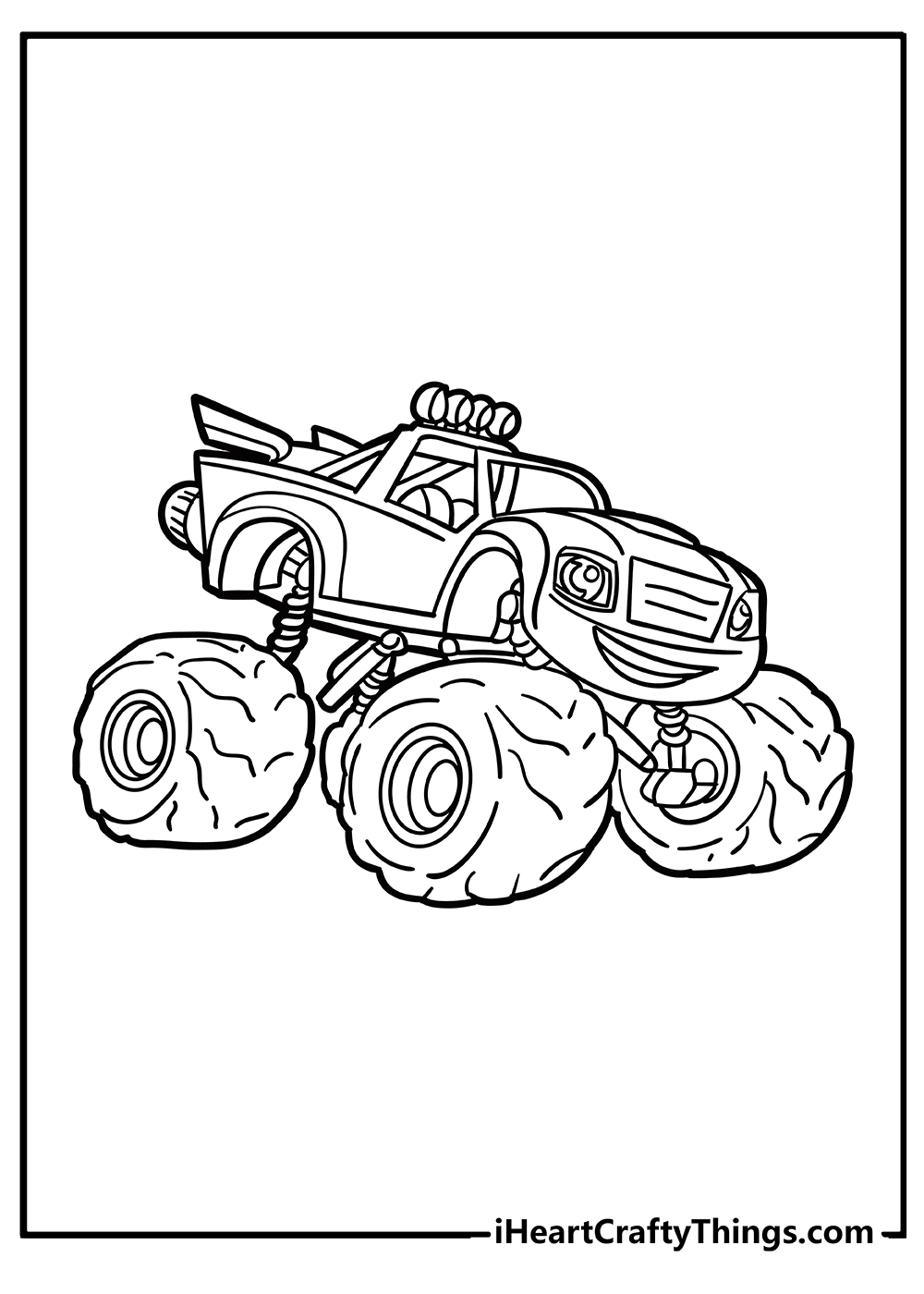 This Blaze coloring page features a fierce and friendly Blaze that loves to race and jump. Look at his big body, huge tires, and smiling face. He looks like he's having a lot of fun on the track.
You can make this blaze truck even more awesome by coloring it with your favorite colors. Don't forget to add some details to the exhaust pipe, the lights, and the tread patterns.
Have fun coloring this truck and show us your masterpiece on Facebook and Pinterest.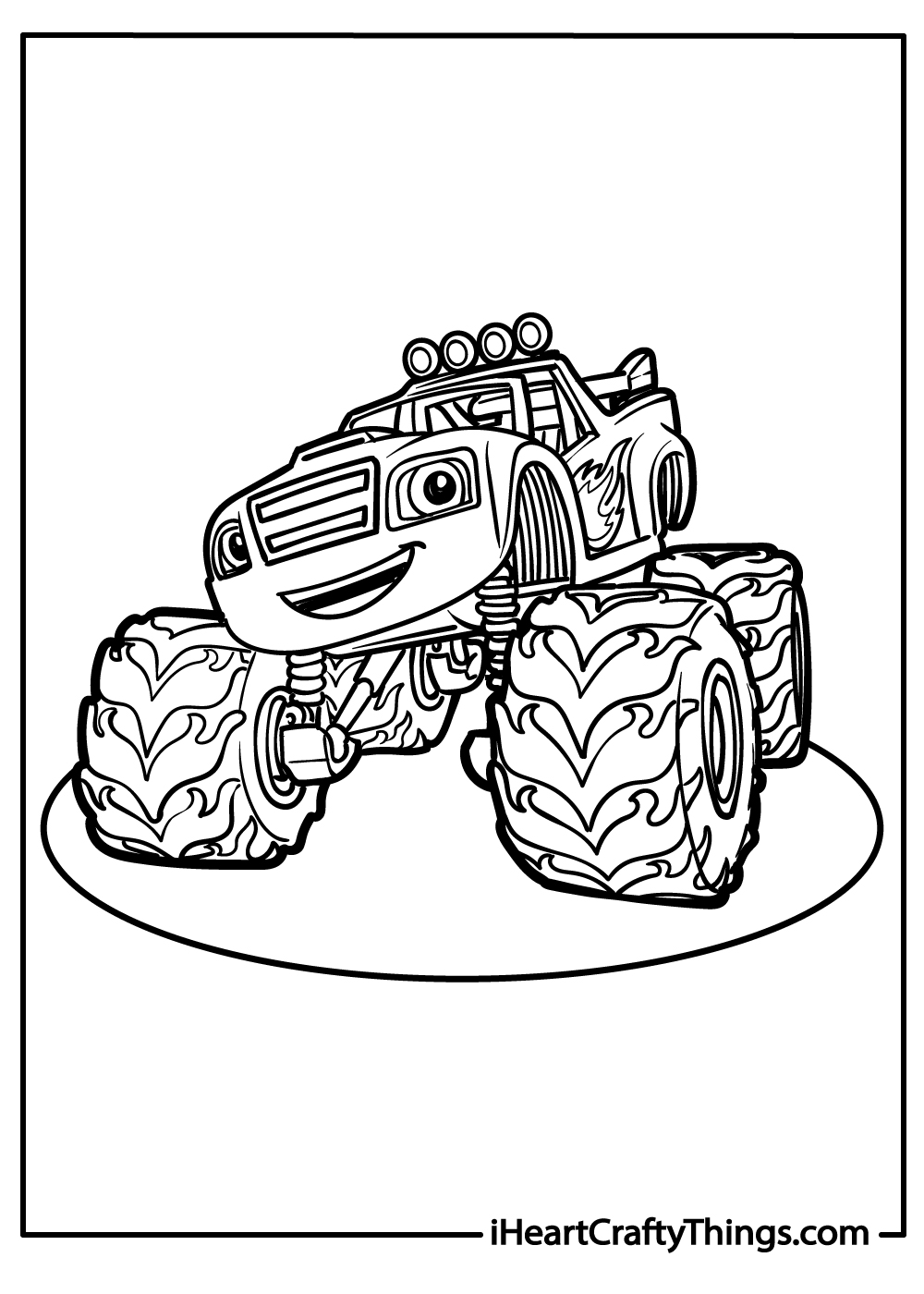 Even if you haven't seen the cartoon, as soon as you notice this monster truck's friendly and cheerful personality, you will love him.
Simply look at this next blaze coloring page, with Blaze, our beloved character, smiling in the most adorable way.
Blaze's traditional color palette is red with orangey tones, blue for the eyes, and black for the enormous tires.
However, we want you to encourage your children to explore their creativity. So, if they wish to use other shades for this blaze coloring page, allow them!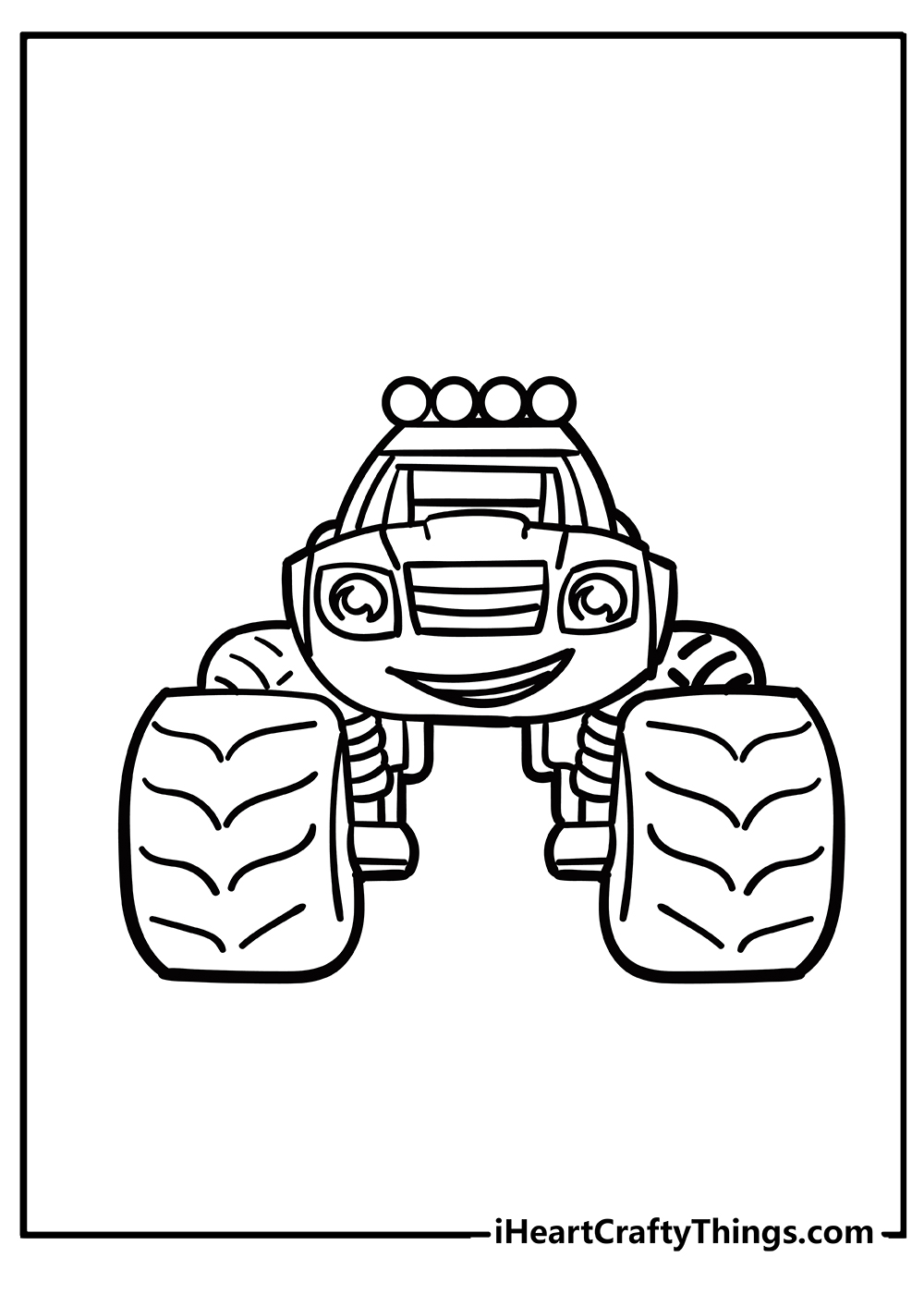 Admit it – Blaze's smile is incredibly contagious! As soon as you see any of these blaze coloring pages featuring this character, you immediately feel more cheerful.
For this blaze printable sheet, your child could choose a shade of bright blue and yellow for this monster truck and green for Blaze's eyes.
Remember – there are no rules when it comes to coloring!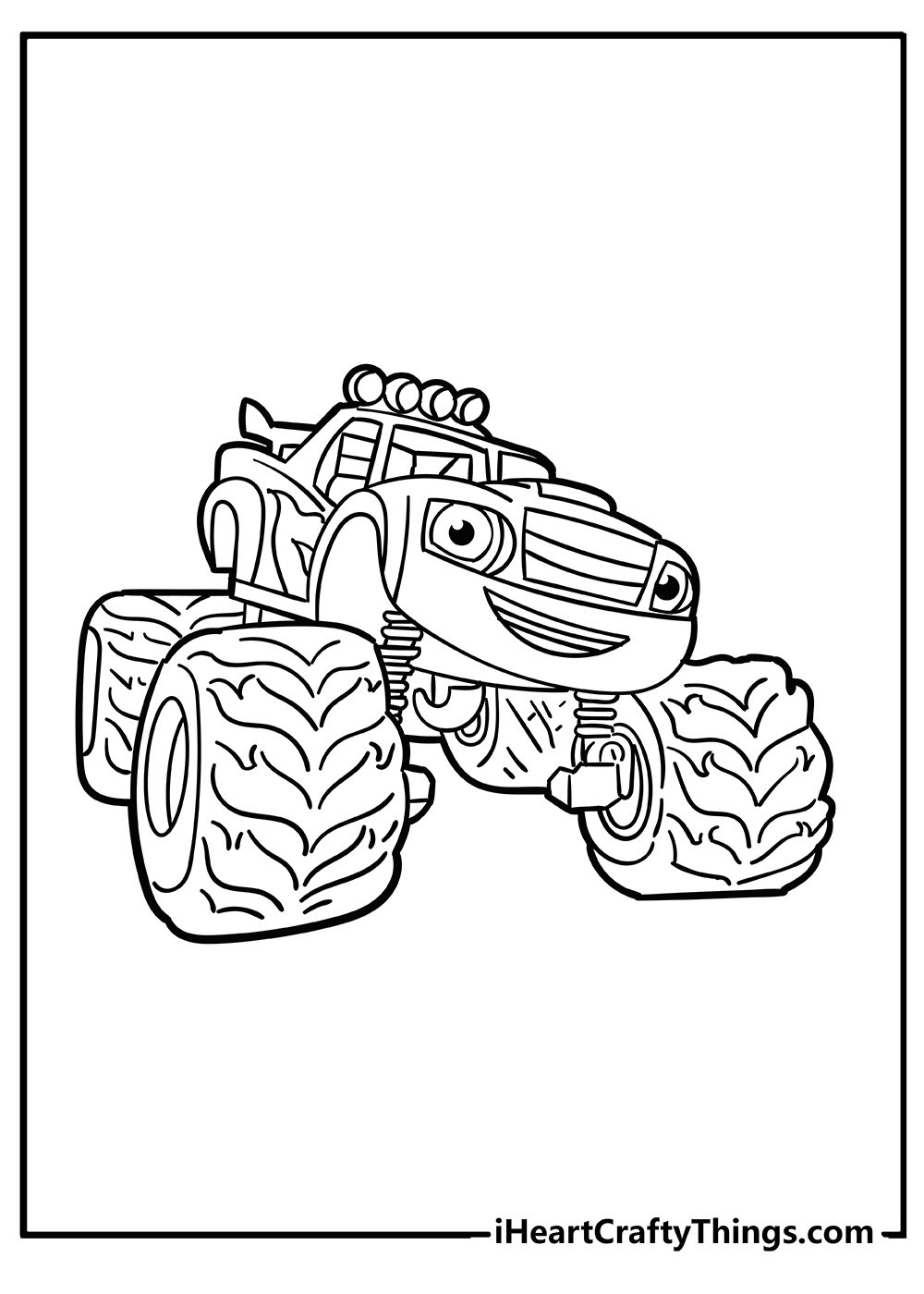 Blaze is not just a regular truck, he is also a superhero who can transform into any vehicle he wants.
He uses his blazing speed, super strength, and scientific knowledge to solve problems and help his friends.
In this coloring sheet, you can see Blaze in his normal form, with a big smile on his face. He is ready for some action and adventure on the track.
Color Blaze using fiery reds, sunny yellows and metallic colors to bring out his strength and speed.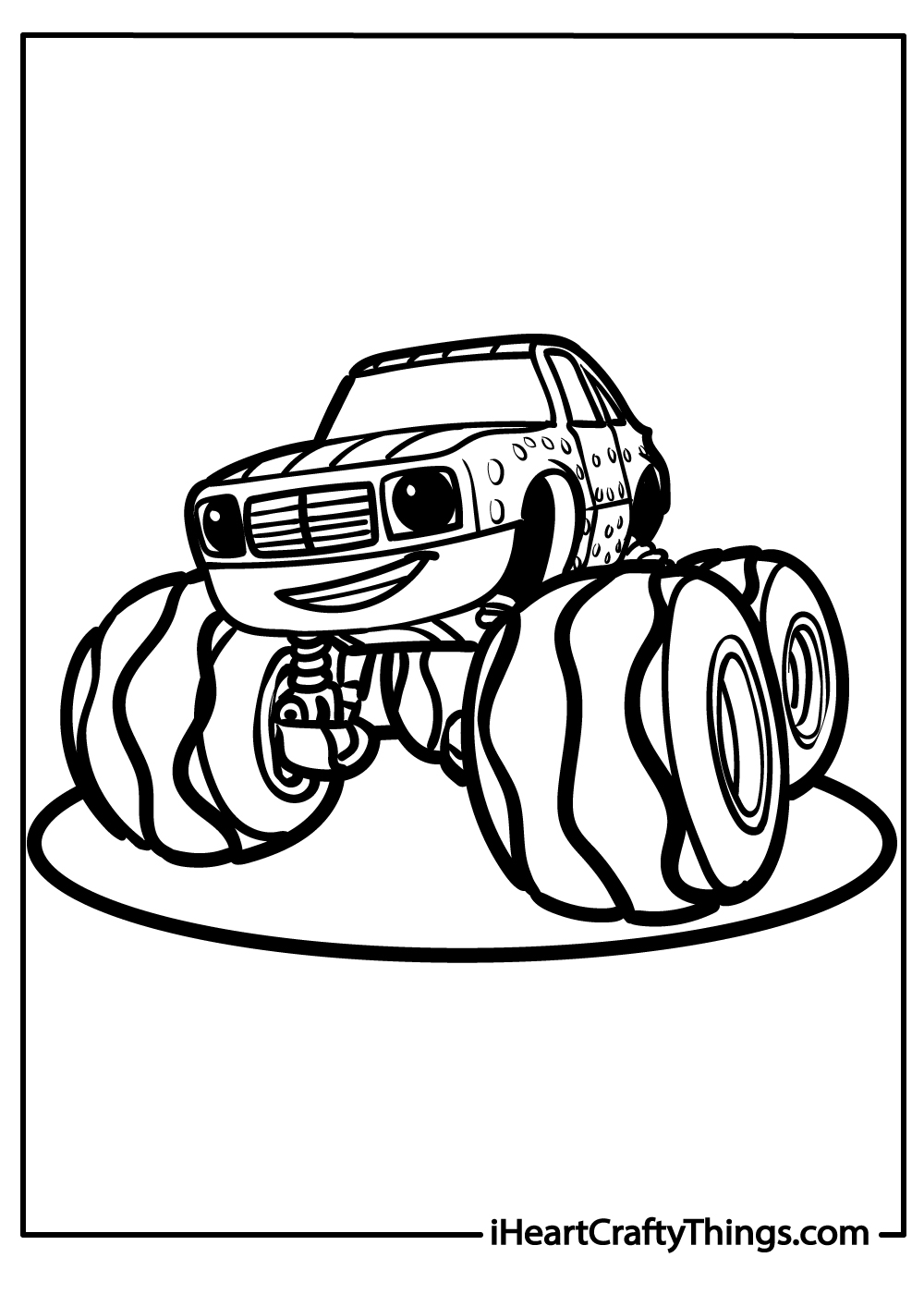 Finally, you get to meet AJ – the cartoon's main character, Blaze's best friend and brave driver!
As you probably already know, his racing outfit is mainly white with a few red and black details, and the flame symbol on the chest – similar to the ones present on Blaze's doors – is colored in bright yellow.
His helmet is primarily red, with the same white and black details. But even if this is how AJ's uniform looks like in the cartoon, you can choose any shades you want for this blaze coloring sheet.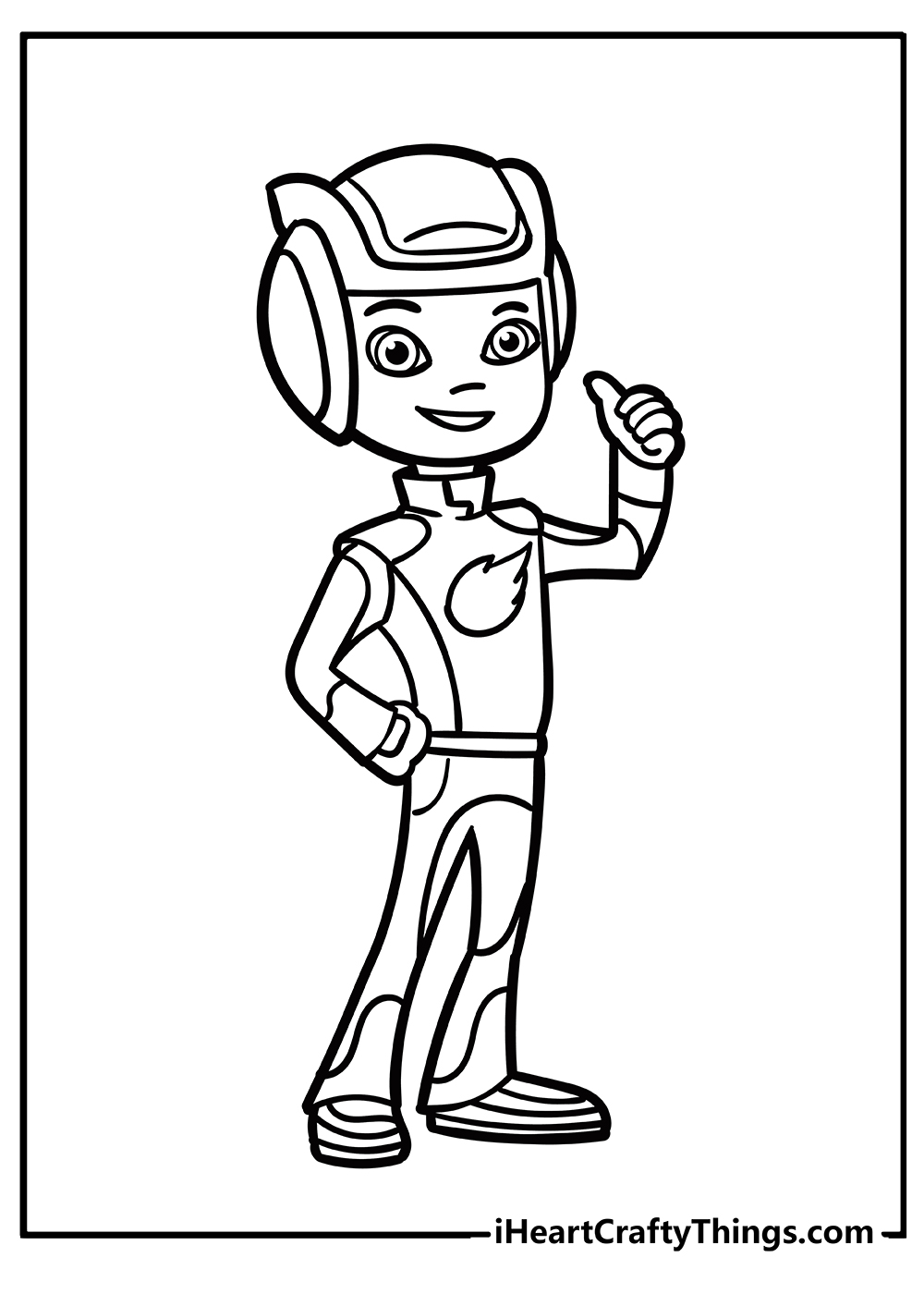 We might not have a character from Blaze and the Monster Machines on this next blaze coloring page.
But we have a famous character from Sonic the Hedgehog universe of cartoons – the one and only, Blaze the Cat. Whether you are familiar with this cartoon or not, you can pick any colors you want!
The elegant and intelligent Blaze the Cat has lavender-colored fur, a frayed tail at the end in a violet tone, gold eyes, and long black eyelashes.
Her dress attire has a darker shade of purple, and her shoes are featured in cyclamen.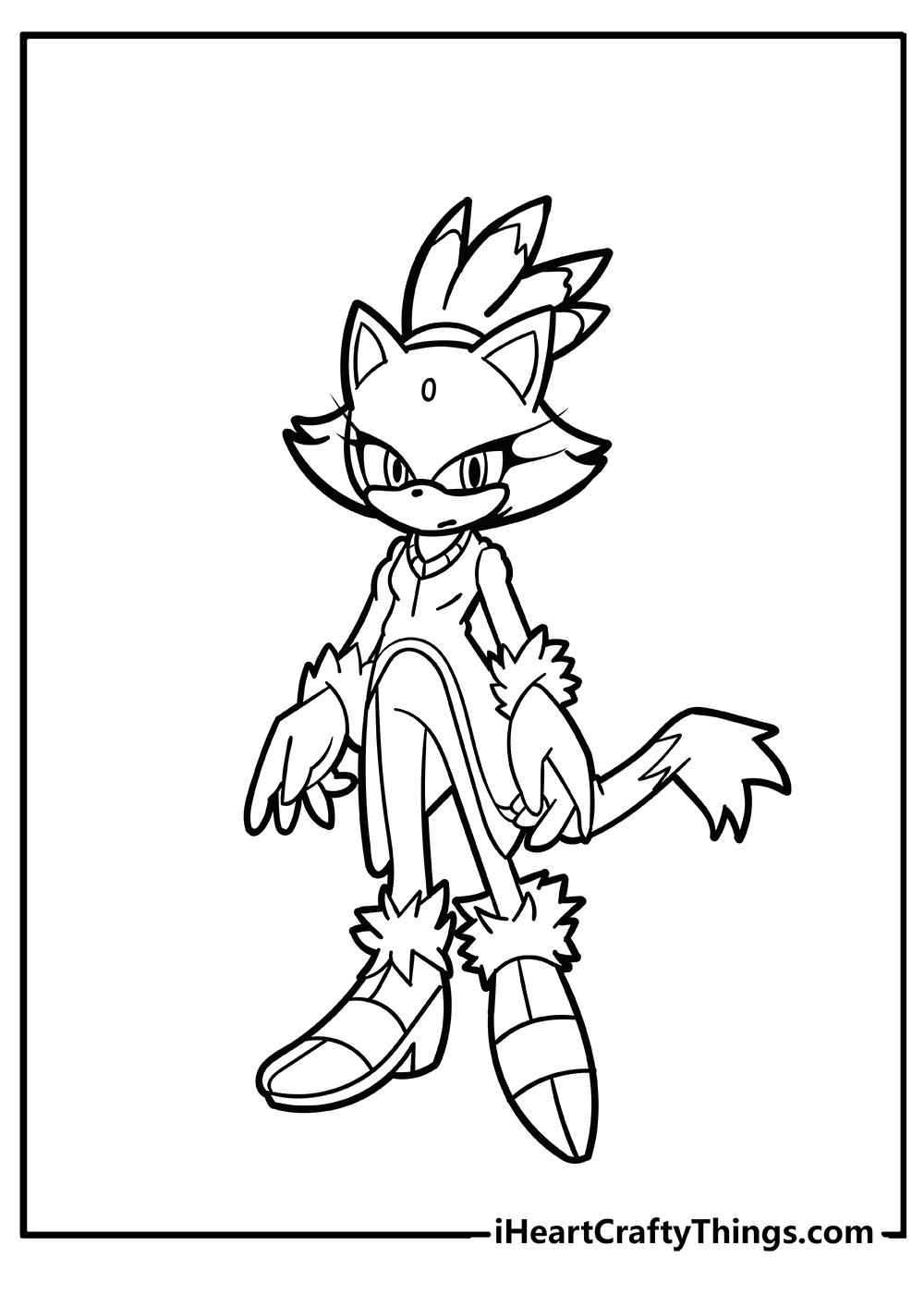 Blaze looks really brave and adventurous here.
This monster truck has a big body with a grill and headlights on the front. It also has four giant tires with deep treads that help it to speed up and jump high.
On the top, it has a roll cage and a large exhaust pipe that spits out fire. This blaze truck is very powerful and impressive.
How would you color this blaze truck? Maybe you can even add some stickers or decorations to make it more unique.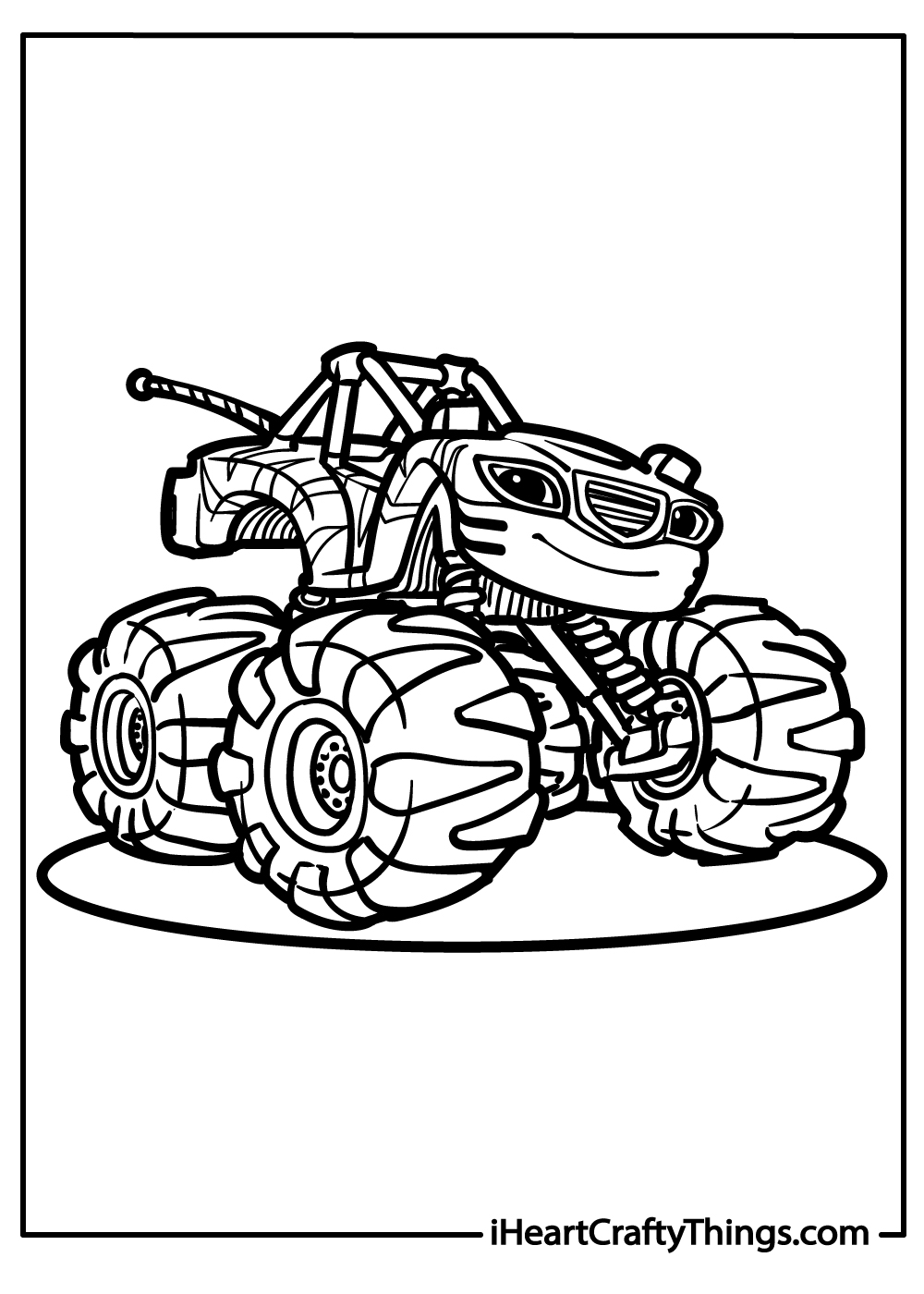 On a previous page from our blaze printable pages collection, you met AJ. Now, you have the chance to bring Gabby to life by using colors!
This is another central character of the Blaze and the Monster Machines cartoon.
We get to see her famous pose holding a tablet on this page, excited to teach you all about science and engineering!
Her distinct bright purple hair is her unique feature, which matches her blue eyes. As for Gabby's uniform, the shirt is white with black details, and her overalls are blue.
But you can encourage your child to use a different color palette!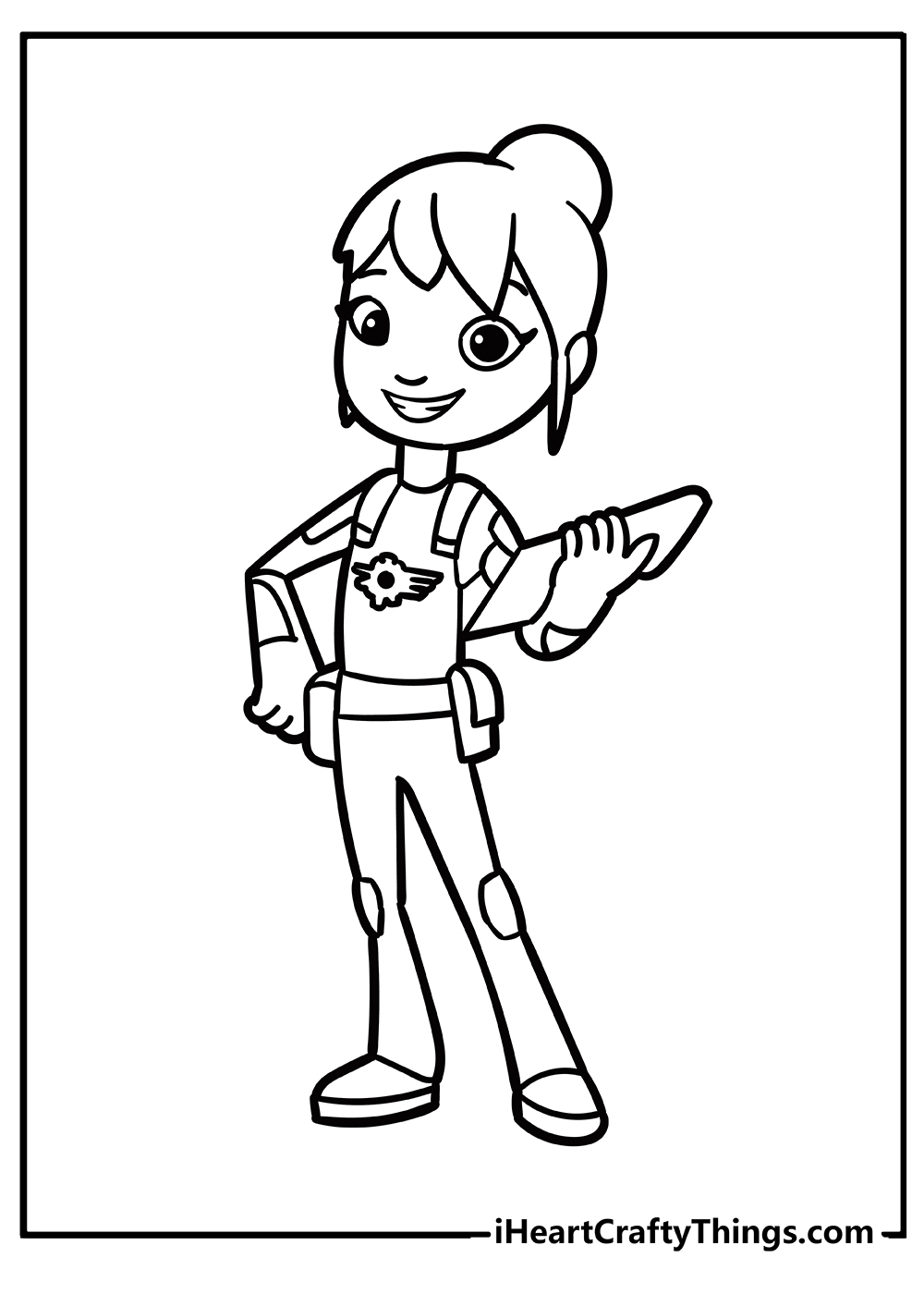 Every cartoon has a villain as well, which is the main character's rival. Meet Crusher – AJ and Blaze's enemy, a monster truck colored in a deep blue shade with a light blue tone for the front.
Crusher's triumphant smirk and eyes showcase he is thinking of another mischievous thing to do. But fear not – AJ and Blaze catch him every time he does something unfair in a race!
If you wish, you could replace the traditional colors of this monster truck on this blaze coloring printable sheet with others like silver and yellow, for example.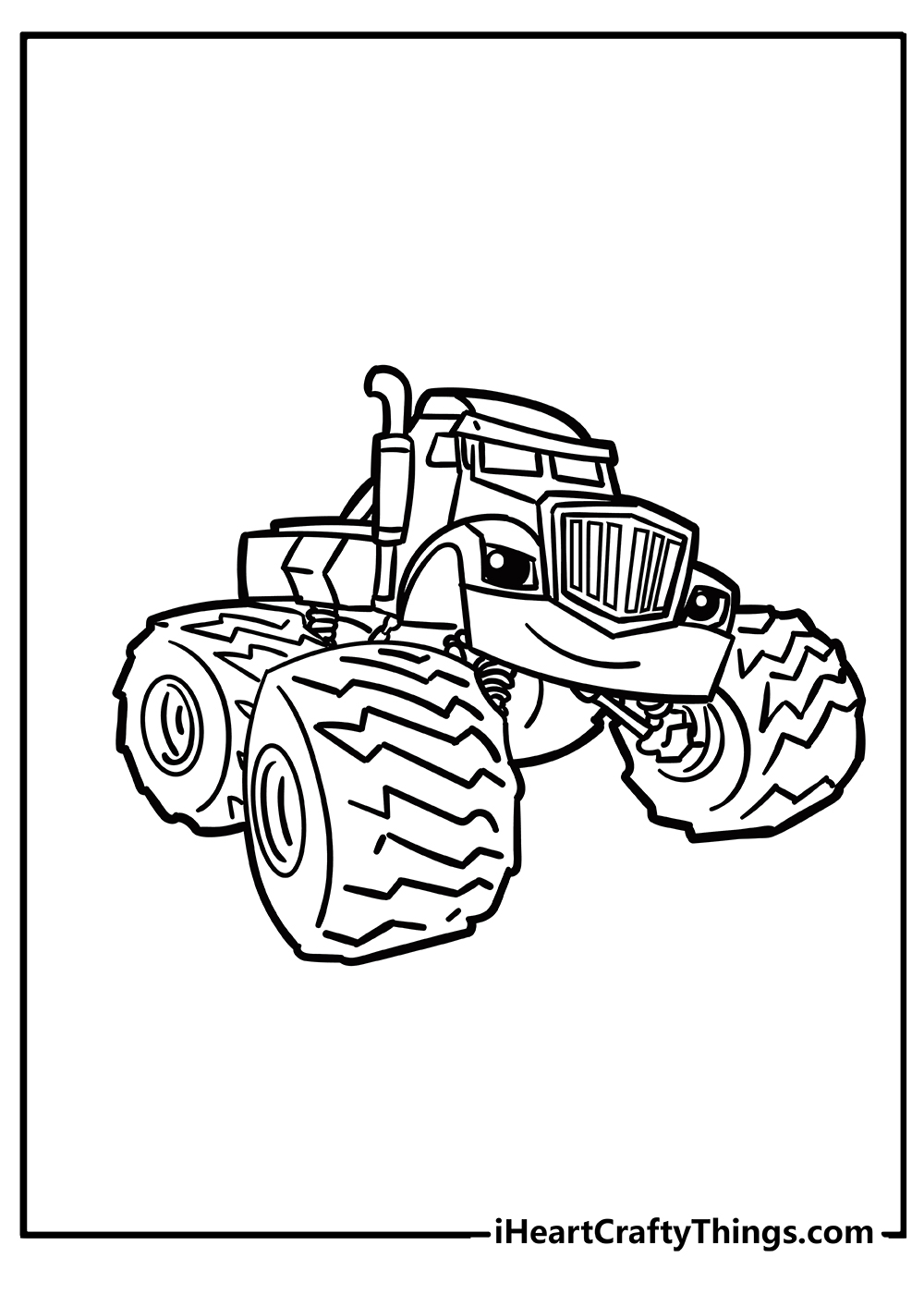 Look at this Blaze truck with a big body and a grill and headlights on the front. It also has four giant tires with deep treads that help it to speed up and jump high.
On the top, it has a roll cage and a large exhaust pipe that spits out fire.
I would use bright colors like red, yellow, and orange to make it look fiery and energetic.
Or I might use cool colors like blue, green, and purple to make it look calm and mysterious.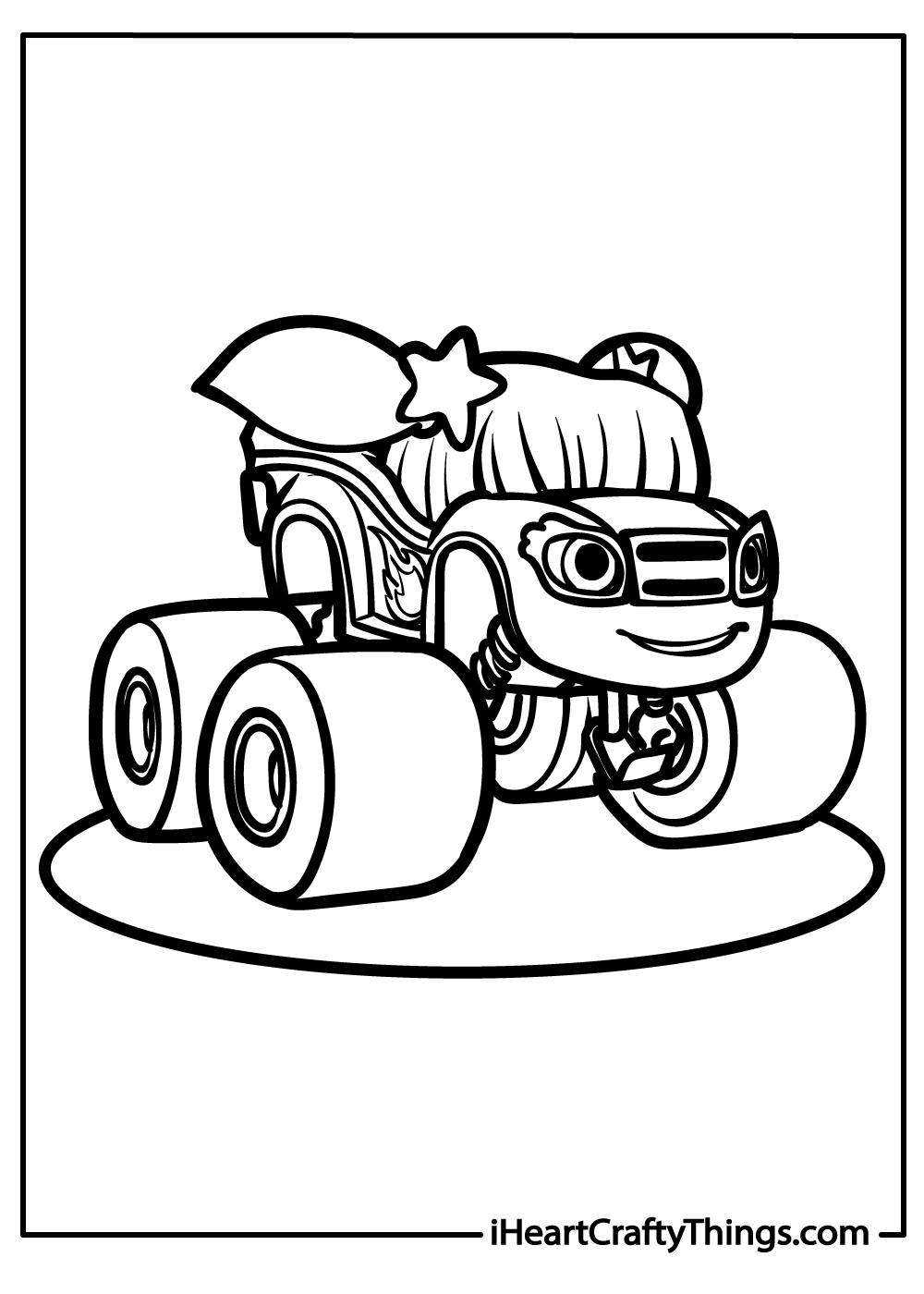 Who said that monster trucks could not have fun underwater? Don't forget that there are no limits to imagination, and all these blaze printable pages are meant to challenge your creativity!
On this next blaze coloring page, you can see a monster truck that is a hybrid between a truck and some form of subaquatic machine-looking creature.
We are sure that this transformation was necessary so that our friendly-looking monster truck could survive in the underwater world.
As for the color palette, you could choose a bright red with yellow and orange details for this unique monster truck.
The background is entirely white, so you could color it deep blue to depict the ocean. And why not add other sea creatures?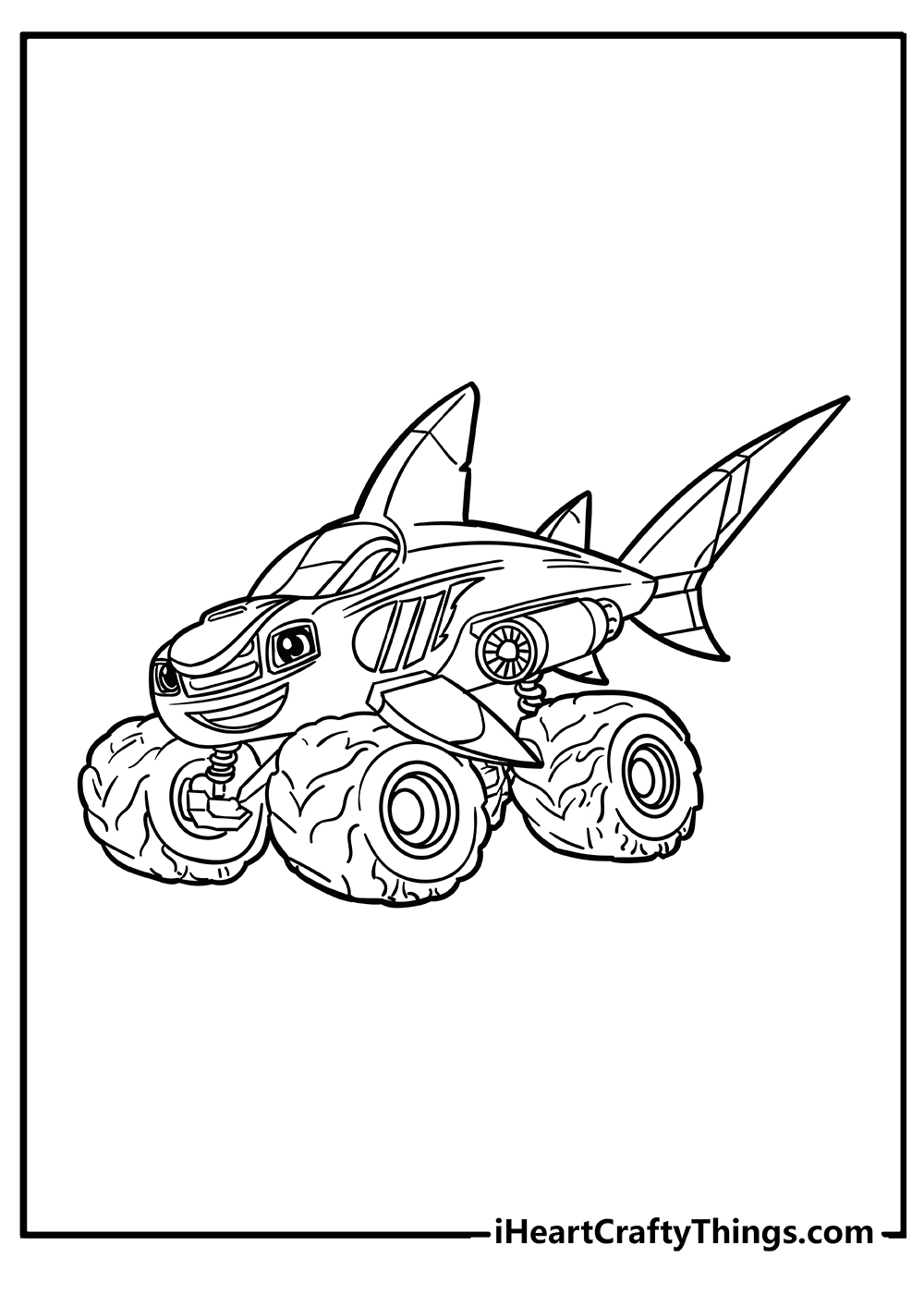 Let's meet Pickle together! Another beloved character from Blaze and the Monster Machines, a monster truck that is always looking at the positive side of things, with a friendly and goofy personality.
Pickle is Crusher's friend, but he has a much more cheerful character, as you can see from his cute smile. There is no surprise that this monster truck's color is green, given his name.
But you can choose a different shade if your vision differs. You can even change its name if you want him to be a different character.
There are no rules when it comes to coloring these blaze printable sheets.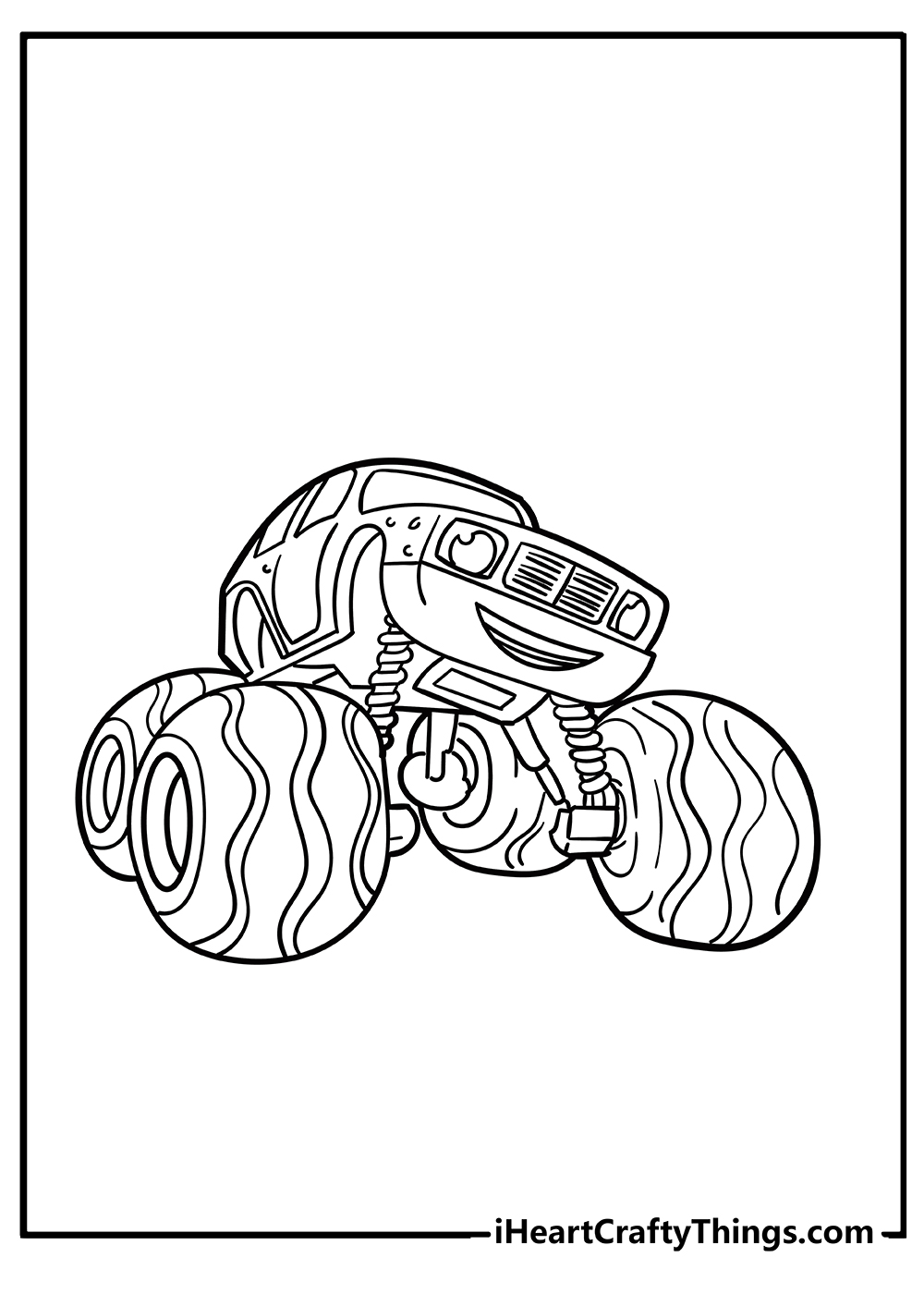 Last but definitely not least, you have the opportunity of meeting another character from the cartoon, which is undoubtedly one-of-a-kind!
This next blaze coloring page features Starla, the first female Monster Machine main character with a strong personality. She speaks with a delightful Southern accent.
If you want to stick to the cartoon's color palette, Starla is a purple monster truck with a silver cowgirl hat and a matching purple Sheriff star on it.
Encourage your little ones to choose any color they want for these incredible blaze printable pages to nurture their creative skills.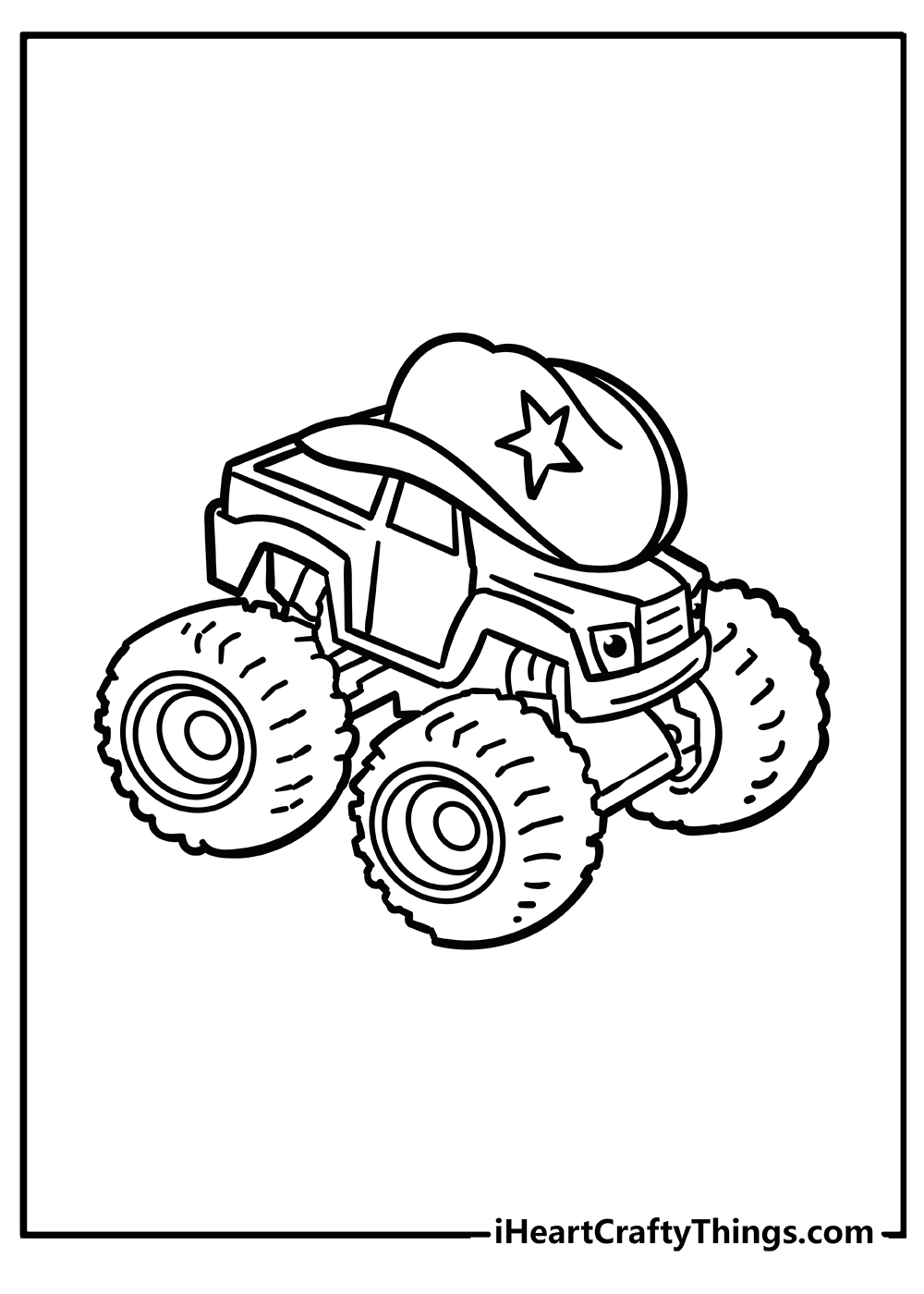 This is a coloring page of a blaze truck that looks like it's having a lot of fun. This truck has a big body with a smiling face on the front.
You can see the exhaust pipe on the side and the spoiler on the back. This truck is jumping in the air and ready for some action.
Do you like blaze trucks? What color would you make this one? I would make it purple with yellow stripes. I think that would look very cool and stylish.