When you have some serious building that needs to be done, you need someone who is reliable, and it's hard to find someone more reliable than Bob the Builder!
This delightful character has been captivating kids around the world for many years now, and we are celebrating him with this collection of free Bob the Builder coloring pages for kids!
We will be showing Bob in a number of different scenarios that all have to do with his building expertise.
You will be able to use all of your favorite colors in this collection, and you can also draw some extra background details and other elements.
When you have chosen your favorite Bob the Builder pages, you can print them out as many times as you like so that you can try out all your favorite colors and mediums.
If you know other Bob the Builder fans, you can also share the collection with them so they can enjoy the fun too!
Now, get ready to grab all your favorite drawing tools and get ready for some coloring fun with Bob the Builder.
You can also share the results of your coloring fun on our Facebook and Pinterest pages for us to see!
10 Brand New Bob the Builder Coloring Pages – Free to Print and Color
Bob the Builder is here to greet you in this first coloring page!
Bob has a classic color scheme that he has gone with throughout his history, and in these pages you can decide whether to go with it or use some unique colors.
When coloring finer details such as the tools on his belt, you may want to try and use mediums that allow for precision like colored pens and pencils.
How will you kick off the pages of this collection?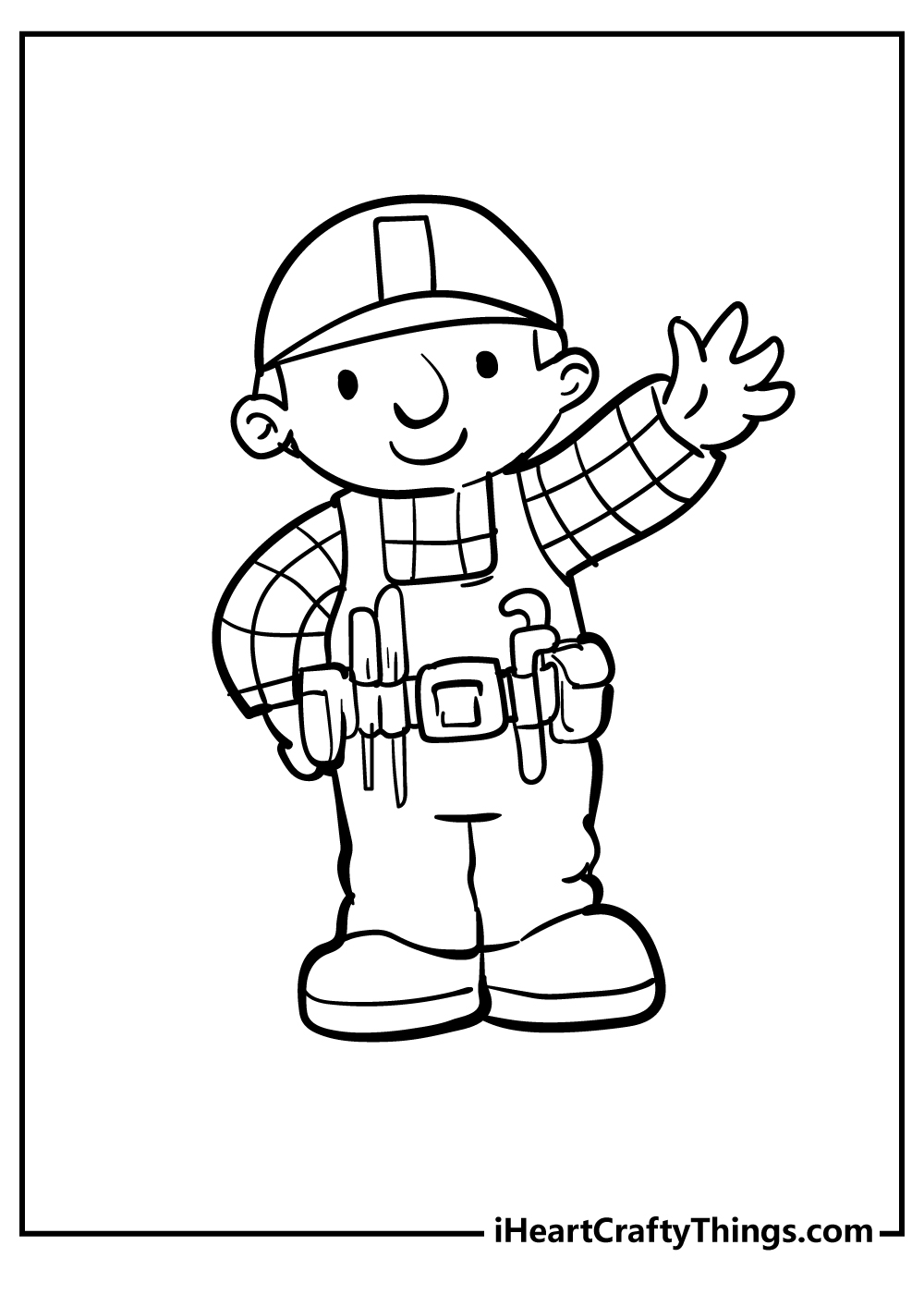 This second free Bob the Builder coloring page for kids features a very happy-looking Bob as he prepares to begin a repair job.
He is ready to go with his bucket in one hand and some plans rolled up under his arm. What kind of project do you think Bob could be working on?
Maybe he's building something new or possibly repairing something. It's up to you now, and you could give a hint of what he may be working on by adding some background details.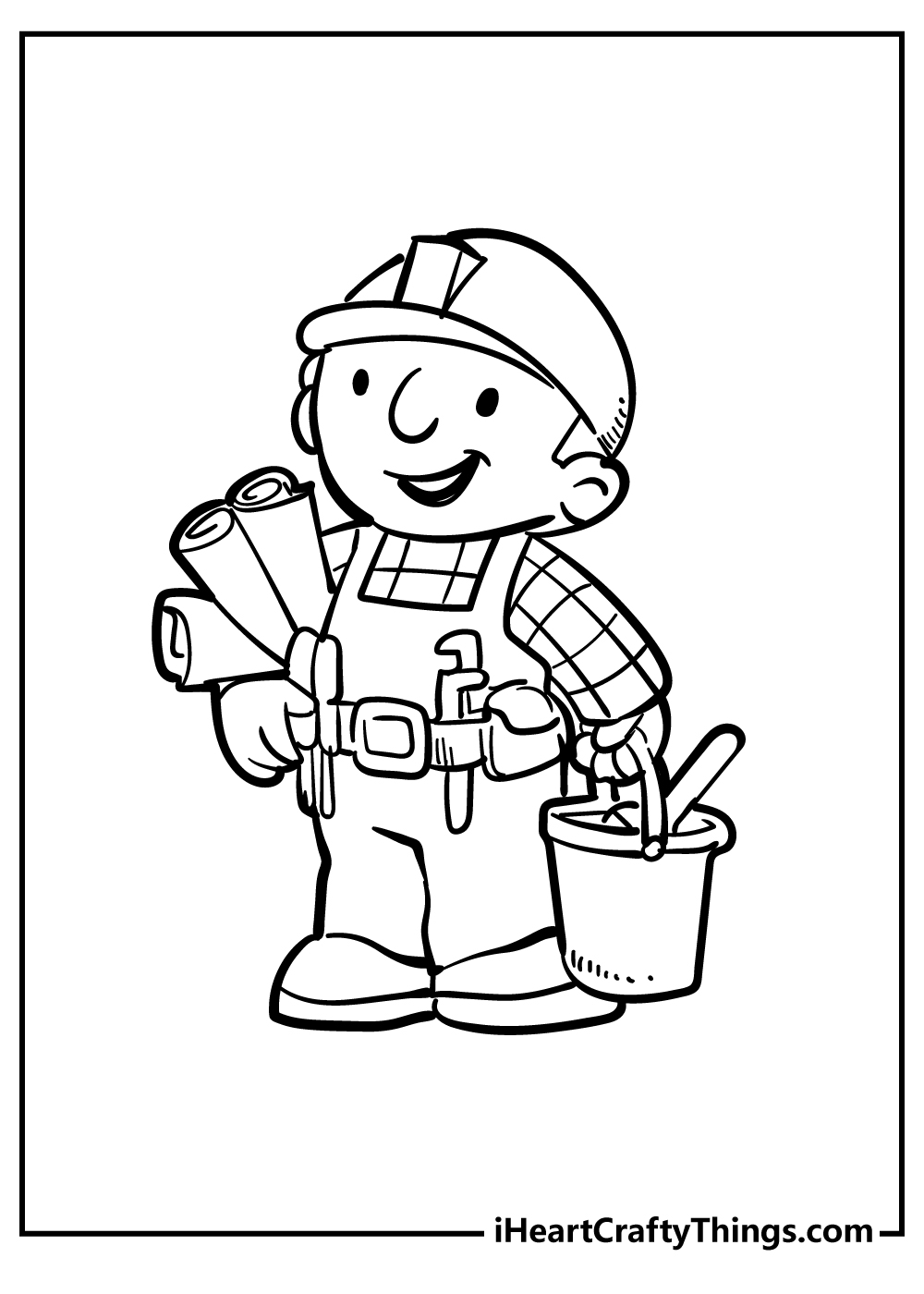 We have another fun image of Bob the Builder for you to color in this next one. Once again, he is looking very happy and content to be on the job.
This is another one where you could show off what he may be working on with the background details that you can add.
What sort of setting can you imagine for Bob to be in?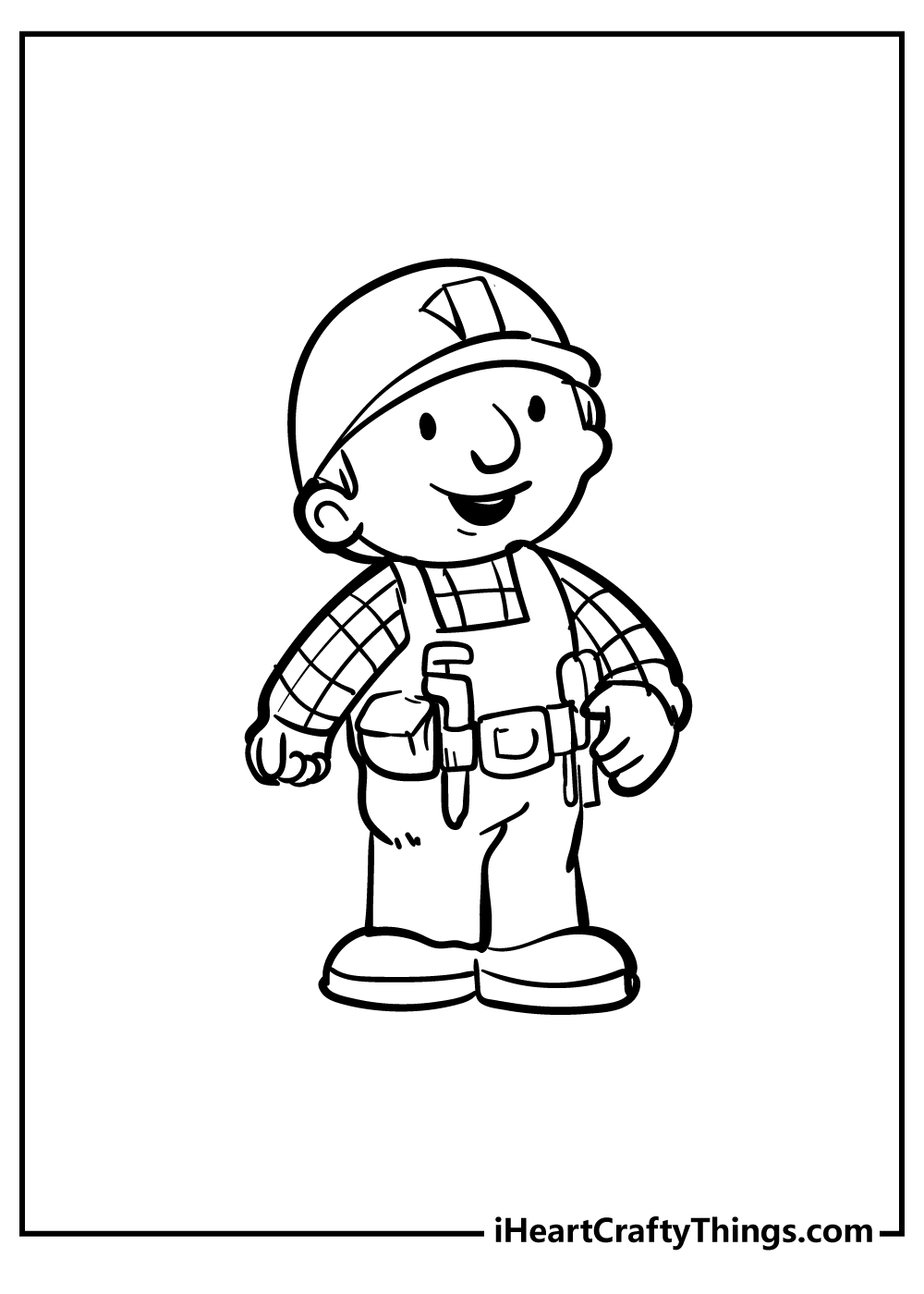 There is a painting theme to this fourth Bob the Builder coloring sheet.
Bob is ready with his paintbrush and paint can at the ready, and this opens all sorts of possibilities for some interesting colors!
You could use some of your favorite colors for the paint on the brush and in the can, and there are other ways to get creative with the concept.
You could use real paint such as acrylics and apply them to the paint on his brush and in the can to give the picture more texture! Will you use mediums such as these for your own picture?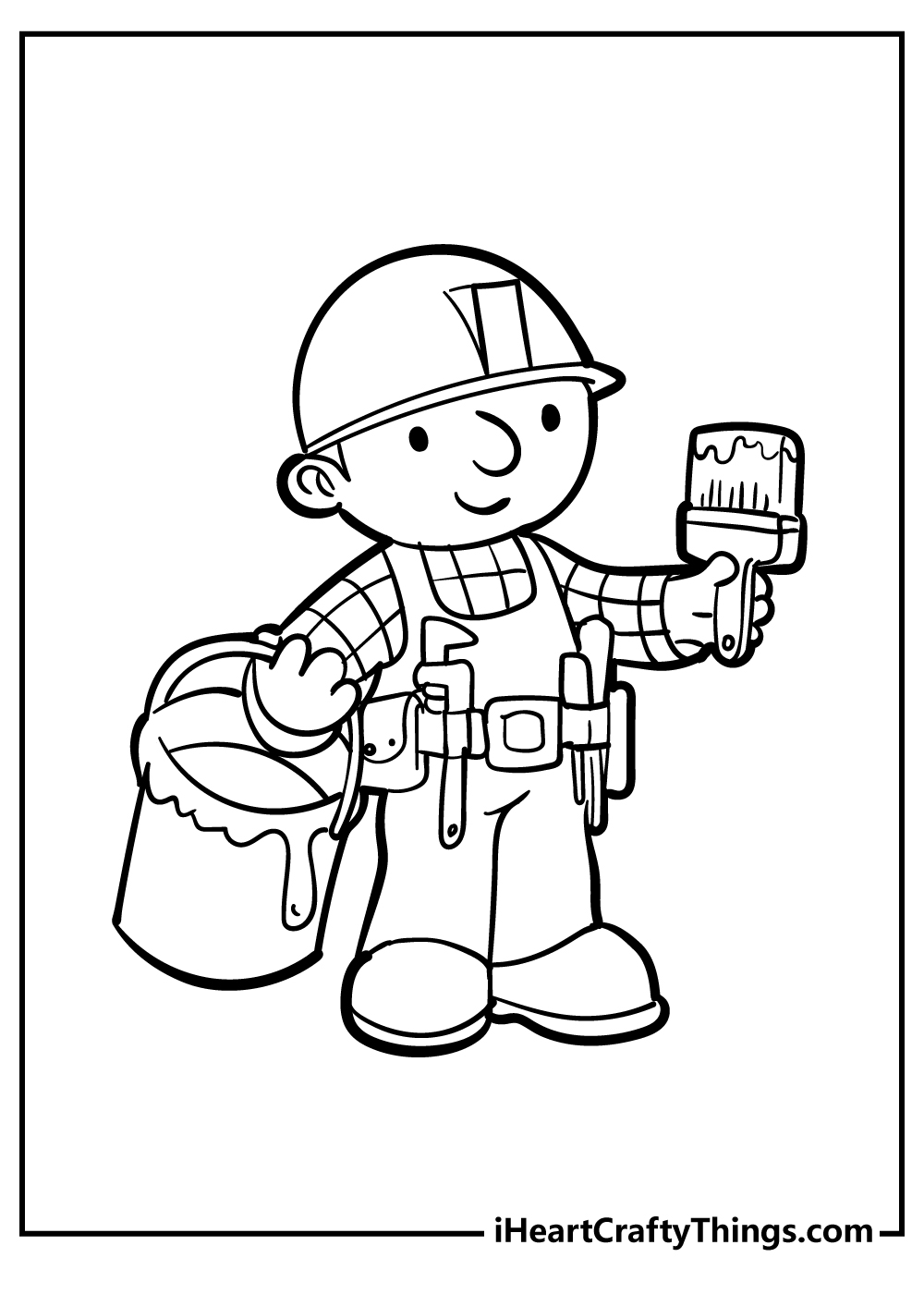 Bob is on the move in this next page that we have for you. Builders in real life will use all kinds of different materials in their work, and Bob is no exception!
Here he is carrying a large wooden beam that he will be using in one of his projects.
Will you create a background or maybe add some fun details to this one?
There many things to contemplate and think about when working on any kind of building project, and that's what's happening in this Bob the Builder coloring printable.
Bob looks deep in thought in this image, probably pondering what he is going to work on next. Maybe you could draw a bubble over his head to show what he is thinking about so deeply!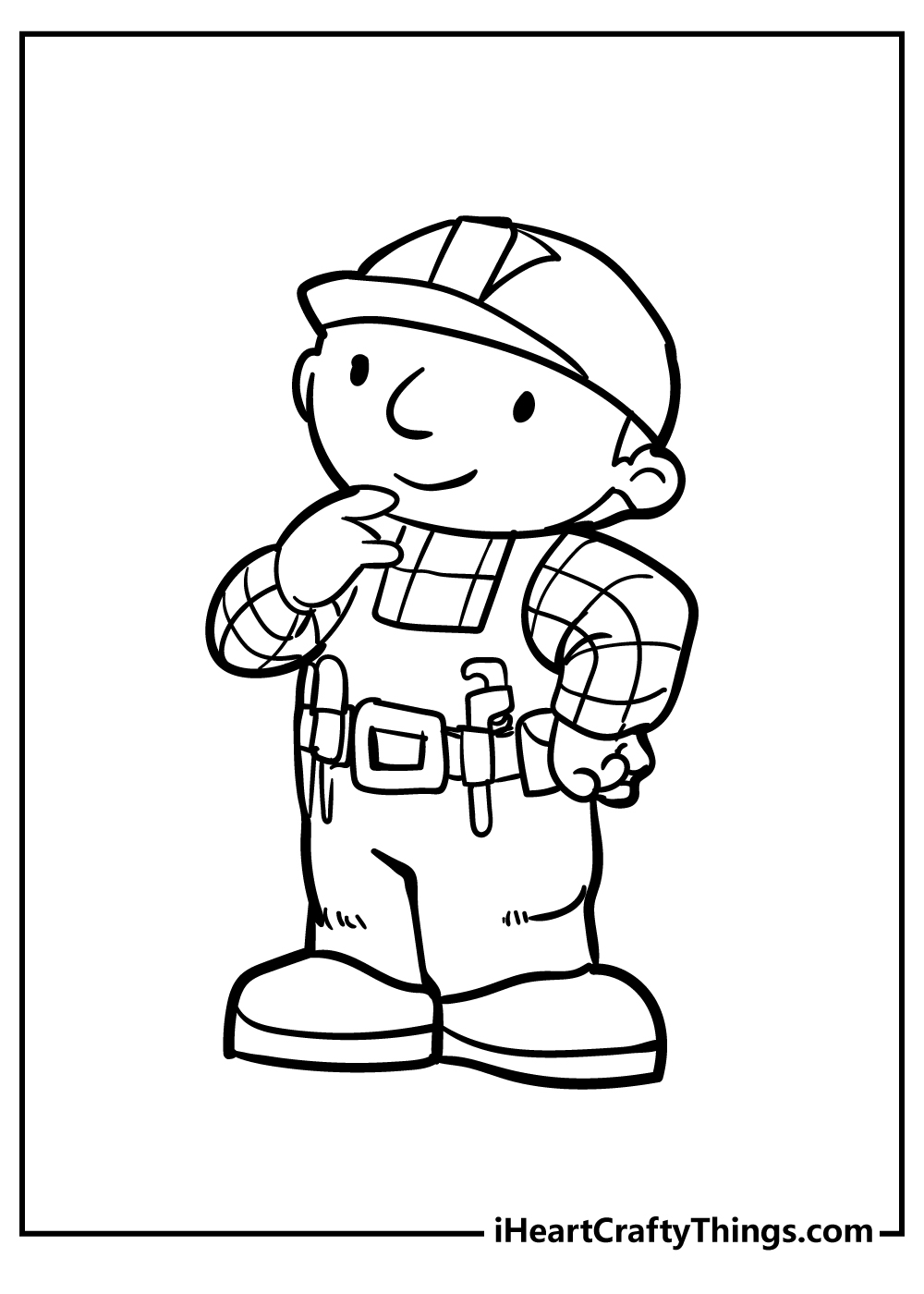 It's important to stay connected when you're on the job, and Bob is making sure everyone is in the loop in this scene! He is on the phone, probably relaying some news to his fellow builders.
He looks pretty happy in this picture, so it looks whatever he is talking about must be good news!
This is another one where you could draw a bubble above him and write some text to show what he could be saying to the person on the other end of the line.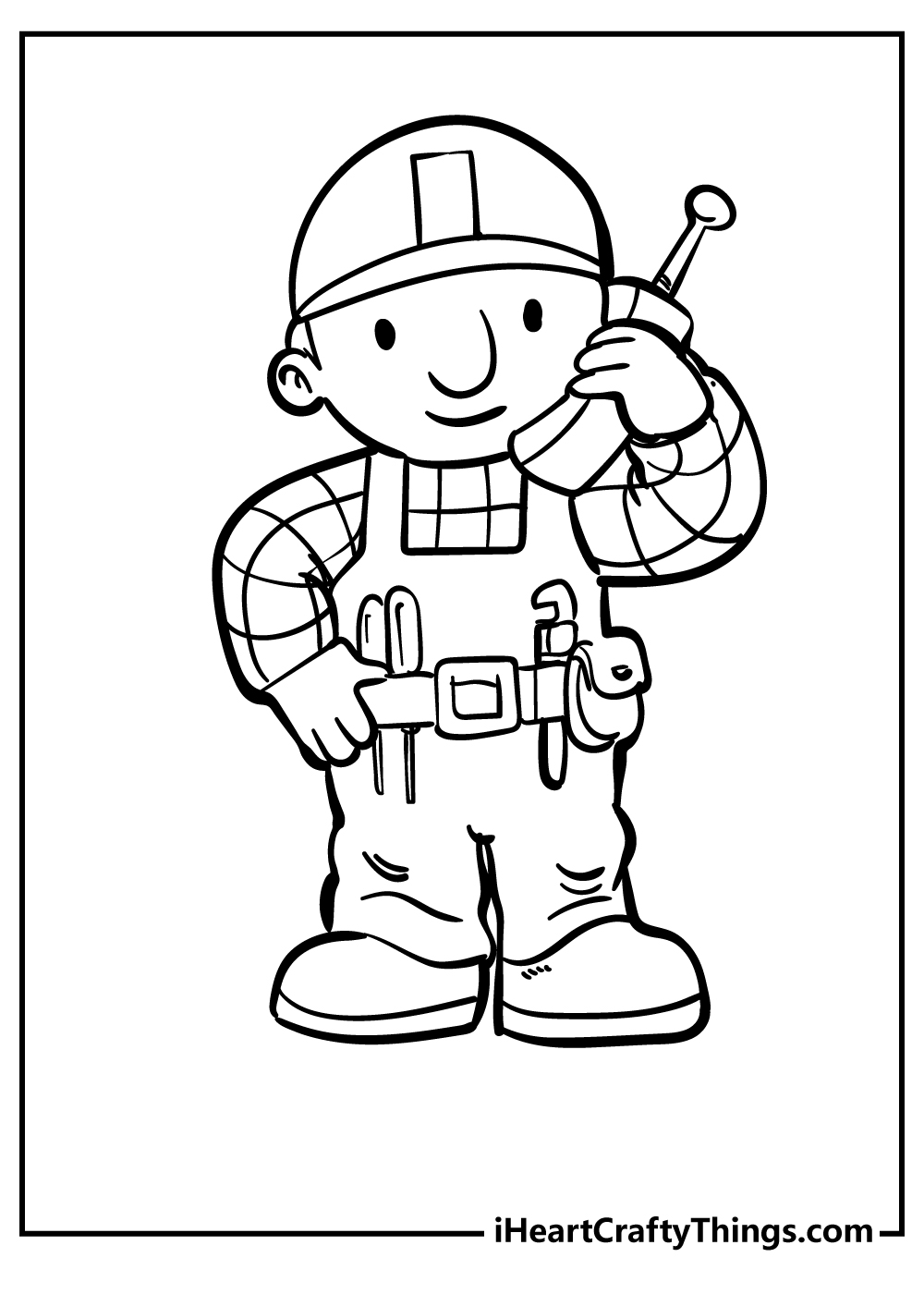 We have some loud coloring fun for you to enjoy in this next picture! Jackhammers seem like they would be a lot of fun to use, but they also require a great deal of skill to operate correctly.
For this image, we would use some really bright vibrant colors for the background, as these colors would help to suggest how loud this scene would be.
What colors do you think would compliment this fun scene?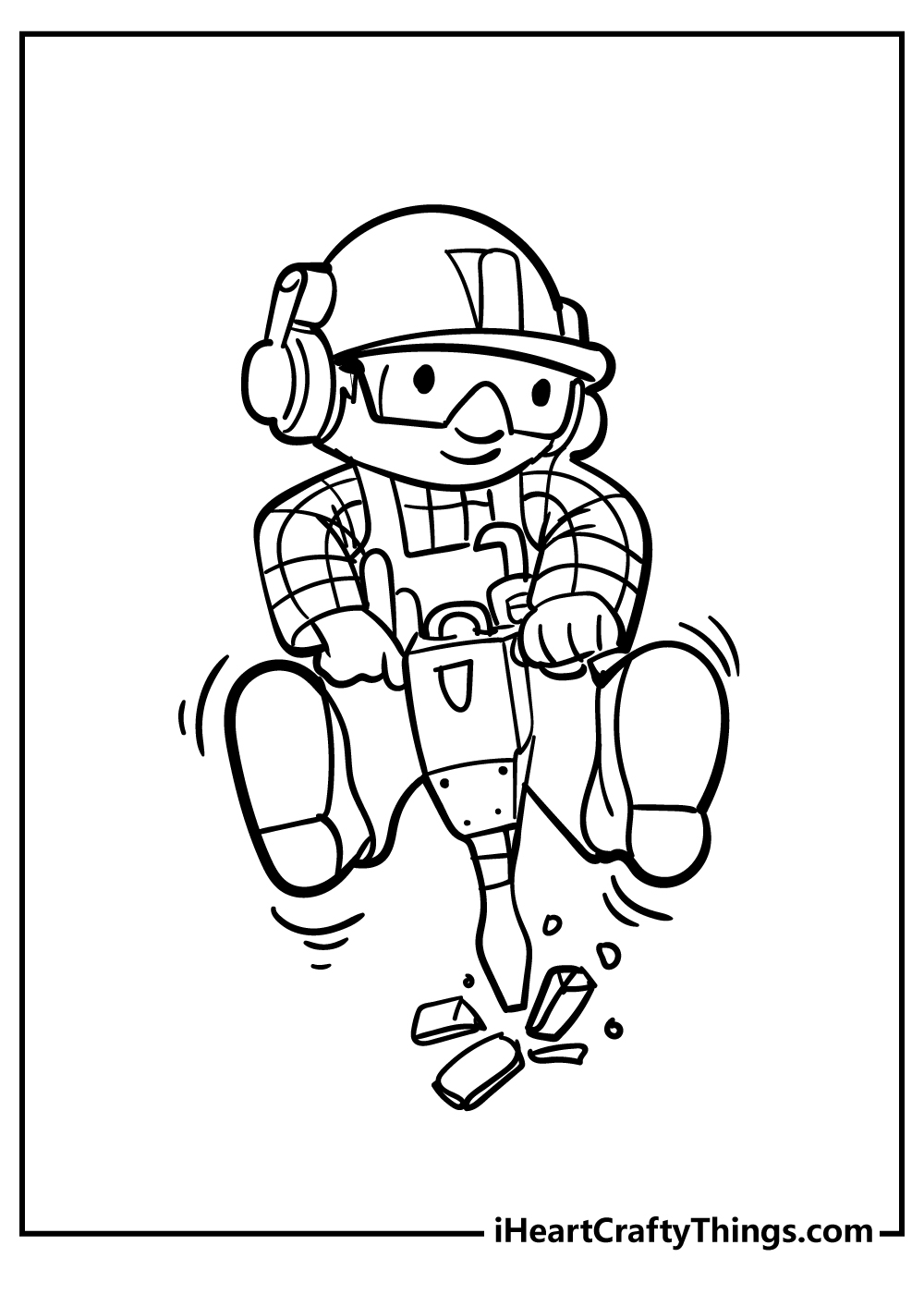 There's a much more peaceful scene in this picture than what we had in the last image!
Bob is here with his cat, and it looks like it's time for the cat to eat! Both Bob and his cat are looking very happy in this one, and it makes for a lovely scene.
Because of the calm feel of this image, we would use lighter colors to fit the relaxing, happy mood.
If we were coloring this one, we would use some watercolor paints to further create a soft, cozy feeling for the picture. Do you think you will take a similar approach?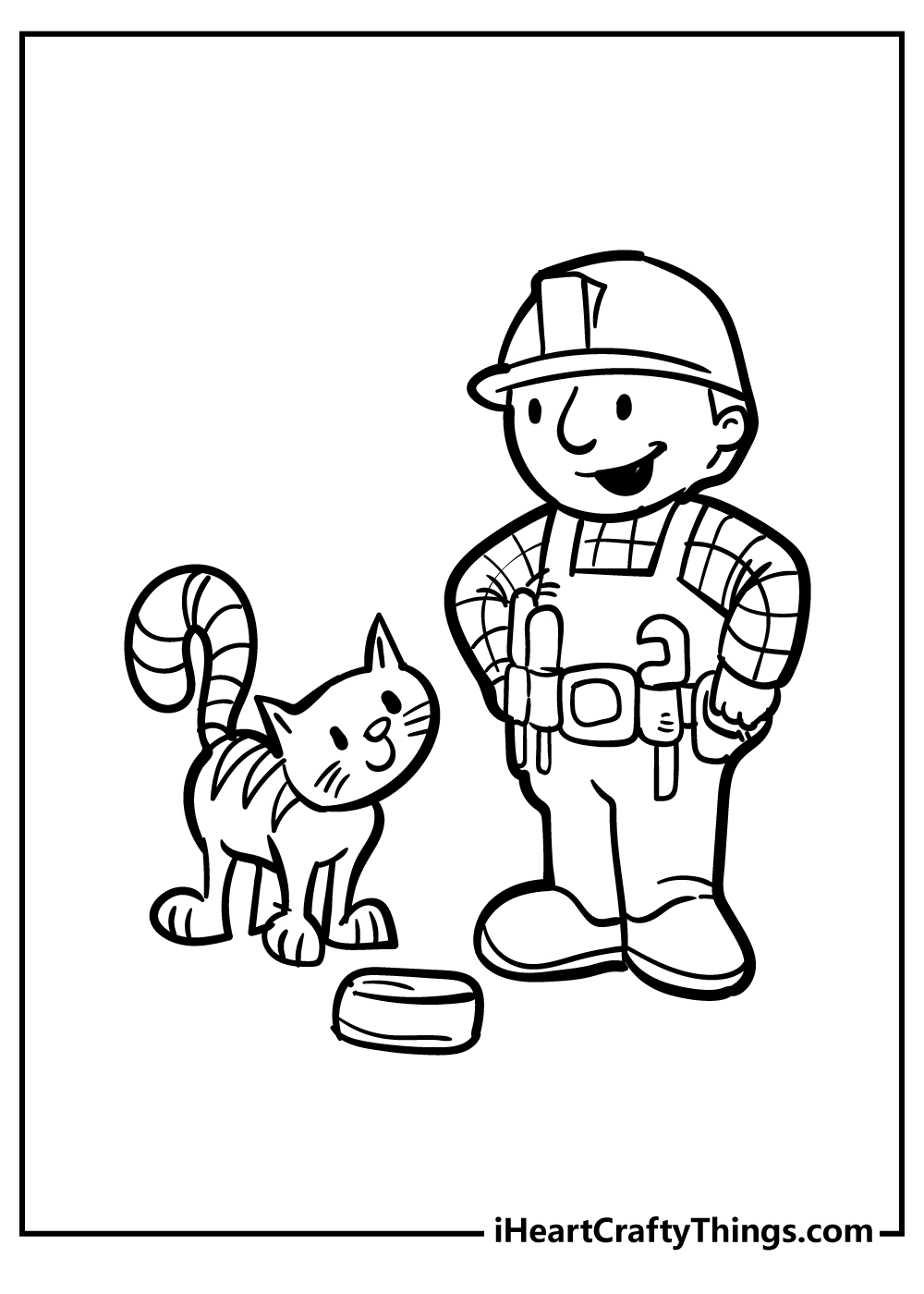 This is the final image for this collection of Bob the Builder coloring pages, and we have another scene where he is looking really happy and proud of the work he is doing.
There is a lot more empty space in this one, and that leaves you more room to get imaginative with it.
You could draw a great setting for him to be in or add some elements to the image to really finish it off nicely.
How will you complete this final picture?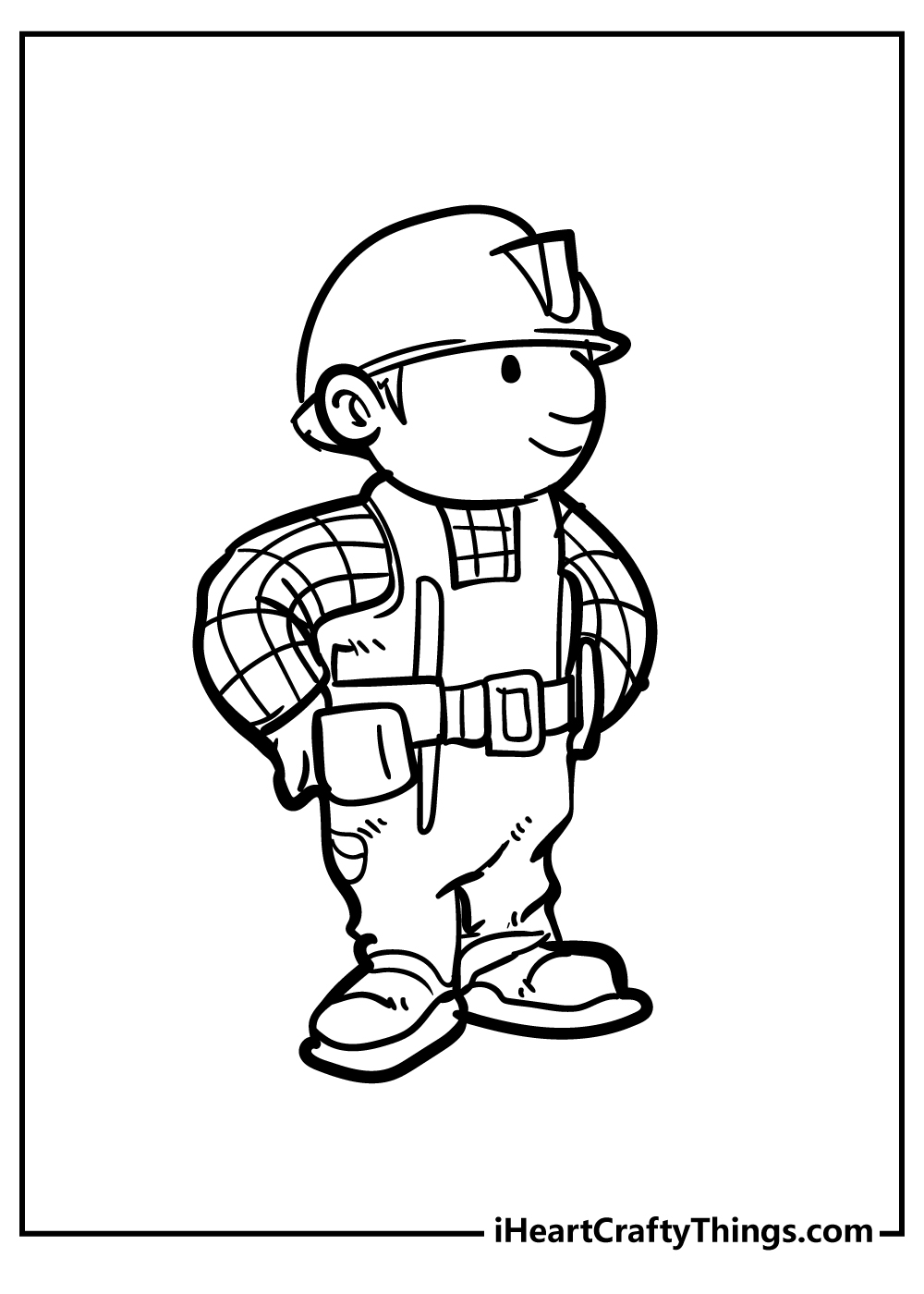 Bob The Builder Coloring Pages – Which will you choose?
This was an awesome collection of free Bob the Builder coloring pages for kids, and we hope you had a great time working on it!
There were tons of amazing scenes to color in this collection, and we know you will have done an incredible job finishing them with your favorite colors.
If you had fun with this collection, you can head to our website for more coloring fun!
We have coloring page collections that cover a wide range of different subjects and styles, and we upload new ones frequently for you to enjoy!
Please also share your creative coloring pages on our Facebook and Pinterest pages to enjoy when they're done!