The Demon Slayer anime is one that is full of action and crazy scenarios. It's also immensely popular around the world with fans of all ages.
Because of this popularity, many fans are looking for a collection of free Demon Slayer coloring pages for kids. Any fans of this awesome anime are in the right place for that.
We have a collection of 15 free coloring pages from the world of Demon Slayer for you to color and enjoy.
There are so many amazing characters for you to color here, and you can really get creative with it as you go!
15 Brand New Demon Slayer Coloring Pages – Free to Print and Color
The main character of Demon Slayer is Tanjiro Kamado, and so it seems fitting he's first in this collection of free Demon Slayer coloring pages for kids.
He can be an intense character, but here he is enjoying a peaceful walk. Once you have colored Tanjiro, you can also work on the background.
This could include adding some colors to the background, but you could also draw some background details to create a more specific scene as well.
The only question is what kind of background you would choose to create, so be sure to get creative!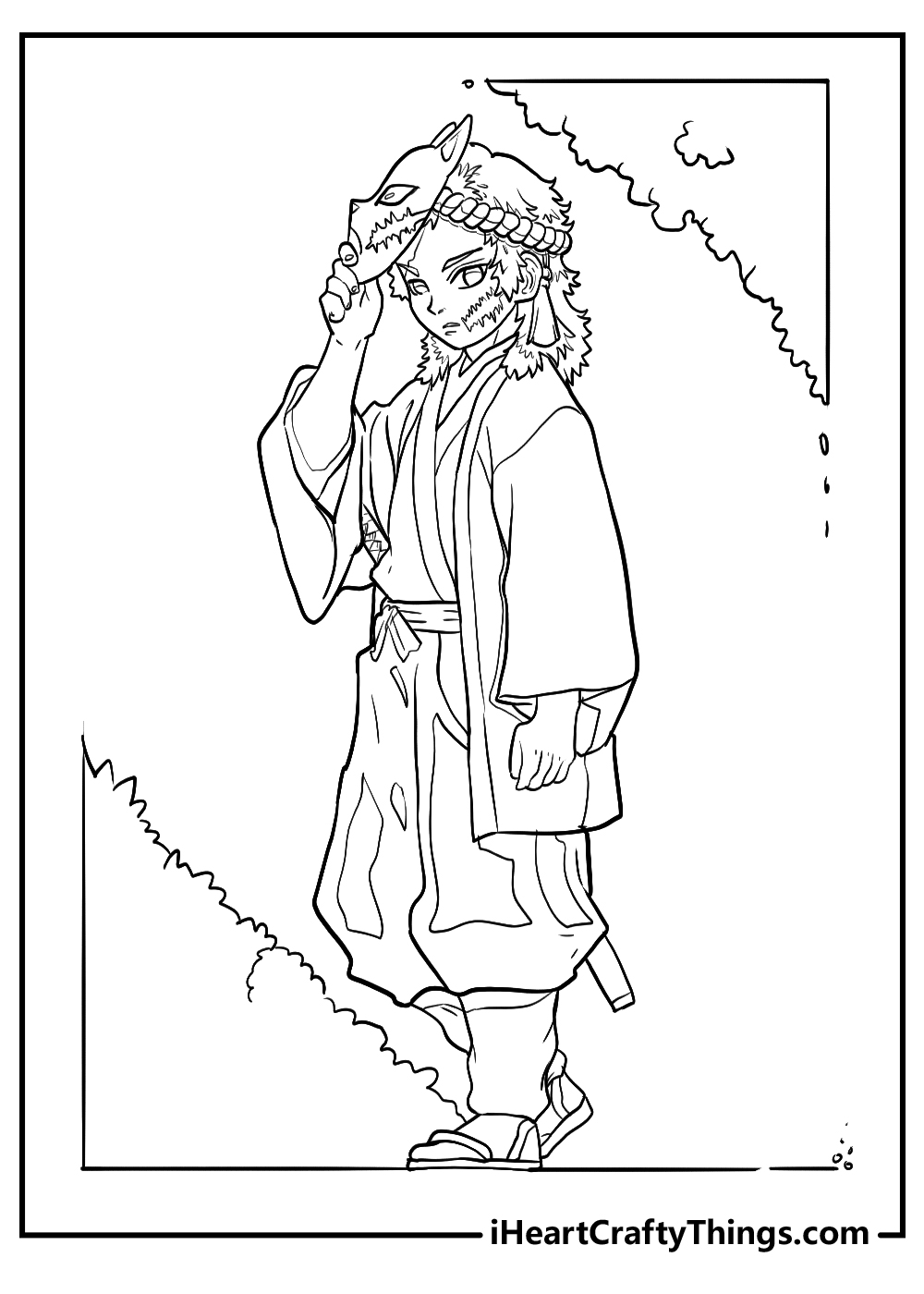 Now that we have seen our main character, we have Nezuko Kamado, Tanjiro's sister, up next. This image not only shows this beloved character but has plenty of small details to color.
When adding color to this page, you can choose to match her appearance to how she looks in the anime. Or, you could go for a totally unique look instead.
Using colored pens would be a great way to add smaller color details to the image, as they are great for finer details. Will you match her to the anime or create a new look for her?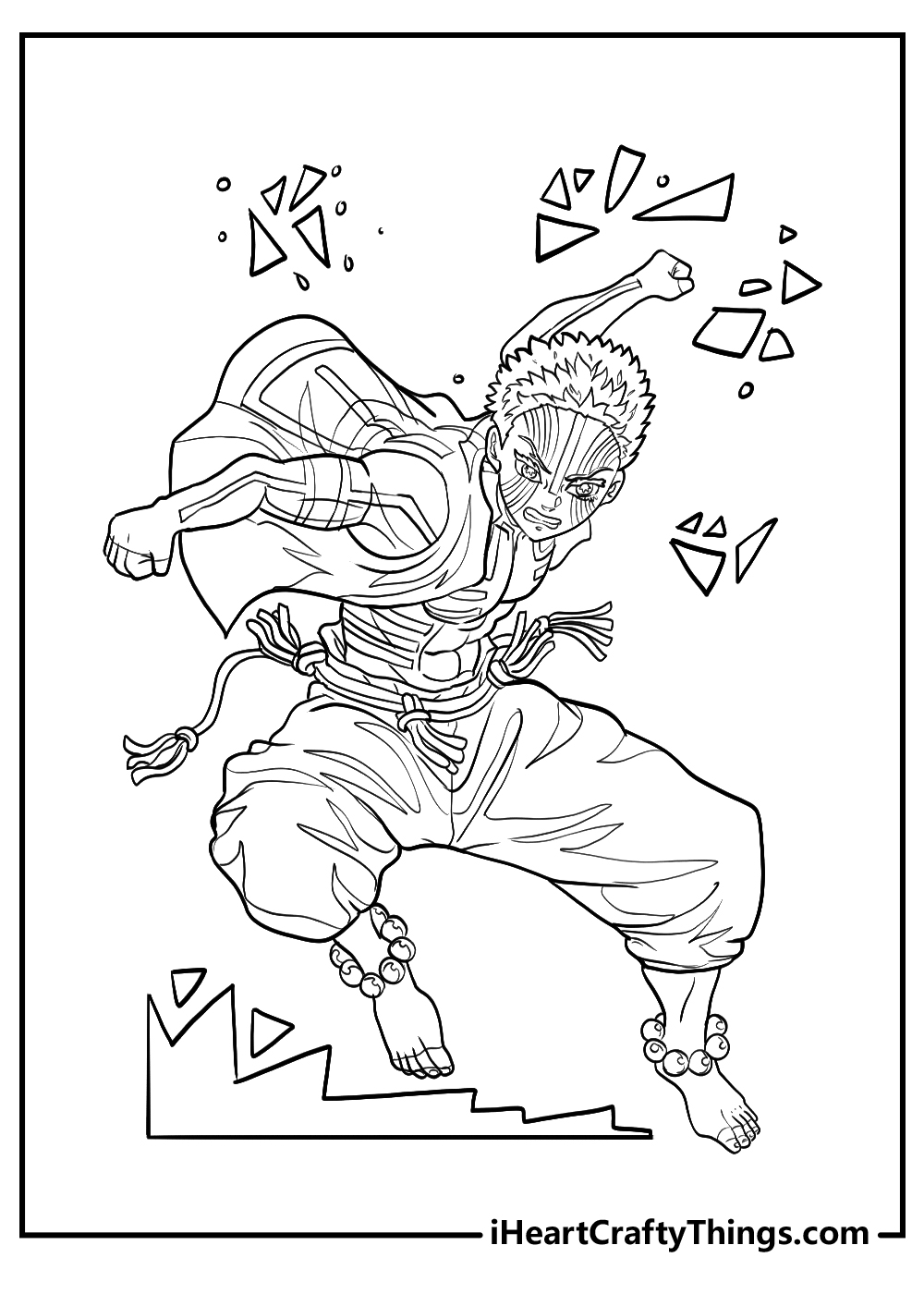 We have another awesome picture of Nezuko to color, and this is a very different pose for her. She is walking while wearing her breathing device, and it looks like flames are following her steps.
Any Demon Slayer fans may be reminded of specific scenes involving Nezuko, and if so then they can use their colors to recreate these scenes.
Of course, coloring is a way to take our favorite characters on brand new adventures as well! So you could use them to create something totally unique as well.
What will you create for this page?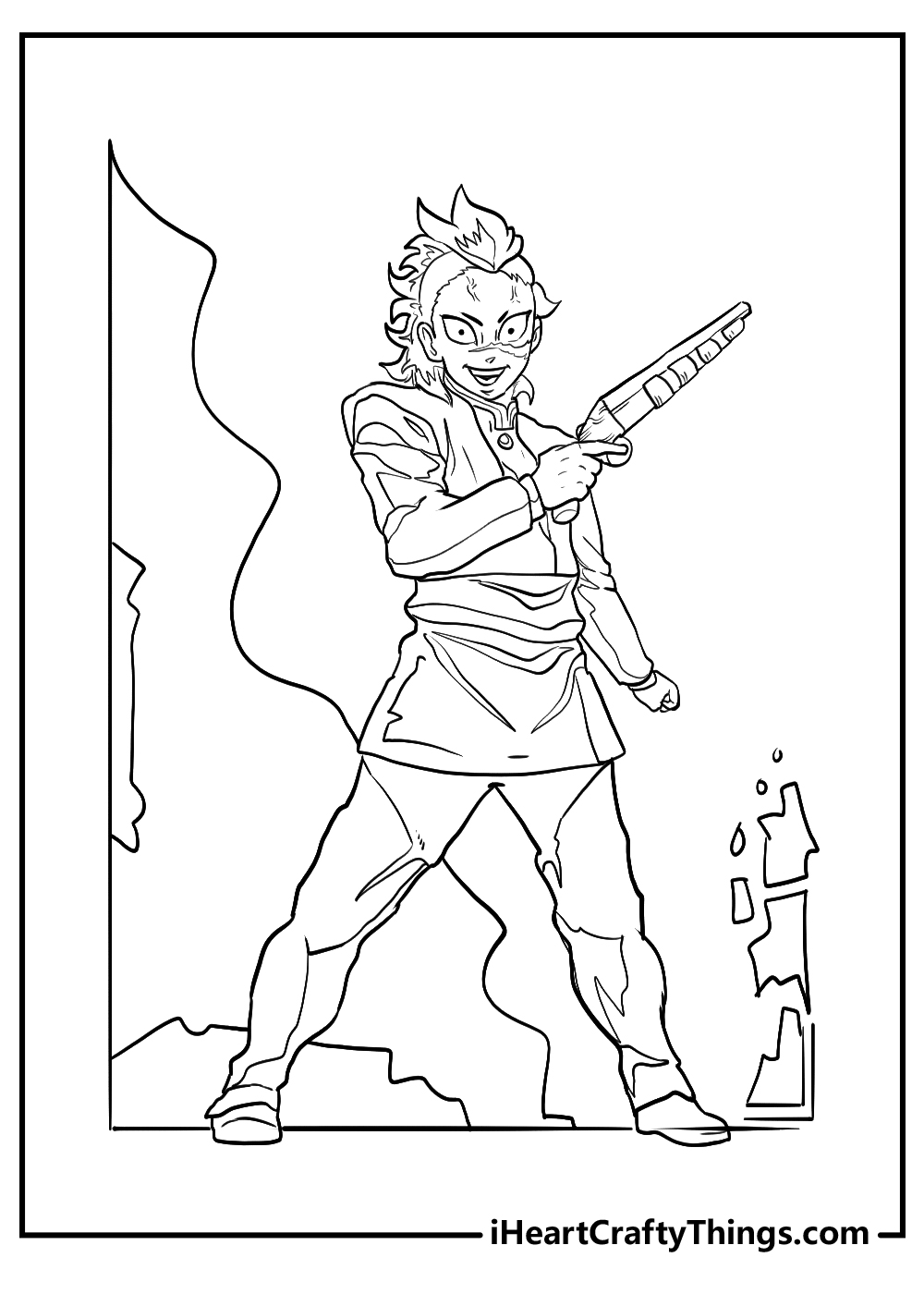 How cool is the pose on this next page? Zenitsu is posed with his katana here, and he looks ready to take on anything. Once again, there are some great details to color here.
We also left the background mostly blank, which allows you to try out different things.
Sometimes having a detailed background is good, while other times it's nice to have a simple colored background.
It's a matter of preference, so you can decide how detailed or how simple you would like the background to be.
For now, you can start by focusing on the character and then figure out how you would like the background to look!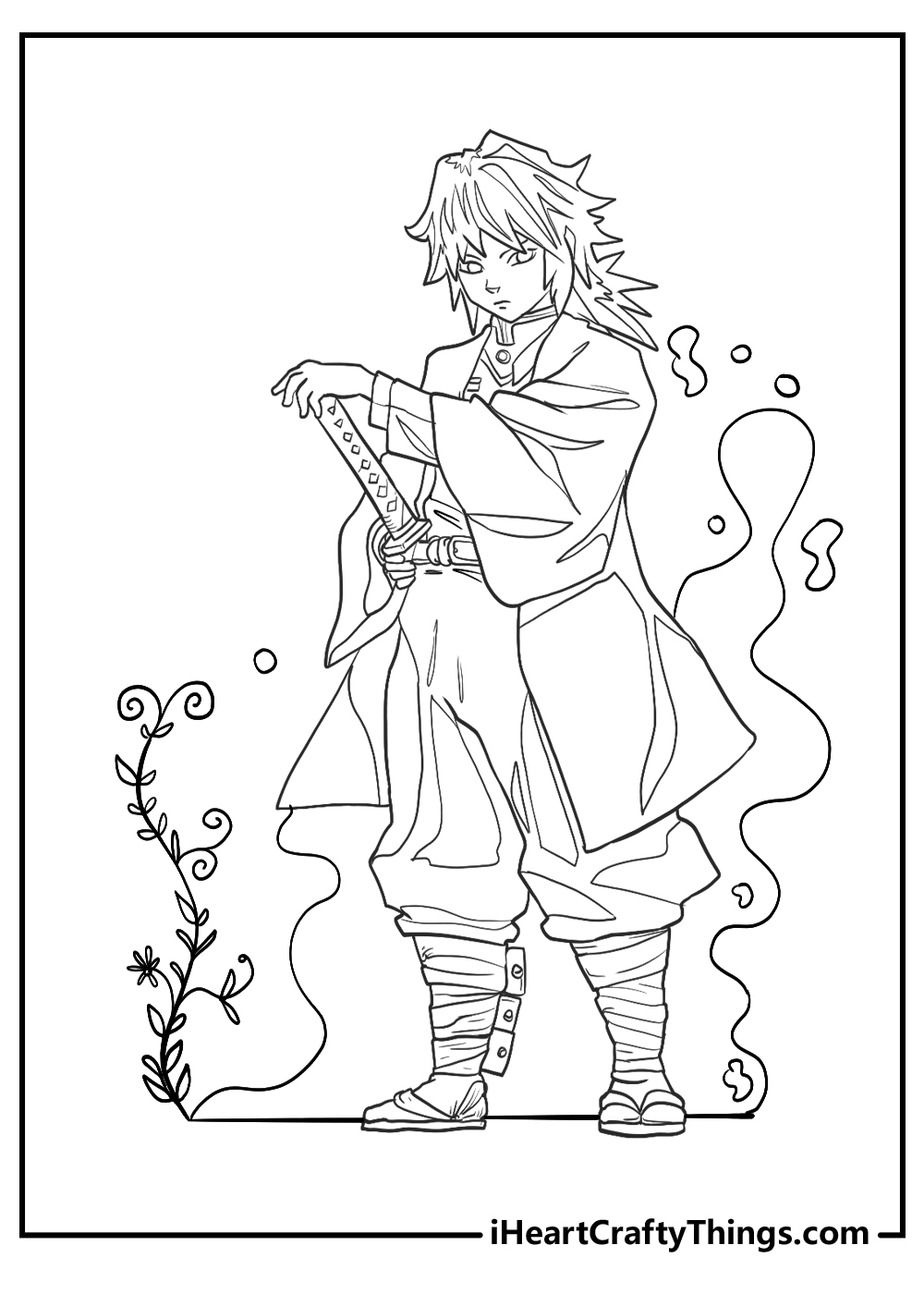 The first image of Tanjiro we presented to you showed him in a relaxed pose. This Demon Slayer coloring sheet shows him in more of an action scenario, and it's really cool!
He's using his katana and is surrounded by an aura of his powers. Once you have colored this page, it will look like it came straight out of the anime!
You could draw some additional elements that would make it look like your favorite battle scene that involved Tanjiro! Does this page remind you of a specific scene from the anime?
Shinobu Kocho is one of the most visually distinct characters in the series. This is because of the butterfly headpiece she wears which makes her unmistakable!
Not only does it make her look distinctive, it also gives you some pretty and intricate details to color.
This is another page where I would recommend using some colored pens, at least for the smaller details.
That would not only make it easier to color, but the colors would be so bright and vibrant as well. Do you think you will use them here?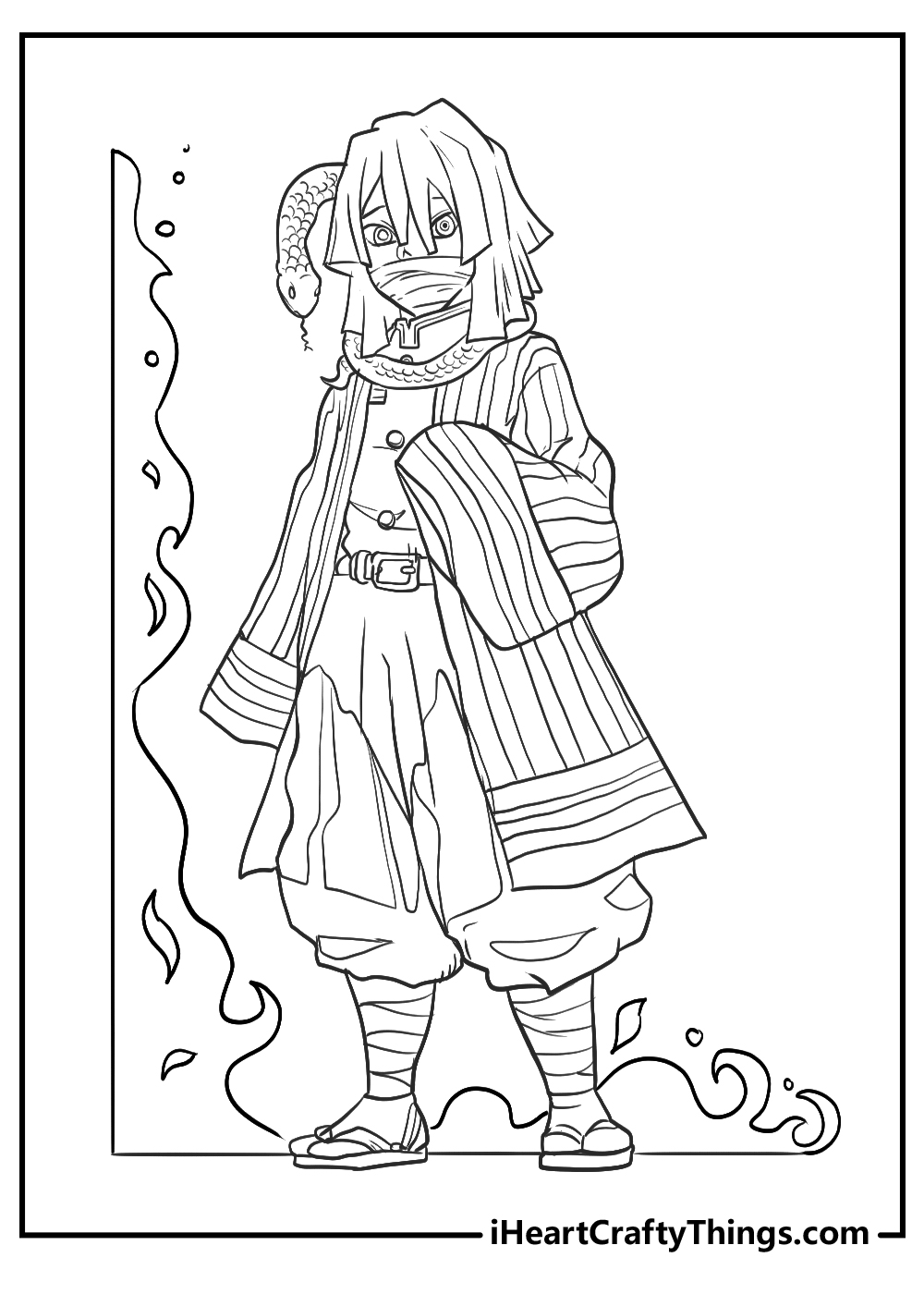 It's easy to feel the power on this next page! Tanjiro is gathering his powers here, and it brings to mind many epic scenarios from the series.
When you color this or any other pages, remember that you can get creative with it if you want to as well.
You can stick to the established colors, or you could go for a new look for him.
Experimenting with different art mediums can also be good to figure out the best ways to portray color effects as well. This should be a fun picture to color, no matter how you do it!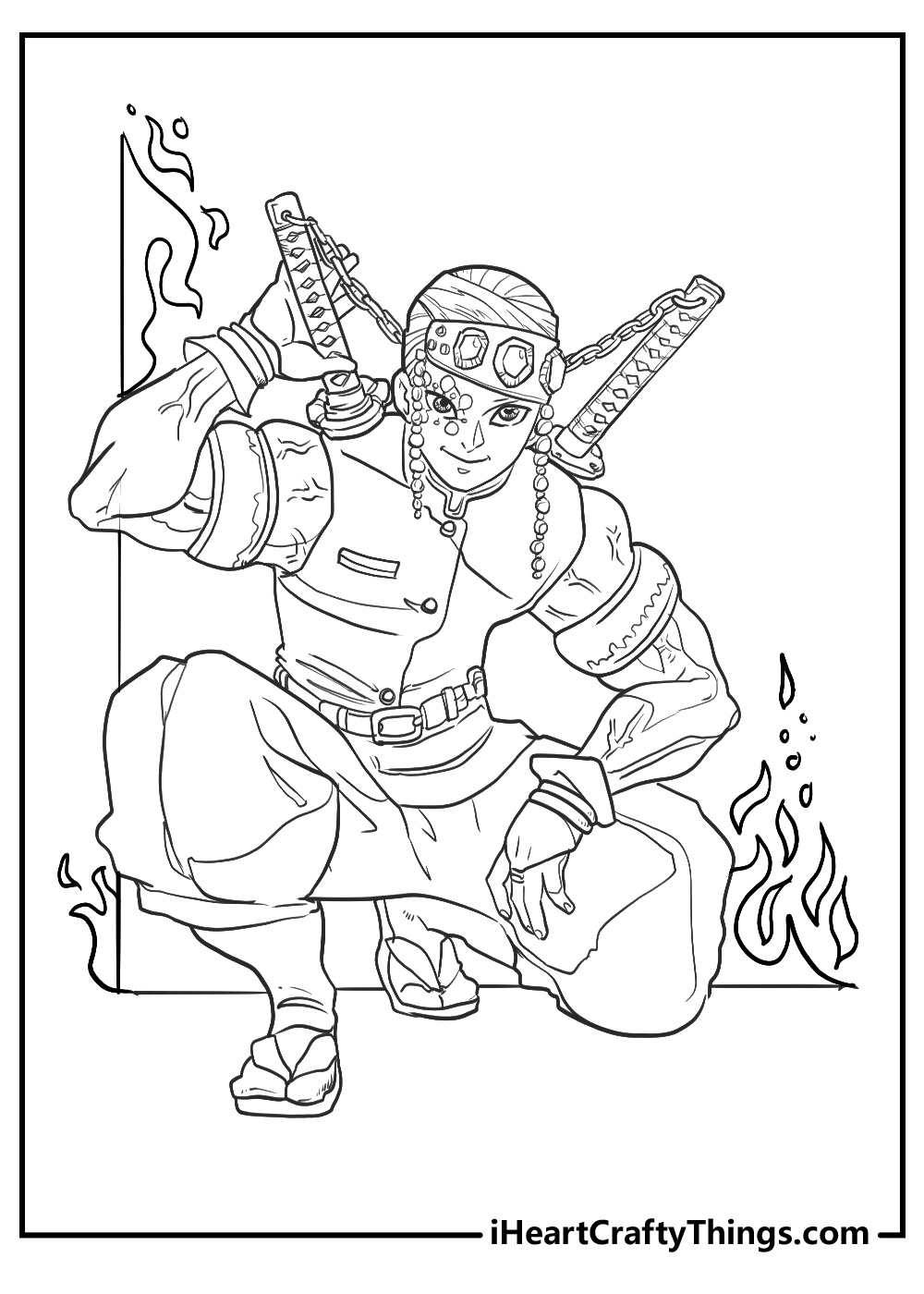 Inosuke has to be one of the most interesting and, let's face it, weirdest-looking characters in the anime! His boar mask is really iconic, and he has a really interesting character as well.
I'm sure that many Demon Slayer fans were happy to see him represented in this collection! Not only do we get to see this iconic character but also see him in an awesome pose.
There are some great opportunities for color here that you can really experiment with. I would love to see how this Inosuke picture turns out when it's done!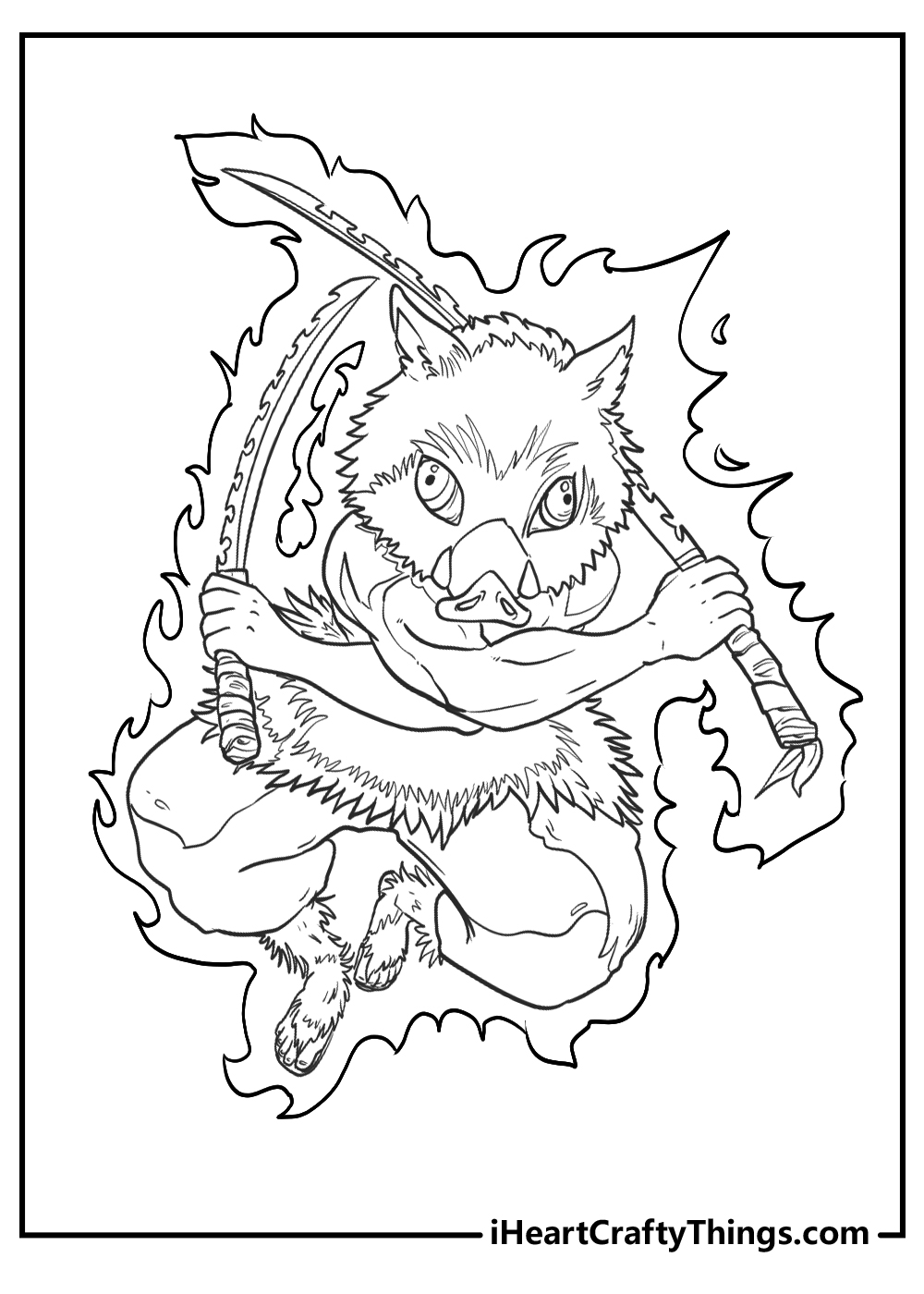 Tengen Uzui is another character from Demon Slayer that stands out. He has a distinctive jeweled headpiece, and it makes him look really unique and cool.
And, as always, it creates some great opportunities for you to add some amazing color details to the image!
If you want to make the jewels sparkle, you could use some glitter glue and apply small dabs.
That would add a whole new dimension to the picture! What other crafts could you use here?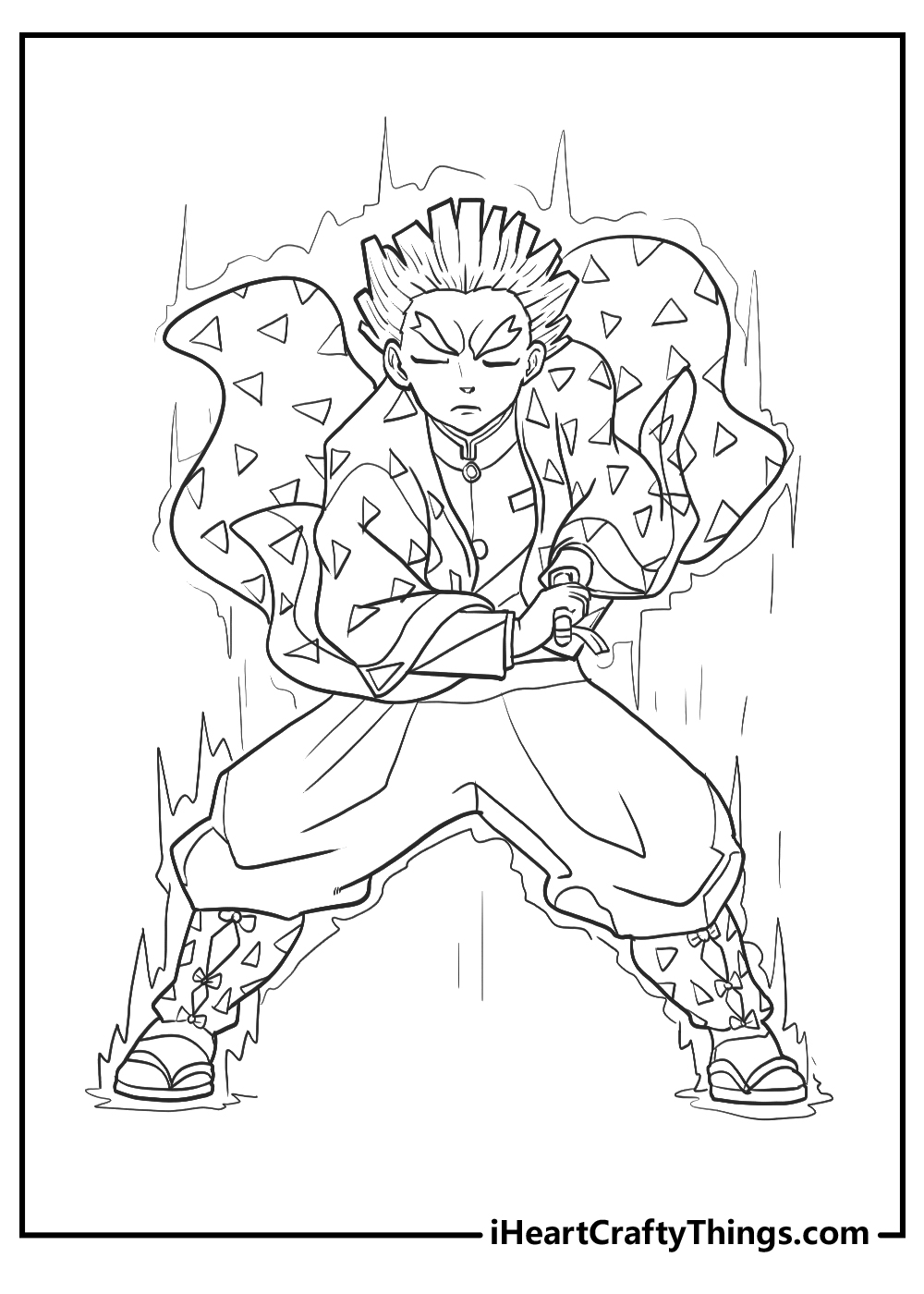 The star of this next free Demon Slayer coloring printable is Obanai. This character has a black and white color scheme for his clothing, making him a really distinctive character.
However, perhaps his most defining feature is the white snake he carries around his neck. Because of his more muted color scheme, this character is a bit more limited in terms of colors.
You can compensate by using more vibrant colors for the background or by drawing extra details. There are loads of ways you can make this page colorful while sticking to his usual color scheme!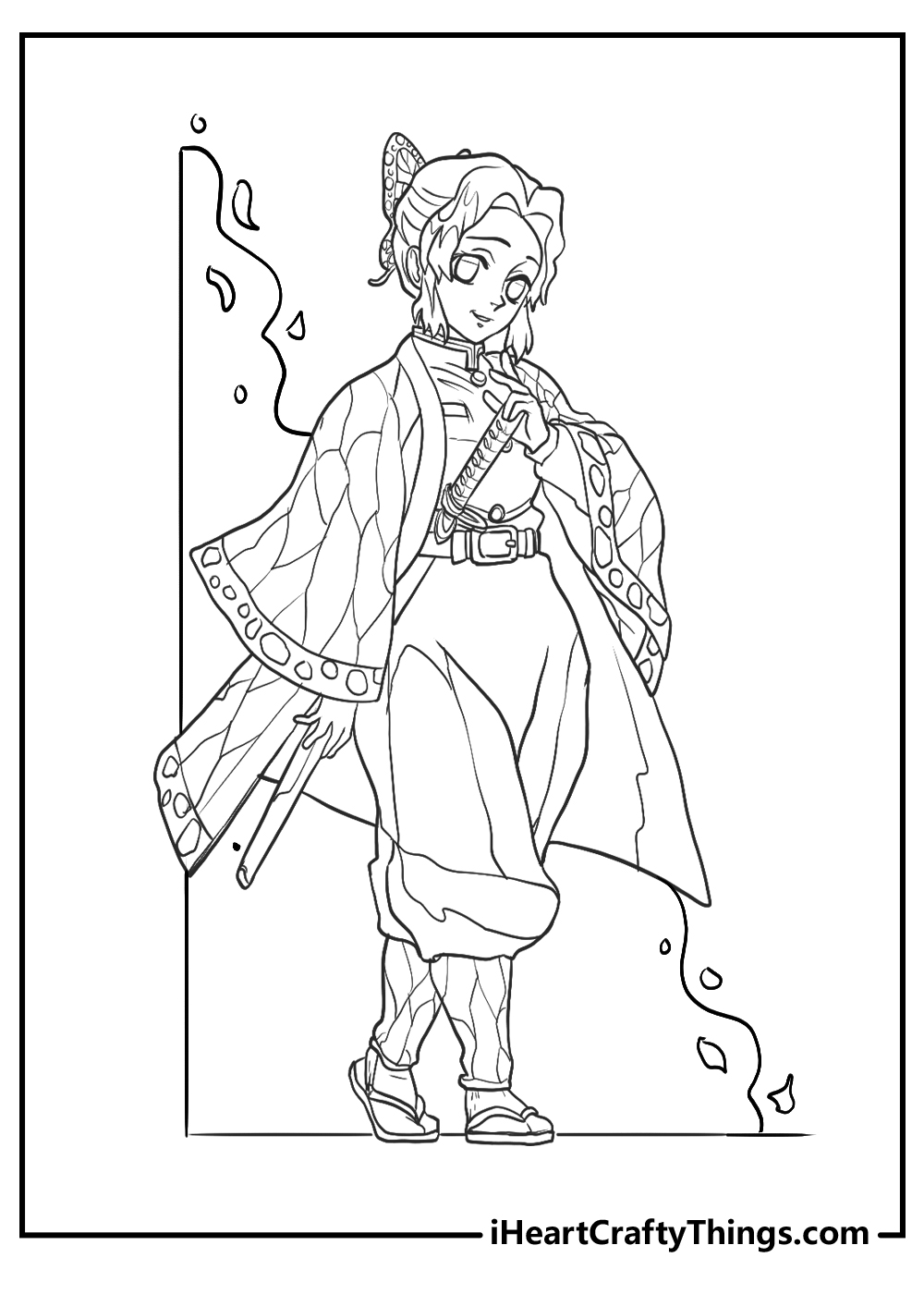 The fiery Kyojuro is on this next page, and it's an awesome depiction of this character! He has distinctive red and yellow hair, so you will get to use all sorts of warm colors on this page.
When portraying fiery elements, I like to either use colored pens, markers or acrylic paints. These tend to make the colors really pop, but sometimes you can keep the colors softer, even for pictures like this.
It depends on what you like, so be sure to go with your creative instincts on this one.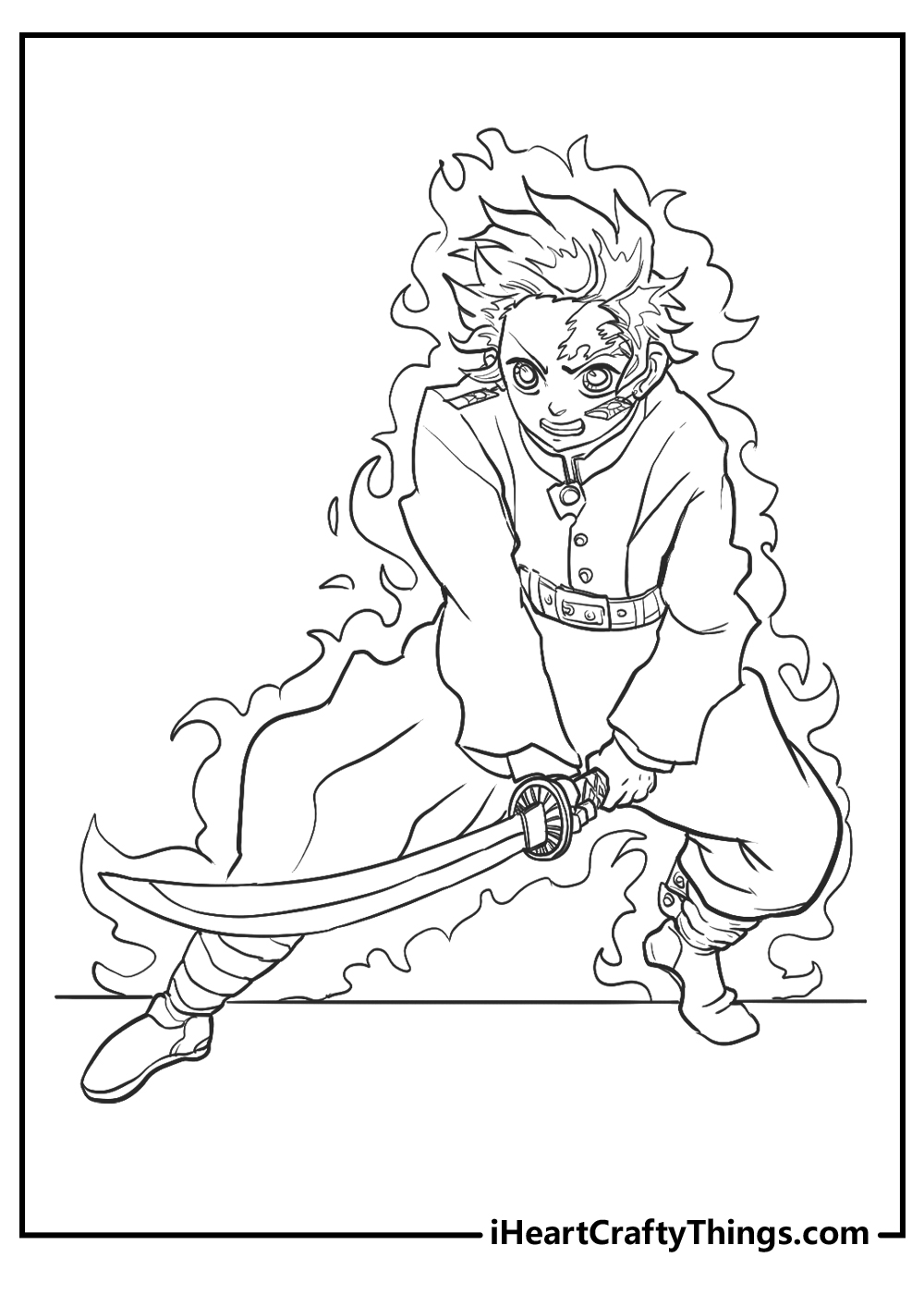 The composition of this next page really shows off this character and captures his personality. I love the small plant detail on the base he is standing on, as it adds some interesting detail to color.
When you color a page, don't be shy to mix different art mediums as well. For example, maybe you want to use colored pencils for the character and then paint for the background.
That's just one example, but there are loads of ways you can use certain art tools and mediums together to complement one another.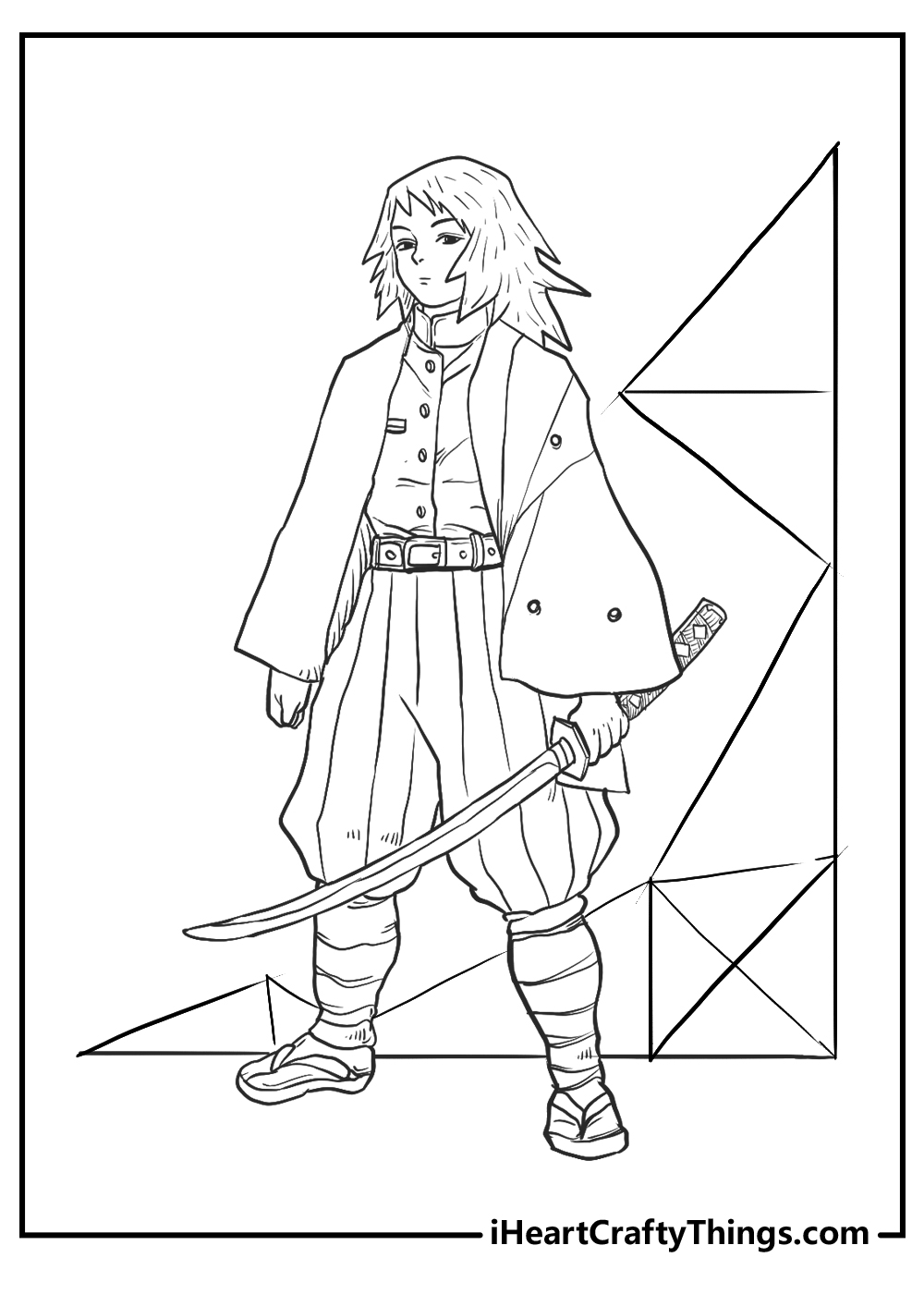 Genya is another awesome character in a cast full of awesome characters! Here he is posed with his signature pistol, and he looks super cool even without any color.
Imagine how much cooler it will look once you have finished adding color to the page! He has a darker color scheme, so I personally would use watercolor paint or colored pencils.
These mediums allow for a softer look to the colors, so they can work well for more muted color schemes. Which art mediums do you have in mind for this iconic character?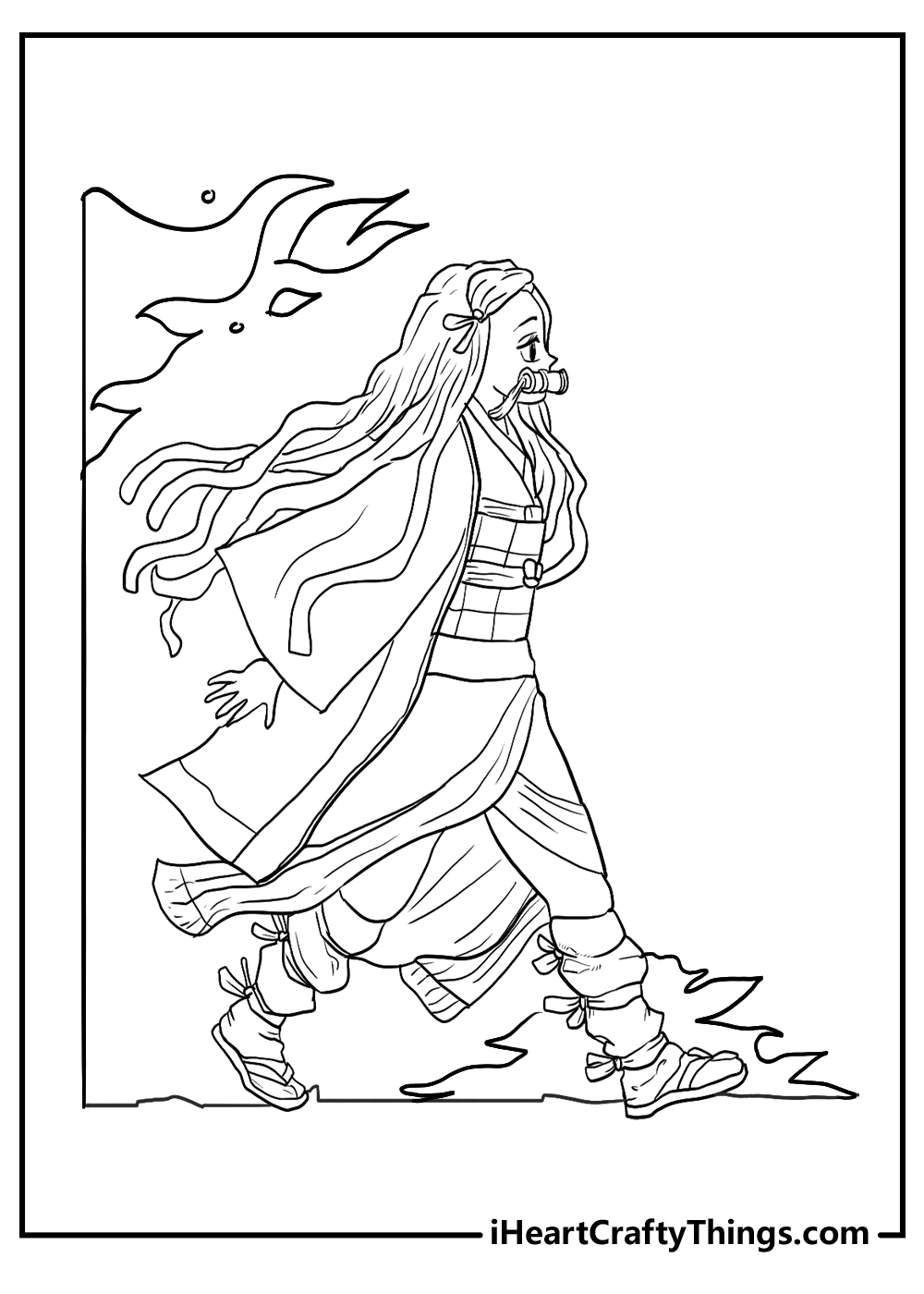 The villainous Akaza is up next for this coloring page. The distinctive tattoos on his body could be tricky to color, so you may want to use some colored pens for those details.
Any mediums that would allow for precision would work, though. It's more about using what is comfortable for you than it is about there being a right or a wrong way to do it.
No matter what you use, we are positive that this page will look amazing once it's done!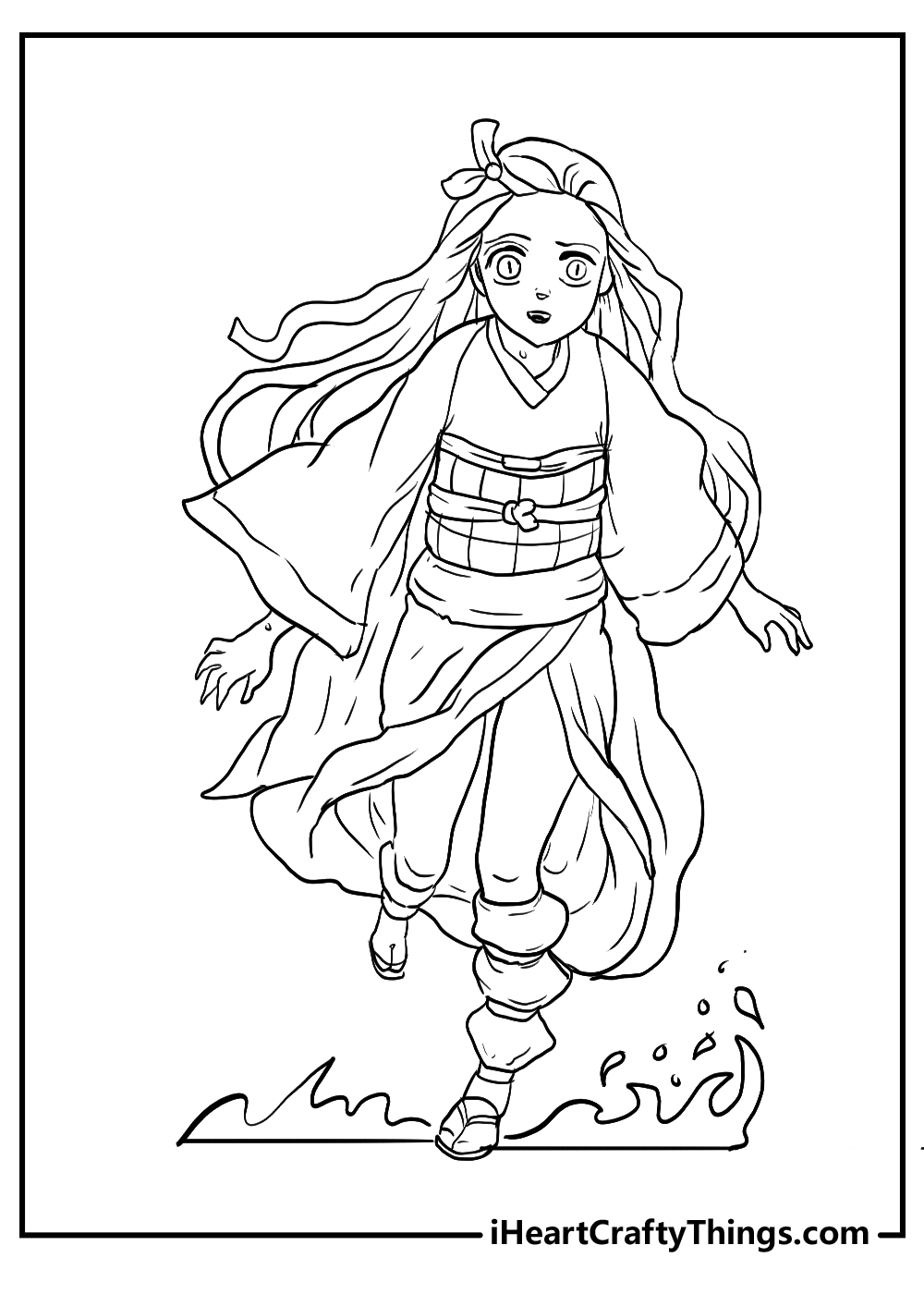 The final page of this collection of Demon Slayer coloring sheets shows Sabito, a character who helps Tanjiro on his journey. This is a really cool pose with tons of great details for you to color.
There are some minor background details, but you can also add some more of your own if you wish. If you're feeling really creative, you could even draw additional characters into the picture!
This would be a great way to recreate some of your favorite interactions from the anime. Who would you like to potentially add to this picture?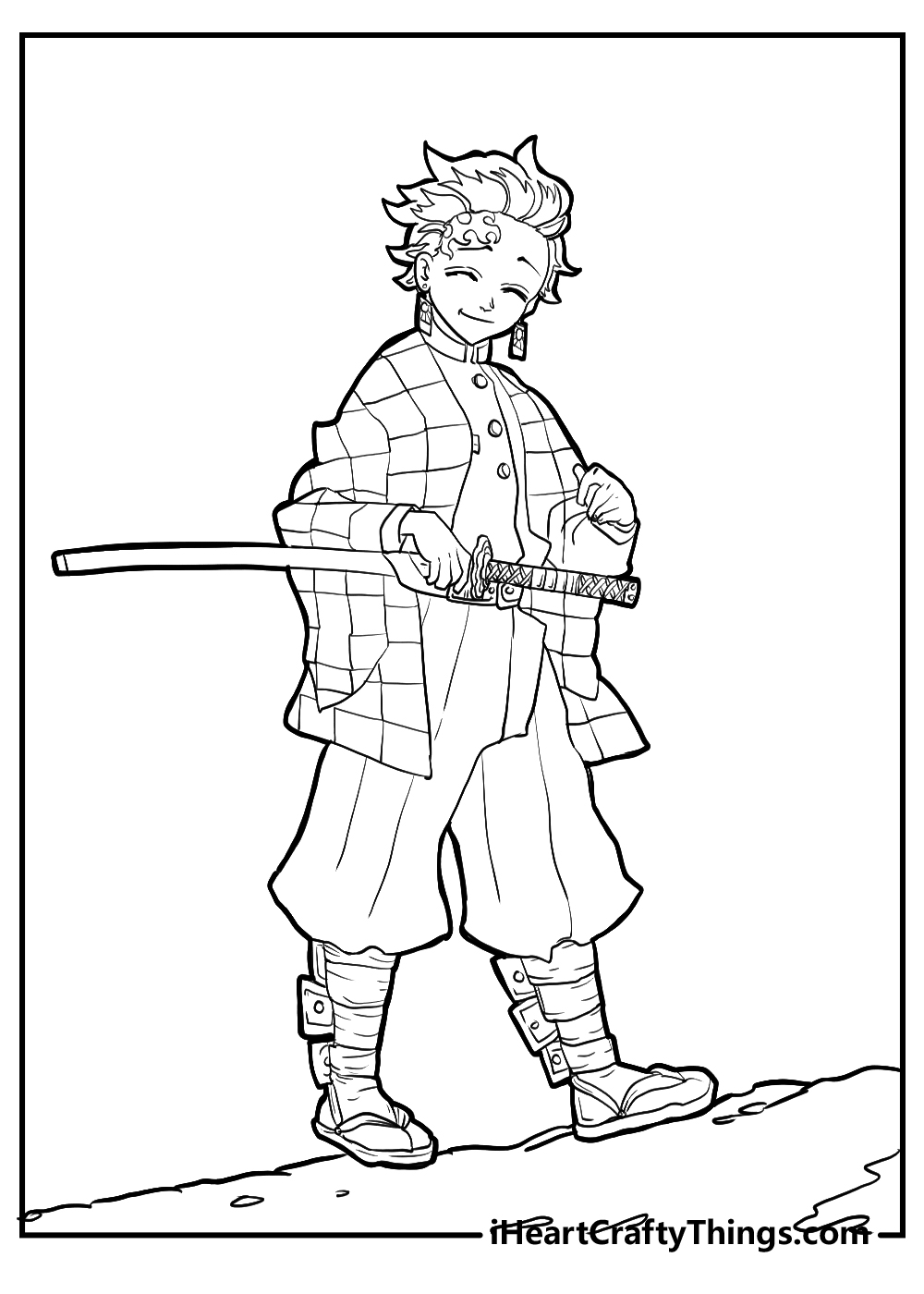 Demon Slayer Coloring Pages – Which will you choose?
That concludes this action packed collection of free Demon Slayer coloring pages for kids! We tried to include a wide range of characters from this iconic anime.
Hopefully your favorite characters appeared for you to color. There are so many unique characters in this collection, so you will be able to use so many different colors and techniques to complete them.
You can print your favorite pages as many times as you like as well, so feel free to try out lots of different approaches.
If you know any other Demon Slayer fans, then you can also share the collection with them!
It's always awesome to see how you complete these coloring pages! So, you can share some of your finished artwork on our Facebook and Pinterest pages for us to enjoy.