The Naruto series is one of the most popular in all of anime, and the titular character is one of the most beloved characters in the medium.
In the series, we follow ninja Naruto Uzumaki on his many adventures.
He is also joined by manu other characters, but this collection of free Naruto coloring pages for kids focuses purely on our hero!
Fans of the character will have plenty of fun awaiting them in this collection.
He is drawn in many different styles and poses, so you will be able to use all sorts of colors and techniques on these pages. So let's begin this journey and look at the first page we have for you!
15 Brand New Naruto Coloring Pages – Free to Print and Color
For this first Naruto coloring sheet, we see our hero striking a very cool pose.
He is wielding a weapon and preparing to strike, and the look of confidence on his face makes him look ready for anything.
The background is also separated into segments, meaning you could use some amazing colors for each section as well.
Now you can decide which colors you think would be best for this portrayal of Naruto!
What do you think you will use to get this awesome collection going?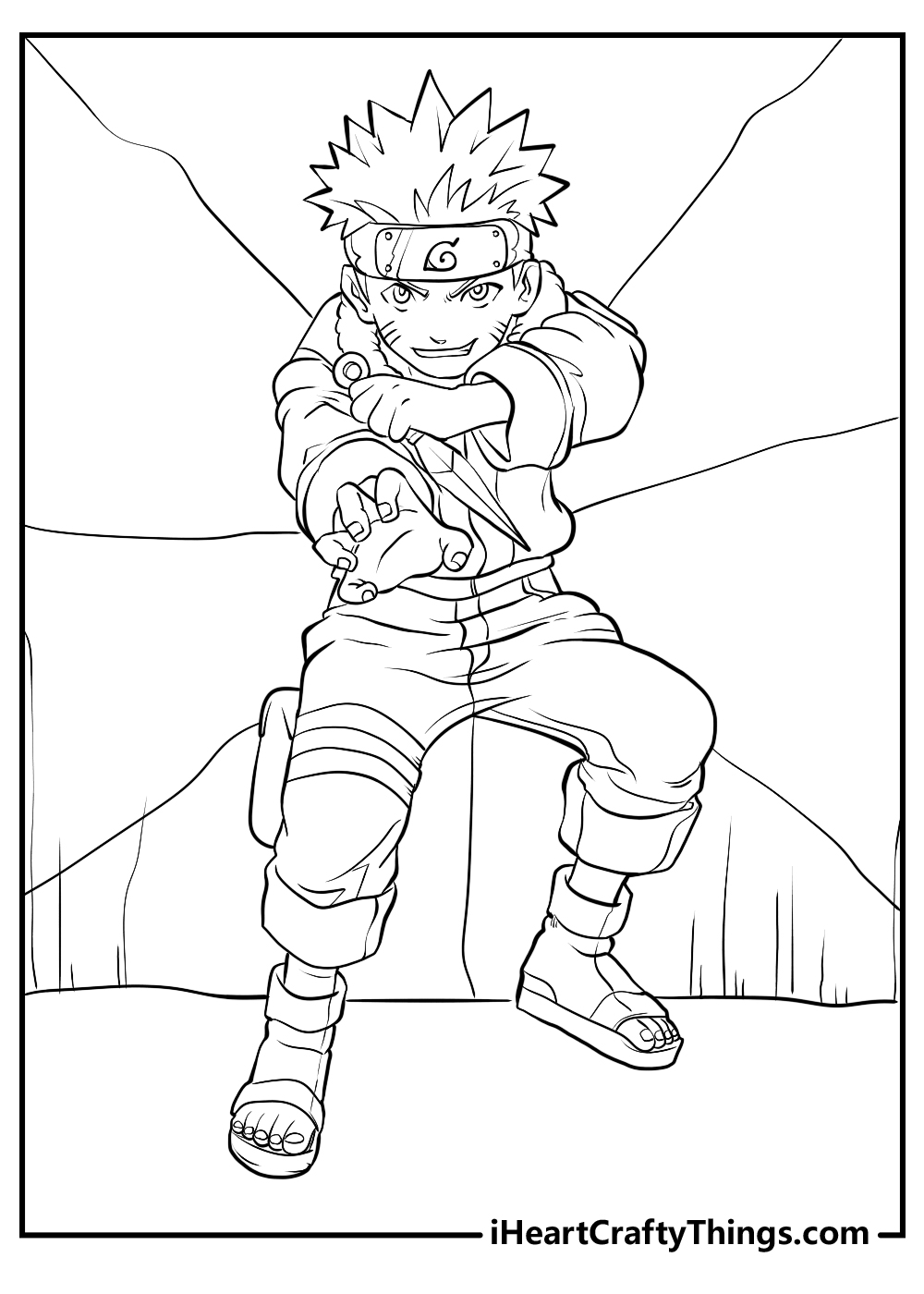 We have something a bit different on this next page, as there are three pictures of Naruto in a cartoony style. Even though it is a bit more cartoony, there are still lots of details for you to color.
When coloring very detailed pictures, I like to mix different art mediums. I may use colored pens and pencils for the smaller details so that there is more precision.
Then, for larger areas of single colors, I will use crayons or paint brushes to fill these larger spaces quicker.
Mixing different mediums on one page can also be a great way to make the colors really pop and stand out!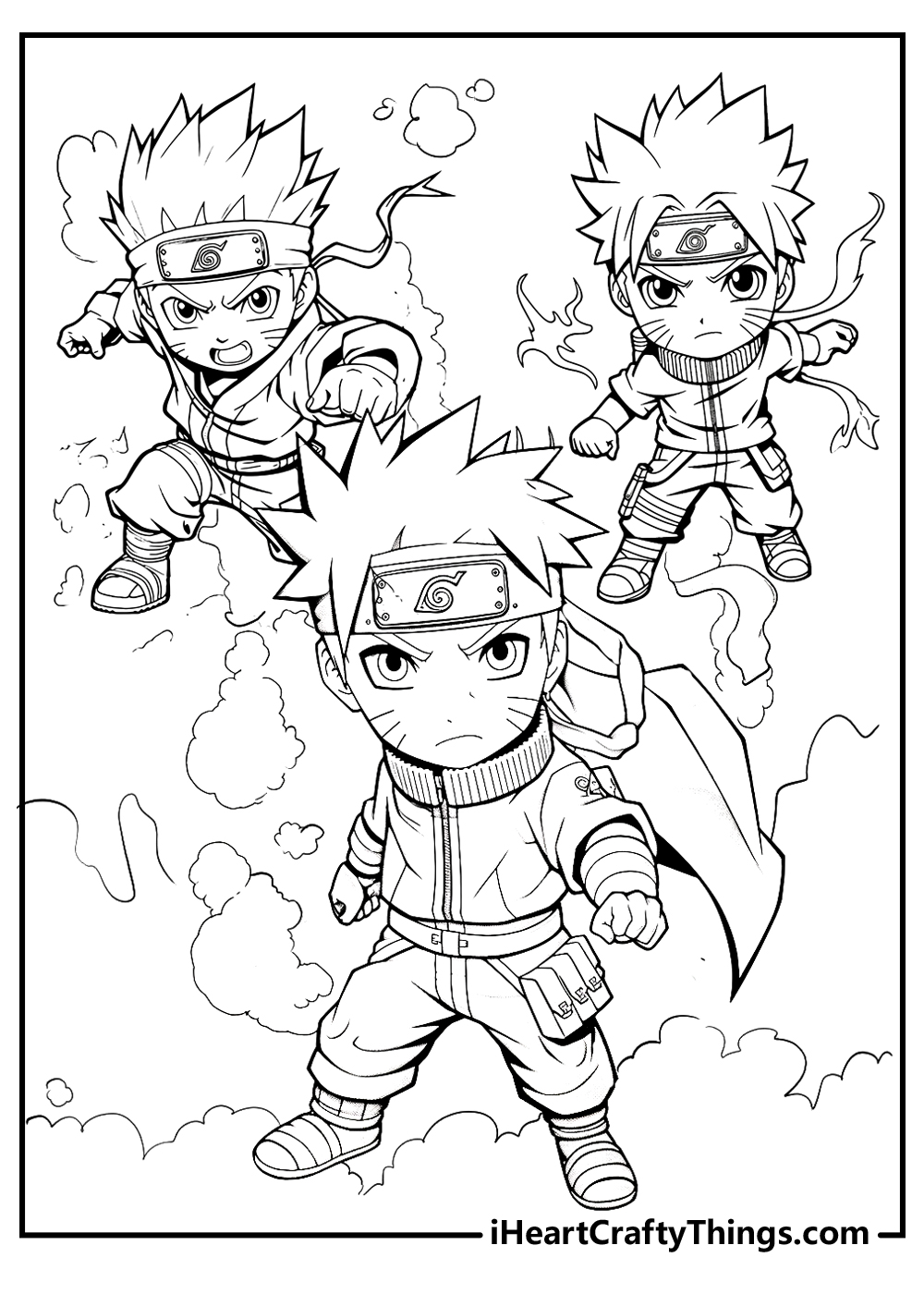 Next up, there is a bit of a close-up on a slightly older Naruto as he looks very confident. You may recognize this outfit he is wearing from the anime series, and now you can bring some color to the page.
When doing so, you could make him match how he looks in the anime, or you could give him a completely unique look.
You're the boss of this collection, so you can decide which approach you will take!
Will you match him to the anime or try out something new?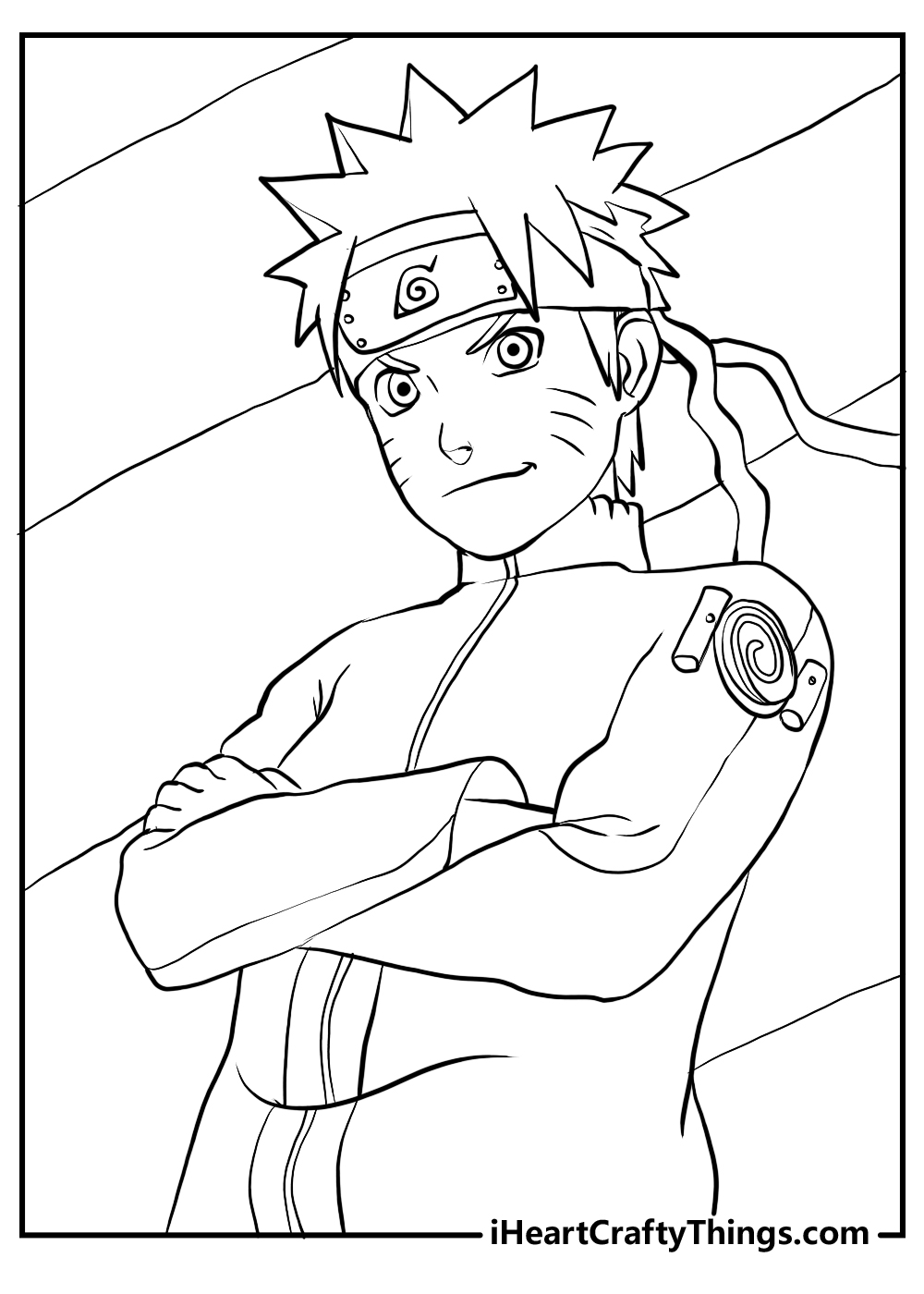 This next picture is very cool, as it shows Naruto in his full ninja outfit. He is in a really awesome pose, and you can really take in all of the details of his outfit.
Coloring a page like this can take a bit of patience, as there are so many small details to color. You're definitely up to the task, and it will be worth it once you have a finished page.
There is also no rush, as you can take as long as you need to bring color to the page. It's not just about the end result but also the fun of coloring, so enjoy the process and really savor it!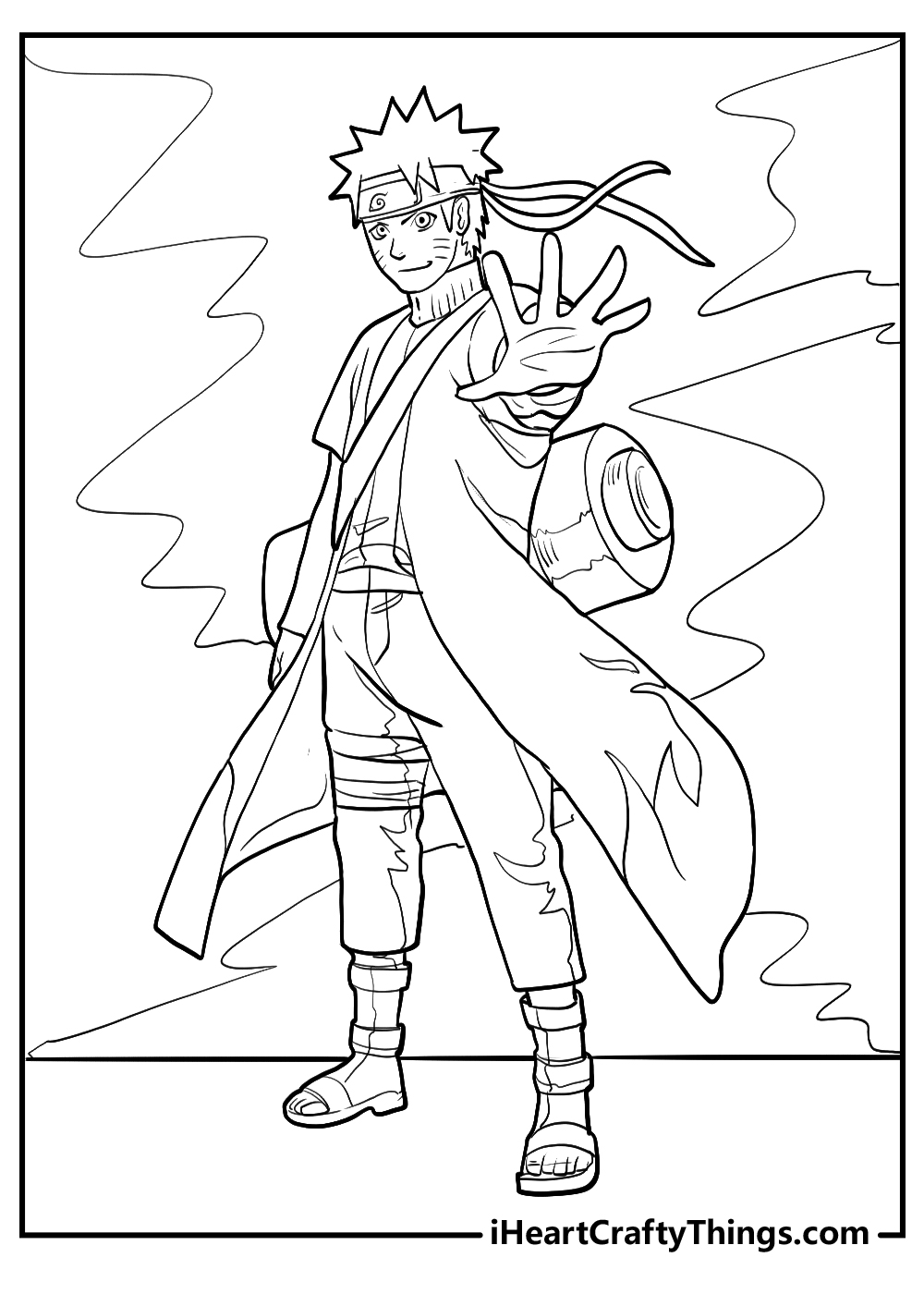 The intensity of this Naruto coloring printable is really awesome. It's another close-up, and you can see all of the details of Naruto's expression and his outfit.
This is definitely another page that would be well suited to using thin coloring pens or certain markers. These thin mediums allow you to get inside those small details and add color.
They also look great, which is an added bonus! If you like to paint, then you can get very thin paint brushes which can also make it much easier. What will you use for this close-up?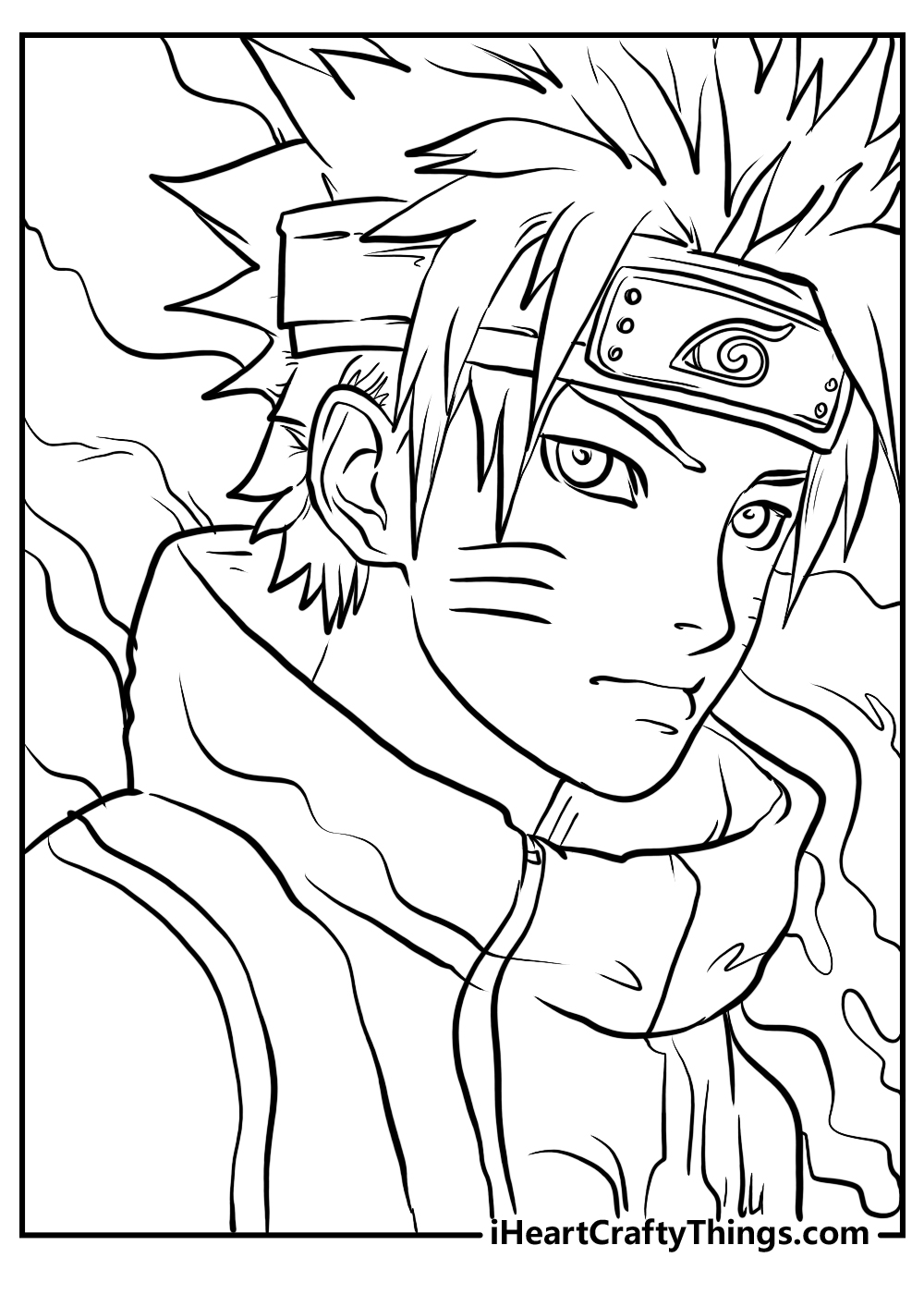 You can really feel the power on this next page, as Naruto is performing a powerful move. What's great about pictures like this is that you have all sorts of power effects around the character.
This means that you can use some bright and bold colors and art mediums as well. For example, colored pens or markers would again be a great fit, as they would make the colors nice and bright.
How will you depict this powerful move with your coloring skills and favorite art mediums?
I really feel like this page captures Naruto's character brilliantly. He is pointing right at the viewer with a big smile, and it really captures the character's optimism and positivity.
If I were coloring this page, I would use some bright and happy colors to help highlight these aspects of his character.
The way the background is segmented also means you can work in even more colors.
If you have some favorite colors, you can almost definitely work them into the design somehow for this page! Which colors will you use for Naruto and the background?
The next page has to be one of the most ferocious pages in the collection! This is an interesting pose for Naruto, and you may recognize the state he is in from the anime.
If so, you can use your colors to match this moment from the show. You don't need to stick exclusively to the look of the anime or manga, though.
If you want to use some unique colors for this page, then you should definitely feel free to do so! It's up to you, so have fun with it!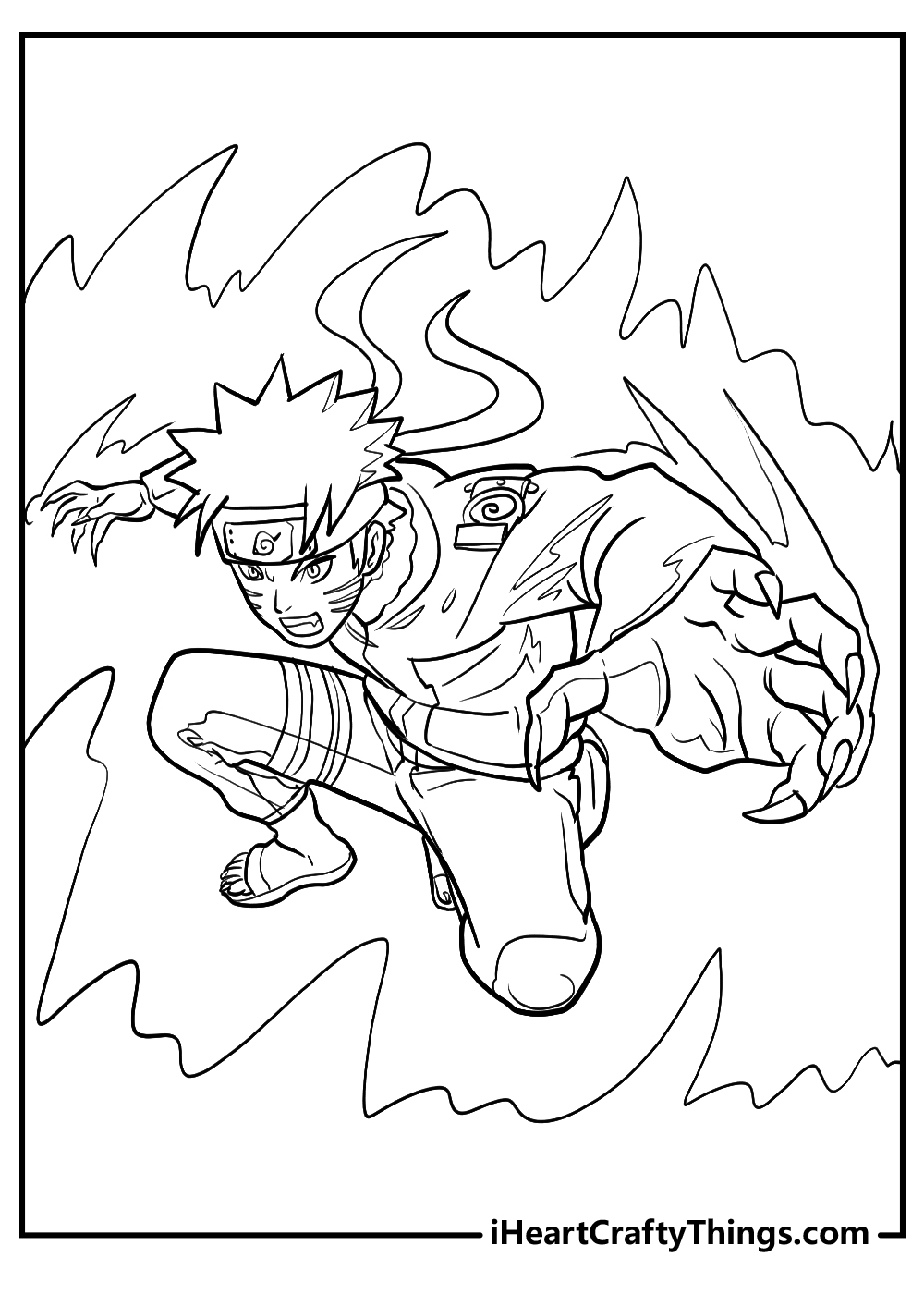 We have another close-up for you to color on this page, and it once again gives you lots of details to color. These kinds of close-ups really allow you to take your time with the color details.
You can color the page to make it look like he is in normal, flat lighting, or you could get more creative with it.
For example, you could have half of his face shaded to make the lighting look more dramatic.
There are no wrong ways to do it, so you should go with your creative instincts!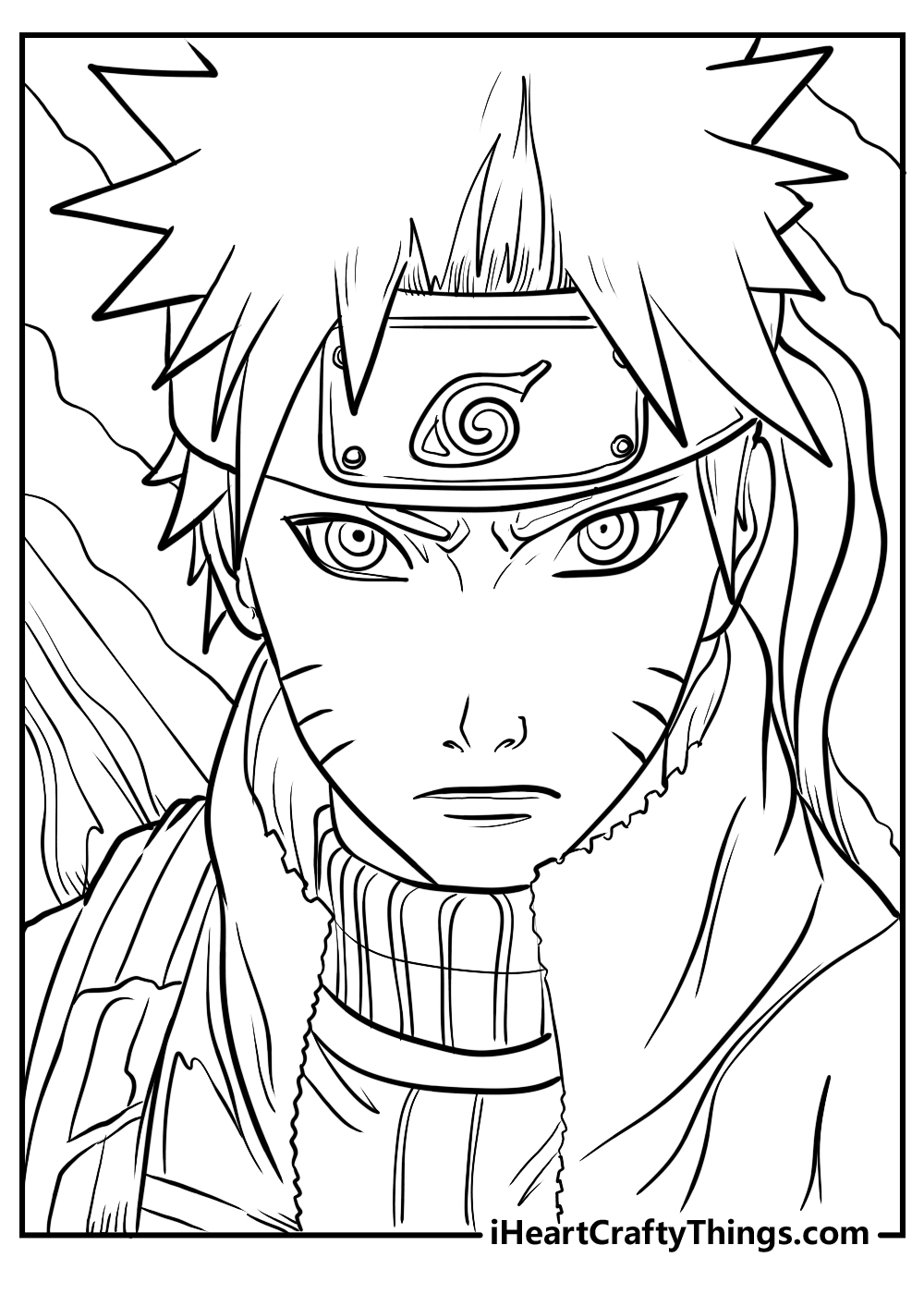 I just love the details on this Naruto coloring page. We see so many small and subtle aspects of his outfit here, and it presents a really fun coloring challenge.
When a picture looks difficult to color, you can make it easier by simply taking your time. Many people think they need to rush through a coloring page, but coloring isn't just about the end result!
It's about taking some time to be creative, and the creative process should last as long as it needs to. Just have fun with it and you may be surprised by what happens!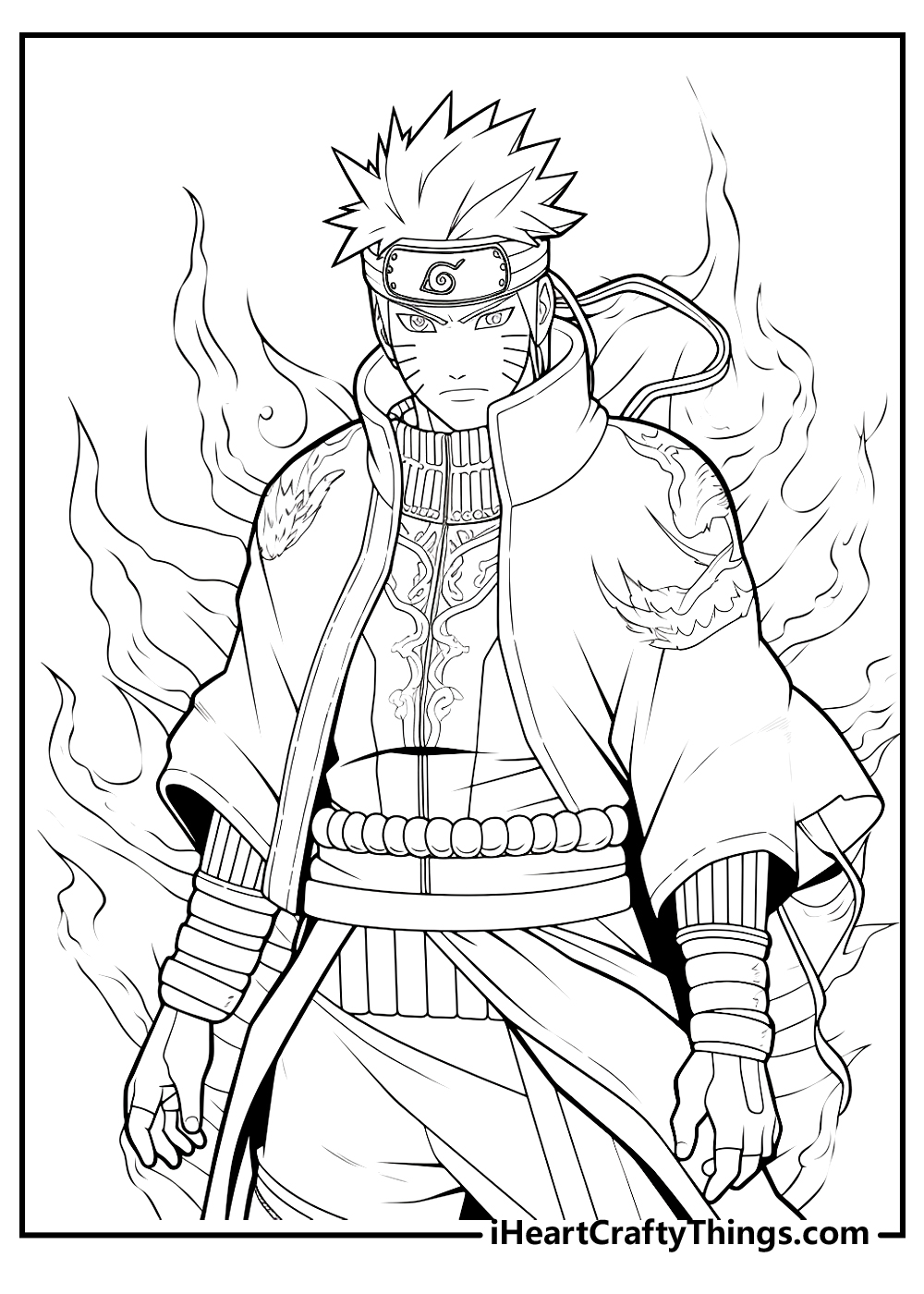 This next page is definitely one of the most visually interesting in the whole collection. Not only is Naruto highly detailed, but there are so many details in the background.
When you have a picture like this, you have a few approaches for how to color it. You could make the character stand out starkly against the background for one approach.
Or, you can make them blend in a bit more by using certain colors. Either approach would work, so why not try both and see which you like more?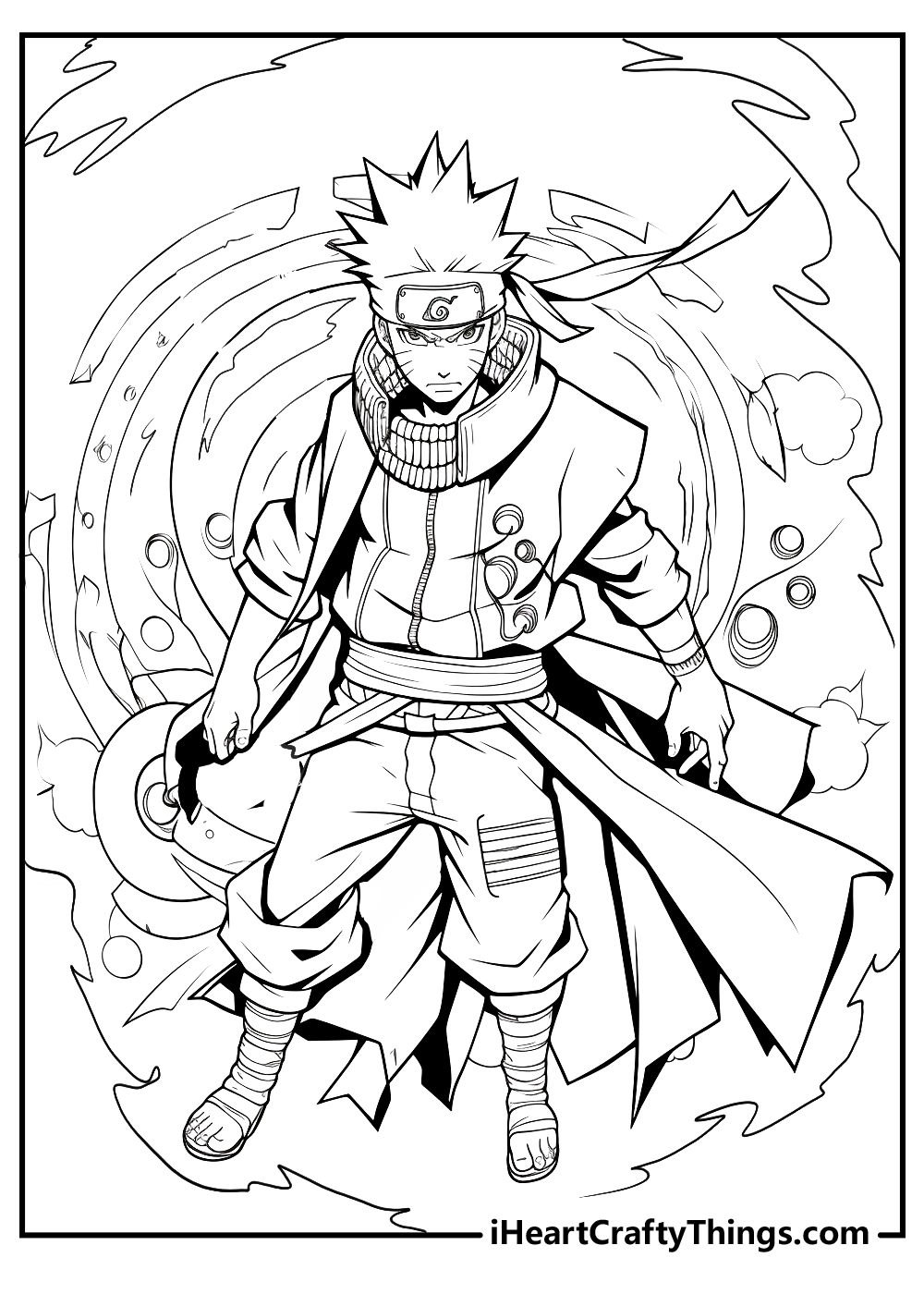 Naruto really has a serious expression on this next page! He's a character that can joke around sometimes, but he can also be serious when the situation calls for it.
Because of the tone of this image, I would use some darker colors and tones for the page, as I think that would better suit the feel of the image.
I would maybe use some watercolor paints for this page, as that would make the colors softer to counterbalance the darker shades. Will you use a similar approach for this page?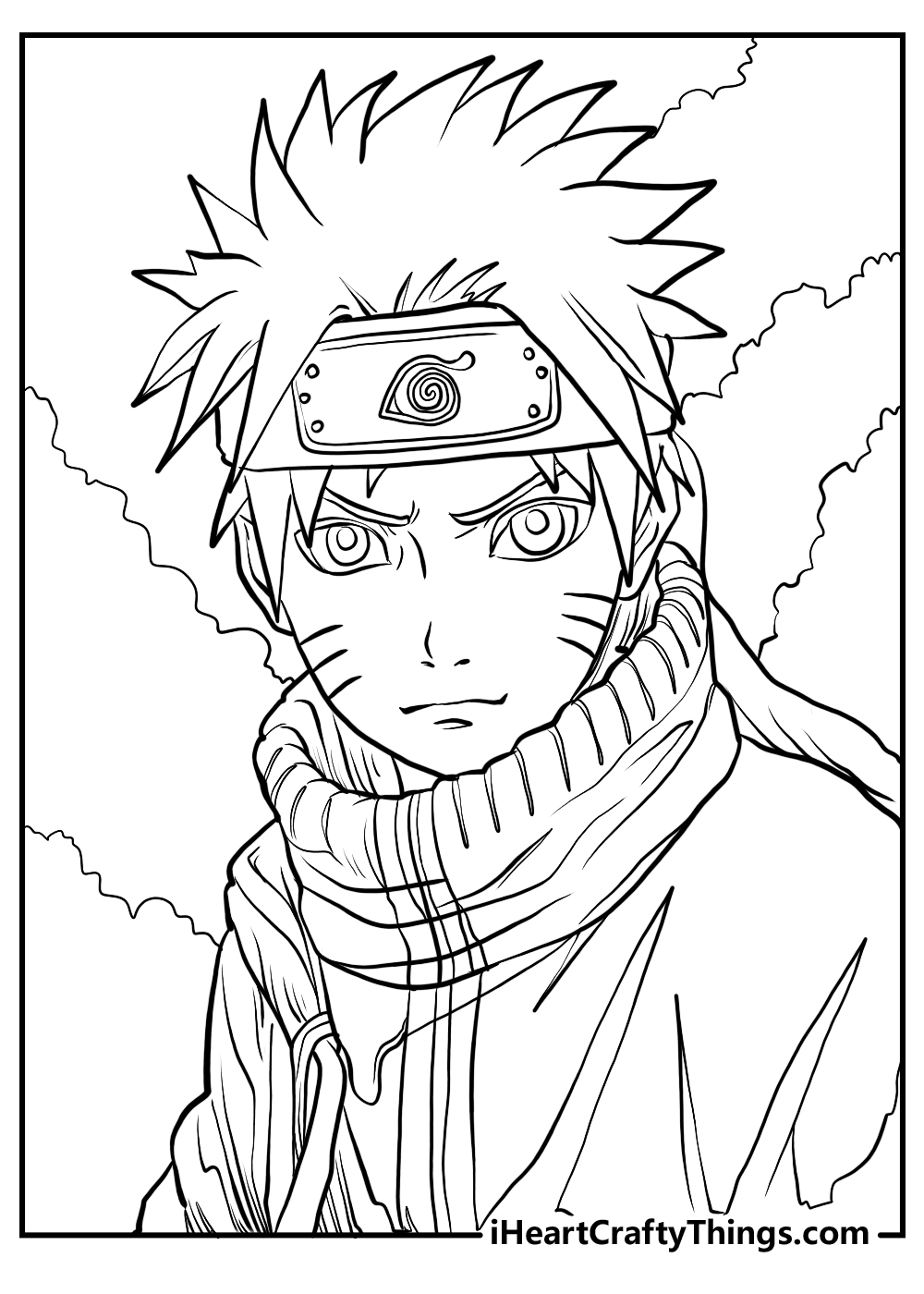 Even ninjas need to take a snack break every once in a while, and that is what is happening on this next page! This may be a good time for you to have a snack of your own as you color.
The cool thing about this page is that the food Naruto is eating is very detailed, and so it will give you many opportunities for different colors and subtleties.
How will you make this a tasty page with the colors that you use?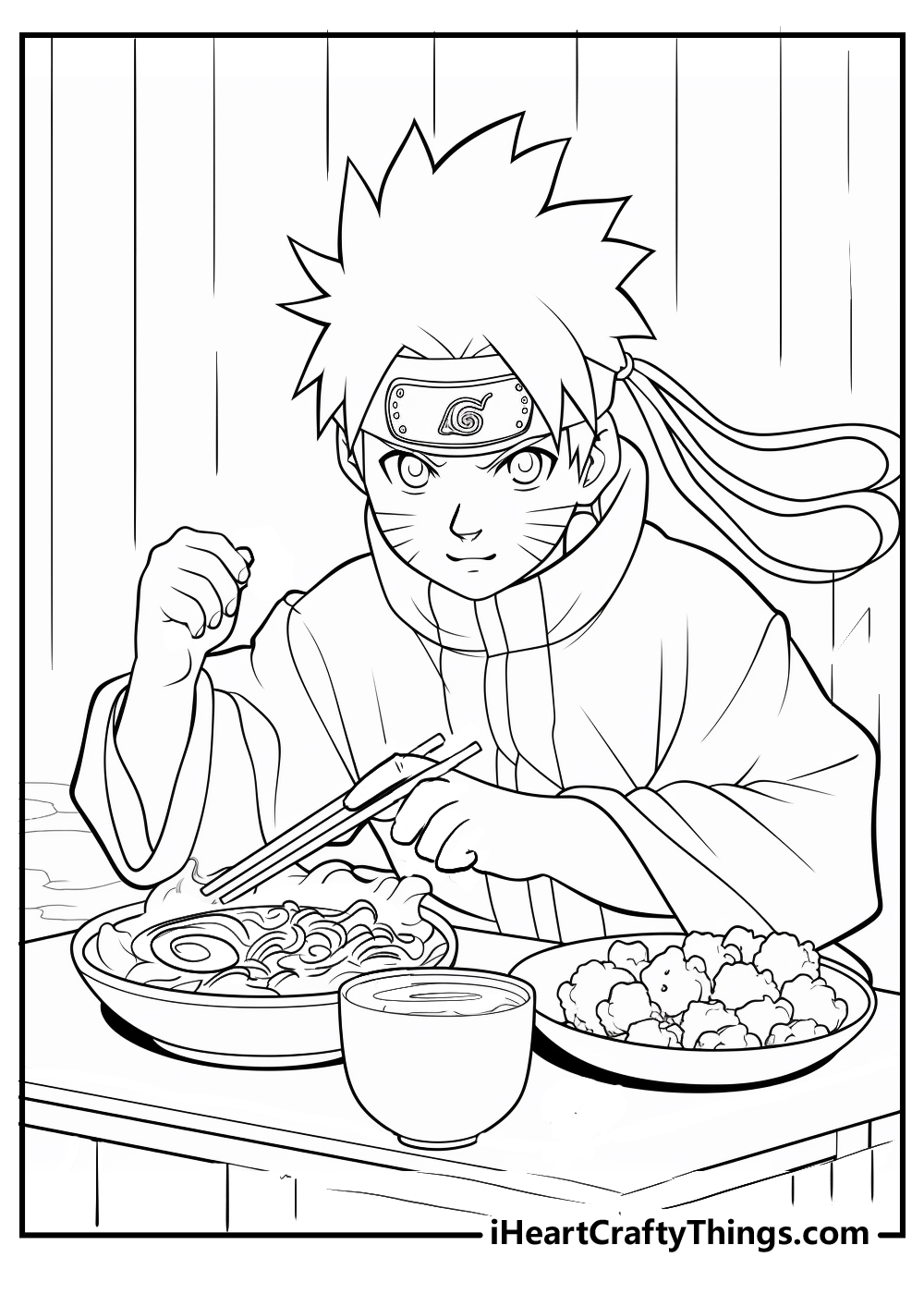 Something about the pattern in the background of this Naruto coloring page makes me think of a peacock's feathers.
If you agree with that opinion, then you could use colors similar to the ones you'd see on a peacock for these details. Of course, you could use any colors you like for these details!
Sometimes, it's easy to have tons of ideas and not know which ones to go for. If so, you can print these pages multiple times for free, and that way you can experiment as much as you please!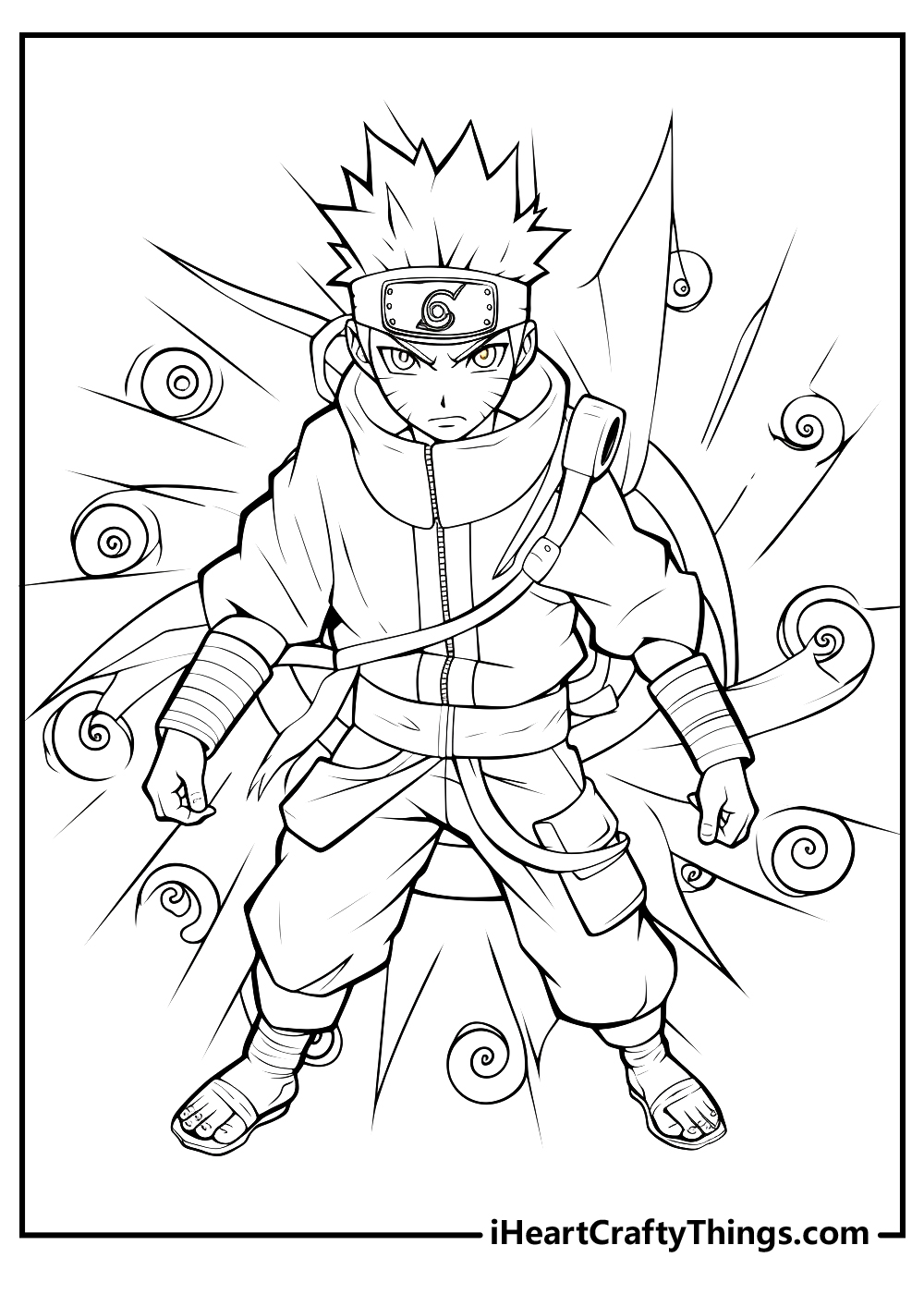 We've saved one of the most detailed pages yet for this collection! This intense portrayal of Naruto shows another close-up, and there are some awesome background details to behold as well.
It's a picture you could spend a lot of time having fun with, and there are so many ways to color it. When coloring, you don't need to stick to the same coloring tools and mediums.
You can switch it up a bit and try out some new and unusual art tools to find different ways to apply colors, so don't be afraid of experimenting a little!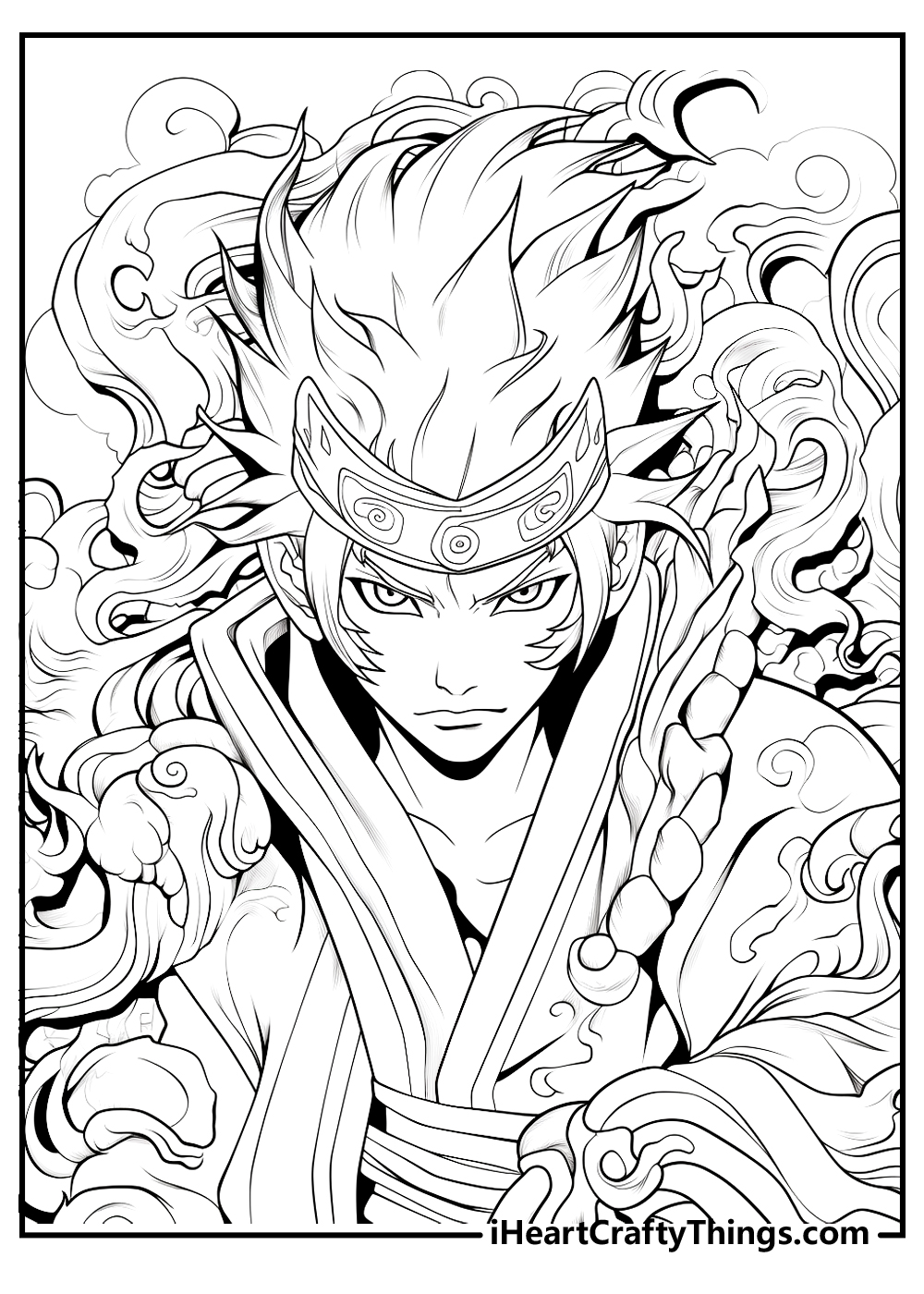 Naruto Coloring Pages – Which will you choose?
This collection of free Naruto coloring sheets for kids had plenty of awesome poses and situations for you to color and enjoy!
Hopefully, you had an amazing time reliving all of your favorite Naruto moments as you chose your favorite pages to color. Coloring the entire collection would certainly be quite a challenge!
No matter how you choose to color these pages, there are so many ways to get creative with it. You can also share this free collection with any Naruto fans that you know in your life.
Then, we hope that you will share some of your finished pages on our Facebook and Pinterest pages. We'd love to see how they came out!