Aladdin is one of the most unique and adventurous films that Disney has ever released, and it has delighted audiences since its release in 1992.
This collection of free Jasmine coloring pages for kids is here to showcase this vibrant Disney princess!
There are so many poses and scenes in these 15 pages that you can color and add details to. All of them are free to enjoy as you wish, and you can share them with others to enjoy as well!
So get ready for a magical journey as we begin this incredible collection that we have prepared for you.
15 Brand New Jasmine Coloring Pages – Free to Print and Color
This first page in our collection of free Jasmine coloring pages for kids features a great pose of this classic character!
While she has a typical color scheme for her hair and clothes in the films, you could always give her a brand new look using some unique colors if you prefer!
Either approach would look great, so what do you think you will go for?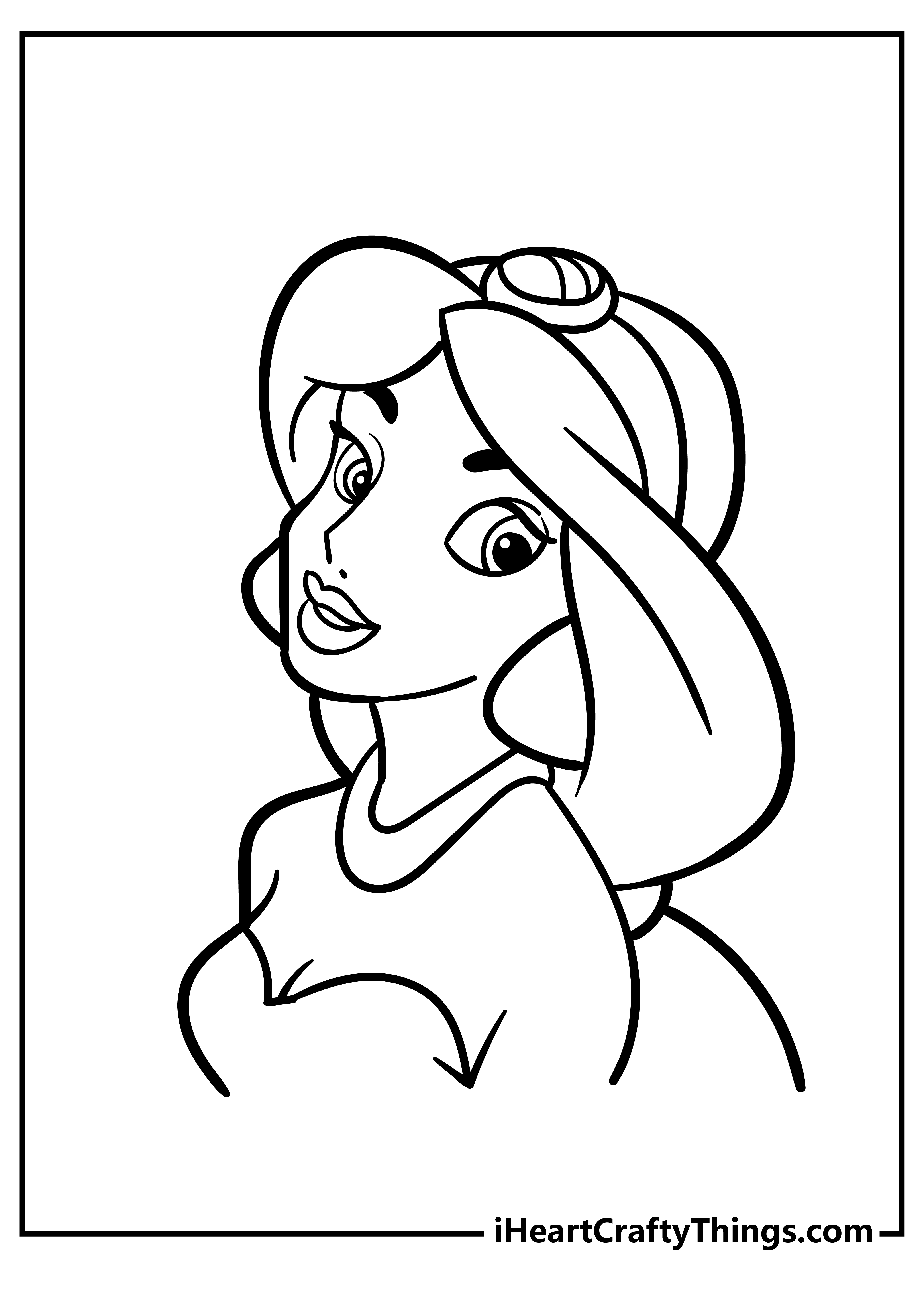 We have a really charming scene for this next page! We get a great look at Jasmine as she poses with an adorable bird, and it makes for a really sweet moment.
For this one, we would use some softer colors by using some watercolor paints, as that would help to create a lovely classic feel for this scene.
Which colors and mediums come to mind for you?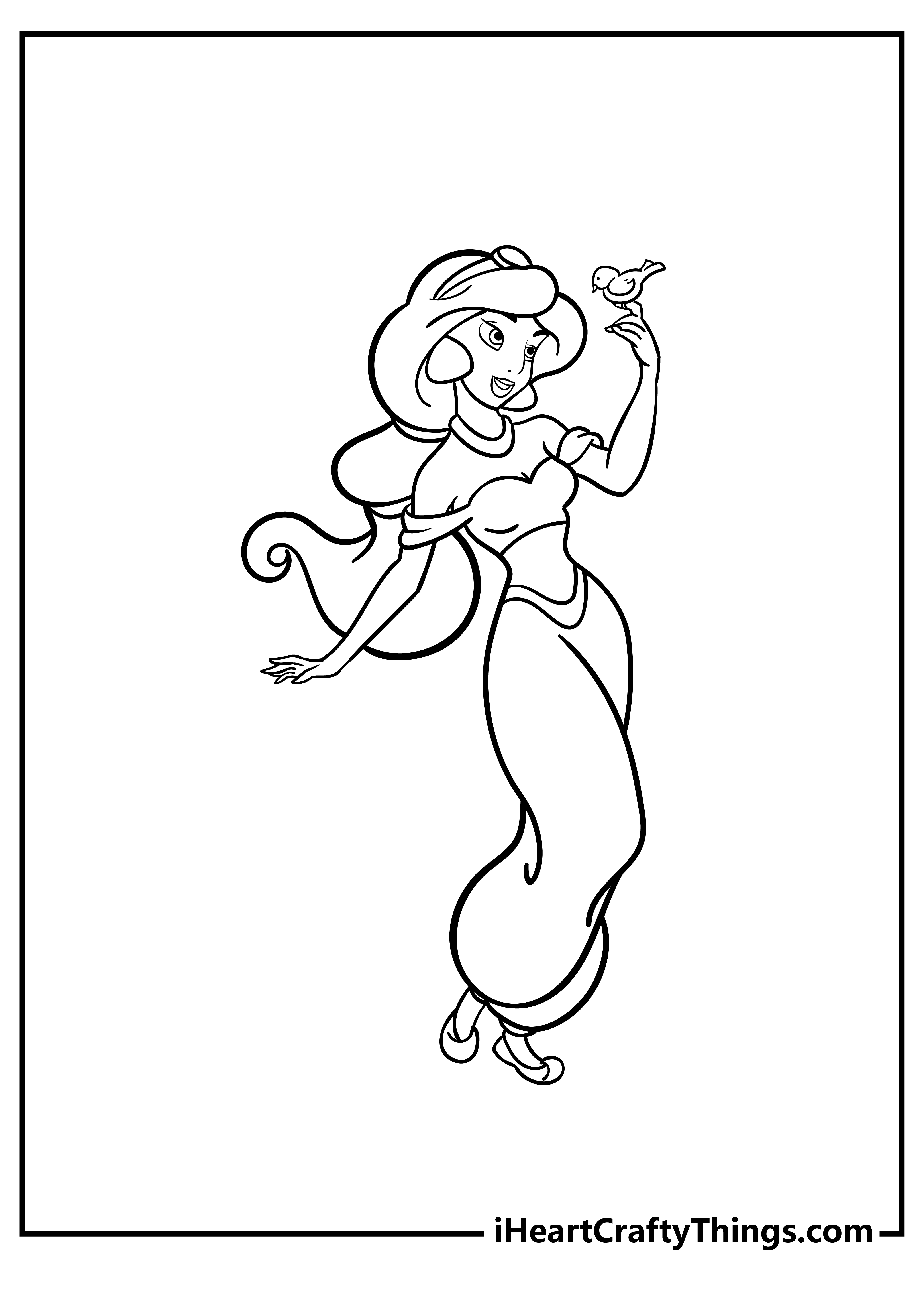 There is a lot of movement in this scene, and it makes you wonder what is happening!
There are a few options you could go for here, as she could be dancing or maybe dodging something that is threatening her.
No matter what you decide on for the scenario, you can emphasize it with the colors that you use.
This is a great chance to get creative and draw in some extra details, objects and characters as well!
There is another close-up of the lovely Jasmine in this next picture! She seems to be enjoying a quiet moment here, so it's another one that we would use some softer colors on.
The intensity of your color choices can really help to fit the mood of a picture, so don't be shy to experiment with colors and mediums to fit the mood you want.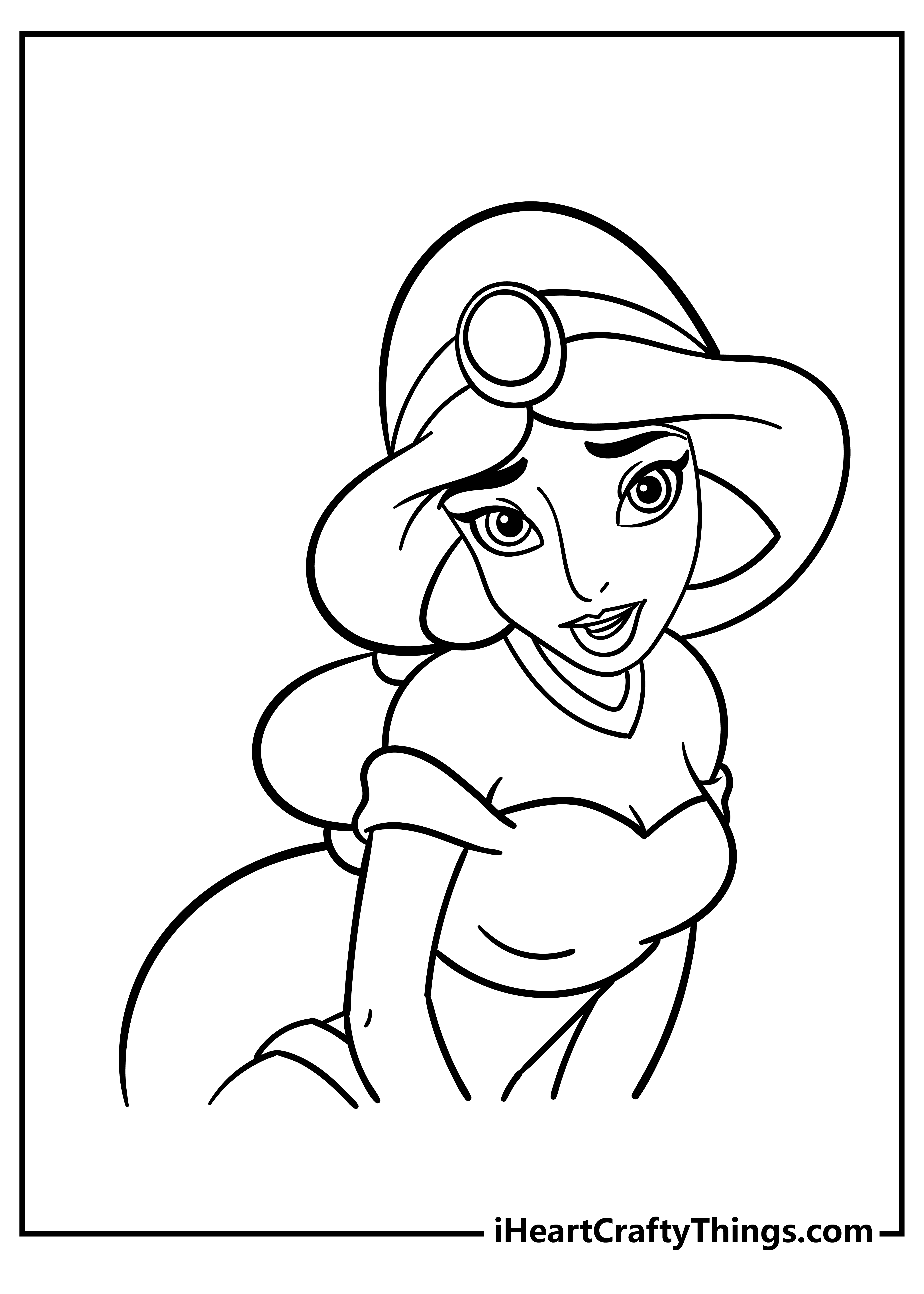 For this fifth Jasmine coloring sheet, we have another great pose from the princess.
The background has been left pretty open here, so you could draw some more of her to fit the rest of the frame or maybe color the background with colors or shapes.
It's up to you, and these are just a few of the ideas that you could try out!
Jasmine seems to be in some deep contemplation here, and it makes you wonder what she could be thinking so deeply about.
When coloring this page, you could even draw a bubble above her head and draw in what she could be thinking about.
That would be a great way to finish off this scene, and it would be fun to personalize this image even further!
What do you think she could be thinking about?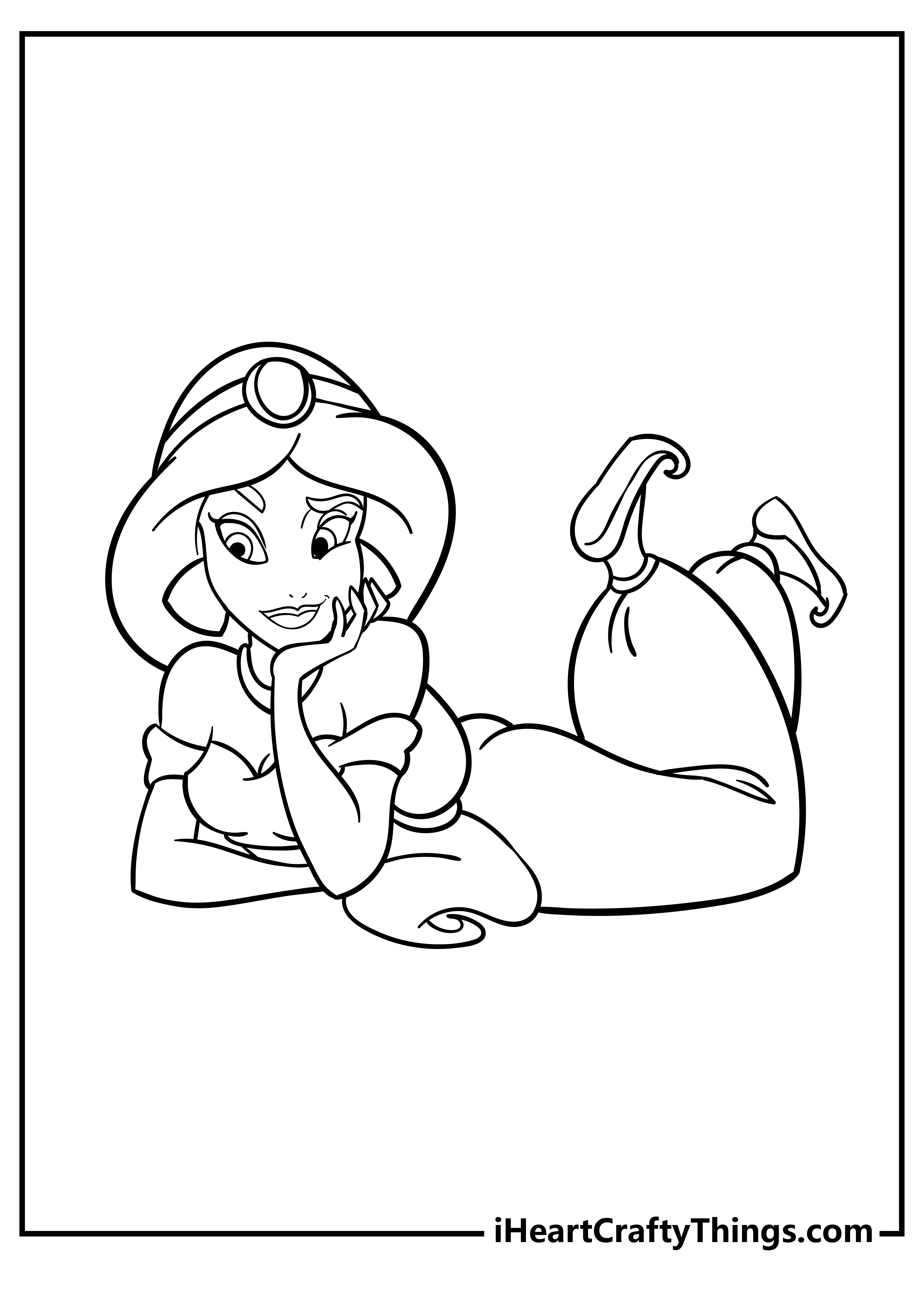 The focus is on Jasmine's face in this next image, and it once again opens up many possibilities.
One would be to draw the top of the outfit she is wearing beneath her neck, and that would allow you to unleash your inner fashion designer!
Would you dress her in her usual outfit or create a unique look for her instead?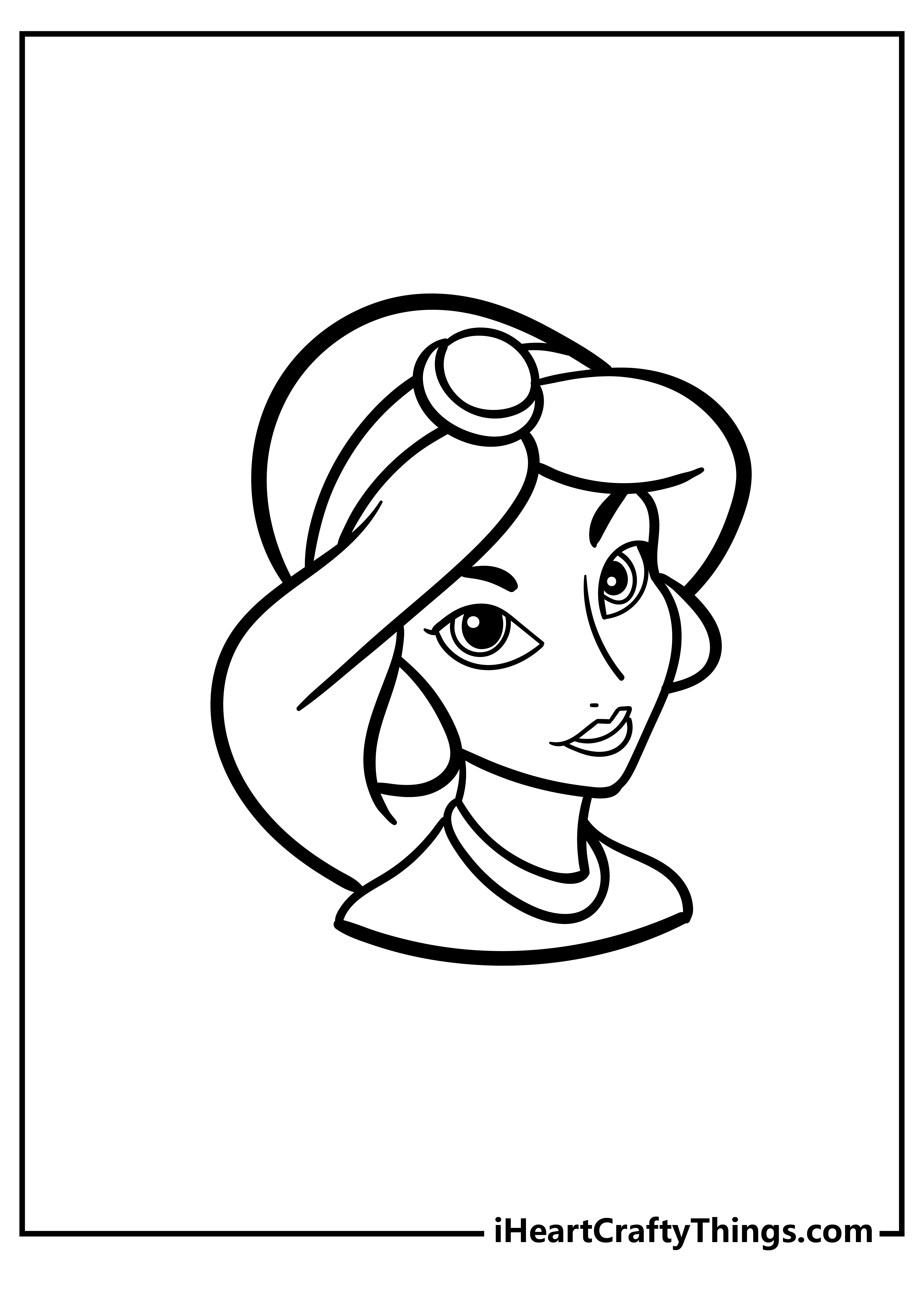 This is another pose that makes Jasmine look as if she is deep in thought. You could possibly draw another bubble over her head, or you could go for some background details to show where she is.
If you try out that second idea, you could use your favorite scene from the movies as inspiration!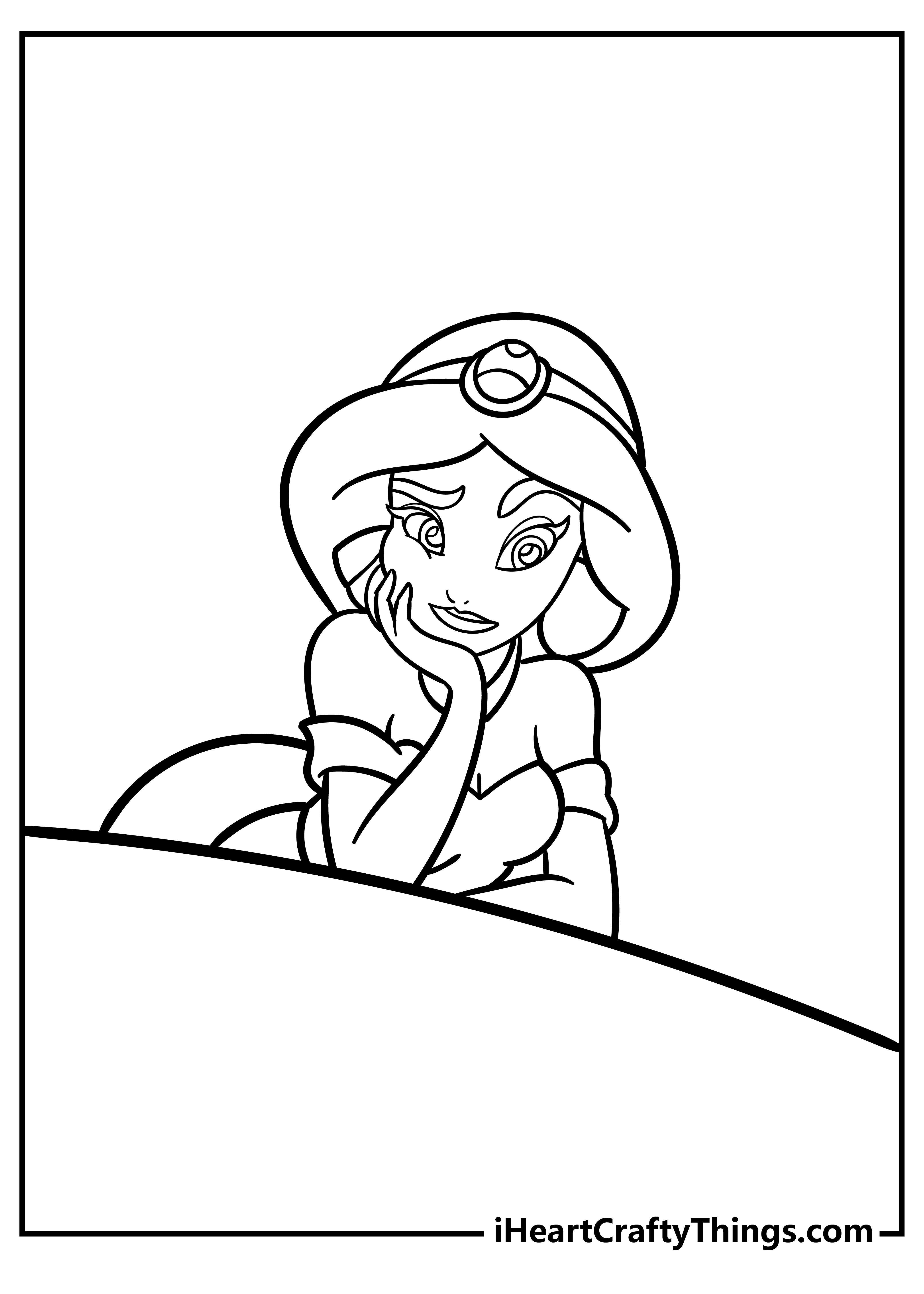 For this next Jasmine coloring printable, we have a pose that gives off a real feeling of happiness and calm, and it makes for a lovely portrayal!
Do you think you will add any elements to the background, or will you keep the background nice and simple for this one?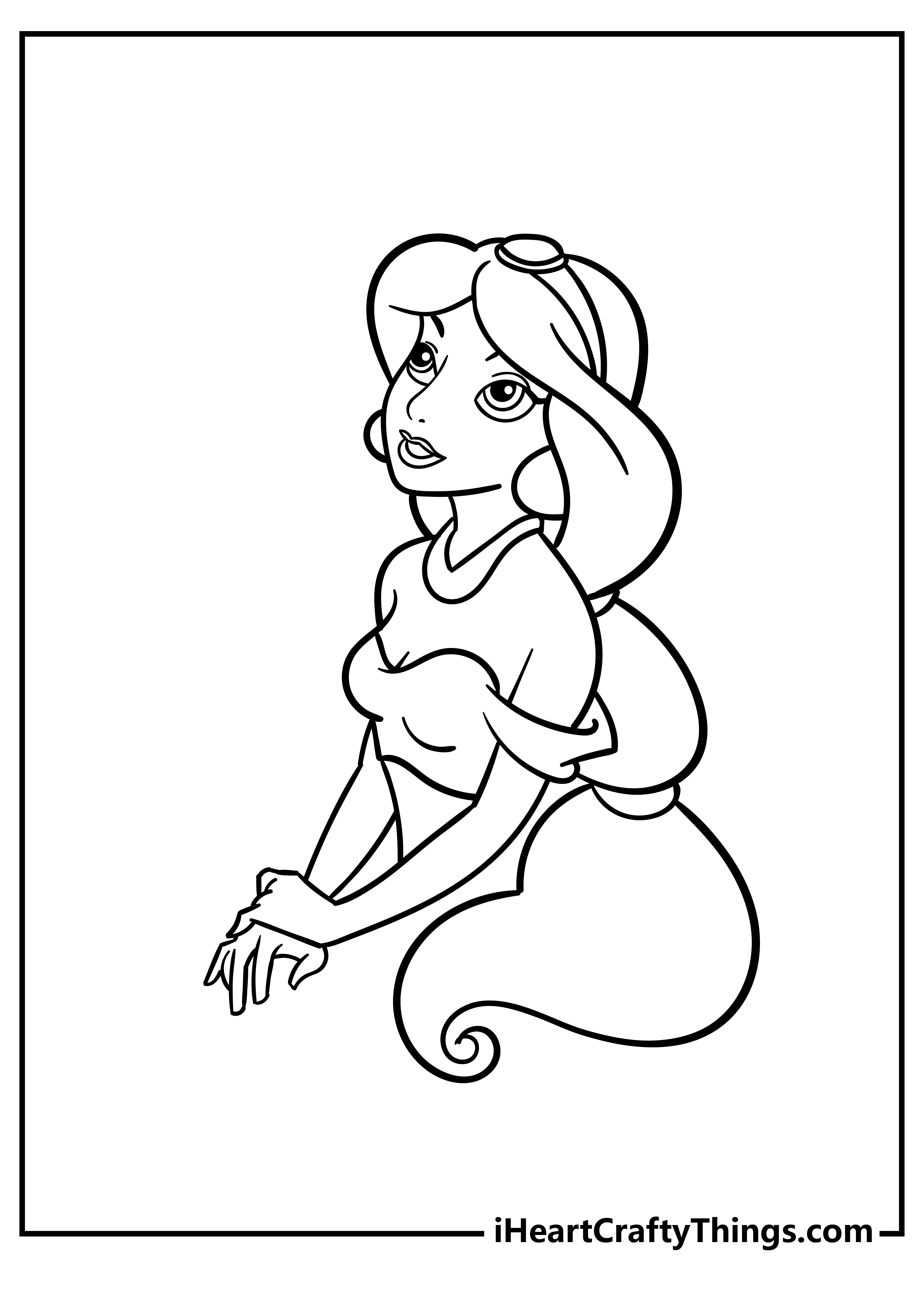 We have another really charming scene for you to color in for this next page! Jasmine is once again posed with a little bird, but this time it is zoomed in a lot more so that we get a better look at the bird.
What color do you think you will make the bird? We would maybe go for red or blue, but there are so many great colors you could go for!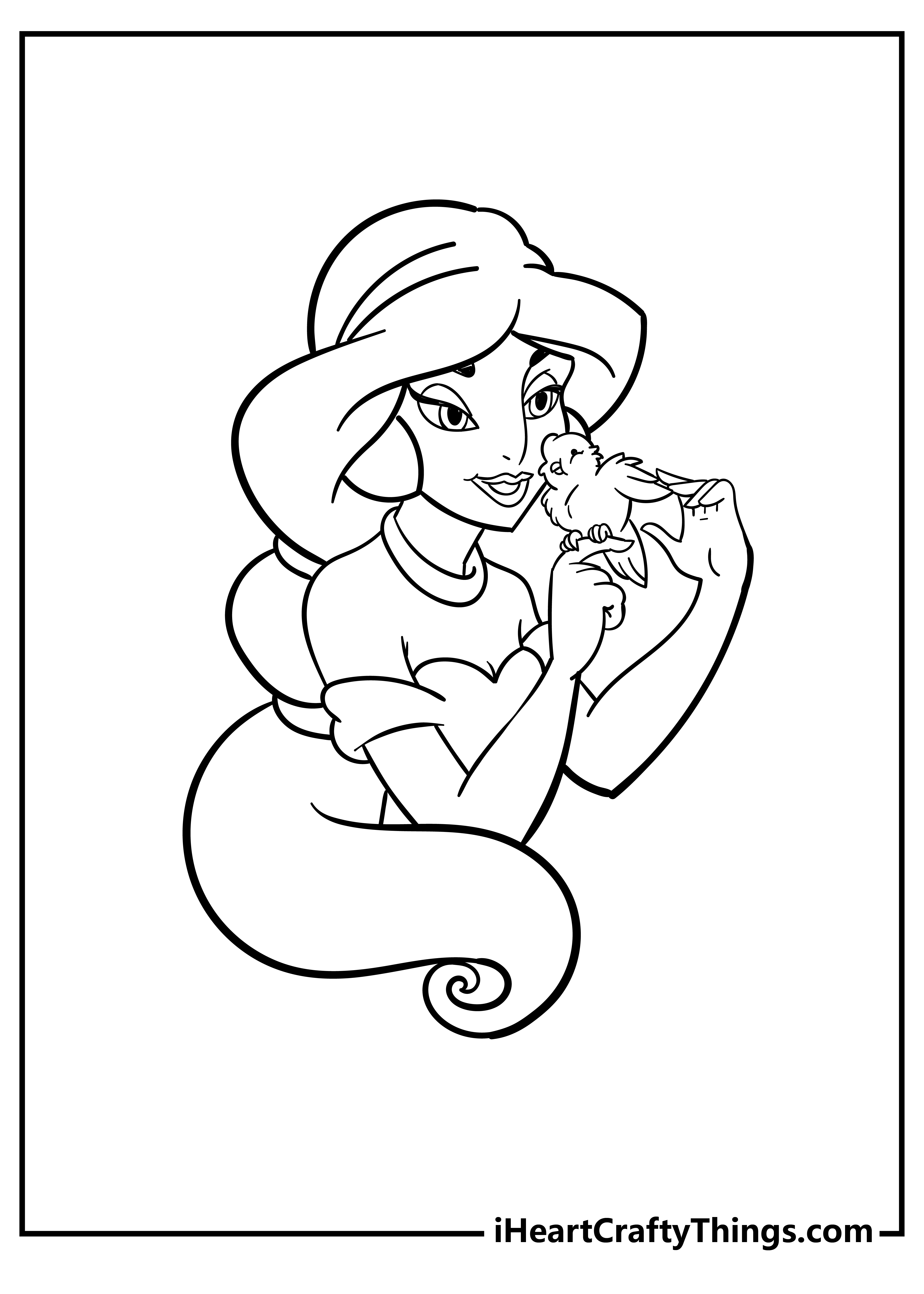 It's time for another close-up with this next page. We get a good look at Jasmine's face here, and there are some great smaller details to color in.
Coloring these small details can get a bit fiddly, so you can use colored pens, pencils or other mediums to make coloring these small spaces much easier and more efficient.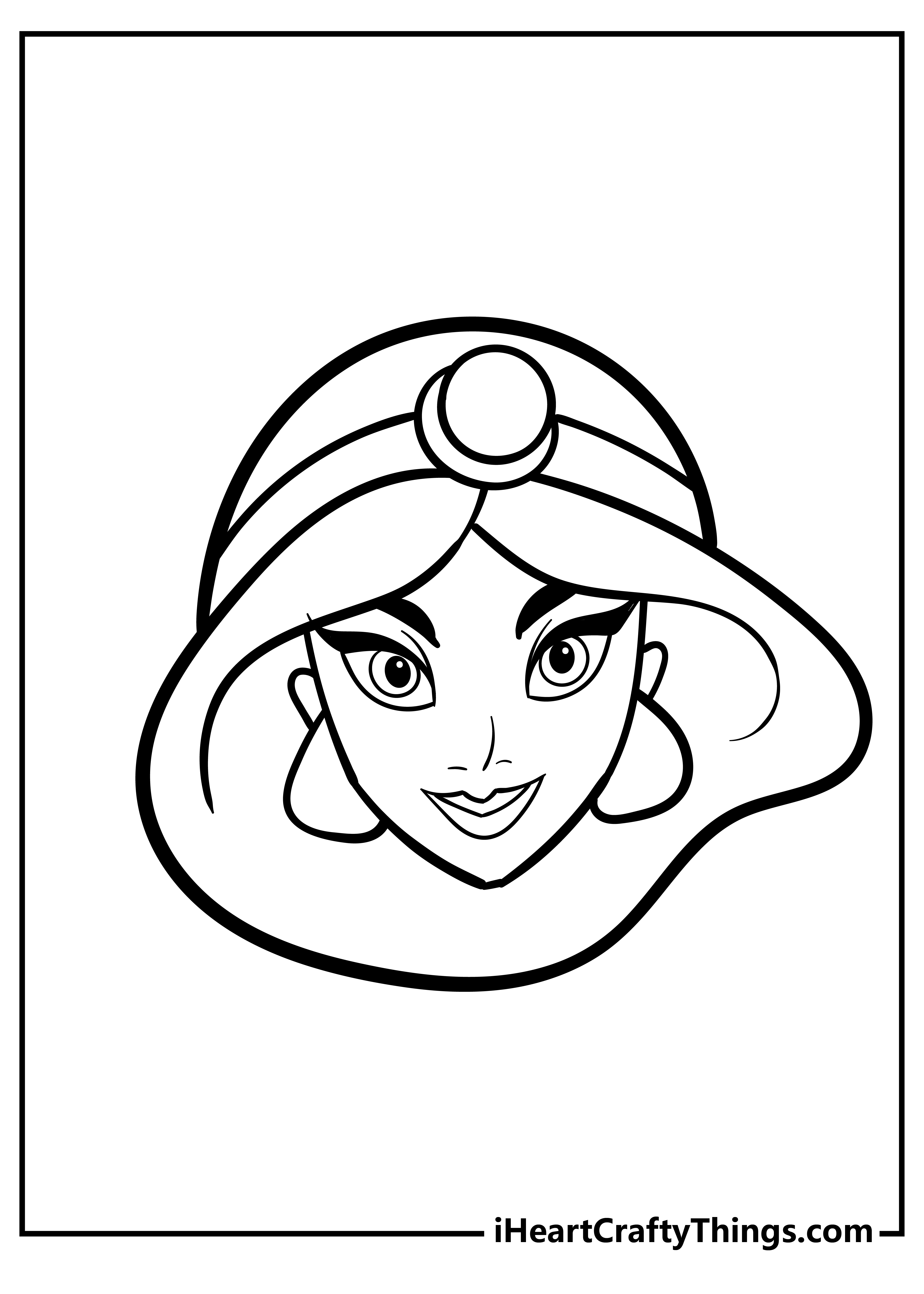 There is another more cartoony police car design for you to enjoy here!
This one also has a lot of empty space in the background, so you could draw a cartoon background that would suit the style of the car's design.
Can you think of a fun and creative cartoony background that would suit this particular car?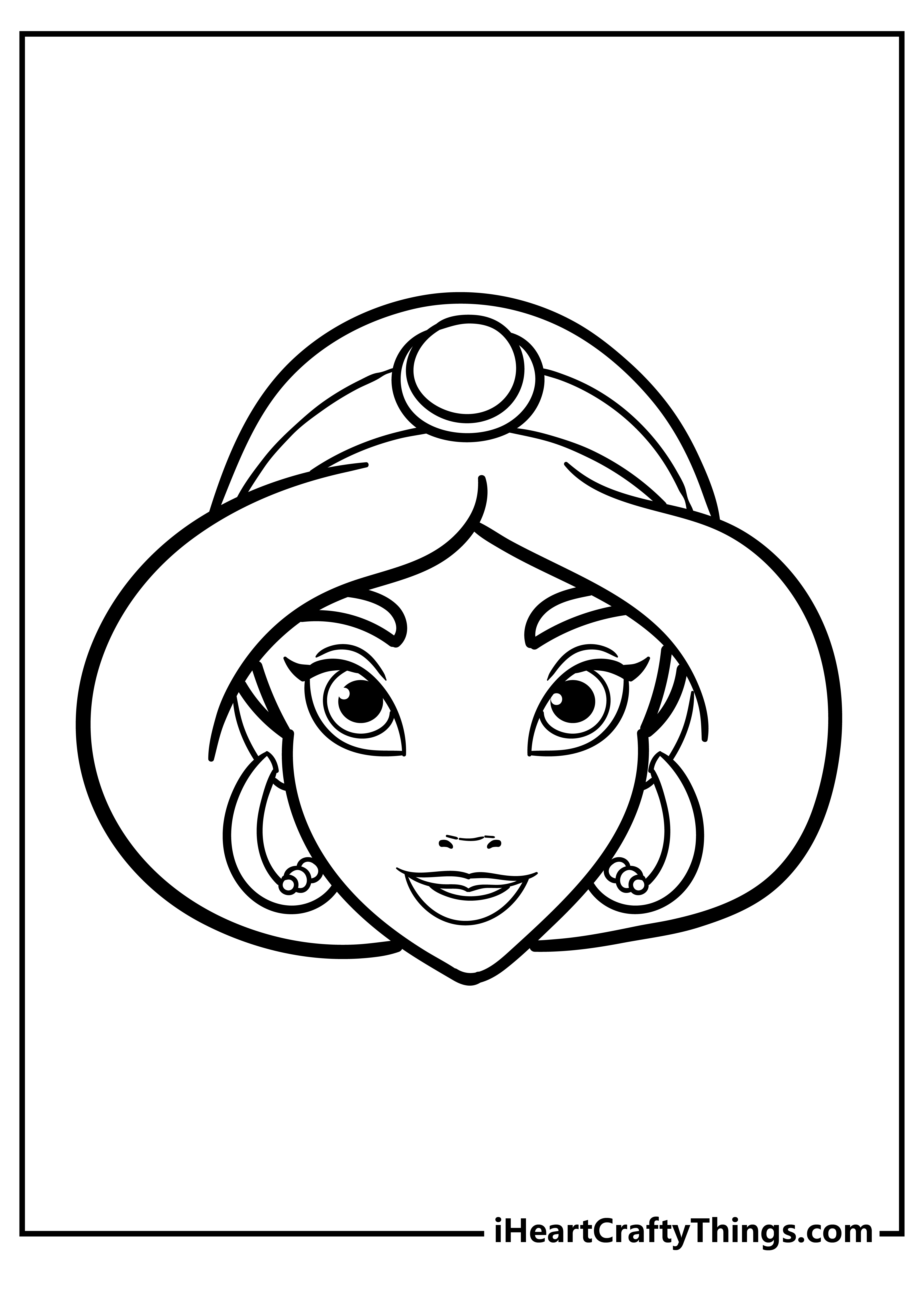 Jasmine is looking happy and dreamy in this next picture! She is involved in quite a romance story in the films, so you could use colors like rich reds and purples to go with the romantic theme.
How do you think you will color this portrayal?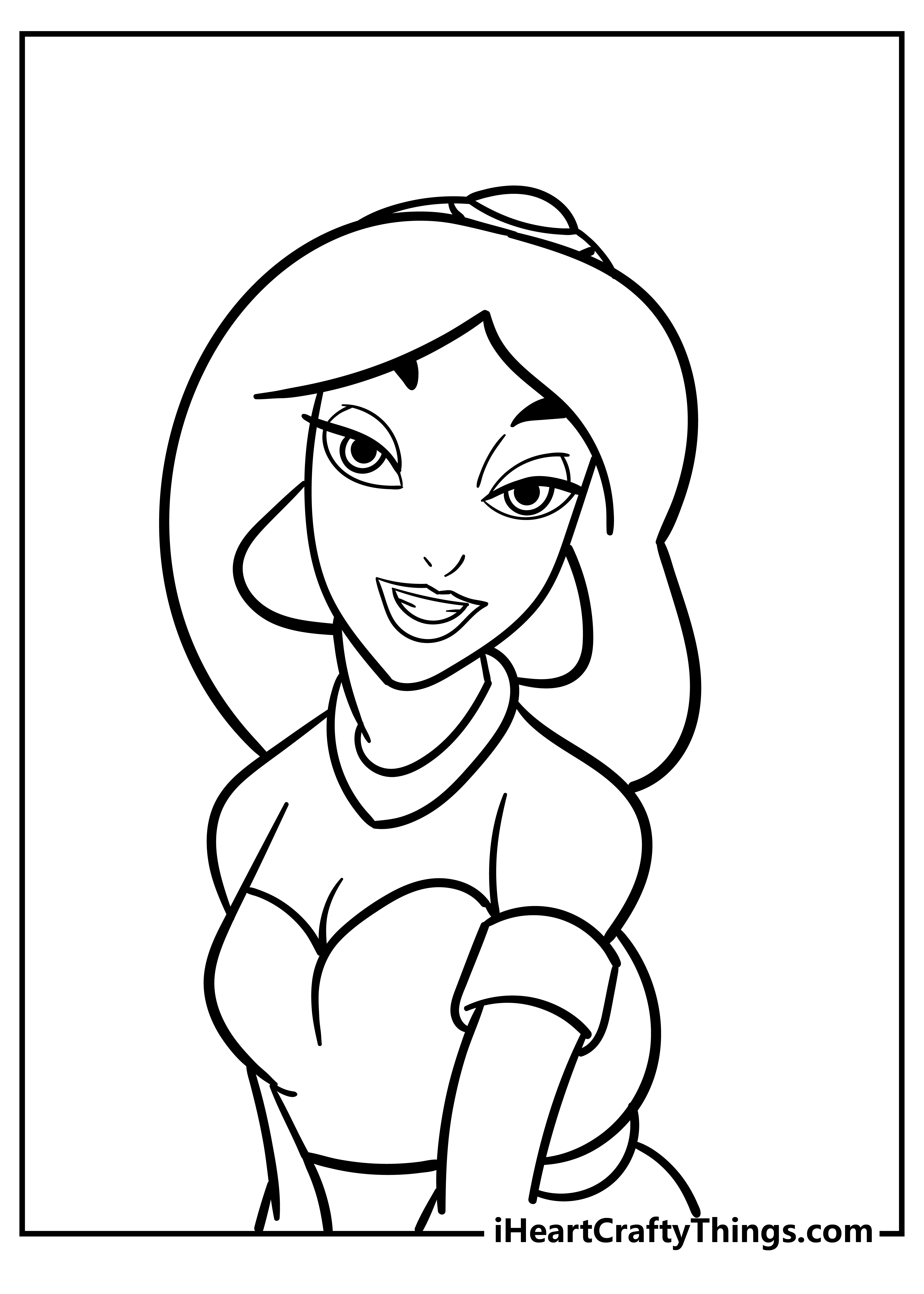 This is another depiction of Jasmine that gives you lots of details that you can have fun coloring!
You can also have some fun adding your own extra details and ideas, and these could include everything from background details to extra characters from the movies.
You can look up images online to help you with this!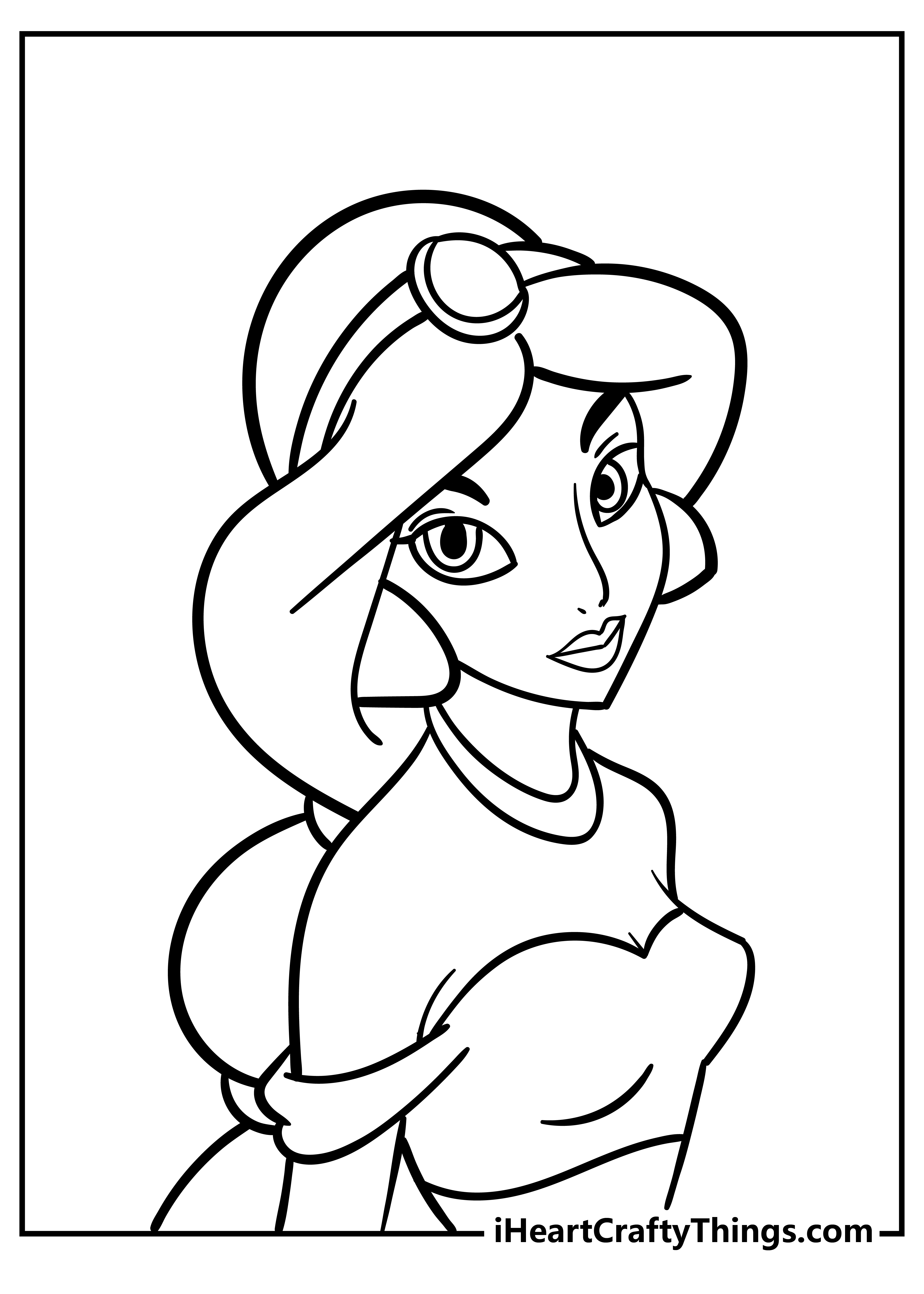 We have a really creative image for this final Jasmine coloring sheet.
She is leaning on something while wearing one of her classic outfits, and there is a lot of room for you to personalize the image in any way you like.
What do you think she could be leaning on? By drawing what you think, you can finish off the scene nicely!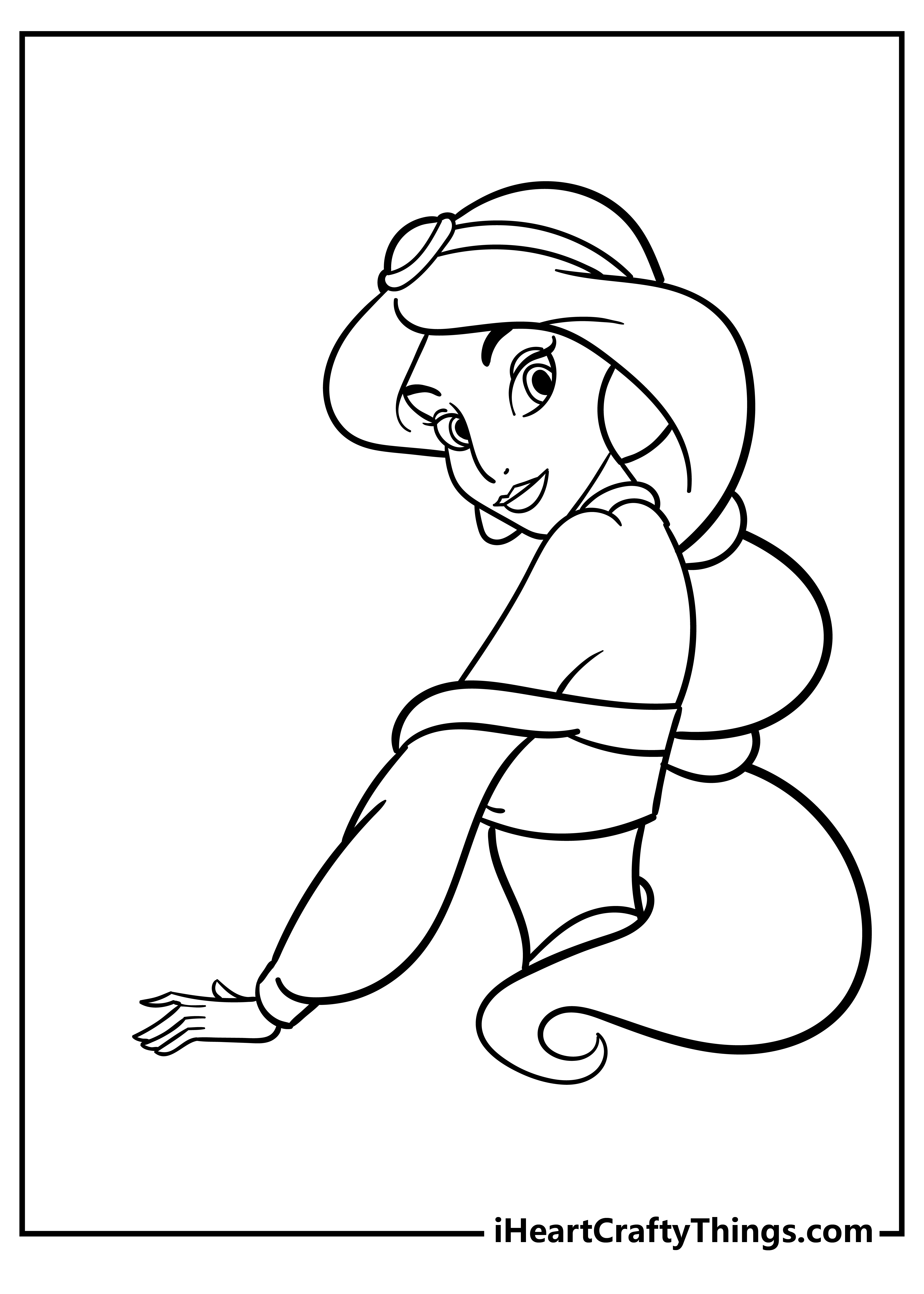 Jasmine Coloring Pages – Which will you choose?
This is such a beloved and well-known character, and we hope you enjoyed celebrating her in this collection of free Jasmine coloring pages for kids!
We tried to create a good variety of poses and scenes for you, so you can really incorporate all your favorite colors and mediums.
We would be thrilled to see how you color some of these pages, so please share some on our Facebook and Pinterest pages when they're done!