There are so many iconic characters to come from Disney studios, and none are more famous than the famous mouse couple at the heart of it all!
Mickey and Minnie Mouse are two of the most recognizable characters ever created, and we are focusing on the fashionable Minnie in this collection.
In this series of 15 free Minnie Mouse coloring pages for kids, we have some wonderful pictures for you to color!
Each picture here is completely free to print, enjoy and share with other Minnie Mouse fans you know!
When your favorite pages have been chosen and colored, you can share your artworks on our Facebook and Pinterest pages for us!
25 Brand New Minnie Mouse Coloring Pages – Free to Print and Color
We're starting things off on a glamorous note for this first page in our collection of free Minnie Mouse coloring pages for kids!
Minnie is decked out in a stunning dress and crown, and that makes you feel that she must be heading for a fancy party!
Which elegant colors would you like to use for this first amazing coloring page!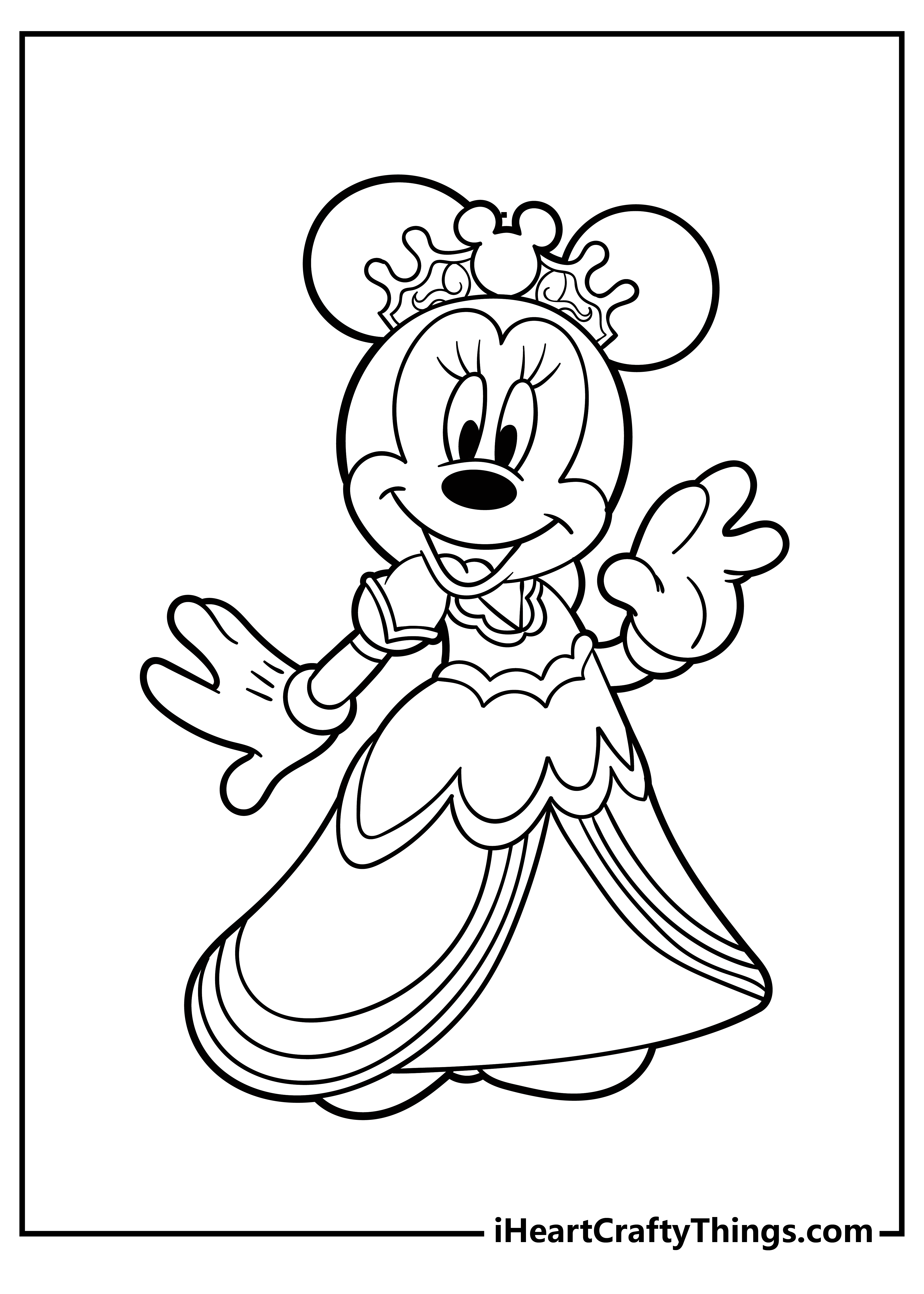 Minnie is dressed in her classic polka dot dress and bow in this lovely picture.
When shown in this style, she is often seen with red clothing that has white dots, so you could go for that with this image.
There are many other colors she likes to wear, so you have many options for variations as well!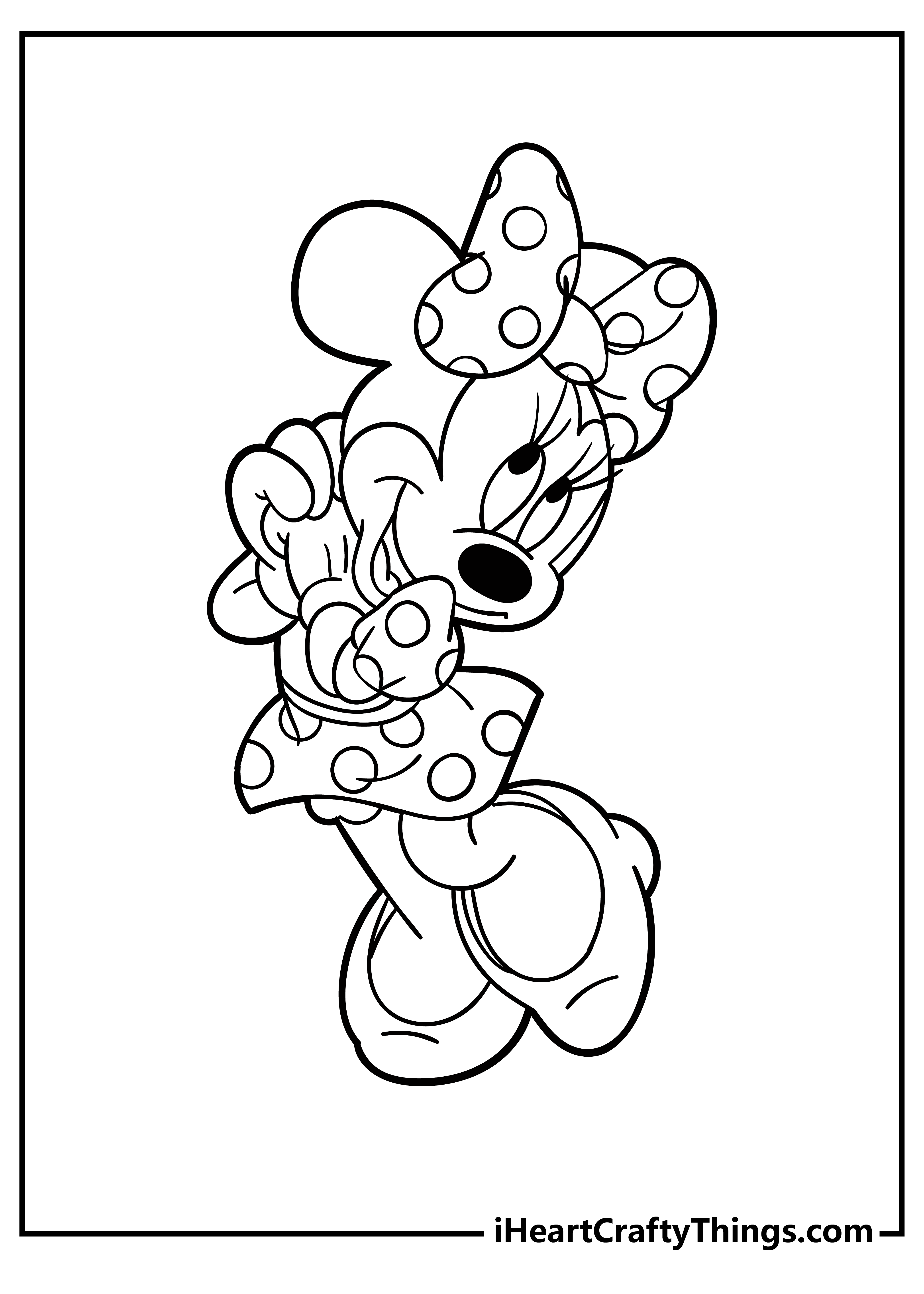 This Minnie Mouse coloring sheet shows this beloved character surrounded by some pretty flowers.
This gives you a lot of detail for you to color, and because these details happen to be flowers you can use any and all bright colors you love!
When you have colored Minnie and the flowers, you can then also decide on how you will color the rest of the empty space in the background.
Do you think you will use some solid colors for the background or maybe draw even more flowers or other patterns into that empty space?
We're sure this one will look bright and beautiful when it's done!
The next portrayal of Minnie Mouse we have for you features a very classic look for her.
Usually when she is portrayed in this style, she will be wearing colors such as red or pink, so you could use these if you like them or want her to fit the classic look.
While this would be a wonderful way to color this picture of Minnie, you could also give her a more modern, personalized look by using some of your own colors.
Which way will you go as you color this lovely picture of Minnie Mouse?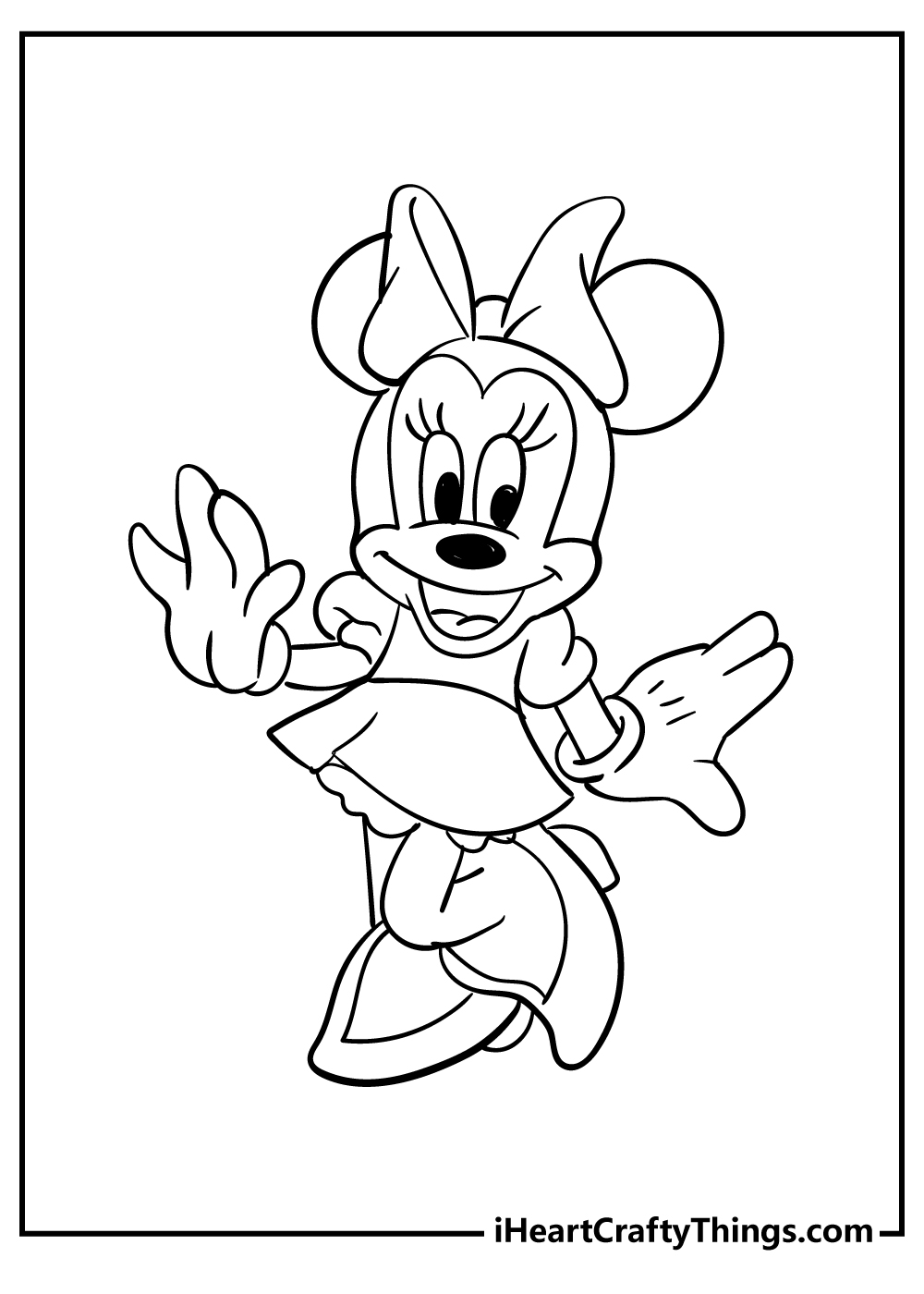 This third page of the collection has Minnie Mouse striking a pose while again dressed in her classic look.
If you colored the previous page of the collection, you could maybe try out a brand new color scheme for this variation!
Which colors do you think you will choose for this version of Minnie?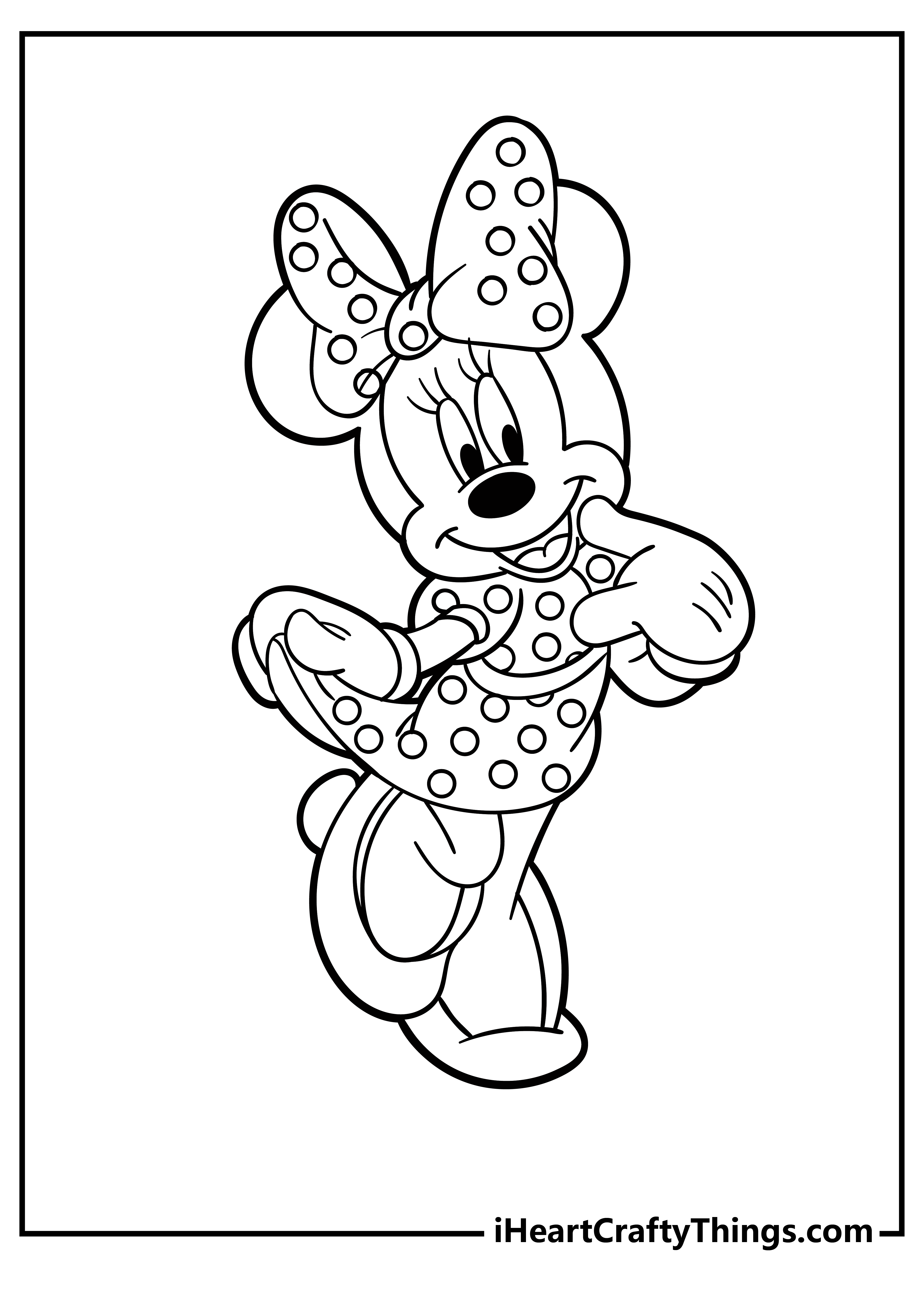 There's a brand new look for you to color in this next image! Minnie is dressed in a much simpler but equally pretty outfit in this picture, and there are many different possibilities.
There are no wrong answers for how you could color this outfit, so let your inspiration take over as you finish it off!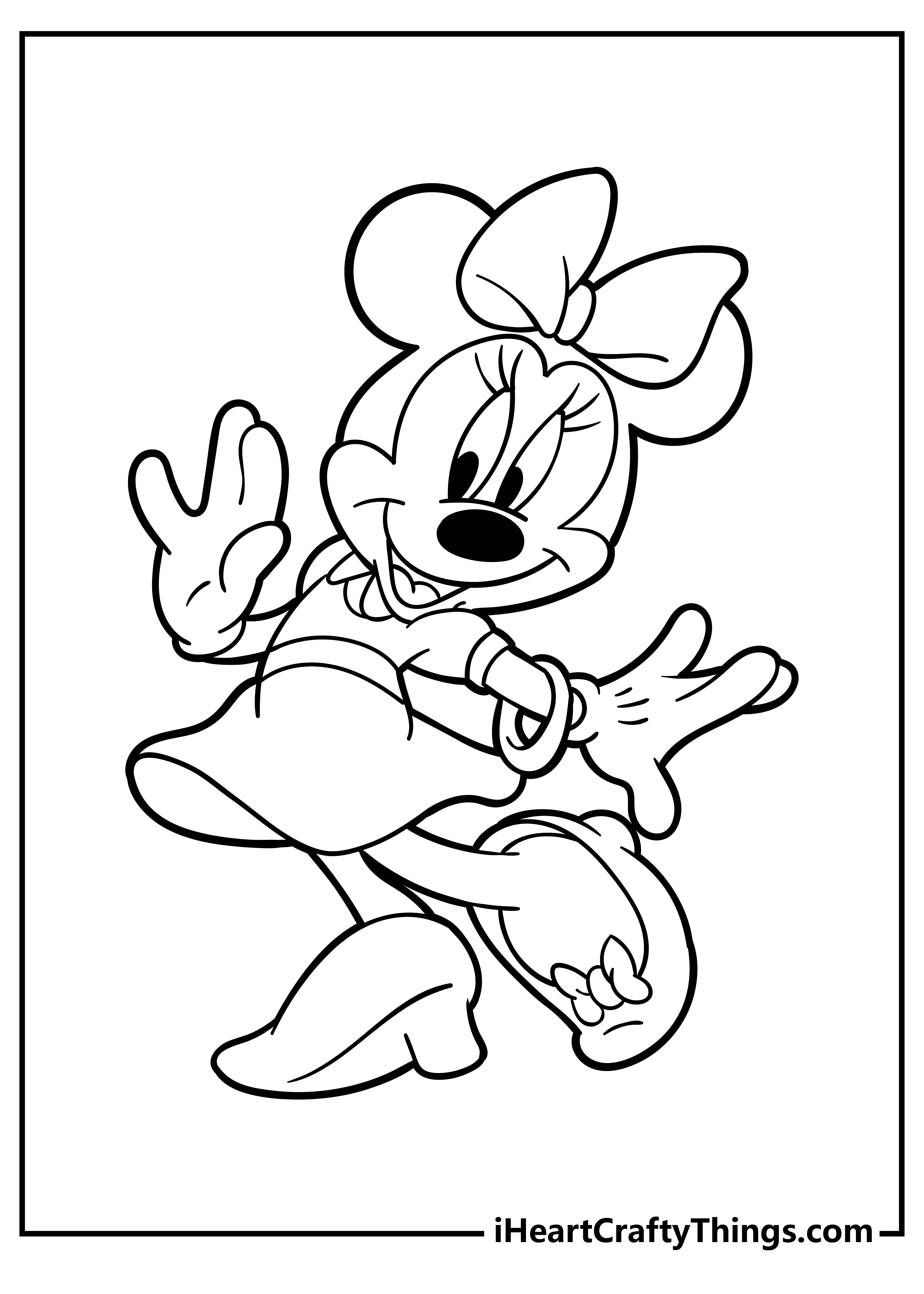 We have something extra adorable for you in this next Minnie Mouse coloring sheet! This time, we have turned back time to show Minnie as a baby, and she looks incredibly cute.
Even though she is depicted as a baby here, she is still wearing her classic bow, and you could color it to match her baby clothes.
Will you add any extra details for baby Minnie?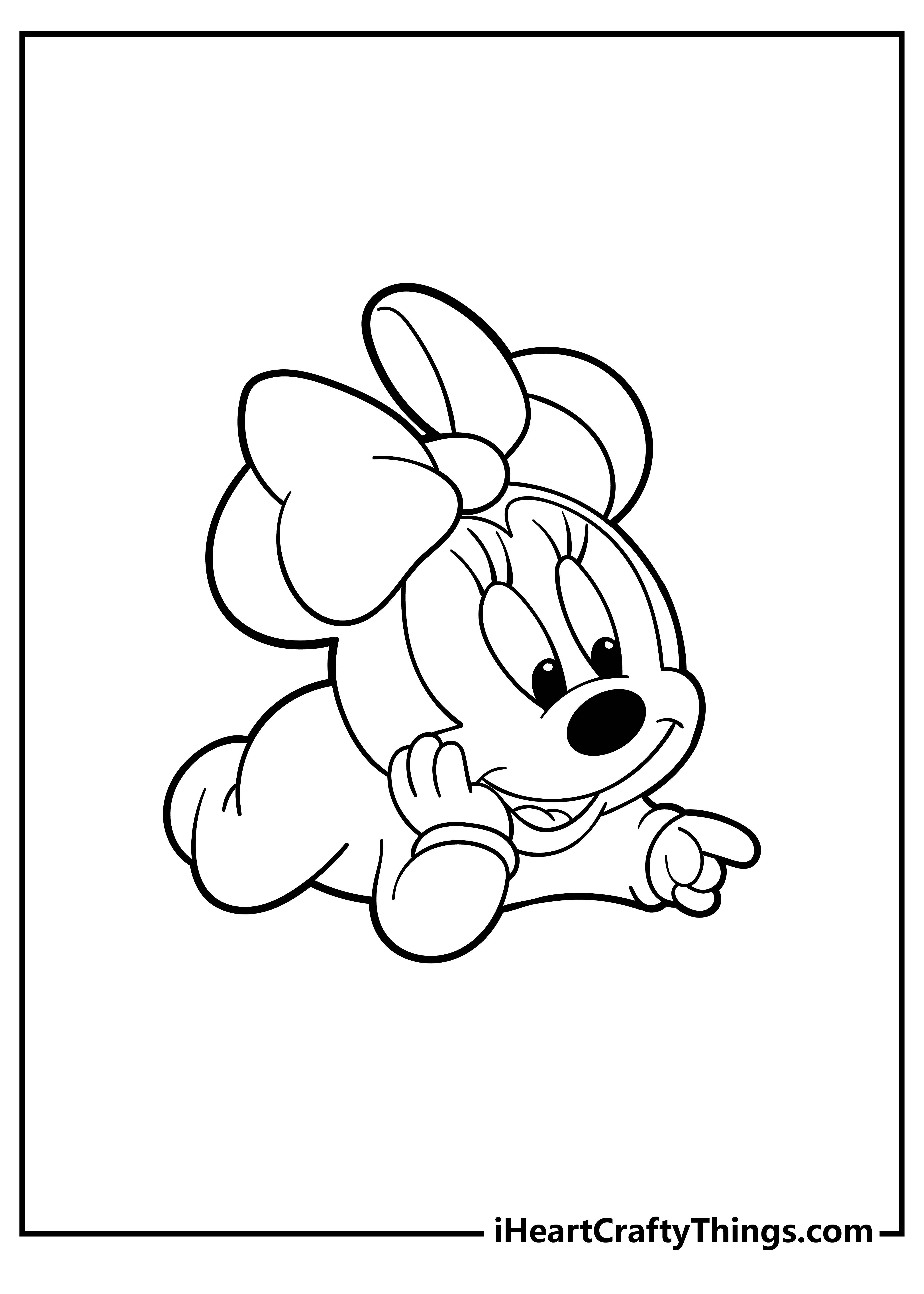 Here's another really classic look for Minnie that you can have fun coloring!
She is dressed in her iconic dress and bow, and once again that means that colors such as reds or pinks would be right at home on this image.
Minnie has been portrayed in every color imaginable, so even if you want her to have an established look you could use pretty much any color you like.
Will you choose a classic look for Minnie or show off your own ideas for how she should look here?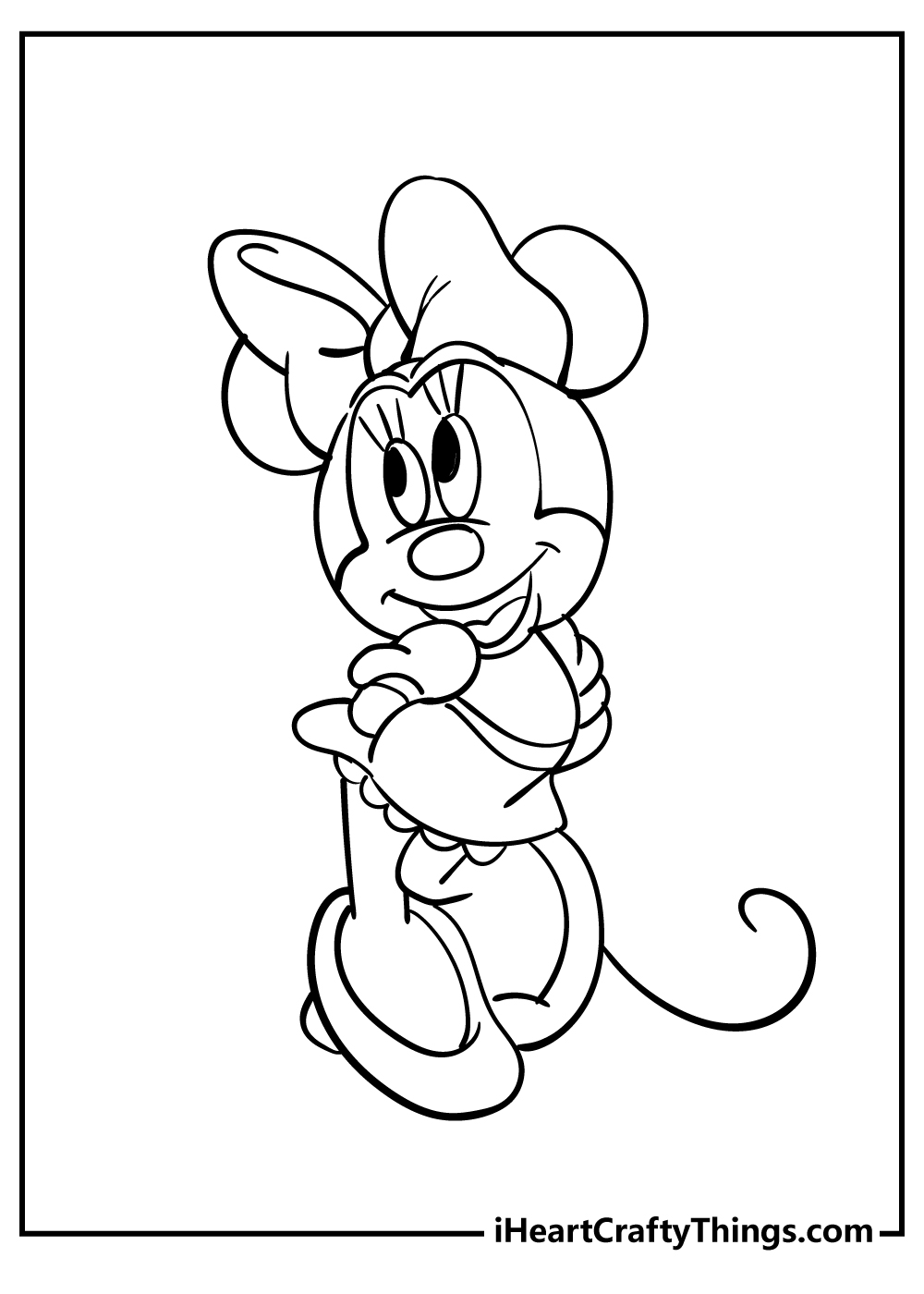 Next in our collection of free Minnie Mouse coloring pages for kids, we have an image of the famous mouse enjoying a lovely day outside.
She is holding onto a pretty flower, and that in itself gives you a lovely detail to use some bright color on.
When you have finished coloring Minnie and her flower, you could also draw a fun background showing her out in a garden or any other setting you can think of.
What are some fun settings you can think of where Minnie could be enjoying such a relaxing day?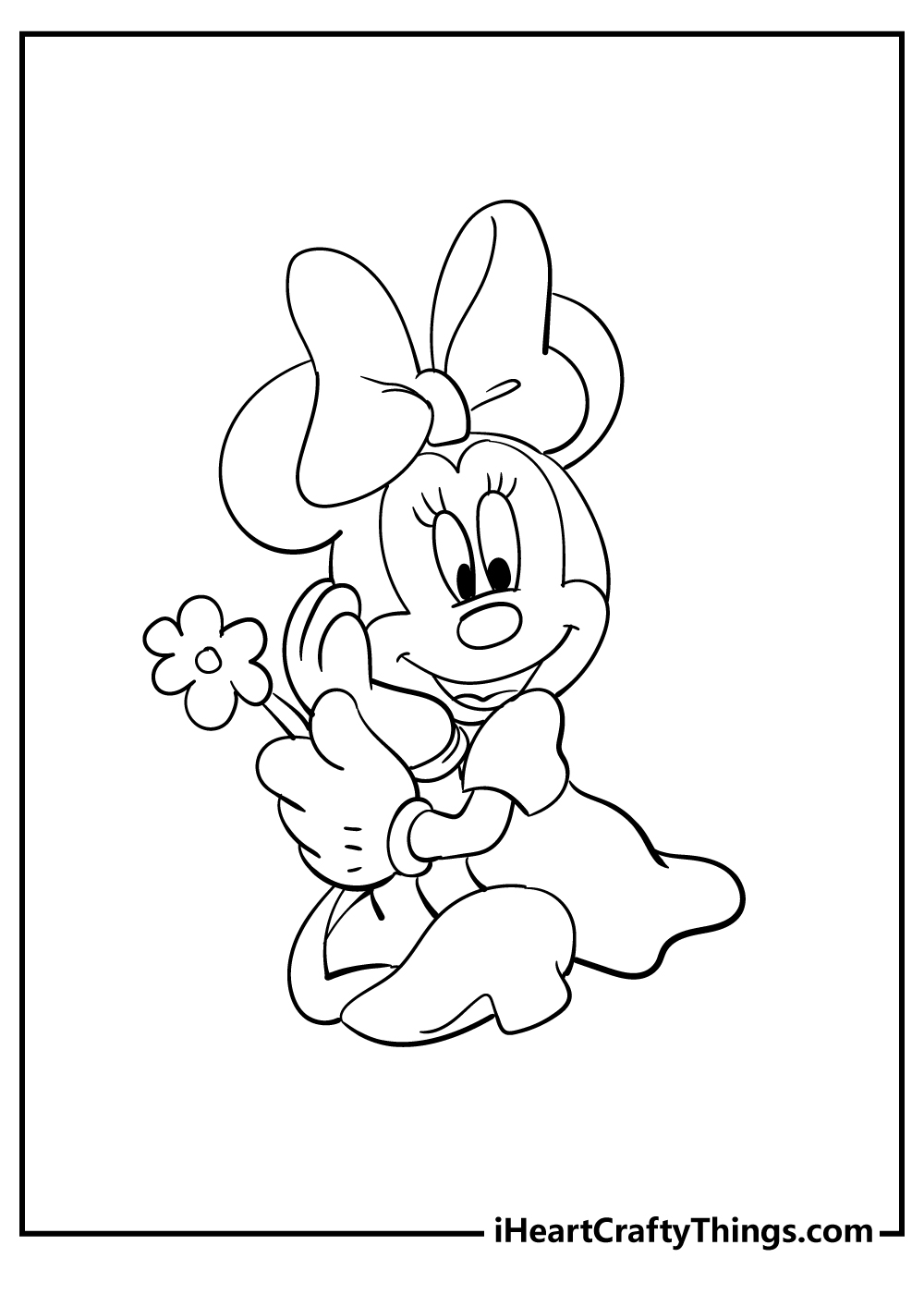 Minnie is looking a bit shy in this next image, but there are so many fun little details to color! Because she is looking a bit more bashful here, we would use some milder colors for this one.
We would also probably go for some watercolor paints or colored pencils to keep the colors looking softer.
Will you go for a similar approach?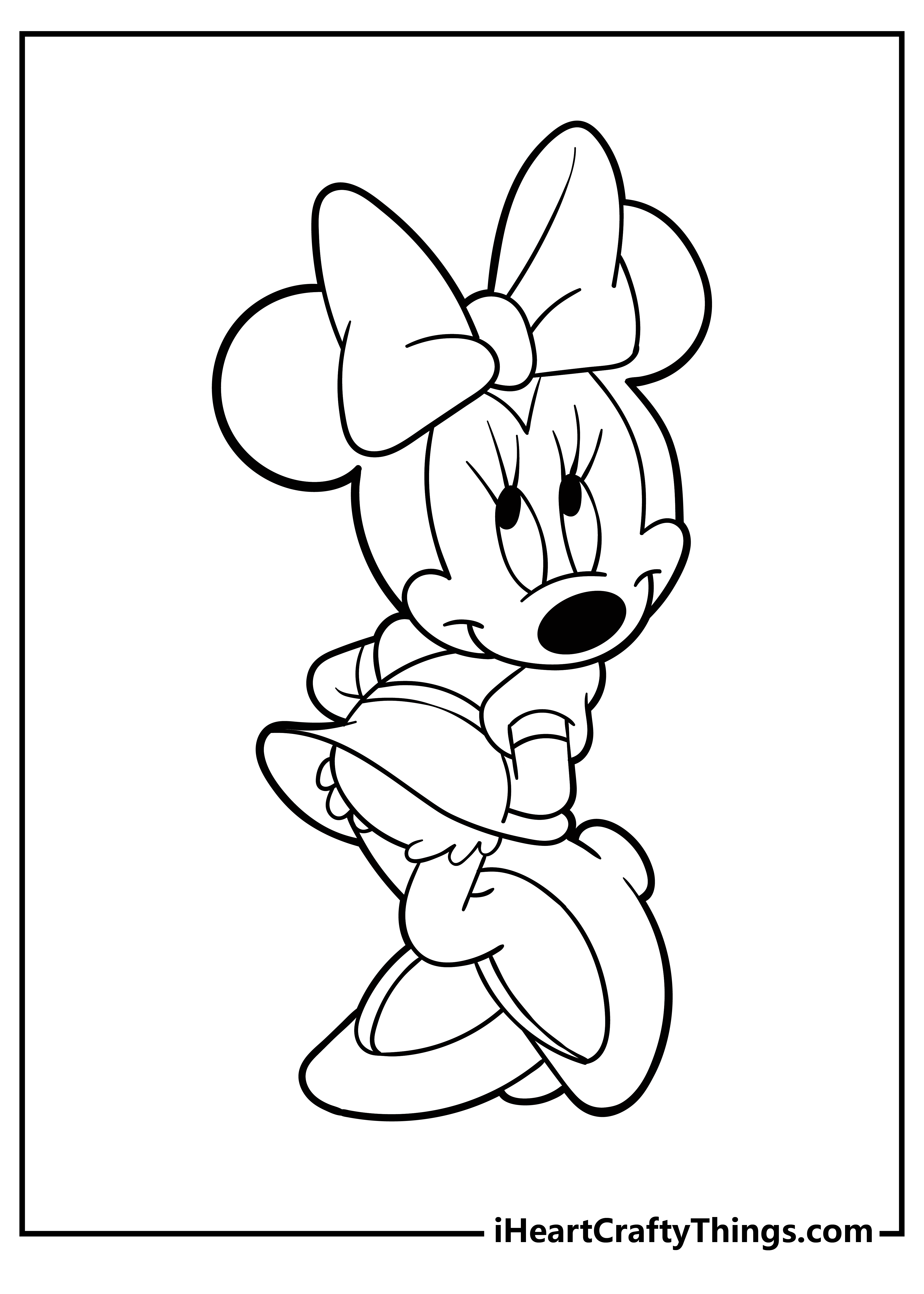 This next picture has Minnie looking nice and confident again! She is dressed in her famous outfit, but the details have been left blank.
This lets you add some patterns and shapes of your own that you could color to give her a unique look.
What kind of design would you choose for Minnie Mouse in this image?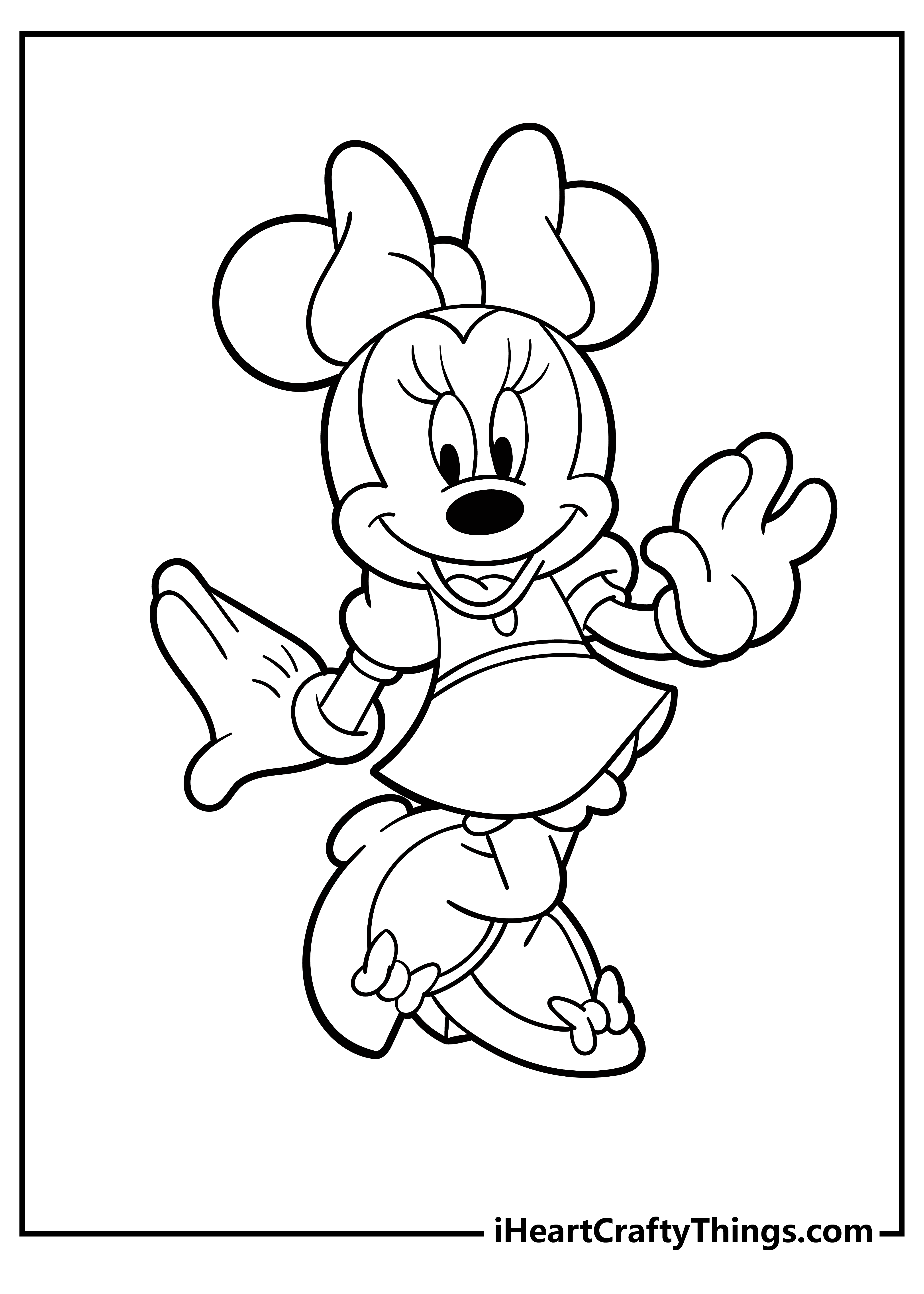 We have a very modern look in this next page, as Minnie is dressed in a fancy pantsuit!
Even though this is more formal attire, she still has some pretty bows incorporated into the design to hearken back to her classic look.
This is a timeless style that would look amazing with any color scheme you like!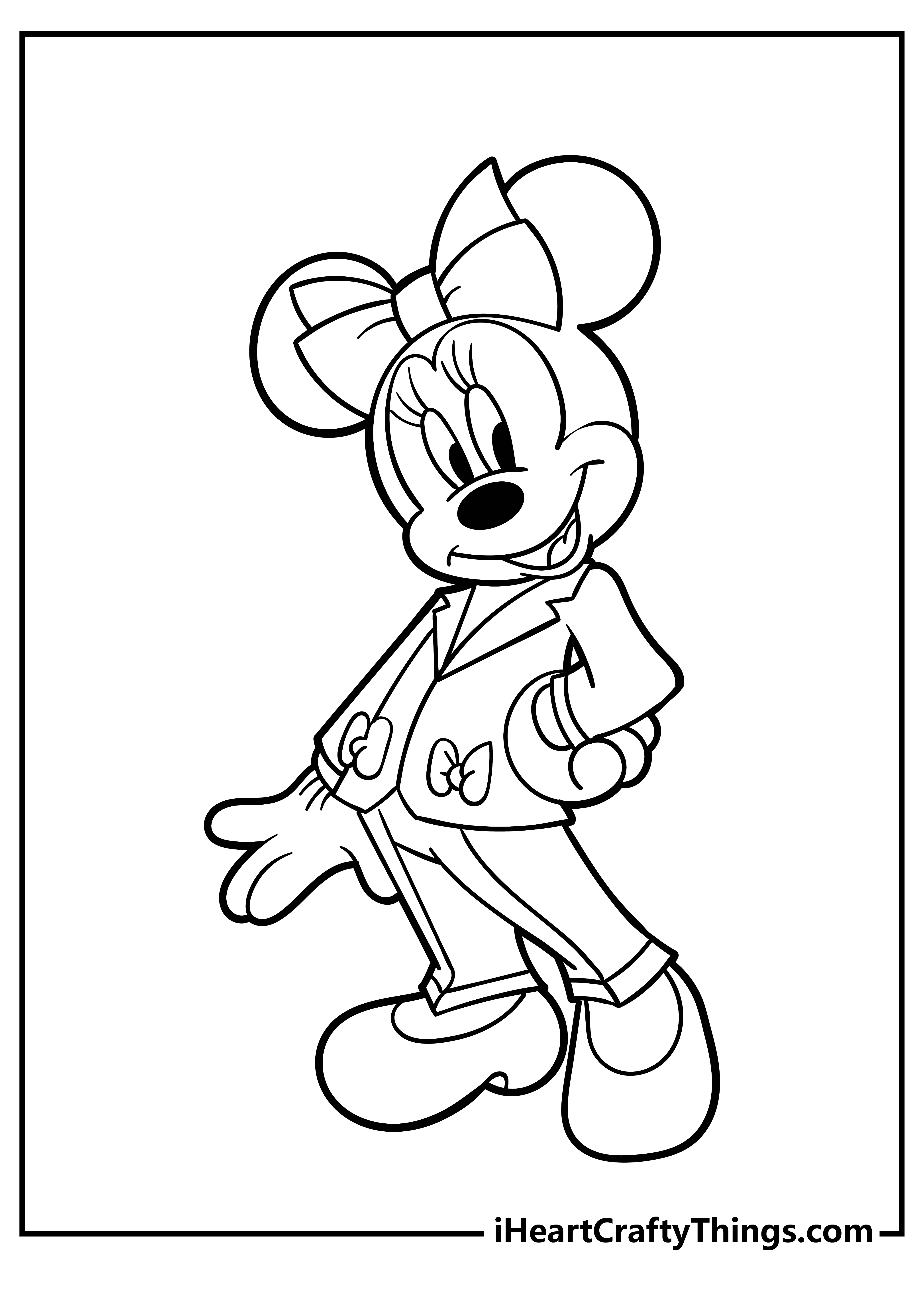 Minnie seems to have taken a bit of a fall in this picture! She normally appears composed and elegant, so this image stands out as it shows her in a rare moment of surprise.
What do you think could have happened to have her land up in this way? You could show off what you think it could be by constructing a scene around her.
There are so many ways you could do that, and you could tell a little story with the details you add around her.
We would love to see what fun ideas you have for this one!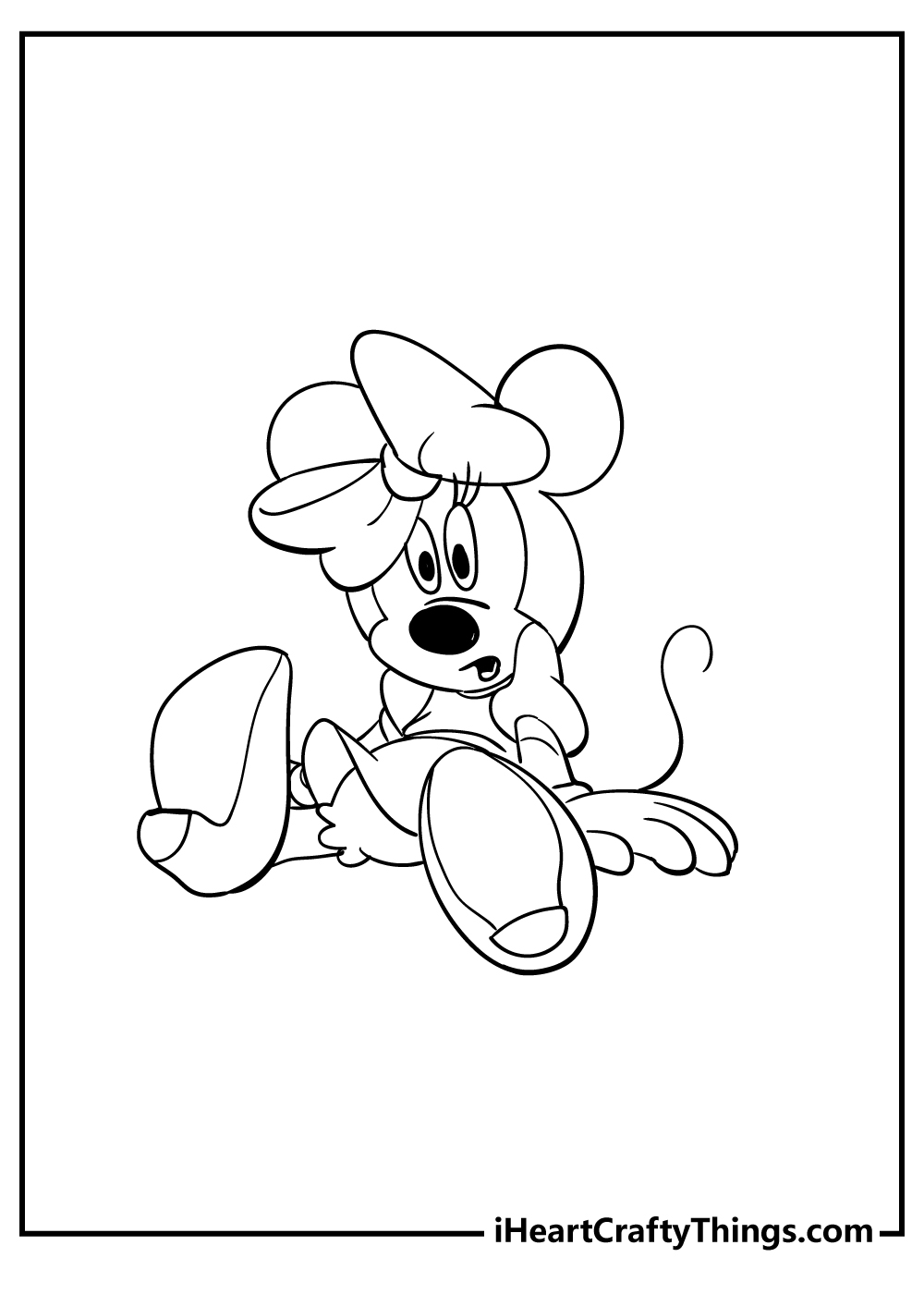 This is another really classic outfit and pose for Minnie Mouse! This page is another one that really captures her personality brilliantly, as she looks really happy and confident in this one.
We think that this one would look great with some bright and vibrant colors, and we would use mediums such as colored pens or markers if we were coloring it.
We think these mediums would be great as they allow for colors that really pop, but it's up to you to decide what you think would suit this fun portrayal best!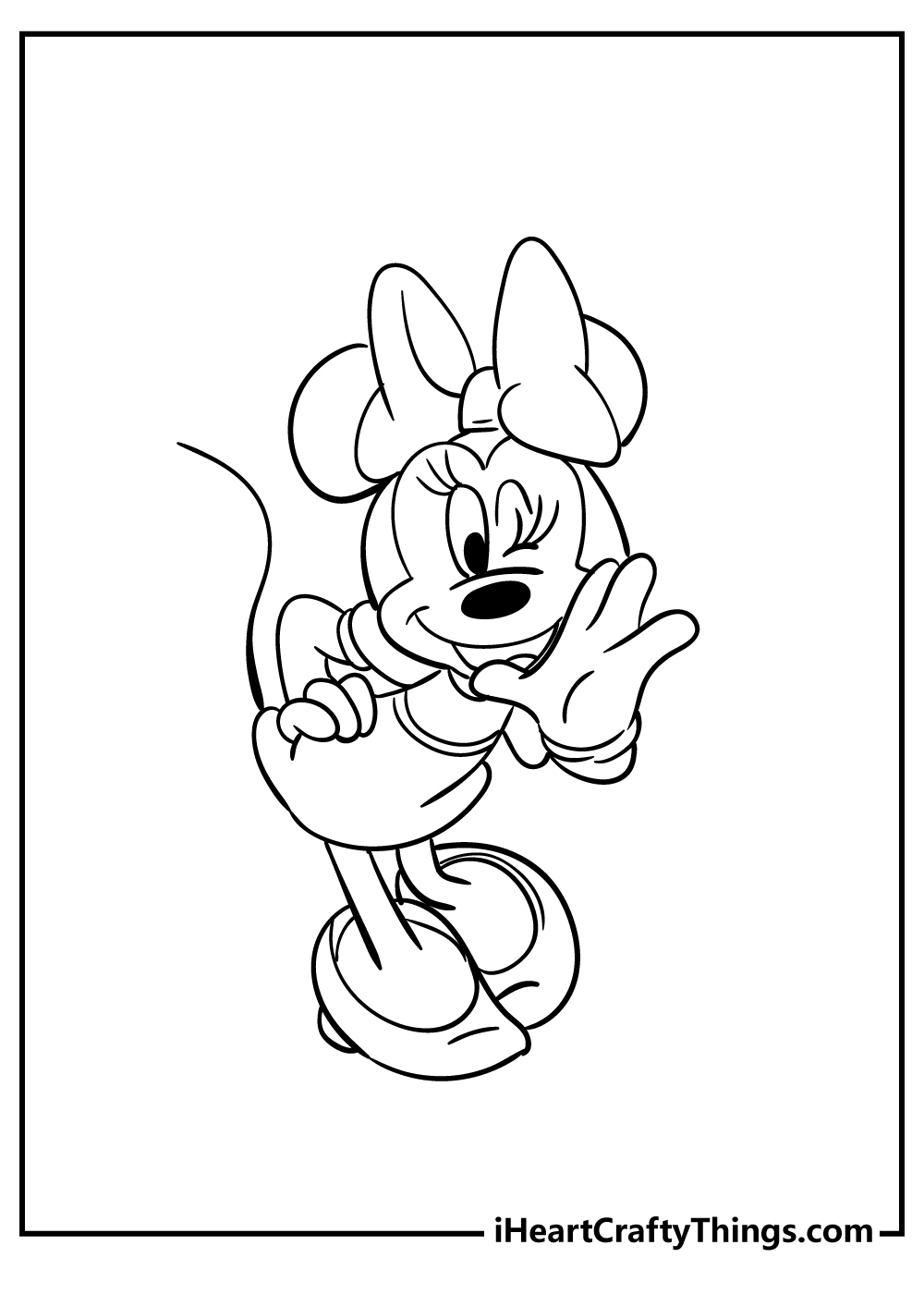 The pose that Minnie is in for this next page makes her look very happy! She is once again in her classic outfit, and we think that some bright, cheerful colors would be perfect for this portrayal.
It's another image where you could also draw some small patterns onto the clothing to give her a more unique look.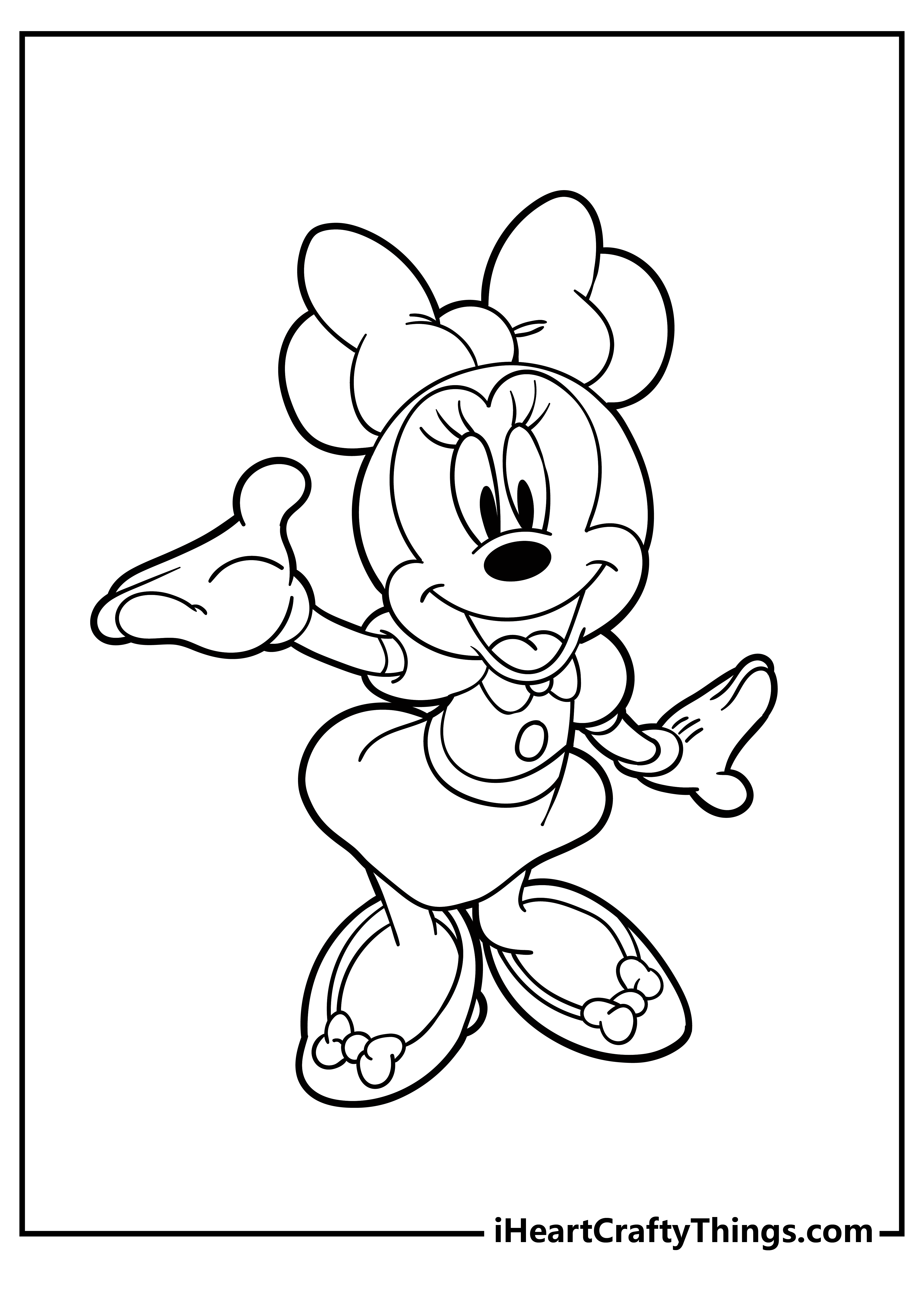 The 10th Minnie Mouse coloring printable that we have for you features Minnie in an outfit that is inspired by her very first appearances, but with a modern styling.
One fun idea would be to use shades of greys for this image to make it look like it's from an old cartoon!
Would you like to try something like that, or will you go for some bright colors?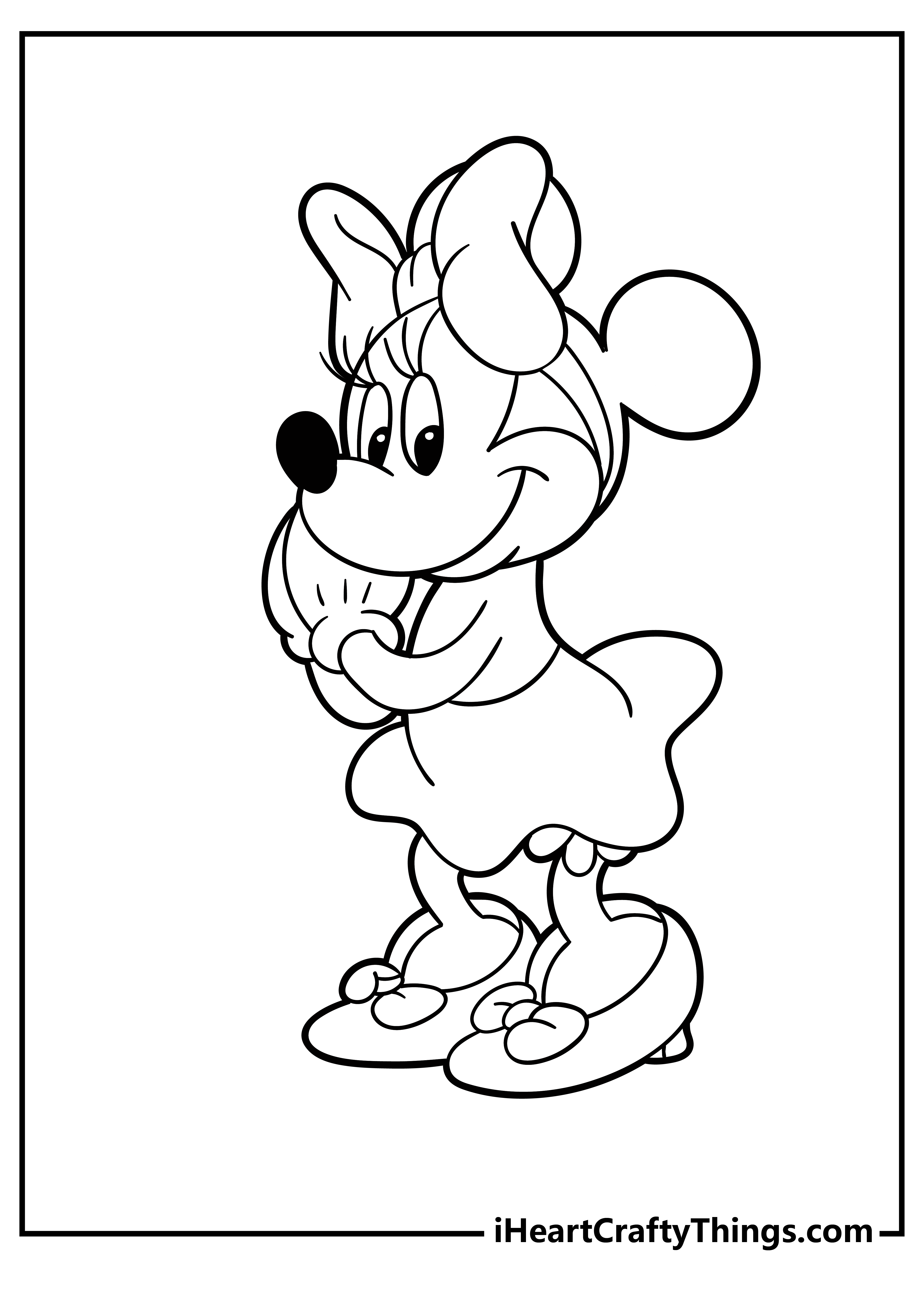 Minnie loves to strike fancy poses, and that's what she is doing in this picture!
When coloring these images, it can also be fun to draw some background details to show what kind of setting she could be in.
What kind of fun places do you think Minnie could be in here?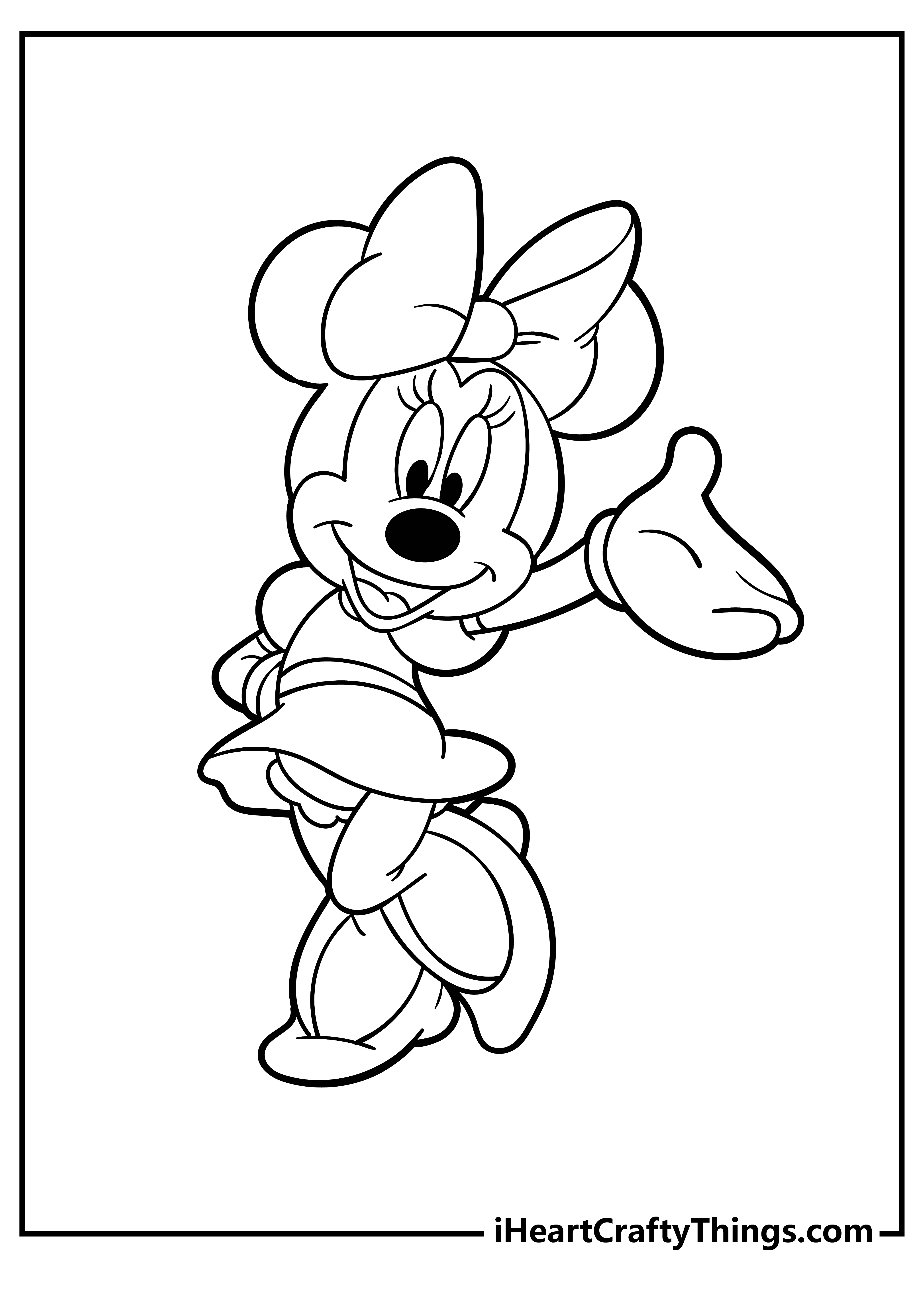 Get ready to have a fun time dancing with Minnie as we take on this next Minnie Mouse coloring printable!
She is having a great time dancing here, and this page really captures the fun and vibrant feeling she is experiencing.
This is definitely another page that we would use some bright colors on, as that would help emphasize the joy and vibrancy of dancing.
We would also use lots of smaller brushes of color for the background to make it look like the background is whizzing by as she gets lost in her dance.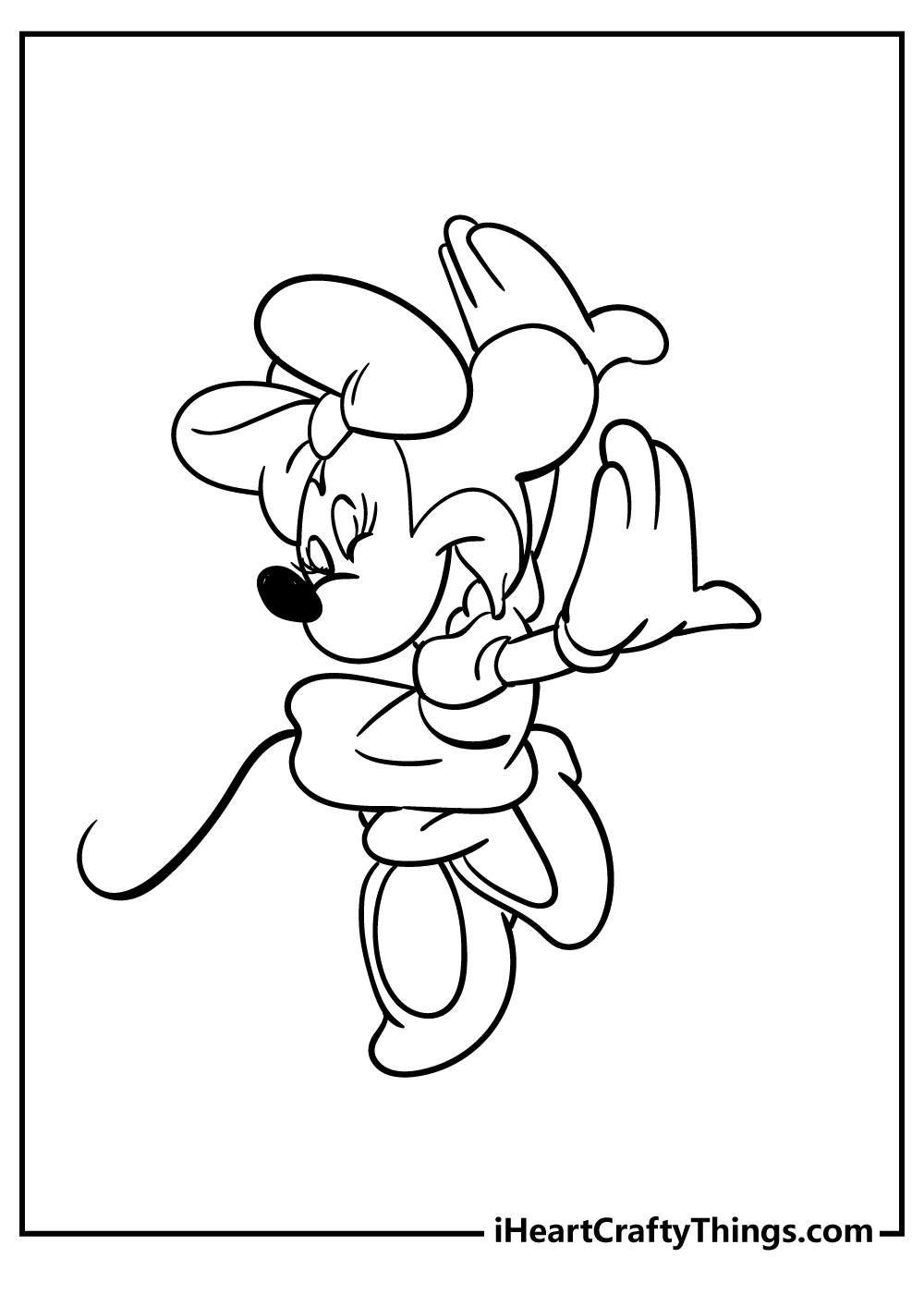 You can really feel the confidence that Minnie Mouse is known for in this next image!
She is doing a really extravagant pose here, and it looks a bit as if she is presenting something amazing for you to see.
What do you think she could be showing us? This would be a great chance for you to draw a background to show what she is presenting behind her.
There are so many fun possibilities for this kind of background, and you could really get creative with it! What are some ideas you have for the background here?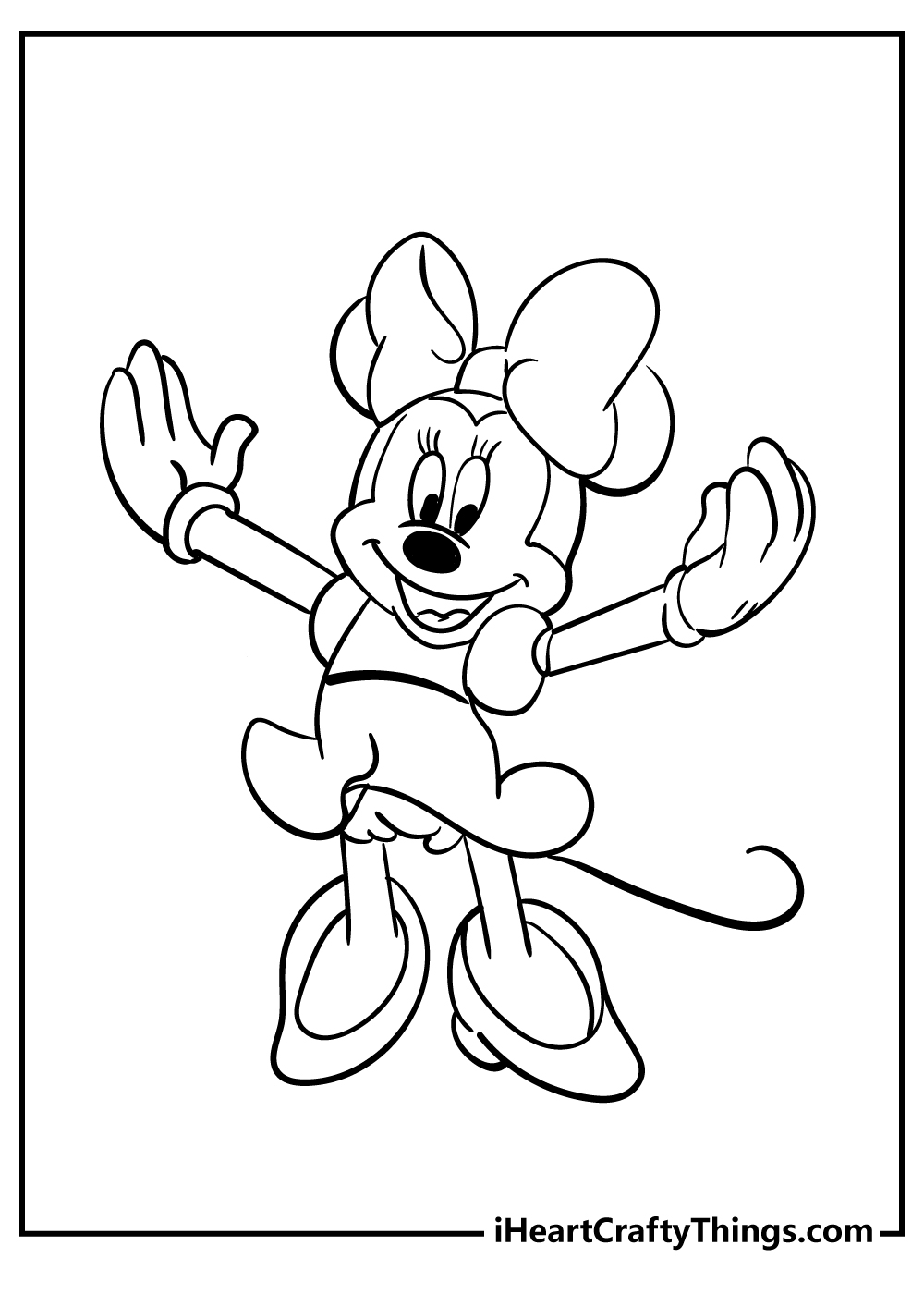 We have a really fun picture of Minnie for you in this 12th picture! She is looking very happy in this one, and she is contained within a flower shape.
When coloring this one, you could draw some shapes and other fun details that you can color into the background.
This picture would make a great poster for your wall when it's complete!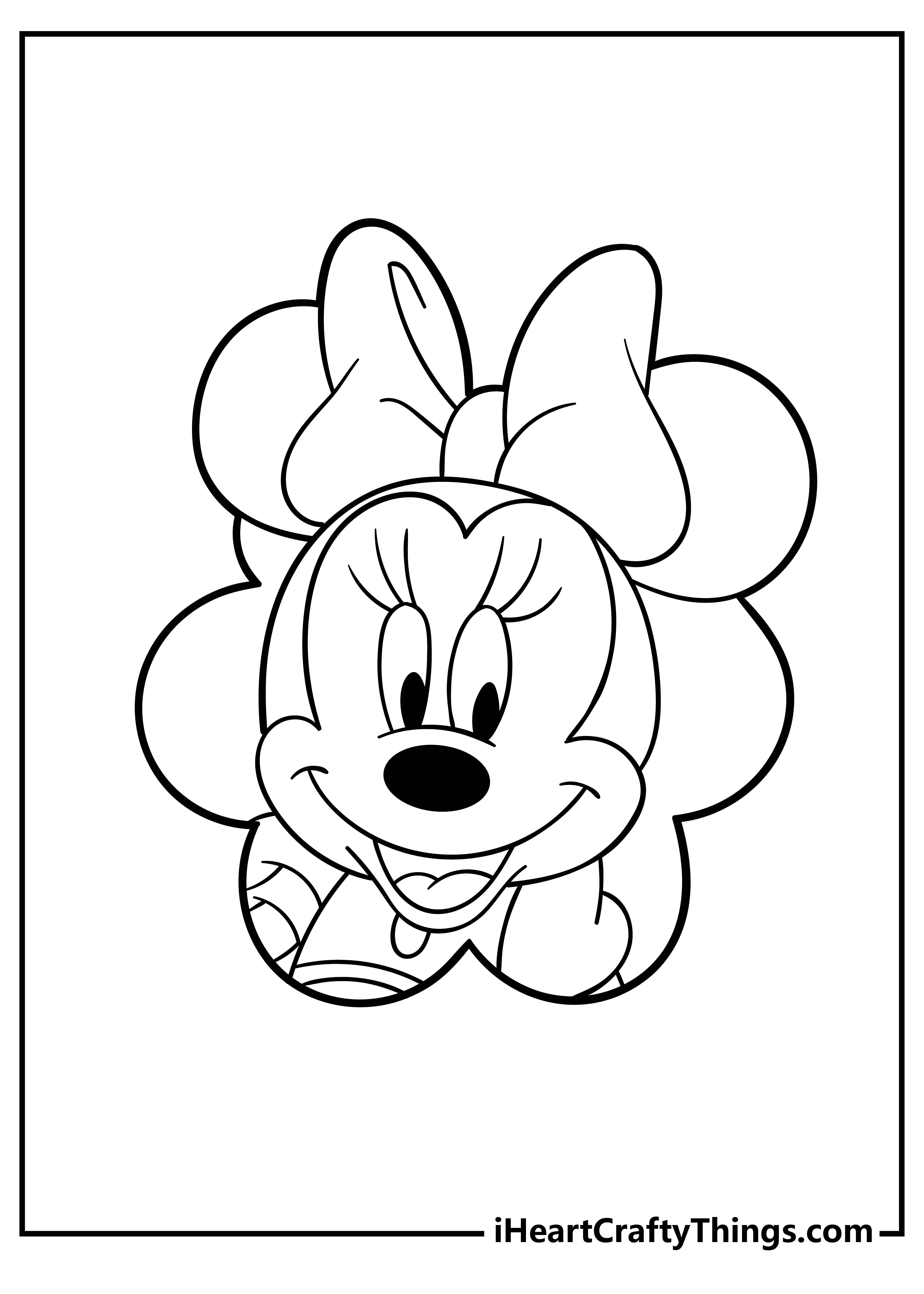 Let's cool things down a bit for this next page! Minnie Mouse is in a Winter wonderland! She is skating while dressed in a trendy Winter outfit in this one, and she seems to be having lots of fun.
If we were coloring this one, we would use some light blues for the background to give off an icy feeling.
What colors will you use for her pretty skating outfit?
There is such happiness given off by this image! Minnie is leaping for joy, and she looks like she wants everyone to hear how happy she is.
She could even be singing, and you could draw some music notes above her to show this.
What happy tune do you think Minnie could be singing about here?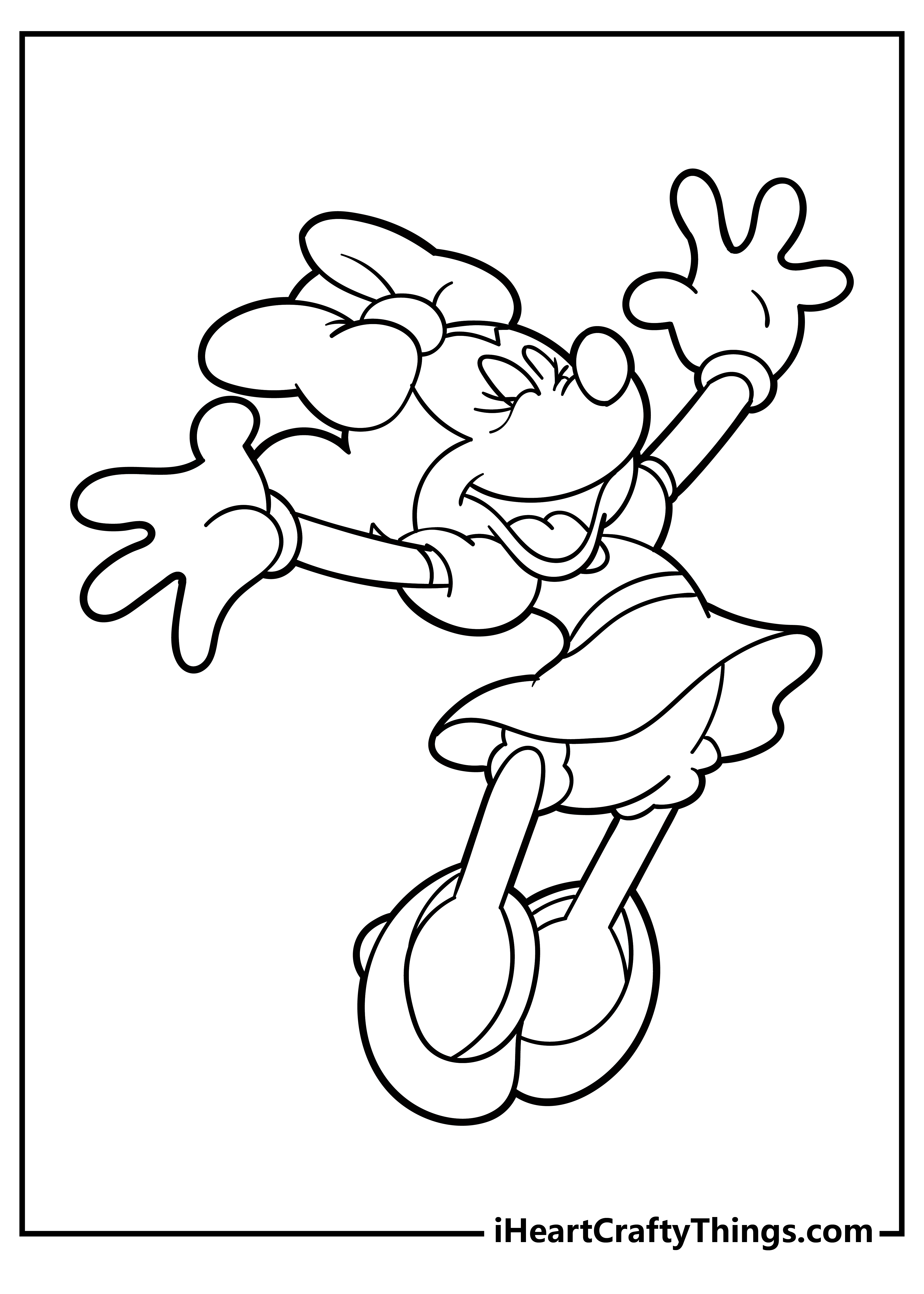 This next page is another wonderful portrayal of Minnie Mouse! She is again looking very happy and excited as she does a happy dance.
The background has been left quite blank and open, so you have lots of room if you would like to add to it. If you're feeling extra creative, you could even draw Mickey for her to be dancing with!
That's one idea of how you could take this image to the next level, but it's just one suggestion.
You could draw somewhere fun she is dancing or keep the background simple with colors if you prefer instead!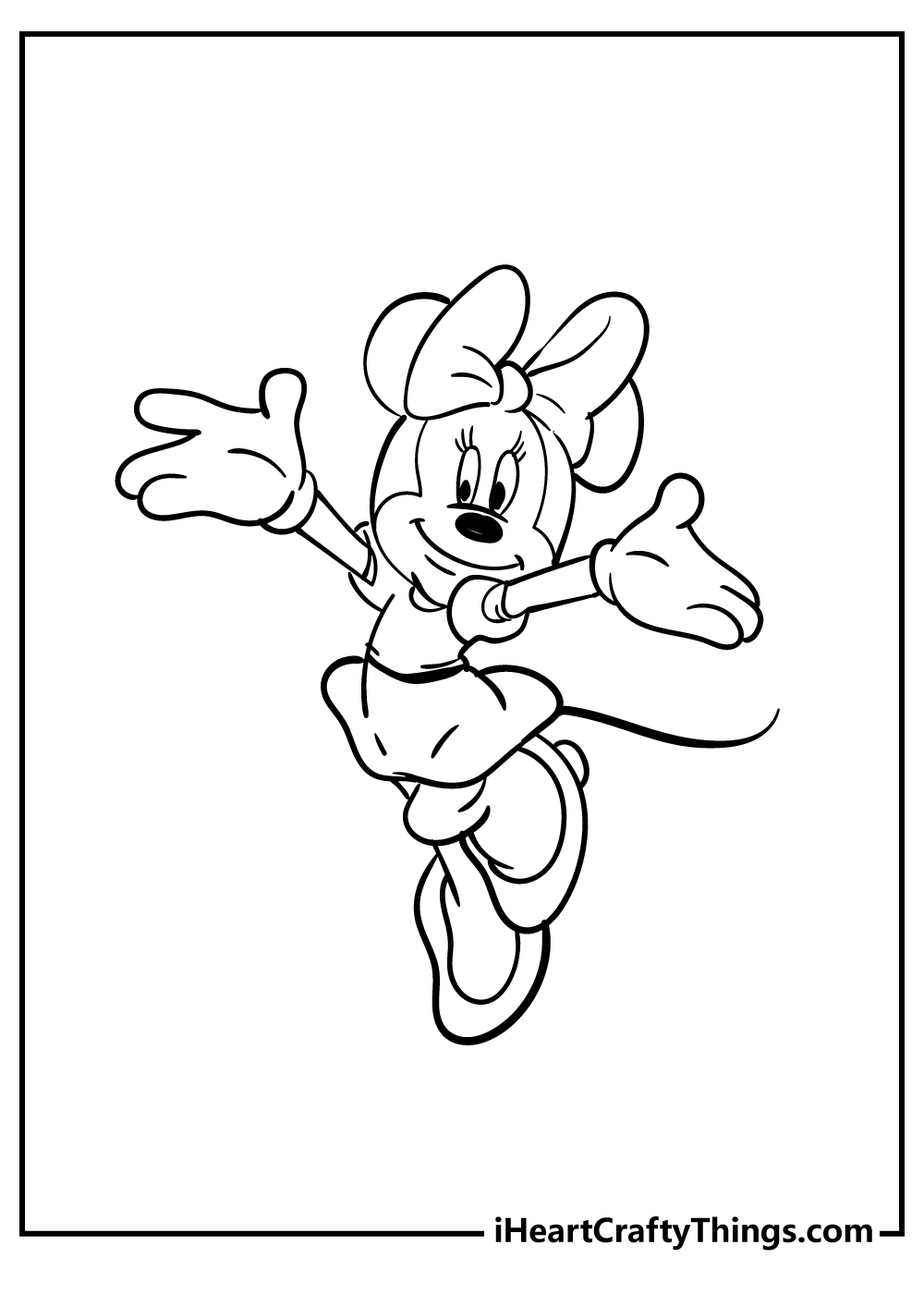 It's time to enjoy some more high-energy fun as we color this Minnie Mouse coloring page. This is a really happy dance that she is doing here, and we wonder what she could be dancing to.
Maybe you could write some words from a song you like to dance to above and around her to show what kinds of tunes she is enjoying here!
What are some songs that you could use to show her dancing to? If you don't use that idea, how else can you think to finish off this vibrant page?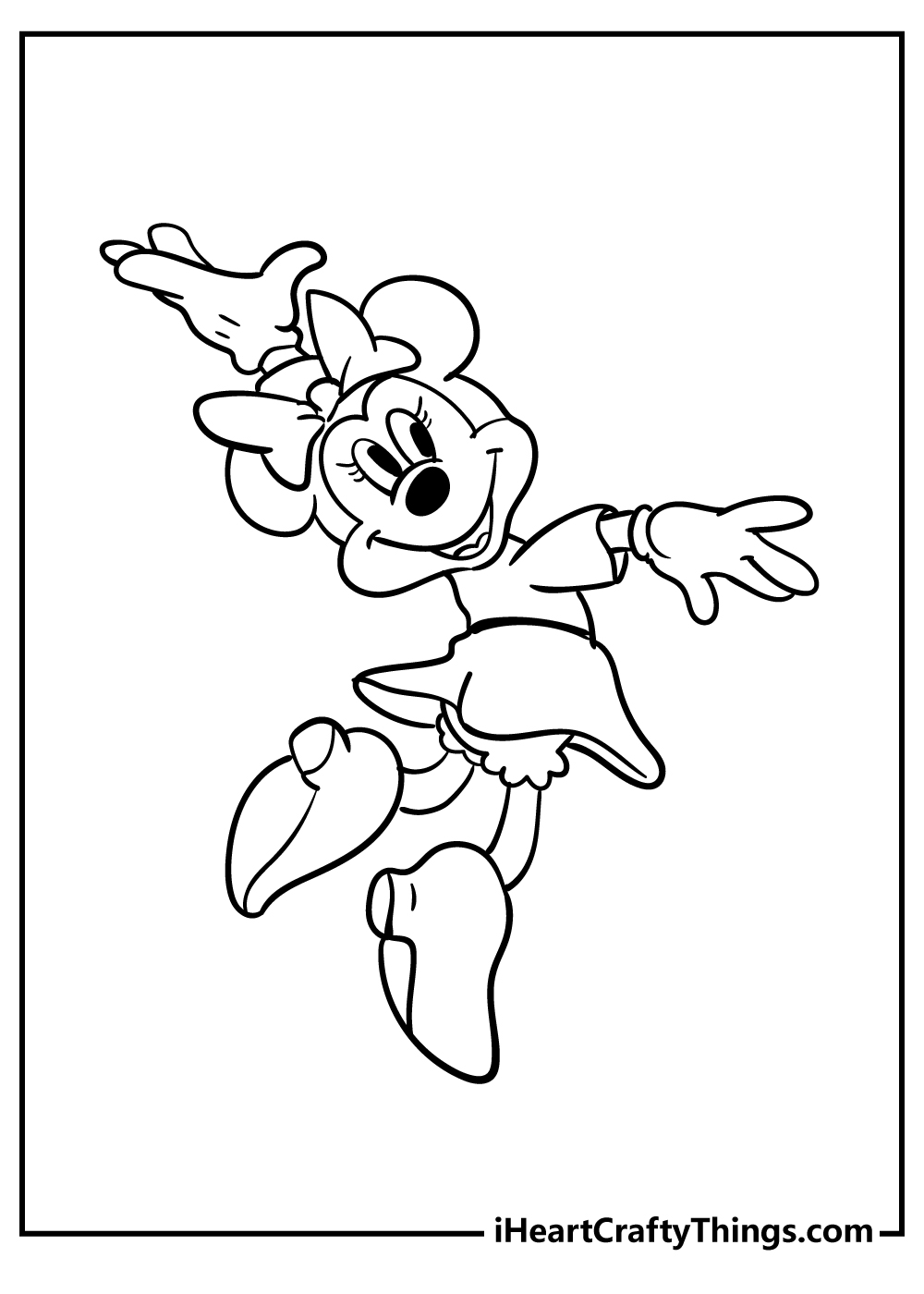 This is the final Minnie Mouse coloring sheet we have for you in this collection, and it's another fun pose!
She's pointing at her head as if she just had a great idea, and it makes you wonder what it could be. You could draw a bubble over her head to show what her idea could be for a fun extra detail!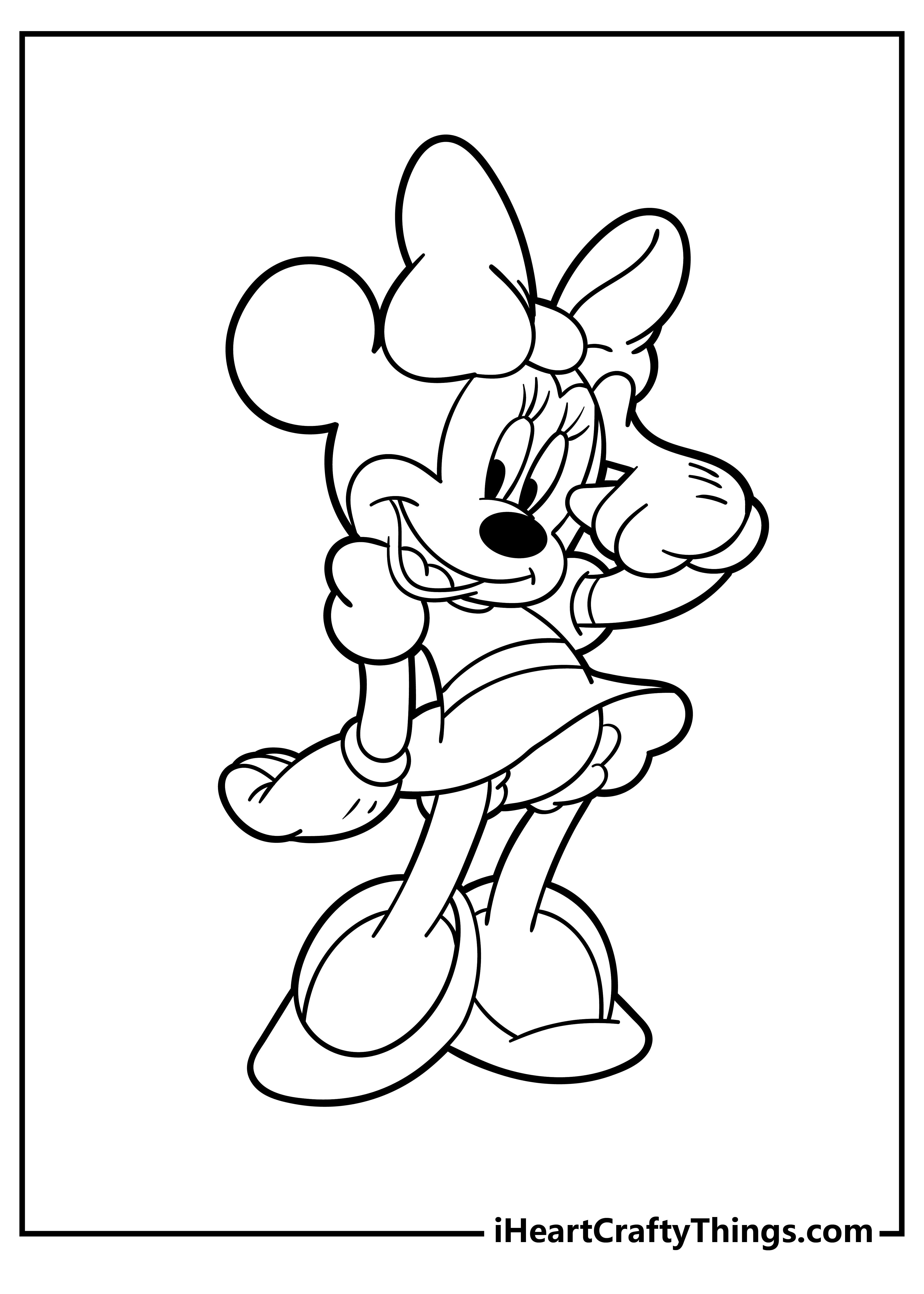 Minnie Mouse Coloring Pages – Which will you choose?
Hopefully you had a really fun time coloring this famous character as we went throughout this collection of free Minnie Mouse coloring pages for kids!
Remember that you can print our as many of these as you like, and you can share the collection with friends and family as well.
When you're finished with your favorite pages, remember to share some of your artworks on our Facebook and Pinterest pages for us to see and enjoy!
We look forward to seeing how you represented this famous fashionable mouse with your creativity.