In the history of animation, few can claim to have pioneered as many iconic characters as Walt Disney.
Because of this visionary, we now have iconic characters like Mickey Mouse as a huge part of pop culture.
Part of this history is Goofy, a lovable weirdo who may not always be the smartest in the room, but is always cheerful and kind. People have loved this adorable goof for many decades.
If you love him too, then this collection of free Goofy coloring pages for kids will be perfect for you! We have 15 pictures that perfectly capture this eccentric character for you to enjoy.
Get ready to use your favorite colors and coloring tools as we bring this wacky collection to colorful life with your creativity!
15 Brand New Goofy Coloring Pages – Free to Print and Color
Goofy may not always be the most coordinated person around, but he seems to be pulling off some cool moves with a basketball on this first Goofy coloring sheet.
Judging from his expression, he is just as surprised it's going so well as we are! Not only is it a fun picture to look at, but also gives you some great details to color.
You could also draw a background setting to show where he is performing this trick. Where do you think it could be?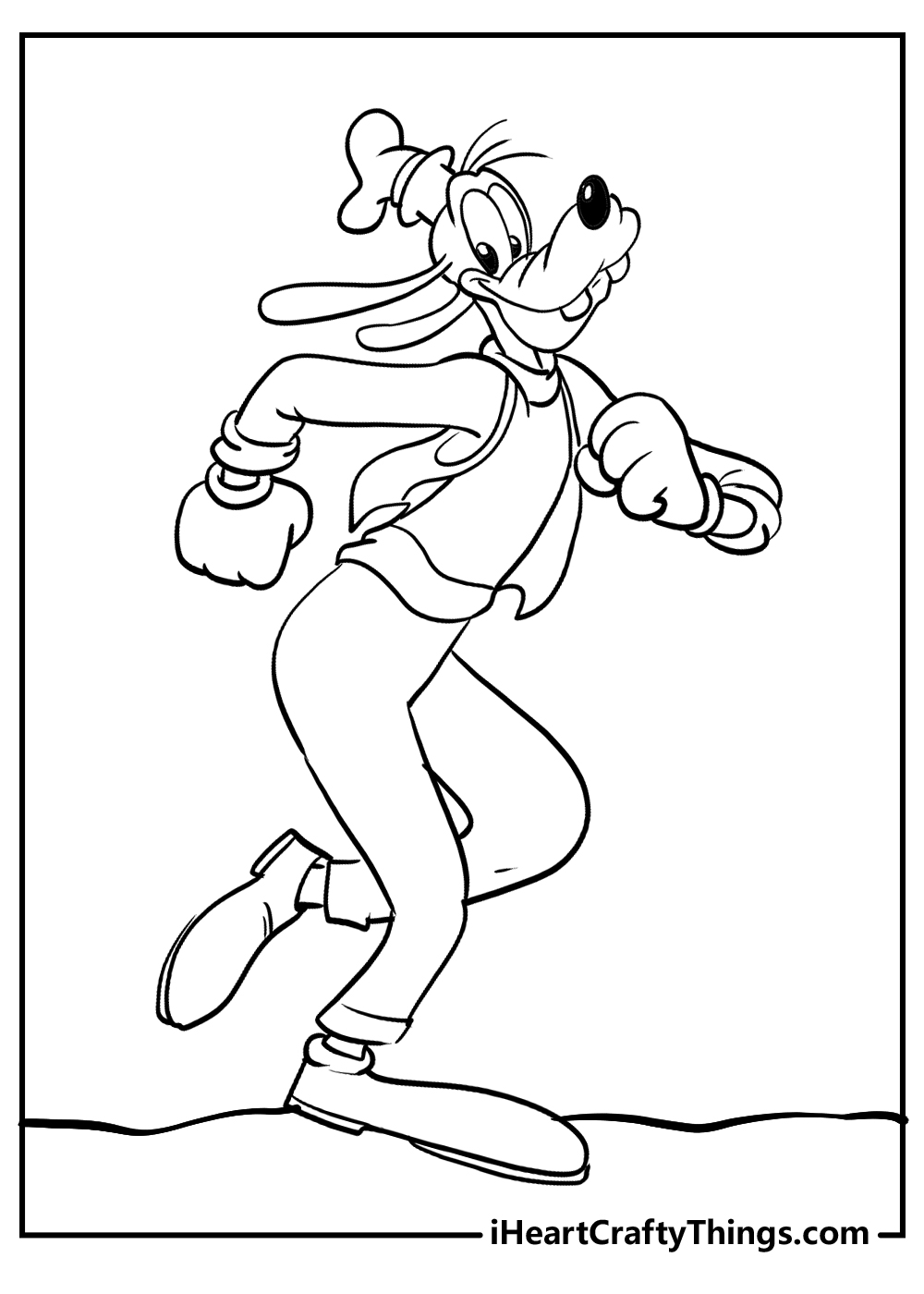 This next page really captures the wackiness of this character! Goofy is messing around and being silly here, two things no one does better than him.
The background is also separated into various segments, meaning you could use all sorts of bright and beautiful colors for each one.
If I were coloring this page, I would make the colors as vibrant as possible, as that would suit the crazy feeling of this pose. Of course, that is just one way that you could do it!
How else could you color the picture?
Goofy is looking a bit confused on this next page. Something has definitely thrown him for a loop, and it makes you wonder what it could be.
When it comes to these coloring pages, you don't need to be limited to just coloring. You can also draw some extra elements to build a story around the page.
For this page, you could draw something that has confused Goofy to show why he is in this state. Maybe there could be a complex math problem on a board behind him, for example.
That's one idea, but what do you think could have thrown Goofy into such a confused state?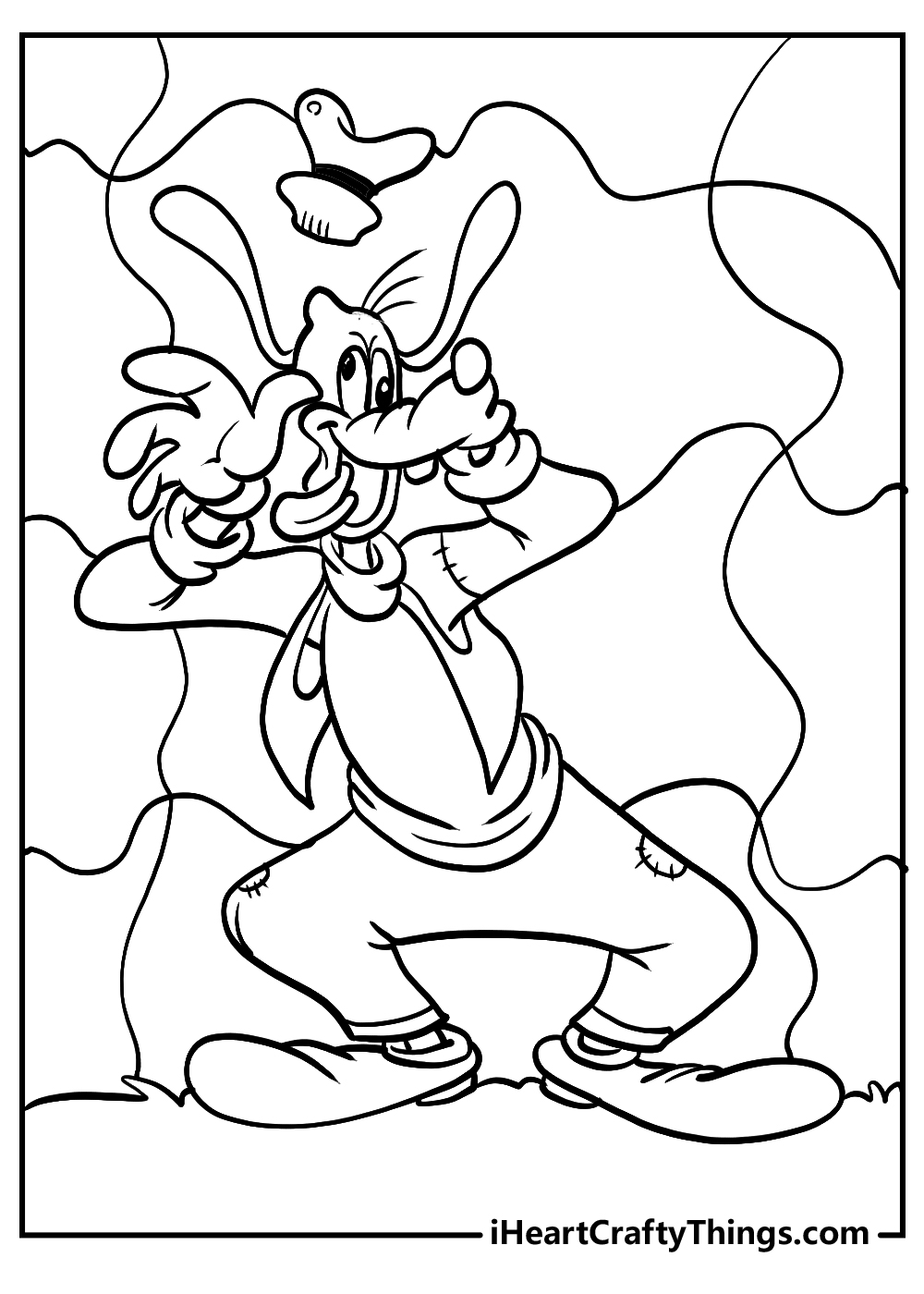 This next page shows Goofy reading a book, which is probably not an activity one would assume he loves. But, it's a good lesson that people can surprise you!
He really seems to be enjoying the book, and it's put him in a very good mood indeed. If you love to read and have a favorite book, then you could draw the name of that book onto his one.
That way, you could make it look like Goofy is reading your favorite book! Or, you could think of a book that you think Goofy would enjoy and then use that instead.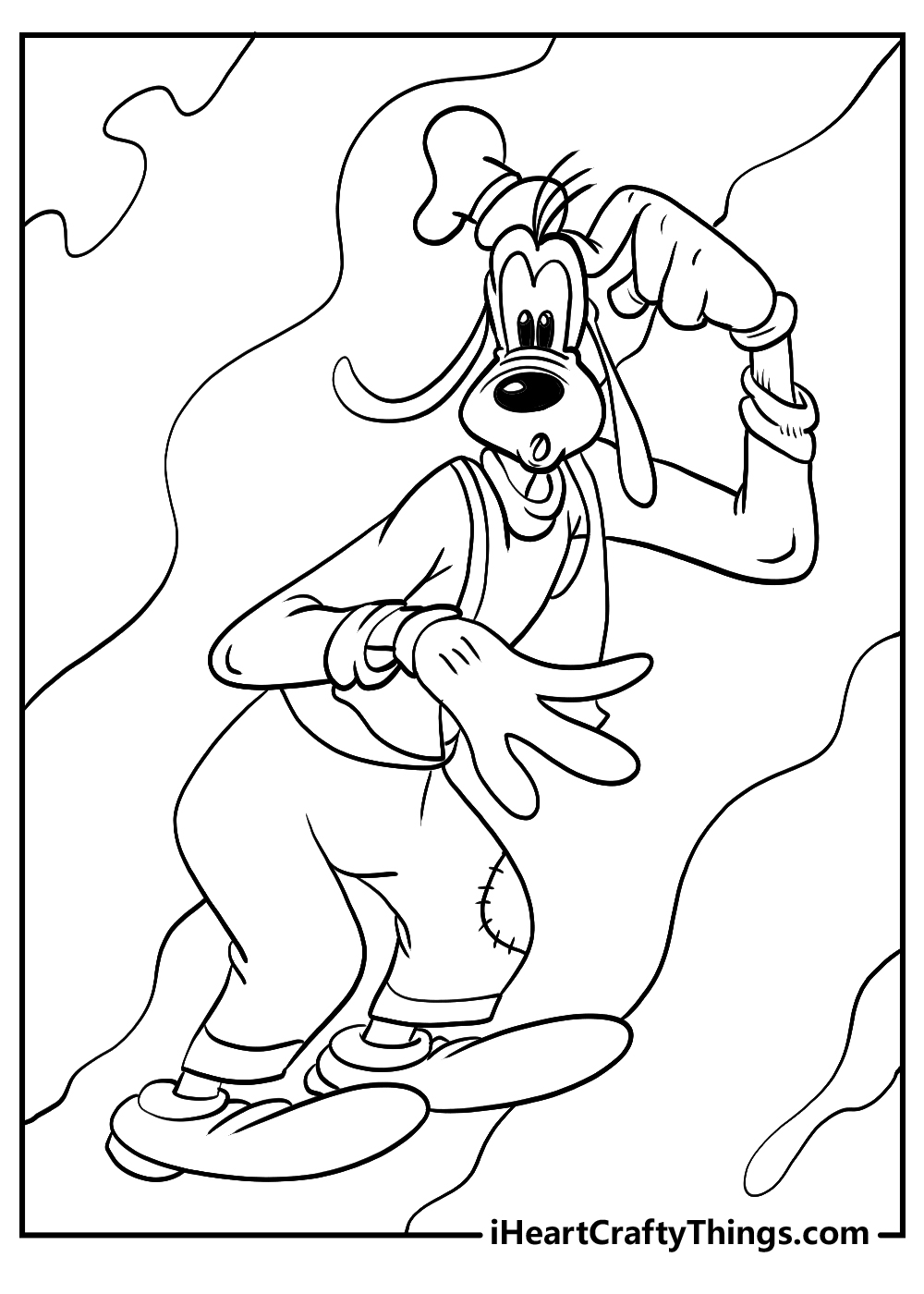 There is text on this next Goofy coloring printable, and text always allows you to add some great color details to an image.
That's because you have the choice of a few different ways to color the letters.
You could use one color for all of the letters, or you could alternate between a few of them. There are no wrong ways to do it, and you should go with what you think is right!
Which colors would you use for the letters of Goofy's name on this page?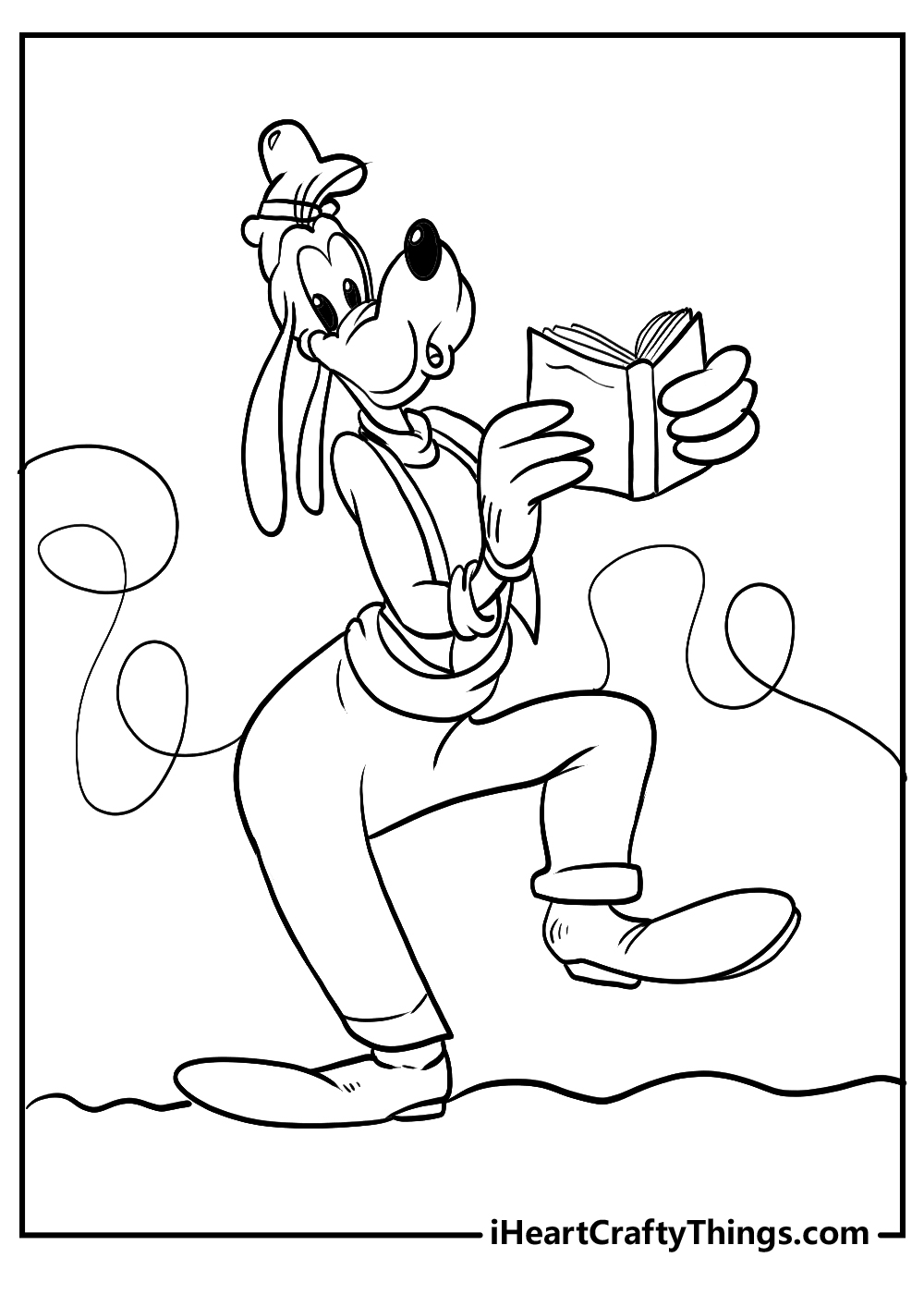 This next page is really fun, as it looks like Goofy is floating into the sky! Either that, or he is falling from the sky.
Either way, it is a safe assumption to think that he could be imagining this event happening. This would be another great page to add some of your own details to.
Some easy details to add would be birds or a plane, but there are so many other fun details you could draw. What are some that you can think of?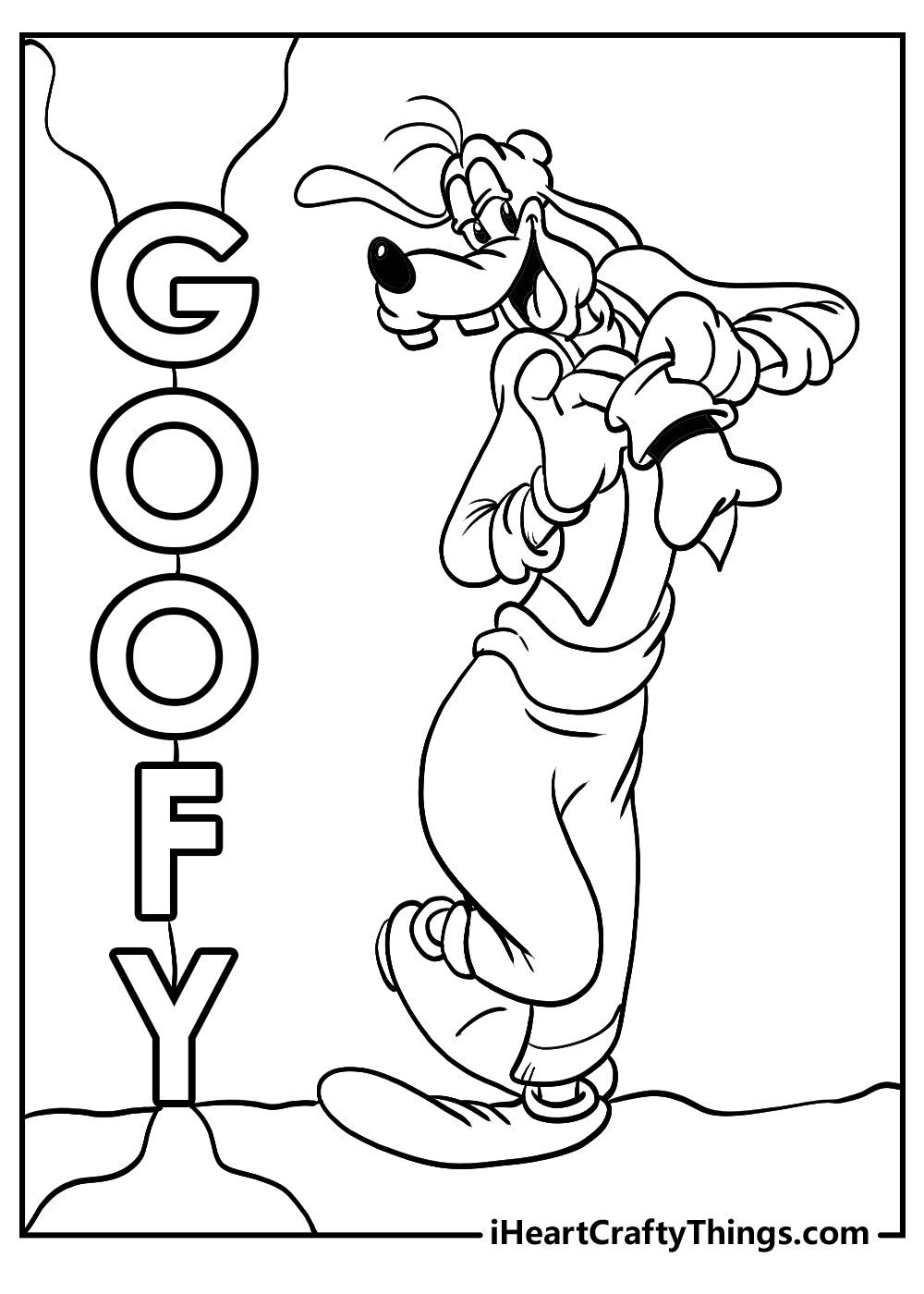 Goofy is certainly a joyful fellow, and that is very apparent on this page. He is celebrating something here, and there are so many possibilities.
These pages aren't just fun to color, they could also work as gifts for people. For example, maybe you know someone who is celebrating a birthday.
If so, then you could print this on some cardboard, fold it over and then turn it into a birthday card. That is one way that you could turn it into a very thoughtful gift for someone!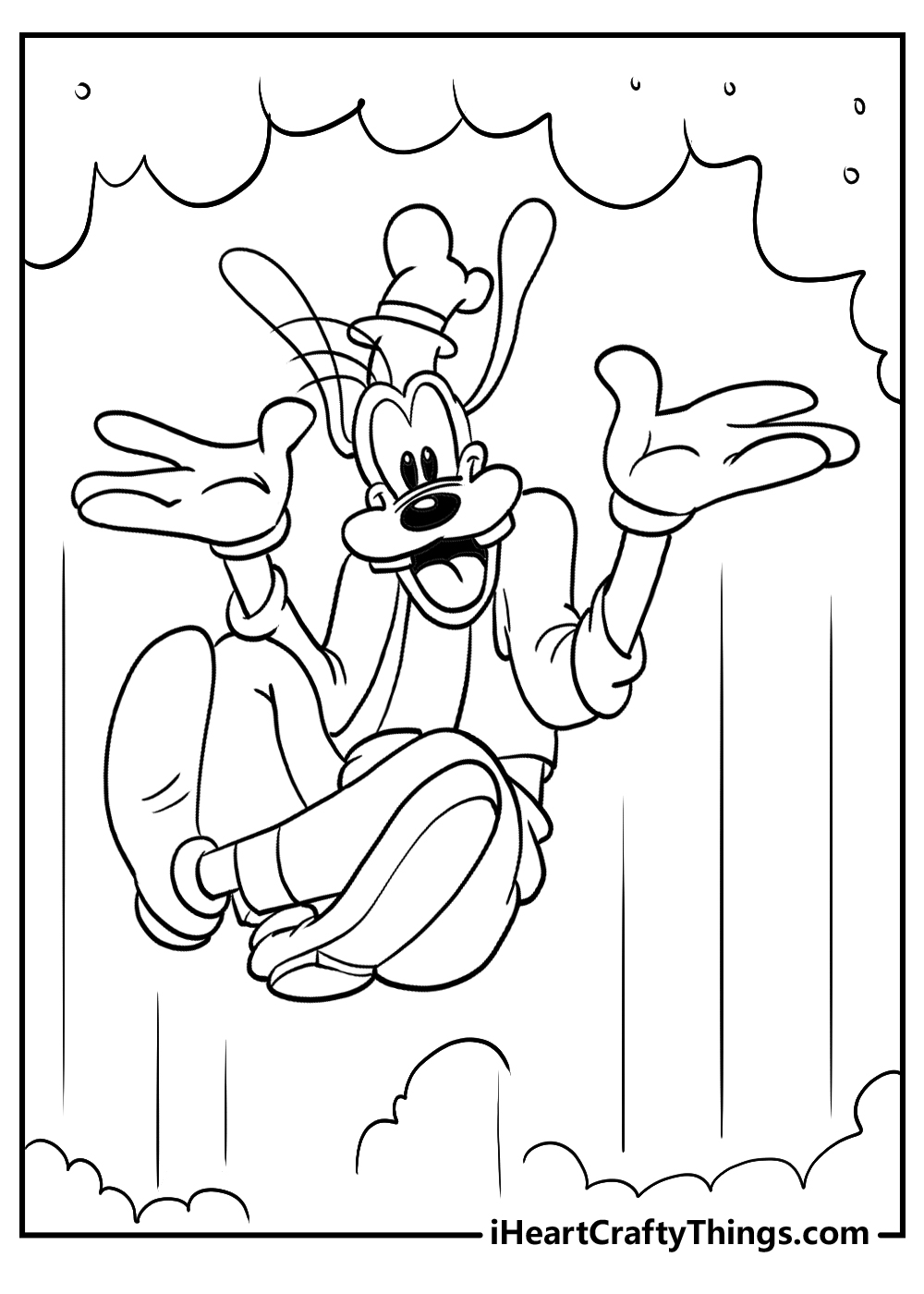 It's time to dance as Goofy shows off some awesome dance moves on this next page. He is really going for it on this page, and it's a really fun picture to enjoy.
What song do you think could make Goofy groove out so hard? If you have a song that you love to dance to, you could incorporate it into the image.
By writing your favorite line of the song, you could make it look as if he is dancing to that song you love. It could be fun to play the song as you color, too!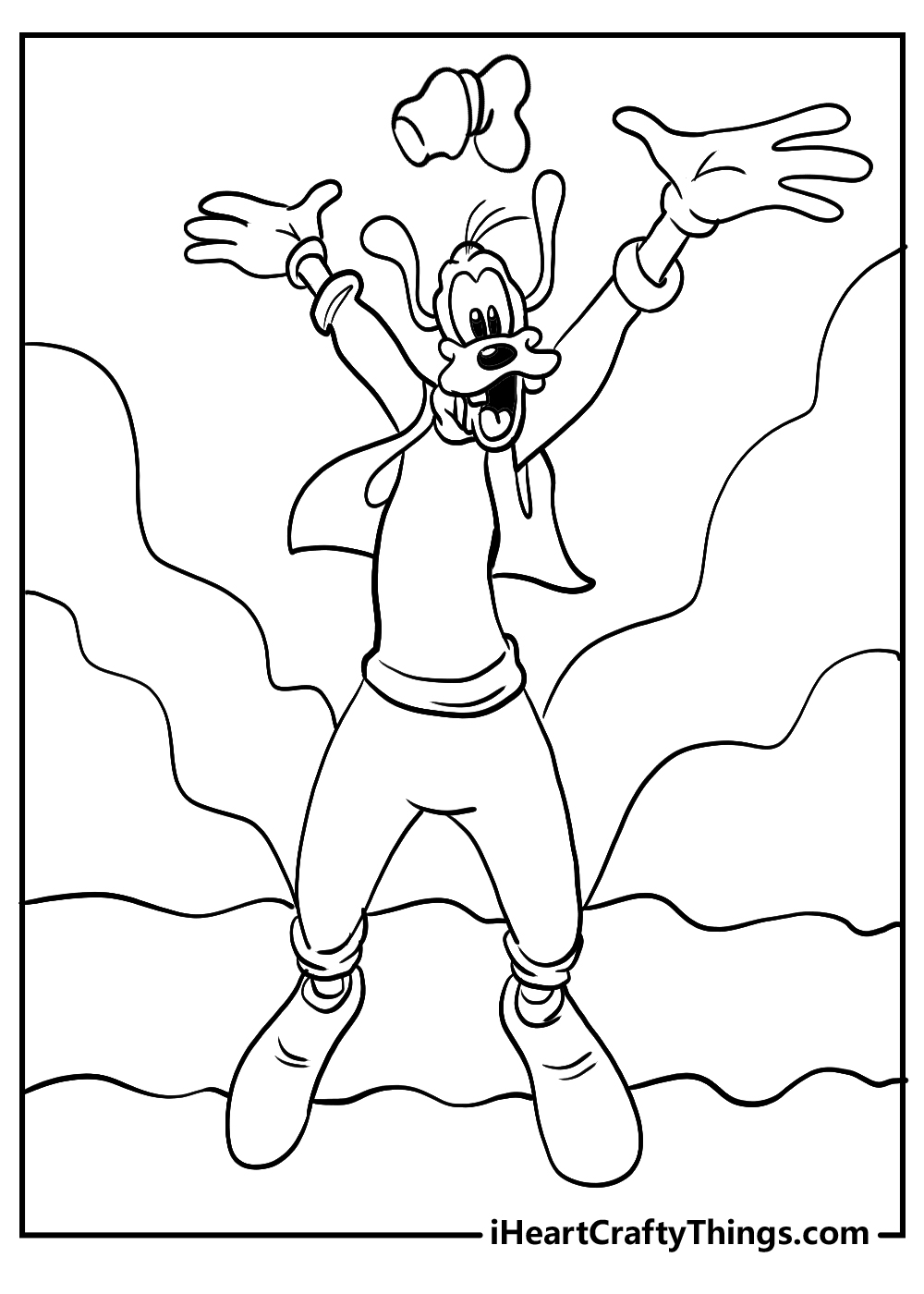 Goofy may not have brilliant ideas often, but they do happen! This page makes it seem as if he has just had an amazing idea, and you could show what you think it is.
One of the easiest ways to do this would be to draw a speech bubble above his head. Then, you could either use text or small pictures inside of this bubble to show what he has thought of.
It could be an actually good idea, or one that would only seem like a good idea to Goofy. What could it be?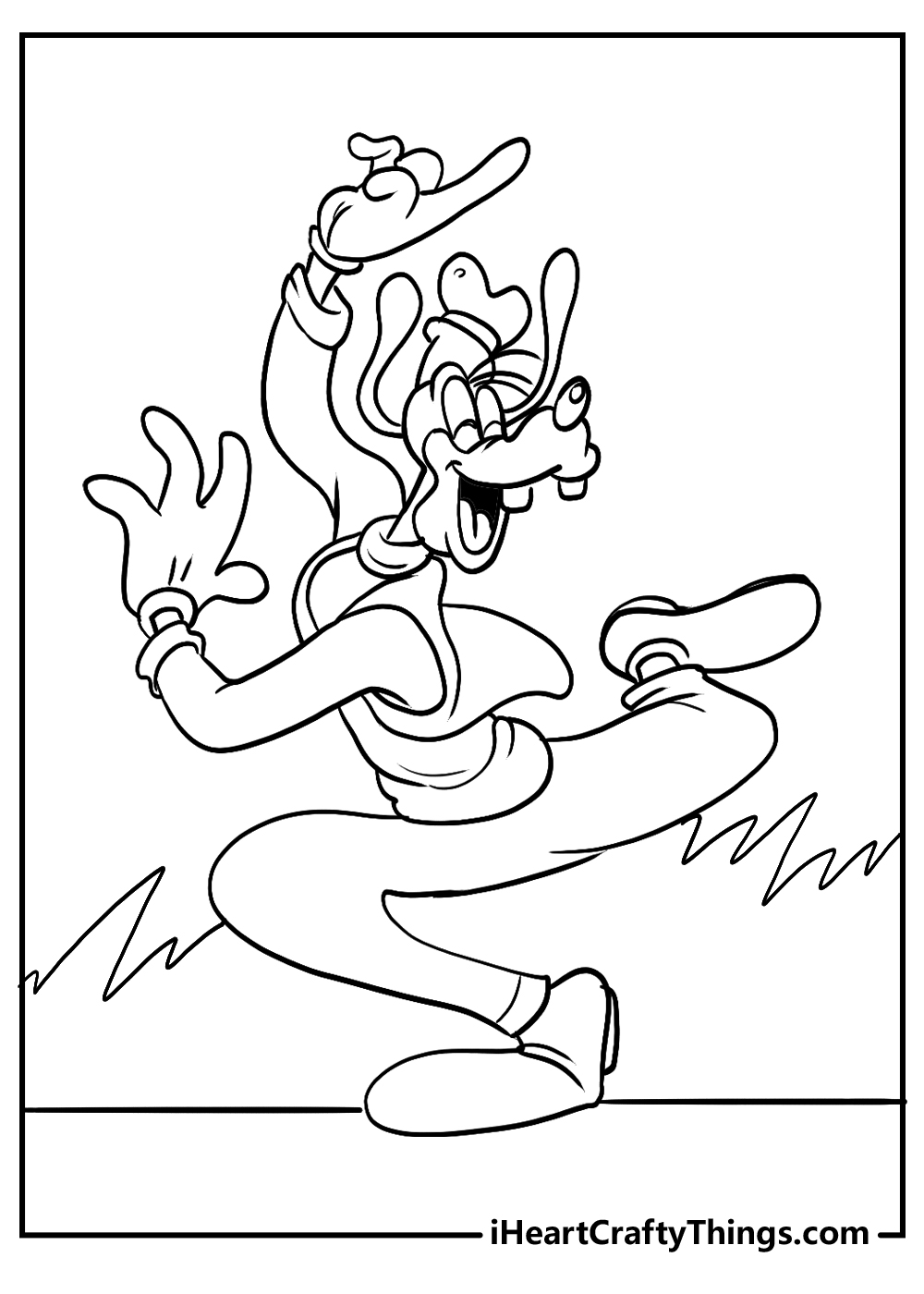 One aspect of this character is that he can be a bit accident prone. He may unintentionally cause some disasters to happen, and judging by how sorry he looks, it may have happened on this Goofy coloring page.
What do you think he may have broken or caused on this page? You could once again draw some extra details to show what your ideas are.
There are so many fun ways that you could make a little story out of this simple image. Drawing extra details also gives you the chance to add even more colors to the page as well.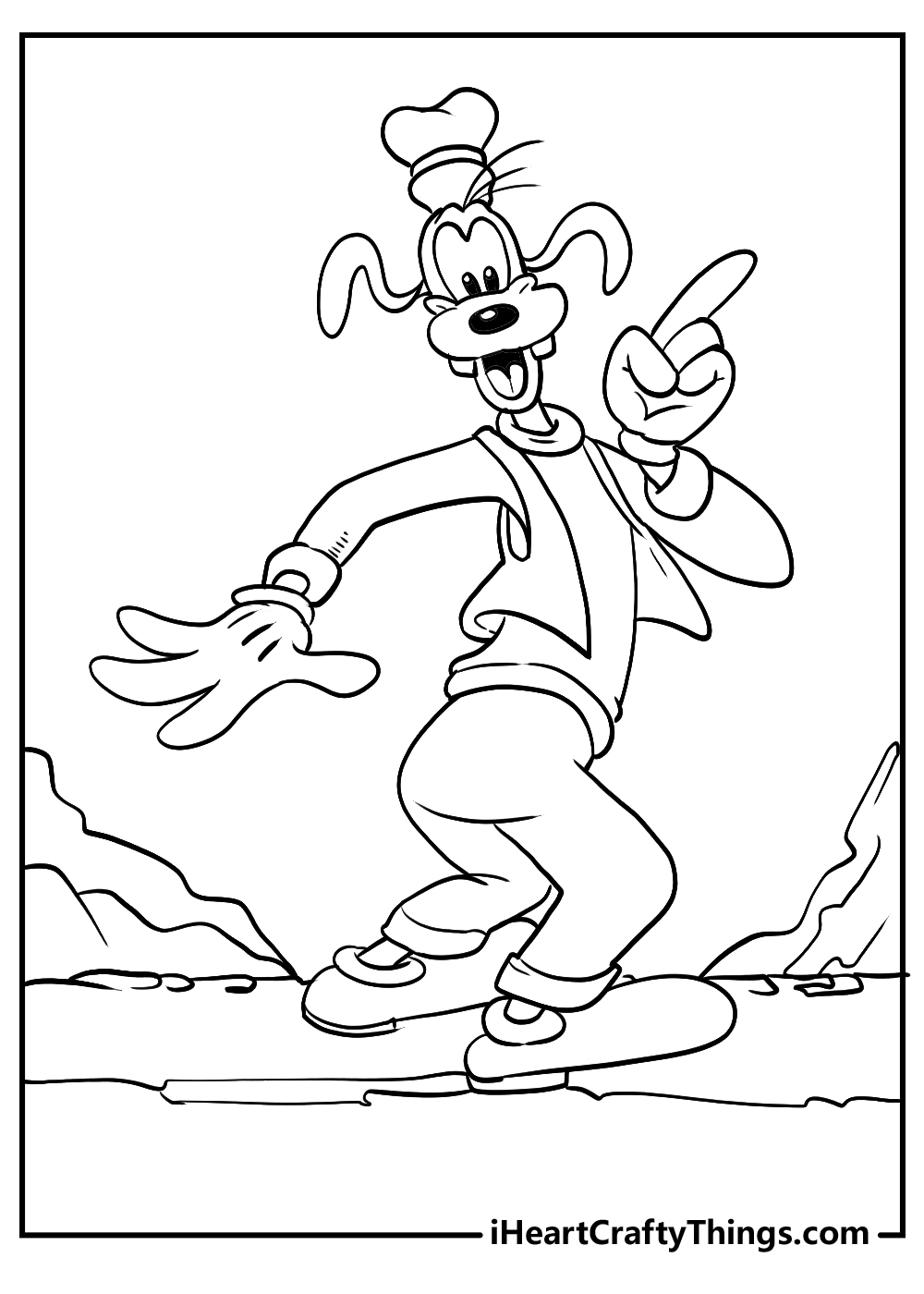 Goofy is on the move on this next page! He is traveling somewhere at full speed, and he looks like he can't wait to be there.
While Goofy may be in a hurry, you don't need to rush this page. There is a temptation to color as fast as possible when working on coloring pages, but it's no race.
You should take your time with it and enjoy it, as that way you will end up with the best result possible. What colors will you use for this frantic picture?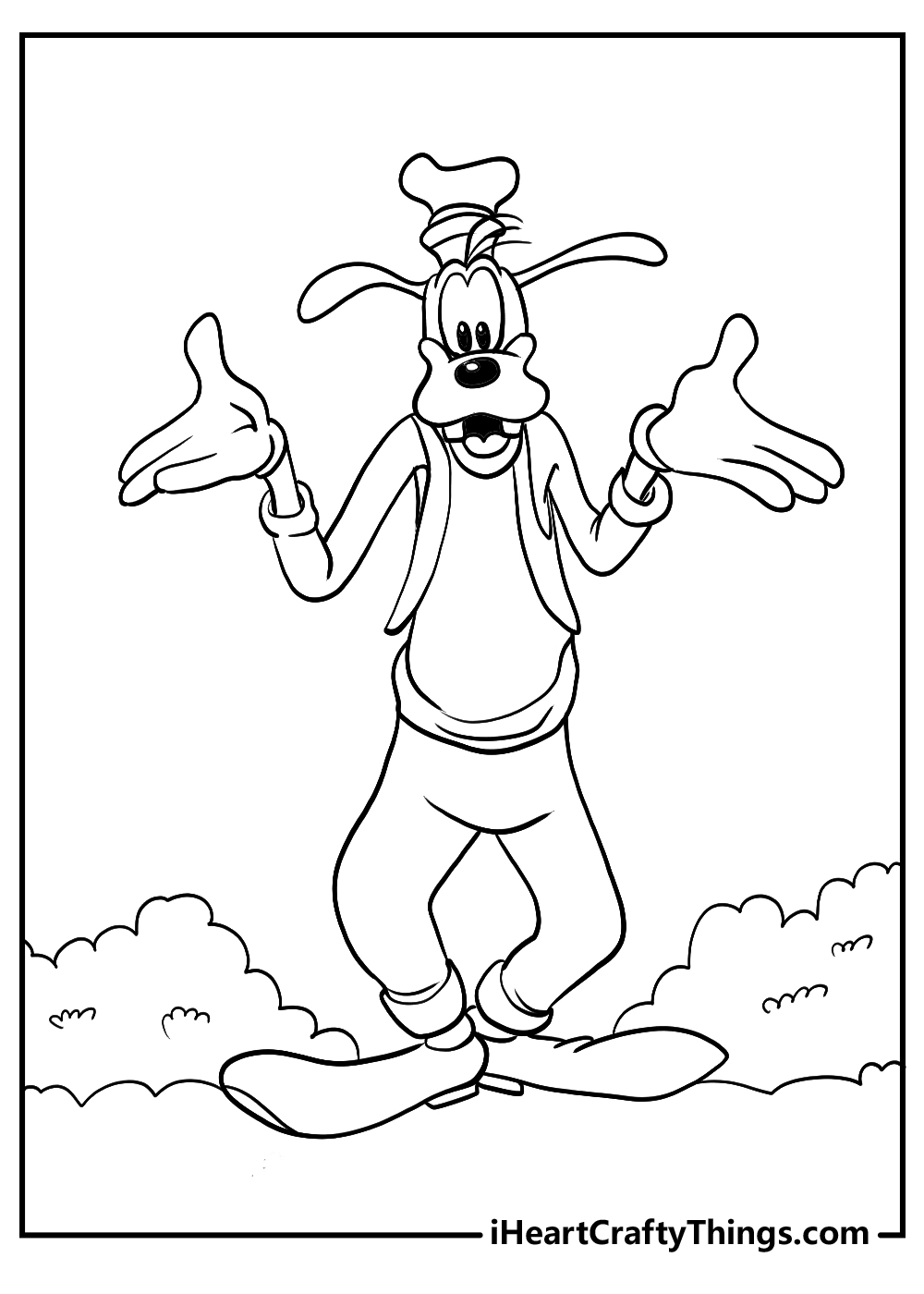 The next page we have for you to color has Goofy looking unusually confident. He can sometimes be all over the place, but here he seems pretty self assured!
Because this is a more laid-back picture, I would probably use some calming colors for this one.
Using watercolor paint would probably be my first choice, as that would make the colors nice and soft.
That's just one way of doing it, and you should make the colors bright if that's what you prefer, so let your creativity flow!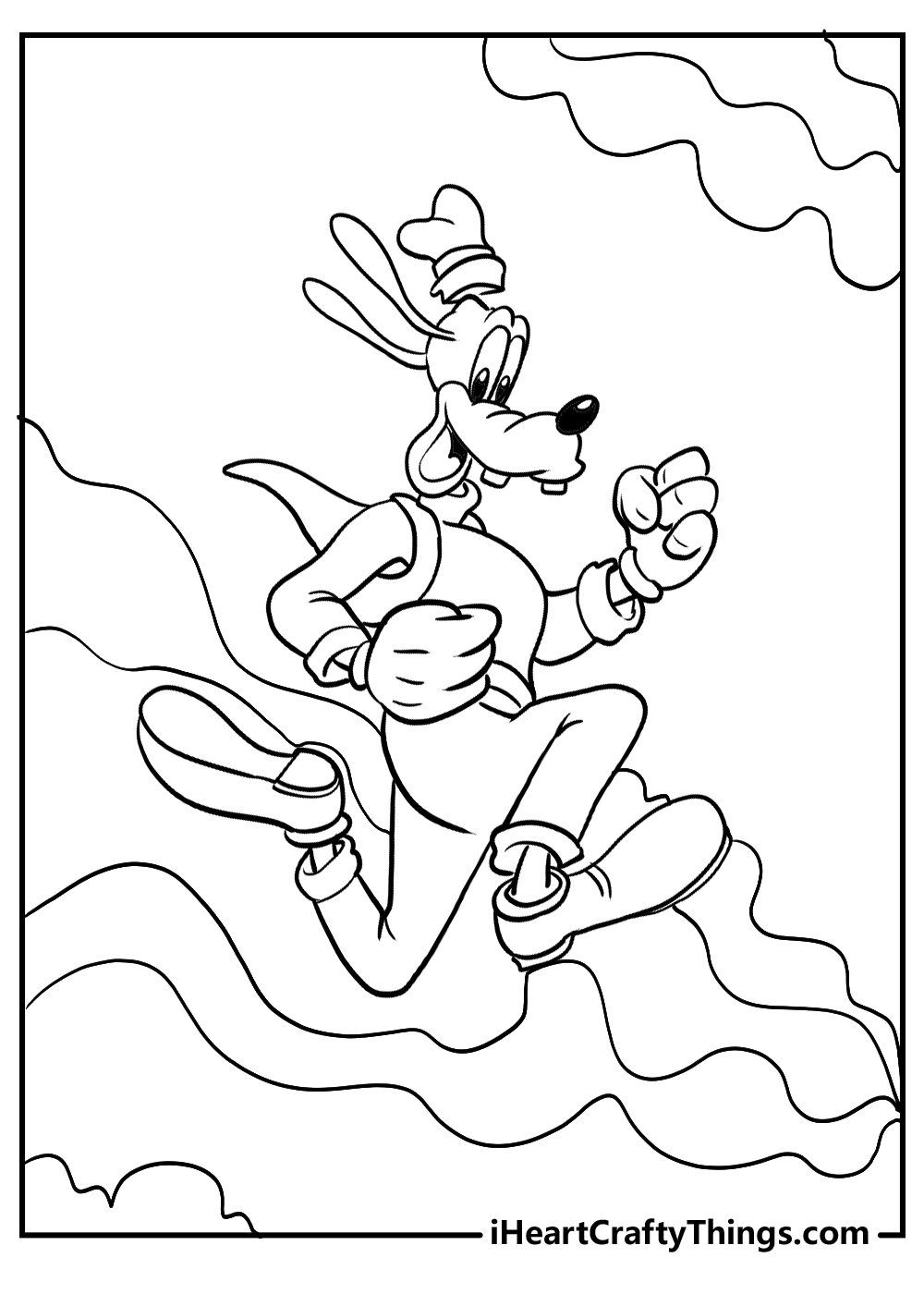 Goofy is ready for his close-up now! We have zoomed in for this next page to get a better look at our lovable pall.
Because this view is a bit closer, you can get a better look at the details on his face and clothes, and that means using more color details as well.
When it comes to finer details, my medium of choice are colored pens and pencils. These have very thin tips, and so you can color these smaller details with ease.
If you prefer to use others, then that works too, as it's all about using what you're comfortable with.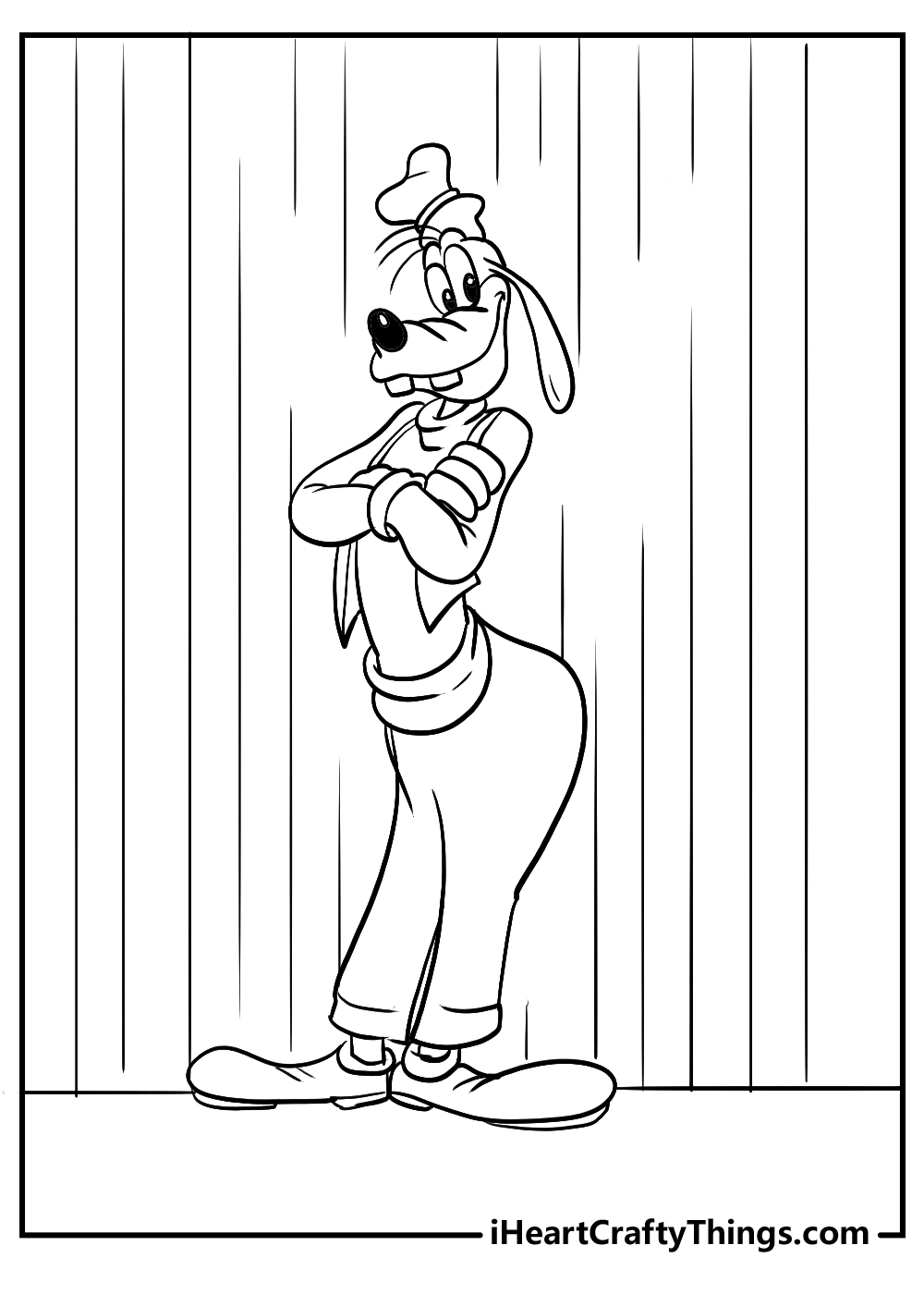 As a very joyful fellow, it's not unusual to see Goofy busting some moves. This is the second time in this collection that we have seen him grooving out with some dancing.
To make it a real party, one idea would be to draw some of his friends dancing with him. These could include Mickey and Minnie Mouse or Donald Duck.
If you can't draw them from memory, then you could look up some images of them dancing online and use those to help you draw them on the page.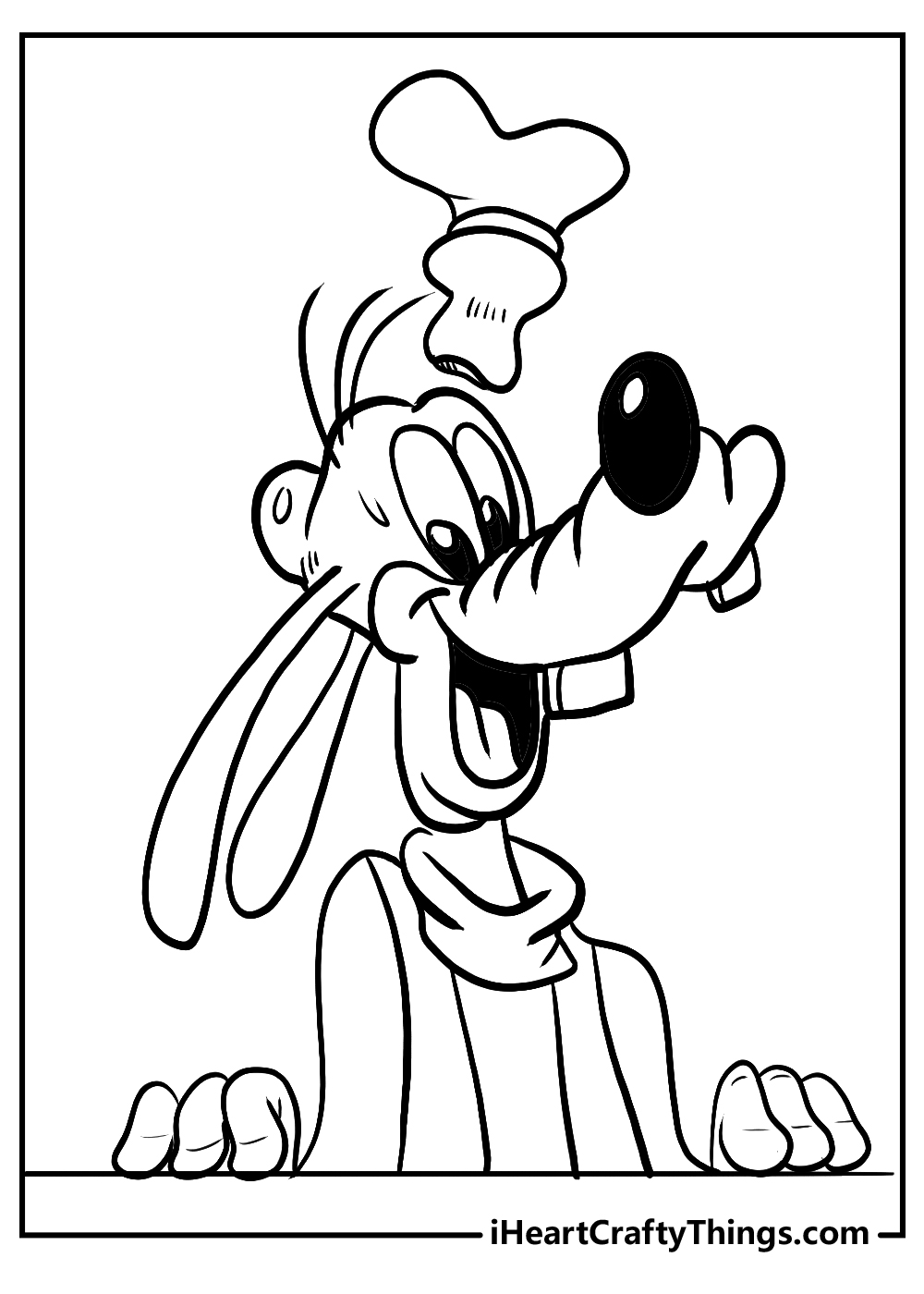 This final Goofy coloring sheet shows that he is discovering a bit of magic. There are some star shapes surrounding him, and it really suggests that Disney magic!
When coloring pages with magic elements, you can use crafts to enhance the feeling. Using glitter or stickers can add some real sparkle to an image, so they would be great to use here.
If you have any other crafts or unusual art supplies, then you should definitely go ahead and use them here. What would add some magic to the page?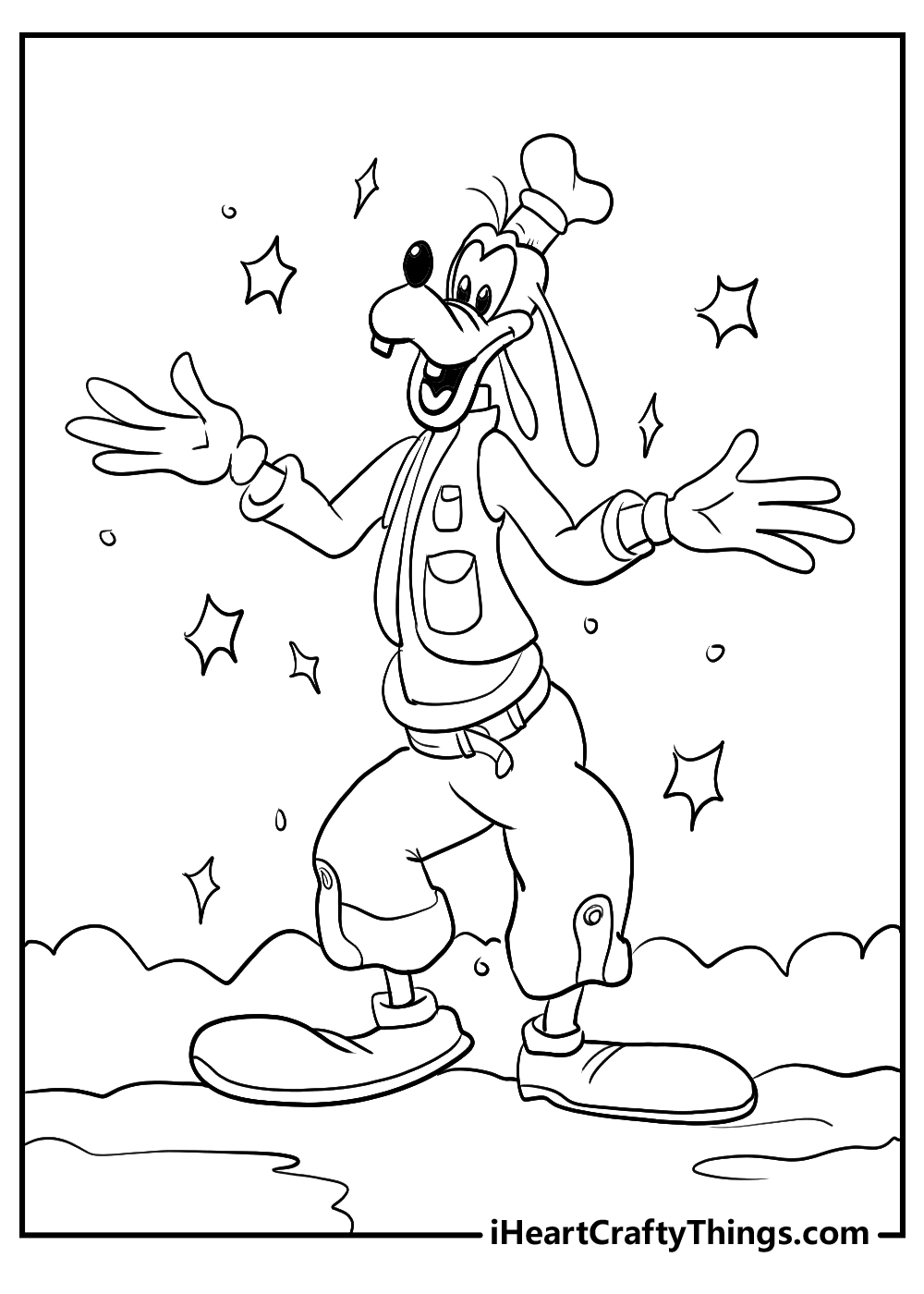 Goofy Coloring Pages – Which will you choose?
This collection of free Goofy coloring printables for kids was a wacky celebration of our favorite goofball! Our goal was to portray him in multiple different poses and situations.
That allows you to really use your creativity, as there is an excuse to use any of your favorite colors. Remember that you can also add your own details and ideas to the pages!
Using a drawing pen or a pencil can be great ways of drawing your own ideas and additions. The pages are all free to print as many times as you like, so don't be afraid of experimenting!
When you have finished your favorite pages, please share them on our Facebook and Pinterest pages for us to see!