There are many cartoon characters that have become super famous and beloved over the years.
The cartoon characters produced by Disney are arguably the most famous in the world, and the lovable dog Pluto is known around the world.
Fans of this famous dog will love this collection of free Pluto coloring pages for kids!
We will be featuring this iconic canine in a large variety of different scenes and poses, so there is plenty of fun to be had!
You will have a lot opportunities to use all of your favorite colors and art mediums as you get creative with this collection.
You can print out these Pluto coloring sheets as many times as you like so you can experiment with colors and art mediums.
You should also feel free to share these Pluto printables with all your friends and family! We're sure that your fellow animation lovers would have a great time with these Pluto printables!
We hope that you enjoy celebrating the legacy of this famous character in this set of free Pluto coloring pages for kids!
When you have finished coloring your favorites, please share your artwork on our Facebook and Pinterest pages for us to see!
10 Brand New Pluto Coloring Pages – Free to Print and Color
This collection of free Pluto coloring pages for kids is kicked off with a close-up on the face of this famous character! In his various appearances, Pluto has a bit of a dull yellow color to his fur.
You could use your favorite art mediums and tools to get something close to his typical color for this image.
Don't be afraid to also use any unique colors to create your very own Pluto variation as well! What colors will you use for Pluto and the background?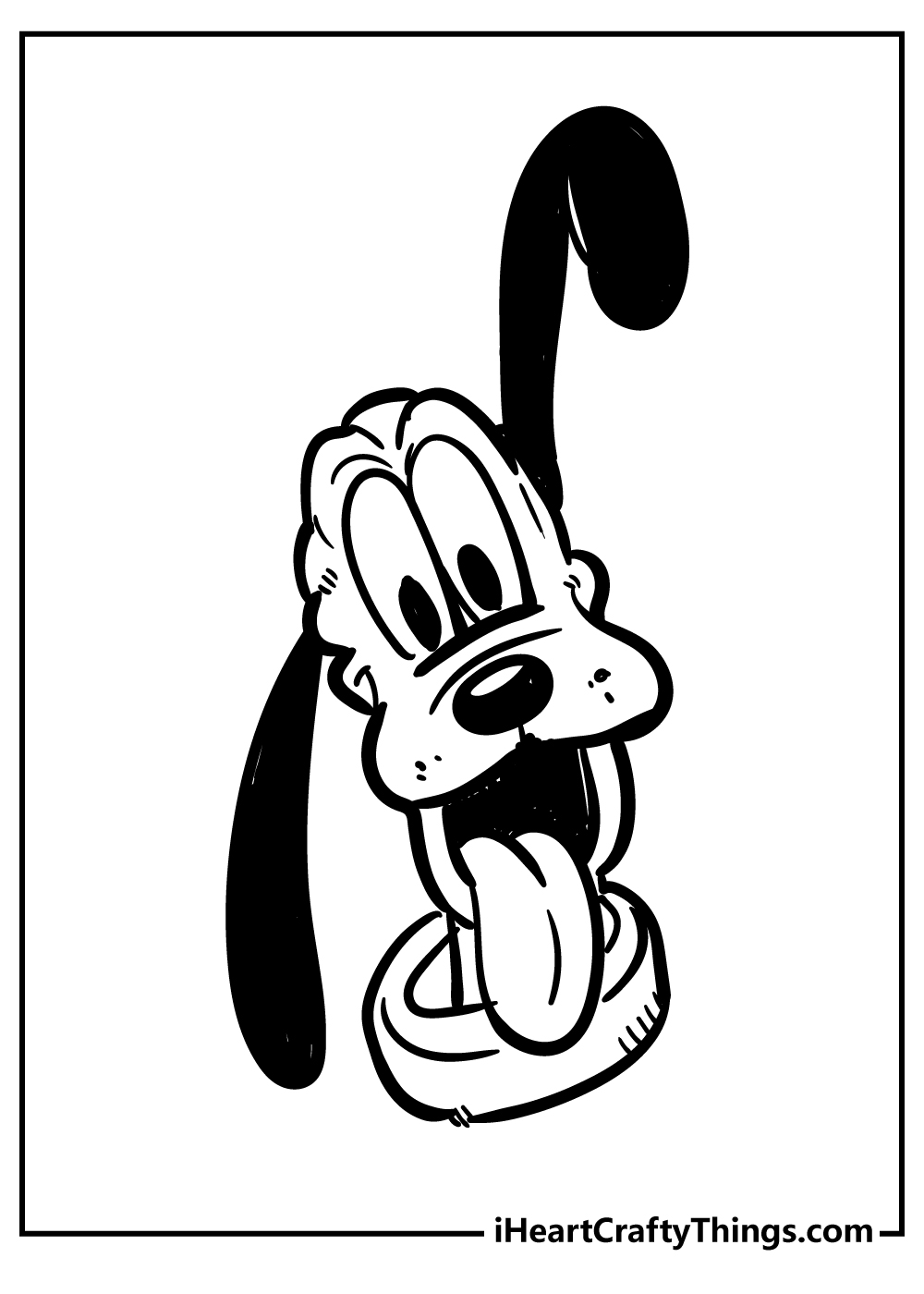 We have another close-up of Pluto's face in this cute Pluto coloring sheet. He seems to be sitting at a table in this second page, and he looks pretty happy and relaxed.
Seeing as he is sitting at a table, perhaps he is jumping up to enjoy a tasty treat off of a plate! If you think that could be the case, then you could draw a plate of yummy food in front of him to enjoy!
That's one idea, but what else can you think to add to this image?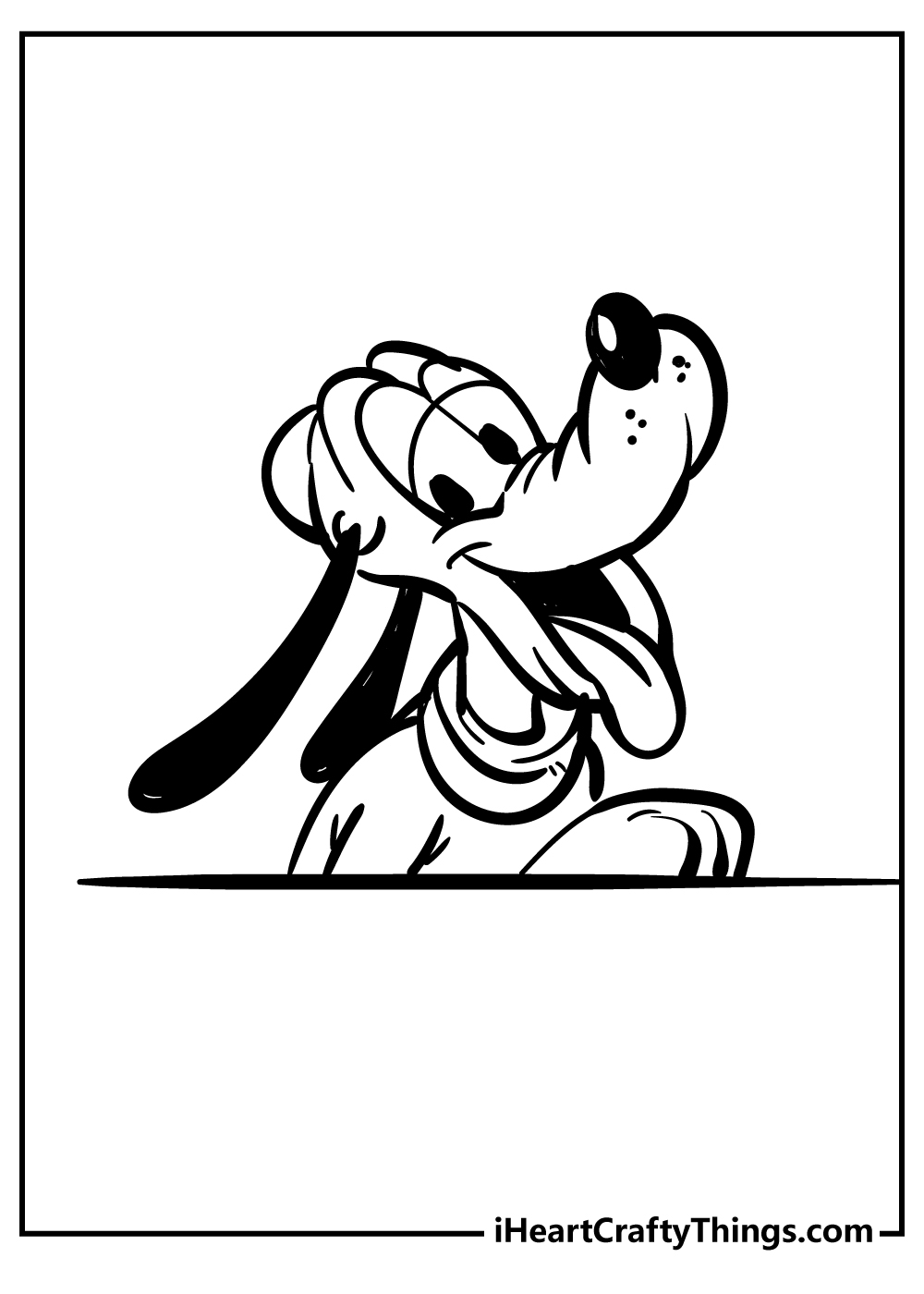 The previous two Pluto coloring printables that we worked on were zoomed in on his face, and in this third one we have a full-body pose to color in!
Pluto is sitting on the ground, and he looks very happy as he wags his tail! What colors are you thinking of using for this image?
This is another printable where you could draw a fun background for him. Maybe he's enjoying a fun day outside, or maybe he's cozy in front of the fire.
These are a few ideas, but what else can you think of to finish off this fun image?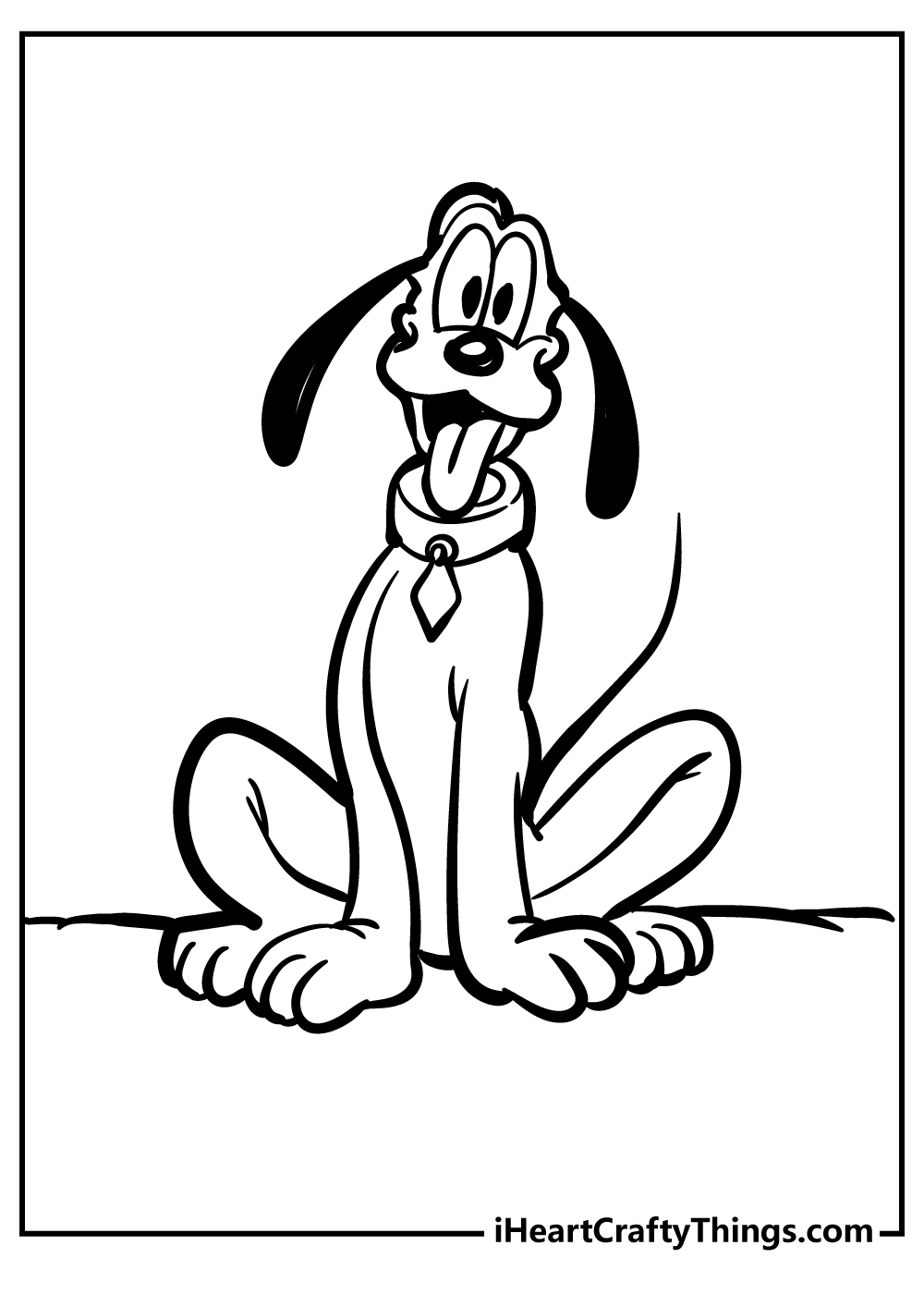 Pluto is on the move in this fun Pluto coloring page! He's running somewhere while looking very happy and content. Where could he be heading?
You could show us by drawing a background, and for some extra fun you could look up one of his friends to be walking alongside him!
Which classic Disney characters would you draw alongside Pluto?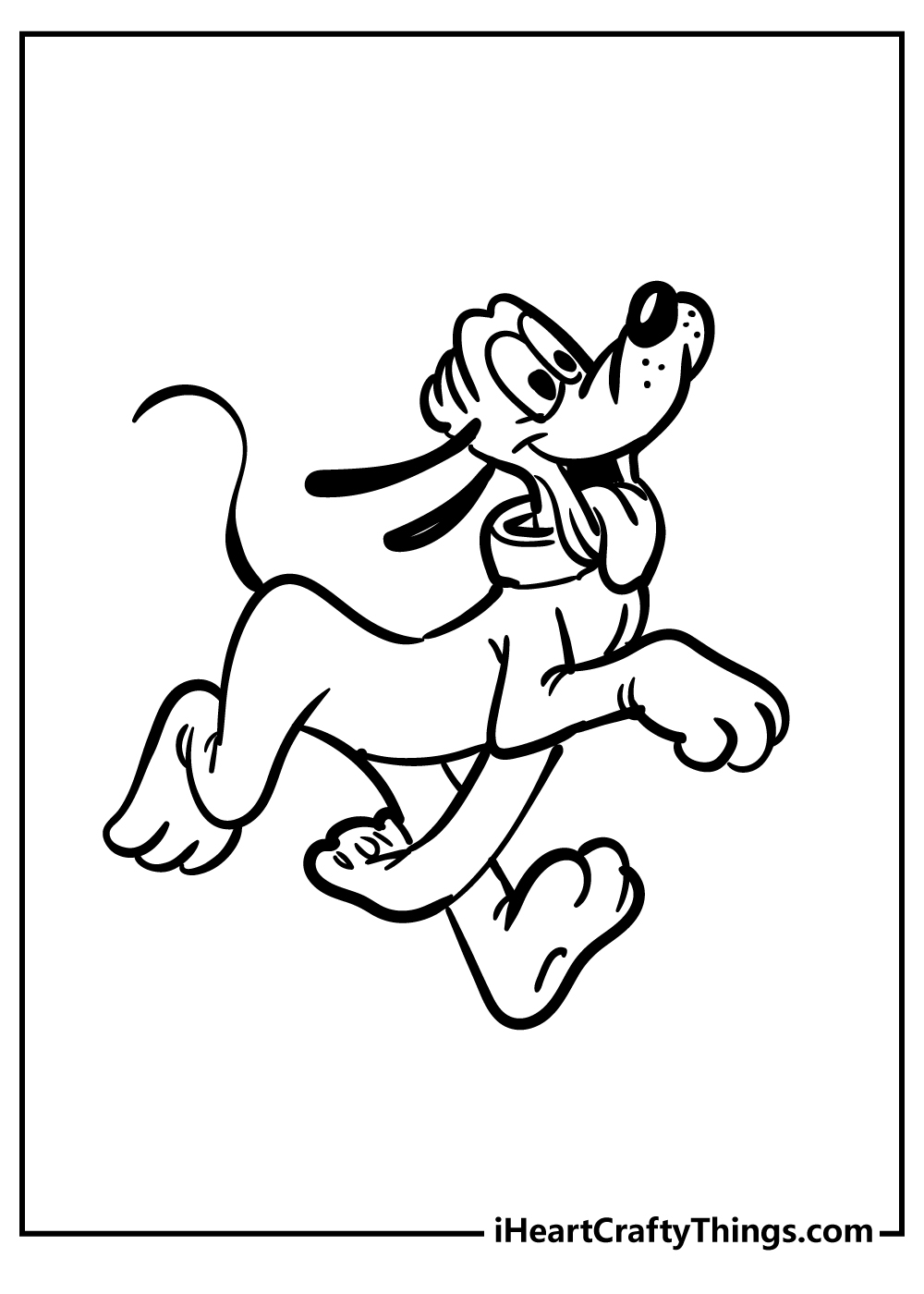 This is a fun picture that we have featured in this fifth free Pluto coloring sheet! Pluto is howling at something, and it makes for an interesting scene.
For a fun setting, perhaps you could draw a moon up above his head for a nighttime setting. It would also look like he's howling up at the moon.
Do you think you will go for a setting like the one we suggested, or do you have something else in mind?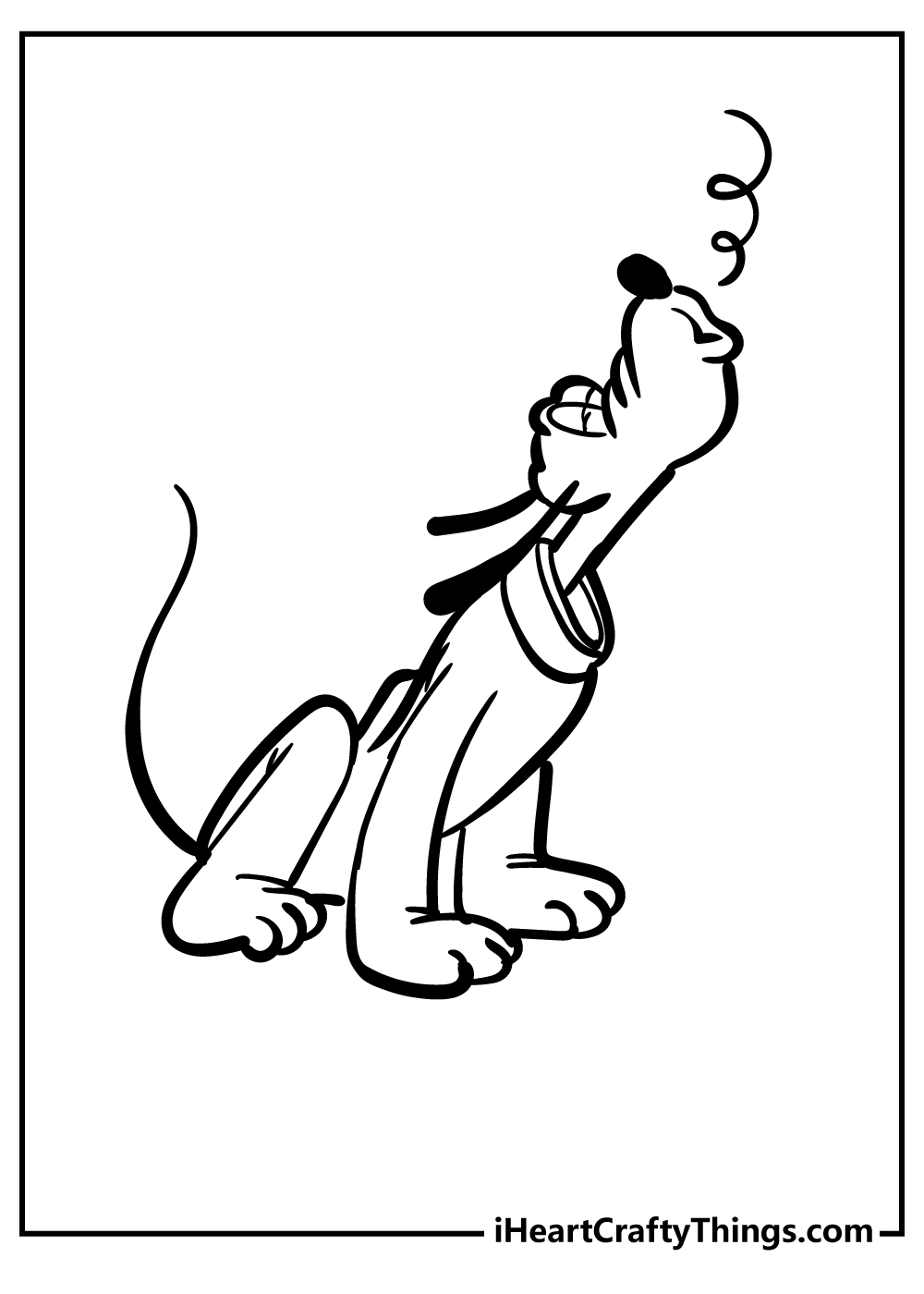 In this next Pluto printable, the famous pooch is looking very excited! From the look on his face, it looks like he is about to be gifted something he really wants.
Maybe you could draw a hand holding something you think Pluto would enjoy.
One idea would be a big tasty bone for him to gnaw on, but what else do you think would make Pluto have such a reaction?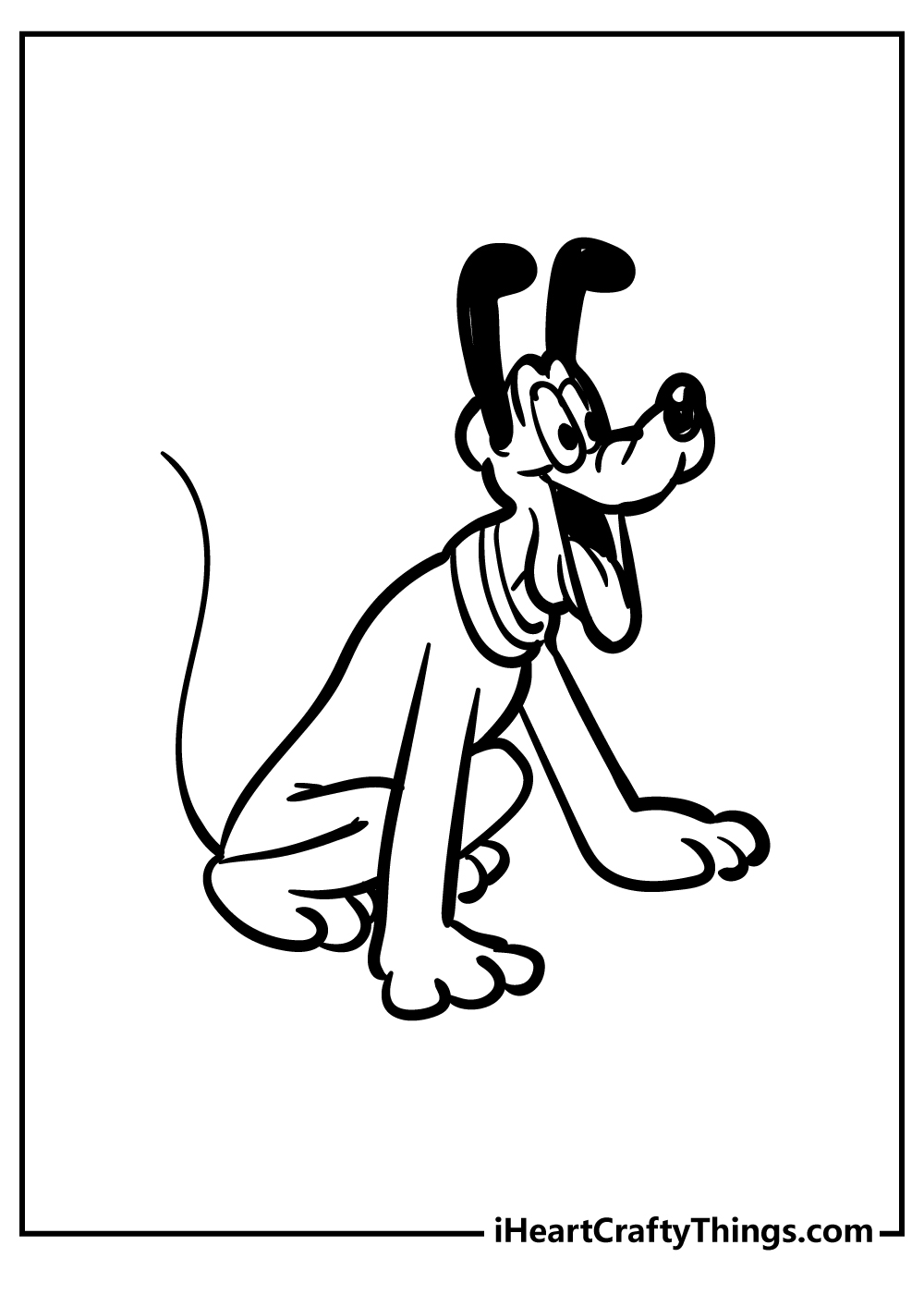 We mentioned that you could draw a bone for Pluto in the previous Pluto coloring page, and ironically enough that is just what he has in this next page!
For that reason, this printable would make a great companion to the previous page. One idea would be to print some smaller versions of each image and glue them onto a larger piece of paper.
That would make them look like they were part of a fun Pluto comic strip!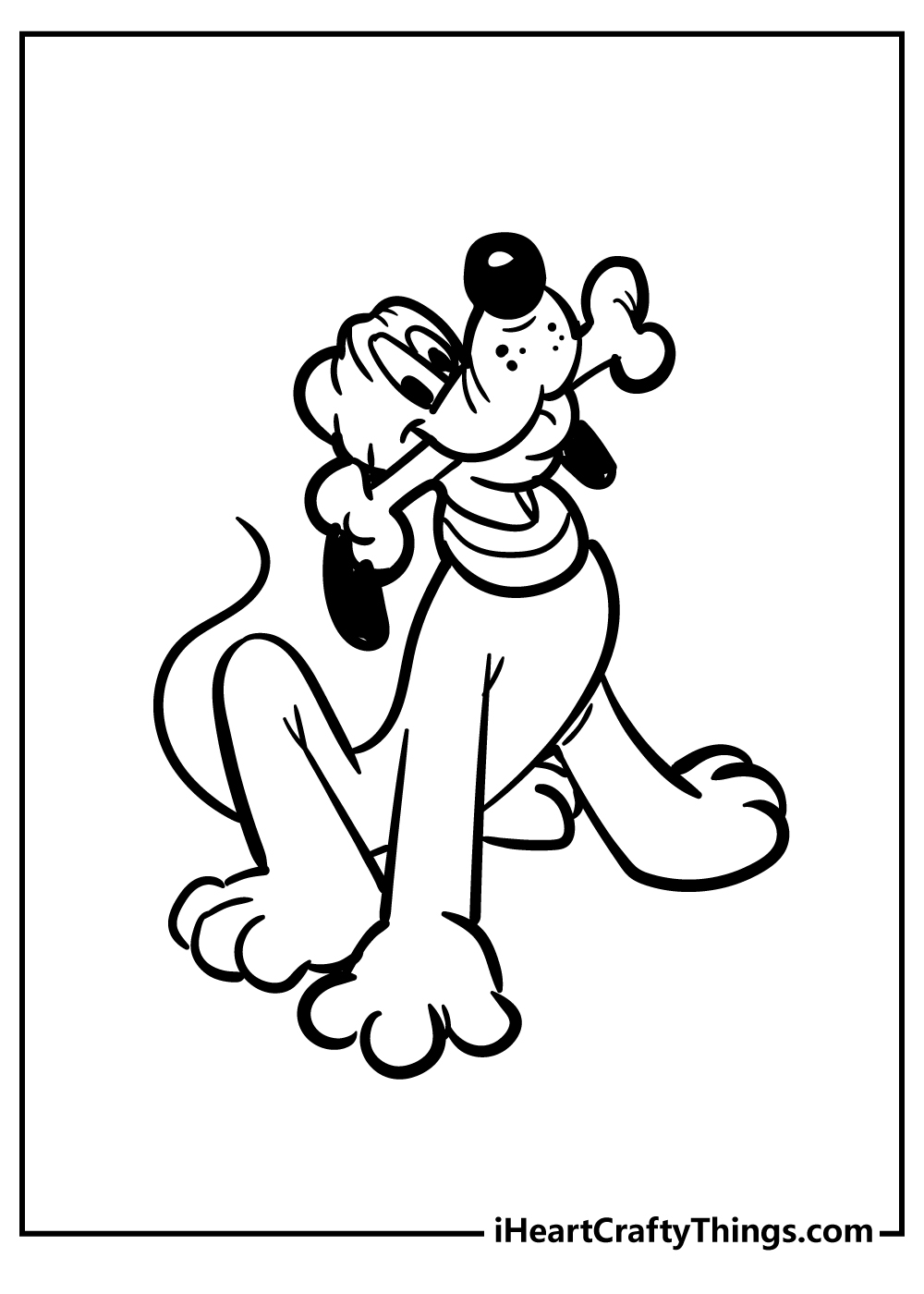 We have another Pluto coloring sheet where Pluto is looking very pleased!
The background is left blank on this one, and that means that you can have some fun adding a fun background to this one as well.
What kinds of fun, unique settings can you think of that would finish off this cute Pluto printable? We would be very interested to see what kinds of setting you would choose for the lovable dog!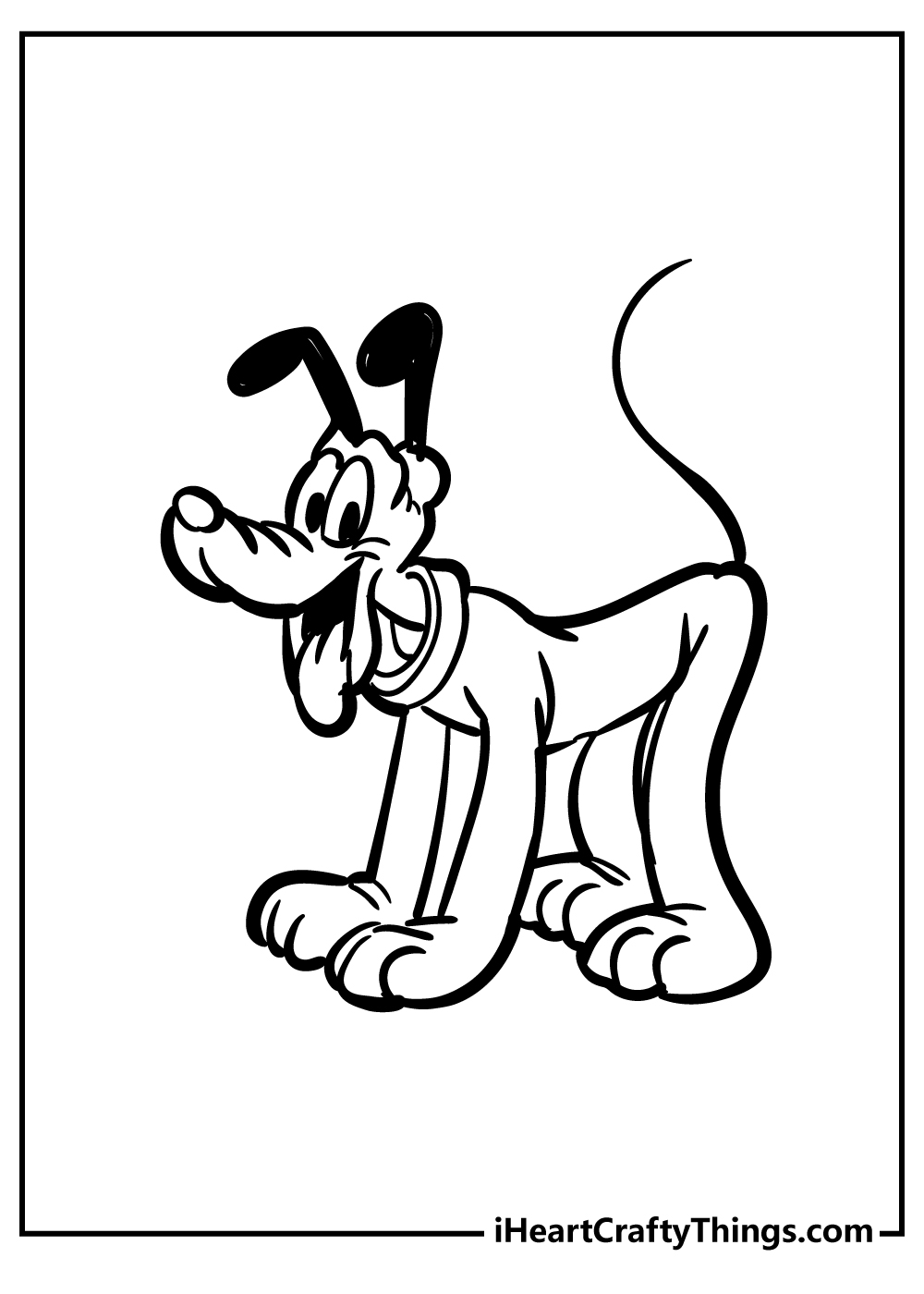 We're almost at the final Pluto coloring page of the collection, but there's one more to have fun with before that! This is another image where Pluto is looking rather happy and relaxed.
This picture brings another outdoor scene to mind for us, but there are many settings you could go for instead. What will you choose for this Pluto printable?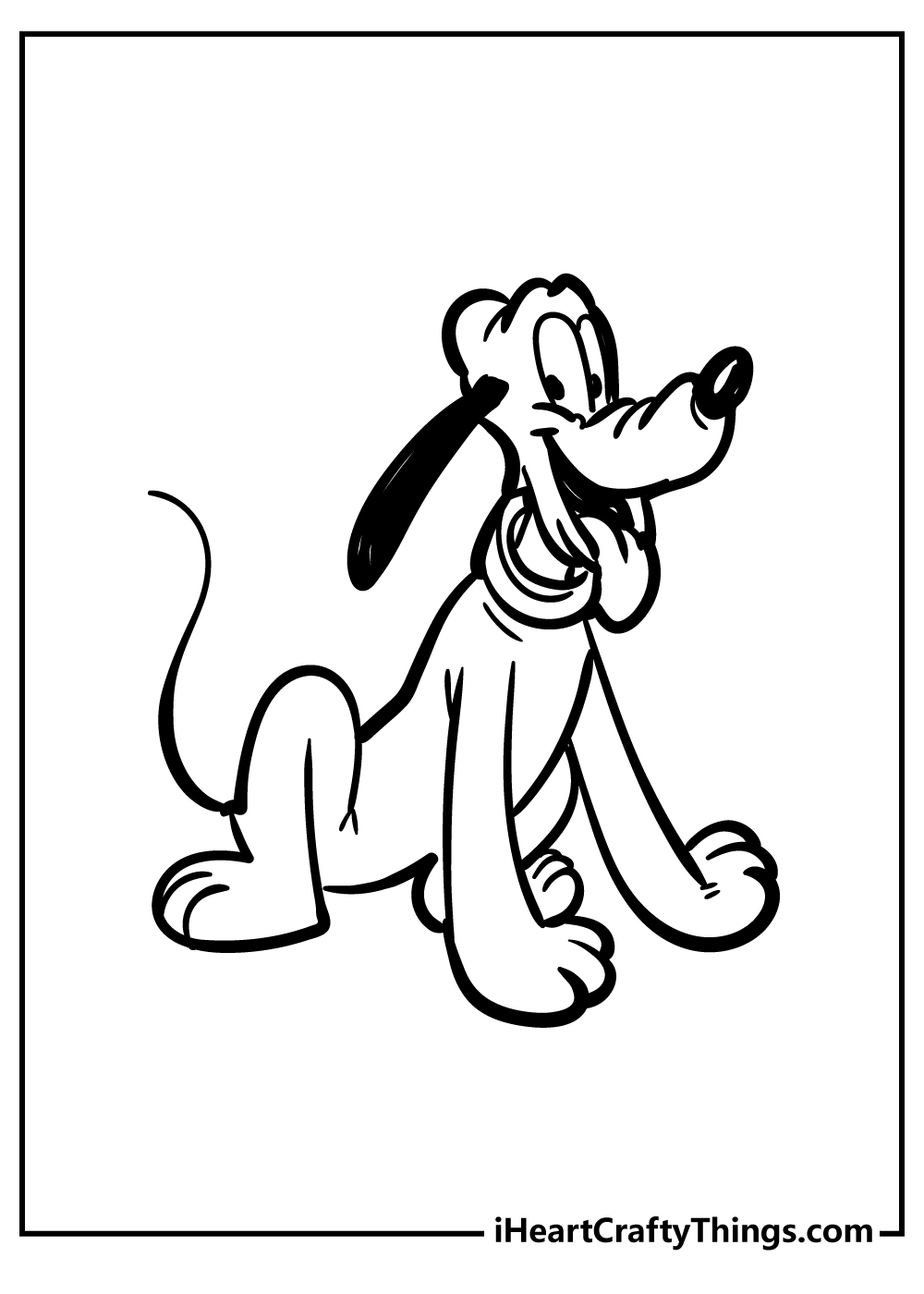 Look out, because here comes Pluto! This final free Pluto coloring printable features an image that is rather unique from the others in this collection.
We have a head-on view of the famous dog heading right for us in this image, and it makes for a really visually interesting composition.
If you want to create an impression of great speed, you could use lots of small dashes of color behind him to create that illusion.
What colors and art mediums do you think you will use to complete this final printable?
If it's hard to choose the colors and mediums you use, remember that you can print out as many copies as you like so that you can experiment!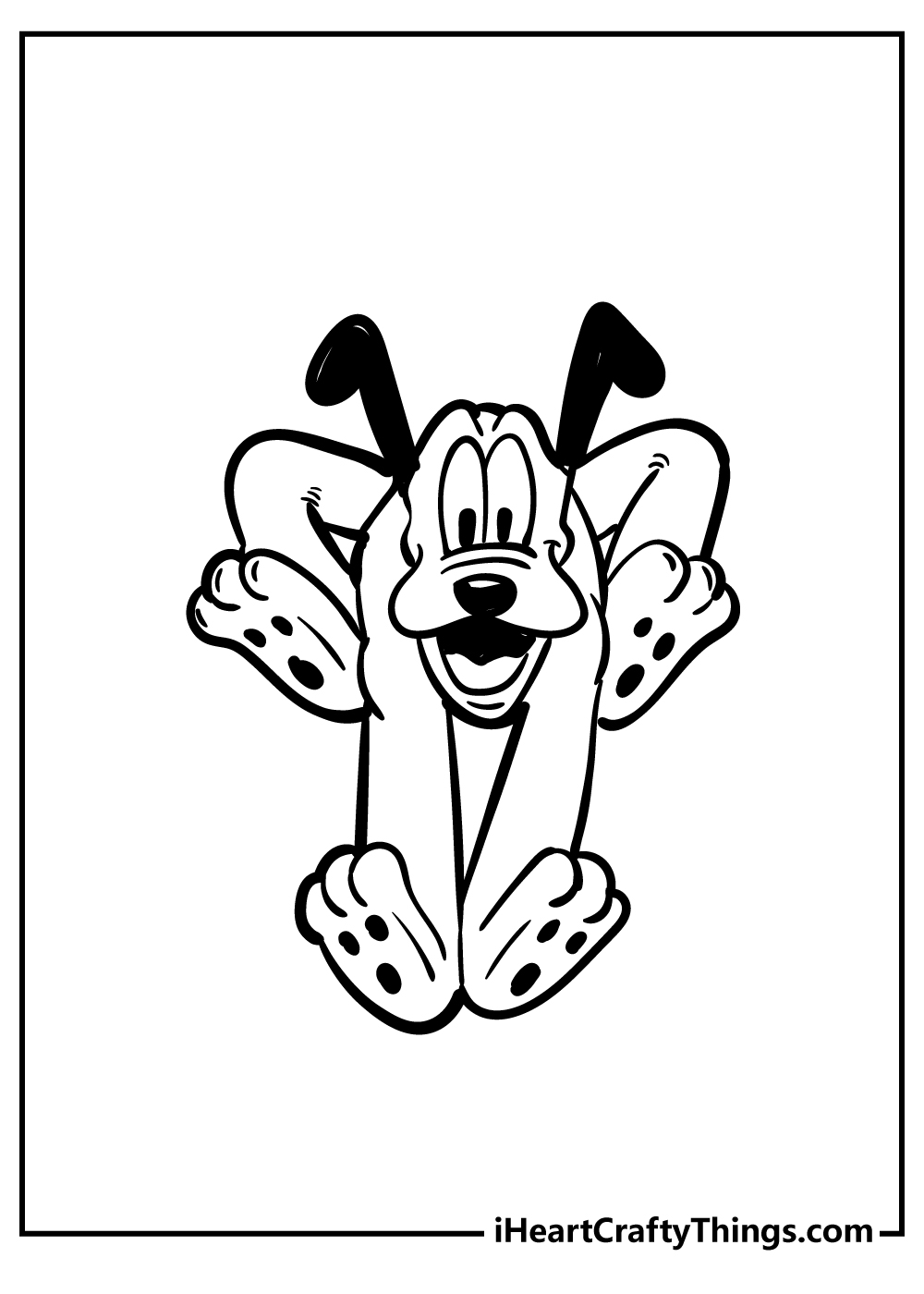 Pluto Coloring Pages – Which will you choose?
This is one of the most famous dogs in all of cartoon history, and we hope that you enjoyed coloring him during this collection of free Pluto coloring pages for kids!
You can print out your favorites from this collection as many times as you like, and you should also be sure to share the fun by sharing them with others!
We have many more awesome coloring page collections for you to enjoy on our website! Be sure to check in often, as we have more coming soon.
It would also be great to see how you went about finishing up these Pluto coloring sheets!
When you have finished coloring your favorite images, you can share your artwork on our Facebook and Pinterest pages. This is the best way to show off your hard work, and we can't wait to see them!