On this page, you will find 40 all new Cute Animal coloring pages that are completely free to print and download.
There are so many different kinds of animals in nature, and some are big and intimidating while others are smaller and really cute!
We're going to be focusing on the cuter side of the animal kingdom for now as we have some adorable animal friends for you to meet.
This collection of free cute animal coloring pages for kids are the perfect way to have hours of fun coloring in some sweet little animals to bring them to colorful life!
There's a great deal of variety to the animals featured so you'll have a chance to use all of your favorite colors and art mediums by the time you finish.
Once you've colored in your favorite cute animals printables, please share your colorful critters to our Facebook page for us to enjoy.
We can't wait to meet your new animal friends once you're done, and we always love to see how creative you all can be!
40 Brand New Cute Animals Coloring Pages – Free to Print and Color
Our first page in this collection of free cute animal coloring pages for kids features an unusual but really cute little aquatic creature.
This little guy is called an axolotl, and while that might be a mouthful to spell and pronounce there's no doubt that this little creature is adorable!
For this more unusual little animal I would suggest using your favorite bright and weird colors to bring it to life.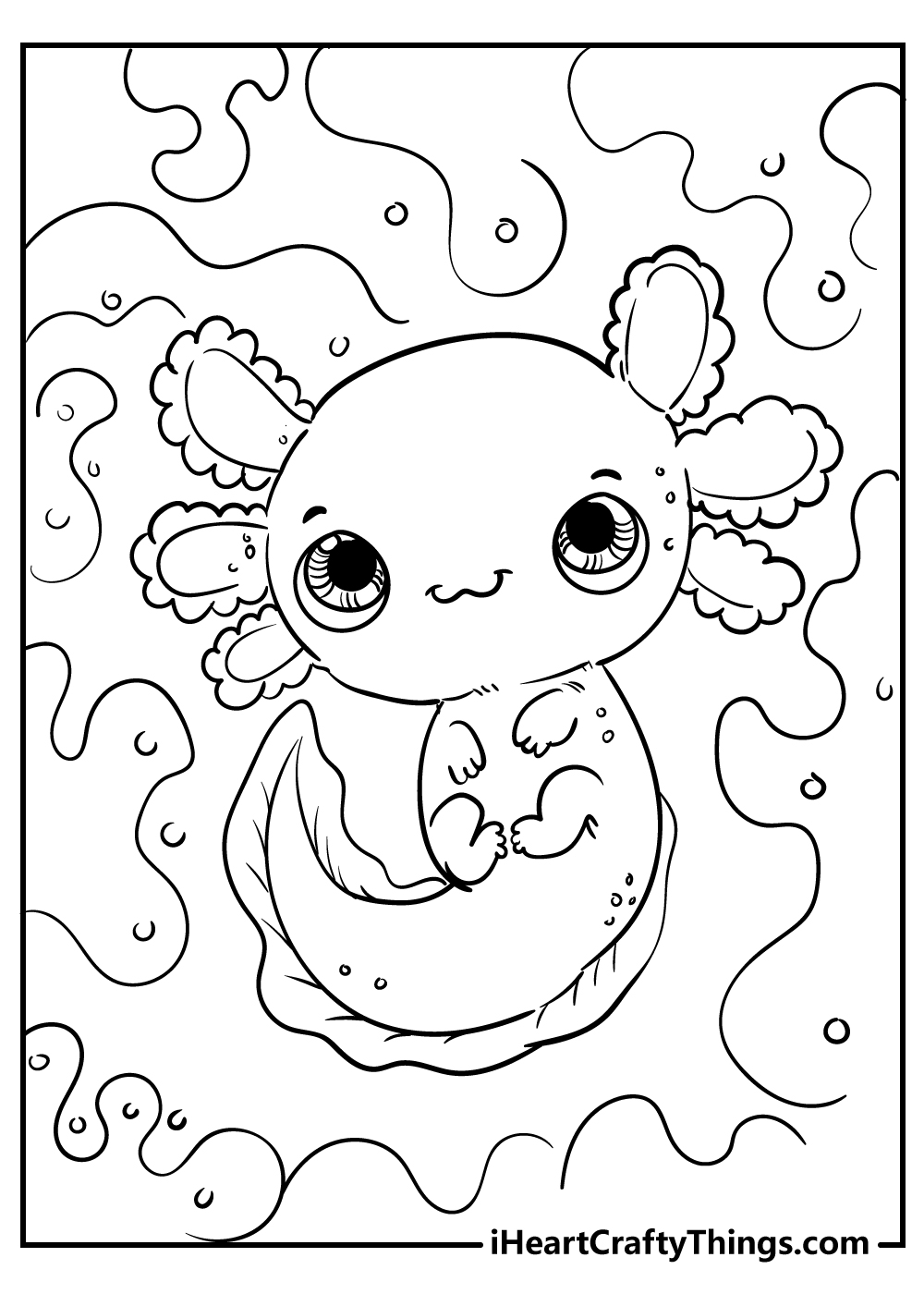 This adorable pig is ready to brighten up your day with its cheerful smile and cozy scarf. A scarf is wrapped around the pig's neck, with tasseled ends hanging down on either side.
The pig has a cheerful expression with its mouth open in a smile, showing teeth. Its eyes are also smiling.
You can color this pig with any colors you like, such as pink, brown, or black. You can also use different shades to make the scarf more colorful.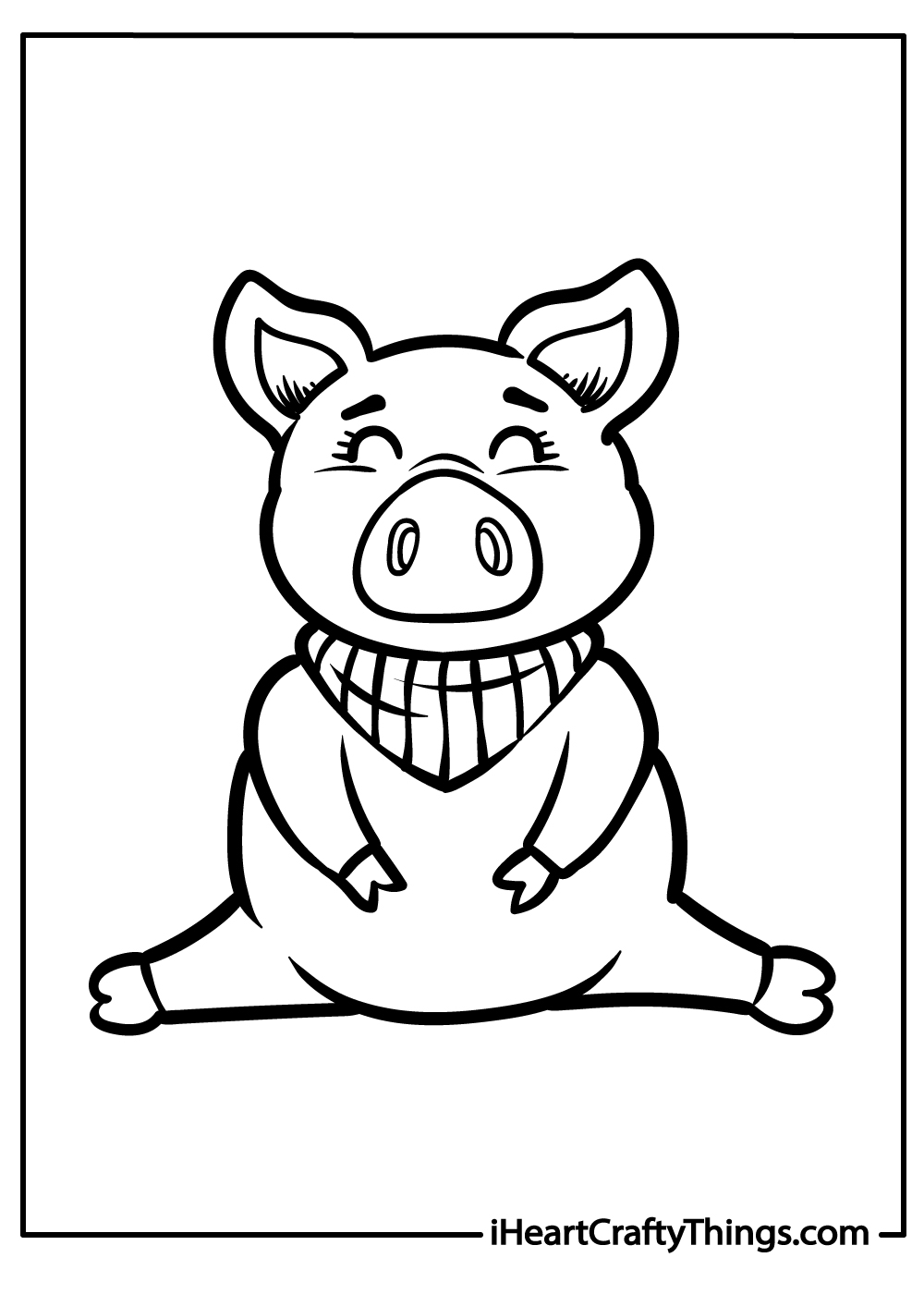 This simple animal coloring sheet has a cute duck on a peaceful lake for you to color.
It's really fun and relaxing to watch a duck peacefully floating on the water, and this one will provide a similar experience as you relax with some coloring fun.
You could keep things simple and just use colors for this page, but you could also take it further by drawing extra background details or additional elements.
It entirely depends on where your inspiration leads you, and we know it will look amazing no matter which approach you take!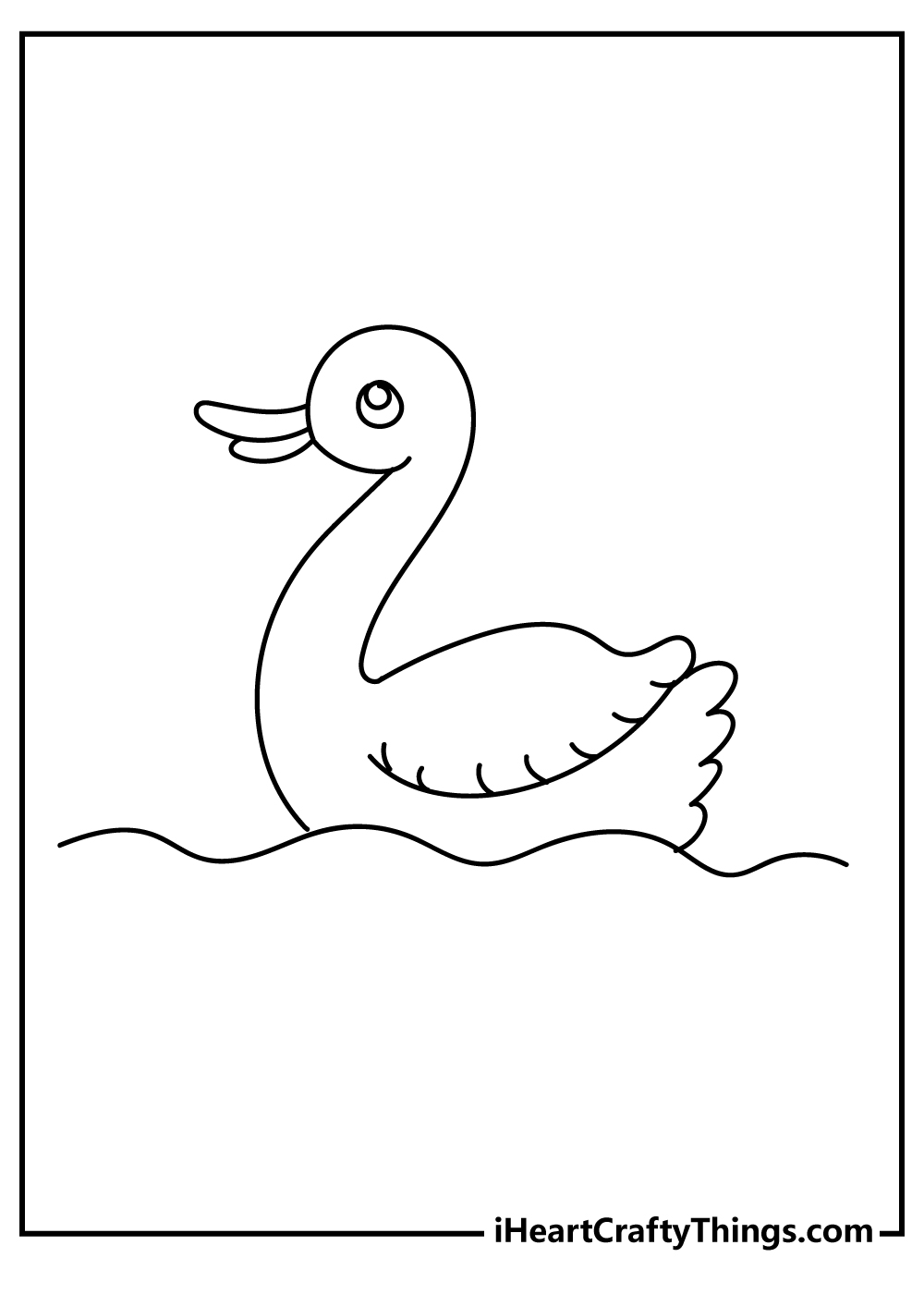 This is an animals coloring page of a chicken and her nest. Chickens are domesticated birds that are kept for their eggs and meat.
What do you think the hen is thinking, and looking at? Maybe she is thinking about her eggs and keeping an eye on her surroundings, in case there is any danger or disturbance.
You can use any colors you like to color this chicken and her nest. You can use crayons, colored pencils, or markers to fill in the details.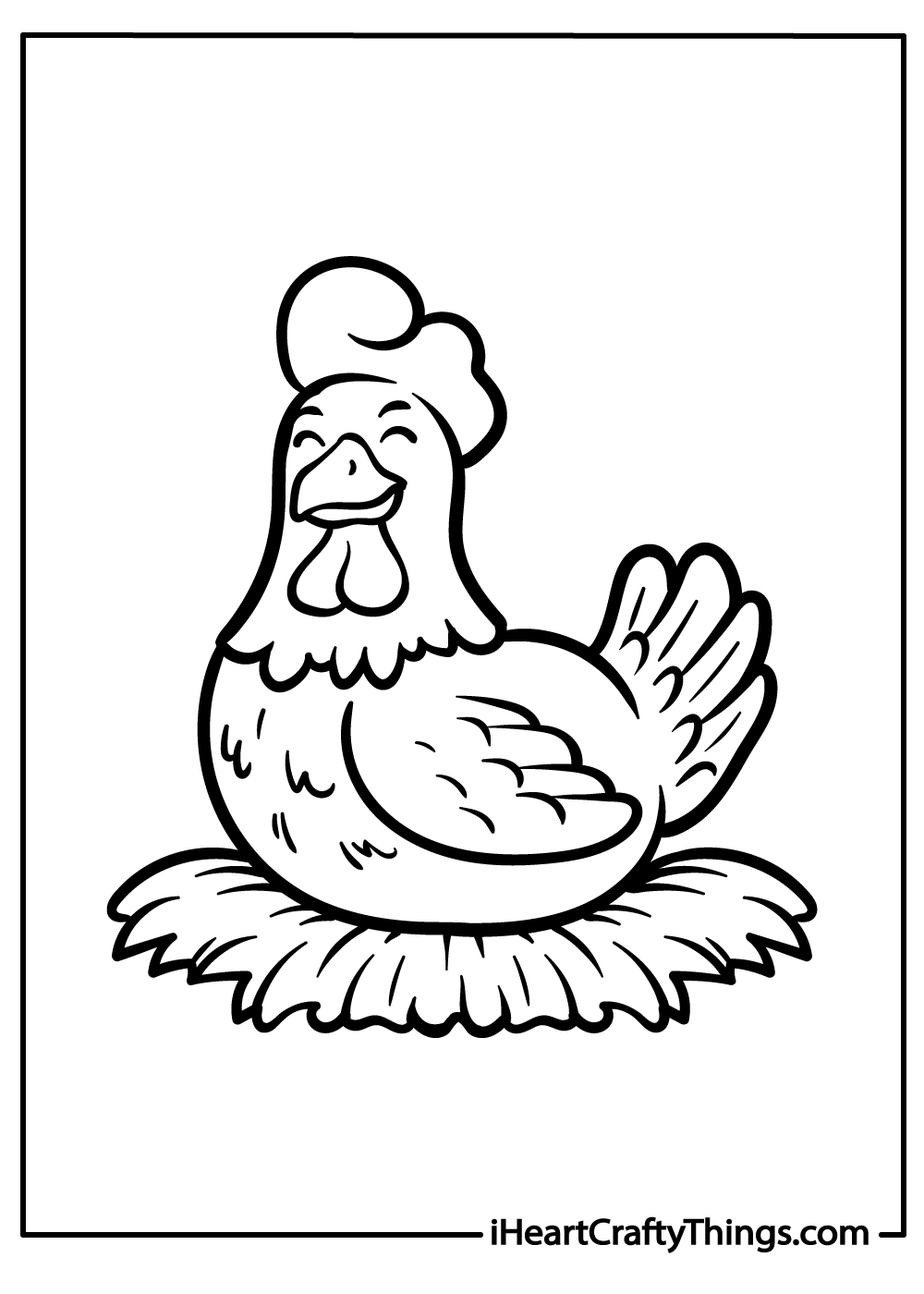 A sweet little ferret is up next in this cute animals coloring sheet.
Ferrets typically have variations of browns and whites for their fur coloring, so you could stick to those colors or use your own if you're feeling creative.
How will you color in this cute ferret?
It's time to slow things down with this little tortoise.
For this cute animals coloring printable, I would use a nice bright green and lighter browns for the tortoise and then keep the background behind it looking bright with cheerful colors.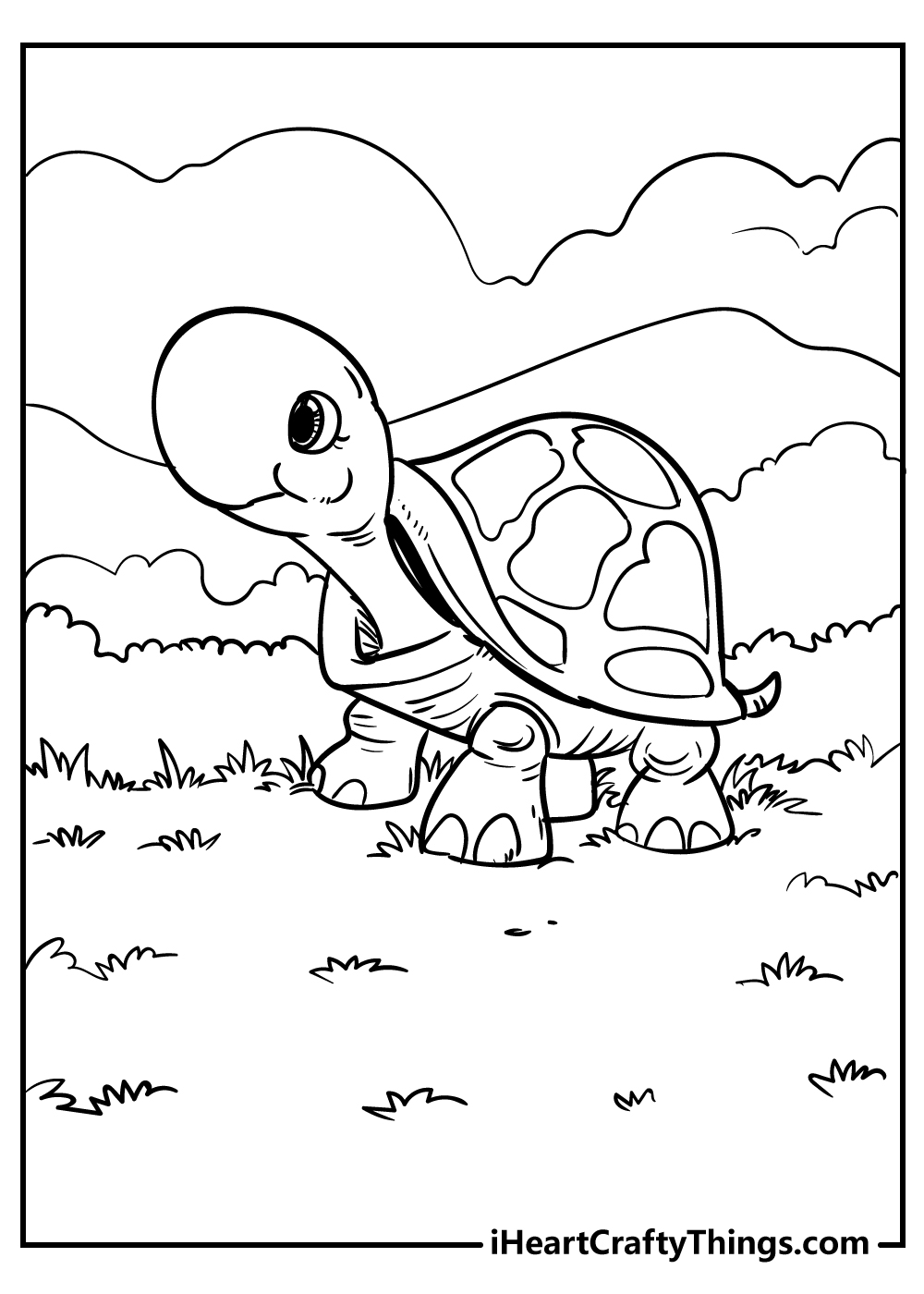 This animals coloring page features a cute and chubby hippopotamus as the central figure, positioned in profile facing the right side of the page.
It has a large head with small ears, round hippo eyes, and a snout shape that protrudes from the front of its face.
Colors like gray, brown, or pink would fit this hippopotamus and make it look more realistic. You can also use bright colors to make it look fun and whimsical.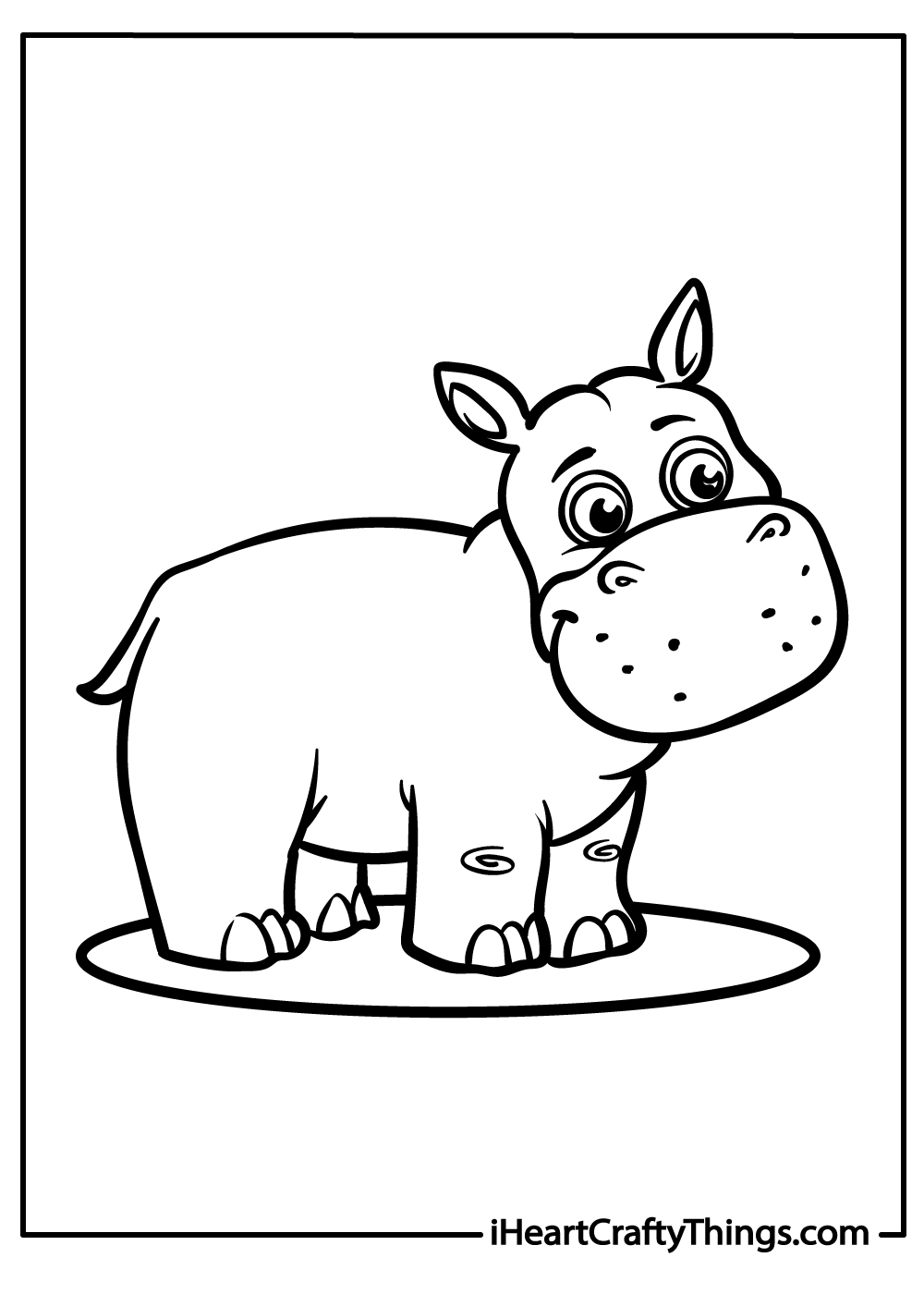 This delightful little giraffe is here for coloring fun in this cute animals coloring page.
Giraffes have a lovely coloring of yellow with brown spots, so you could use some colored pens and pencils for this one to get into the smaller spots to color them in.
Using mediums like these can make coloring in more precise details much easier too.
What mediums do you think you'll use for this cute animals coloring printable?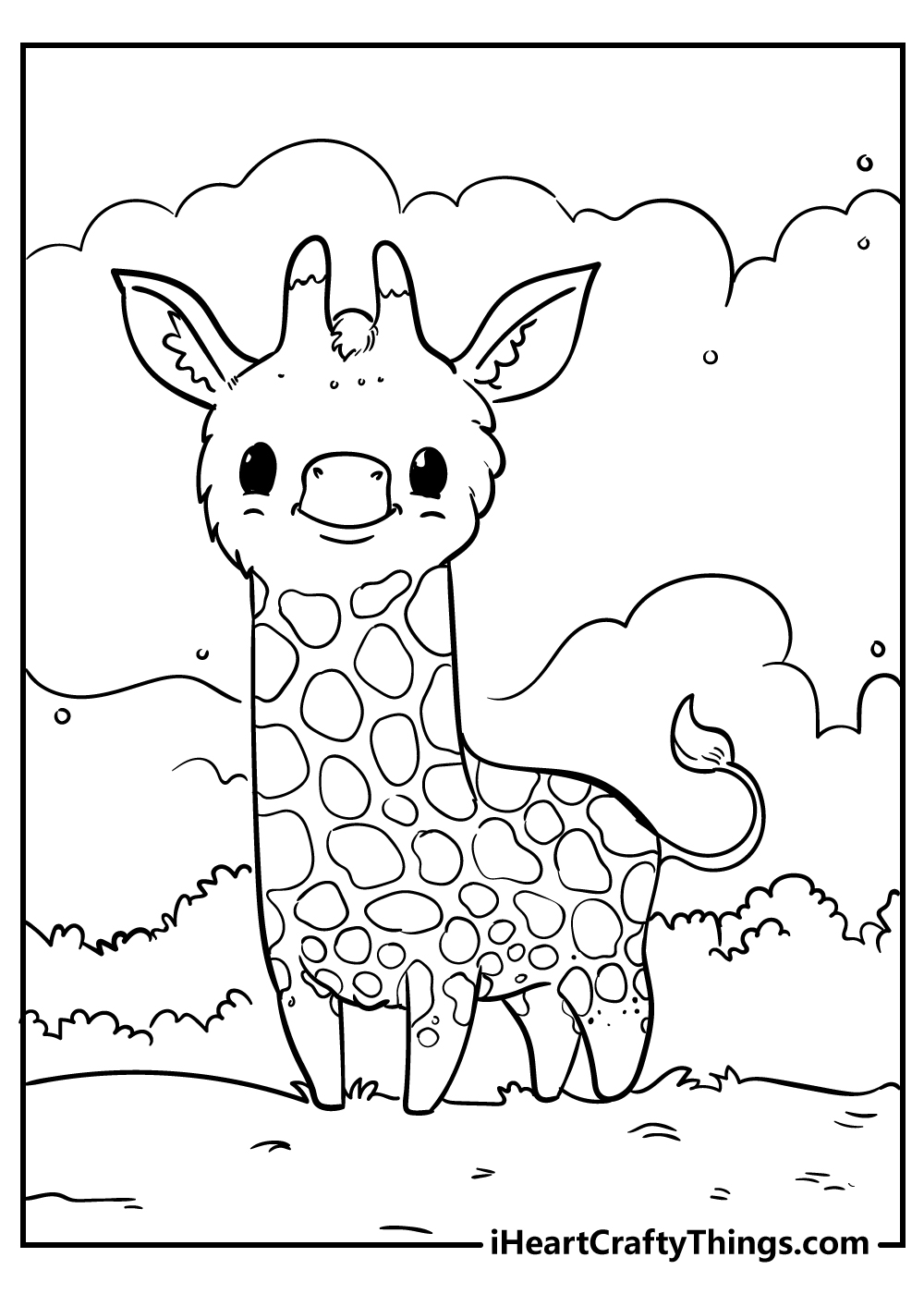 Have you ever had a little dinosaur as a friend? If the answer was no then we have one for you to meet in this cute animals printable!
This adorable little one is having a great day outside, and you could use any of your favorite colors to finish off this sweet dino.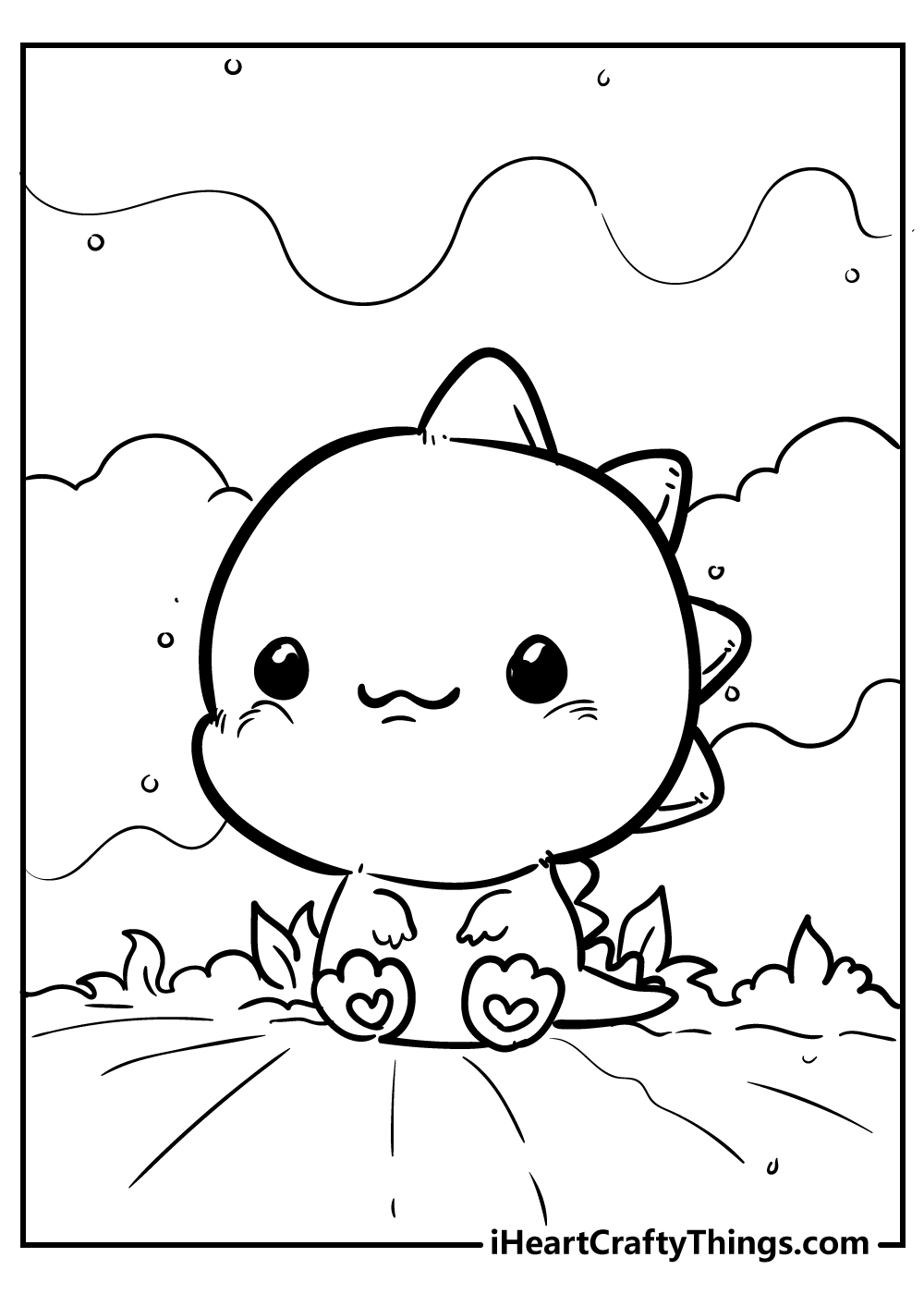 A cute kitty is up next for you to color with this next picture. The face of this cat is just so adorable, and that's without any color!
There are many colors that you could use in order to make this cat even cuter.
These could include realistic colors you would see on a real cat, but you could also use any other colors that you love to create a wonderfully colorful page.
Maybe you could also add some cat toys or other fun details that it can interact with!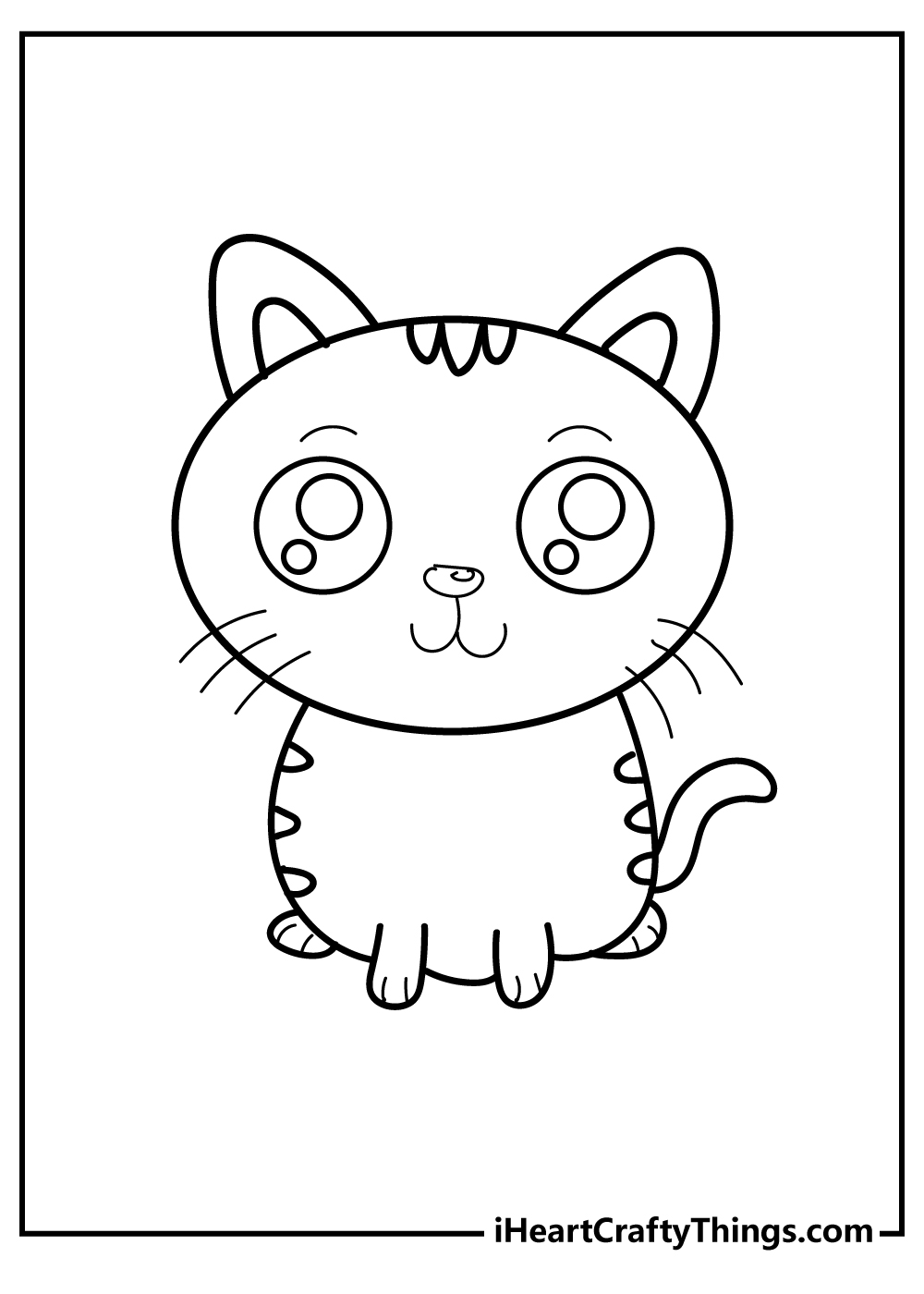 This incredibly cute deer is exploring a lush meadow for this cute animals printable!
There are a lot of grass and plant details for the setting of this image, so we're sure to see plenty of beautiful greens and colors of nature for this coloring page.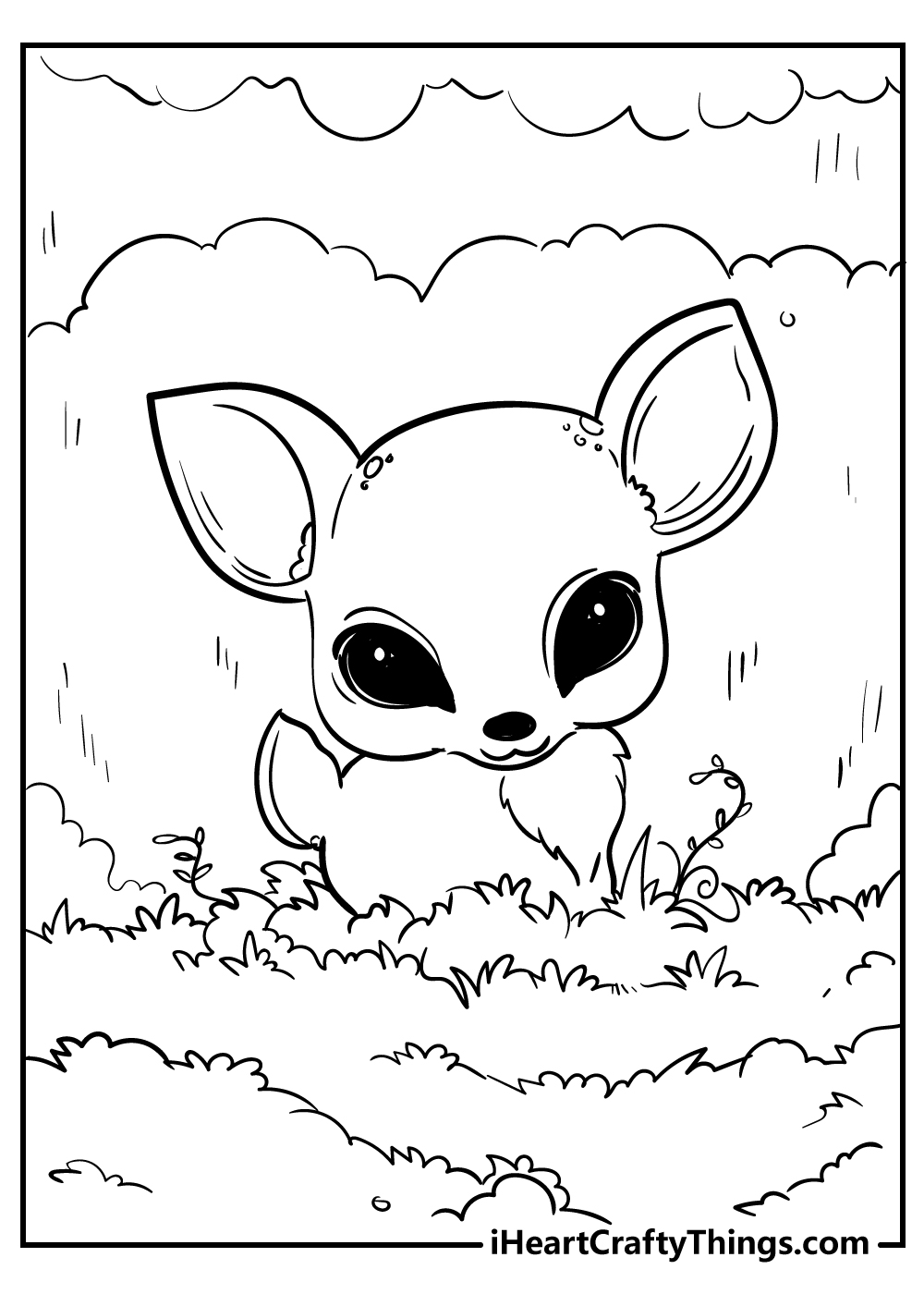 For this next cute animals coloring page we have a little sloth for you to color in! You can take it slow with this lazy little critter and really work in some great color details.
Sloths usually have a more muted and dark color scheme, so if you go for that kind of color choice you could contrast it with bright greens and blues for the background colors.
If you use your own colors for the sloth, which of your favorites will you choose?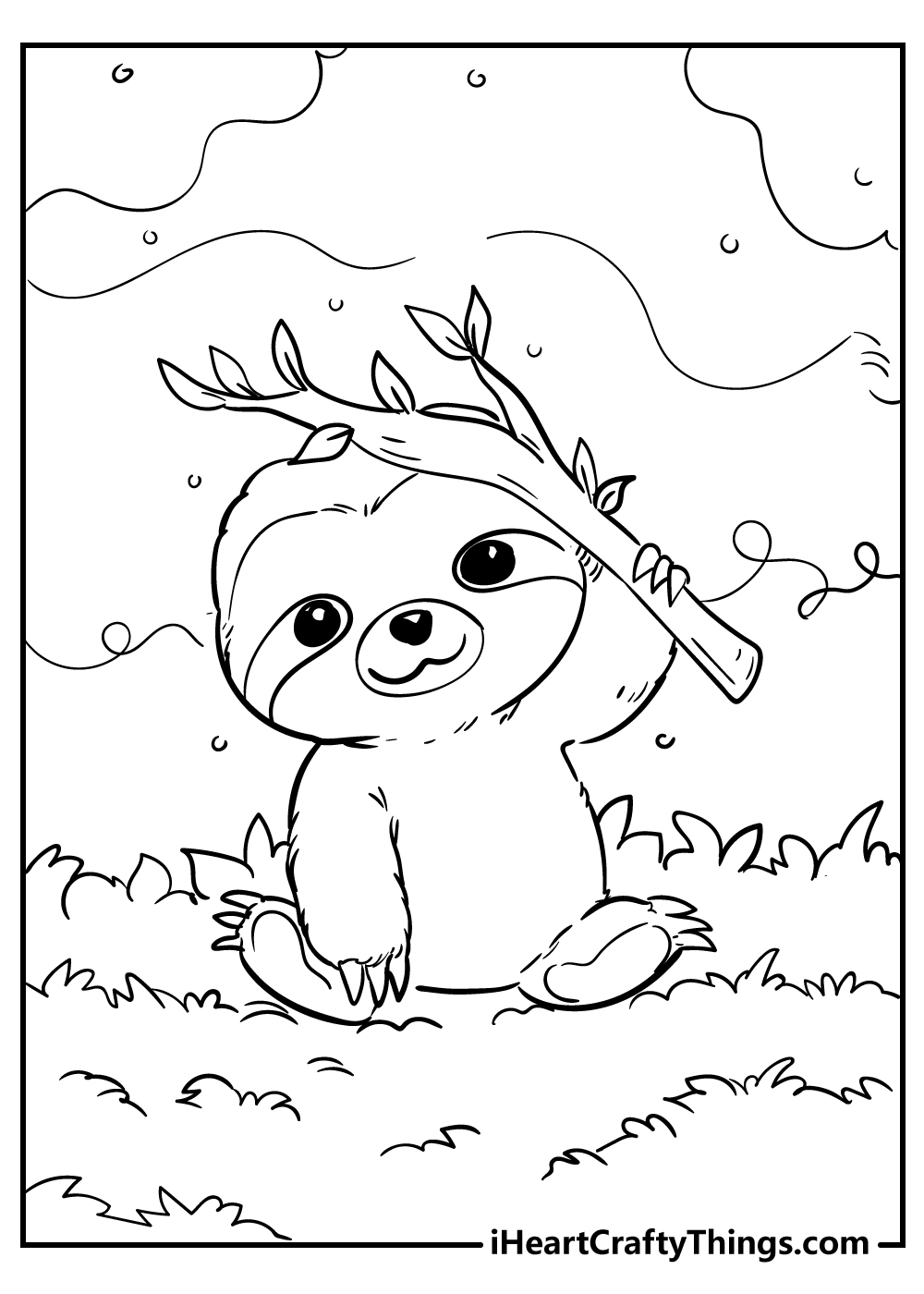 We're feeling the love in this cute animals coloring sheet! An adorable fox couple are holding paws and taking a stroll through the wilderness during a beautiful day.
Foxes have a lovely red coloring to their fur, so that gives an opportunity for some pretty warmer colors to this image.
I would also use a nice lighter blue for the sky to show that this is a beautiful day outside for these loving foxes.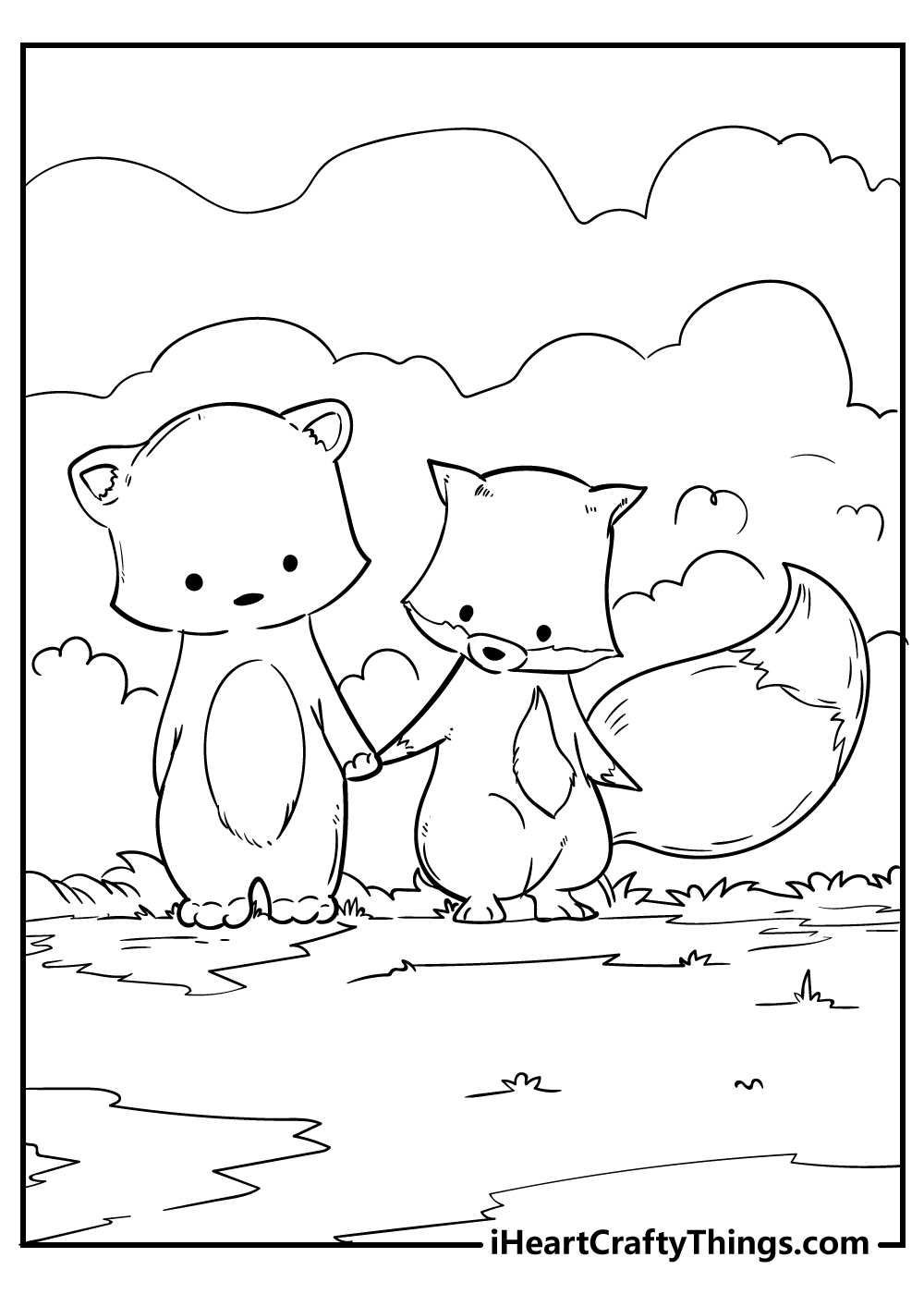 Be careful that the bunny in this cute animals coloring page doesn't float away!
It's holding onto a balloon that's lifting it off the ground, but this sweet rabbit doesn't seem to mind! There are some details to color in that will add some lovely splashes of color.
You could make the balloon your favorite bright and vivid color, and the little hearts surrounding the bunny would look really nice with some bright reds. How will you bring this cute bunny to life with colors?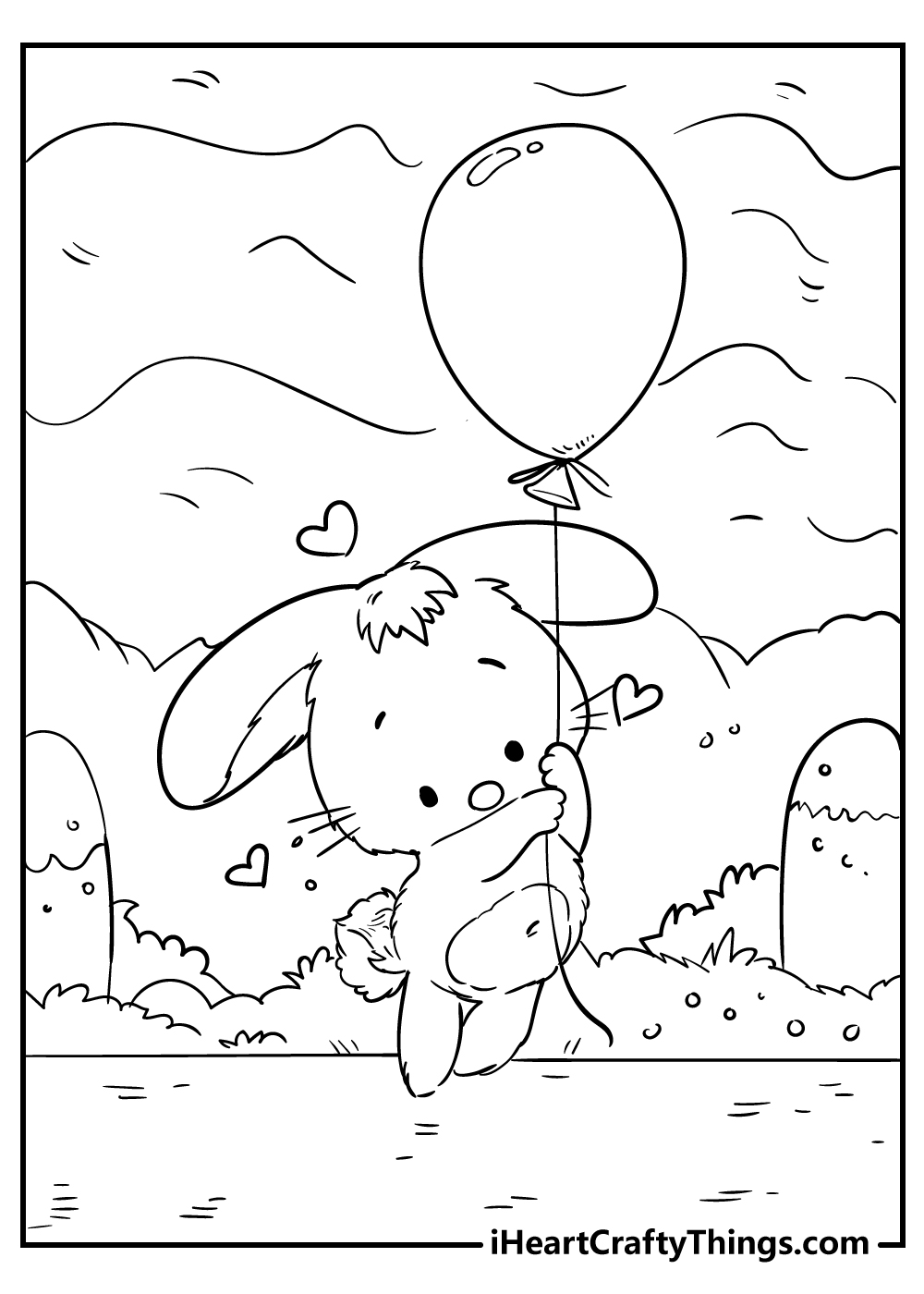 Another creature is enjoying some balloons in this free cute animals coloring printable!
This giraffe has three balloons tied to his neck, but he must be heavier than the bunny in the previous coloring page because they're not lifting him even a bit!
There are plenty of great details in this image that should make this one of the most colorful in the collection.
You could color each balloon in a different color, and there's also a beautiful rainbow above for even more pretty color variations. Will you use watercolors for this cute animals coloring sheet for some softer colors?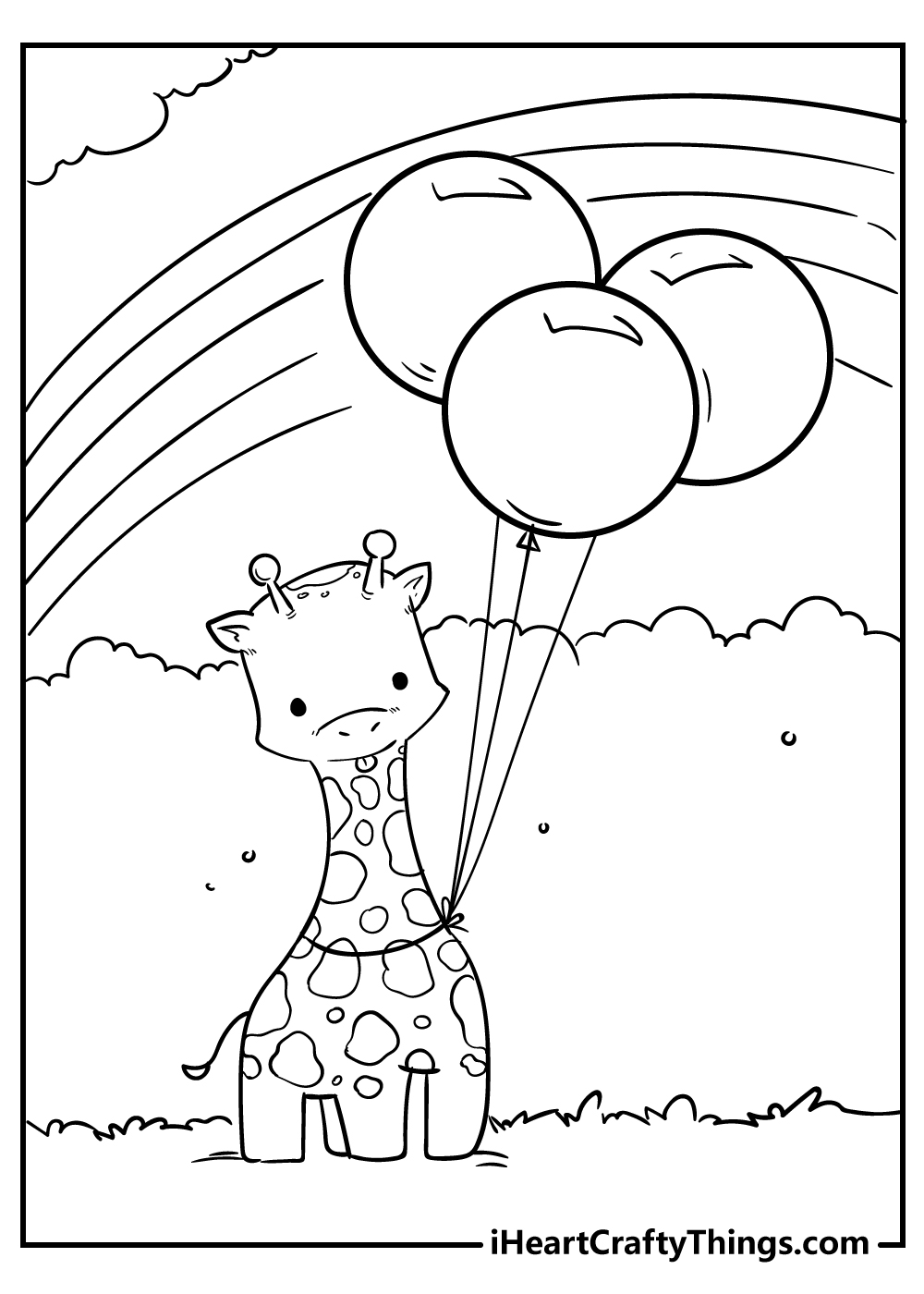 This next animal coloring page features an ostrich as the main subject, positioned in the center facing forward. The ostrich is standing on ground indicated by a few scraggly lines.
The ostrich has a friendly, approachable facial expression with a slight smile. The feathered body is detailed with textured plumes on the wings, back, and tail.
I would use brown, tan, gray, and white for a realistic ostrich color palette.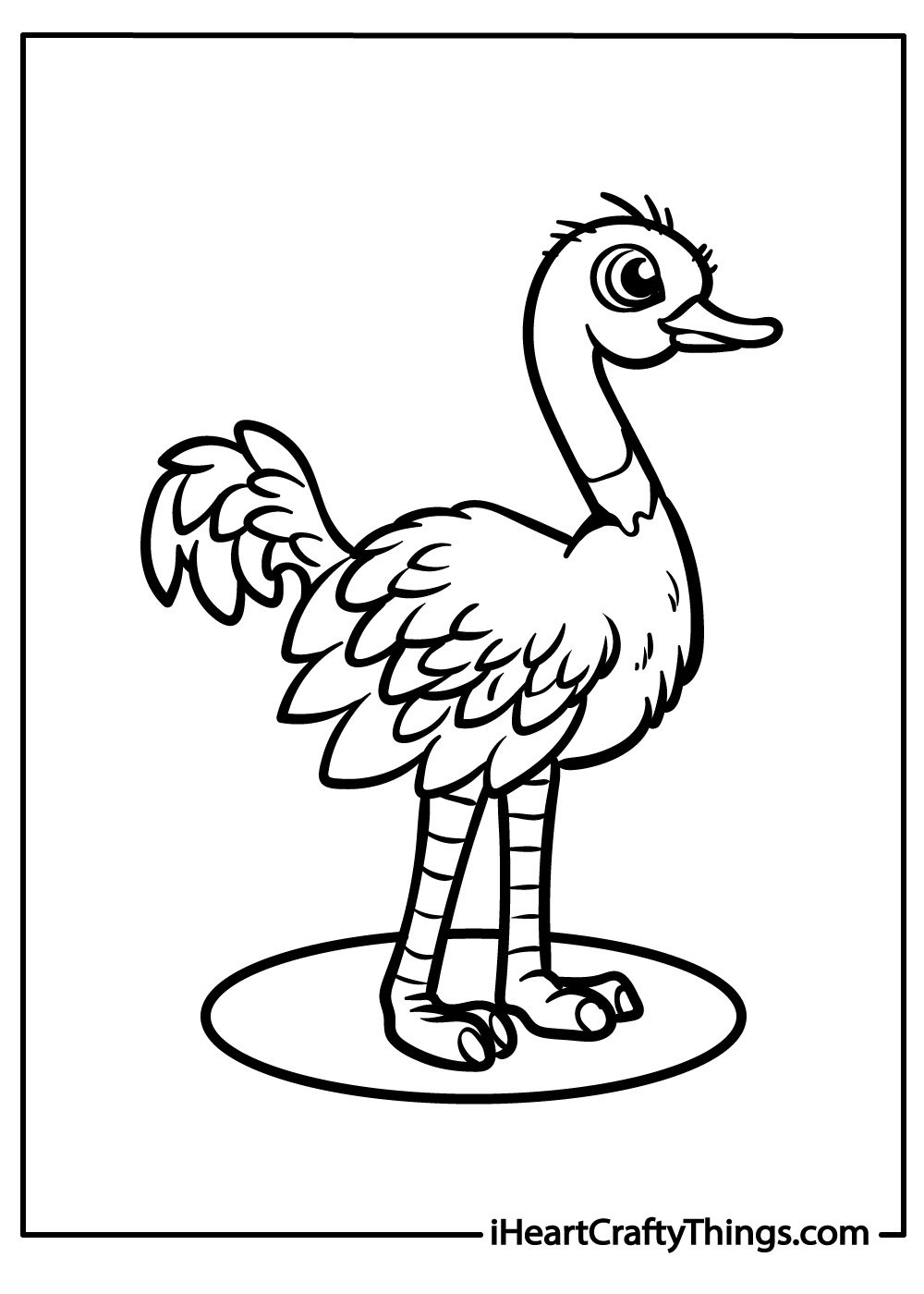 Next, we have a wise old owl for you to color, and this one seems to be keeping a close eye on us! The eyes are the main feature of this image, and they certainly catch your attention.
For this reason, if we were coloring this one we would use some bright and vibrant colors for the eyes, as this would make them even more of a focal point for the picture.
This would be especially effective if you used some milder colors for the rest of the owl, as the eyes would stand out even more. What will you do to color these big eyes?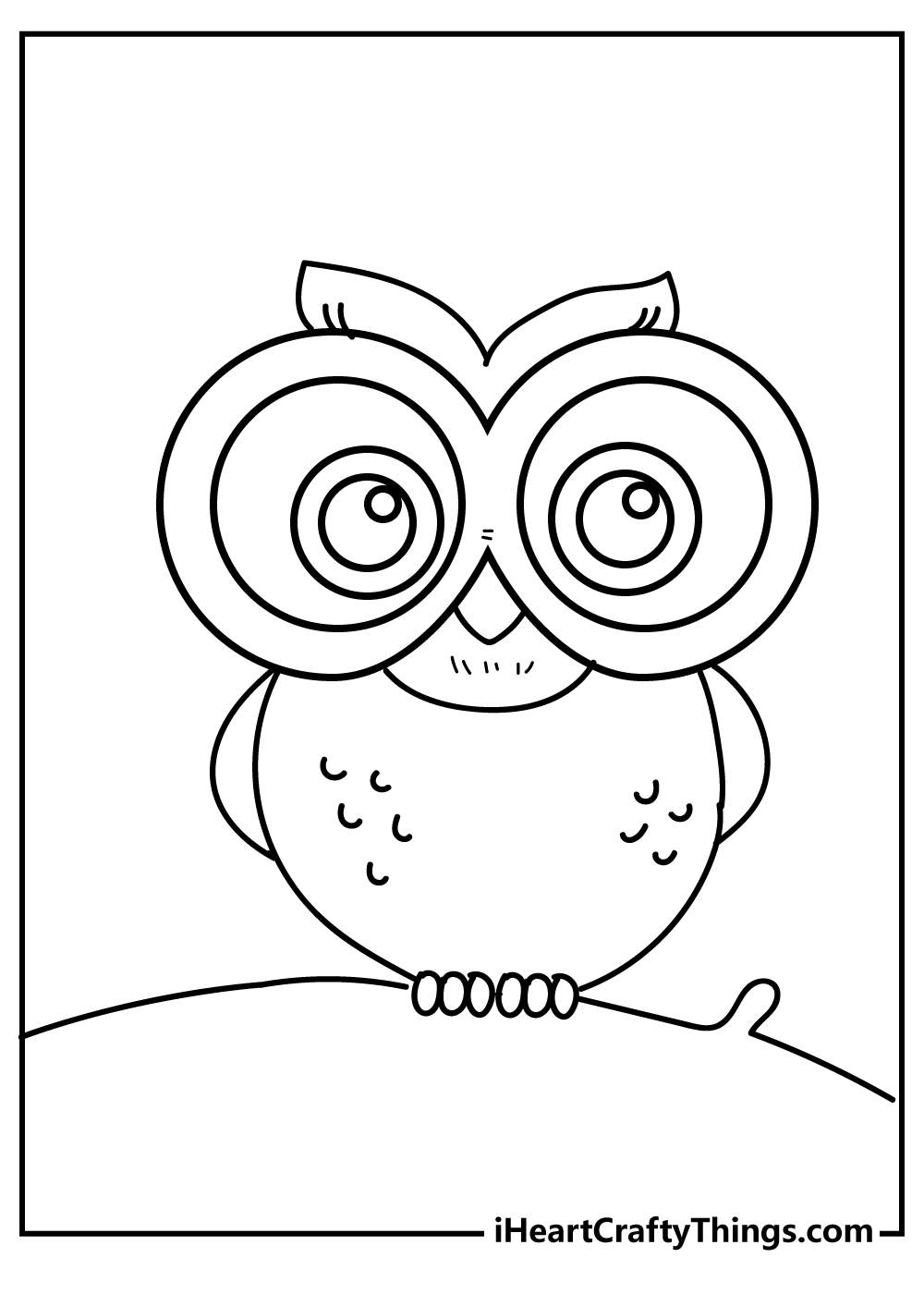 A cute fox is up next in this page of our collection of free simple animal coloring pages for kids!
Coloring a fox is always fun, as it lets you use some of your favorite vibrant oranges and reds while keeping to realistic colors you would see on a real fox.
Our suggestion for this one would be to use some acrylic paints or maybe some colored markers to make the colors bright and vibrant.
Going for a softer look is still an alternative, and it all depends on the creative mood you're in as you color this page.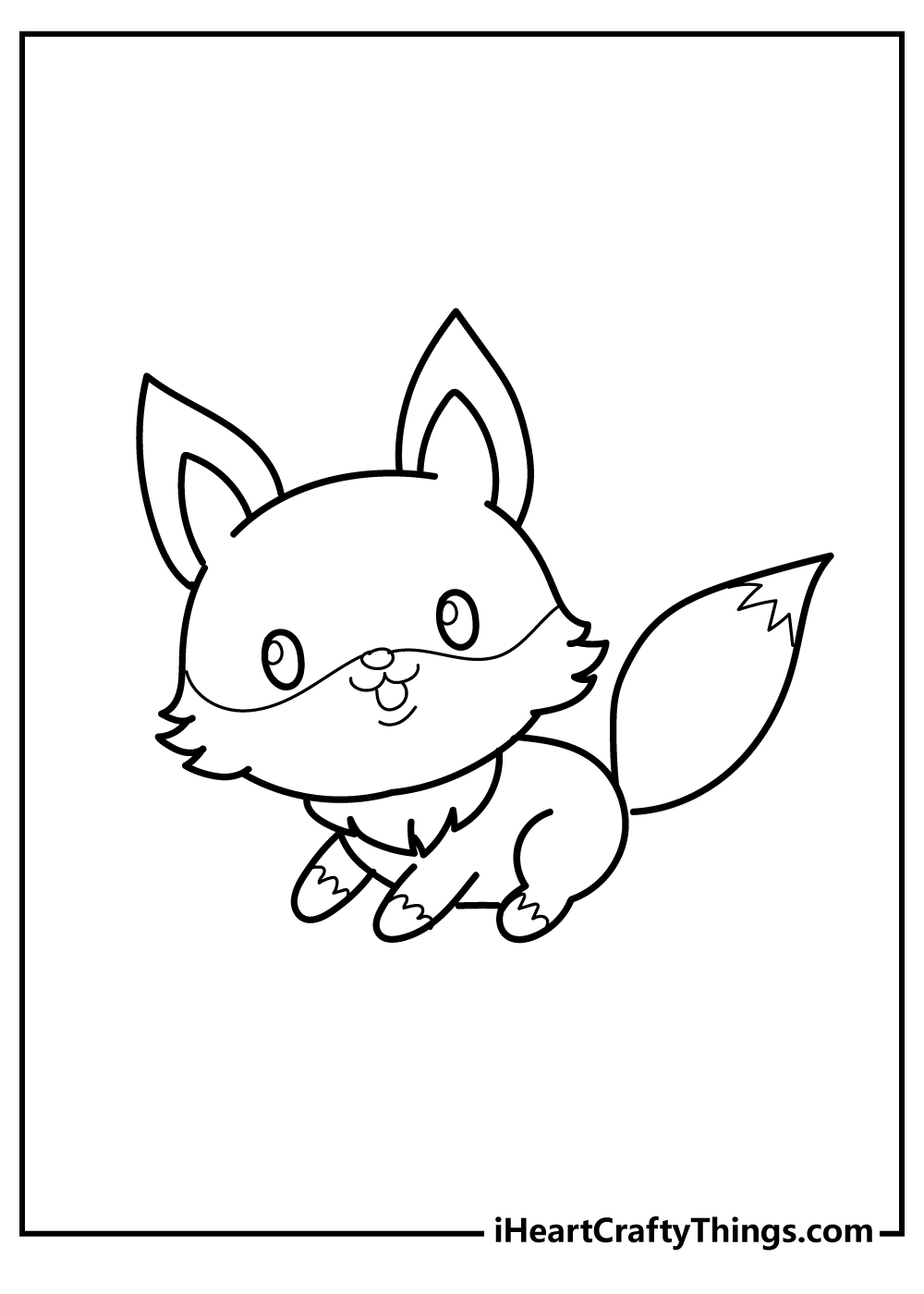 This chipmunk is looking very happy while clutching his acorn prize!
There are plants with berries in the foreground of this image, so you could color those in with a nice blue or red for some smaller color details amongst the greens of the leaves.
Will you color in the cute chipmunk with natural browns or get creative with your best bright colors?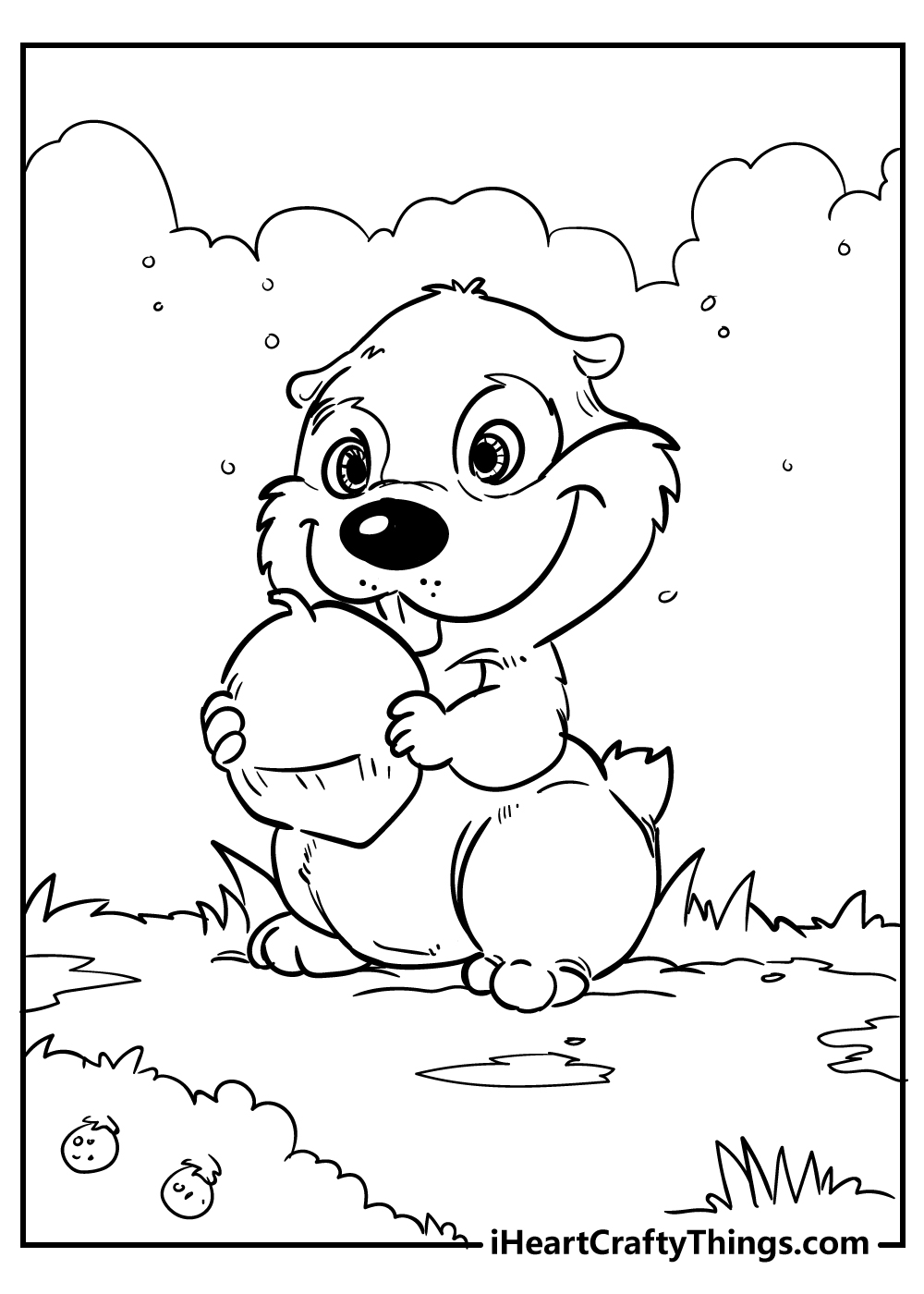 We have a couple of unlikely friends for this cute animals coloring sheet! A large bunny is making a great bed for its little chick pal as they hang out and feel the love!
There are some chewed on carrots around them, so it looks like this bunny has been kind and shared its lunch with this cute chicken.
The carrots would look great with some orange colors while coloring the little chick with a nice bright yellow will help to set it apart. We can't wait to see this one when it's done!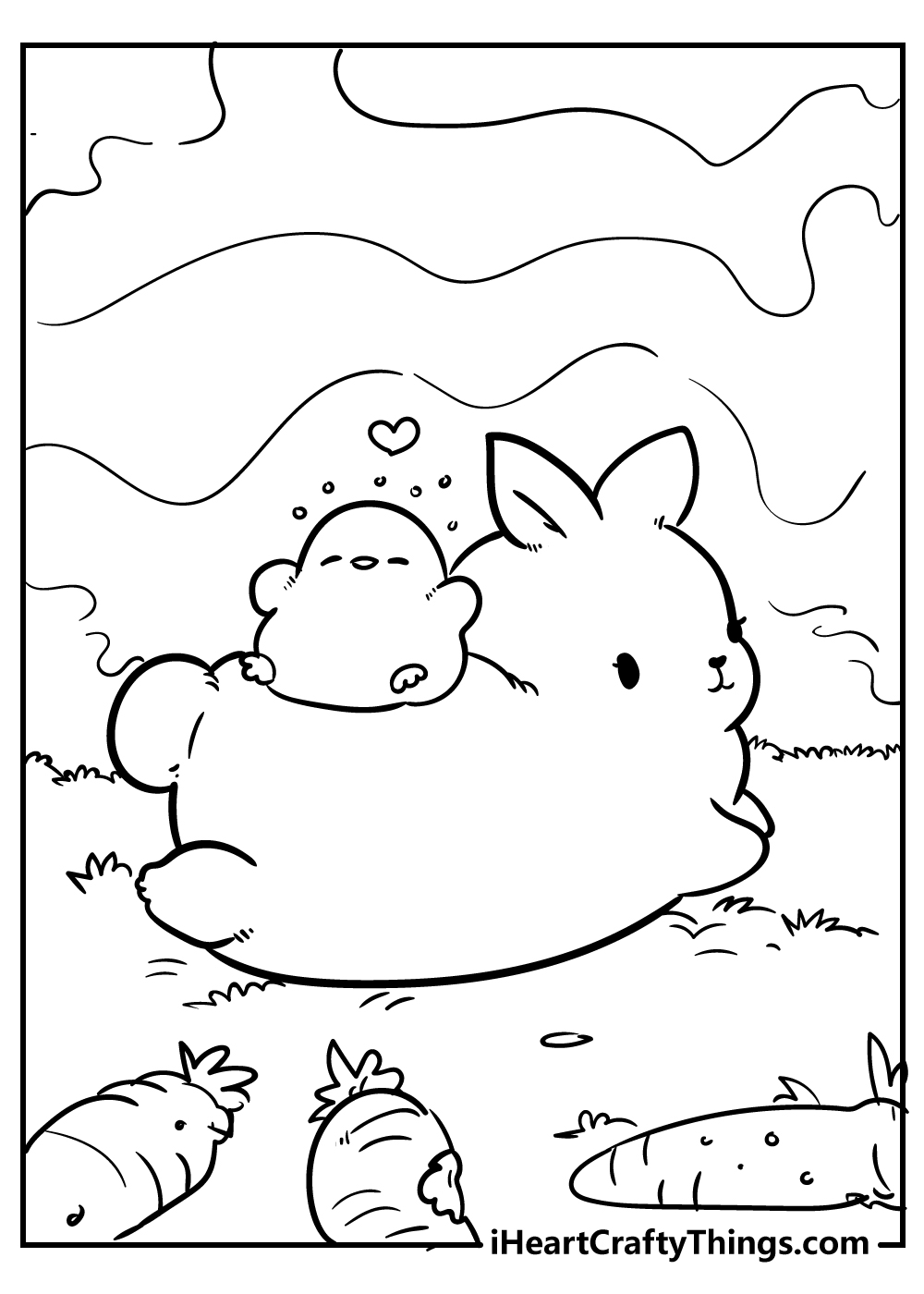 It's time to color in another cute cat for this next page! This is one adorable cat, and there are lots of ways to color it in.
The background has been left completely blank here, and that lets you have some fun as you create a background scene for this one.
You could put the cat in a simple household setting, but you could also have some fun with it and put it in a creative setting like a school or fairground!
If you can't decide on what to do for this image, you could print out a few copies so that you can really experiment with all your ideas.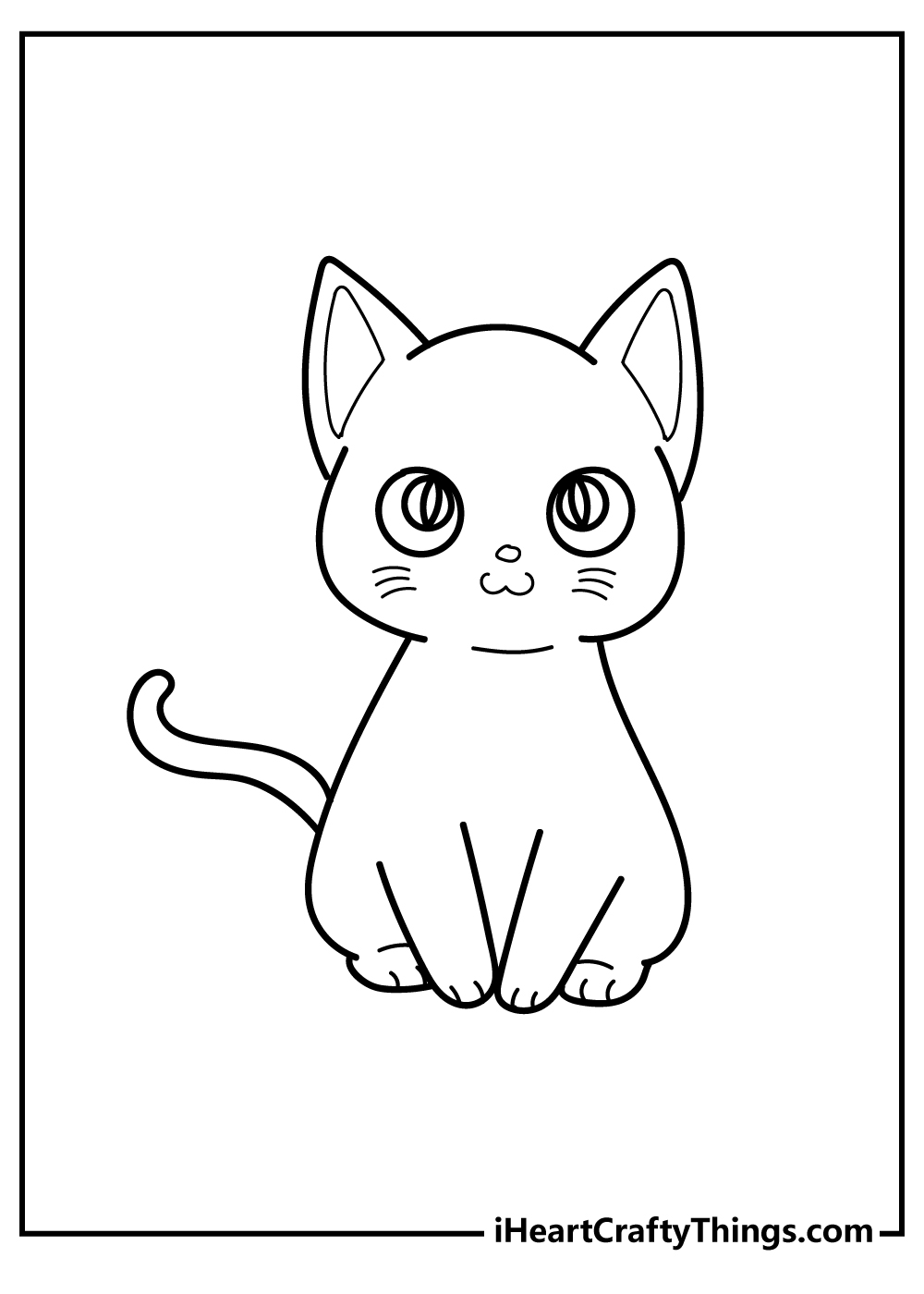 Next, we're taking a trip to sunny Australia as we color in a cute koala! The koala is an animal that takes life at its own pace, and these lazy cuties are never in a hurry to get anywhere.
That means that this is the perfect picture to relax with as you enjoy some peaceful coloring at your own pace.
This is another one that we would probably use some watercolor paints or colored pencils on, as we think a nice soft look would really suit it.
Look at this tall and graceful giraffe. The giraffe's head has tall oval-shaped ears, large round eyes, and stubby ossicones on top.
Giraffes are amazing animals that have the longest necks in the world. Did you know that giraffes can sleep standing up? They only need about 30 minutes of sleep per day.
It's best to use realistic colors on this giraffe, such as yellow, brown, or orange. You can also add some trees, grass, or other animals to the background.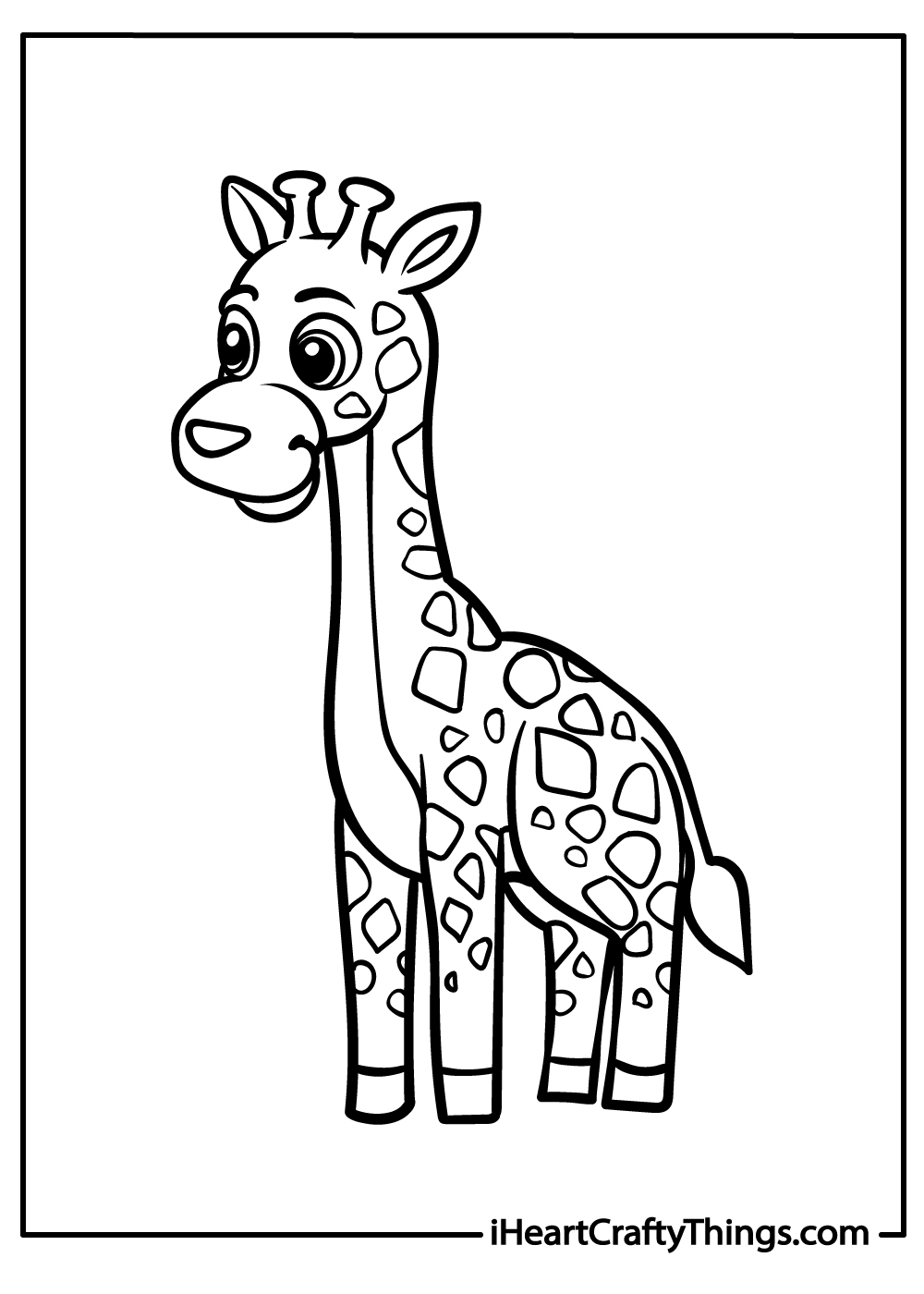 Another bunny is admiring some pretty butterflies by the riverside in this next cute animals printable.
This is an image that I think would be well suited to colored pens and pencils, especially for the finer details.
The butterflies especially would look really pretty with some smaller color details.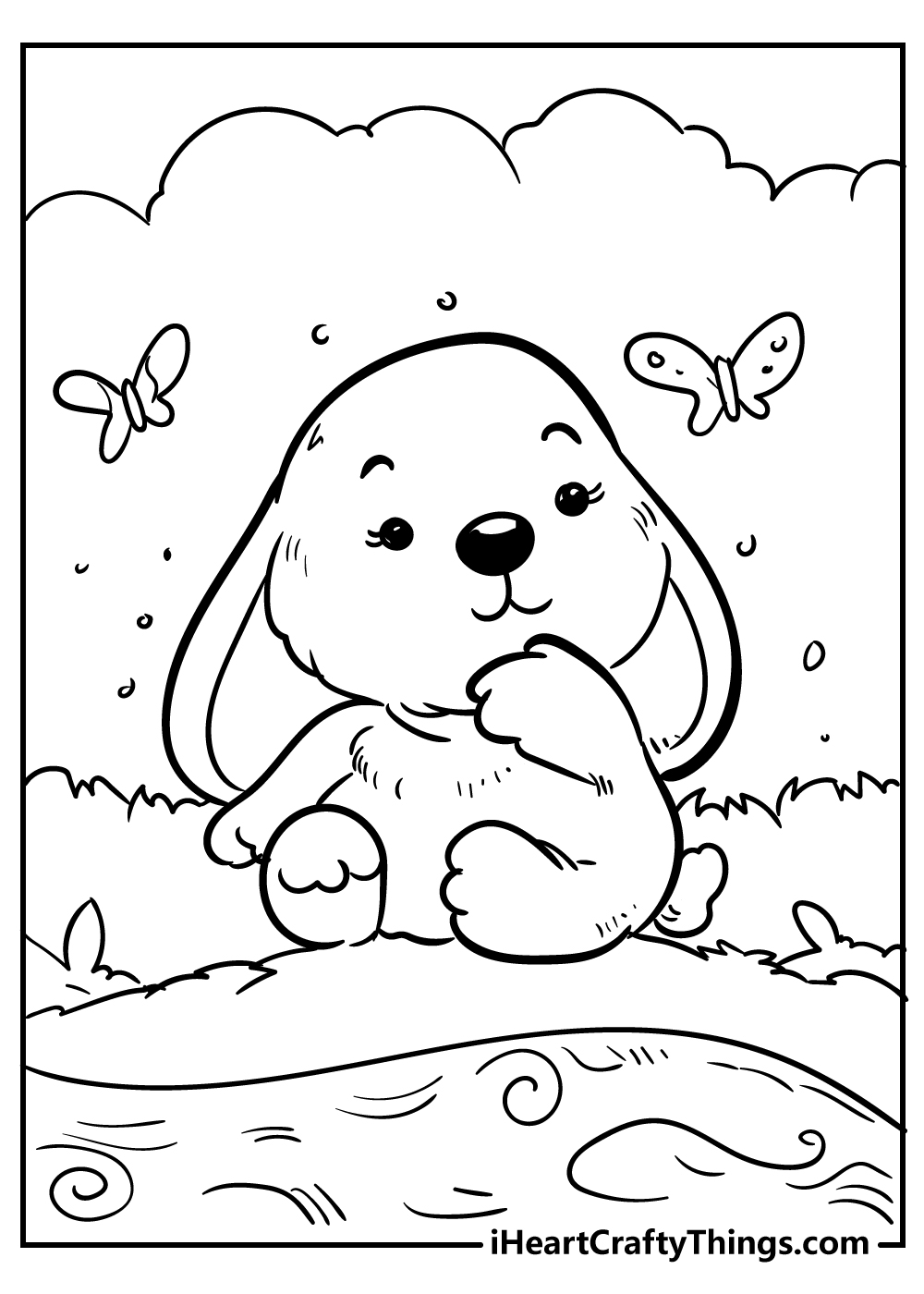 Another cutie has a balloon for this cute animals coloring sheet! This little elephant is holding a heart shaped balloon, and would certainly color in the balloon with a lovely bright red.
The background details of this image are really pretty as well, and there should be plenty of chances for you to use some lovely bright colors for the forest setting in the backdrop.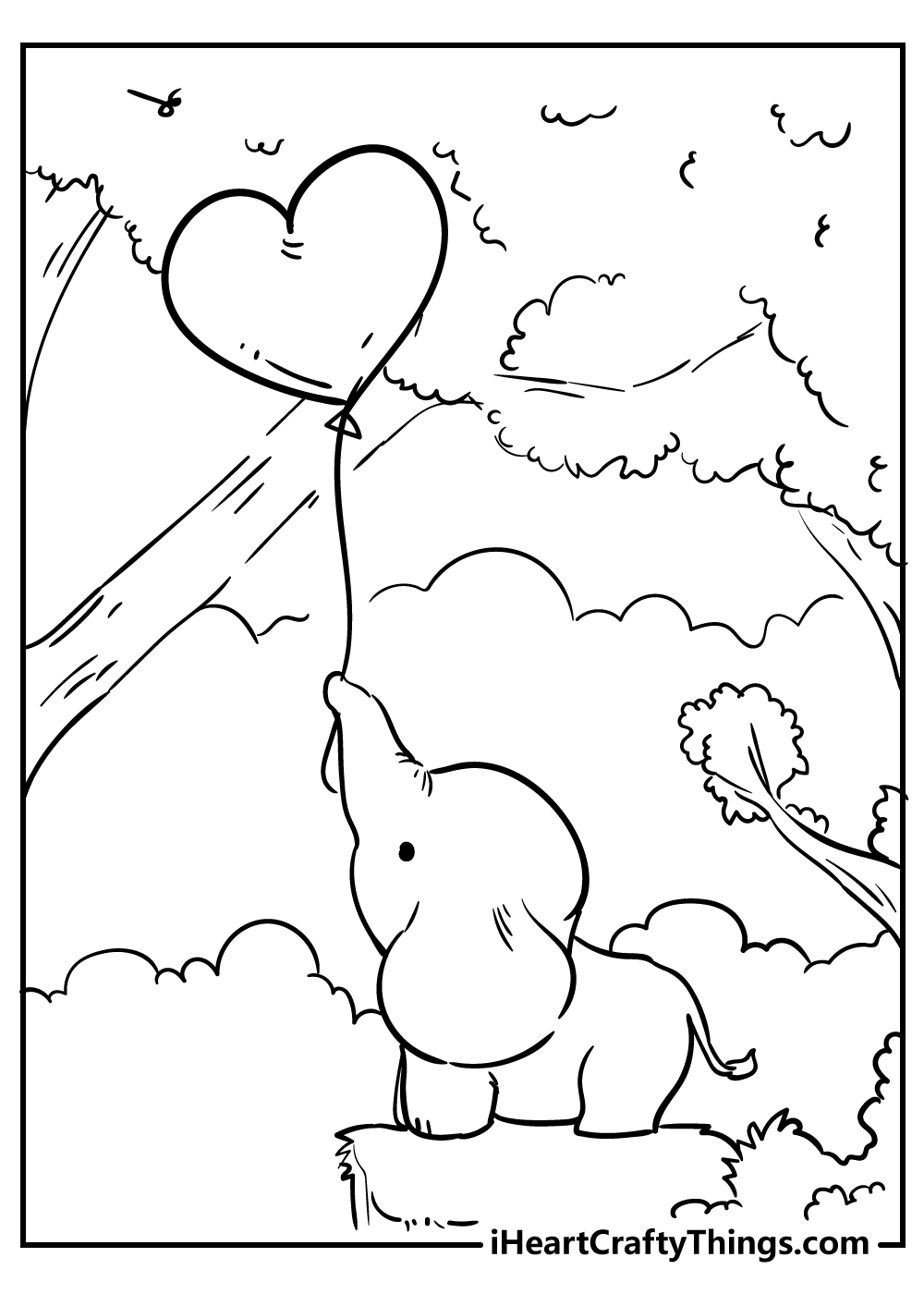 The little goat in this cute animals printable is enjoying the cool mountain air! This image makes me think of a chilly morning up on a mountain, so if I were to color this image in I would use softer, cooler colors for the backdrop.
This is another one that I think would look amazing with some watercolors, as they work really well for creating a softer, cooler look.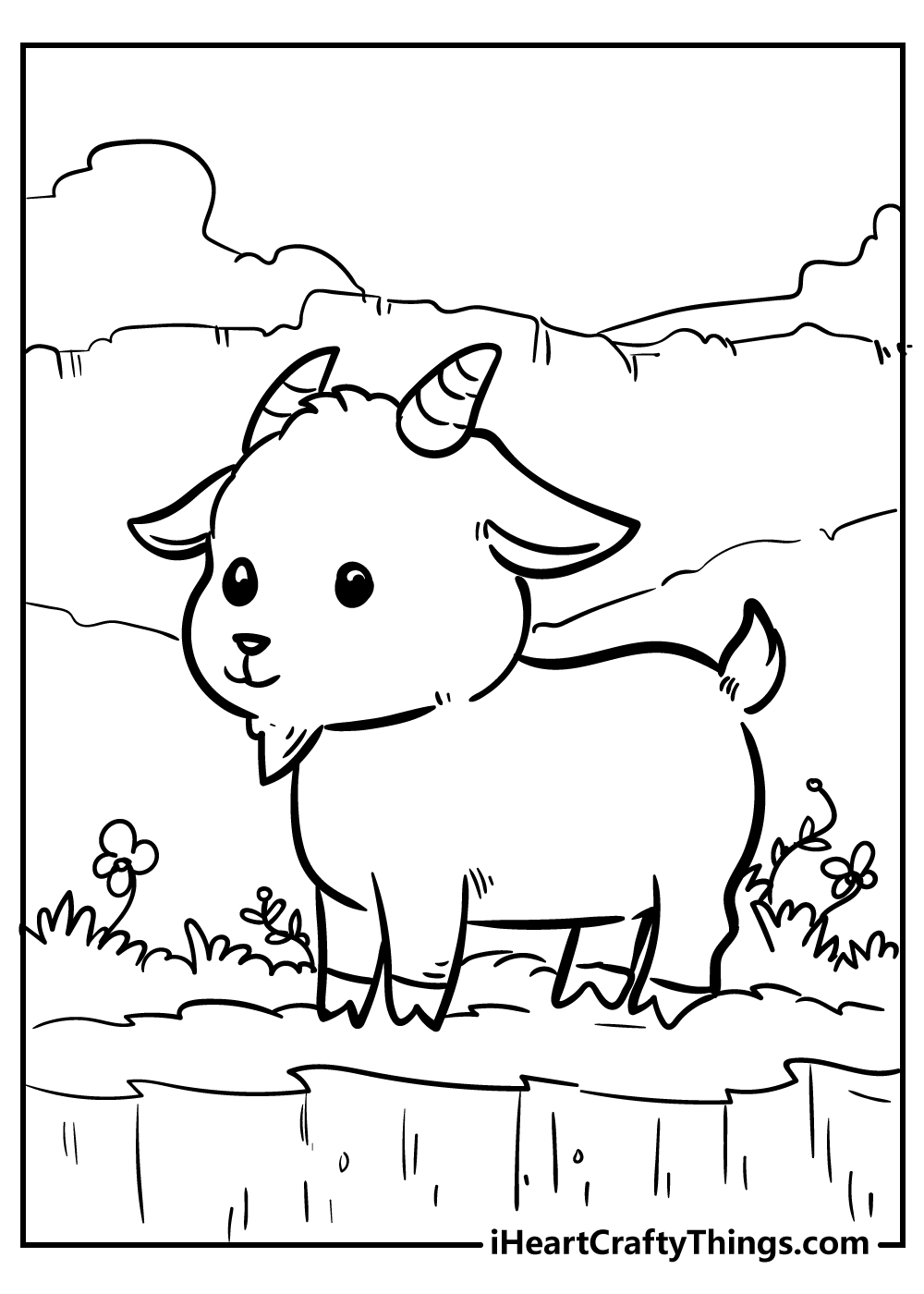 These two little beavers are having a great time playing around by the water's edge! Maybe they're taking a break from helping to build a dam and using the time to get in some playtime.
Using some browns contrasted with pretty blues for the sky and water in this image would make for a lovely and calming nature scene.
I'll look forward to seeing how you color in this cute animal coloring page!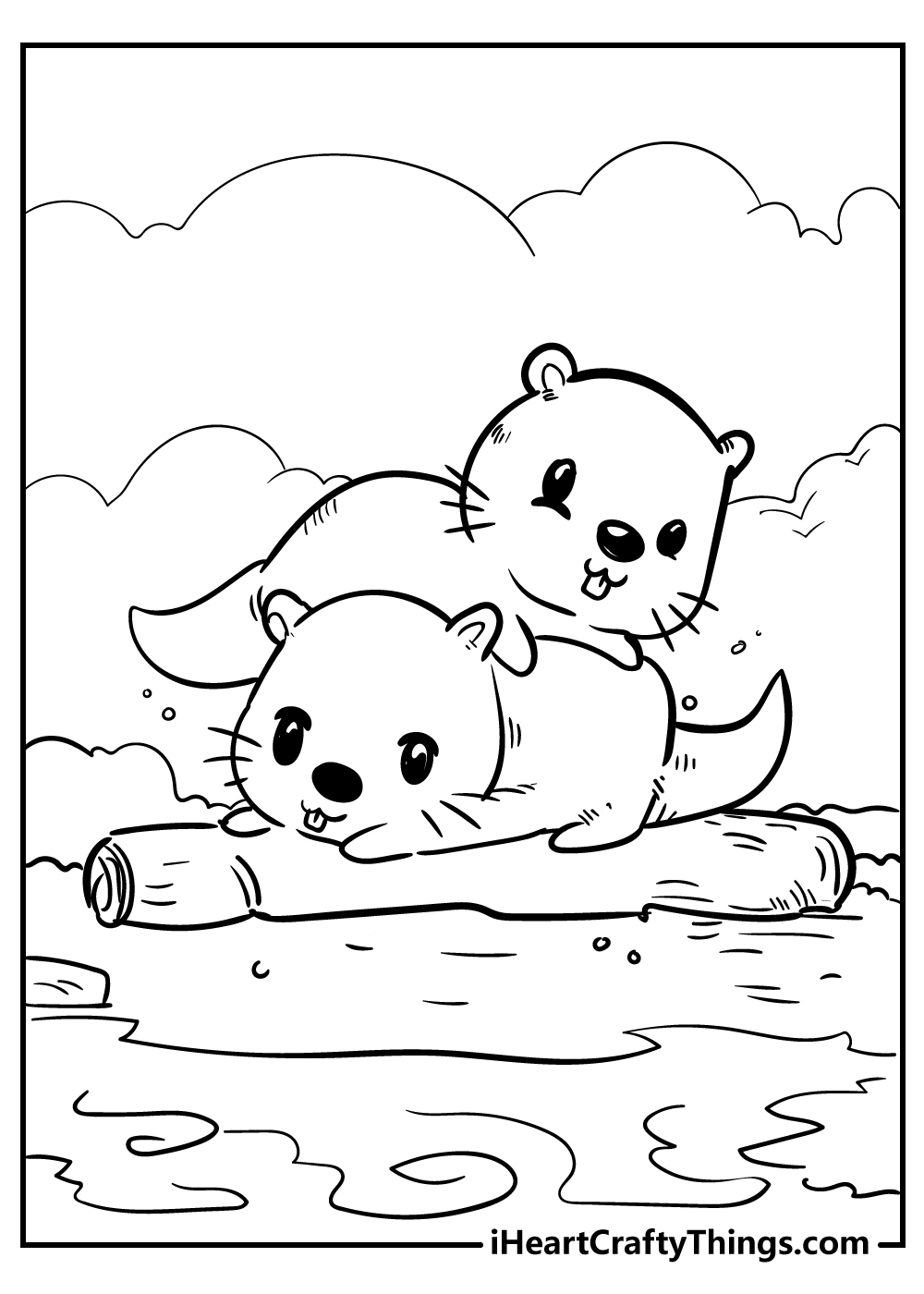 We're taking a swim in this next simple animal coloring page. This little turtle is so cute, and now you get to color it in!
It's another page where the background has been left blank, and there are a few ways that you could fill it in.
You could use some greens and browns to make it look like it is crawling on land for one approach!
Alternatively, you could also use some blues and draw some bubbles and fish to make it look like it is having a lovely swim underwater.
These are just two approaches, but there are others you could go for too!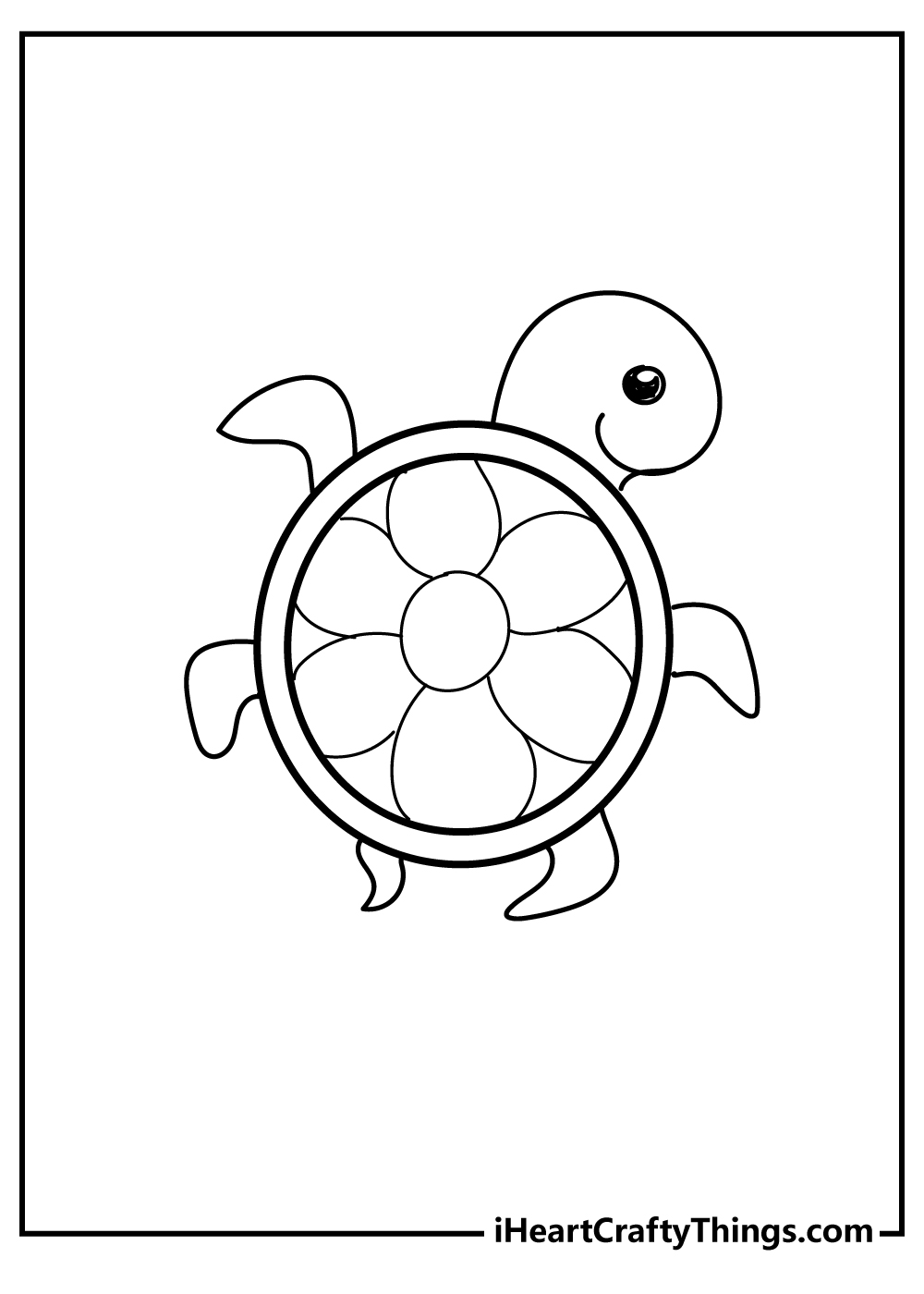 How cute is this little bunny rabbit? This bunny is looking very happy as it enjoys a lovely day outside.
We think that drawing a pleasant outdoor scene behind this rabbit would be great, as it would show where it is enjoying its day.
Rabbits are, of course, often associated with Easter, so you could also draw some colorful decorated Easter eggs beside the bunny in order to give it a holiday theme.
That would also be a great excuse to use all of your favorite bright and vibrant colors!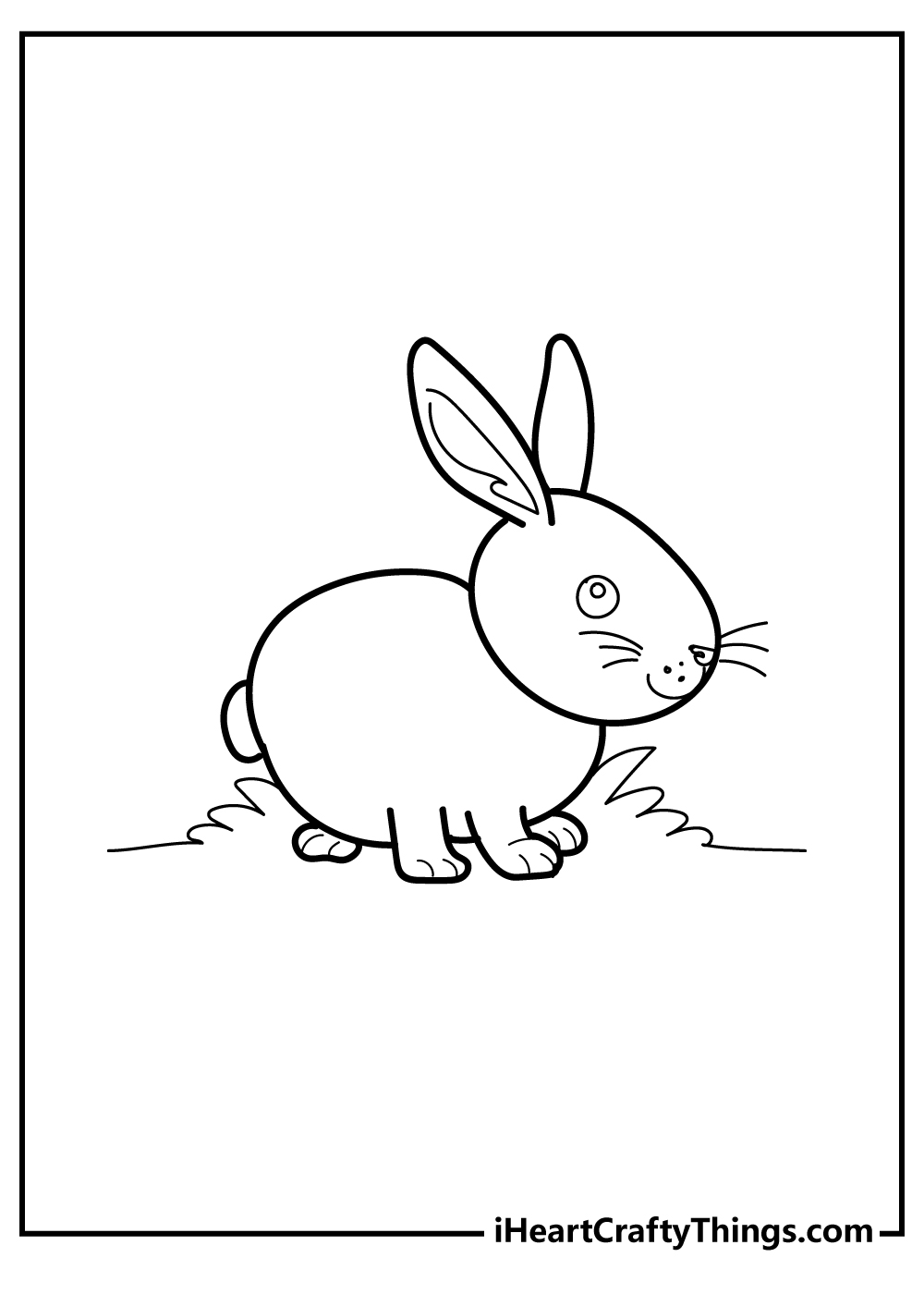 It's snack time for the critter in this cute animals coloring sheet. What kind of animal do you think this sweet little guy could be? I also wonder what he may be eating!
Maybe you could use some of your favorite colors to fill in this furry fellow, and I bet it would look nice to use some acrylic paints for a richer image.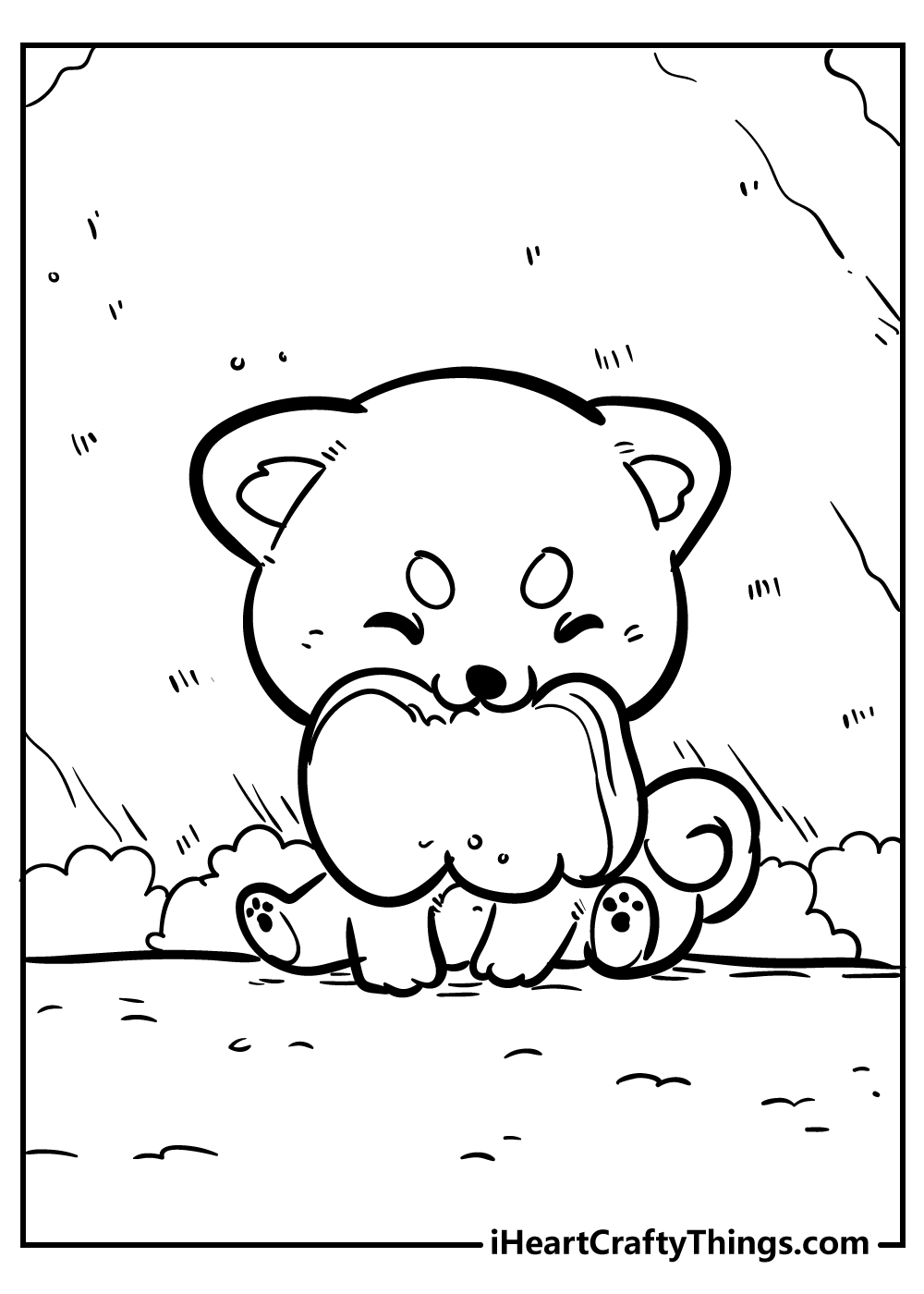 The adorable little gecko lizard featured in this cute animals colored page is licking her lips, so I bet she just had a tasty bug for a treat! What colors do you think this sweet reptile could be?
I would use some colored pens to create some dots of color while filling in the body with crayons or colored pencils.
What mediums and colors are you thinking for this little one?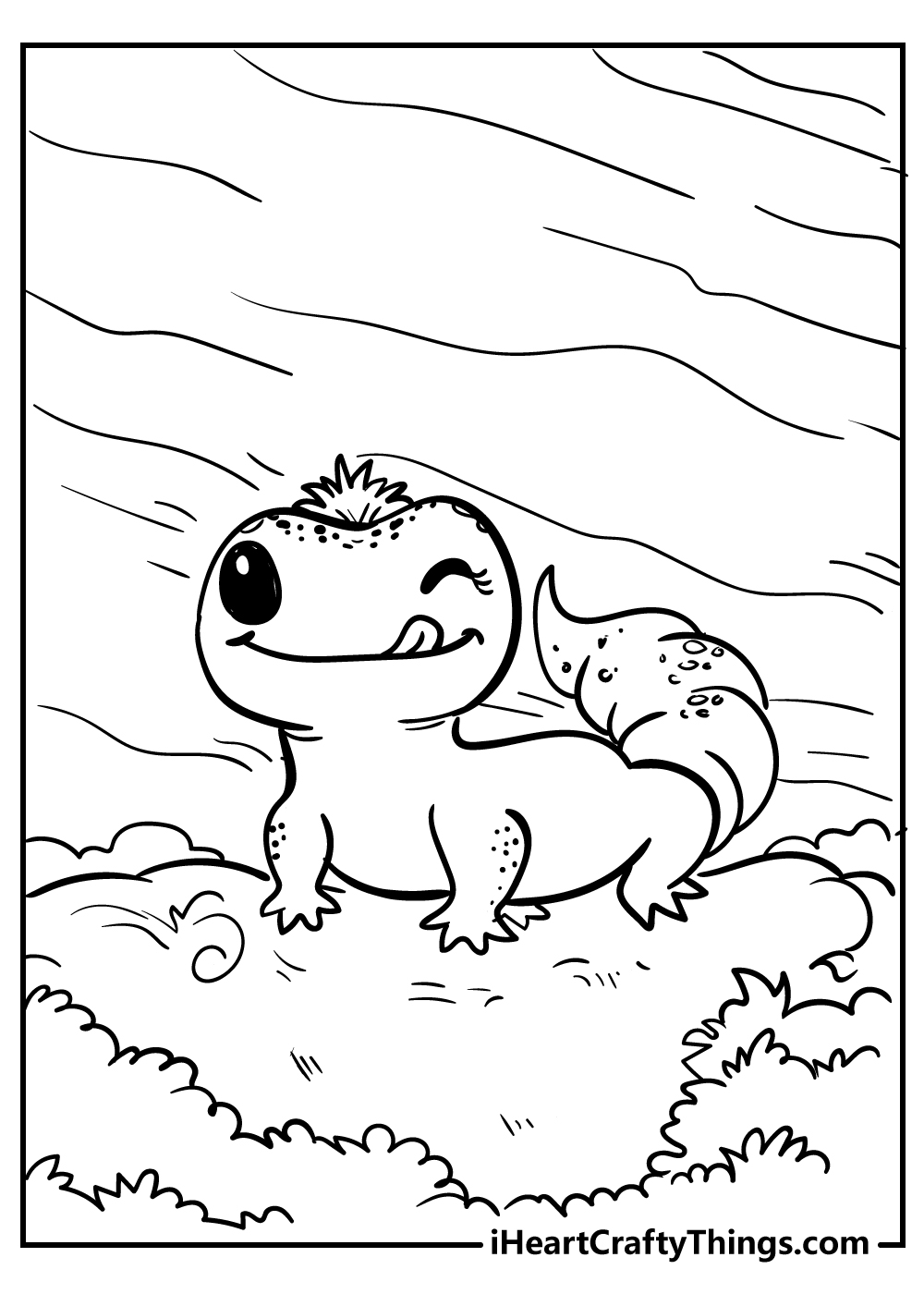 Have you ever wanted to meet a dragon? If the answer was yes then we have an adorable baby one for you to meet in this cute animals coloring printable.
This chubby little dragon is perched atop a tree stump and it looks like it's having a nice day judging by the smile on its face!
If i were coloring this in, I would use a lighter green or blue for the dragon, but I know whatever colors you choose will look great!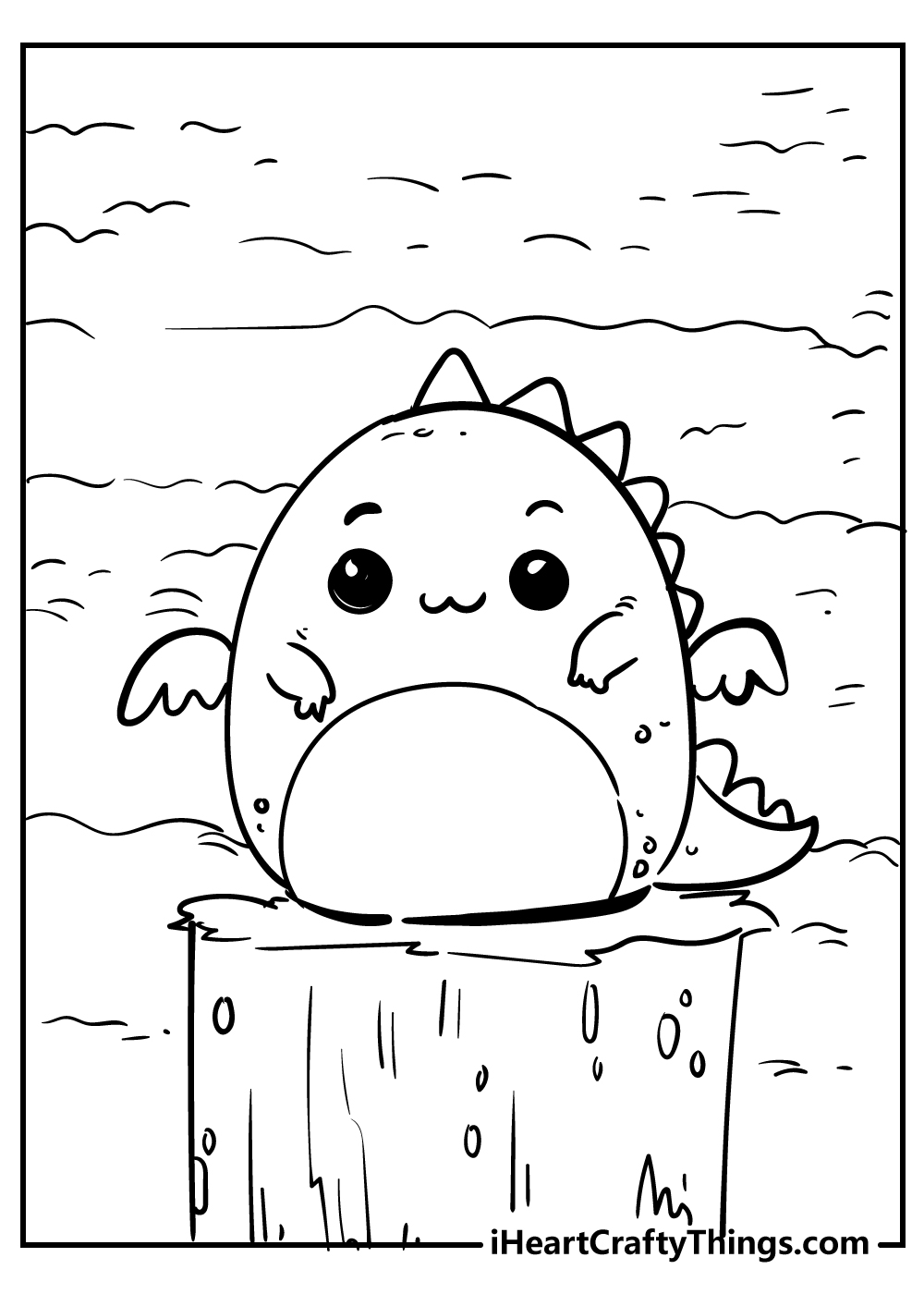 For the next animal, we have a cute baby elephant that is waiting to meet you.
Elephants are usually grey in real life, but even if you stick to this color scheme there are ways you could incorporate some brighter colors.
For instance, you could use some pinks for its inner ears or the bases of its feet.
Another way would be to add some background details that would allow you to use some brighter vibrant colors that would contrast the colors of the elephant. How will you color this cutie?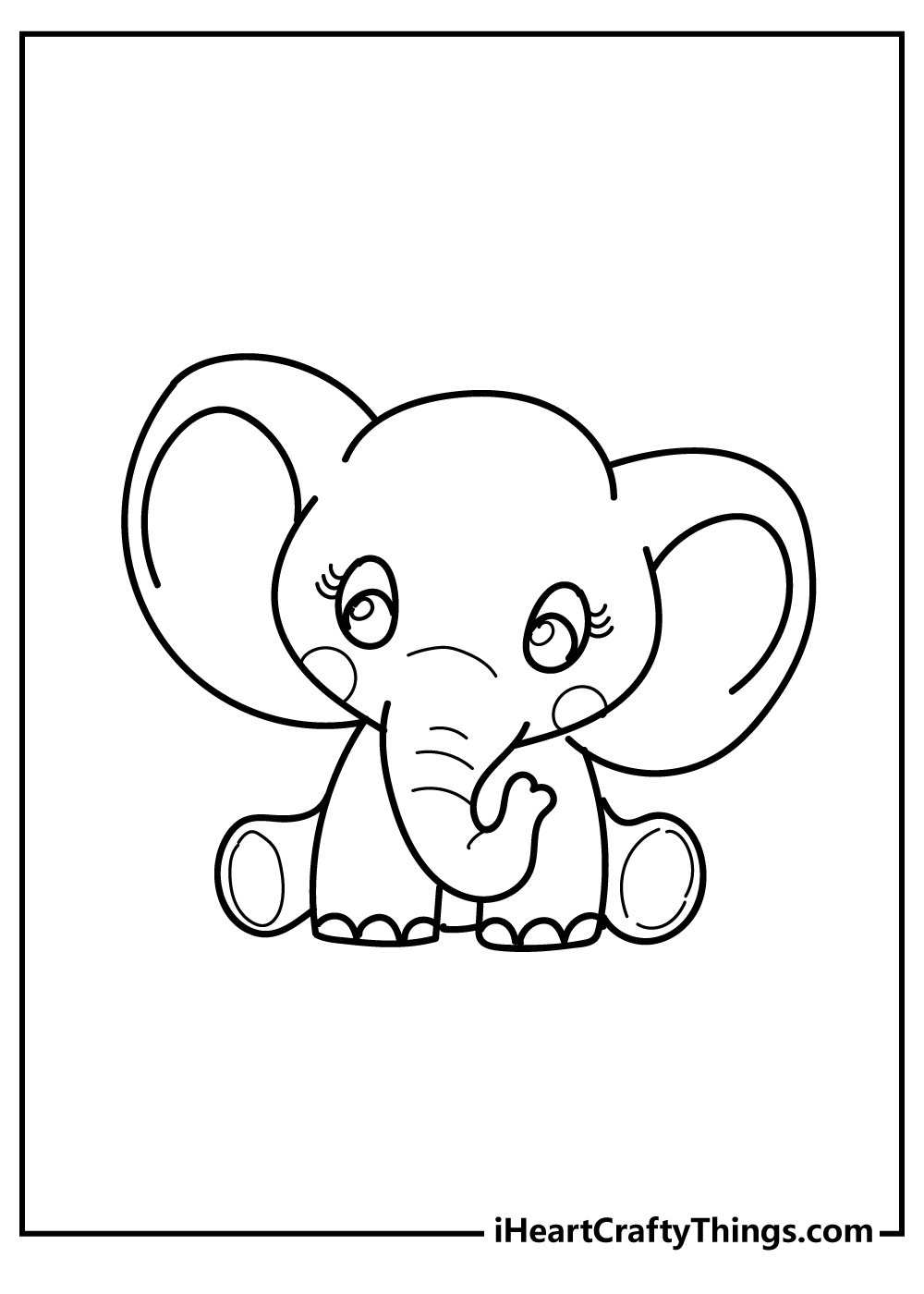 The penguin on this simple animal coloring sheet is looking a little nervous! We wonder what could have this little guy feeling like this?
When you have chosen the colors you would like to use for this little penguin, you could take it even further by drawing some kind of background setting for it to be a part of.
This would be a great way to create a little story around the penguin that may show why it is looking a bit bothered. What kinds of scenes can you think of that you could create for this page?
This little fox is enjoying a day outside in this cute animals coloring page!
Having the fox colored in with a bright red contrasted with lighter, cooler greens and blues for the background would really make it stand out nicely.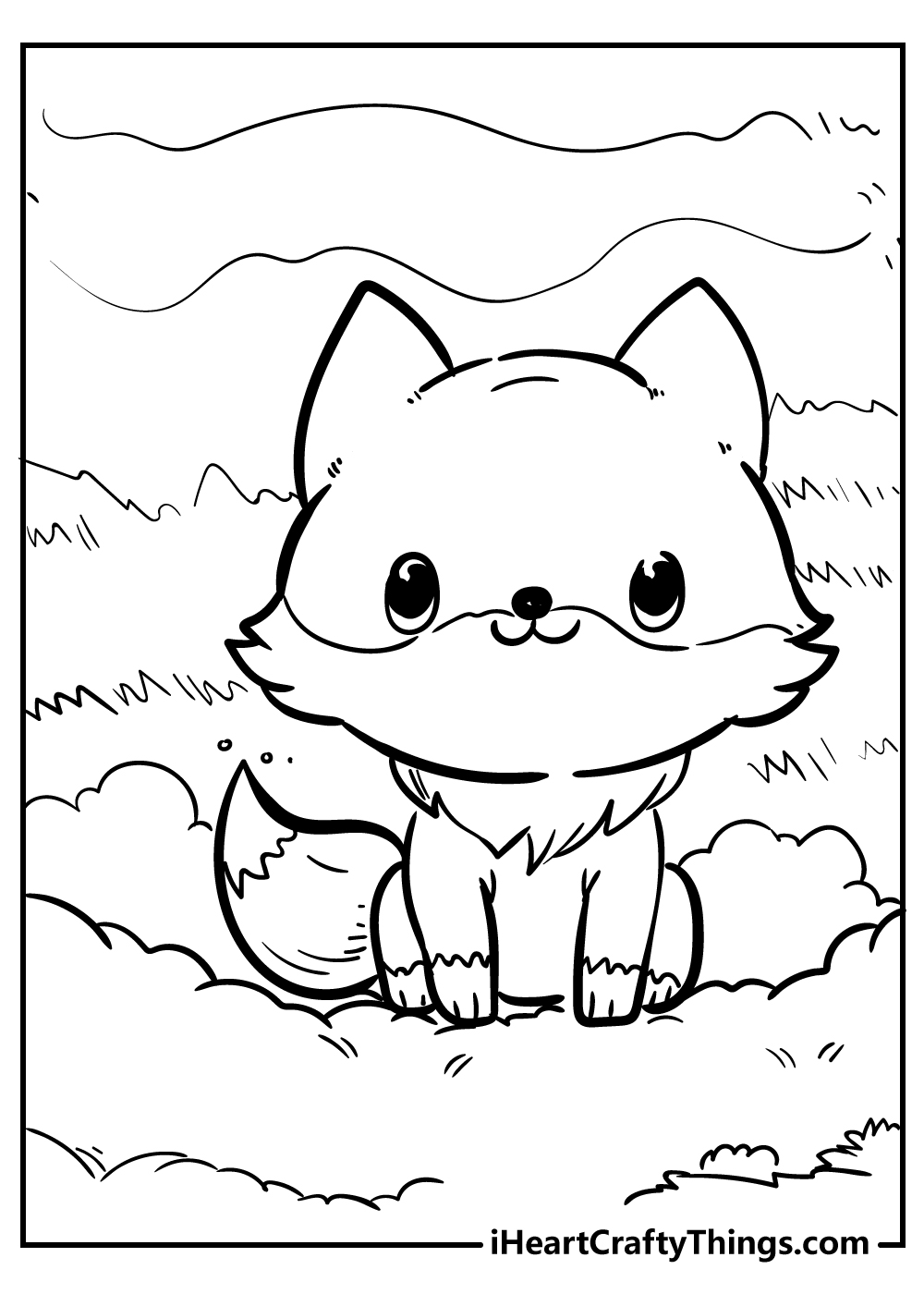 We have another unusual friend duo for this delightful cute animals coloring sheet! This polar bear and penguin almost look like they're performing a dance number.
There are a lot of icy details in the background of this image!
To show this, I would keep the background to cooler blues with some white streaks thrown in for a cold environment for these friends.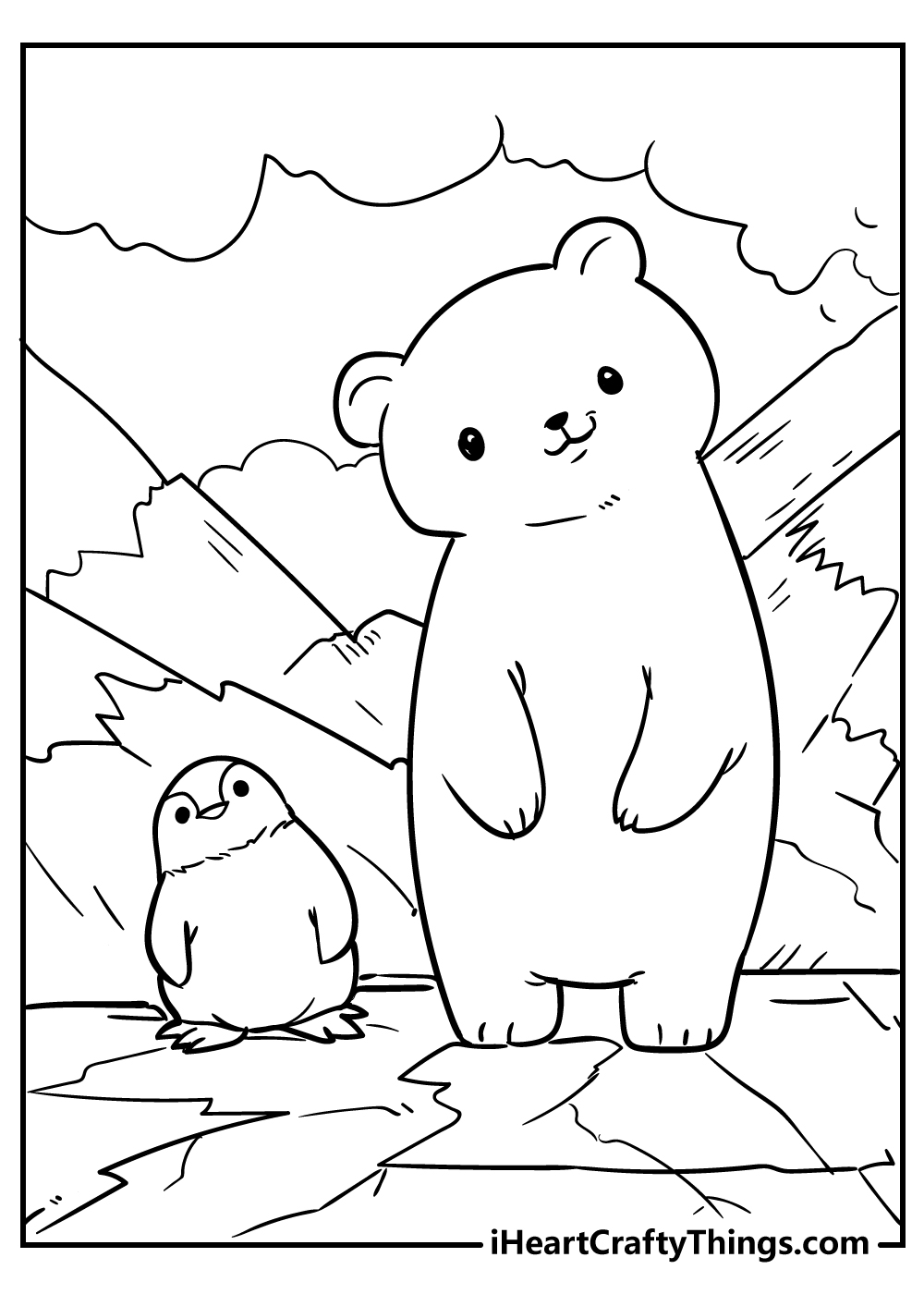 This sweet little koala has a nice stash of eucalyptus leaves to snack on, and he sure seems happy about it!
This image would look great with the contrast of browns for the bark and greens for the leaves of the tree going together.
How will you finish off this cute animals printable by coloring in the koala?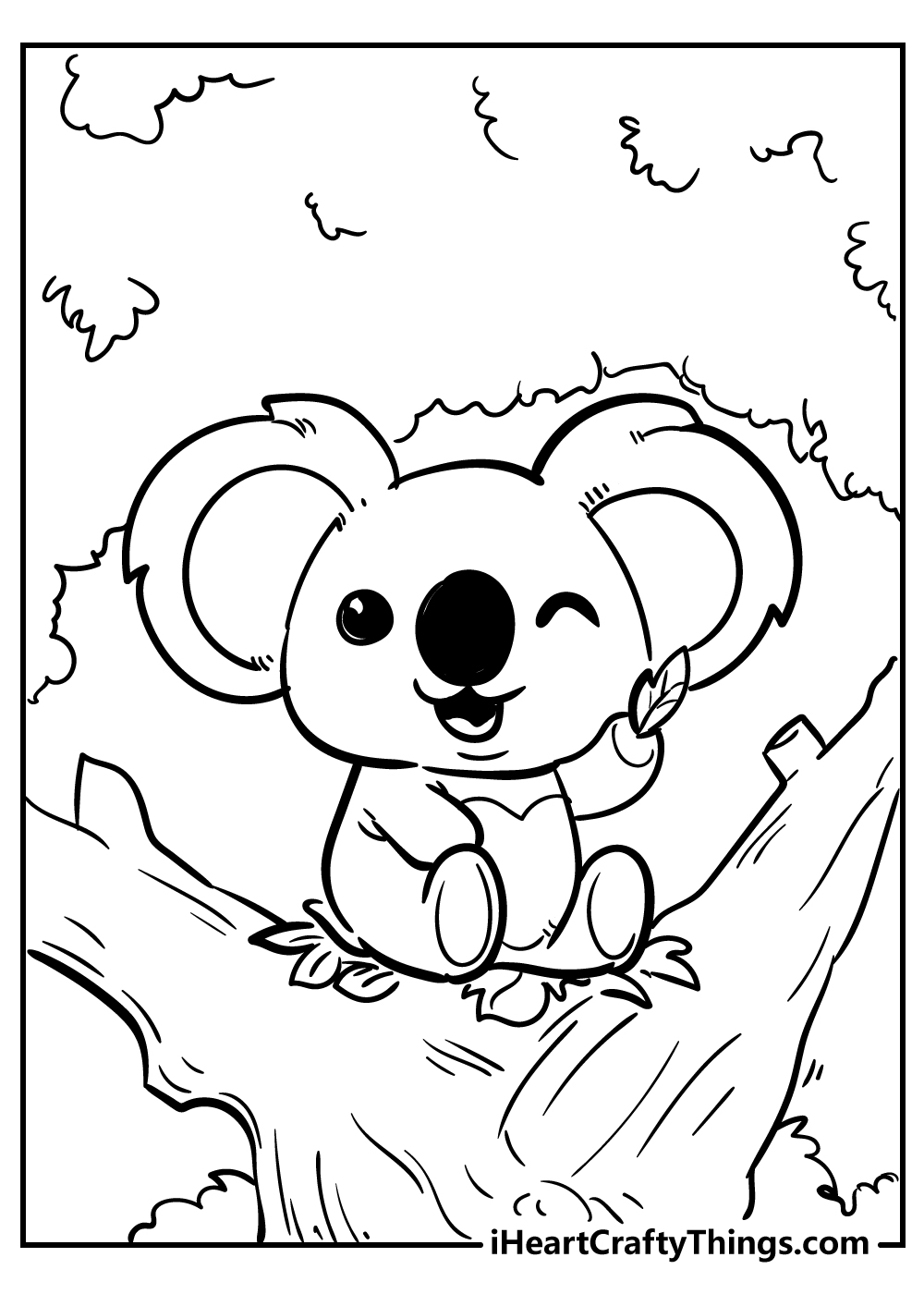 It looks like the little rodent in this cute animals coloring sheet has had one too many snacks in this image! It's looking very chubby but also very cute.
Maybe for an extra fun detail you could draw in even more snacks around this adorable little fellow.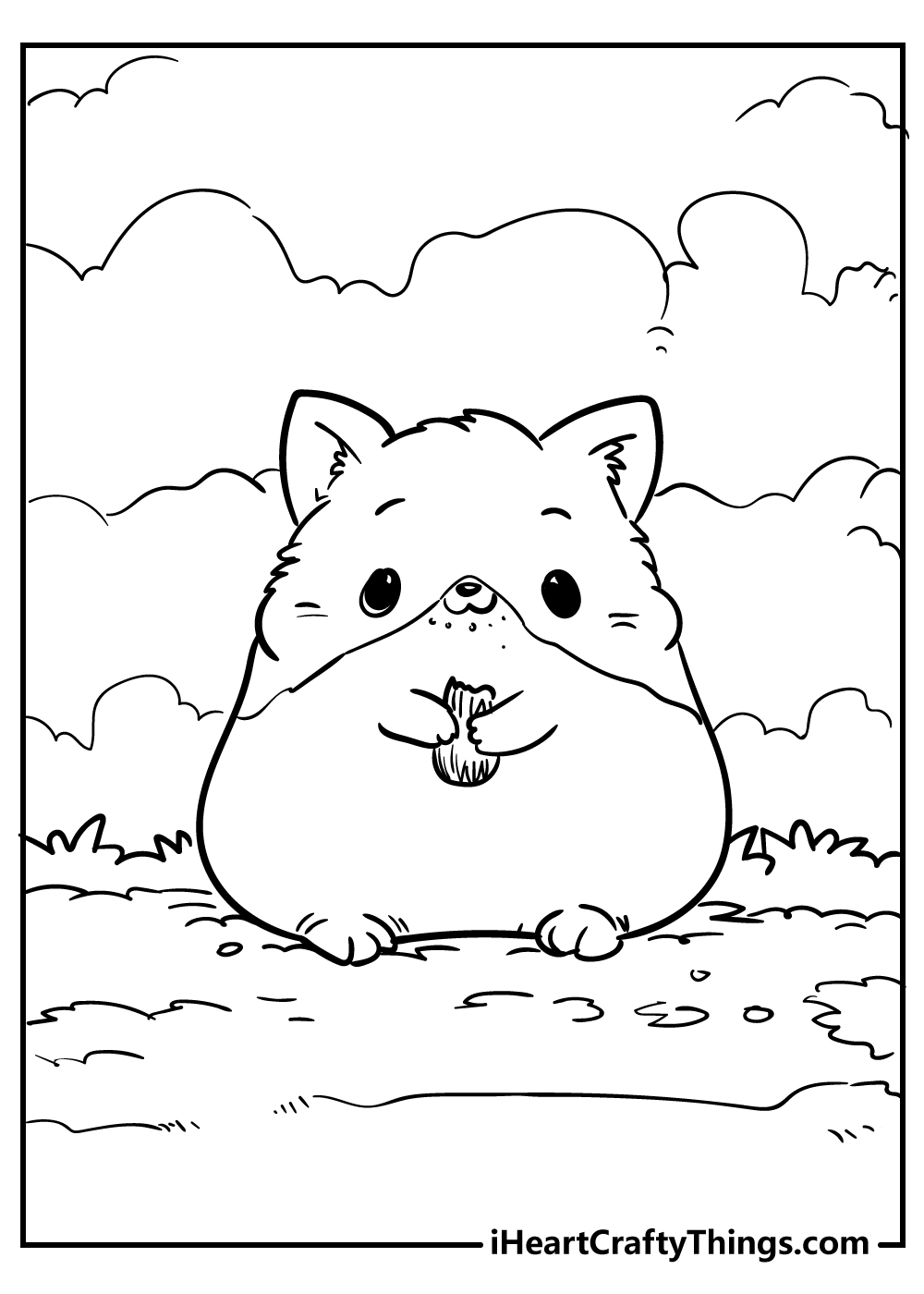 This rabbit must have won the bunny lottery! In this cute animals coloring sheet this bunny is holding a carrot almost twice the size that he is!
That carrot will really stand out and look great with a pretty bright orange coloring it in.
What color will you make the lucky bunny?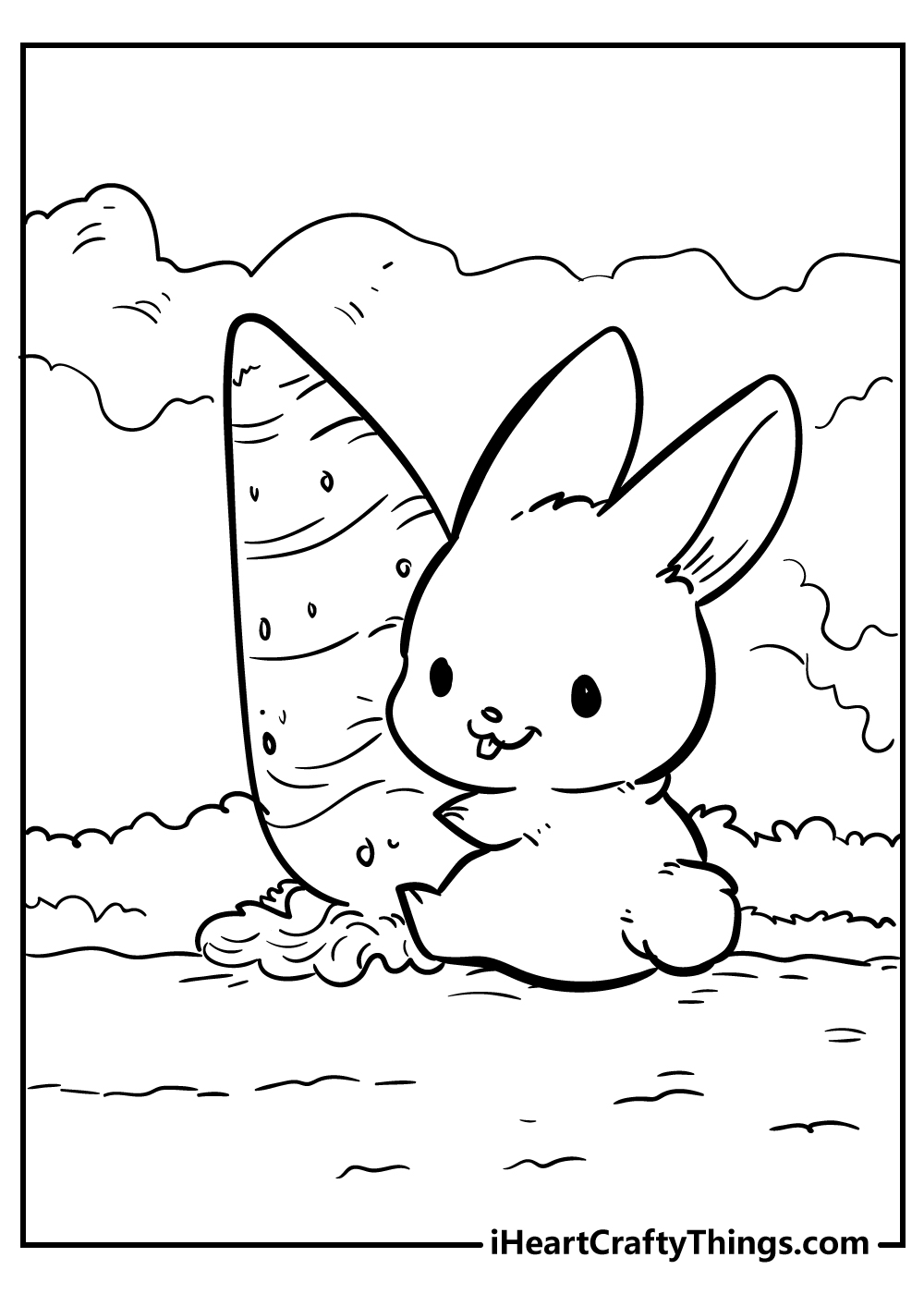 The final image in this collection of free cute animal coloring pages for kids shows a little pug having a hard time staying on the swing!
The pug does still seem to be having a great time regardless, though!
If you colored in the pug a darker color like brown and kept the colors of the grass and plants behind a lighter green, that would really make it stand out from the background!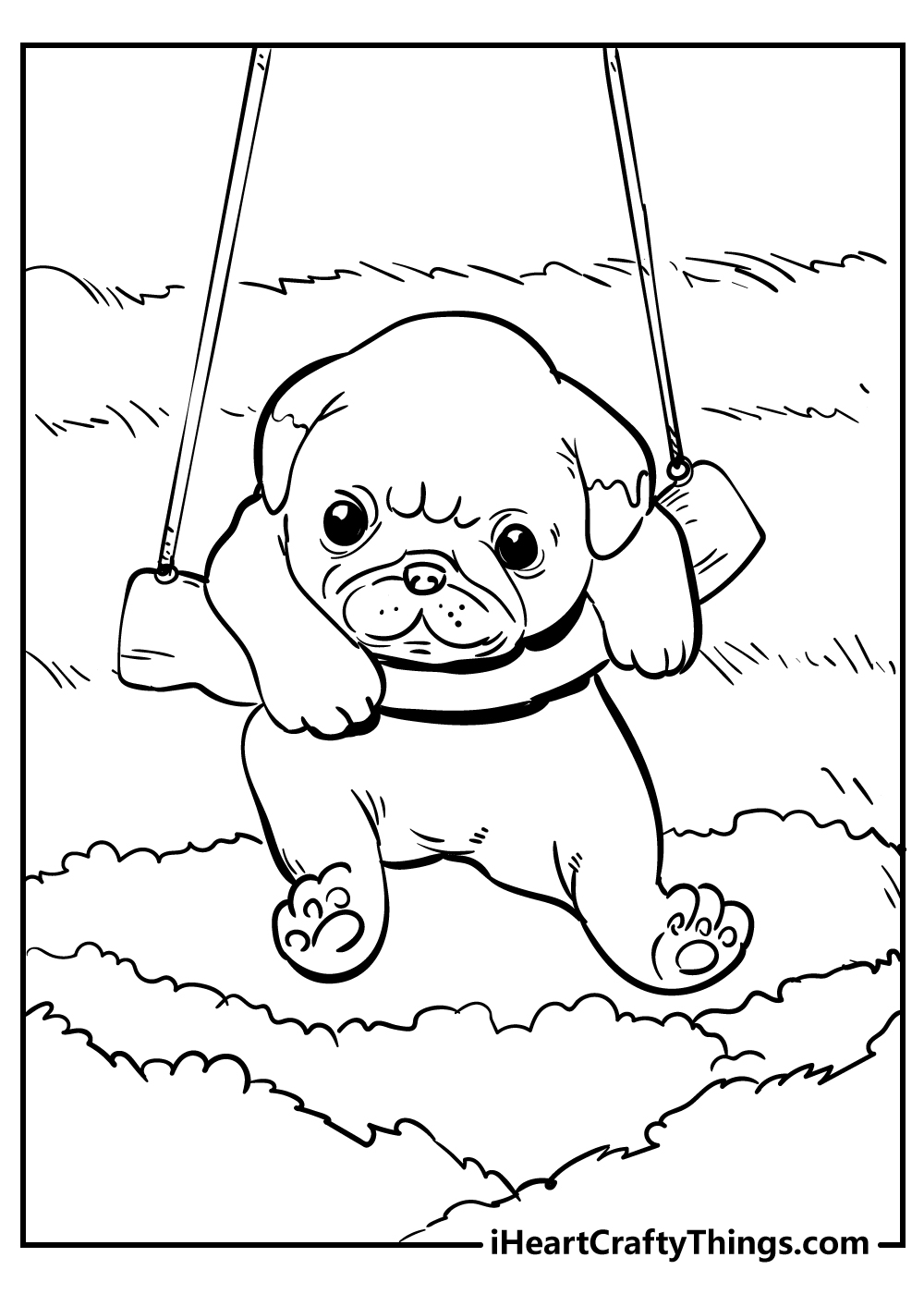 Cute Animals Coloring Pages – Which will you choose?
We really hope that this collection of free cute animals coloring sheets for kids gave you hours of coloring fun!
Remember that our coloring pages and printables are totally free for you to print, color and enjoy.
So feel free to print out as many copies of your favorites as you'd like and have some fun coloring in and experimenting with colors and mediums.
Please go ahead and like and share our Facebook page to never miss out on our free coloring pages and printables that we'll be bringing out!
Lastly, please do share your completed cute animals printables to our Facebook page for us to enjoy!
We'll be looking forward to seeing how you bring these adorable animals to life with your coloring.