Cats are mischievous, adorable, and sweet. They love to lay in the sun on a warm day, play with all kinds of toys, or explore the great outdoors. Cats come in all different sizes, shapes, colors, and patterns, so our readers can use these brand new cat coloring pages to design these fun little kitties however they imagine.
Many people's favorite animal is a cat. They are beloved for their adorable and fun attitudes and they make great pets and companions. Recently we can't get enough of these cute, fluffy little animals!
The popularity of cats has translated into a high demand from our readers for printable cat coloring pages that you can enjoy for free.
At long last cat lovers and cat owners can enjoy these brand new playful and fun cat coloring pages that you can download and print for free. Have fun and use your imagination!
Cat Coloring Pages – 30 Brand New Printable Sheets
Cats like to hide in the funniest places. In this cute cat coloring page below, a tiny cat has crawled into a pair of shoes. He looks very comfortable in his new favorite spot. Hopefully, no one needs their shoes any time soon.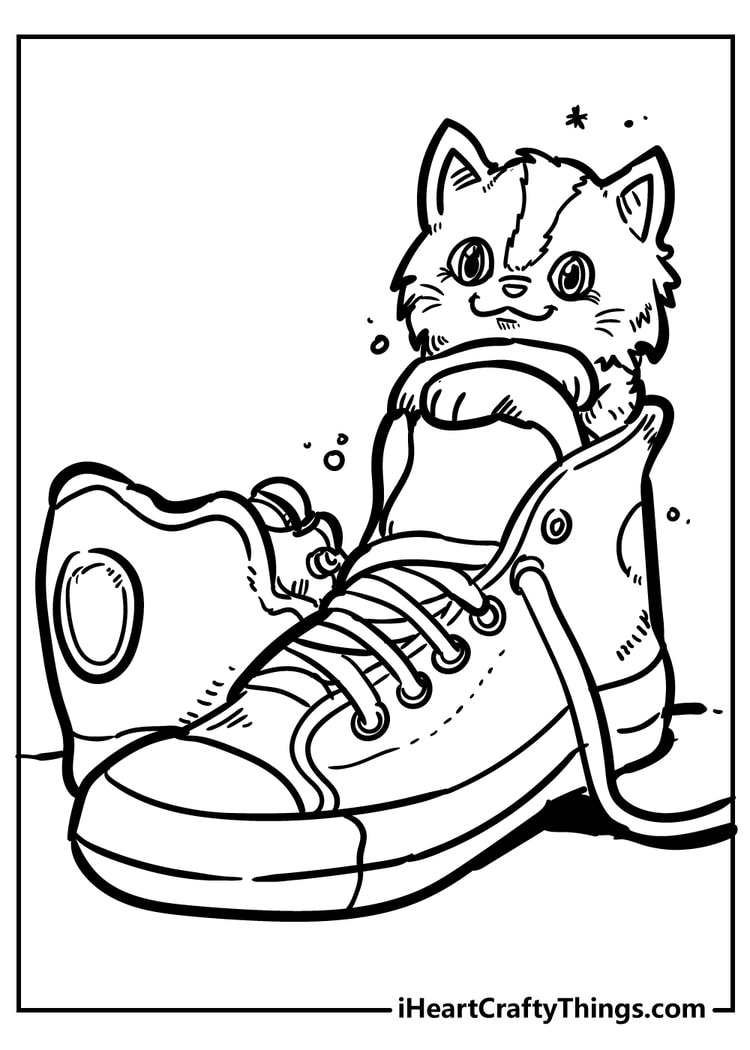 Everyone knows that cats love to play. They have tons of energy for chasing toys and playing with their friends. This cute cat coloring page shows a mischievous kitten having a great time unspooling his favorite toy – a ball of yarn. You can tell by the look on his face he doesn't want to get caught.
Another cat has gotten into mischief. This coloring page shows her crawling into a hatbox and modeling the beautiful hat with flowers inside. She seems to know the hat looks pretty on her. What colors do you think the flowers are?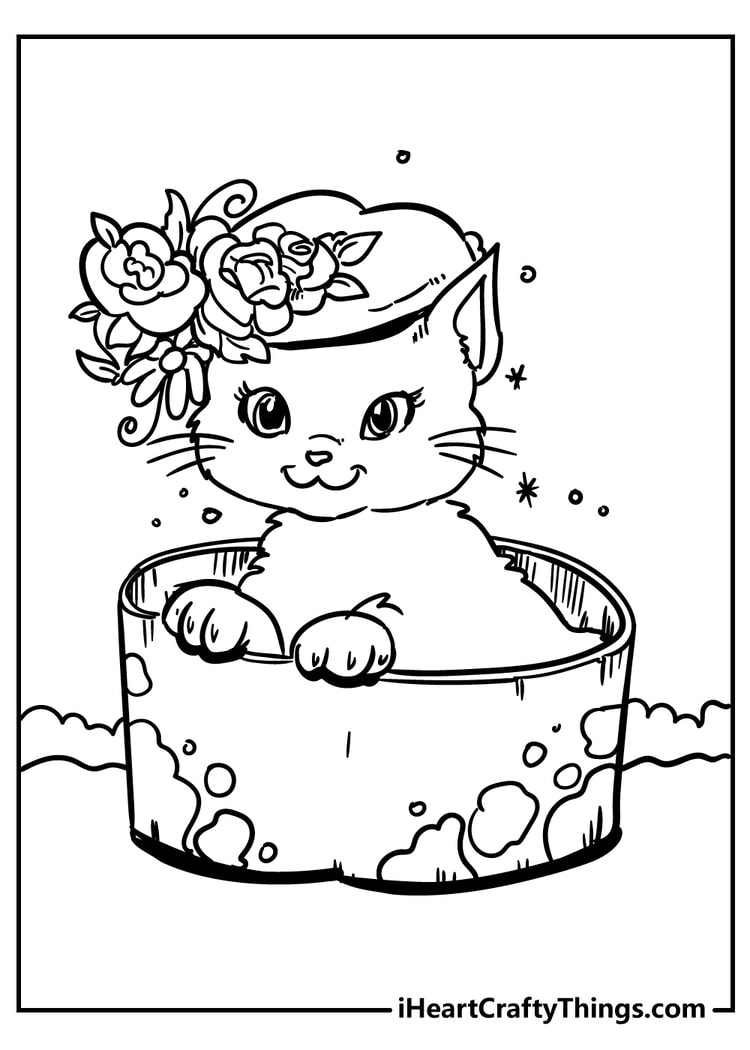 Every cat needs a friend! Maybe opposites attract in the printable below. A short fluffy cat in a collar sits with her much taller friend who wraps his tail around her. These two probably love to spend time together and play.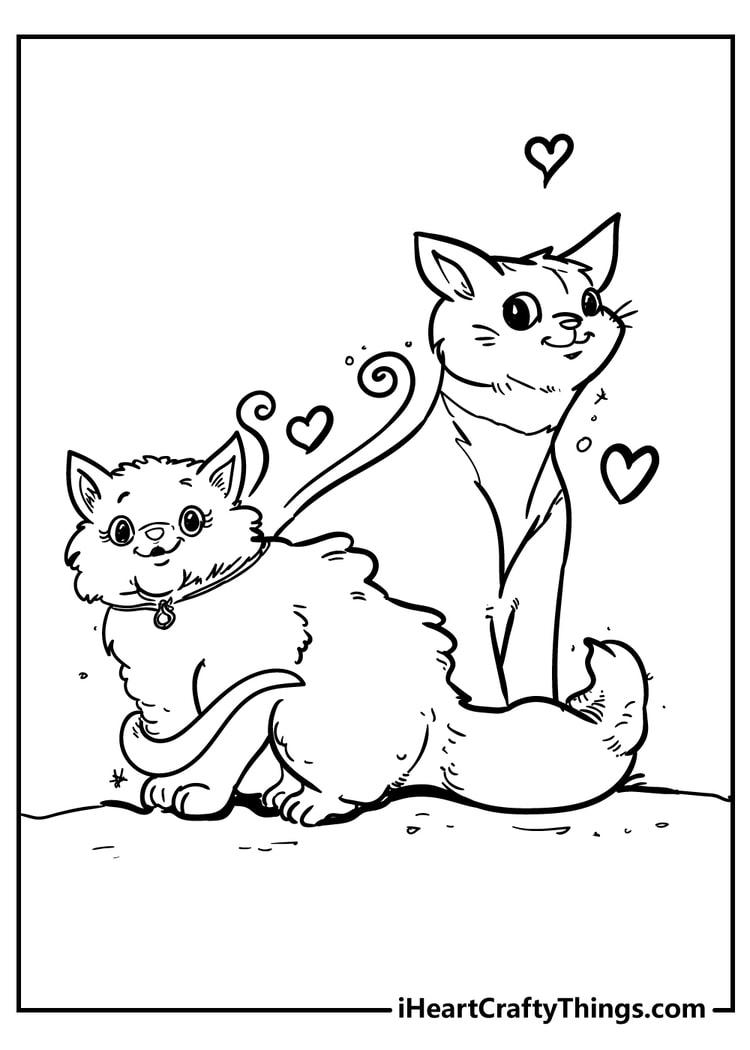 This little guy is the cutest thing we've ever seen. A tiny kitten holds a heart-shaped balloon and even wears a hear-shaped collar. He seems to have brought the balloon just for you.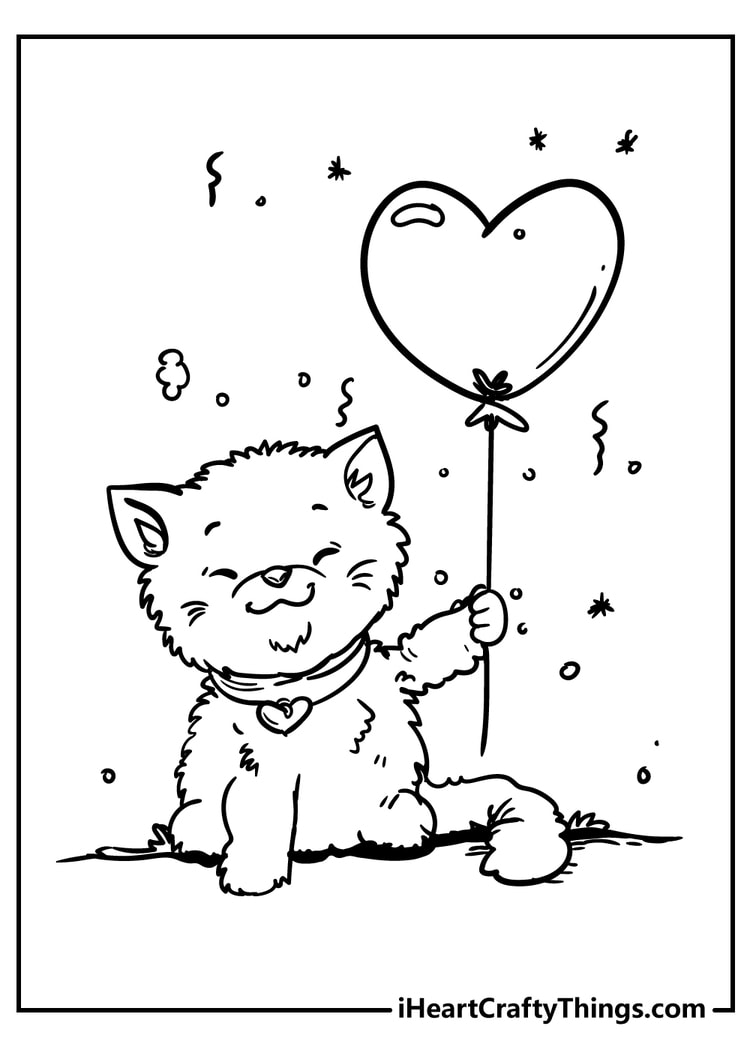 You can never have too many friends, especially if you're a cat. In this coloring sheet, a whole bunch of cat friends stacks on top of each other to lay on one little cat bed. How many cats can you count on this coloring sheet?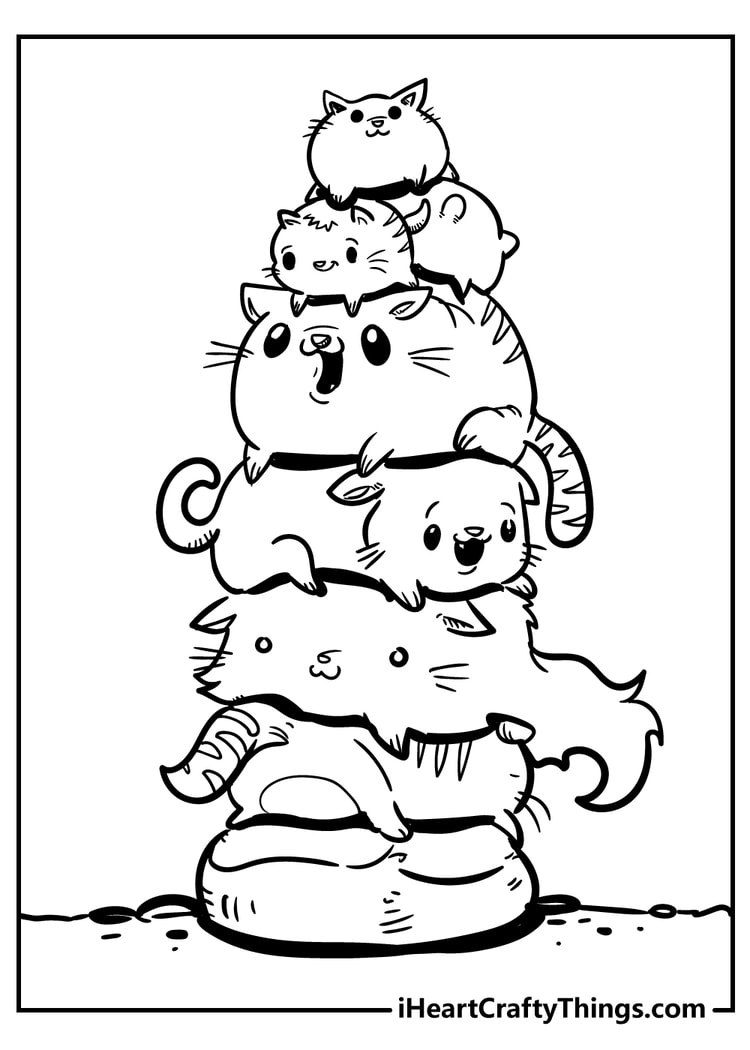 Hunting and stalking are a part of a cat's natural instincts. You might catch them crouched to spring at a toy or an insect, like the coloring page below. What do you think this cat is looking at?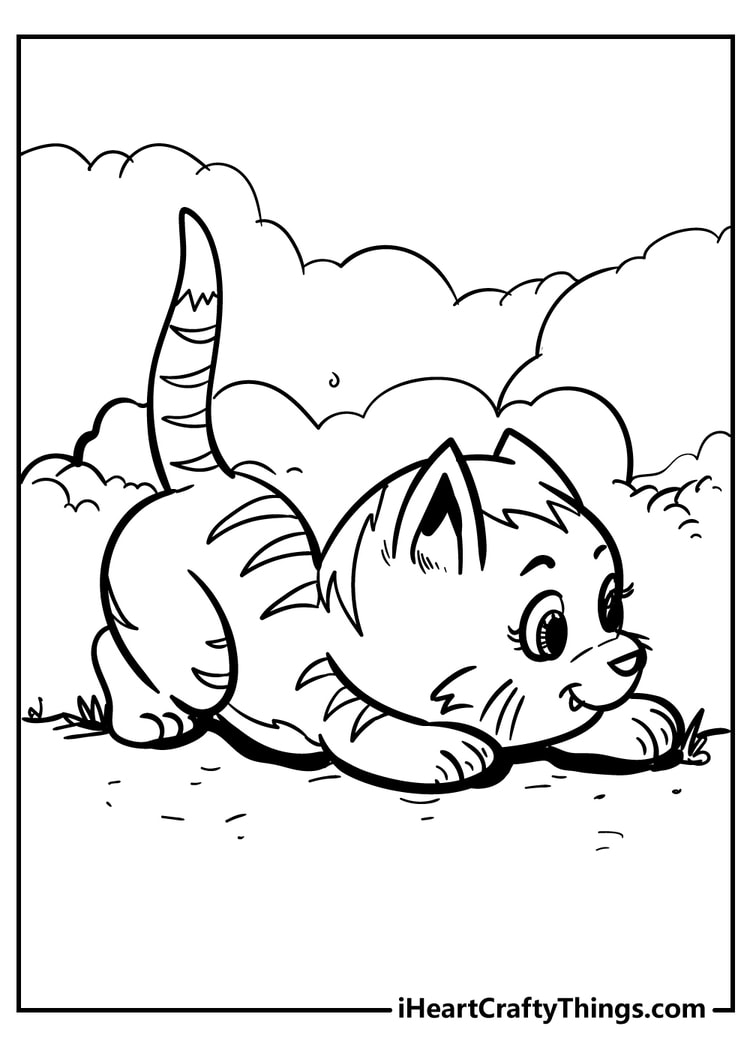 Here's another cat who loves to play. The adorable kitten on the coloring page below is extra happy to have two balls to play with. He is surrounded by hearts and can't stop smiling. Do you think he knows how to play baseball?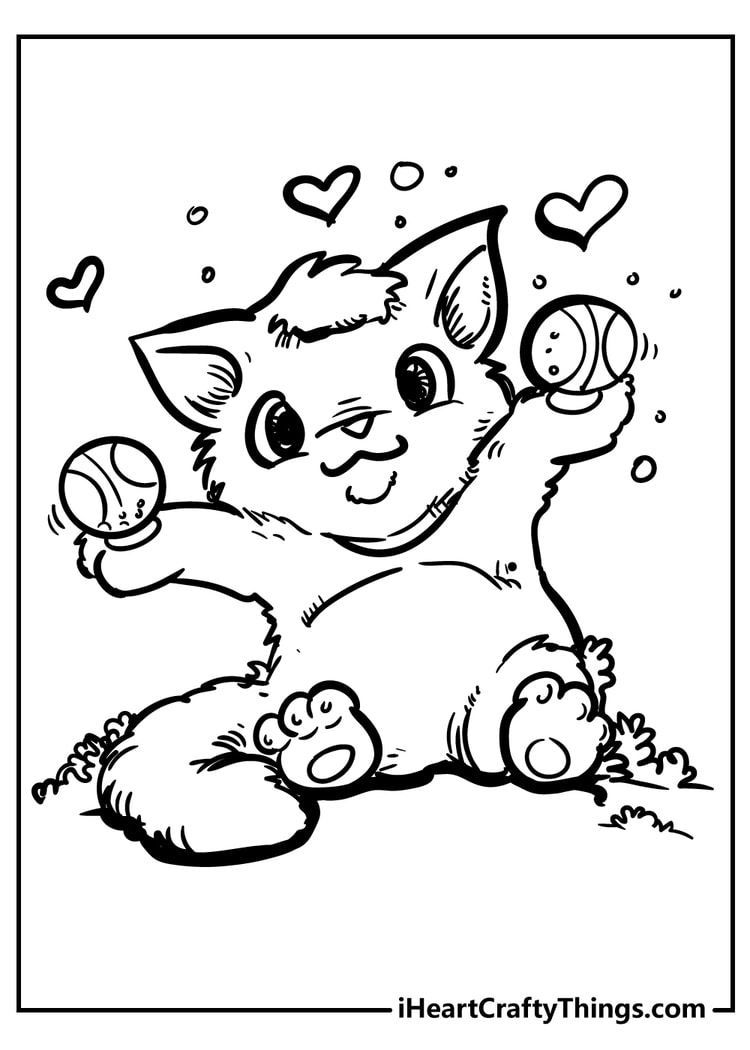 Oh no! This cat's hunting instincts have caused him to take a special interest in a fishbowl. He paws at the fish inside and is sure to get in trouble soon. At least the fish doesn't seem too worried about it. Maybe they are friends and this is a game they play.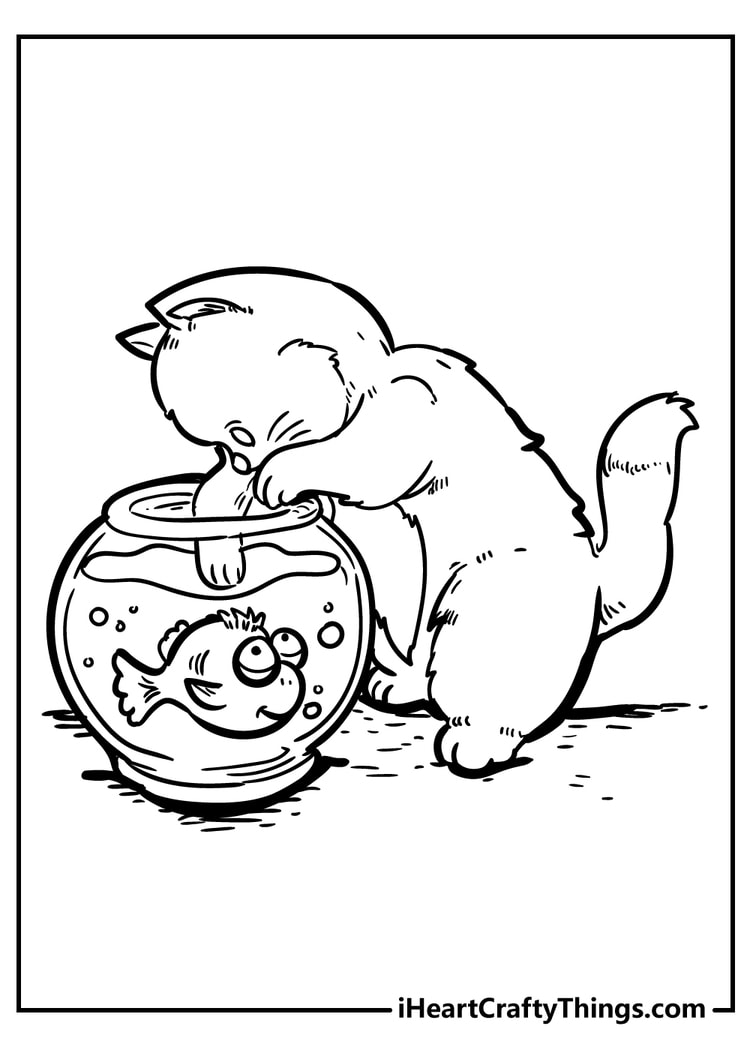 In the printable below, a little furry feline wears a big stocking cap with a star on the front, probably to make sure she doesn't get cold while she plays outside. Remember that all of these cute cat coloring sheets are completely free, so be sure to print as many as you want.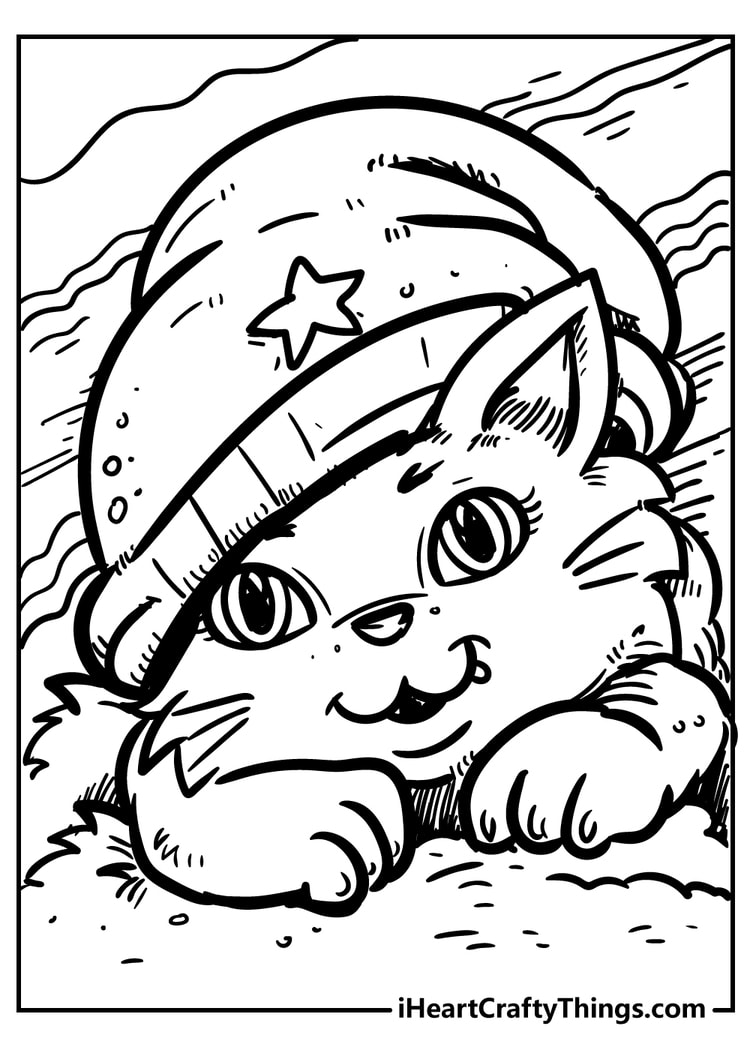 Some pet cats mostly live outside. They like to roam the neighborhood and come home when they please. The cat in this coloring page loves to look at the moon and stars in the night sky. Don't worry though, he has a collar to help him get home if he ever gets lost.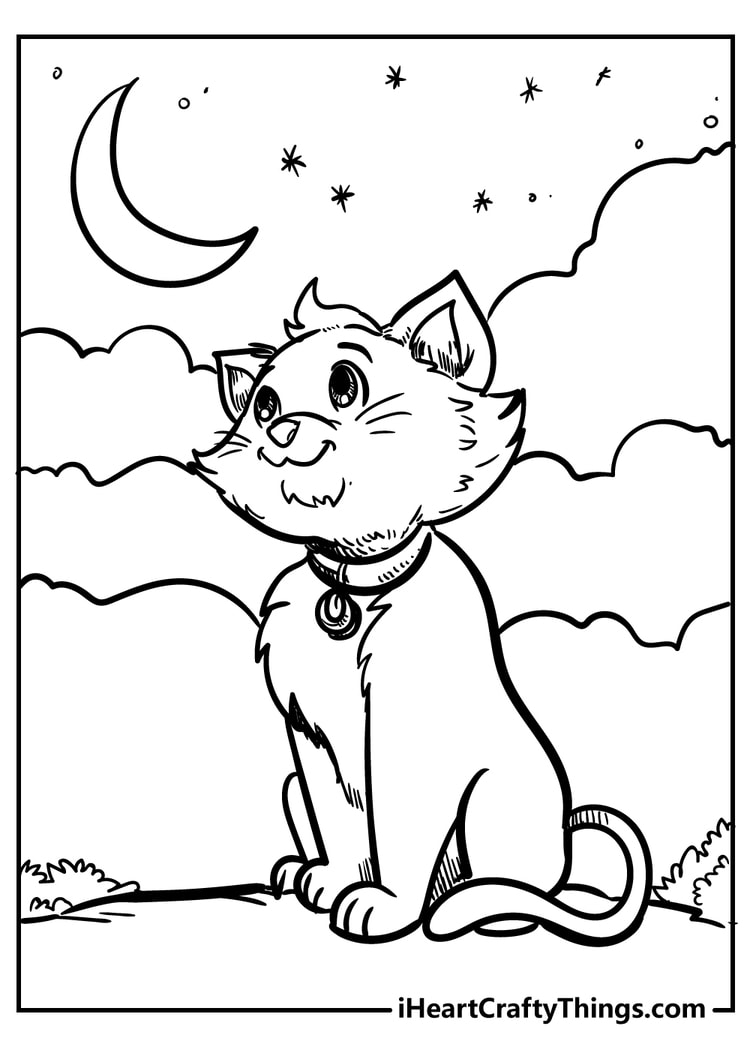 Sometimes cats think that they are almost like royalty. In this cute cat coloring sheet, a beautiful cat seems a little bit spoiled. She sits on a cushy throne in a sparkling crown and wears flowers in her neatly brushed fur. A fancy shirt and collar are even added to complete her outfit. That's one well-dressed cat!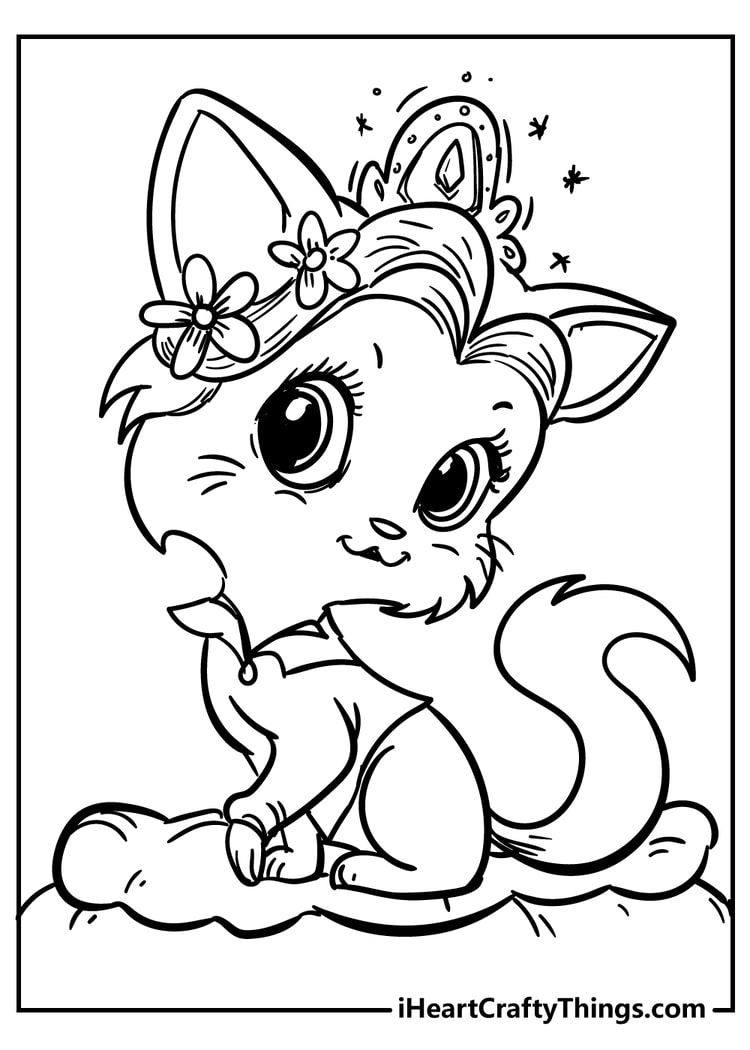 There is definitely a theme of curiosity when it comes to these cat coloring sheets. We like to imagine that the cat on the coloring page below was exploring the neighborhood when she came across a beautiful butterfly. She seems almost enchanted by the insect.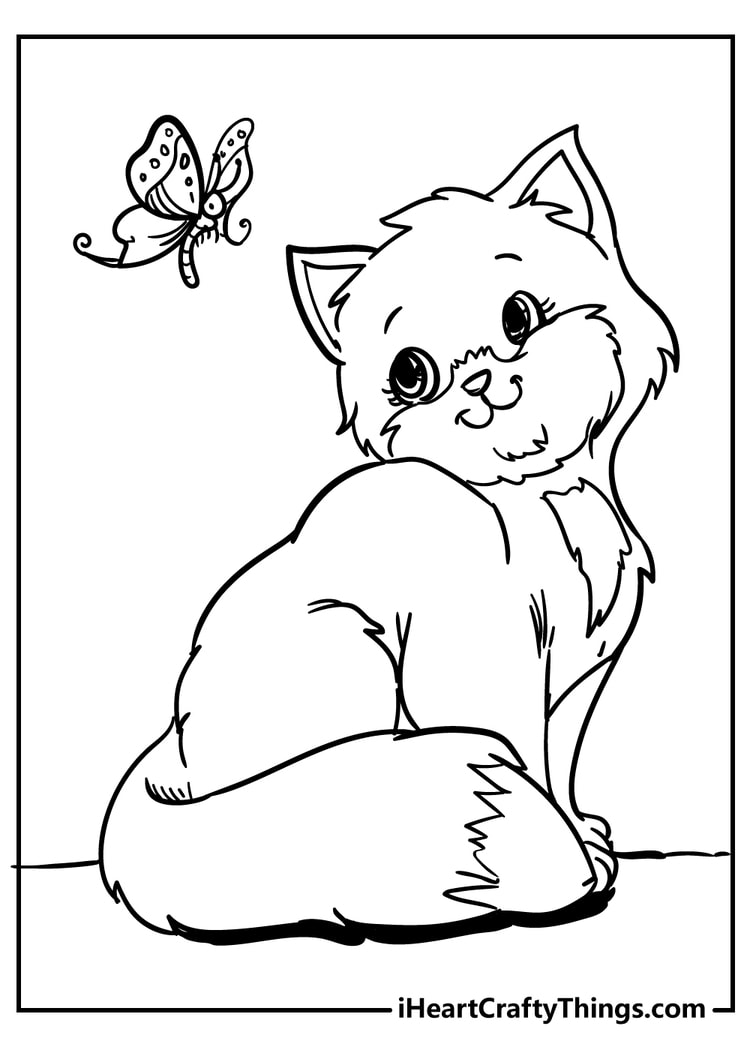 Cats are some of the most beautiful and graceful animals around. In this cute cat coloring sheet, a cat gently stalks forward with a playful look in her eyes.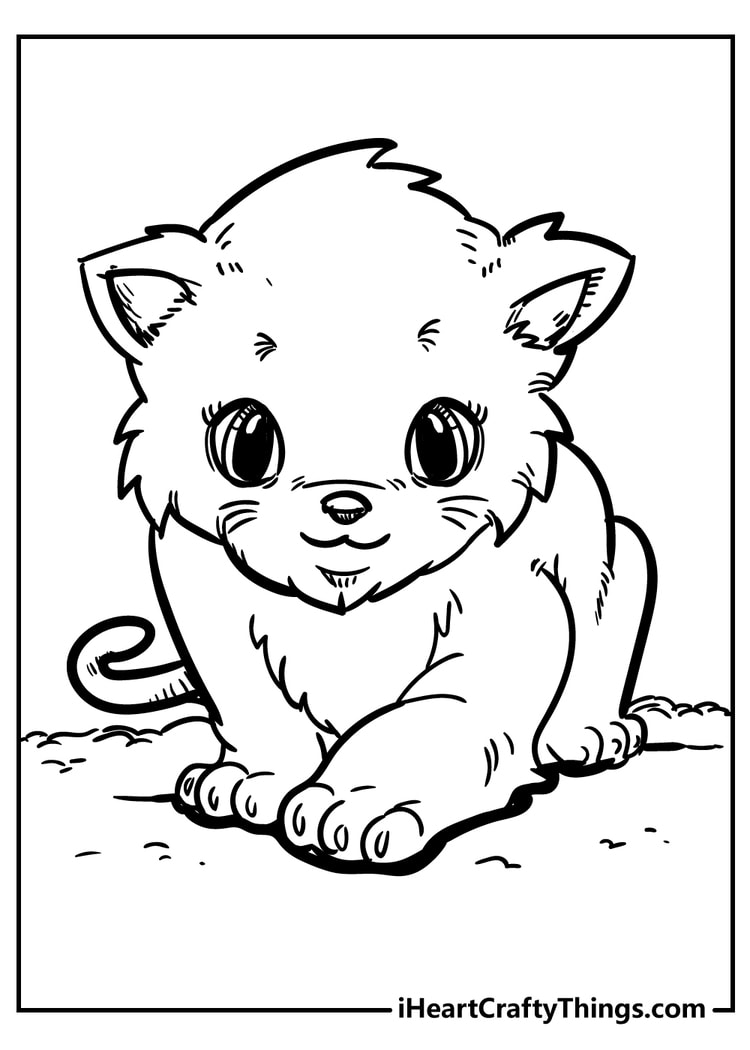 Our coloring page designers really love to see a cat in a hat. We love this little guy's favorite hat that is all patched up from wearing it all the time. He wears a heart-shaped collar and a single-toothed grin.  A ball of yarn sits next to him and he is ready to play.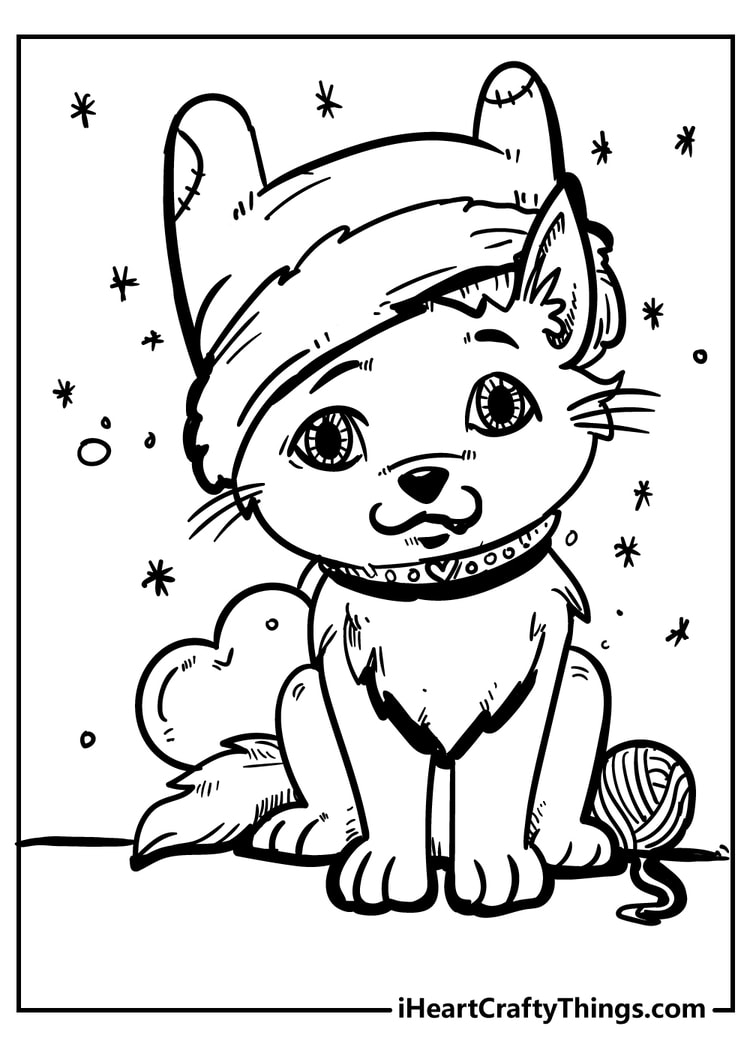 When it comes to cats, the more the merrier! In this coloring page, a house full of cats climb about on the shelves or relax on the couch. One cat even looks like he is taking the picture.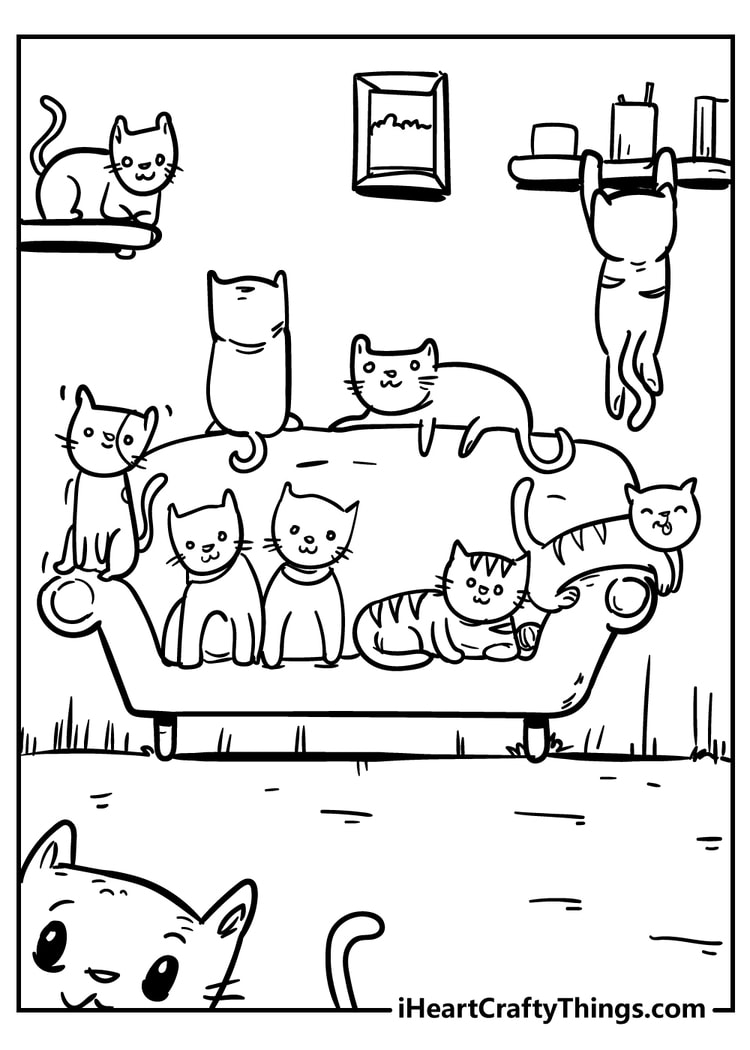 Cats need a lot more sleep than humans do. They love to take naps in comfy spots. We love this coloring sheet of three cats curled up in a cloud-shaped bed. There is even a teddy bear to help them fall asleep.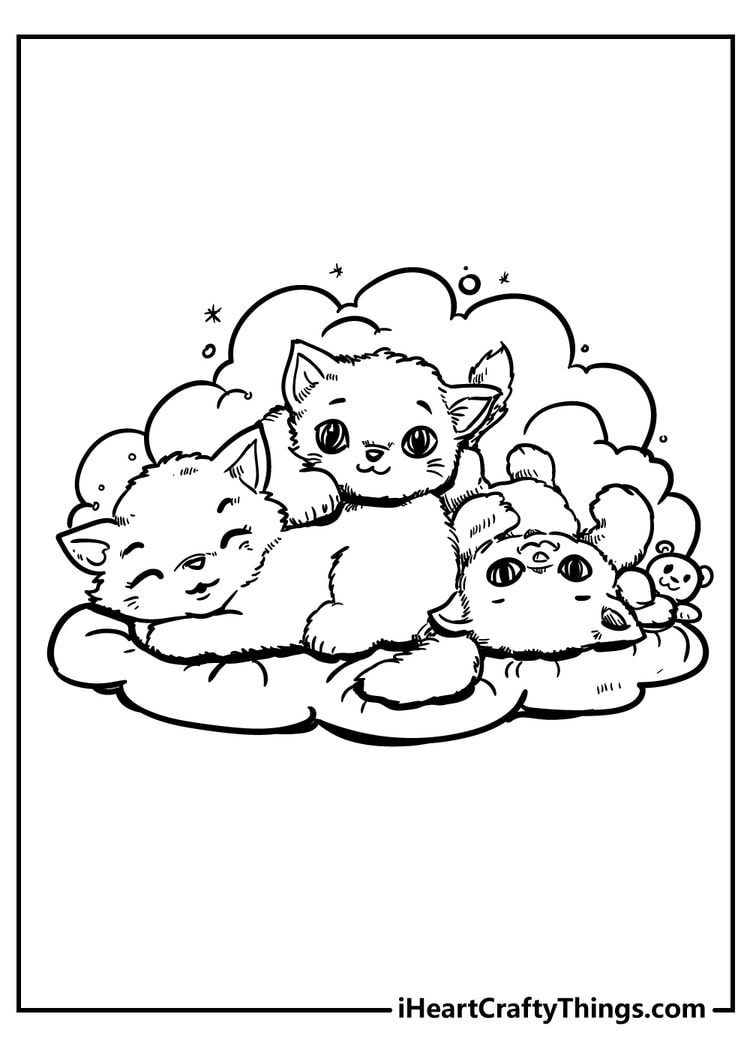 In this adorable printable, a mother cat is playing with her two rambunctious kittens. She seems to have a lot on her paws as one climbs on her back while the other asks for attention by brushing against her leg. Kittens are a lot to handle but they sure are cute.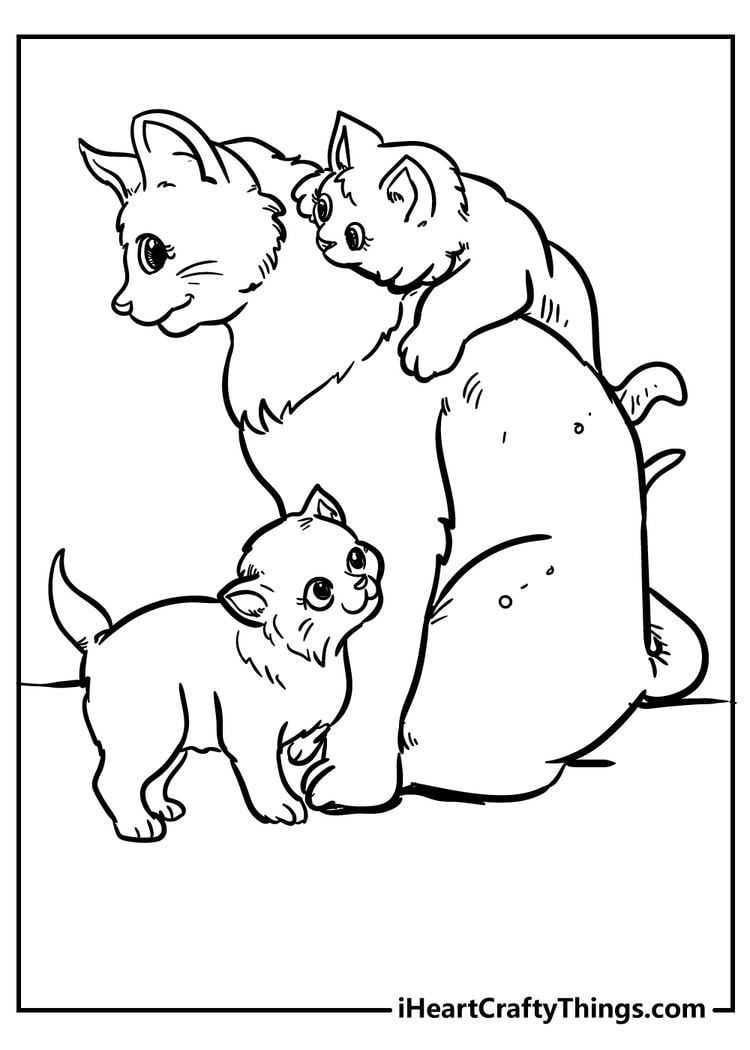 Cats have such a silly and playful nature, like this little feline in the coloring sheet below. She sticks her tongue out and looks ready to cause some trouble. Who do you think she is sticking her tongue out at?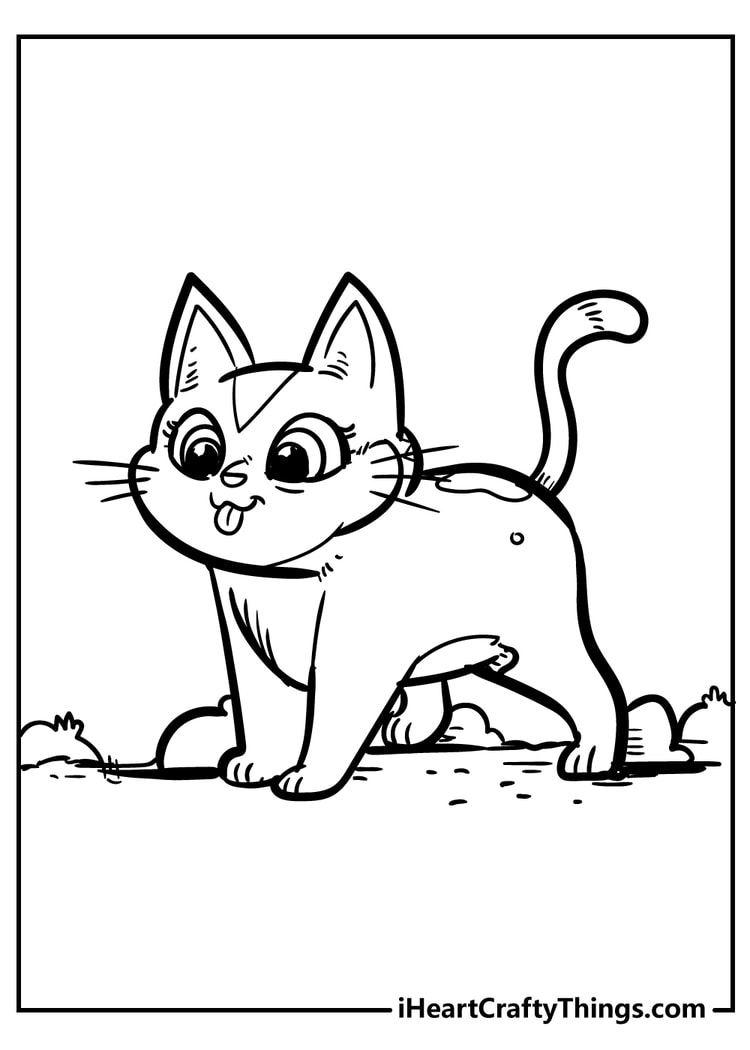 Surprise! Imagine seeing a cat in your box of carry-out food. The cat on the coloring page below looks delighted to hide there, especially because he probably already ate all the noodles.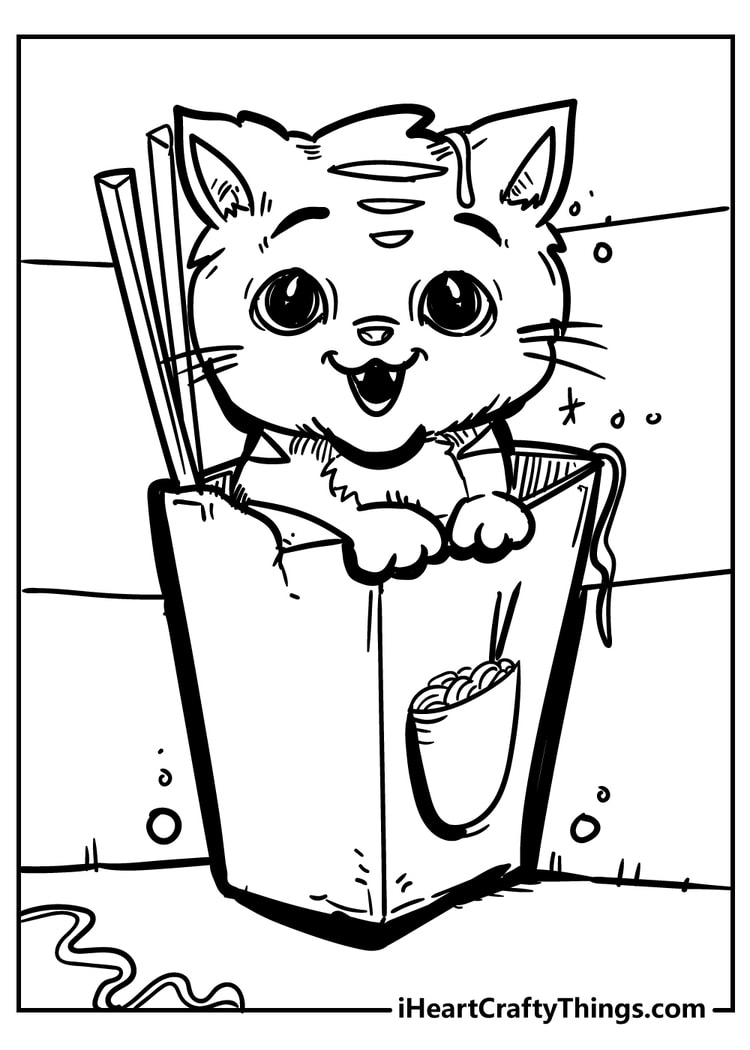 Did you know that house cats are descended from lions and tigers? The cat on the coloring page below certainly bears a resemblance to a tiger with his distinctive striped pattern. However, he looks a lot more cuddly and sweet.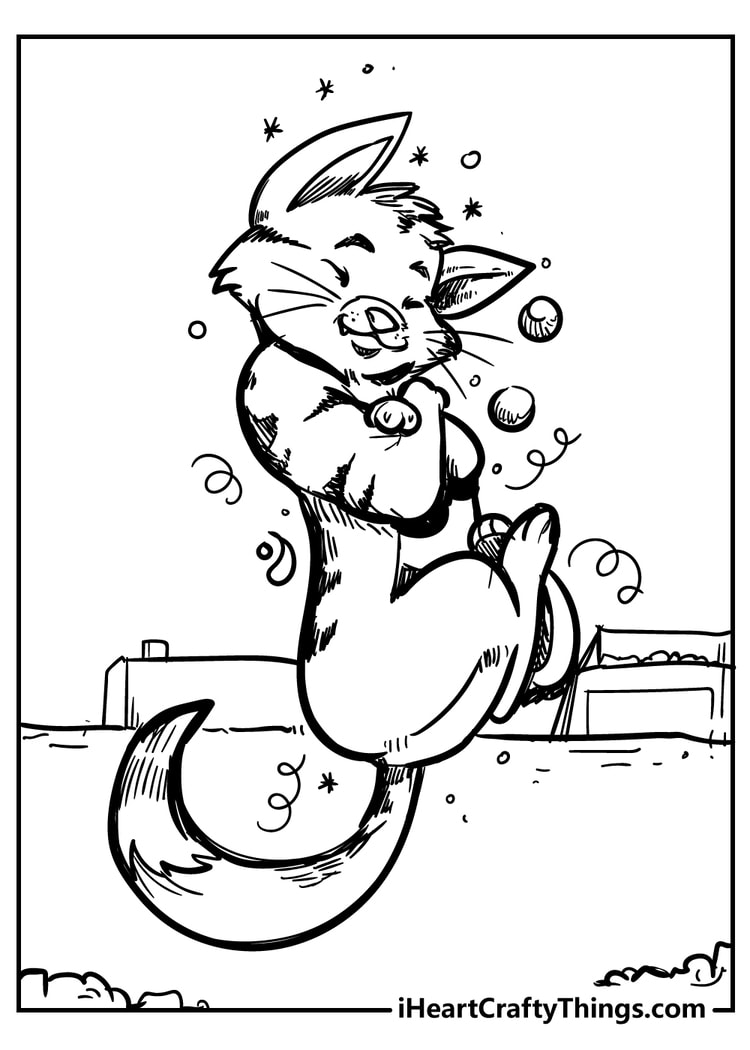 We love this cute coloring sheet of a cat dressed in a turtle costume. The cat has a cheeky sense of humor to dress up as another animal as he roams about the garden and picks flowers.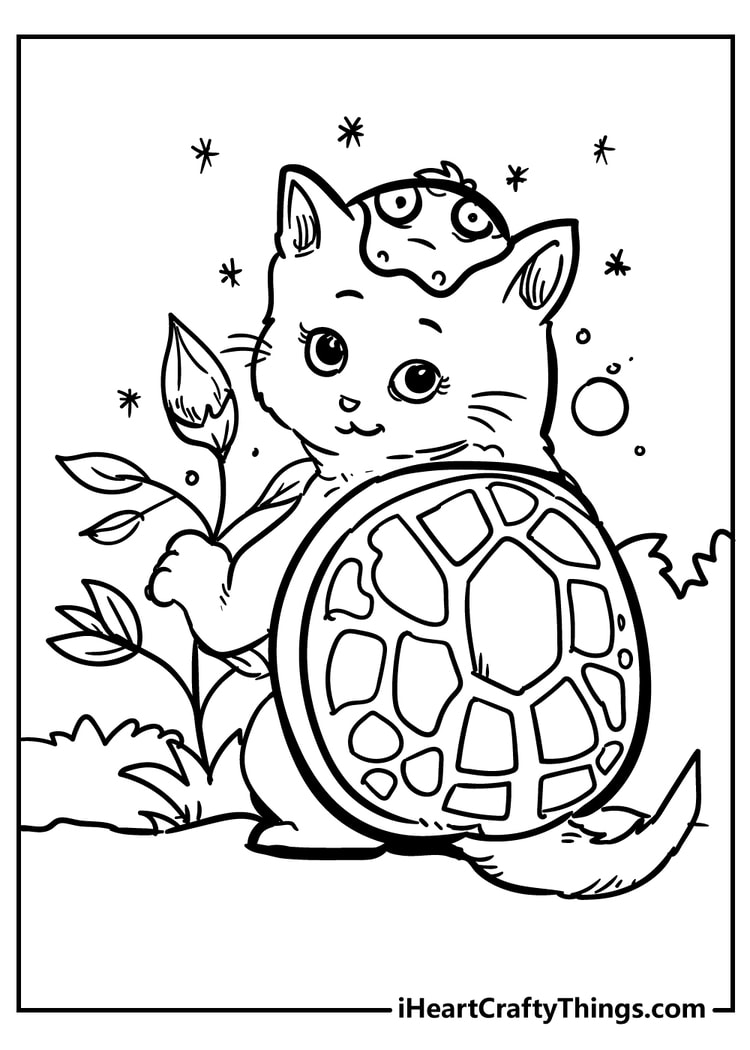 We think this cat looks happy as can be in this adorable printable below. Remember to post your finished cat coloring sheets onto our Facebook page. Every month we choose the best uploads and the winner gets a special prize!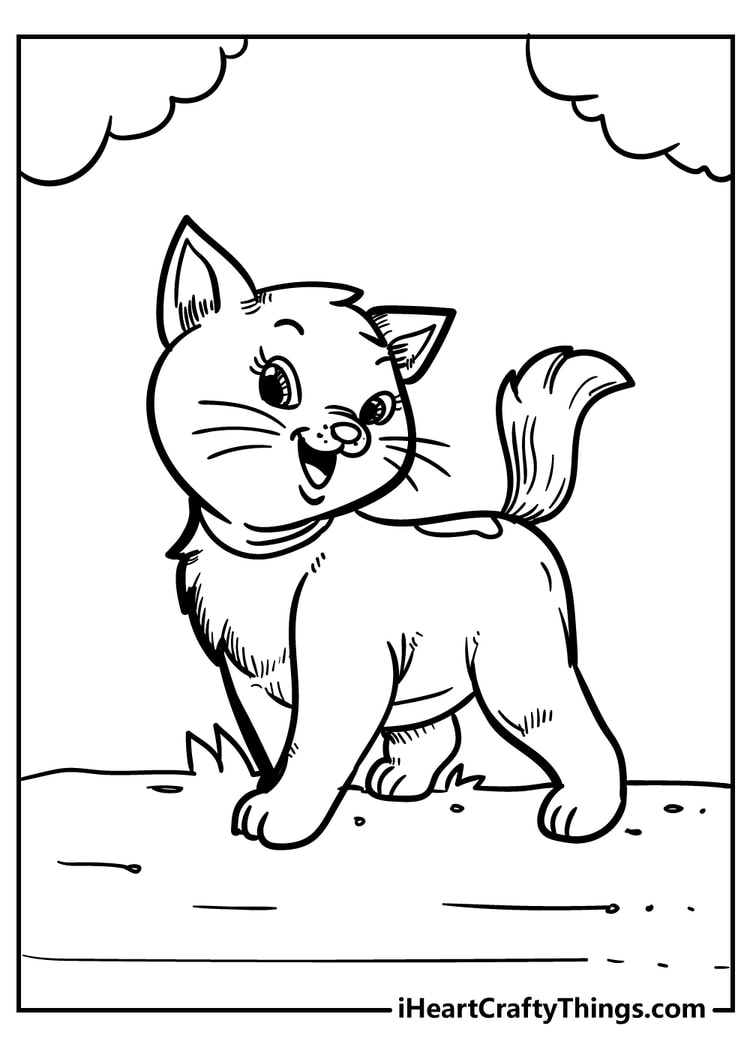 Here is another cat with a distinctive pattern. She has stripes and the cutest little pointy teeth. This cat looks ready to explore.
The adorable cat in this coloring page feels like she could rule the world. Or maybe she just got into some mischief and knocked over a globe to play with.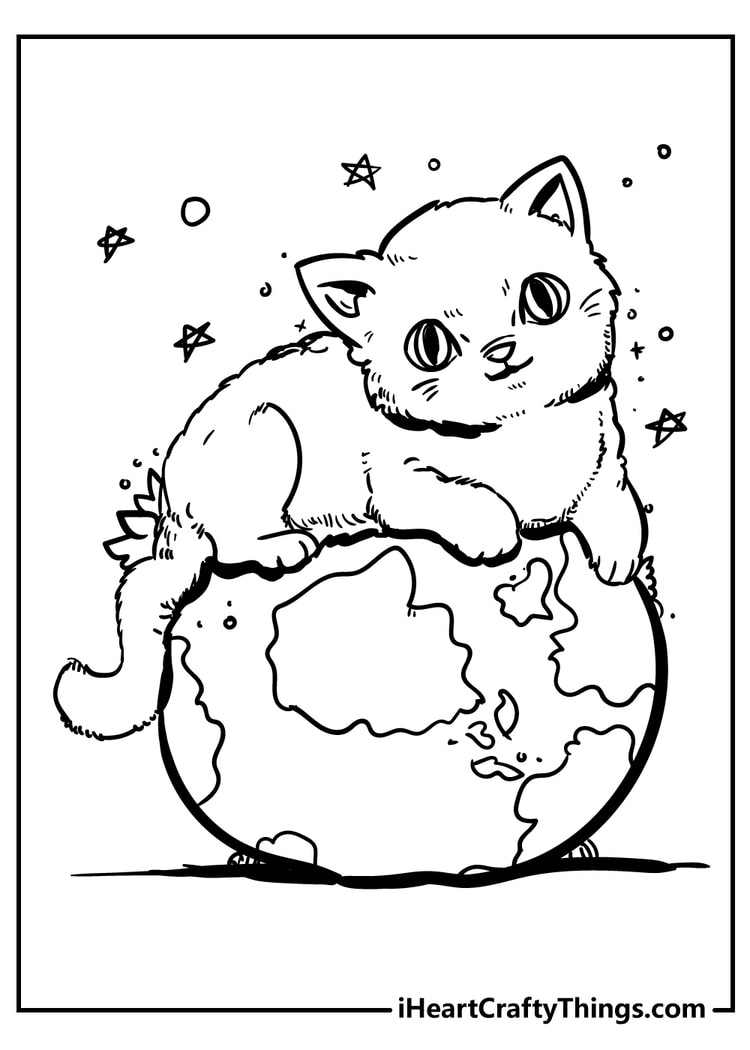 We love the imagination in this coloring page of a cat who has grown wings! He can fly to touch the stars and float amongst the clouds. Let's hope he knows how to get back down.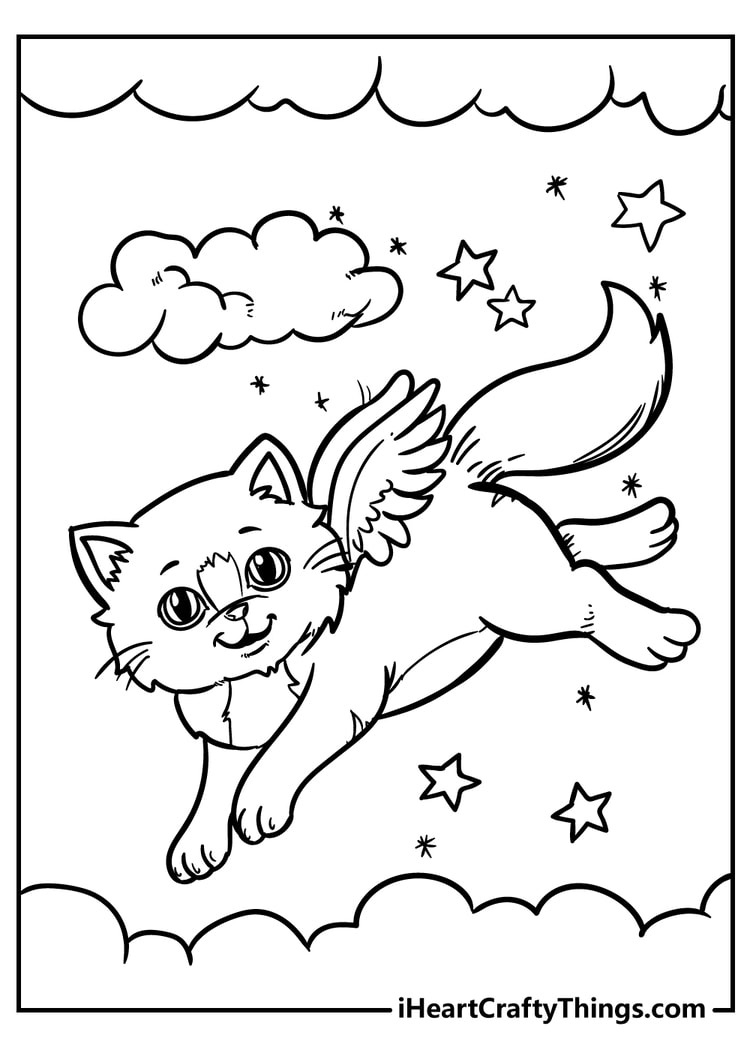 Cats have all different patterns and colors in their fur that makes every single one of them unique. The cat in the coloring sheet below has a distinctive mark on her face. What color do you think it is?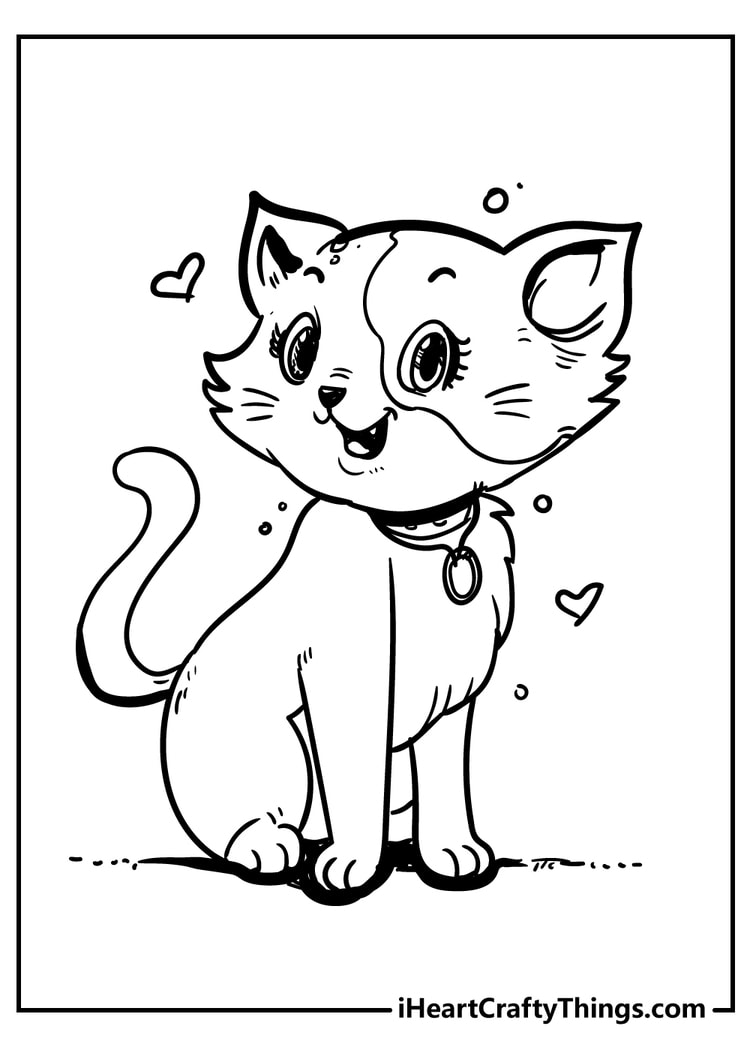 Could this be the same mother cat with her kittens from before?  In this coloring page, they seem much more well-behaved. Maybe it's because they have a bowl of milk, one of a cat's favorite treats.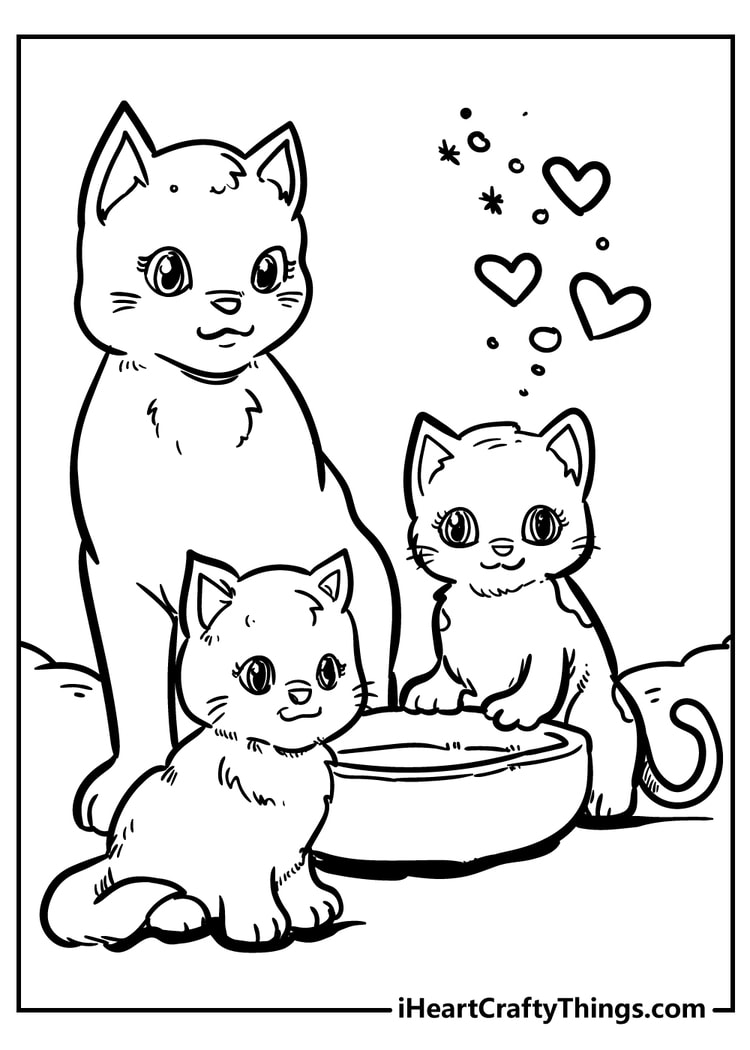 This cat looks hungry after a long day of playing and exploring. The coloring sheet shows him ready to chow down on a bowl of something tasty like tuna, chicken, or some other treat. What do you think he has in his food bowl?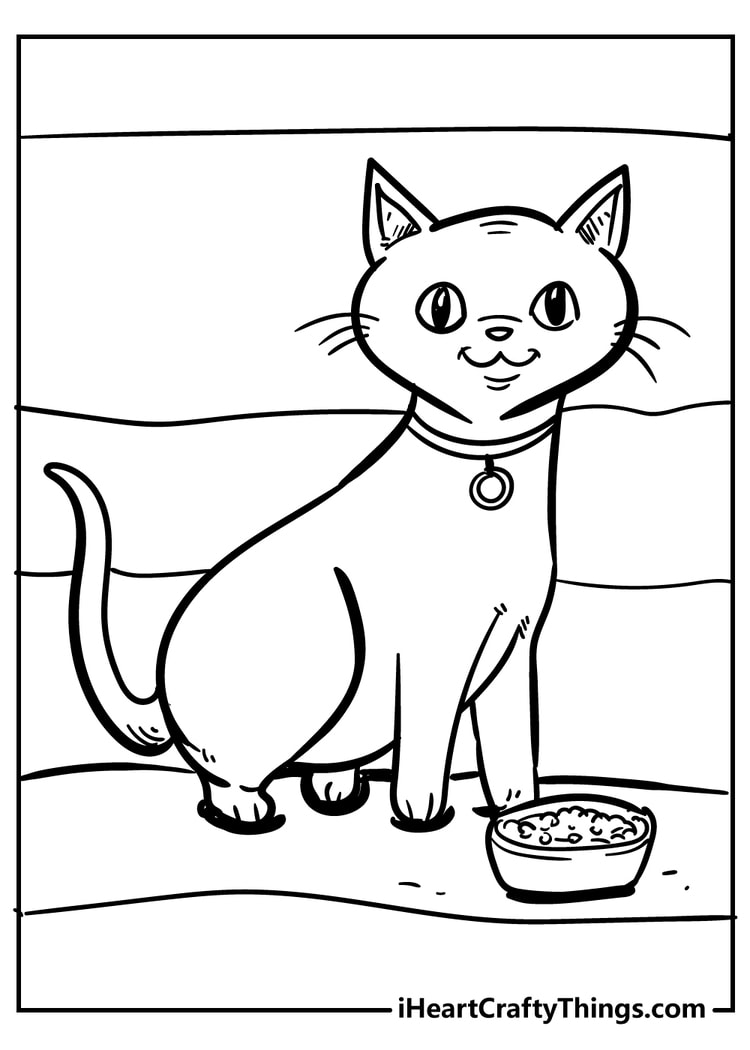 Cats like to play fight for fun and exercise. These two cats in the coloring sheet below have made a mess while playing throughout the house. There are various objects like a ball of yarn, a bone, and a sock laying around them.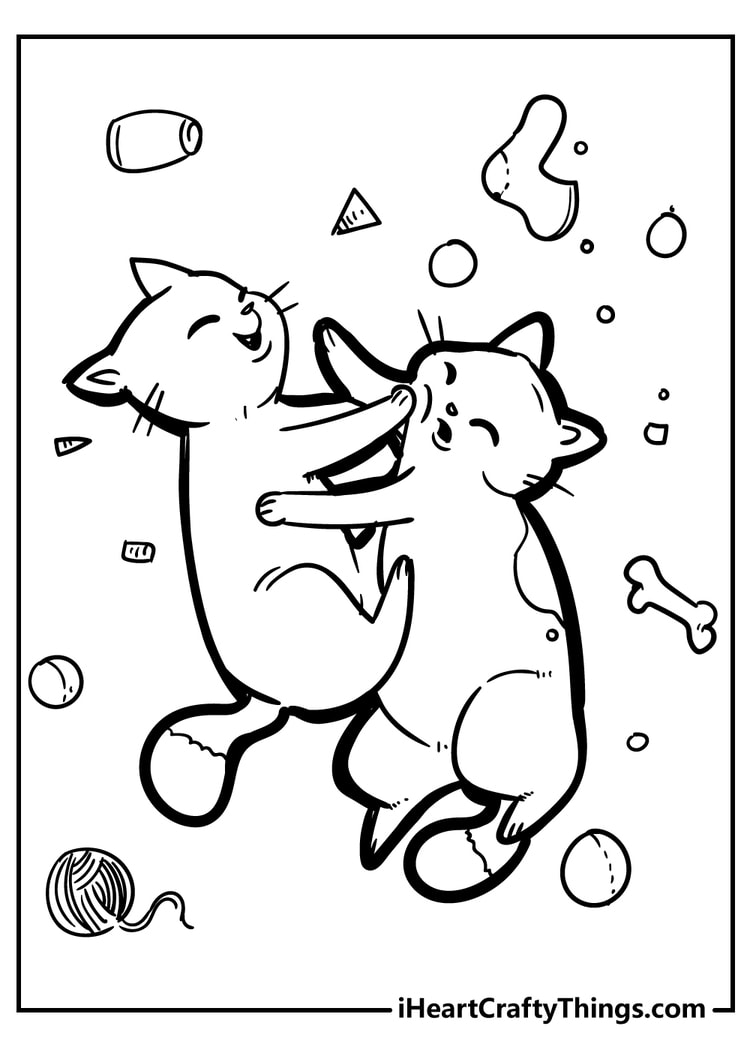 Remember to check back for more fun characters and animals that you can print and color. We are constantly updating our catalog of coloring pages and printable sheets for you to enjoy. There is so much fun to be had!
Our furry friends have roamed about the neighborhood, played, dressed up, and had a tasty meal. We hope you enjoyed using your creativity to bring to life these cat coloring pages. Don't forget to post a photo of your finished masterpiece on Facebook. We can't wait to see what you'll come up with next.